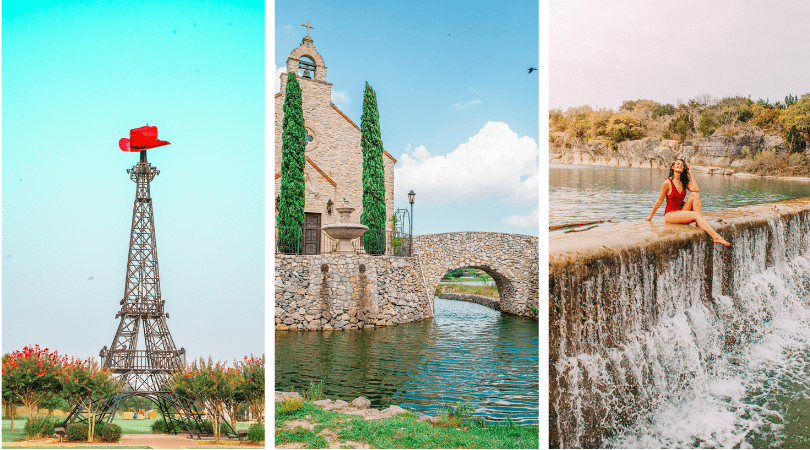 Looking to get away from Dallas for a day or maybe even a weekend? There are so many towns close to Dallas that are perfect for a day trip with plenty of things to do. Everything on our list is less than 4 hours away and you can find all the things to do in that town as well with our list. Of course, sometimes you can have a daytrip right in Dallas. Check out all of our fun Dallas ideas for a staycation.
When it comes to all the road trips, we really depend on having a reliable car. With day trips you spend a lot of time in your car and so I want to make sure to be comfortable and enjoy the drive as much as the trip. With many of our day trips we've had the pleasure of testing out multiple vehicles over at Trophy Nissan. The team here will make sure you have the best vehicle and great customer experience.
We also worked with them for the best road trip deals which you can see below! Just mention My Curly Adventures sent you.
The My Curly Prep Package is an inspection of tires, brakes, wiper blade, belts and hoses, battery test, check in-cabin air filter and engine air filter. No charge to any customer who says they saw us on My Curly Adventures.
The My Curly Maintenance Package includes everything in the My Curly Prep Package plus an oil and filter change up to 5 quarts of conventional oil for just $29.95 (excludes diesel engines).
The My Curly Adventure Package includes everything in the Prep Package and the Maintenance Package plus a Four Wheel Alignment and Zak BioZone treatment for just $99.95.
Day Trips from Dallas
Dublin (2 hours)
You can't get to Ireland in a day, but you get some Irish inspiration with a little daytrip to Dublin TX! Visit Things Celtic where you can find Irish gifts, tour and make your own soda and Dublin Bottling Works, and get a lucky with a glass of wine.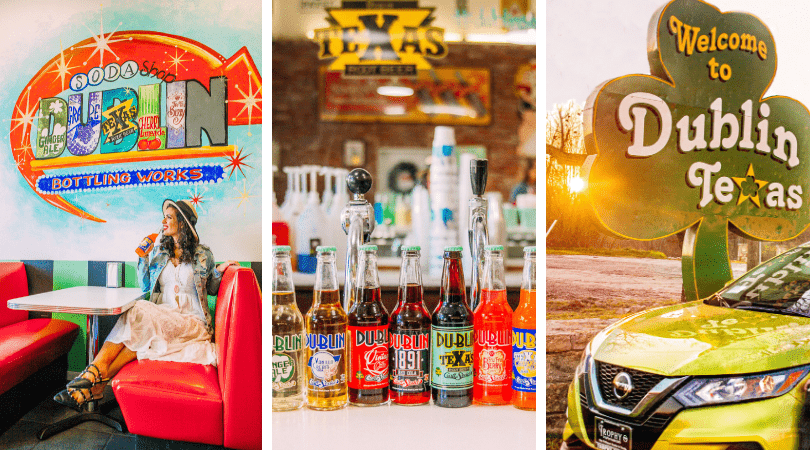 Grapeland (2 hours)
Grapeland is small and you can do everything in a few hours which makes it so perfect for a daytrip from Dallas. Go on a safari where you can feed animals, wander through a replica ghost town, and go hiking at a local state park.
Fort Worth (30 minutes)
There are so many wonderful things to do in Fort Worth from the gorgeous Japanese gardens, parks with waterfalls, and the famous Fort Worth stock yards. Of course, there's so much more so you can make several day trips out of a trip to Fort Worth.
Bellville (3 1/2 hours)
Just a couple of hours from Dallas and you could be running through a castle like royalty in Bellville! In addition, there is horseback riding, wineries, and more fun activities.
Manchaca (3 1/2 hours)
Manchaca is a small town near Austin but there's plenty to do for a fun trip including having a photoshoot with camels and zebras, having some of the best BBQ in Texas, and relaxing at the local saloon.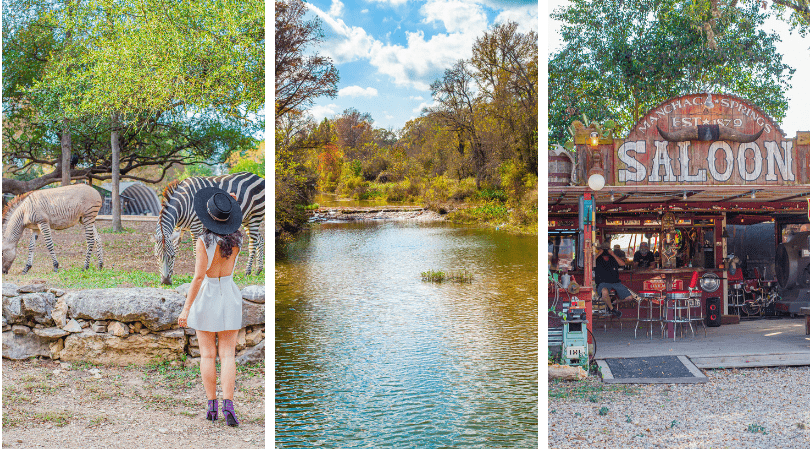 Paris (2 hours)
Take a trip outside of Dallas and soon you'll see the Eiffel Tower, but only this one comes with a red cowboy hat on top. After taking in this fun mini-Eiffel Tower make sure to explore the downtown, grab some food, and do a little Parisian shopping in Paris.
Livingston (3 1/2 hours)
Spend some time kayaking or relaxing in a hammock at Lake Livingston State Park and hike through Sam Houston National Forest in Livingston. And if you decide to stay here more than a day you can sleep in a German inspired castle!
Jefferson (2 1/2 hours)
Drive to Jefferson to discover beautiful cypress trees that you can kayak through, walk through the historic downtown, and see one of the quirkiest museums in Texas. Although if you want to stay longer than a day, Jefferson is known as the Bed & Breakfast Capitol of Texas and there's quite a few beautiful places to stay!
Choctaw (1 1/2 hours)
Choctaw is a tropical resort so close to Dallas! It has some of the most beautiful pools with multiple swim up bars, small caves and waterfalls, and pools for kids as well as adults only pools. Of course there's the casino and an incredible spa to visit that's worth the trip from Dallas.
Oklahoma City (3 hours)
It's funny how some of the day trips from Dallas tend to be in another state. Considering you could drive for 12 hours and still be in Texas, it's worth looking to Oklahoma! Go urban white-water rafting, visit the tropical Myriad Gardens, and relax at a Scandinavian spa in Oklahoma City.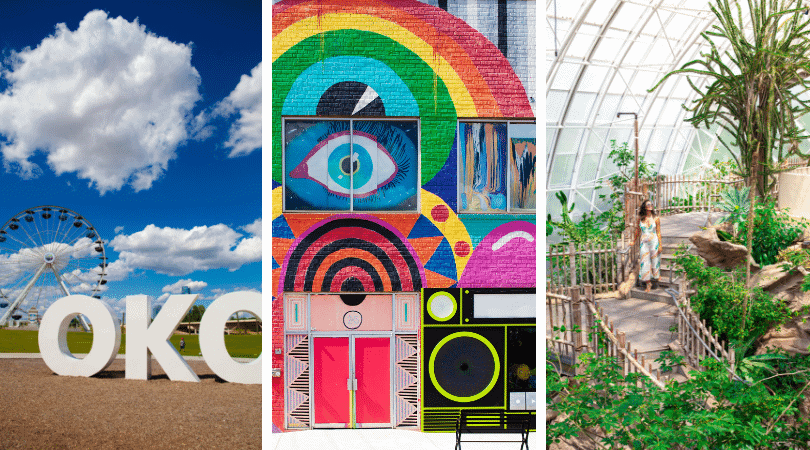 San Saba (3 hours)
See a 70-foot waterfall at Colorado Bend State Park where you could easily spend all day. However, if you have more time with your day trip to San Saba visit during pecan picking season to pick some for yourself and stop by the famous Harry's Boots!
Broken Bow (3 hours)
Spend the day at the beautiful Beaver's Bend State Park with the crystal clear waters and getting to hike everywhere. But the fun of visiting Broken Bow is getting to spend a weekend staying cozy in a cabin.
Grapevine (30 minutes)
In the downtown Grapevine square, you can go winery hopping and visit all the cute shops or you could spend the day sailing on Grapevine Lake. There are just so many things to do for a daytrip to Grapevine.
Huntsville (2 1/2 hours)
You might think you're in the Caribbean with aquamarine blue of the water of Blue Lagoon and you definitely have to stop by the cowboy boot and cowboy hat house! Only in Texas! All of this and more can be found in Huntsville!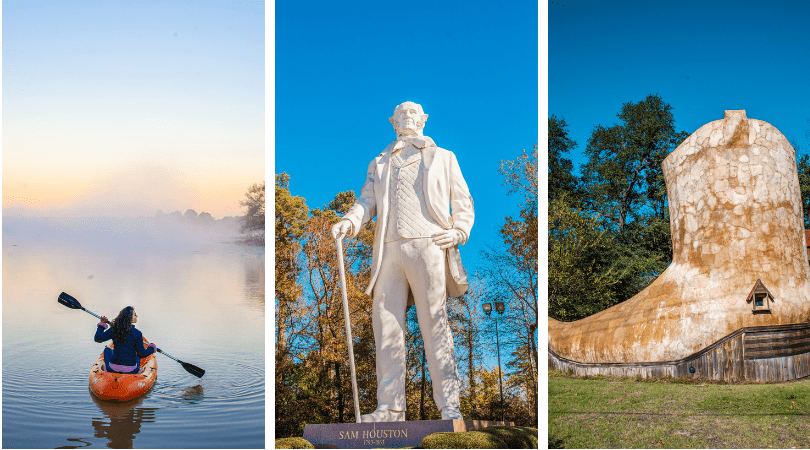 Miraval Austin (3 hours)
Miraval Austin is a beautiful all-inclusive resort with activities, spas, and food. While you can stay overnight, they also have day passes that you can get!
McKinney (30 minutes)
It's amazing that only 30 minutes from Dallas you can see dinosaurs and butterflies, visit a Croatian village, and get your face printed on a coffee all in McKinney! If you visit in Spring and summer, make sure to stop by the Crape Myrtle Park that they are famous for! You can even ride in a hot air balloon!
Lewisville (30 Minutes)
At the Charming Cat Corner, you can hang out with cats (and maybe even take one home). Other fun activities in Lewisville include check out a drive-in theatre, visiting a distillery, and immersing yourself in a real-life video game.
Palestine (2 hours)
In Palestine you can go ride in a historic train through the piney woods, visit a fairytale forest, and see waterfalls all not too far away from Dallas.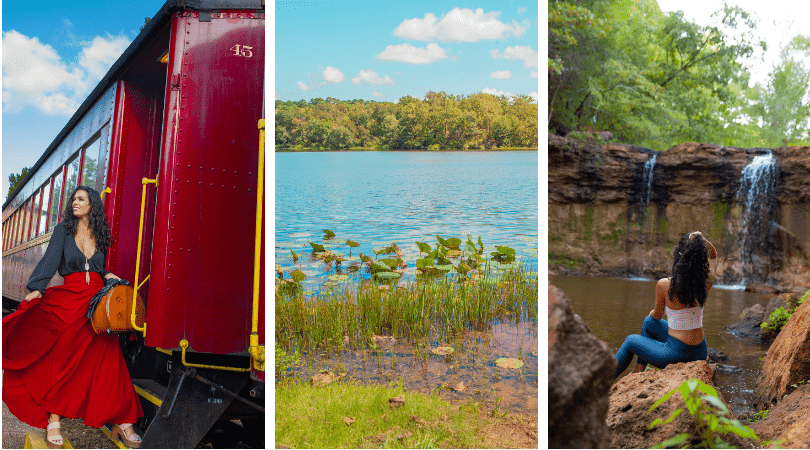 Farmersville (1 hour)
Farmersville is such a cute little town! You can meet some cute burros, have an adorable tea party at the Honaker House, and walk through the downtown (that also happens to be a crafters paradise).
Hye (4 hours)
Everyone's heard of Fredericksburg, but did you know most of the places for wine tasting our outside of the town! The fun of Hye is that they have a large number of distilleries and wineries.
Wimberley (4 hours)
A day trip to Wimberley is like visiting a fairytale town with so much whimsy! And the best part is all of the wonderful swimming holes including Jacob's Well and Blue Hole. Wimberley is a little slice of heaven and once you visit it's easy to see why!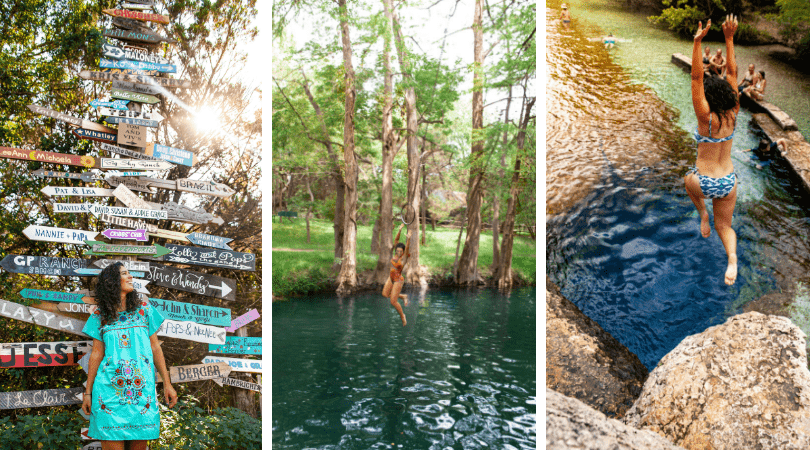 Denison (1 hour)
People are often surprised to learn that Denison is famous for helping save the French wine industry and even more surprised to learn that it's so close to Dallas. They have acres and acres of beautiful vines, a cave to explore, and it has some of the best vintage shopping close to Dallas.
Hico (2 hours)
Check out the Billy the Kidd Museum and play paintball in mini tanks! Hico is a fun and unexpected town! If you do decide to stay longer you can stay in a retro airstream!
Spicewood (4 hours)
Everyone has to experience the breathtaking Krause Springs at some point in their life. If people could only visit one place I would say Krause Springs because it is just so stunning! Apart from that Spicewood also has ziplining and a fun wine scene including delicious Argentinian wines.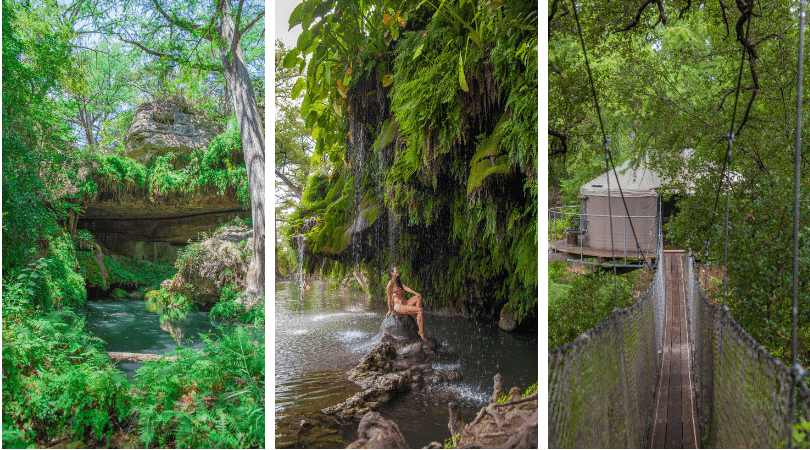 Cleburne (1 hour)
Cleburne does an incredible job of bringing history to life. With multiple interactive museums and a historic village, you might find yourself getting excited for history. And kids would have a blast wandering through an old town, being taught math like you were in the 1800s!
Allen (30 minutes)
At Hydrous Wake Park you're pulled on a cable for an exhilarating day of fun on the water. More fun activities in Allen include Bethany Lakes Park and Connemara Meadow Nature Preserve for some time in the outdoors or virtual reality gaming centers for something indoors.
Plano (30 minutes)
One of my favorite things to do in Plano is their challenging ropes course and having an afternoon tea out by the boardwalk. And the food scene in Plano is one of the best! There are so many different international flavors and cuisines. End your day by floating in the Texas shaped pool!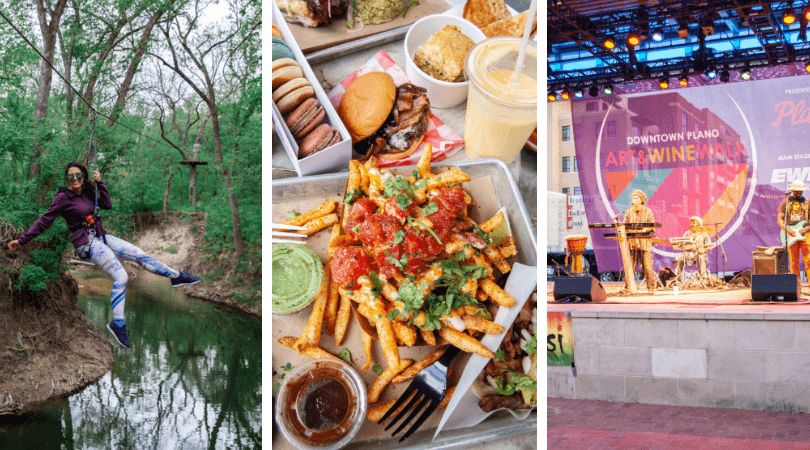 Irving (30 minutes)
For a romantic day trip from Dallas, Irving is a wonderful option! You don't have to visit Italy for a romantic Gondola boat ride through the Las Colinas Canals. You also have the colorful and retro diner for an amazing breakfast or milkshakes!
Grand Prairie (30 minutes)
No matter the time of year you can escape to a resort getaway only 30 minutes from Dallas! At Epic Waters Indoor Waterpark, everything is temperature controlled so you could be surfing in summer weather while it's actually cold outside! If you do want to go outside, they have a beach area. Another fun gem is Trader's Village. It's free to enter and there's different themed days, fun vendors, and a small amusement park. That just a little of all that Grand Prairie has to offer!
Frisco (1 hour)
If you're into video games, check out the National Video Game Museum and then afterwards head to the video game bar or board game coffee shop. Sports fan will love to see Major League Hockey practice or catch a baseball game from the lazy river. Some other fun activities in Frisco for a day trip from Dallas include having a Moroccan Hamam experience or seeing where the Dallas Cowboys train at Ford Center at the Star.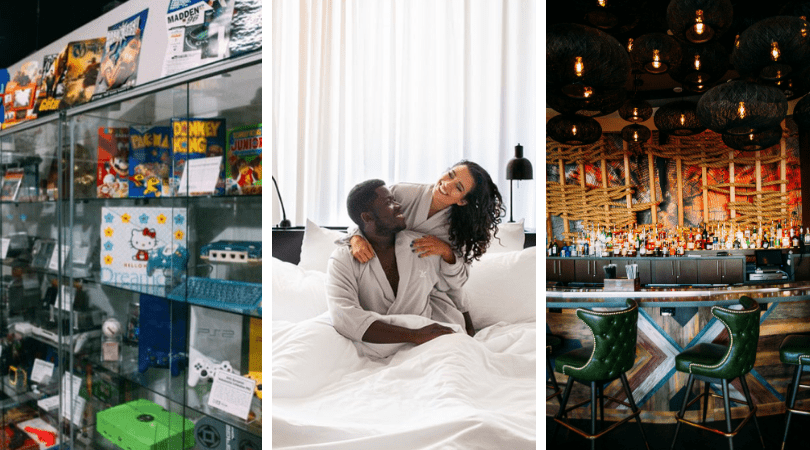 Rockwall (30 minutes)
Rockwall is perfect for catching a sunset on a sailboat! During the day you can have a wine tasting at San Martino Winery and then cuddle cute animals at the Gentle Zoo! Drive out a little further to Royse City to see the Futuro House which looks like it came from outer space.
Ennis (30 minutes)
See the bluebonnets in Spring and enjoy their annual Bluebonnet Festival or for something even more unique visit for the Czech Polka Festival. Even when they don't have the special events, Ennis is a fun trip for the different nature areas, catching a drive-in movie at coyote theatre, and watching the races at the Texas Motorplex.
Brownwood (3 hours)
Drink wine in an old school bus, eat lunch inside of a train, and check out a brewery inspired by Teddy Roosevelt. Brownwood makes for such a wonderful day trip because it has so many little things that are unique about it!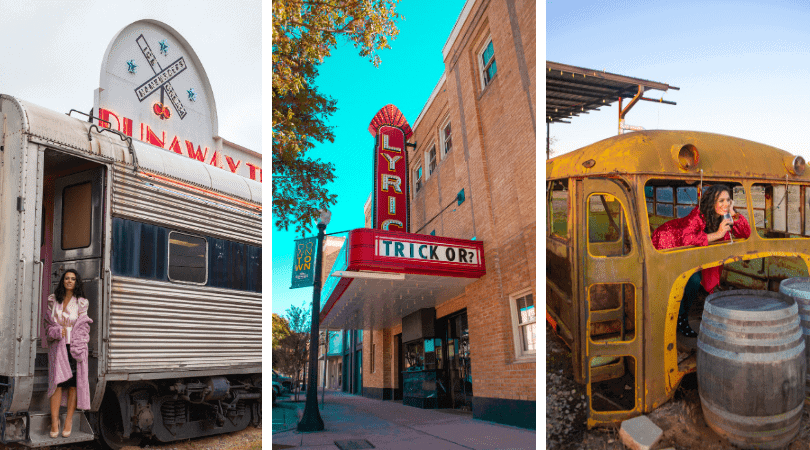 Burnet (3 hours)
"It's burn-it, durn-it, can't you learn it!?" This is something we heard after accidently mispronouncing this town. We learned and then enjoyed all the fun like visiting the caves, going antique shopping, and visiting the famous Devil's Waterhole in Burnet.
Fredericksburg (4 hours)
No need to visit Napa when you can take a day trip to the wine country of Texas in Fredericksburg with a German flare! You can walk through the downtown where you have all the different shops, hike up Enchanted Rock, and have one of the most authentic German beers in Texas.
Aldridge Sawmill (4 hours)
Go for a hike through an abandoned sawmill that nature has now taken over!
New Braunfels (4 hours)
In New Braunfels you could easily spend all day just at Schlitterbahn. However, if you're looking for other things to do for a day trip you can float the river or explore the Natural Bridge Caverns. New Braunfels also has a lot of German influence so make sure to grab some German food and visit the historic Naegelin's Bakery.
Georgetown (2 1/2 hours)
Georgetown is known for having one of the most beautiful downtown squares in Texas and you can easily spend the day trying all different kinds of hot sauces, seeing a fun guitar shop, browsing boutiques, and seeing the poppies. If you have more time, there's the beautiful swimming blue hole and the Inner Space Caverns.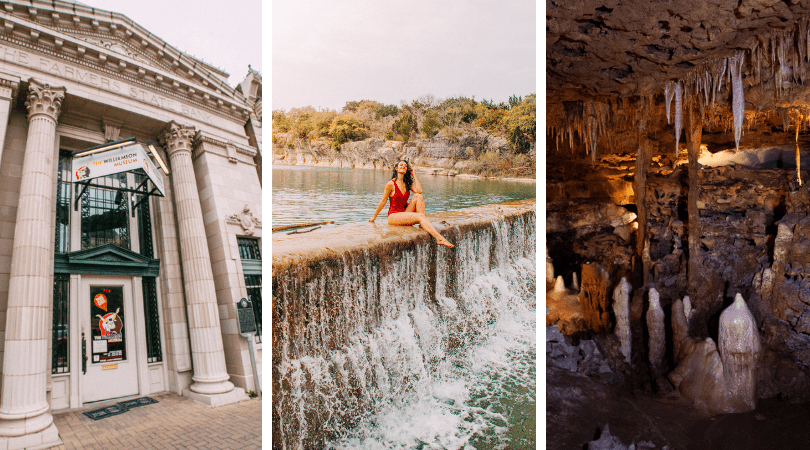 Austin (3 hours)
Where do you even start with a day trip to Austin? There's just so much to do and see! You can grab a margarita with the best views at the Oasis or try one of the many different incredible culinary experiences have to offer. You can work through a list of all the fun different things to do in Austin or check out different neighborhoods one at a time like East Austin.
Driftwood (4 hours)
A day trip to Driftwood is worth it for Salt Lick BBQ! While there check out some of the fun wineries in the area or try sotol! After that do a little two-stepping at Mercer Street Dance Hall.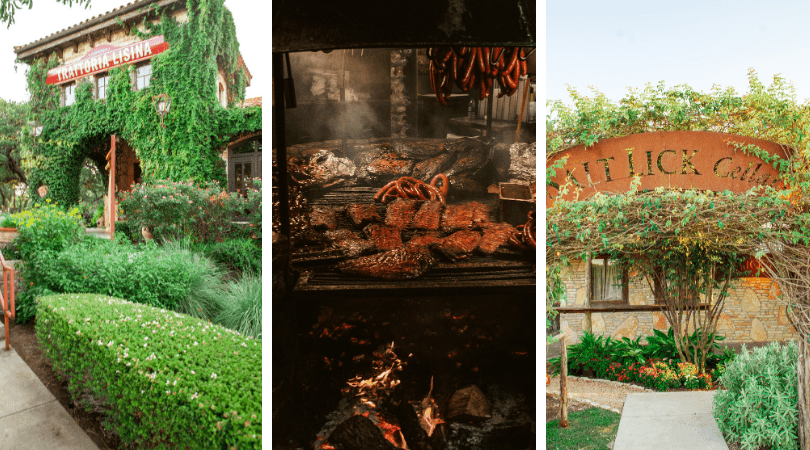 Carrollton (30 Minutes)
Break a little sweat at the North Texas Outdoor Pursuit Center where you can go climbing in the tallest indoor climbing gym in North America! Plus, you're rock climbing in old grain silos which is pretty cool. Or if you're looking to relax visit a Russian spa in Carrollton.
Weatherford (1 hour)
Who knew that you could find some of the most beautiful English gardens in Texas just an hour outside of Dallas in Weatherford. In fact, there are two gardens there! They also have a vintage car museum that also has a restaurant and some great places to catch live music.
Stonewall (4 hours)
If you've taken a trip to Fredericksburg don't stop there! There are so many great wineries over in Stonewall along the 290 Wine Trail and you have to stop at the Lyndon B. Johnson National Historic Site and visit Airforce 1 1/2 and pretend you have your own private plane!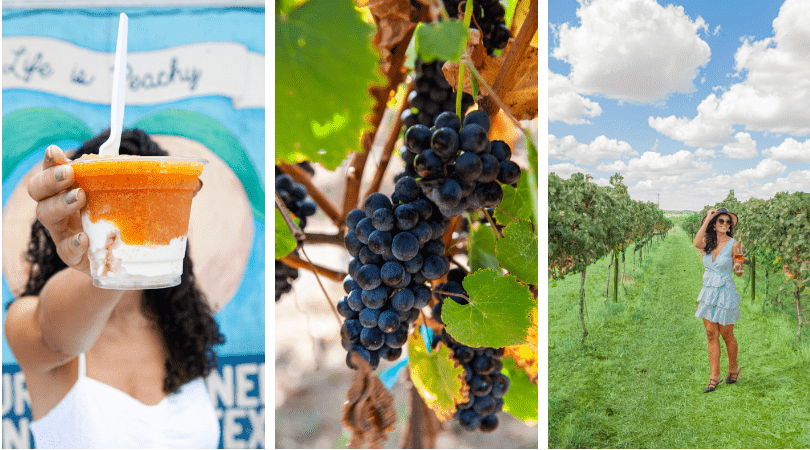 Johnson City (4 hours)
Johnson City is another town along the 290 Wine Trail where you'll want to explore even more wineries as well as visit Pedernales Falls State Park.
Yesterland Farm (1 hour)
Yesterland Farm is a fun day trip close to Dallas that has all different kinds of fun activities such as a petting zoo, plenty of fun photo opps, and even sunflowers in the summer and fall. Every season they have different events from Easter egg hunts to pumpkin patches, and more.
Glen Rose (1 1/2 hours)
Go on a safari and feed giraffes, search for dinosaur bones, and have one of the best burgers (Seriously! A Jack Daniels burger with brisket, fried pickles, and onion rings). You can even visit an abandoned speakeasy that is rumored to be connected to Bonnie Clyde. All of this and more at the moonshine capital of Texas: Glen Rose.
Lake Texoma (1 1/2 hours)
You can have a beautiful lake getaway so close to Dallas on Lake Texoma with a romantic dinner on a boat, hanging out all day on an island, and go kayaking on the water. There are just so many fun water activities around Lake Texoma.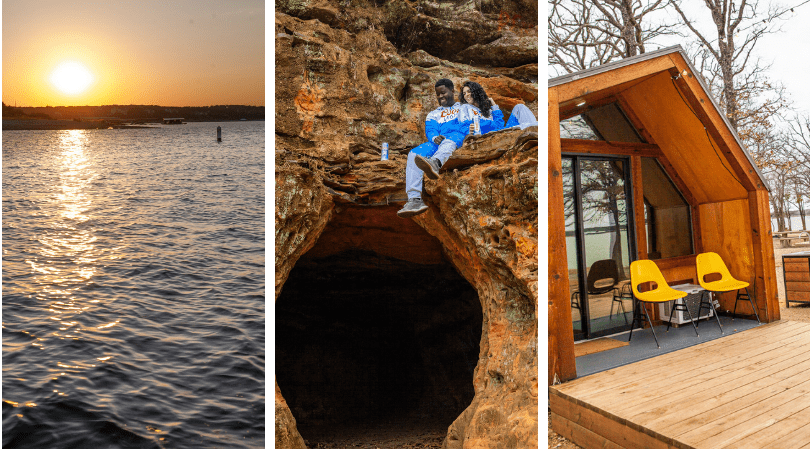 Tyler (1 1/2 hours)
Tyler is famous for the rose gardens that bloom twice a year and are wonderful to wander through. Additionally, you have the Tyler Museum of Art, Tyler State Park, and the Caldwell Zoo.
North Texas Wine Trail (1 hour)
You don't necessarily have to go to Fredericksburg for a full wine experience! There's actually a North Texas Wine Trail where you can take small trips outside of Dallas for some wine tasting at Eden Hill Vineyards, Fortunata Winery, Cauadalie Crest, and more.
Addison (30 Minutes)
In Addison you can go on a romantic helicopter ride, learn circus skills at the Lone Star Circus, experience virtual reality, visit the Mary Kay Museum, and more fun activities.
Martin Dies Jr. State Park (4 hours)
Funny name, but there is so much fun to be had and natural beauty to be found at Martin Dies Jr. State Park. In the morning it's amazing how the fog rolls over the water. They have kayaks you can rent, trails to walk through, and a little island.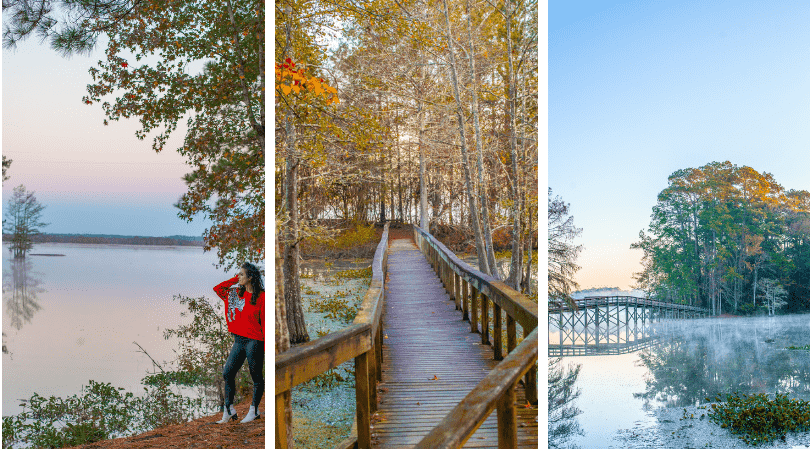 Day Trips from Dallas: Final Thoughts
With this list of day trips from Dallas, you could almost one day trip a week, and probably even more, because several of these places are worth visiting multiple times.