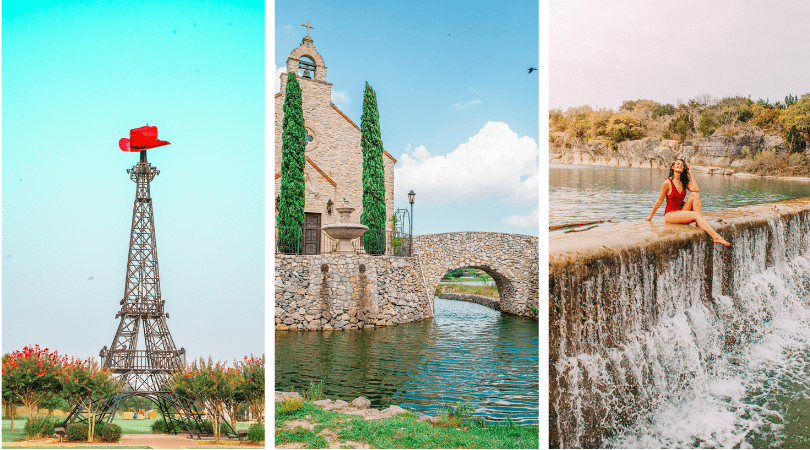 Looking to get away from Dallas for a day or maybe even a weekend? There are so many towns close that are perfect for a Dallas Tx day trips with plenty of things to do. Everything on our list is less than 8 hours away, with a list of all the accompanying things to do in that town as well!
Of course, sometimes you can even spend the day exploring Dallas! Check out all of our fun things to do in Dallas TX for a staycation, daytime outing, or night on the town!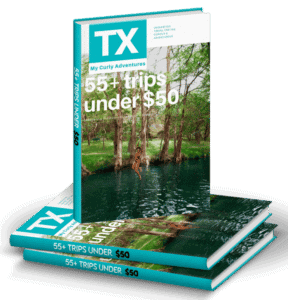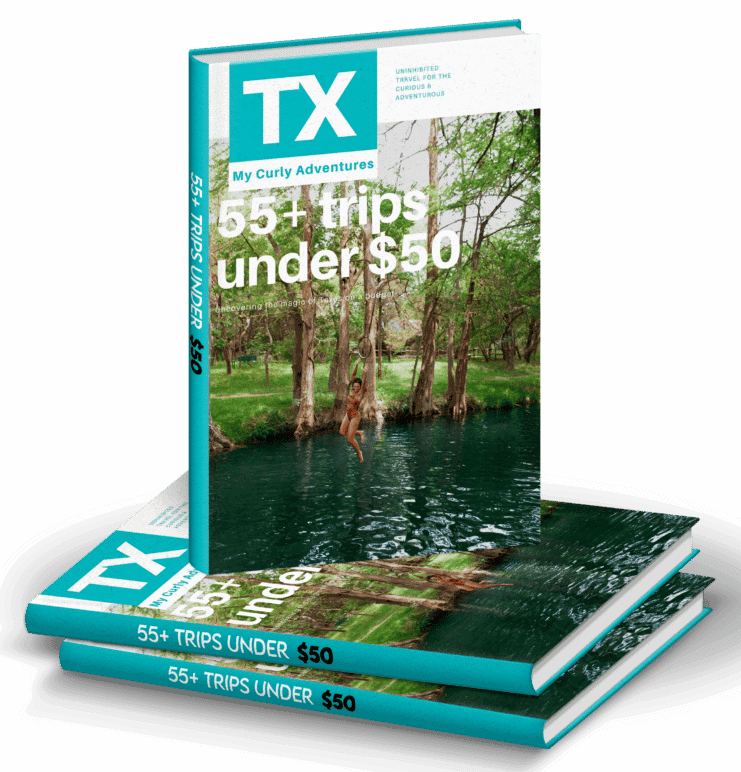 With our latest edition of our Texas Travel Guide, you can take an exciting vacation every weekend without breaking the bank and still have more to do! And in just one trip, the guide pays for itself! You'll be amazed at all the hidden gems, international influence, and wacky attractions you'll find all over Texas!
Not ready to purchase quite yet? We wanted to make this guide as accessible as possible, so we've shared our 1st edition of our guide, 50 Texas Trips Under $50. Click the button below to get yours for FREE!
Dallas Tx Day Trips Less Than 30 Minutes
Downtown Dallas
If you're looking to take the entire family out on a quick outing or an all-day trip that is close to the Big D, you can never go wrong with downtown Dallas. Visit the weekend Dallas Farmer's Market, explore local businesses in Bishop Arts, or have dinner and see a show in the Dallas Cultural District.
Fort Worth
Fort Worth is one of many easy day trips near Dallas with many wonderful things to do. You can visit the gorgeous Fort Worth Botanic Gardens and Fort Worth Water Gardens, the National Cowgirl Museum, the Fort Worth Zoo, and the famous Fort Worth Stockyards. Of course, there's so much more, so you can make several day trips out of a trip to Fort Worth.
Grapevine
In the downtown Grapevine square, you can go winery hopping and visit all the cute shops around. You could also spend the day sailing on Grapevine Lake. There are just so many things to do on a day trip to Grapevine.
McKinney
It's amazing that only 30 minutes from Dallas, you can see dinosaurs and butterflies, visit a Croatian village, and get your face printed on a coffee, all in McKinney! If you visit in the spring and summer, make sure to stop by the Crape Myrtle Park that they are famous for! You can even ride in a hot air balloon!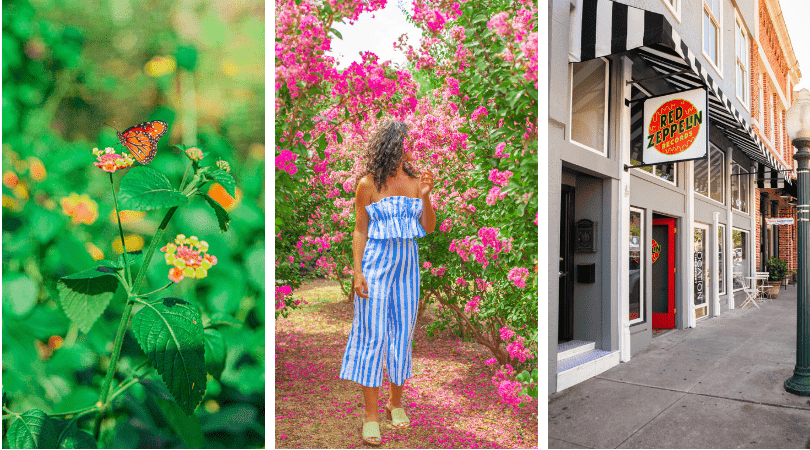 Lewisville
At the Charming Cat Corner, you can hang out with cats (and maybe even take one home). Other fun activities in Lewisville include checking out a drive-theater, visiting a distillery, and immersing yourself in a real-life video game.
Allen
At Hydrous Wake ParPark,u're pulled on a cable for an exhilarating day of fun on the water. More fun activities in Allen include Bethany Lakes Park and Connemara Meadow Nature Preserve for some time in the outdoors or virtual reality gaming centers for something indoors.
Plano
If you're on the lookout for road trips from Dallas in summer, Plano has some of the best summer activities, like floating in their Texas-shaped pool. One of my favorite things to do in Plano is their challenging ropes course and afternoon tea on the Granite Park Boardwalk. The foodie scene in Plano is also one of the best! There are so many different international flavors and cuisines!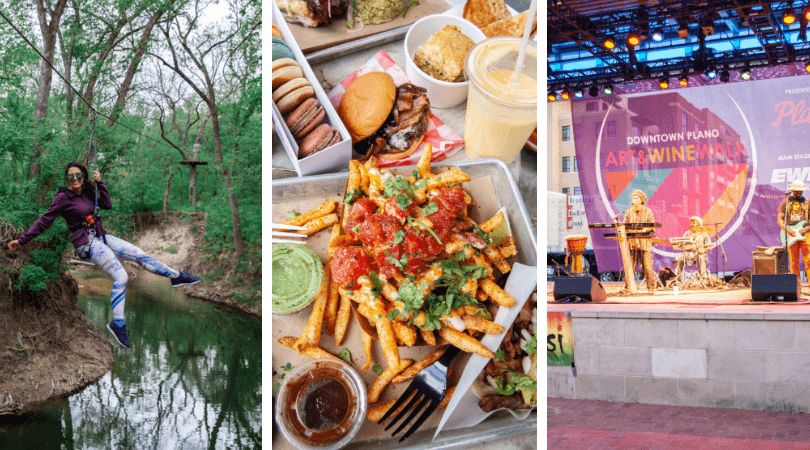 Irving
For a romantic day trip from Dallas, Irving is a wonderful option! You don't have to visit Italy for a romantic Gondola boat ride through the Las Colinas Canals. You also have the colorful and retro diner for an amazing breakfast or milkshakes!
Grand Prairie
No matter the time of year you can escape to a resort getaway only 30 minutes from Dallas! At Epic Waters Indoor Waterpark, everything is temperature controlled. This means you could be surfing in summer weather while it's actually cold outside!
If you do want to go outside, they have a beach area. Another fun gem is Trader's Village. It's free to enter and there's different themed days, fun vendors, and a small amusement park. That just a little of all that Grand Prairie has to offer!
Rockwall
Rockwall is perfect for catching a sunset on a sailboat! During the day you can have a wine tasting at San Martino Winery and then cuddle cute animals at the Gentle Zoo!
Ennis
See the bluebonnets in Spring and enjoy their annual Bluebonnet Festival. For something even more unique, you can visit the Czech Polka Festival. Even when they don't have the special events, Ennis is a fun trip for the different nature areas, catching a drive-in movie at coyote theatre, and watching the races at the Texas Motorplex.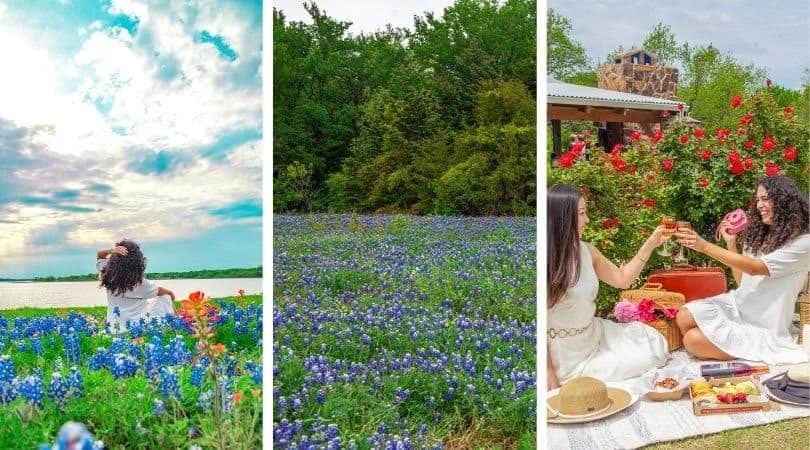 Carrollton
Break a little sweat at the North Texas Outdoor Pursuit Center where you can go climbing in the tallest indoor climbing gym in North America! Plus, you're rock climbing in old grain silos which is pretty cool. Or if you're looking to relax visit a Russian spa in Carrollton.
Addison
In Addison you can go on a romantic helicopter ride, learn circus skills at the Lone Star Circus, experience virtual reality, visit the Mary Kay Museum, and more fun activities.
Dallas Tx Day Trips Less Than 1 Hour
Canton
Canton is known for its First Monday Trade Days, the largest flea market in the world. You can also cool off at Splash Kingdom, visit the Salt Palace Museum in neighboring Grand Saline, or sip wine at Cannon Creek Vineyard.
Farmersville
Farmersville is such a cute little town! You can meet some cute burros, have an adorable tea party at the Honaker House, and walk through the downtown (that also happens to be a crafters paradise).
Denison
People are often surprised to learn that Denison is famous for helping save the French wine industry. They are even more surprised to learn that it's so close to Dallas. They have acres and acres of beautiful vines, a cave to explore, and it has some of the best vintage shopping close to Dallas.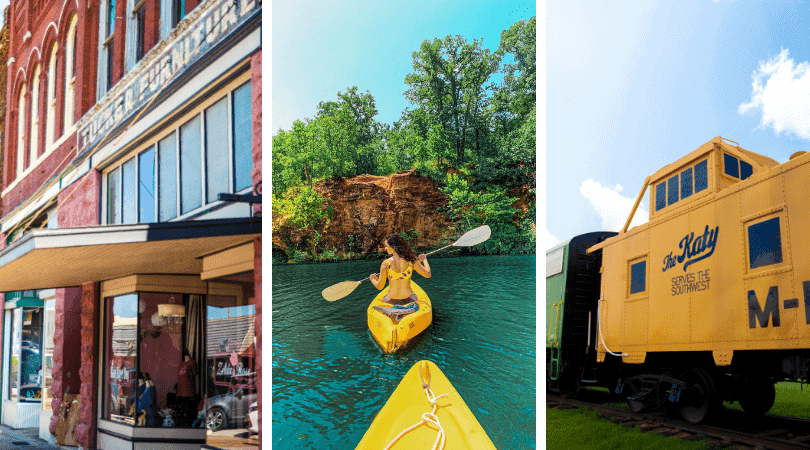 Cleburne
Cleburne does an incredible job of bringing history to life. With multiple interactive museums and a historic village, you might find yourself getting excited for history. And kids would have a blast wandering through an old town, being taught math like you were in the 1800s!
Frisco
If you're into video games, check out the National Video Game Museum and then afterwards head to the video game bar or board game coffee shop. Sports fan will love to see Major League Hockey practice or catch a baseball game from the lazy river.
Some other fun activities in Frisco for a day trip from Dallas include having a Moroccan Hamam experience or seeing where the Dallas Cowboys train at Ford Center at the Star.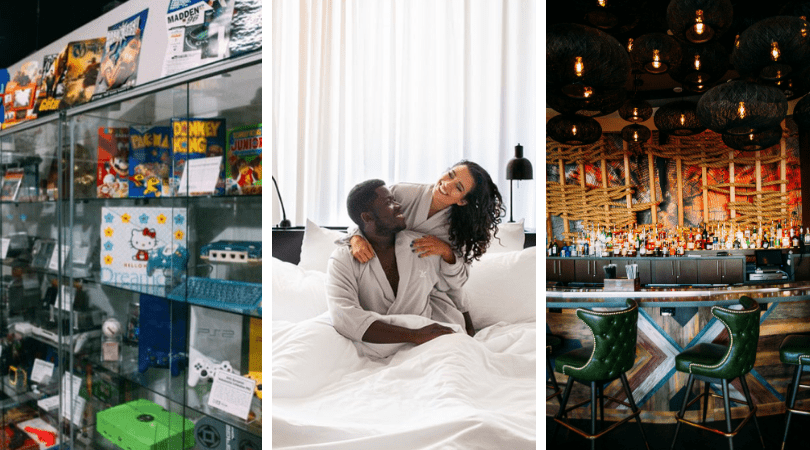 Weatherford
Who knew that you could find some of the most beautiful English gardens in Texas just an hour outside of Dallas in Weatherford. In fact, there are two gardens there! They also have a vintage car museum that also has a restaurant and some great places to catch live music.
Yesterland Farm
Yesterland Farm is a fun day trip close to Dallas that has all different kinds of fun activities. You can experience a petting zoo, plenty of fun photo ops, and even sunflowers in the summer and fall. Every season they have different events from Easter egg hunts to pumpkin patches, and more.
North Texas Wine Trail
You don't necessarily have to go to Fredericksburg for a full wine experience! There's actually a North Texas Wine Trail where you can take small trips outside of Dallas for some wine tasting at Eden Hill Vineyards, Fortunata Winery, Cauadalie Crest, and more.
Denton
Explore scenic Ray Roberts Lake State Park, where you can hike along picturesque trails, go birdwatching or fishing. Head to Lewisville Lake for boating, jet skiing, and sailing.
Denton also offers a diverse and eclectic food scene, with a mix of traditional Texas cuisine and international flavors. As a smaller-scale Austin, you'll also find several laid-back lounges, breweries, and bars that are a favorite among locals and visitors alike.
Additionally, Denton prioritizes supporting local businesses. You'll find many specialty shops and art galleries showcasing the work of local artists where you can also make art of your own!
Dallas Tx Day Trips Less Than 2 Hours
Waco
Waco has a unique culture all its own with a variety of activities for nature lovers and families alike. Learn about the history of Dr. Pepper and become a beverage chemist at the Dr. Pepper Museum; see a mammoth skeleton dig site for yourself at the Waco Mammoth National Monument; explore the iconic Magnolia Market, do some shopping, and hangout in the outdoor courtyard, or take a historic boat tour along the Brazos River.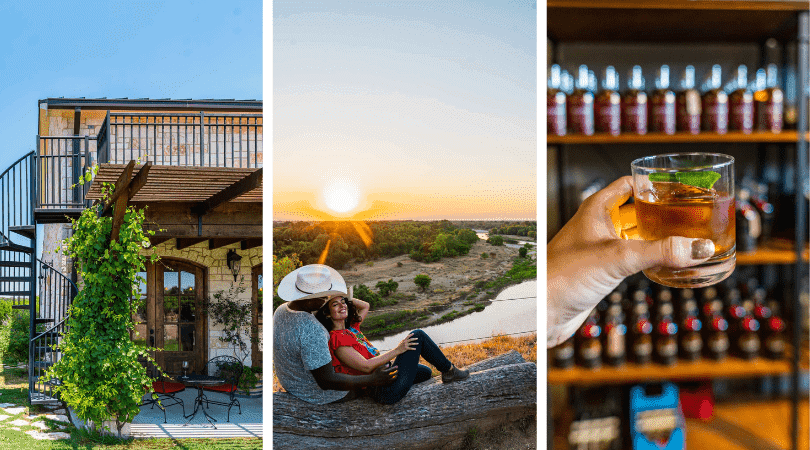 Ardmore, Oklahoma
Located in Chickasaw Country, Lake Murray State Park, you can rent a jet ski, paddleboat, or a kayak; play mini golf, conquer the inflatable obstacle course, go fishing, and explore Tucker Tower, the accompanying Lake Murray Nature Center and Lake Murray State Park's 12,500 acres. If you're looking for weekend trips from Dallas, Chickasaw Country is a great place to explore!
Choctaw
Choctaw is a tropical resort so close to Dallas! It has some of the most beautiful pools with multiple swim-up bars, small caves, waterfalls, kiddie pools, and adults-only pools. Of course, there's the casino, indoor movie theater, bowling, restaurants, and an incredible spa that make it worth the trip from Dallas. It's the perfect place to book a room on a holiday weekend when you're looking for a 3-day trip from Dallas.
Glen Rose
Go on a safari and feed giraffes at the Fossil Rim Wildlife Center. You can search for dinosaur bones at Dinosaur Valley State Park, and have one of the best burgers (Seriously! A Jack Daniels burger with brisket, fried pickles, and onion rings). You can even visit an abandoned speakeasy that is rumored to be connected to Bonnie Clyde. All of this and more at the moonshine capital of Texas: Glen Rose.
Lake Texoma
You can have a beautiful lake getaway so close to Dallas on Lake Texoma with a romantic dinner on a boat, hanging out all day on an island, and go kayaking on the water. There are just so many fun water activities around Lake Texoma.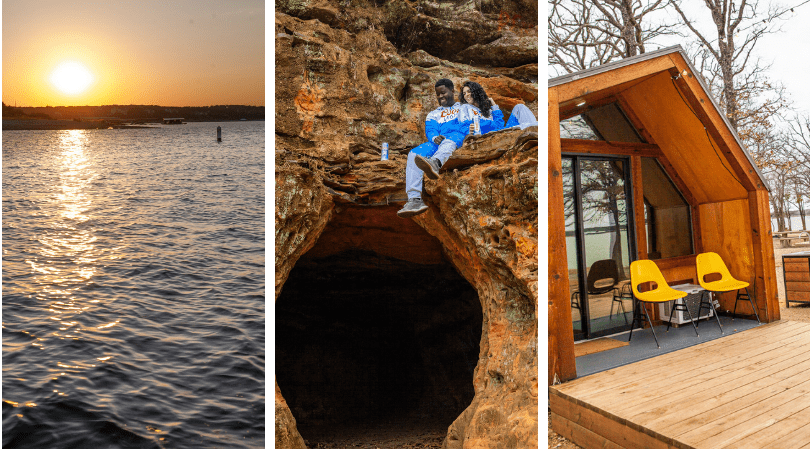 Tyler
Tyler is known as the Rose Capital of America. It is famous for the Tyler Rose Garden, which blooms twice a year and are wonderful to wander through. Additionally, you have the Tyler Museum of Art, Tyler State Park, Lake Tyler, and the Caldwell Zoo.
Grapeland
Grapeland is small and you can do everything in a few hours which makes it so perfect for a daytrip from Dallas. Go on a safari where you can feed animals, wander through a replica ghost town, and go hiking at a local state park.
Davis, Oklahoma
In the Arbuckle Mountains is Turner Falls State Park. On-site is Turner Falls, one of the tallest waterfalls in Oklahoma, and is a beautiful place to swim in warmer weather.
You can also wander through the ruins of a historic castle near Turner Falls, grab lunch at Smokin' Joe's Rib Ranch, a local favorite, and so much more! Check out our list of things to do in Chickasaw Country for more near Davis, Oklahoma.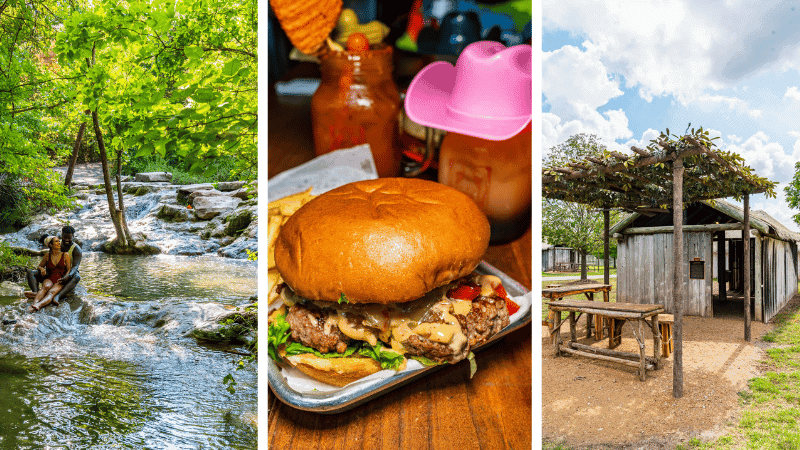 Paris
Take a trip outside of Dallas and soon you'll see the Eiffel Tower, but only this one comes with a red cowboy hat on top. After taking in this fun mini-Eiffel Tower make sure to explore the downtown, grab some food, and do a little Parisian shopping in Paris.
Palestine
In Palestine you can go ride in a historic train through the piney woods, visit a fairytale forest, and see waterfalls all not too far away from Dallas.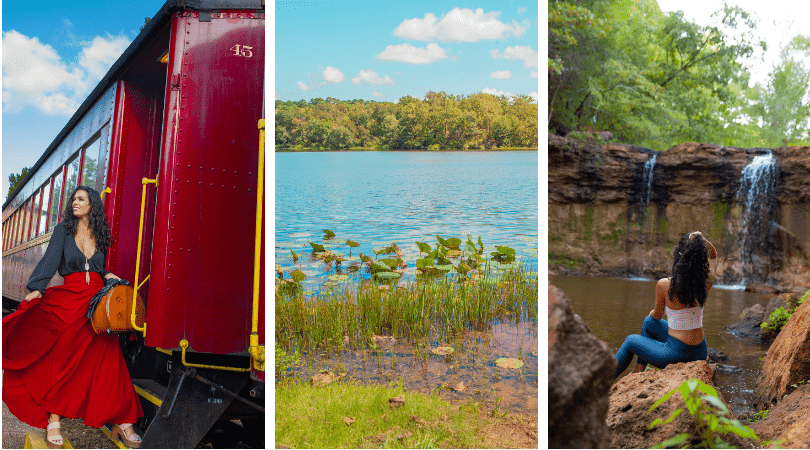 Hico
Check out the Billy the Kidd Museum and play paintball in mini tanks! Hico is a fun and unexpected town! If you do decide to stay longer you can stay in a retro airstream!
Belton
Belton offers a range of outdoor adventures, including Belton Lake, a sprawling reservoir where you can indulge in fishing, boating, water sports, and there's even a towering waterfall!
As the proud home of Texas' first state park, outdoor enthusiasts will find themselves immersed in breathtaking scenery and boundless recreational opportunities. Belton is also home to the oldest department store in Texas!
Local vineyard, Texas Honey Winery produces honey-based wines with abounding bluebonnets across the property in the spring. For an extraordinary overnight stay in Belton, you can opt for an Airbnb experience on a llama farm inside a partially underground silo.
Jacksonville
Nestled in the heart of the Piney Woods region, Jacksonville provides an exceptional outdoor experience with spots like the waterfall at Nichols Green Park and the eight hiking trails within the Neches River Wildlife Refuge.
Head to Lake Jacksonville and indulge in thrilling water sports like jet skiing and wakeboarding. Or pay a visit to River Run ATV Park for some off-roading fun along the Neches River.
Pamper yourself with a visit to Ritual Texas, a French-style café or nearby, family-owned winery, Maydelle Country Wines, located inside an 1800s train depot.
Dublin
You can't get to Ireland in a day, but you get some Irish inspiration with a little daytrip to Dublin TX! Visit Things Celtic where you can find Irish gifts, tour and make your own soda and Dublin Bottling Works, and get a lucky with a glass of wine.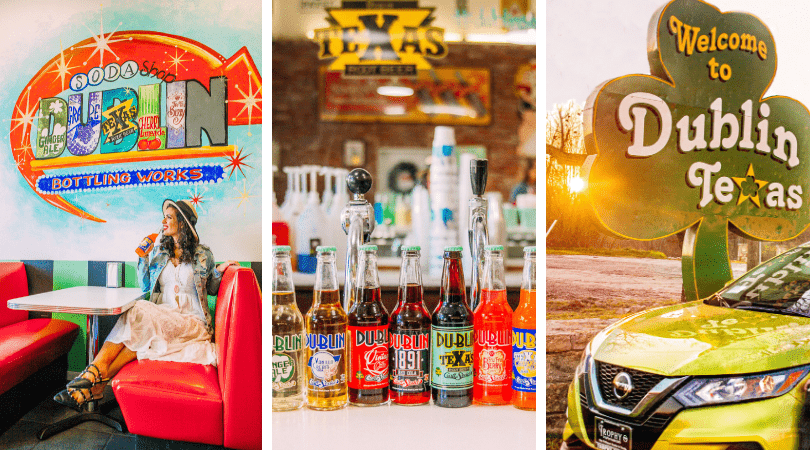 Sulphur Springs
As you venture through Sulphur Springs, be sure to visit its many locally owned boutiques, like Hampton House Jewelry & Rock Shop, where you can purchase custom-made jewelry with the stones of your choosing. Be sure to make a pit stop inside the quirky, one-way glass bathrooms in the middle of the square!
Sulphur Springs is also home to a free, interactive museum, the Southwest Dairy Museum, delicious, overnight smoked barbecue at Slaughters Oasis BBQ, or you can pet your first longhorn at G3 Ranch, try jalapeño wine from Phinessé Farms, and more!
Dallas Tx Day Trips Day Trips Less Than 3 Hours
Calvert
Calvert is a captivating day trip destination, a hidden gem for Dallas residents seeking a taste of small-town charm. You can spend your day exploring the town's historic downtown area, visiting its many museums, or simply enjoying the peace and quiet. Be sure to stop at Royalty Pecan Farms for some delicious pecan goodies to take home with you!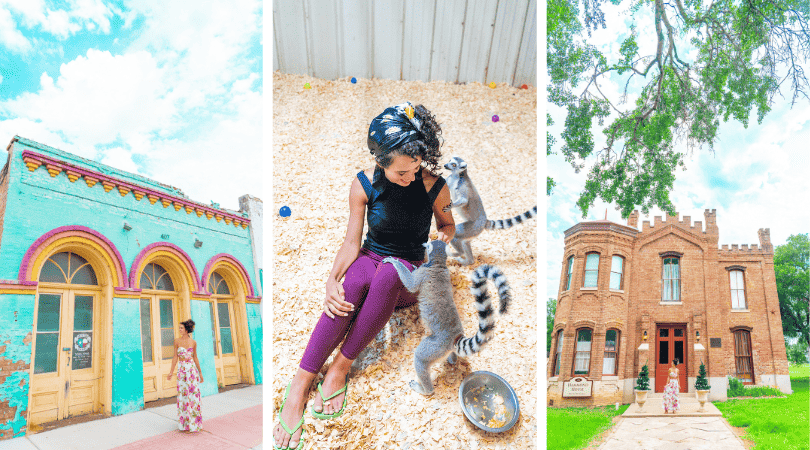 Jefferson
Drive to Jefferson to discover beautiful cypress trees that you can kayak through, walk through the historic downtown, and see one of the quirkiest museums in Texas. Although if you want to stay longer than a day, Jefferson is known as the Bed & Breakfast Capitol of Texas and there's quite a few beautiful places to stay!
Georgetown
Georgetown is known for having one of the most beautiful downtown squares in Texas and you can easily spend the day trying all different kinds of hot sauces, seeing a fun guitar shop, browsing boutiques, and seeing the poppies. If you have more time, there's the beautiful swimming blue hole and the Inner Space Caverns.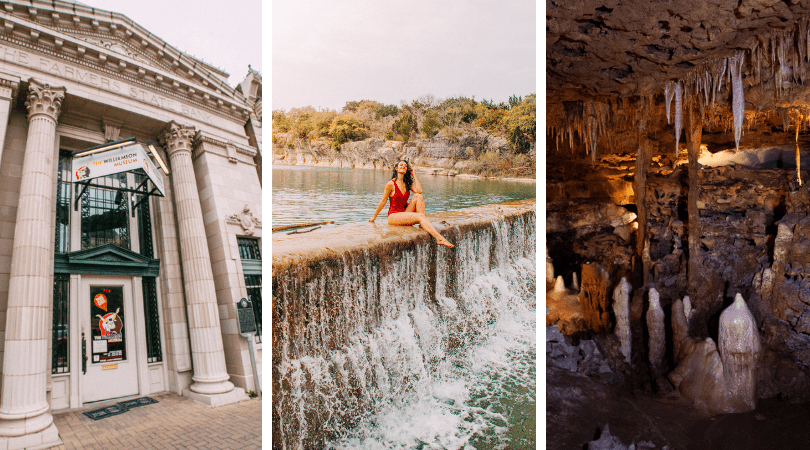 Oklahoma City
It's funny how some of the day trips from Dallas tend to be in another state. Considering you could drive for 12 hours and still be in Texas, it's worth looking to Oklahoma! Go urban white-water rafting, visit the tropical Myriad Gardens, and relax at a Scandinavian spa in Oklahoma City.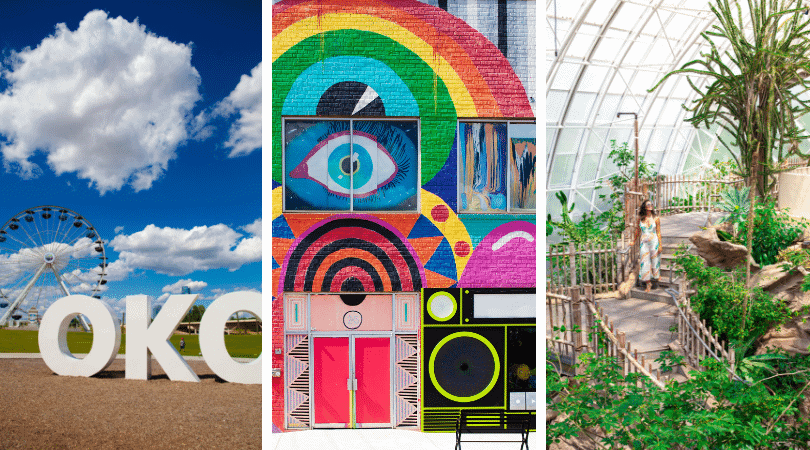 San Saba
See a 70-foot waterfall at Colorado Bend State Park where you could easily spend all day. However, if you have more time with your day trip to San Saba visit during pecan picking season to pick some for yourself and stop by the famous Harry's Boots!
Broken Bow
Spend the day at the beautiful Beavers Bend State Park with the crystal clear waters and getting to hike everywhere. But the fun of visiting Broken Bow is getting to spend a weekend staying cozy in a cabin.
Miraval Austin
Miraval Austin is a beautiful all-inclusive resort with activities, spas, and food. While you can stay overnight, they also have day passes that you can get!
Brownwood
Drink wine in an old school bus, eat lunch inside of a train, and check out a brewery inspired by Teddy Roosevelt. Brownwood makes for such a wonderful day trip because it has so many little things that are unique about it! Looking to plan some romantic day trips from Dallas? Brownwood is perfect for couples with over a dozen romantic things to do!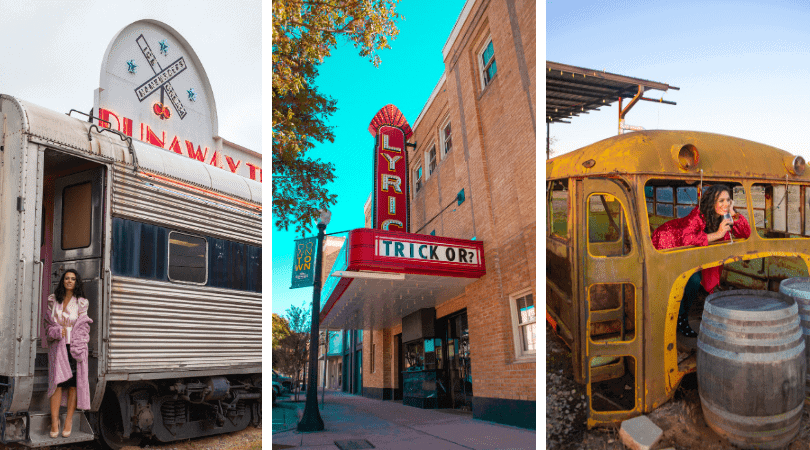 Burnet
"It's burn-it, durn-it, can't you learn it!?" This is something we heard after accidently mispronouncing this town. We learned and then enjoyed all the fun like visiting the caves, going antique shopping, and visiting the famous Devil's Waterhole in Burnet.
Austin
Where do you even start with a day trip to Austin? There's just so much to do and see! You can grab a margarita with the best views at the Oasis or try one of the many different incredible culinary experiences have to offer. You can work through a list of all the fun different things to do in Austin or check out different neighborhoods one at a time like East Austin.
Round Rock
Round Rock has many beautiful parks, including Chisholm Trail Crossing Park, and recreational opportunities surrounded by nature; plan a picnic, play in the water, hike, or bike amongst the verdant surroundings.
This place is known as "the Sports Capital of Texas" with multiple opportunities for sports lovers to enjoy baseball games and an abundance of delectable ballpark food at Dell Diamond Stadium.
For thrill-seekers and families alike, the city boasts the renowned Kalahari Resort & Convention Center, home to the largest indoor waterpark in the country. Stroll through charming downtown Round Rock and explore an array of unique shops, restaurants, and local coffee shops for a leisurely afternoon.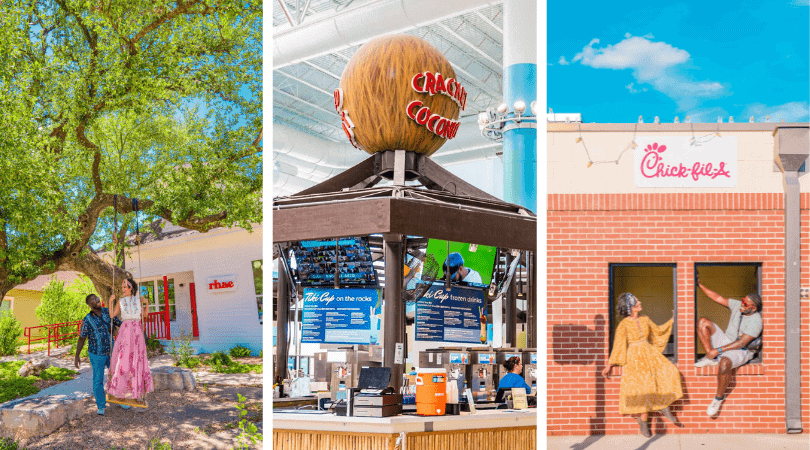 Uncertain
You can explore the beauty of the largest Cypress forest in the world, whether it's via guided boat tours or a kayak. The Hodge Podge Cottages provide the extraordinary opportunity to sleep in a renovated houseboat just steps away from Caddo Lake.
If you're looking for more extensive activities and amenities, nearby Jefferson and Marshall are worth exploring. Jefferson, known as the B&B capital of the world, offers charming accommodations and a delightful antiquing scene. Meanwhile, Marshall boasts wineries, the Harrison County Historical Museum, antique shops, and Bear Creek Smokehouse where you can pet and feed longhorns.
Huntsville
You might think you're in the Caribbean with aquamarine blue of the water of Blue Lagoon and you definitely have to stop by the cowboy boot and cowboy hat house! Only in Texas! All of this and more can be found in Huntsville!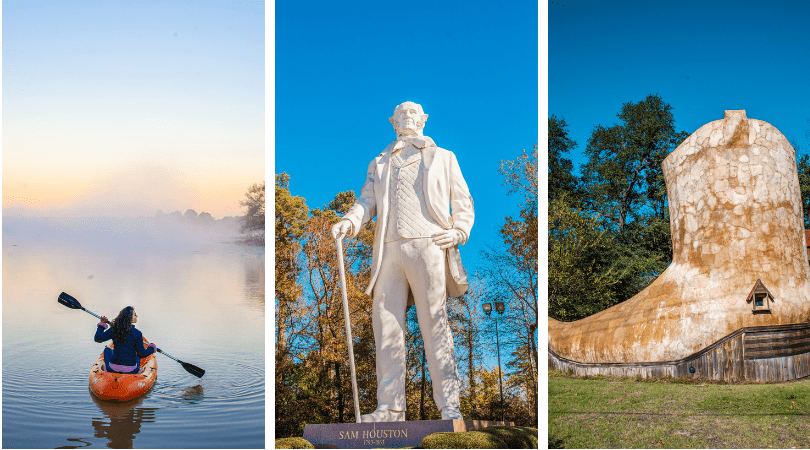 Lampasas
Renowned for its therapeutic mineral springs, the Hancock Springs Pool in Lampasas stands out as one of the few remaining natural spring-fed swimming pools in the state.
For fans of the King of Rock 'n' Roll, Lampasas boasts being home to Elvis' favorite place to grab a strawberry shake and a burger while stationed at Fort Hood: Storm's Drive-in. With a thriving dairy museum, visitors can immerse themselves in the rich history of the dairy industry.
Another fascinating sight and noteworthy photo spot is the World's Largest Spur, a testament to Lampasas' cowboy heritage. For nature enthusiasts and animal lovers, you can encounter majestic wildlife up close at Topsey Exotic Ranch.
For wine connoisseurs and flower enthusiasts, the local wineries are great places to savor exquisite wines while enjoying breathtaking vistas of blooming bluebonnets during the spring.
Conroe
You will be delighted by the breathtaking beauty of Conroe, including the W. G. Jones Forest with its towering pine trees. Kayak, paddleboard, or ride the historic paddlewheeler, the Southern Empress, across Lake Conroe.
Pay a visit to 7-Acre Wood's old-fashioned family fun park featuring activities like a petting zoo, mini golf, children's playground, old Western play town to cultivate your imagination, and more! Or, pick pumpkins in the fall at P6 Farms, stay at Margaritaville, and fly in a vintage WII B-17 bomber.
Dallas Tx Day Trips Day Trips Less Than 4 Hours
Bellville
Just a couple of hours from Dallas and you could be running through a castle like royalty in Bellville! In addition, there is horseback riding, wineries, and more fun activities.
Manchaca
Manchaca is a small town near Austin but there's plenty to do for a fun trip including having a photoshoot with camels and zebras, having some of the best BBQ in Texas, and relaxing at the local saloon.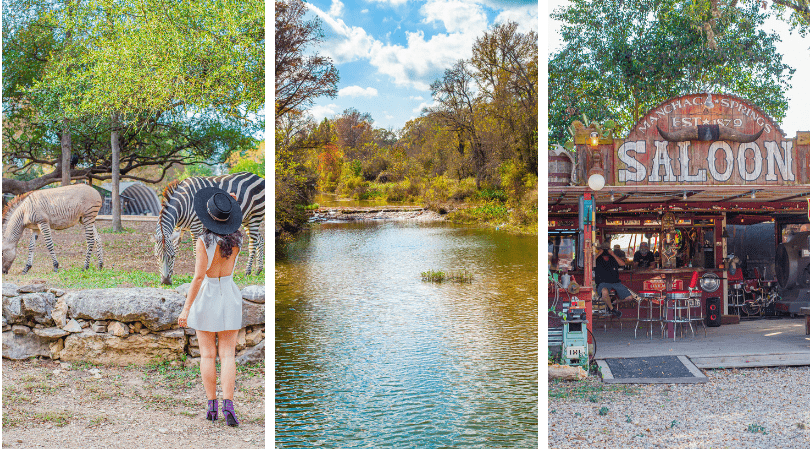 Livingston
Spend some time kayaking or relaxing in a hammock at Lake Livingston State Park and hike through Sam Houston National Forest in Livingston. And if you decide to stay here more than a day you can sleep in a German inspired castle!
Hye
Everyone's heard of Fredericksburg, but did you know most of the places for wine tasting our outside of the town! The fun of Hye is that they have a large number of distilleries and wineries.
Wimberley
A day trip to Wimberley is like visiting a fairytale town with so much whimsy! And the best part is all of the wonderful swimming holes including Jacob's Well and Blue Hole. Wimberley is a little slice of heaven and once you visit it's easy to see why! It's one of the best day trips from Dallas that you'll find in the Texas Hill Country.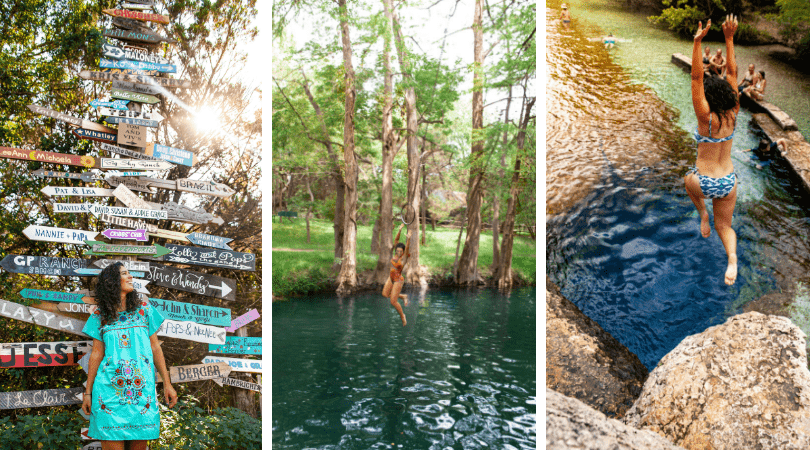 Spicewood
Everyone has to experience the breathtaking beauty of Krause Springs at some point in their life. If people could only visit one place I would say Krause Springs because it is just so stunning! Apart from that, Spicewood also has ziplining and a fun wine scene including delicious Argentinian wines.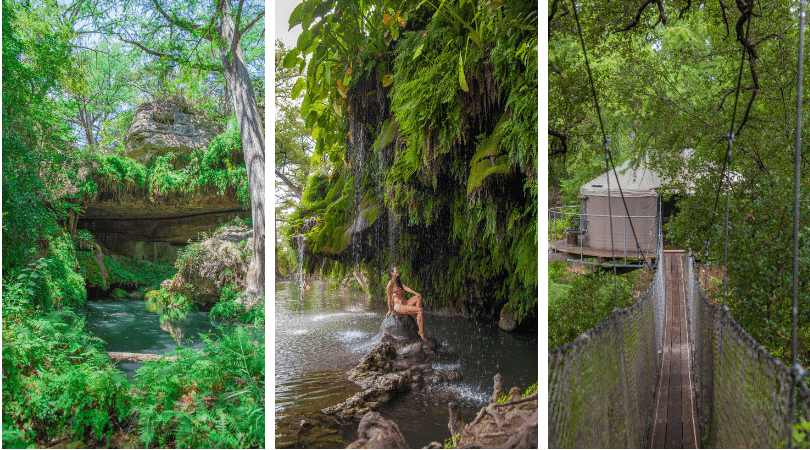 Fredericksburg
No need to visit Napa when you can take a day trip to the wine country of Texas in Fredericksburg with a German flare! You can walk through the downtown where you have all the different shops, hike up Enchanted Rock, and have one of the most authentic German beers in Texas.
Aldridge Sawmill
Go for a hike through an abandoned sawmill that nature has now taken over!
New Braunfels
In New Braunfels you could easily spend all day just at Schlitterbahn. However, if you're looking for other things to do for a day trip you can float the river or explore the Natural Bridge Caverns. New Braunfels also has a lot of German influence so make sure to grab some German food and visit the historic Naegelin's Bakery.
Driftwood
A day trip to Driftwood is worth it for Salt Lick BBQ! While there check out some of the fun wineries in the area or try sotol! After that do a little two-stepping at Mercer Street Dance Hall.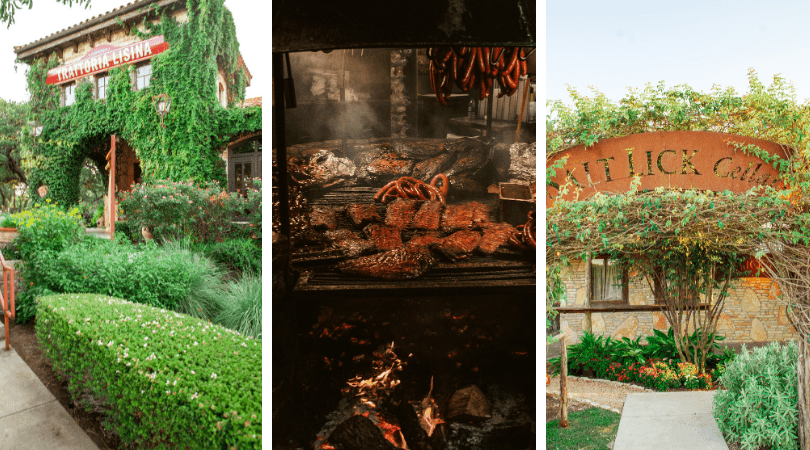 Stonewall
If you've taken a trip to Fredericksburg don't stop there! There are so many great wineries over in Stonewall along the 290 Wine Trail and you have to stop at the Lyndon B. Johnson National Historic Site and visit Airforce 1 1/2 and pretend you have your own private plane!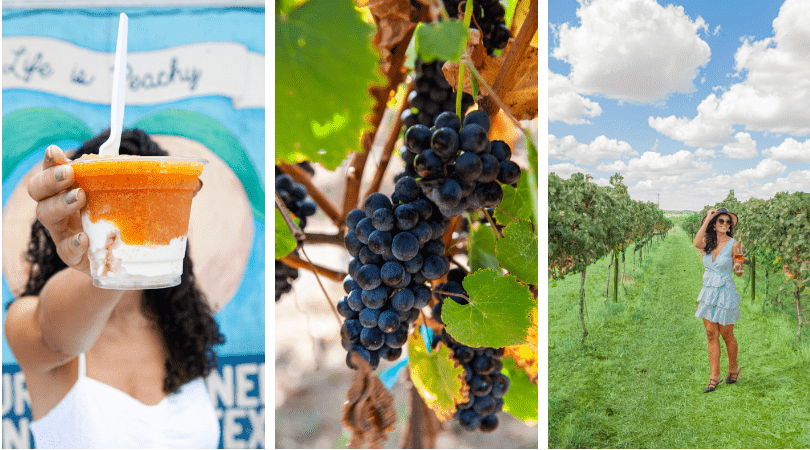 Houston
Houston is more than just a bustling city. You can enjoy nature at Hermann Park or the butterfly garden at the Cockrell Butterfly Center; expand your palate at its numerous wineries, go on a safari, book a massage, sip cocktails at a rooftop bar, and book immersive experiences at attractions like Lucky Land, the iconic Space Center of Houston, and the Kemah Boardwalk.
San Marcos
San Marcos surrounds the beautiful, spring-fed San Marcos River with multiple free parks and swimming spots to enjoy during the summer. Fittingly enough, San Marcos also has a Mermaid March, a series of 10 themed mermaid statues located all around San Marcos. Explore the city and see how many you can find!
You can also indulge in exhilarating experiences like helicopter tours, riding river rapids, or scuba diving, and visit one-of-a-kind attractions like the cave system and wildlife park at Wonder World Park, the Meadows Center, and the scenic overlook at the Grotto!
Johnson City
Johnson City is another town along the 290 Wine Trail where you'll want to explore even more wineries as well as visit Pedernales Falls State Park.
San Antonio
Learn all about San Antonio's rich Latino culture, experience the Riverwalk, see a show at the historic Majestic Theater, visit the San Antonio Zoo or the Japanese Tea Gardens, cool off at SeaWorld/Aquatica, or spend the day at Six Flags! When you're looking for fun day trips from Dallas, San Antonio is one you have to make at least once!
Pearland
One standout feature of Pearland is its diverse and flourishing culinary scene. From Texas-style barbecue joints to authentic Tex-Mex eateries and fusion delicacies, Pearland has something to please every palate.
You can escape to the picturesque parks and trails scattered throughout the city. For aviation enthusiasts, the 1940 Air Terminal Museum is a must-visit nearby, offering a glimpse into the history of air travel. Nature enthusiasts can find solace at the Delores Fenwick Nature Center, a tranquil oasis offering free access to pristine native landscapes and wildlife.
Embracing cultural diversity, Pearland boasts a Hindu Temple where visitors can immerse themselves in the rich traditions of Hinduism. Moreover, the city takes pride in its inclusive and diverse community, as exemplified by the POC-focused business BLK Market, a hub for unique and locally crafted goods by black entrepreneurs.
Martin Dies Jr. State Park
Funny name, but there is so much fun to be had and natural beauty to be found at Martin Dies Jr. State Park. In the morning it's amazing how the fog rolls over the water. They have kayaks you can rent, trails to walk through, and a little island.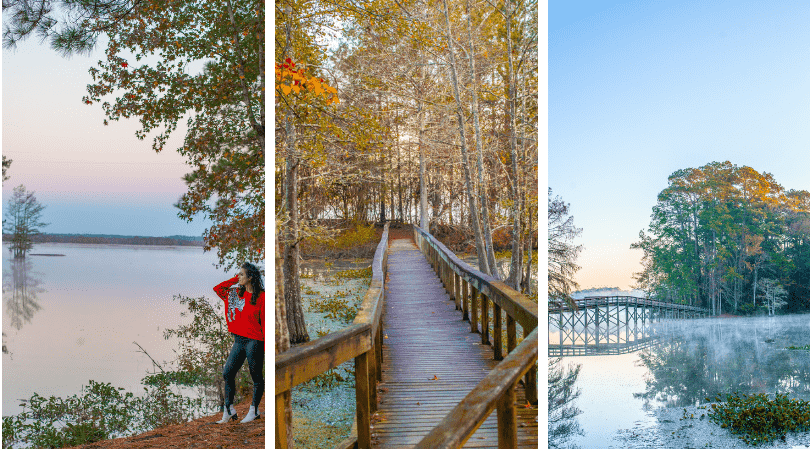 Alvin
In Alvin, you can spend the night in a furnished barn loft or boho tents surrounded by friendly goats on the Bayou Farm. Froberg's Farm is open year-round for stocking up on farm-fresh produce and meat, but it is also well-known for its seasonal, family-friendly festivals. Don't miss the chance to tantalize your taste buds with fusion Texas BBQ and the joy of interacting with adorable animals at Wildlife Bayou Zoo.
Dallas Tx Day Trips Day Trips Less Than 5 Hours
Sonora
Tucked away on a leisurely drive from Dallas, Sonora emerges as a captivating haven for those seeking a break from the city's hustle.
You won't be able to resist the magnetic allure of the Caverns of Sonora. Trust me, it's the kind of stunning underground spectacle that'll make your Instagram feed come alive and leave you utterly speechless.
You can round off your day with a Zen moment at the Eaton Hill Nature Center. Imagine yourself enveloped by pure, unfiltered wilderness. Now, that's what I call hitting the reset button!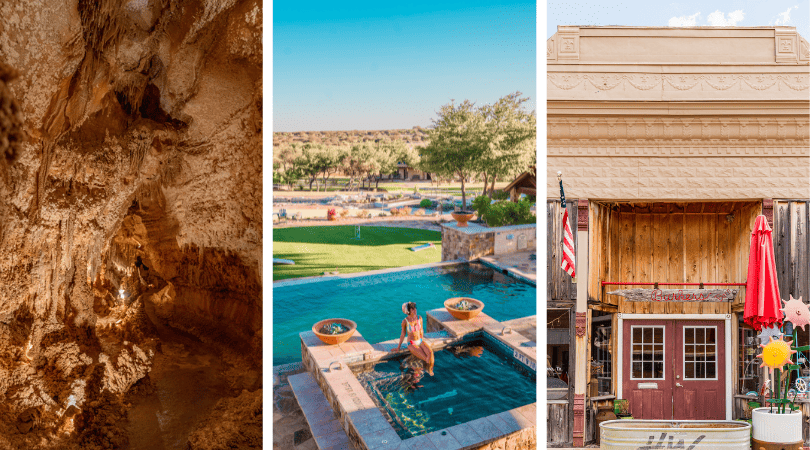 Galveston
For a more adventurous experience, visit Galveston for a stroll along Pleasure Pier, which offers thrilling amusement rides and a stunning view of the Gulf of Mexico. You can find solace in Galveston Island State Park, where hiking, kayaking, and bird-watching opportunities abound.
The Rainforest Pyramid, Aquarium Pyramid, and 3D theater at Moody Gardens are a must-see for visitors looking for a simultaneously educational and entertaining experience. The beautiful ship, Elissa, commands center stage at the Seaport Museum, where history buffs can explore Galveston's rich nautical past, including boarding the Elissa herself!
Boerne
One of Boerne's standout activities is exploring the Cibolo Nature Center, which boasts scenic trails through Cypress trees, diverse wildlife, and opportunities for birdwatching.
For those seeking a taste of history, the historic Hill Country Mile features over 80 boutique shops, restaurants, and community events. Be sure to stop by Richter Bakhaus, renowned for their massive, handmade cinnamon rolls that are nothing short of legendary.
Boerne Lake beckons nature enthusiasts with its serene waters, perfect for leisurely strolls, sailing, or a refreshing swim. The Cave Without a Name is a must-visit, boasting intricate rock formations and regular concerts. Boerne is also home to several wineries.
Junction
You will be delighted by the opportunities for outdoor adventure in Junction, including hiking trails, clear water for tubing and kayaking, fishing spots, and camping areas. Junction also boasts a variety of local shops, restaurants, and cultural attractions like a local favorite, the London Dance Hall.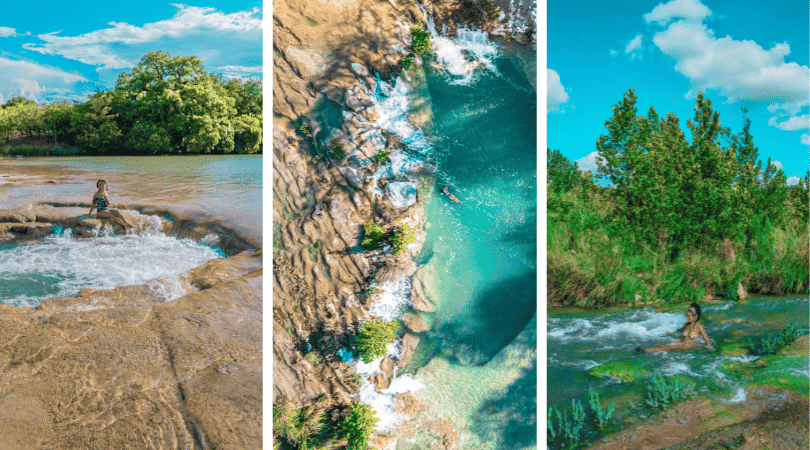 Orange
Time your trip to Orange if you can and experience the Orange Blossom Festival, a vibrant celebration of the area's citrus industry featuring parades, arts and crafts, and live entertainment.
The Shangri La Botanical Gardens features a stunning display of plants and wildlife native to the area, and you can even tour the fully restored, Victorian mansion of W. H. Stark. For art lovers, visit his namesake, the Stark Museum of Art, which is in possession of the most significant collection of American Western art in the nation!
Beaumont
Beaumont boasts several, free museums including the popular Art Museum of Southeast Texas and the Fire Museum of Texas. Embrace nature's wonders by going out on the miles of kayaking trails in Beaumont, great for immersing yourself in the area's diverse wildlife and picturesque landscapes.
Dive into the rich Cajun and Creole culture and flavors. For a touch of history and thrill, visit the Spindletop Gladys City Boomtown Museum, where you can witness the famous Spindletop gusher that was responsible for Beaumont's founding in the early 1900s.
Mardi Gras in Beaumont is comparable to New Orleans with its vibrant parades, upbeat music, and mouthwatering food. I definitely recommend trying to plan your trip for March so you can experience it for yourself!
Kerrville
Kerrville is a stunning gem that offers more than just scenic vistas (although, trust me, it has those in spades). We're talking about a perfect blend of natural beauty, culture, and a dash of that southern hospitality we all love.
The city boasts a vibrant arts scene, including the Kerr Arts & Cultural Center, with frequent exhibitions, workshops, and even a gift shop filled with local crafts. You can visit a replica of the iconic Stonehenge, eat giant pizza, spend time on the Guadalupe River, and so much more!
Whether you're planning a family day out or a romantic escape, Kerrville has something for every type of traveler.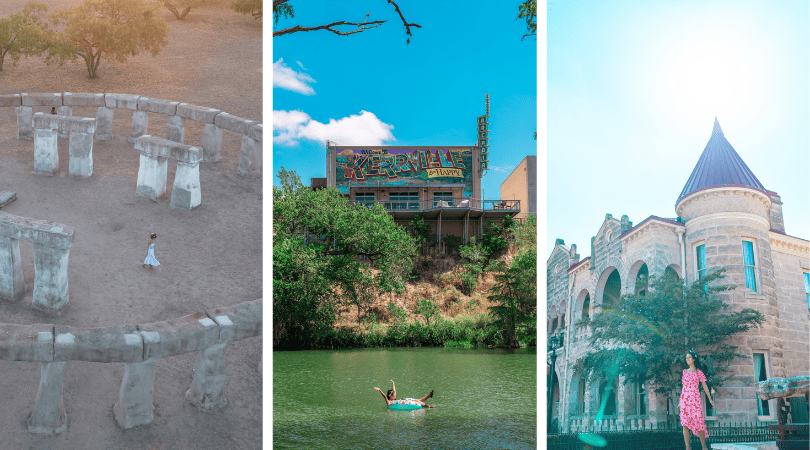 Dallas Tx Day Trips Less Than 6 Hours
Corpus Christi
In Corpus Christi, there are plenty of exciting activities to immerse yourself in, especially if you're a fan of the Queen of Tejano Music, Selena Quintanilla. To pay tribute to her remarkable legacy, start your journey at the Selena Museum, where you'll have the chance to learn about her and even see some of her belongings.
Afterward, make your way to the Selena Memorial Statue. It's a beautiful monument that honors the late singer's impact on the community. To satisfy your appetite, head over to Hi-Ho Restaurant, a local favorite known for its delicious Tex-Mex cuisine, which Selena herself used to frequent.
With its stunning coastal location, Corpus Christi offers some fantastic beach experiences. Spend time relaxing on the beach or go horseback riding, stand up paddleboarding, and more! You can even support local conservation efforts when you visit the Texas State Aquarium! Choose from activities like cage diving with sharks and interacting with a variety of marine animals!
Concan
The city offers an abundance of options to immerse yourself in nature's wonders. The crown jewel of Concan is undoubtedly Garner State Park, where visitors can hike scenic trails, picnic, and soak in the shade of Mount Baldy. Additionally, the Frio River presents thrilling opportunities for tubing, kayaking, and swimming for a refreshing respite from the Texas heat.
Dallas Tx Day Trips Less Than 8 Hours
Alpine
In Alpine, there are plenty of exciting activities to indulge in such as shopping, hiking, and delectable dining experiences. Explore unique boutiques, local artisan shops, and art galleries in downtown Alpine. Nature lovers and hiking enthusiasts can conquer Hancock Hill with a quirky landmark and stunning panoramic views at the top.
For those craving authentic Tex-Mex delights, head over to Alicia's Burrito Place and indulge in mouthwatering burritos, tacos, and other flavorful dishes. Another must-visit spot is Tri La Bite, a food truck known for fresh burgers, sandwiches, and a giant dinosaur.
For a touch of elegance and history, dine at the historic Holland Hotel. Their restaurant serves up delicious upscale fare in a setting filled with old-world charm.
Best Day Trips From Dallas TX: Final Thoughts
With this list of the best day trips close to Dallas, you could almost one day trip a week, and probably even more, because several of these places are worth visiting multiple times! The options are limitless!