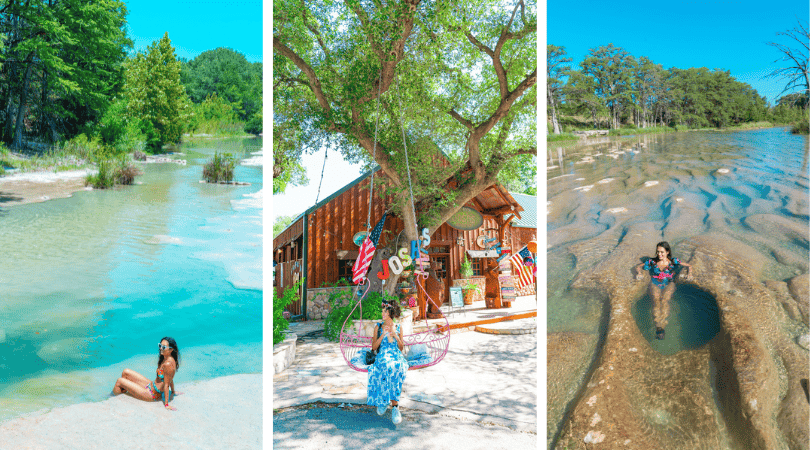 Concan, Texas is a haven for those who appreciate the natural beauty of the outdoors and the refreshing thrill of a good swim. This tranquil, picturesque locale nestled in the Texas Hill Country is home to a variety of swimming spots.
From the crystal clear waters of the Frio River to the cool, shaded pools hidden among the region's scenic trails, Concan offers a multitude of options for swimmers of all ages and skill levels. Whether you're seeking a tranquil spot to float and relax, or an adventurous getaway on the river, you'll find your perfect aquatic retreat in Concan!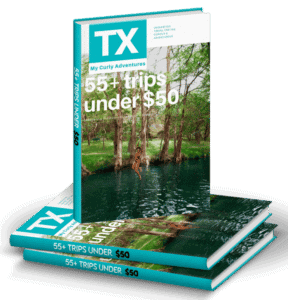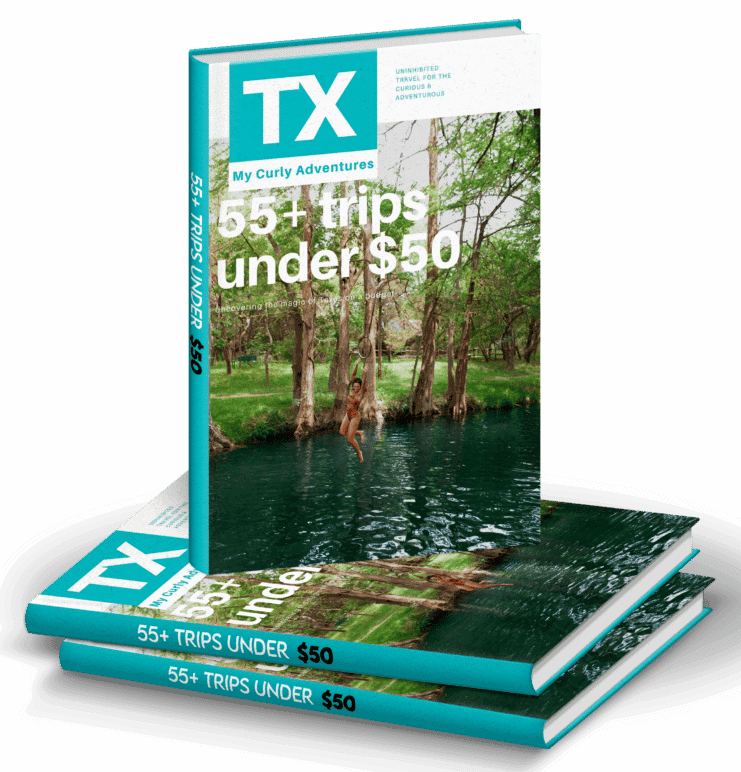 With our latest edition of our Texas Travel Guide, you can take an exciting vacation every weekend without breaking the bank and still have more to do! And in just one trip, the guide pays for itself! You'll be amazed at all the hidden gems, international influence, and wacky attractions you'll find all over Texas!
Not ready to purchase quite yet? We wanted to make this guide as accessible as possible, so we've shared our 1st edition of our guide, 50 Texas Trips Under $50. Click the button below to get yours for FREE!
Things to Note About Concan Swimming Spots
With the Frio River being miles long, it can be hard to know which spots you should, or can, visit. Each one is a little different. Some swimming spots are more popular, others have amenities like slides, great rocks to jump off of, or make great spots for a rope swing. Some spots are more affordable and some cost more. There are areas with clearer water and places where it can be murkier.
It's important to note that the Frio River is constantly changing so it's possible the water will look different when you visit.
Of course, swimming in Concan is fun, but there are other exciting activities in Concan you should try; embark on a Frio Bat Flight Tour, stay in colorful cabins at the Inn Between, go horseback riding, and more, so be sure to read our full list of things to do in Concan!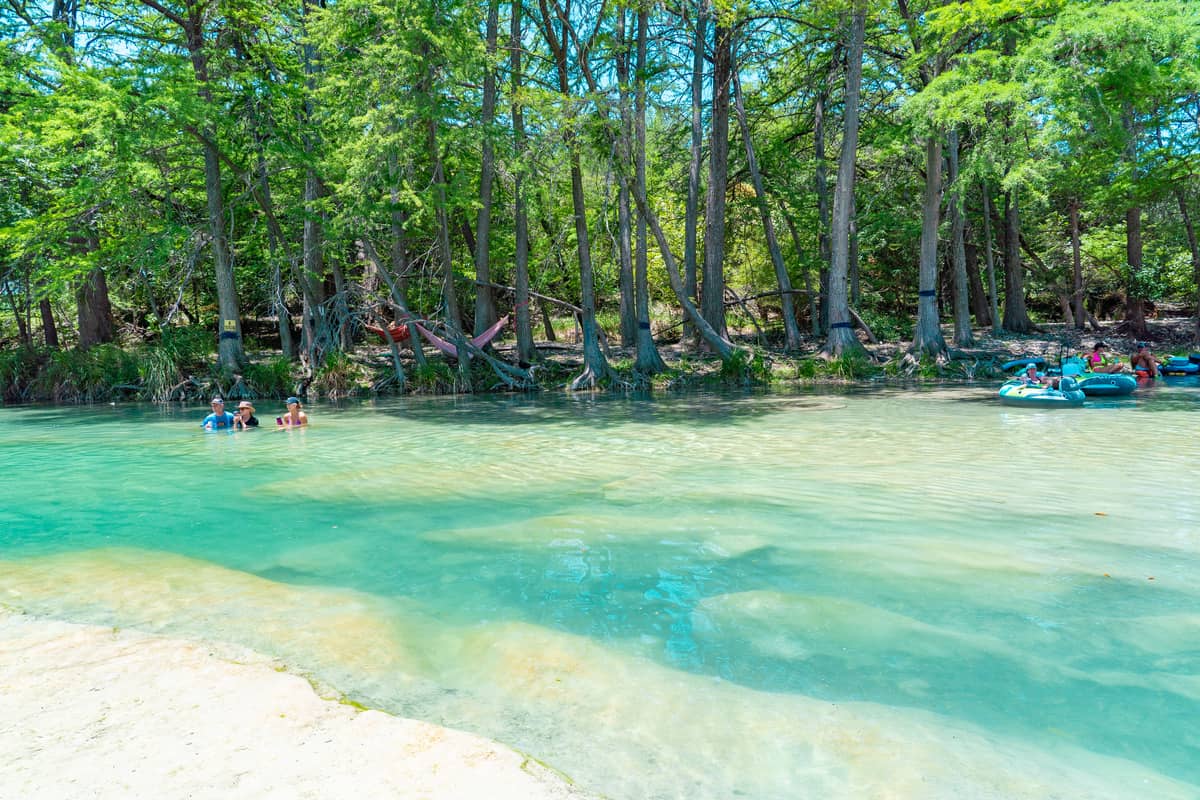 Tips for Swimming in the Frio River
Free spots tend to be more crowded, while paid ones are usually less crowded. Unfortunately, littering is a common problem in these areas, with cans and lost shoes scattered everywhere. I even witnessed someone throwing a can near a garbage can and missing it by 5 feet. It's not enough to simply avoid littering; we should strive to leave the place better than we found it by bringing a bag to collect trash.
Don't forget to bring river shoes to avoid extra expenses. Your feet will thank you, because those river rocks hurt and it will also help prevent falls. Purchase them ahead of time to save money. Trust me. You don't want to be overpaying for cheap shoes that don't even last your trip. We visited many of the stores and much prefer if we had brought our own.
If you plan on visiting areas that are not accessible by tube rental, bring your own inner tube. Places like Josh's will sell you them, but you can save money by purchasing one ahead of time.
Also, bring your own life jacket if necessary.
Dress in layers and apply river-safe sunscreen (check out our blog post for recommendations) to protect both your skin and the river's ecosystem.
The summer season is their busy season and when it's the most crowded, so arriving early or staying late is a good idea to avoid crowds. Additionally, if you can go on a weekday after Labor Day, there are still plenty of hot days in Texas, but you'll have the place much more to yourself.
Be prepared for people drinking, being rowdy, and playing loud music. If you prefer a more secluded experience, consider renting a cabin in a less crowded part of the river or choose a location like Frio River Private Access, which limits the number of people they allow to enter.
Some people like to set up canopies in the water, which can be inconvenient for tubers. If you're tubing, be mindful of this, and if you're setting up a canopy, try to consider the tubers' experience as well.
While the river offers a picturesque avenue for public use and enjoyment, it's important to remember that most of the land beyond the actual bounds of the river is private property. Avoid any potential conflicts or legal trouble by ensuring your activities are confined within the river's boundaries. Regardless of whether you're tubing, swimming, or simply strolling along the banks, stay in and on the river to ensure a trouble-free experience.
Help Protect the River: If you read nothing else, please read this. Our Texas rivers are easily affected by drought and over consumption of water (as you will likely see when visiting). Make sure to still limit your water use to only what you need to help areas like this.
Additionally, our river is full of sensitive wildlife and plants. Just like tropical destinations want you to use reef-safe sunscreen, we should be using the same in order to prevent our sunscreen from polluting the water. "Reef-safe" is not a regulated phrase so make sure to do your research beforehand.
We've also shared some that we have found:

Best Swimming Holes & Spots: Where to Swim in Concan TX
Gravel Bar
Gravel Bar is one of the great places that many people like to enjoy staying cool in Concan. They offer parking for $30 per car, although you can sometimes find free parking along the side of the road (please pay attention to signs).
On one side, the water runs deep, while on the other side, it's shallow. They've created a path with rocks to make a little stream that takes you down the river. You can put your tube in, ride it for a hundred yards or so, and then get out and walk back up to start again.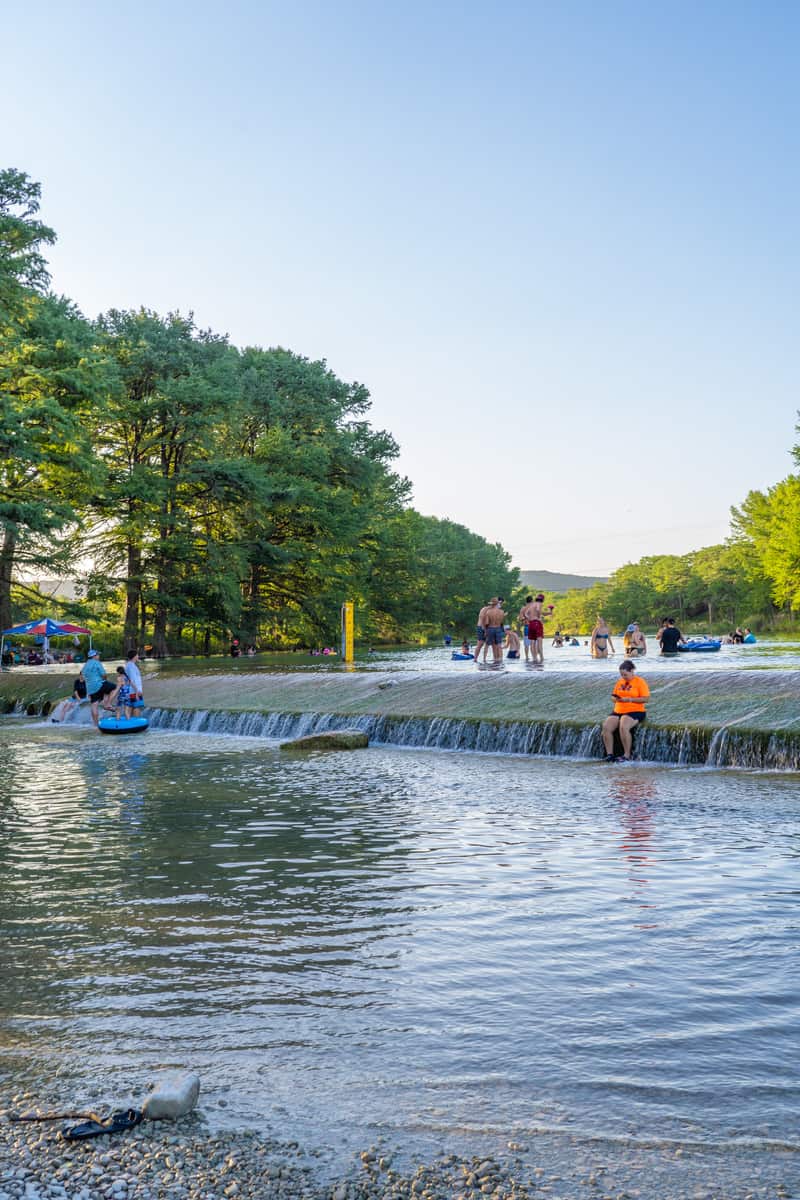 For those interested in booking a cabana, Frio River Cabanas is also conveniently located there, making it an ideal choice for larger families. It's popular because a lot of cars will drive through the crossing, causing some of the water to cascade down.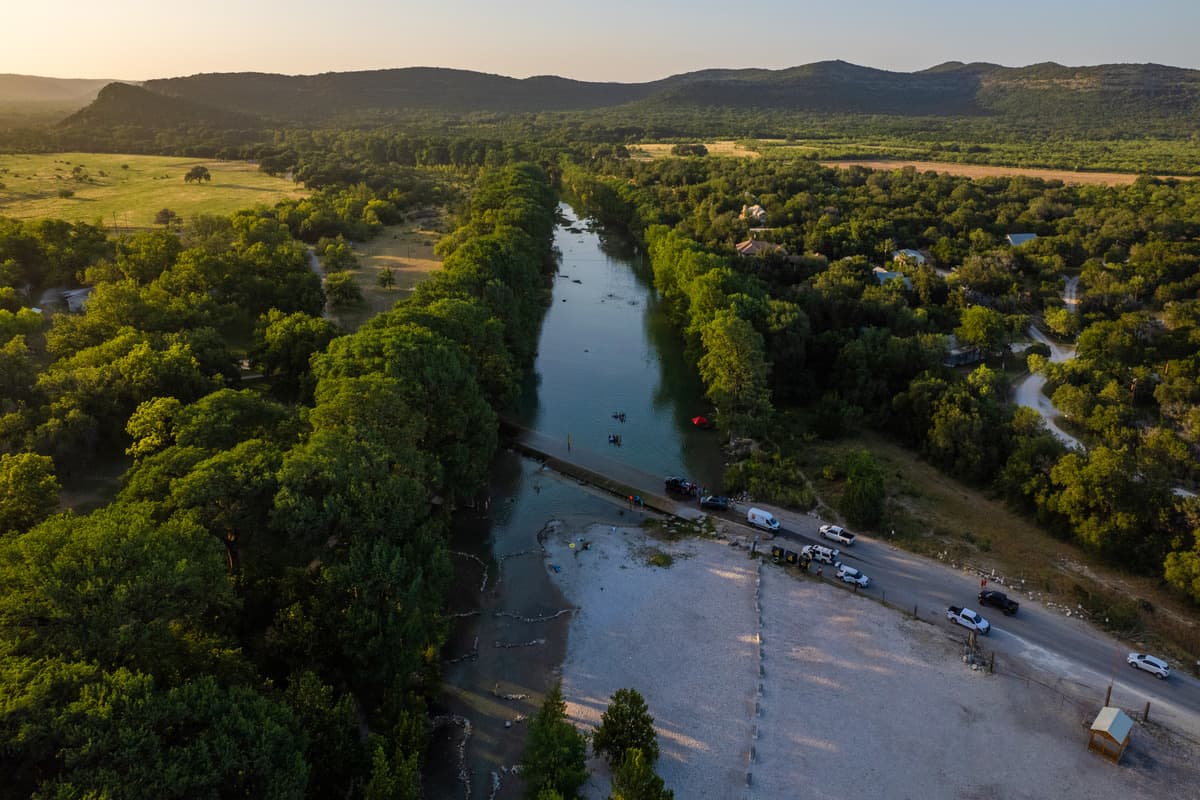 Rock Island
Rock Island Parking is a hidden gem in Concan, likely named for all the rocks at the bottom that create some of the clearest waters!
For just $5 per person, you can access this stunning part of the river with some of the clearest deep water you can find. At four feet, you can see straight down to the bottom, reminiscent of the Caribbean.
To find it, turn on FM 1120 past Garner State Park and continue until you spot flags and signs for Rock Island Parking. No exact address yet, so make use of the provided GPS link. Don't miss out on this hidden gem in Concan!
Camp Cold Springs
Newly opened in May 2023, Camp Cold Springs is a fantastic destination for outdoor enthusiasts. Day pass admission is priced at $10 per person and $5 per vehicle, allowing you to enjoy the facilities until 9pm. The campsite can accommodate up to 50 people on a first-come, first-serve basis.
Camp Cold Springs offers excellent amenities, including a bathhouse with showers and a game area featuring activities like corn hole, pickleball, ping pong, and basketball. Camp Cold Springs also offers stand-up paddleboard (SUP) rentals. You can enjoy half a day of paddleboarding for $25 or a full day for $35.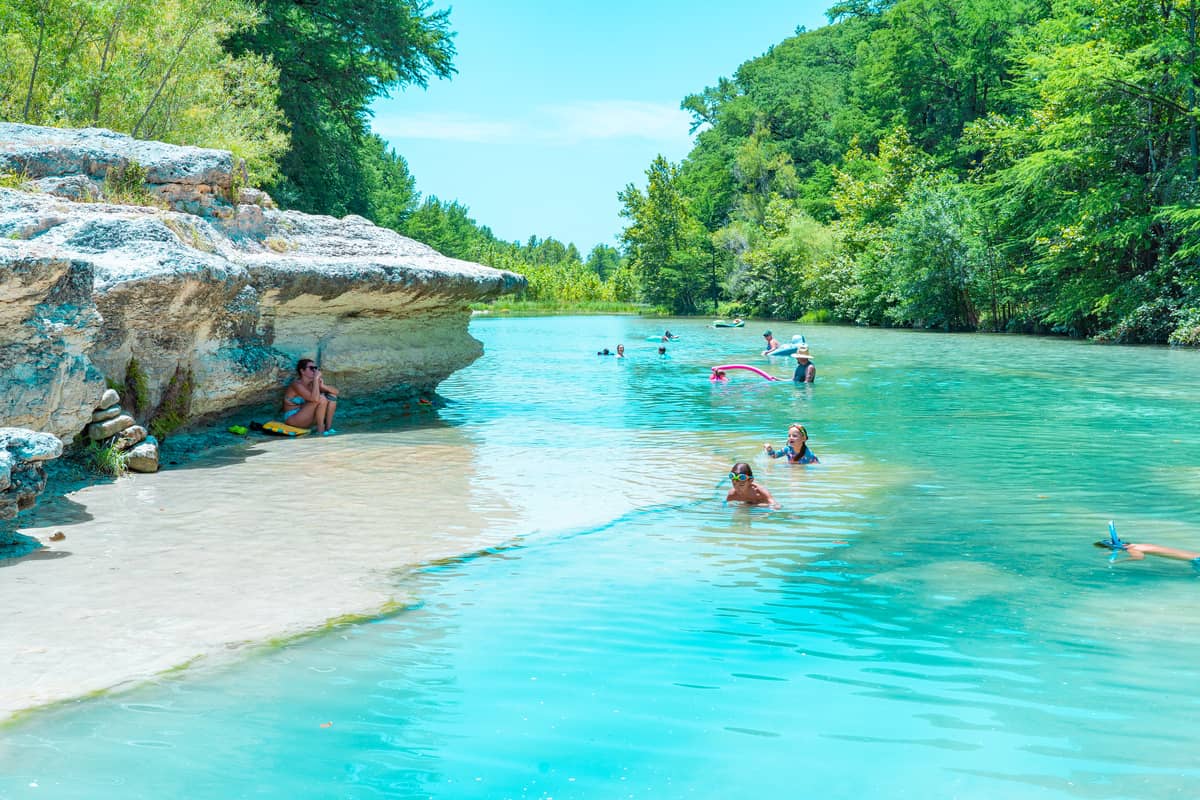 If you're interested in staying overnight, there are camping options available, including cozy cabins. Be sure to check the website for more information.
The water at the camp is truly unique, with its deep sections and large rocks. There's even an area where you can enjoy jumping into the water. As you explore further along the river, you'll come across a charming little waterfall. Just keep in mind that beyond the river, the area belongs to another property.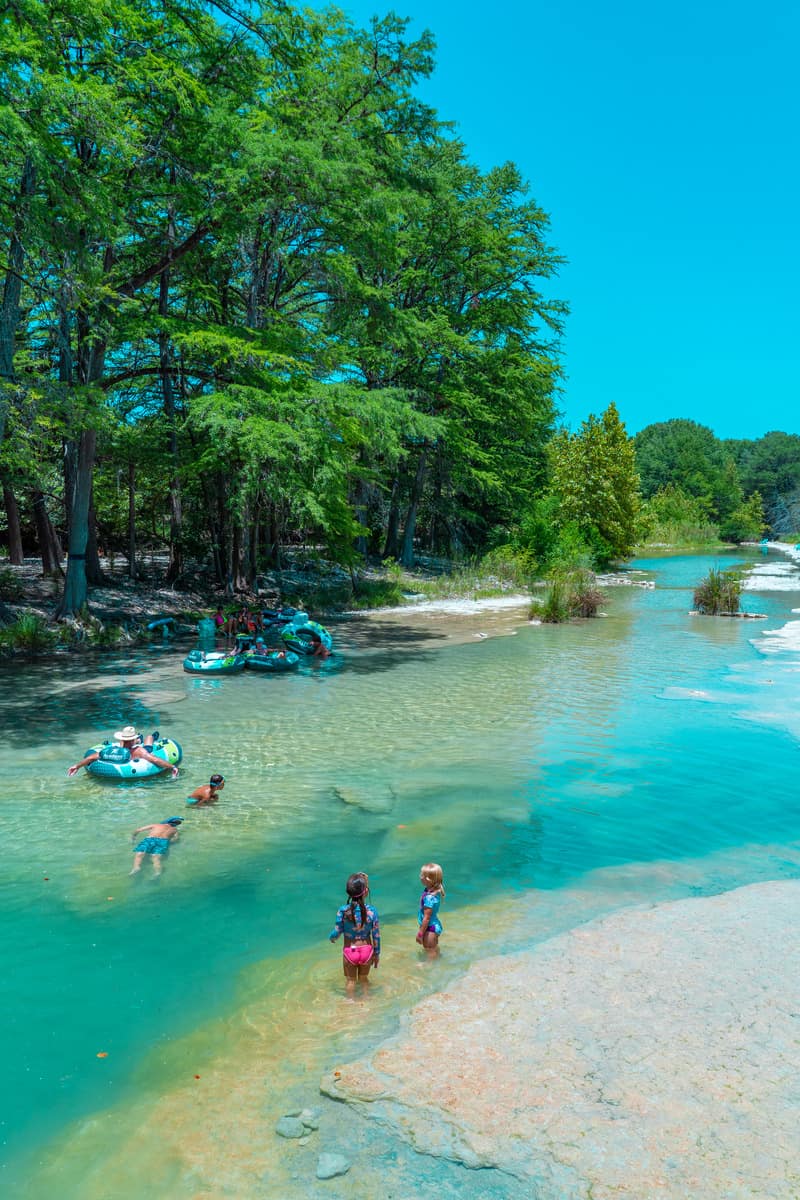 Frio River Private Access
This hidden gem is perfect for those seeking tranquility and a more peaceful place to cool off. Nestled at the end of the river, far from the bustling crowds, Frio River Private Access offers a serene experience unlike any other.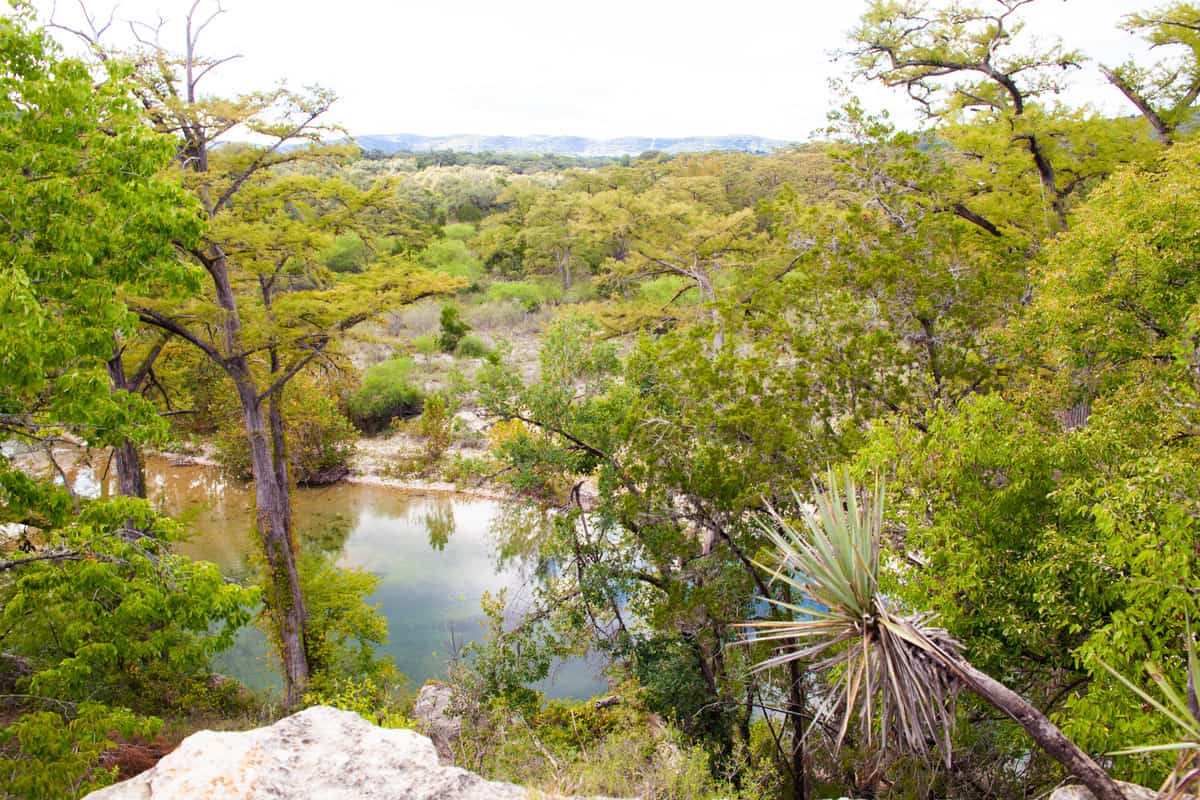 Known as a "Blue Hole," its crystal clear waters allow you to see all the way to the bottom, teeming with vibrant fish. The area also boasts a charming river where you can wade and a scenic hiking path that offers breathtaking views of the Texas Hill Country.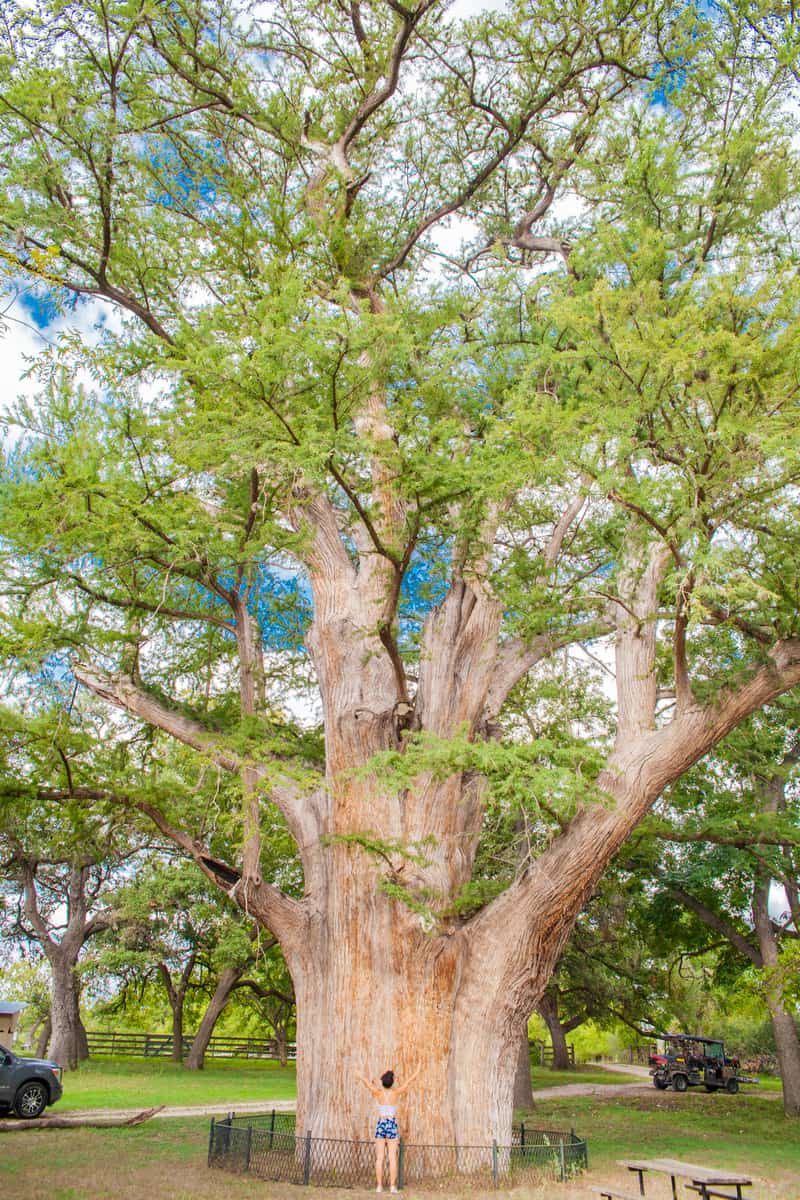 With limited daily capacity, only 30 people are allowed in, ensuring ample space for exploration. Additionally, you can enjoy various swimming holes, embark on a hidden staircase hike, or even rent kayaks and paddleboards.
For a serene and idyllic retreat on the Frio River, this private access spot is a must-visit. Don't forget to marvel at one of the oldest trees in Texas while you're there! Read all about the Frio River Private Access here.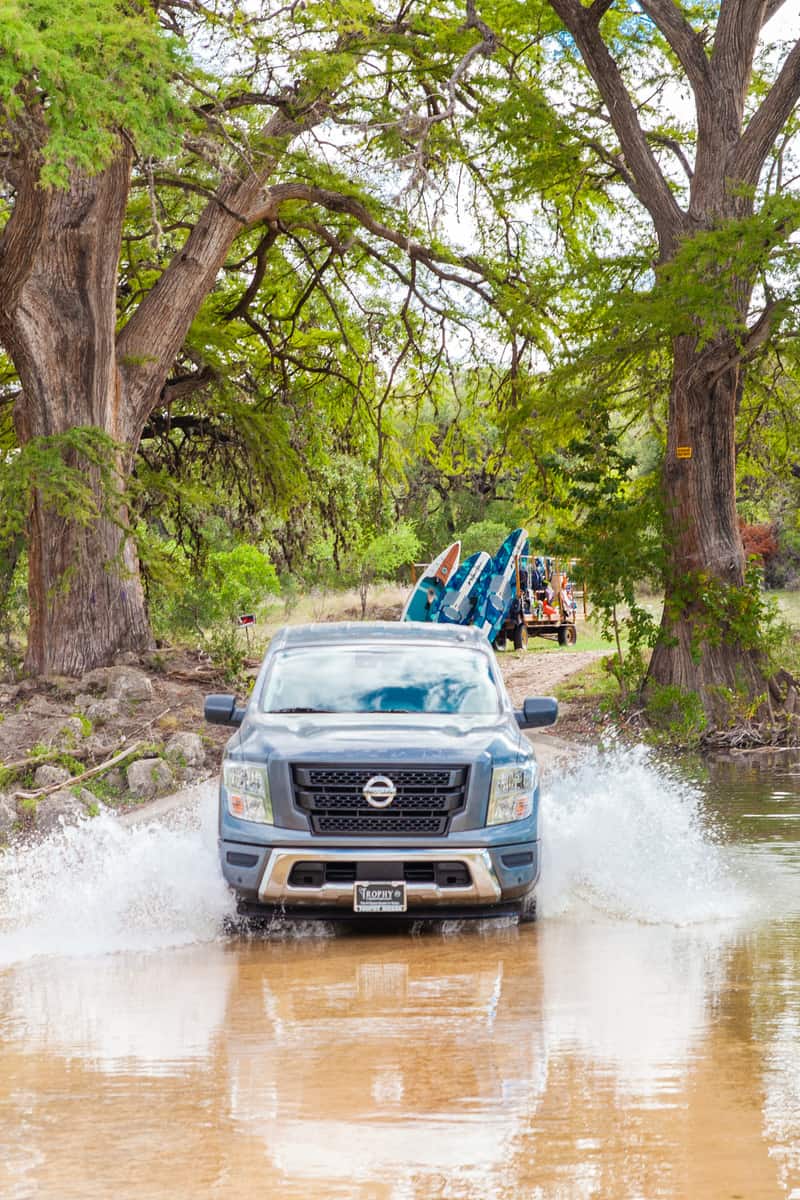 Concan Swimming Hole
Concan Swimming Hole offers a splendid experience for visitors as one of the most popular destinations on the Frio River, cherished by families for generations. For that reason, many people want to visit and it can quickly fill up.
To secure your spot, it's advisable to arrive early. The swimming hole is known for its rocky area, perfect for those who enjoy jumping into the refreshing water.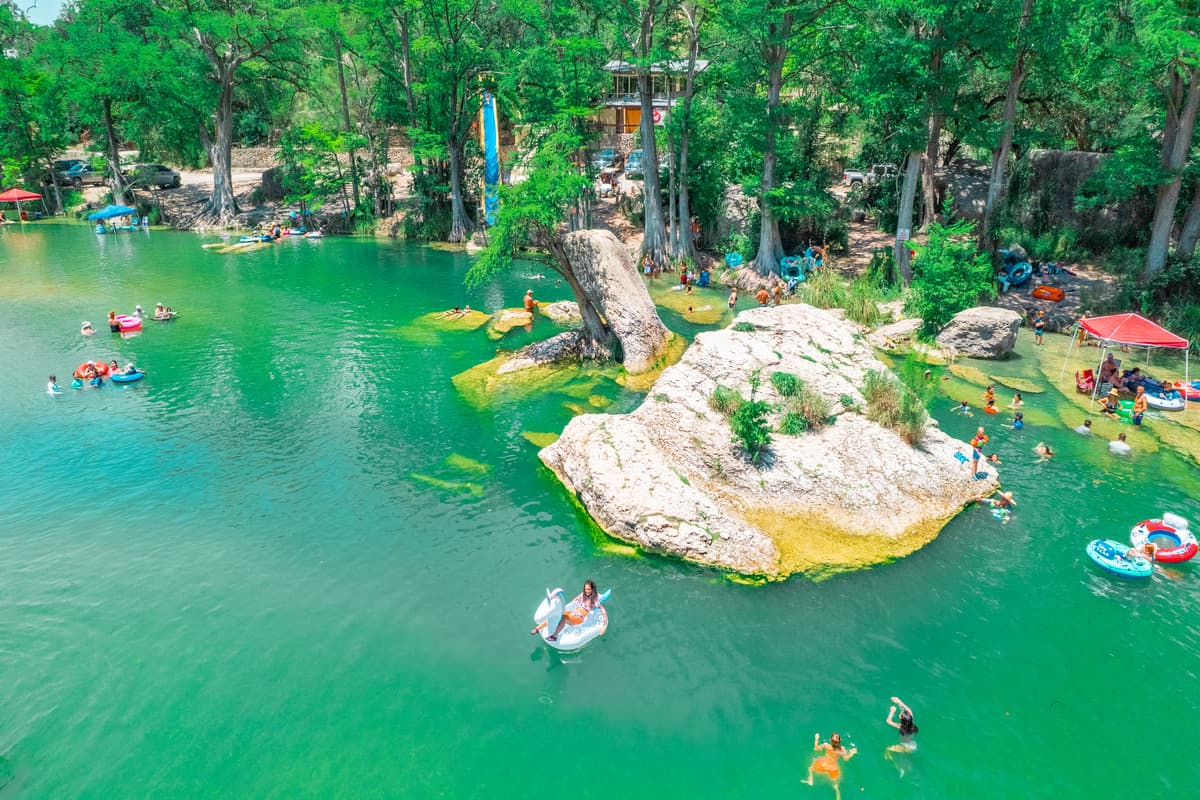 The location is pet-friendly, but please note that grills and cooking are not permitted. Whether you prefer deep water or shallow areas for swimming, this oasis has it all. For an additional fee, you can enjoy a thrilling slide at Neal's Lodges.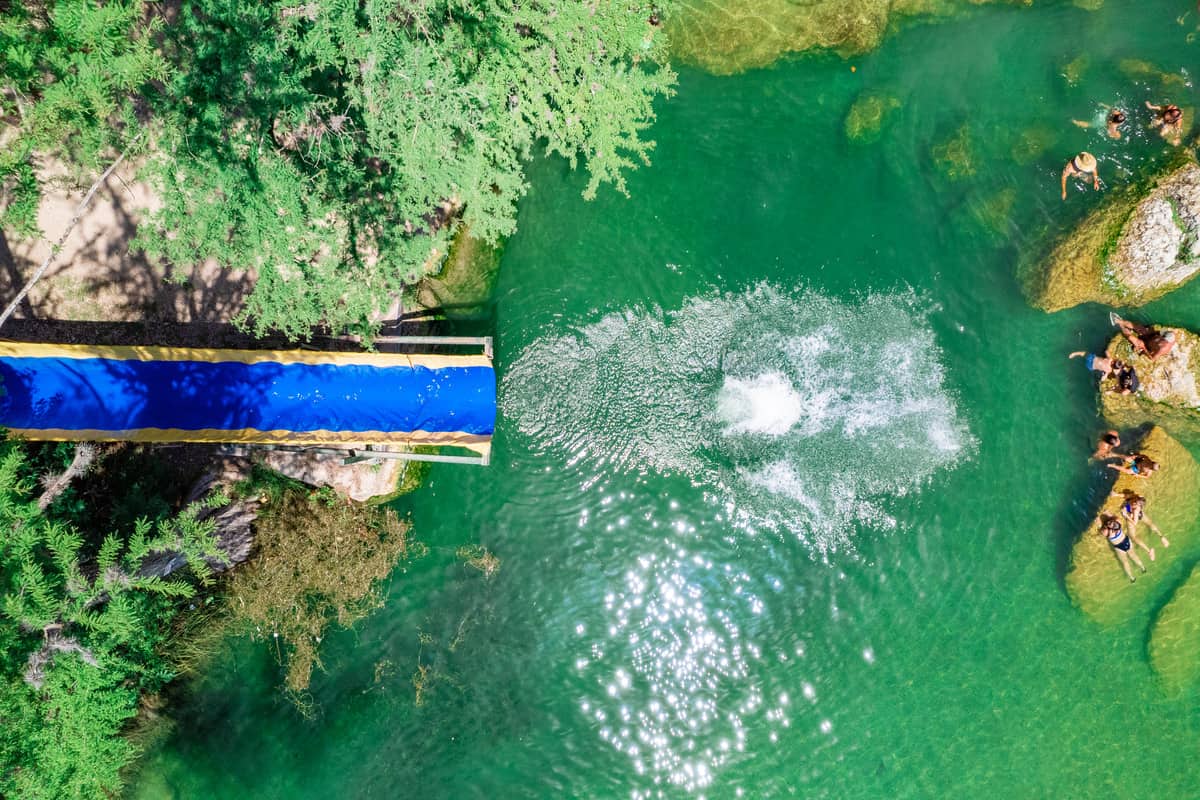 Magers Crossing
Magers Crossing is a picturesque spot offering a delightful intersection and a serene swimming area. It's a road where cars pass by and people gather on both sides. Be prepared for the playful kids squirting water guns at passing vehicles, adding to the fun-filled atmosphere. There's a parking lot available for $30 per car.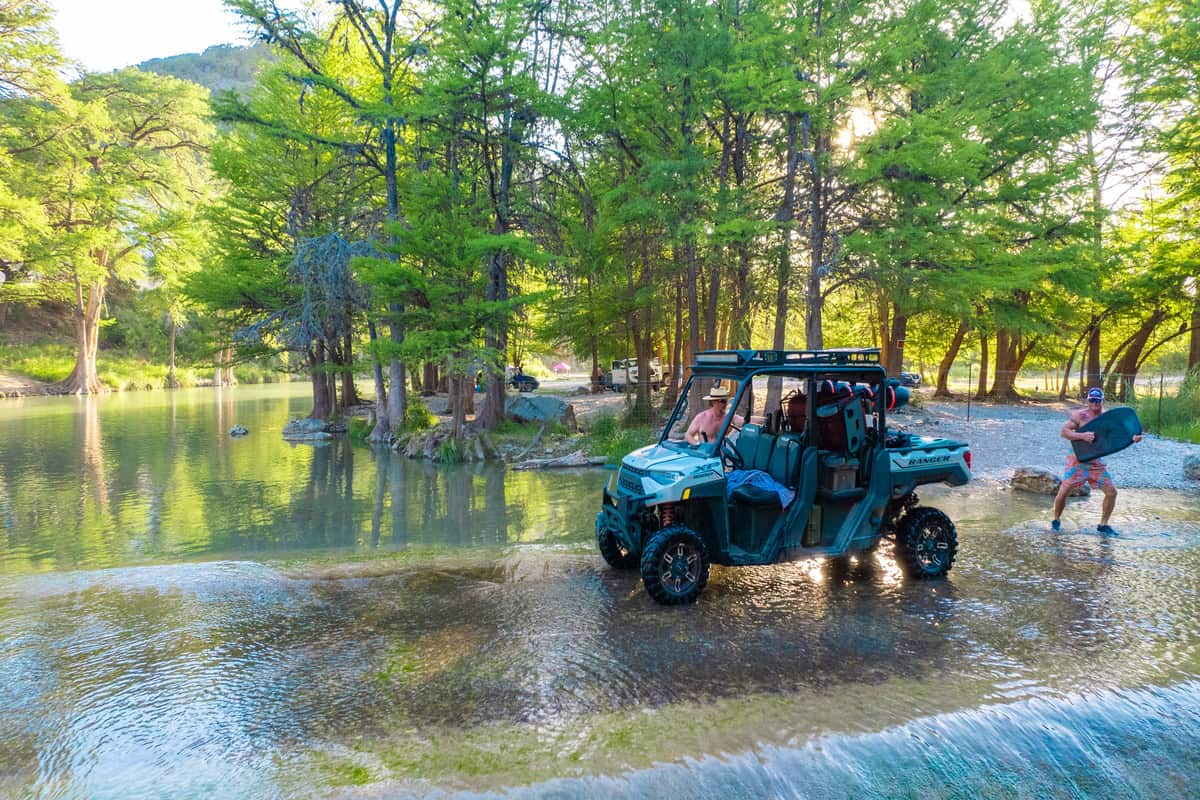 On one side, you'll find charming natural pools with small waterfalls, while the other side's depth varies. Sometimes it's low and crystal clear, while other times it's deeper and slightly less transparent. Visitors come here to relax, bringing coolers and enjoying drinks by the water.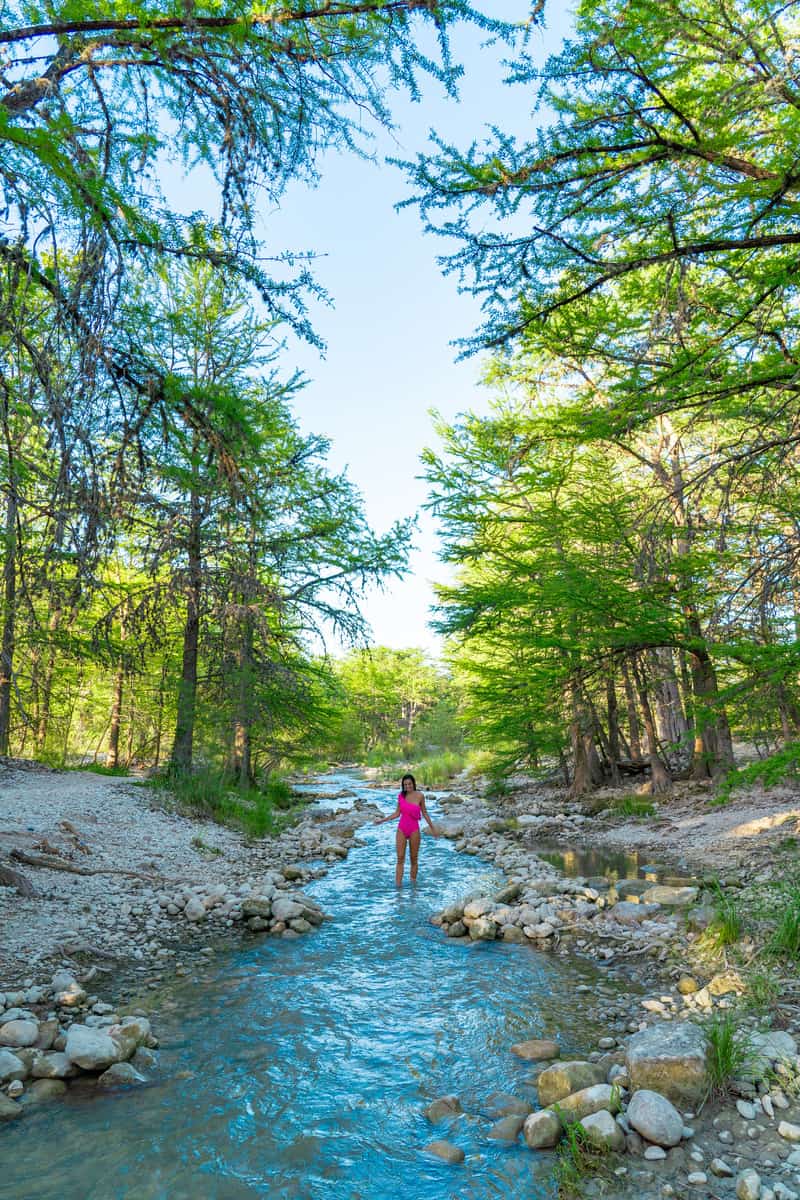 If you continue up the river towards Garner State Park, you'll encounter the river that borders Zubers River Camp (more details below). You can explore the river further as long as you stay in the water and away from private property.
Zubers River Camp
Zubers River Camp offers refreshing, deep waters, a popular rock for jumping, and multiple rope swings. Adjacent to Mount Baldy, it provides breathtaking views and pleasant shade in the evenings. As you venture further upstream towards Garner State Park, the intertwining beauty reveals shallow areas with mesmerizing rock pools and gentle rapids.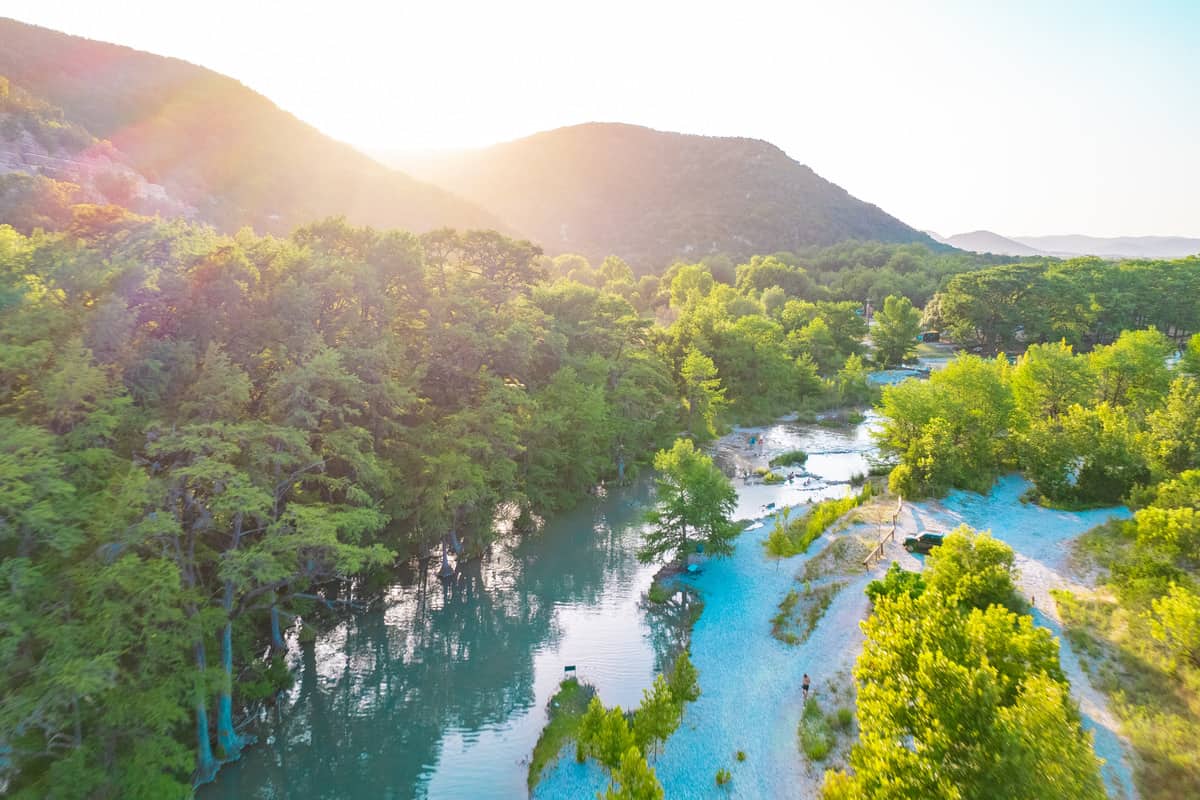 Garner State Park
We love Garner State Park; not only for the swimming, but also the hiking and other on-site activities. If you're interested in enjoying the water here, there are several different ways to do it. It's also an affordable option.
We've purchased a State Park Pass, which means we can go as many times as we want to Garner State Park, and any other, for no additional charge.
In addition to being a great time for swimming, they have miniature golf, daily summer dances, water sports, and even paddleboats for rent.
While drinking in public is technically prohibited, people still do. However, due to the rules, the atmosphere remains relatively peaceful and family-friendly.
For more about Garner State Park, check out our guide to the best hikes and trails!
Garner Dam
Garner Dam is located near Magers Crossing and Zubers River Camp. It partially intersects with Zubers, with Zubers on one side and Garner State Park on the other side of the river.
Mount Baldy provides some shade to this area during certain times of the day and serves as a picturesque backdrop while you're enjoying the water. Additionally, you'll find people swinging from various rope swings and jumping from ledges and trees. There are some tiny rapids that are fun to sit in too!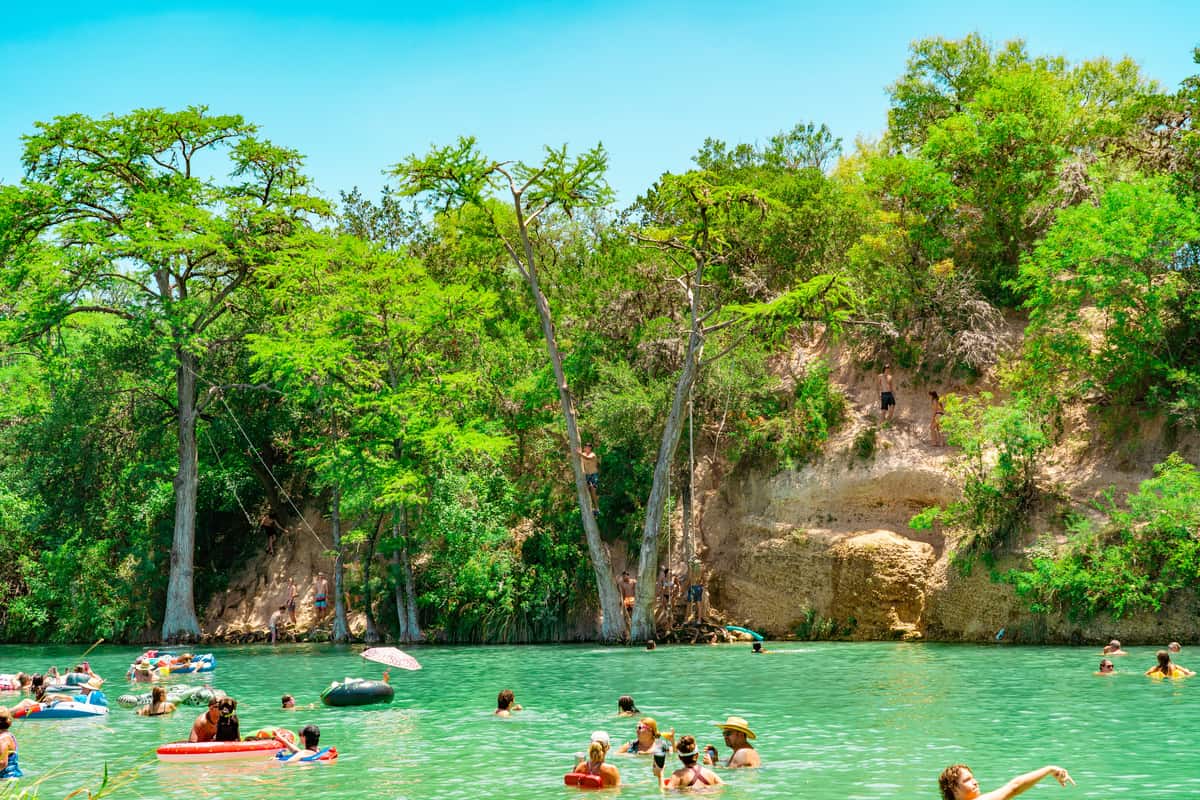 The Picnic & Day Use Area
It's the perfect spot for picnics, where people gather to unwind and enjoy the scenery. They bring their grilling equipment, floats, and more to create amazing and elaborate set-ups. You'll even spot individuals with canopies and tables sitting directly in the water!
The huge trees provide refreshing shade, making even the hottest days surprisingly cool. This is definitely one of the most popular areas in Garner State Park!
Kayaks and paddleboards are also available for rent.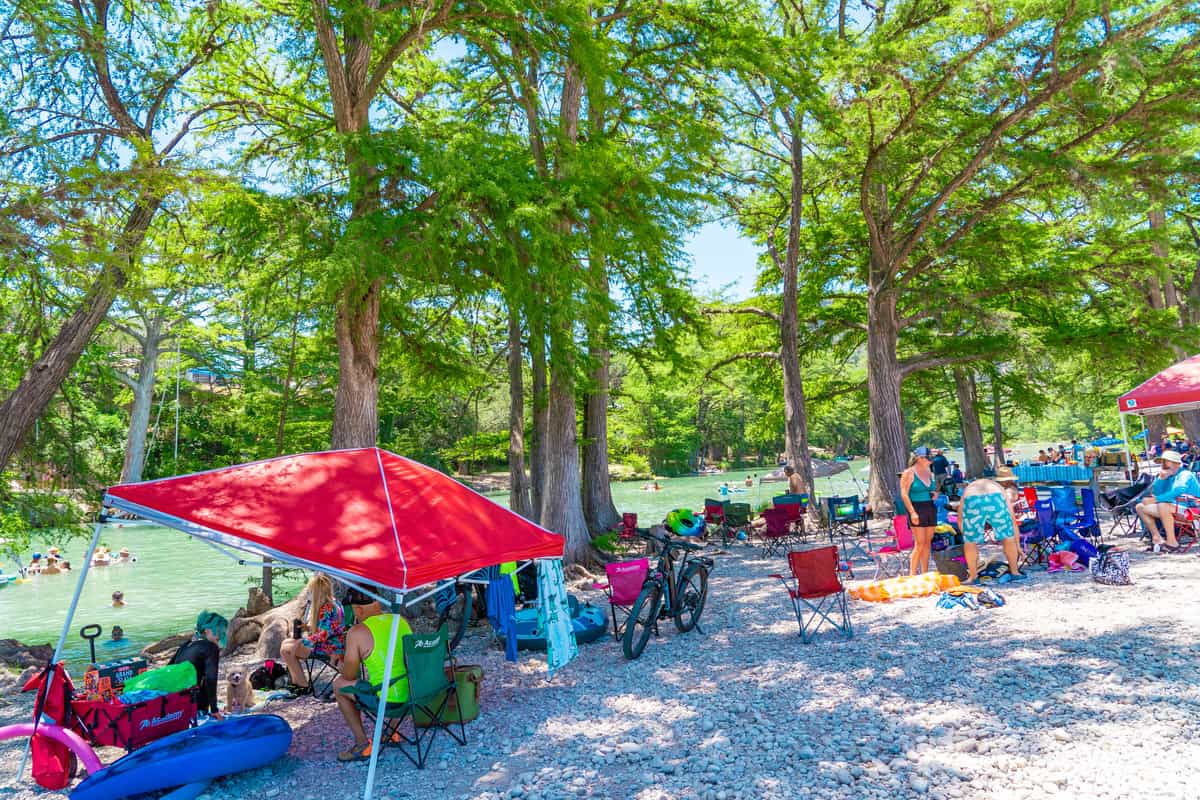 Blinn River Trail
The Blinn River Trail, offers a charming experience that makes it one of our favorite places in Concan. So much so, we almost didn't want to share it!
It features small, natural pools and a miniature waterfall where some adventurous souls can be seen sliding along it.
Accessible through a narrow path, this hidden gem requires a bit of hiking on minimally paved trails. Remarkably, between our visit three years ago and most recent one, the area's beauty hadn't changed despite occasional water scarcity.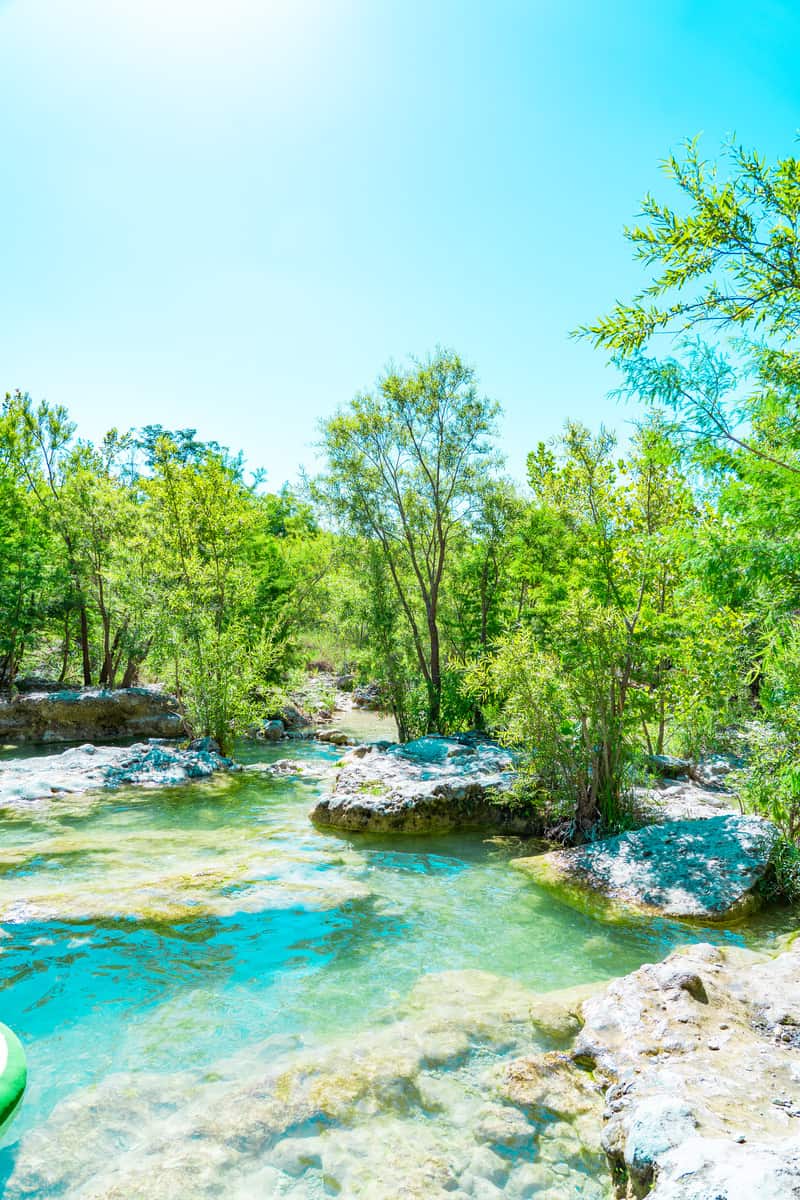 Kenneth Arthur Crossing AKA Frio Country Crossing
Frio Country Resort provides access to the area, offering day passes for $30 per vehicle from 8 am to 6 pm.
The property stretches along a beautiful part of the river, with a section where the river splits into two that creates a secluded and tranquil spot.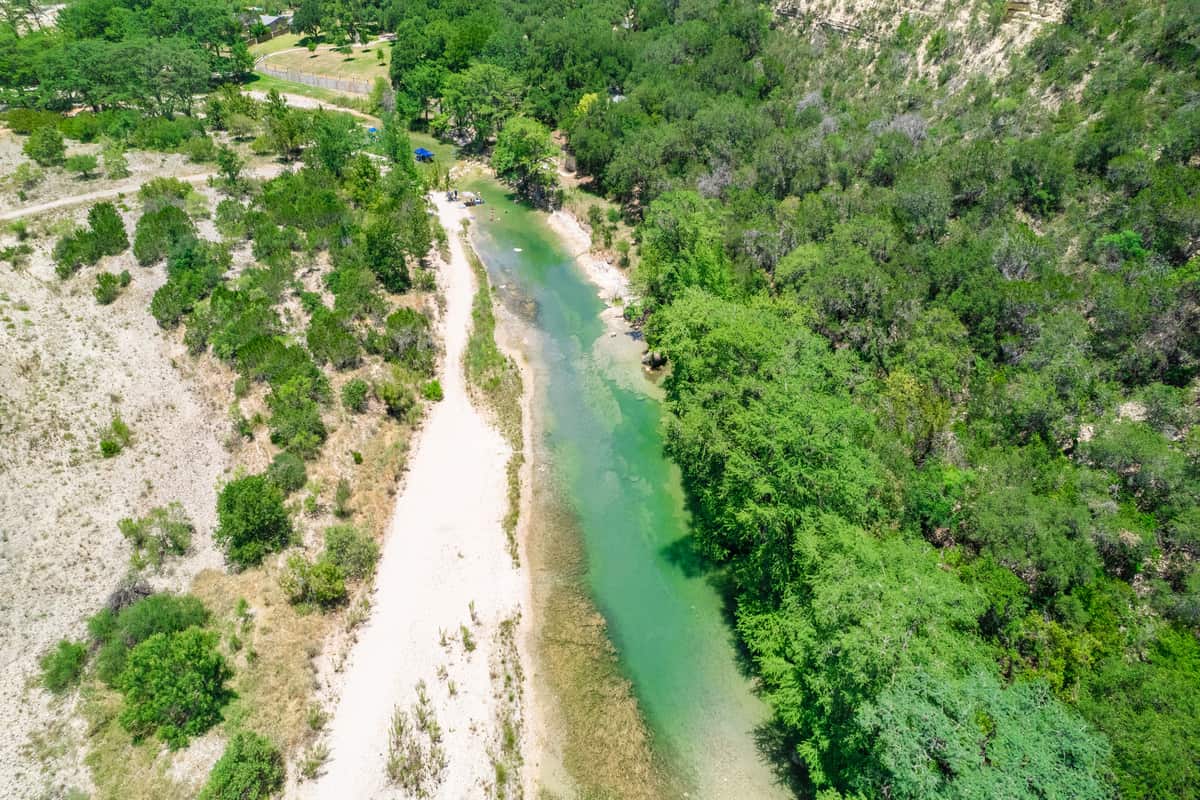 Further down, there is a spacious and deep swimming hole, from which visitors can soak in the natural beauty and serenity of Frio Country Resort (click here to book), the perfect getaway for nature enthusiasts.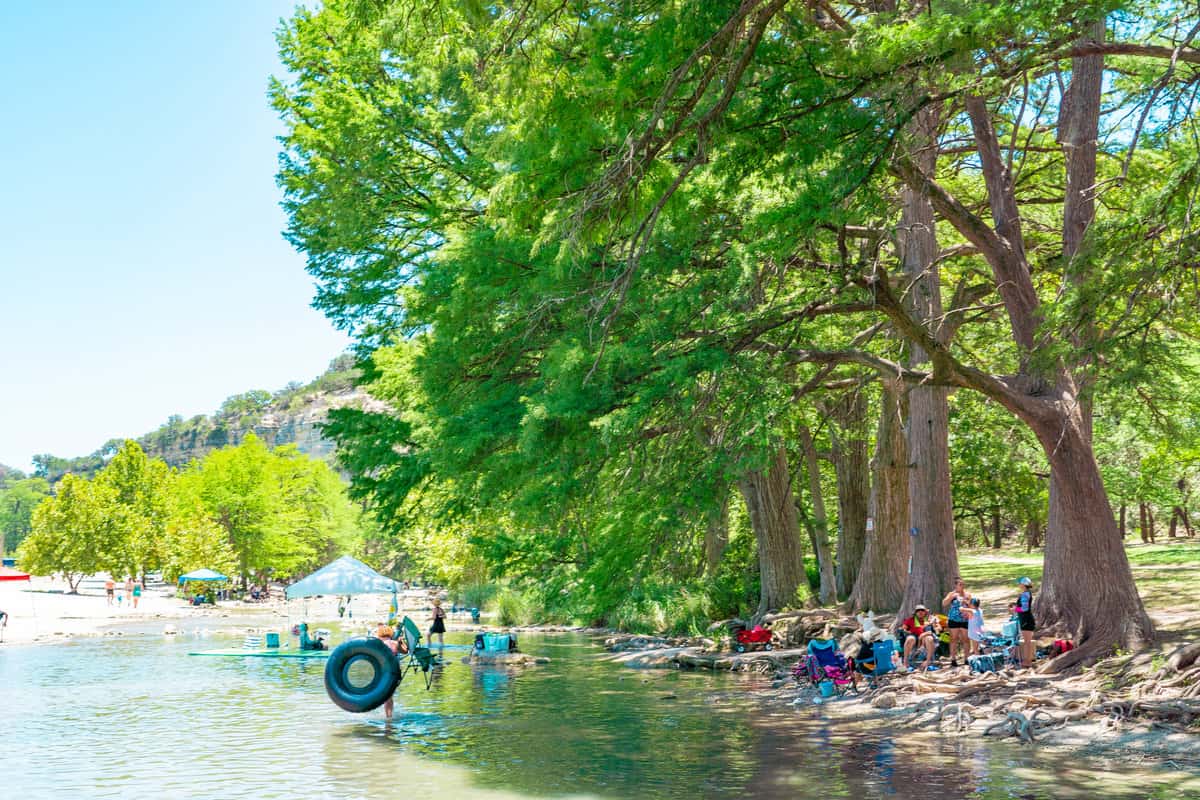 1050 Bridge Crossing
1050 Bridge Crossing is a hidden gem nestled near Garner State Park. One of its highlights is the incredible natural tub situated beneath the bridge overpass. Nearby, you'll find 4J Riverway Cabins & RV Park (click here to book), offering convenient river access for guests. As for parking, you can easily find free spots along the roadway.
During the hottest hours of the day, you can seek refuge in the crystal clear, waterfall pool and shade beneath the bridge. The rocks also boast charming fissures that create additional smaller pools.
While it's not strictly regulated, this spot is technically pet-friendly. It's a well-kept secret among the locals, making it a tranquil retreat that's yet to be discovered by many.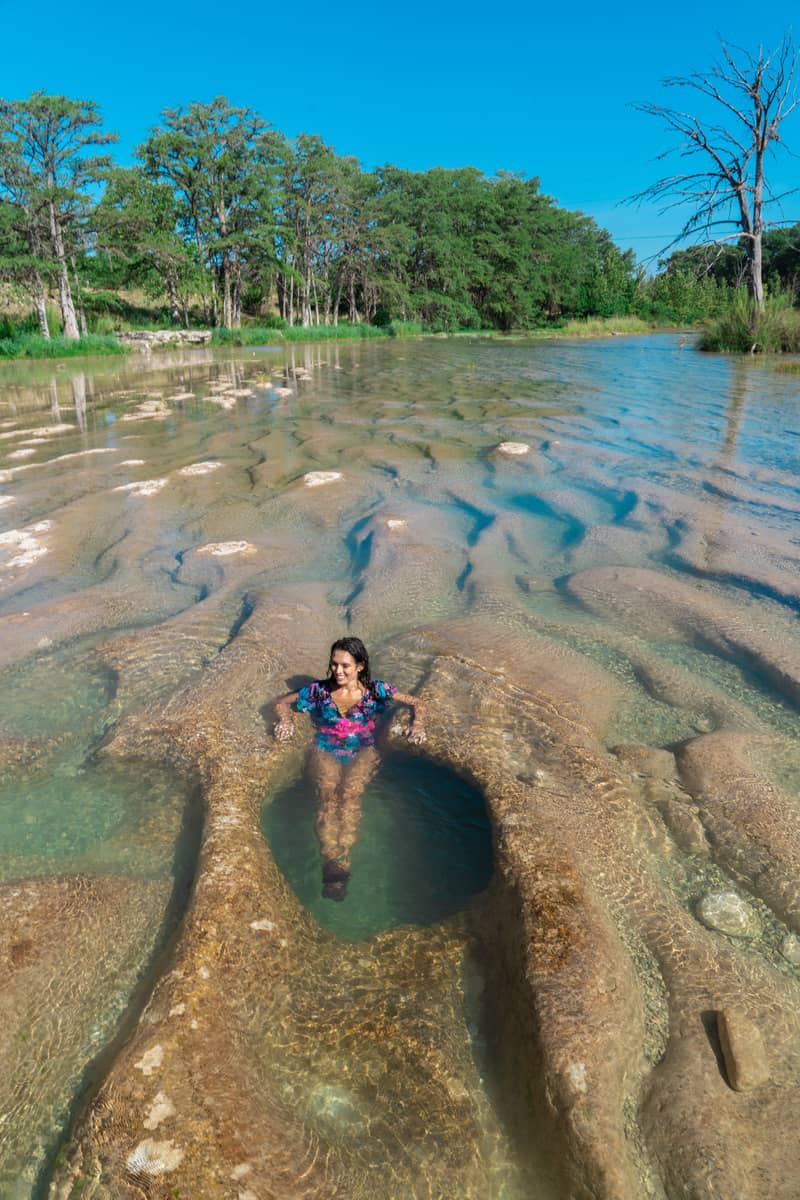 Neal's Lodges
Neal's Lodges offers a fantastic deal of $60 for a group of four, which includes parking and access to the slide. The slide is open from 10am to 5pm, and if you have a Concan Swimming Hole wristband, you can enjoy the slide at Neal's for just $10 per person. Click here to book!
Where to Tube in Concan TX
There are multiple places to tube in Concan, as well as different routes you can take. Each of them will look different in their own way. It's up to you how long you want to float for and if there are any specific sites on the river you want to see.
Josh's Rentals & the Pink Bus Experience
If you're planning to go tubing in Concan, don't miss out on the unique experience provided by Josh's Rentals. This popular tube rental business is known for its wide array of high-quality tubes, suitable for both children and adults. Along with your tube rental, they offer safety gear and detailed instructions to ensure an enjoyable and secure tubing experience.
The highlight of Josh's Rentals is undoubtedly the cute, head-turning pink bus. A staple sight in Concan, this bus is not just a vibrant transportation method, but a symbol of the fun, laid-back atmosphere that Josh's Rentals promotes.
The pink bus will take you and your rented tubes to the starting point, adding an extra dash of color and excitement to your tubing adventure. One thing I really enjoy is how well they know the river. When we were there, they only had one route they were running because the rest were too low and would have caused us to walk too much.
After a day full of thrilling rides down the river, the sight of the pink bus coming to pick you up is a cheerful reminder of the wonderful day you've had. Then, you can celebrate a success day on the river with fresh gelato at their shop.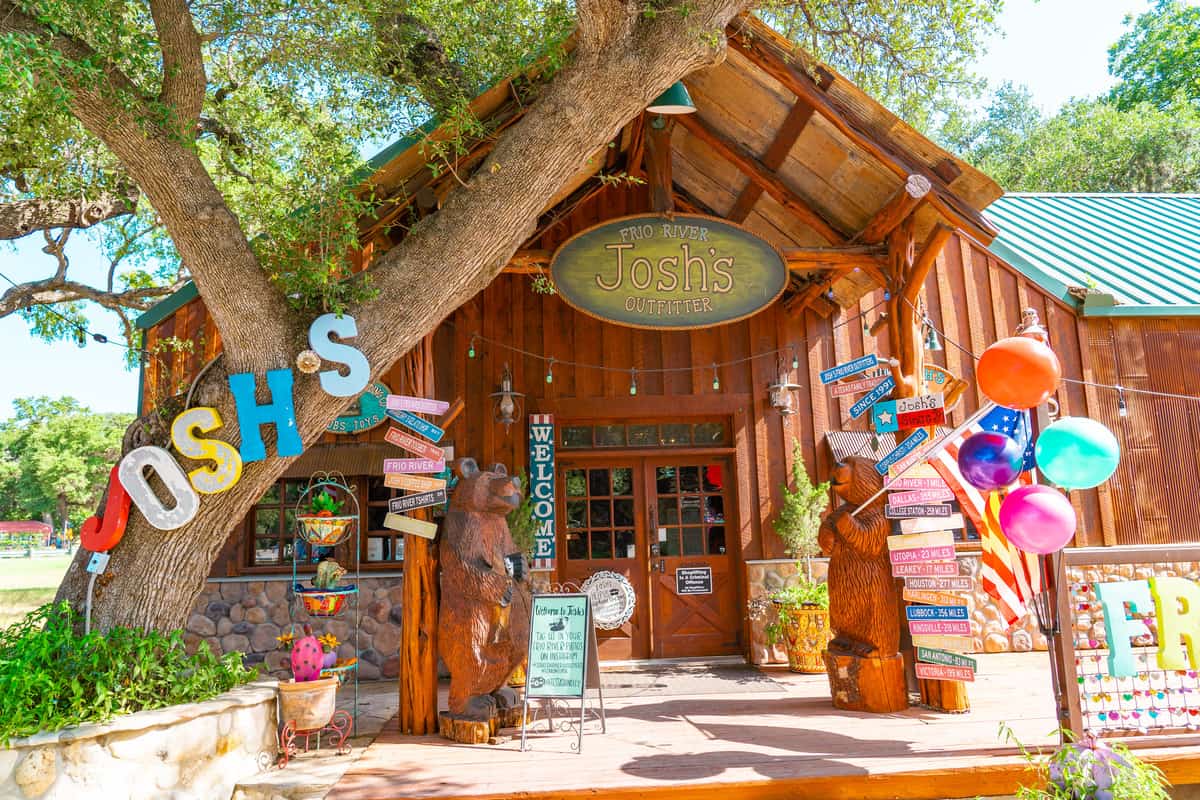 Starr Rentals/Sweet Summer Spots
Enjoy the convenience of kayak and tube rentals with Starr Rentals. No need to worry about drop-off points, simply pick up your equipment and take it with you on your adventure!
And while you're there, don't miss out on Sweet Summer Spots. Indulge in their selection of treats including ice cream, tacos, snow cones, burgers, and more! It's the perfect way to complete your summer experience on the Frio!
Best Swimming Holes in Concan: Final Thoughts
Immerse yourself in the natural beauty of Concan when you explore its stunning swimming holes. These tranquil, crystal clear waters serve as idyllic spots to cool down in the hot Texan summer.
Whether you prefer secluded, serene sites or lively, family-friendly spots, Concan has a swimming hole for every preference.
Be sure to visit the famed "Blue Hole," renowned for its bright blue waters and lush surroundings, or the Frio River, widely popular due to its sandy banks and shady trees.
Remember to respect these precious natural resources by adhering to the "leave no trace" policy.