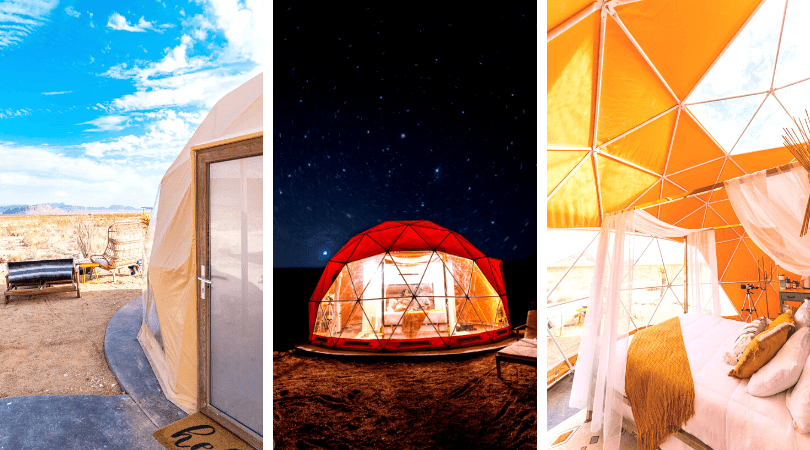 Big Bend National Park is quite the drive, but if you are willing to take it on, your visit will change you forever. At the very least, you'll know where to stay without having to worry about packing all of your camping gear! Reserve a luxury glamping bubble at StarStruck Glamping near Big Bend, a solar-powered geodesic dome that offers the optimal sleeping arrangement with an amazing view of the night sky and the desert landscape. You can fall asleep gazing at the stars in complete and total comfort while still feeling like you're camping. It'll be the ultimate form of relaxation after you've explored all the things to do in Big Bend, visited Terlingua, and tried out our 5 favorite hikes.
Don't forget to check out all of the unique places to stay near Big Bend, like an off-grid adobe dome, a luxurious Texas cave, and a land yacht!
Soak Up the Mountain Views & Endless Stars
StarStruck Glamping offers luxurious camping bubbles with every modern comfort and priceless view you could want just outside of Terlingua near Big Bend National Park. You can enjoy a morning coffee overlooking the mountains while surrounded by the most colorful sunrises. After a relaxing day, you can retire at night to a plush bed with heating and cooling in your own protective bubble.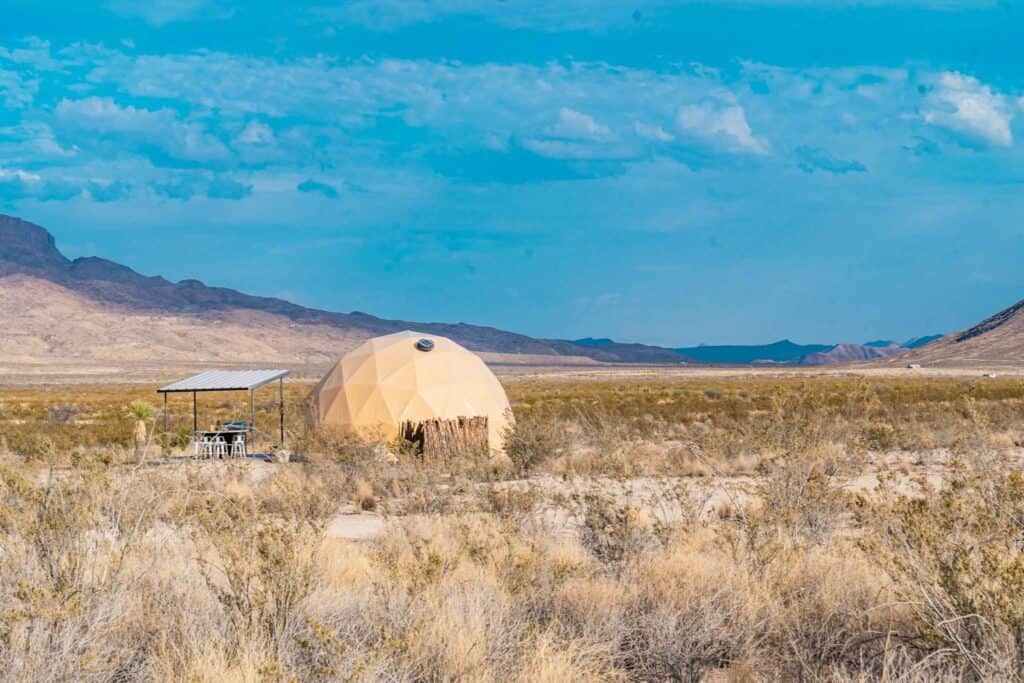 The views are truly incredible! This area is known for their dark sky reserve, free of light pollution, so stargazing here is breathtaking! There are four domes that can accommodate up to 4 people, while the others are meant for pairs. Pets, unfortunately, aren't allowed at StarStruck Glamping.
Enjoy Modern Comforts While Glamping
Glamping is executed perfectly in these domes, with hot showers, a small kitchen, a coffee maker, mini fridge, microwave, and an outdoor grill. There is even decent Wi-Fi signal, which is always surprising to find out in Big Bend since signal is usually scarce. You have access to your own personal telescope, so even if you don't know how to use it, I recommend you learn because the view of the stars through the telescope is incredible! The domes are decorated daintily and minimally, perfect for photo-ops.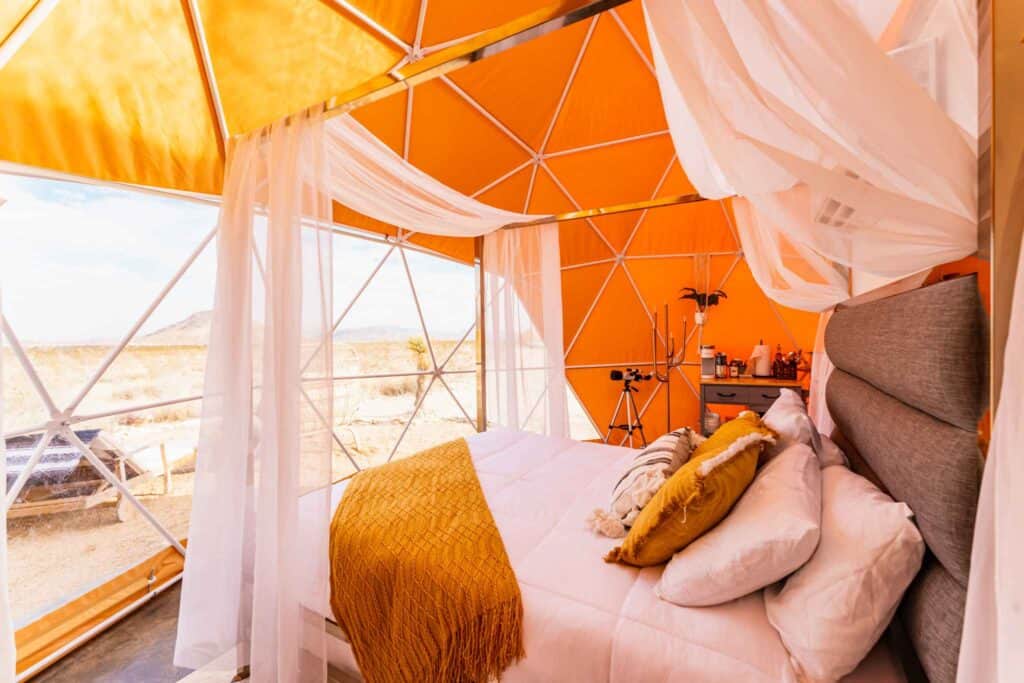 There is also outdoor patio seating so you can enjoy the scenery comfortably as you soak up the sun. One issue about glamping and nature can be the bugs. We've been to many places where bugs are everywhere, even inside, but StarStruck Glamping has done really well at keeping their luxurious glamping bubbles sealed for minimal bugs. Of course, make sure and be cautious as it's the desert, but we were thoroughly impressed!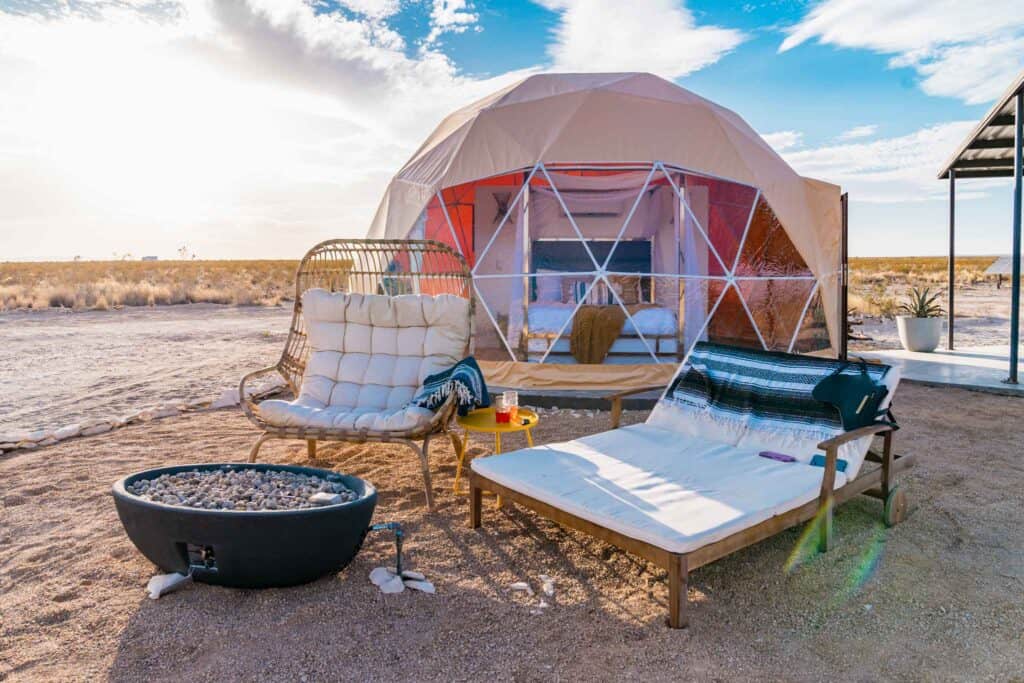 Things to Do Near Big Bend National Park
Big Bend is a beautiful place to visit with so much to explore. Be sure to adventure away from the luxury and go on a hike or swim in the natural hot springs. If you're time is limited, check out our 5 favorite hikes in Big Bend. The town of Terlingua is an interesting town too with a lot of history so, if time allows, stop by and see all the things to do.
Luxury Glamping Bubble Near Big Bend: Final Thoughts
The luxurious glamping bubbles at StarStruck Glamping are the perfect way to comfortably immerse yourself in nature. Take a weekend to disconnect yourself from the everyday, explore Big Bend National Park, including our 5 favorite hikes, and find all the things to do in Terlingua for an eventful and memorable trip.