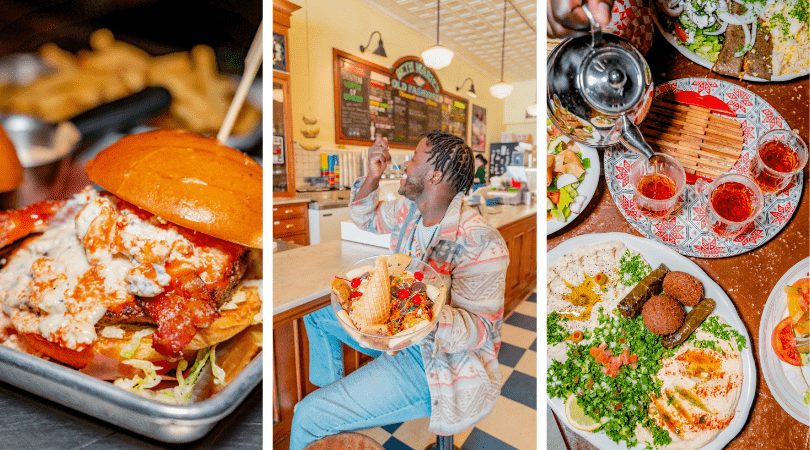 Denton is a foodie paradise dedicated to contributing something new and unique to the foodie-sphere. It's the perfect place to try something different, venture out of your comfort zone inside your favorite genre of food, taste a spin on your favorite dish; the foodie world is yours when visiting Denton!
Whether you're looking for brunch, vegan food, dessert, coffee, cocktails, or just a fun, new experience, we've gotcha covered! Not to mention, all the different international cuisines we found in Denton, like Mediterranean, Latin-Asian fusion, sushi, Mexican, and Turkish too!
When you're planning your next daytrip or weekend getaway to Denton, be sure to check out our list of things to do. Unfortunately, you can't eat 24/7, so fill your time with some equally amazing activities!
Best Restaurants on the Downtown Denton Square
Spiral Diner & Bakery
This small, vegan restaurant is popular with the locals and is a great example of success that comes with passion and hard work. What began as a small lunch counter with five employees has grown into two locations, including a production kitchen. More than 2,000 online reviews show that people also really like just hanging out here!
They have an extensive menu that includes breakfast items, soups, sandwiches, organic, fair-trade coffee, scratch-made ice cream and cake by the slice, and even rice bowls (while supplies last). We were on the hunt for a traditional style brunch place, and this is a great option!
Find Out for Yourself Why LSA Burger is a Local Favorite
LSA stands for Lone Star Attitude!
Their food is served in personal trays with butcher paper, the portions are huge, and each burger is cooked to perfection! The whole atmosphere is friendly and inviting, and we received great service. Our waitress was super nice about helping us pick out what to order!
We settled on the Los Lonely Burger with roasted peppers, pepper jack, chipotle mayo, lettuce, and tomatoes, the Spirit of a Hero Burger loaded with onion rings, mac & cheese, queso, chipotle mayo, and tomato, the Stevie Burger stuffed with bleu cheese, bacon, Frank's hot sauce, lettuce, and tomatoes with a side of Mini Margaritas! And, of course, you can't get a burger without a side of French fries. As their name would suggest, they truly have some delicious burgers you have to try!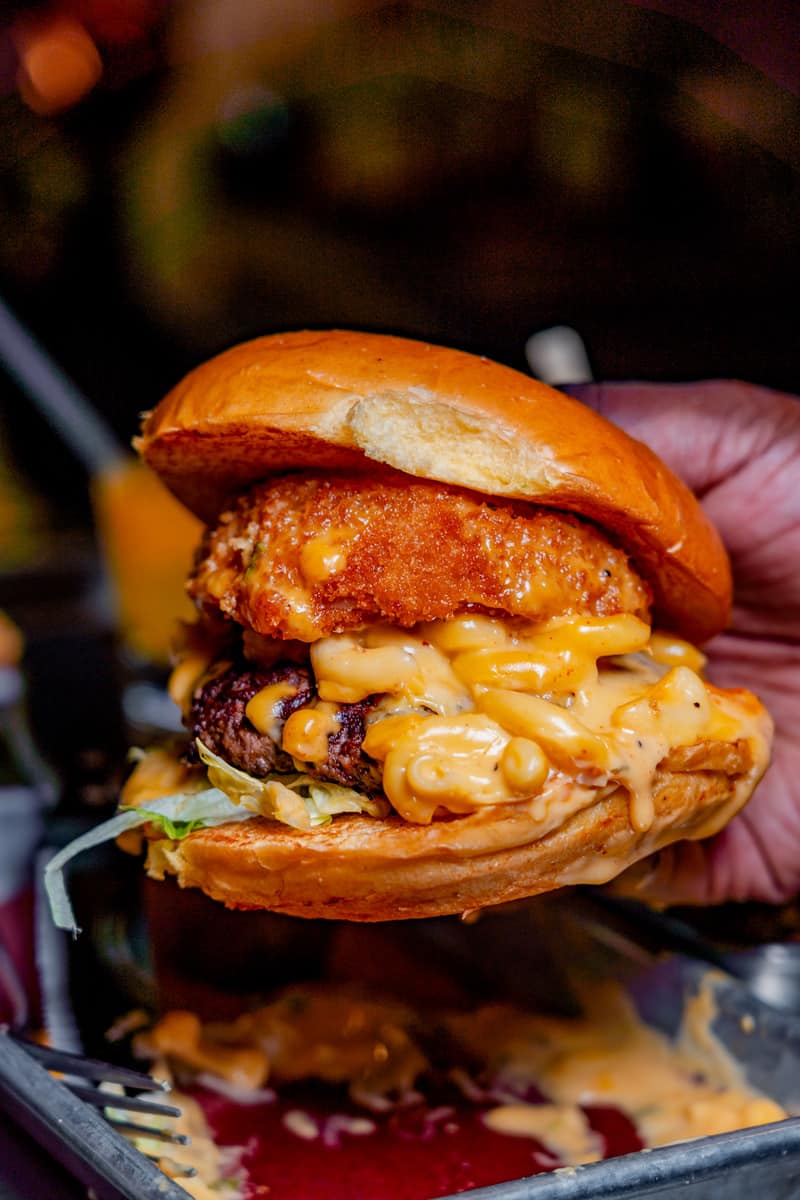 You can choose to sit indoors on the first or second floor, or outside where you'll find live music playing. They are a pretty busy place, so we recommend you come at least 30 minutes earlier than you plan on eating, so you don't get hangry while waiting! You can also grab a seat at the bar while you wait if there are open seats.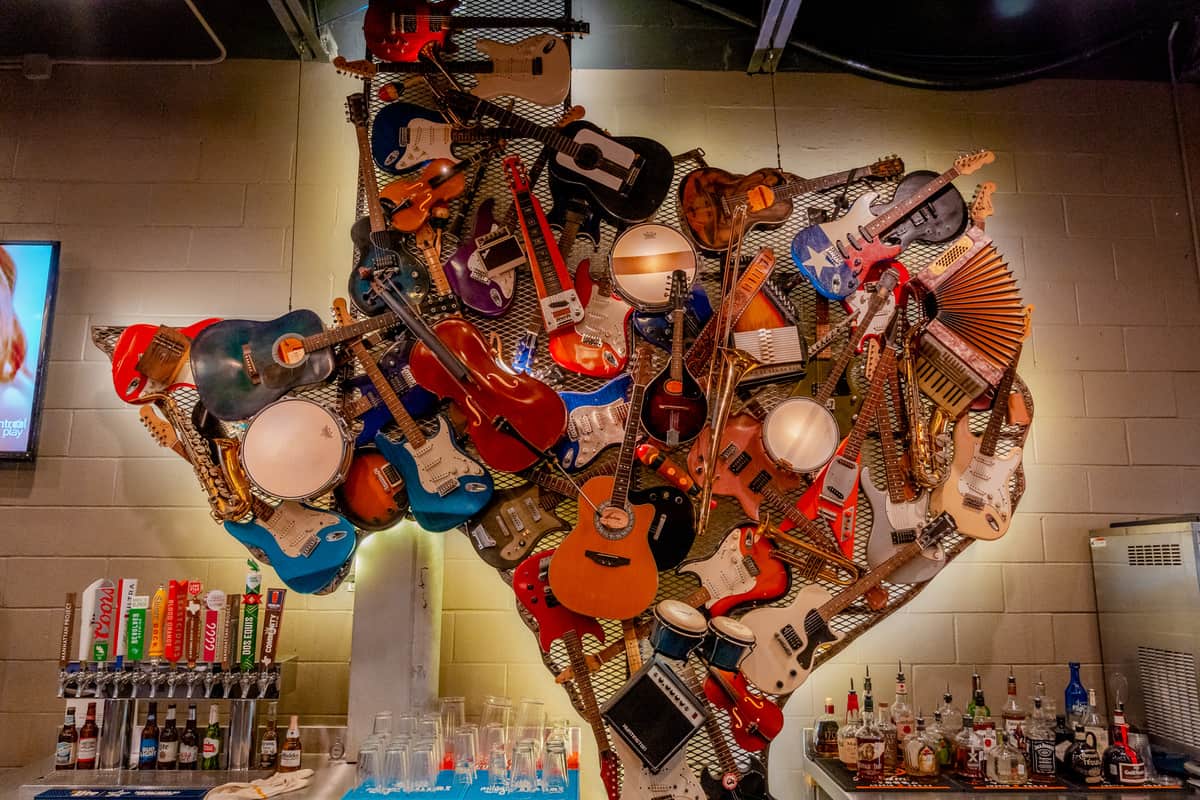 Brunch Time at the Chestnut Tree Bistro
Suzanne Johnson is Chef de Patronne, and Rossana Iodice is Chef de Cuisine at the Chestnut Cuisine Teahouse and Bistro; they're the minds behind this small but flavorful menu.
The breakfast and brunch menu features traditional dishes like eggs, crepes, pancakes and waffles, as well as vegan, dairy-free, gluten-free, and vegetarian options! The lunch menu has an abundance in Vitamin S: salads, soups, and sandwiches! Don't miss this little green building downtown!
Spice Things Up at Komodo Loco
They are the perfect mix of traditional Asian and Latin American spice. This eclectic restaurant/bar's extravagant wall art, intentionally prepared dishes, and specialty cocktails make this a unique spot in the area!
Komodo Loco also offers weekly specials that draw locals and tourists in droves! Here's what we had: the Philly Who? with smoked salmon, cream cheese, bacon, jalapeño; the Pineapple Specialty Roll, Beef Tataki (a seared beef tenderloin, guacamole, pico, and garlic); Yuzu Ginger Sashimi with seared albacore with ginger, yuzu kosho, crispy onions and ponzu; Salmon Nigiri, Brussel sprouts, Edamame, Cucumber Salad with pickled jalapeño and pieces of octopus, Chick-A-Rones (fried chicken skins), and two cocktails, the Blind Tiger and Professor Plum.
We were blown away by the presentation of each dish – no dish left the kitchen without looking dazzling!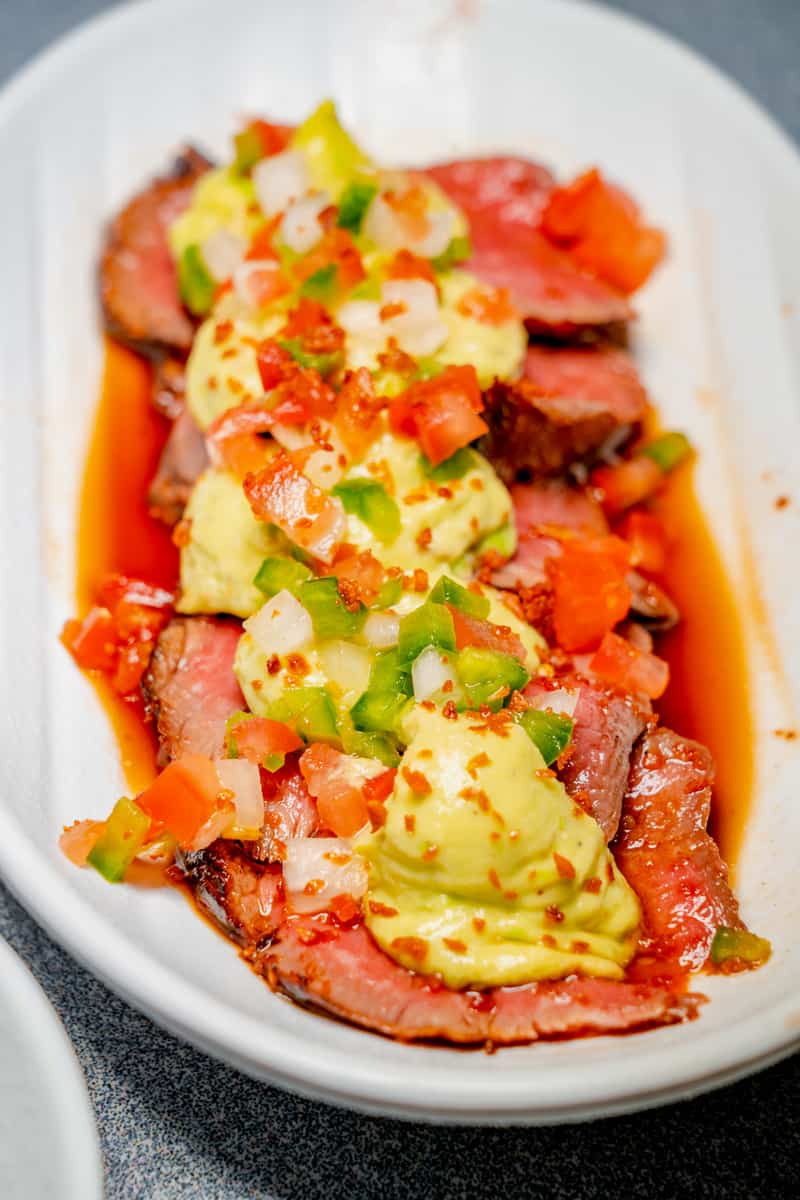 Fuel Up at El Taco H
El Taco H has an authentic taqueria menu, including Agua Frescas and a small self-serve bar of taco toppings. We loved seeing Loteria art and the luchador masks on display behind the bar! The best part was the literal Taco Tuesday deal, where you get 20 street tacos for $45 and a beer bucket for $21!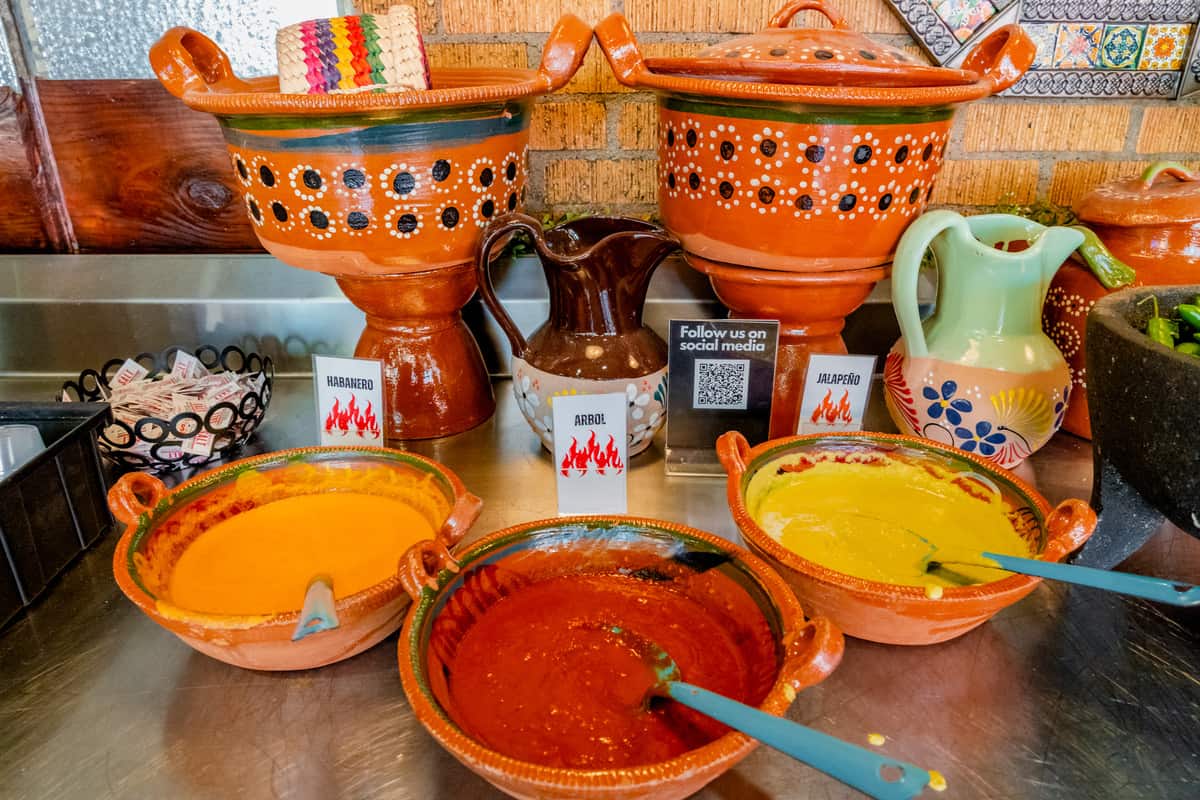 We had a hard time deciding what to get, but in the end, we got the Burrito Grande with Birria meat, an Elote Cob with toppings, Barbacoa Tacos, Al Pastor Tacos, Sudadero Tacos, and the cocktail, El Tlacuache. It felt like we were on a Caribbean vacation!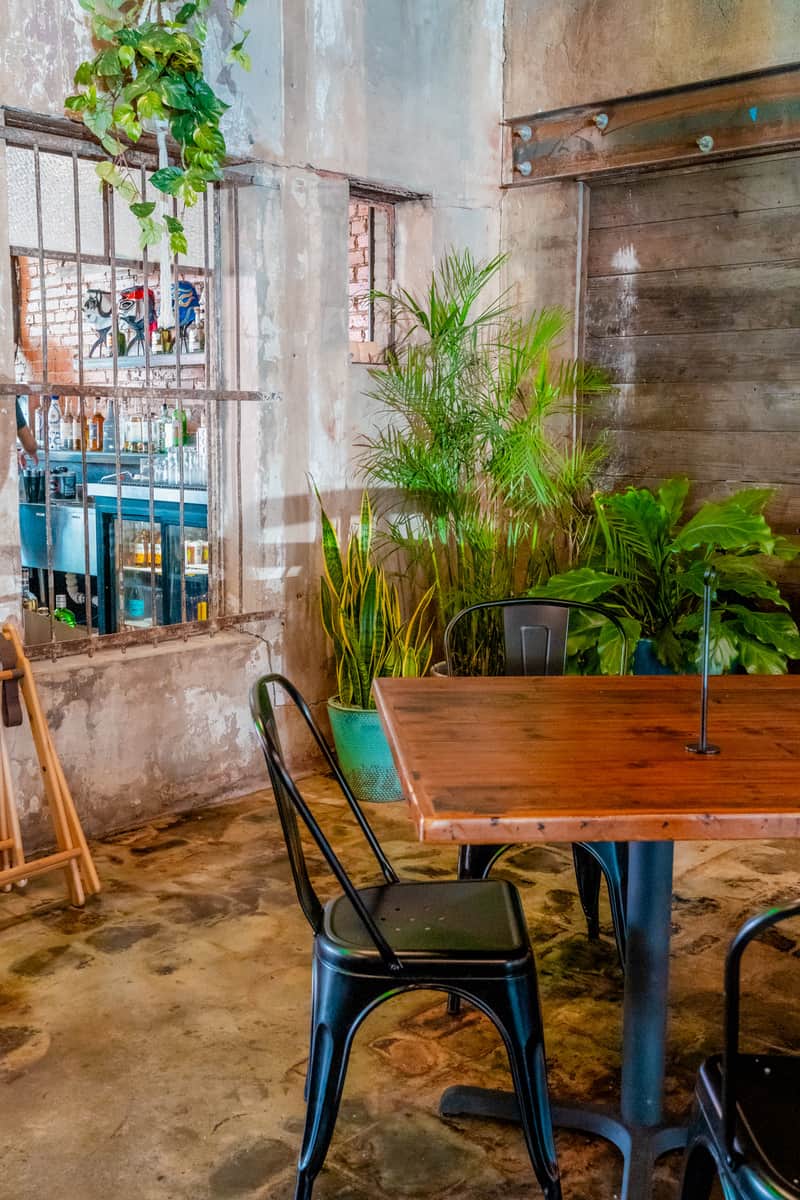 Enjoy Fresh Mediterranean Food at Layalina
Layalina is an oasis of Mediterranean cuisine in the heart of Texas. There are belly dance performances from 7 to 7:30 PM on Fridays and Saturdays. You can also order a Hookah for your table and kick back in the lounge areas or at the bar. We had the Layalina Plate for Two (with hummus, Baba Ghanouj, Tabbouleh salad, two grape leaves, rice, Greek salad, a skewer of chicken Shish Tawook, Kofta Kabab and Gyro meat), Fattoush Salad (with fresh lettuce, tomatoes, cucumbers, peppers, onions, radishes and fried pita), Beef Ribs, Arabian Salad, a pot of mint tea, and Baklava for dessert.
To finish off our meal, we ordered traditional Turkish coffee that gave us enough energy to keep us moving the rest of the day!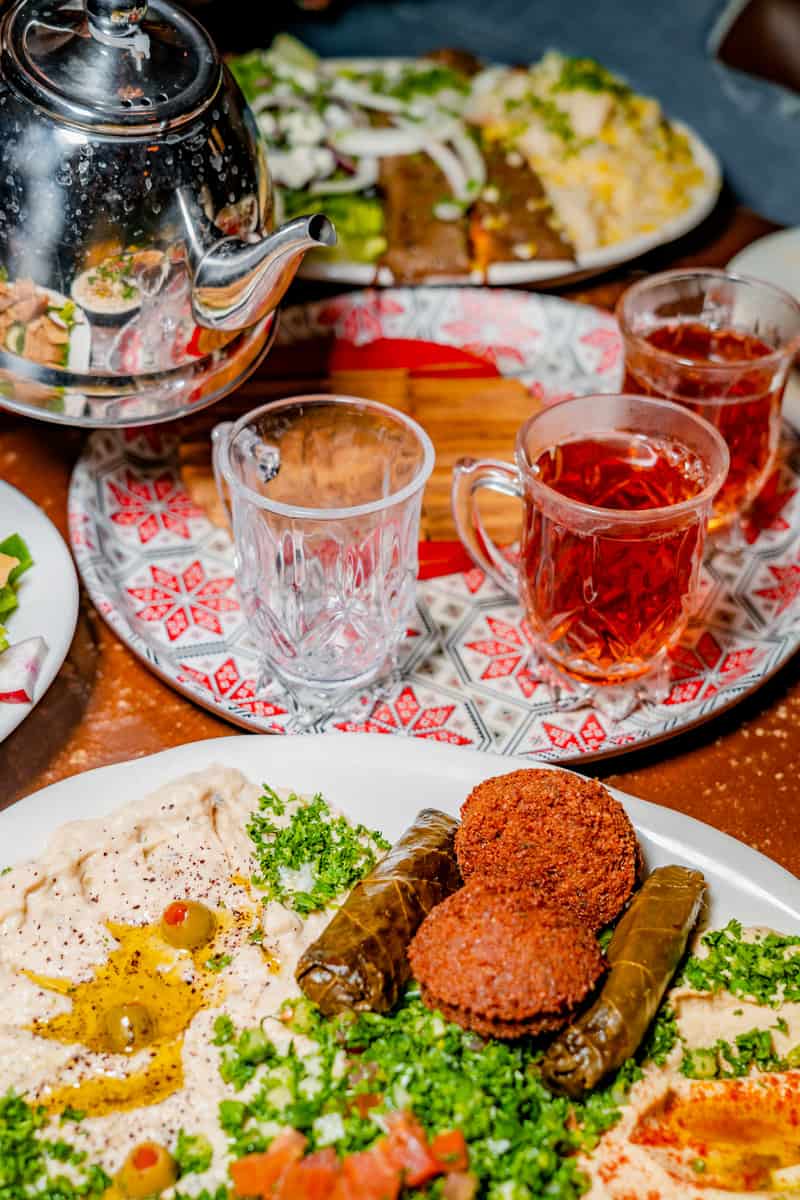 Try Everything at 940's Kitchen & Cocktails
They are an industrial and rustic restaurant with high ceilings, exposed ductwork, and lots of wood, giving it a sophisticated, but laid-back elegance. The building has been standing since the 1920s and has since changed several owners and businesses (from a grocery store to a radio store to a pawn shop and more) until 940s Kitchen & Cocktails opened in 2015.
Happy Hour is Monday through Friday, 2 PM to 6:30 PM, and Sundays from 3 PM to 9 PM. But get this, they also have Tequila Tuesdays and Half-Price Wine Thursdays. And if you are traveling on the weekend, then it's in your own interest to know that they serve brunch from 10 AM to 3 PM on Saturdays and Sundays.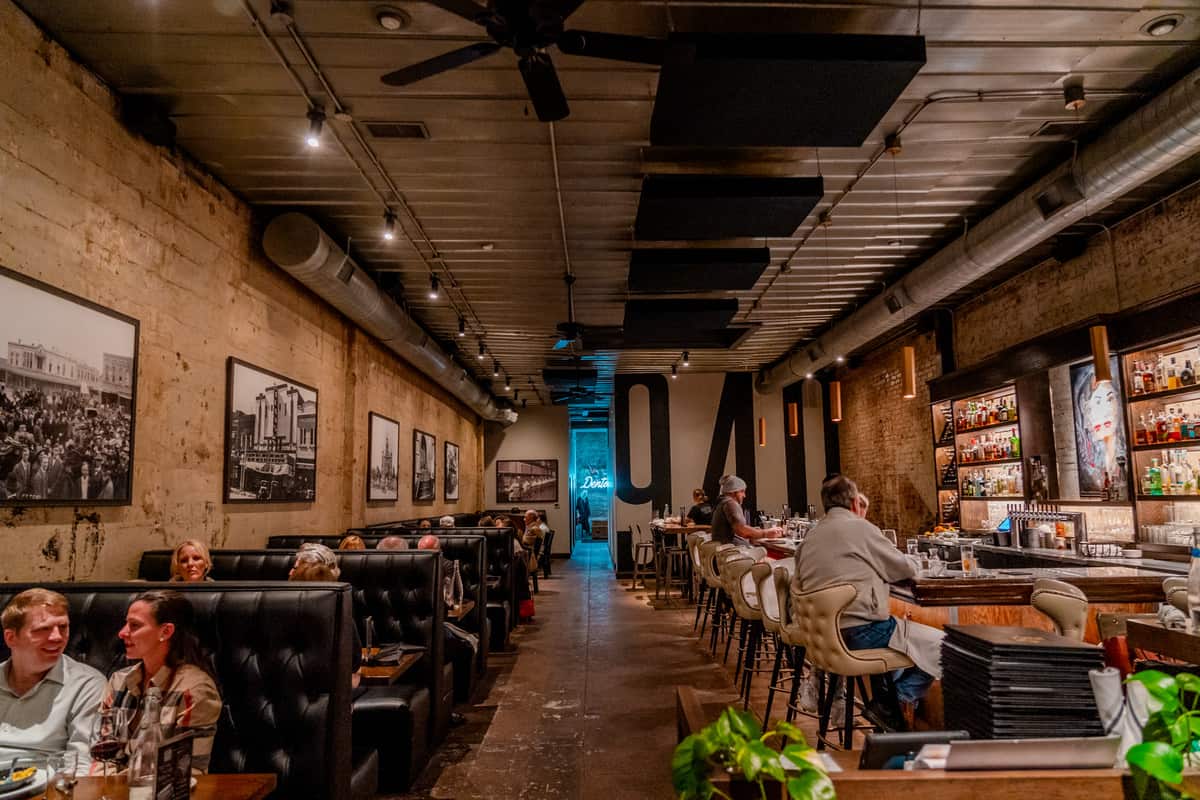 Their food is amazing, and honestly, we are still dreaming about it; we had the Tenderloin Grilled Cheese with onion jam, a sunny side up egg cooked to perfection, and a side of sourdough; the Shaved Roasted Brussel Sprout Salad with a tasty honey lemon dressing, fresh goat cheese, and candied pecans; the Seared Salmon with a honey citrus glaze on a bed of creamy risotto, vegetables, and their popular Denton Fried Chicken with mashed potatoes and gravy on the side! You can even add their Nashville Hot seasoning if you'd like!
We forgot the time while we sipped on the Lavender Elixir Cocktail, Smoked Sea Salt Paloma, Old Fashioned, and Spicy Boi cocktails! The food and drinks were fantastic, but their consistent and friendly service is what has retained the loyalty of the locals!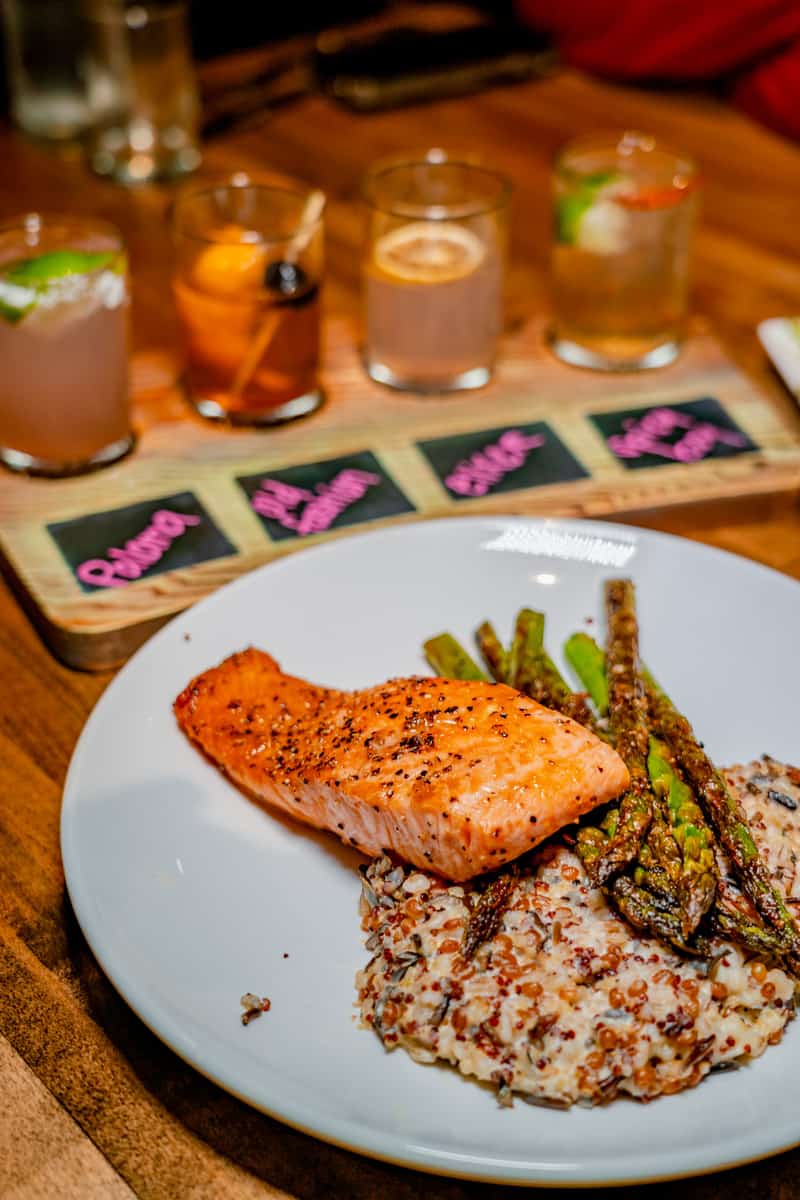 Join the Locals at Barley & Board
We loved the industrial look of this building and the fact that you could get a sneak peek at the brewing set-up. We decided to stop there to try their Lemon Meringue cocktail and the Burnt Vanilla Sugar Old-Fashioned cocktail.
As their name suggests, they specialize in a play on charcuterie boards, with menu items varying from Al Pastor served with pita and a sour cream-based sauce to a more traditional, build-you-own board option. We decided to build our own board. You have 10 options to choose from and you must select a minimum of three. We decided on Barbers 1833 from Somerset, Wagyu Pastrami from Celina, and Don Juan Chorizo from Madrid. We went around brunch time, so we also added a pot of French press coffee to fuel us for the day!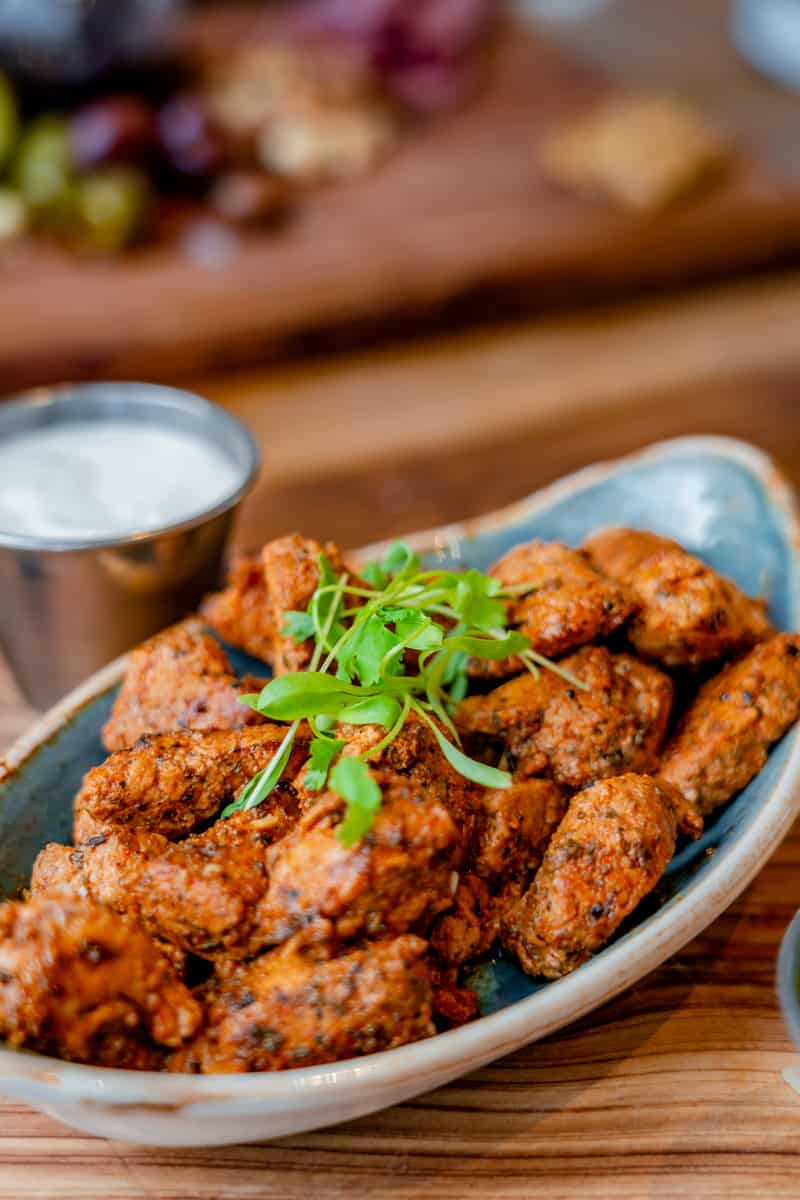 While their menu is small, they have hot food and finger food options, almost like tapas; perfect for eating as you drink. Brunch is only on the weekends from 10 AM to 2 PM.
There are mocktails, draft beer, signature cocktails, tequila shots, spirits, and wine. You could also order a beer flight with four beers so you can test out their beer selection!
You'll find that the bar is always busy, and that's because of the quality service, relaxed atmosphere, and the dang good beer that draws people in!
Grab a Cold One at Denton County Brewing Company
Denton County Brewing Company (DCBC) is a locally owned brewery. In fact, almost everything on the drink menu is from Denton! They have a nice patio with picnic tables, the interior is spacious, and styled in a mismatched, eclectic-ranch, luxury way. This combination takes away any false pretenses and will make you feel quite at home! Join their community by signing up for their special events like trivia and board games!
Coffee Shops and Breakfast on the Downtown Denton Square
Chill at West Oak Coffee Bar
The building is decorated in an industrial style with rustic decor and plenty of seating. The place is always bustling, whether it's with remote workers, college students, or tourists, there's always someone stopping by to get a caffeine boost and a nutritious breakfast!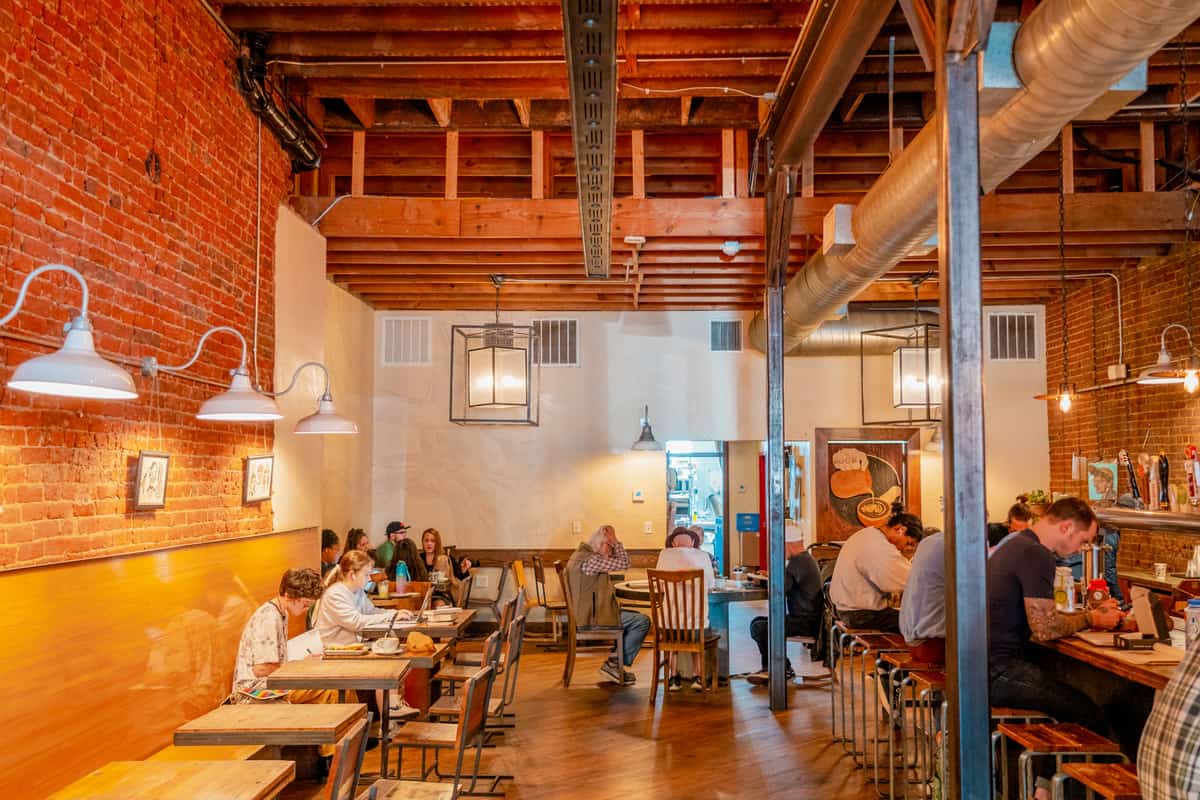 We had the Breakfast Toast with avocado, tomato, bacon and eggs on toasted sourdough, a build-your-own egg scramble with vegetables, a Matcha Latte, and a cappuccino.
We loved that the place was bussing with people and the atmosphere was super relaxed and welcoming!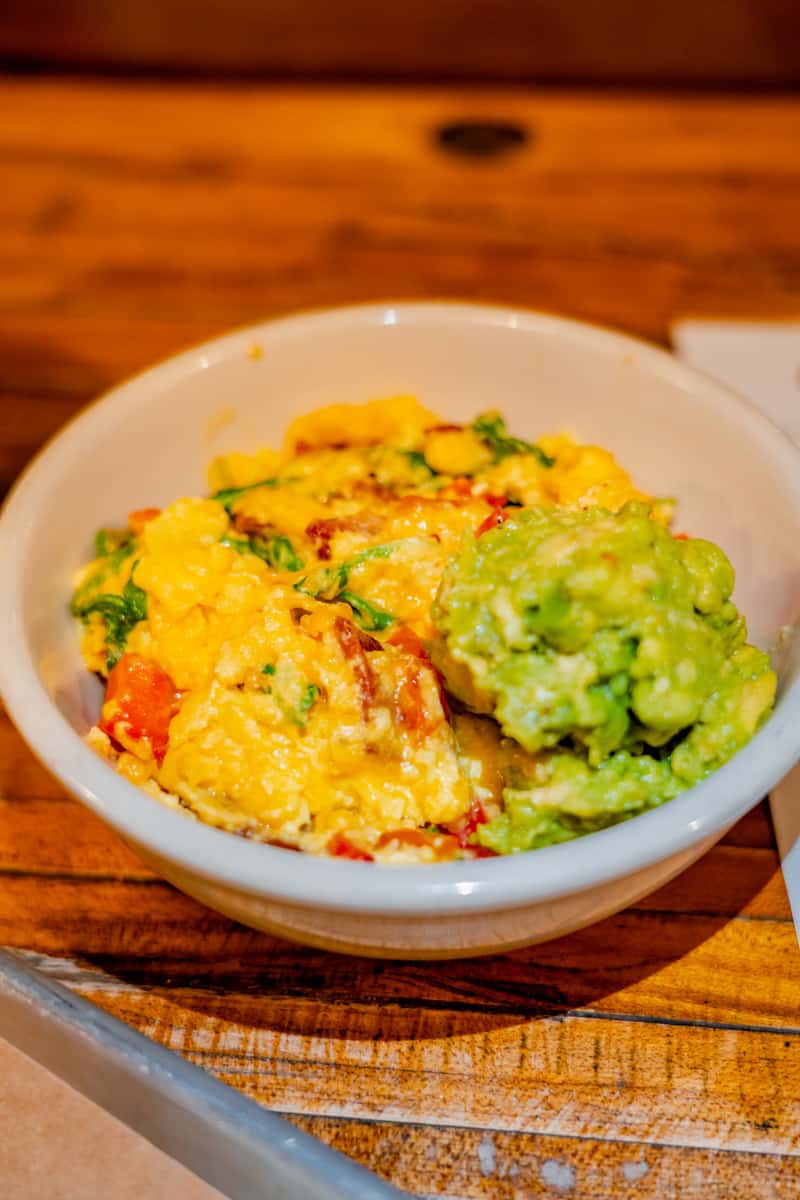 Discover the Kava Culture
Kava Culture is a passive movement born out of love for coffee. Here you can work, study, meet friends, and socialize sober. In other words, it's more than just a place to get your coffee, it's a place to find a sense of belonging. They've become so popular that more than ten locations are open, and another eight are in the works.
Newcomers to the Kava community are welcomed with a little toast from the baristas!
The Kava community has its own coffee ordering slang. For example, there are kava add-ins, where you can choose the feeling you want, followed by the "cocktail" of your choice, or the botanical options you'd like infused into your coffee.
There's plenty of seating with tables for a quick breakfast, for working, and lounge areas to just hang out. The place is very colorful, with an ocean marble top, bar seating and a small stage where they host open mic sessions for locals. If you're not in a hurry, we recommend talking to the team and asking for fun drink mixes to try!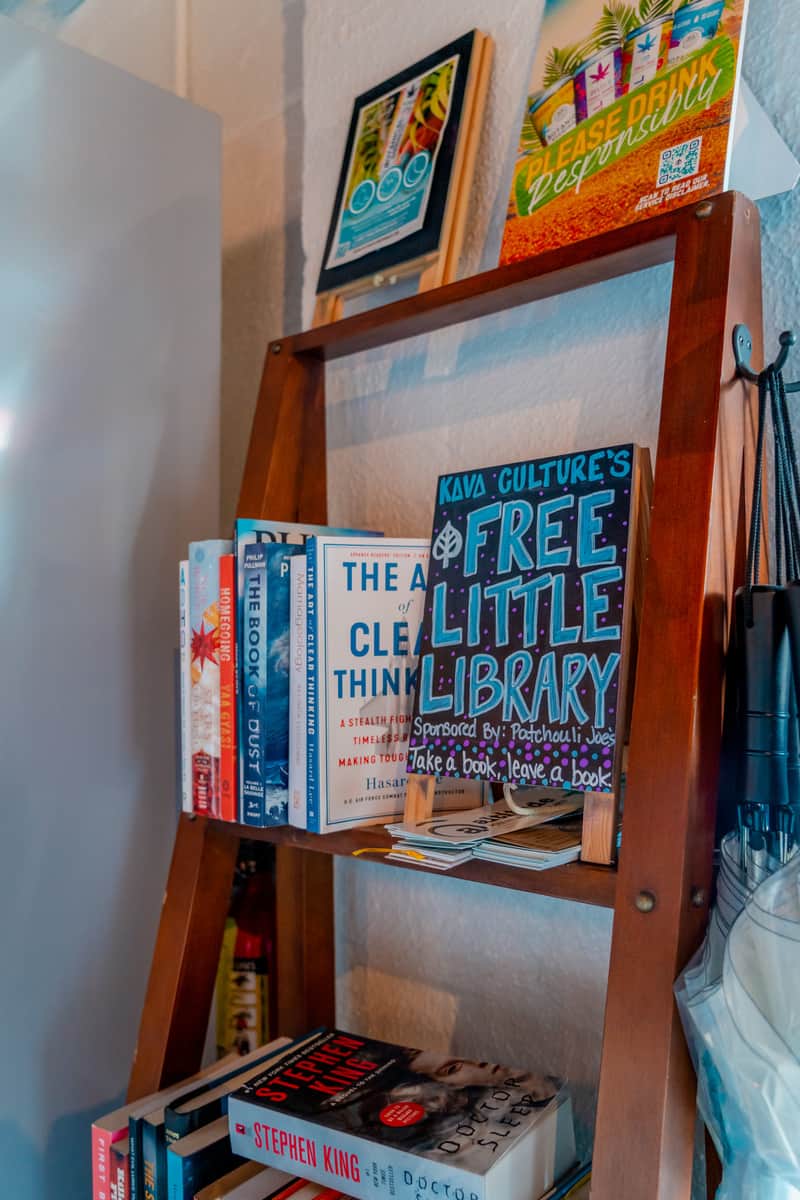 Cozy Up at Jupiter House
Check out this building with industrial decor and exposed red brick walls, stars hanging from the ceiling, and artwork spread out all over by local artists!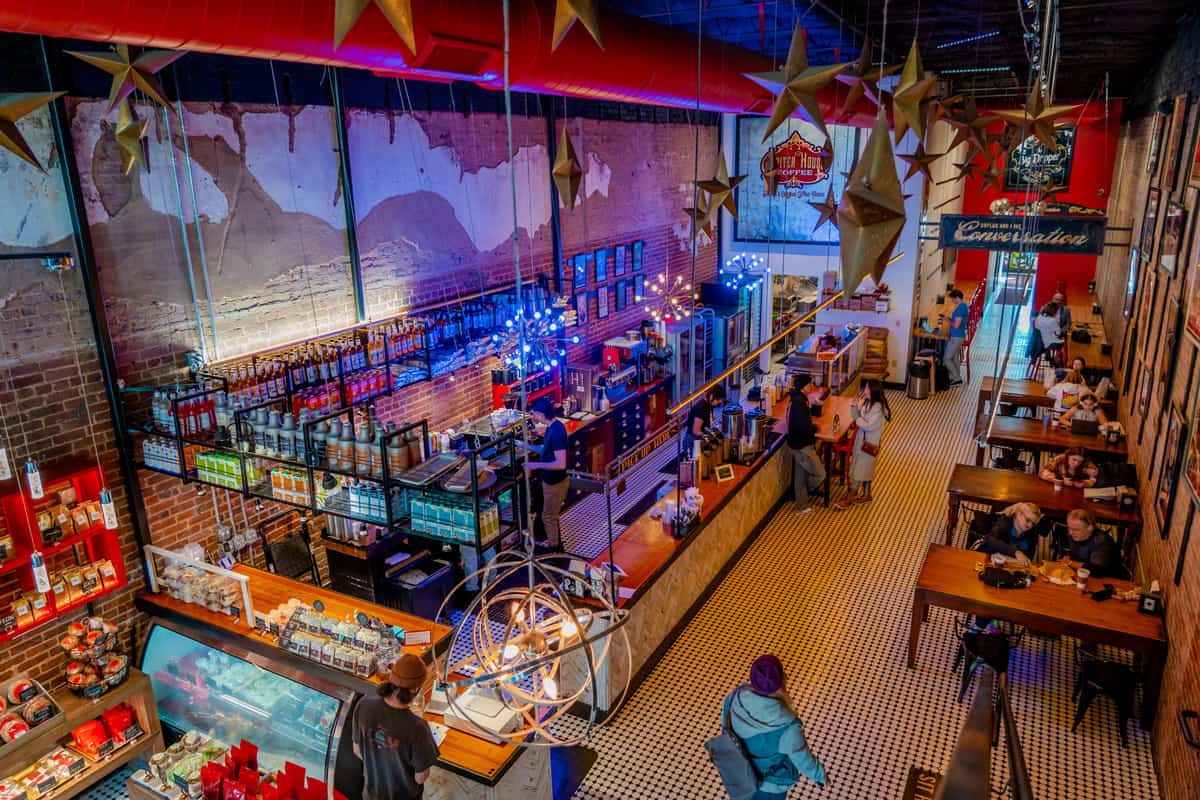 We had a busy morning ahead of us, so we had their Famous Cinnamon Roll, a fluffy Blueberry Muffin split in half, and a Breakfast Bagel Egg Sandwich with avocado.
They also have fun latte flavors like Mom's Pancake Latte, a Peppermint Latte, and an Eggnog Latte! You'll find many people chatting, picking up breakfast on the go, or setting up camp for the day to work!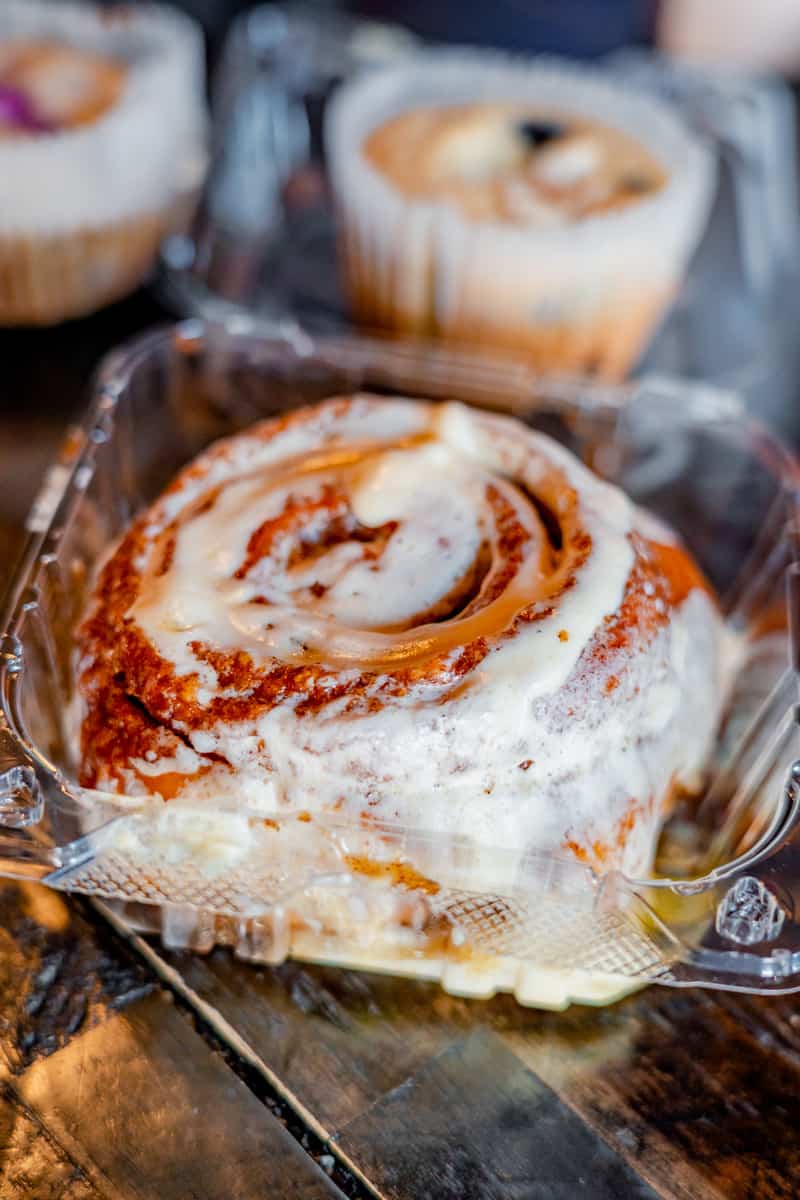 Desserts and Snacks on the Downtown Denton Square
Taste Homemade Ice Cream at Beth Marie's
Beth Marie's is a vintage-style ice cream shop with blue and white checkerboard floor tiles and a vintage ice cream counter that offers over 60 homemade ice cream flavors. But that's not all: there's also an antique soda fountain, a jukebox, and a small lunch menu that goes perfectly with a milkshake! They also make all of their ice creams from scratch in an ice cream machine from the 1920s!
We got greedy and ordered the KW Extreme with 8 scoops and 8 toppings with a waffle cone on top. It was a monster, but somehow, we managed to eat most of it! They are open from 11 AM to 10 PM, giving you enough time to stop by while you are in town!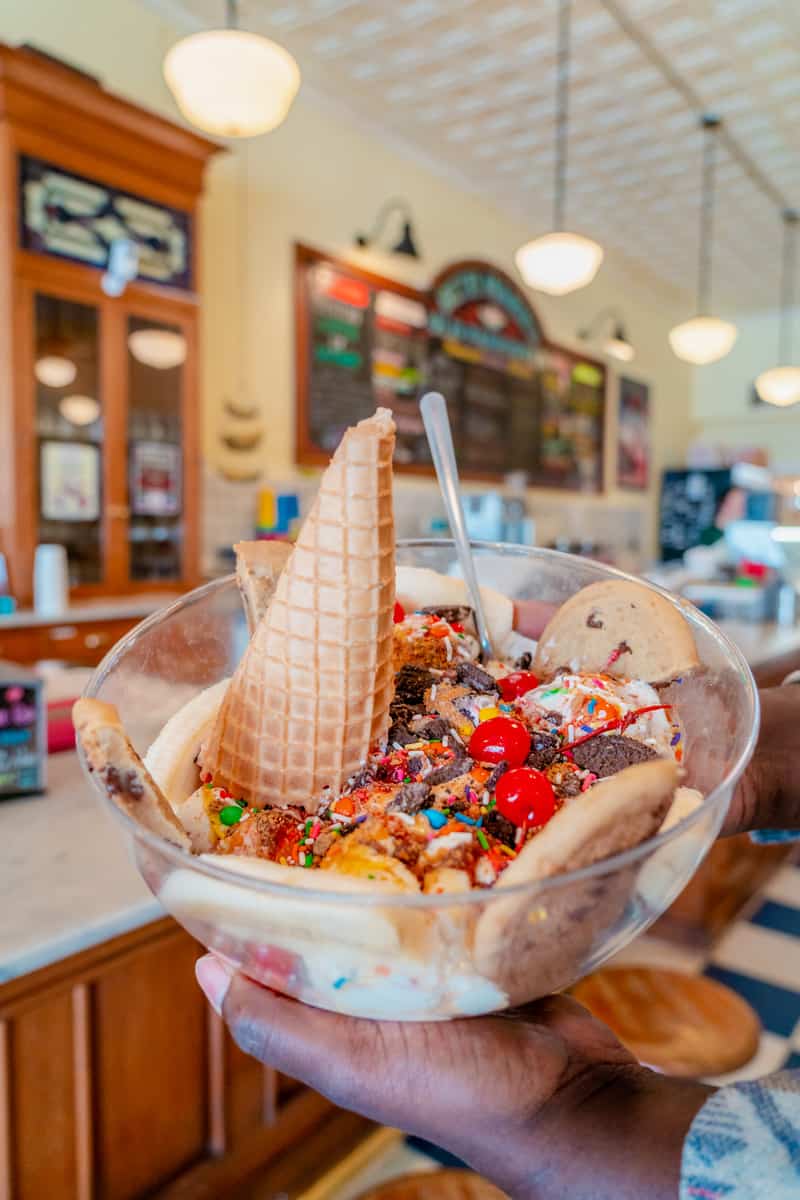 Get a Taste of Italy at Two Gentleman of Verona
Take a break at Two Gentleman of Verona, where you can choose from gelato, sorbetto, vegan gelato, coffee, pastries, chocolate, and popsicles.
Don't get overwhelmed with all the flavors! The staff is super helpful! They'll let you sample and even suggest combinations according to what you like! Here are some of the flavors they had on display on the ice cream counter: vanilla, cookies and cream, pistachio, dark chocolate, cappuccino, lemon, and mango.
From the pastries, you can also pick pistachio, redberry, or pumpkin tarts, lemon curd, meringue, macarons, croissants, "Semifreddo" cakes, Bignès and their cocoa, pistachio, or orange blossom Millefoglie cakes.
Take a well-deserved break from touring the city of Denton with Italian gelato and a perfectly brewed cup of coffee!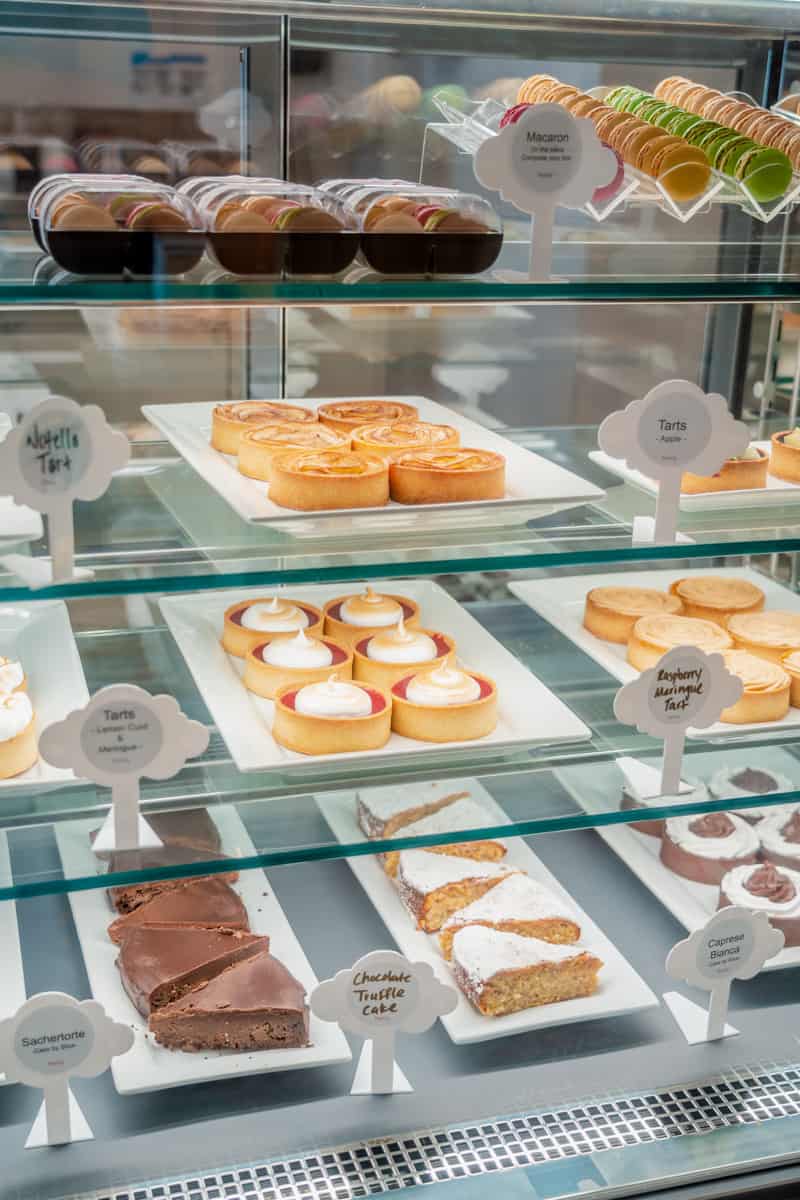 Cool Down at Gnome Cones
Gnome Cones deserves a brand award for their fun and creative snow cones! The cups have gnome faces, and the ice cream cones are shaped like hats, so you are essentially designing your own gnome depending on the flavor and toppings you pick!
We loved the Cheesecake Gnomesicle, the Goblin Berry with blackberries, raspberries, and cranberries, the Gnome Cone with cherry syrup, and the Soft Serve Mint Chocolate. They were just what we needed for a break from the sun!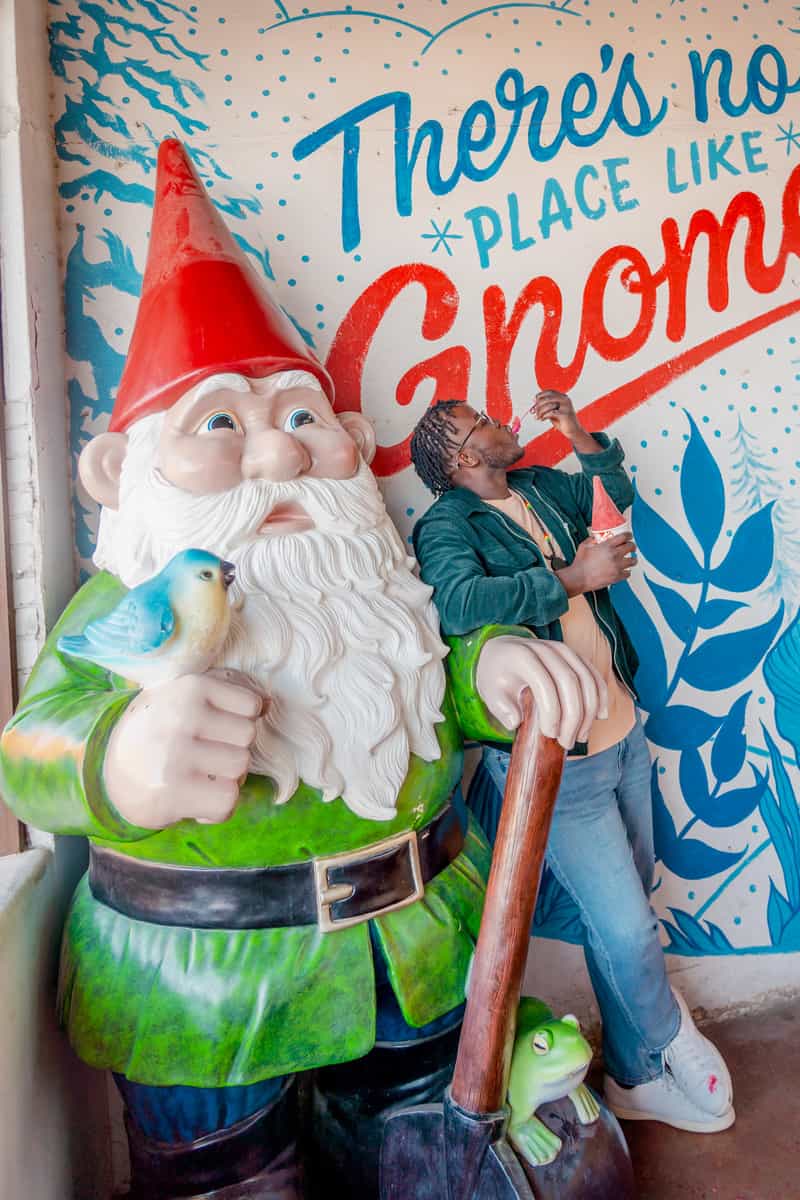 For those who want to spice things up, the 21+ Gnaughty Gnome Cones and Pops are perfect to get a bit of a buzz on! If you are concerned about colorings and dyes, know that everything at Gnome Cones is free of artificial preservatives, dyes, sweeteners, and artificial flavors, and most of the treats are gluten and dairy free, which we think is very thoughtful!
Best Restaurants Near the Downtown Denton Square
Good Food at Soulgood Vegan Restaurant
This Black-owned vegan restaurant offers breakfast tacos, waffles, sandwiches, croissants, biscuits, and good coffee!
Savor Vegan Food at Pepita's Vegan Taqueria
Pepitas serves 100% vegan, authentic Mexican food that you can pair with cold margaritas and mimosas, and they're working on adding cold beers to the menu!
We ordered the Brisket Birria Tacos, a Mexican dish from the state of Jalisco, in this case made with jackfruit instead of goat meat with rice and beans, plus plant-based queso and chips, and sopapillas dipped in honey for dessert.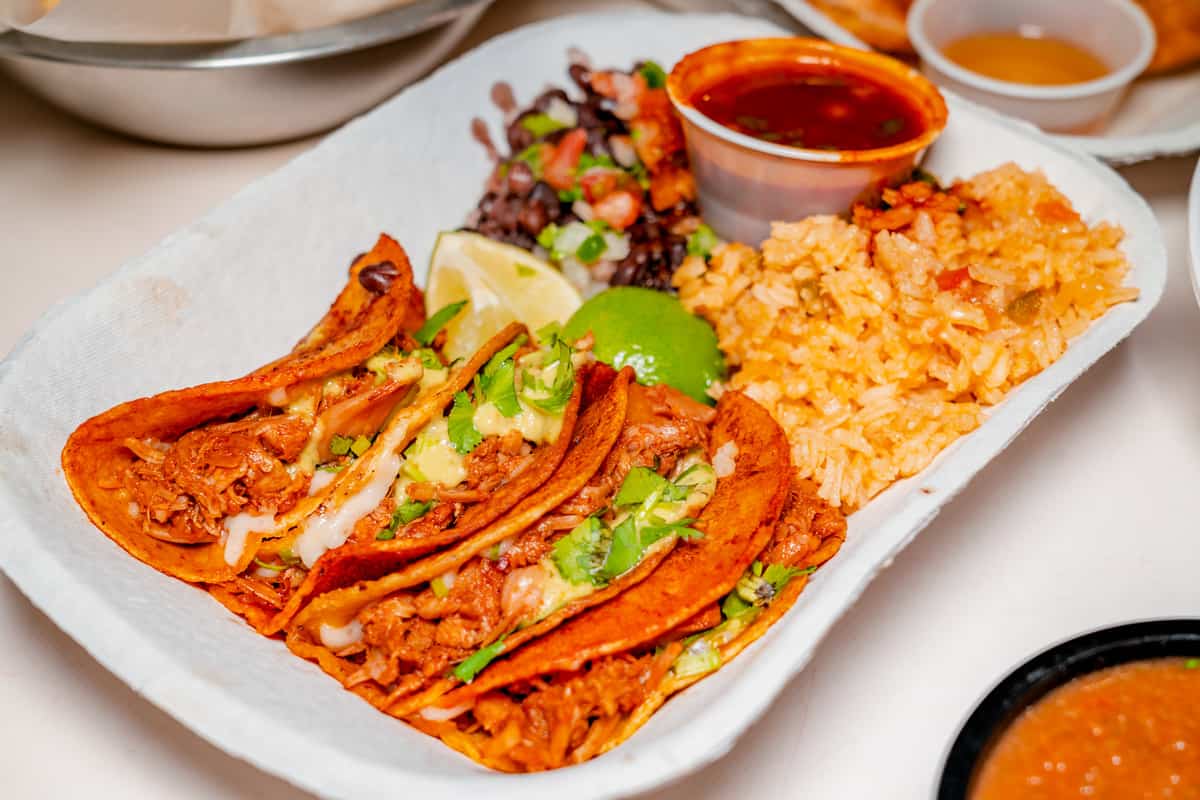 We couldn't believe the tacos were made with jackfruit instead of brisket; the texture, presentation, and taste could have fooled us! Even the vegan queso was cheesy and stringy! We loved the cute decor and the light green and pink hearts on the wall. The atmosphere was friendly and welcoming all around!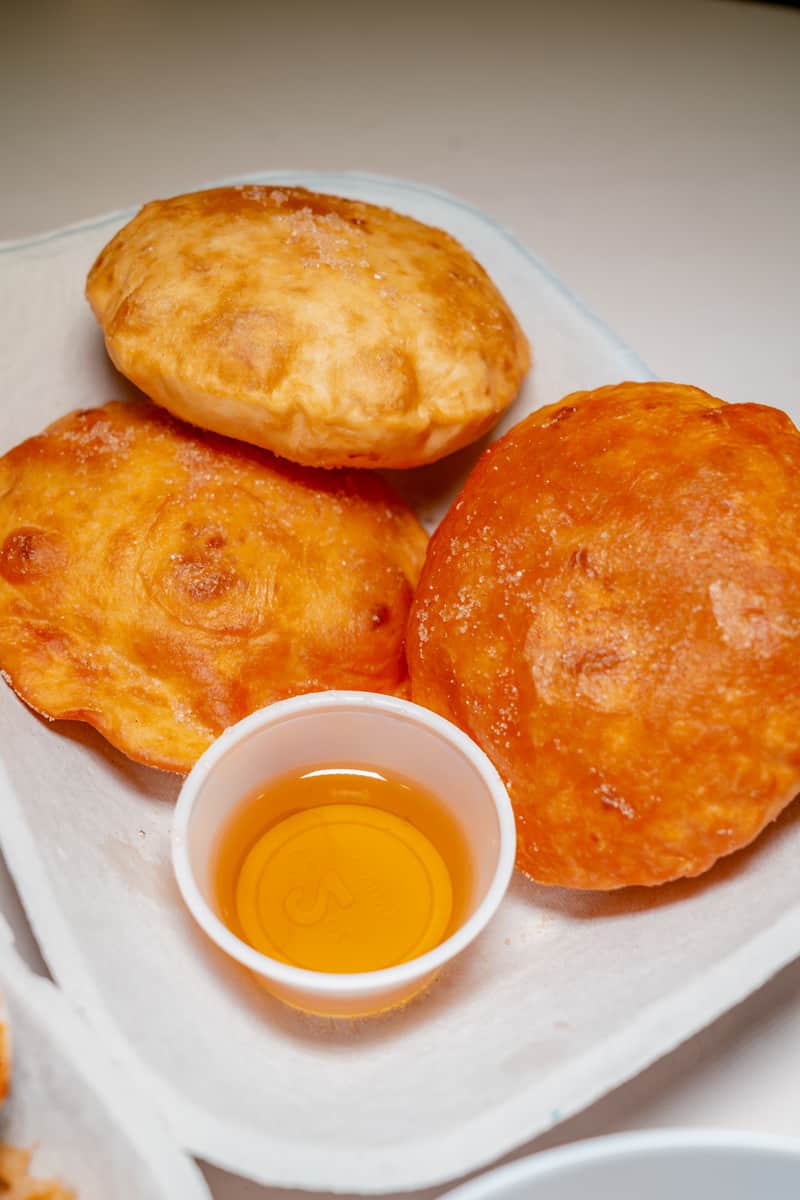 Order Comfort Food from Sweet C's
Sweet C's is a small, Black-owned business that sells meal platters daily. Menu favorites range from their whole fried catfish, catfish fillets, po boys, and fried chicken to pies, cobblers, and banana pudding. The best way to keep up with them is on social media!
The Best Cajun and Seafood You'll Find is at the Catch
They are a must-visit for all Cajun and seafood lovers!
The restaurant is Black-owned and serves fresh seafood in all its forms. The most popular dishes are gumbo, po-boys, and anything that can be grilled, fried, broiled, or boiled.
Reserve Ahead of Time for this Omakase Experience
Most people might be surprised to find out that Keichii Keichii is so popular that they get booked out pretty far in advance. If you're set on trying one of Denton's many essential spots, make sure to get reservations as soon as possible! However, you can get on their waiting list for cancellations.
Head Chef Keiichi Nagano takes his time to create dishes for 10 guests per night from an omakase menu and special sake selection. Maybe call and reserve a table for 2024?
Get Some Work Done at Froth Coffee Bar
​Froth Coffee Bar has good coffee, snacks, and appetizers, but the main attraction is the community that has become the heart of the coffee shop and the friendly staff that welcomes students, professionals, and friends catching up!
Run to Seven Mile Cafe
Seven Mile Cafe is a popular breakfast and brunch restaurant with many locations across the country. Their dishes are healthy and are meant to leave you feeling re-energized after your meal. In addition to breakfast and lunch, they also have a coffee bar and a regular bar with bottomless mimosas and Bloody Marys!
Sci-Fi Vibes at Duino Coffeehouse
You must check out this futuristic, open-concept coffee shop with major Sci-Fi vibes. This place is modern, with clean cuts and edges, and it's like having a coffee in a cozy spaceship! There's a lounge area and plenty of workspaces, conference rooms and booths for personal business meetings. Not to mention lots of electrical outlets and natural light that seeps through the floor-to-ceiling windows, especially on sunny days!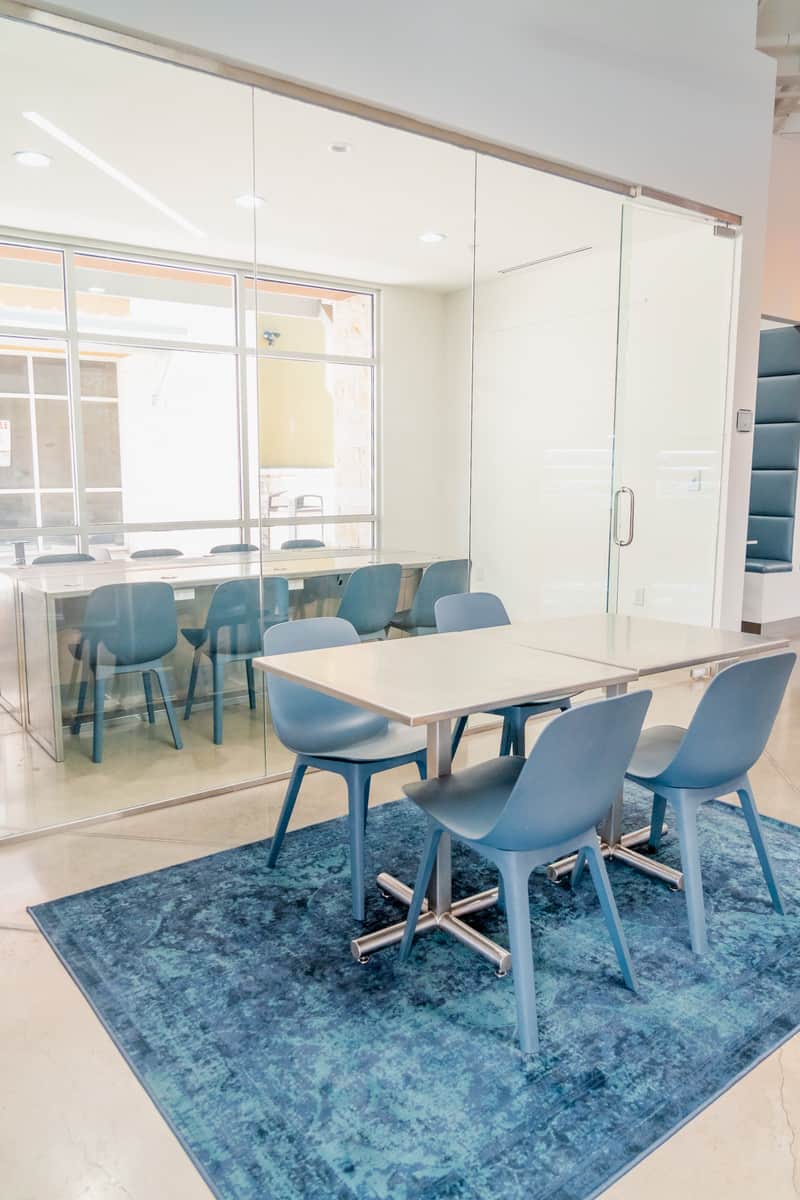 We tried the Maple Cinnamon Latte, the Amazon Chili Mocha (made with smoked chilies from Colombia that are sourced from a women's co-op that prepares the spices by hand), the Coco Loco, the Turmeric Latte, and the Chicken Pesto Panini. We liked that they host and sponsor events to bring the community together and thank them for their loyalty!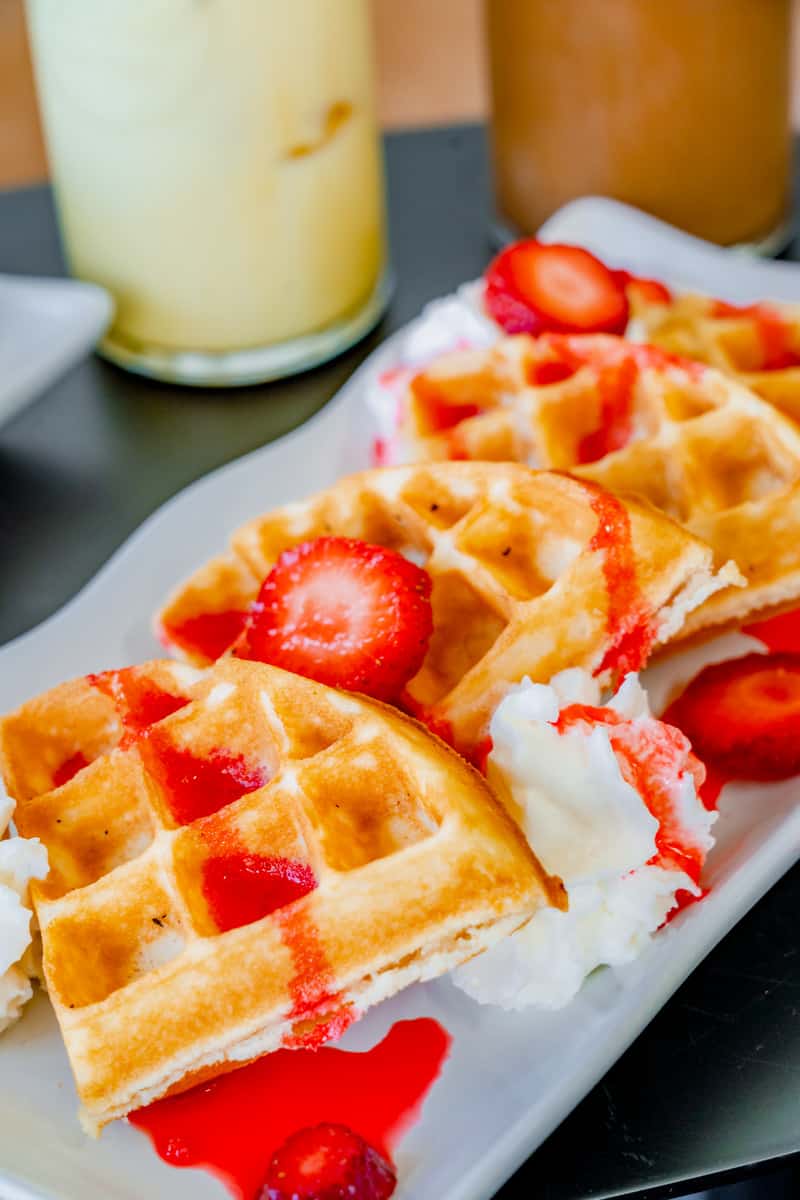 Fix your Cookie Crave-ings