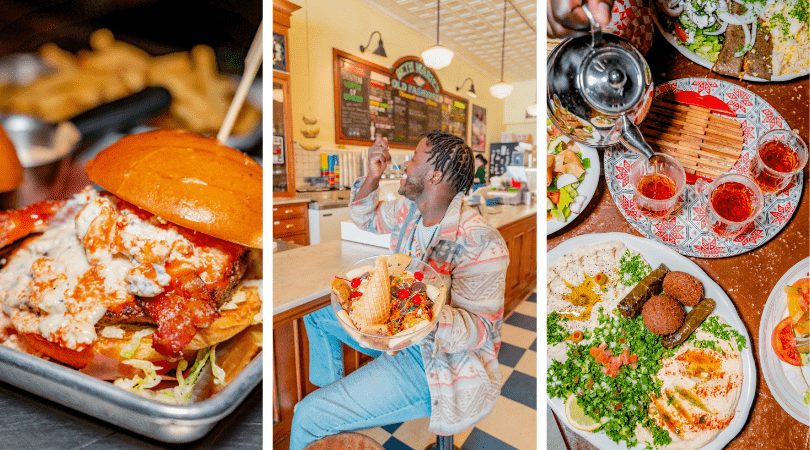 Denton is a foodie paradise dedicated to contributing something new and unique to the foodie-sphere. It's the perfect place to try something different, venture out of your comfort zone inside your favorite genre of food, taste a spin on your favorite dish; the foodie world is yours when visiting Denton!
Whether you're looking for brunch, vegan food, dessert, coffee, cocktails, or just a fun, new experience, we've gotcha covered! Not to mention, all the different international cuisines we found in Denton, like Mediterranean, Latin-Asian fusion, sushi, Mexican, and Turkish too!
When you're planning your next daytrip or weekend getaway to Denton, be sure to check out our list of things to do. Unfortunately, you can't eat 24/7, so fill your time with some equally amazing activities!
Best Restaurants on the Downtown Denton Square
Spiral Diner & Bakery
This small, vegan restaurant is popular with the locals and is a great example of success that comes with passion and hard work. What began as a small lunch counter with five employees has grown into two locations, including a production kitchen. More than 2,000 online reviews show that people also really like just hanging out here!
They have an extensive menu that includes breakfast items, soups, sandwiches, organic, fair-trade coffee, scratch-made ice cream and cake by the slice, and even rice bowls (while supplies last). We were on the hunt for a traditional style brunch place, and this is a great option!
Find Out for Yourself Why LSA Burger is a Local Favorite
LSA stands for Lone Star Attitude!
Their food is served in personal trays with butcher paper, the portions are huge, and each burger is cooked to perfection! The whole atmosphere is friendly and inviting, and we received great service. Our waitress was super nice about helping us pick out what to order!
We settled on the Los Lonely Burger with roasted peppers, pepper jack, chipotle mayo, lettuce, and tomatoes, the Spirit of a Hero Burger loaded with onion rings, mac & cheese, queso, chipotle mayo, and tomato, the Stevie Burger stuffed with bleu cheese, bacon, Frank's hot sauce, lettuce, and tomatoes with a side of Mini Margaritas! And, of course, you can't get a burger without a side of French fries. As their name would suggest, they truly have some delicious burgers you have to try!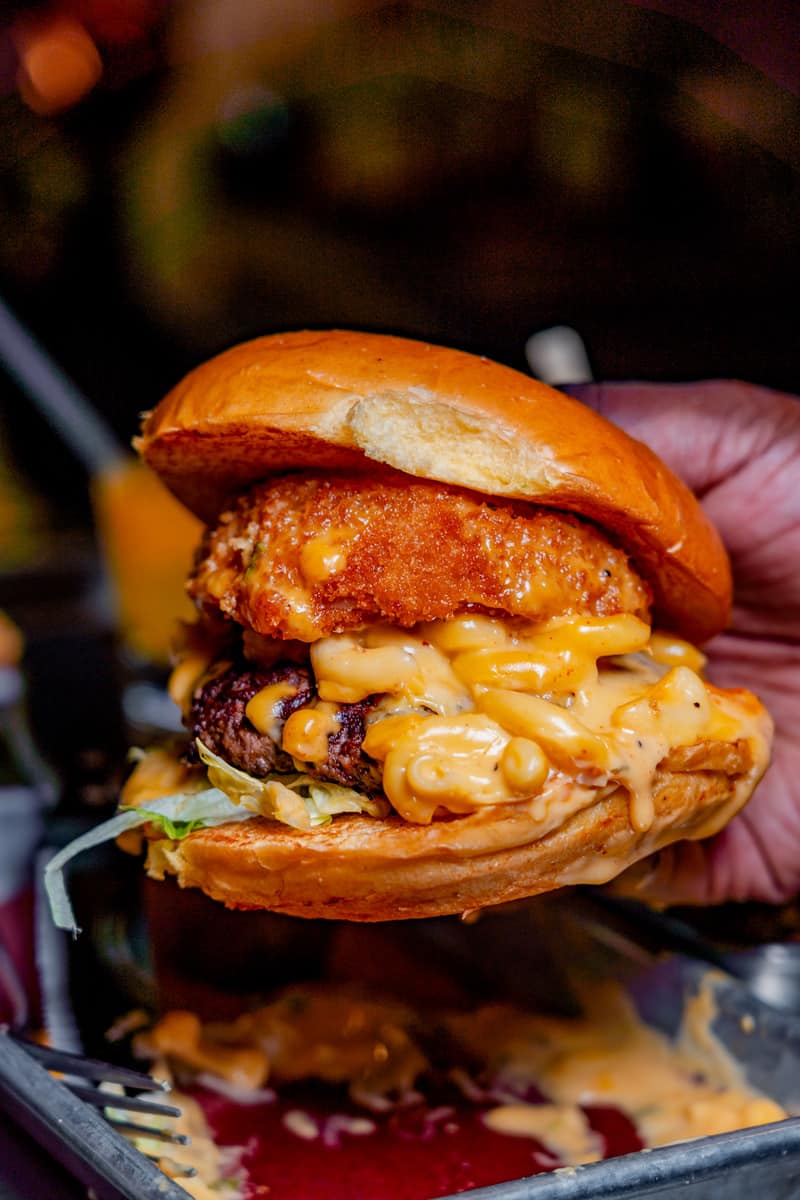 You can choose to sit indoors on the first or second floor, or outside where you'll find live music playing. They are a pretty busy place, so we recommend you come at least 30 minutes earlier than you plan on eating, so you don't get hangry while waiting! You can also grab a seat at the bar while you wait if there are open seats.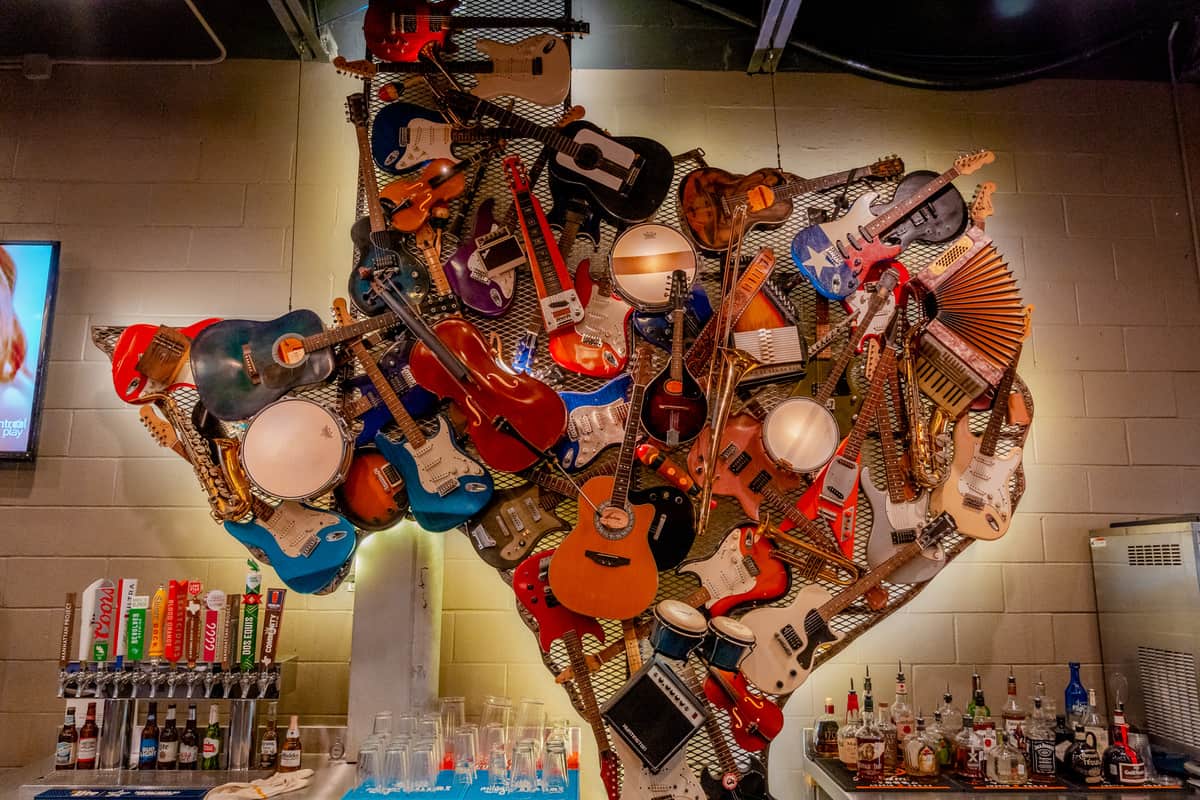 Brunch Time at the Chestnut Tree Bistro
Suzanne Johnson is Chef de Patronne, and Rossana Iodice is Chef de Cuisine at the Chestnut Cuisine Teahouse and Bistro; they're the minds behind this small but flavorful menu.
The breakfast and brunch menu features traditional dishes like eggs, crepes, pancakes and waffles, as well as vegan, dairy-free, gluten-free, and vegetarian options! The lunch menu has an abundance in Vitamin S: salads, soups, and sandwiches! Don't miss this little green building downtown!
Spice Things Up at Komodo Loco
They are the perfect mix of traditional Asian and Latin American spice. This eclectic restaurant/bar's extravagant wall art, intentionally prepared dishes, and specialty cocktails make this a unique spot in the area!
Komodo Loco also offers weekly specials that draw locals and tourists in droves! Here's what we had: the Philly Who? with smoked salmon, cream cheese, bacon, jalapeño; the Pineapple Specialty Roll, Beef Tataki (a seared beef tenderloin, guacamole, pico, and garlic); Yuzu Ginger Sashimi with seared albacore with ginger, yuzu kosho, crispy onions and ponzu; Salmon Nigiri, Brussel sprouts, Edamame, Cucumber Salad with pickled jalapeño and pieces of octopus, Chick-A-Rones (fried chicken skins), and two cocktails, the Blind Tiger and Professor Plum.
We were blown away by the presentation of each dish – no dish left the kitchen without looking dazzling!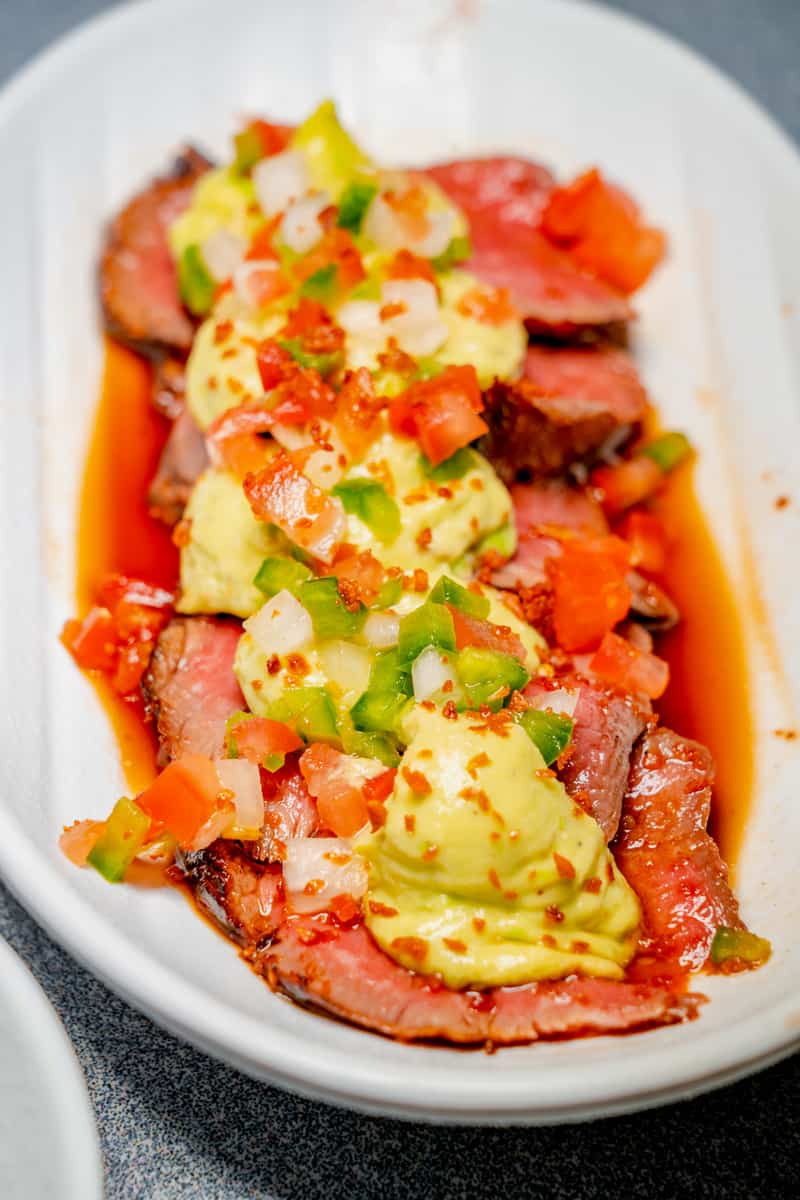 Fuel Up at El Taco H
El Taco H has an authentic taqueria menu, including Agua Frescas and a small self-serve bar of taco toppings. We loved seeing Loteria art and the luchador masks on display behind the bar! The best part was the literal Taco Tuesday deal, where you get 20 street tacos for $45 and a beer bucket for $21!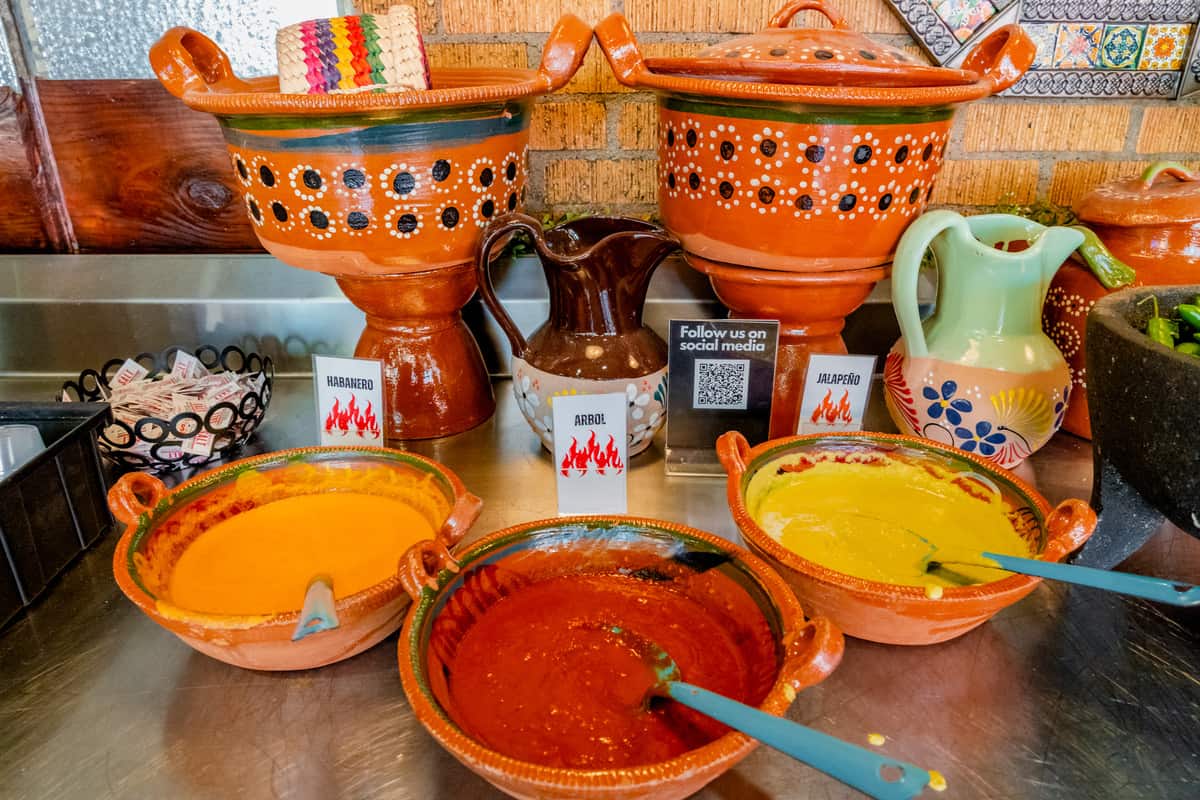 We had a hard time deciding what to get, but in the end, we got the Burrito Grande with Birria meat, an Elote Cob with toppings, Barbacoa Tacos, Al Pastor Tacos, Sudadero Tacos, and the cocktail, El Tlacuache. It felt like we were on a Caribbean vacation!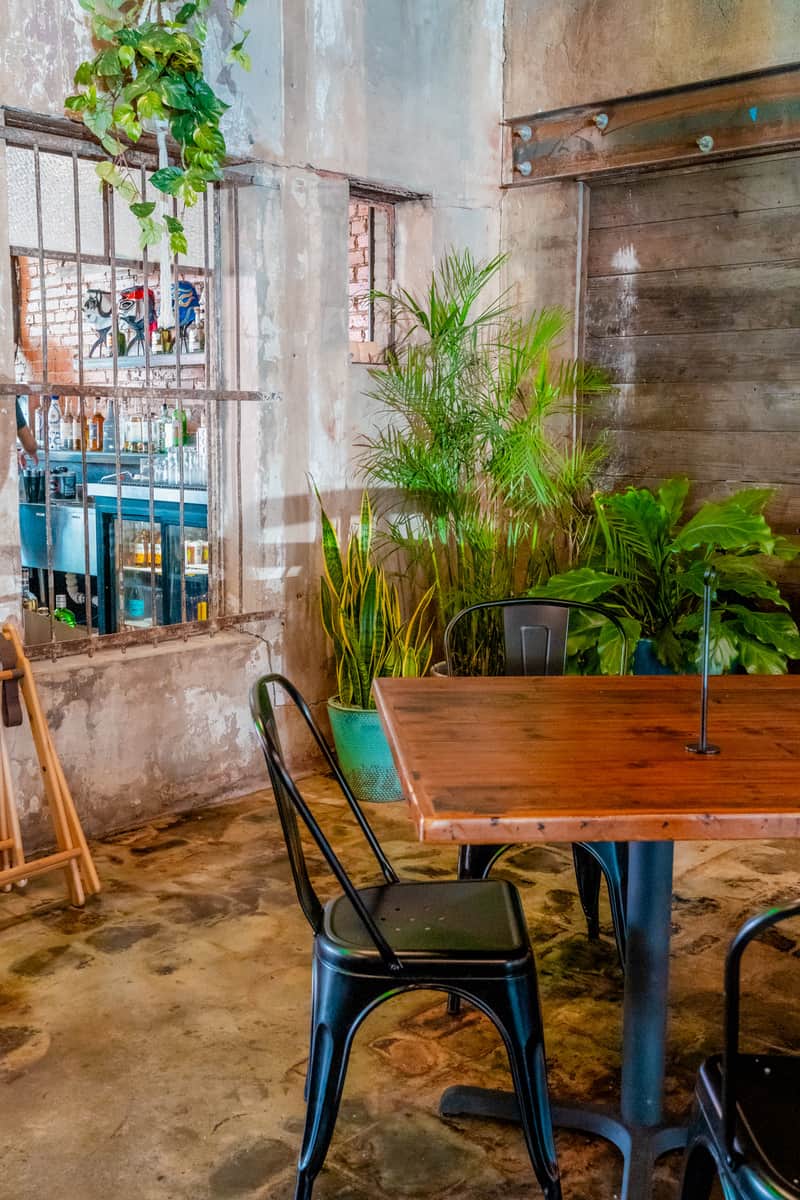 Enjoy Fresh Mediterranean Food at Layalina
Layalina is an oasis of Mediterranean cuisine in the heart of Texas. There are belly dance performances from 7 to 7:30 PM on Fridays and Saturdays. You can also order a Hookah for your table and kick back in the lounge areas or at the bar. We had the Layalina Plate for Two (with hummus, Baba Ghanouj, Tabbouleh salad, two grape leaves, rice, Greek salad, a skewer of chicken Shish Tawook, Kofta Kabab and Gyro meat), Fattoush Salad (with fresh lettuce, tomatoes, cucumbers, peppers, onions, radishes and fried pita), Beef Ribs, Arabian Salad, a pot of mint tea, and Baklava for dessert.
To finish off our meal, we ordered traditional Turkish coffee that gave us enough energy to keep us moving the rest of the day!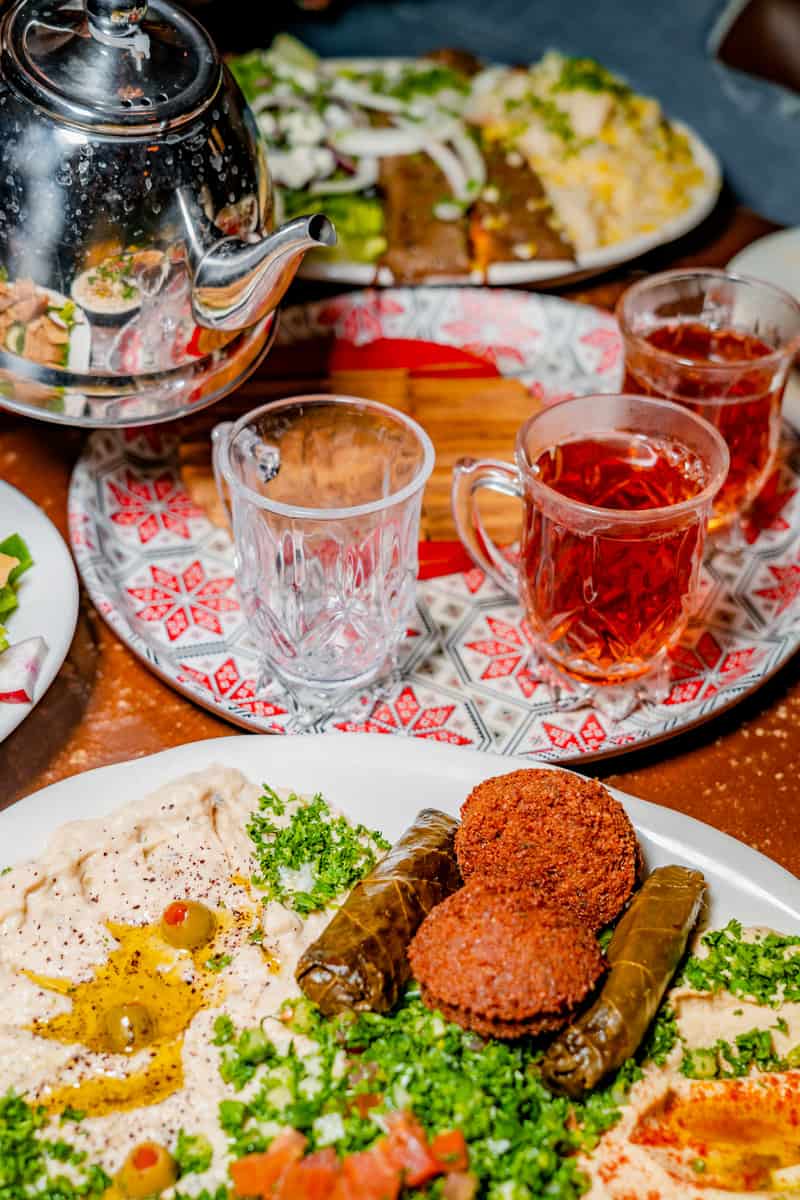 Try Everything at 940's Kitchen & Cocktails
They are an industrial and rustic restaurant with high ceilings, exposed ductwork, and lots of wood, giving it a sophisticated, but laid-back elegance. The building has been standing since the 1920s and has since changed several owners and businesses (from a grocery store to a radio store to a pawn shop and more) until 940s Kitchen & Cocktails opened in 2015.
Happy Hour is Monday through Friday, 2 PM to 6:30 PM, and Sundays from 3 PM to 9 PM. But get this, they also have Tequila Tuesdays and Half-Price Wine Thursdays. And if you are traveling on the weekend, then it's in your own interest to know that they serve brunch from 10 AM to 3 PM on Saturdays and Sundays.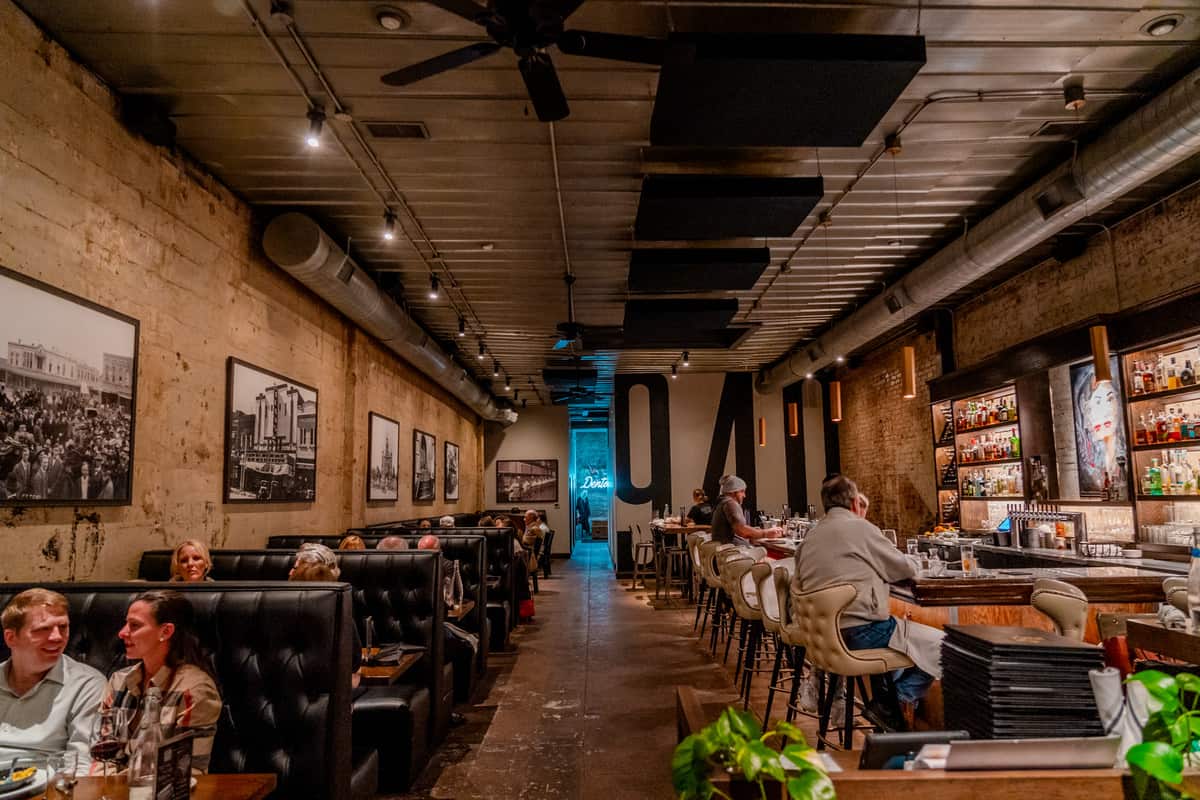 Their food is amazing, and honestly, we are still dreaming about it; we had the Tenderloin Grilled Cheese with onion jam, a sunny side up egg cooked to perfection, and a side of sourdough; the Shaved Roasted Brussel Sprout Salad with a tasty honey lemon dressing, fresh goat cheese, and candied pecans; the Seared Salmon with a honey citrus glaze on a bed of creamy risotto, vegetables, and their popular Denton Fried Chicken with mashed potatoes and gravy on the side! You can even add their Nashville Hot seasoning if you'd like!
We forgot the time while we sipped on the Lavender Elixir Cocktail, Smoked Sea Salt Paloma, Old Fashioned, and Spicy Boi cocktails! The food and drinks were fantastic, but their consistent and friendly service is what has retained the loyalty of the locals!