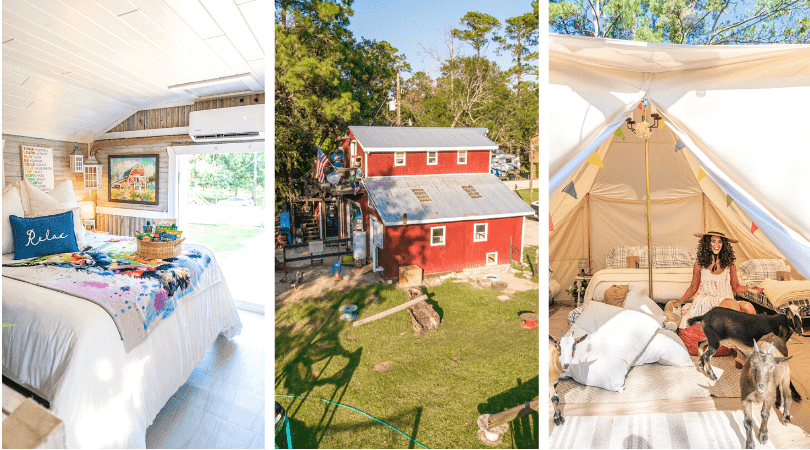 Looking for where to stay in Alvin TX? The Goatel offers just that; a way to camp with flair. Guests are invited to participate in goat-themed itinerary items, like Goat Yoga and Goat Happy Hour, or time dedicated to cuddling your stress away with their cute little goats, while providing other activities like fishing, bottle feeding baby goats, visiting the neighboring bird sanctuary, wandering the property, and sitting nightly beside a campfire.
Glamp on a Bayou
Book a stay in one of the elegant bohemian-style bell-tents located on the property. The interior is filled with lush pillows and blankets that can accommodate up to six guests, as well as a private balcony hanging over the water as if you're floating on the bayou on your own magnificent boat. With its gorgeous views of the the grazing fields, sounds of birds in the distance, and the lapping of the water with the occasional furry visitor (or ten), The Goatel extends this invitation to you so you can experience this one-of-a-kind way to camp in Alvin TX.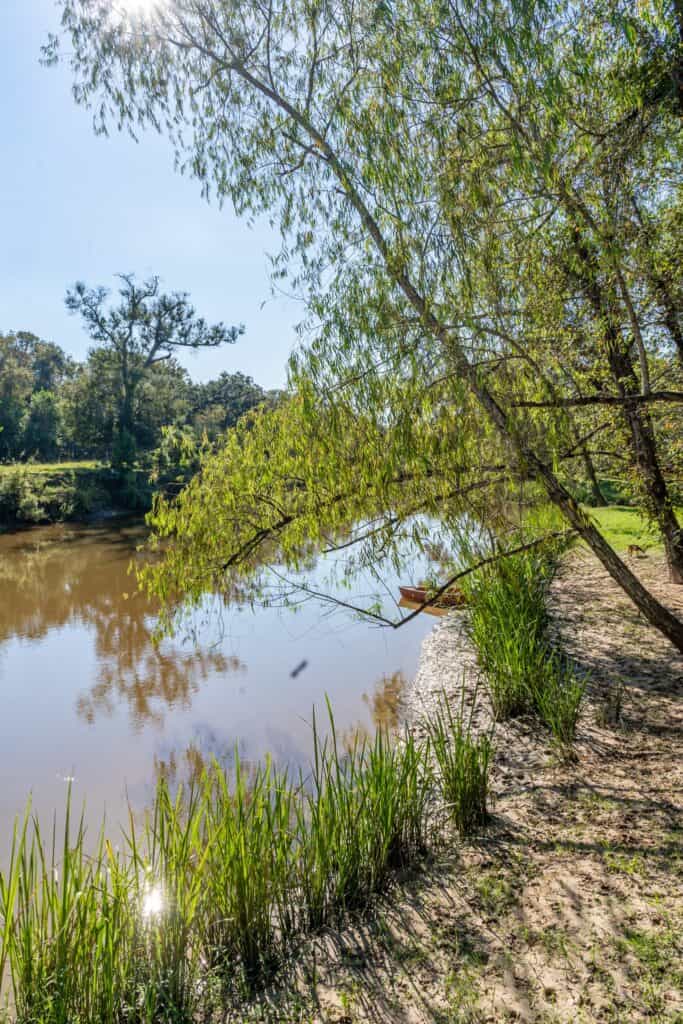 Stay in a Barn Loft
Another option is the Goatel's loft apartment located above the goat barn. With accommodations for four guests, you can enjoy the immersive experience of waking up to the sweet sounds of nature, overlooking the Chocolate Bayou in the morning with a cup of coffee and some bottle feeding time with the goats, and doing Goat Yoga waterside in the afternoon. Simply notify the staff prior to your stay so they can upgrade your reservation. Or, enjoy your complimentary Goat Happy Hour session without giving up the beautiful backdrop of the bayou. When you finally drop in and see all there is to do in Alvin, you won't have any questions about where to stay.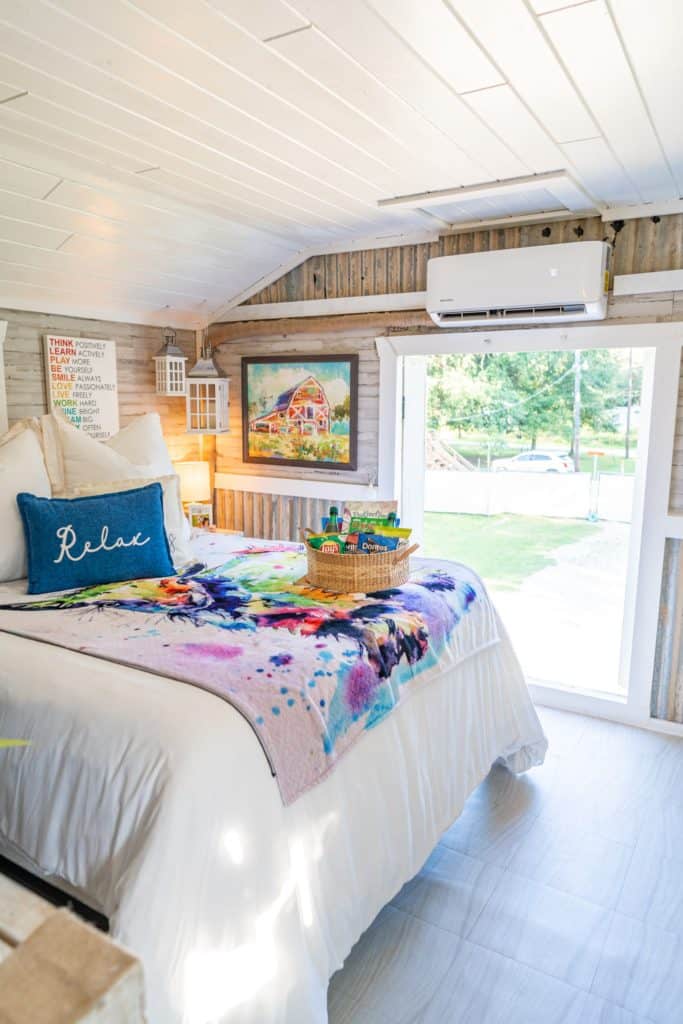 Book a Texas-Exclusive Package
Whether you're planning a romantic getaway, a girls trip, or you want to pamper yourself, The Goatel offers exclusive Texas packages you can use to spice up your reservation. Choose from packages like the Champagne Package, the Gourmet Dinner Package, the S'mores Package, the Wine & Cheese Package, or the Fall Fun Package. Check their website for pricing and details.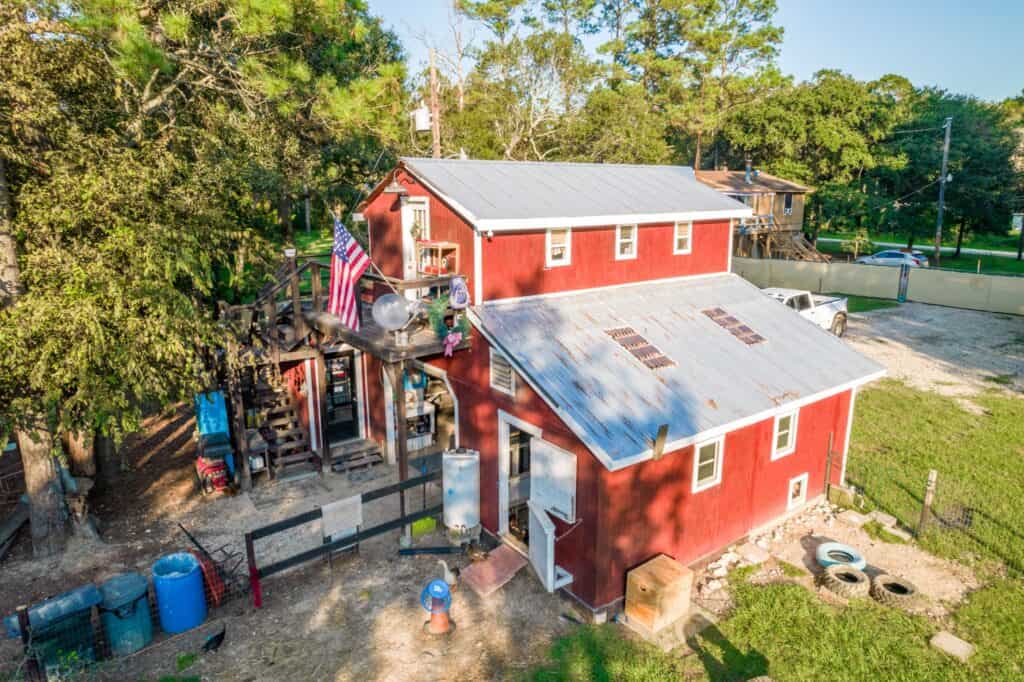 Where to Stay in Alvin TX: Final Thoughts 
With its special set of goat-oriented activities and ways to reground yourself in a world where everyone could use a mental health day, the Goatel is where you have to stay when you visit Alvin TX. Relax while enjoying the stunning views of the mystical bayou, watch the adorable goats roam the grounds, and spend unlimited time with them cradled in your lap. For more ways to enjoy all that the great state of Texas has to offer, explore our list of unique places to stay in Texas and don't let Alvin's Goatel be the last place you stay.