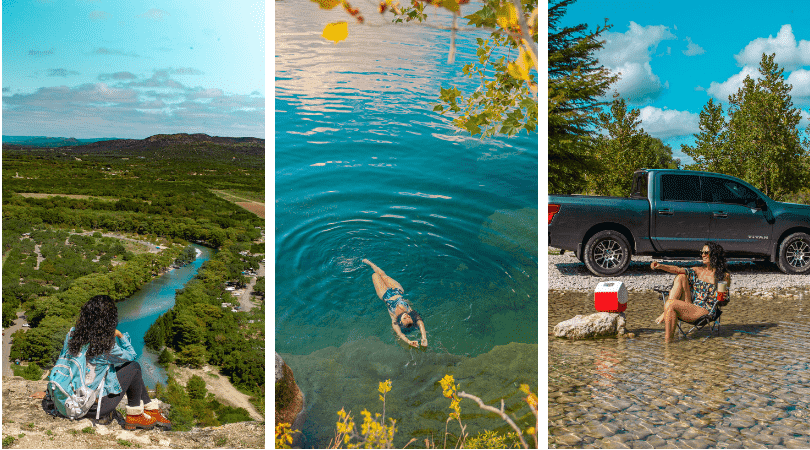 Concan Texas is a paradise in the Texas Hill Country where the waters are crystal clear, and you can take some of the most scenic hikes! Many people travel to Concan to float the river, but there are also so many different things to do in Concan as a part of Uvalde County and other great swimming holes to explore.
One of the great things about Concan is that it provides such a unique experience for the entire family, couples, and all ages. It's filled with natural wonders with the crystal clear waters of the frio river. Take in so many different activities for the whole family including exploring the great outdoors, enjoying a live music venue, hiking scenic natural trails, participating in Summer dances, horseback riding, and of course floating through the heart of the frio canyon.
Tips for Visiting Concan TX
Litter is all too frequent a sight in these areas, with misplaced cans and abandoned footwear cluttering the landscape. We must do more than just abstain from littering; we need to leave the place better than we found it. Many spots carry yellow bags. As you see trash pick it up. I can't even imagine how big a difference it would make if everyone cleaned up just a little.
The Summer months are busy. Get to a place early or stay late to have it more to yourself.
There aren't any grocery stores around. There are a few places that offer some basic necessities at higher prices. And there are a few restaurants in Concan, but not many, so make sure you prepare beforehand.
The same goes for water shoes, inner tubes if you plan on visiting any day use area, and sunscreen.
Help Protect The River: If you read nothing else, please read this. Our Texas rivers are easily affected by drought and over consumption of water as you will likely see when visiting. Make sure to still limit your water use to only what you need to help this area.
Additionally, our river is full of sensitive wildlife and plants. Just like tropical destinations want you to use reef-safe sunscreen we should be using the same in order to prevent our sunscreen littering the water. "Reef Safe" is not a regulated phrase so make sure to do your research beforehand. We've also shared some that we have found.

Go to a Small Swimming Hole
All of the swimming spots in Concan are quick to get filled with people and crowded. However, the Frio River Private Access is a local spot that only allows 30 people in a day (so get there early). With a limited number, you have room to move around and explore! There are a couple of different swimming holes, a hidden staircase hike, and kayaks/paddleboards available for rent. If you're looking for something peaceful while enjoying the Frio River, the Frio River Private Access offers that with limited numbers. While there, be sure to visit one of the oldest trees in Texas!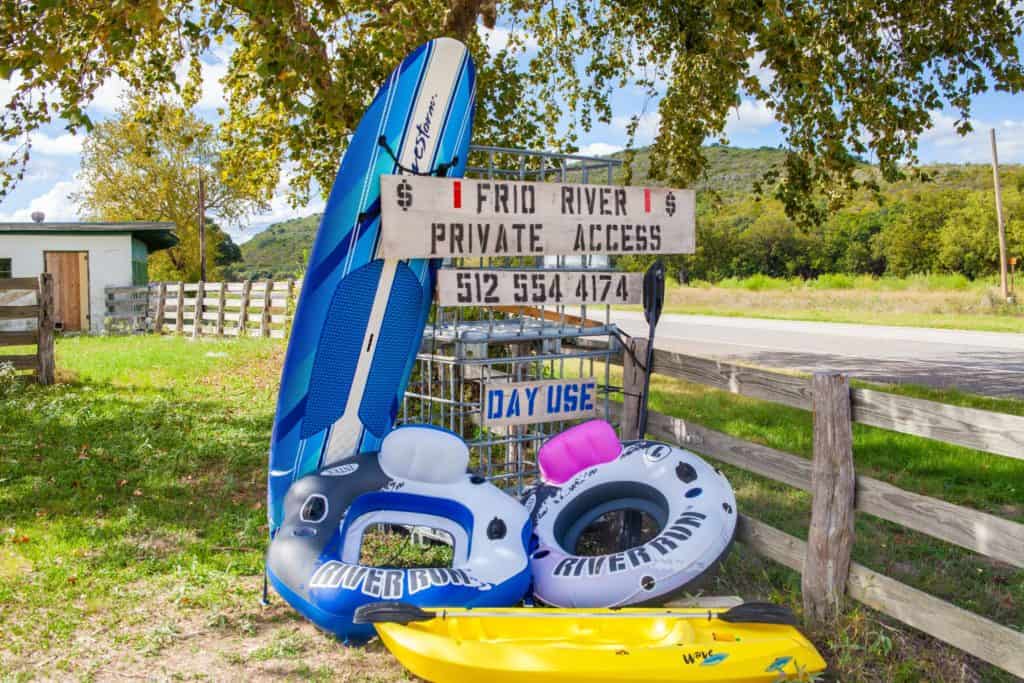 Discover All The Places To Swim
Concan is made up of some of the most incredible river and because it's all one river, it could feel like it's all the same. However, there are so many great swimming holes, day use areas, and access from the side of the roads that are all different in their own way. Each place works different for each type of person so we wrote a full guide on all the best places to swim in Concan.
Hike at Garner State Park
Garner State Park is one of the most popular state parks in Texas and once you visit, it's clear to see why. Nature lovers will enjoy all the nature trails along the frio river area. There are two hikes up different mountains with one of the most scenic views, caves to explore, swimming (plus some secret swimming holes), and more. Many people love to use the frio river access and cook out on the bbq pit. In the Summer they have nightly dances that have been a tradition since the 1940s.
You get the spectacular views of Mount Baldy from the river. There's so much in Garner State Park from the acres of scenic hill country terrain, rv park, use of a paddle boat, miniature golf, a gift shop, and more so we had to write a full guide all about it.
Go Stargazing
The stars are especially bright in Concan TX with little light pollution! With a star gazing society in Concan, people who are visiting have the chance to see the stars, the moon, and maybe even some planets. You can visit the tourism center or check the Concan website to find out when these will take place. Not to mention that Concan is regularly an area for the solar eclipse.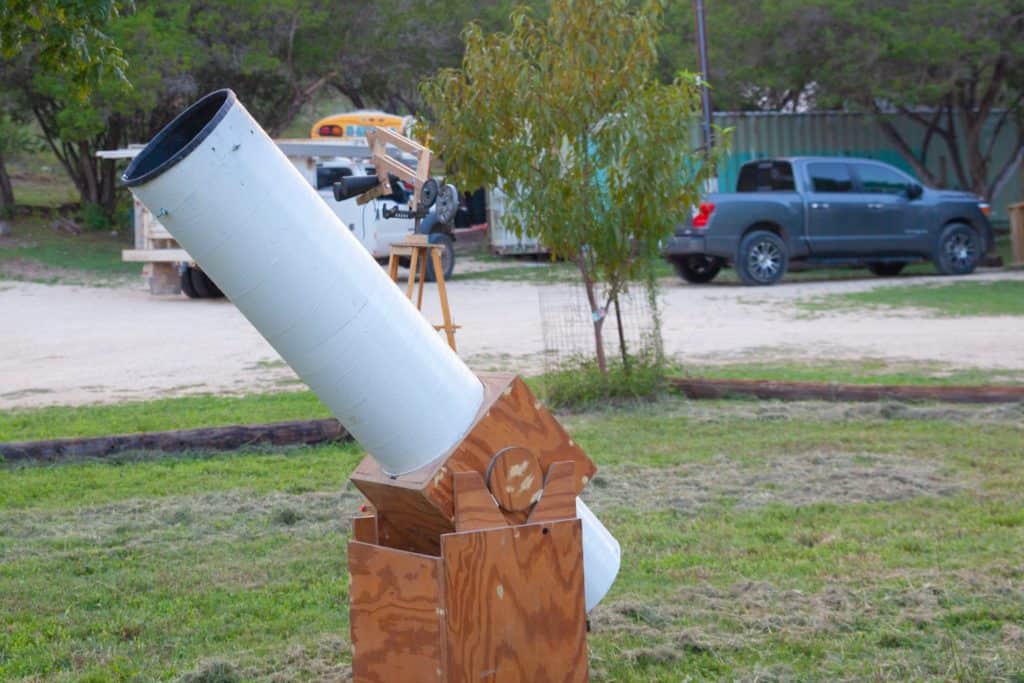 Cool Off with Ice Cream
Right next to the tourism center is The Frio Float is the ice cream shop where they have all the Blue Bell ice cream, chocolates, and shakes. After all that time in the sun, the ice cream is a great opportunity to cool down. Plus, the shop itself is so cute and a little like candy land!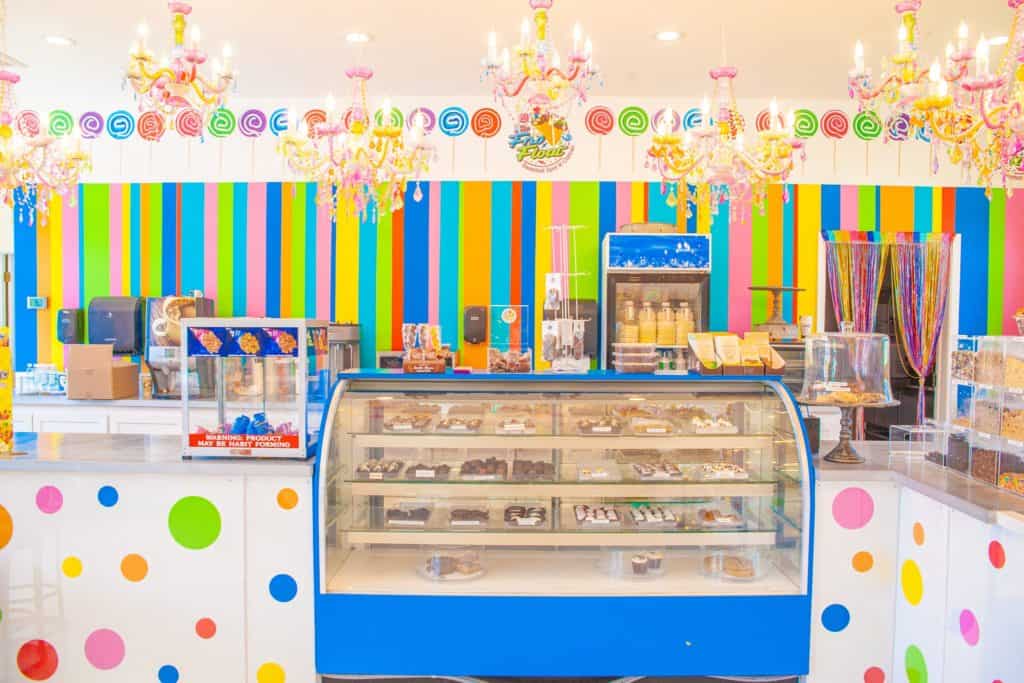 Go Tubing
A Concan tradition is floating the river! Rent a tube from one of the local spots, and spend several hours floating down the river! I personally like having my own tube, so I still take advantage of the local spots who will drop you off/pick you up and blow up your tube for you!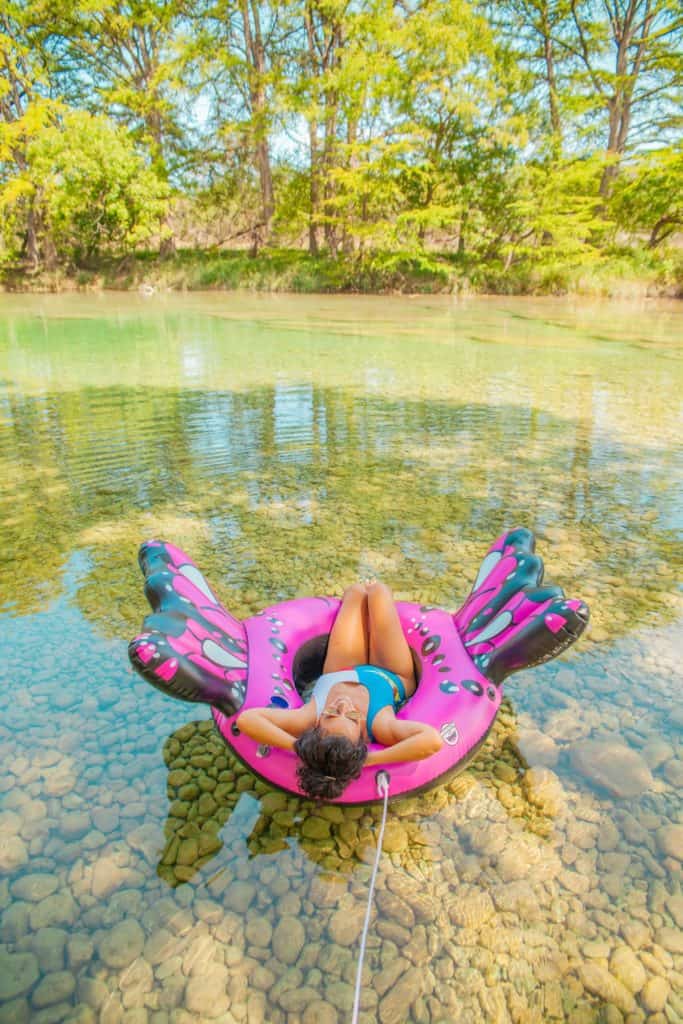 Watch the Frio Bat Flight
Prepare to be amazed by the Frio Bat Flight Tour! This is an extraordinary opportunity to witness the second largest known colony of bats (and also of a single mammal species in the world). A staggering 10-12 million Mexican Free-Tailed Bats call this colony home!
The tour is led by none other than a man who has earned the nickname "Batman" due to his unwavering passion for bats. With his bat belt buckle and a Batman ringtone, he has been guiding visitors for over 24 years, sharing his wealth of knowledge about these fascinating creatures.
Witness bats taking flight for 2-3 hours in an awe-inspiring spectacle from 7-9pm with 20-30 minute breaks between waves. The colony is densely packed, with 200 bats per square foot and 3-6 bats clinging together. Reservations are advisable, but walk-ins may be accommodated. Available from March to early September.
Enjoy Lunch with a View
If you visit Concan, most people will bring up Neal's as the place to eat! Neals Lodge serves all of the Southern comfort foods like chicken fried chicken, fried pickles, and other dishes. Plus, outside they have a patio that looks out over the the river.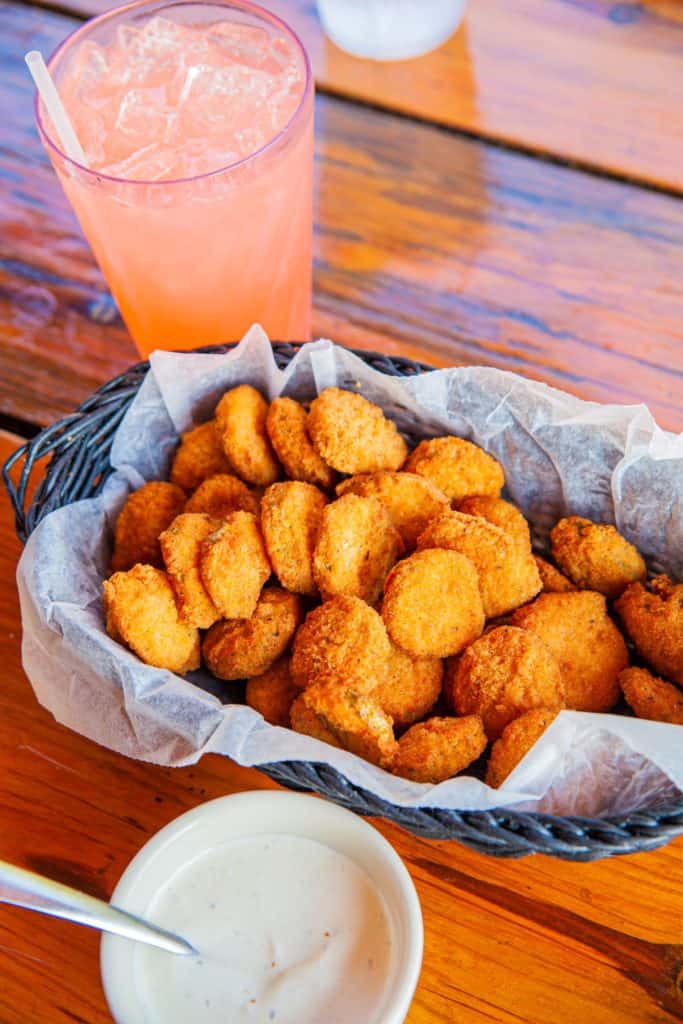 There really aren't many places in Concan to eat (and there aren't any grocery stores around either). If you're planning a trip to Concan, I recommend finding a place with a kitchen and picking up food beforehand so that you you're not constantly having to drive far out to get a meal.

Stay in a Cute Cottage
There are plenty of options of places to stay in Concan, but the Inn Between stood out to us because of how colorful there cozy cabins were! Each cottage and tiny home at the Inn Between is so unique with its own personality. It's a colorful space with plenty of modern amenities, a kitchen perfect for families, and all the opportunities to make new memories with the extra attractions they offer on-site.
Even better the property owners are some of the kindest people and are so knowledgeable about the surrounding area to make sure you have the most Frio fun during your stay in the Concan area. You can read all about our experience at the Inn Between, including their newest accommodation, the A-Frame Cottage!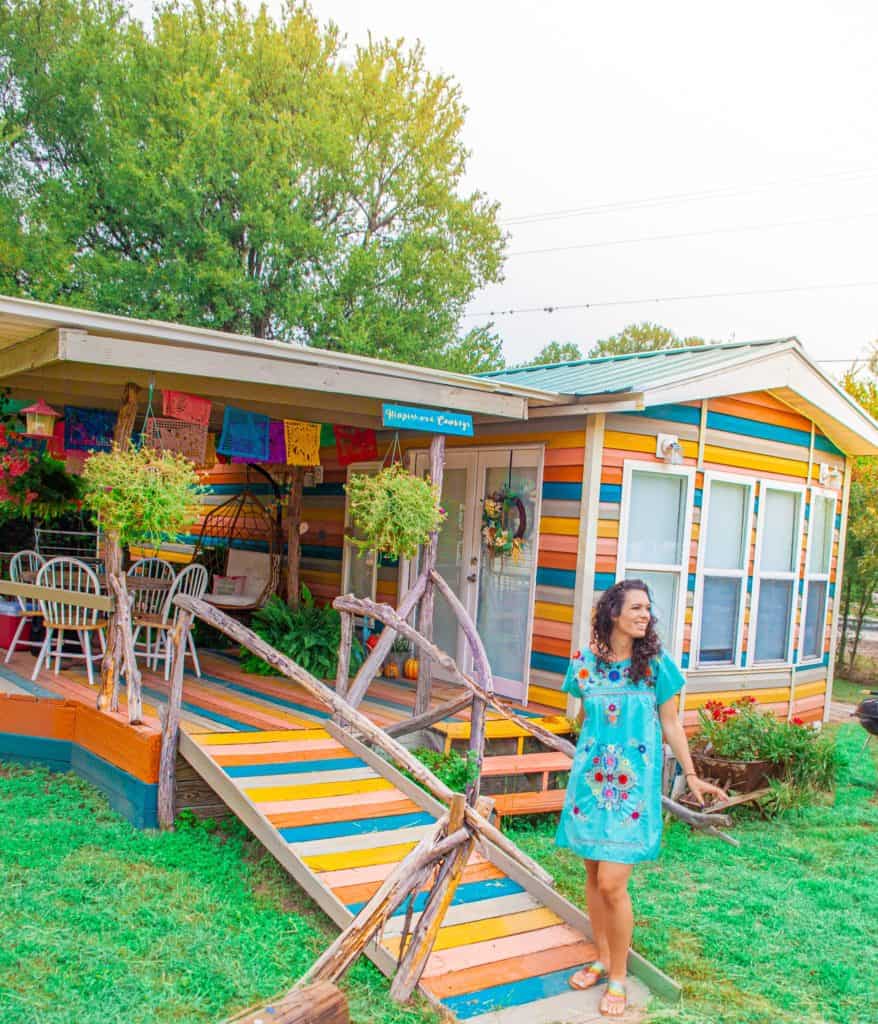 Grab a Mangonada
Grab a mangonada from the Mangonada Bus run by the same people who run the Inn Between. You can check out their Facebook page to figure out where they'll be on any given day. They have all kinds of different flavors and a unicorn one that comes with glitter on top!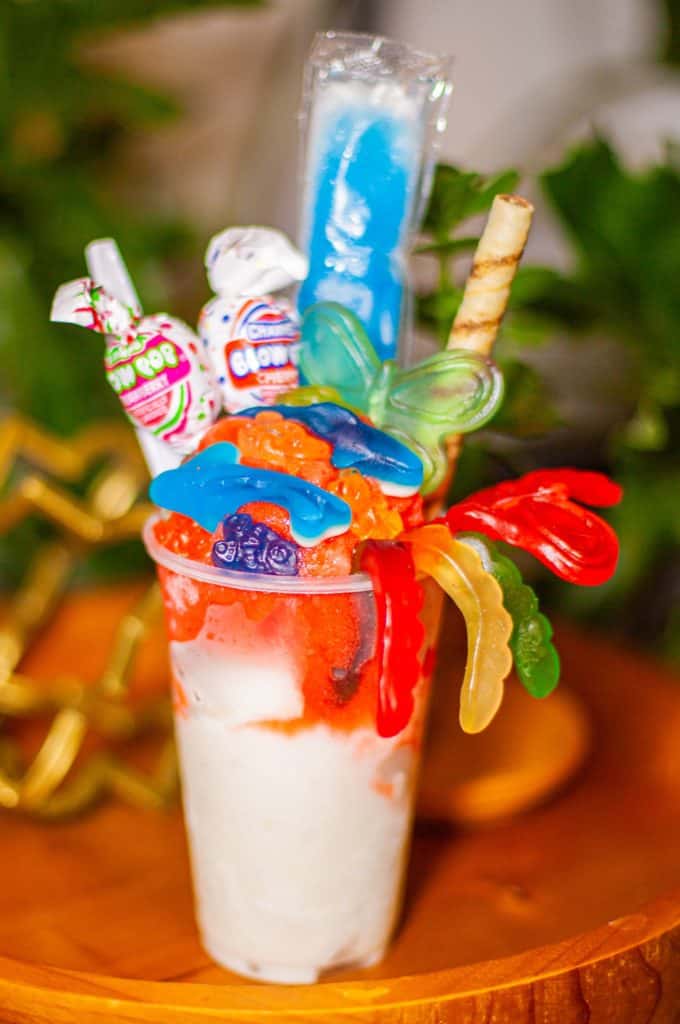 Do a Little Shopping
Whether you're looking for a little extra gear for your trip, some souvenirs, or some funky finds, there are some cute little shops in Concan to check out.
Josh's offers a wide range of options including some amazing gelato and coffee options. For your river needs they have floats, river shoes, and sunblock. Ideally, you would have followed our advice and acquired these items in advance. However, if you haven't, rest assured that Josh's has the largest selection available. Additionally, they provide tube trips, and you'll easily spot their adorable pink bus cruising around Concan. Don't miss out on their cute photo opps as well.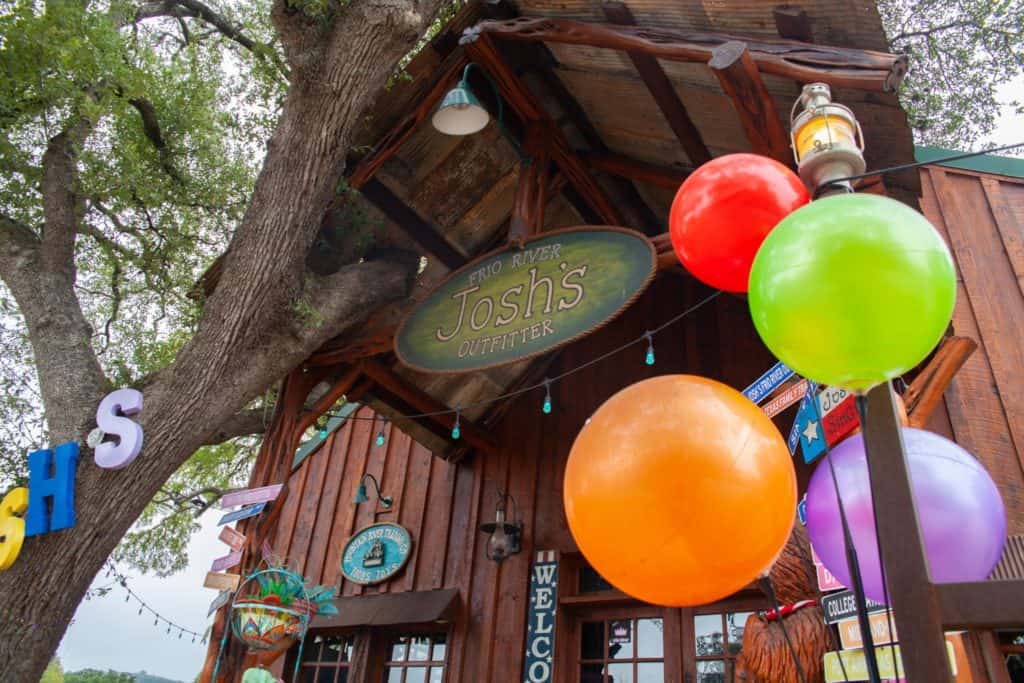 Frio Dry Fifty is a cute souvenir shop where you can find a little bit of everything. It's also a place where people hang out and play some outdoor games, snap some pictures, and visit the fun pink truck.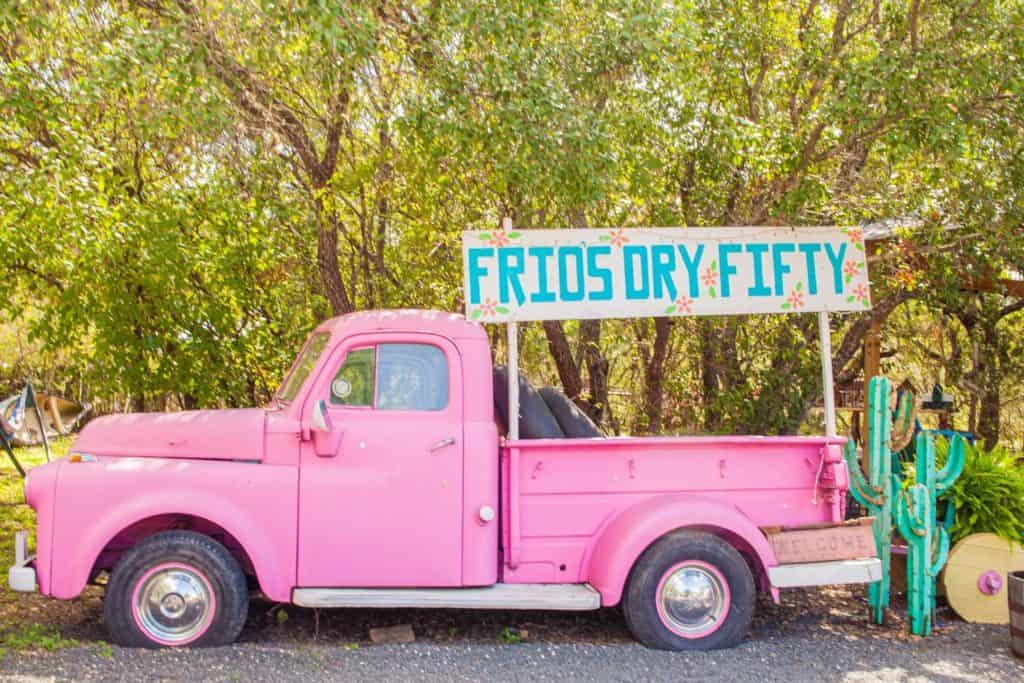 Pull Up Right by the Water
Mager's Crossing is an area where you can pull up and park and be close to water for lounging around, packing a cooler, and setting up a chair right in the water. Right across from the water, you have the view of Mount Baldy right behind! Note: we went during off-season so that's why we didn't see anyone around.
If you're spending any time on the water or tubing, don't forget to bring water shoes. I don't know how many times I've forgotten my shoes and suffered walking on the pebbles and then being forced to buy more expensive water shoes on site.

More Fun Things to do in Concan TX
Elm Creek Stables presents an opportunity to saddle up and explore scenic trails.
Nature lovers will find their haven at Lost Maples State Natural Area, home to diverse wildlife and fall colors that rival New England's.
For the thrill-seekers, Hill Country Adventures offer guided tours and outdoor activities such as birding/nature tours, campfire storytelling, nature by kayak, bluebird nestbox tours, and more.
The winding roads of the Three Sisters provide an unparalleled motorcycle ride, offering stunning views of the Texas Hill country.
If you're a music lover, do not miss the vibrant live music scene, with performances from local and touring bands.
Golfing enthusiasts can tee-off at the immaculate courses of Frio Valley Ranch, Utopia Golf, or Uvalde Memorial.
Don't forget to cap off your day with a delectable treat from Concan Pies. Their mouthwatering creations are the perfect sweet ending to your adventure-filled day.
Frequently Asked Questions about Concan, Texas
1. What are some famous attractions in Concan, Texas?
Concan, Texas, is home to a variety of natural attractions, including the Frio River, Garner State Park, and the Frio Bat Cave. The confluence of the Frio River and Buffalo Creek is a popular spot for fishing and swimming.
2. Is the Frio Bat Flight Tour pet-friendly?
While the Frio Bat Flight Tour is a must-see, it's important to confirm their pet-friendly policies ahead of your visit. Some nature tours may have restrictions for the safety and comfort of all visitors.
3. Can I get cell service in Concan, Texas?
Cell service can be limited in Concan, Texas, especially for Verizon users. It's recommended to download offline maps for seamless navigation during your stay.
4. Are the prices for attractions and activities stable in Concan, Texas?
Prices for attractions and activities in Concan, Texas, are subject to change. Always check the current prices before planning your visit.
5. How can I help keep Concan, Texas clean?
Uvalde County has contractors to clean up the river, but visitors are strongly encouraged to leave no trace. Part of the hotel stay costs go towards funding river cleanups.
6. What is the best time of year to visit Concan, Texas?
The best time to visit Concan, Texas, largely depends on the activities you want to enjoy. For river activities like swimming and fishing, the summer months provide the ideal conditions. However, if you're interested in bird watching, the spring and fall migrations are spectacular. Additionally, you'll get a place empty with cheaper rates in the Winter Months.
7. Are there any special events or festivals in Concan, Texas?
Yes, Concan hosts a number of events throughout the year. The most notable is the annual Frio River Song Festival, a gathering of musicians and songwriters which takes place in September. Always check the event calendar for the latest updates.
8. Is there any local cuisine that I should try while in Concan, Texas?
When in Concan, you absolutely can't miss Neal's Lodge! Not only can you indulge in their mouthwatering fried chicken, but also make sure to check out the House Pasture Cattle Company restaurant for some great burgers and live music.
9. What kind of wildlife can I expect to see in Concan, Texas?
Concan is rich in wildlife, with common sightings including white-tailed deer, wild turkeys, and various bird species. If you're lucky, you might even spot an armadillo.
10. Are there any camping facilities available in Concan, Texas?
Yes, Concan offers several campgrounds, many of which are located near the Frio River. These facilities usually offer a range of camping options, from tent sites to RV sites with RV hook-ups and cabin rentals.
11. What is the history of Concan?
The history of Concan, Texas is deeply intertwined with Indigenous peoples, having been inhabited by several tribes, including the Cheyenne, Sioux, Crow, Arapaho, Assinibione, Mandan, Gros Ventre, Arikara1, Comanche, Tonkawa, and Lipan Apache2.
In 1689 Spanish explorer Alonso De Leon referred to the Frio River as "Rio Sarco" in his personal journal3.In the 1850s, Anglo settlers began moving west of San Antonio4. According to local lore, the town was named after "coon can," a Mexican card game.
Fun Things to Do in Concan TX: Final Thoughts
You can do a lot in Concan or you can do a little in Concan! Whether you just want to spend all day hanging out by the water or you want to explore all that Concan has to offer, there's clearly more than enough for even a whole week of fun in Concan.