Although San Marcos is considered a "small town," it is full of things to do! It's definitely more than a college town people seem to think they know it for. Known for its refreshing river, rich history, and vibrant community, San Marcos offers a plethora of exciting activities and places to eat for locals and visitors alike.
Whether you're seeking outdoor adventures along the sparkling San Marcos River, exploring the charming downtown area with its unique shops and eateries, or immersing yourself in the cultural heritage of the city, San Marcos has something to captivate every interest. Looking for something indoors? We got you covered! Want to be surrounded by the natural beauty of San Marcos? We've got you covered there too!
P.S. – Don't forget to check Groupon for the best deals for things to do in San Marcos!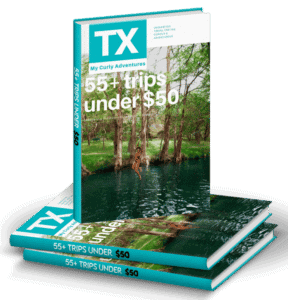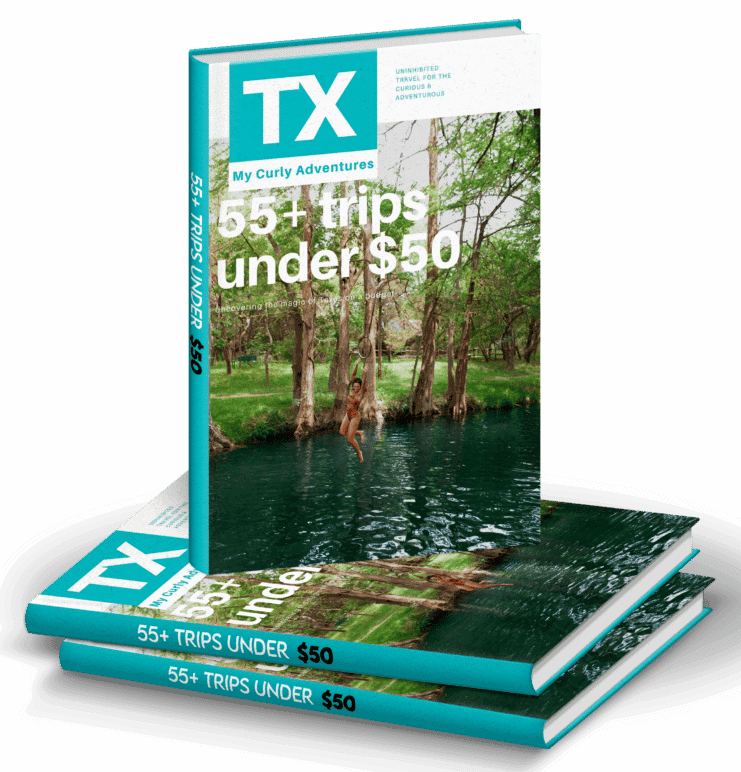 With our latest edition of our Texas Travel Guide, you can take an exciting vacation every weekend without breaking the bank and still have more to do! And in just one trip, the guide pays for itself! You'll be amazed at all the hidden gems, international influence, and wacky attractions you'll find all over Texas!
Not ready to purchase quite yet? We wanted to make this guide as accessible as possible, so we've shared our 1st edition of our guide, 50 Texas Trips Under $50. Click the button below to get yours for FREE!
Outdoor Activities for Nature Lovers
Take a Long Kayak Trip
Embark on an adventure with a long kayak trip along the scenic San Marcos River. Immerse yourself in the beauty of nature while enjoying peaceful serenity. One popular entry point is the City Park Recreation Hall. You can also rent kayaks at several local businesses such as Canoe SMTX.
Hang Out with Texas State Tubes
Spend a fun-filled afternoon tubing down the river for three hours with Texas State Tubes. Enjoy the refreshing water and scenic views as you relax and float along the river. They are open every day from 10 am to 4:30 pm. Students/military/first responders are even eligible for a discount on tube rentals.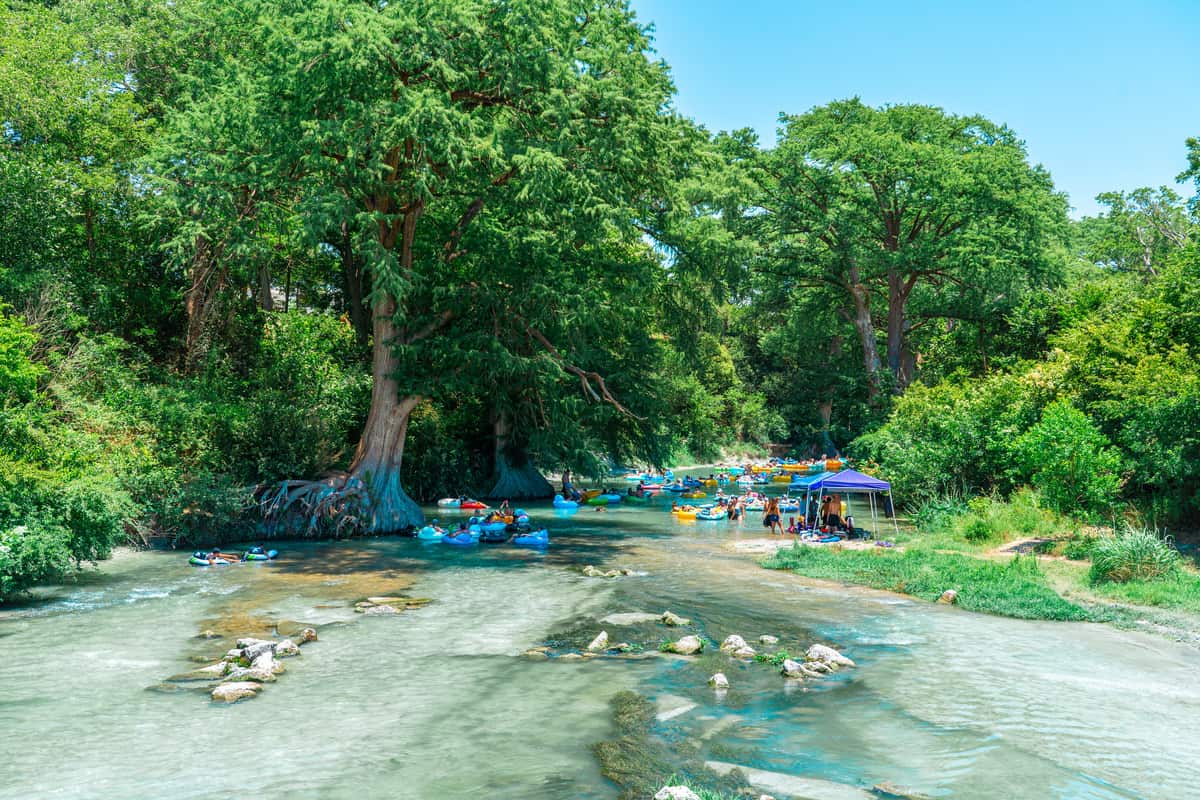 Do Yoga on the Water
Experience ultimate tranquility by renting a stand-up paddleboard from SUP SMTX and taking a yoga class on the water. You can also take them out for a spin on the San Marcos River just for fun!
Make a Difference
Volunteer to monitor and maintain all of the San Marcos Greenbelts and natural areas. Volunteers focus on trash pick-up, removing invasive species, planting native plants, protecting endangered species and building amenities around the greenbelts. If you're interested, you can sign-up on their website.
Visit Sewell Park
This 6-acre park is technically owned by Texas State University but is actually open to the public! Although many college students hang out here, the park is a great spot to relax and soak up the sun! An added perk to this park is the San Marcos River runs right through it!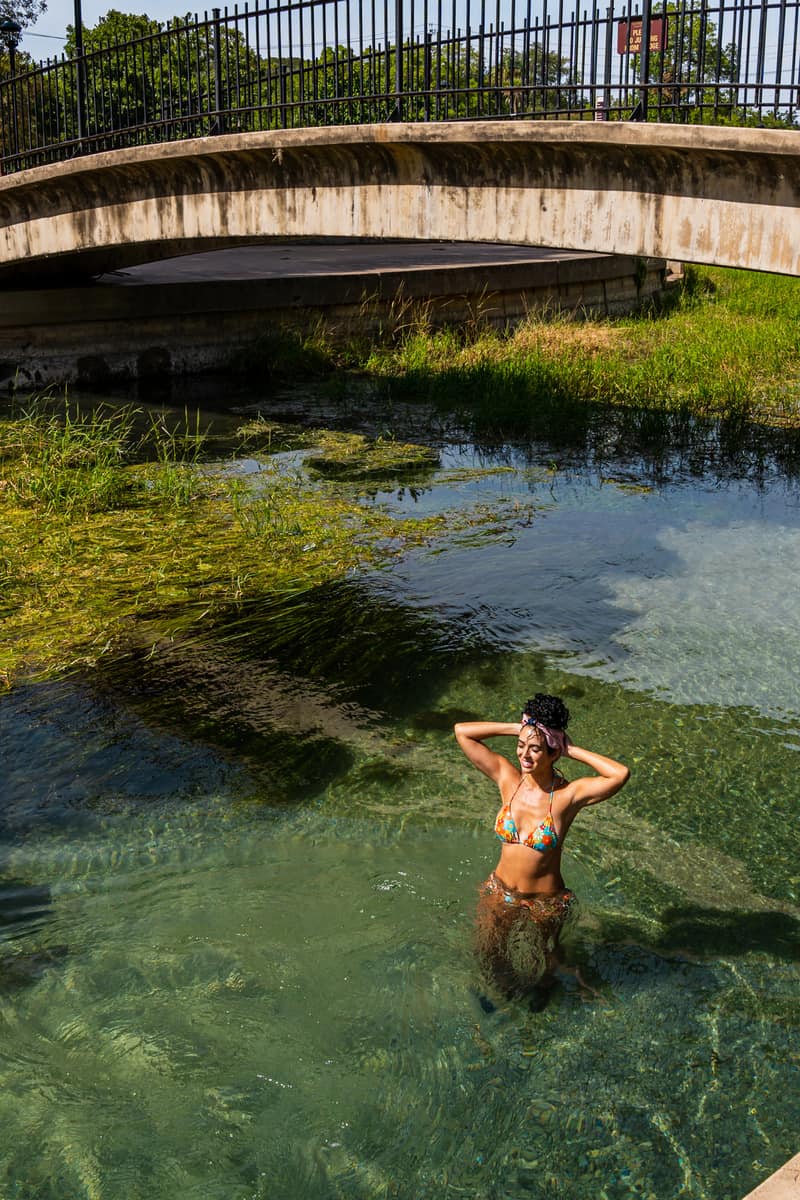 And Eddie Durham Park
At Eddie Durham Park you'll find a unique and interactive xylophone installation where you can create beautiful melodies while enjoying the outdoors. The park is pretty small so I recommend having a little picnic too. It's also super close to the downtown square so you can head over there afterward.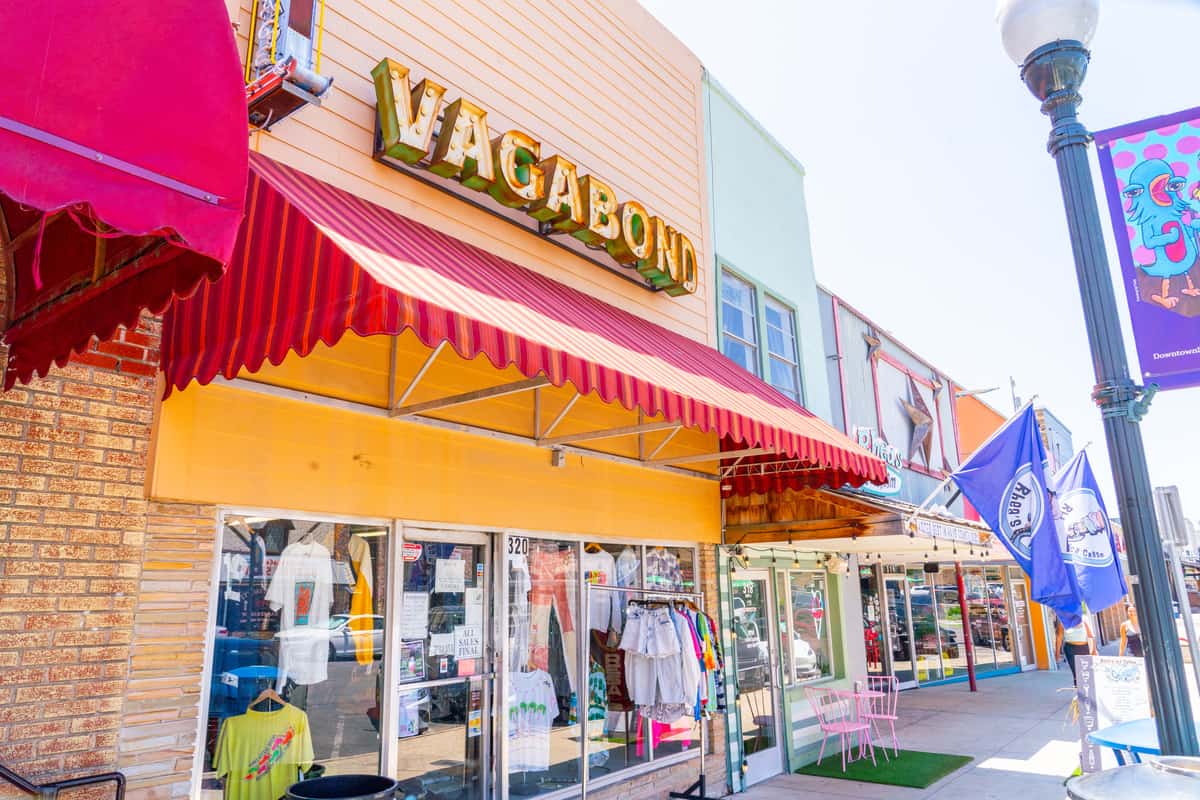 Hike to a Grotto
Venture into the scenic Purgatory Creek Natural Area by parking at the Upper Purgatory Trailhead before and embarking on a 2.8-mile round-trip hike to the enchanting Grotto. Along the way, make sure to capture a memorable photo at Grandmother's Tree and enjoy the breathtaking views from the pretty overlook. It does get really muddy when it rains so come prepared. There is a South and North entrance to the area as well.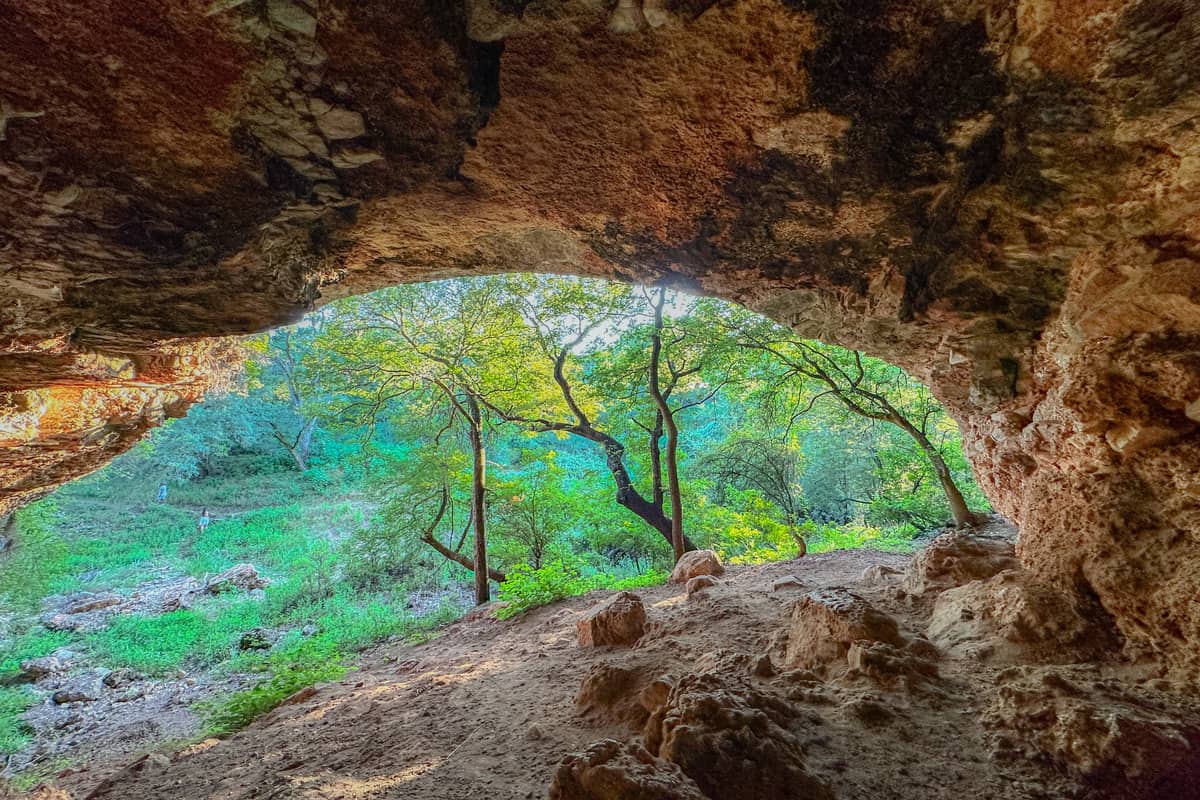 Swim in the Clearest Water
Experience the tranquility of Thompson Island Dam and Stokes Park, where you'll find a hidden gem with clear water, peaceful surroundings, and the occasional stunning waterfall. This low-key, dog-friendly spot is perfect for a relaxing stroll, paddleboarding adventure, or simply enjoying the serene beauty of nature. It's a great place if you want to get in the water, but not be surrounded by a big crowd. Keep in mind that only street parking is available.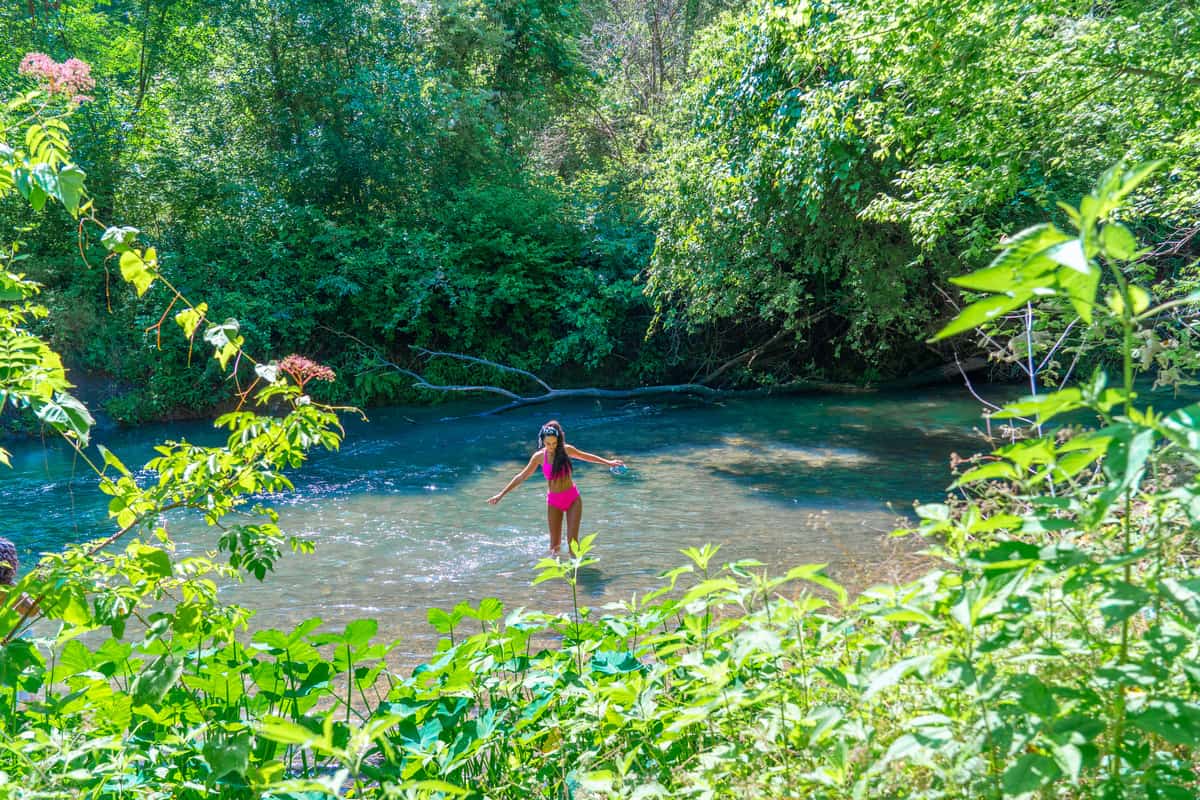 Explore Five Mile Dam Park
Depending on the season, Five Mile Dam Park offers diverse experiences – from dry hiking trails during the dry season to a picturesque landscape with flowing water during the rainy season. Explore the park's natural beauty, enjoy a leisurely walk, or simply find a peaceful spot to relax. They have also opened up a 43-acre soccer complex!
Swim & Picnic at Pyramid Park
Located at the beginning of Lion's Club, Pyramid Park provides a great place to swim in the water with your furry friend. The water isn't too deep at this part so it could also be a great place for children or non-swimmers. Bring some food, drinks, and enjoy the river without having to pay for a tube! You'll have to park on the street and walk to the park.
Rent a Tube
Embark on a fun-filled tubing adventure with Lions Club Tube Rental, offering a one-hour float down the San Marcos River, plus all-day access to tubes, shuttle service, and the opportunity to explore a little island before you reach Rio Vista Park. If you float all the way down the river and want to do it again, you don't have to pay anything more! Swing from a rope, take refreshing jumps into the water, and enjoy a relaxing day on the river with the option to bring your dog along for the ride.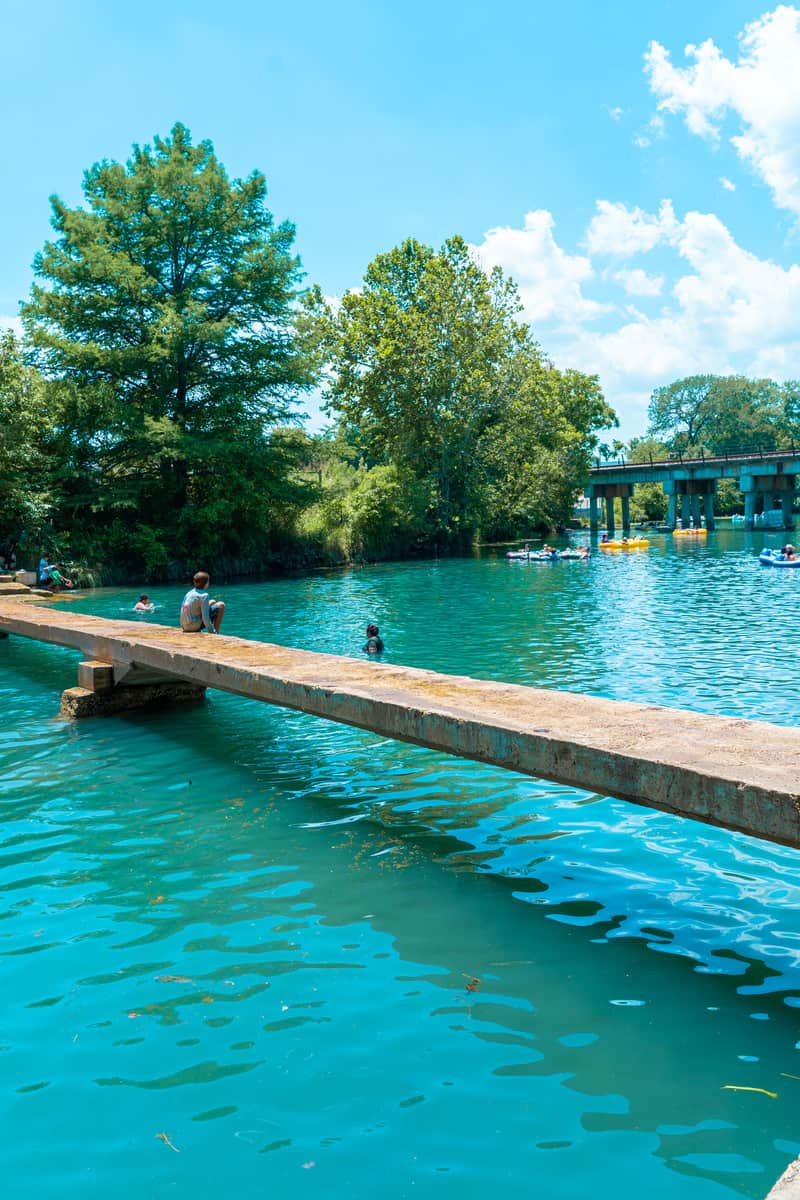 Visit the Meadows Center
Experience the wonder of Spring Lake's crystal-clear waters with glass bottom boats, kayaks, snorkeling, or a scuba-diving tour offered by the Meadows Center. We did the snorkeling tour and it was one of the coolest outdoor activities in the city!