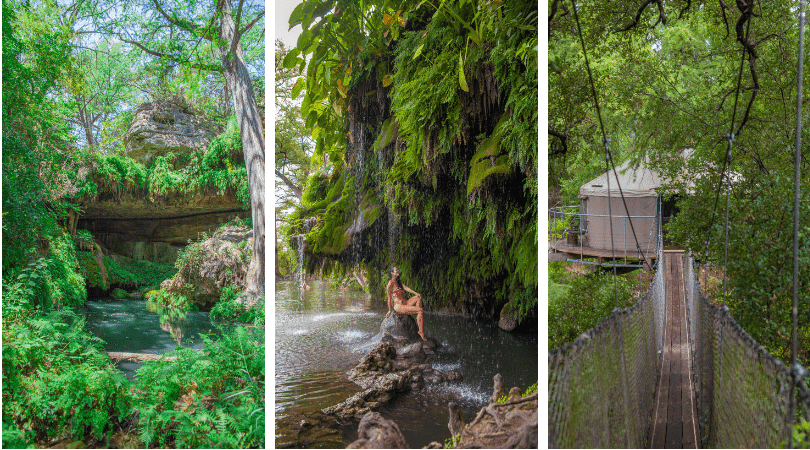 Spicewood TX is a beautiful little town in the Texas Hill Country that is so small you might drive by it without noticing. Except you would miss out on a fairy tale swimming hole, incredible wineries, and a place that might make you think you are in Costa Rica! There are so many things to do in Spicewood TX that make for a perfect weekend getaway!
Sleep in a Treehouse
The owners of Cypress Valley Canopy Tours took a trip to Costa Rica and were inspired by the way the people experienced nature in a way that had minimal impact on the environment. If you're looking for a unique place to stay in Spicewood, one of the coolest experiences is sleeping in a tree house. You get to walk across a suspension bridge at least 30 feet in the air. And with this glamping experience, you'll be amazed at the amount of luxury you will experience! You can read all about these tree houses here!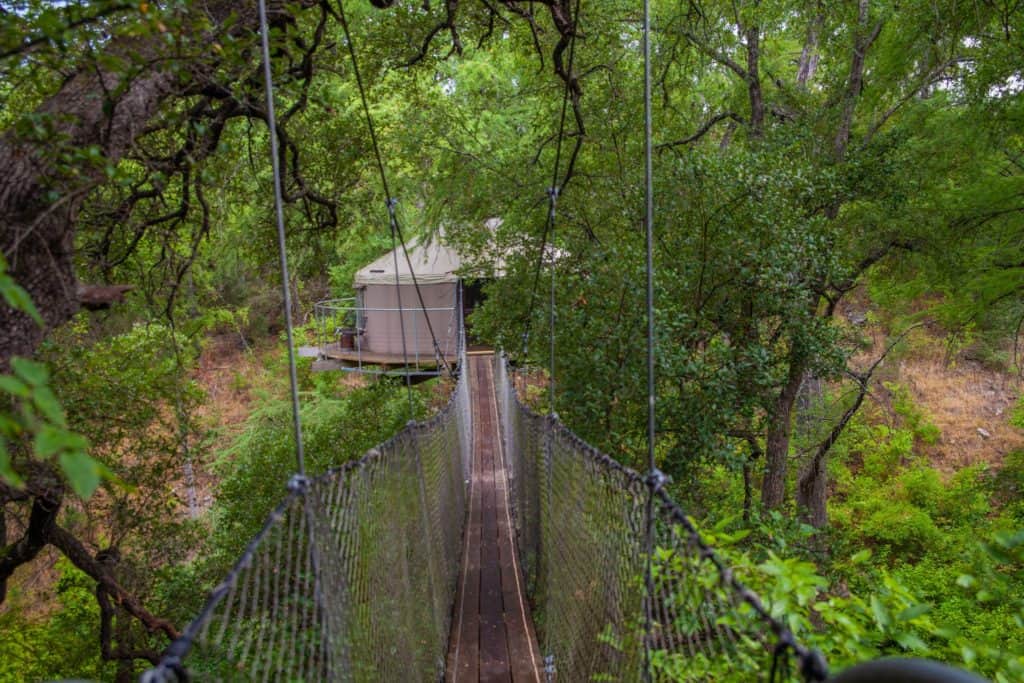 Go on a Canopy Tour
The same people at Cypress Valley Canopy Tours also offer canopy tours (surprise!) Here you can zip line through the Cypress trees, enjoy the unique beauty of the Texas Hill Country, and see all around you from a bird's eye view! Cypress Valley Canopy Tours were the first to bring this experience to the United States, and you really get an experience like no other. Afterwards enjoy rappelling, having a picnic, and swimming in their swimming hole.
Visit a Fairy Tale Swimming Hole
Krause Springs is a swimming spot like no other! The way the water flows over all the greenery is spectacular. I spend most of my time just staring in wonder at the beauty of Krause Springs. When you first enter, you walk through a dazzling garden. There's an upstairs pool for those who want clear water, as well as the springs below with a rope swing and a little cave to swim into!
Important note: There are very few places like Krause Springs because the nature around it is so delicate (more details below). Stay to the swimming areas and try not to touch any of the greenery around the waterfall or it won't be around for long.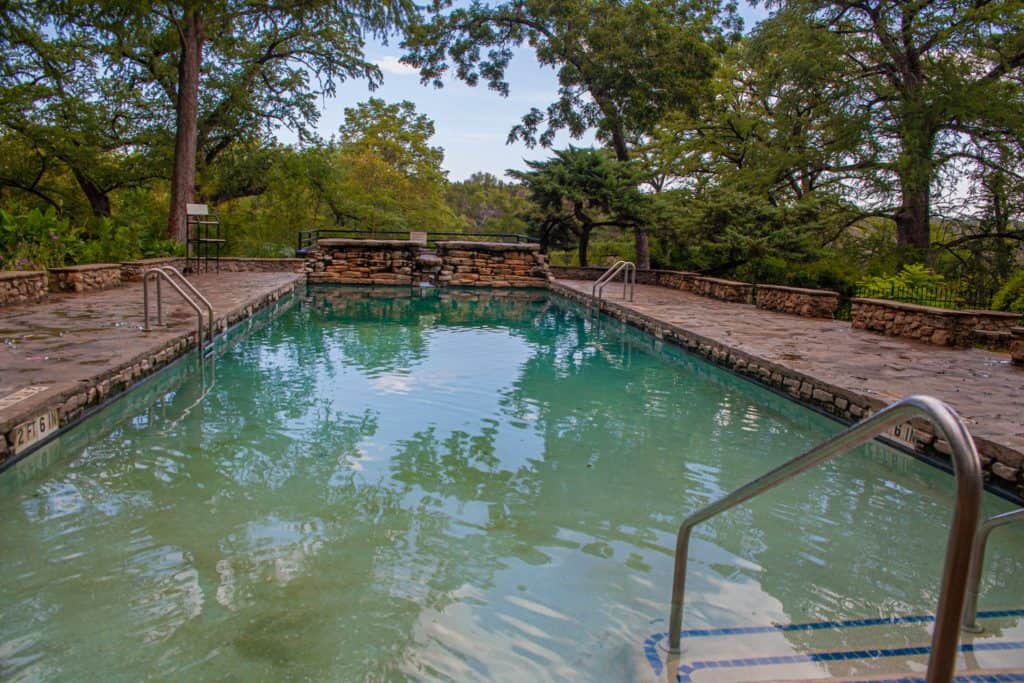 Go Cliff Jumping
Pacce Bend Park is famous for the cliff jumping (although for the less adventurous, there are plenty of swimming spots). Make sure to follow the signs as some places are more shallow than they seem and dangerous for cliff jumping.
Try Argentinean Texas Wines
Escape to Argentina when you visit El Gaucho Winery in Spicewood! A beautiful love story and a move to the Texas Hill Country brought this one of a kind experience! In addition to the their wines, they also offer asados and a delicious selection of foods and Argentinean empanadas.
Explore Westcave Outdoor Discover Center
If you've ever been to Hamilton Pool in Dripping Springs, you've probably seen something similar to the Westcave Grotto at the Discovery Center. Except, here at Westcave Preserve, they have worked hard to limit the amount of human touch and interaction on the vulnerable wildlife, and the difference is tremendous.
A guide walks you down where the air gets cooler, and you experience the grotto in all its splendor with greenery and delicate wildlife. There's even an open cave where you can see stalagmites and other crystal structures in the open light. While Hamilton Pool is an incredible experience, the contrast shows you how much we need to preserve certain areas as well as the effect of human pollution.
Enjoy a Glass of Wine
We are in the Texas Hill Country so expect plenty of great wines. Spicewood Vineyards is a beautiful area where you can see the grapes growing on property, enjoy the little stream that runs through, take in all of the scenery, and even bring your dog! On the first Friday of the month they also do Friday night wine downs that involve musicians, story telling and wine tasting!
Or do a Dessert Wine Tasting
Stonehaus is another beautiful winery in Spicewood that not only offers the typical wine tasting, but several different wine experiences. They have a reserve wine tasting or you can take part in the personalized premier wine tasting where the wine is paired with food. On top of those experiences Stonehaus also has a fun dessert wine tasting.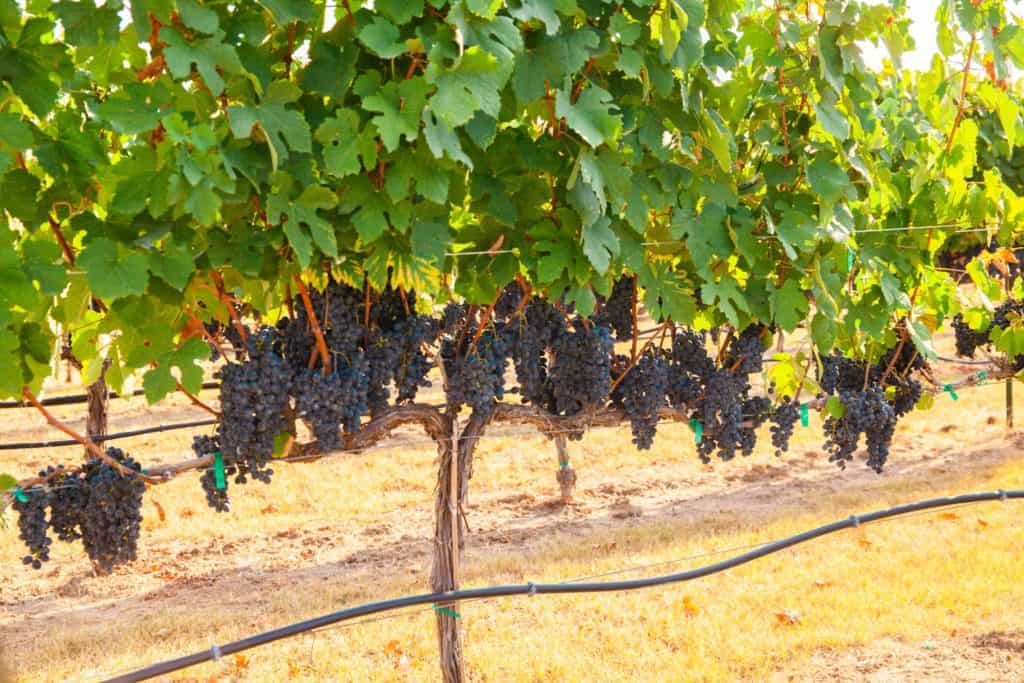 See Brilliant Wildflowers
During wildflower season, the Grelle Recreation Area is covered in bluebonnets for what seems like miles! And even when it's not wildflower season, it's still an incredible place to enjoy with 276 acres of hiking, swimming, and little waterfalls.
Cuvee Coffee
It's almost like a speakeasy, but for coffee. Walk through a gate marked "C", and you might just get a tour from the people behind the scenes of Cuvee Coffee along with a cupping experience! While enjoyed everywhere, the warehouse is in Spicewood so you'll have a more unique experience.
Rent a Boat
Just a little outside of Spicewood is Float On Rentals! Lake Travis is massive and the best way to see it is by boat! With areas that turn to Caribbean blue, places to jump off the cliffs, and hidden spots only the locals know, there are adventures around every corner!
The great thing about Float On is that they provide you with a captain for a stress-free boat ride. Our experience was phenomenal as they took care of every detail and went above and beyond to make our trip better than imagined.
Things to Do in Spicewood: Final Thoughts
Spicewood is truly a gem in the Texas Hill Country! There is so much to experience and so much beauty all around! After your trip to Spicewood, consider checking out some of these other great Texas towns!
Beaumont – This Southeast Texas town might just blow you away with all there is to do on a budget including bayou wineries, kayaking through big Cypress trees, and yoga on the marsh.
Georgetown – Known for its beautiful downtown square, Inner Space Caverns, and some great swimming spots!
Dublin – Yes, we're still talking about Texas! This little town holds onto its Irish roots and is also known for Dublin Bottling Works.