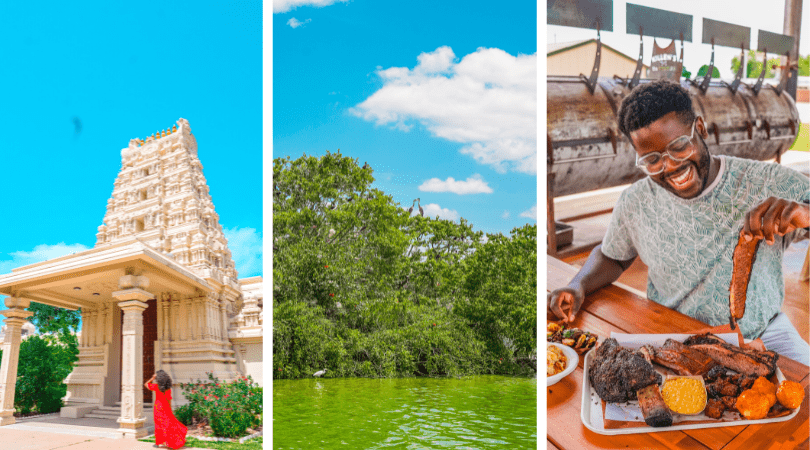 Pearland is a city in Brazoria County, Texas. When you have a state full of cities with names like "Round Rock," "Bug Tussle," "Sugar Land," and "Amarillo," we had to know where Pearland got its name. It started out as "Mark Belt," named after a man who sorted mail out of his home before sending it off via the railroad to Galveston.
In November of 1893, the town was named Pearland because of all the pear trees growing there. It was a sign of fertile soil, which attracted settlers.
In honor of Pearland's humble beginnings, as well as the pear trees and edible pears you'll see, there are also 20 elaborately painted pear sculptures at nine locations across town. Not to mention several murals! To kick off or end your list of things to do in Pearland, make sure to check out the mural tour or follow the Pear-Scape Art Sculpture Trail!
Try International Cuisine in Pearland
The best part of traveling is trying out different cuisines. During our travels across Texas, we love when we have the chance to diversify our palates and potentially find new things to add to our list of favorite foods.
We were happy to find several dining options for international cuisine during our Pearland trip. Make sure to add one (or all of them) to your list when you visit.
Malaysian Cuisine at Sambal Chef
This Pearland restaurant impressed us with its complex flavors. They have varieties of rice and in-depth knowledge and passion for Malaysian cuisine.
We ordered their Singapore Style Chili Soft Shell Crab, Ikan Bakar (Malaysian style grilled fish served on banana leaves with a sambal chili sauce), Beef Rendang (beef flavored with Malaysian spices, lemongrass, and a curry sauce), Nasi Lemak (a curry chicken dish with sambal ikan bilis, which is a chili sauce made with dried anchovies and shrimp paste, and a side of rice that has been cooked in coconut milk), and washed it down with some sweet and creamy iced Malaysian Milk Tea.
If you're going to order anything, I highly recommend the Hainanese Chicken Rice. A dish brought over to Singapore, Malaysia, and Thailand by immigrants from the island of Hainan. Each country makes this dish special in its own way. Every chef has their own method of preparation that has been influenced by the culture around them in their respective country.
The universal goal, though, is to make the rice so flavorful that it doesn't need the chicken on the plate at all to be enjoyed. You can choose from steamed chicken or garlic fried chicken. The garlic fried chicken tends to be more flavorful.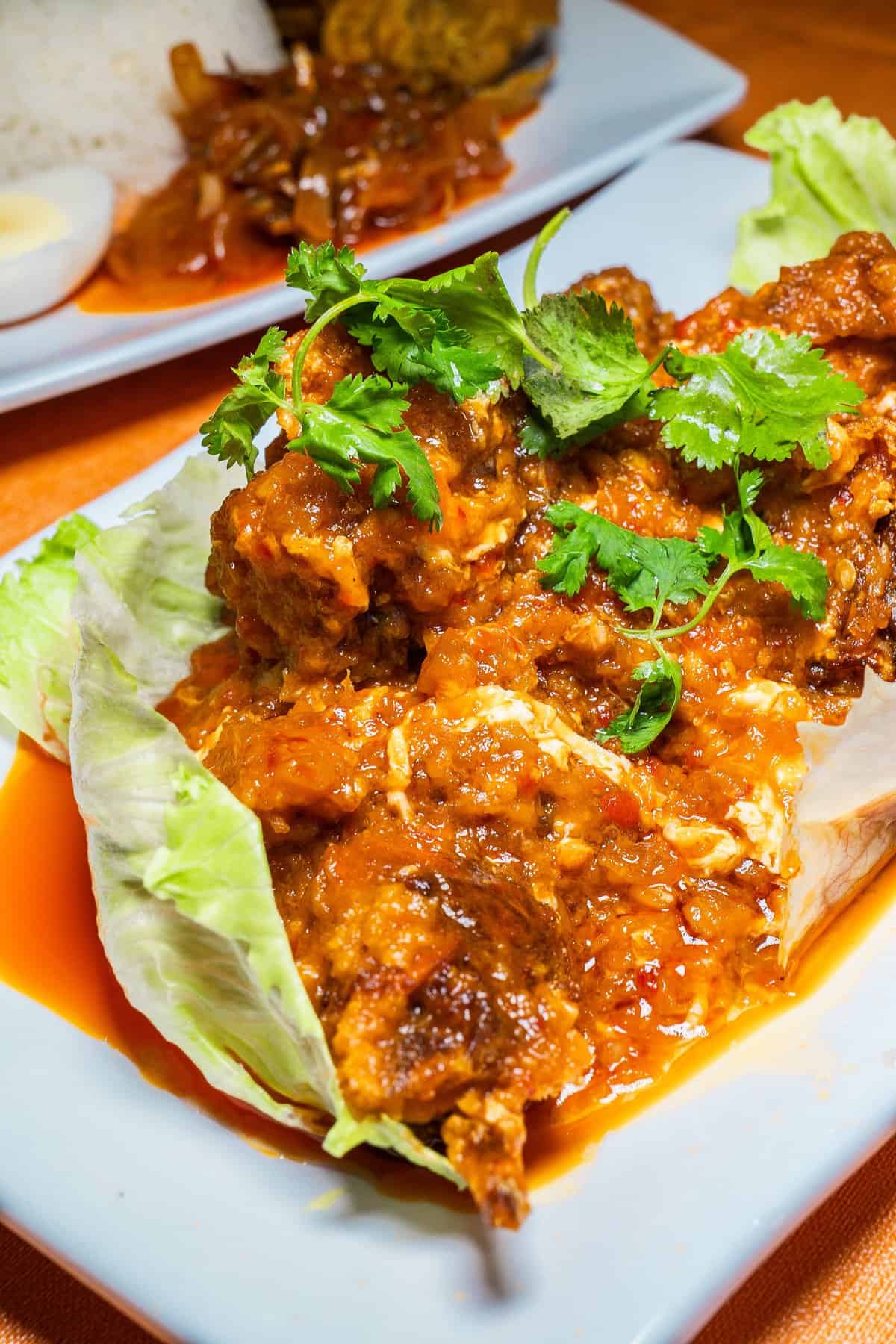 Salvadorian Cuisine at Olucuilta
Grab breakfast at any time of day along with your list of things to do when you visit Pearland at Olucuilta. They serve a Salvadorian breakfast, which typically consists of eggs, refried beans, plantains, sour cream, and tortillas.
We ordered their Churrasco, which comes with their house special steak, beans, rice, avocado, cheese, and your choice of pupusa. Their plantains had to be the softest we've ever had!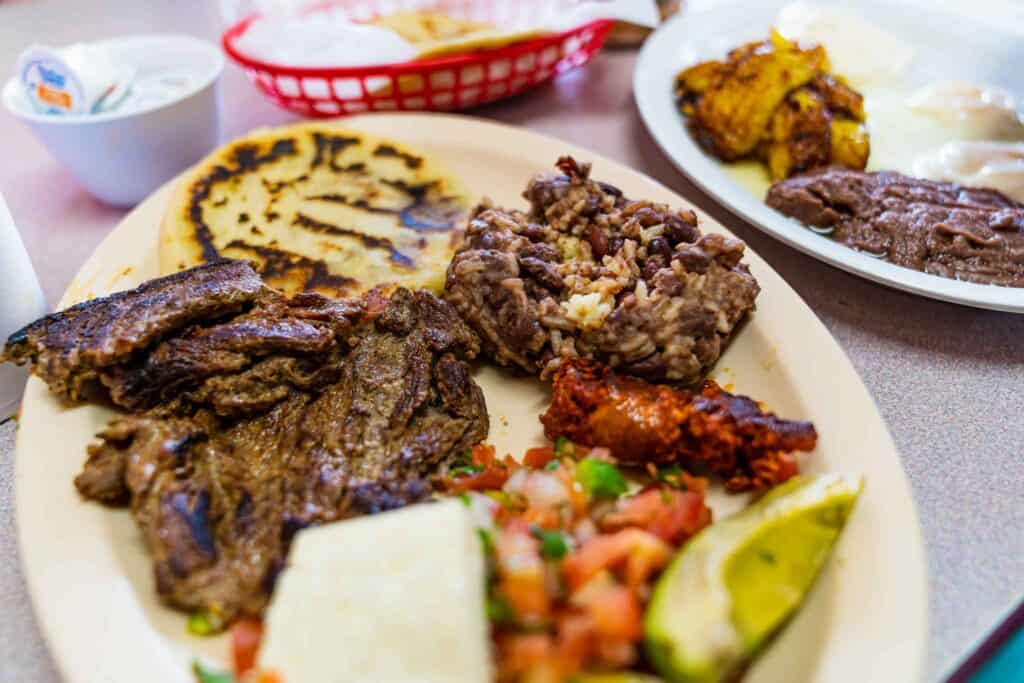 Japanese Cuisine at Eight Turn Crepe
If you're a fanatic for crepes, then this is the perfect place for you. Eight Turn Crepe is famous for its Japanese-style crepes. Made from 100% gluten-free rice flour, everyone will be able to enjoy their choice of sweet and/or savory crepes.
They have crepes ranging from their Eight Turn Lox, Chicken Thai, and Grade 8 Ham and Cheese to S'mores, Crepe Brulee, and Strawberry Banana. You can even build your own! Not only are they delicious, they are beautiful, like a bouquet of flowers, but tastier! There are even vegan crepes coming soon!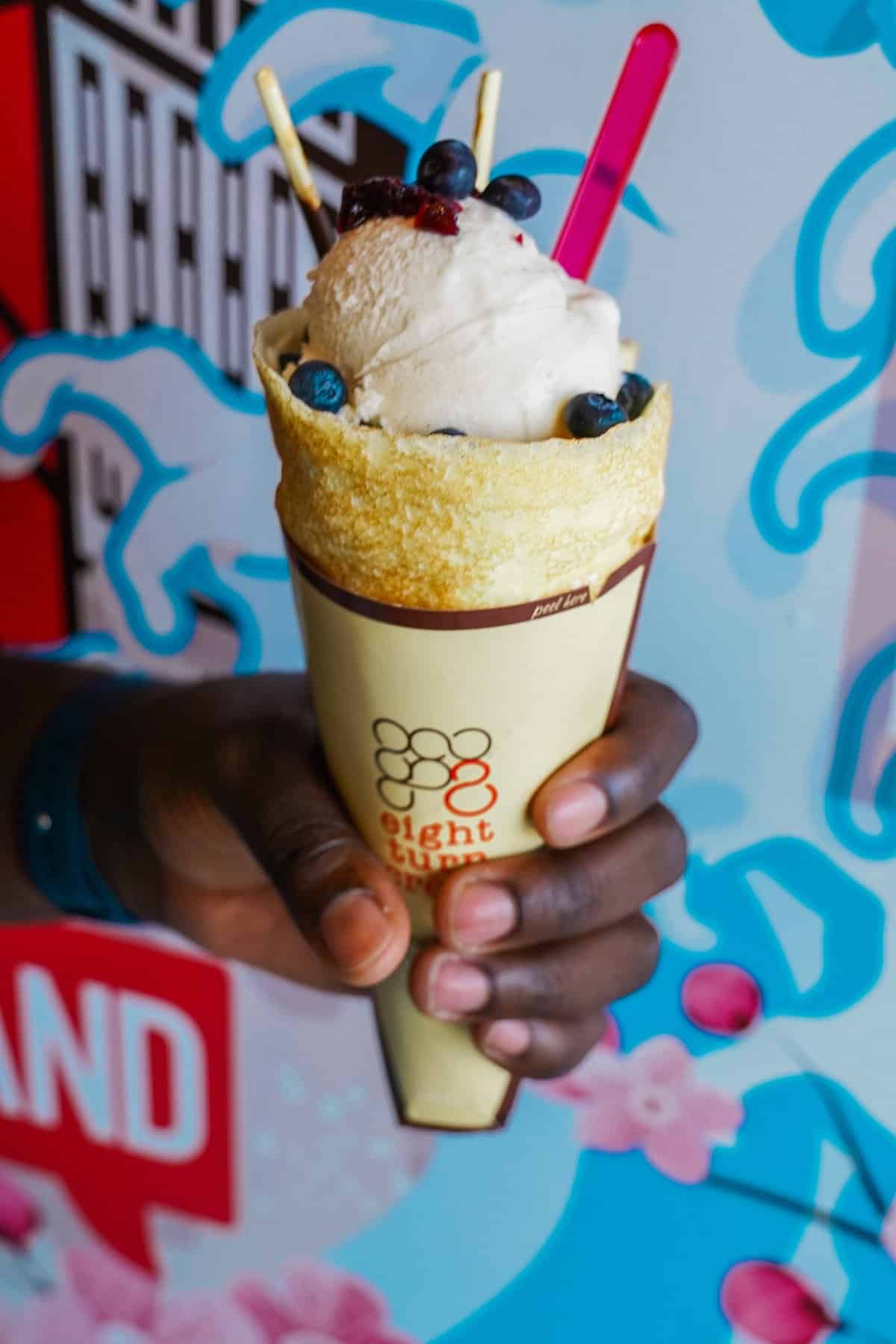 Filipino Buffet at TJ Filipino
Originally founded in 2006, this Filipino buffet-style restaurant serves an exorbitant array of delicious Filipino dishes.
An all-day breakfast costs around $12.99 per person! They are open all week, except for Sunday, from 10:30 a.m. to 8 p.m.
This restaurant offers everything from traditional seafood, goat, pork, beef, and chicken dishes to vegetable dishes, pansit (fried noodles), and dessert.
Filipino Pastries at Bread & More
Still have room? Keep the Filipino food coming with Bread & More, a Filipino bakery right next door to TJ's. It's open seven days a week, so make it one of your last stops on your list of things to do in Pearland before heading home!
Their items are baked fresh daily and influenced by a variety of cultures. Choose from their different types of kolaches and empanadas, or venture out and try Filipino items like Ube Loaf Bread, made with purple yams; an Ensaymada (a sweet pastry topped with butter, sugar, and, interestingly enough, grated cheese); a Pandesal (similar to your traditional yeast roll but of Filipino origins); and more.
And Then Find Some of Your Favorites
Soulfood at the Greasy Spoon
We love a good brunch and a good Cajun joint. The Greasy Spoon takes both of them and puts them together in an unbelievable way, serving brunch dishes like Lamb Chops and Waffles, as well as Cajun Catfish and Waffles.
This Black-owned restaurant is run by a cancer survivor with a strong commitment to the community. There are always different events going on, including a Sunday Gospel Brunch, comedy nights, and live jazz or soul music on Friday evenings.
Add the Greasy Spoon to your list of things to do in Pearland this weekend, and try to plan to go during one of these unique events!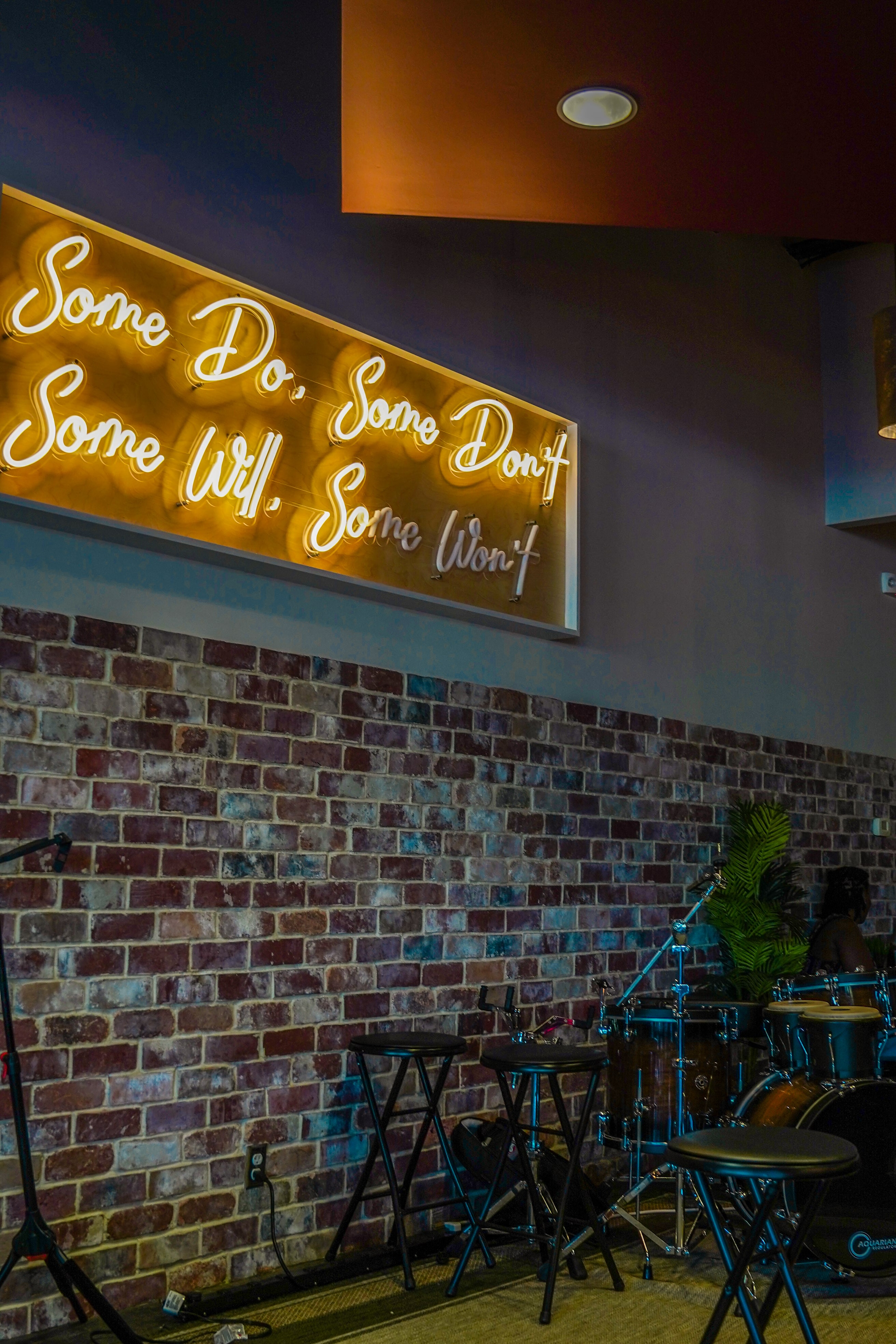 Award-Winning Barbecue at Killen's BBQ
A 2021 Texas Monthly's Top 50 BBQ finalist, Killen's Barbecue is owned by chef and restaurateur Ronald Killen. Originally opened in 2013, this famous Pearland area barbecue joint has its fair share of fans and regulars.
So, make sure you get there early to snag a spot in line (because there will be one). On the plus side, you might just see them pulling out your fresh BBQ from the smokers in back. Keep in mind that selling out is a possibility.
We ordered their Gold Brisket, a high-quality Japanese brisket notable for its marbling, the color of the brisket, and the gold, fat rim. The sweet beef burnt ends, fried mac and cheese balls, cream corn, and dino beef ribs made it clear why Kileen Barbecue should be on your list of things to do in Pearland this weekend. And we couldn't forget dessert: their bread pudding topped with banana pudding! What a combination!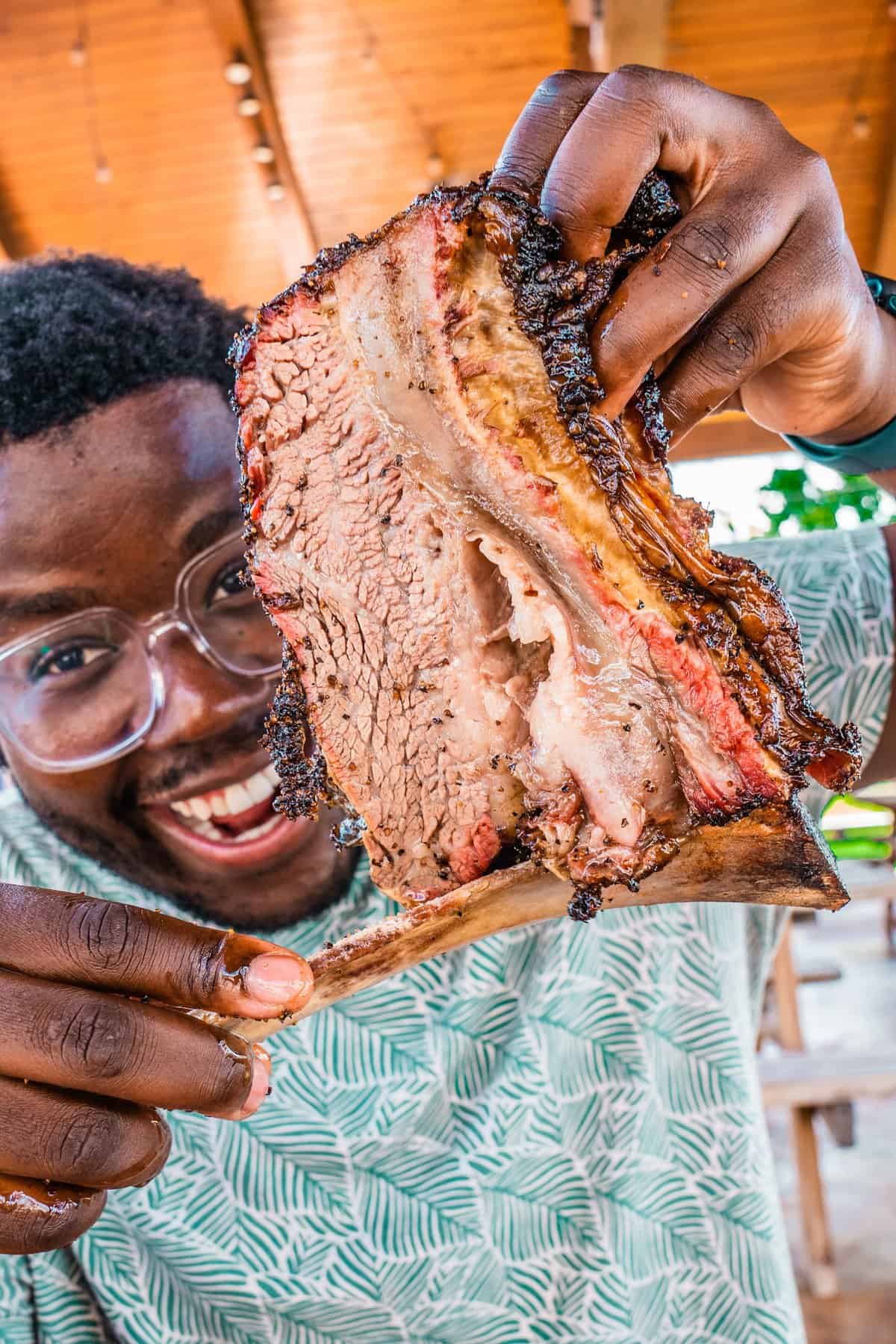 Quality Oysters Good Vibes Coastal Kitchen
Known for its laid-back style, the menu at this Pearland restaurant is far from laissez-faire. Good Vibes Coastal Kitchen is the only place you'll find East Coast Oysters in Pearland! Not to mention their menu has been curated by an experienced, passionate, fine dining chef whose only wish is to provide a space where visitors and locals alike can relax while enjoying top-of-the-line, beach-shack-style cuisine. Meanwhile, he also incorporated quality ingredients like 100% Angus beef, tomatoes right off the vine, and Texas sweet onions.
The burgers and sandwiches are packed with incredible flavors. The Knuckle Sandwich is topped with Fresh Maine Lobster Knuckles and Citrus Tarragon Dressing between a Challah Roll. The star of the show was their fried lobster in a cajun butter sauce. It was so good, you may want to bathe in it! Can we take 5 gallons of this to-go?
Check out their online calendar for events such as live music and their Reverse Happy Hour!