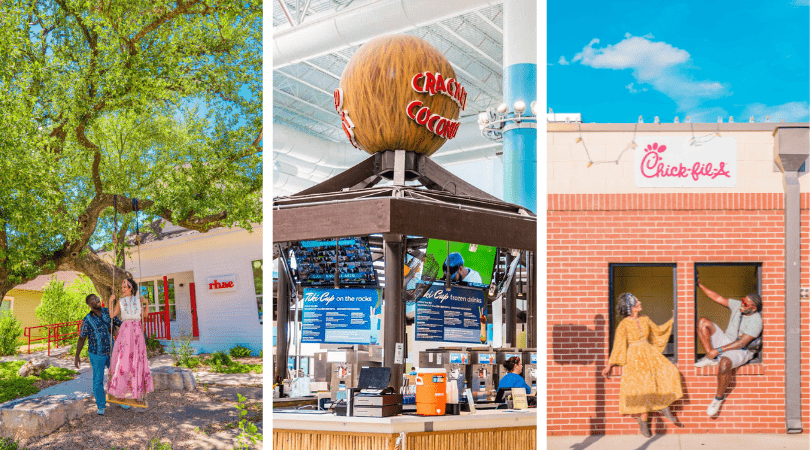 It isn't uncommon for Texas travelers to not know much about Round Rock and, as a result, they just drive right through it on their way to Austin or Waco. However, Round Rock makes for an eventful road trip stop or even a full-on weekend getaway! It's home to iconic things to do like the largest indoor waterpark in the country, an underwater themed bowling alley, two-pound donuts, plus an abundance of parks, boutiques, and family-friendly activities!
Now that your interest has been piqued, when you're on the hunt for things to do in Round Rock this weekend, you know exactly what to expect. Don't forget to check out our guide on where to eat in Round Rock to avoid any "hangry" episodes on your next Texas getaway.
P.S. – Don't forget to check Groupon for the best deals for things to do in Round Rock!
Learn About Round Rock's Namesake
Ever wondered where the city of Round Rock got its name? This weekend, you may have the chance to see a piece of Texas history in the flesh! In the waters of Brushy Creek, across from Chisholm Trail Crossing Park, you'll find the "Round Rock." In the 1850s, it was a landmark for a low water crossing that was used by travelers leading wagons and cattle across the creek. The rock itself has some wear on it, signs of the years that wagons rumbled over this rock.
Bowl Underwater
Uncle Buck's Fish Bowl and Grill has to be one of the coolest bowling alleys in Texas! This immersive, underwater-themed bowling alley, arcade, and bar is, floor-to-ceiling, covered in nautical details. You'll see marine life hanging from the ceiling, pin setters shaped like crocodiles, sharks, and octopi, and blue lighting that mimics sunlight shining through the water.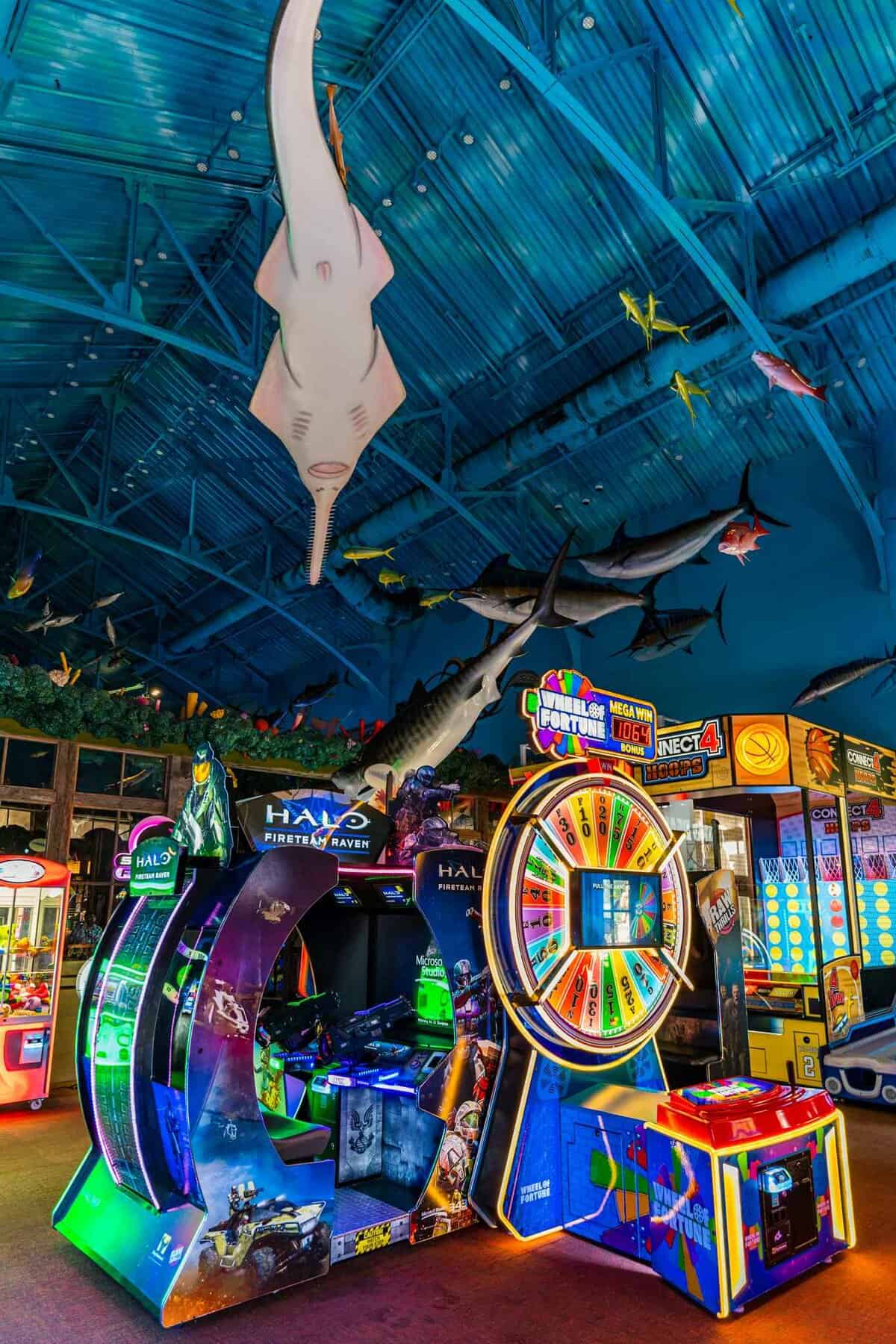 A detailed, sunken ship hangs over the bar, surrounded by huge marlins, and fish netting leading up to it. Graze on snacks, a fried shrimp basket, a fish and chips basket, or a variety of pizzas and kids' meals. There are also large dining rooms that resemble the belly of an elaborate pirate ship, fit for a captain, that you can rent for your next celebration! For even more things to do, you'll find a Bass Pro Shop right next door.
Take a Dip in a Waterfall
Chisholm Trail Crossing Park itself was undergoing construction when we visited, but we were still able to take a dip in this gorgeous waterfall. Sit on the wall of the waterfall and soak up some rays or cool off in the water above the retaining wall before it flows into the beginnings of Brushy Creek. Bring a packed lunch or some snacks to enjoy at the neighboring picnic tables. If you're an avid fisherman, the waters right across the road (Brushy Creek) are shallow and calm enough that you'll be able to see the fish swimming below.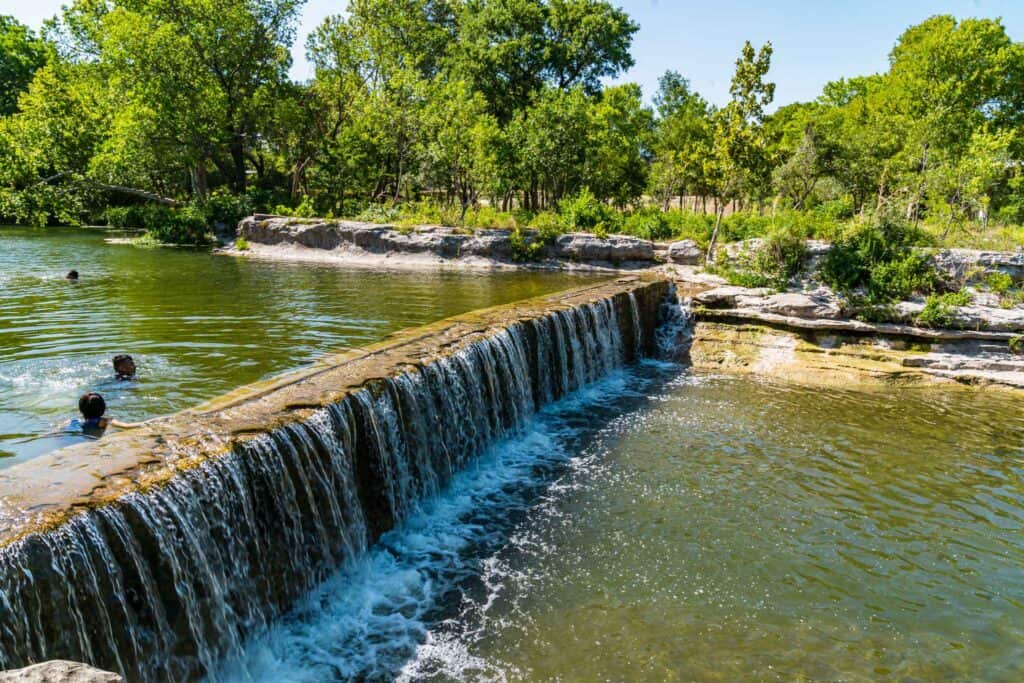 Take a Pottery Class
You'll feel at home at Merry's Mud Pottery House, where you can take pottery classes and treat yourself to coffee, tea, hot chocolate, and pastries. These classes last a total of 6 weeks, with a class taking place once a week. You'll get one-on-one instruction from owner Merry Smith, since her classes only have a maximum of 7 people at one time. You'll also be able to store your pottery over the course of the 6 weeks, so no need to worry about transporting your supplies back and forth! If you live in the area, this is a great weekly activity where you can bond with your family, friends, significant other, or meet some new friends!
If you're just visiting Round Rock for the weekend and are looking to add shopping Merry Smith's collection to your list of things to do, keep in mind that the shop's hours are Wednesday through Saturday from 10am to 5pm. However, the pottery classes take place outside of these hours.
Shop Around Downtown Round Rock
If you don't shop around downtown Round Rock's boutiques and shops this weekend, you're missing out. There are so many cute downtown shops to visit and support. At Hometown Gift & Decor, you'll find Round Rock and Texas themed souvenirs, clothing, accessories, and even a whole room full of the cutest baby clothes! The Mercantile on Main/Haute Boutique is another local boutique full of clothes, shoes, and even more Texas themed goods to raise your Southern Hospitality game. They also offer complimentary snacks, drinks, and popsicles!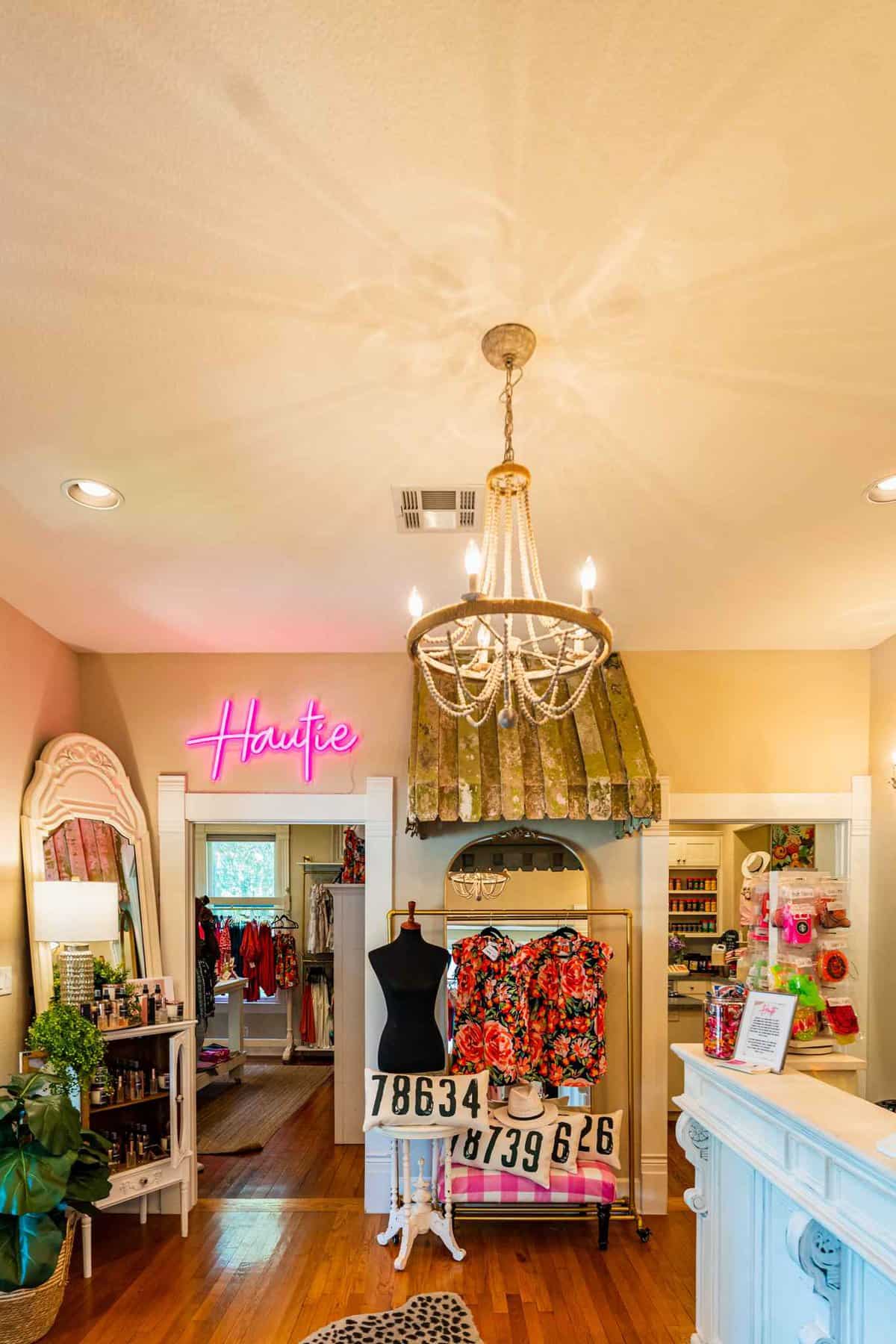 For even more shopping adventures and things to do in Round Rock, pop into Rhae Boutique, Mays Street Boutique, Tammy Kay's Boutique, and Cristales.
Visit a Free Splash Pad
Whether you're in need of some cooling off or the little ones are getting antsy while you're shopping in downtown Round Rock, you'll be able to do either at this free splash pad in Main Street Plaza. It's a great family-friendly activity to add to your list of things to do, especially in the Texas heat!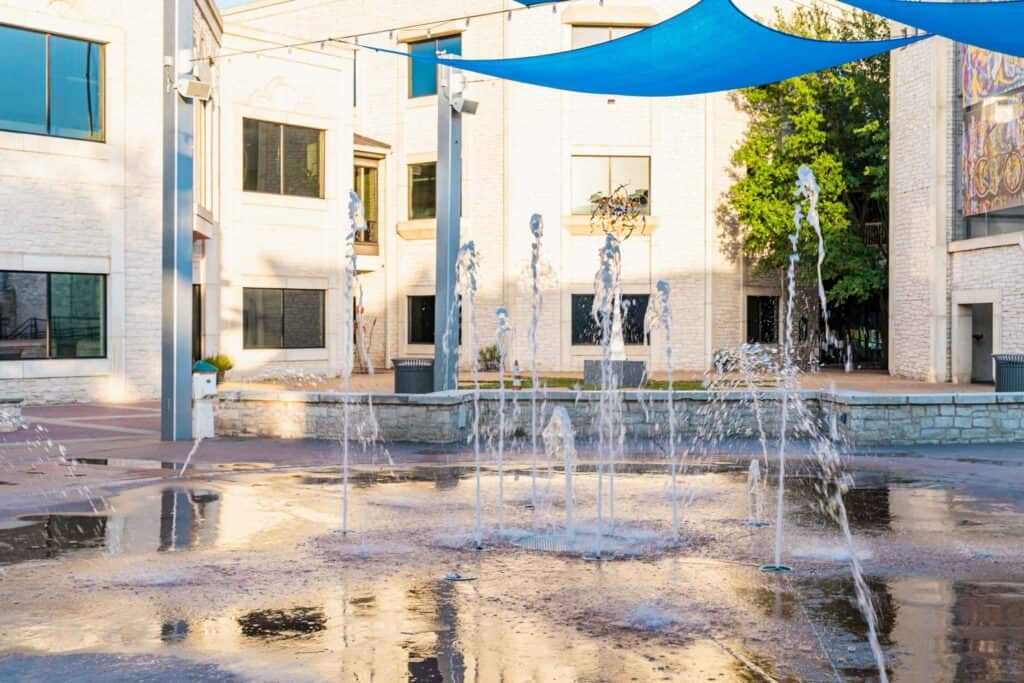 Stay at the Ruby Hotel
This stylish, boutique hotel near downtown Round Rock includes a moody bar hitched to a patio overlooking Brushy Creek, a gym, an outdoor pool, as well as pet-friendly and accessible rooms. The rooms come in blue or green with a furnished, outdoor patio or balcony. Some of the rooms even overlook Brushy Creek for unforgettable views no matter the time of day! Read about our stay at the Ruby Hotel and learn about how the Ruby Hotel came to fruition.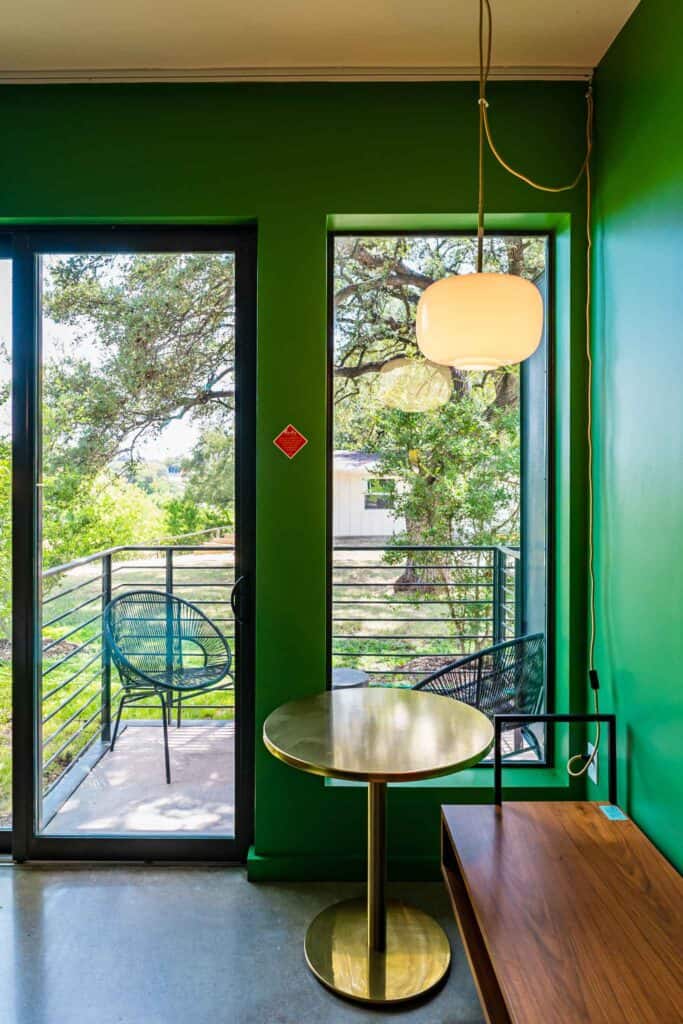 Taste Award-Winning Coffee
Mi Mundo Coffee is an intimate local coffee shop committed to sustainability. Although seating is limited (so choose the time you pop-in wisely if you plan to stay awhile), the abundance of plants and books will make it hard to leave. Selling award-winning, organic coffee, and other local brands like Hempsy and Steer it Up, this Best of Round Rock 2020 winner is the perfect place to grab coffee before conquering your list of things to do this weekend.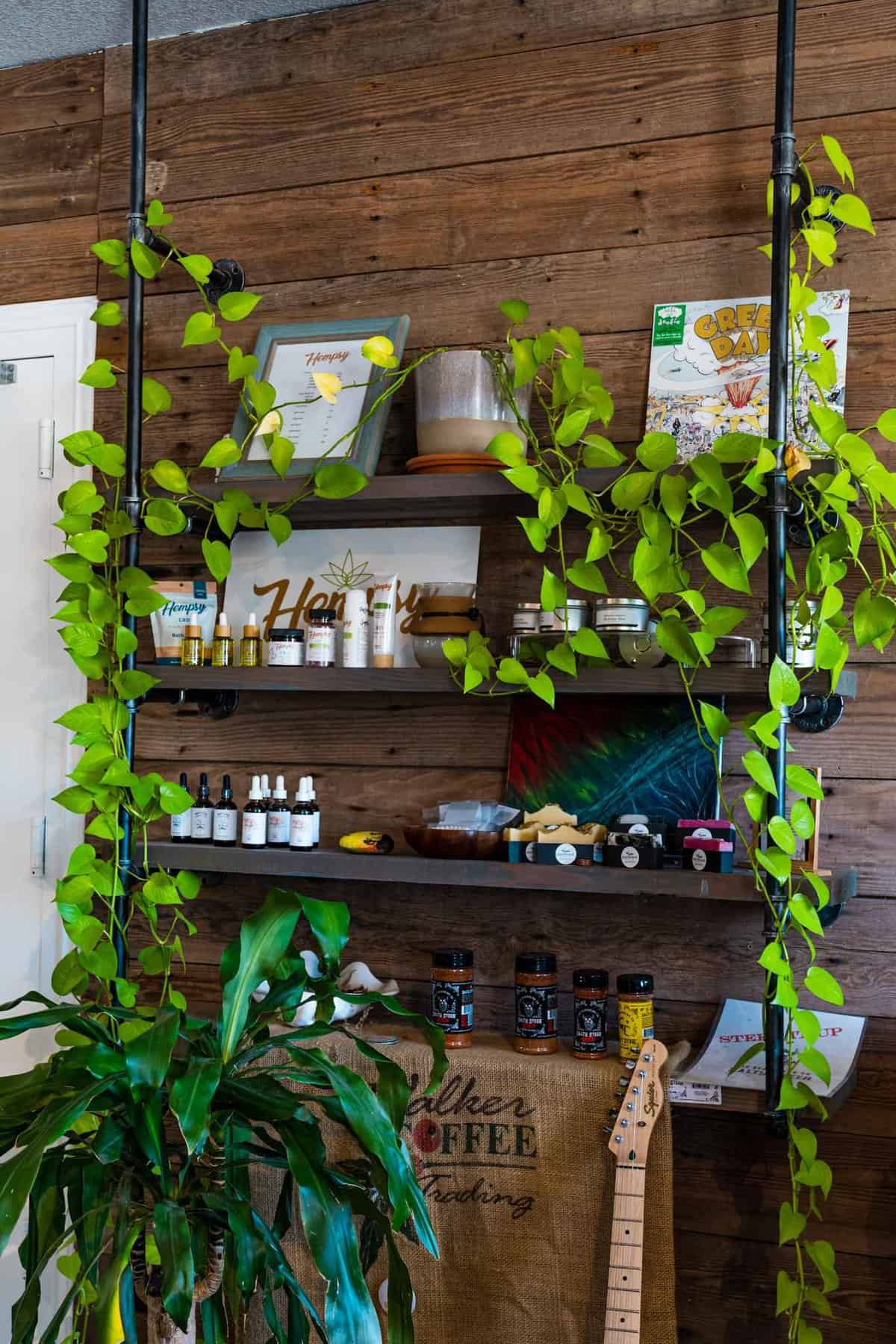 Their menu includes breakfast tacos from Taco Deli until noon (or supplies last), as well as baked goods from Paige's Bakehouse like an assortment of muffins, cinnamon rolls, and banana nut bread. They also have an array of special lattes, including items like a White Blueberry Latte and a Red-Hot Chile Pepper Latte. When you visit Round Rock this weekend, see about them adding some colorful latte art to your morning fuel!
Where to Eat in Round Rock
We were happy to find an array of delicious, international cuisine in Round Rock, including Indian, Hungarian and Colombian food. Of course you can't forget the famous Round Rock Donuts! Check out our guide on where to eat in Round Rock for more, including where to find these iconic, Texas-sized donuts!
Say Goodnight to the Round Rock Bats
Just before sunset, Round Rock's own family of bridge bats under the McNeil Road and IH35 underpass take flight for the night to hunt. There are several places that you can park, free of charge, for a great view. One of the best places to park is Holy Cross Coptic Orthodox Church. Visitors are just asked to not park on the church's lawn and, rather, to park on the gravel road on the north side of the church.
Next door is AB&T Diesel Repair & Performance. Although there is limited parking, this may be a better spot if you're bringing along kiddos since the gravel road at the church is on some train tracks and near the frontage road.
We parked at the old Napa Auto Parts building at 601 North Interstate 35 Frontage Road. Although construction has caused the bats to fly out in the opposite direction, this is an empty parking lot with plenty of space. Add this to your list of things to do in Round Rock this weekend and be sure to bring along lawn chairs or a blanket and head coverings. For some other locations with uninhibited views of the bats, visit the Bats in Round Rock website.
Visit the Country's Largest Indoor Waterpark
This has to be one of the most exciting things to do in Round Rock. Pack up the family and visit America's largest indoor waterpark. There are lifeguards on duty throughout, lockers, an on-site bar and restaurant, Zulu Grill, seating spread throughout, cabanas for rent (some even have TVs and private hot tubs), a wave pool with a screen where they play music videos, a lazy river, an abundance of slides, and even an outdoor pool if you're looking to get some sun.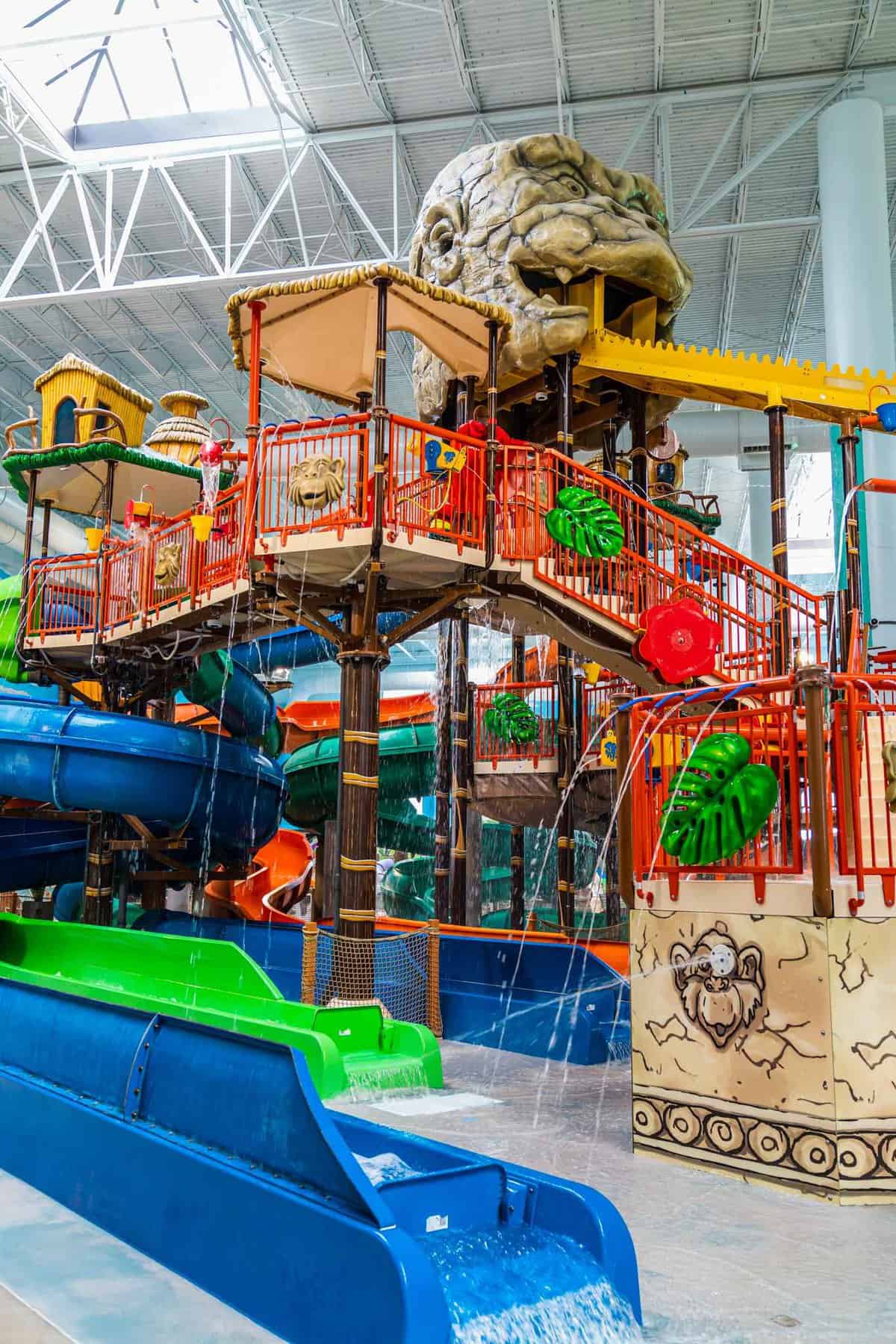 If you're looking for a laid back, but fun getaway with your favorite person, Kalahari Waterpark also has a heated, adults-only swim up bar, with an indoor AND outdoor portion! No matter who you're visiting with, you can continue the fun for more than just one afternoon and stay at their on-site resort! You might just want to after you hear that this isn't all there is to do at Kalahari Resorts Texas!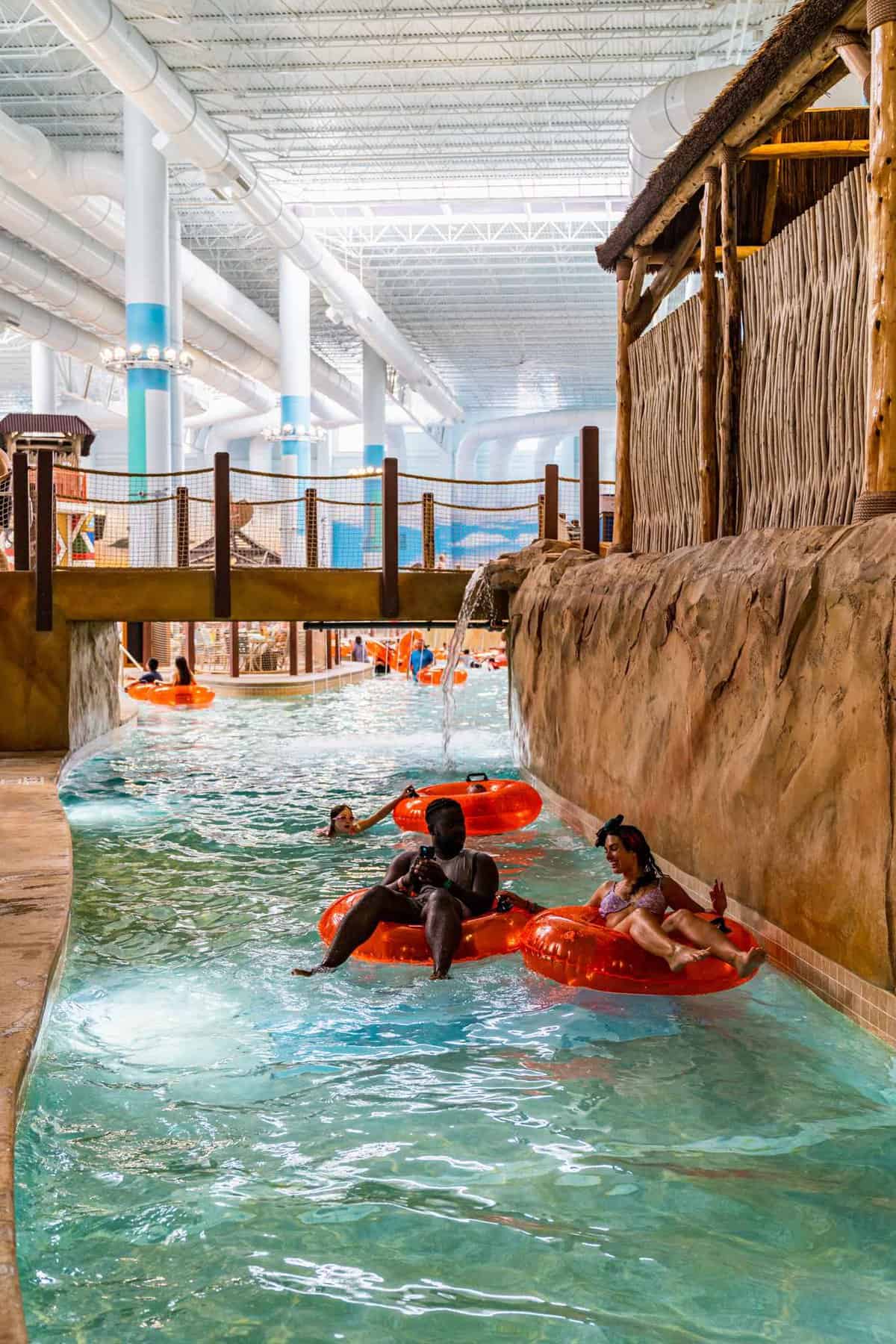 Then Visit the Arcade Just Next Door
Just on the other side of the waterpark, through two sets of glass doors, is Tom Foolery's, complete with yet another restaurant, B-Lux, with its crazy, yummy shakes and a bowling alley. And that's not all! The Tom Foolery side also consists of laser tag, two escape rooms, an indoor obstacle course, arcade games, VR games, axe throwing, and even indoor rollercoasters for the ultimate play day!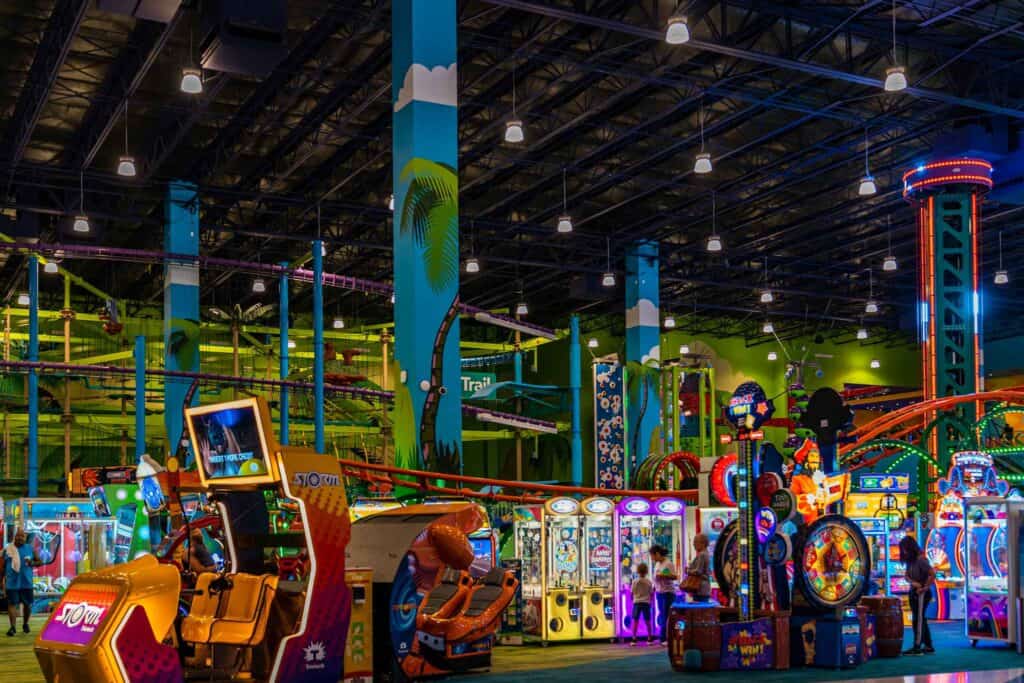 Shop for African Crafts
If you end up becoming a guest of Kalahari Resorts during your weekend in Round Rock, at the center of the resort is Amatuli, an array of shops with all kinds of merchandise, including items made in Africa! The shops are open from 6pm to 10pm daily, with a farmer's market hosted on Sundays from 11am to 3pm. You can also catch live music daily! Just check their website during your stay.
And Shop Some More
You'll find several of your favorite stores and brands Round Rock's Premium Outlets, and when you get hungry, there's even a food court! The Round Rock Premium Outlets have seamlessly combined your favorite part of an indoor mall and the adventure of an outdoor mall. Right outside Calvin Klein, you'll also find the cutest Hungarian food truck, which you can read more about in our guide of where to eat in Round Rock. The owners are so sweet, and the food is amazing!
Test Your Ninja Skills
Whether you're an avid ax-thrower or you're trying it out for the first-time, Top-Notch Axe Throwing should be a non-negotiable on your list of things to do in Round Rock this weekend. You'll start out with a short lesson beforehand, along with the safety guidelines. There are a variety of axes with different weights, including kid axes! You can also try throwing darts, ninja stars, throwing cards, and they even have balloon popping games they can set up for you so you can work on your precision.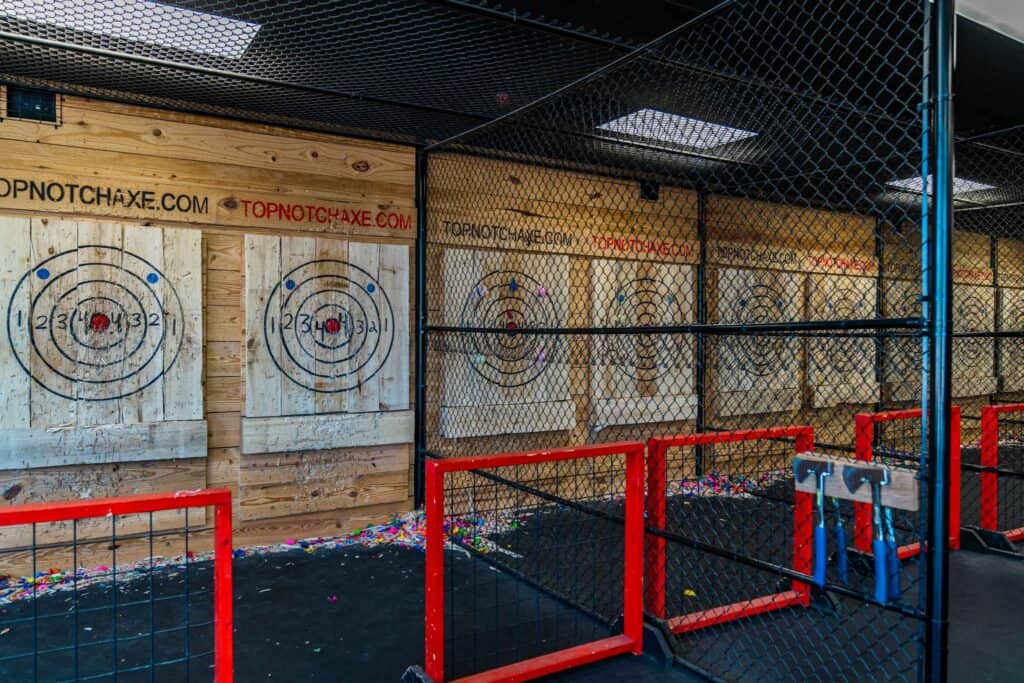 You can bring in your own food and drink (no hard liquor) and they even have a deal with Papa John's next door where they'll bring your food over if you order carry out. Top-Notch Axe Throwing also has its own selection of drinks if you'd like.
Try Wacky Sodas & Candy
The 3 Star Candy Shop in Round Rock offers an assortment of ice cream flavors, coffee drinks, classic candies, and goodies you may have never thought existed. Some of the things we came across were Kale Candy Canes, a giant spicy gummy bear, Pickle Lollipops, and crazy soda flavors like Pickles, Buffalo Wings, and Bacon! I loved how the walls were decorated with antique signs and photos to give you the full experience of an old-fashioned candy shop.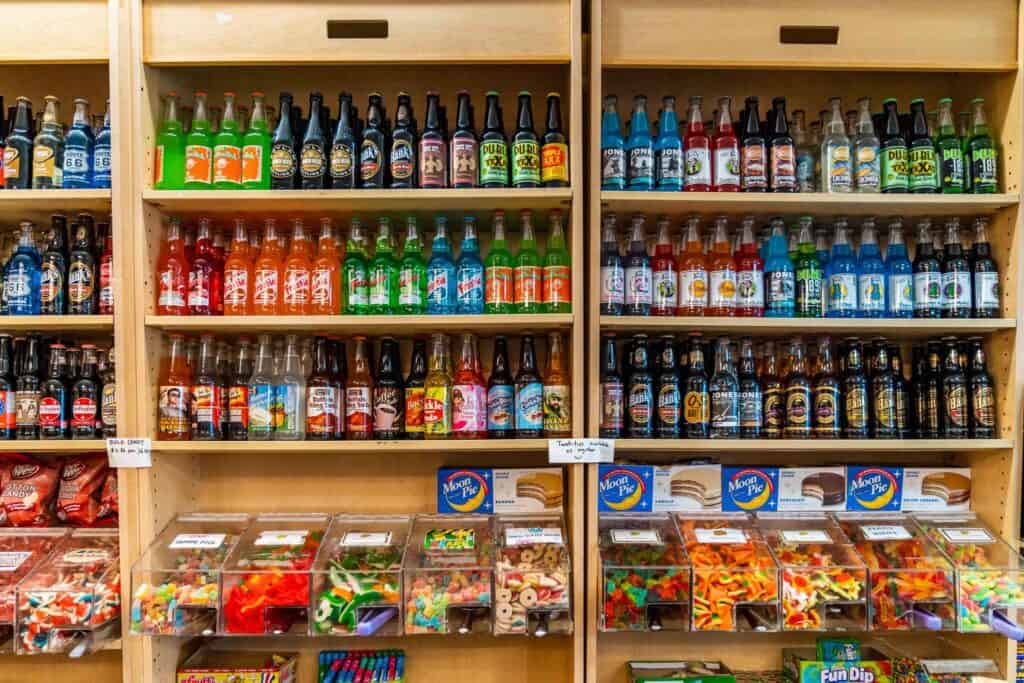 Visit the Coolest Baseball Stadium
Dell Diamond doesn't just have your typical ballpark food. A trip to Round Rock Express is a chance to watch a baseball star and find great dining options. You can choose from a variety of tasty restaurants, either local joints or chains, a beer garden, along with your usual concessions. We tried the Grilled Cheese Saddled Hotdog from Goodstock Grill, Teriyaki Skewers and Tater Tots from Ono Pacific Grill, which came in a cute souvenir bowl, the Loaded Brisket Baked Potato from Southside Market & BBQ, Chicken and Beef Street Tacos from Rojo's Southwestern Hideaway, and Vanilla Shakes from Scoops Ice Cream in some sleek, metal souvenir cups.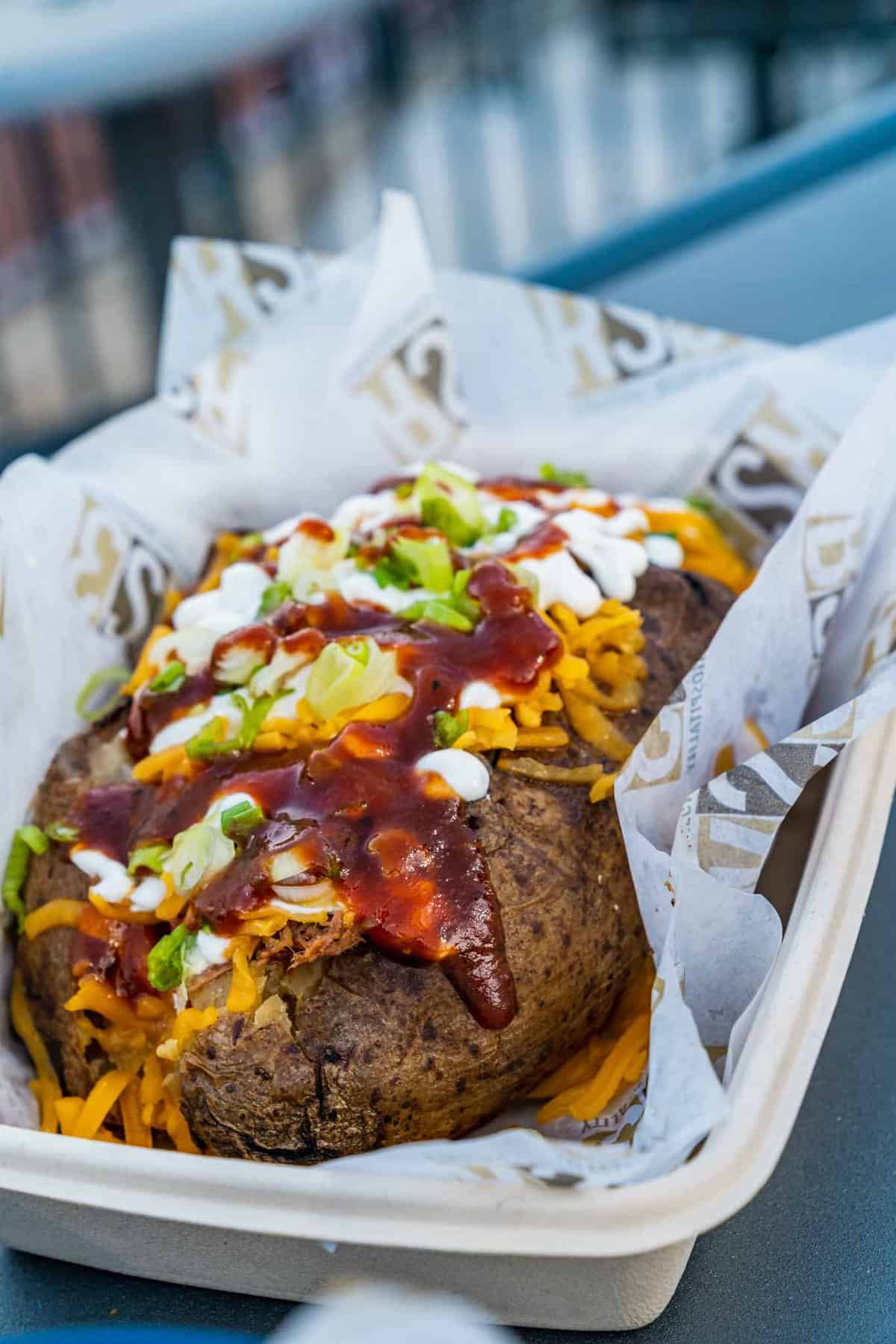 If you're looking to grab a drink and escape the heat, the Bullpen Bar has A/C and the Home Run Dugout next door where you can play VR baseball while watching actual baseball! Just feet from the door of the Bullpen Bar, there is a beautiful lawn area where you can sip on your cocktail and still have a great view of the game below. You'll also find a kid's zone with a climbing wall, as well as a pool with concessions and a hot tub! Anything you could want to your list of things to do in Round Rock, Dell Diamond has!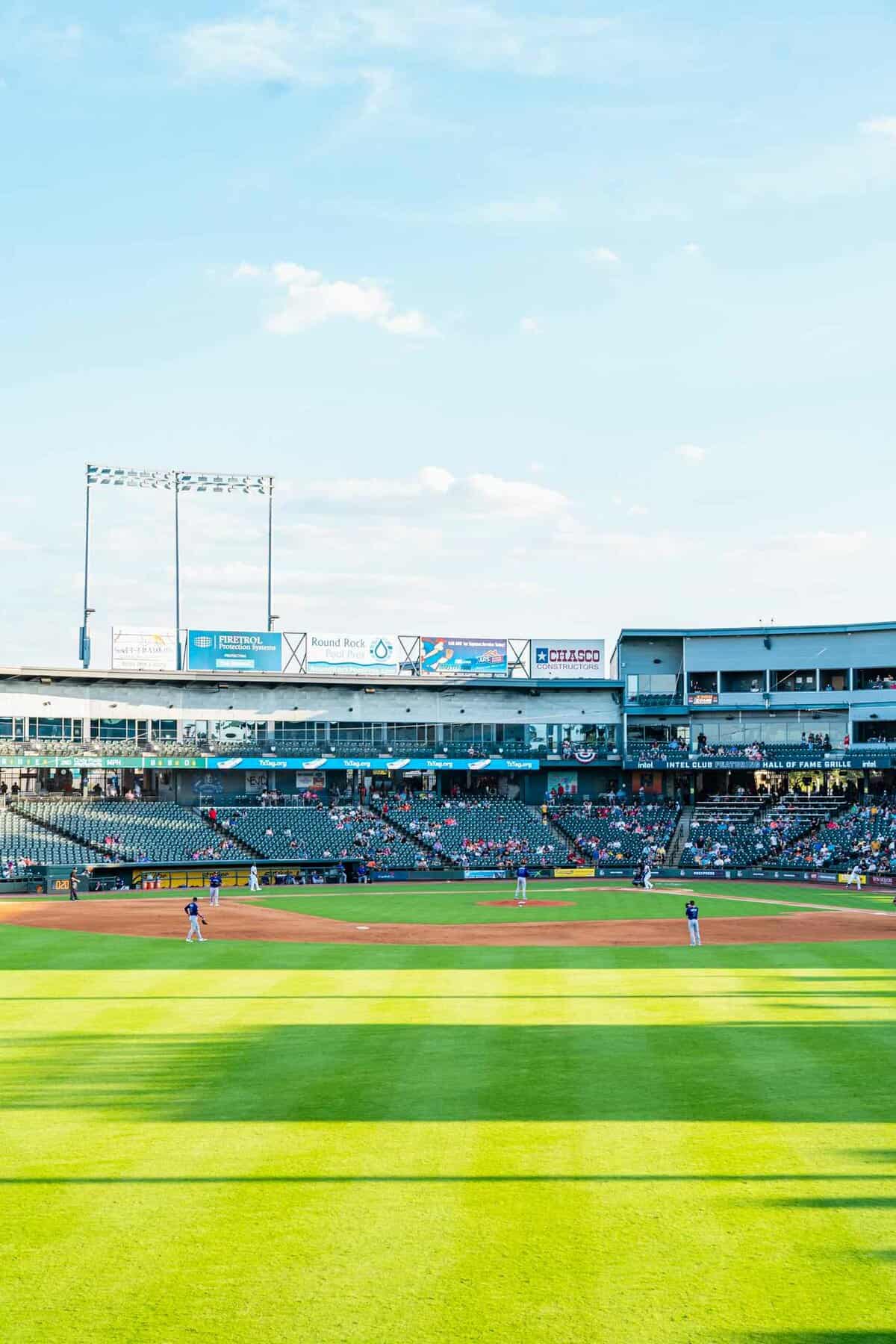 To make your experience even better, players will throw foul balls into the crowd and, with the stadium being on the small side (although, it doesn't make it any less cool, clearly), your chances of taking one home are pretty high if you keep an eye out. There are also fireworks on Friday, but they also light some after every home run. You can also look forward to events like Thursdays "Pups and Pints" where your furry friend can come too!
Enjoy the Outdoors
Round Rock is home to several public parks, including the Boles Family Sports Complex; Veterans Park, with a monument to the veterans of Central Texas, a fishing pier, a shaded basketball court, grills, and a playground; Brushy Creek Lake Park, with its hiking and biking trails, nature trails, a lake, water playscape, and a canoe launch, as well as the previously mentioned park at Chisholm Trail Crossing, with its gorgeous waterfall, natural pool, and its proximity to the "Round Rock."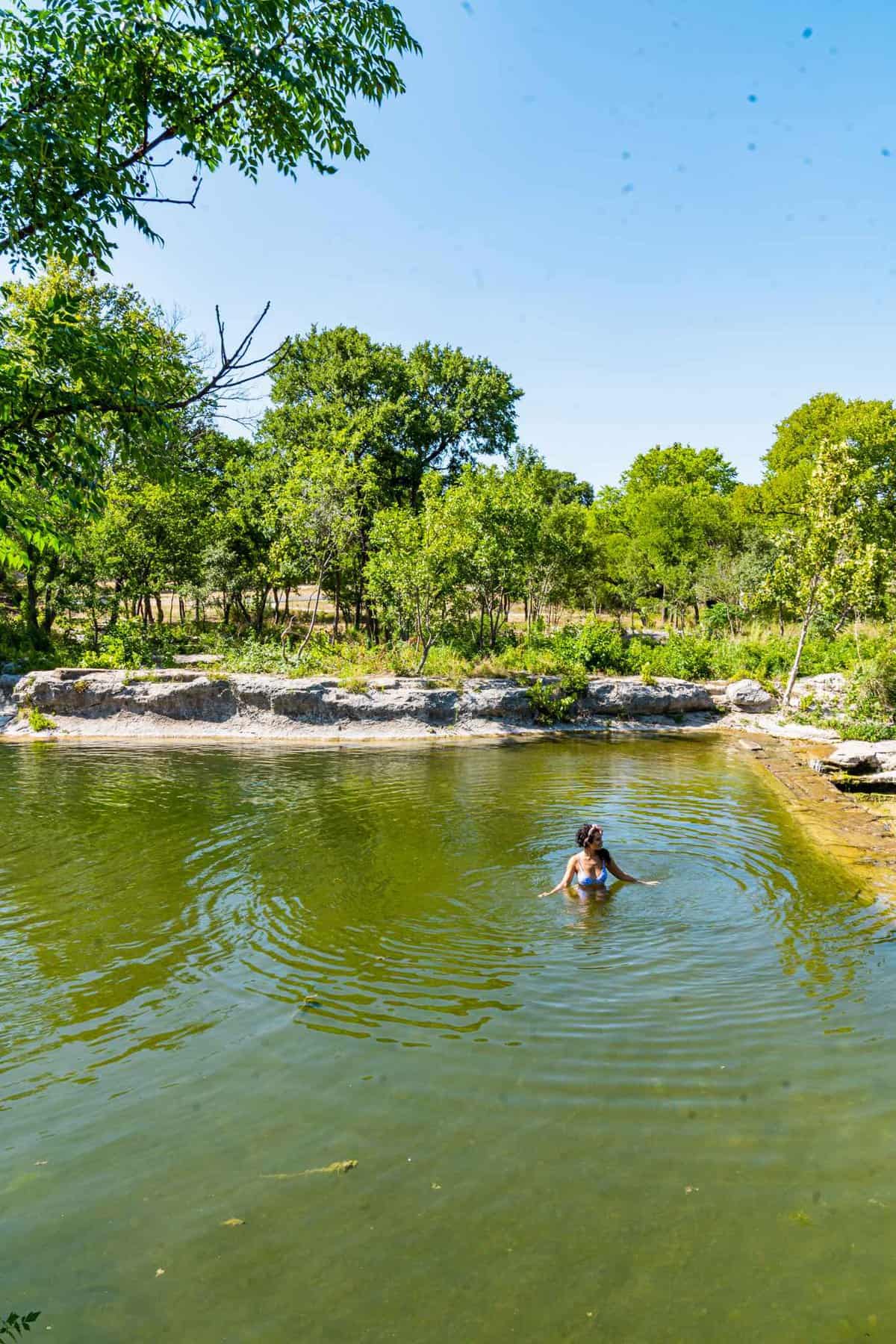 Try Out this Kid-Friendly Obstacle Course
Old Settler's Park, spanning 640 acres, has several sports fields, pavilions, sand volleyball courts, a paved 3.3-mile trail, a beautiful view of Bright Lake, and fishing. You'll also notice the Joanne Land Playground, one of the coolest playgrounds in Texas! It has multiple stories, rings for children to hang on, a rope swing, places to climb, and a mini zip-line. There is also a smaller option for the younger ones in your crew and, to give parents some piece of mind, there are nets and walls surrounding the more adventurous parts of the playground equipment.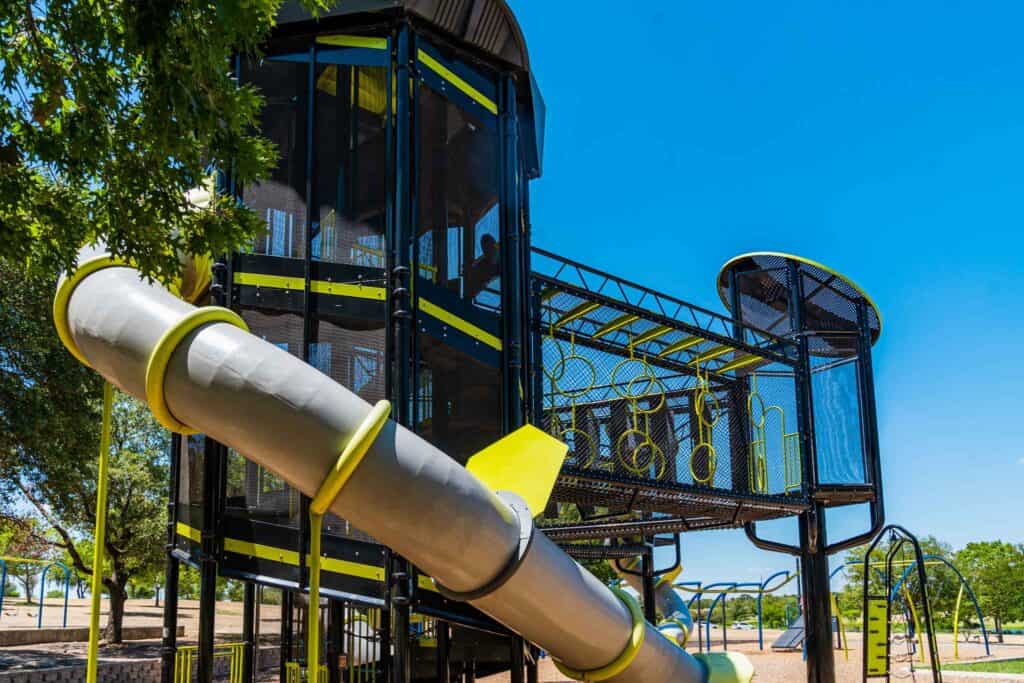 Or Visit This Outdoor Water Park
Rock'N River Water Park can also be found inside Old Settler's Park! It's perfect for your list of things to do in Round Rock this weekend if you're looking for a more affordable water activity with all of the same attractions and more! Along with a lazy river, slides, and water playgrounds, there are also tunnel showers, a water cannon, tipping frogs, floor geysers, a 12-foot jumping platform, and a rock-climbing wall! When the munchies surface, there is a concession area, rental cabanas, a picnic pavilion, and a food truck area for your convenience.
Bring Make-Believe to Life
If you're making a trip to Round Rock this weekend with your family, the Play for All Abilities Park will make for a great outing to put on your list of things to do. Or if you're a resident of Round Rock or nearby Austin, consider making this park a regular favorite for you and your family. There is a mini town with a police station, a car wash with a mister, a Chick-fil-A, cross walk, dealership, gas pump, a fire station, and even a mini HEB! Venture through it and you'll find small touches like a menu inside the Chick-fil-A or educational facts inside the other buildings.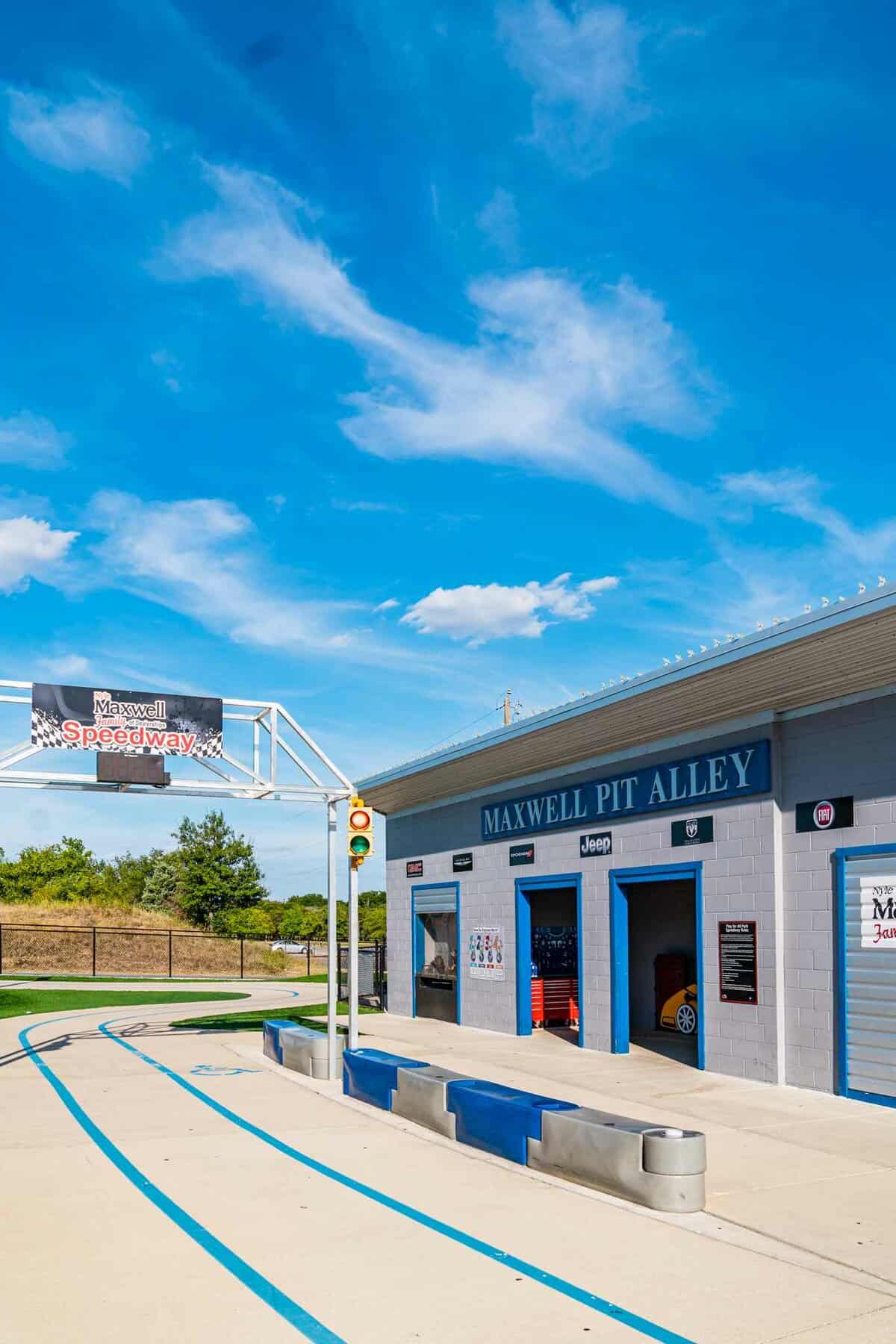 You'll also discover several playground sets, even one that looks like a train, swing sets, and a mini construction site with play bull dozers you can use to scoop up sand. If you happen to have your bikes, scooters, or skateboards with you, race each other around the mini racetrack!
Go on a Virtual Adventure
At Virtropolis VR, you can participate in out-of-this world adventures inside all kinds of virtual reality universes! Equipped with the coolest virtual reality equipment that brings the experience to life, this activity is perfect for families and groups as large as 6. There are also options for pairs! See their website for a selection of experiences to add to your list of things to do in Round Rock this weekend. Although majority of their games are kid-friendly, some do have age and height requirements.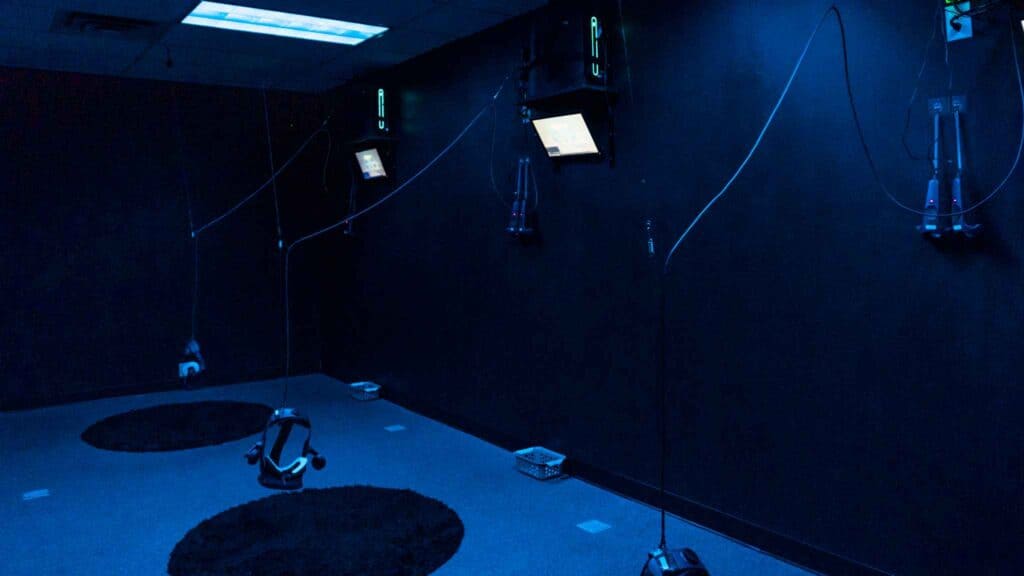 Visit a Local Honey Farm
Although producing wildflower honey can be laborious, Round Rock Honey takes great pride in their product and values quality over quantity. Choose from their selection of pure honey products, harvested from their farm in Round Rock, and other handmade products like soap and skincare. Visit their website to schedule a tour of their factory and learn all about their process of making honey! You can buy it in participating stores, at local farmers markets, and even online! As the holidays approach, if you're looking for a real Christmas tree, you can find them at the Round Rock Honey Company farm too!
*Fun Fact: During the bottling process, Round Rock Honey is never heated, preserving the natural ingredients and local pollen inside their honey.
Where is Round Rock?
Round Rock is located approximately 20 miles north of downtown Austin. It is a relatively short commute, making Round Rock an ideal location for individuals seeking a balance between small-town charm and easy access to the larger metropolitan amenities of Austin. Check out our full list of day trips less than 4 hours from Austin.
Additionally Round Rock is approximately 80 miles north of San Antonio. This distance makes it a feasible commute for day trips or weekend visits.
Things to Do This Weekend in Round Rock: Final Thoughts
The next time you're on your way to Austin or Waco and you need to stretch your legs, or you're looking for some excitement on your way to your favorite in-state destination, stop into Round Rock and explore its abundance of things to do. Who knows, maybe Round Rock will become your new favorite place to visit! So, pack your bags this weekend and take a spontaneous trip to Round Rock! You won't be bored, that's for sure! You might even find your new favorite restaurant after trying out all of our recommendations of where to eat in Round Rock.