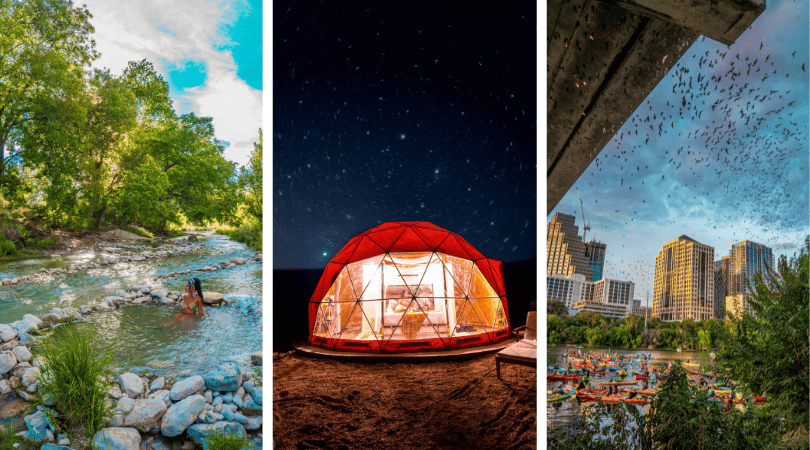 Everything is bigger in Texas, including the list of must-visit attractions. From the bustling cosmopolitan cities to the tranquil Hill Country, the Lone Star State is brimming with diverse landscapes and unique experiences.
As a Texas travel blogger (who was recently rated as the Best Travel Blogger in Texas), we spend all our time traveling around Texas with fun things to do across a variety of Texas cities. Texas has everything from breathtaking state parks and amusement parks to scenic drives, wineries, quirky attractions, and more!
Note that if you are going to visit Texas during a busy travel time like Spring Break, some of the more well-known points of interest will likely be more crowded than our lesser-known, small towns and destinations. These spots make for a great vacation but without as many people.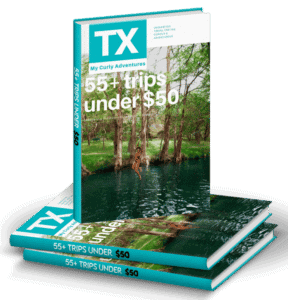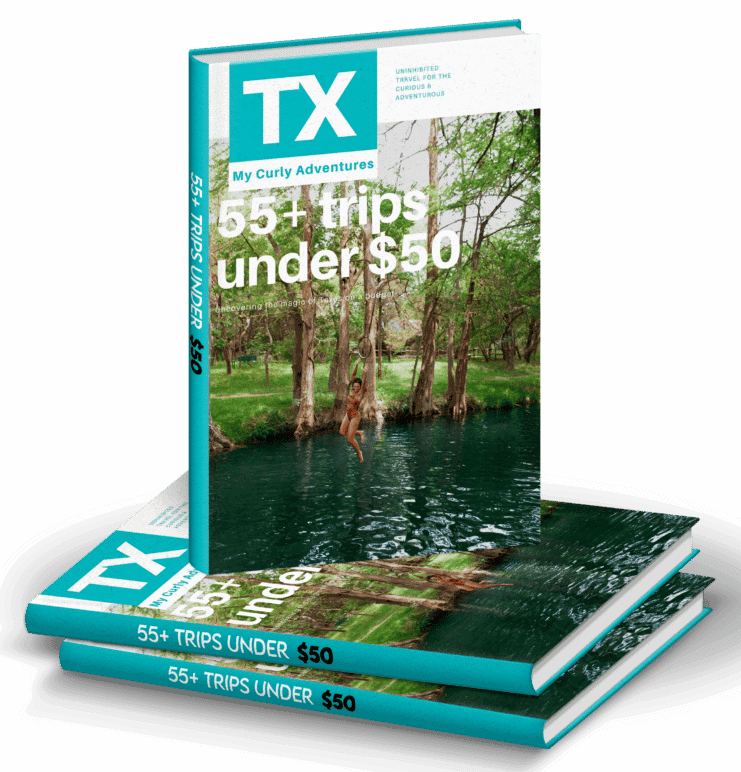 With our latest edition of our Texas Travel Guide, you can take an exciting vacation every weekend without breaking the bank and still have more to do! And in just one trip, the guide pays for itself! You'll be amazed at all the hidden gems, international influence, and wacky attractions you'll find all over Texas!
Not ready to purchase quite yet? We wanted to make this guide as accessible as possible, so we've shared our 1st edition of our guide, 50 Texas Trips Under $50. Click the button below to get yours for FREE!
Top Touristy Spots to Visit in Texas
Austin
A trip to Texas is not complete without a trip to Austin, a city that perfectly combines the old and the new. It's known for its vibrant live-music scene (it's actually been given the title of the Live Music Capital of World) with country, blues, and rock performances echoing from every corner. Stars like Stevie Ray Vaughn got their start here!
Of course, Austin is also weird, colorful, and known for its beautiful parks and bodies of water. Don't miss out on the opportunity to kayak Lady Bird Lake, picnic in Zilker Park, and explore iconic areas like Rainey Street and East Austin. [Click here to read everything to do in Austin].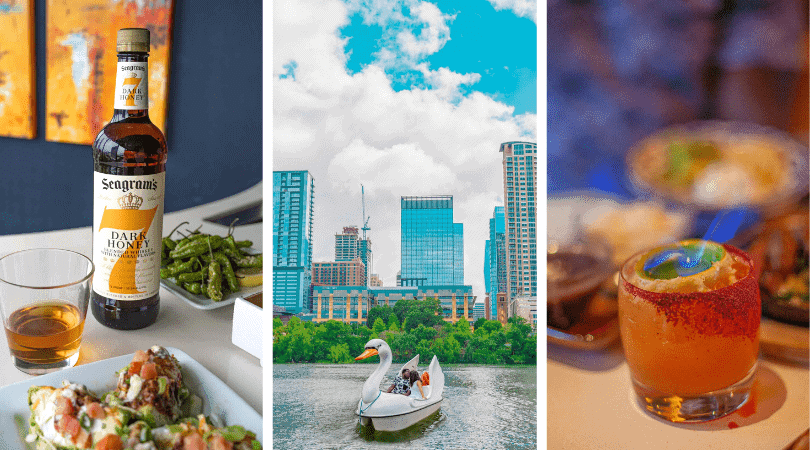 San Antonio
San Antonio, home to the historic Alamo, is another stop you won't want to skip! The San Antonio River Walk, a picturesque network of walkways along the banks of the San Antonio River, is a must-see.
There are also many popular attractions like the Witte Museum, San Antonio Zoo, the vibrant community surrounding the historic Pearl Brewery, and so much more. It's also one of the best cities to experience Tex-Mex, as well as the famous breakfast tacos that are basically a major food group in San Antonio.
If you want to cool down, the Guadalupe River is nearby. However, these are only the typical, touristy main attractions. Although still fun, we've written all about the hidden gems and exciting things to do in San Antonio. [Click here to read everything to do in San Antonio].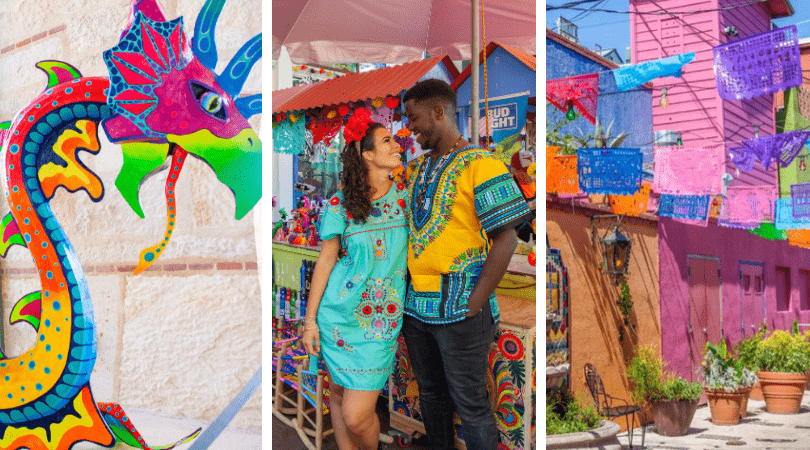 Big Bend
For nature lovers, Big Bend National Park offers a remote getaway with stunning vistas, clear night skies filled with stars, and diverse landscapes with breathtaking hiking trails. As one of the most incredible national parks in the United States, it still remains more of a hidden gems to many outdoor and travel enthusiasts. It's quite the drive, but it's also an affordable option that people love.
Take on all of the best hikes at Big Bend National Park including Santa Elena Canyon, stay at all of the unique glamping options, and don't forget to spend some time in the old ghost town of Terlingua. Don't forget to also enjoy the hot springs! It's the perfect place to warm up during the cooler months. [Click here to read everything to do in Big Bend].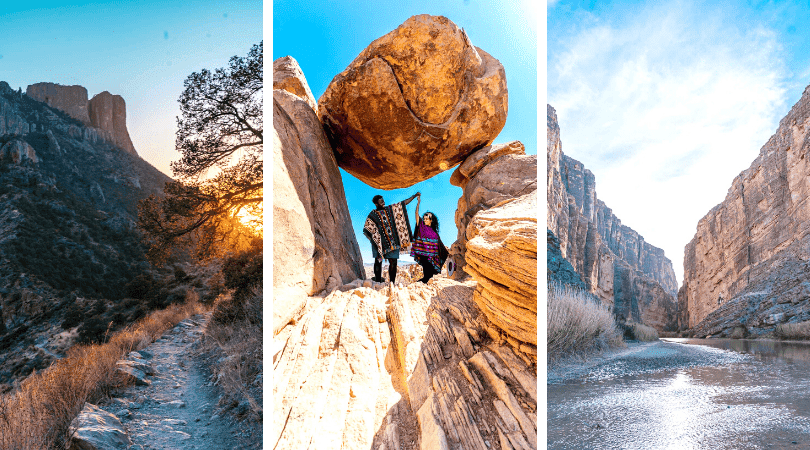 Galveston
If you're longing for a serene coastal retreat along the Gulf of Mexico, look no further than the charming city of Galveston. With its historic Pleasure Pier, where you can indulge in thrilling rides, and its picturesque beaches that offer a perfect blend of relaxation and adventure, Galveston is a destination that promises to exceed your expectations.
Immerse yourself in the rich history of this coastal gem, explore its vibrant local culture, and create unforgettable memories against the backdrop of breathtaking ocean views.
In the winter, you can still find so many great things to do, like the indoor aquarium at Moody Gardens, or take a guided tour about the interesting history of this Texas Gulf Coast city. Galveston truly offers an idyllic escape for those seeking a perfect blend of charm, excitement, and natural beauty. It's also a short drive from Houston, making it a great day trip from one of the larger, nearby cities. [Click here to read everything to do in Galveston].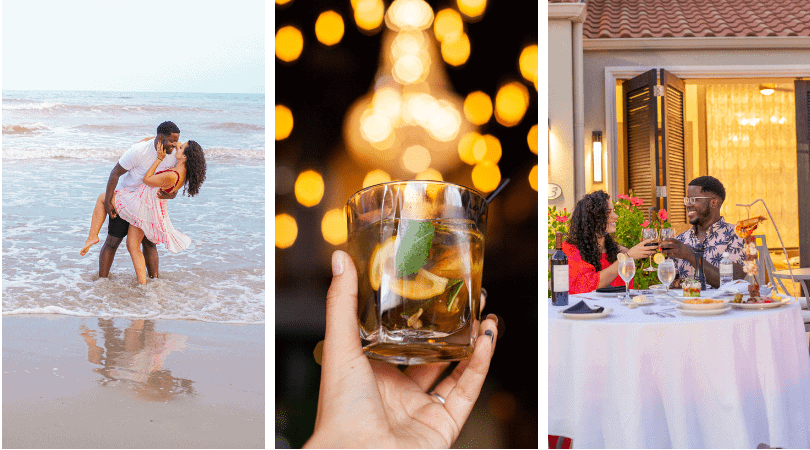 Houston
For those who appreciate a thriving urban environment rich with culture and innovation, Houston is the city to visit.
As the largest city in Texas, Houston is renowned for its vibrant arts scene, including the Museum District, which houses 19 museums within a 1.5-mile radius. The city's culinary scene is equally as impressive, serving up everything from gourmet dining to delectable street food.
Sports enthusiasts will find themselves at home here with the city boasting major league sports teams including the Houston Rockets, Astros, and Texans. Embrace the bustling energy of this dynamic city, and don't forget to visit the fascinating Space Center, a science museum where you can delve into the wonders of our universe with a little space exploration. Houston, with its diverse range of attractions and activities, truly embodies the spirit of Texas. [Click here to read everything to do in Houston].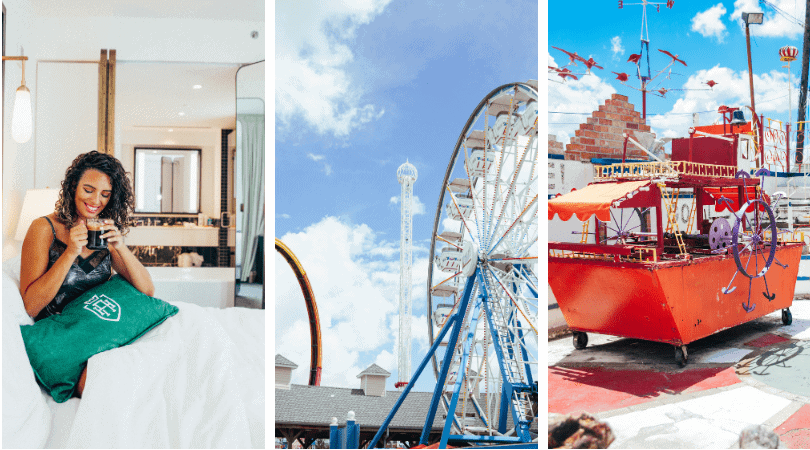 Fort Worth
If you're looking to immerse yourself in authentic Texas culture and history, then Fort Worth is your destination. The city, affectionately known as "Cowtown," offers a unique blend of the Old West and modern sophistication.
Visit the historic Fort Worth Stockyards, where you can witness a real-life cattle drive, shop for western gear, or simply soak in the atmosphere of a bygone era. The city's Cultural District boasts world-class museums like the Kimbell Art Museum and the Modern Art Museum of Fort Worth.
Not to be missed is the thriving Sundance Square, a vibrant 35-block entertainment district filled with restaurants, boutiques, and performance venues. Fort Worth also hosts the annual Fort Worth Stock Show and Rodeo, a quintessential Texas experience.
With its rich history, flourishing arts scene, and warm hospitality, Fort Worth provides a true taste of Texas charm and spirit. It also makes for a great day trip from Dallas! [Click here to read everything to do in Fort Worth].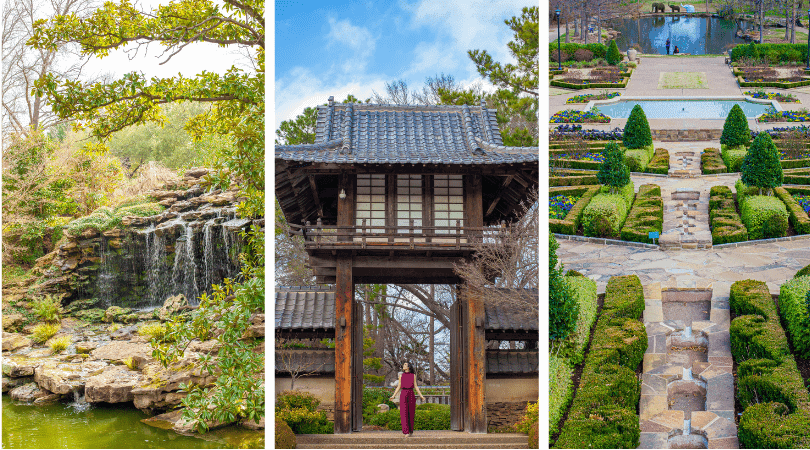 Dallas
As the third largest city in Texas, Dallas is a bustling hub known for its thriving economy, vibrant arts scene, and iconic skyline. The city is home to a rich tapestry of neighborhoods, each boasting their own unique character and charm.
Downtown Dallas is a mecca for culture and entertainment, with attractions like the Dallas Museum of Art, Crow Collection of Asian Art, Dallas World Aquarium, and the Morton H. Meyerson Symphony Center. For sports enthusiasts, Dallas proudly hosts the Cowboys, Mavericks, and Stars, ensuring a full calendar of high-powered sporting events.
Food-lovers will revel in the city's culinary scene, which ranges from authentic Texas barbecue to innovative world cuisines. Don't forget to pay a visit to the historic West End District, where you can explore the fascinating Sixth Floor Museum at Dealey Plaza.
With its captivating blend of Southern hospitality and cosmopolitan flair, Dallas is a city that delights at every turn. Even more, you'll be amazed at our international culinary scene, unique spas, and a list of attractions you probably didn't know Dallas had. [Click here to read everything to do in Dallas].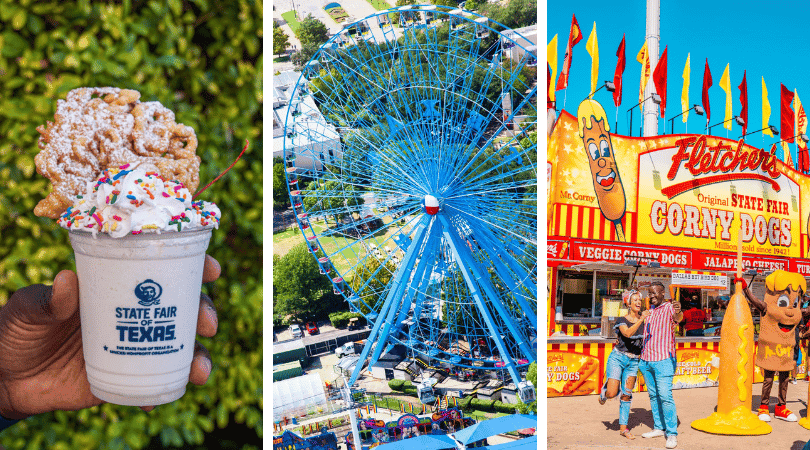 Corpus Christi
Known as the "Sparkling City by the Sea," Corpus Christi is a coastal destination in southern Texas that beckons visitors with its stunning Gulf Coast beaches, vibrant nightlife, and diverse cultural offerings. Look, Texas might not be known for the best beaches (personally, I think we have the best rivers), but I do think we have the best beach towns.
This city is home to the Texas State Aquarium, where you can discover a wide array of marine life, see a sea turtle release, and swim with sharks. The USS Lexington, a retired aircraft carrier turned museum, provides fascinating insights into naval history and even an escape room!
For those who enjoy the great outdoors, the Padre Island National Seashore offers miles of beautiful beaches and is the perfect spot for camping, bird watching, and fishing. You can even enjoy horseback riding on the beach, which is one of the best activities in my opinion.
Corpus Christi's culinary scene is a delightful blend of Tex-Mex flavors and fresh seafood, offering a uniquely tasty experience. With its endless sunshine, rich history, and miles of beaches, Corpus Christi encapsulates the laid-back, welcoming vibe of Gulf Coast Texas. [Click here to read everything to do in Corpus Christi].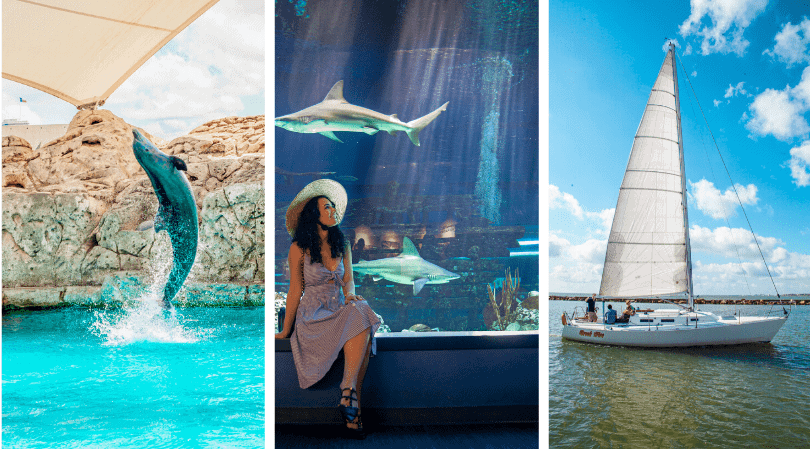 Fredericksburg
Nestled in the heart of the Texas Hill Country, Fredericksburg is a small city known for its German heritage while offering visitors a unique mix of Texas hospitality and European charm. This city is renowned for its historic downtown, where you can stroll along Main Street, lined with shops selling antiques, local crafts, and delectable pastries.
One of Fredericksburg's key attractions is the National Museum of the Pacific War and its focus on World War II in the Pacific. Wine enthusiasts will appreciate the city's location along the Texas Wine Trail, with over 50 wineries and vineyards offering exquisite tastings and tours.
Fredericksburg is also the gateway to the Enchanted Rock State Natural Area, a massive pink granite dome perfect for hiking and stargazing. With its blend of natural beauty, rich history, and vibrant culinary scene, Fredericksburg provides a one of a kind experience in the heart of Texas. [Click here to read everything to do in Fredericksburg].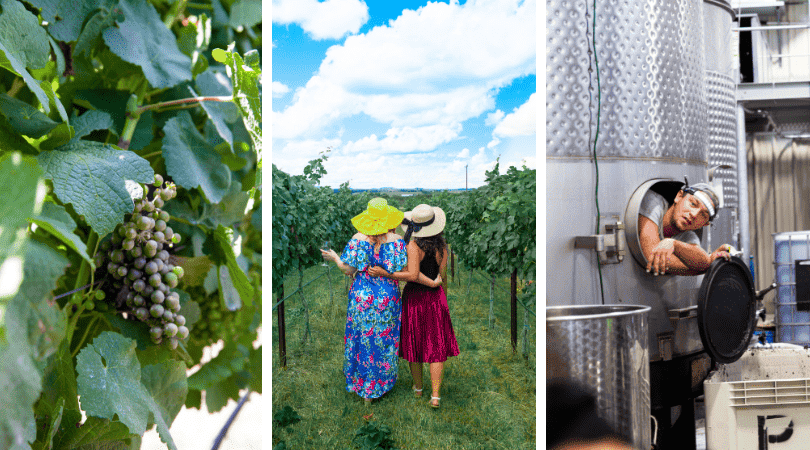 Waco
Situated along the Brazos River, Waco is a city in Central Texas that is bursting with history, culture, and natural beauty.
Known primarily as the home of Baylor University, Waco also boasts a number of remarkable attractions. The Dr. Pepper Museum, housed in the original 1906 Dr. Pepper bottling plant, pays homage to this beloved beverage born in Waco. History buffs will appreciate the Texas Ranger Hall of Fame and Museum, which details the history of the legendary law enforcement agency.
One of the city's most well-known sites is the Magnolia Market at the Silos, run by Chip and Joanna Gaines of HGTV's "Fixer Upper," which features a retail store, food trucks, and a bakery. For nature lovers, Cameron Park offers miles of trails for walking, biking, and running, as well as access to the Brazos River for paddling and fishing.
With its rich history, vibrant culture, and scenic landscapes, Waco is a city that offers something for everyone. [Click here to read everything to do in Waco].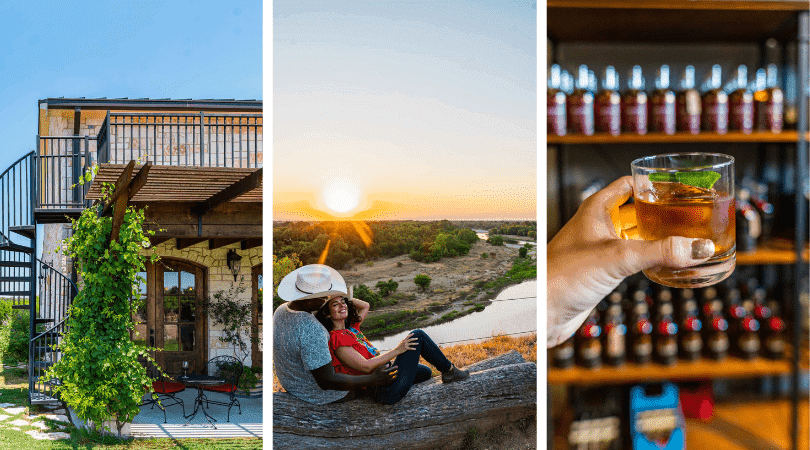 San Marcos
San Marcos, a vibrant city nestled in the heart of the Texas Hill Country, is renowned for its natural beauty and dynamic arts scene. The city is home to Texas State University, a major contributor to its lively atmosphere and robust cultural offerings.
The university's Wittliff Collections are a must-see! It houses an extensive array of Southwest literature, photography and music. For outdoor enthusiasts, the San Marcos River provides a crystal clear waterway perfect for tubing, kayaking or simply enjoying a picnic in one of its nearby parks.
The city's downtown square is a hub of activity, filled with eclectic shops, art galleries, and a wide variety of restaurants. History buffs can delve into the past at the LBJ Museum of San Marcos, dedicated to President Lyndon B. Johnson's formative college years. San Marcos' combination of natural splendor, cultural attractions, and historic richness make it an enticing destination in Texas. [Click here to read everything to do in San Marcos].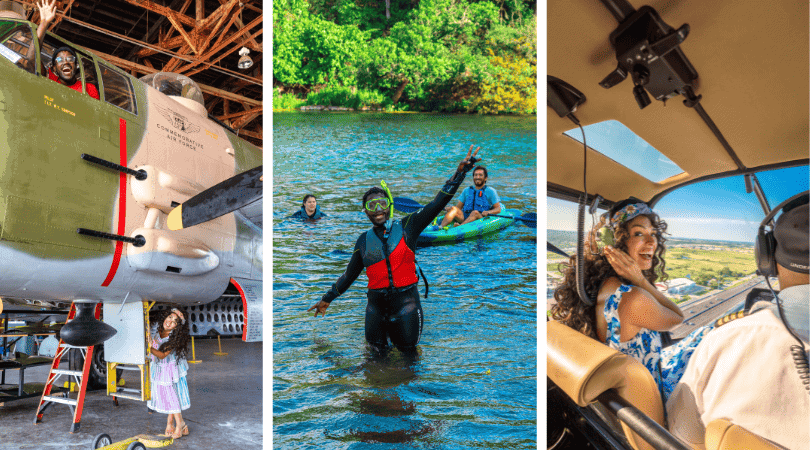 Smaller Town Gems to Visit in Texas
New Braunfels
Situated between San Antonio and Austin, New Braunfels is a small city in Texas that exudes an enchanting blend of German heritage and Texas charm. A key feature of the city is its two clear, spring-fed rivers, perfect for tubing, swimming, or simply relaxing by the water.
New Braunfels is also home to the original Schlitterbahn Waterpark, a family-friendly summer staple offering thrilling water rides and relaxing river floats. In fact, New Braunfels has a lot of water sports and water activities that make it a popular place for people who want to travel with their families.
For history buffs, the Gruene Historic District provides an evocative glimpse into the city's past, with well-preserved architecture, antique shops, and Gruene Hall, the oldest dance hall in Texas. Nature enthusiasts will appreciate a visit to the Natural Bridge Caverns, a spectacular underground network of caves open for you to explore.
With its vibrant festivals, particularly the annual Wurstfest, a ten-day salute to sausage, New Braunfels promises an authentic and unique Texas experience. [Click to read everything to do in New Braunfels].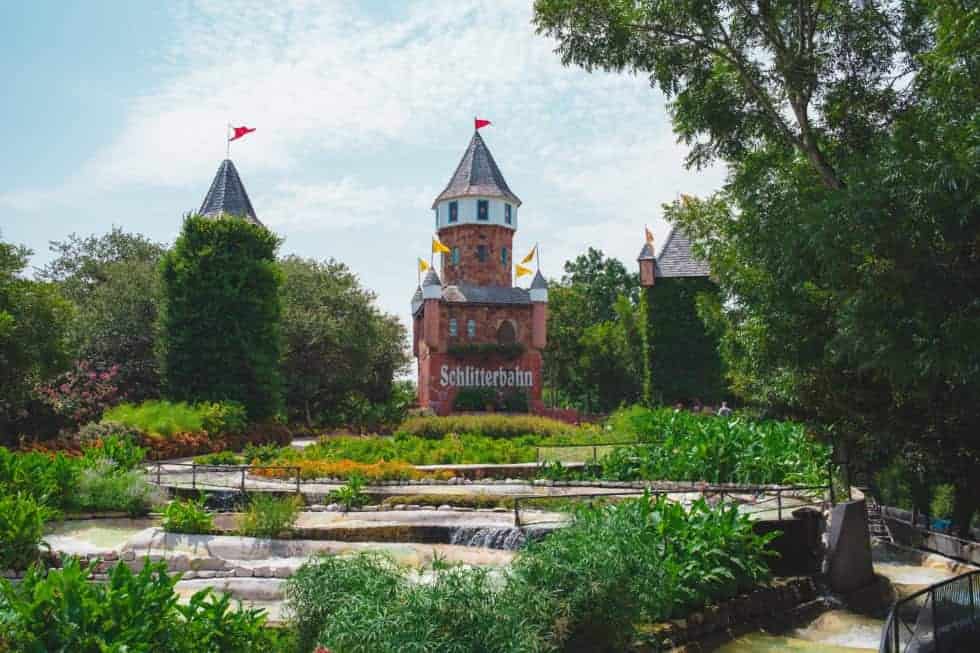 Caddo Lake
Caddo Lake and Caddo Lake State Park straddle the border between Texas and Louisiana. As the only natural lake in Texas, it's a natural haven for outdoor enthusiasts. Named after the Caddo Nation who once lived in the area, the lake is famous for its enchanting beauty and diverse array of wildlife.
With its mystic bayous and labyrinth of cypress trees draped with Spanish moss, the lake offers a unique, almost magical, landscape for exploration. Home to more than 70 species of fish and countless species of birds, Caddo Lake is a vibrant ecosystem and an important habitat for wildlife.
Visitors can take guided boat tours, go fishing, or simply engage in bird watching. With a multitude of campsites and cabins available for rent, it's also a popular spot for overnight stays. The rich history, stunning natural beauty, and diverse wildlife of Caddo Lake make it a must-visit destination in Texas.
While near Caddo Lake, make sure to also visit the adjacent town of Jefferson, which is actually known as the Bed and Breakfast Capital of Texas. [Click here to read everything there is to do near Caddo Lake and in Jefferson].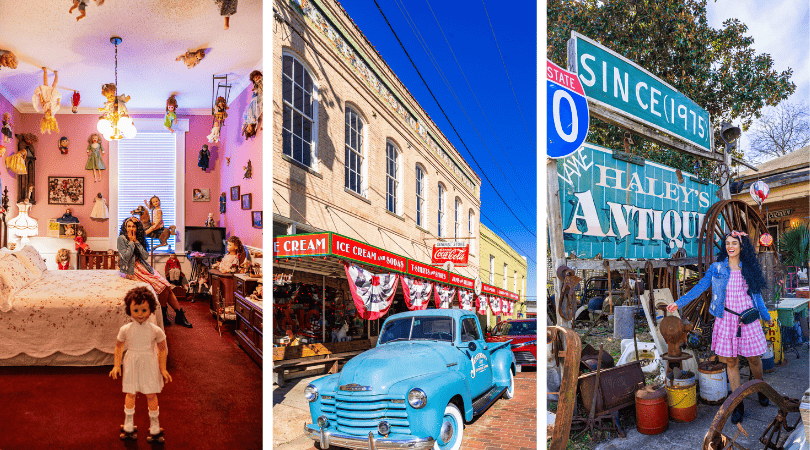 Beaumont
Beaumont, a city steeped in history and rich in natural beauty and cultural diversity, is located near the Louisiana border. Renowned for its significant role in the Texas oil boom, Beaumont's Spindletop-Gladys City Boomtown Museum offers visitors a fascinating insight into this pivotal era.
The city also caters to nature enthusiasts with the Big Thicket National Preserve, a sprawling area of diverse ecosystems that house hundreds of plant and animal species. Beaumont's vibrant cultural scene is reflected in the Art Museum of Southeast Texas and the historic Jefferson Theatre, both testaments to the city's dedication to arts and entertainment. Additionally, the city's culinary landscape offers traditional Southern cuisine alongside diverse international fare.
Beaumont, with its blend of history, culture, and natural beauty, is a captivating destination in Texas. [Click here for everything to do in Beaumont].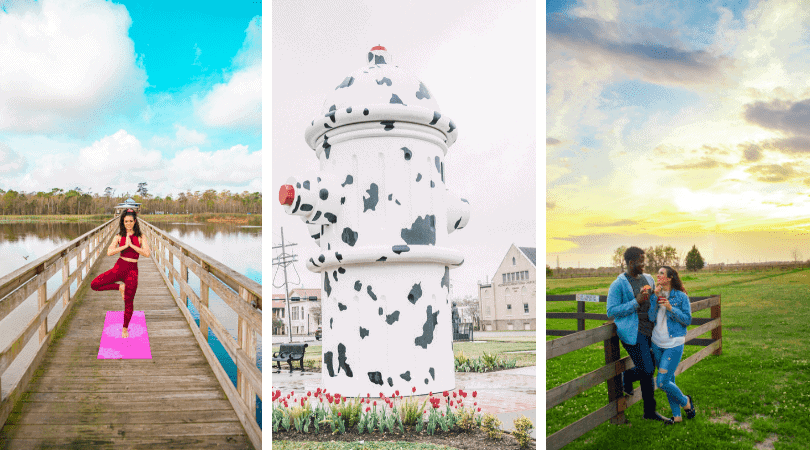 Frisco
Frisco is a vibrant city located in the Dallas-Fort Worth Metroplex and is recognized as a premier destination for sports enthusiasts. Known as "Sports City USA," Frisco boasts numerous state-of-the-art sporting venues. The Ford Center at the Star, a 12,000-seat venue, serves as the Dallas Cowboys' world headquarters and training facility.
Baseball fans can enjoy a game at the Dr. Pepper Ballpark, home to the Frisco RoughRiders. For soccer aficionados, the Toyota Stadium, home of FC Dallas, is a must-visit. The Comerica Center, home to the Dallas Stars' practice facility and executive offices, offers an immersive experience for ice hockey fans. Additionally, Frisco hosts the NCAA Division I Football Championship and the Frisco Bowl, attracting college football fans from all over the country.
With a plethora of shopping, dining, and entertainment options complementing its sports-centric attractions, Frisco is a vibrant sports getaway. Or, go for the video game spots like the National Video Game Museum, Nerdvana, and more! [Click here to read everything to do in Frisco].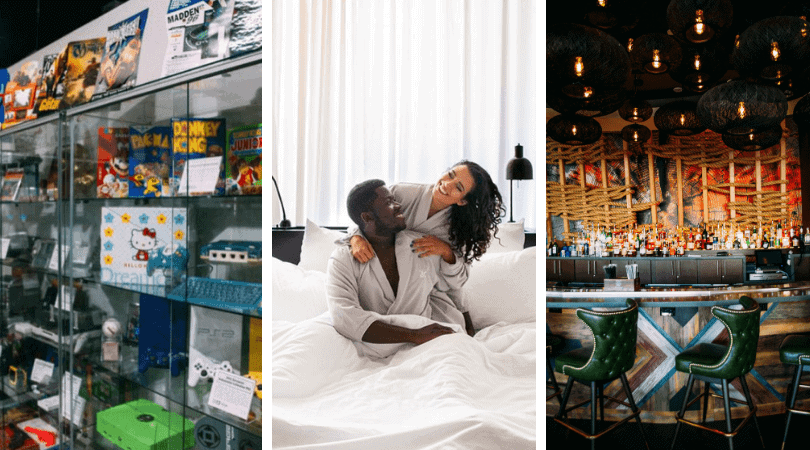 Round Rock
Round Rock is a dynamic city renowned for its family-friendly attractions and robust economy. The city's crown jewel is Kalahari Resorts & Conventions, America's largest indoor water park. This resort offers a unique blend of recreational activities, including thrilling water slides, a massive wave pool, luxury cabana rentals, world-class dining options, and a state-of-the-art convention center. The resort also hosts a variety of family-friendly indoor and outdoor adventures, such as mini golf, bowling, arcade games, and a safari-themed adventure park. And that's not all! [Click here to read everything to do in Round Rock].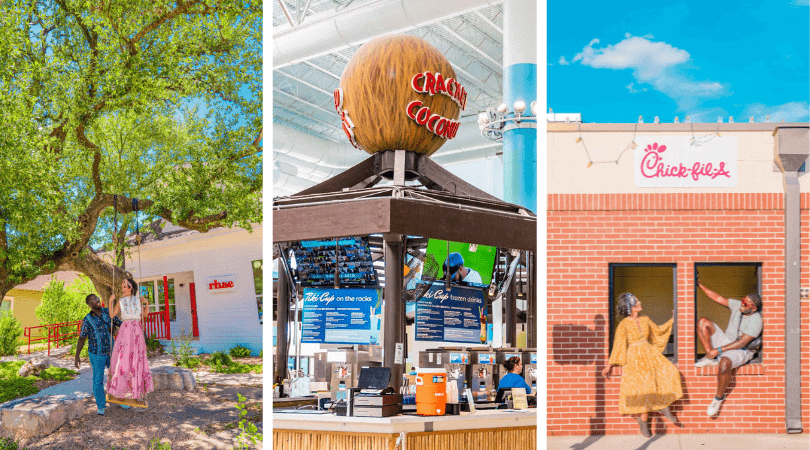 Dripping Springs
Dripping Springs, fondly known as the "Gateway to the Hill Country," is a captivating city that lures visitors with its natural beauty, flourishing culinary scene, and rich cultural heritage. It's a haven for outdoor enthusiasts, offering a multitude of nature trails, parks, and spring-fed swimming holes like Hamilton Pool and Blue Hole.
The city is also known for its thriving craft beverage industry, housing numerous breweries, distilleries, and wineries, including the popular Deep Eddy Vodka Distillery and Driftwood Estate Winery.
Dripping Springs is renowned for its vibrant food scene, featuring an array of local restaurants that serve everything from authentic Tex-Mex to gourmet farm-to-table fare. Additionally, its historic Mercer Street is the epicenter of local culture. It's lined with boutiques, eateries, live music venues, and is constantly buzzing with community activities and events. [Click here to read all the things to do in Dripping Springs].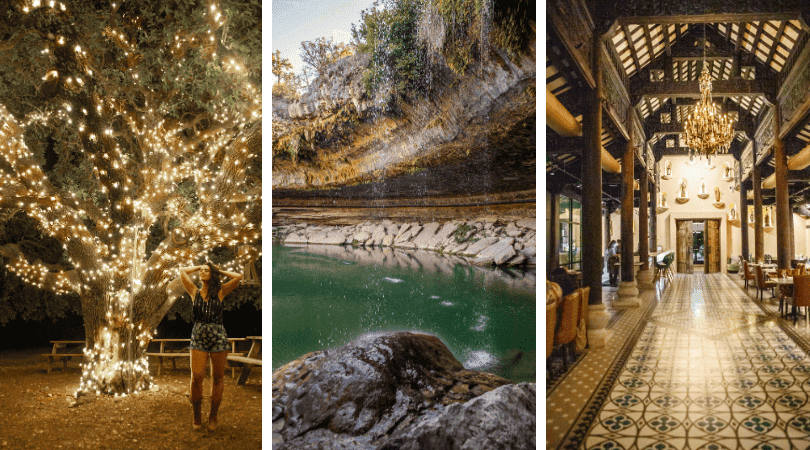 Castroville
Often referred to as the "Little Alsace of Texas," Castroville is a charming city known for its distinct Alsatian influence.
This unique cultural blend is a result of the city's founding by Henri Castro, a Frenchman who brought settlers from Alsace, France, in the 19th century. Today, you can see signs of this in the architectural style of the original stone homes and the city's traditional, annual events. The city is home to the renowned Castroville Historic District, where visitors can take a step back in time and explore the preserved Alsatian homes.
The city is also famous for Castroville Regional Park, a natural haven offering fishing, hiking, camping, and opportunities to enjoy the serene Medina River. [Click here to read all of the things to do in Castroville].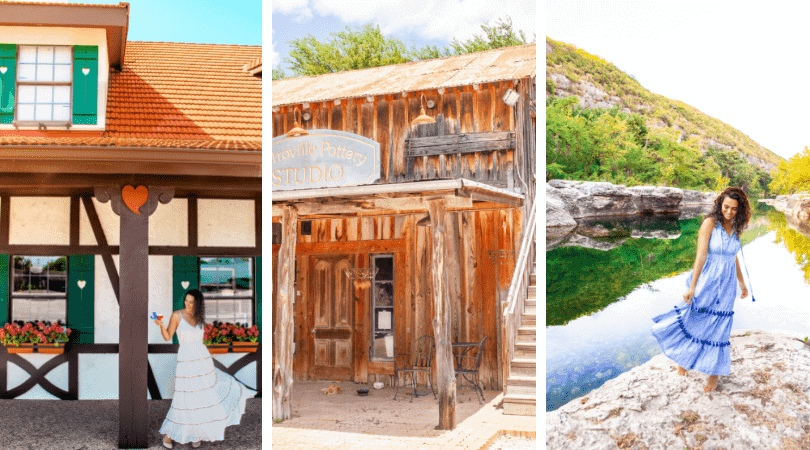 Dublin
Fondly called the "Irish Capital of Texas," Dublin holds a distinctive place in the Lone Star State for its rich Irish heritage and history. The city's most renowned attraction is the Old Doc's Soda Shop, previously Dublin Bottling Works, which was the first ever location to bottle the now world-famous Dr. Pepper soft drink. While Dublin Bottling Works no longer produces Dr. Pepper, it continues to produce a line of pure cane sugar sodas that are enjoyed by all.
The city also hosts an annual St. Patrick's Day celebration that attracts visitors from far and wide, featuring a parade, traditional Irish music, and a carnival. Dublin's historical downtown area is lined with a variety of shops that sell antiques, crafts, and unique local products, adding to the city's rustic charm. The Ben Hogan Museum is another must-visit spot in Dublin, which is dedicated to the life and accomplishments of the legendary golfer who was born in this quaint city. [Click here to read all of the things to do in Dublin].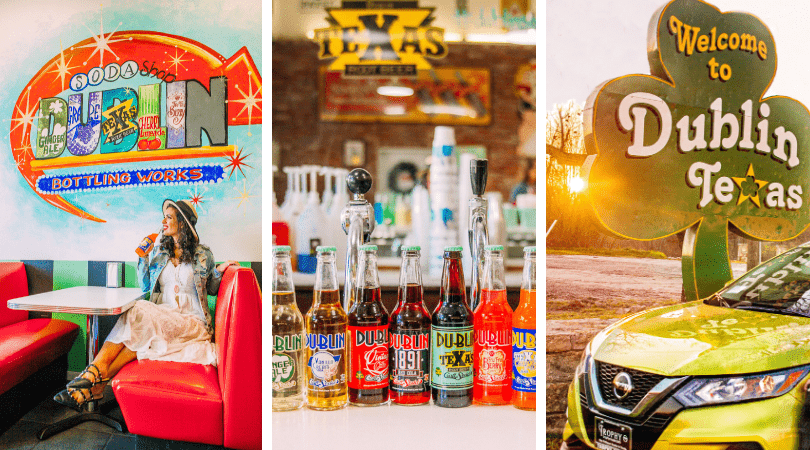 Denison
Situated in North Texas near the Oklahoma border, Denison is a vibrant city steeped in a rich mix of history and culture. It is perhaps best known as the birthplace of the 34th U.S. President, Dwight D. Eisenhower, where visitors can explore his childhood home and the adjacent Eisenhower Birthplace State Historic Site.
Denison's downtown area, locally known as "Denison Main Street," is a historic district that features a charming blend of antique shops, boutiques, and local cuisine, set against the backdrop of picturesque Victorian and early 20th-century buildings.
Offering a glimpse into the town's role in railway history is the Red River Railroad Museum. For nature enthusiasts, Lake Texoma, bordered by Denison, is a true paradise, providing ample opportunities for fishing, boating, and camping.
Denison, with its unique heritage and welcoming community gives visitors a wholesome and enriching Texas experience. [Click here to read everything to do in Denison].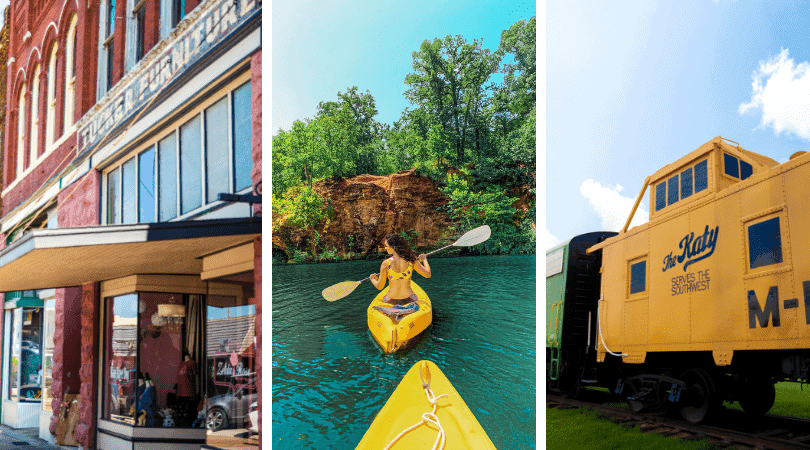 Laredo
Nestled on the border between Texas and Mexico, Laredo is a city rich in history and culture. Its roots are traced back to the Spanish colonial period, influencing its vibrant multicultural ambiance.
One of its most notable landmarks is the Republic of the Rio Grande Museum, preserving the history of the short-lived country that Laredo once was. The city's San Agustin Historic District boasts beautiful Spanish colonial architecture, featuring the San Agustin Cathedral, a sight to behold. Laredo is also home to the largest inland port in the US, emphasizing its importance in trade and commerce.
Its annual Washington's Birthday Celebration is a month-long event that includes parades, a jalapeño festival, and an air show, drawing crowds from all over. Whether you're indulging in the delicious Tex-Mex cuisine, exploring the scenic Lake Casa Blanca International State Park, or enjoying shopping at the San Bernardo Avenue, Laredo provides an immersive Texas-Mexico border experience that redefines expectations. [Click here to read all of the things to do in Laredo.]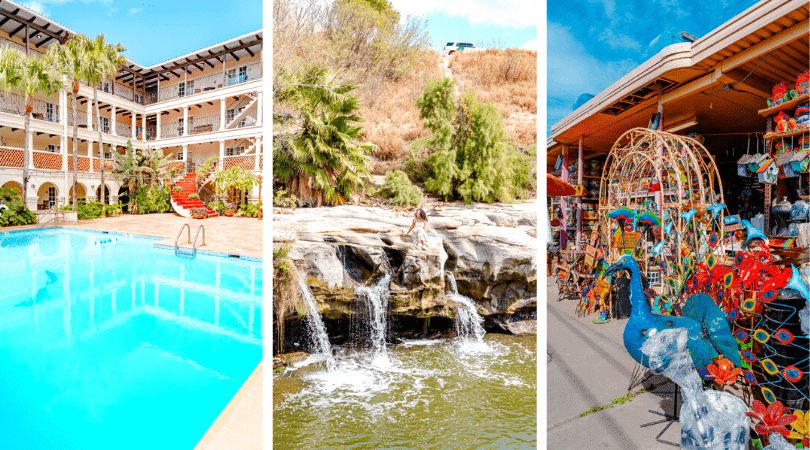 Best Places to Visit in Texas in the Fall
San Saba
San Saba, often called the "Pecan Capital of the World," is a lovely fall destination. The city's picturesque beauty is heightened by the vibrant hues of autumn, especially during the Pecan Jam Music Festival.
El Paso
Meanwhile, El Paso offers a distinctive fusion of Texas and Mexican cultures. In autumn, the must-see Franklin Mountains State Park provides a breathtaking panorama of fall colors.
Plano
In Plano, fall brings a delightful blend of mild weather and colorful foliage. Take a stroll through the charming downtown area, adorned with festive decorations, or visit one of the many parks to experience the beauty of nature's transition.
Don't miss the opportunity to indulge in seasonal treats and explore the local events and festivals that make Plano a wonderful place to be during the fall season.
Not to mention all of the pumpkin patches and fall festivals across the state!
[Click here to read our full list of best places to visit in Texas in the fall]
Top Places to Visit in Texas on Your Next Vacation: Final Thoughts
No matter what your preferences are, Texas has a place that will leave you with unforgettable memories! Texas is more than you might expect and we hope this list will give you a glimpse into that.
Plus, check out our Texas Travel Guide: 55+ Texas Trips Under $50 for even more inspiration!