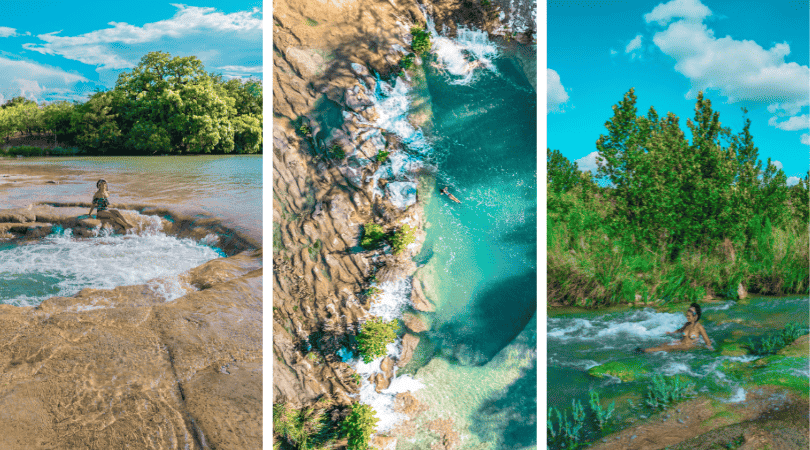 In the heart of the Texas Hill Country is the small town of Junction, Texas, where nature lovers are welcomed by its untamed beauty. Often called "the Land of Living Waters," there are beautiful landscapes speckled with natural bodies of water all around, perfect for lots of fun water activities.
While its biggest attraction is the river and water activities, Junction has some interesting historical museums, parks for picnicking, and other adventures, all which make for an entertaining and relaxing weekend getaway.
We had so much fun spending time in and around Junction, Texas, including some spots you're not going to find anywhere else (we love finding hidden spots like these).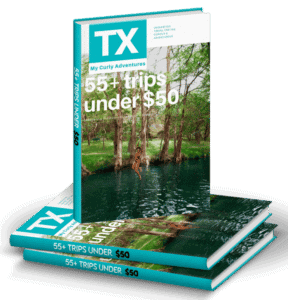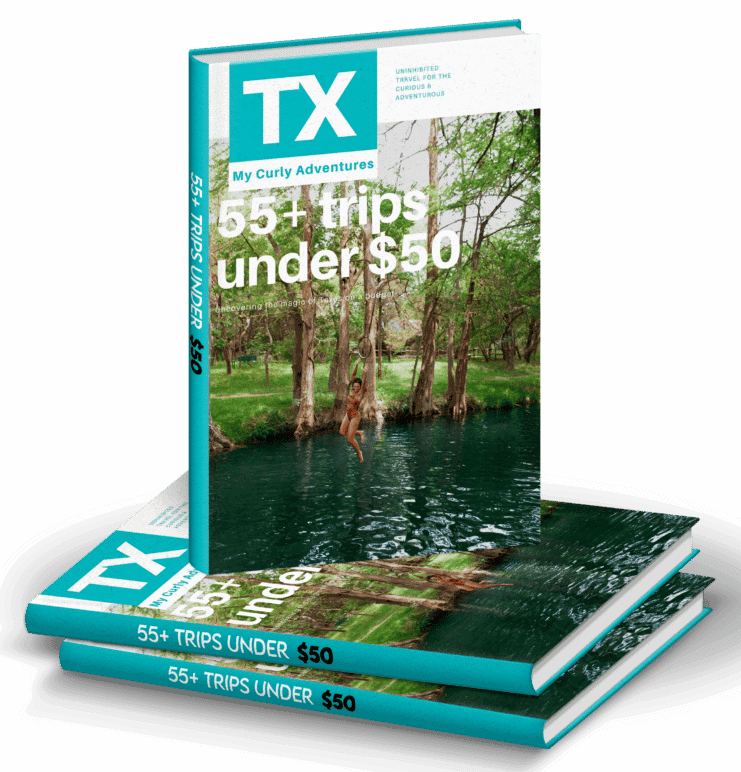 With our latest edition of our Texas Travel Guide, you can take an exciting vacation every weekend without breaking the bank and still have more to do! And in just one trip, the guide pays for itself! You'll be amazed at all the hidden gems, international influence, and wacky attractions you'll find all over Texas!
Not ready to purchase quite yet? We wanted to make this guide as accessible as possible, so we've shared our 1st edition of our guide, 50 Texas Trips Under $50. Click the button below to get yours for FREE!
Float the Llano River
South Llano River State Park offers an exhilarating tubing experience along the crystal-clear waters of the Llano River. With its gentle currents, small rapids, and the scenic view, tubing down the South Llano River is a fun way to cool off in the summer heat while enjoying the beauty of nature.
The park provides tube rentals and designated launch points, or you can bring your own and enter at one of the multiple entry points along the two-miles of river frontage. Also along the river, there are small "pools" of water where you can just sit, relax and enjoy the water.
Go Hiking
While you're at South Llano State Park, be sure to check out one or more of the hiking or mountain biking trails. With nine different nature trails, ranging from a half-mile to four miles, the scenic views are phenomenal, and you'll get a different adventure with each one. The trails will take you through giant woodlands, across canyons and plateaus, and onto overlooks where you can see out over the hill country. Keep an eye out for different species of birds, lizards, white-tail deer, porcupines and more.
Kayak with Paddler's Porch
Another great way to enjoy the Llano River is to rent a kayak from Paddler's Porch and take an unforgettable kayaking journey that covers six miles of scenic nature that is not on the well-known parts of the river.
After an invigorating day on the water, indulge in a well-deserved meal at their restaurant, serving salads, sandwiches, Tex-Mex and more. As a bonus convenience, a shuttle service is available for a fee, transporting you back to Boones Crossing or other various launch points.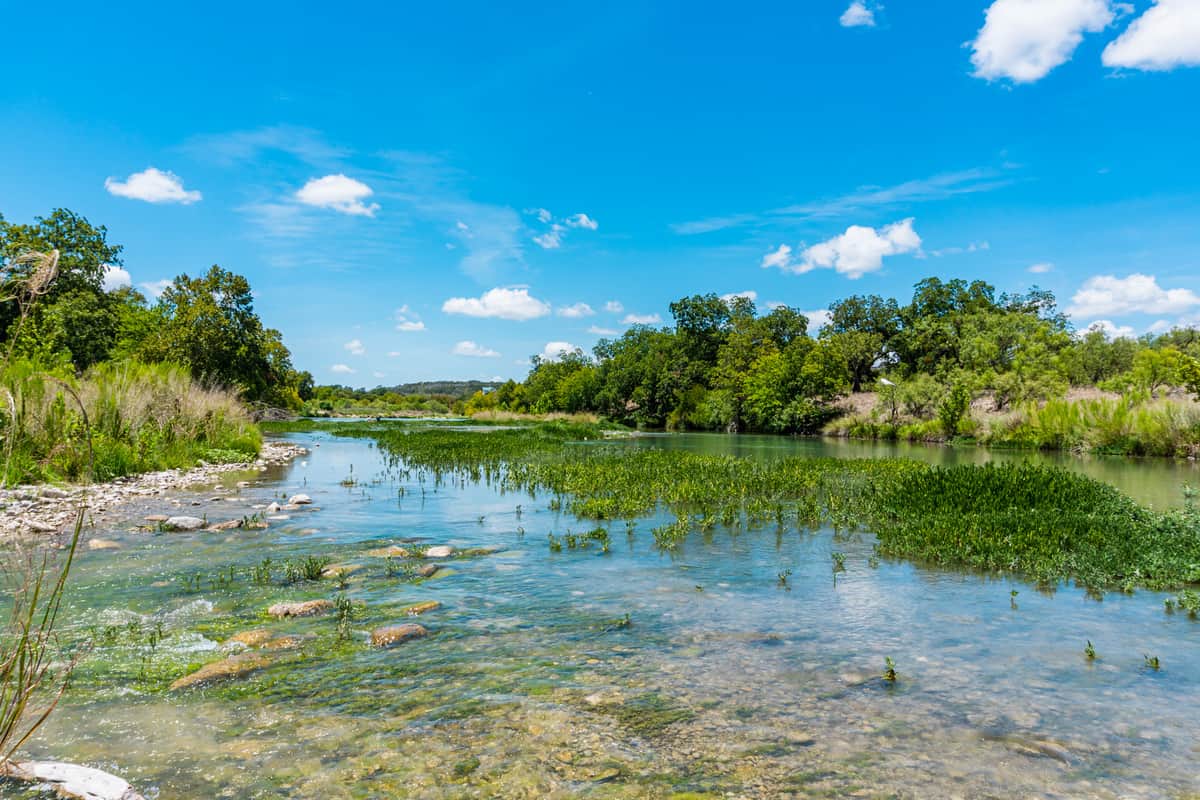 Visit Boones Crossing
Boones Crossing is a great place along the Llano River where you can launch your kayak, tube, or just swim in the refreshing waters. The park also provides a serene environment for hiking, fishing, picnicking, or just relaxing, amidst the tranquil surroundings.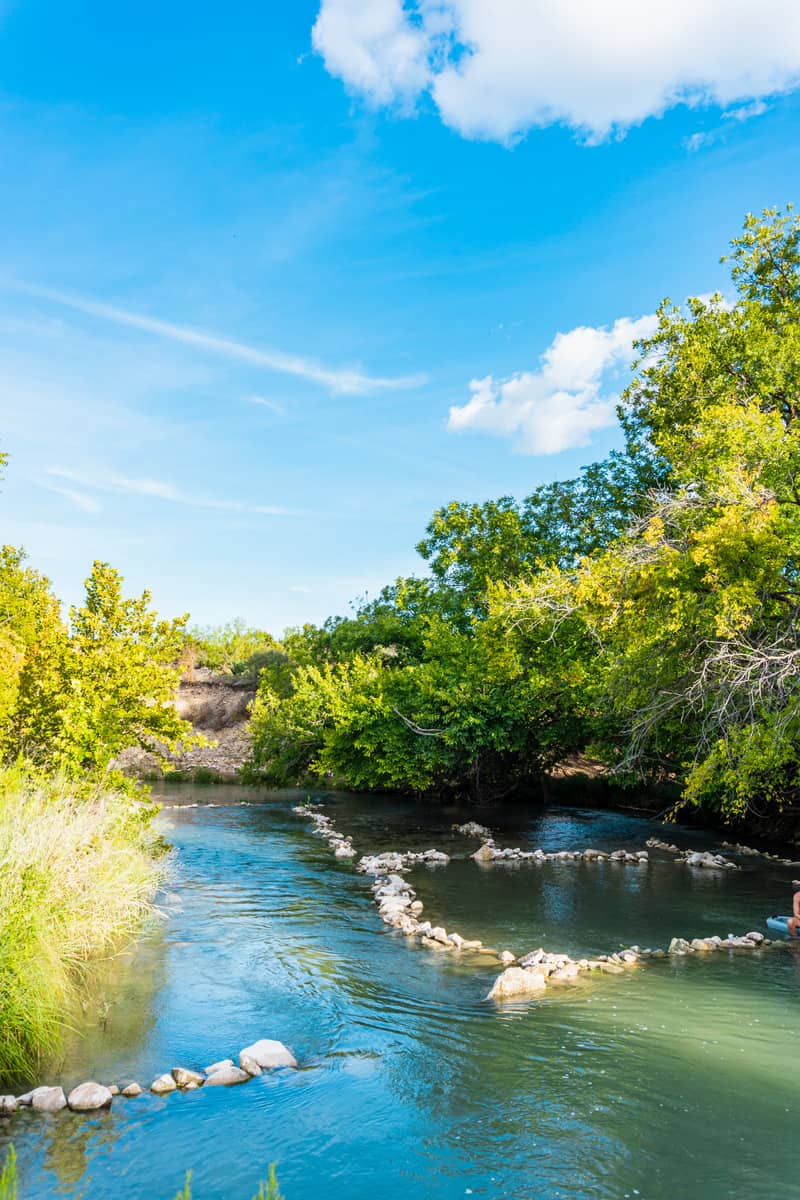 Find this Secret Spot
We found a "secret adventure" where you can kayak or canoe to the falls. You can find parking by the second river crossing (30.3449706, -99.9020585). You must bring your own kayak and it's anywhere from a 2 to 2.5-hour trip upstream and back. Along the way you'll encounter several small rapids and some great spots to stop. Just make sure to stay in the river to avoid stepping onto private property.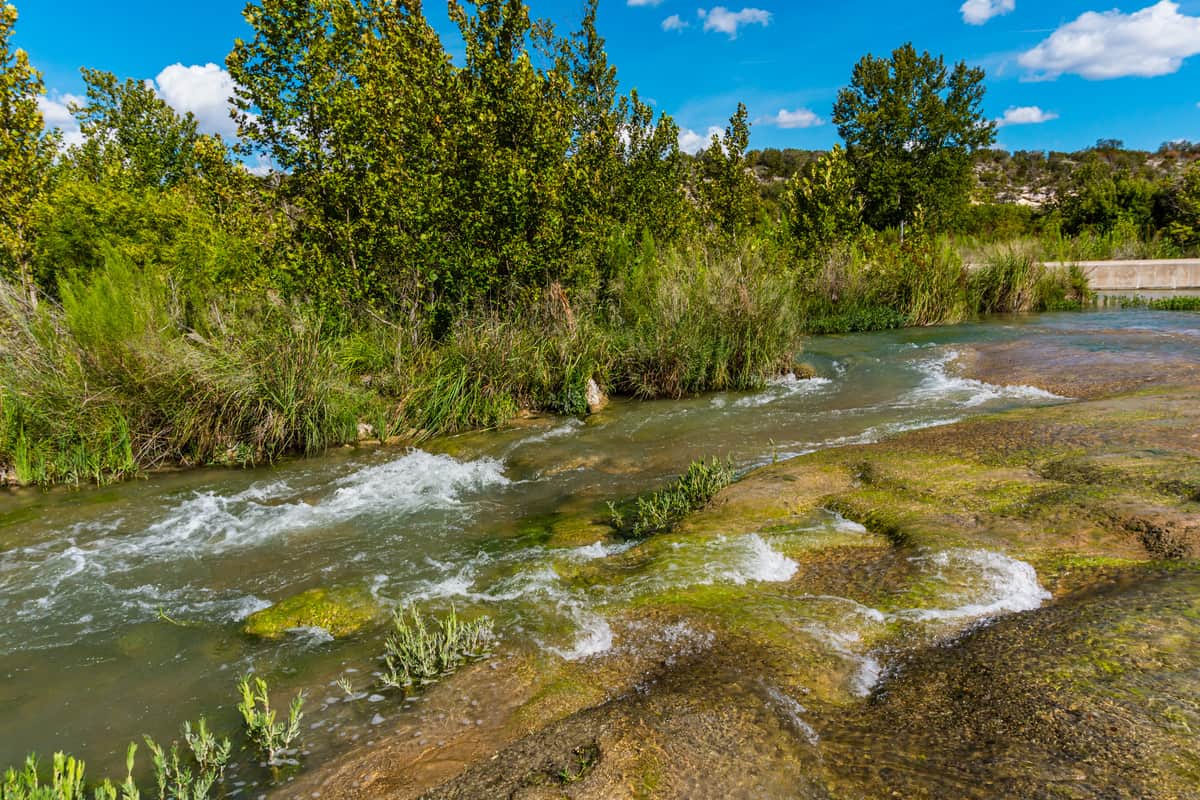 Check Out the View
Lover's Leap (30.4774113, -99.7592325) is a lookout point with a phenomenal view of the rolling Texas hills surrounding Junction. You'll have to park and make the hike up, but the view from the top is well worth it. Be cautious of the edge since it's a bluff covered in foliage, making edge difficult to see if you aren't paying attention.
​Soak in a Natural Hot Tub
One more must-stop for enjoying the water is the "Hot Tub" in one of the nearby towns of Menard. Swim in nature's jacuzzi, named for the way the water bubbles up.
More Things to Do in Junction
If you're looking for something else, in addition to all of the water activities, here are some fun options:
Kimble County Historical Museum: Take a step back in time as the museum tells the story of the early days of Junction and the surrounding area.
Junction Golf Club: Play a round of golf at the scenic 9-hole course nestled in the beautiful Texas Hill Country with rolling fairways and challenging greens.
Deer Horn Tree Sculpture: Visit the unique tree sculpture, a captivating piece of art made of deer antlers, a fun testament to the region's wildlife and natural heritage.
Shopping in Downtown Junction: Explore the charming downtown area of Junction, where you'll find local shops, boutiques, and restaurants. Discover unique crafts, antiques, and eateries.
Where to Eat in Junction
Speaking of eateries, when hunger sets in, there are multiple options along Main Street or around town, so you're sure to find something to take care of those cravings. Here are a few to check out:
Lum's Bar-B-Que: Indulge in their succulent smoked meats, including brisket, ribs, and sausage, all served with flavorful homemade sauces and classic Southern sides.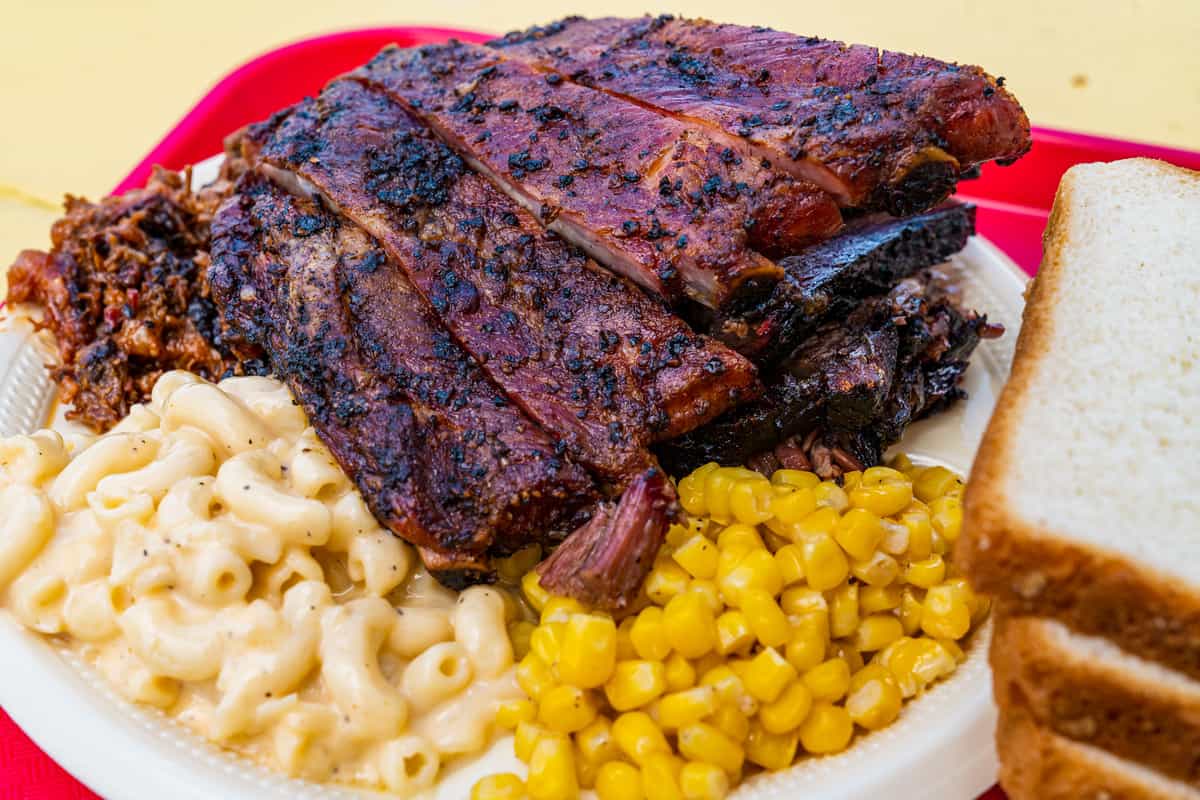 Isaack's Restaurant: From hearty burgers and steaks to delicious Tex-Mex dishes, this family-owned eatery caters to a wide range of culinary preferences.
The Rivers Edge Grill: Their menu features a variety of dishes ranging from juicy steaks and fresh seafood to savory pasta and refreshing salads, all served in a charming picturesque setting with stunning riverside views.
Tia Nena's Mexican Restaurant: At Tia Nena's, known for its authentic Mexican cuisine and warm, welcoming atmosphere, you can experience the flavors of Mexico through a diverse menu that features traditional dishes such as enchiladas, tacos, fajitas, and homemade salsas.
Junction Burger Co: Whether you're craving a traditional burger or a creative flavor combination, this restaurant is sure to satisfy your burger cravings.
Go Two-Steppin'
For a little nighttime fun, put on your dancing boots and head over to London Hall. This iconic dancehall serves as a hub for locals and visitors to gather and do a little two-stepping. With its spacious wooden dance floor, rustic charm, and energetic atmosphere, the London Dance Hall invites you to kick up your heels and twirl to the music.
Whether you're a seasoned dancer or a beginner, the friendly locals encourage everyone to join in the fun on the dance floor. So grab your partner, embrace the Texas two-step, and immerse yourself in the Texas tradition of country dancing at the London Dance Hall.
Camp by the River
If you need a place to stay, the Tree Cabins RV Resort offers a perfect blend of comfort, tranquility, and a touch of rustic charm. Situated right on the Llano River, you're steps away from casting a line or pushing off the shore in a kayak. The cabins are spacious but do not include linens, so be sure to bring some along. Spend the evening gazing up at the stars as you reminisce about the fun adventures of the day.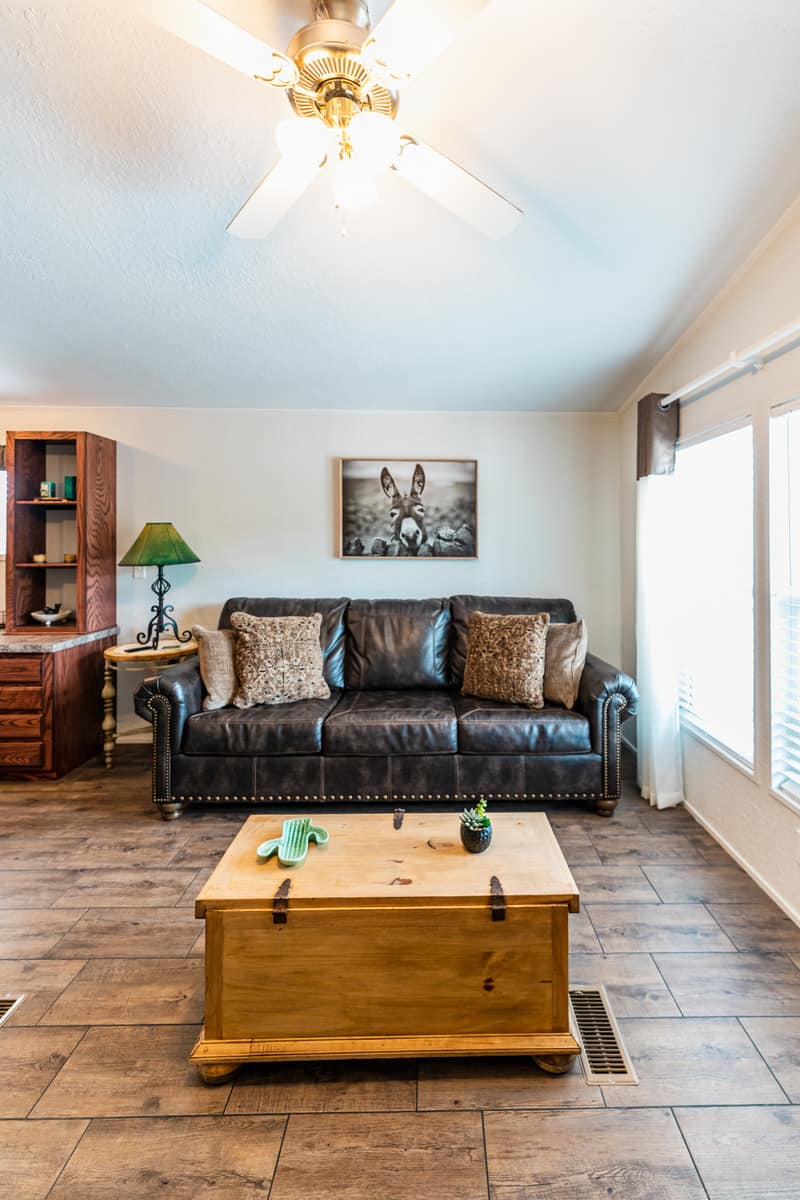 Things to Near Junction
Looking to lengthen your next road trip or turn your day trip into a weekend getaway? Check out these neighboring towns:
Fredericksburg (1 hour) – wine tours, hiking, and German culture
Brownwood (1.5 hours) – eat inside a train car, visit an Wild West town, and explore downtown
Kingsland (1.5 hours) – visit another stretch of the Llano River, Inks Lake State Park, and eat where a slasher film was created
Things to Do in Junction: Final Thoughts
Junction is a perfect example of an underestimated, small Texas town. Located in Central Texas, just an hour from Fredericksburg, is the perfect destination if you're looking to lose yourself in nature or to escape from the every day. It's natural beauty is superior, but be sure when you visit, you leave it better than you found it. This way, future generations can continue to discover its hidden magic.