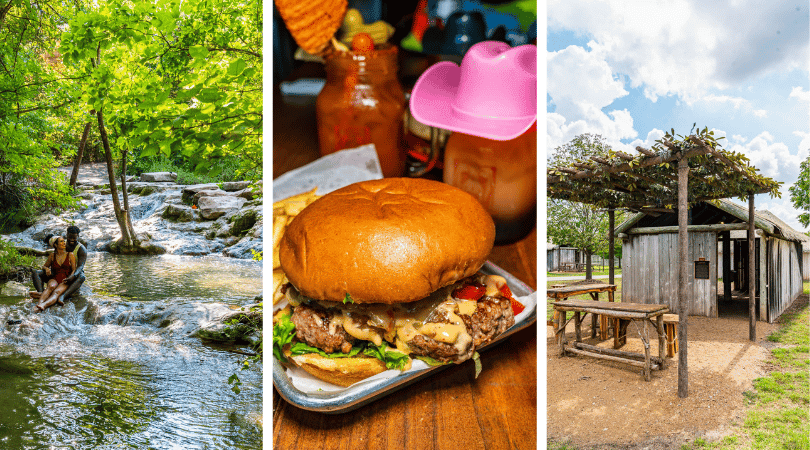 Whether you're looking for a weekend getaway or a 4-day trip, these four small towns in Chickasaw Country will allow you to conveniently travel from Dallas and back without any backtracking. This circular route includes the cities of Ardmore, Davis, Sulphur, and Tishomingo. You'll find everything from casinos, cool places to stay, and wine bars to shopping, outdoor adventures, tasty eats, and so much more!
The list of things to do in Chickasaw Country, Oklahoma is surprisingly long and as relaxing as it is exciting. Each town has its own unique culture, history, and things to do that make it special, so you could easily plan to visit each of these four towns all on their own for a quick getaway as well!
Things to Do in Chickasaw Country: Ardmore, Oklahoma
Explore the Bays of Lake Murray
When you think of things to do in Oklahoma, spending time on the water may not be the first thing that comes to mind. However, Lake Murray Water Sports and Mini Golf has something for every age and all kinds of travel groups, whether you're exploring with friends or family. Have little ones along? Enjoy a game of mini golf, conquer the small-scale inflatable obstacle course, and feed the carp and catfish that come right up to the dock.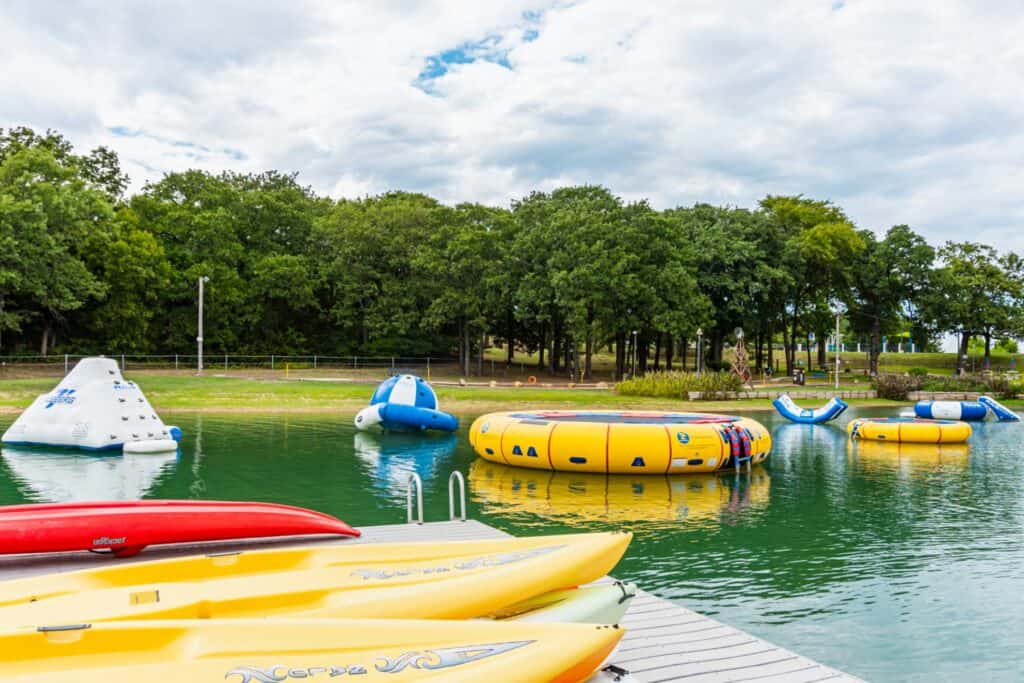 You can also rent everything from paddleboats and kayaks to jet skis and party boats that you can park in one of the lake's many bays. Looking for a laid-back day on the lake? Bring your fishing gear and rent a small fishing boat. Choose from whole day and half-day rentals or rent a jet ski by the hour. If you have the chance, take a jet ski out to see the iconic Tucker Tower from the water, a gorgeous cobblestone building that looks a lot like a castle!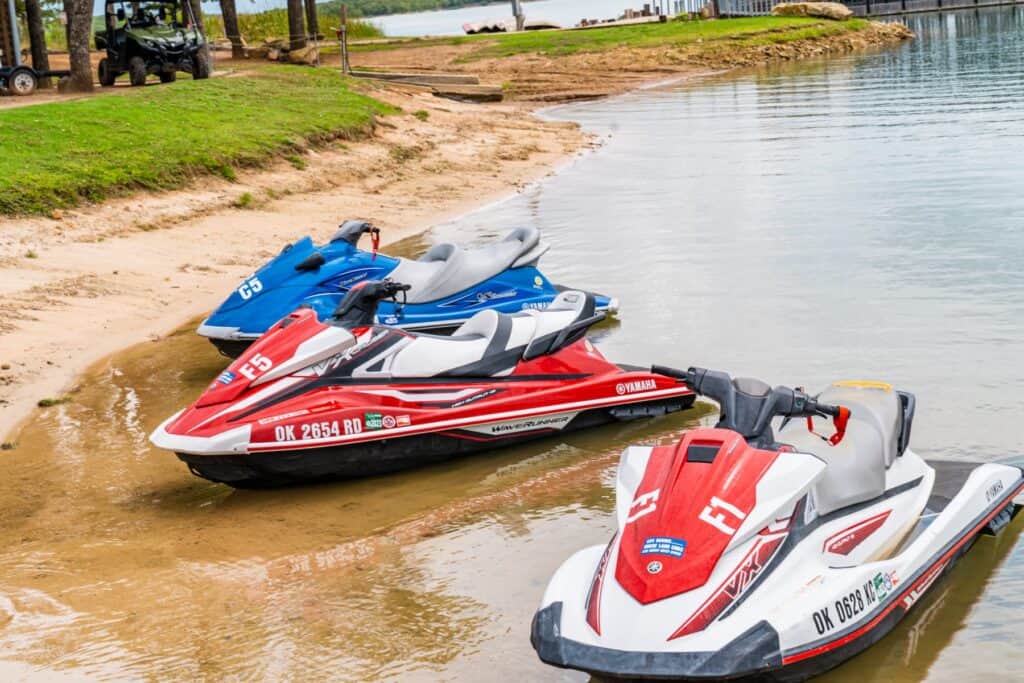 Want to soak up all the time you can on Lake Murray and stay overnight or maybe the entire weekend? Choose from cabins, the lakeside lodge, or their floating cabins on your next weekend getaway to Chickasaw Country!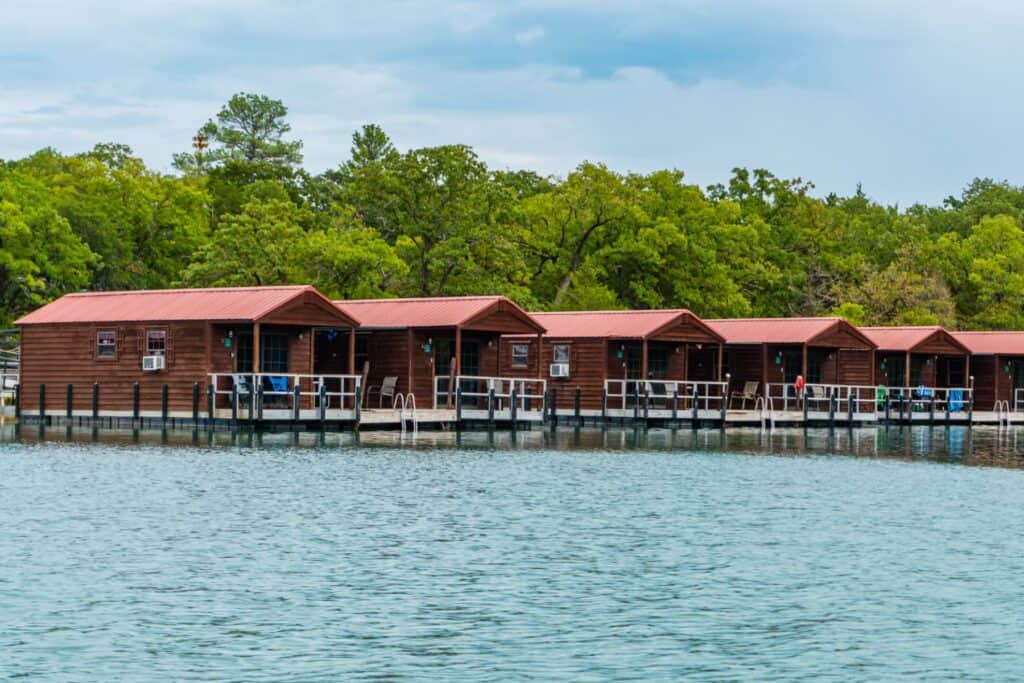 Visit Oklahoma's First State Park
Lake Murray State Park encircles Lake Murray, offering swimming beaches, campgrounds for tents and RVs alike, boat ramps, hiking trails, picnic areas, and even playgrounds if you're camping with the whole family! You can also drive Highway 77, a scenic road that goes all the way around Lake Murray State Park, offering several entry points to the park. No matter if you're looking to stop in Lake Murray State Park for the day or to spend several days exploring its 12,500 acres, this state park should be on your list of things to do in Chickasaw Country! Keep in mind that the park charges a $10 parking fee per vehicle per day, so be sure to purchase the parking passes that coincide with your travel plans.
And its Nature Center
Also housed inside Lake Murray State Park is the Lake Murray Nature Center. You'll learn all about native wildlife, Lake Murray, the history of Tucker Tower, and they even have artifacts and fossils on display! The nature center also offers educational programs and incomparable views of Lake Murray and its state park from Tucker Tower. Make your way up to the top for unobscured views of the entire lake from over 100 feet in the air! Not a fan of heights? There is also a patio that juts out over the lake that is another great place for pictures.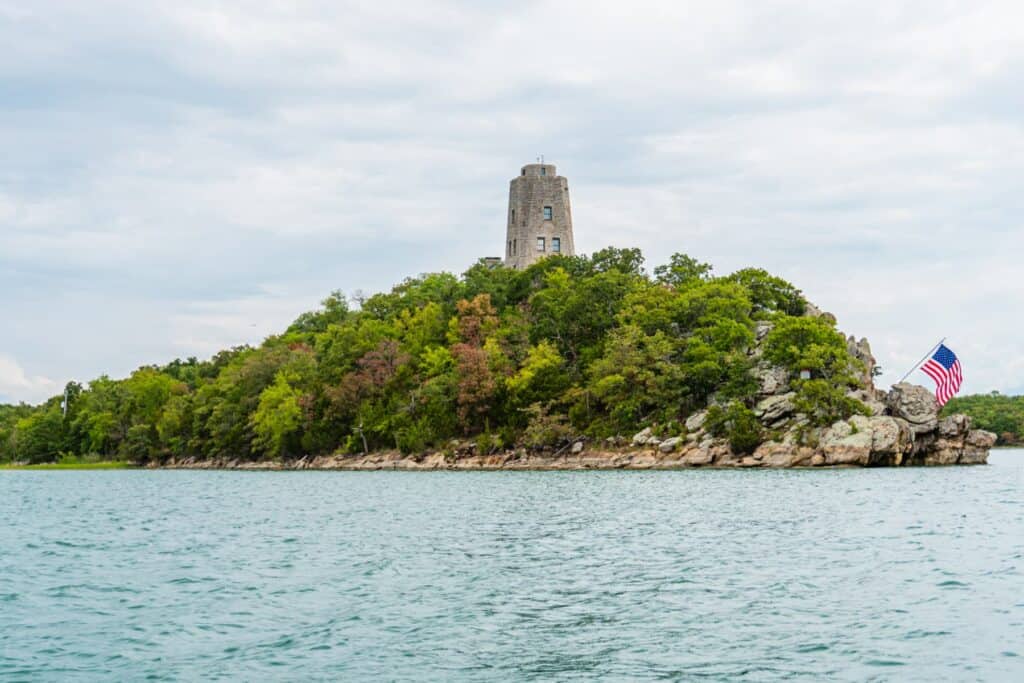 Have a Blast with the Whole Family
Housed inside Regional Park in Ardmore is the Clubhouse, an exciting, expansive attraction with every bit of entertainment you could want to add to your list of things to do in Chickasaw Country. You'll find go-karts, mini golf, an arcade, an outdoor obstacle course, and even an on-site cafe! And that's not all! They also have a seasonal ice-skating rink. Check their Facebook before your next weekend getaway for their current specials.
Shop Around the Depot District
There's always something going on in the Depot District. Supported by the Ardmore Main Street Authority, a non-profit dedicated to the preservation of historic downtown Ardmore, you'll find a variety of events going on, including live music, farmer's markets, and Third Thursday shopping. Whether you're looking for cute boutiques, restaurants, or a fun event to add to your list of things to do in Chickasaw Country, you'll enjoy the community that is fostered in charming downtown Ardmore.
Try the Locals' Favorite Coffee Shop
Main Street Coffee, a local coffee shop that has been serving coffee for over a decade in downtown Ardmore, doubles as the cutest gift shop. Filled with items from Moonflower, a small, woman-owned business, you'll find everything from stickers, mugs, and jewelry to journals and home goods. Voted Best Coffee in 2022, it's a great place to relax and caffeinate before continuing to conquer your list of things to do in Chickasaw Country. Make sure to pick up a unique gift while you're at it!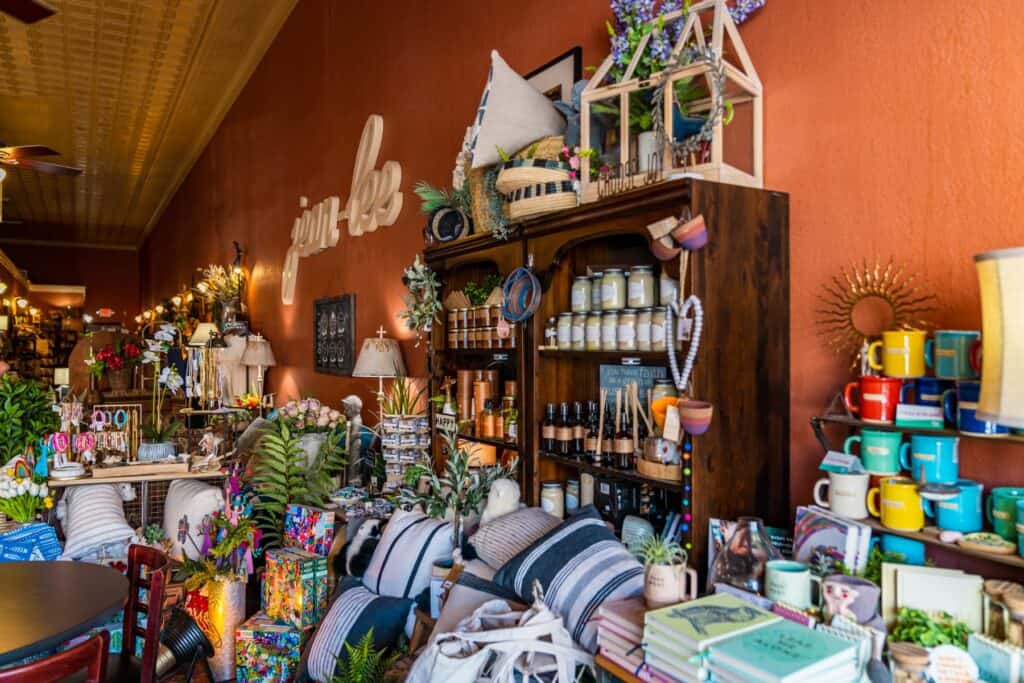 Enjoy Local Brews
Black Mesa Brewing Co. is a veteran-owned brewing company born out of Oklahoma. One of their taprooms, Black Mesa Brewery Taproom II in downtown Ardmore, hosts open mics and themed trivia nights for all ages. You'll also find vinyl records for sale from Cool Tom Records and a striking mural painted by a local artist to complement their diverse and tasty selection of brews.
See a Notorious Piece of Ardmore History
The land where the Depot Park is now has a rich history that dates back to the late 19th century. Ardmore was founded during the Gold Rush and contributed to the transportation of cotton. However, in 1915, a railway car carrying gasoline exploded, killing 50 people and injuring over 400. In response to this tragedy, a train filled with support from North Texas arrived to provide medical care and to rebuild downtown Ardmore. The original train depot was destroyed in the blast and the building there today was built in its place.
After being sold to the Ardmore Main Street Authority in 1998, the depot underwent renovations until their completion in 2001. Today, the Amtrak's Heartland Flyer takes passengers from Oklahoma City to Fort Worth. As for the Mercy Train, after spending 50 years in a nearby park, it was fully restored and returned to Ardmore in 2017. In 2022, the plans for the Depot Park were complete and it is now a central part of downtown Ardmore, hosting events and serving as a reminder of the town's history. It is definitely a meaningful and interesting itinerary item to add to your list of things to do in Chickasaw Country.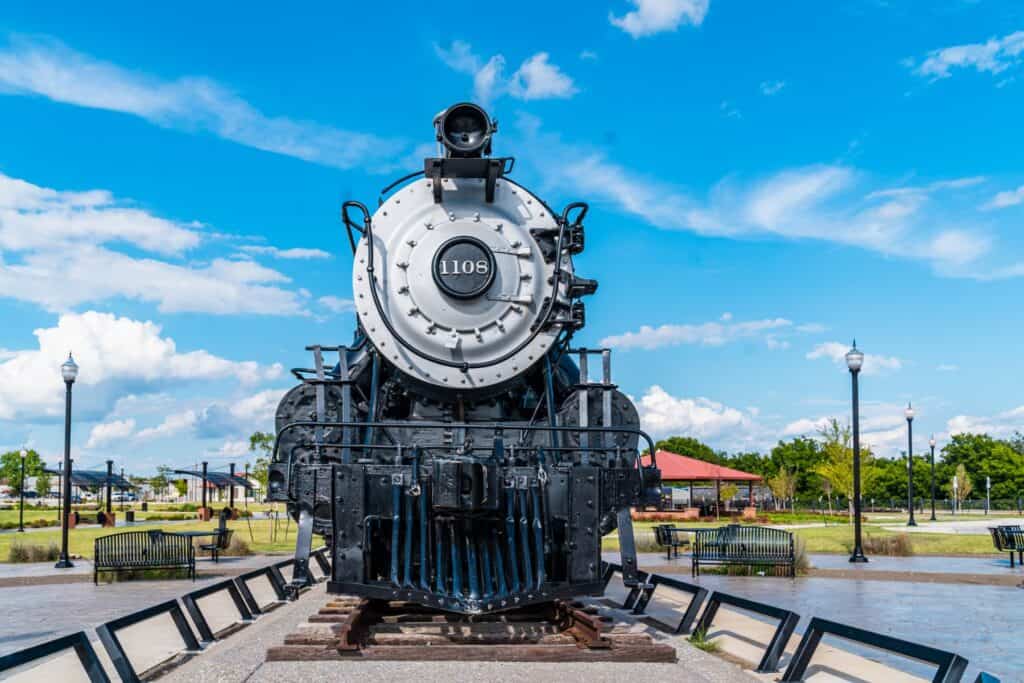 Learn More About Oklahoma
You can learn more about this part of Ardmore's history at the Greater Southwest Historical Museum, which strives to preserve, study, and educate others about South-Central Oklahoma. You'll also find original artifacts as you learn all about the region's roots in agriculture, transportation, early industries like cotton, and more!
Visit this Creepy (or Cool) Doll Museum
If you visit the Ardmore Public Library and ask the front desk about their doll museum, you'll be given a book and escorted to the back of the library. There, you'll find a historic collection of dolls donated in 1971 by late Ardmore resident, Eliza Cruce.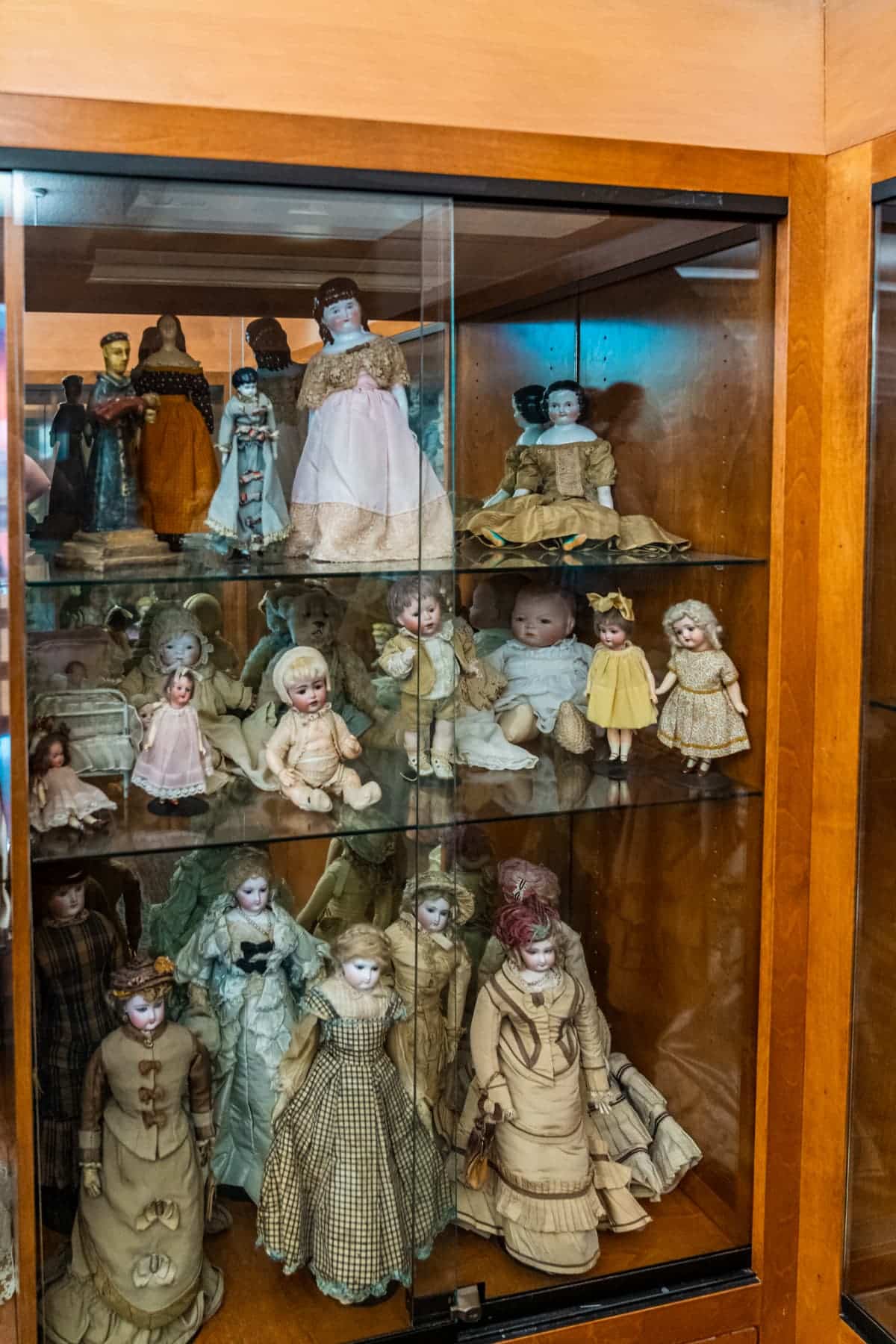 Have a Good Time at this Local Favorite
The Dew Drop Inn, a stylish bar in downtown Ardmore, is serving up an everchanging array of pretty cocktails and tasty eats. You'll have the chance to try items like White Queso Tater Tots, a Smoked Trout Croissant sandwich, Saturday Brunch items like the Dew Dog (a hot dog topped with chili, cheese, cream cheese, and crumbled potato chips), and classics like street tacos and nachos. Looking to catch the game while you're in town? This is the place to be, so make sure to add it to your list of things to do in Chickasaw Country!
Things to Do in Chickasaw Country: Davis, Oklahoma
Visit the Chickasaw Nation Welcome Center
If you're looking for gorgeous, one-of-a-kind souvenirs or perhaps some free brochures with more information about all the things to do in Chickasaw Country, the Chickasaw Nation Welcome Center is the perfect place to stop. You'll find information on wine trails, state parks, river sports, and more! The Welcome Center also showcases First American artwork, Made-in-Oklahoma products, and the staff are so helpful!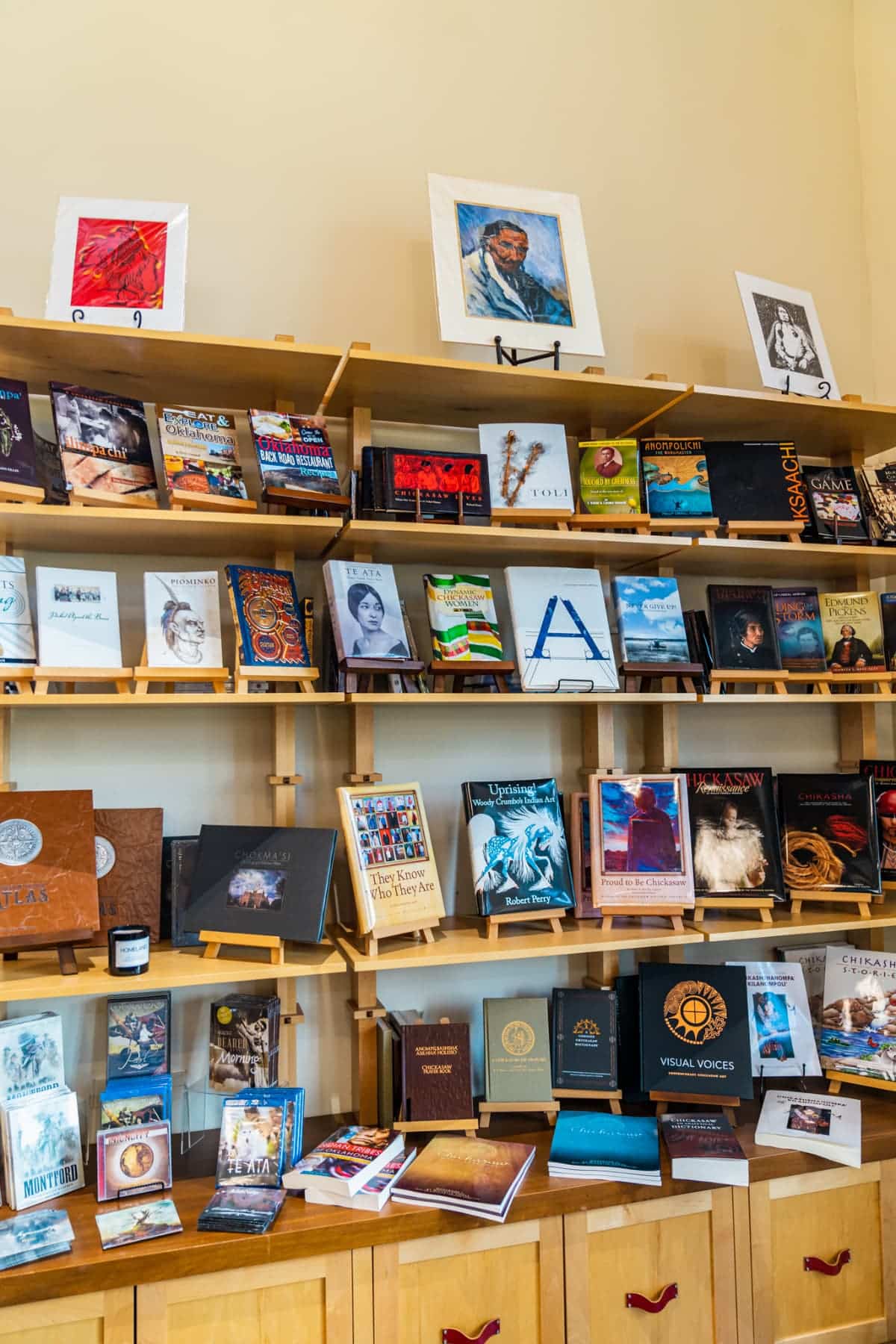 Snag Gourmet Chocolates Made in Chickasaw Nation
Just across the way from the Chickasaw Nation Welcome Center is Bedré Fine Chocolates. You'll be welcomed with a sample, and you'll find shelves full of chocolate bars, melt aways, cookies, bark, and gift baskets. During the week, usually between 9am and noon is best, you can watch them make chocolates next door as well.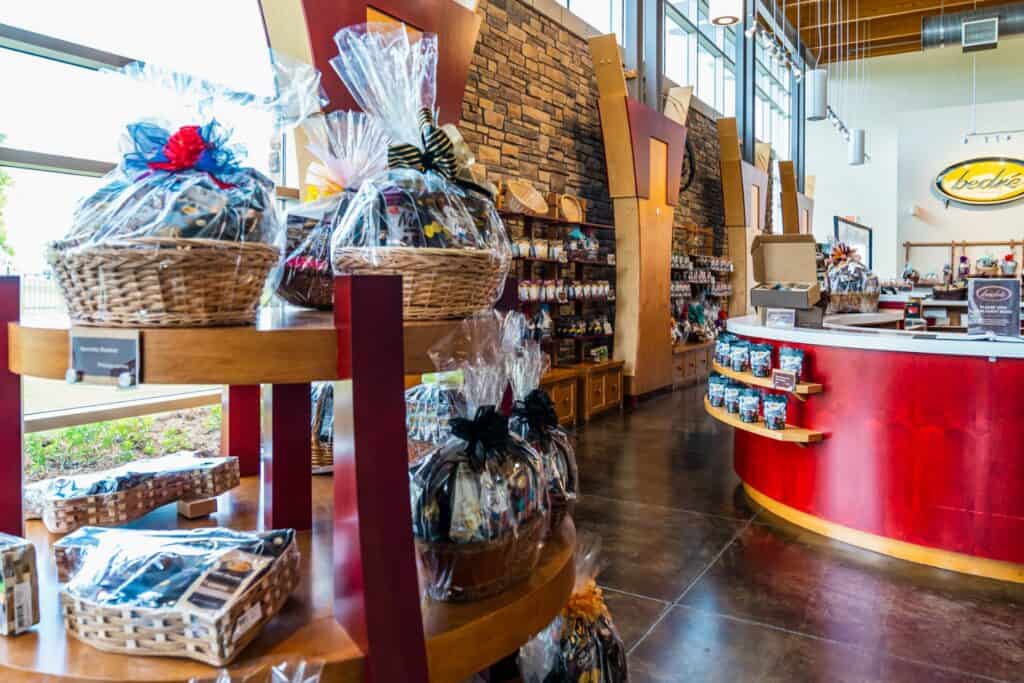 Swim Under the Largest Waterfall in Oklahoma
Davis, Oklahoma is notoriously known as the home of Turner Falls and its two natural swimming pools. You can visit a historic castle, which was originally built in 1930, listen to the rushing water of the falls, and soak in the gorgeous blue-green streams that flow beneath it. And your adventure doesn't have to end there! Turner Falls Park, on which Turner Falls resides, is also notorious for its rock formations, caves, hiking trails, and abundant native wildlife. Spend more time exploring these 1,500 acres of wilderness and book anything from a traditional campsite to a cabin.
Stop for the Locals' Favorite BBQ
You'll likely be able to tell how much Chickasaw Country locals love Smokin' Joe's Rib Ranch by how busy the dining room can be. We went around lunch time on a Saturday and there were about 10 people in front of us. Once we ordered, the wait for our food wasn't very long, although there weren't that many tables available. When temperatures are cooler, there is also a lot of seating outside.
We enjoyed their BBQ Sandwich with potato salad as a part of their Sandwich Special. We also ordered their Smoked Ribeye Dinner and their Smoked Hot Wings with a side of fries, corn on the cob, fried okra, and Texas toast.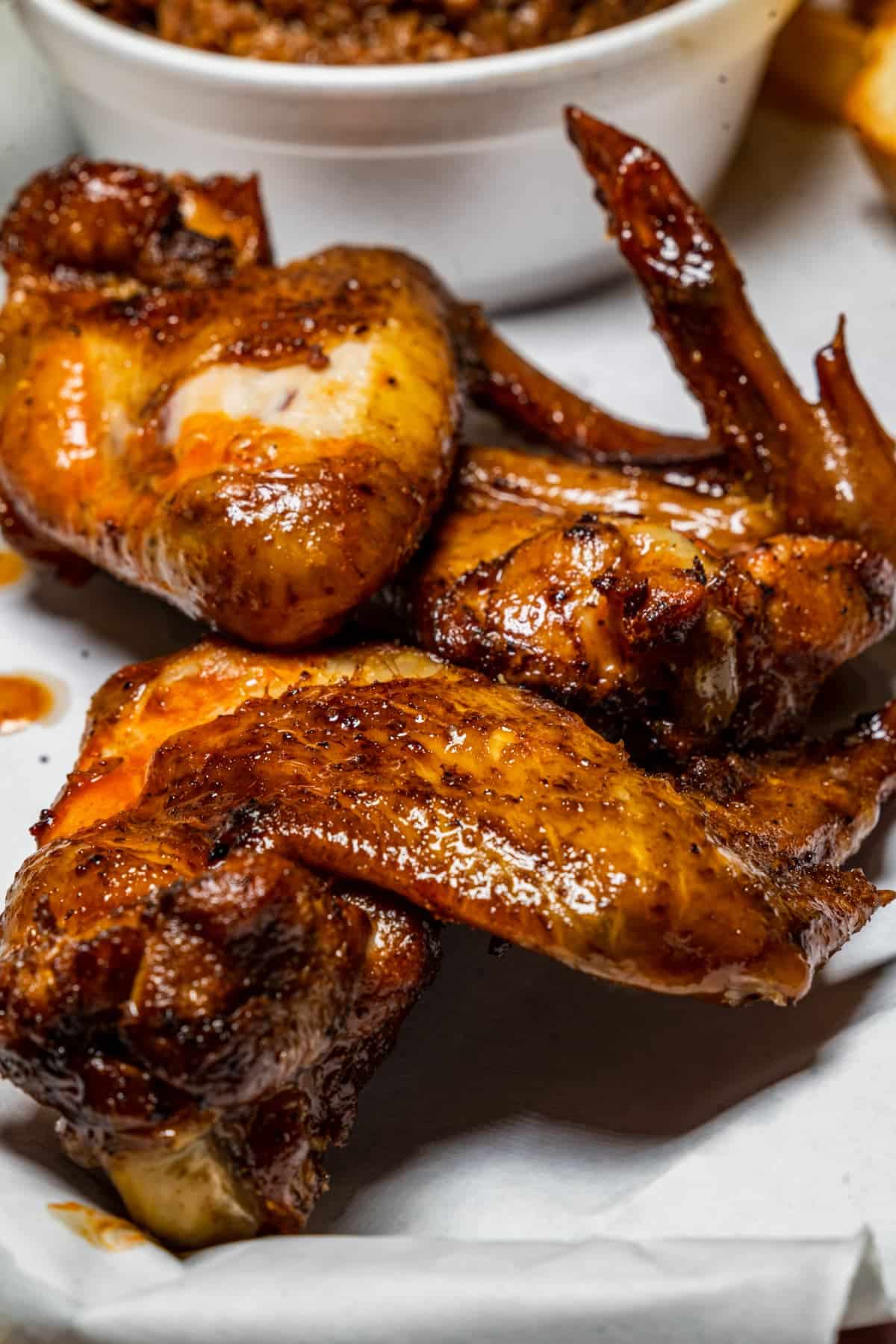 Things to Do in Chickasaw Country on Your Way to Sulphur, Oklahoma
Visit the Toy and Action Figure Museum
If you're bringing along kiddos or you're a big kid yourself, make a stop at the Toy and Action Figure Museum on your next weekend getaway. On your way to Sulphur from Davis, drive just 20 minutes further north to Pauls Valley and you'll be amazed what you'll experience here! It's a great, affordable itinerary item to add to your list of things to do in Chickasaw Country. Their hours do vary seasonally, so be sure to check their hours before you make the trip.
What originally started as a joke became a real success after local toy designer and collector, Kevin Stark, joked about starting a museum. His plan was to fill it with his own collection of action figures he'd accrued and created over the years. Since the idea's inception in 2000, the Toy and Action Figure Museum now consists of more than 13,000 action figures, 80 to 90% of that being Stark's own collection (and that isn't even all of it). Much of it is still in storage! You'll find items from across all of your favorite universes, from Star Wars and Doctor Who to DC, Marvel, and even some original pieces created by Stark and other creators!
Things to Do in Chickasaw Country: Sulphur, Oklahoma
Stay at the Artesian Hotel, Casino & Spa
No matter who you're traveling with through Chickasaw Country, whether it is with your significant other, your family, or a group of friends, there is something for everybody at the Artesian Hotel, Casino & Spa. You don't have to gamble either to make the most of your stay here!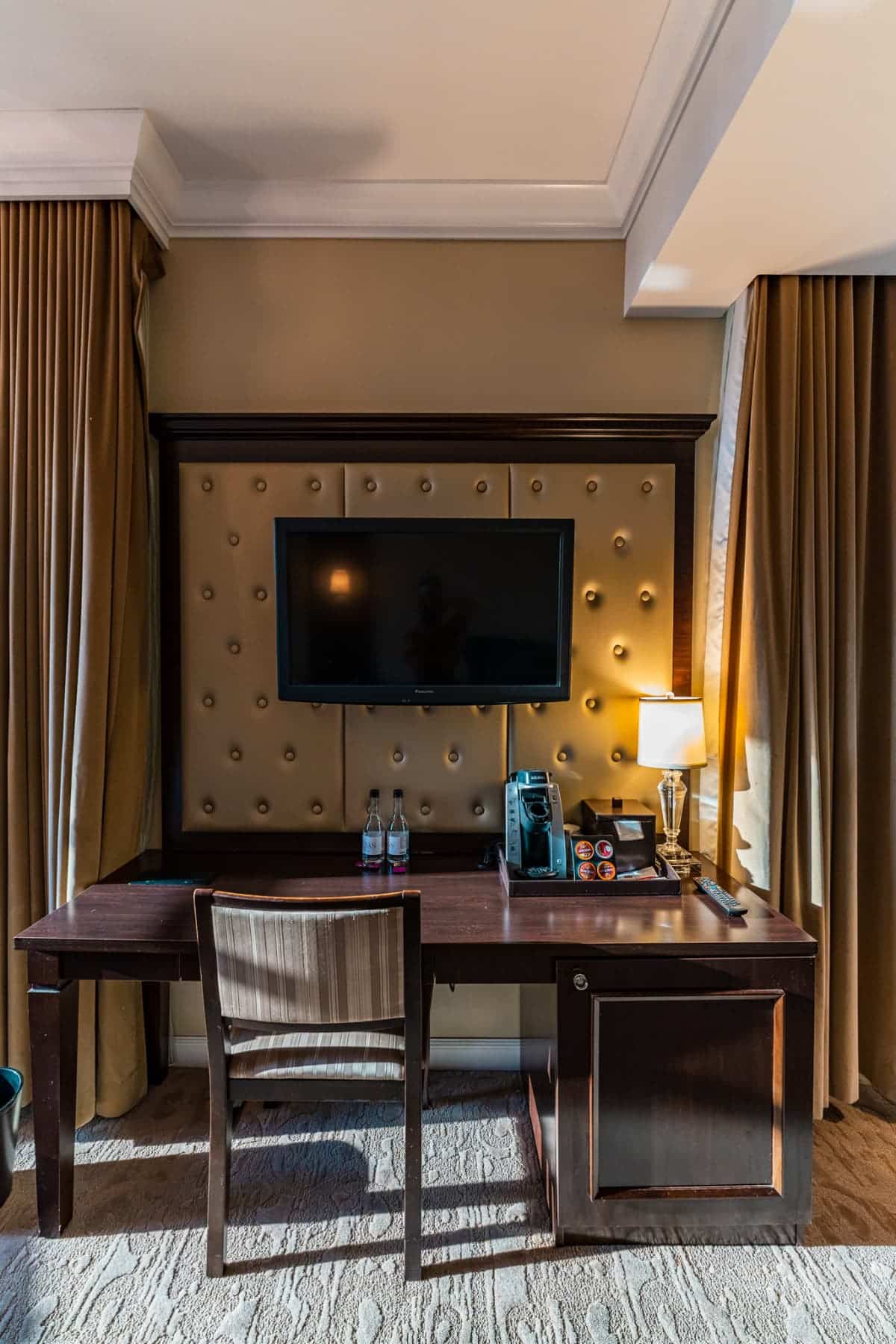 The Artesian is connected to a variety of shops and is also surrounded by things to do like exploring the Chickasaw National Recreation Area, the ARTesian Gallery, and the Chickasaw Visitor Center. Downtown Sulphur isn't far either for some added adventure and a little more shopping.
On-site you'll also find a spa, an indoor-outdoor pool, and an indoor bathhouse with a relaxing waterfall and a whirlpool. Whether you're looking to relax or entertain the littles ones, everyone will enjoy their stay. Keep reading for more information about the Artesian and things to do in Chickasaw Country nearby.
Book a Massage
At the Sole'renity Spa at the Artesian, we enjoyed the Signature Couple's Massage, which included a 50-minute body scrub and shower followed by a 50-minute massage, but all ages and group varieties are welcome. You can also indulge in the steam rooms and saunas, as well as services like a hot stone massage, a pedicure, facials, and more! See their site for promotions and pricing.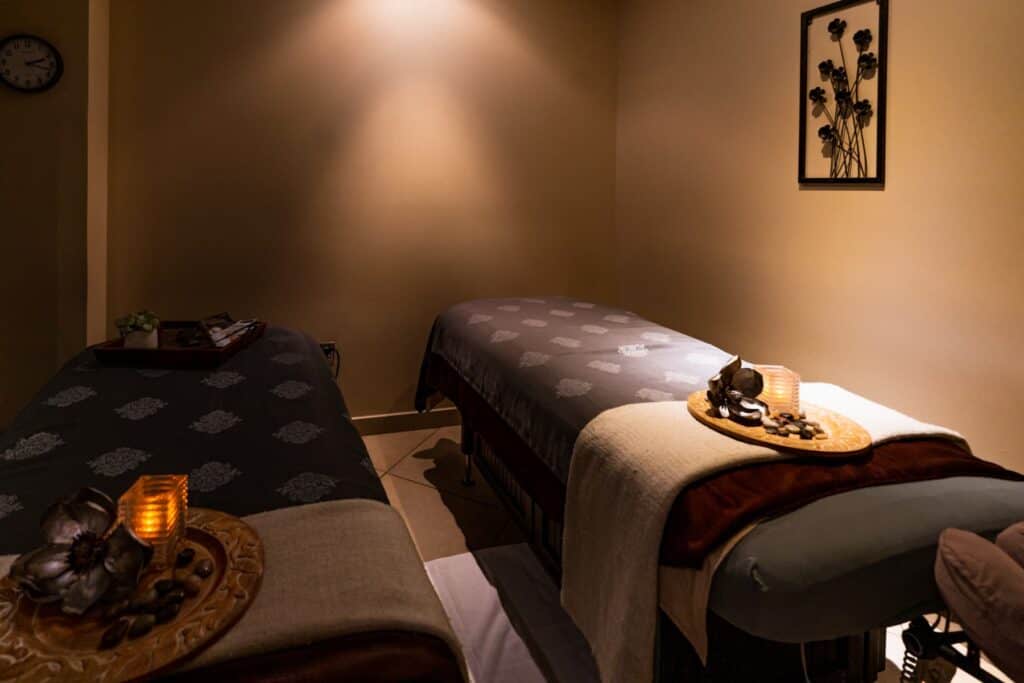 Enjoy Breakfast and Dinner On-Site
The Springs is the Artesian's sit-down restaurant, serving breakfast, lunch, AND dinner. Keep in mind that breakfast is only served from 8am until 10:30am daily. For breakfast, we enjoyed the City Breakfast, their French toast, and the Huevos Rancheros Chorizo. As for their lunch/dinner menu, we ordered the Citrus Glazed Salmon with Mexican Elote Style Creamed Corn, as well as their Sirloin Steak, topped with a delectable herb butter, and served with mashed potatoes and carrots.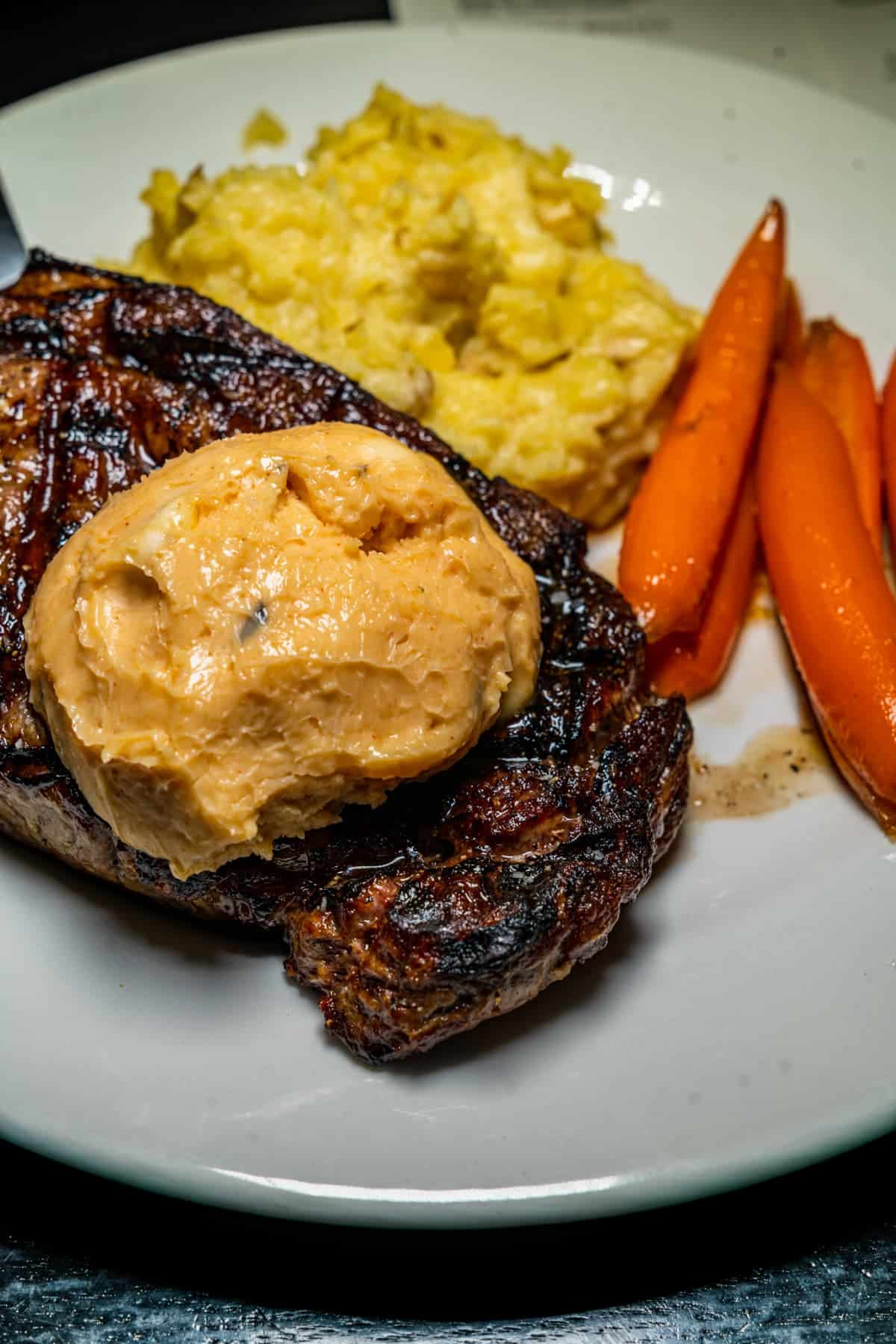 Sip on a Cocktail
The Fountain Club will make you feel like a Hollywood celebrity with their elaborate décor and their relaxing, but refined, atmosphere. Choose from small bites and sandwiches, plus feature drinks and a full bar.
Grab Ice Cream at this Retro Cafe
The Bedré Cafe is one of the many things to do in Chickasaw Country around the Artesian Hotel. Open from 7am to 7pm daily, this 50's style, retro themed coffee and ice cream shop has beautiful chrome ceilings with ornate designs and even a juke box! Choose from their coffee drinks and specials, along with filled croissants, breakfast burritos, and baked goods for breakfast. Then come back again and pick up an afternoon snack or dessert from their selection of ice cream, chocolates, smoothies, and sandwiches.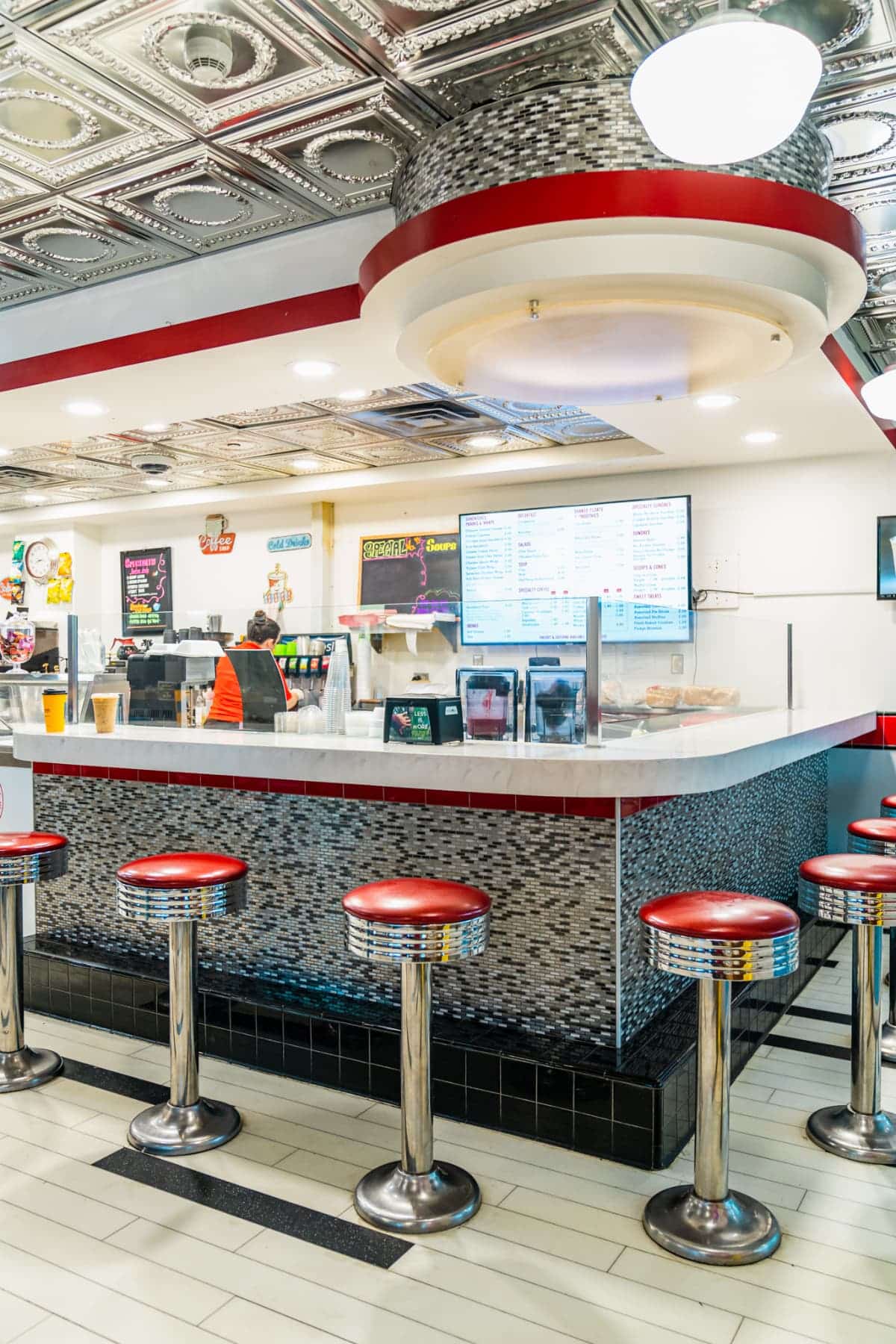 Hike the Chickasaw National Recreation Area
A short drive from the Artesian Hotel is the Chickasaw National Recreation Area. Start out at the Travertine Nature Center for brochures, convenient parking, live animal exhibits, and more information about the Chickasaw National Recreation Area. You'll discover several hiking trails that range in length and difficulty, refreshing swimming areas, waterfalls, and a variety of native wildlife. There is also a place where you can park and see the bison along the main road without having to do any hiking, but they aren't there at all hours of the day.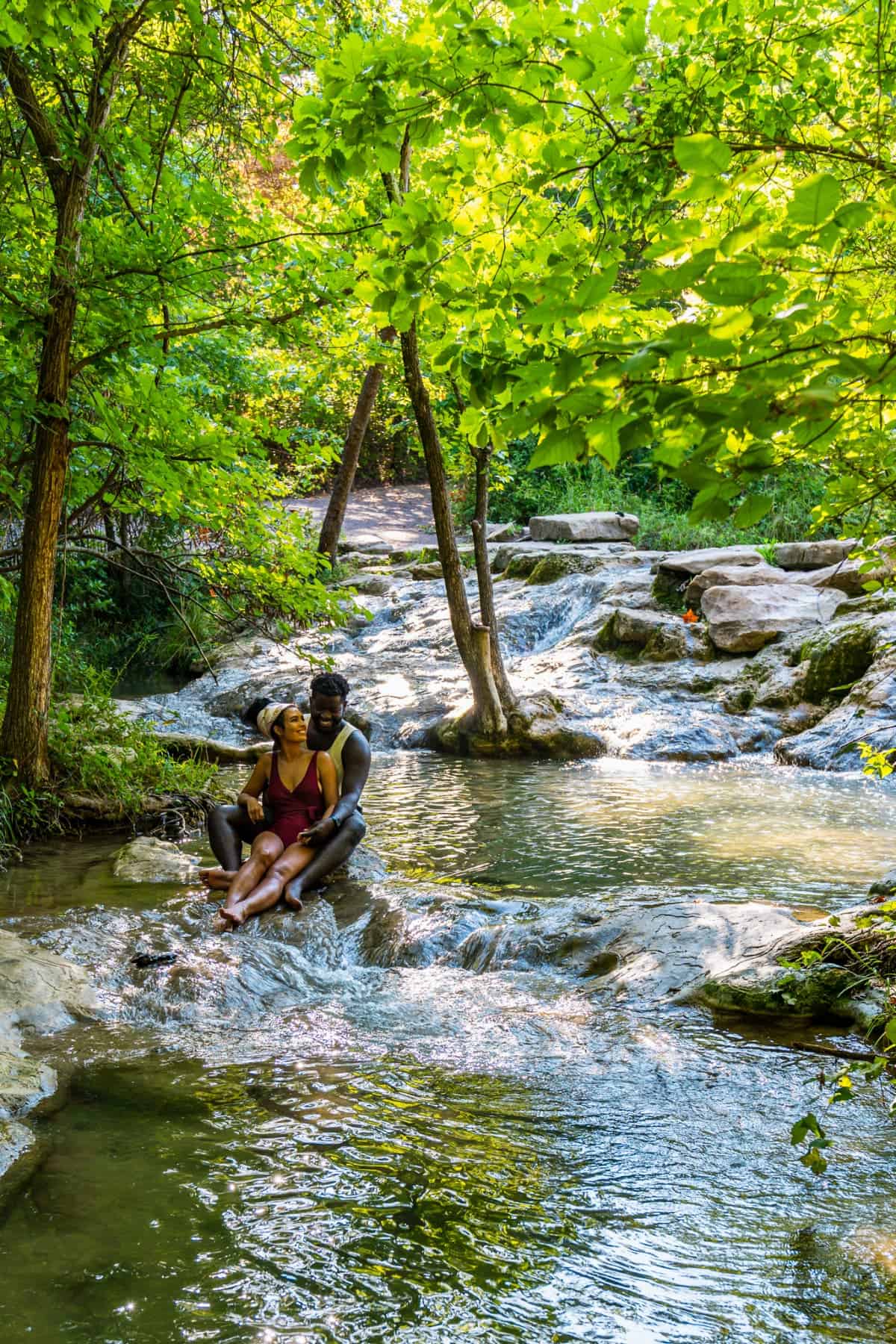 Bromide Hill Trail: hiking, mountain biking, birding, and you're able to get to both the Bison Viewpoint and the Bromide Overlook along this trail.

Length: 2.4 miles
Total Time: about 1 hour
Difficulty: Moderate
Dogs allowed on a leash
Travertine Creek Trail: hiking, fishing, running, and you'll come across gorgeous, flowing water, like Garfield Falls and Bear Falls.

Length: 2.8 miles
Total Time: about an hour
Difficulty: Easy
Dogs allowed on a leash
Buffalo and Antelope Springs Trail: birding, hiking, running, and you'll walk along Travertine Creek to get to Buffalo and Antelope Springs, natural springs that feed into the creek.

Length: 3-mile loop
Total Time: about an hour
Difficulty: Easy
Dogs are NOT allowed on this trail
Keep in mind that once all parking spots are full at the nature center, you will not be able to park until someone leaves. You can choose to park along the main road and access the trails by walking, but it may add some distance and time to your hikes. This, however, is only an issue during the summer on weekends and holidays.
Find Niagara Falls in Oklahoma
If you aren't looking to hike, but you'd love to go for a swim and take some memorable waterfall photos while in Chickasaw Country, Little Niagara Falls is easily accessible from the main road. Park your car and either come in your bathing suit or you can change inside the nearby restroom. The temperature of the water is the same year-round, even in the stifling summers. Bring a snack or a packed lunch to enjoy at the nearby picnic tables if you're wanting to spend a few hours swimming. Little Niagara is also a great place to close out a hike and cool off!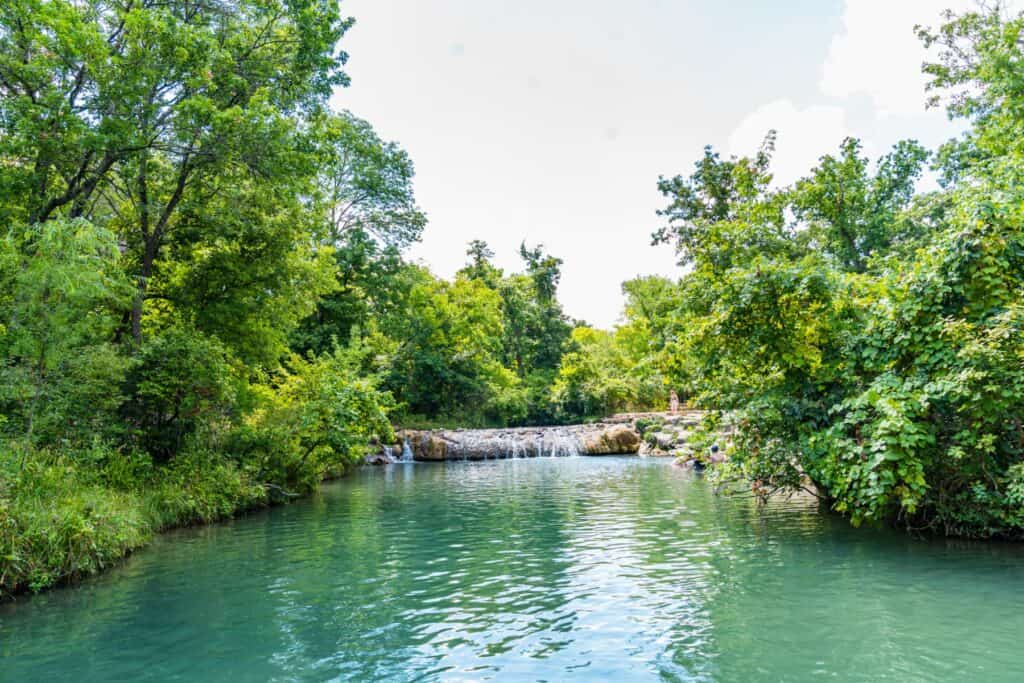 Buy Museum Quality Art
The ARTesian gallery, just across the street from the Artesian Hotel, is filled with gorgeous art that you have to see. The first part of the gallery features mosaics and oil paintings. Another room has handmade jewelry, baskets, embroidered hats, skateboards, traditional pieces, tools, and even baby moccasins on display. Many of these items are for sale too!
Behind the main gallery is another hallway lined with art studios and working artisans creating items like woven tapestries and pottery. It is also filled with amazing bronze statues, acrylic artwork, sketches, quilts, and other various kinds of Chickasaw and native-made artwork. Before you leave, browse their shop for some art supplies to take home with you! The ARTesian gallery also hosts various events with featured artists, along with art classes where you can learn to work with various mediums.
Find More Information About Chickasaw Country
Also located just a short walk from the Artesian Hotel is the Chickasaw Visitor Center. You'll get to see native made jewelry and art for sale from rotating, featured, Chickasaw artists, along with traditional Chickasaw clothing and information about the history of Sulphur. Additionally, there is a gift shop with your typical souvenirs, as well as brochures with information about things to do in Chickasaw Country.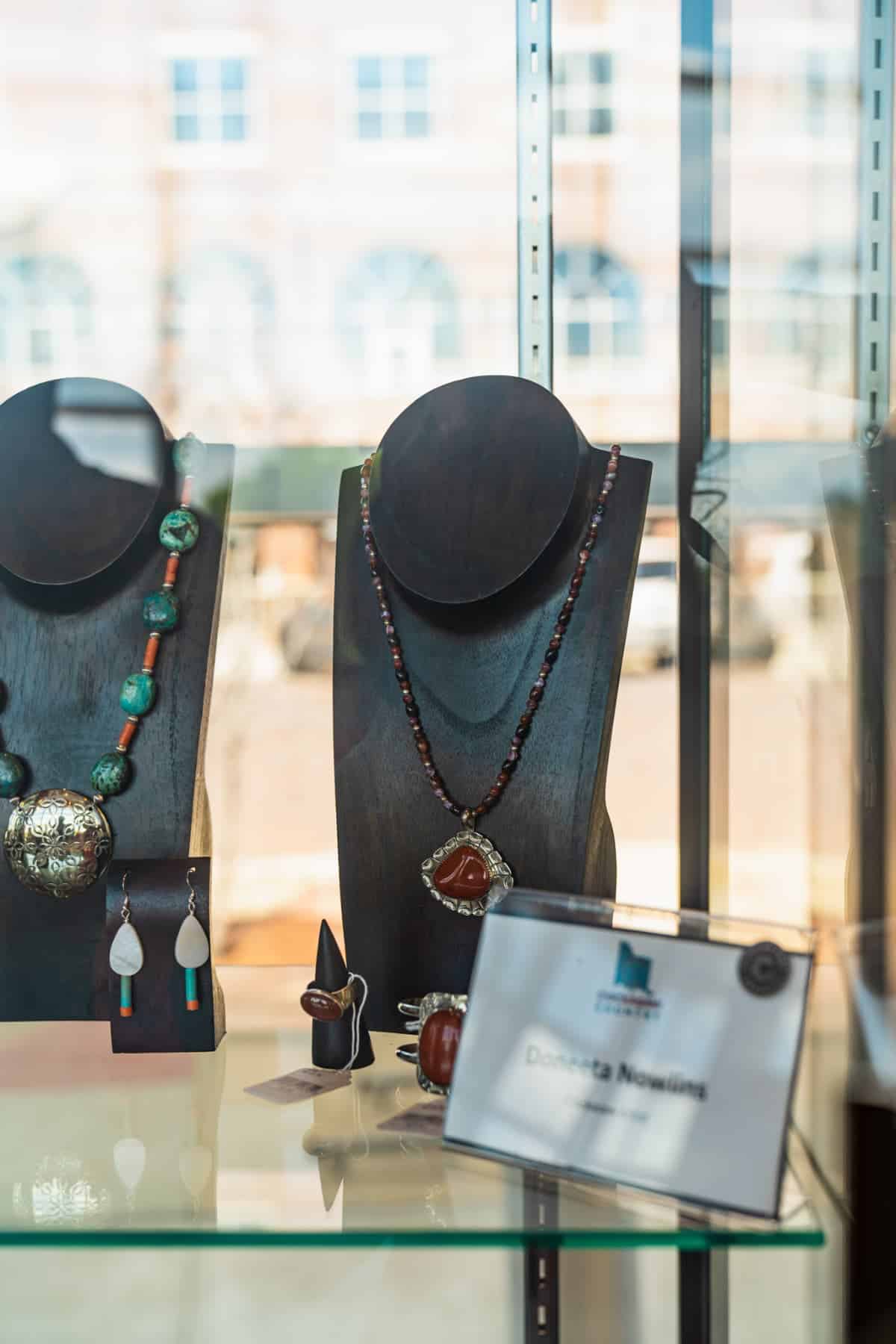 And Learn all About the People of Chickasaw Nation
I highly recommend visiting the Chickasaw Cultural Center if you can. There is so much to learn about the history and culture of the Chickasaws. If you are able to schedule a tour, their knowledge will add so much value to your experience, especially because story telling is an important aspect of their culture.
You'll begin with a video inside of a traditional Chickasaw home that describes the four seasons of early Chickasaw history. When the video is over, the screen will lift and you'll walk into a realistic nature exhibit with holographic animals and flowing water. There are also several interactive and hands-on exhibits about the Chickasaw culture and lifestyle. You'll be able to touch items like their traditional instruments and even animal pelts.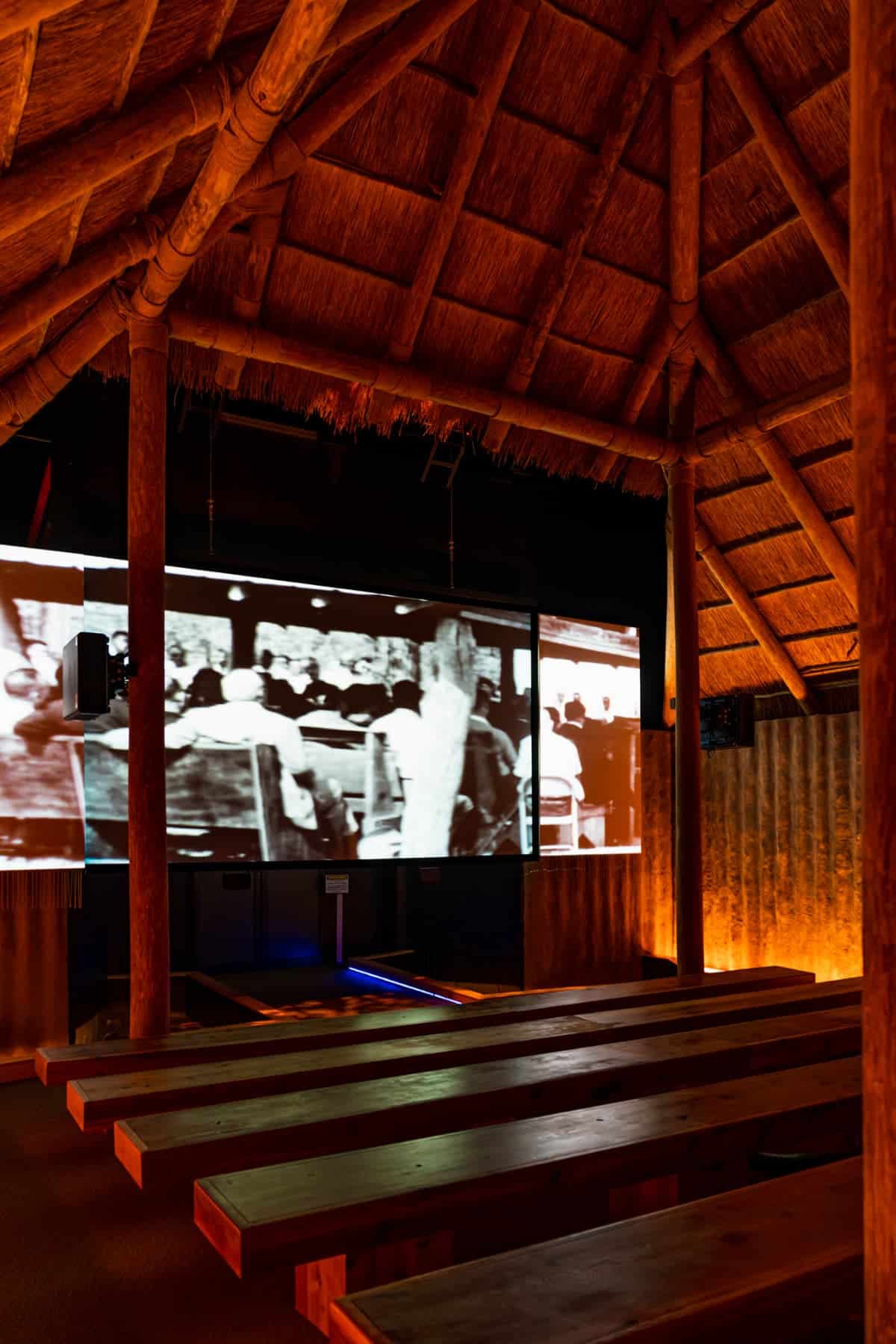 Attend a Stomp Dance
While you're visiting the Chickasaw Cultural Center, you're also invited to attend a traditional Chickasaw stomp dance. Additionally, they'll tell you all about the instruments and significance of each of the dances. Then you're free to walk around the replica of the Chickasaw village. You'll see displays of structures like their seasonal homes and the corn cribs they used to store their food.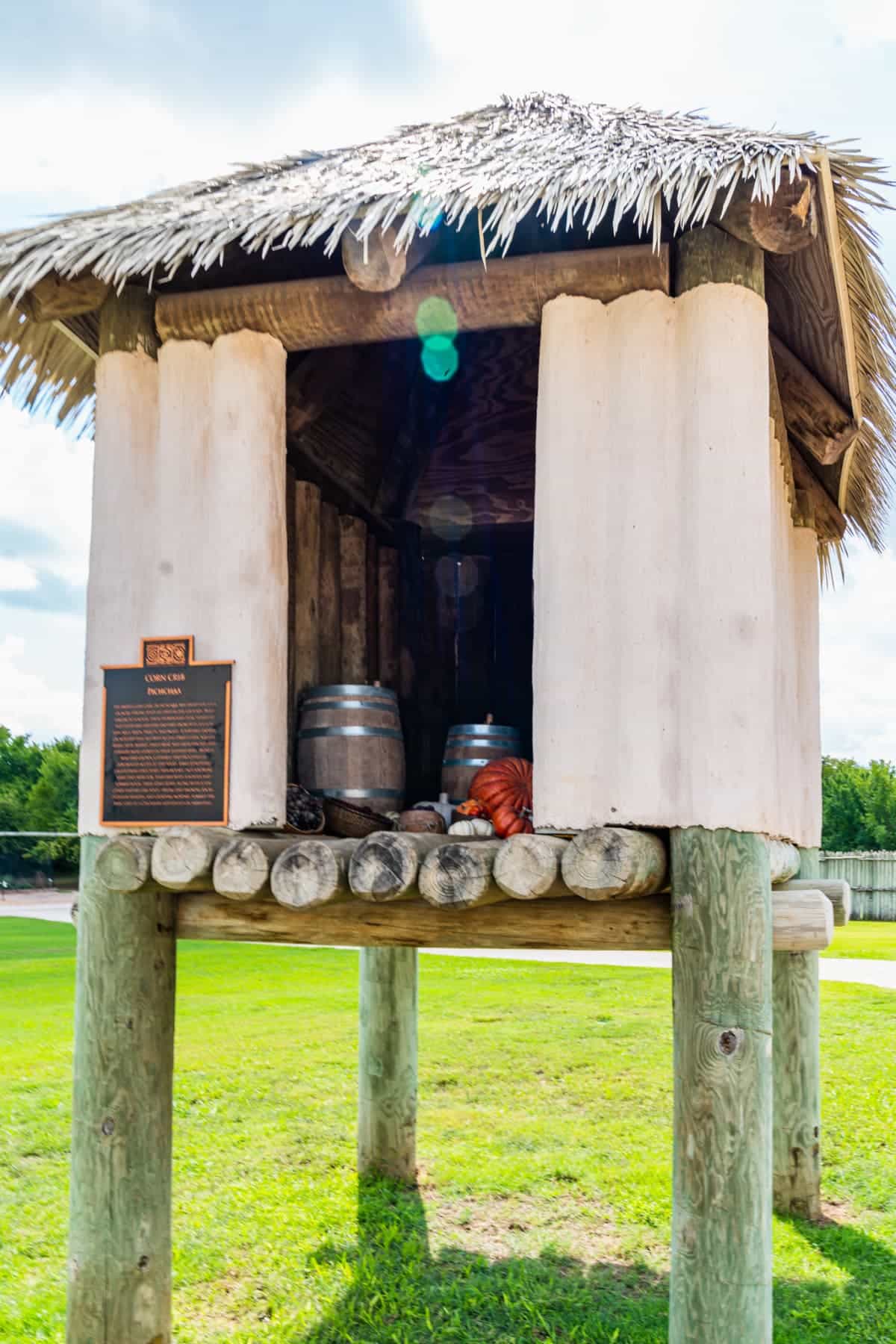 Take Home Fresh Herbs and Vegetables
Just behind the Chickasaw village at the Cultural Center is the Spiral Garden. On the outside are the "Three Sisters," where corn, beans, and squash grow together. The further in you go, the more herbs, vegetables, pollinator-friendly plants, and medicinal plants you'll find, including some you may have never heard of. You're free to pick what you'd like and to taste things as well! We got to try Elderberries and Stevia while we were there, and we loved the smell of the Lemon Basil!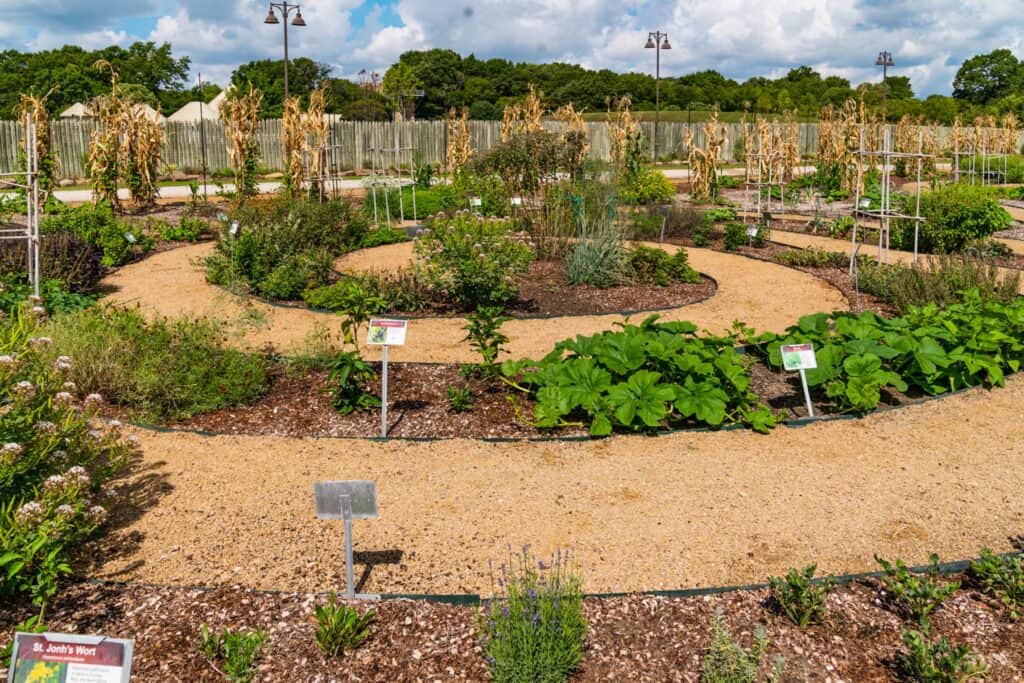 Have a Tasty, Sit-Down Lunch
If you get a little hungry on your next weekend getaway, The Table comes highly recommended. Located in downtown Sulphur, inside the boutique Mix Mercantile, you can tell this farmhouse style, sit-down restaurant is a local favorite. The staff knows their regulars well and the atmosphere inside is so homey. We were surprised we could seat ourselves, but if you're traveling with a larger group, it might be best to make a reservation to avoid having to wait on a table.
We ordered the Reuben, the Peachy Bacon Sandwich, and the Grilled Cheese with the Avocado Caprese and a raspberry vinaigrette. The Grilled Cheese was perfectly toasted and so buttery! It was so cheesy that it pulled and stretched when you bit into it. There is also a kid's menu and changing daily desserts.
Then Do Some Shopping
The Mix Mercantile is a cute, Southern style boutique in downtown Sulphur that sells clothes, various accessories, baby clothes, home goods, and more! Start your browsing while you wait for your food or after grabbing a sweet snack and take something unique home with you. Can't make up your mind? They also have a website. Pop into 3rd & Broadway too for even more treasures of every variety, including custom items and the perfect gift for the dedicated sports fan in your life.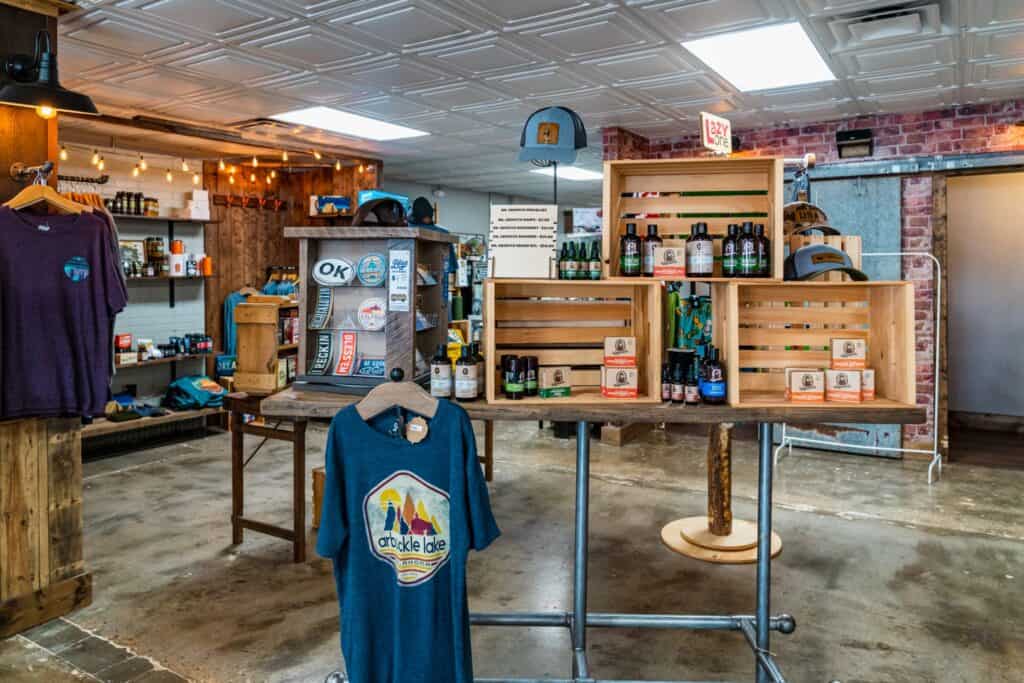 The Mix Mercantile houses two additional local businesses. Buy truffles, caramels, and fudge from Arbuckle Mountain Fudge Company or fresh baked goods from Lulu's Bakery. You'll find Lulu's Bakery at the very back of the store and Arbuckle Mountain Fudge Company at the very front. Make sure to add these phenomenal local businesses to your list of things to do in Chickasaw Country!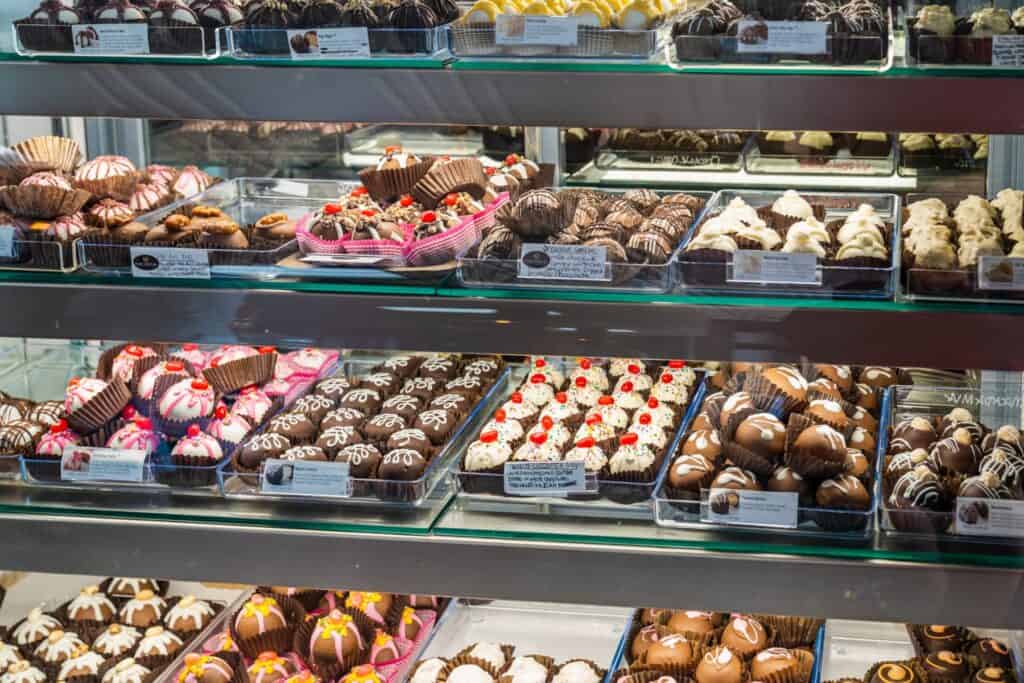 And Support a Native-Owned Shop
Just across the street from the Mix Mercantile is Mahota Textiles, the first textile company to be owned by a North American tribe. Inspired by the Chickasaw's heritage and traditions, as well as founder Margaret Roach Wheeler's family history, you'll find beautifully designed pillows, blankets, scarves, and bags, all made with natural materials in the US by Chickasaw artists.
Mahota actually means "to separate by hand," indicative of the importance of hand-crafted goods to the Chickasaws, especially as a matrilineal society full of female artists. Similarly, Margaret was inspired by the females before her to start Mahota Textiles.
Take an Art Class at a Wine Bar
Rusty Nail Winery, just a few doors down from Mix Mercantile, sell all kinds of wine themed items and accessories. We even found a wine wand that removes all the sulfides so allergic wine lovers can also enjoy a glass! Choose a bottle to take with you or start with a wine tasting to decide on your favorite. If you look closely at the names of the wines, you might notice a theme.
If you're staying at the Artesian Hotel, Casino & Spa, and you show them your key card, you can get a free tasting!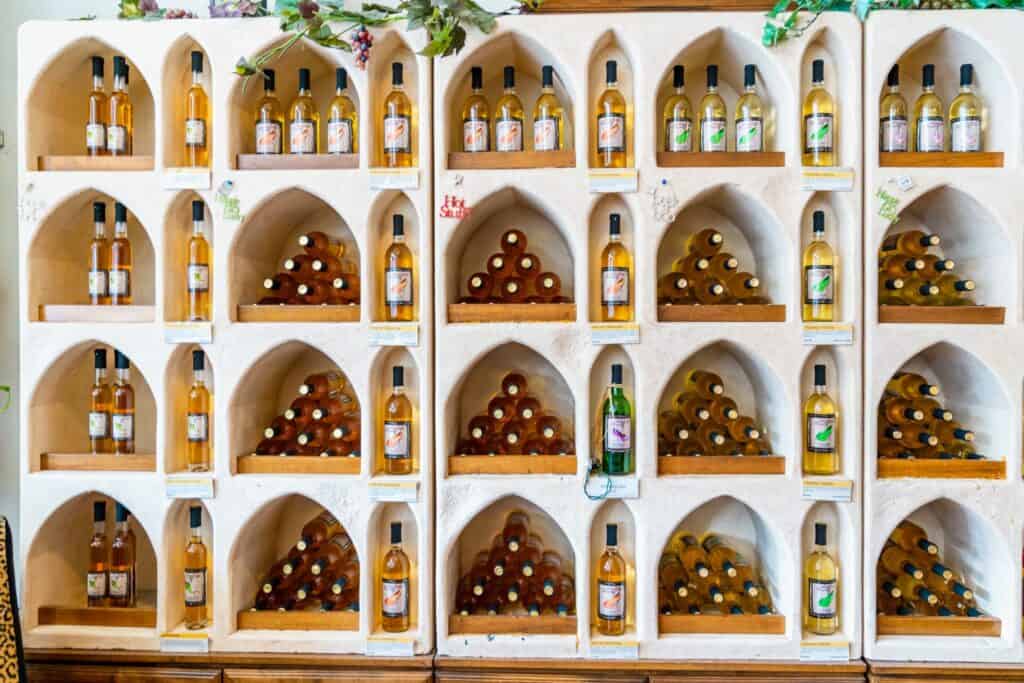 This local wine bar also hosts a variety of events, from art classes to College Football Saturdays, or you can just come and hang out for a while. You'll find an incredible number of tables, a lounge area, an indoor pergola with a bean bag chair, and board games. Get a little hungry in the middle of conquering your list of things to do? Rusty Nail Winery also doubles as a bistro!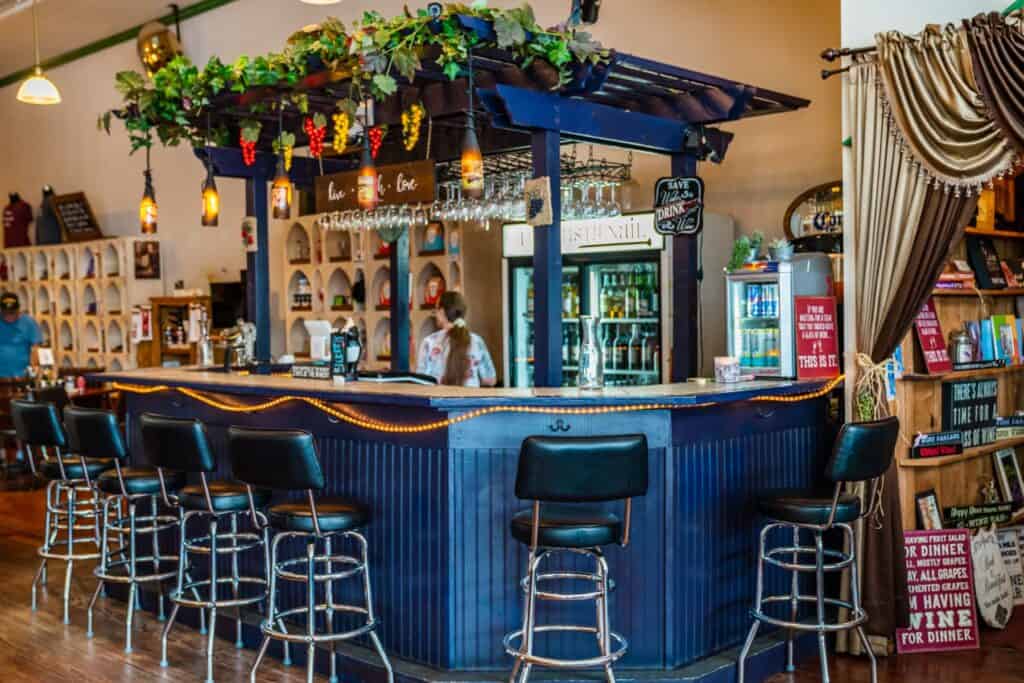 Spend the Night at a Haunted Mansion
The Flower Bluff Manor, a historic mansion built in 1924, is reportedly rich in paranormal activity, often connected to its extensive history associated with one of Sulphur's previous mayors, J.D. Ramsey, as well as the businesses that have previously occupied it. Whether you you're interested in the paranormal or not, Flower Bluff Manor is a rich piece of Chickasaw Country history you have to see!
Visit the manor for a nice dinner with an expansive menu of quality steaks, seafood, and pasta, or grab a ticket to one of their 5-course, Murder Mystery events. Spend the night in one of the three gorgeous, but affordable rooms, each one once belonging to members of the Ramsey household. Care to know more about the goings on inside Flower Bluff Manor? Add a $20 ghost tour of the mansion to your list of things to do in Chickasaw Country. Tours are held Tuesday through Saturday after 3pm.
Things to Do in Chickasaw Country: Tishomingo, Oklahoma
Swim with the Locals
If you're missing the waterfalls you saw in Sulphur, there is one in Tishomingo too, but you won't be able to see it from the road. You'll have to park and take either the stairs or the unpaved path down to the water's edge.
Along Pennington Creek, you'll find water deep enough to swim and huge boulders to sun on. Just be mindful of the depth of the water if you're jumping from the waterfall to ensure it isn't too shallow. This will be determined by how much rain the area has received. Have kiddos with you? You can also scour the "beach" along the creek for small seashells, sit in the shallow waters, and camp out for a few hours with a packed lunch. If the trash bins are full, take your trash with you to reduce chances of littering.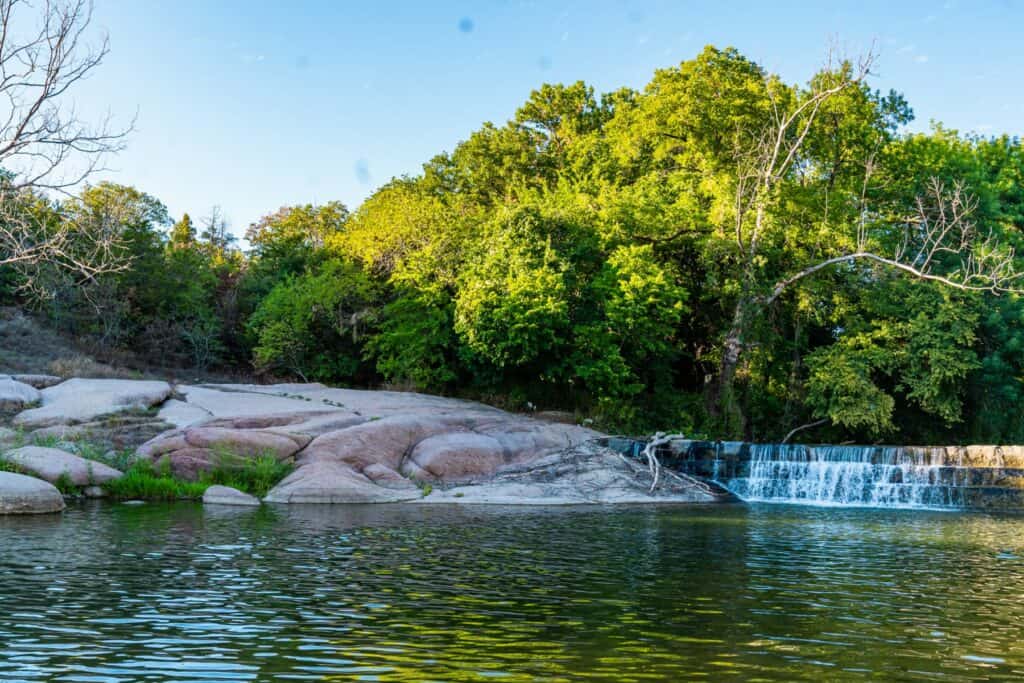 Or Explore Pennington Creek Park
For a potentially more kid-friendly or family-friendly option without any steep steps on your list of things to do in Chickasaw Country, neighboring Pennington Creek Park has a playground, splash pad, and is home to the Johnston County War Memorial. The kiddos will love the planes and tanks, with some informational plaques for the adults. You can even fish out of Pennington Creek!
Have a Chance to Meet Blake Shelton
Ole Red, a local favorite owned by Country Music Star Blake Shelton, is known for their Southern-style comfort food, including their Catfish, burgers, and Nashville Chicken Salad. We loved that their drinks and cocktails came in souvenir cups you got to take home with you, along with how elaborate their Bloody Mary's are! Each one is garnished differently depending on what they have in the kitchen. Ours was decorated with your classic lime and olives, but we were delighted there was also a Slim Jim and whole chicken strip! There's also a connected gift shop and live music playing in the afternoons and evenings.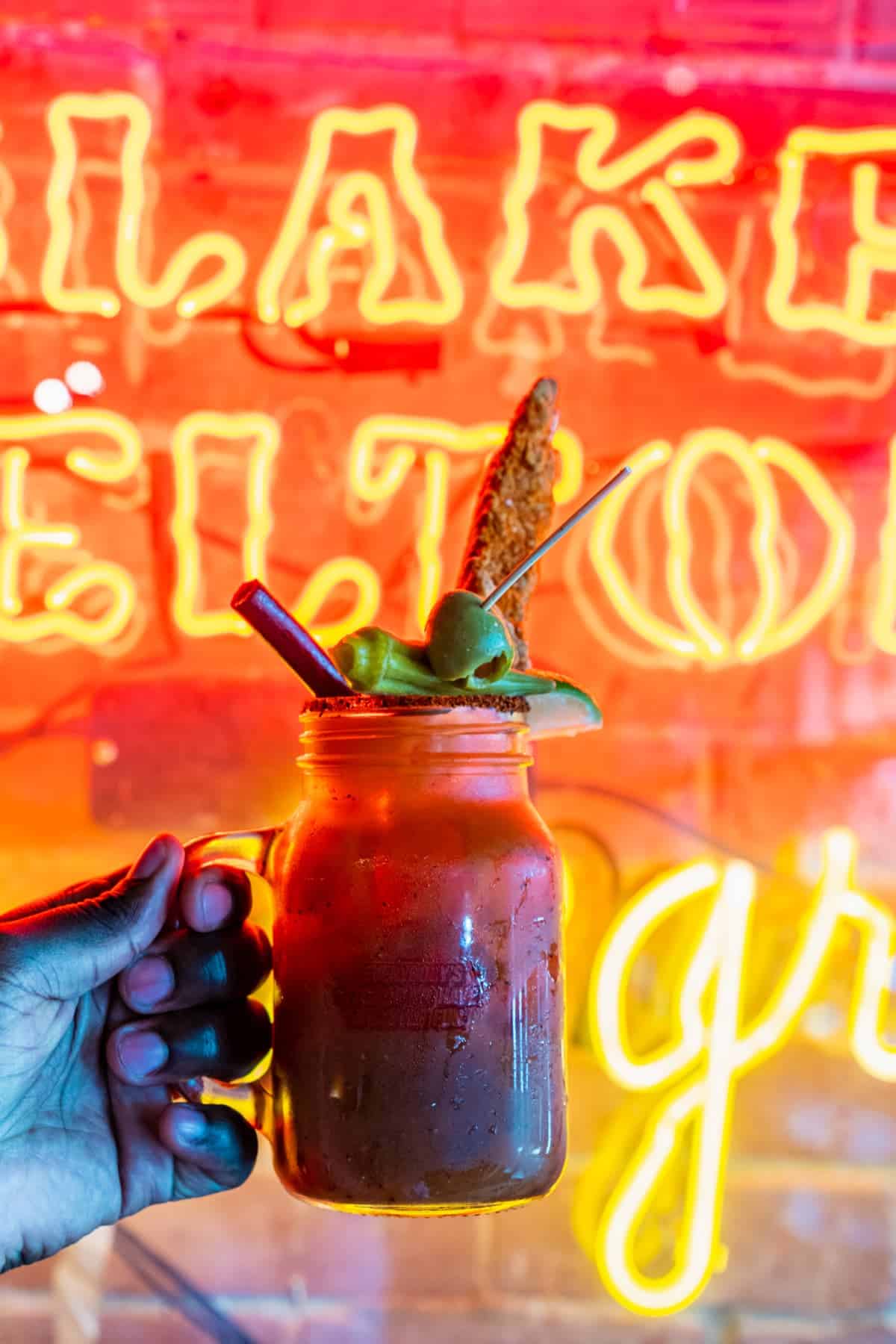 If you're a country music fan or a Blake Shelton fan, you might be excited to know that the restaurant is decorated with his actual music awards, records, and even props from his album covers! Make sure to check out the bar, where you'll see the Converse hanging that were gifted to him by Miley Cyrus on the Voice. If Blake Shelton is in town, you might just get the chance to meet him.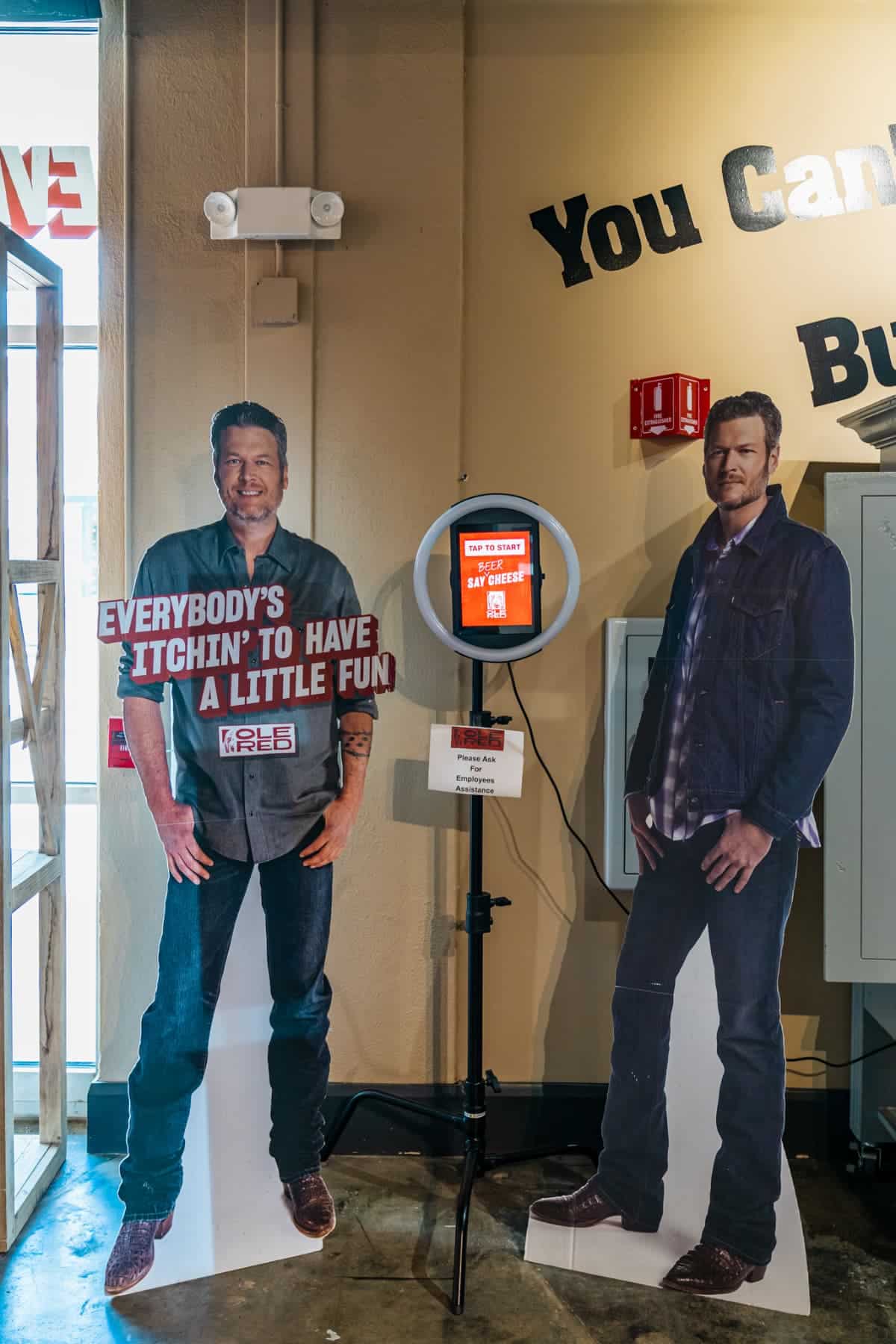 And Rummage Through His Closet
Next door is Junk Stars, a small boutique owned by Blake's mother, Dorothy Shackleford. You'll find everything from records, antiques, and Blake Shelton merch to jewelry, clothes, and home goods, including some items by Dorothy herself. At the back of the store is "Blake's Closet," filled with items once worn by Blake Shelton, with all the proceeds from the sale of these items going to St. Jude Children's Research Hospital.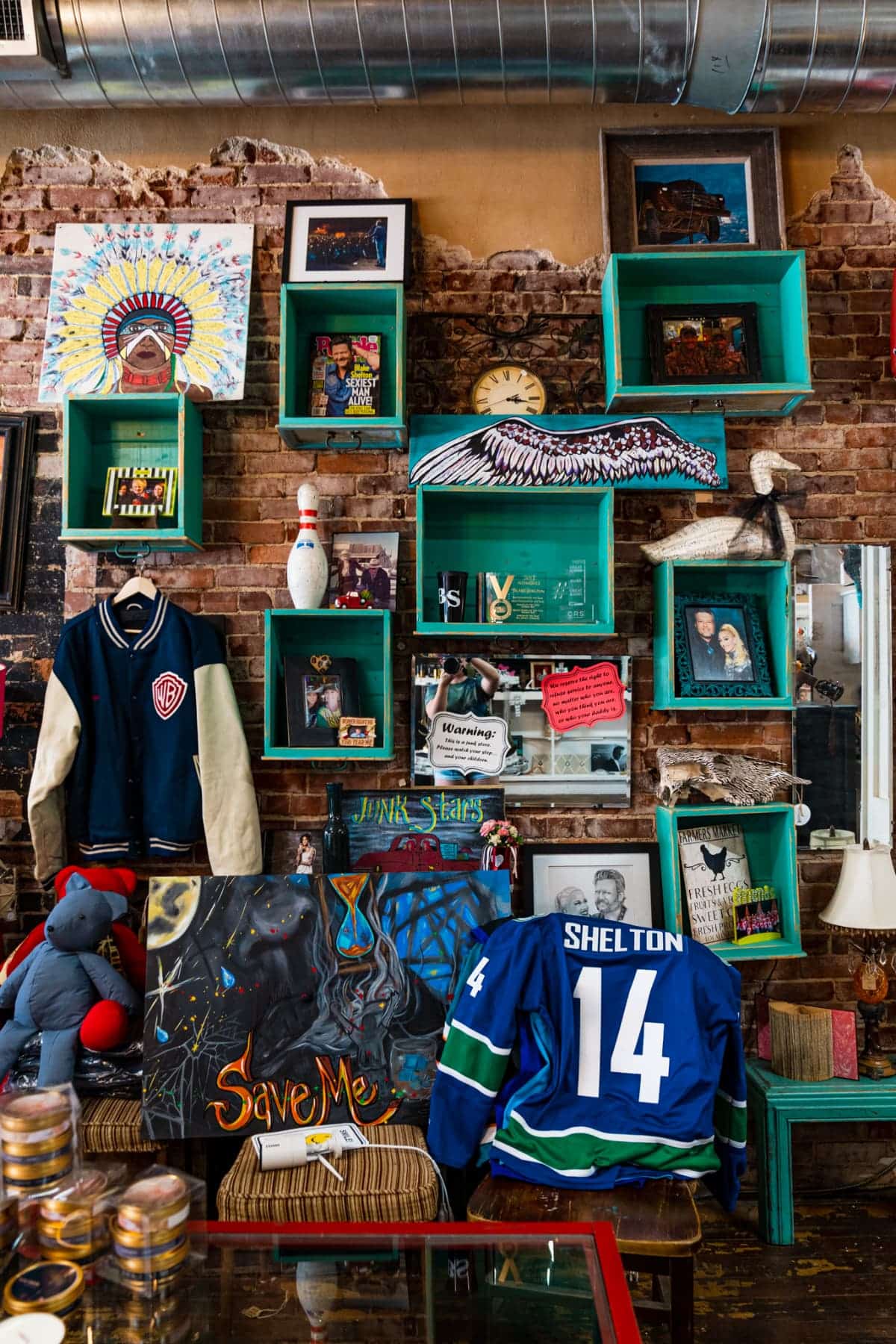 Shop Small
Downtown Tishomingo is home to several other boutiques and local businesses. Explore a little and you'll definitely come across something you can't live without. I personally loved The Stag. It was filled with a huge selection of cute, brightly colored clothes, accessories, and shoes, with a location in downtown Ardmore as well. Holy Heifers Boutique even has a small ice cream shop inside.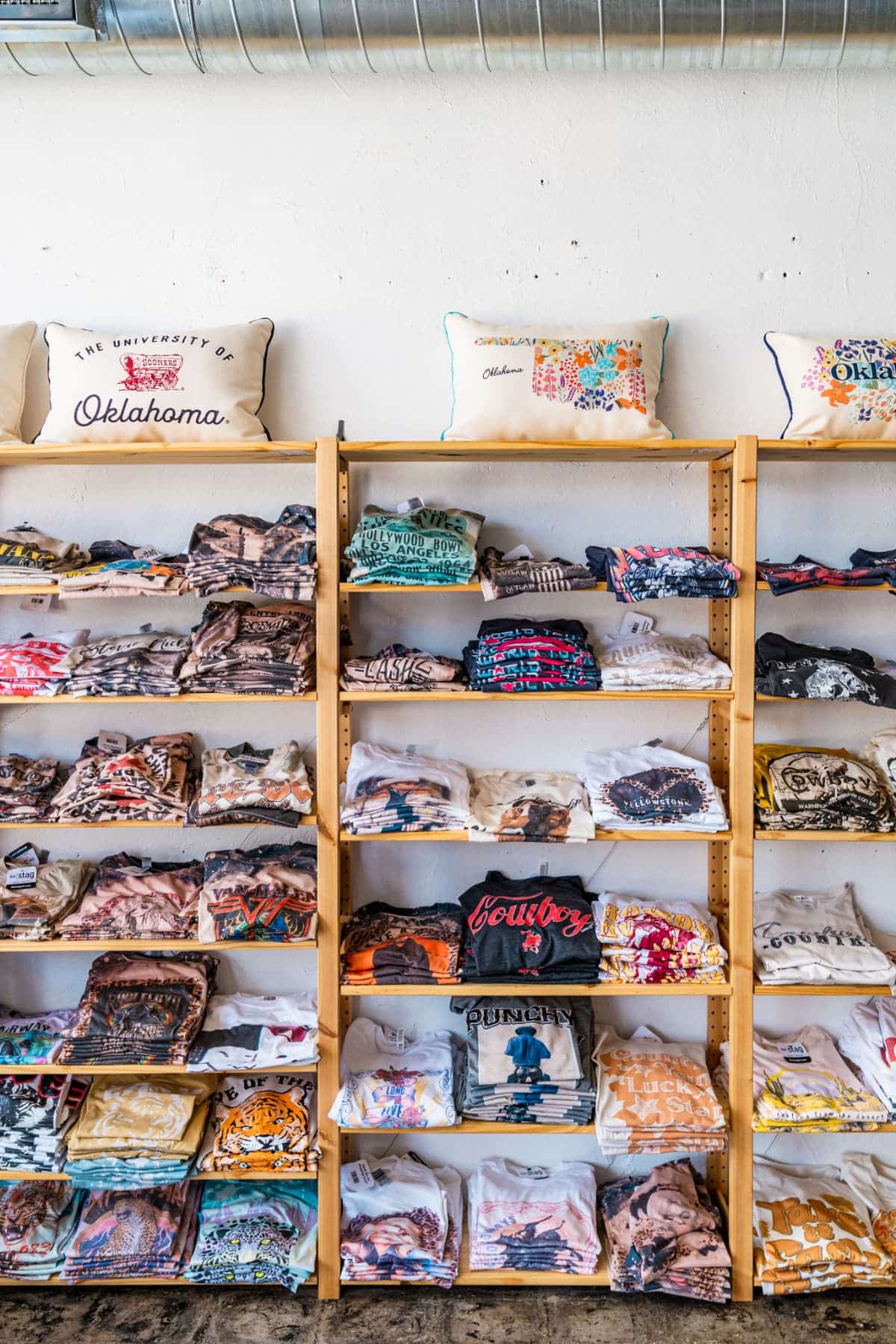 Visit the National Wildlife Refuge
The Tishomingo National Wildlife Refuge is another great, free way to witness and learn about the wildlife in Chickasaw Country. It is open year-round, serving as a home for many migratory birds. Start with the Visitor Center and enjoy several educational, multi-media, and interactive exhibits. Bring a packed lunch and spend some time outdoors or take the drive-thru route. Depending on the season, you'll find fields of wildflowers, as well as opportunities for hiking, bird watching, canoeing, kayaking, and other facility-led activities.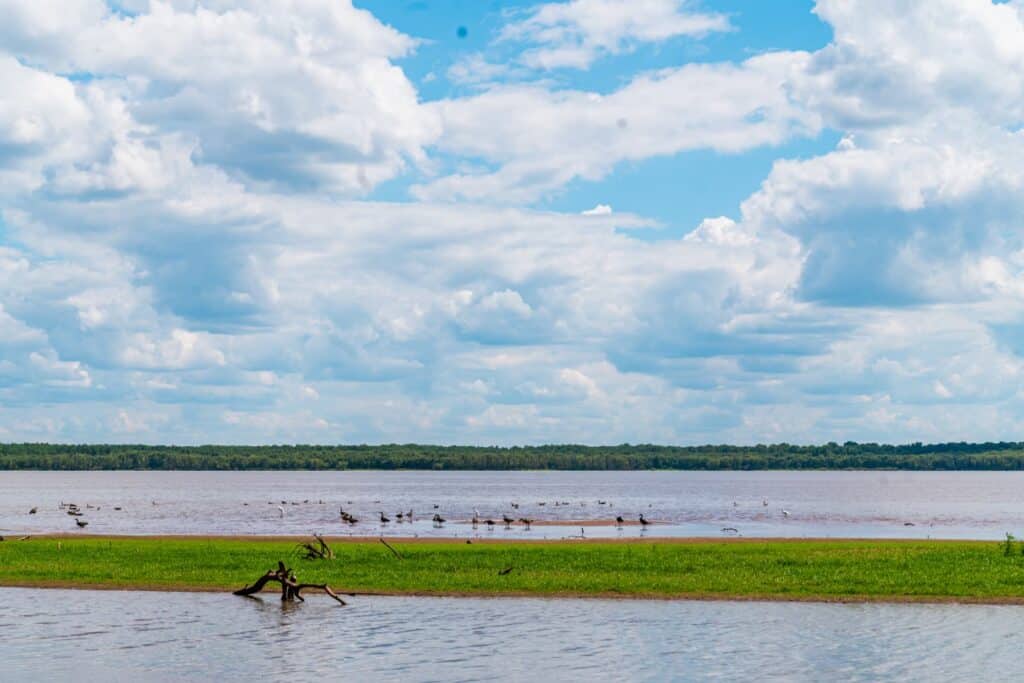 See the Original Chickasaw Capitol
As Chickasaw Nation's capital city, Tishomingo is home to the original capitol building. Sign-up for a group tour and learn all about the history of Chickasaw Nation beginning in the 1850's. Admission is free, however, so you're welcome to explore it on your own as well. This should also be a must on your list of things to do in Chickasaw Country!
And the First Chickasaw Council House
Right next door to the Chickasaw National Capitol is the Chickasaw Council House Museum. You'll find three free exhibits: an art exhibit, an area commemorating the accomplishments of people from Chickasaw Nation, as well as the original council house where the first Chickasaw Constitution was written. Go out the back doors and you'll find the Capitol Well, which was excavated in 2005 after its location had been unknown since 1910. There is also a walking path, along which you'll find statues and plaques, before arriving at the capitol building.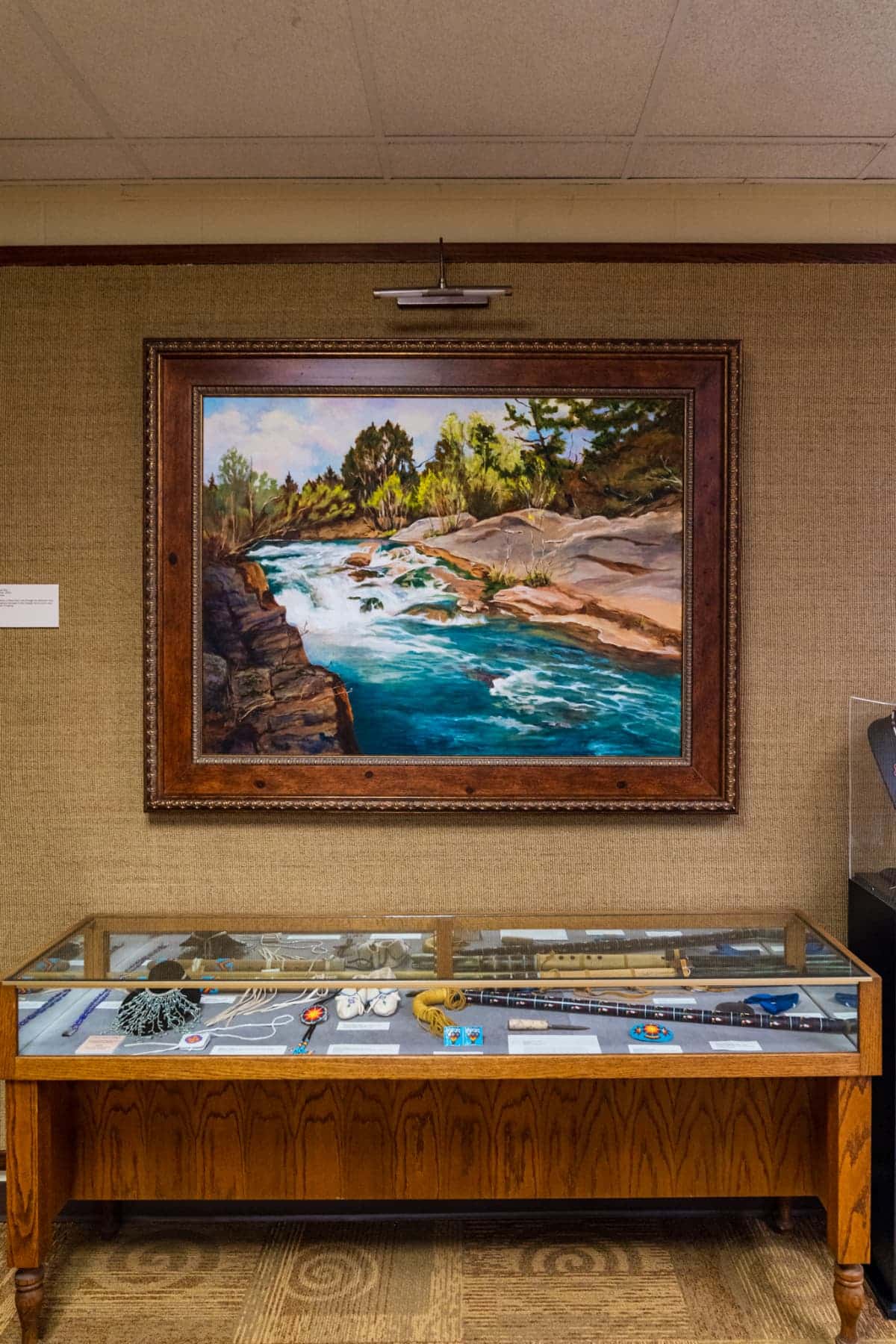 Stay at the Pennington Inn
In downtown Tishomingo, across the street from Ole Red, is the cutest, family-owned, 3-bedroom inn: the Pennington Inn. The original building was built in the early 1900s and has housed several businesses over the years. Although there isn't a hotel desk, you'll have everything you need during your stay. Keep in mind it is adults-only and pets aren't allowed.
Prior to your arrival, you'll receive a code that'll give you entry into the main building, the back door, and your personal bedroom. Just beyond the front door is a lounge area and a couch, the perfect place to sit and watch downtown Tishomingo wake up in the morning, or if you need a place to get some work done. Down the hall are three bedrooms, furnished with a comfortable, king-size bed, a spacious closet and bathroom, as well as a TV, Wi-Fi, a coffee machine, mini fridge, bottled water, linens and toiletries.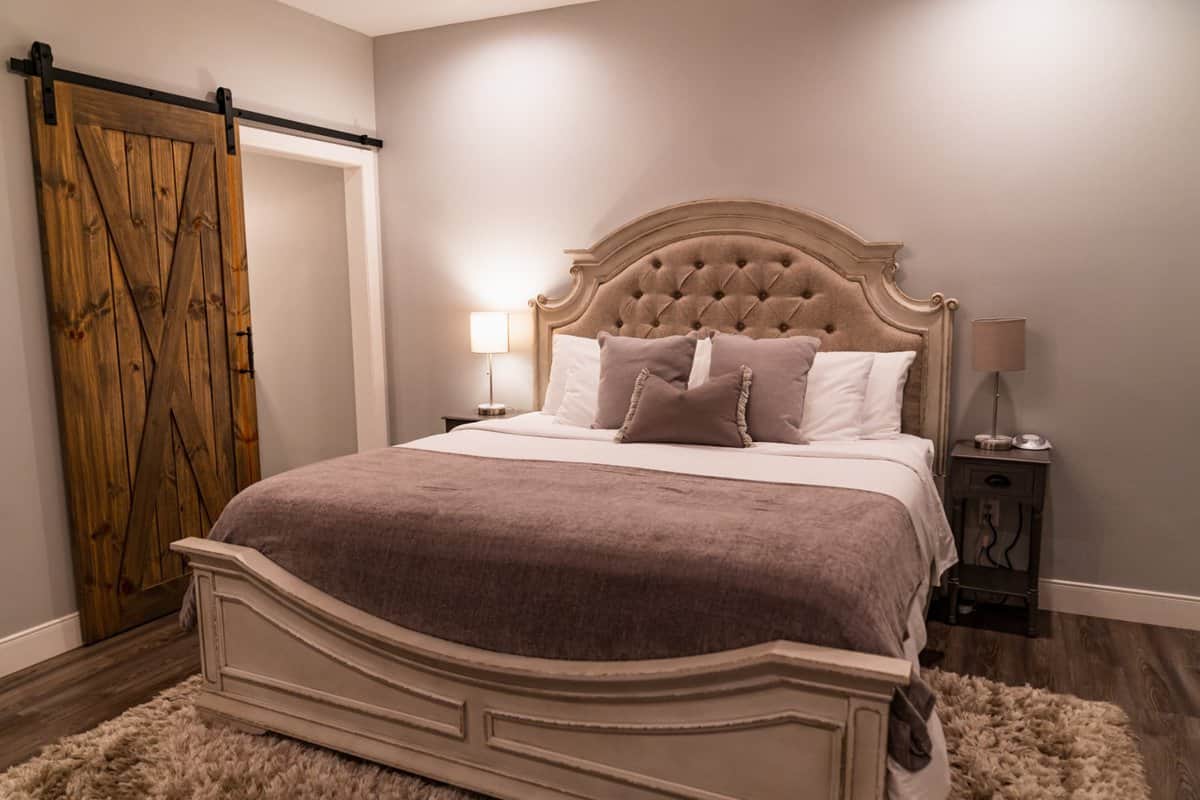 Looking to plan an affordable girl's trip or a bachelor/bachelorette party near Dallas? Reserve all three rooms (two adults per room) and have the whole inn to yourself! There is even a spa AND a wine bar (read more about it below) right next door!
Hang Out at a Classy Wine Bar
When you visit Mulberry Wine Bar in downtown Tishomingo, take note of the bright yellow, neon sign behind the bar. "Chokma" means "welcome" in Chickasaw, which perfectly describes the atmosphere of this cute, local spot. You'll find a full-bar, beer, wine flights, and all kinds of drink specials. As you sip on your drink of choice, you can munch on a charcuterie box or cheese plate, play board games, or just hang out and chat. However, if you can, attend one of their trivia or live music events. Check their Facebook for more information.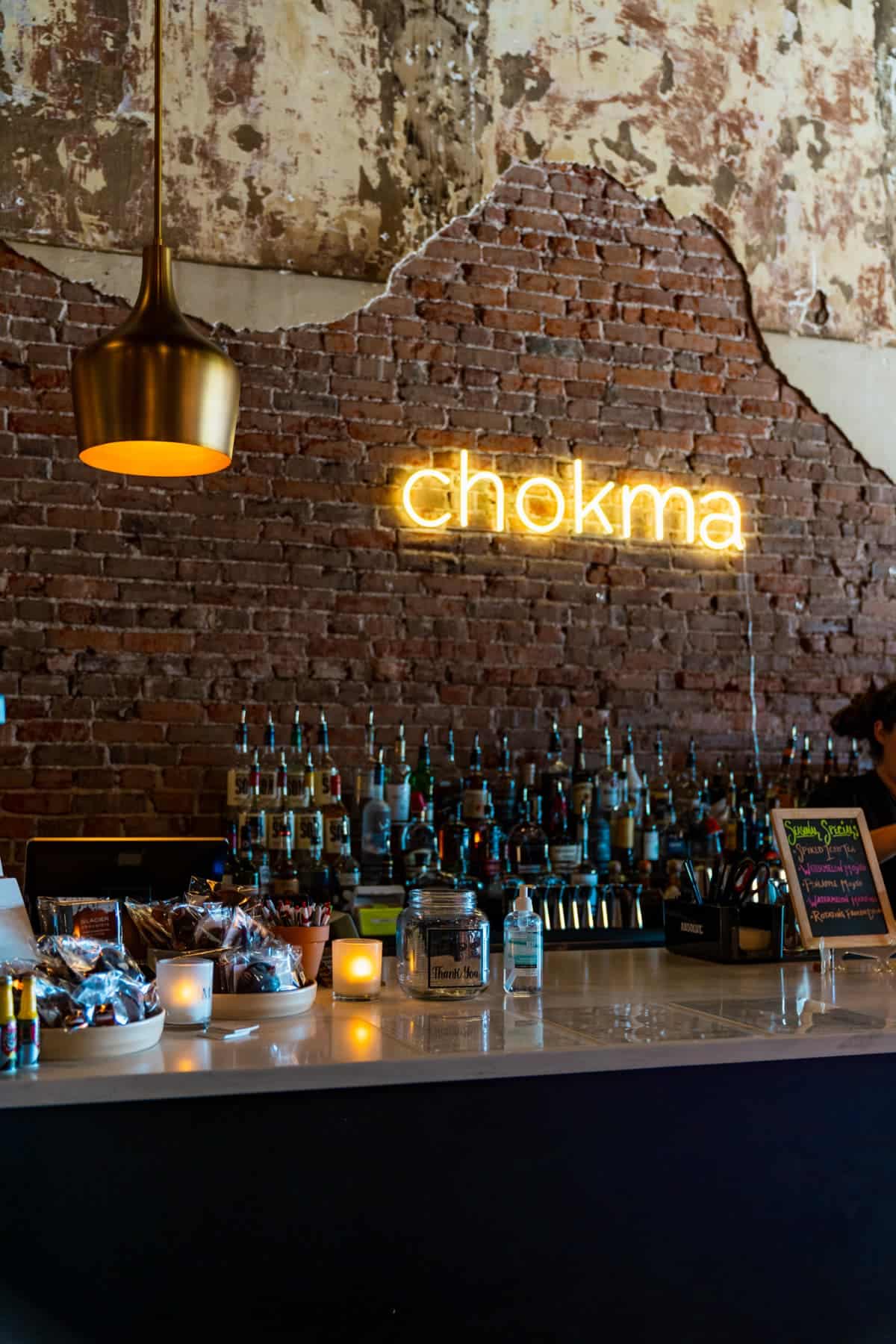 Weren't able to make it to Mahota Textiles in downtown Sulphur? Mulberry Wine Bar also has some of their products in store, along with their own merch, candles, and more! The atmosphere was very friendly and fun, so I highly recommend adding it to your list of things to do in Chickasaw Country.
Order a Light Lunch with Great Coffee
Latte Da Coffee House is a cozy, local coffee shop serving a variety of lunch items and coffee drinks. Choose from soups, a salad bar, sandwiches, and baked goods. The interior has adobe-style walls and farmhouse-style furniture with dim lighting and plenty of couches and tables. It is a great place to relax, chit-chat over a meal, or to get work done if needed.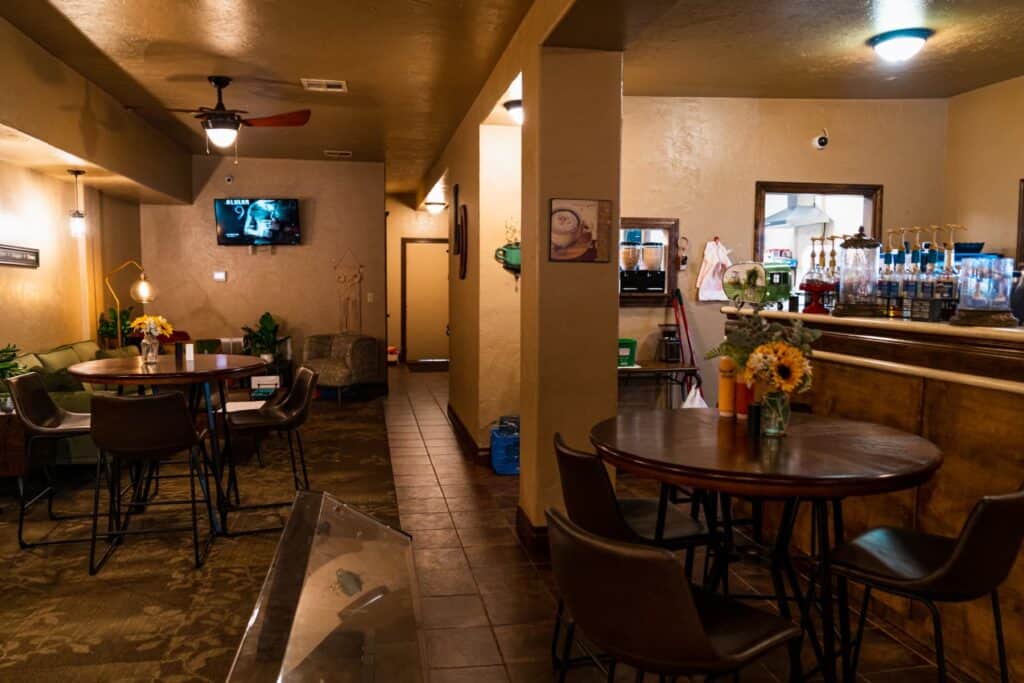 Eat at a 50's Diner
We loved the 50's style of the Bedré Cafe in Sulphur, so we were thrilled to find another one in Tishomingo! The Boomarang Diner serves all-day breakfast, half-price burgers on Mondays, all-you-can-eat fish on Fridays, and an authentic Reuben sandwich. We ordered their chicken fried steak with tots, the Diner Double, and a Chicken Tender Sandwich. Their cheese curds were so cheesy and so good! What I especially love is how their kid's meals come in these cute, cardboard cars that come in all kinds of colors! Definitely a great place to take the family. If you aren't able to make it to Tishomingo, there is also a Boomarang Diner location in Sulphur.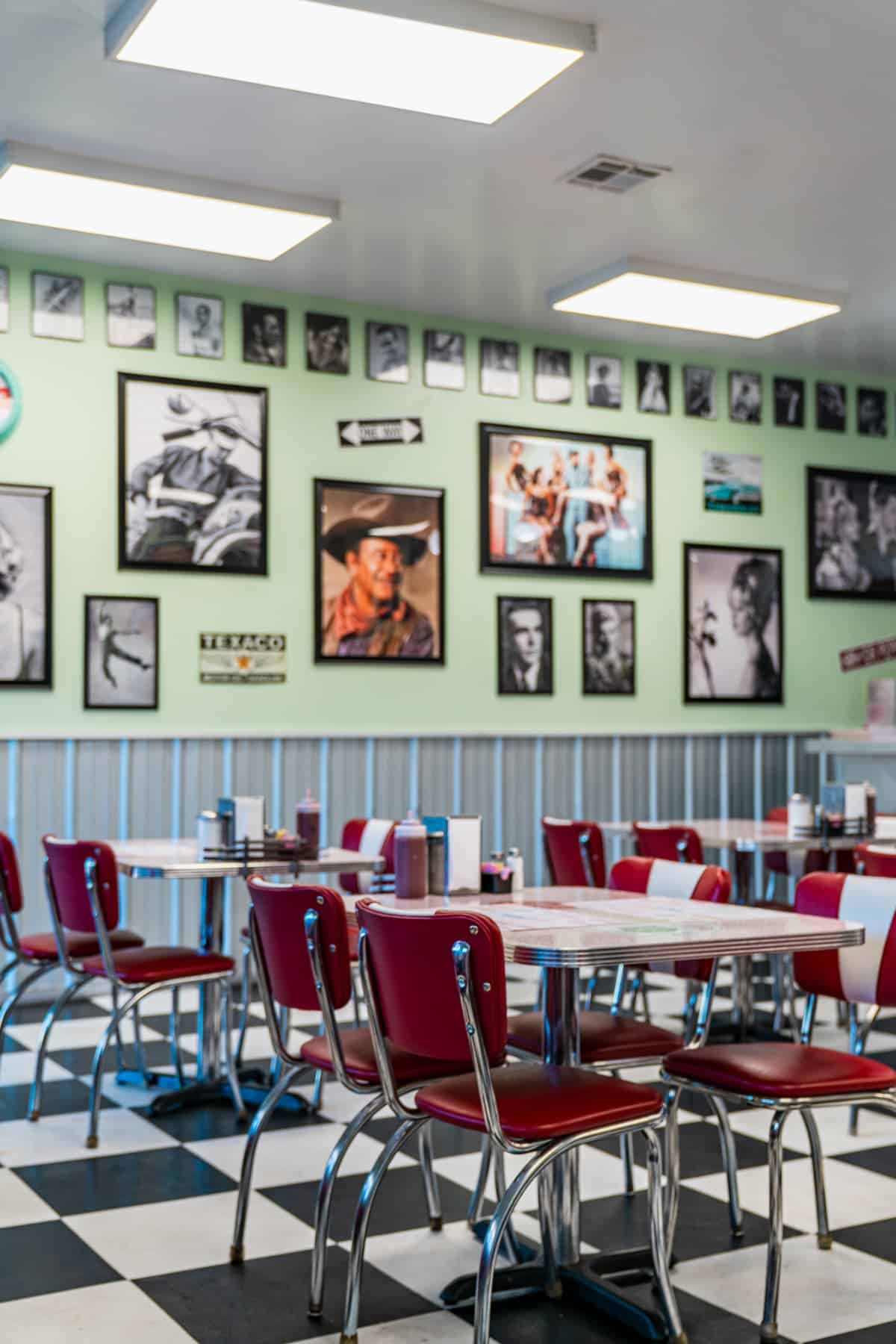 Final Thoughts: Things to Do in Chickasaw Country
Chickasaw Country is a great destination for a weekend getaway! Just a short one-and-a-half to two-hour drive away, you can start your list of things to do in Chickasaw Country off in Ardmore, Oklahoma. Continue your trek by visiting Davis, Sulphur, and Tishomingo. Using our list of things to do, you can choose from a jam-packed trip to a more laid back one, or anything in between. Or plan out four trips to fill several weekends without the lengthy travel time. However, we highly recommend following this circular road trip through Chickasaw Country to make the most of your time and gas money on your next weekend getaway.