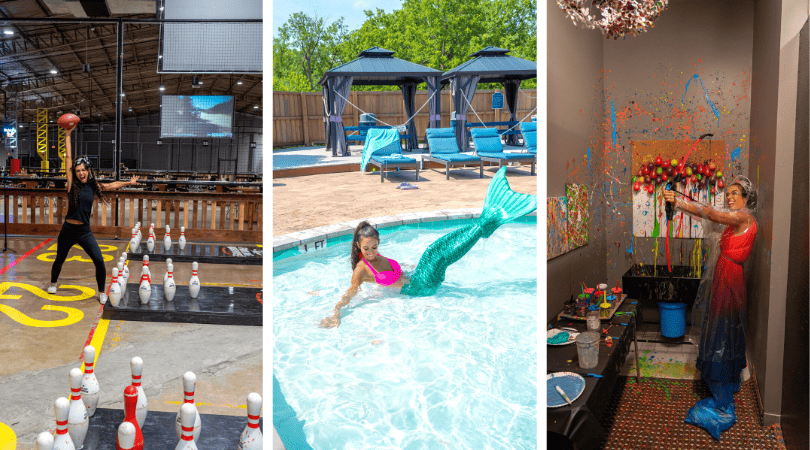 If you're looking for ways to escape the heat without having to spend the entire day at home, say no more! Plano has an abundance of indoor (and outdoor activities, but don't worry, a pool is nearby) to keep you cool, and entertained, this summer!
Whether you're looking to take the family out for the day, escape with your partner for the weekend, or you're traveling from out of town looking for something fun to do, summertime in Plano is the perfect way to do it!
P.S. – Don't forget to check Groupon for the best deals for things to do in Plano this summer (and all year-round)!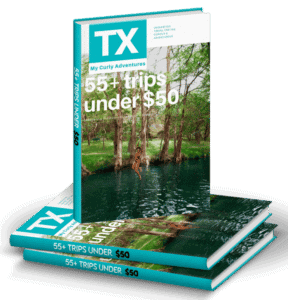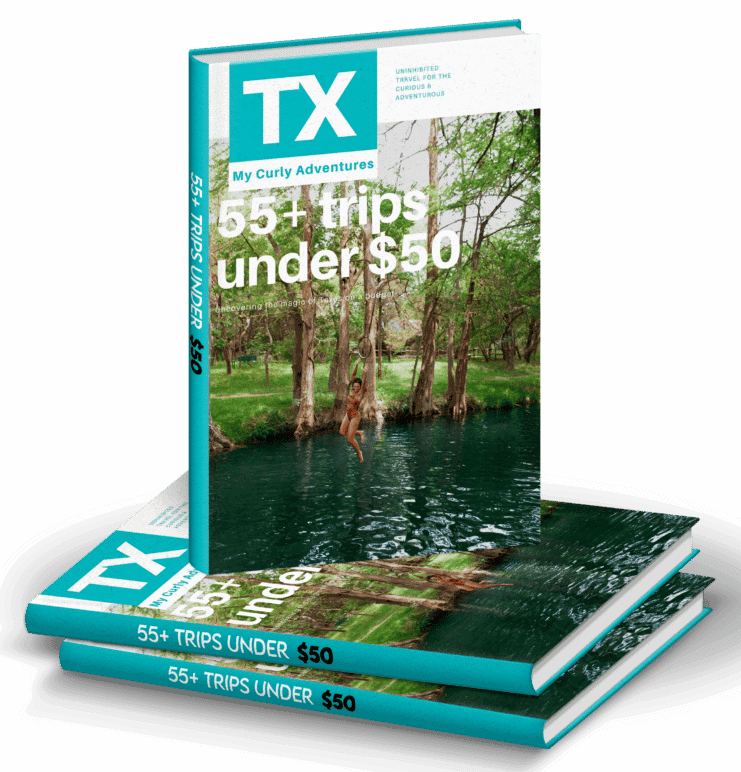 With our latest edition of our Texas Travel Guide, you can take an exciting vacation every weekend without breaking the bank and still have more to do! And in just one trip, the guide pays for itself! You'll be amazed at all the hidden gems, international influence, and wacky attractions you'll find all over Texas!
Not ready to purchase quite yet? We wanted to make this guide as accessible as possible, so we've shared our 1st edition of our guide, 50 Texas Trips Under $50. Click the button below to get yours for FREE!
Try Out a New Game: Fowling
Let's be real. Texas summers are brutal, so it isn't the most ideal time to play football (or any outdoor sport for that matter), but have you heard of "fowling?" At Fowling Warehouse, you can play this combination of bowling and indoor football. Your goal is to knock down as many bowling pins as possible, not with a bowling ball, but a football! You can even play corn hole in the comfort of the A/C! It's perfect for keeping the family cool and entertained during the summer months.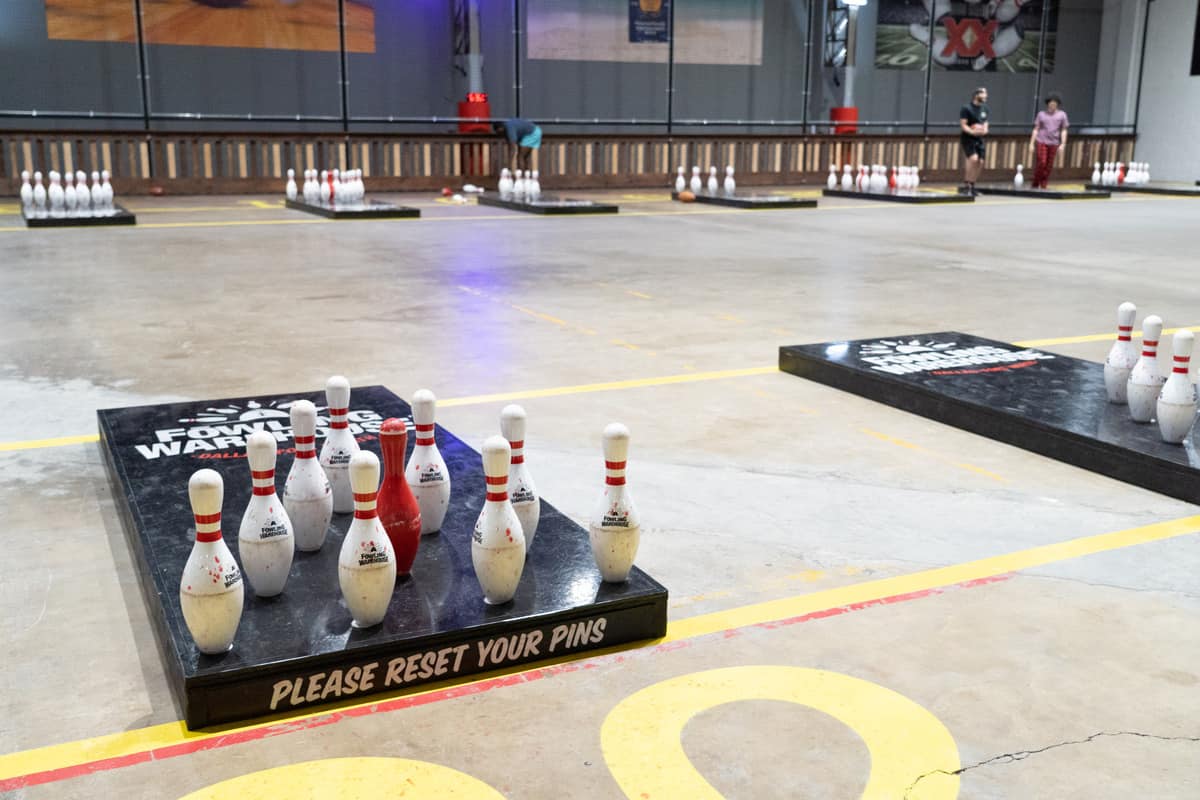 This venue is known as the largest bar in Texas and is the size of two football fields! Entry is also free if you're just wanting to hang out. Enjoy food and drinks from their full-service bar/kitchen or warm up with a game of beer pong.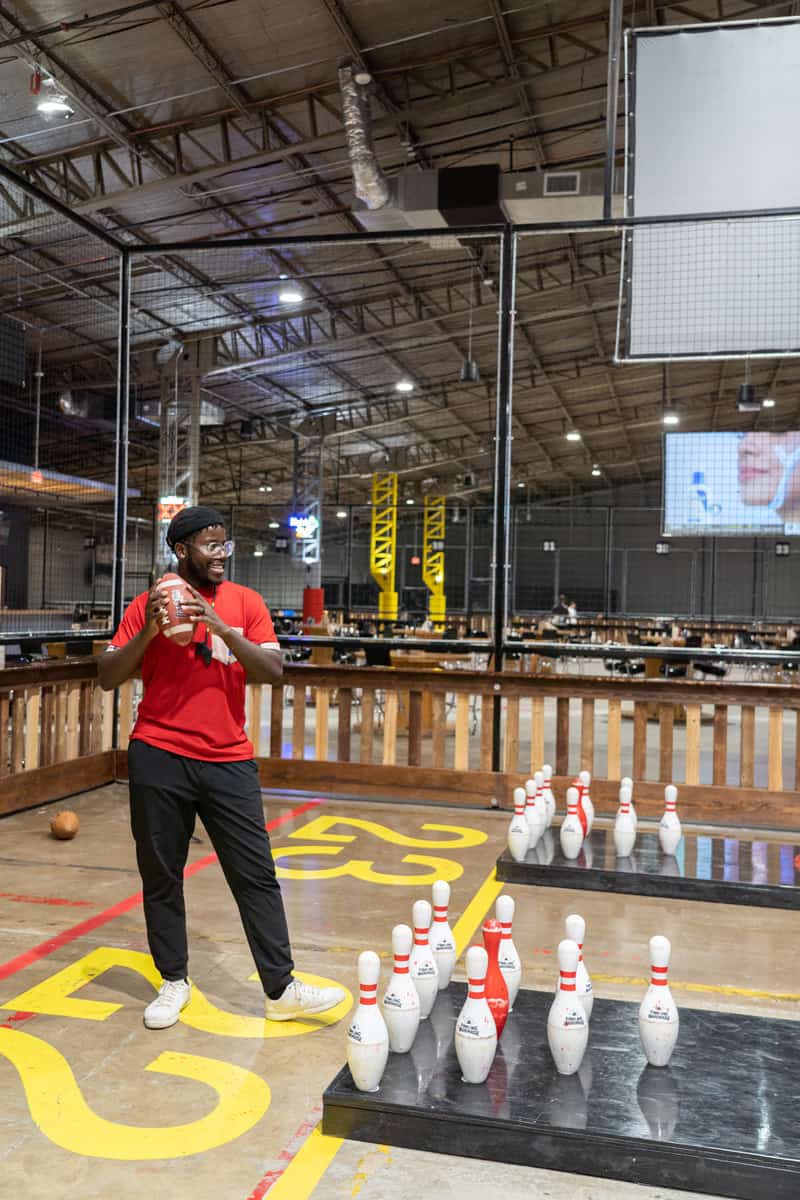 Decide you want to hop in on the fun? You can either reserve a lane by the hour for $15 per person or pay just $15 for unlimited games (lanes are first-come, first-serve where winners stay, and the losers have to find another, open lane).
Children's footballs are also available so everyone can try their hand at fowling! Children 10+ are welcome to play, but younger children who are able to throw a football are invited as well. Keep in mind that after 9pm, children under the age of 16 are not allowed.
Swim Across Texas
Looking for the perfect place to go swimming? Plano's Texas Pool has everything you're looking for this summer and more!
This Texas-shaped, saltwater pool has been serving Plano and the surrounding area since 1961. It's actually listed on the National Register of Historic Places! With support from the non-profit, the Texas Pool Foundation, they provide recreation and swimming education to the underprivileged and underserved of the community. If you choose to become a member, your contributions help maintain the Texas Pool and fund its community outreach programs.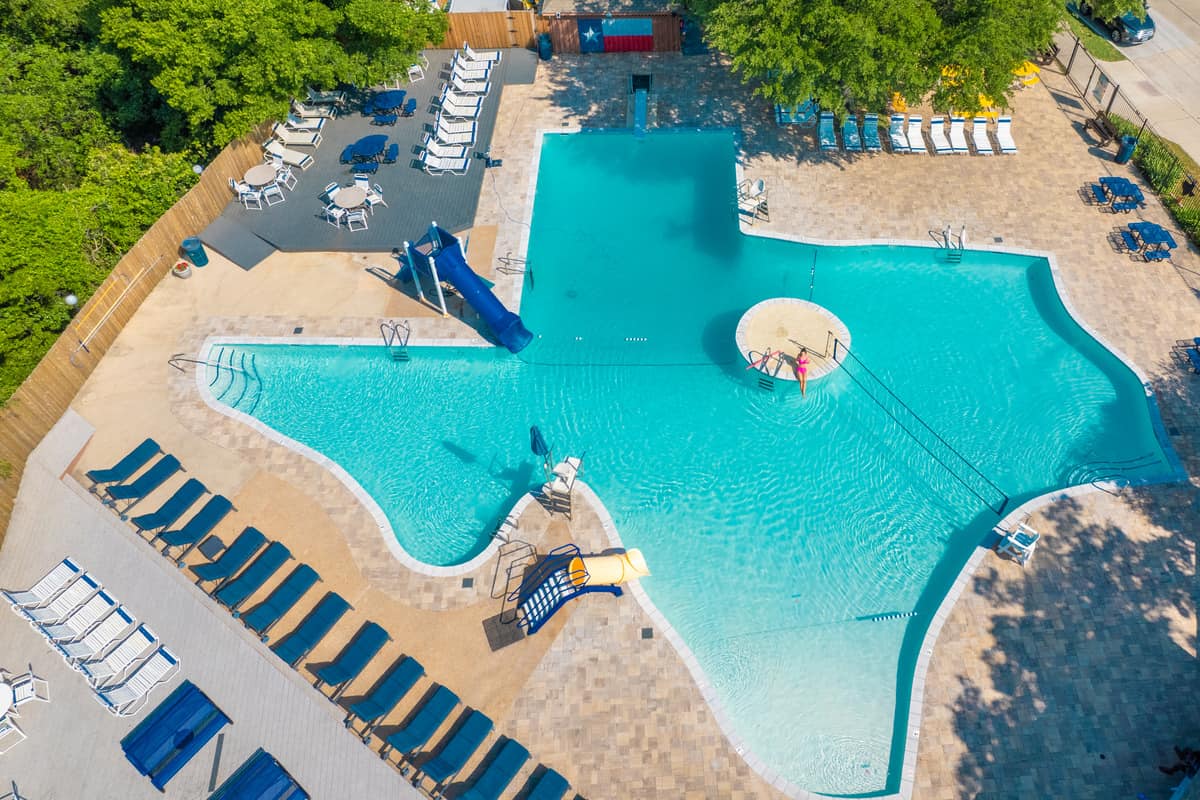 Members and infants two years old and under receive free entry. Otherwise, entry is $10 per person and guests of Texas Pool Members pay just $5. See their website for membership options or to inquire about the Texas Pool Foundation's hardship discounts and charitable memberships.
The Texas Pool also features amenities like a diving board and volleyball net, along with two waterslides, a wading area, and community life jackets for anyone still learning to swim. The pool's depth varies from one to ten feet. There's also a butterfly garden, a free little library and pantry (visitors are invited to give what they can and take what they need), gas BBQ grills, and colorful murals perfect for poolside photos. Visitors are welcome to bring their own food and drink (excluding glass containers and alcoholic beverages).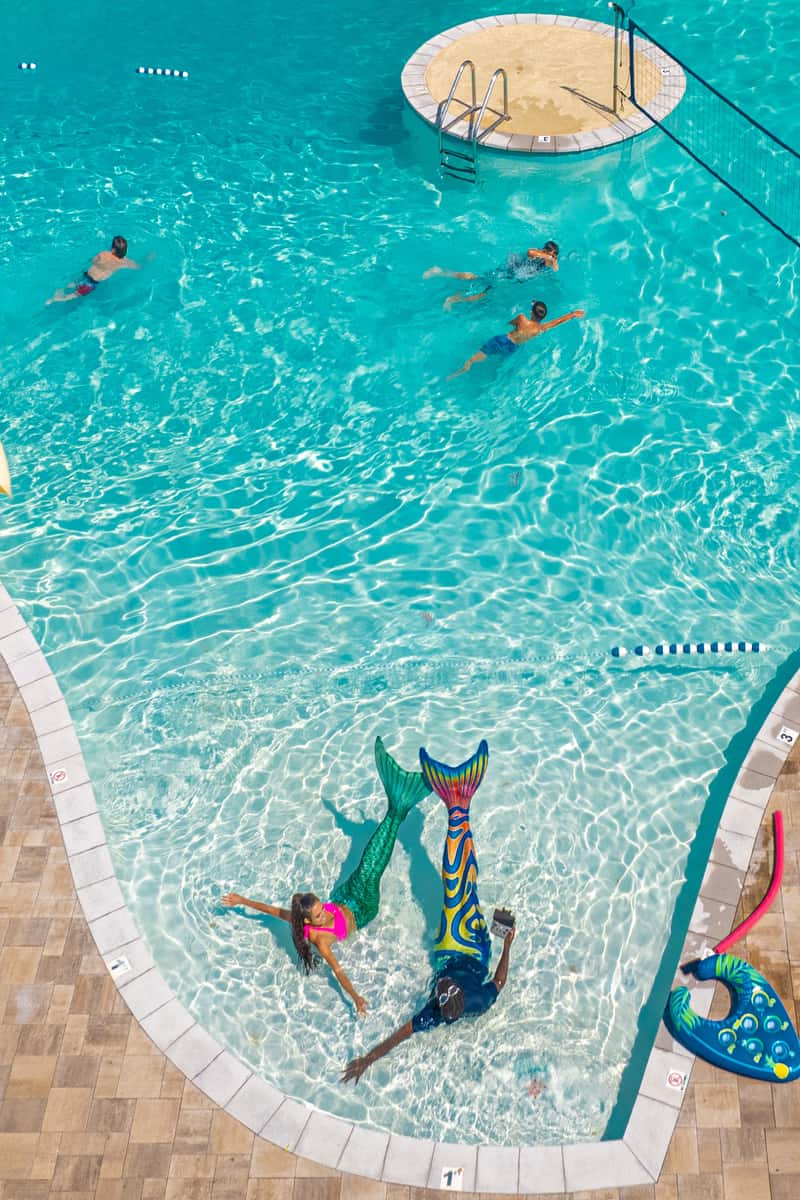 Follow them on social media to be the first to hear about their variety of community events, like Chess Club, Yoga by the Pool, and Mermaid Meet-Ups where you can bring your own mermaid tail or swim with a mermaid!
Make Arts & Crafts You'll Love
Located inside the Willow Bend Shopping Mall, Pipe & Palette is an art studio that hosts workshops ranging from hand lettering and pottery workshops to paint and sip or paint splatter parties. They also offer kid-friendly fun like canvas painting, art camps, and private painting lessons.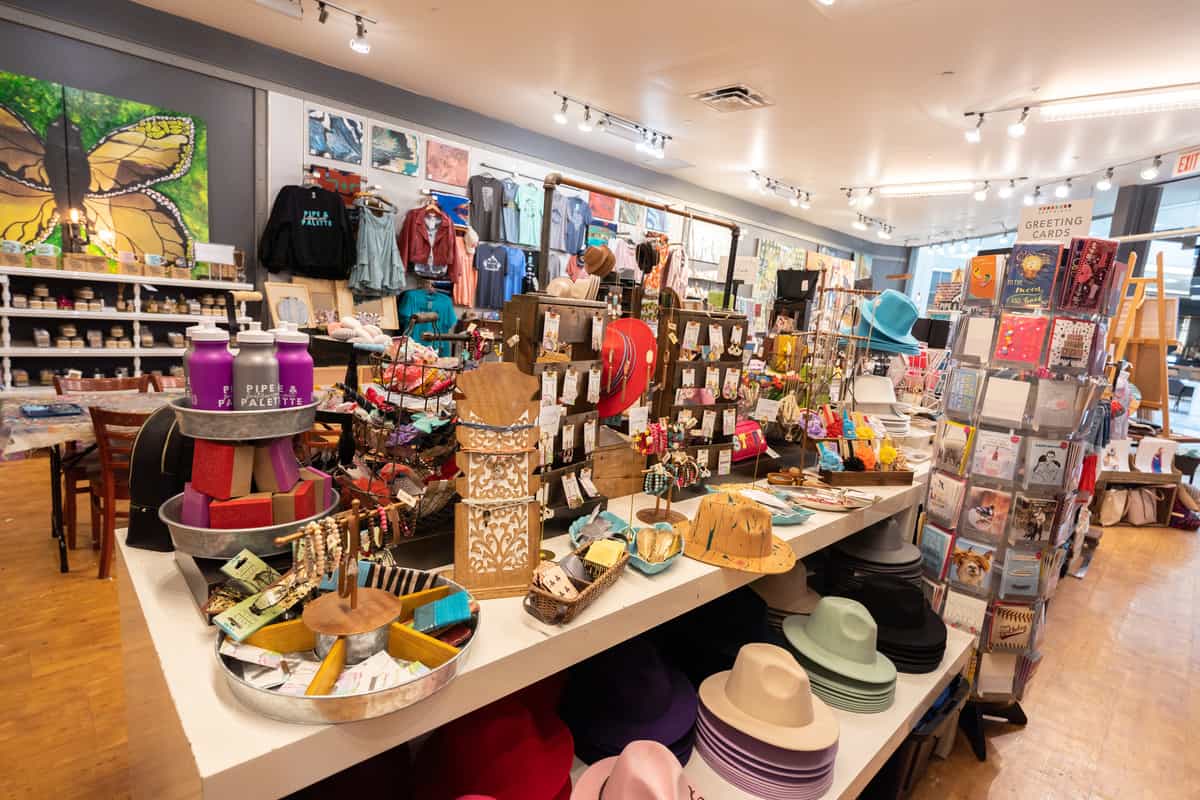 During our most recent visit, we attended a workshop by Ken Hamar AKA the Spoon Ring Guy. My husband made a ring out of a spoon, and I made an elephant pendant out of a fork! They are always hosting new artists and workshops that are perfect for artists with any level of experience. We also used a bow and arrow, darts, and balloon full of paint to create some unique canvas art that we couldn't wait to put on display at home!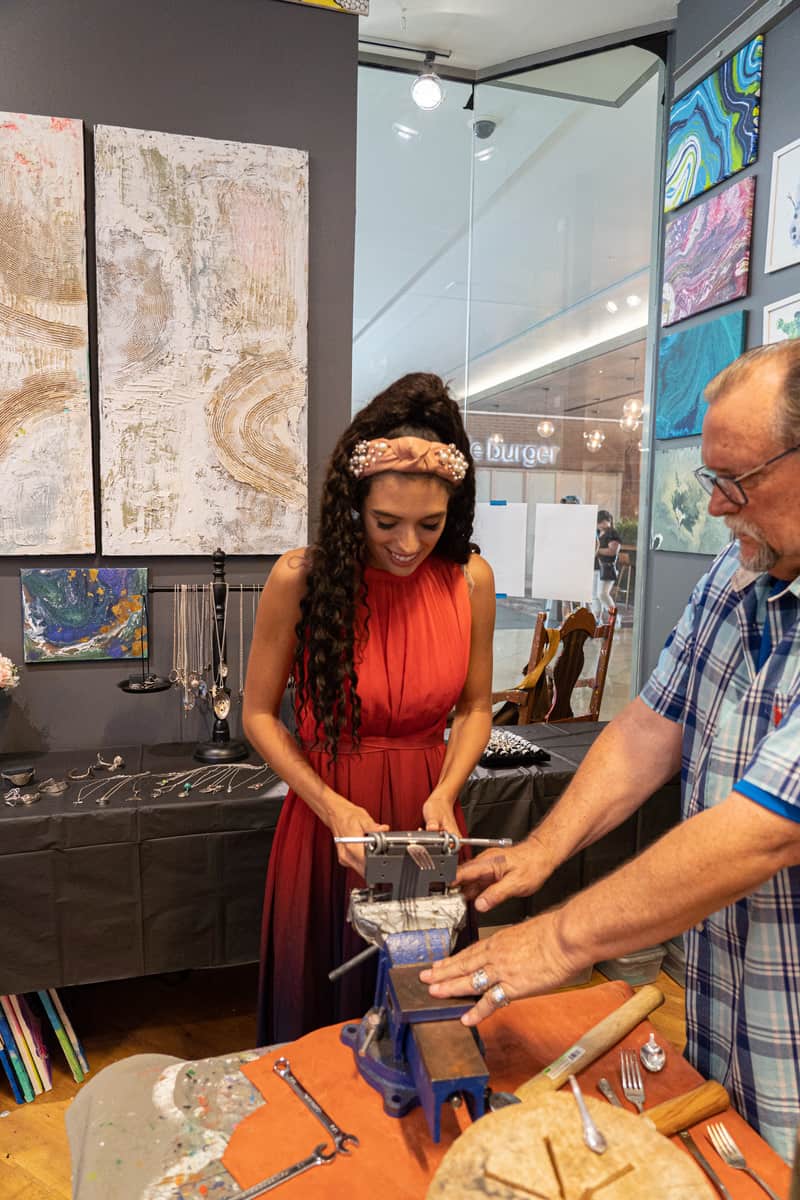 Get Lost in a Creative Wonderland
Featuring 26 fun activities, the Crayola Experience (also inside Willow Bend Mall) is a one of a kind experience the whole family can enjoy! Participate in a craft, create your very own coloring page, learn about the science of color, play on the unique indoor playground, color with thousands of different crayons, make a special creation out of crayon max, do some painting, shop at the Crayola Store, and so much more! There are 60,000-square feet of colorful fun to explore, including a snack bar for a quick bite to eat, and Café Crayola, which serves lunch with a side of live entertainment on specified days.
Whether you need to grab lunch off-site or you're planning on coming back another time, the Crayola Experience offers several, flexible options. Your day pass is good the entire day and reentry is allowed! You can also choose from a variety of annual passes to fit your family's schedule this summer! Otherwise, you can purchase a general admission ticket online for $25.99 (children 2 and under receive free admission).
Spend the Day at an Affordable Water Park
The Jack Carter Pool is a massive community pool that promises endless fun for everyone. With an array of amenities, including water slides, high diving boards, a surf simulator, lazy river, and a kids' splash pad, this aquatic paradise has it all.