Fredericksburg is often known as the wine country of Texas with all the wineries and vineyards along the 290 Wine Trail! With so many options, the biggest question is which Fredericksburg winery to experience. The places I listed below are special because each Fredericksburg Winery offers a unique experience. Besides visiting a Fredericksburg winery, make sure to check out all of the other fun things to do in Fredericksburg.
Food & Wine Pairings at a Fredericksburg Winery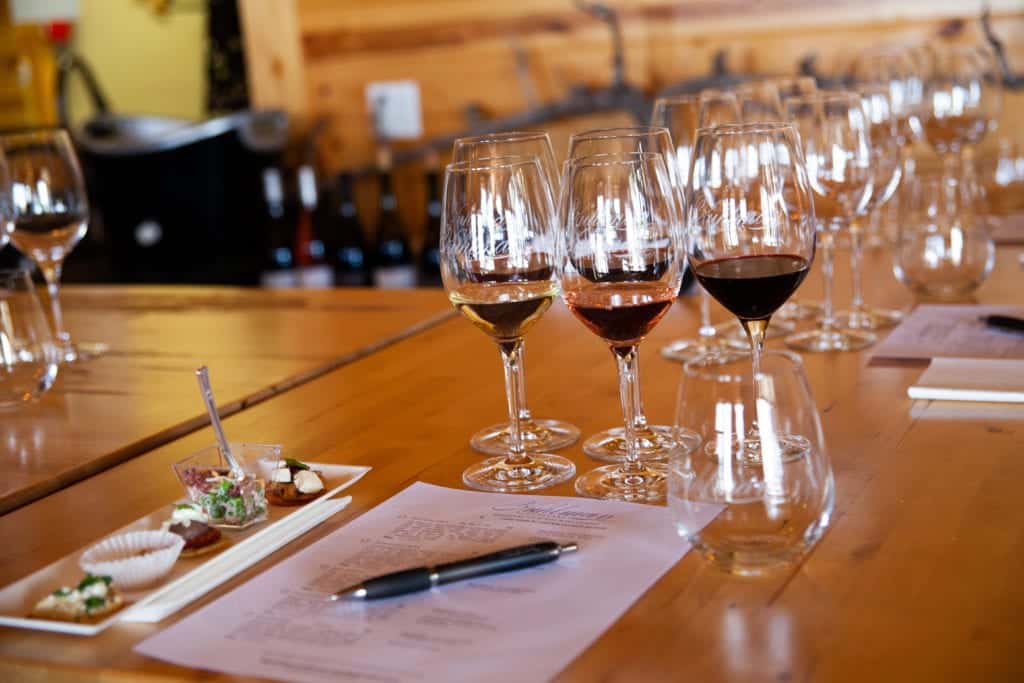 Not only does Kuhlman Cellars have fabulous wines, but a fun way to take your Fredericksburg winery experience one step further is with their table side food and wine pairing. They offer different pairings based on the seasons, but it's always a mixture of great items like crostinis, salami wrapped cheese, and other delicious items. On top of the wine, one thing you cannot miss is their herb almonds. People drive in to get these delicious almonds that are the perfect addition to any wine and cheese platter.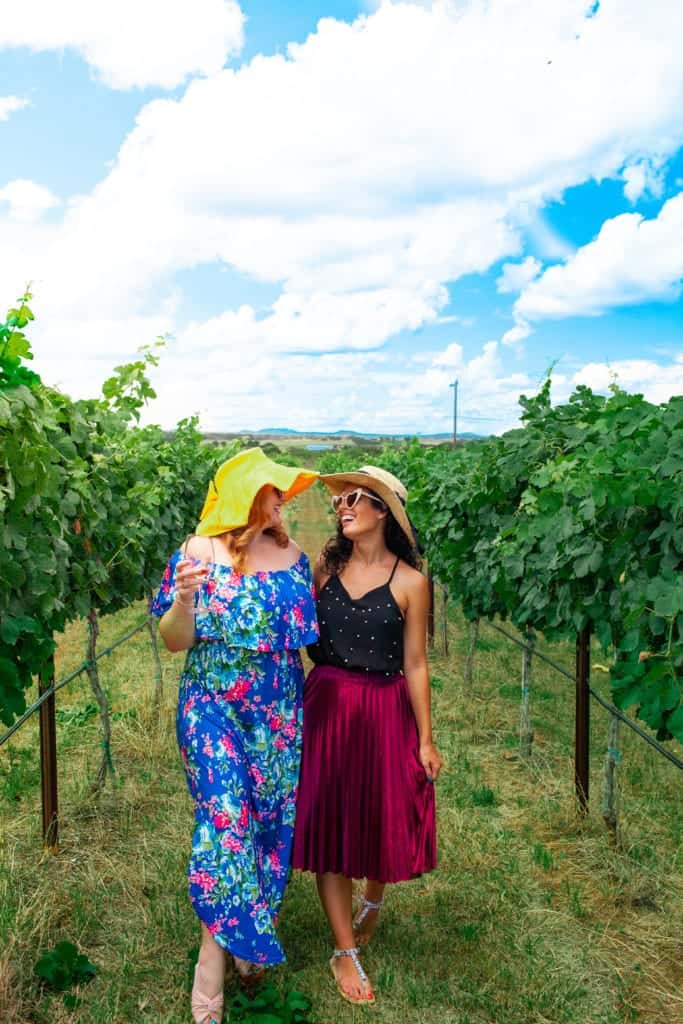 Plus, there's nothing like frolicking through the vineyards with your girls with a glass of wine in hand. The Rose Table and I had so much fun!
Drink Wine Straight from the Barrel
There's nothing like getting to see the behind-the-scenes of the wine-making process. At Pedernales Cellars you can go beyond the tasting room to see how the grapes are harvested, learn about the process of creating wine, and all of the intricate details of everything that goes into making wine. There are so many different factors that go into making the perfect wine, and it's fun to learn about the different steps. We went during the end of Summer when they were just getting the grapes in, so we even got to see fun additions like the grapes going through the press.
The best part is getting to taste the wine straight from the barrel. Most wines take time to age and are blended with other wine so you get to try the unfinished product which is delicious nonetheless. Afterwards you can grab a seat on their patio and enjoy a glass of wine overlooking miles of views as Pedernales Cellars sits on acres of land with views of the rolling Hill Country.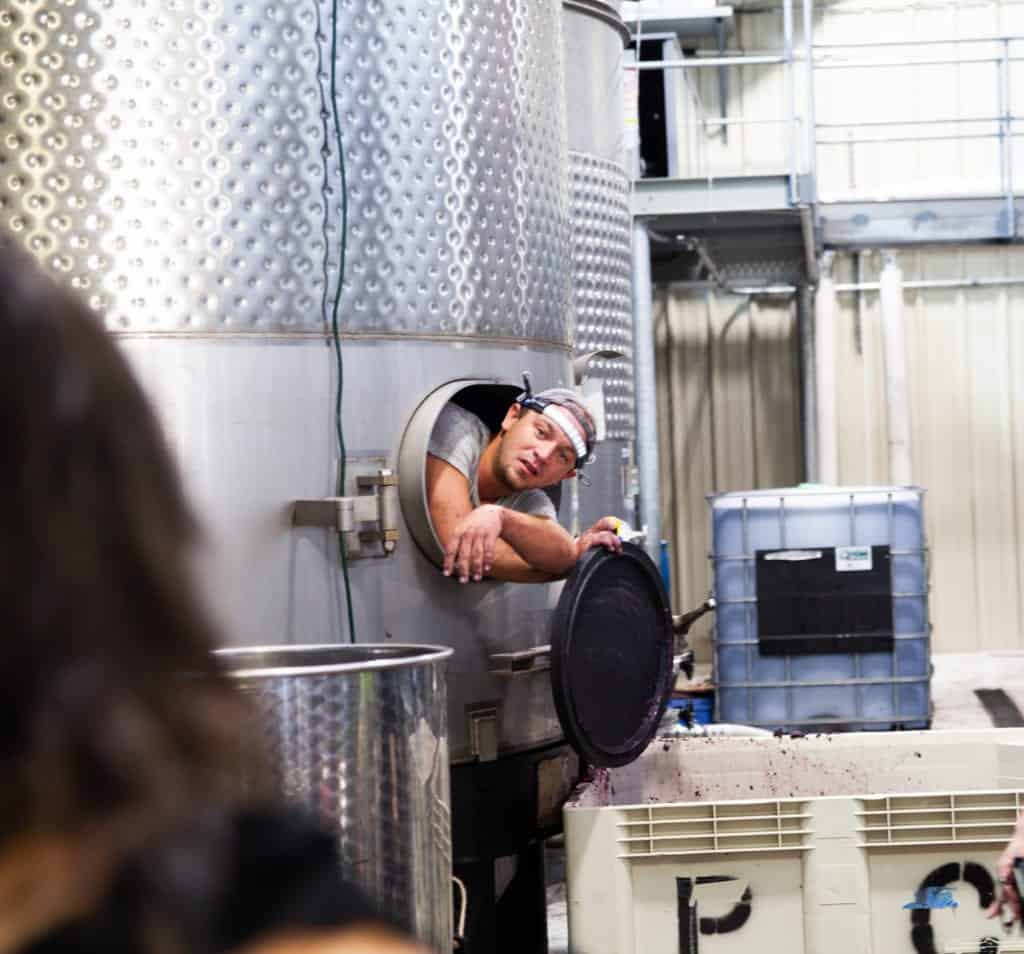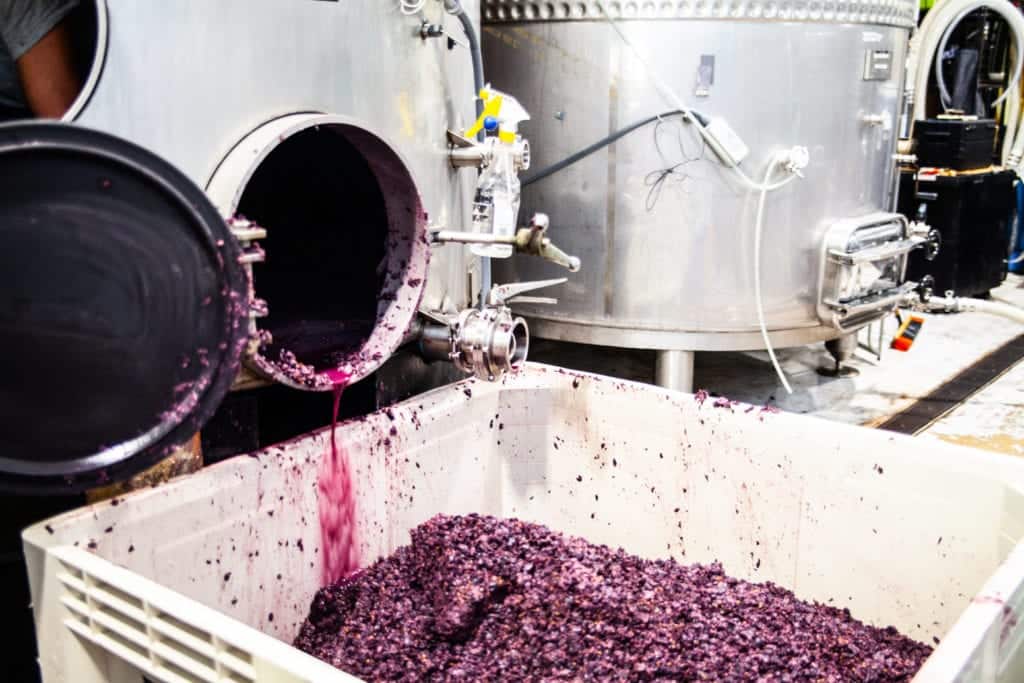 Cheese & Wine Pairings at a Fredericksburg Winery
4.0 Cellars itself is a unique experience simply because of how it came about. Three wineries – McPherson Cellars, Brennan Vineyards, and Lost Oak Winery – are all located in different towns outside of Fredericksburg. However, they joined together to create 4.0 Cellars so that you can try three phenomenal wineries all in one place. I already fell in love with McPherson Cellars when I went to Lubbock where they are located, so I was excited to find them close by.
In addition to the wine tastings, they also have a great wine and cheese pairing class. They pair two wines from each winery and pair it with Texas-made Veldhuizen cheese. Even better, this class is led by Mac & Cheese and wine pairing expert Carl Hudson. Yes! You heard that right! Carl Hudson loves to use Veldhuzien cheese to create unique types of mac and cheese and pair it with a 4.0 wine. He even has the perfect mac and cheese recipe that he will share with you. So while trying your cheeses and wine, you will also walk out with some great wine and mac and cheese pairing ideas!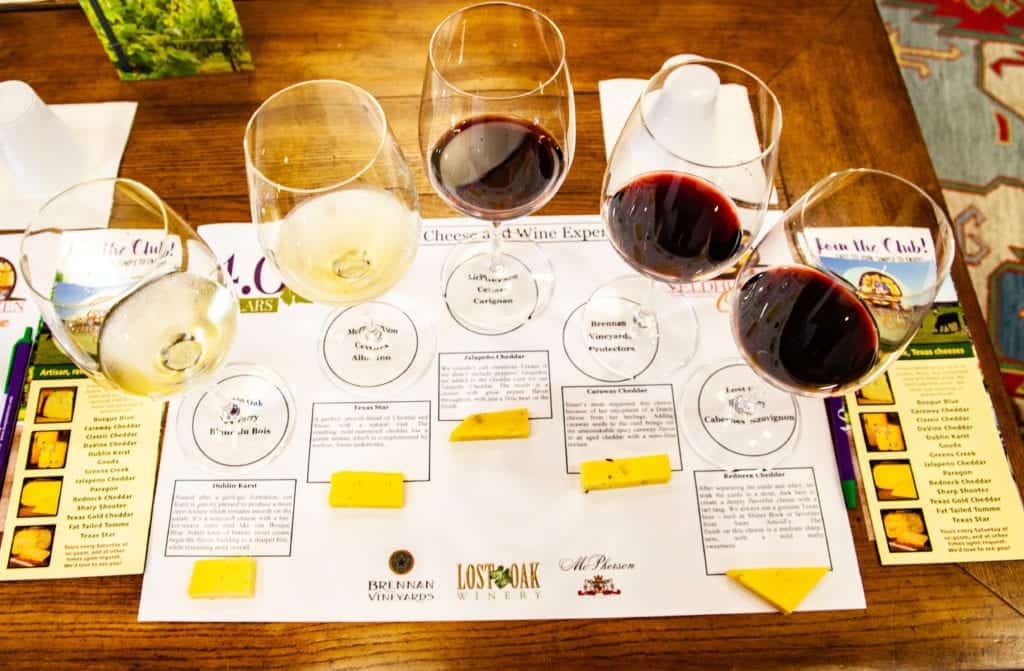 Sample Some Honey Wine
Now we've all had grape wine, but have you tried honey wine? We came across Texas Mead Works in Seguin, and I was excited when I saw they had a tasting room on the 290 Wine Trail. This is a Fredericksburg winery like no other with unique flavors. Make sure to try the Necromancer which has flavors of butterscotch.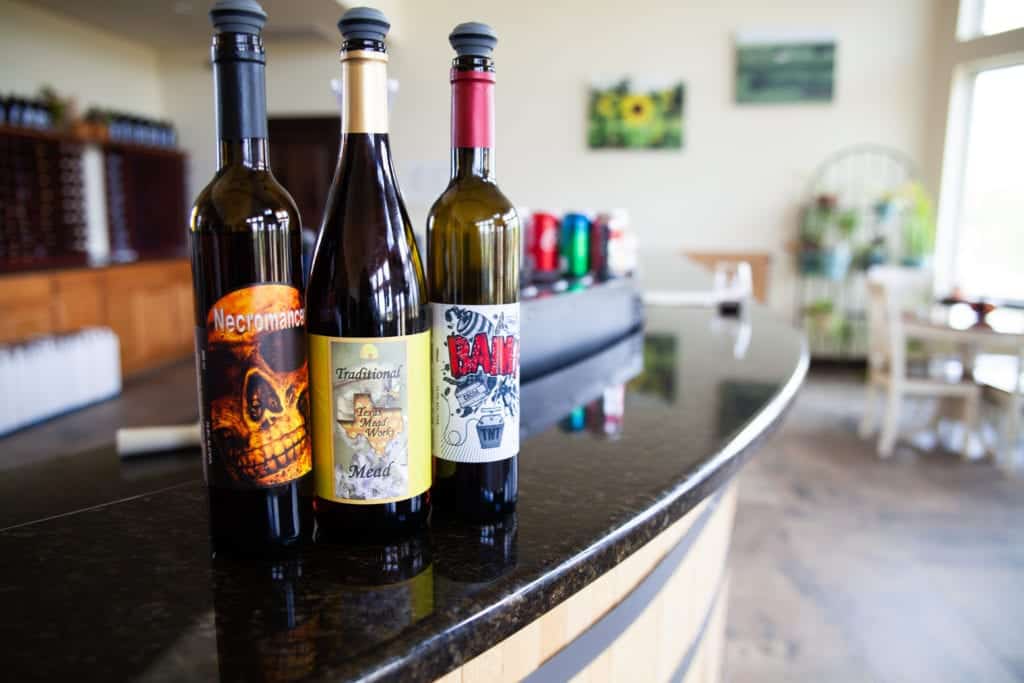 Enjoy 100% Hill Country Grown Grapes
80-85% of Texas grapes are grown in the Texas High Plains, so even when you are visiting a Fredericksburg Winery, the grapes are most often coming from much farther away. However, Pontotoc Vineyards has done what few other Fredericksburg wineries have done – created all of their wine using 100% Texas Hill Country grown grapes.
Their weingarten is conveniently located in Downtown Fredericksburg in the oldest building in town! It's the perfect place to end your day and relax with friends!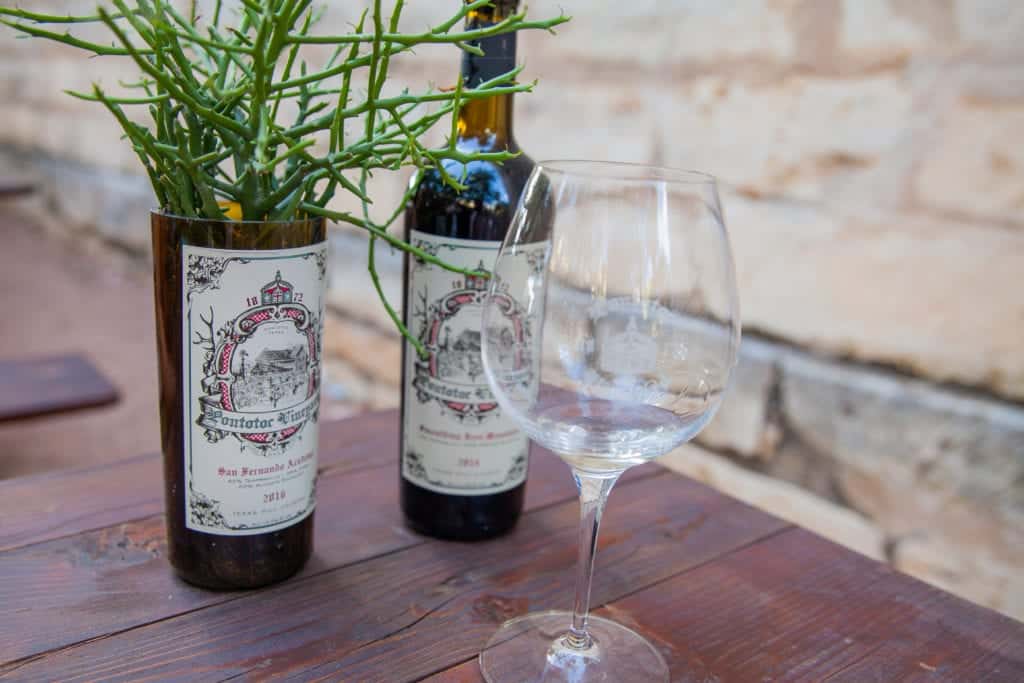 Visit Tuscany in Texas at a Fredericksburg Winery
Make all your friends envious of your "Italian" adventures when you are, in fact, at Grape Creek Vineyards, also lovingly known as Tuscany in Texas. With nonstop views of vineyards as you drive in, and beautiful Italian-themed architecture, you'll wonder if you're still in Texas.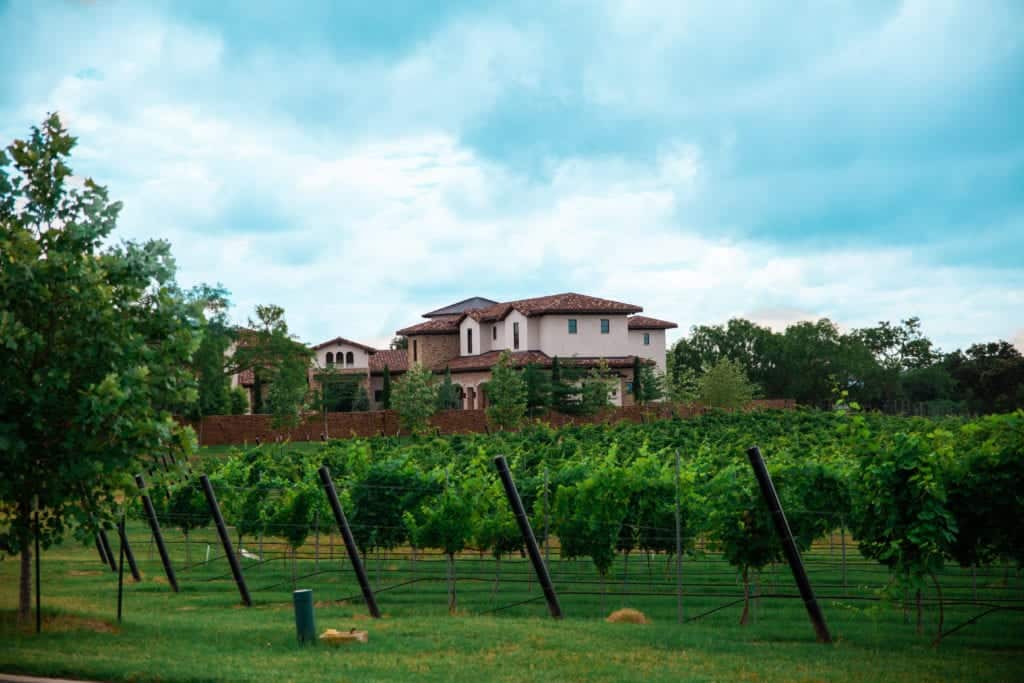 Tips for Getting the Most Out of Your Fredericksburg Winery Trip
To save the most money and get the most personal experience, you're going to want to visit Fredericksburg on a weekday. Hotels and B&Bs sometimes charge $100-$150 less per night on the weekdays! Not to mention you will get a more personal experience with the wine experts. On the weekends the wineries are often crowded, but on the weekdays they're much emptier. When we went, the staff was able to take the time to discuss what tannins are, help us to pick out flavor profiles, and make us feel like true wine experts.
Did you know visiting the 290 Wine Trail actually makes up Johnson City, Stonewall, Hye, and, and Fredericksburg? Since Stonewall is right in the center of the 290 Wine trail, it's perfectly situated to visit all of the Fredericksburg wineries. We stayed at Stonewall Motor Lodge that was minutes from multiple wineries!
Most places suggest visiting no more than 4 wineries in a day. I definitely don't recommend going over that number. Each tasting equals approximately a glass so four wineries add up to 4 glasses or more.
Speaking of drinking, don't plan on driving to all the wineries and drinking! We took Cottonwood Tours which offers Fredericksburg winery tours, offering pickups as far away as San Antonio. This meant that we could enjoy the wineries responsibly!