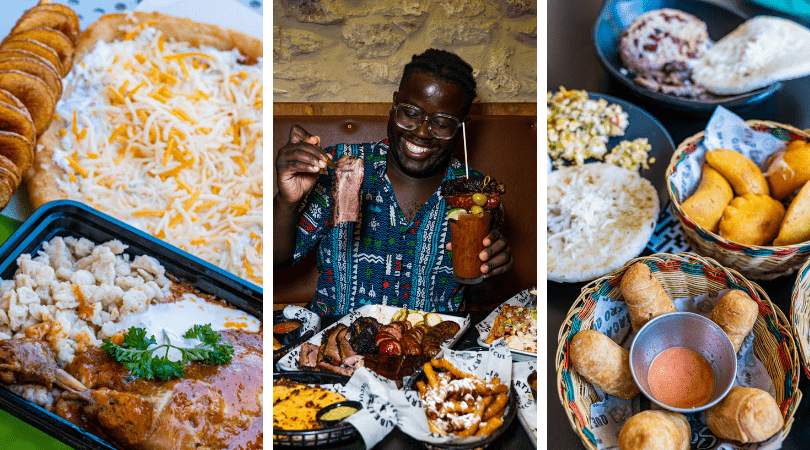 Round Rock's food scene and the list of where to eat this weekend is diverse and extensive! You'll find everything from a variety of international cuisine, several unique ways to serve up breakfast, Texas-sized foods, and more! On our list of where to eat in Round Rock, there is also a place for every meal, every craving, and every kind of travel group, so we gotcha covered on your next Texas getaway! Plus, with all of the fun things to do in Round Rock, it's probably best for you to devote a whole weekend to Round Rock and not just make it a stop on your way to Austin or Waco.
Where to Eat in Round Rock for Indian Food with a Side of Tableside Magic
Indian food is one of my favorite kinds of international cuisine. When we saw all that Rock N Grill had to offer, we couldn't get in their fast enough. Their menu is so extensive! They have vegetarian dishes, seafood, burgers, rice, noodles, as well as desserts, a lunch menu, and appetizers (vegetarian and non-vegetarian alike). You can also choose your preferred spice level for each dish; perhaps your tolerance varies within your travel group. This way, everyone can enjoy their food the way they like!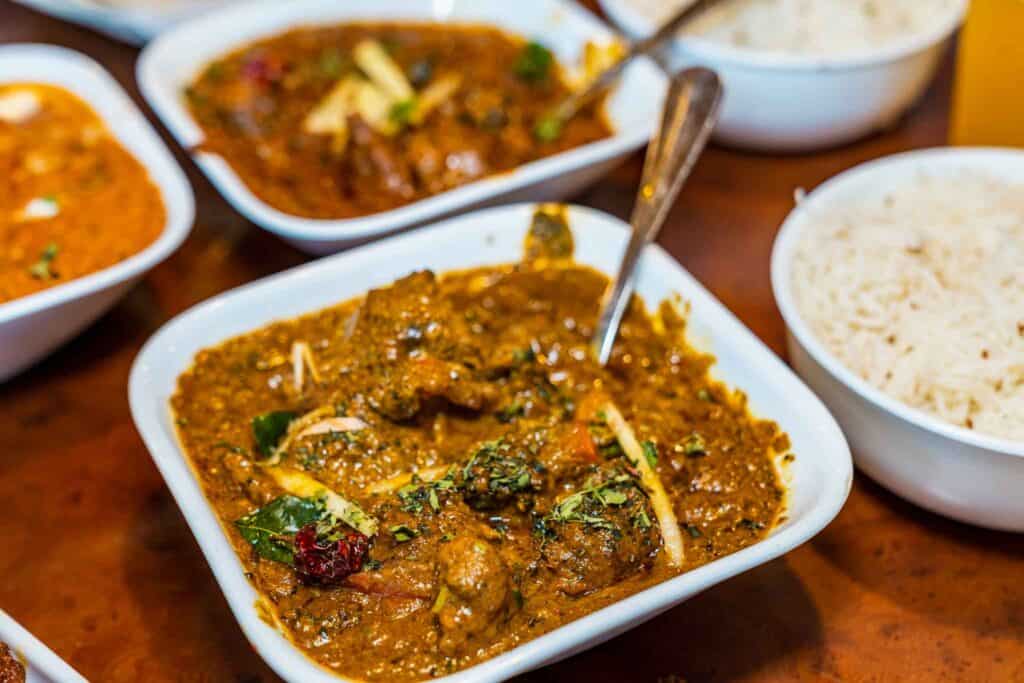 To start, we ordered the Goat Chops Tandoori Style for our appetizer, which came out loudly sizzling and wonderfully fresh. The aroma of the spices was so strong, it cleared our sinuses, and tasted even better! We ordered the Chettinad Mutton Curry, the Goat Nilgiri Curry, and the Murgh Tikka Masala with a side of garlic naan and butter roti naan. Each of the entrees came with a sizable portion of fluffy, moist rice. To close out our meal, we shared a Passion Fruit Lassi, a Nannari Sharbath, and a Mango Lassi. You can also choose from their selection of specialty beers!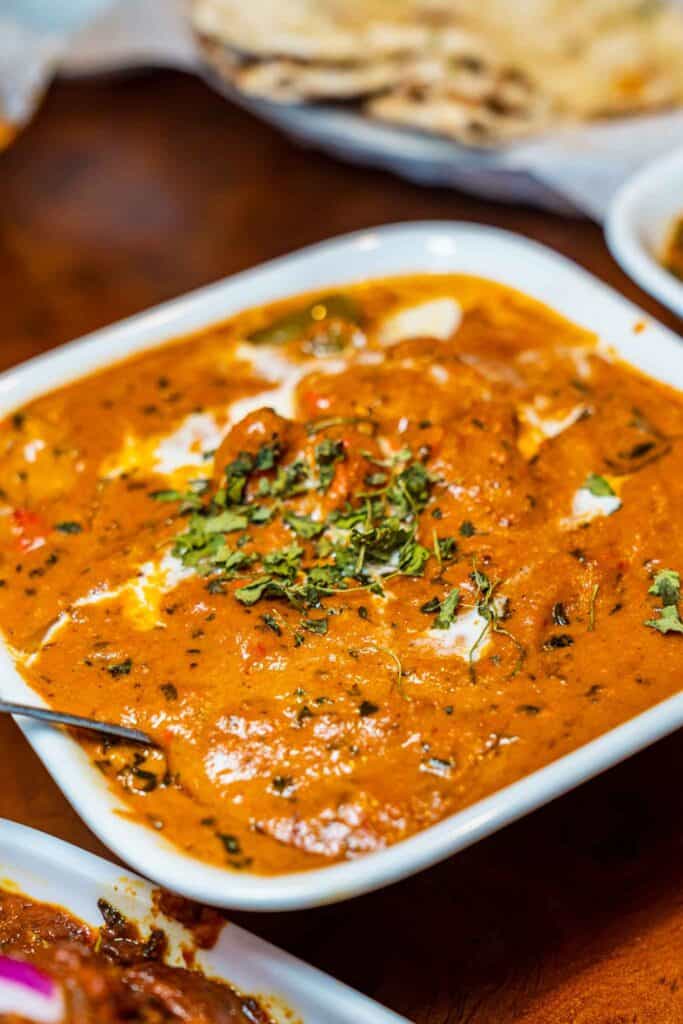 The chefs largely prepare dishes from South India, all made with natural meats and whole ingredients. All of their meats are also marinated in home-style, roasted spices cooked in the traditional way: inside a clay pot or on the grill. Thursdays through Sundays, Rock N Grill even has tableside magic shows!
Where to Eat in Round Rock for Organic Coffee & Local Pastries
This Best of Round Rock 2020 Winner, Mi Mundo Coffee, prides itself in serving their organic coffee with a smile. Additionally, their brand is committed to sustainability, from the way they recycle in-store to the sourcing of their coffee. Like what you hear? You can purchase a bag their coffee beans in-store to take home with you! If you're lucky, the barista working the espresso machine will create colorful latte art for your coffee, making for a perfect picture! There's no better place to spend some downtime reading or chatting than at this cute, bohemian style coffee shop in downtown Round Rock.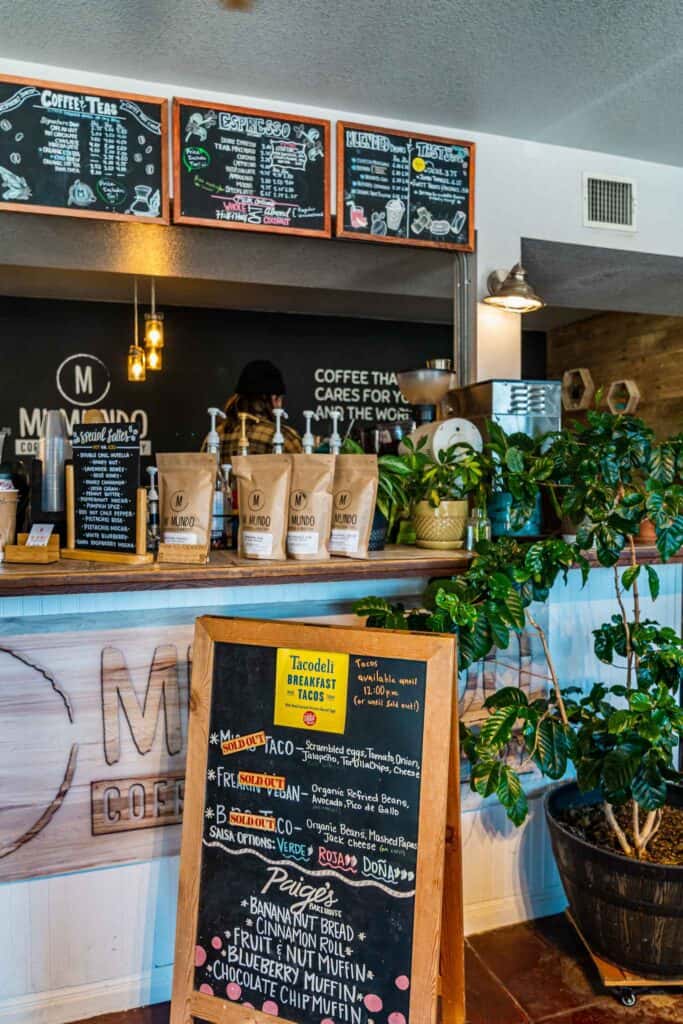 Need a little snack with your morning (or afternoon) pick-me-up? You can order various baked goods from Paige's Bakehouse, like banana nut bread, cinnamon rolls, and several kinds of muffins. You'll also find Tacodeli breakfast tacos for sale until noon, or until they sell out.
Where to Eat in Round Rock for a BBQ Brunch
Texas is home to its fair share of extravagant brunches and cocktails, but while we were in Round Rock, we happened across Liberty Barbecue. Their Texas Trinity Bloody Mary is garnished with a whole rib, piece of brisket, a piece of sausage, and of course, your traditional green olives and lime. It was really a whole meal in a glass!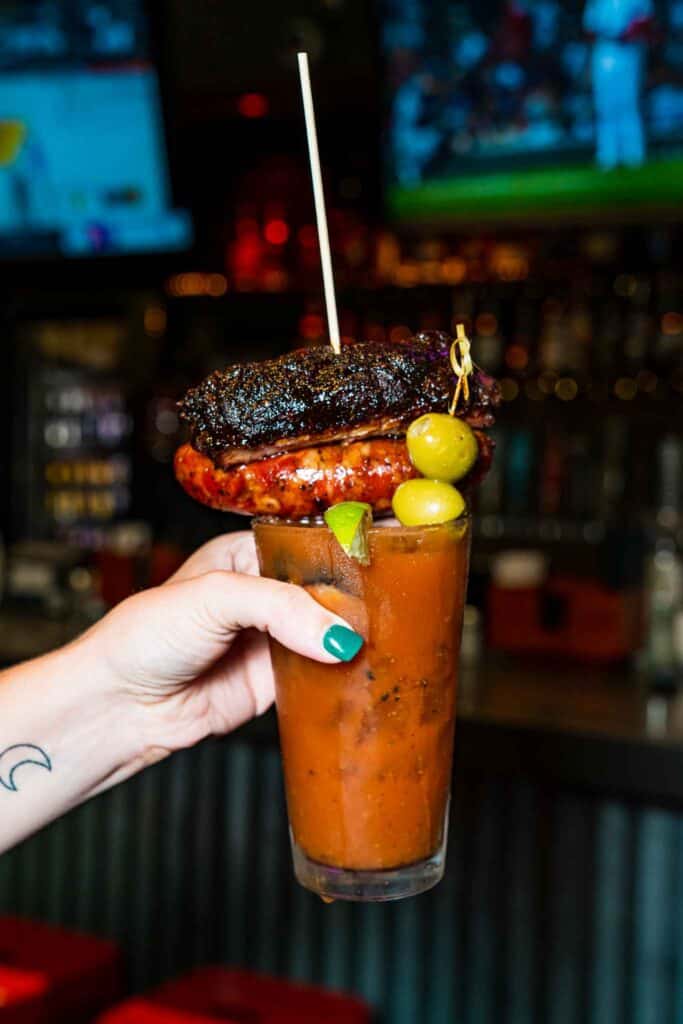 Another showstopper on the Sunday Brunch menu, the Sunrise Trash Fries: French fries smothered with brisket, cheese, bacon, ranch, and pico de gallo. Make it that much better by adding a fried egg on top! Or their Brisket Omelet served with avocado, Texas toast, and fries. And what would a BBQ joint that serves brunch be without its own spin on Chicken and Waffles. Order their Bacon Burnt Ends & Waffles with smoked and flash-fried pork belly burnt ends, a Belgian waffle, and smoked pecan butter.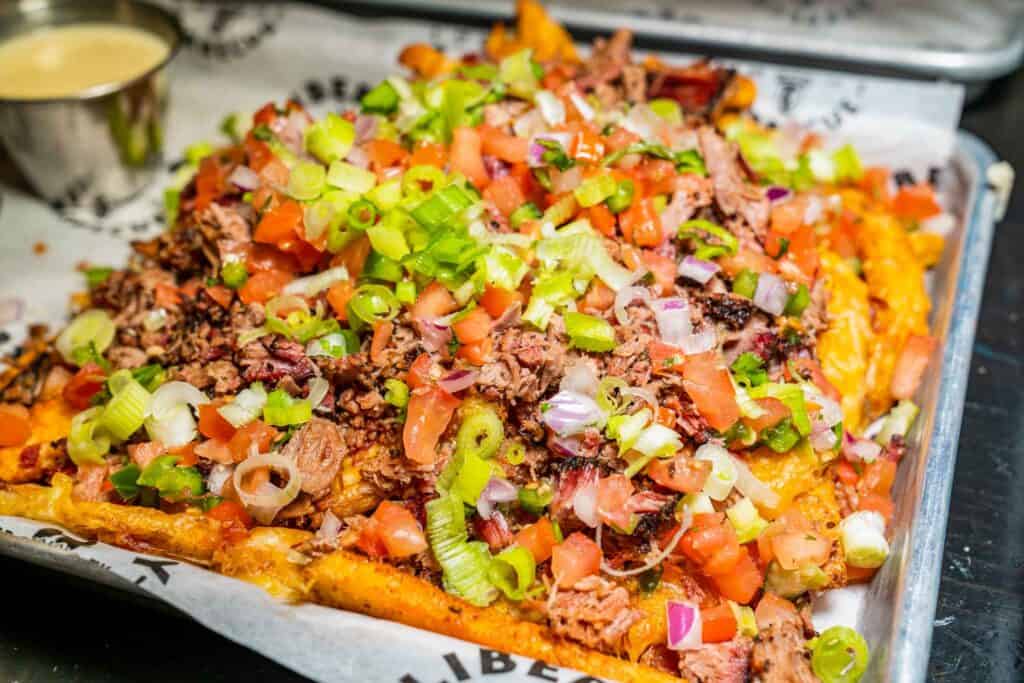 Didn't get enough? Come back for Liberty Barbecue's daily menu, where you can also order their Trash Fries, but you'll be gifted with a side of house made ranch and queso to drizzle over top. Build a meat plate with your choice of Mild Sausage, Jalapeño Cheddar Sausage, Boudin Sausage, Brisket, Pork Ribs, Pulled Port, or Smoked Turkey Breast, which are smoked on-site for many hours. Then choose from sides like coleslaw, potato salad, mac and cheese, cucumber salad, and beans.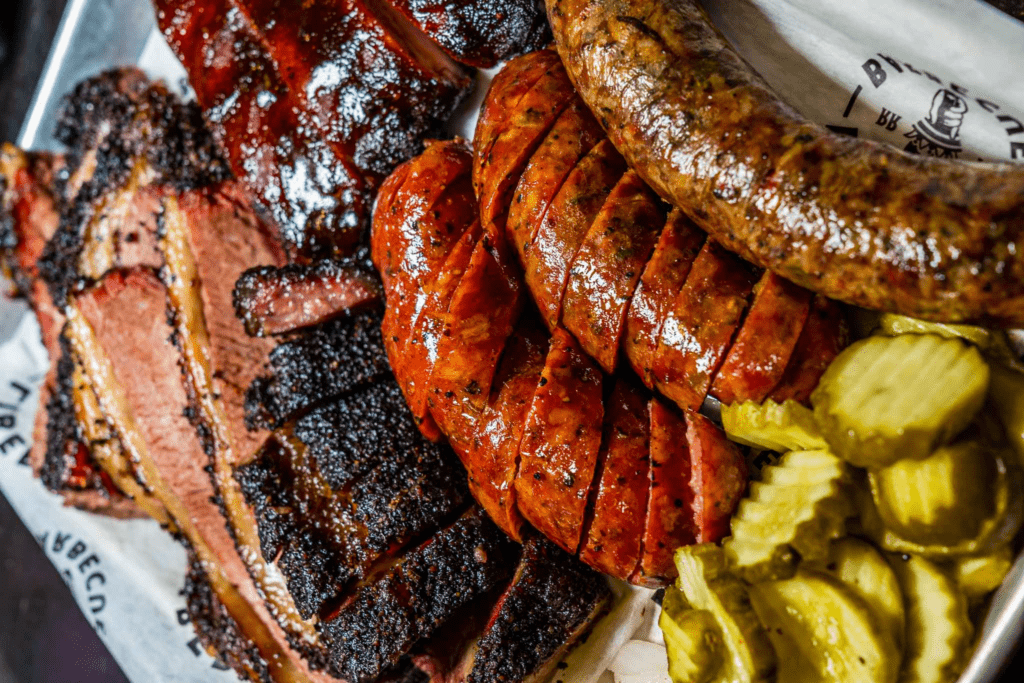 On Taco Tuesdays, Liberty Barbecue serves specials made from their meats. We visited when they had a Green Chile Pork Taco and a Brisket Taco with Avocado Crema. Wonder why their tacos are so good? They tortillas are made in-house using the beef tallow to oil up the flat top. We also ordered a Paloma, made with Verdadero Tequila, an award-winning, locally owned tequila, or have it made into a margarita if that's more your style!
DO NOT leave without having dessert. We tried their Funnel Cake Fries, served with caramel sauce and powdered sugar, as well as their Banana Pudding, which they prepare fresh daily. The sweetness from the bananas went perfectly with the creamy mixture of whipped cream, condensed milk, and cream cheese on top. The vanilla wafer topping made it all come together in the best way. If you're going to get dessert, definitely get the Banana Pudding.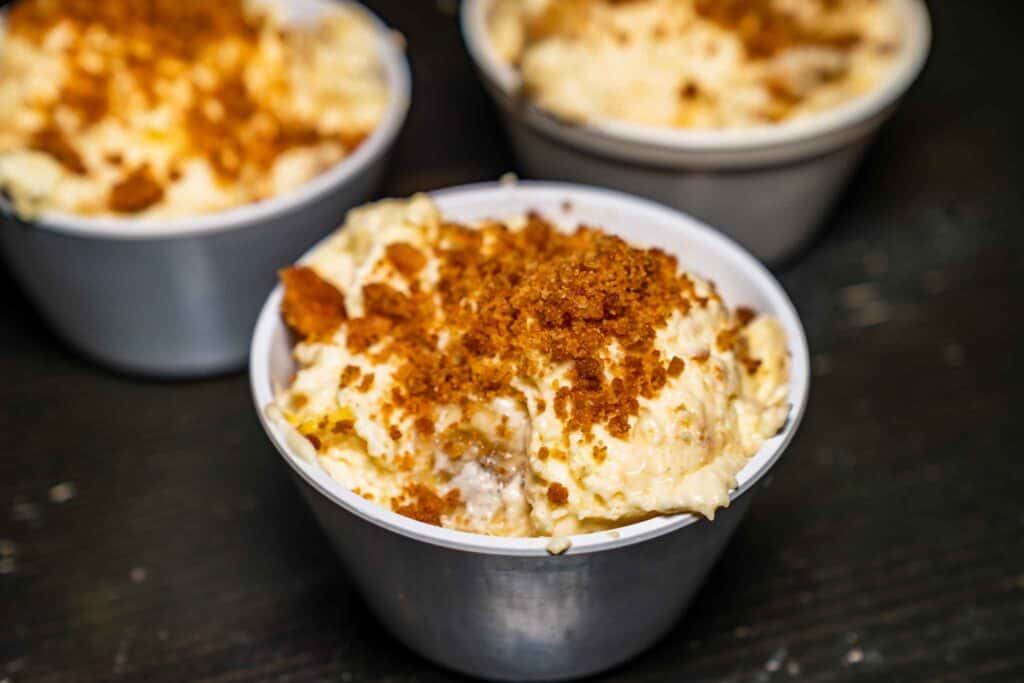 Do Some Barhopping
Downtown Round Rock is also home to several local bars and dives if you're looking for a laid-back night out before heading back to your hotel for the night. You'll likely come across some live music and the Round Rock water tower all lit up, towering over the downtown area.
Indulge in a Stylish Happy Hour
The walls of the clubhouse and bar at the Ruby Hotel are painted black, complimenting the dim lighting and creating a laid back, moody atmosphere, the perfect atmosphere for a Happy Hour or an evening hangout. There is a grand, stone fireplace, games, along with armchairs, a couch, and a dining table for whether you're socializing or grabbing a drink as you work. The patio overlooks the creek that runs behind the Ruby Hotel, offering an unforgettable view over drinks or as the sun sets. The Ruby Bar serves all three meals during specified times, plus small snacks and weekend brunch. The Ruby Hotel & Bar is also available to rent for events like weddings and corporate retreats.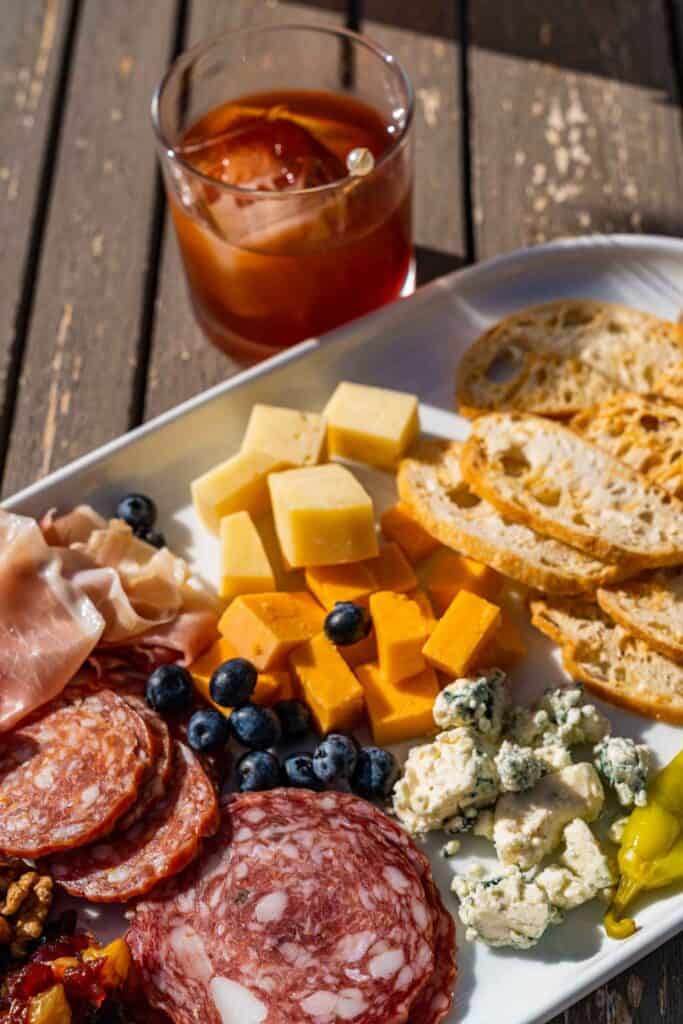 *Note: Happy Hour takes place from 4pm to 6pm Mondays through Fridays. Weekend Brunch is from 8am to 2pm.
Sip & Snack by the Pool
If you're planning a stay at the Ruby Hotel, make sure to set aside some time to cool off under their shaded, intimate pool. Order a charcuterie board to snack on, made with cheese from Antonelli's, a famous cheese shop in Austin. Want to enjoy your libations and fare poolside? Just let your bartender know and they'll pack up your goodies for you and put your drink in a plastic cup for you to enjoy safely poolside. You'll discover plenty of seating for the size of the pool, along with complimentary pool floats and easy access from the rooms in Building A.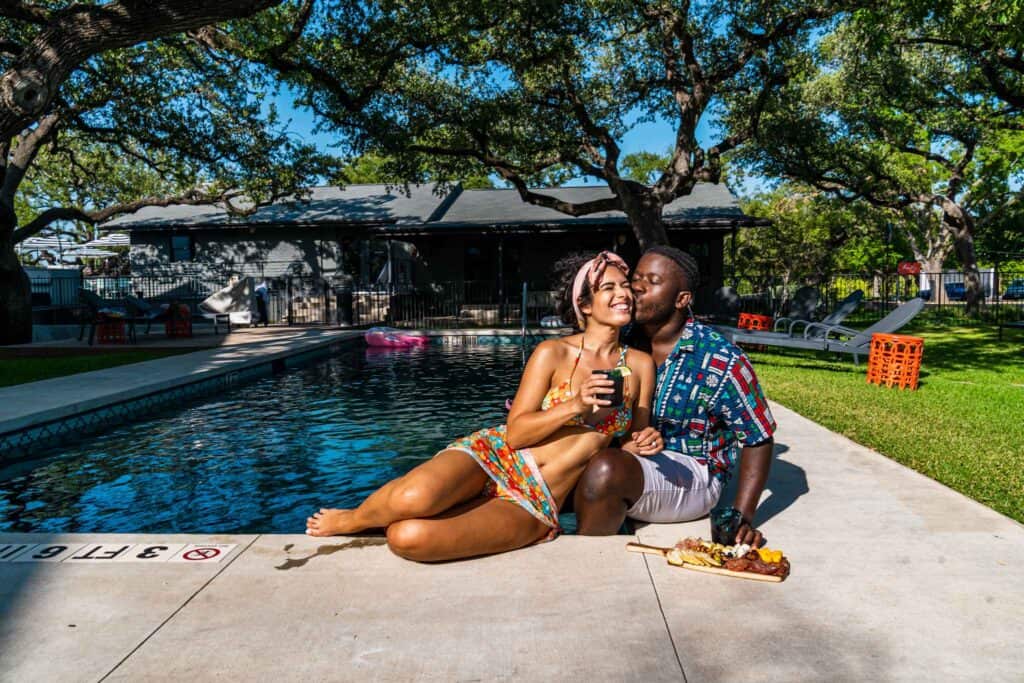 Where to Eat in Round Rock for Two-Pound Donuts
Round Rock Donuts, established in 1926, is well-known for their bright orange/yellow color. The source: the recipe calls for only fresh eggs! Not to mention, these remarkably tasty and flaky donuts make it impossible for them to be made with a machine, meaning you'll only get donuts that have been rolled, cut, fried, and glazed by-hand! You can also order their famous Texas-sized donuts, glazed or chocolate-covered, weighing in at a monstrous two pounds!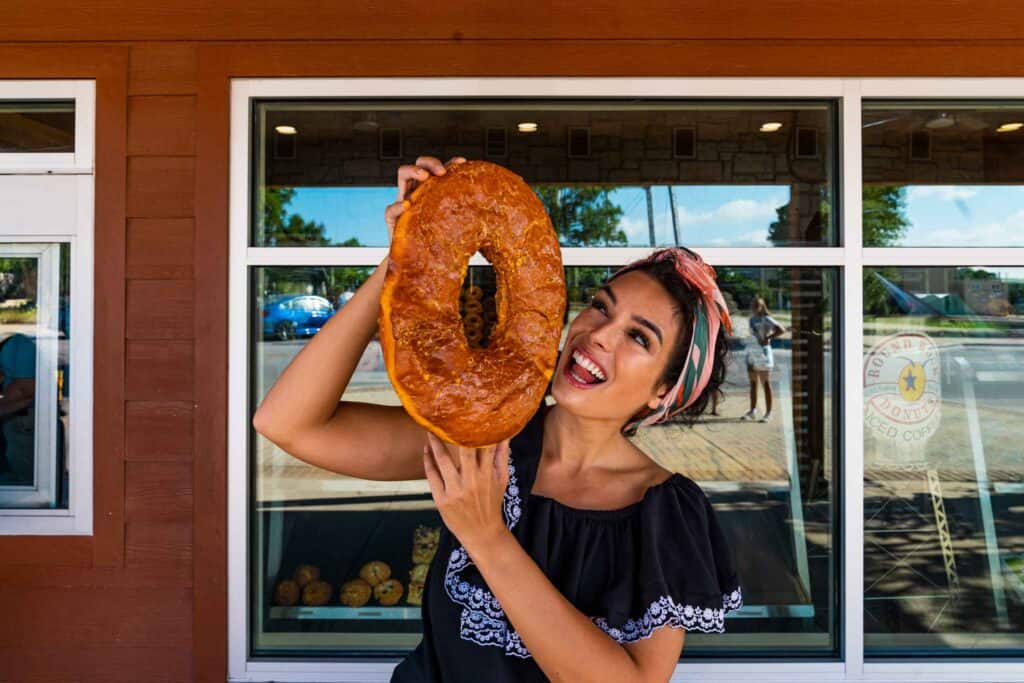 Also on the menu, you'll find small and large kolaches, a variety of other donuts, a limited but delicious coffee menu, as well as merch and coffee from Hill Country Roasters you can take home with you! Make sure to give your travel group some extra time if you are on a set schedule because the drive-thru line can be busy. You can also walk up and order from the window if you'd prefer.
Where to Eat in Round Rock for Extravagant Milkshakes
If the Kalahari Indoor Waterpark and Tom Foolery's weren't already magical enough, you can also bowl while you sip on extravagant milkshakes at B-Lux Grill & Bar, Tom Foolery's on-site restaurant. We ordered their B-Lux Donut Shake, topped with two donuts from Round Rock Donuts, and their Birthday Cake shake, topped with a whole cupcake and a matching sprinkle-covered rim. For more about Kalahari and Tom Foolery's, check out our list of things to do in Round Rock too!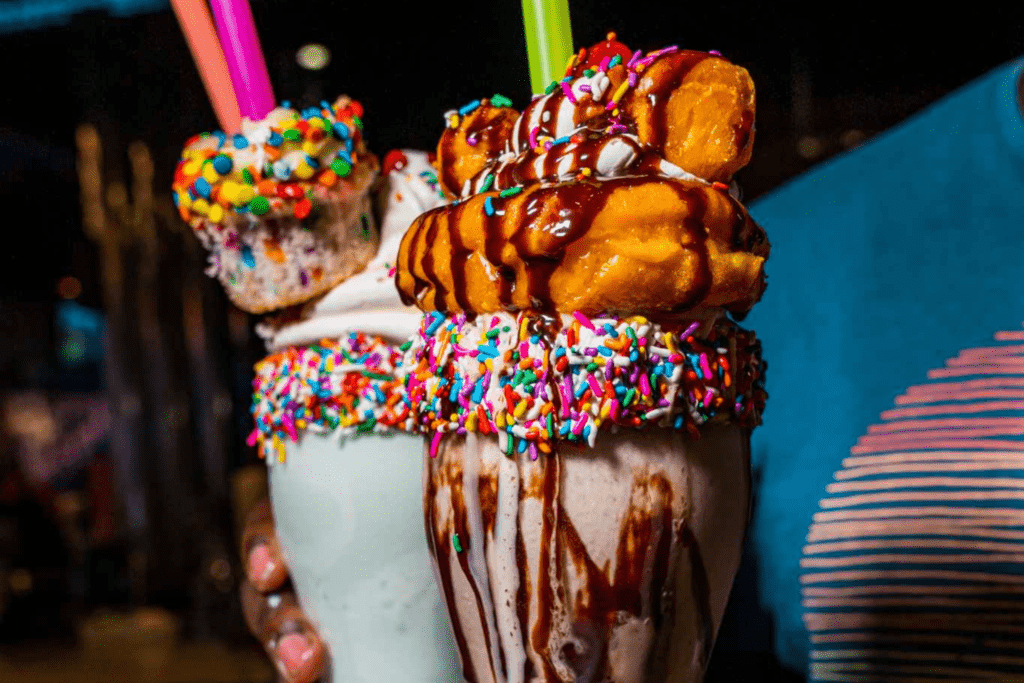 Where to Eat in Round Rock for Ballpark Food Done Right
Ballpark food is a genre all its own, but Dell Stadium in Round Rock has redefined what ballpark food can be. You can grab a Grilled Cheese Swaddled Hotdog from Goodstock Grill, Teriyaki Skewers and Tater Tots from Ono Pacific Grill served in a souvenir bowl, a Loaded Brisket Baked Potato from Southside Market & BBQ, Chicken and Beef Street Tacos from Rojo's Southwestern Hideaway, vanilla shakes in souvenir cups from Scoops Ice Cream, and so much more! You can also use the Seatz app and have your snacks and drinks delivered to you in your seat!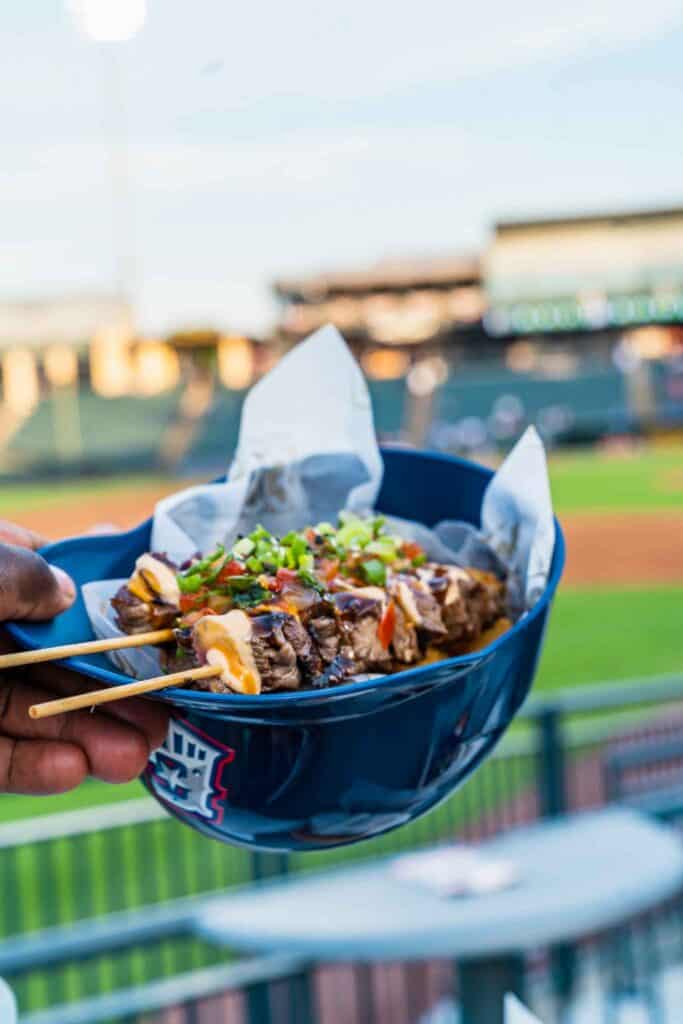 Where to Eat in Round Rock for All-Day Colombian Breakfast
If you're an avid lover of breakfast, Sabor Colombia serves tasty Colombian breakfast all day! Choose from a variety of bakery items, plus their breakfast plates of Huevos Pericos (GF), and Calentado (GF). The list of tasty Colombian dishes doesn't end there! Not to mention, their extensive list of appetizers, specialties, and several of their meat dishes are gluten-free!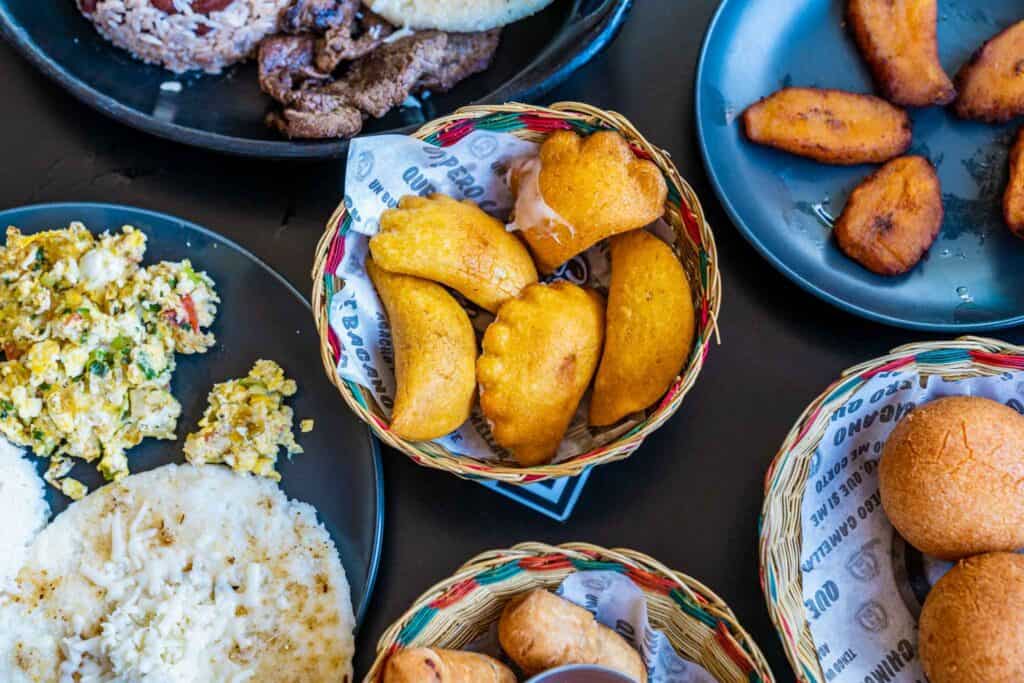 Where to Eat in Round Rock for Hungarian Food & Shopping
When you're in need of some fuel during your extensive shopping trip at the Round Rock Premium Outlets, stop by this cute red food truck near Calvin Klein. Home to Galambos Family Hungarian Food, this family-owned businesses is owned by a Hungarian couple who are so passionate about their food and beyond excited to share it with you! Their menu is extensive for their size and SO good!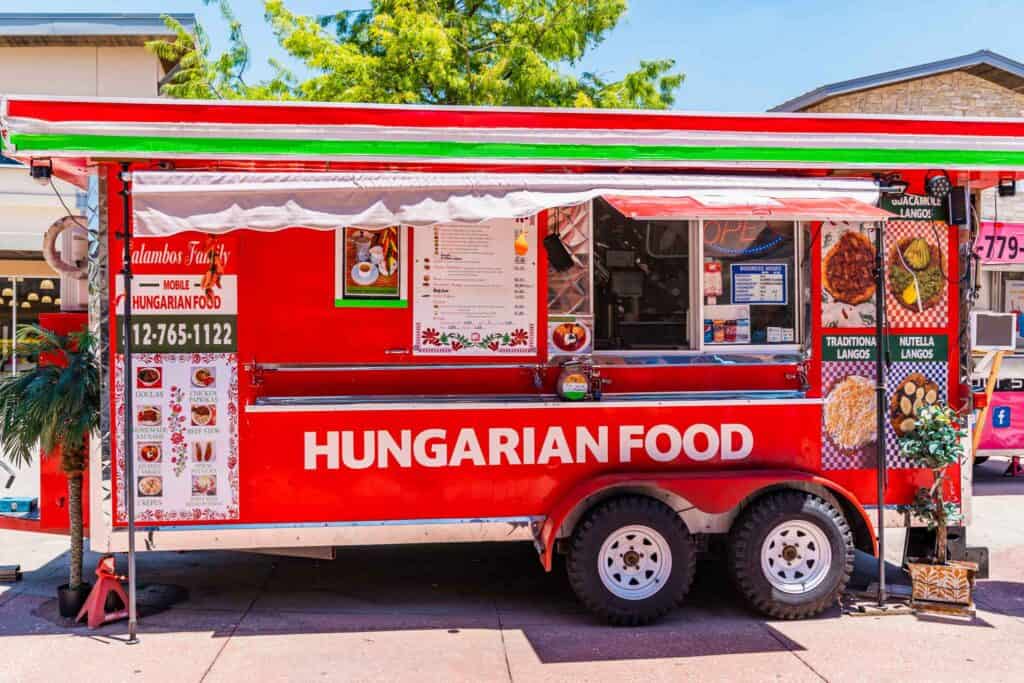 It was our first time trying Hungarian food, but we absolutely fell in love. We ordered their Traditional Langos (Hungarian Fried Bread topped with sour cream and shredded cheese), Spiral Potatoes, Chicken Paprikash (chicken in a creamy paprika sauce), then Zserbó (a layered cake filled with different jams) and Poppy Seed Bread Pudding for dessert. You can also order Hungarian dishes like Hungarian-style Espresso Coffee, Goulash, and Stuffed Cabbage!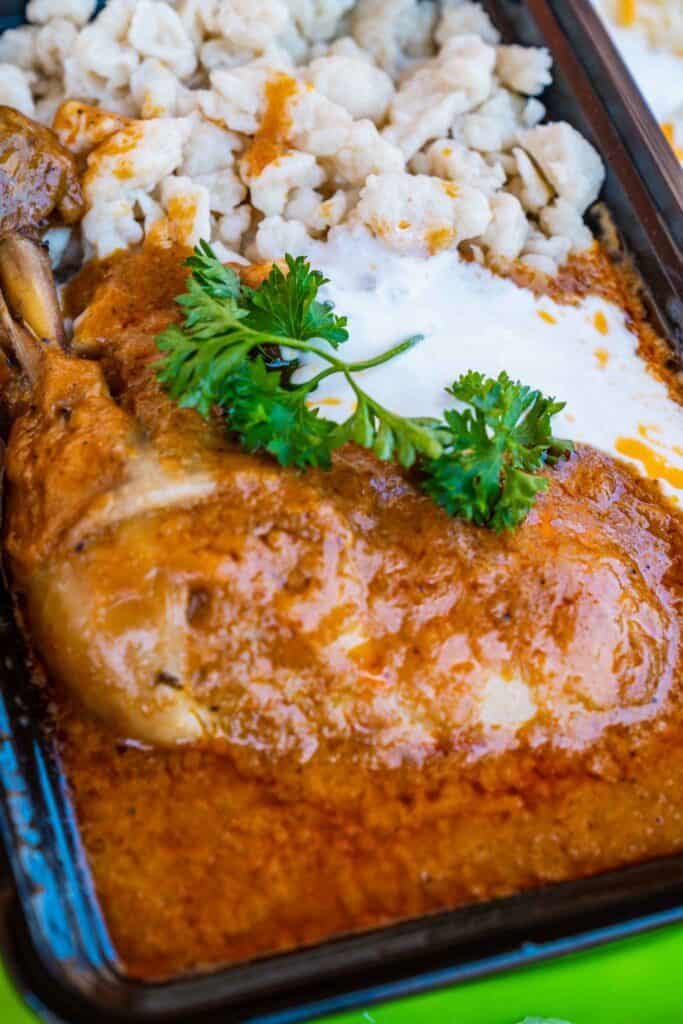 Where to Eat in Round Rock for an Upscale Irish Pub
At Cork & Barrel Craft Kitchen and Microbrewery, aside from their spacious, up-scale, indoor seating area, you'll also find a gorgeous, spacious patio lit with string lights with a barrel you can eat inside of! Here, you can enjoy the equally tasty and luxurious dishes that are prepared and plated for your entertainment: the way the butter melts and flows through the grill marks of the Darlington Ribeye, the beauty of the mussels in the Cliffs of Moher Ginger Mussels' champagne broth, the way the flames lick the Brown Sugar Habanero Dust on the Flaming Bacon, and the way the smoke billows out of the Smoked & Salted Old Fashioned.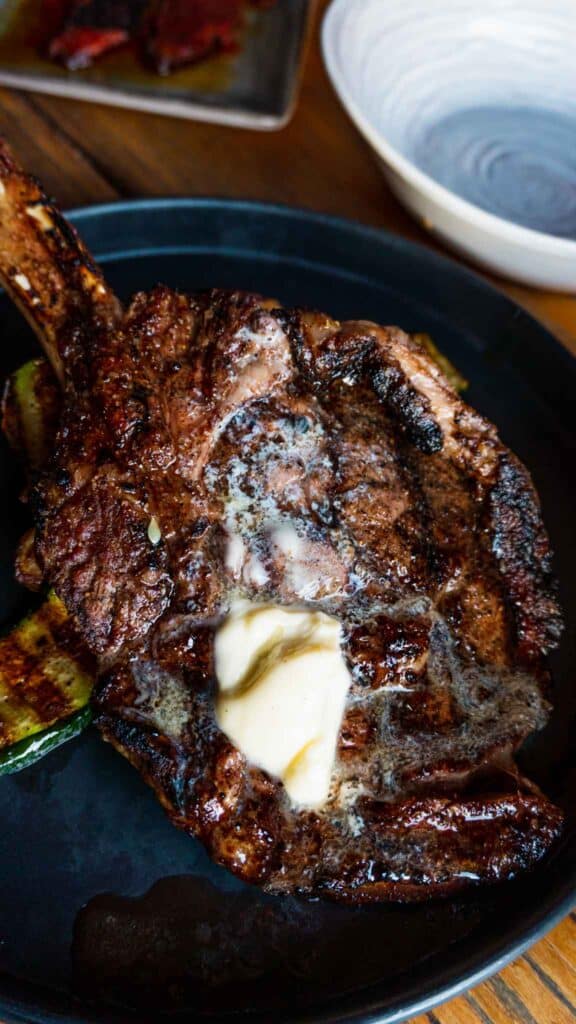 Where to Eat in Round Rock for Mediterranean Food
Named for the southernmost island in the Caribbean, Trinidad & Tobago Cafe will take you on a tropical island getaway! Serving authentic Trinidadian cuisine, and highlighting the island's variety of cultural influences, you'll find menu items like ox tails, curry goat, stew chicken, jerk chicken, goat roti, plantains, and more!
Where to Eat in Round Rock for Homemade Peruvian Food
Conveniently located in downtown Round Rock, Brasas Peruanas is not only delicious and the perfect place to further your journey eating international cuisine in Texas, but it is also a great place to take your large travel group for a tasty and affordable meal. Their Family Combo comes with a whole rotisserie chicken, French fries, and a salad with Ají de Pollería to dip your chicken and/or fries into and a vinaigrette made from scratch to drown your salad in.
Choose from other authentic and delicious Peruvian dishes like Ceviche Limeño (fish marinated in lime juice and ají with sweet potatoes and corn), Lomo Saltado Limeño (sauteed sirloin with French fries and garlic rice), and Anticuchos (grilled beef heart chunks served on a skewer with Peruvian white corn and potatoes). No matter your food preferences, you'll find gluten-free items, as well as items typically made with meat that can be converted into a vegetarian dish.
Don't forget to try their unique Peruvian drinks, all made in-house, like Chicha Morada, Maracuya, and Inka Kola (a Peruvian soda). You can also choose from their selection of Peruvian wines and beers.
Where to Eat in Round Rock for Wine, Small Bites & More!
A family-owned wine bar in Round Rock, Wine Sensation was built off of Patrease Rogers' passion for wine. Now a local Round Rock favorite, this is the perfect place to experiment and learn what kind of wines you like best. Choose from a glass or a flight and then take a bottle home with you! An affordable establishment with tasty food made from scratch, you can drink wines from all over the world with the wine experts of Wine Sensation there to help you along the way. Not a wine fan? They also have a beer selection! With an outdoor patio, the most beautiful plates, and a greenery wall perfect for your photos, you'll have the time of your life!
Where to Eat Near Round Rock TX This Weekend
Salt Lick BBQ
Everything about this BBQ joint screams Texas, from the rustic decor and giant portions to the oak trees and wildflowers. Just a short drive from Round Rock, Salt Lick BBQ in Driftwood, Texas has been smoking its own meat since 1967! They're well-known not only for their barbecue, but also for their exceptional BBQ sauce (they'll ship both nationwide), their HUGE sandwiches made with a variety of meats, their Texas-sized desserts and more!
Traveling with a large group? Get all-you-can-eat beef brisket, sausage, pork ribs, potato salad, coleslaw, and beans with their Family Style meal! Now that's a deal!
Where to Eat in Round Rock This Weekend: Final Thoughts
With all of the things to do in Round Rock, it is even more imperative to have food that everyone will enjoy. It isn't fun when you have grumpy kids (or adults) while exploring. As you can tell, Round Rock's list of where to eat this weekend is surprisingly long, but undeniably delicious, so planning your meals will be that much easier and will only add to the experience you'll have on your next trip to Round Rock TX!