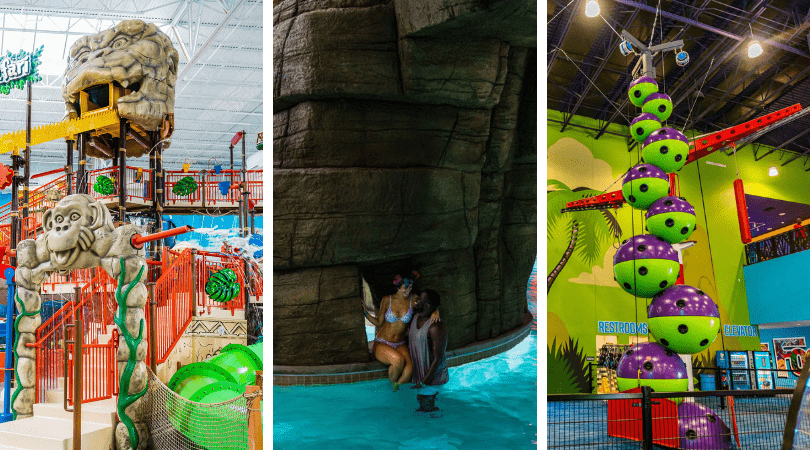 Did you know Round Rock is home to the country's largest indoor waterpark: Kalahari Resorts & Indoor Waterpark? No matter the temperature outside or the time of year, you and your family/friends or significant other are in for a memorable Texas getaway. Voted one of the world's coolest indoor waterparks, Kalahari Resorts Texas will blow your mind! With that said, make sure to add it to your list of things to do in Round Rock in some capacity because there are so many things to enjoy at Kalahari Resorts & Indoor Waterpark. You may just have to make it your go-to vacation destination or even the location of your next wedding, birthday party, or convention!
Note: Ticket prices and specials are subject to change and dependent upon the day of your ticket or hotel booking.
Features of the Country's Largest Indoor Waterpark
To get to the waterpark, you'll enter through Tom Foolery's, where you'll buy your wristband for entry at a desk across from B-Lux Bar & Grill. Tickets are cheaper during the week compared to Fridays and weekends. You can also buy a combo pass for both the waterpark and Tom Foolery's.
After walking through the turnstiles, you'll go through a set of doors, with restrooms nearby. Otherwise, if you continue through the second set of doors, you'll see lockers for rent on your left and a towel stand on your right. Towles are available for purchase by day pass guests, but if you have a room booked at the hotel, towels are complimentary. With this in mind, decide whether it is best for you to bring your own towels or not.
Walk further into the park and you'll find dozens of tables, chairs, and more lockers. The lockers vary in price based on their size. The Kalahari Indoor Waterpark also has a variety of cabanas for rent, including some furnished with patio furniture and others with TVs and personal hot tubs.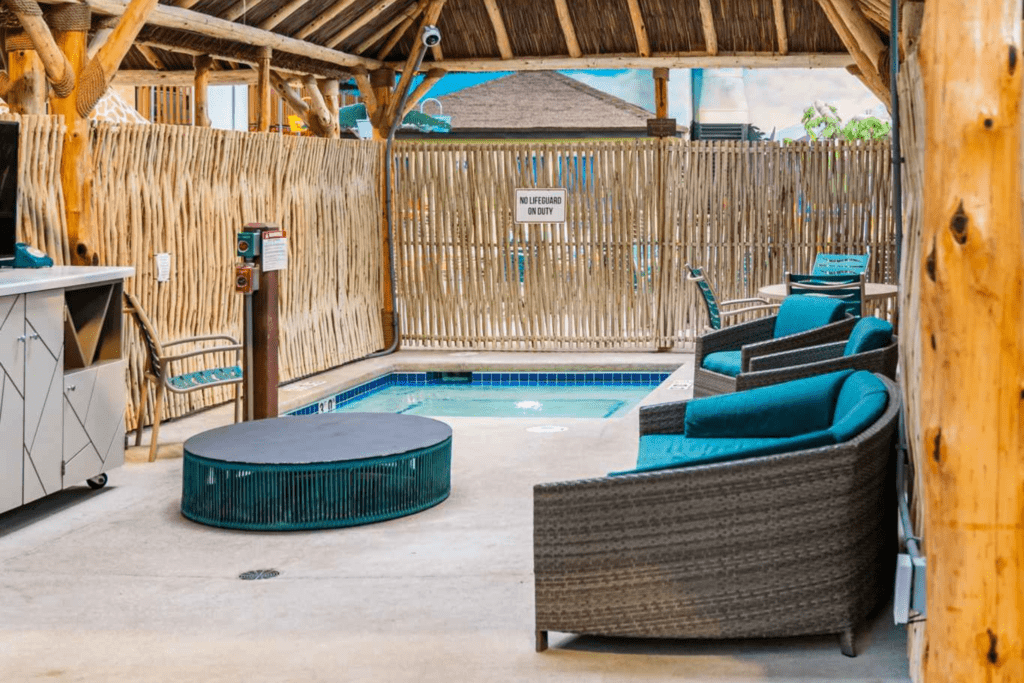 When you're ready for the fun to begin, you have SO many options! You'll find a lazy river, several kids areas and water playgrounds, a surf simulator where you can sign up for lessons, body slides, tube slides, an indoor and outdoor swim-up bar (adult's only), a wave pool with a big screen, an on-site restaurant where you can grub without worrying about changing clothes or leaving the park, and a third bar in the main area of the park you can easily access.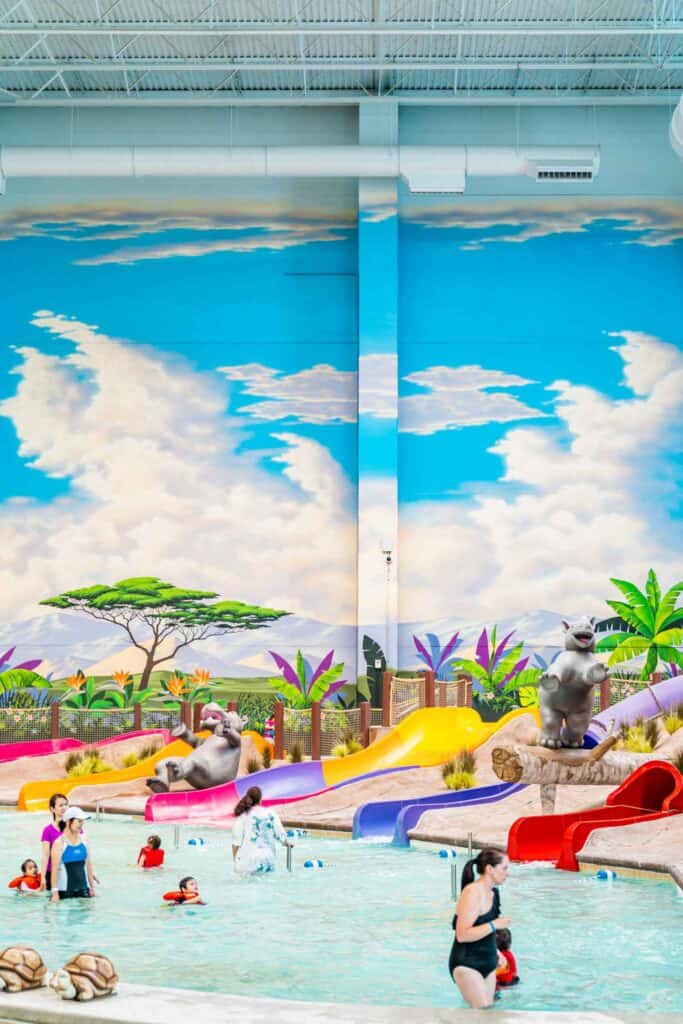 What's really cool is if you are visiting Round Rock and are looking to add Kalahari's Indoor Waterpark to your list of things to do, you can buy a pass for admission after 5pm for as cheap as $50 on the weekends, and even cheaper during the week!
The Adults-Only Swim-Up Bar: The Grotto
If you're planning a trip to the Kalahari Indoor Waterpark in Round Rock with your significant other or with a group of friends, this is bound to be one of your favorite parts! Kalahari Resorts is all around family-friendly and kid-friendly, but sometimes a little downtime and change of pace is good when you're looking to relax.
The Grotto is Kalahari's adults-only, swim-up bar, so a valid ID is required for entry. In return, you'll be given a wristband for NO additional cost, so you can come and go as you please! Don't worry about having to bring along your wallet or possibly losing your ID! You can easily return your ID to your locker and then re-enter the Grotto.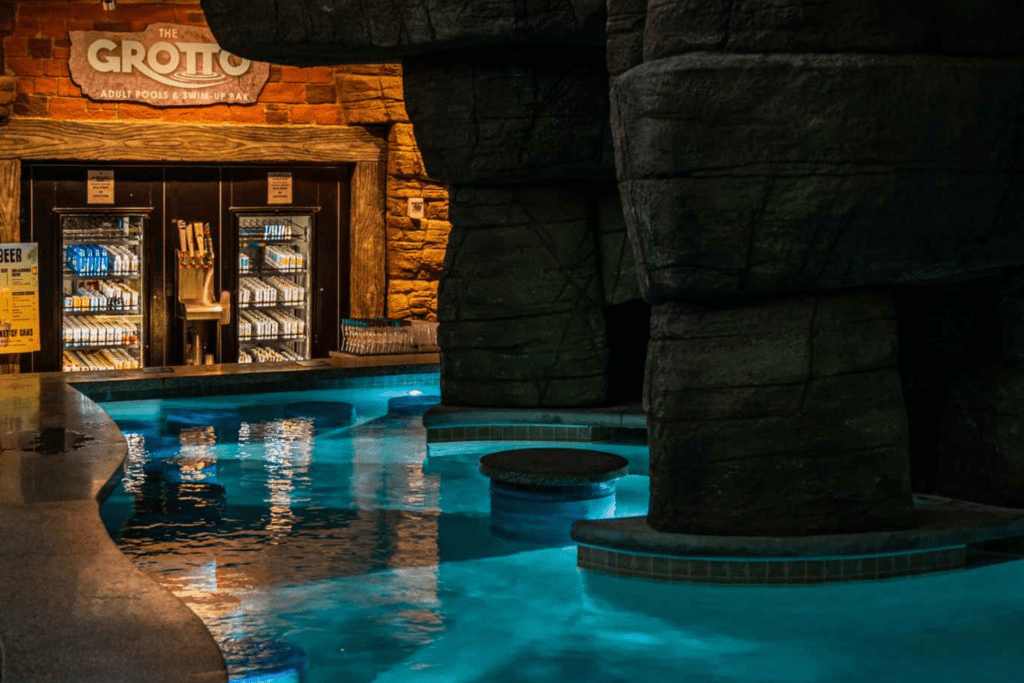 The dim lighting and rock formations all around will make you feel like you've walked into a remote cave in the Caribbean where you can enjoy your drink in a variety of places. There are chairs inside the indoor portion of the Grotto, where you can lounge or place your towel and even places to sit in the water itself with the bar only a few feet away. This part of the Grotto is warm inside AND outside the pool, perfect for any season!
If you're looking to get some sun in the summer while still enjoying the benefits of the swim-up bar, as well as the joys of not having to leave the water, you can swim through an opening to the outdoor part of the Grotto. There are covered, underwater stools at the bar with plenty of space to soak up some rays, swim, or to lounge by the pool. Get hot? Go right back inside without having to walk on the hot pavement.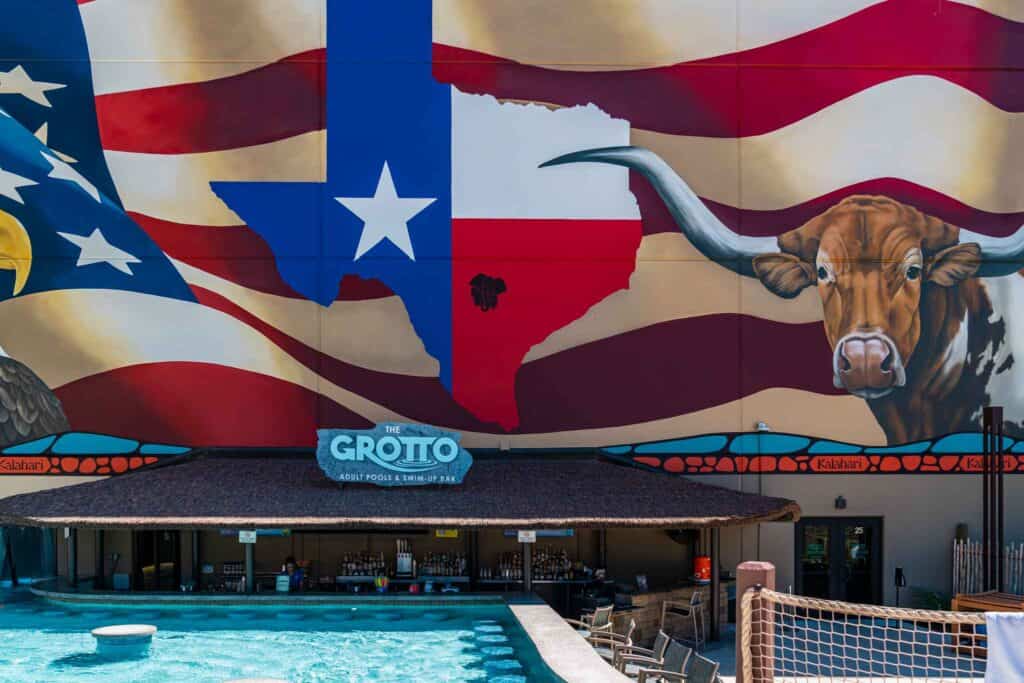 The Zambezi Outdoor Pools
Across from the outdoor portion of the Grotto, there is a separate, family-friendly pool with an on-duty lifeguard that is ONLY available for use by guests of the hotel. If you're spending an overnight family vacation at Kalahari Resorts and a day by the pool is in order, you can easily take your drink from the swim-up bar to the pool and rejoin your family. Take turns and make sure to enjoy the luxuries of the swim-up bar during your time at Kalahari's Indoor Waterpark.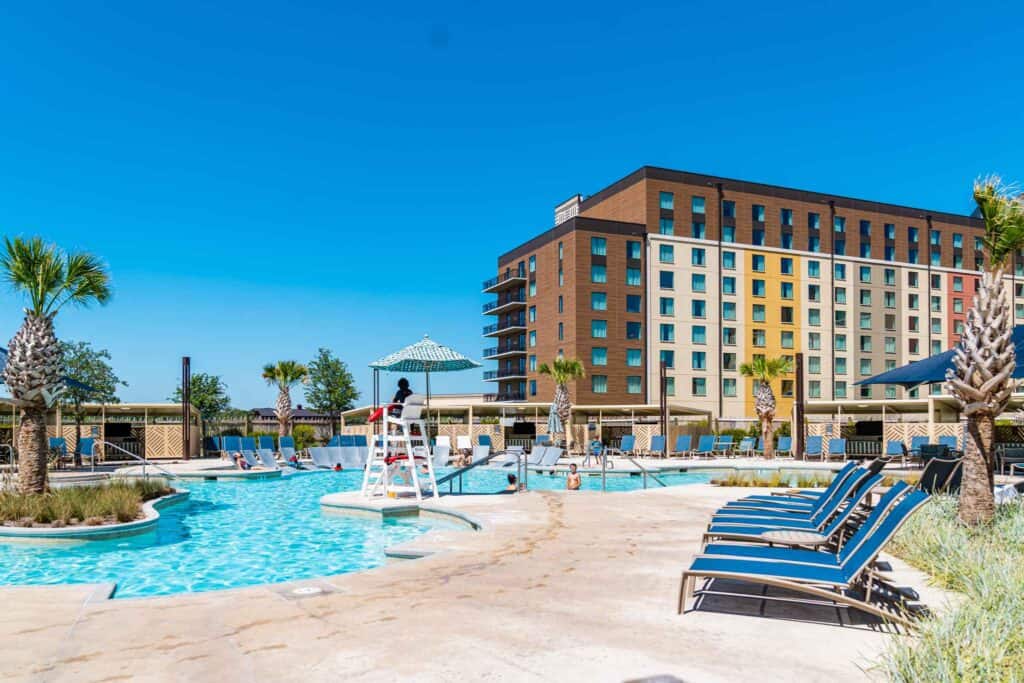 The On-Site Restaurant: Zulu Grill
In the middle of all that Kalahari's Indoor Waterpark has going on, you'll find Zulu Grill, an enclosed restaurant with an additional floor of seating on its roof. Given that this waterpark is indoors, Kalahari may be a bit humid, so having a place to go and enjoy a meal in the A/C will be a relief as you recharge. Serving American favorites like pizza and wings, it'll be easy to make sure everyone is happy and fed!
Stay at Kalahari Resorts
With all there is to do at Kalahari Resorts and Indoor Waterpark in Round Rock, you'll definitely need multiple days to accomplish everything on your list! And what better way to experience all of the things to do in Round Rock than to stay at the center of all the fun?
Thankfully for you, Kalahari is also home to an on-site, African themed hotel offering spa and salon services, a variety of rooms and suites for groups as large as 12, shopping, Sunday farmer's markets, live entertainment, several fine dining options, free entry into the Kalahari Indoor Waterpark (10am upon check-in until closing upon check-out; towels included), and more! With your reservation, you can also purchase tickets to Tom Foolery's Adventure Park that'll remain valid through the entirety of your stay, no matter its length, at the same price as a day pass (prices are given below).
Have a Blast Next Door at Tom Foolery's
Tom Foolery's will do more than just keep the whole family entertained. It'll bring out the little kid in you! There is so much to experience with a wide array of arcade games, laser tag, two escape rooms, indoor obstacle courses, and even indoor rollercoasters! Children must be at least three years old and meet the height requirements to able to ride the rollercoasters. Closed toe shoes are also required for the climbing wall, ropes course, and zip-line.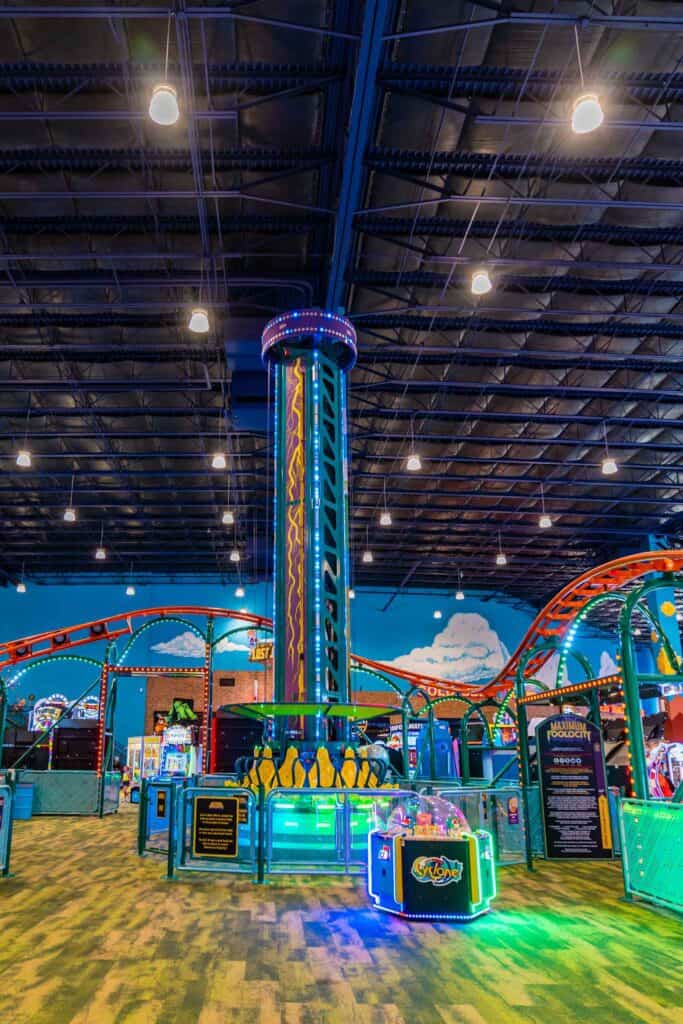 Keep in mind that the arcade games, bowling, escape rooms, and laser tag have an additional cost associated with them. You are, however, able to purchase game cards for the arcade without paying for a day pass. You can get an even better deal on your day passes if you book a room at Kalahari Resorts. Prices per ticket remain the same, but they are valid during the entirety of your stay! For additional pricing information, make sure to visit their website!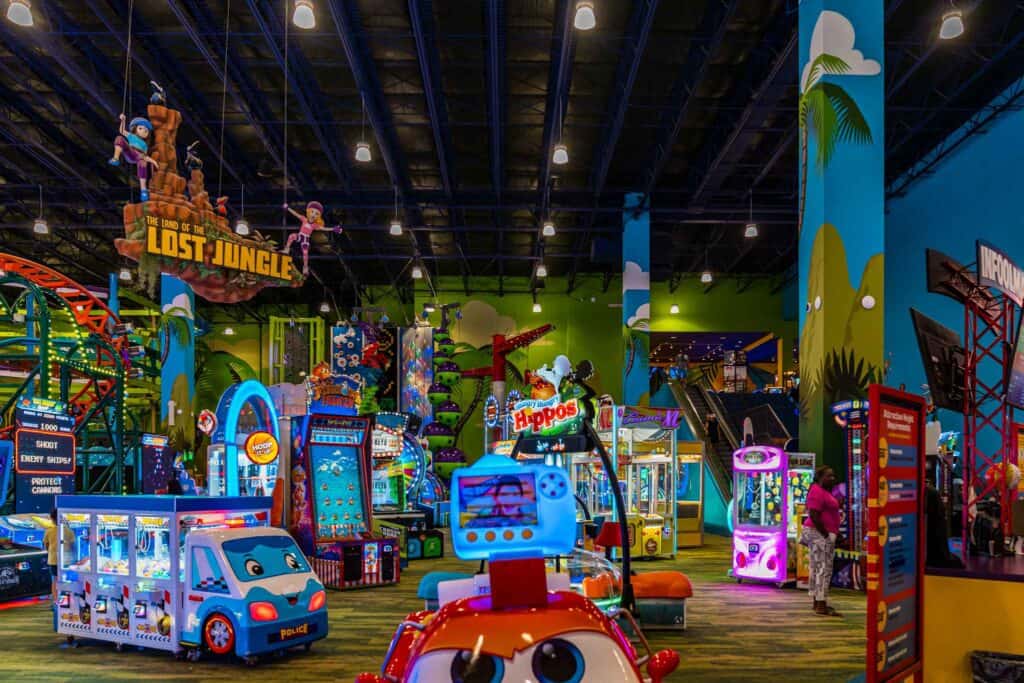 In summary, depending on your plans for your trip to Round Rock, you could either just come for the day and take advantage of Tom Foolery's or pack a swimsuit and experience the indoor waterpark too! Day passes for Tom Foolery's cost $49.99 for individuals 42 inches and up, while children under 42 inches are just $29.99. However, you can get 4 day passes for $139 if you purchase them online! Remember that ONLY the obstacle courses and rides at Tom Foolery's Adventure Park are included in the cost of the day pass. If you want to play any of the arcade games, simply get a game card!
Keep in mind the rides open at 11am, two hours after the arcade.
Bowl & Eat at B-Lux Bar & Grill
Grab a lane and enjoy a little friendly competition as you chow down at Tom Foolery's on-site restaurant, B-Lux Bar & Grill. Keep the momentum going as you bowl with items like their Birthday Cake shake, topped with a whole cupcake and a rim of colorful sprinkles, and their B-Lux Donuts Shake with two of Round Rock Donuts' very own, iconic orange donuts. Be sure to check out our list of where to eat in Round Rock for more restaurant recommendations.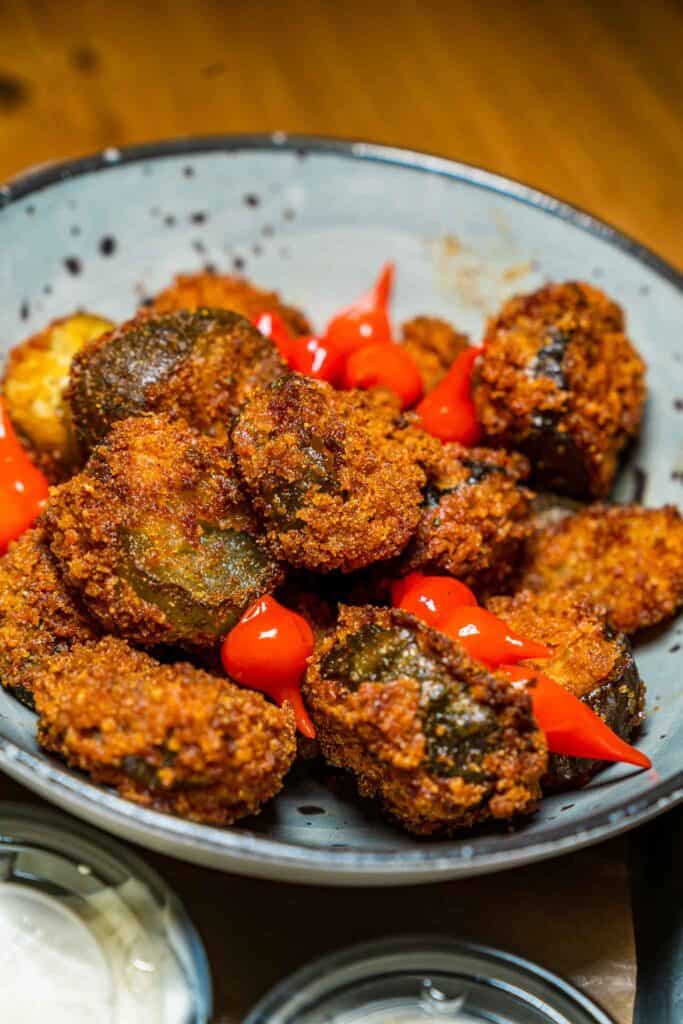 Kalahari Resorts & Indoor Waterpark in Round Rock: Final Thoughts
If you are not booking a room at Kalahari Resorts and are looking to add to your list of things to do in Round Rock, a day pass for the rides and obstacle courses at Tom Foolery's may work best if you are traveling with older children, or those who enjoy rollercoasters and aren't intimidated by heights. Otherwise, a game card will entertain children of all ages due to the variety of games, and players can even redeem their points for prizes! The Kalahari Indoor Waterpark will also make a wonderfully fun excursion for all ages, all varieties of travel groups, and even couples.
With its array of slides, the lazy river, wave pool, kiddie areas, swim-up bars, and more, there's something for everyone! Even better, you can take a poolside vacation at any time of year at Kalahari Resorts in Round Rock, home to the largest indoor waterpark in the country!