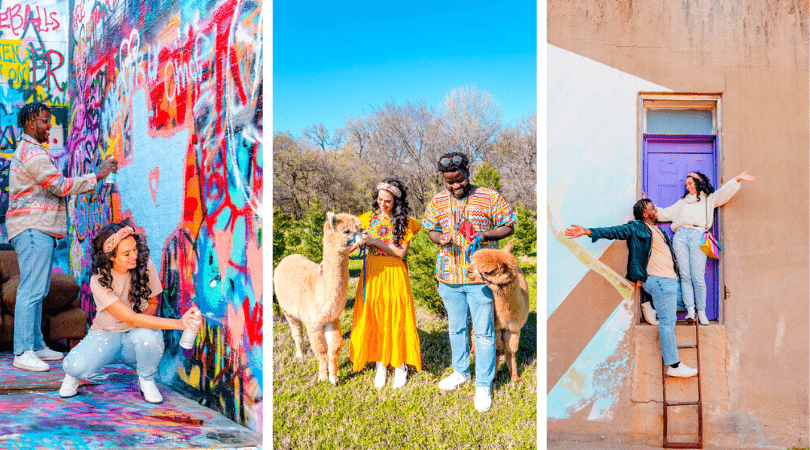 Many people think of Denton as a college town. It is and that's part of the beauty of it! The University of North Texas is known for attracting creative minds with creative capabilities and even after graduating, many stay in Denton. What we're left with is a colorful town filled with quirks, lots of entertainment, and more things to do then you can imagine! Dare I say, Denton felt a little like how you might imagine Austin when it was "weird" without the marketing? You might be surprised at just how many things there are to do in Denton TX!
Things to Do in Denton TX
Leave Your Mark at Voertman's Bookstore
Voertman's Bookstore is the official bookstore for the University of North Texas, and that's all fine and dandy, but the real attraction is the 160 square feet of wall space outside the shop facing Fry Street. People were vandalizing the facade so often that the staff decided to stop going against the current and just flow with it, and now the wall is an outlet for students and tourists alike to express themselves, as long as they bring their own spray paint and follow the posted rules!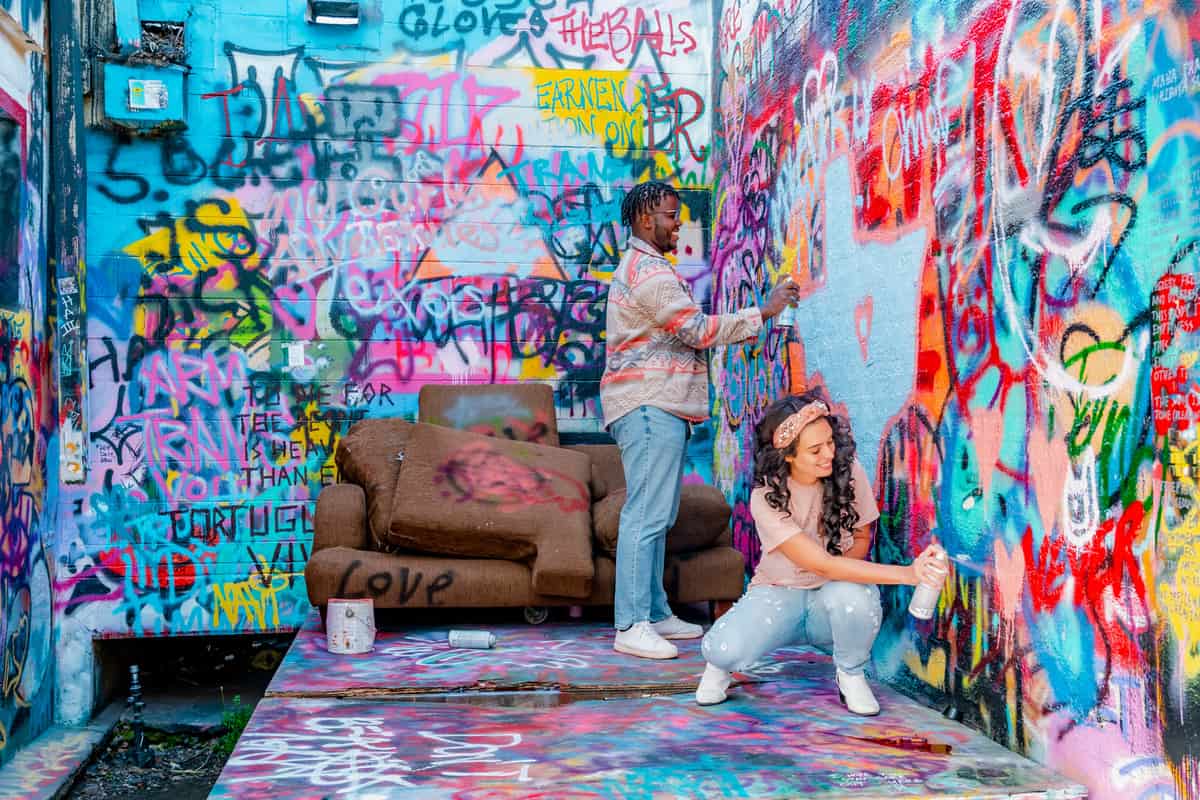 Photo Op Time at the Purple Door
This is most definitely a random stop, but it's worth it for the photo op. It's known as a little Denton secret, and we've heard of people traveling from 45 minutes away just to get a picture in front of this door! The thing is, it's supposed to be a bit of a scavenger hunt to find it. So, we'll leave you with the few clues we had. It's right off the Denton Square and purple should be an indicator.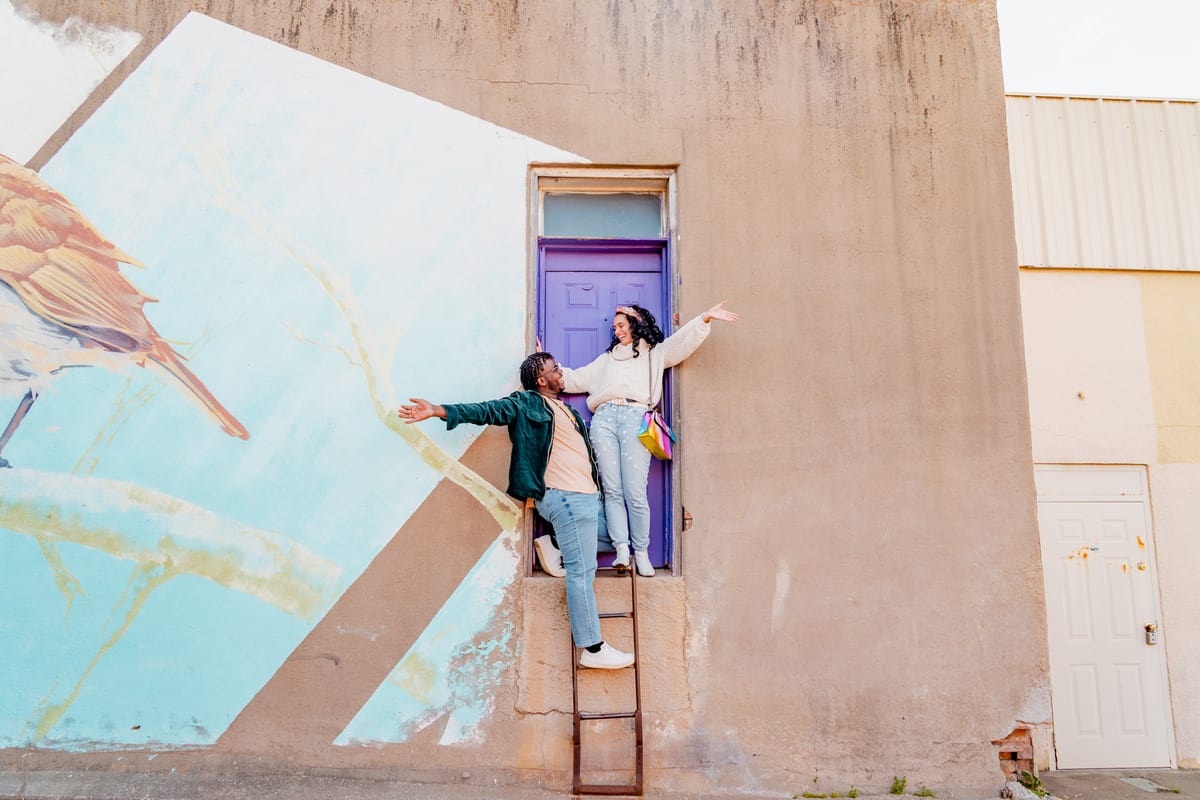 The Chairy Orchard
For a punny place for photos, check out the Chairy Orchard, which is filled with, you guessed it, a bunch of chairs! This free area is a great place to enjoy that eclectic artistic vibe that Denton is known for! You'll even see a little free library here.
Game Haven at D20 Tavern
Choose from over 120 board games and take a few hours to play with friends or on your next date. Best of all, there's a bar with a great selection of wine and beer. In addition, there are over 20 taps of craft beer to choose from, and if you can't decide, the staff will let you roll the die and pour whatever it lands on! This had to be the largest selection of games we've seen, and it's all included with your $5 admission for as long as you want to play!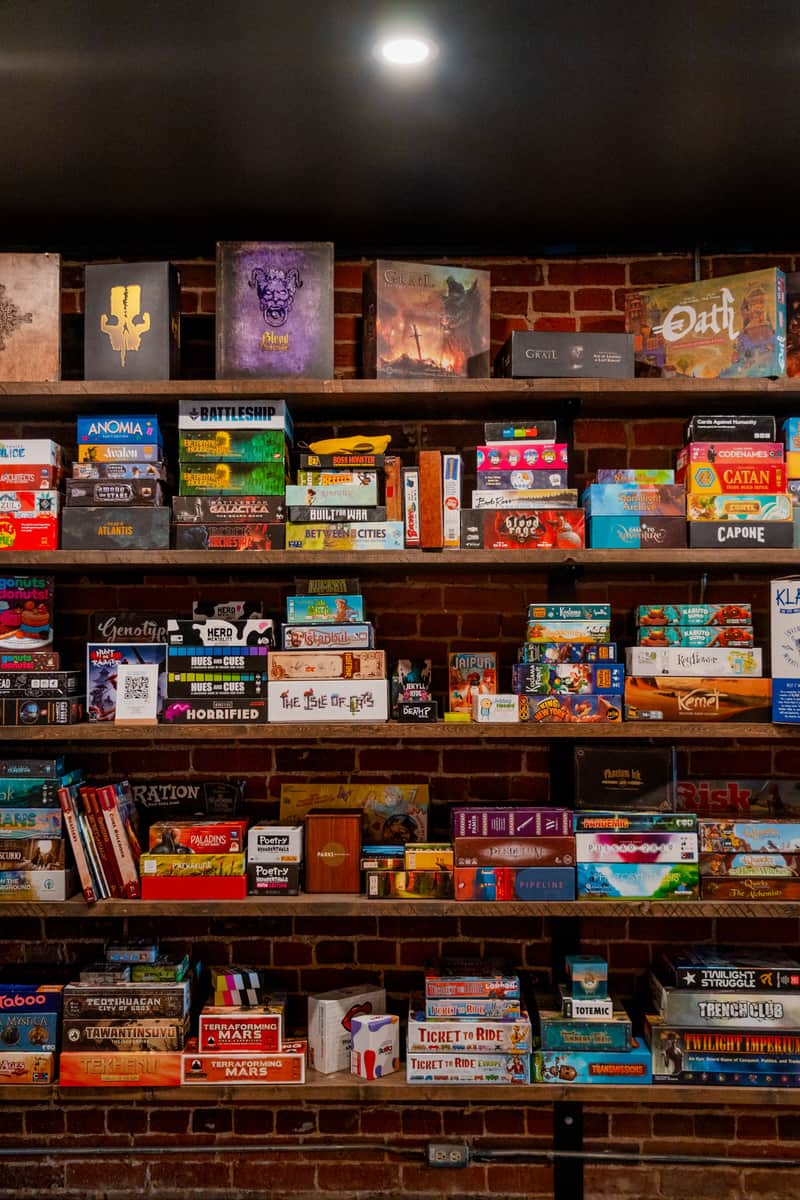 Grab a Drink at Vinyl Lounge
Step back into the luxurious vibes of 70s, with tassels, bright colors, and a disco ball! There's even a record player and DJ booth in the corner with a huge selection of vinyl records that sets the atmosphere for the whole place!
Sundays are karaoke nights from 4 PM to 8 PM, and Happy Hour is from 4 PM to 6 PM on the weekdays. Their menu consists of classic cocktails, draft beers, wine, signature shots, and mocktails.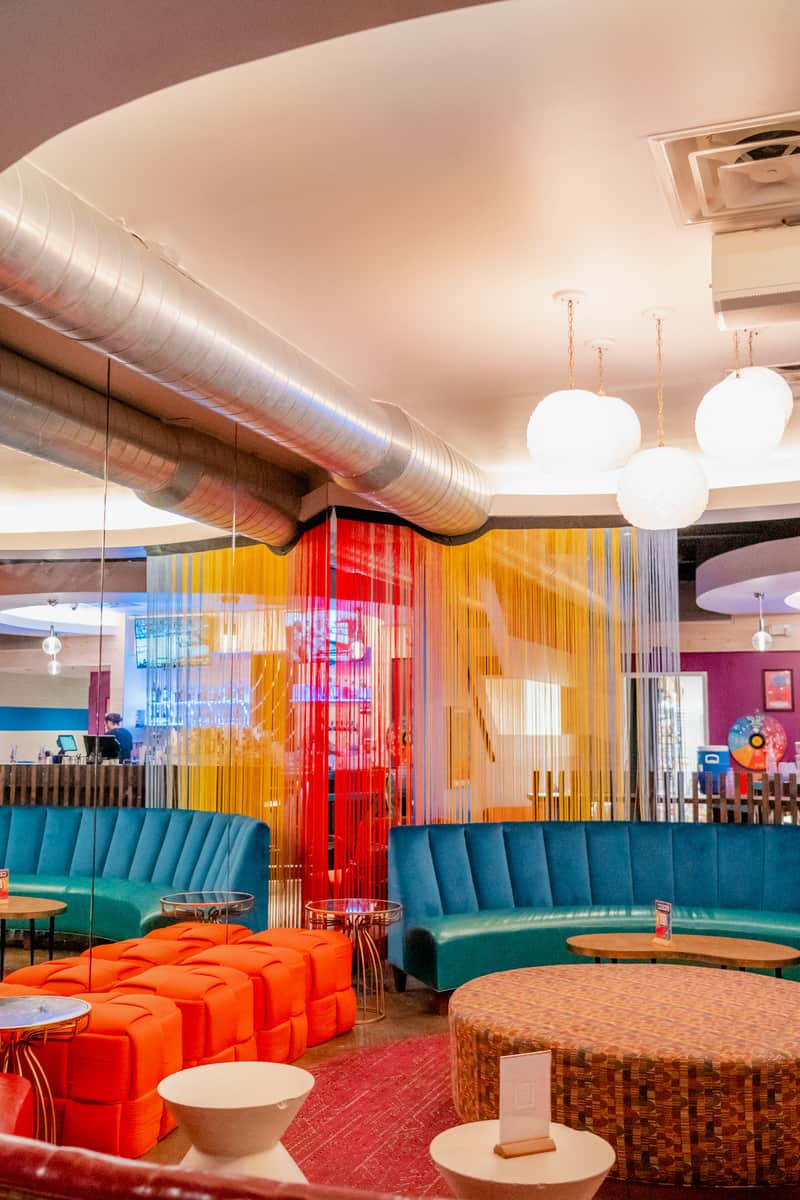 Sneak Into the Only Speakeasy in Denton
Paschall Bar is a one-of-a-kind bar in Denton! The exterior is so nonchalant that you would walk by it hundreds of times and just assume it's a closed down building. The interior is like stumbling into a Dark Academia library with a bar that makes awesome concoctions. The walls are covered in vintage art, and there are many antique and grunge photographs, lush furniture, and carpets, all touched by mood lighting.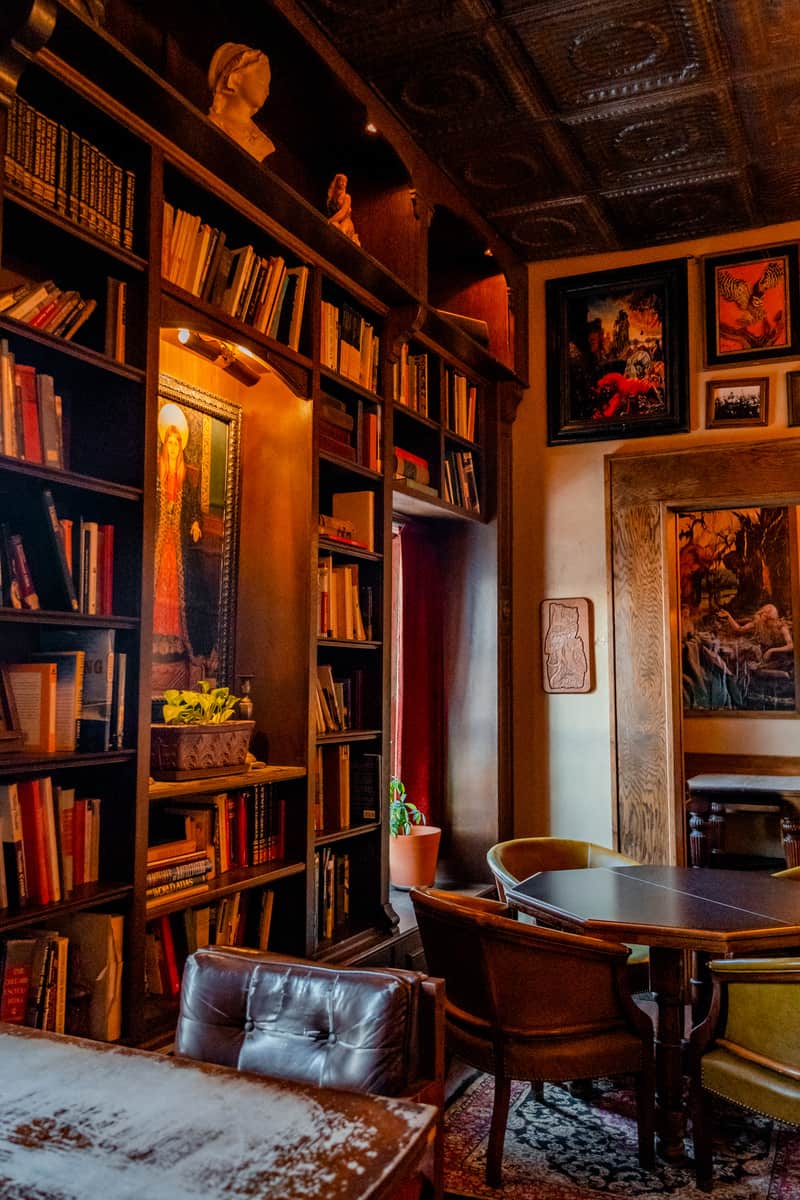 This is one of the oldest buildings in historic, downtown Denton along the main square, dating back to 1877. Inside are three venues: the Paschall Bar or the Cocktail Lounge, the Venue where they play live music, and the Basement, which is an underground bar with exposed stone walls, colored lighting, and limited seating!
We were there just as the sun was setting, so we could see the golden hour light filtering through the windows, enhanced by the mood lighting, and it just made the whole experience even better. Once we got our order, (the Smoking Jacket, the Whiskey Sour with Egg White, and the Hip Shot), we nestled on the couch to enjoy our drinks, listen to the music playing quietly overhead, and had a few laughs!
Meet Alpacas at TX-Ture Farm
This small family farm is focused on creating connections and experiences for their surrounding community. The farm produces lavender products, honey, soap, items made from alpaca fur, Christmas trees, and they even host workshops that cover topics like soap making. Not only do you get to take home enough soap for at least six bars, but you also get to take your soap mold home with you! This means you could try making soap again all by yourself with what you learned!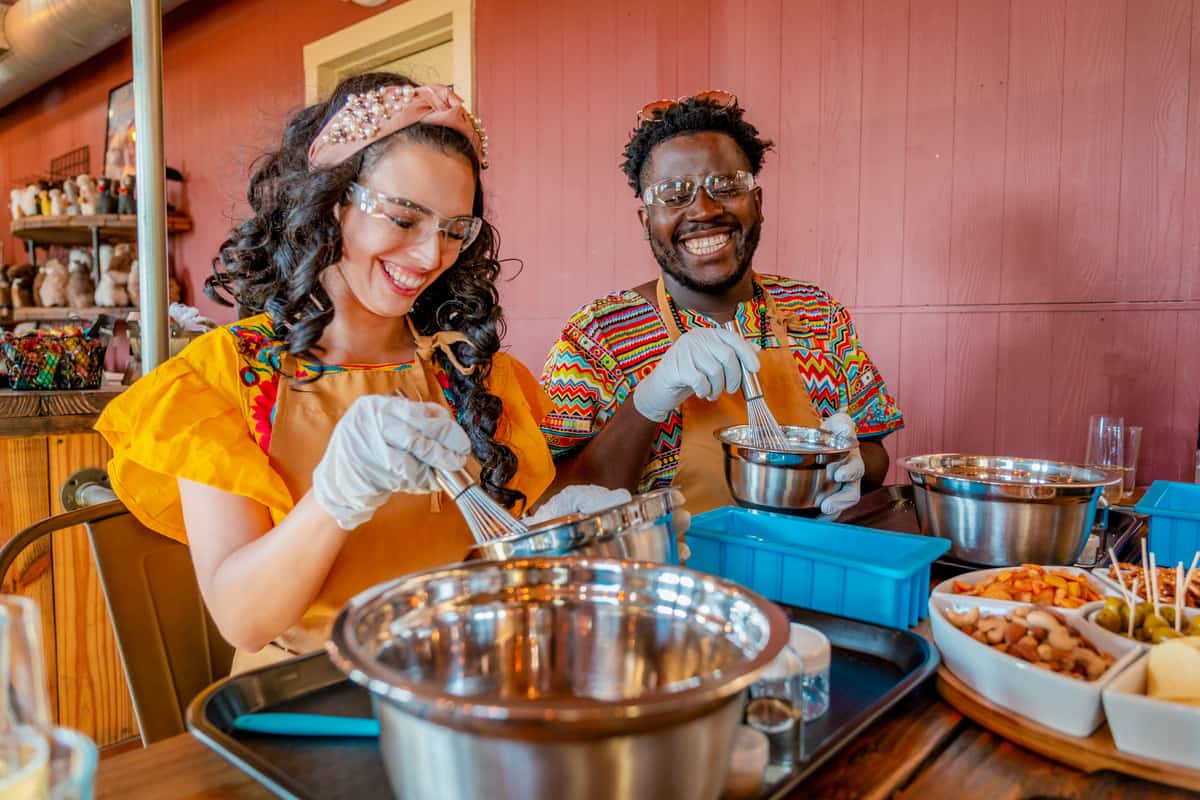 Get up close with the cutest alpacas when you book an alpaca walk. You'll walk with the owner and a bag of feed as you lead your new furry friend through their rows of growing Christmas trees. However, often times with the workshops, you will get to visit with and feed the alpacas as well!
Keep up with the farm and attend one of their farm festivals, their lavender festival, or book a field trip!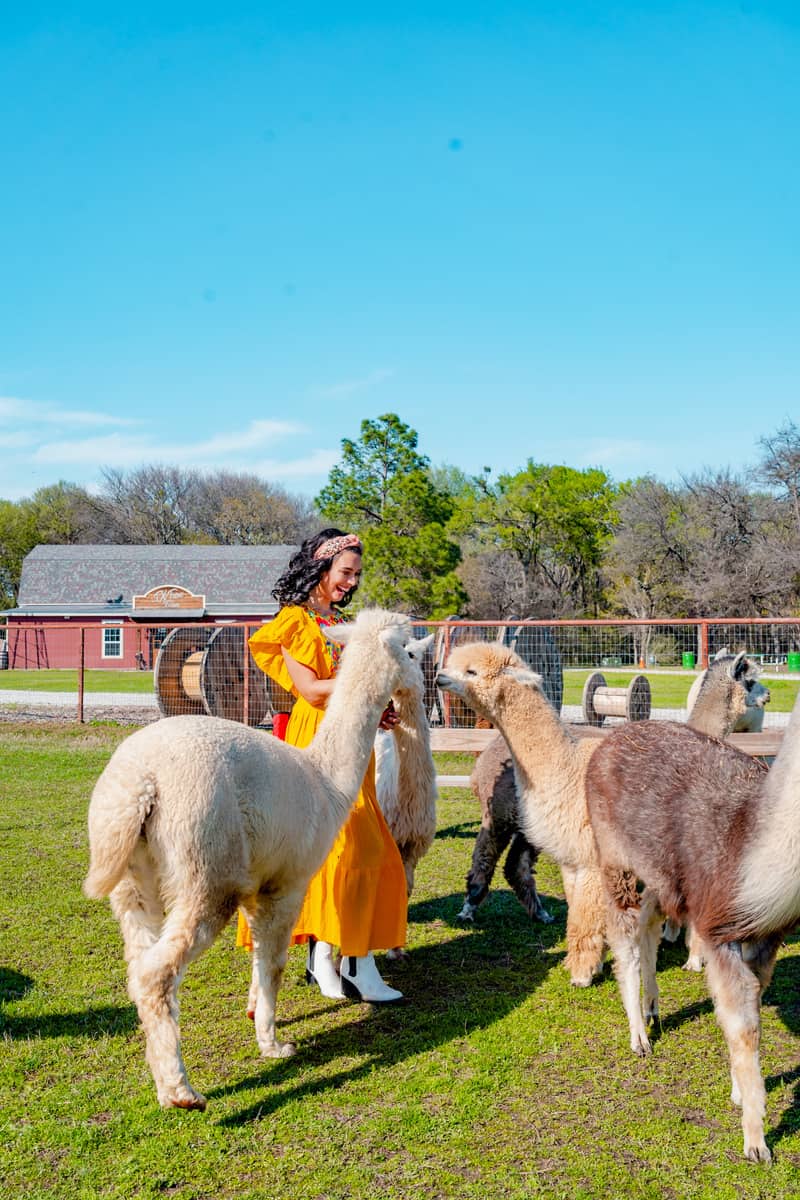 Smell the Roses at Gemini Peach and Rose Garden
They're a local U-pick farm that grows peaches, roses, tomatoes, and watermelons. The most popular are the Crossed Roses or Hybrids. If you want to make a grand gesture to a loved one, you can buy a Hybrid Rose and name it after that special someone, and you get to take home samples of the roses! We recommend you check out operation times and dates on their social media before heading over there, just to be sure there will be something for you to pick!
Spend Quality Time at Wildflower Art Studios
Calligraphy is a lost skill that is making a comeback. Take workshops like "Introduction to Ceramics," "Painting Gauche Florals," "Introduction to Stained Glass," and "Watercolor Techniques." Seasonal events are offered on their website, which is perfect for those touring Denton and looking to fill up their day with activities!
Play All the Arcade Games
At Free Play, you get access to two floors with more than 120 retro arcade games and a vintage pinball set! They have 54 taps split between two bars, plus cocktails if beer is not your thing. We loved going back in time with Dance, Dance Revolution and we never get tired of a little competitive basketball game.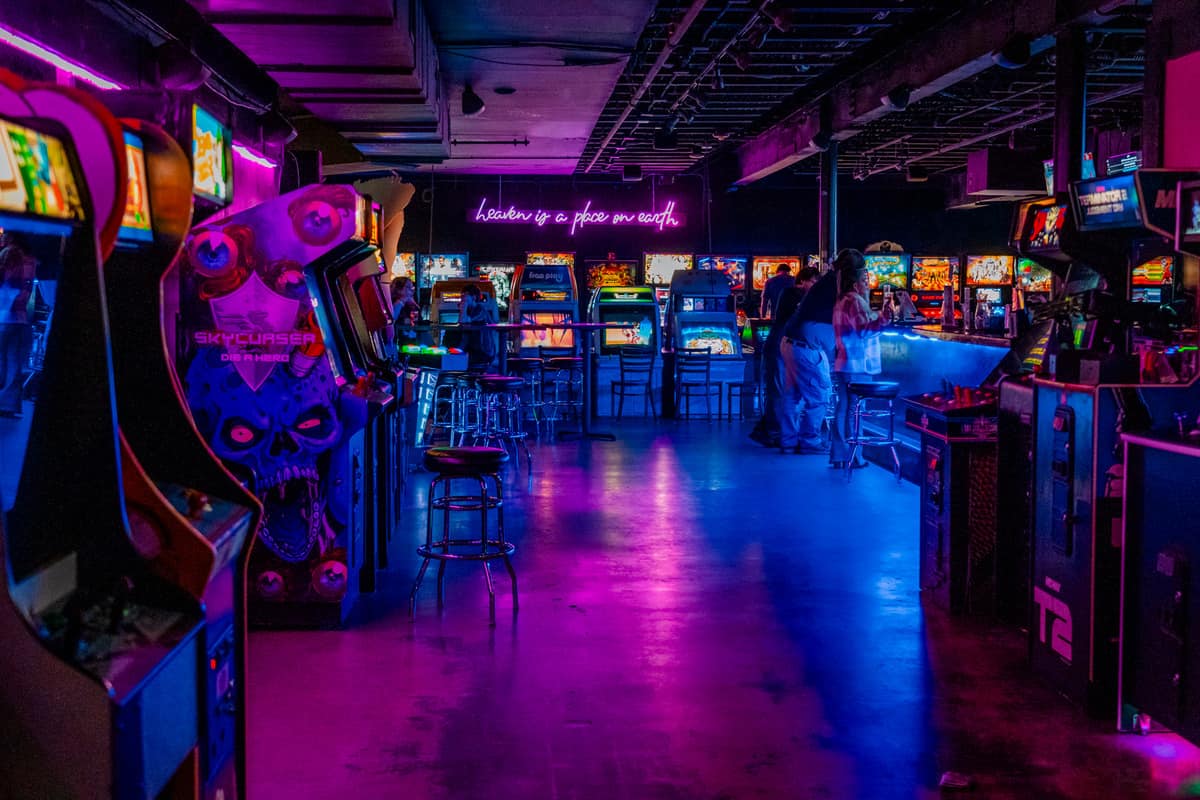 Create a Stained-Glass Masterpiece at Art Glass Ensembles
Art Glass Ensembles offers workshops and events where you can make your own artsy, glass creations. They also sell custom designs for homes, they host group events, and they even offer installations and repair services. Check them out to see how you can spice up your windows!
Enjoy the Night Sky at UNT Sky Theater Planetarium
The planetarium show is aimed at different audiences. For teens and adults, there's "Mesmerica" and "Pink Floyd's Wish You Were Here." For shows for the whole family, you can attend the "Live Show: Planets & Beyond," "Little Star That Could," and "Forward! To the Moon."
Tickets are $5 for kids and $8 for the general public, and they are worth every penny! Don't miss out on experiencing the vastness of the night sky and be sure to get your tickets early!
Here is a fun fact: they also host film festivals throughout the year!
Find a New Read at Patchouli Joe's
Patchouli Joe's is a local, independently owned bookstore and the perfect spot for people wanting to enjoy a good book!
They host poetry readings on the 1st Friday of every month and have a kid's section where they host story time for the children of the community. They sell new releases and have books from all genres, including a section for banned books! We loved the Jack Nicholson head from The Shining, peaking from the books and all the little knick-knacks that were spread out throughout the store!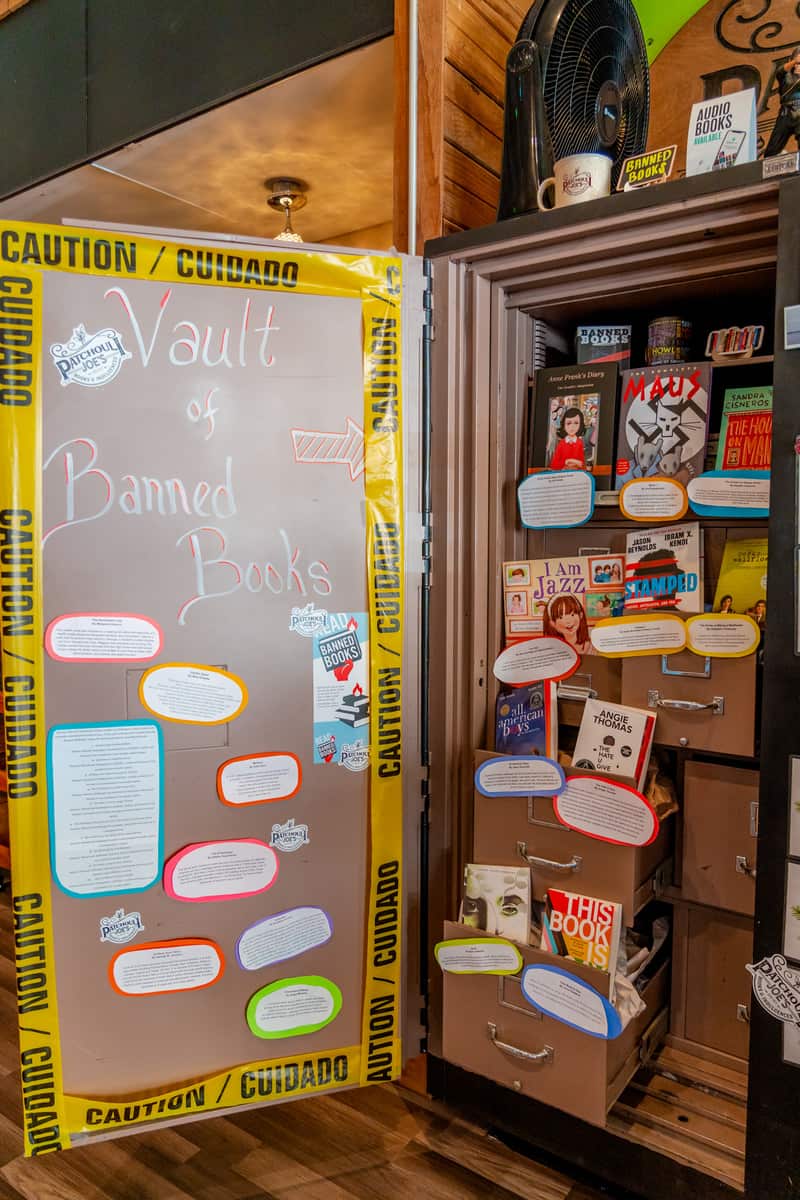 Improve Your Aim at Ironwood Axe Throwing
Try something a bit more physical that can help you get rid of your pent-up stress… we are talking about axe throwing! There are only a few boxes, so call ahead to make a reservation for your group, and don't forget to bring your own food and drinks!
Paint a Memory at Yellow Dog Art Studio
At Yellow Dog Art Studio, you can join a workshop and paint an assigned piece or make your own creation under the guidance of a professional artist! Whichever you choose, you're guaranteed to have a good time and clear your mind with every brushstroke on the canvas!
Explore Denton County Historical Park
There is a lot to learn from the history of Denton at the Denton County Historical Park, located just a short walk south of Denton's Historic Square. In the park, you'll find historic sites like the Bayless-Selby House Museum, the Quakertown House Museum, as well as the Welcome Center.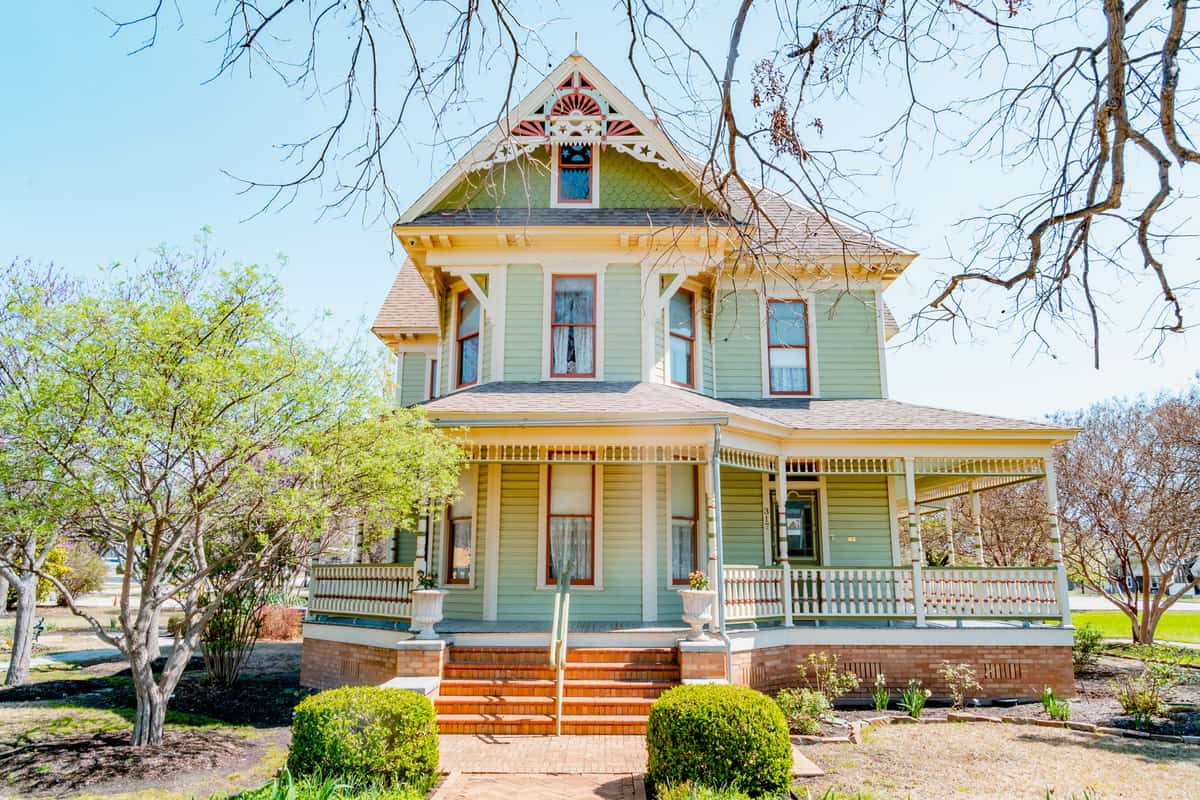 The Denton County African American Museum is inside the 1904 Quakertown House, which once belonged to the displaced African American community of Quakertown. Inside, you can find more about the history of integration and racism, cultural contributions made by the community, and commemorative dates and events that left a mark on Denton County and in African American history.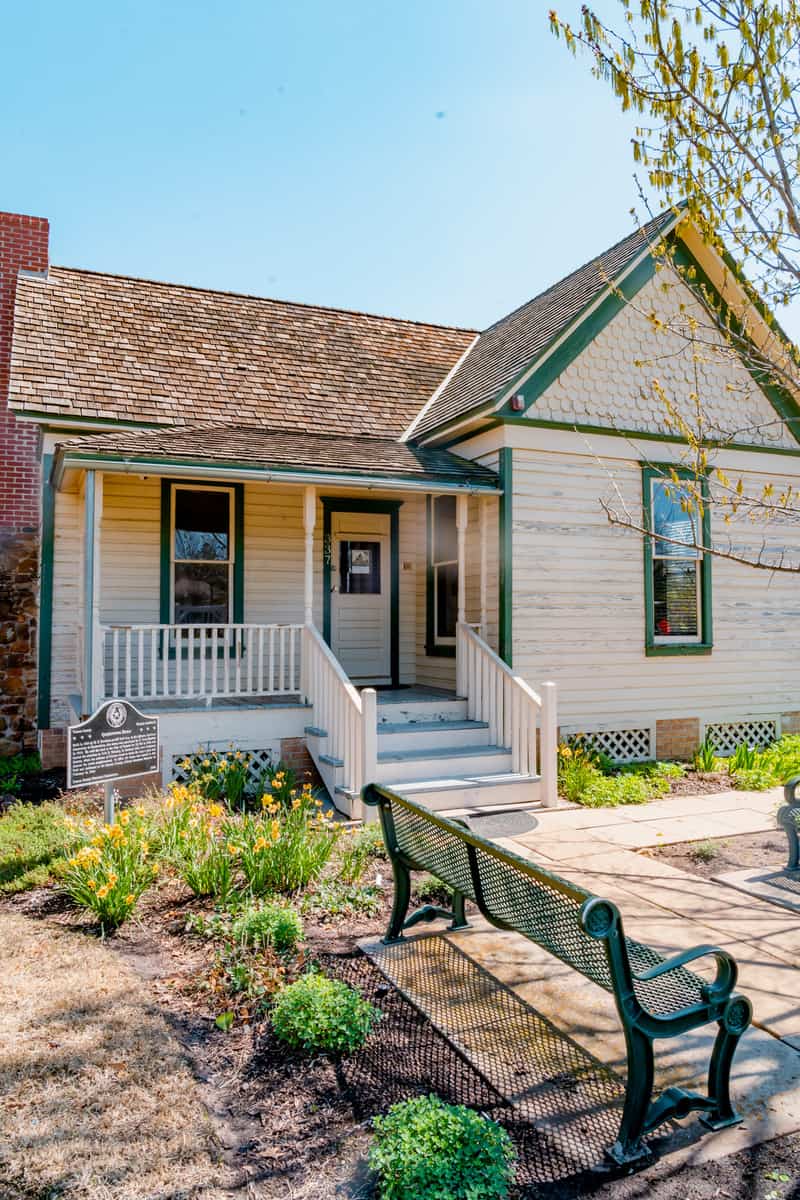 This historic park is a gathering place for the community. They usually host the Farmers' Community Market, where artists showcase their creations. They also host film festivals, live performances, local bands during community events and carnivals, and the park is often decorated for special holidays.
When we visited, the county was renovating the Taylor Log Cabin and the Woods House, a second Quakertown home inside the park. Knock on wood and hope they are done when you get the chance to visit!
Open Season at Nerf Wars
For those traveling with families, Nerf Wars is the perfect place to make a stop and let the kids enjoy themselves, but also get them tired for your own sake! You can be there for an hour or for as many games as you want! It's all up to you and what your little crew wants!
Catch a Local Market
There are always artist markets going on in Denton, and while we were there, we got to visit the True Leaf, a plant shop and venue that hosts one of these markets! There were over 45 businesses in attendance, like Room 4 Sweets, You Can Stitch It, Tree Folk Farm, and others that set up booths stocked with their creations!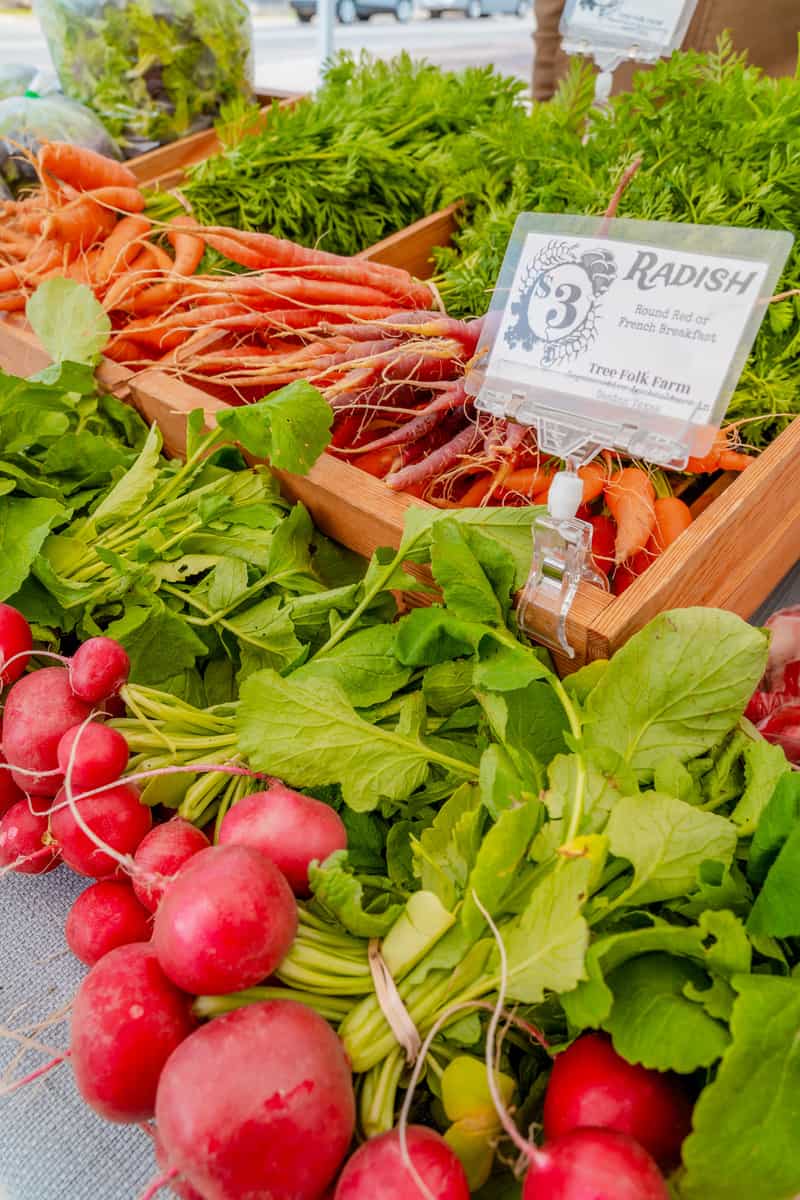 They usually announce market times and dates a few weeks ahead on their social media, so it is best to check their website if you're looking to plan a visit ahead of time.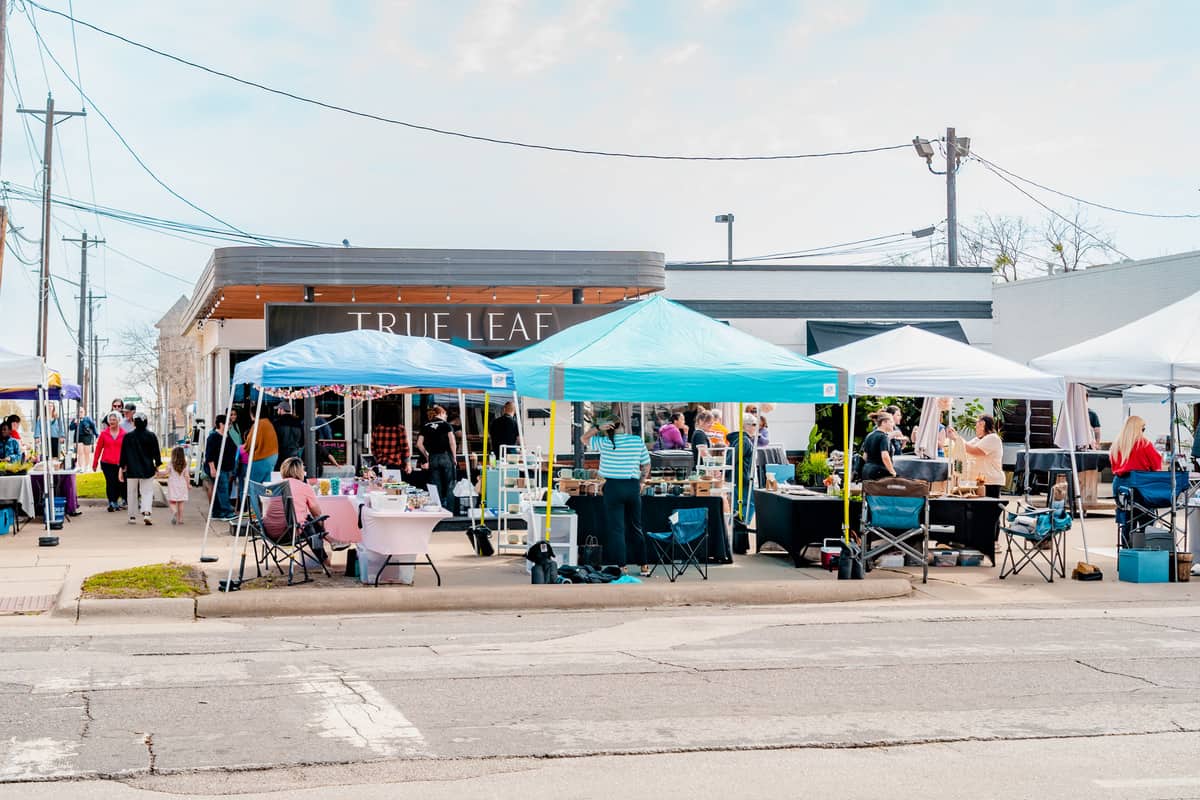 Send Up a Prayer at the Little Chapel
​Little Chapel in the Woods began in 1938. Lady Eleanor Roosevelt dedicated the building in 1939, but the chapel wasn't completed until 1941. Today, this church on the Texas Woman's University campus in Denton is a place where locals spend time in silent contemplation, sending a quick prayer, or eloping!
Check Out This Candy Explosion
Atomic Candy goes way beyond your typical vintage candy shop! The whole store is decorated with retro antiques, and there is an ATOMIC collection of candy, from packaged varieties to self-serve bucket loads! There's even a whole section dedicated to all the pickle flavored items you can imagine!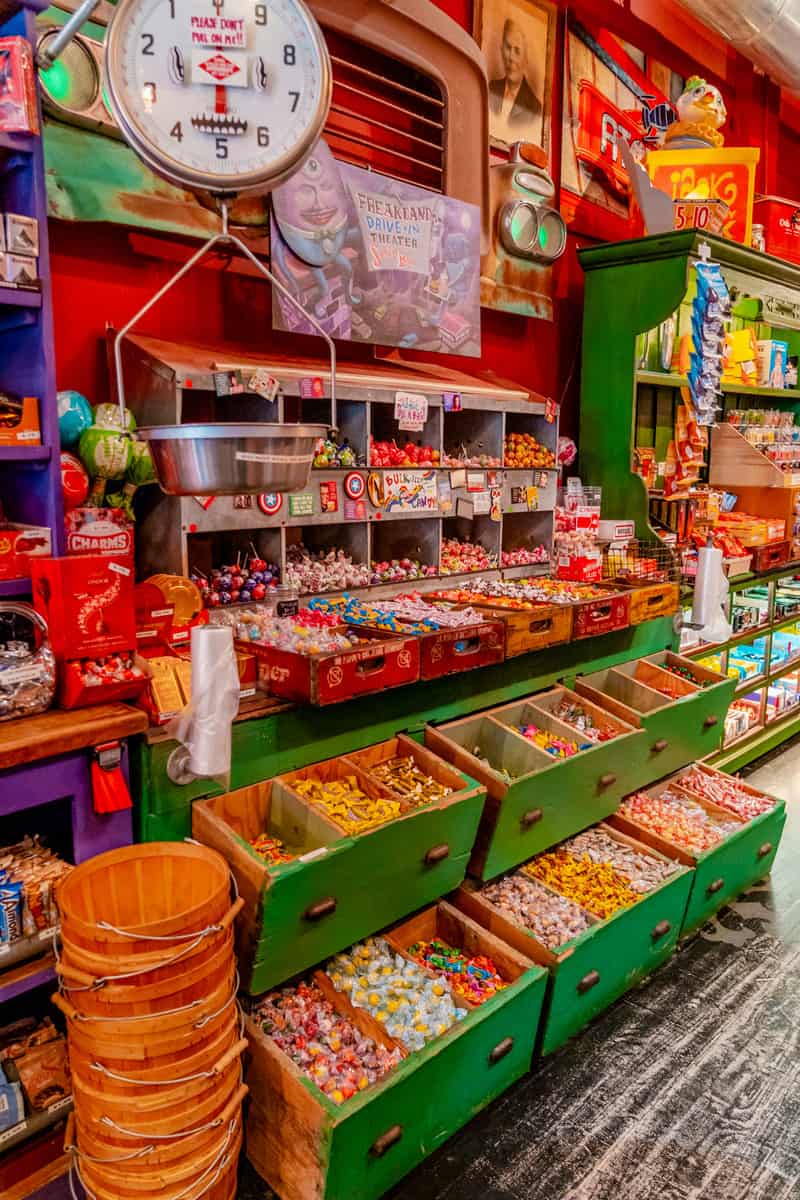 Grab a Bite in Denton
There is no shortage of tasty bites, coffee shops, and unique bars to be experienced in Denton. Come hungry as you dive into a huge sundae at a historic ice cream shop, sip at all the funky coffee shops, and so much more! Be sure to check out our list of the best restaurants in Denton!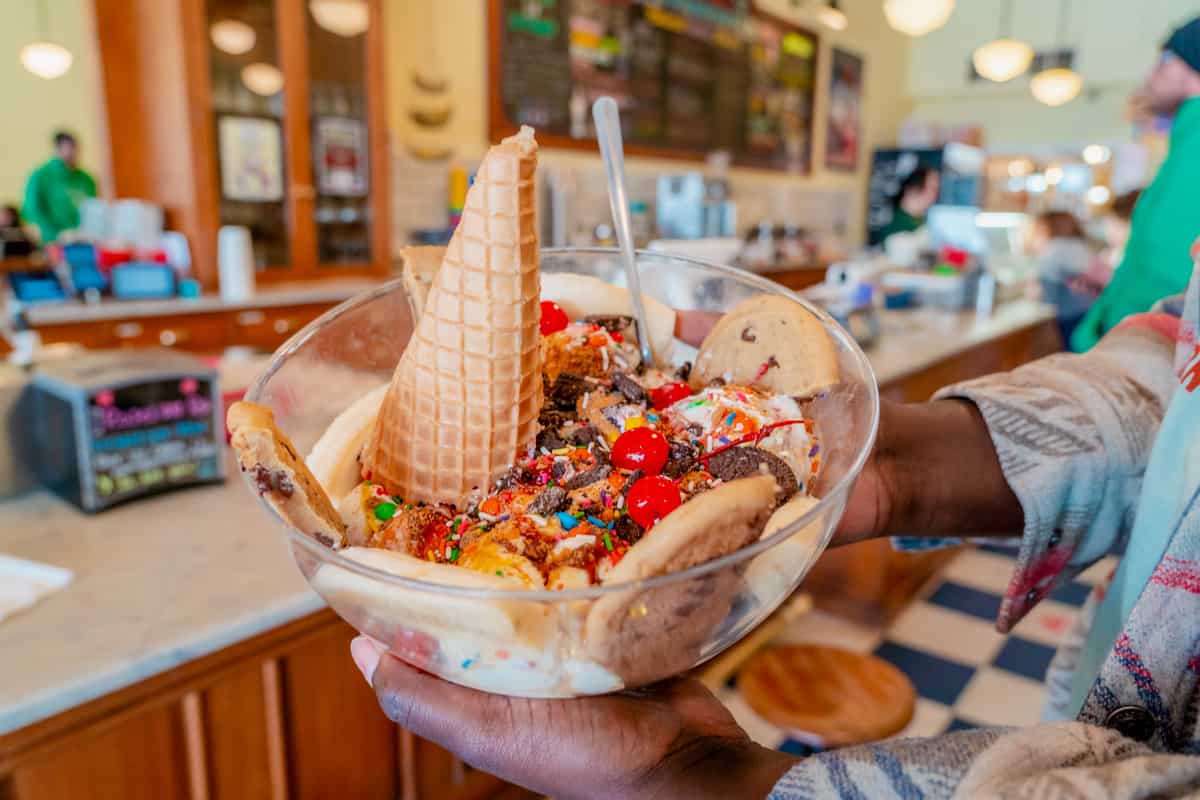 Check Out All the Cute Shops in Denton
More Fun Toys – Located in the heart of downtown, you'll find all kinds of board games, bobbleheads, and squishmallows! It's the perfect place to let your inner child out!