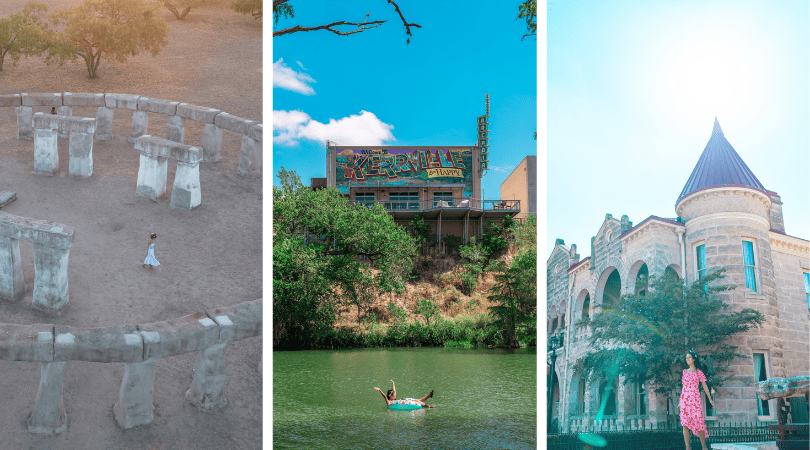 Nestled in the heart of the Texas Hill Country, Kerrville is a charming city that offers a perfect blend of natural beauty, rich history, and vibrant culture. It has a multitude of scenic nature trails right along the river. The downtown area is gorgeous, with historic buildings, quaint shops and plenty of art. From its tranquil park spaces to its lively arts scene, you'll be surprised by all of the things you'll find to do in Kerrville TX!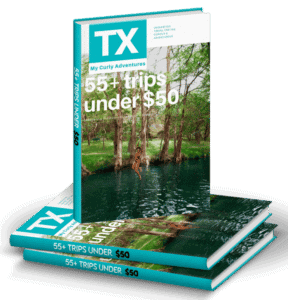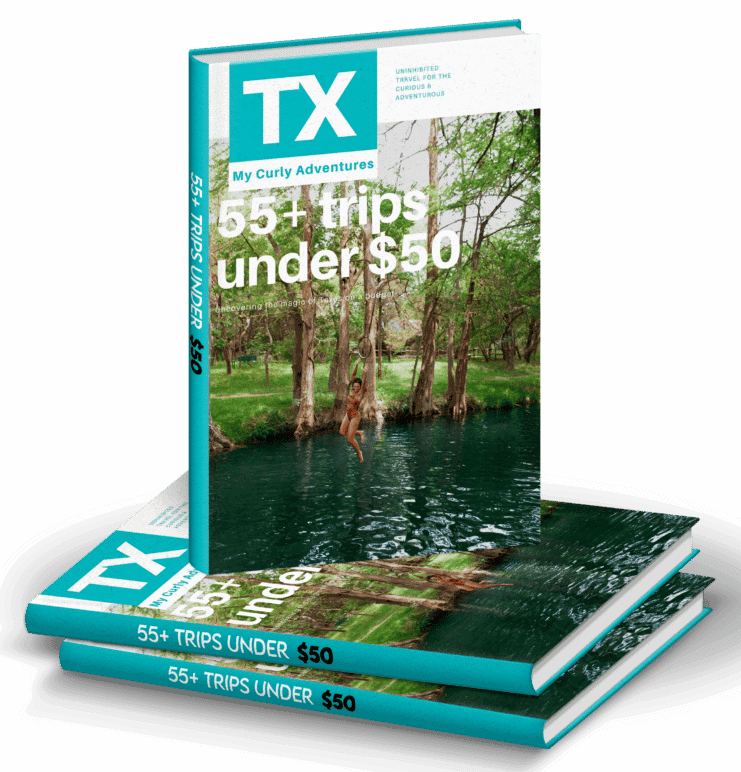 With our latest edition of our Texas Travel Guide, you can take an exciting vacation every weekend without breaking the bank and still have more to do! And in just one trip, the guide pays for itself! You'll be amazed at all the hidden gems, international influence, and wacky attractions you'll find all over Texas!
Not ready to purchase quite yet? We wanted to make this guide as accessible as possible, so we've shared our 1st edition of our guide, 50 Texas Trips Under $50. Click the button below to get yours for FREE!
Outdoor Things to Do in Kerrville TX
With its location on the Guadalupe River, Kerrville is the perfect place to stay in the summer. Or, come out to enjoy the scenery year-round!
The Kerrville River Trail is 6 miles long along the Guadalupe River. There are several trailheads including Kerrville-Schreiner Park, G Street, Lehmann-Monroe Park, Louise Hays Park, RNC, Lowry Park, and Dietert Center.
The amazing thing about this is that you can hike/bike to lesser visited swimming spots or simply enjoy miles of riverside scenery close to the city.
Of course, there's also the different Texas parks you can visit, which we list below for your convenience. Click here to see the full map of the Kerrville River Trail.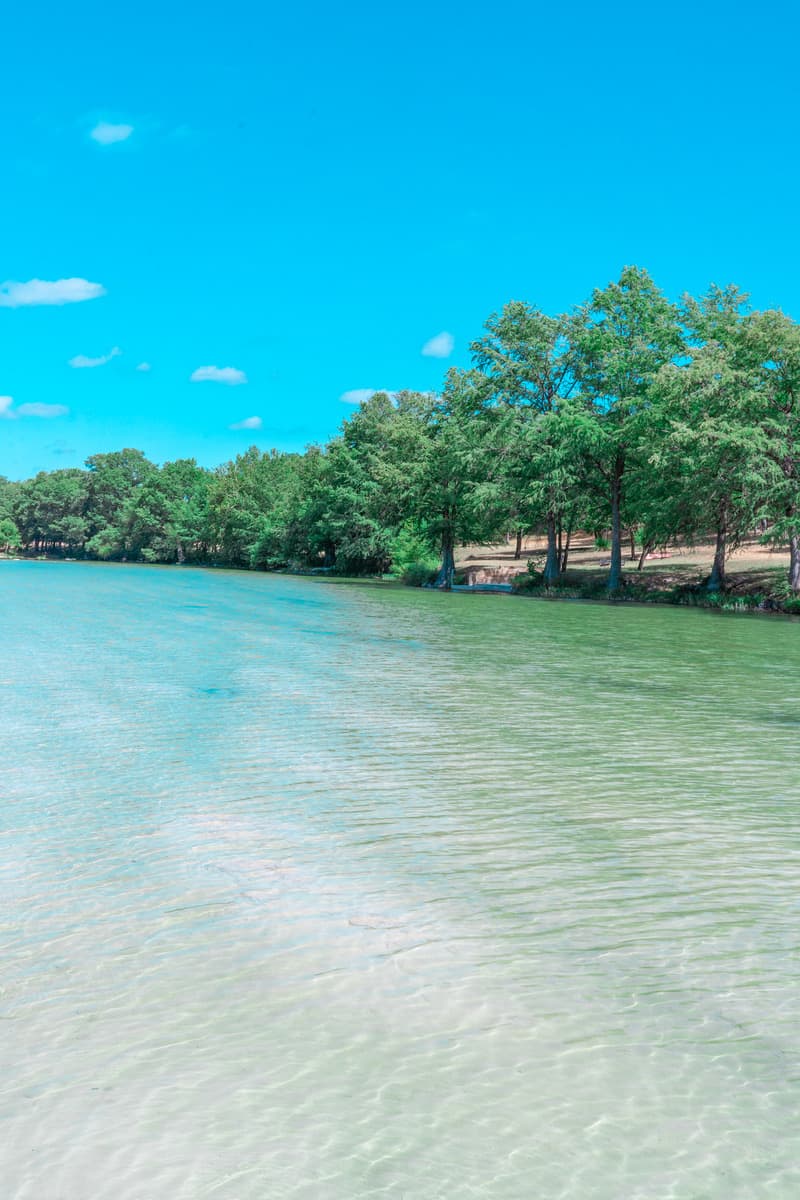 Riverside Nature Center
Start your exploration at the Riverside Nature Center, featuring more than 140 species of native plants and trees. The nature center offers guided tours and workshops for a fun, educational experience for all ages.
Kerrville Schreiner Park
For outdoor enthusiasts, Kerrville Schreiner Park is a must-visit. Spread over 517 acres, this park offers hiking and biking trails, camp sites, and an array of water sports.
In the summer you can rent bikes, stand-up paddle boards, canoes and kayaks through Jetblue Tubes & Kayaks. Be sure to bring cash with you.
Louise Hays Park
Louise Hays Park, located on the Guadalupe River, is another popular water destination in Kerrville. It's particularly known for the giant Cypress tress that shade the area, along with the Water Splash Zone, a great spot for kids to cool off during the hot Texas summers. On Google Maps, you may find this area labeled as "Gazebo."
In addition to its splash zone, the park also offers kayaks, tubes, SUPs, and paddle boats. While some parks are free, Louise Hays does charge a small fee.
When visiting Louise Hays Park, don't forget to capture a moment with the quirky and fun Big Fish sculpture. There's also the Giant Kerrville Mural. Spanning an entire building wall, it showcases the area's local heritage, natural beauty, and community life.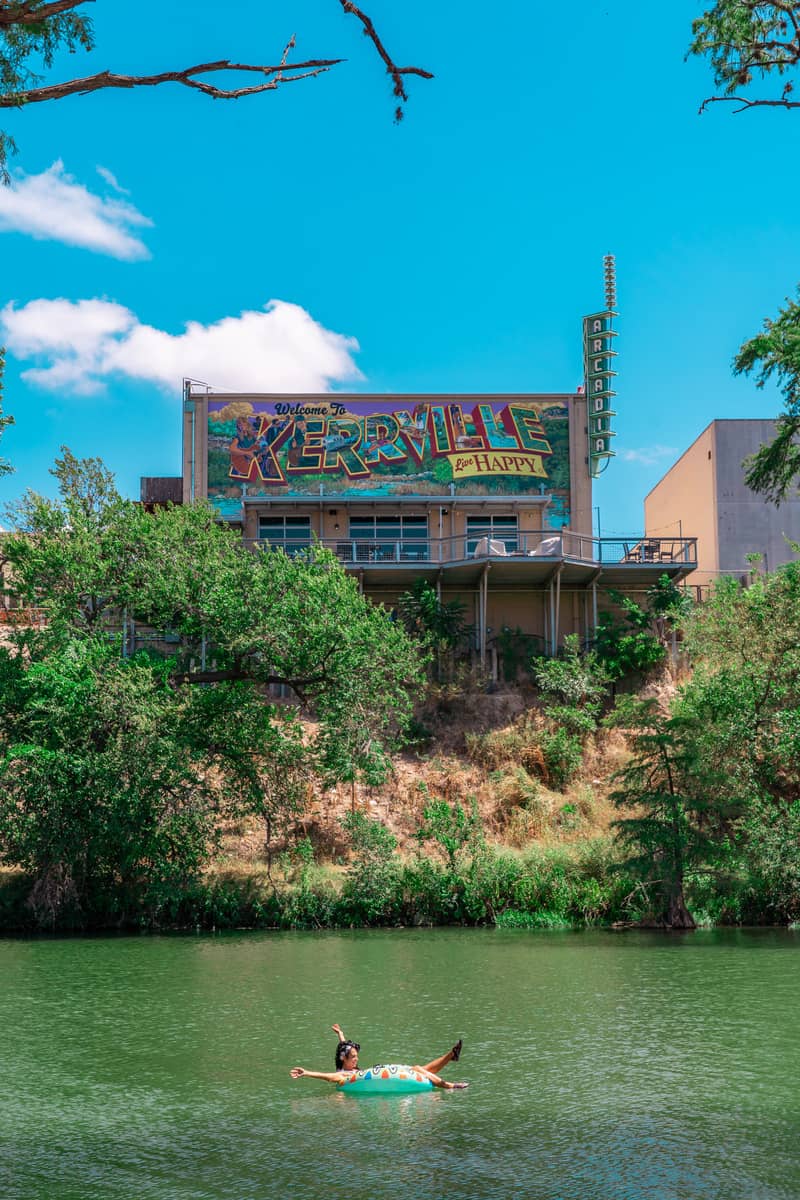 Schumacher Crossing
A short drive from Ingram Dam, nestled in the town of Hunt, you'll find Schumacher Crossing, a hidden gem on Highway 39. This quaint area is an ideal spot for swimming and is widely appreciated by locals and tourists alike. The calm waters at Schumacher Crossing are home to a series of small, cascading waterfalls for a refreshing swim and serene ambiance.
In addition to swimming, this spot is a popular location for fishing. Just make sure to watch out for poison ivy. This is more of a hidden gem among the locals, so expect it to be more "wild" than a city park. However, it's also all the more exciting when you come across it.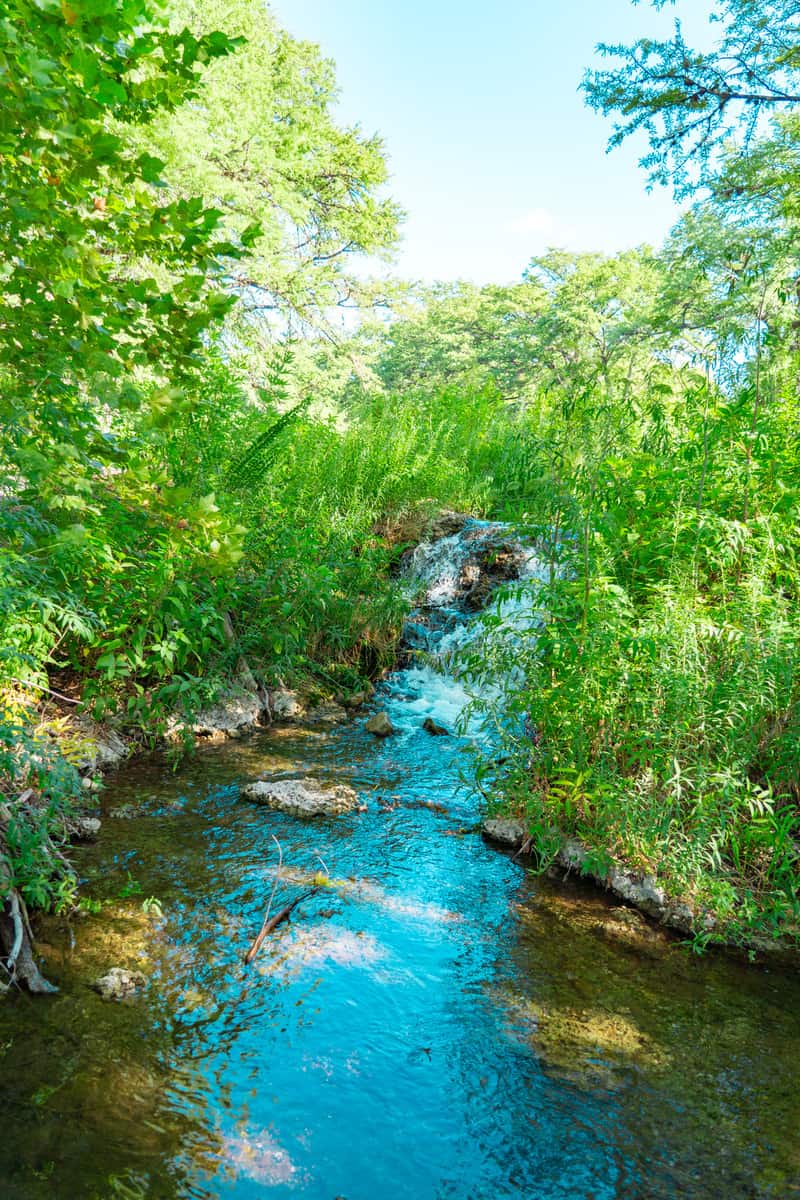 Yogi Bear Jellystone Park
Another must-visit destination that should be on your list of things to do in Kerrville TX is the Yogi Bear Jellystone Park. This family-friendly park is jam-packed with activities to keep everyone entertained. You can stay the night or book a day pass (which is what we did) to enjoy all of the water fun!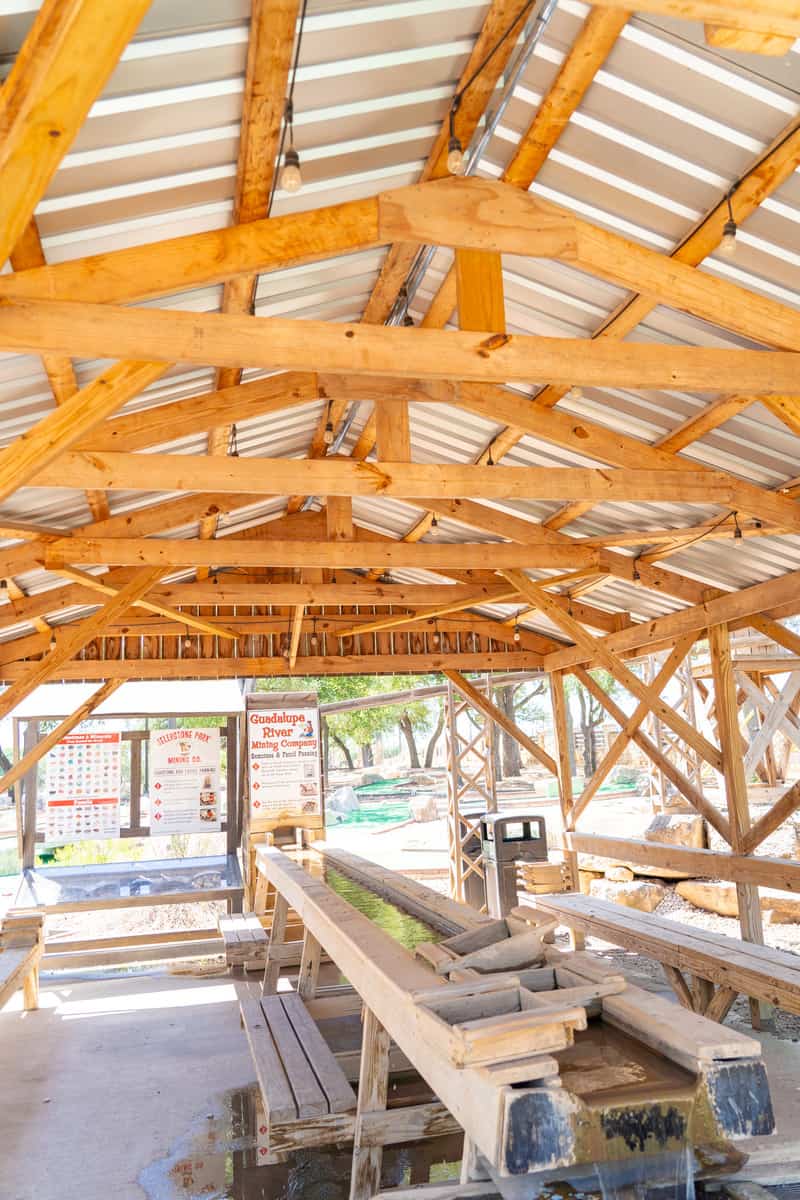 One of the park's unique attractions is their Laser Tag. It immerses you in a real-life Call of Duty experience with sound effects, respawns, and armor rewards for successful kills.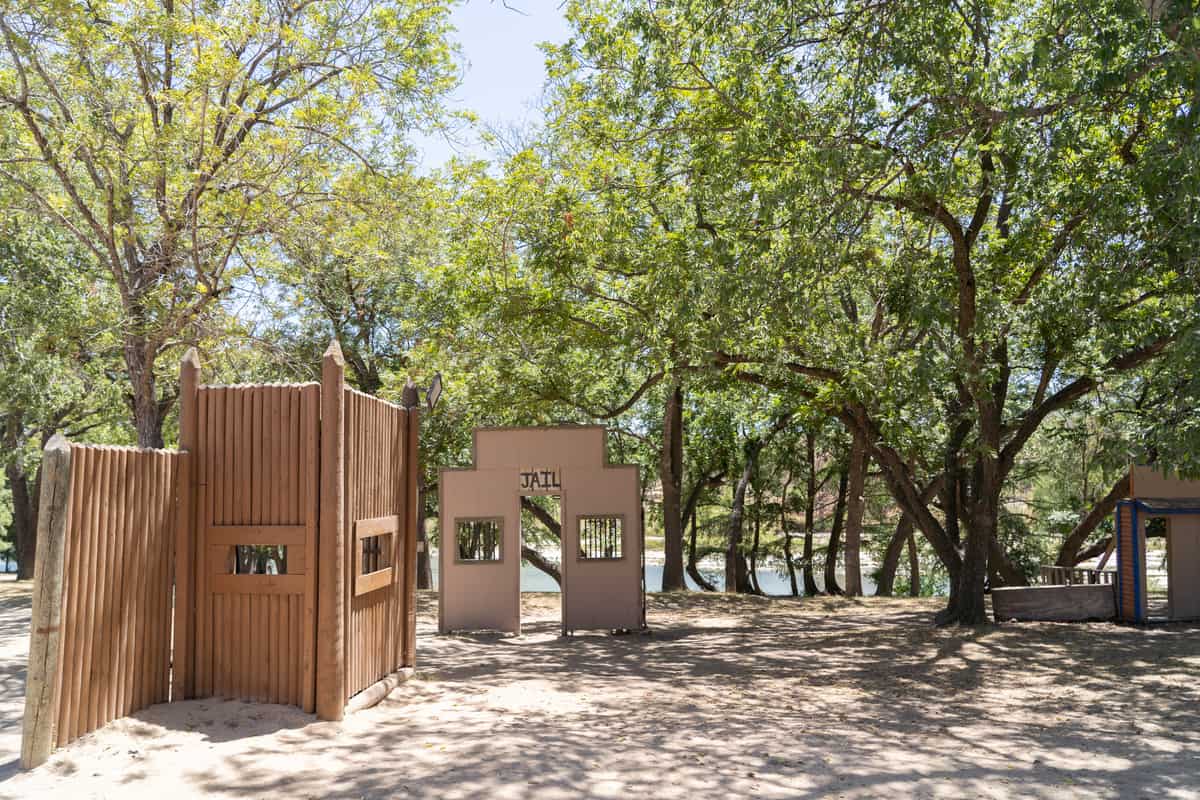 Their array of dining options includes a pub and pizzeria, famous for its mouth-watering brick-oven pizza. If you're in the mood for some physical activity, you can rent pedal carts for a joyride around the park.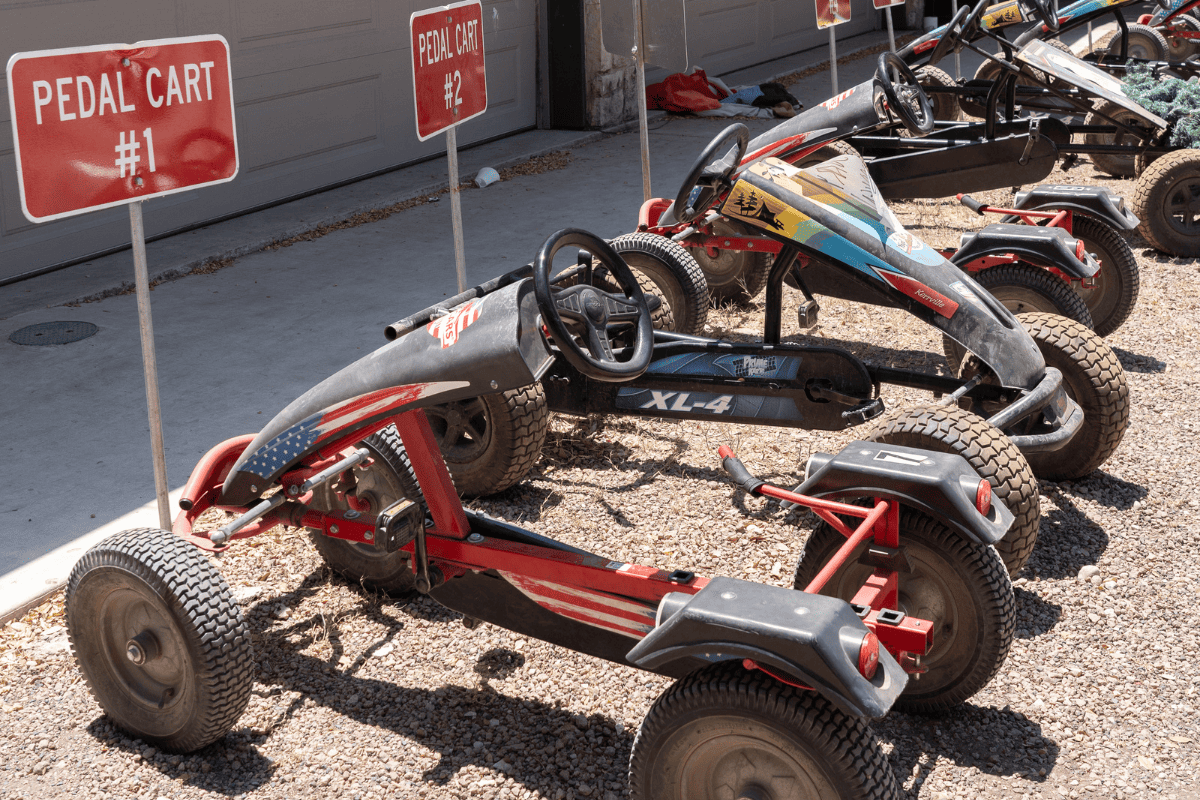 The park offers a variety of activities for different interests. Get creative with ceramics, wood art, and tie dye. Enjoy special events like bingo and movie nights. Feel the thrill with rollerblading and foam parties.
One of our favorite things they have is a beautiful stretch of the Guadalupe River to chill in.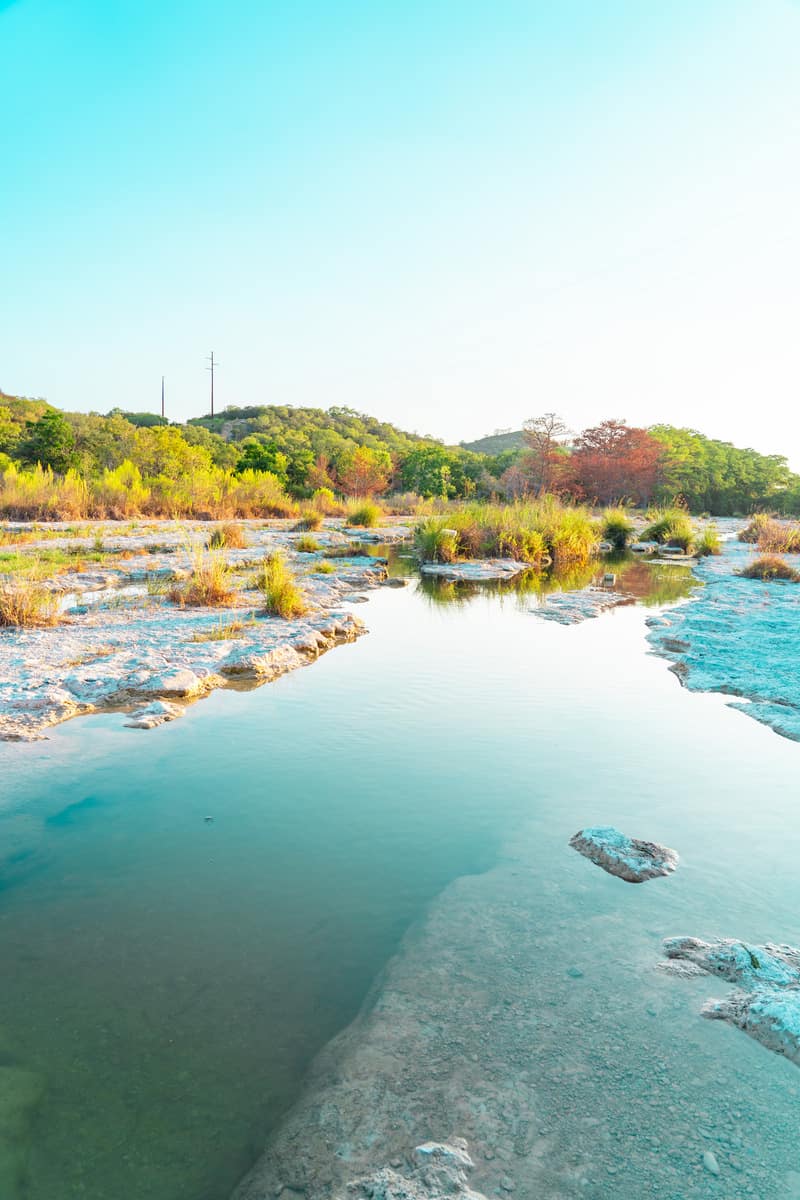 There are multiple ways to enjoy water here, including the Water Zone, a fun-filled water playground complete with interactive splash pads, water slides, water blasters, and a giant water bucket that tips over every few minutes.
There's also multiple outdoor pools with options for all ages. The park even features an indoor pool and hot tub, ensuring that the fun continues even when the weather is less cooperative.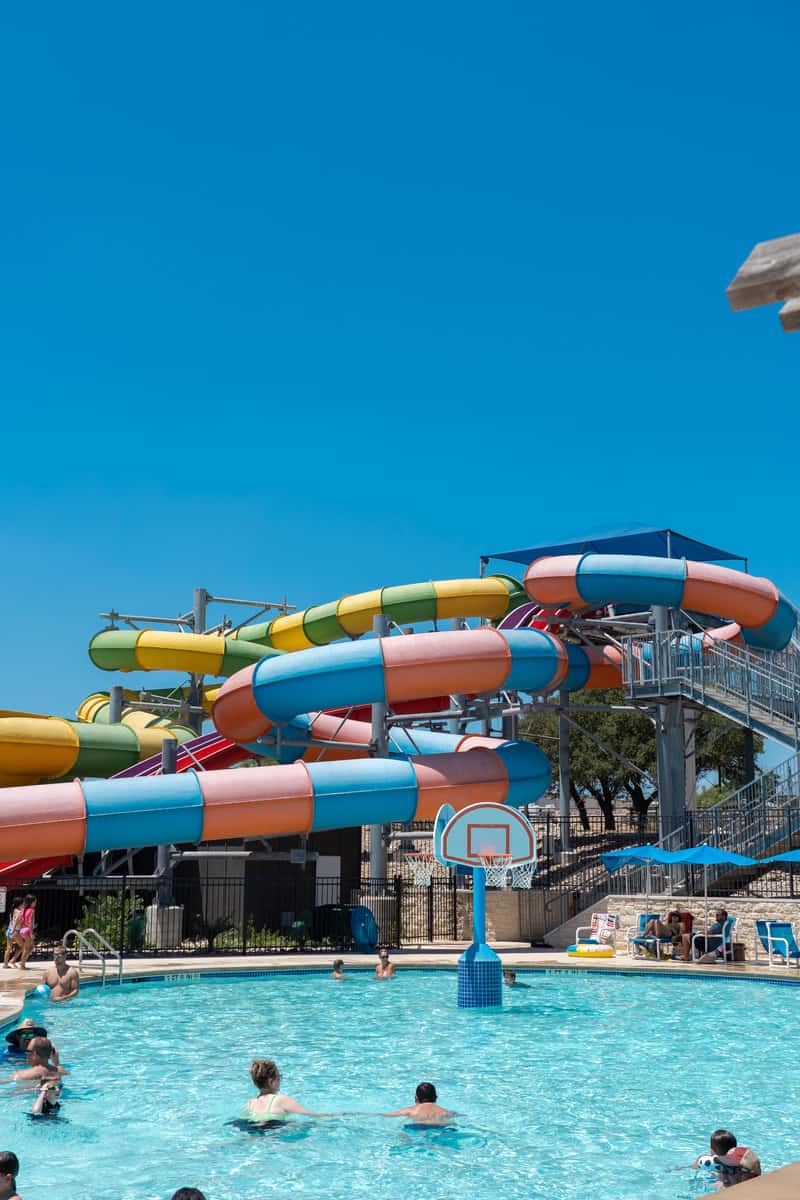 Go on a Safari Tour in Kerrville TX
At Yo Ranch Headquarters, you'll have the opportunity to embark on a customized safari tour! This interactive experience allows you to come face-to-face with a variety of exotic animals, from zebras to antelopes.
One of the standout features of this tour is the chance to interact closely with the camels. If you're daring enough, you might even find yourself puckering up for a memorable kiss with a camel!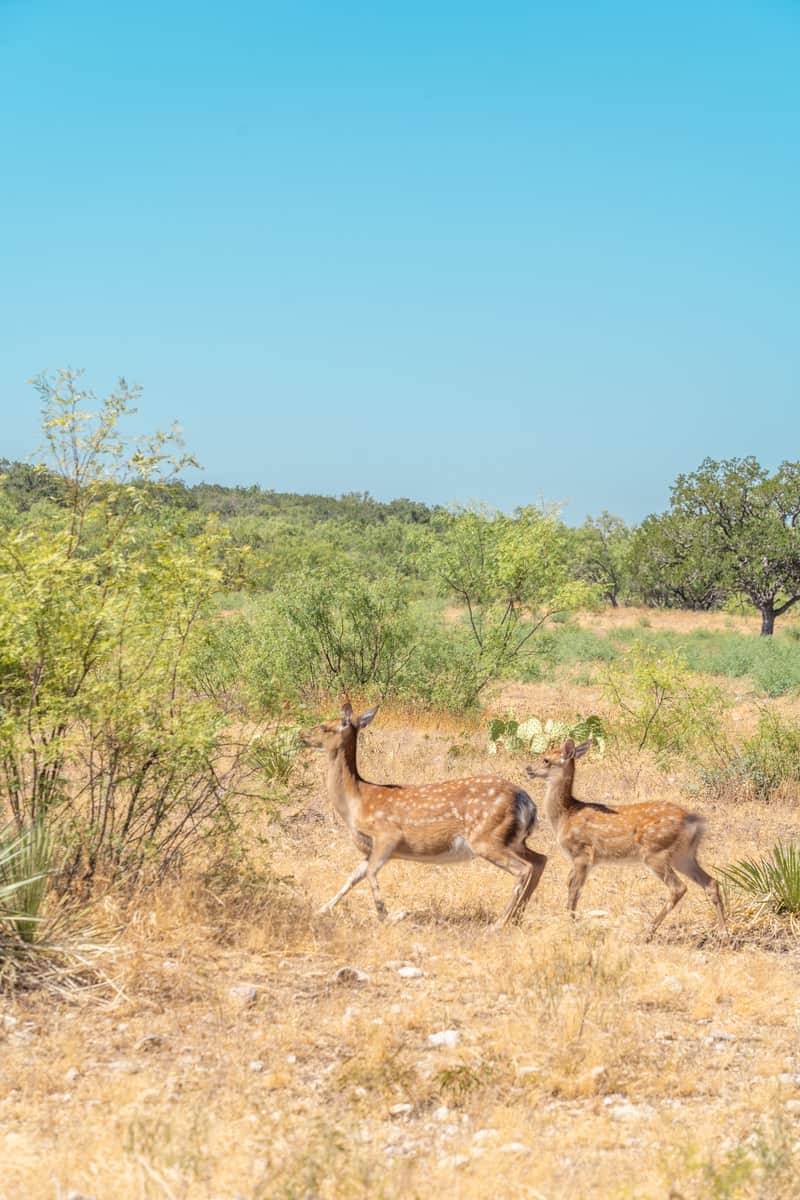 The Cross at Kerrville
Located on 23 acres, the Cross at Kerrville provides a serenely spiritual experience. This site is crowned by a 77-foot-tall, empty cross. Visitors can stroll through the Coming King Sculpture Prayer Gardens, featuring an array of biblical sculptures that tell stories from the Scriptures.
Visit this Quirky Replica in Kerrville TX
Stonehenge II, a replica of the original Stonehenge monument in England, offers an unusual sight amidst the Texas landscape.
Located in the Hill Country, this remarkable structure was created by Al Shepperd and Doug Hill as a tribute to the ancient monument. It is not as grand in size as the original — standing at about 60% of its height — but it captures the essence and mystery of Stonehenge.
Nestled alongside are two Easter Island heads, adding to the quirky and eclectic vibe of the site. Stonehenge II invites you to take a pause, appreciate the unusual, and perhaps even ponder the mysteries of ancient civilizations. While technically in Ingram, this is definitely worth adding to your list of things to do in Kerrville TX! It's a very short drive.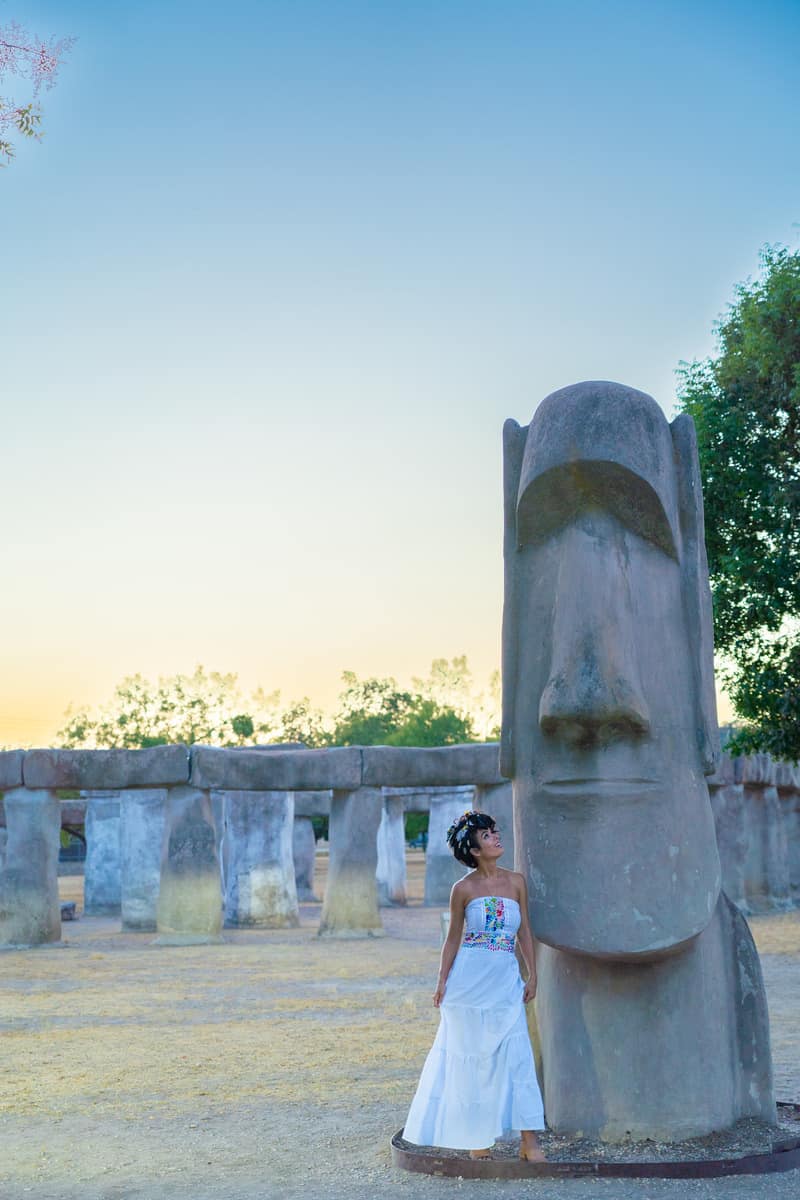 Things to Do in Kerrville TX: Explore Downtown
The downtown area of Kerrville is part of what makes it so charming! You can even walk around the downtown with wine or beer because of the open container laws in the city square.
Fairy Moon Emporium: This unique shop offers astrology and tarot card readings, crystals, witch-related items, and original art and clothing, including stunning crystal globes.
Zen & Alchemy: Not only home to a vast collection of large crystals and other magical/spiritual items, Zen & Alchemy also has massages and holistic treatments, singing bowl meditations, and other classes on the roster.
Sunrise Antique Mall: Open from 11am to 5pm, this two-story treasure trove is packed with a diverse collection of items including records, comics, games, clothes, and furniture.
River's Edge Gallery: Open from 10am to 5pm, this artistic hub showcases works by 20 Texas artists, many of them painted onsite by owners Mike and Debbie Wilson. Also home to three adorable dogs, River's Edge Gallery offers framing and repair services, and features an eclectic mix of unique pieces.
Historic Schreiner Mansion: One of the most remarkable historic sites in the area, the Schreiner Mansion is a true testament to the rich history and culture of the region. Built in 1879, this stunning limestone mansion offers visitors a chance to step back in time and gain insight into the lives of early settlers. The mansion is now used for special events and is also open for tours, making it a must-visit attraction for history enthusiasts!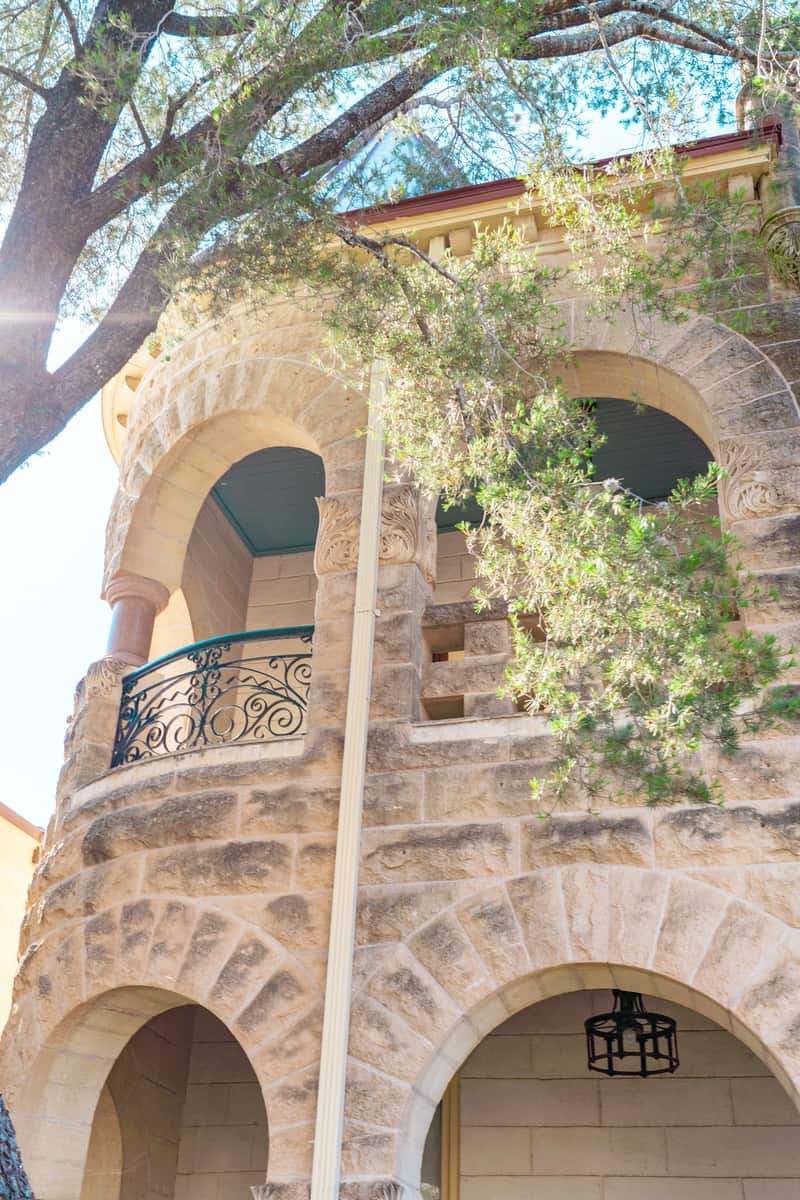 Cultural Things to Do in Kerrville TX
The Museum of Western Art
Art lovers should add the Museum of Western Art to their list of things to do in Kerrville TX! Dedicated to preserving the culture of the American West, the museum's collection includes works by some of the most renowned Western artists!
Kerr Arts & Cultural Center
Another cultural gem in the area is the Kerr Arts & Cultural Center. Known for its dynamic exhibitions and engaging community activities, the center serves as the city's heart, championing local, regional, and national artists.
Its diverse collection encompasses a wide range of mediums, from paintings and sculptures to ceramics and textiles. The center also hosts several art workshops and classes throughout the year!
With its wide array of offerings and commitment to cultivating artistic talent, the Kerr Arts & Cultural Center is definitely worth a visit!
James Avery Craftsman Center
For those seeking unique, artisanal souvenirs, the James Avery Craftsman Center offers a variety of finely crafted pieces. A well-known Texas jeweler, the designs often incorporate symbols of regional culture and nature, which make them perfect keepsakes of your time in Kerrville.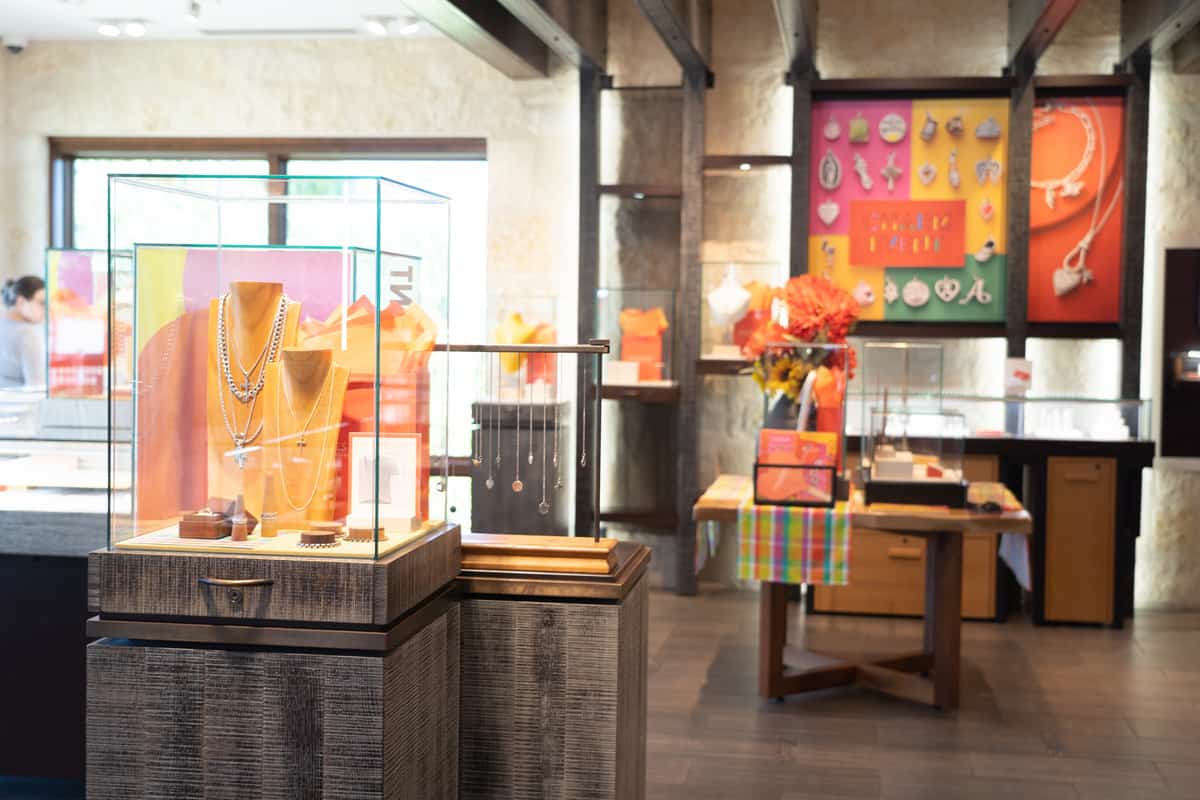 The coolest part is that you can visit their headquarters! There is a small museum that tells the story of how James Avery began and more!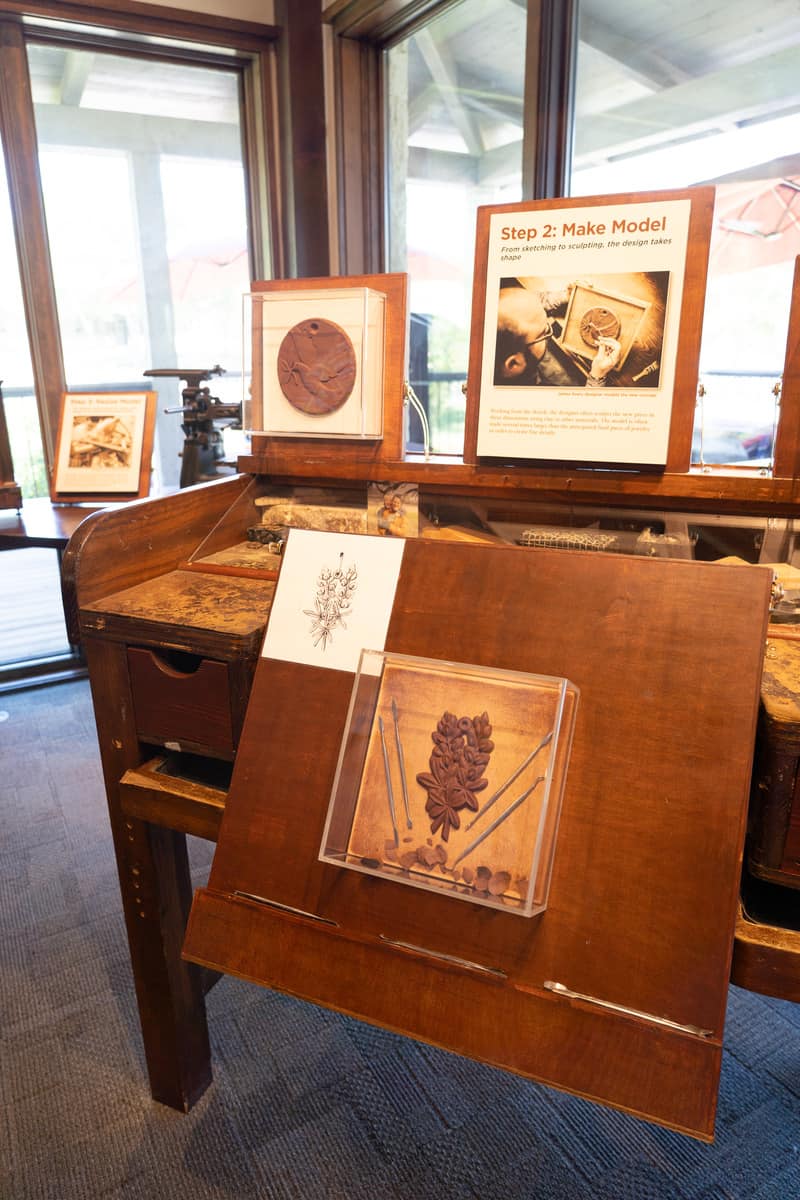 Arcadia Live
Music enthusiasts will find a haven at Arcadia Live, an entertainment venue located in the heart of Kerrville. Known for its vibrant ambience and acoustics, Arcadia Live hosts an array of musical events and concerts.
Whether you're a fan of rock, country, blues, or jazz, the venue offers something for everyone. The historic theatre has been meticulously restored, retaining its original charm while being equipped with state-of-the-art sound and lighting systems.
Arcadia Live isn't just about music. It also hosts a range of other events including "Laugh Therapy" comedy nights, film screenings, and community gatherings, making it a lively hub for entertainment in Kerrville.
Where to Eat in Kerrville TX
Fuel up at Pax Coffee & Goods
For coffee aficionados, a visit to Pax Coffee & Goods is an absolute must! Located in downtown Kerrville in a reimagined 1928 building, this quaint and cozy café is known for its artisanal coffee.
With the blue walls and ornate artwork, walking into Pax feels like walking into an art gallery. They have fresh pastries everyday including a moist lemon bread and yogurt filled muffins. We grabbed coffee here almost everyday with unique options like their "Blue Moon" with lavender or a "Day & Night."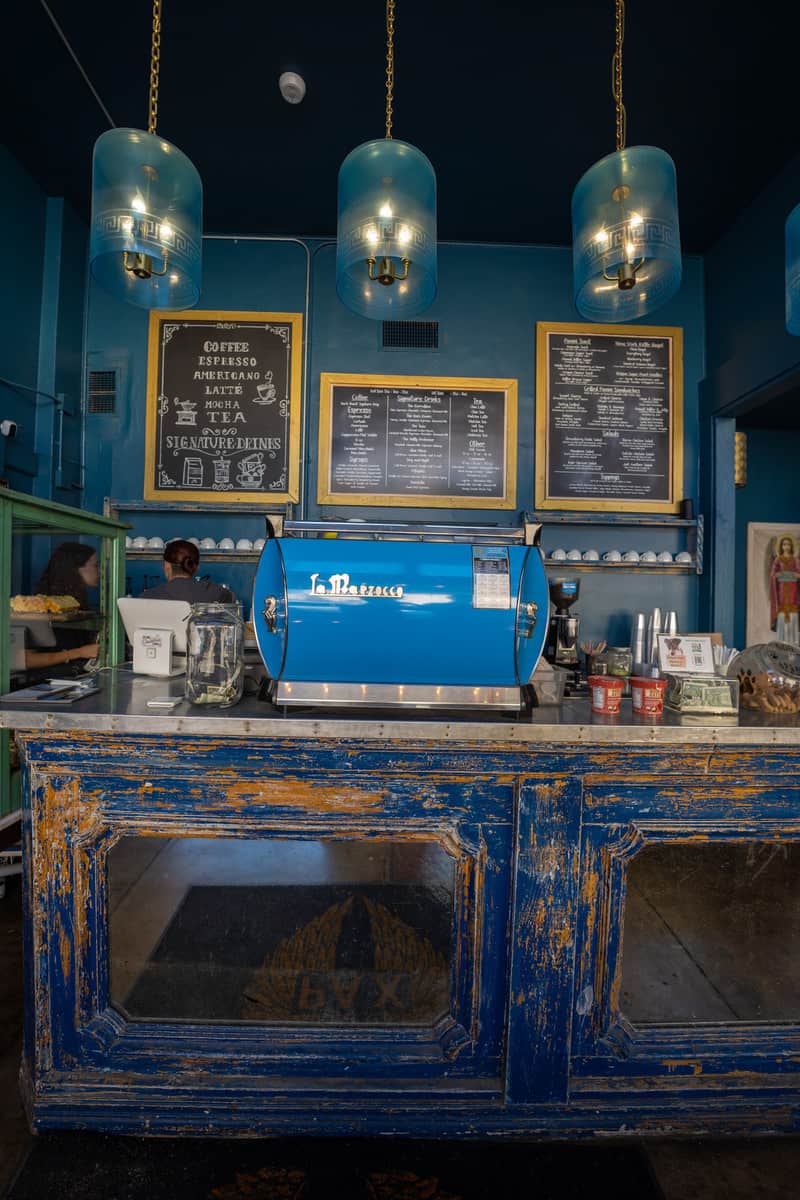 Indulge at Carmines' Giant Pizza
For those with a hearty appetite and a love for Italian cuisine, the giant pizza at Carmines is an unmissable culinary delight. Carmines, a local gem of the Kerrville dining scene, is renowned for its enormous, 28-inch pizzas. You can even have eggplant on your pizza if you like!
It's not just the size of the pizzas at Carmines that's impressive. It's also the perfect balance of taste and texture that sets them apart. If you can't finish a full pizza, you can get a giant slice or opt for a smaller pizza.
Whether you're a fan of traditional toppings or enjoy more adventurous combinations, Carmines' Giant Pizza offers a mouthwatering experience that is sure to satisfy your pizza cravings!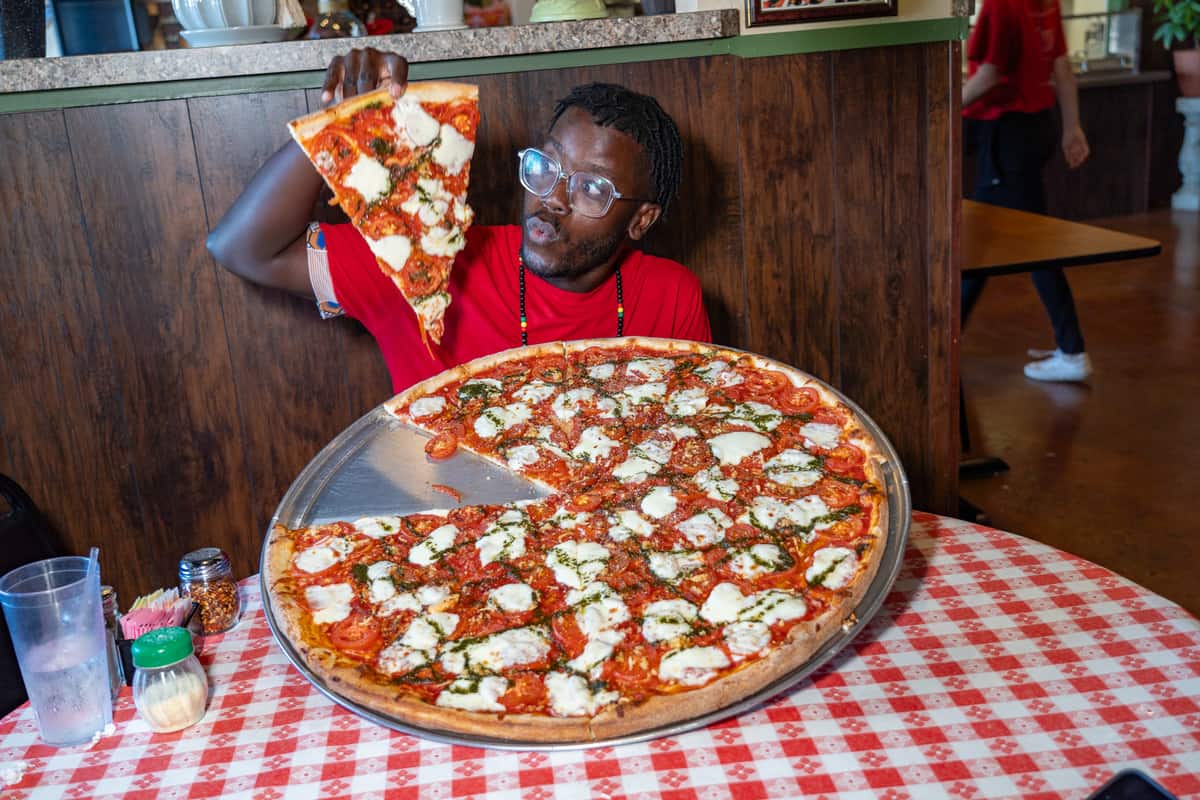 Lunch at Café at the Ridge
For a unique blend of comfort food with a Southern touch, your next stop should be the Café at the Ridge.
They serve up hearty dishes like the Peach Chicken, a succulent grilled chicken breast smothered in fresh peach chutney, and the Cowboy Burger, loaded with bacon, cheese, grilled jalapeño slices, and topped off with an onion ring and BBQ sauce.
Their dishes are accompanied by their homemade breads, cornbread, cookies, and pastries, which are all prepared in their open kitchen. You might even catch the chefs kneading dough or piping frosting.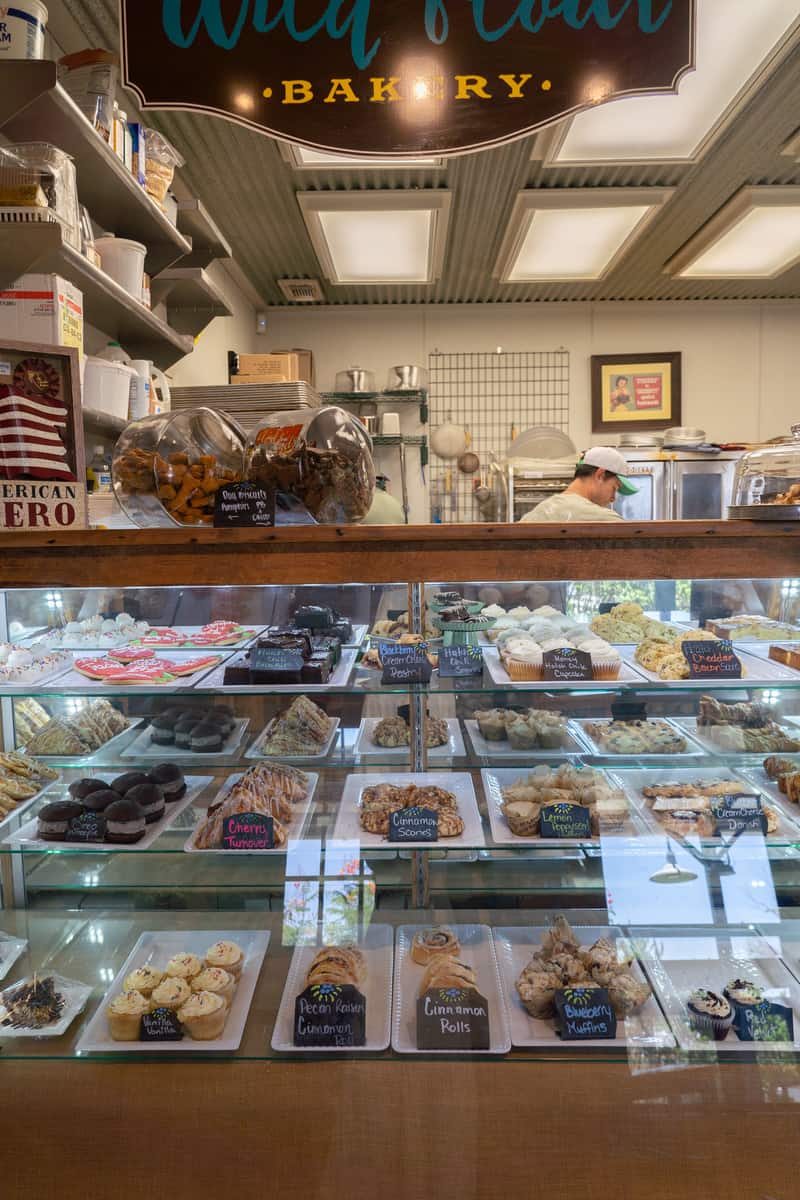 To wash down the delicious fare, there's a wide selection of beers, wines, Dublin sodas, and other beverages. And if you prefer dining al fresco, the café boasts an outdoor patio complete with picnic areas in the shade.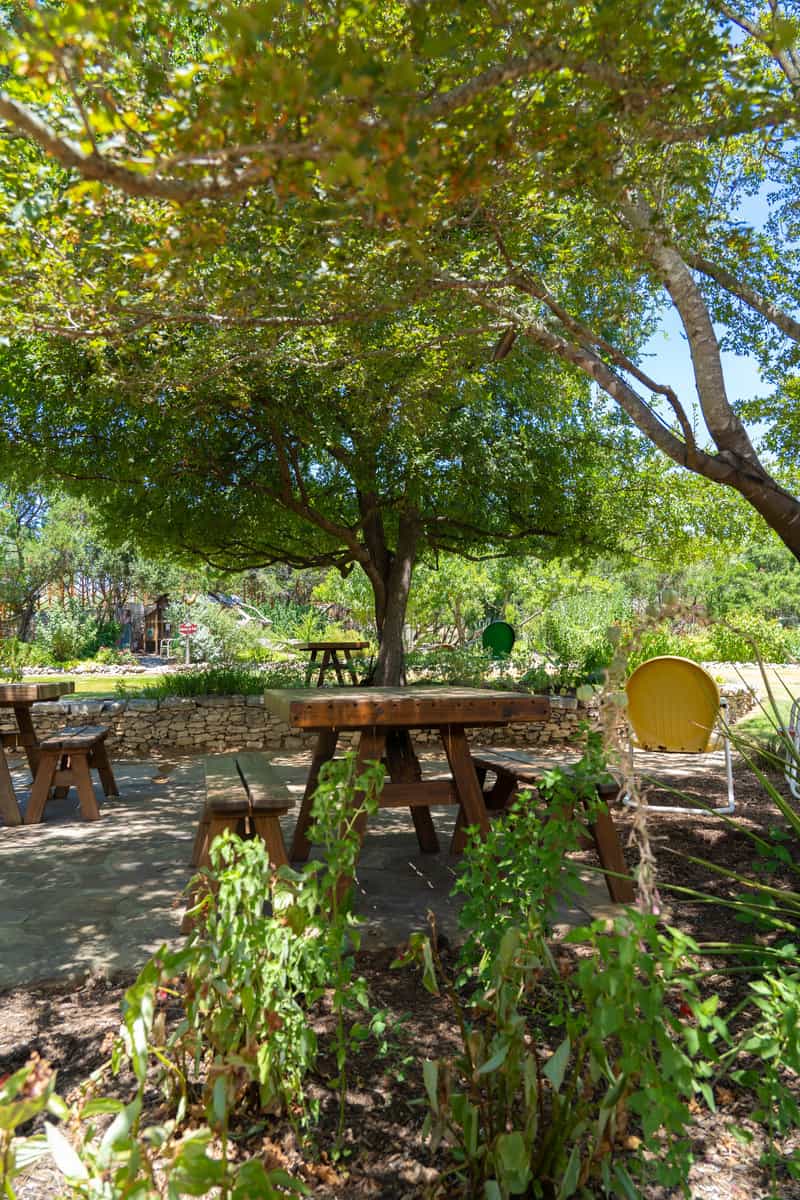 But Café at the Ridge is more than just a restaurant. It forms a part of the Ridge Marketplace. It also includes a lush butterfly garden, plant shop, chicken coop, and an outdoor recreational area. An added perk is the boutique, where you might run into Judy, a local legend known for her glittering hair and purple stripe.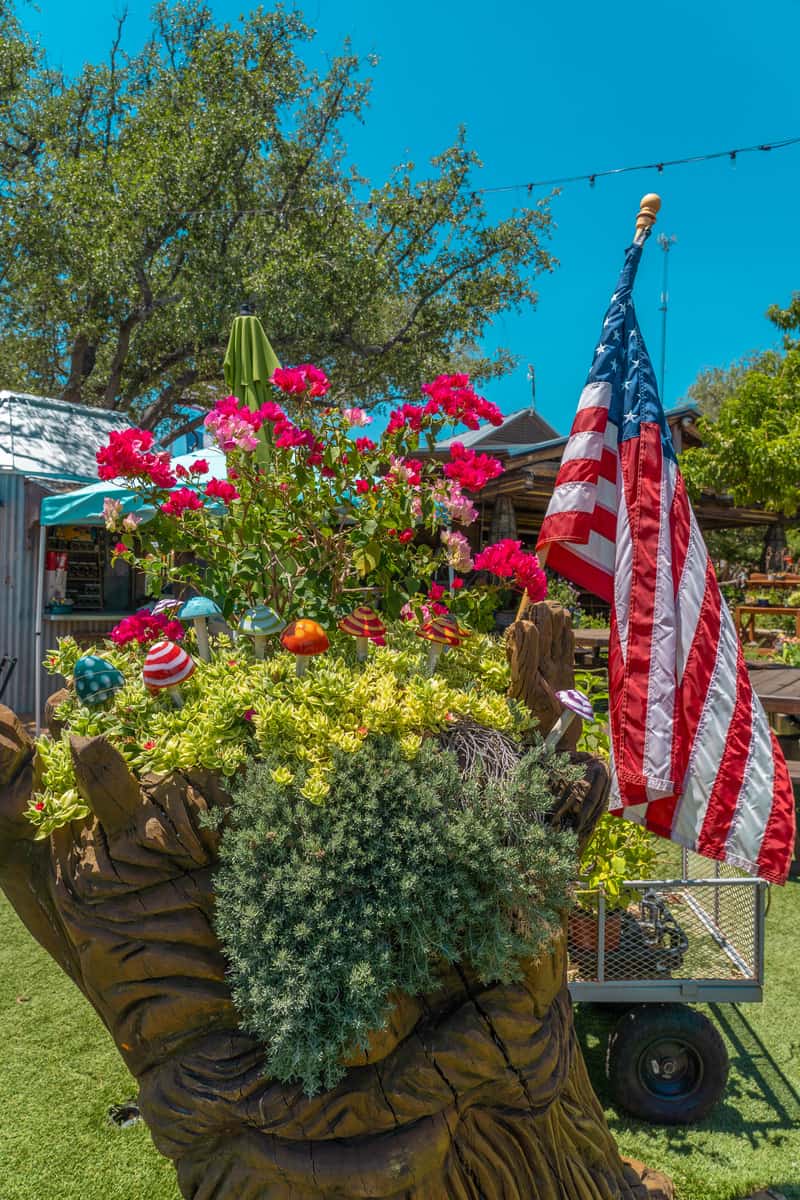 We had a ball enjoying the giant seesaw and admiring the butterflies. The place emits a cute, country charm and an eclectic vibe, making it a must-visit spot you have to add to your list of things to do in Kerrville TX.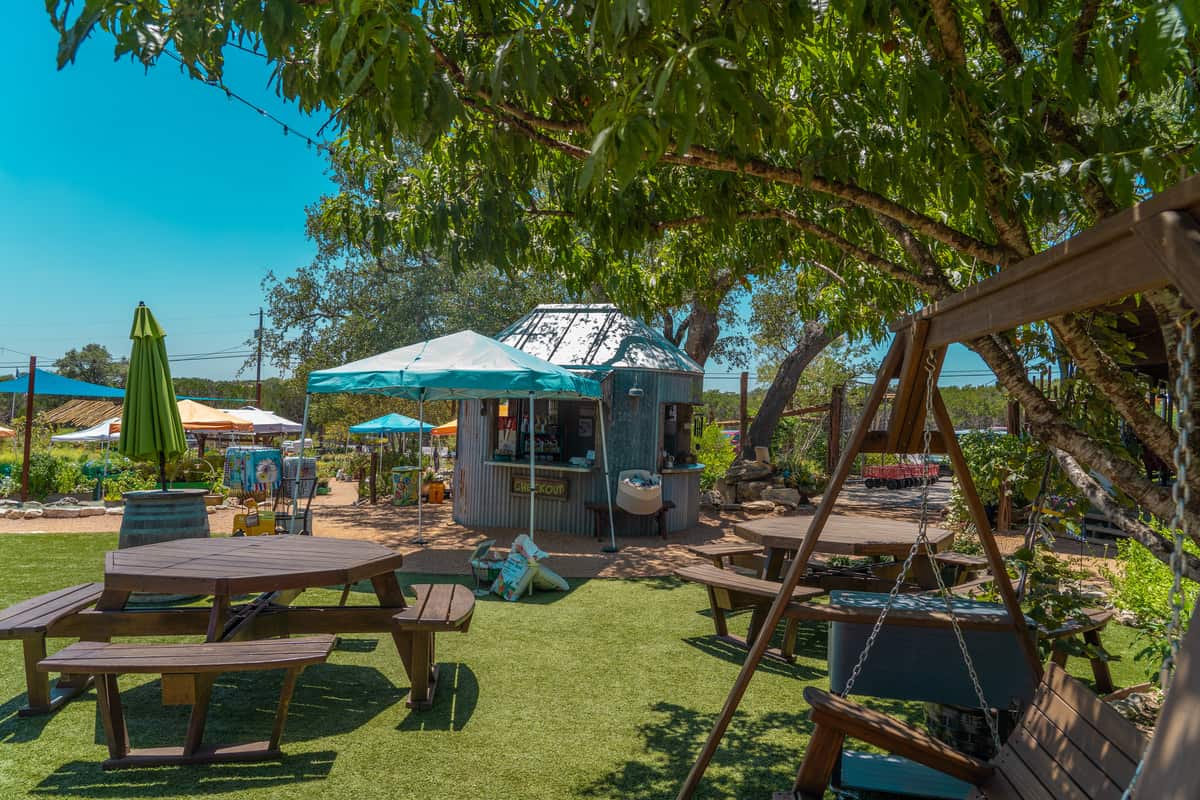 High Tea at Repose
The high tea service at Repose brilliantly blends the elegance of a traditional afternoon tea with the rustic charm of Texas. Make sure to make your reservations ahead of time!
At Repose, the afternoon tea service gets a bubbly upgrade with the addition of a champagne tower. The menu boasts an array of tea sandwiches, macarons, and cookies. You can sip on a variety of teas while indulging in these delicate treats.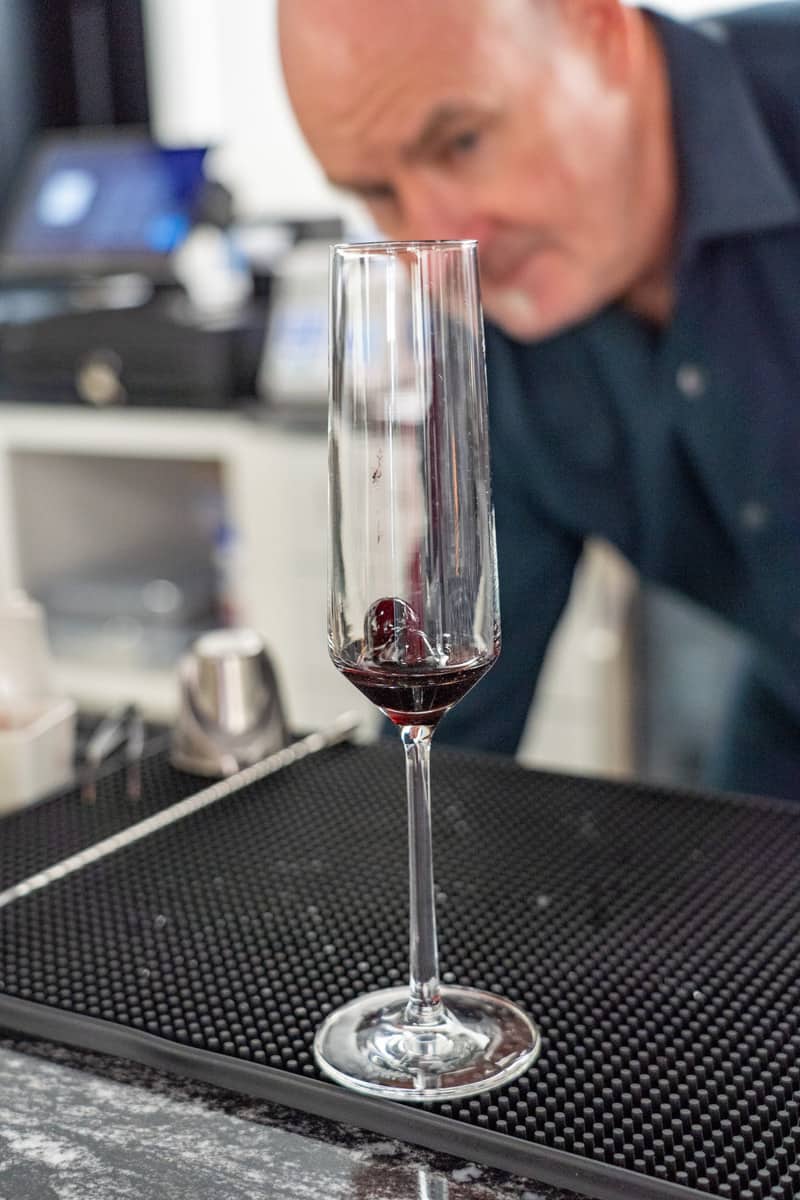 The super cute, cow patterned chairs and Texas-inspired décor, complete with mirrors and horns on the walls, add a quirky yet sophisticated touch to your typical, high tea vibe.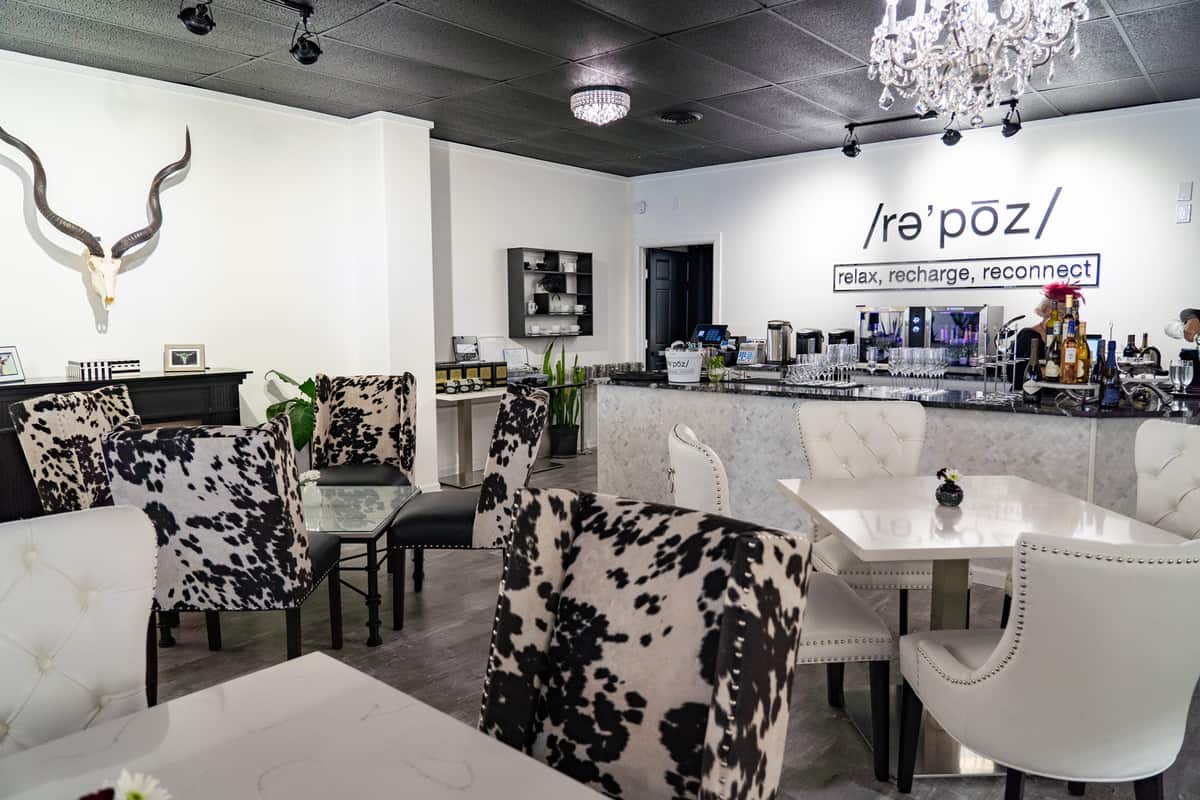 And if you're more for small bites and champagne, come back in the evening when the menu flips to an elevated selection.
Romantic Dinner at 1011 Bistro
Situated along the picturesque Guadalupe River, 1011 Bistro offers an unrivaled dining experience in Kerrville. Known for its exquisite cuisine and breathtaking views, the Bistro is a local favorite for a romantic evening out or a special celebration.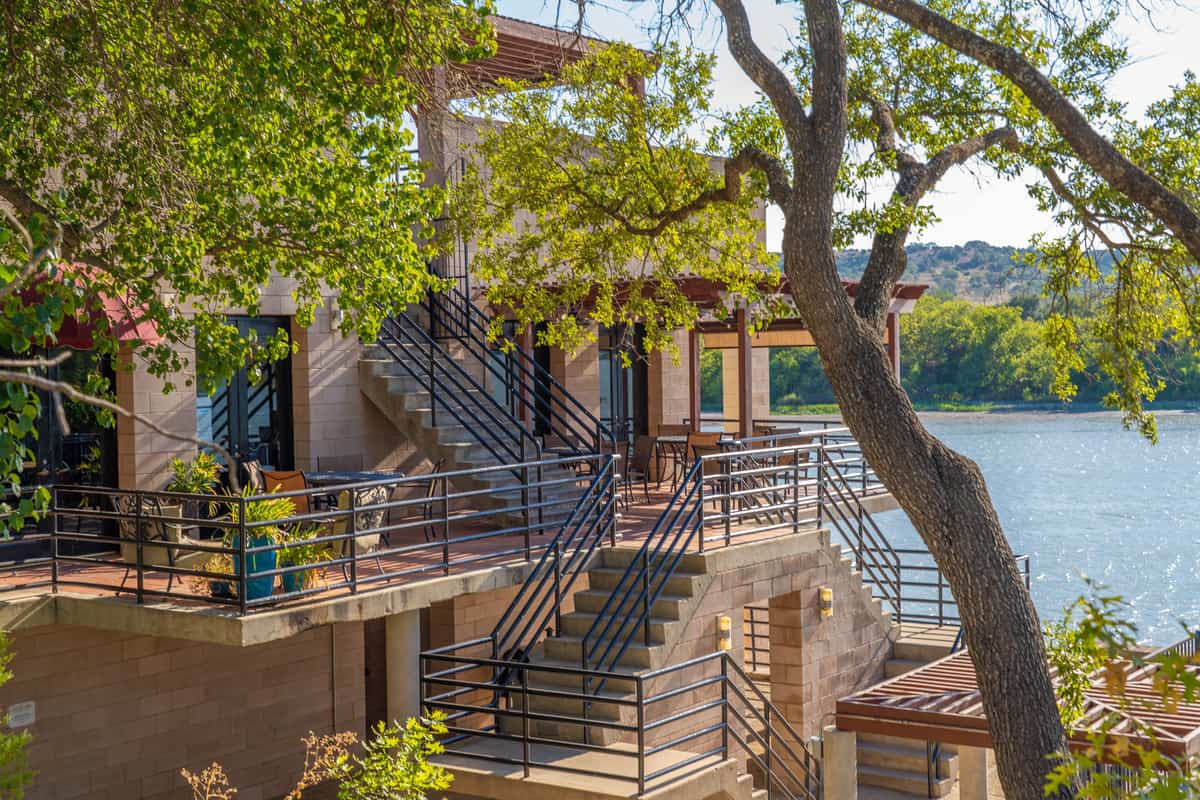 The menu is a culinary delight, featuring a variety of dishes from succulent prime ribeye steaks to fresh seafood options.
As the sun sets, the riverside patio becomes a serene oasis. It's the perfect spot to unwind while relishing your meal and soaking in the panoramic vista.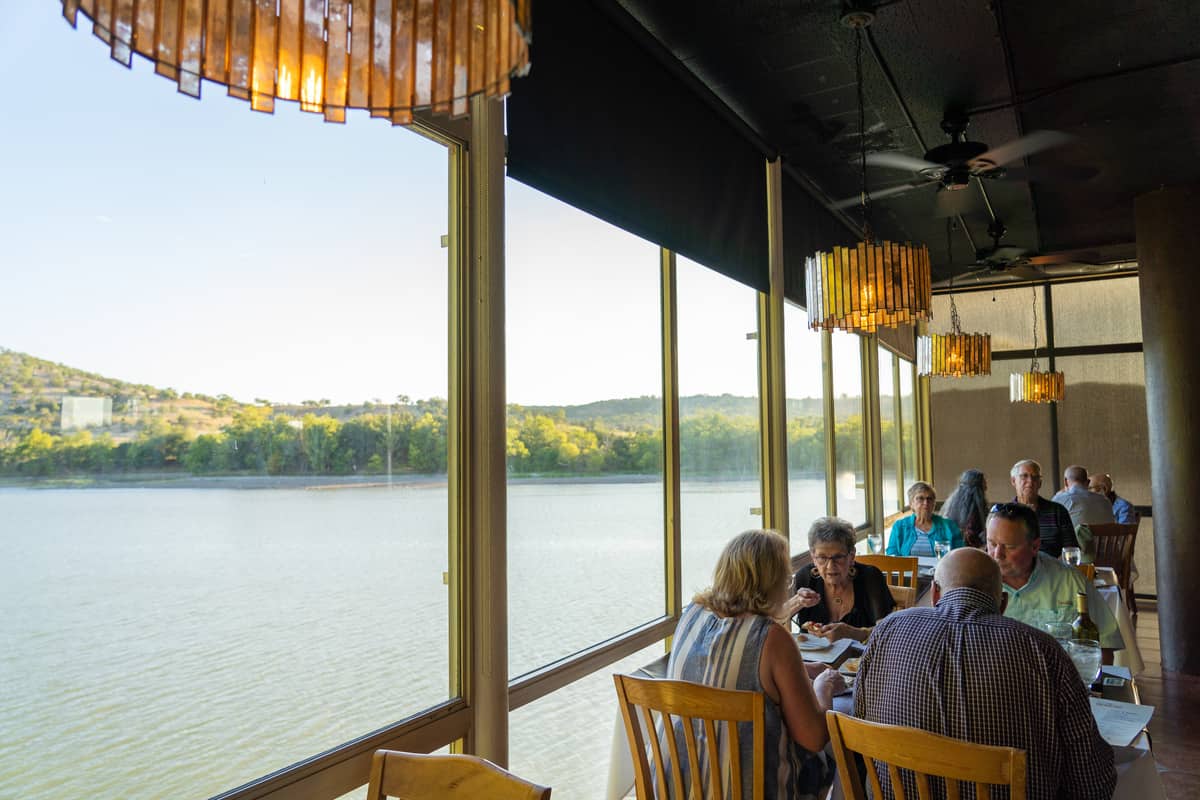 If you want the best view, call ahead and ask for the corner table. It is the most popular spot in the restaurant though so you may have to plan ahead for this one.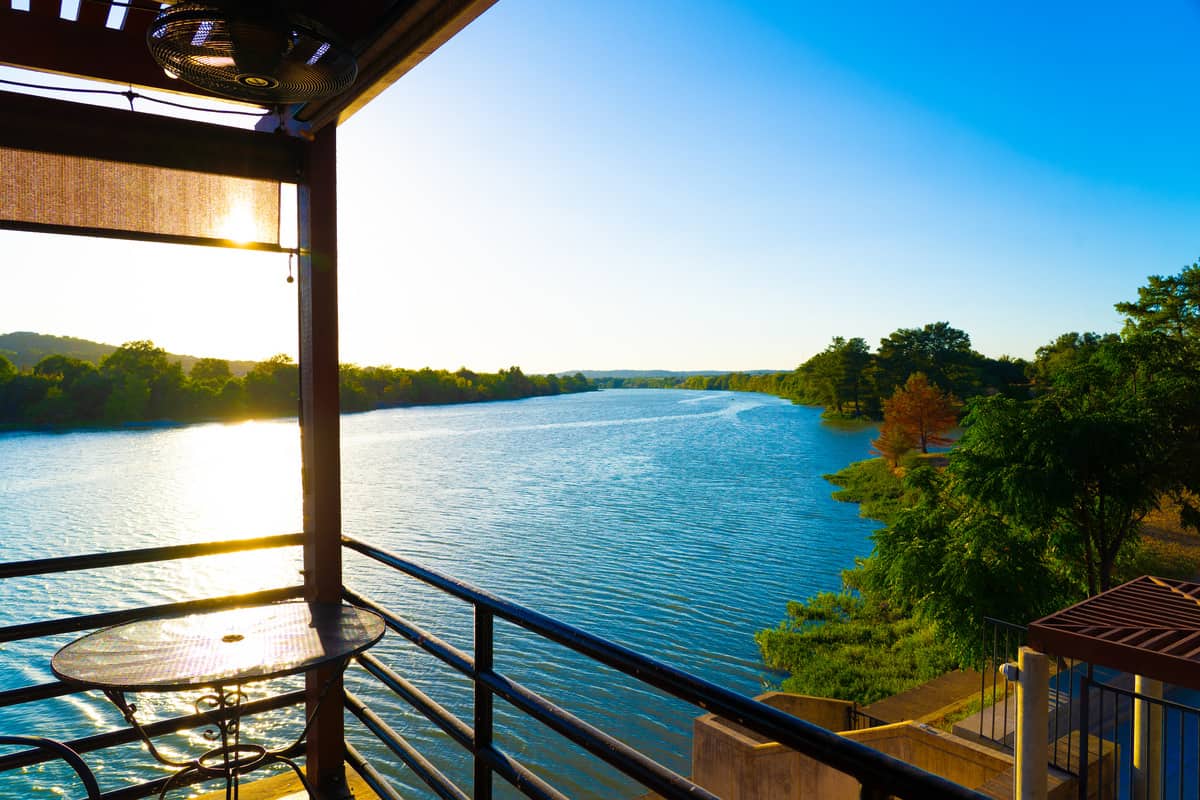 Savor Authentic Tacos at Rita's
This local gem is renowned for its delectable tacos, filling the air of Kerrville with the enticing aroma of marinated meats and fresh tortillas.
At Rita's, the tacos are far from typical, each brimming with flavorful fillings. Choose from slow-cooked carnitas, marinated grilled chicken, or succulent barbacoa. Each taco is handcrafted with love and served with a side of zesty salsa and lime, the perfect tangy accompaniment.
We enjoyed their large selection of breakfast tacos with lots of options for fillings.
Eat on a Boat at the Boat
Nestled in the heart of the Texas Hill Country, the Boat presents a unique dining experience. As soon as you step inside, you are transported into a nautical world, complete with neon signs and tropical cocktails. The interior mimics the inside of a boat, adding to the overall theme of the restaurant.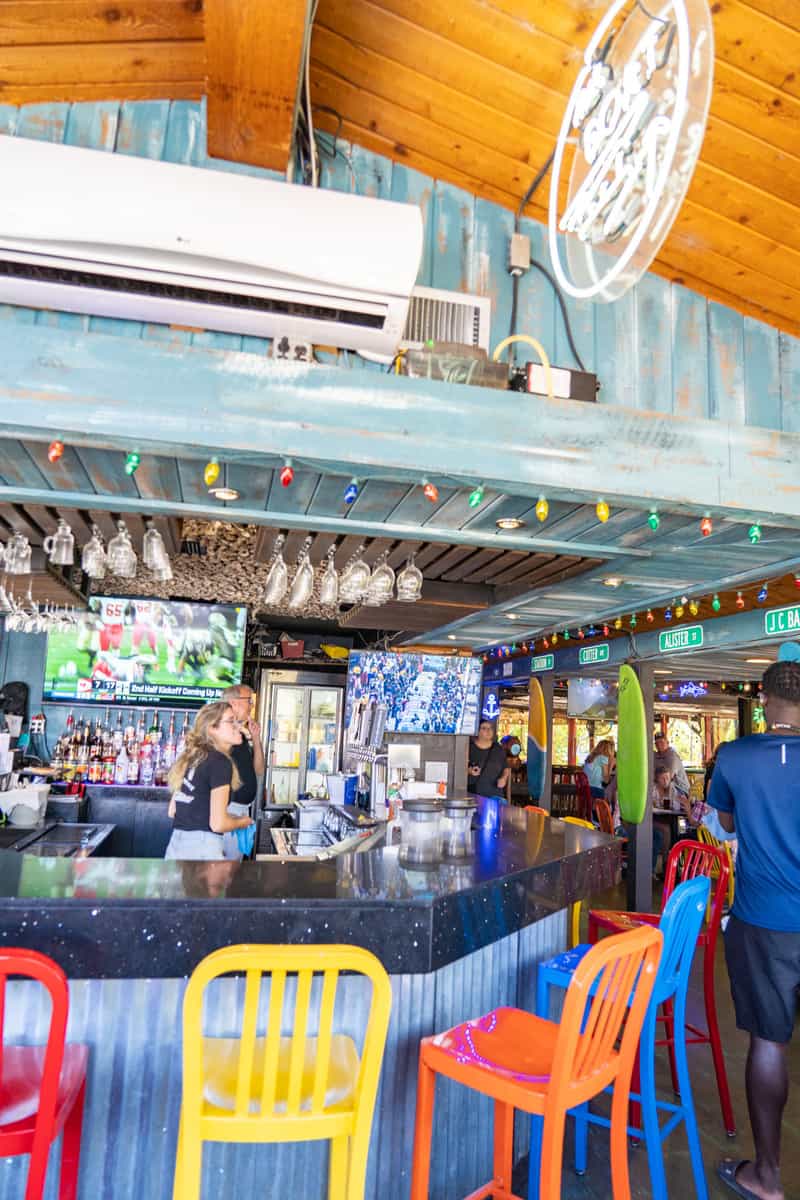 We recommend the spicy Cajun Fried Crawfish Tails, the creamy Shrimp Ya-Ya, the hearty Port A Burger, and the crispy Fried Shrimp Basket.
For an enhanced experience, be sure to grab a table on the deck or by the window. Not only will you be able to enjoy the gastronomic delights, but you'll also get the best views of the tranquil Guadalupe River. There's nothing quite like savoring delicious food while basking in the serenity of a river view.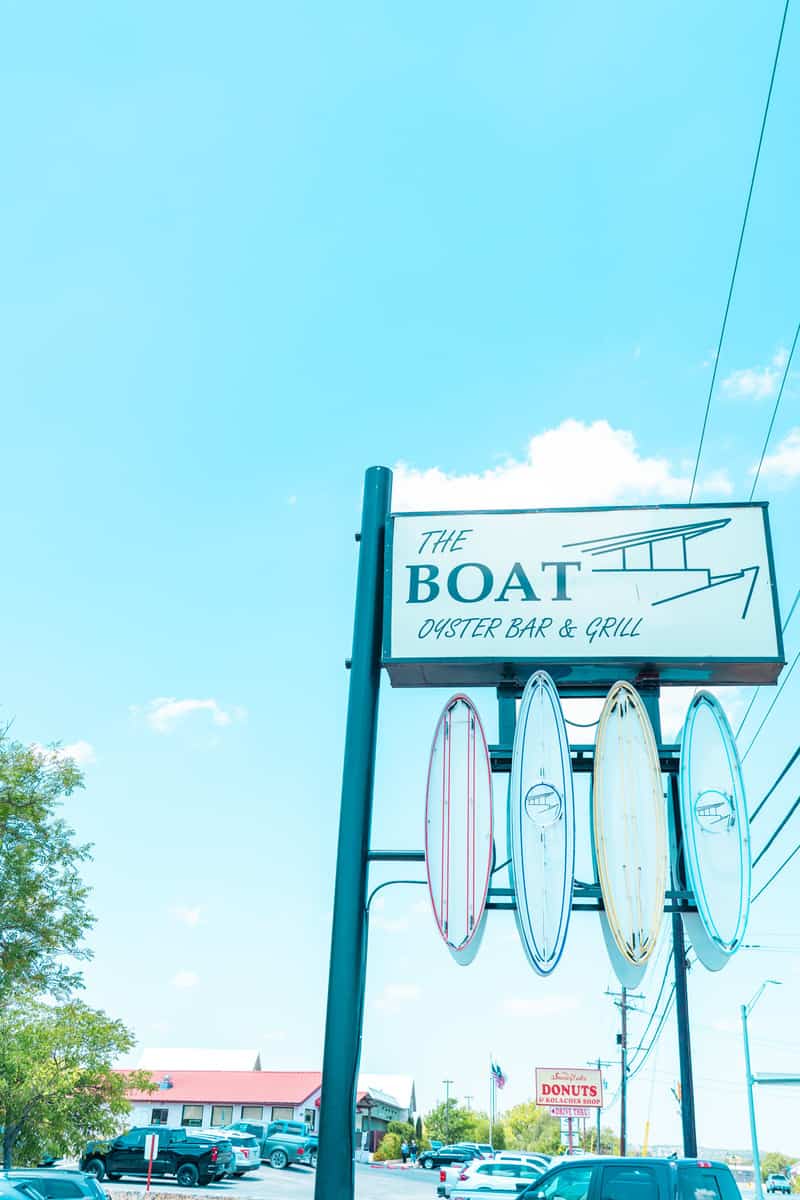 Note that wait times tend to be long so make sure you have some time to spare if you add it to your list of things to do in Kerrville TX.
Grape Juice
For a unique dining experience, head to Grape Juice, a locally owned restaurant that specializes in serving an extensive selection of wines and craft beers paired with delicious gourmet dishes.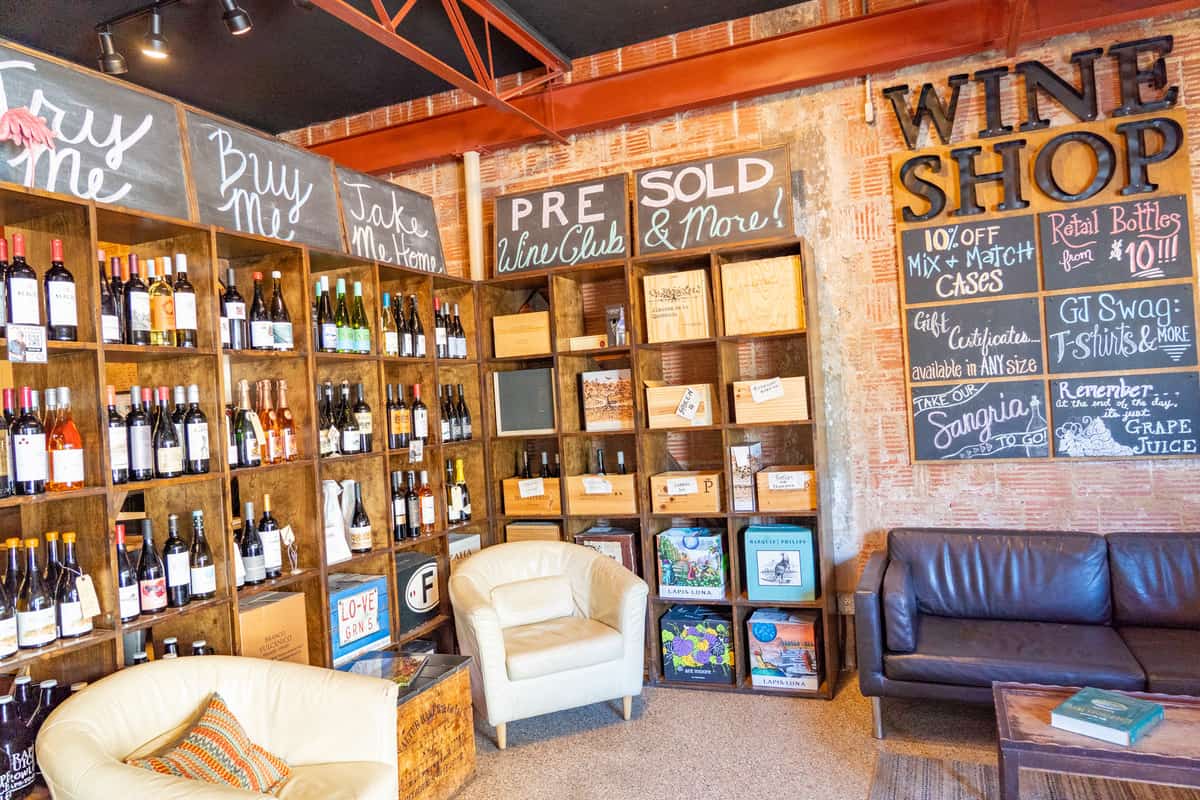 Things to Do in Kerrville TX: Wine & Beer
Kerrville TX Hills Winery
Immerse yourself in the rich flavors of Texas at Kerrville Hills Winery, where every glass of wine reflects the region's unique terroir. The winery prides itself on using 100% Texas grapes, ensuring an authentic and distinct taste.
The winery is famous for being Texas' first incubator in the world of wineries, a testament to the pioneering spirit of its owner, John Rivenburgh. Referred to as the most famous winemaker nobody's heard of, he has started and contributed to the creation of 36 or 37 wineries, including co-founding Bending Branch in Comfort.
He is driven by his passion for Texas wine and his commitment to redefining expectations of the region's offerings. At Kerrville Hills Winery, you might cross paths with winemakers from other regions who take part in the incubator there.
The winery's slogan, "Drink Texas Texas," encapsulates its dedication to local wine production. Visitors are encouraged to try something unique like the Souza, a testament to the winery's daring and innovative spirit.
The wines here are as raw and genuine as possible, unfiltered to preserve their natural essence. As pioneers in the industry, Kerrville Hills Winery is ushering in a new wave of winemaking in Texas.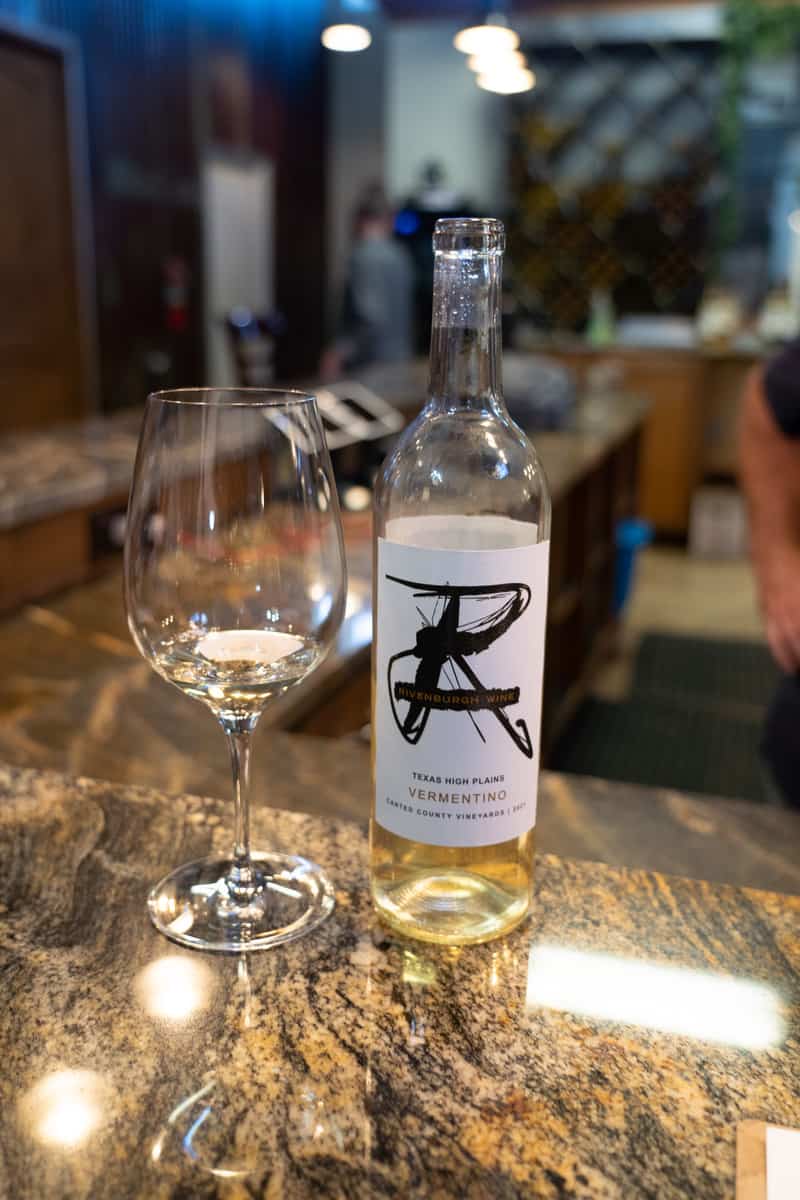 Turtle Creek Olive & Vine
If you are on the lookout for a unique wine and dine experience, Turtle Creek Olive & Vine downtown is a must on your list of things to do in Kerrville TX.
This charming wine and small bites establishment is renowned for its extensive collection of wines sourced from all corners of the world.
Whether you're a fan of a full-bodied red, a refreshing white, or a tantalizing rosé, you're guaranteed to find a bottle that suits your tastes. The ambiance is nice and cozy with deep blue shades and eclectic décor.
What's even more appealing is the fact that Turtle Creek Olive & Vine provides to-go containers for any unfinished wines, allowing visitors to continue their wine appreciation stroll around downtown Kerrville.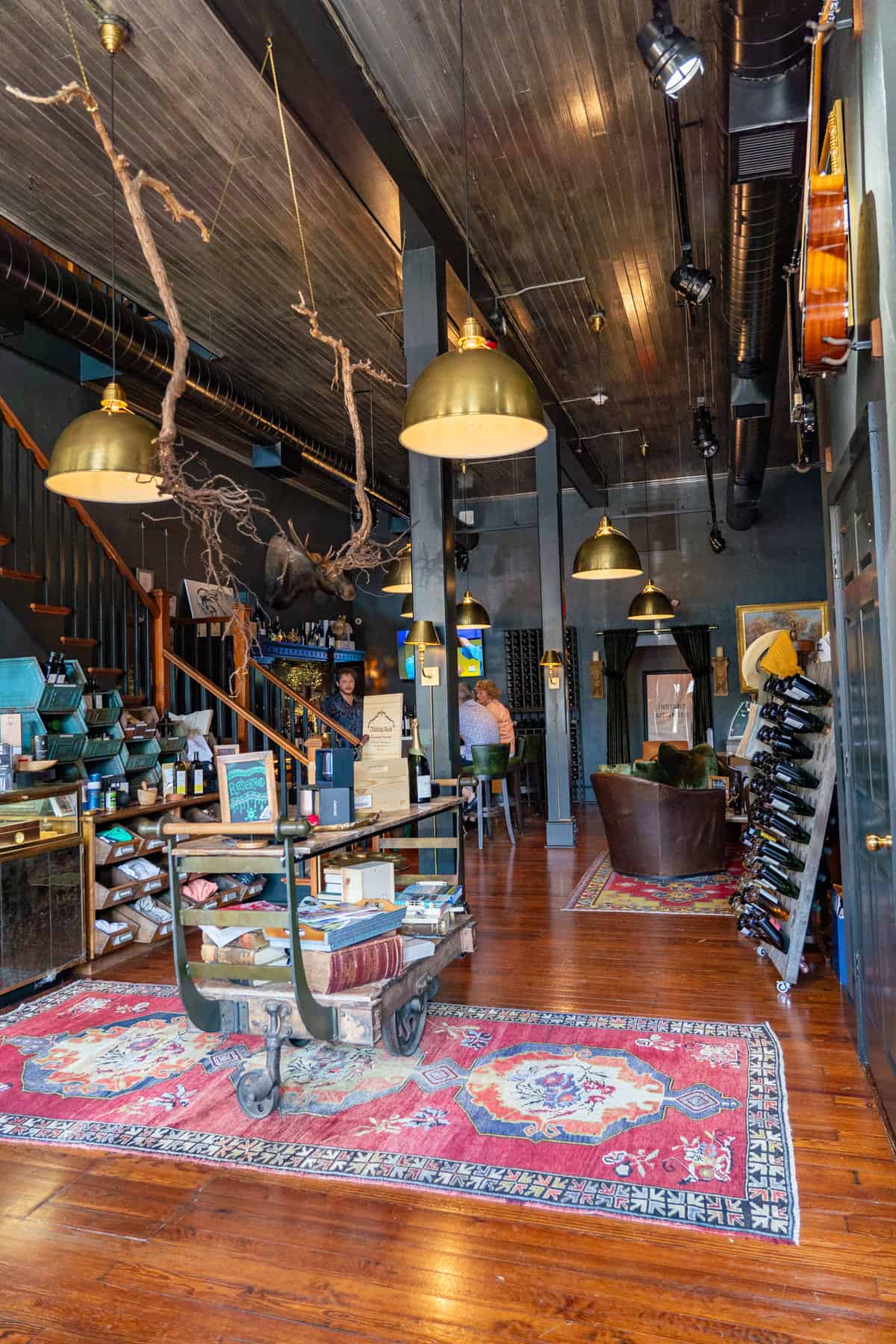 Pint & Plow Brewing Company
End your day at the Pint & Plow Brewing Company. This family-owned craft brewery offers a variety of freshly brewed beer, all-day coffee, and live music. There are also ostriches on the wall, which is supposedly just because the owner likes them, but there's more of a story there if you can get him to tell you.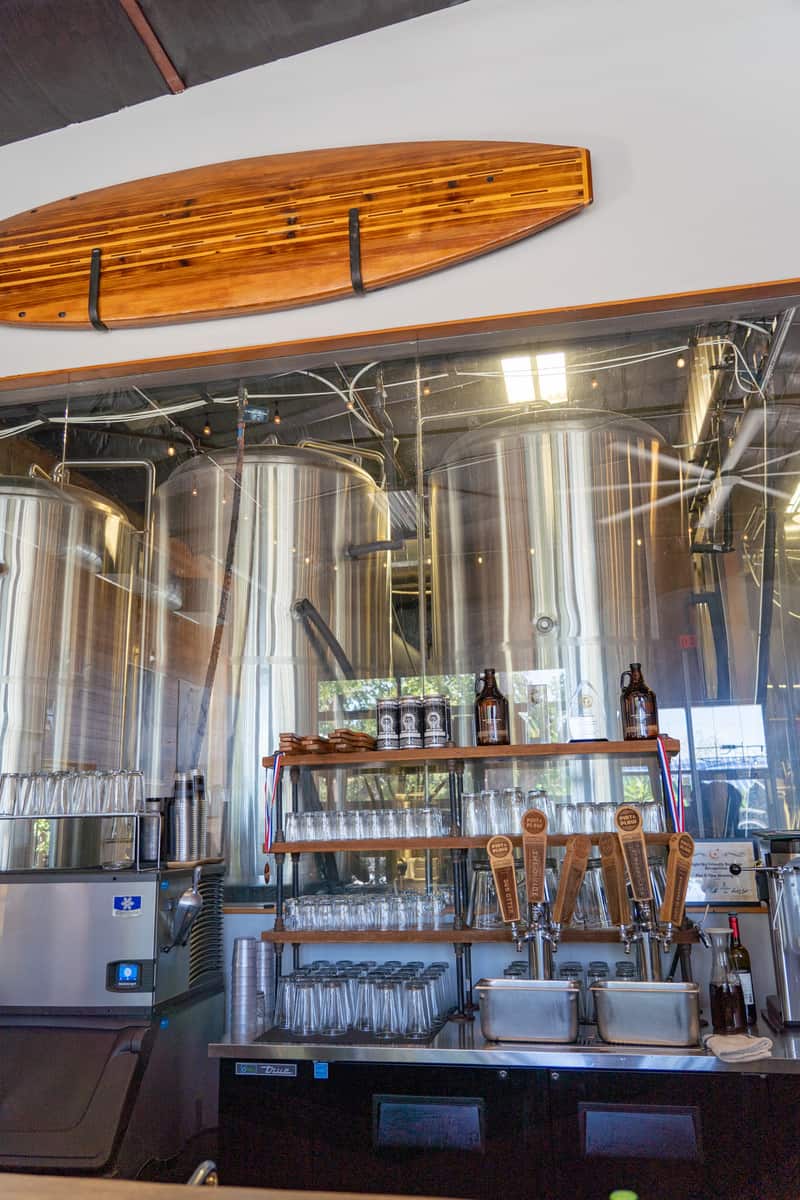 Where to Stay in Kerrville TX
The Garrett House
The Garrett House, a charming bed and breakfast tucked away in the heart of Kerrville TX, provides the perfect lodging for your visit. Each room is uniquely decorated with colorful artistic touches. It exudes a warm, homey atmosphere that will make every guest feel welcome.
It's a two-bedroom, two-bath house with a full-size kitchen and dining room. The Garrett House also features a beautiful, furnished outdoor patio, perfect for sipping your morning coffee or enjoying the stars in the night sky. However, we might recommend the front porch for enjoying that coffee due to the white-tailed deer that stop by just about every morning.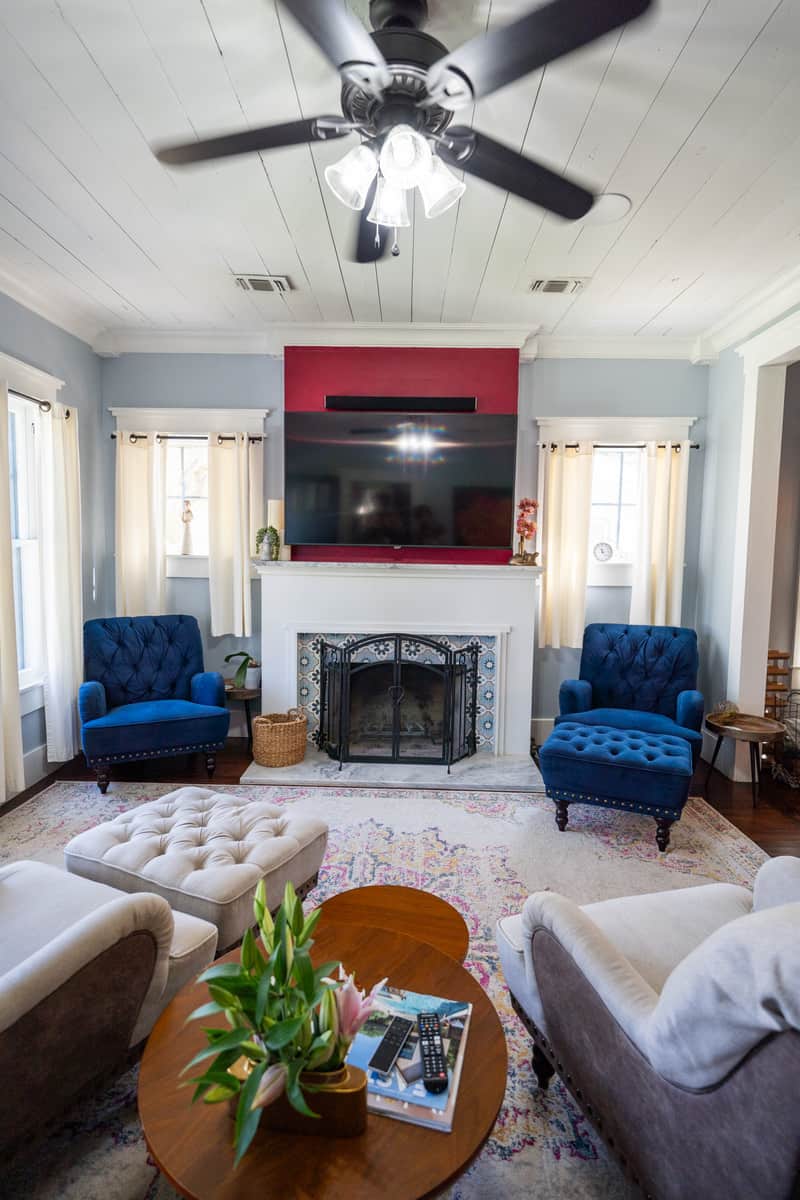 Outside in the back, surrounded by lush greenery, you will find a truly breathtaking private pool. With multiple levels and an array of comfortable floats, this oasis offers the perfect setting to unwind and soak up the sun.
And for those cooler months, there is a luxurious hot tub, inviting you to indulge in soothing warmth. To enhance your experience, the back area features beautifully designed artistic couches, providing a stylish and cozy spot to unwind.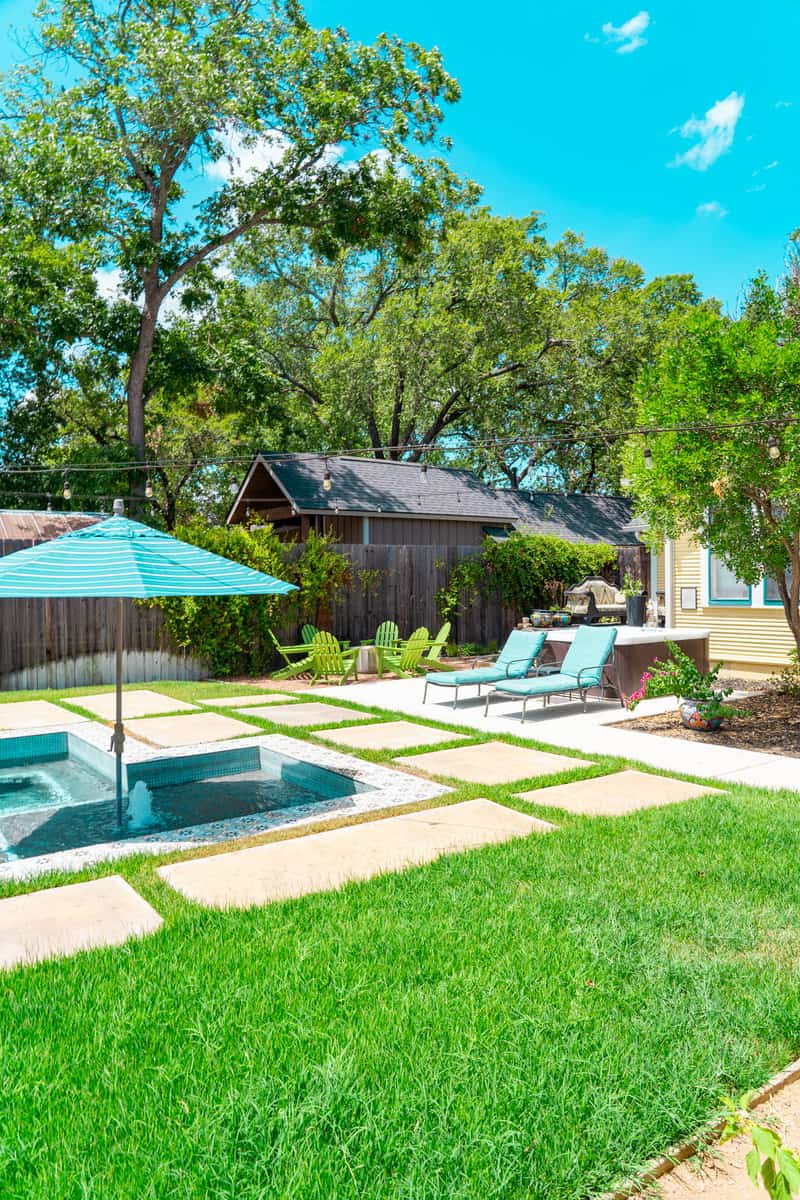 The thoughtful owners at Dwell Well, who meticulously designed the Garrett House, have created a haven that surpasses all expectations.
The owners' hospitality is second to none! They are always more than happy to recommend local attractions and dining options. With its idyllic location and top-notch service, the Garrett House stands as a beacon of comfort and convenience in the midst of your Kerrville adventure. Plus, this spot is pet-friendly!
Yogi Bear Park
For those looking to immerse themselves in nature in Kerrville TX, Yogi Bear Park is an excellent option! This family-friendly campground offers a unique accommodation experience, combining the comforts of modern amenities with the thrill of outdoor living.
Here, you can unwind in a rustic cabin, set up a tent under the stars, or park your RV. The park also features an array of recreational facilities, including a swimming pool, mini-golf course, and a playground.
With its natural setting and friendly ambiance, Yogi Bear Park is an inviting home away from home for any Kerrville visitor. Pets are allowed in certain pet-friendly cabins and on RV sites.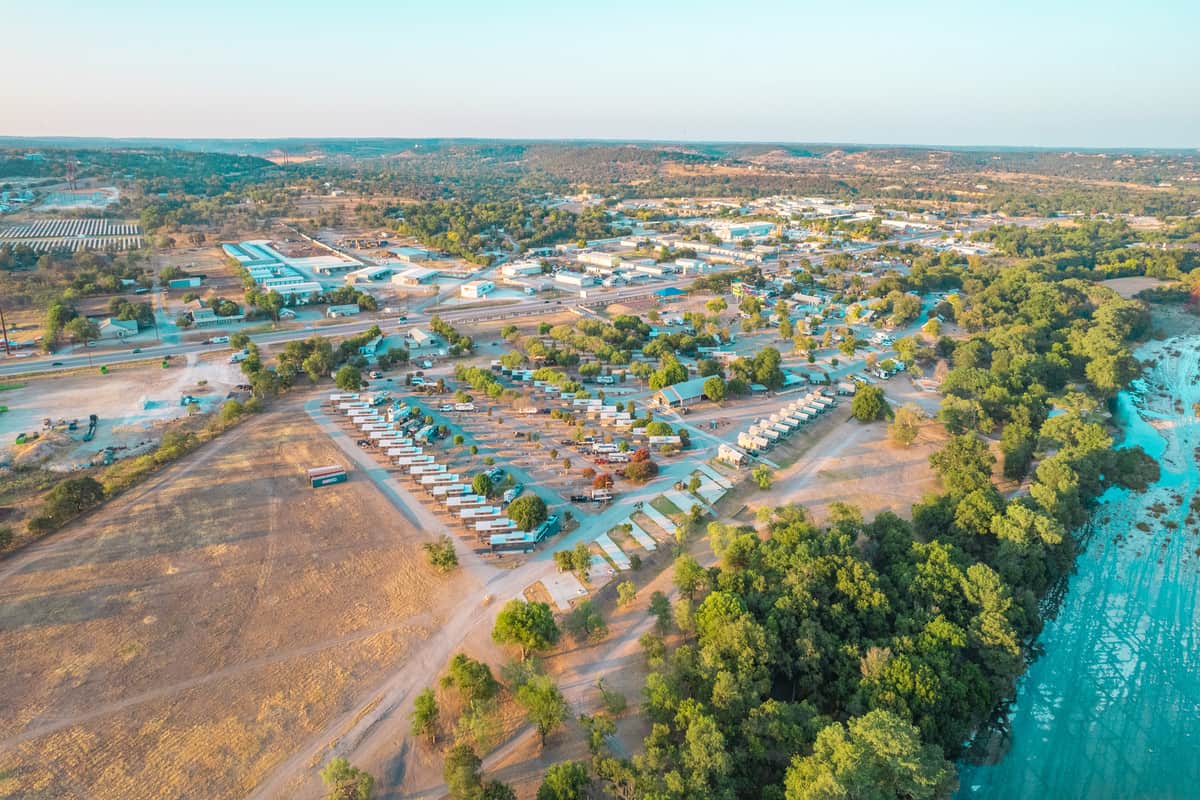 The Holiday Inn Express
For budget-friendly options, the Holiday Inn in Kerrville is an excellent choice. Not only does it offer great fun, but it also boasts a unique addition — a pool shaped like the state of Texas. This distinctive feature sets this property apart and makes it an excellent place to stay. So whether you're looking for affordability or a touch of Texas charm, the Holiday Inn Express in Kerrville has it all!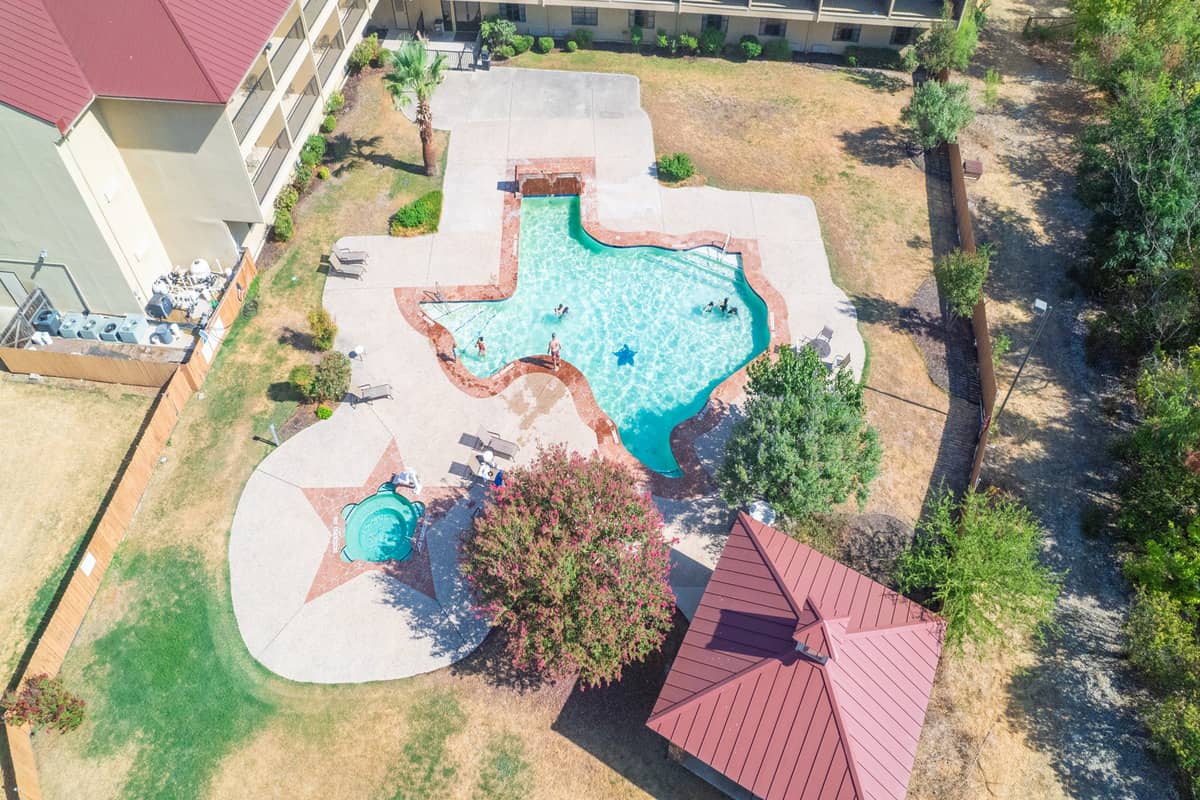 Things to Do in Kerrville TX: Annual Festivals
Kerrville TX Renaissance Festival – January
Experience the magic and merriment of the past at the Kerrville Renaissance Festival. This annual event transports visitors back in time, offering immersive experiences with jesters, jousters, and artisans. The festival is a family-friendly event with activities and entertainment for all ages.
Kerrville TX Folk Festival – February
The Kerrville Folk Festival is a long-standing tradition in the city, taking place annually for over 18 days. It is one of the largest songwriter festivals in the country, drawing music lovers from across the globe. Come and enjoy performances from both established and emerging regional artists in the folk genre!
Kerrville's TX 4th on the River – July
Kerrville's 4th on the River is a yearly event that celebrates Independence Day with a bang. This festive occasion is a favorite among locals and tourists alike! It features a parade, live music, food vendors, and a spectacular fireworks display over the Guadalupe River.
The event is free and open to the public. The day's activities culminate in a breathtaking show of lights against the night sky, reflecting on the river's surface, creating a memorable 4th of July experience.
Kerrville TX Chalk Festival – October
The Kerrville Chalk Festival is a unique and colorful event that transforms the city streets into a vibrant gallery. Local and visiting artists come together to create stunning, large-scale chalk murals, bringing art to life in a lively, interactive setting.
Over two days, attendees witness the artistic process, from initial sketches to final masterpieces. Meanwhile, there is live music, food vendors, and a variety of family-friendly activities. This festival is a testament to Kerrville's commitment to celebrating the arts, adding another dimension to its rich, cultural tapestry.
Things to Do in Kerrville TX: Final Thoughts
Kerrville TX offers an eclectic selection of things to do and events throughout the year for locals and visitors alike.
From the exploration of the historic downtown to spending your days wandering near the water, there's something for everyone. Whether you're an art enthusiast, a history buff, or someone looking to soak in the local culture, Kerrville invites you to partake in its vibrant community spirit and rich cultural heritage.
No matter what time of year you choose to visit, Kerrville ensures a memorable trip you'll want to repeat over and over.