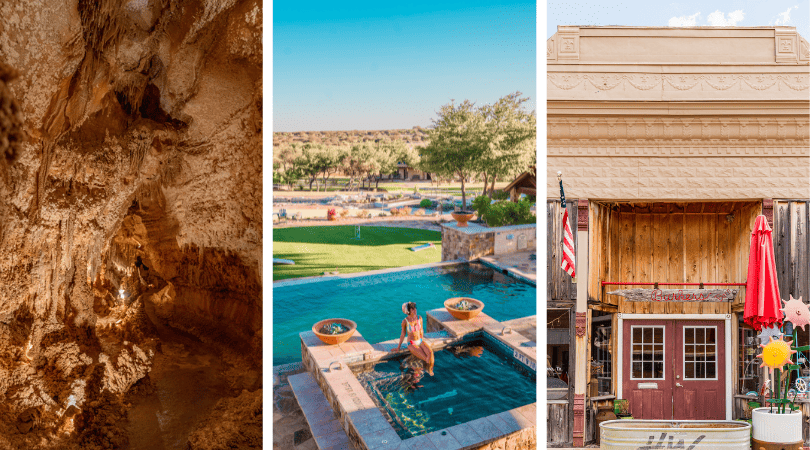 Discover the hidden gem that is Sonora, from its early ranching history to its unique ecology and landscapes. A haven for adventure enthusiasts and nature lovers alike, prepare yourself for an unforgettable experience as you tackle this list of all the best things to do in Sonora TX on your next trip to West Texas.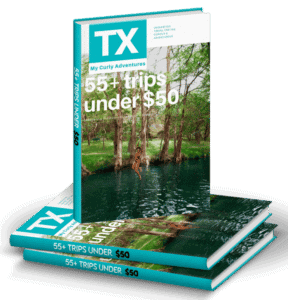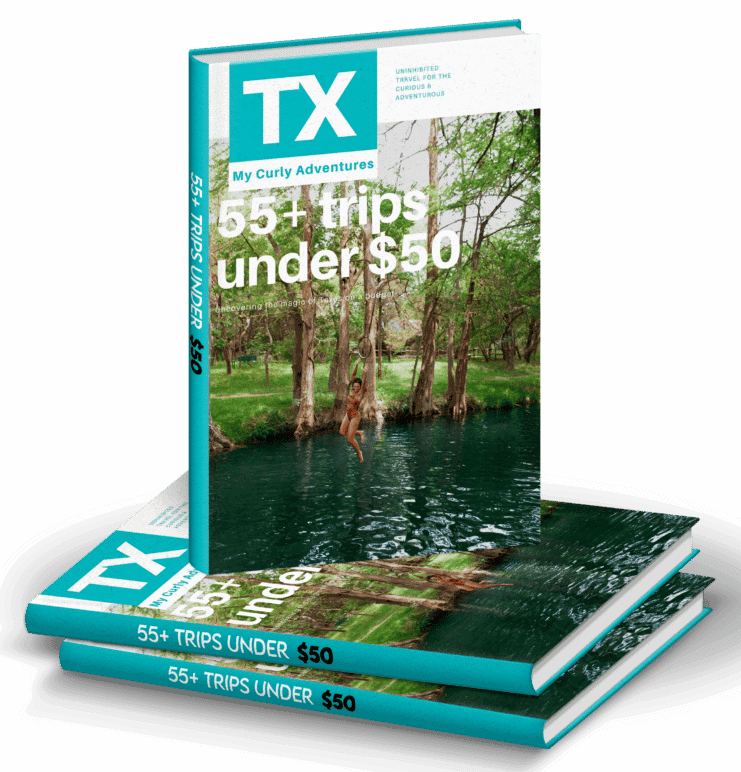 With our latest edition of our Texas Travel Guide, you can take an exciting vacation every weekend without breaking the bank and still have more to do! And in just one trip, the guide pays for itself! You'll be amazed at all the hidden gems, international influence, and wacky attractions you'll find all over Texas!
Not ready to purchase quite yet? We wanted to make this guide as accessible as possible, so we've shared our 1st edition of our guide, 50 Texas Trips Under $50. Click the button below to get yours for FREE!
The Caverns of Sonora
Know Before You Go
One of its crowning jewels are the breathtaking Sonora Caverns! They've been open to the public since 1960 and are internationally recognized as one of the most beautiful show caves in the world (note: a "show cave" is a cave that is open to the public for guided tours).
If you're a spontaneous traveler, tour reservations are not required and they're open year-round! Typically, you'll be able to join a tour within 30 minutes of your arrival.
Despite a comfortable 71-degree temperature, the 98% humidity can make it feel quite warm. It's recommended you keep the layers to a minimum.
The Caverns are an impressive 155 feet deep, span 2 miles, and are peppered with 360 steps. It's recommended you come prepared wearing comfortable shoes.
Keep in mind you will not be able to bring anything into the caverns aside from your camera. This is to prevent damage to the formations that hang in close proximity to the walking trails.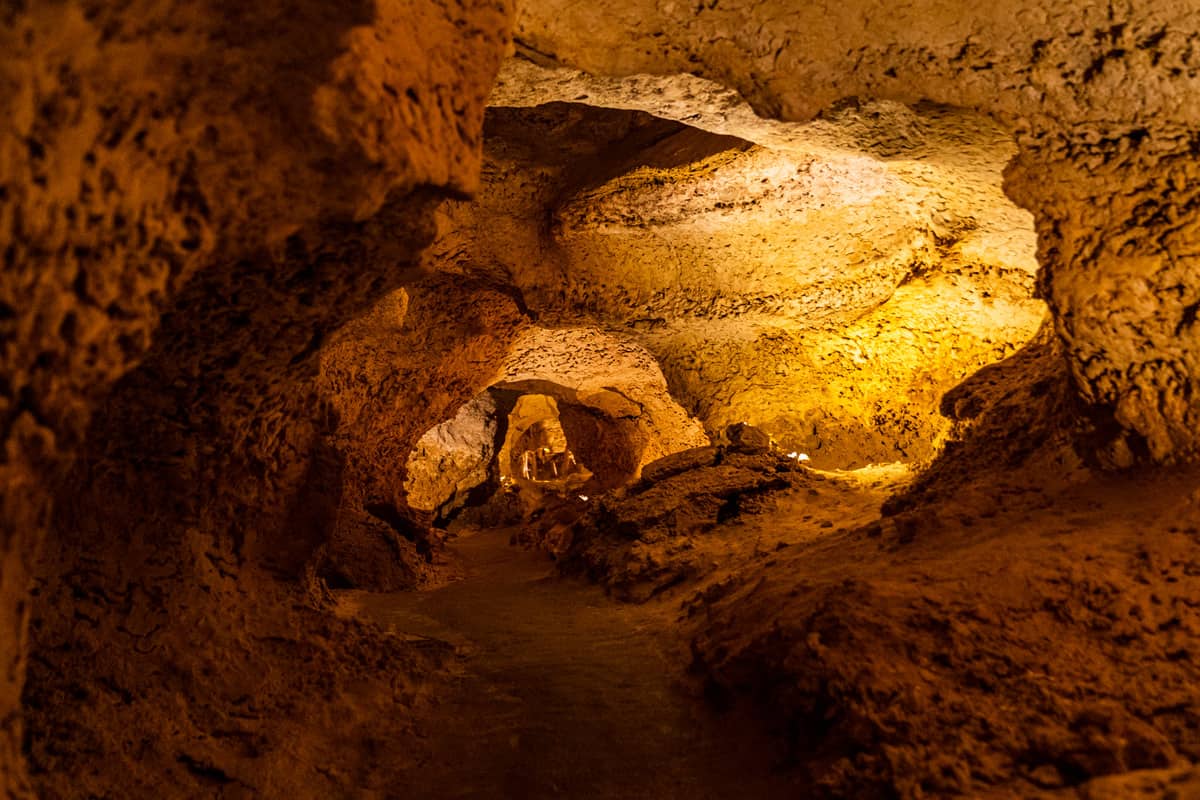 What You Can Expect
Throughout your journey, you'll traverse dormant, semi-active, and active zones, giving you a unique insight into the staggering geological processes that occur beneath our feet.
One of our favorite places inside Sonora Caverns were the "chandelier rooms," named to describe the way the stalactites hang from the ceiling.
The caves even boast a unique feature — calcite formations that resemble popcorn or "roasted cauliflower," making them distinct from other Texas caves. Additionally, the Sonora Caverns are hypogenic in that they were formed from water rising from underground rather than above ground.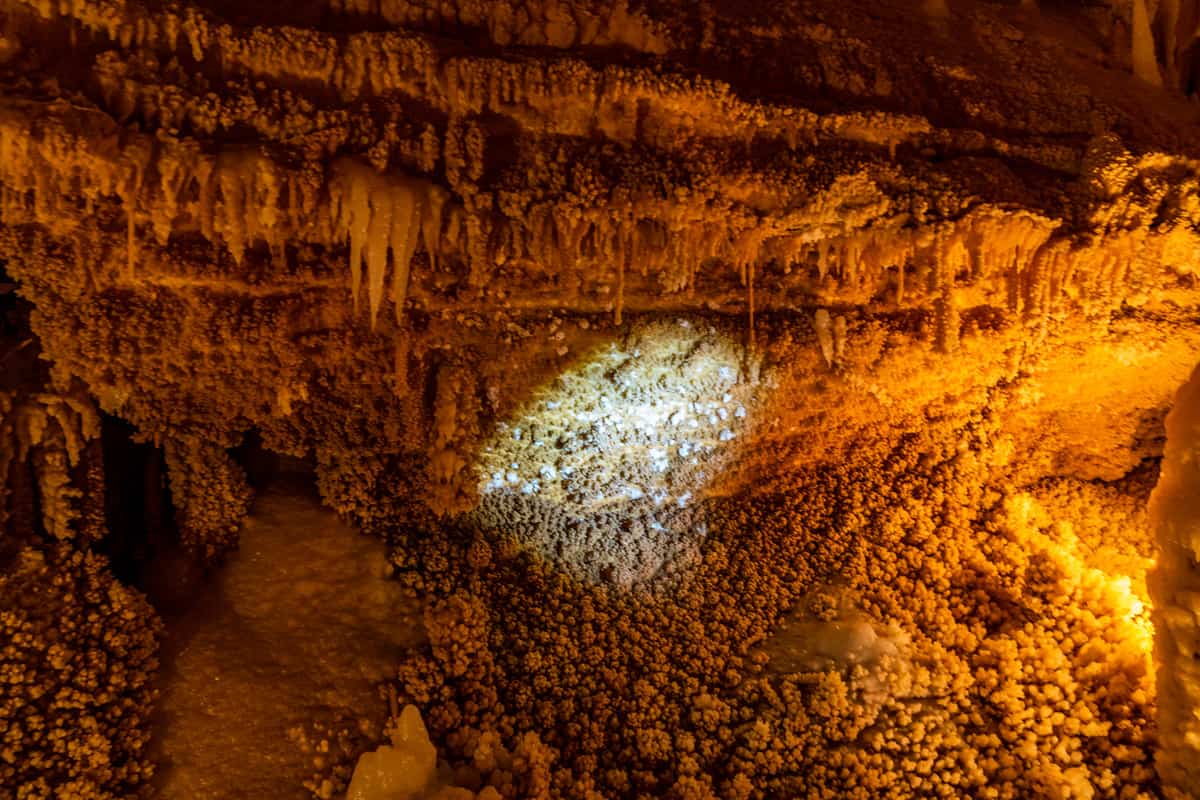 For the more daring, you can embark on the Discovery Challenge Tour. You'll be led by an experienced caver through off-trail pathways and rappel 50 feet down into Devil's Pit!
Sonora Caverns also offers a Photography Tour. You'll be led on a leisurely photo walk so you can snap all the photos your little heart desires.
This is an especially amazing opportunity to capture the crystalized helictite commonly seen in limestone caves. On this specific tour, you can bring a tripod but please use it with care due to the cave's delicate nature.
For both of these specialty tours, you do have to call and make reservations in advance.
The on-site gift shop offers a variety of rocks and fossils. You can even participate in gem and fossil mining activities! Keep your eyes peeled for the resident peacocks and don't skip out on the homemade fudge!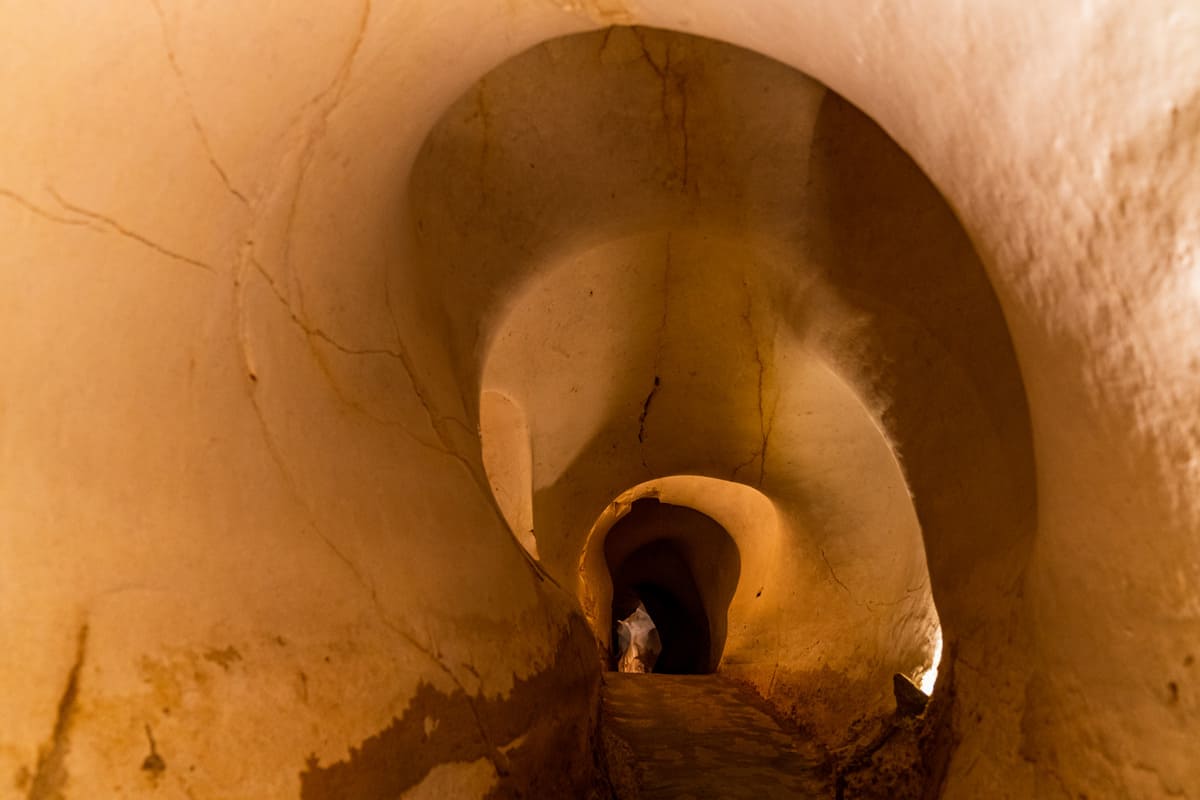 Eaton Hill Preserve & Nature Center
The Eaton Hill Preserve is the perfect mix of the native landscapes of the Chihuahuan Desert and the Texas Hill Country. It's a haven for wildlife, plants, and consists of four trails leading up to a giant flag.
Although the Nature Center is open seasonally, this 37-acre nature preserve is open year-round!
The on-site nature center is inside a century old home full of hands-on exhibits. The home once belonged to John Eaton and his family. His son John Eaton Jr. was particularly dedicated to preserving the history of Sutton County, going as far as interviewing the early settlers of the area. He then compiled them into a book, which you can find inside the Nature Center.
Eaton Hill also hosts a variety of community events, including kid's camps! Follow them on Facebook for updates.
Old Sonora Ice House Ranch Museum
John Eaton Jr. also wrote a book about Will Carver, a member of Butch Cassidy's notorious gang, the Wild Bunch. The Old Sonora Ice House Ranch Museum is well-known for an exhibit that tells Will Carver's story, including his unfortunate end during a shootout in Sonora in 1901.
The ice trade was a central industry in Sutton County during this time, including the Sonora Waterworks and Ice Plant that John Eaton Sr. owned. As such, the museum is inside a 1920's ice house with additional exhibits on the early history of Sonora.
Sutton County Courthouse
Nearby the Ice House Ranch Museum is the county courthouse. Constructed in 1891, it shares the property with the town's original well site, the first jail (it housed prisoners until 1980!), and an outdoor amphitheater.
You can also go on a self-guided, historical walking tour of Sonora. Simply grab one of the pamphlets on display in front of the courthouse by the historical markers.
Explore Downtown Sonora
The area is sprinkled with small shops including:
Hodge Podgees Candle Company – They sell everything from make-up and jewelry to candles and kitchenware. They also have an online store and they'll ship your order anywhere!
La Mexicana Outdoor Décor – Home and outdoor décor
The Parlor – A local beauty salon
Oh Darlin' at the Westerman – A country chic woman's clothing store full of color
Downtown Sonora is also home to several historic buildings:
John & Mildred Cauthorn Depot – A former train depot along the Santa Fe Railroad with an outdoor amphitheater in the back that is used for community events.
Miers Home Museum – An early home built in 1888 by Sonora resident, Isaac Miers. After a dispute at the water well, he was shot. He managed to make it home where he unfortunately died. Now, there are exhibits on display that discuss the history of Sonora.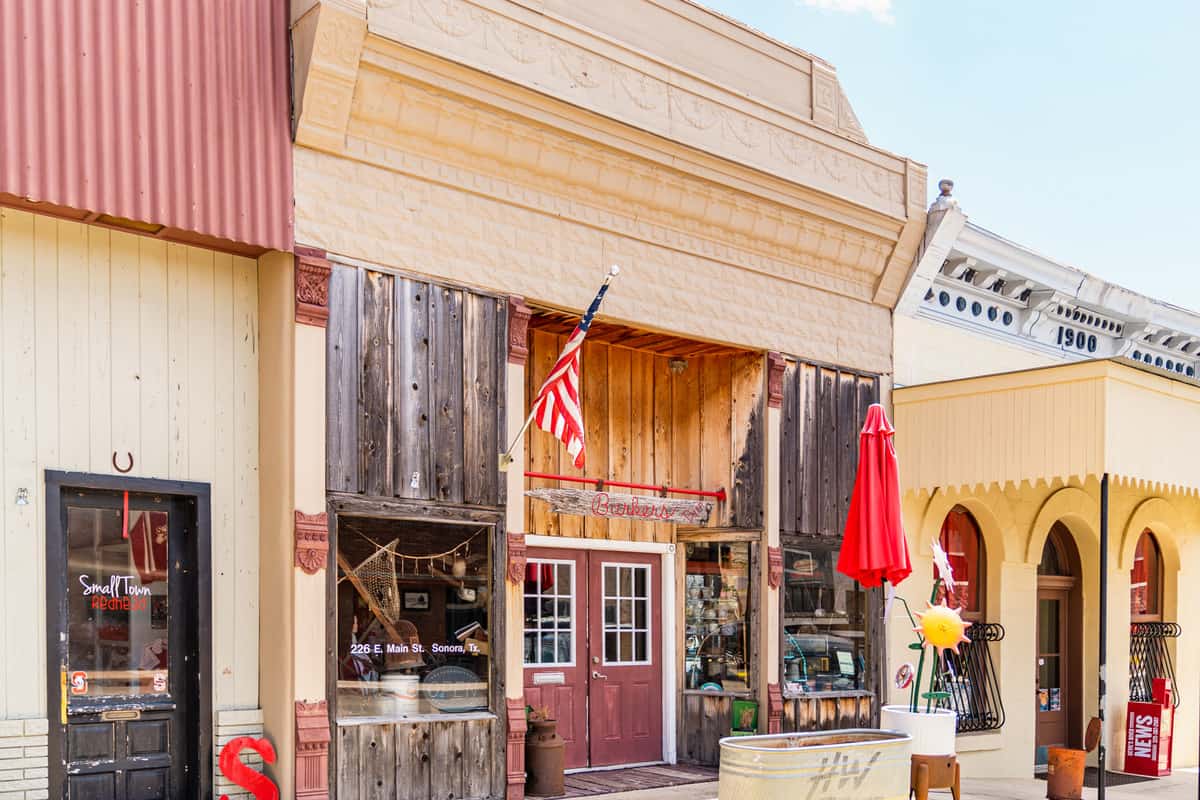 Where to Eat in Sonora TX
Honey Bee Café
After a day of exploration, unwind at the quaint Honey Bee Café, a family owned and operated coffee shop known for its wide array of coffee flavors, lemonades, and protein smoothies.
When planning your next trip to Sonora TX, keep in mind they are closed on the weekends.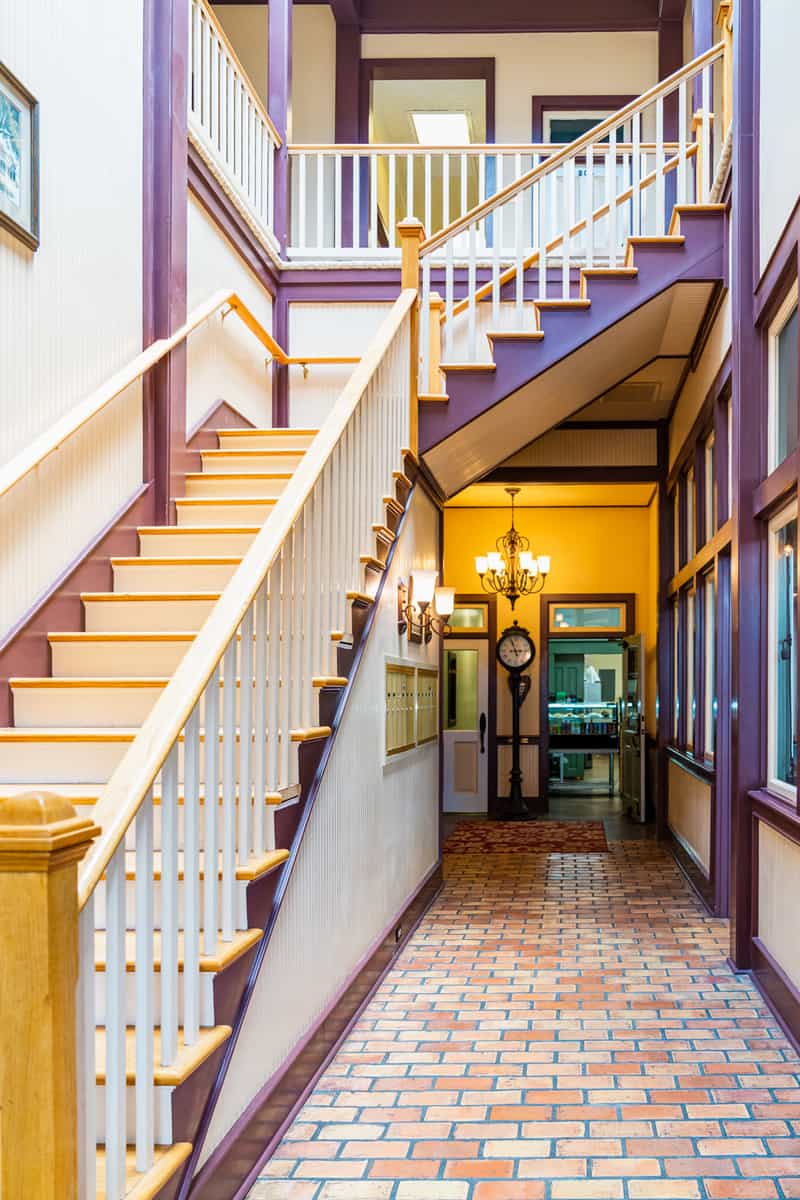 La Mexicana Restaurant & Cantina
For a taste of traditional Tex-Mex, dine at La Mexicana, Sonora's longest established Tex-Mex restaurant.
Sutton County Steakhouse
This local, family-style restaurant has been open since 1976 and serves everything from burgers and steak to salad and Tex-Mex.
The Water Hole
Grab lunch at this family grill on-site at the Sonora Golf Club (one of the best public golf courses in Texas). You don't have to golf or be a member to dine. You can expect live music, lunch specials, and covered patio seating.
JL Bar Ranch Resort
To complete your visit to Sonora TX, consider a $75 day pass or booking an overnight stay at JL Bar Ranch Resort. With access to their pool, hot tub, trail and bike riding, hiking, putting/chipping green, and game room, it's the perfect way to relax.