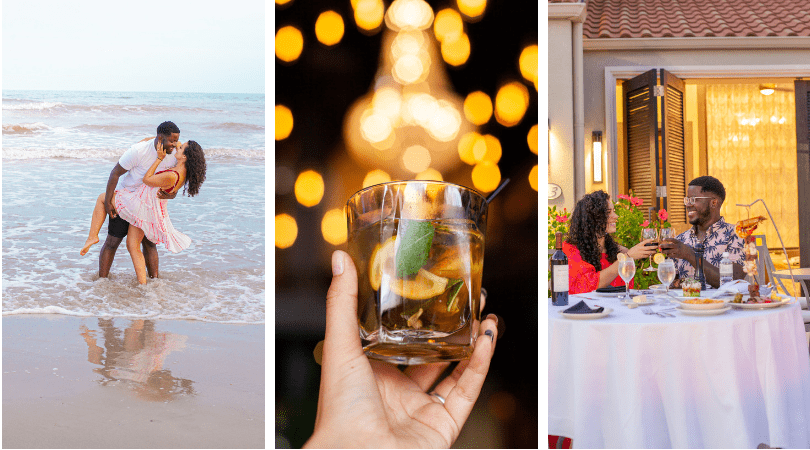 A beach city just has all of the workings for a romantic getaway in Texas for couples! My husband and I wanted a weekend of relaxation and wellness in Galveston, so we booked a resort by the beach and settled in for some quality time together. We also explored some of the city's many tourist attractions, including the Moody Gardens, the Strand Historic District, and the Seawall. Keep reading below for all of the great things to do for a romantic getaway in Galveston TX for couples.
Yoga by the Beach
There's nothing like a romantic weekend with a couple's yoga session at one of the best places in the world. With the waves crashing nearby and the sun shining down, you'll feel relaxed and rejuvenated after your session. You can book an individual or couples session with beach walking yoga, which is a great way to get some exercise and enjoy the scenery at the same time.

SHOP OUR GALVESTON WATERCOLOR ARTPRINTS ABOVE
Kayaking and Art
There's something so relaxing and serene about paddling through the water while enjoying all of the surrounding nature. During the Artist Boat tour, couples go on a guided tour through the Galveston coast before getting to paint the scenery you see with watercolor.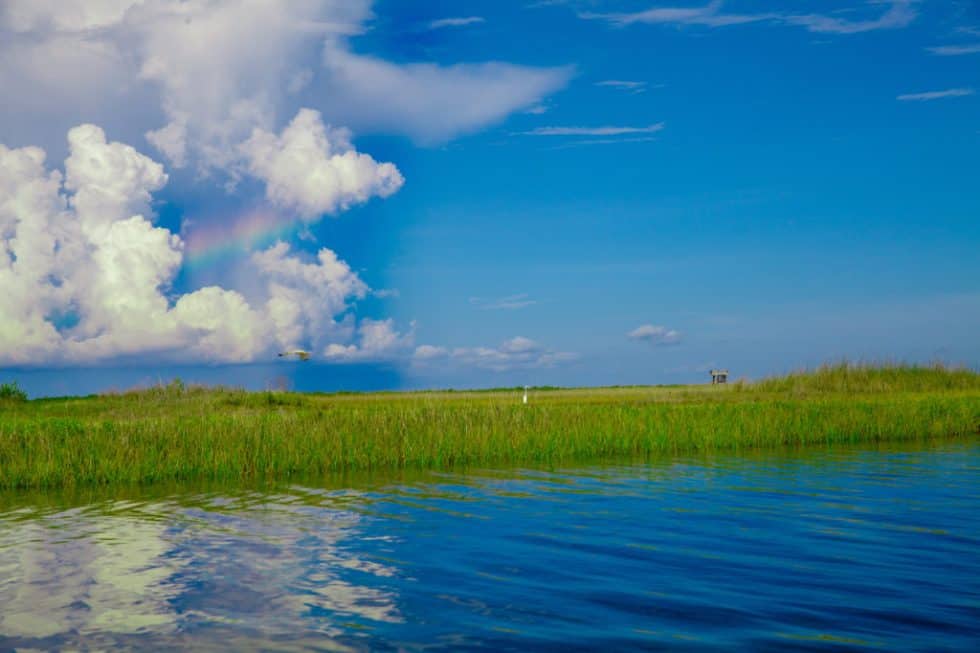 Book a Couple's Massage
A couples massage is something I love as one of the first things to do for a couple's getaway. Getting into that relaxed state of mind does wonders for letting all those worries and little stresses melt away so that couples can focus on each other. The San Luis Resort is a luxury beach-front spa with signature treatments of all kinds.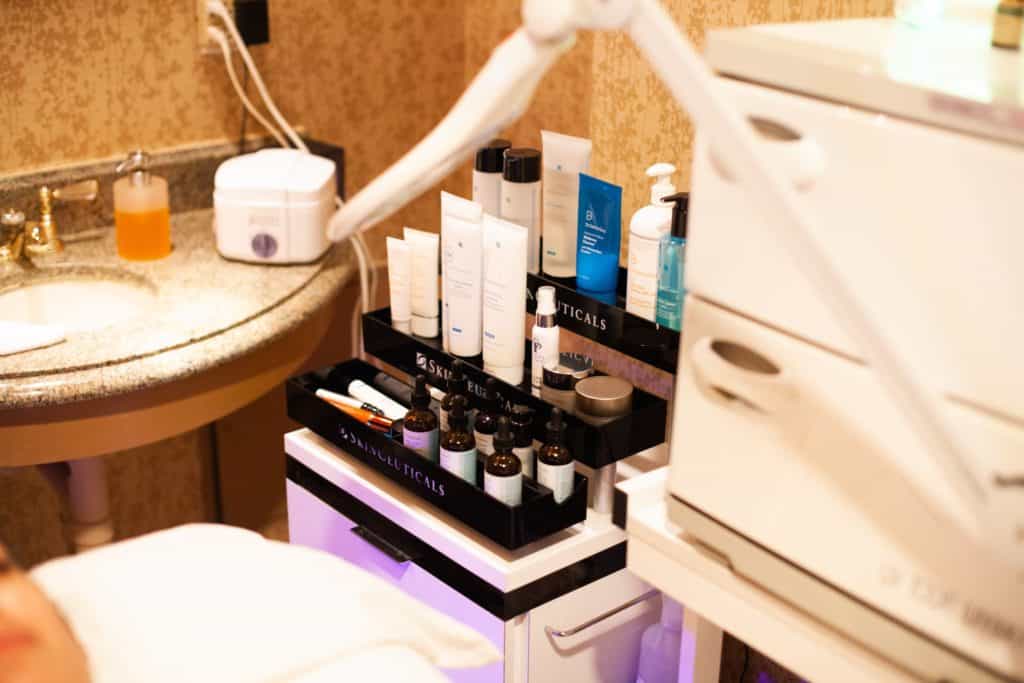 Go on a Food Tour
There are so many dining options in the downtown area, including the vibrant entertainment district at Pier 21. Take the stress out of deciding where to eat by trying a little bit of everything. The Taste of The Strand has different tours, and you can even book a private tour so that it can be just you two together. The beauty of this tour is twofold – not only do you get to taste an assortment of foods from places you might not have thought of trying before, including delicious "ice cream", but you also gain insights about Galveston from a local's viewpoint. Plus, it's a fantastic way to gather inspiration for future date nights.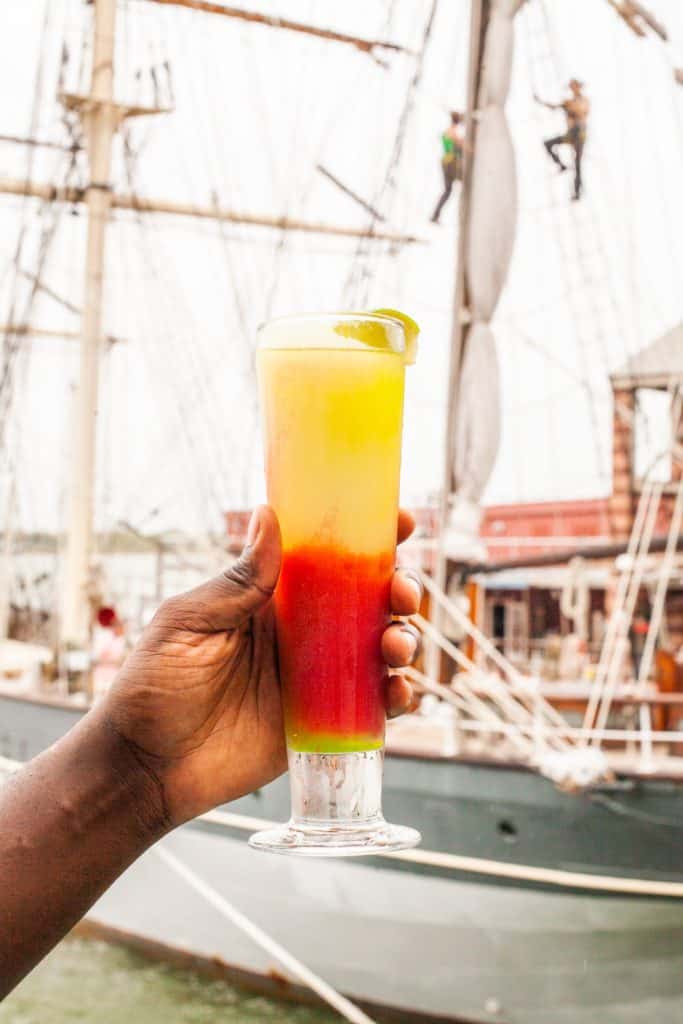 Let Out Your Inner Kid at Pleasure Pier
The Galveston Island Historic Pleasure Pier is not just a place, it's an experience. It's a theme park that promises to bring out the inner child in everyone and create unforgettable memories. Romantic things also involve letting out and having fun just like those times of being a kid. The entire family can enjoy major attractions, including the Iron Shark roller coaster, which is one of the most thrilling in the country. You can hear the laughter and excitement from people enjoying the thrilling rides, midway games, and attractions. From heart-pounding roller coasters to a giant Ferris wheel. Whether it's a first date or a golden anniversary, this amusement park offers a romantic, fun-filled experience that'll make your time in Galveston truly unforgettable
Spend Some Time at the Beach
The beautiful beaches are the best way to spend a couple's getaway in Galveston. It is a perfect invitation to explore the Gulf Coast's most popular beaches, particularly Stewart Beach and East Beach. These sandy paradises are not just for sunbathing and building sandcastles. They're also places where you can be part of a vibrant community. Grab some blankets, some refreshments, and snacks and spend time dipping your toes in the sand. You can spend your day enjoying quality couple time together in this great place. No matter what you choose to do, you're sure to have a great time at the beach in Galveston
Book a Dinner Cruise
The best time to go on the Colonel Paddlewheel Boat in Galveston is during sunset. For a romantic evening of getting dressed up and dinner on the sea, this is a must for a couple's bucket list. The Colonel Paddlewheel Boat takes you through a multi-course dinner.
See the Town: Discover the Best of Galveston
With so many different top things to do in Galveston, It is the perfect place to get around in style or enjoy the breeze in your hair for a fun date. Whether you're looking for a classic beach cruiser, a vintage car, or even a horse-drawn carriage, you're sure to find the perfect rental for your Galveston getaway. And don't worry about parking – Galveston has ample parking lot spaces to accommodate your chosen mode of transport
A Day of Relaxation by the Pool
The San Luis Resort is a great spot for couples who want to spend all day at the pool. There's a swim-up bar, a small hot tub, and multiple pools to choose from. You can also rent a private cabana or enjoy the different spots where you can look out to the beach while still enjoying all the comfort of the resort.
Visit the Rainforest
Couples seeking a blend of education and adventure will find it at Moody Gardens in Texas. Not only can you enjoy walking through the recreated rainforest, observing a diverse range of plants and wildlife, but you can also experience the thrill of a water park! What's more, the Discovery Museum is an integral part of the visit. This fascinating museum combines entertainment and learning, offering intriguing exhibits that satisfy the curious minds.
With three pyramids to explore in the gardens, each offering a unique experience, Moody Gardens truly is a laid-back yet fun-filled retreat for couples.
Aquarium Pyramid – If you're looking to make this couple's trip extra special and maybe surprise the other (also a great chance for a proposal!), you can book one of their personal or group penguin or otter encounters!
The Rainforest Pyramid – invites you into a lush wonderland, where enchanting free-roaming monkeys, sloths, and tropical birds thrive
Discovery Pyramid – This mind-blowing section of Moody Gardens will leave both kids and adults spellbound with its array of science-oriented exhibits and activities.
So, pack your bags and get ready to immerse yourself in the wonders of nature and science at Moody Gardens, where every visit is a new adventure.
Enjoy a Drink at a Snazzy Bar
Hearsay is an upscale bar with beautiful chandeliers hanging from above and the upscale décor. They're known for having some of the best bartenders in all of Galveston.  A good reason to grab a great drink and enjoy romantic conversations and good time with your partner.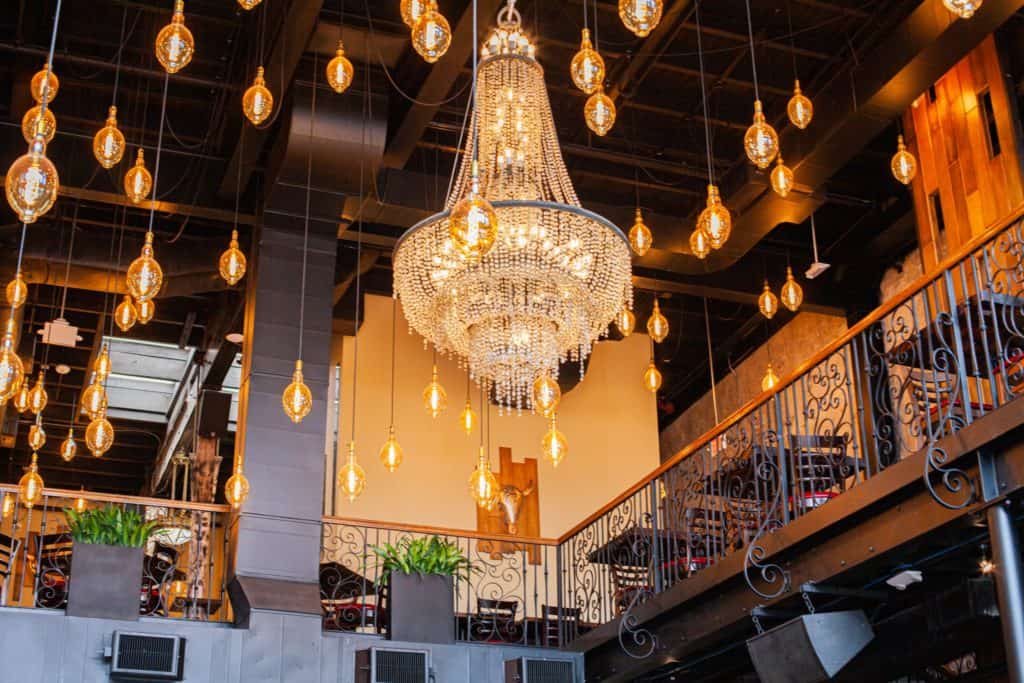 You can also hit the town for a night with one of the most popular bars in Galveston. The Tremont House, a historic hotel that features a rooftop bar with stunning views of the city. The Tremont House also has a speakeasy-style bar called The Toujouse, which is a great place to enjoy a cocktail in a sophisticated setting.
Get Dinner at a Steakhouse
You know you're going to a good steakhouse when it's referred to as THE Steakhouse (that's really its name). You can go all out for something romantic with so many tantalizing dishes like a lump crab tower, filet mignon with king crab hanging from a skewer, and lobster mac and cheese!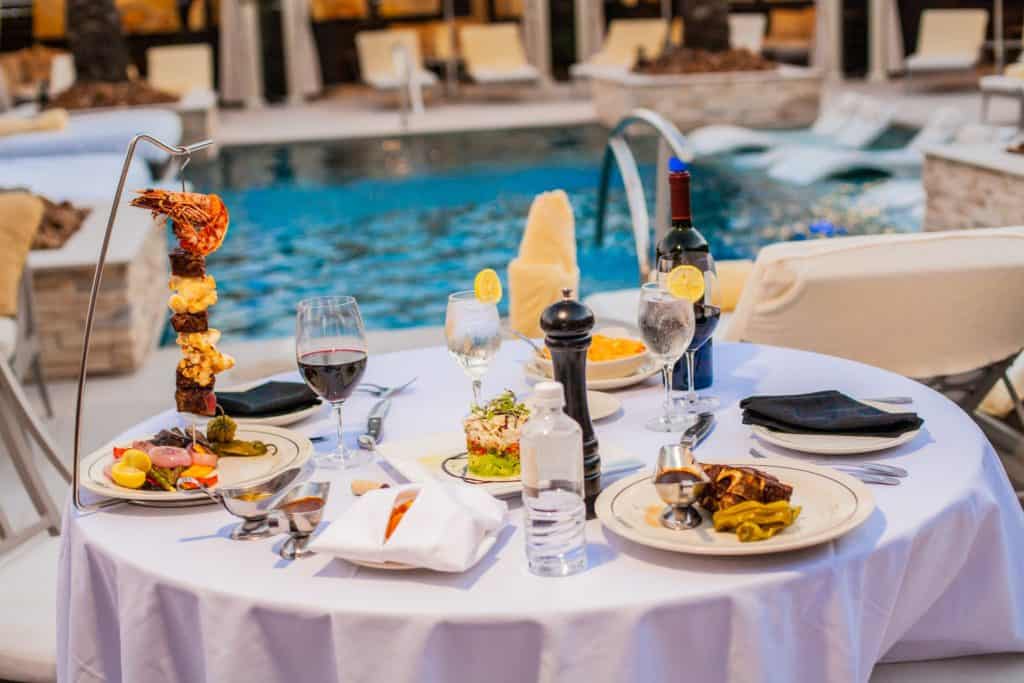 Go on a Historic Tour
Galveston, with its intriguing history of pirates, ghosts, and even a red light district, is a treasure trove for history buffs. One spot that stands out in this city rich in historic sites is the Grand 1894 Opera House, nestled in the heart of the Galveston National Historic Landmark District. This majestic gem, located in Downtown Galveston, has been captivating audiences with world-class performances since 1894. The Opera House also plays a significant role during Mardi Gras, adding a touch of elegance and grandeur to the festivities. Our exploration of Galveston was further enriched by an interactive history tour with Red Light District Tours, led by an experienced tour guide. They took us through the streets lined with historic buildings, offering us fresh perspectives and insights into the city's colorful past.
Visit Galveston Island State Park: A Nature Lover's Paradise
Galveston Island State Park is truly a nature lover's paradise. This park offers visitors a rare chance to experience the Texas coast in its natural state. Here, you can spend the day bird-watching, catching glimpses of a variety of species in their natural habitat, or fishing off the pier. So, whether you're a seasoned outdoor enthusiast or just someone seeking a serene escape, Galveston Island State Park promises an unforgettable experience.
Stay at a Romantic Resort
The San Luis Resort was such a clear option for our romantic couple's getaway in Galveston. In between all the things to do, it was so nice to go back to the resort and simply relax. We loved that it was right by the beach.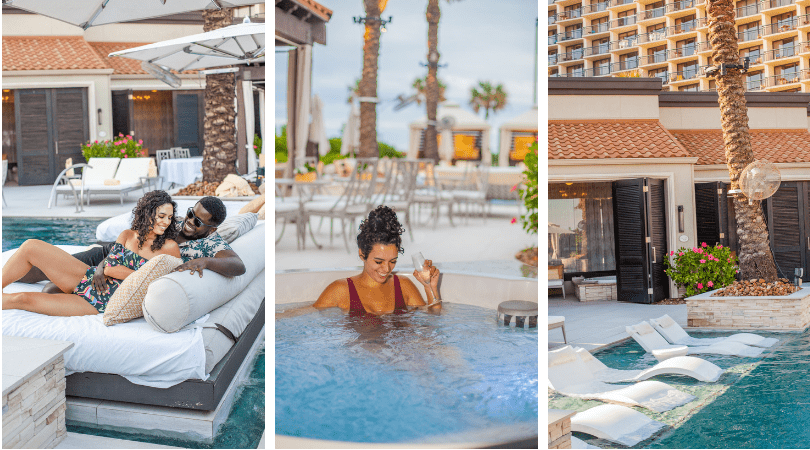 If you want to make your romantic couple's vacation extra special, check out the Villas at the San Luis Resort. These 5 private villas right off the resort include their own pool, personalized service, an in room hot
Explore the History of Offshore Drilling at the Ocean Star
The Ocean Star Offshore Drilling Rig is a fascinating piece of history that offers a unique opportunity to learn about offshore drilling. Visitors can take a self-guided tour of the oil rig and learn about how it works. They can also see the different types of equipment that are used in offshore drilling, and even try their hand at operating some of the equipment.
Galveston Railroad Museum: Take a Trip Back in Time
I love taking a trip back in time, and the Galveston Railroad Museum is the perfect place to do it. The museum is located in the Strand Historic District, which is a National Historic Landmark. The museum is home to a collection of historic locomotives, passenger cars, and freight cars as part of its permanent exhibits. You can also see the different types of equipment that were used in railroading, and even try their hand at operating some of the equipment. Beyond that, the Galveston Railroad Museum also hosts special events that bring the past to life, allowing visitors to immerse themselves in a bygone era.
Check Out Moody Mansion: A Victorian Gem
Moody Mansion is a true Victorian gem nestled in the heart of Galveston Texas, United States. The mansion is full of intricate details, from the stained glass windows to the hand-carved woodwork. This mansion is a stunning example of Victorian architecture. It is also a popular wedding venue, and couples can choose from several different indoor and outdoor spaces to host their ceremony and reception.
A Touch of Romance: Watch the Cruise Ships Depart at Sunset
There's something truly romantic about watching a cruise ship depart at sunset. There's the excitement of seeing the ship set sail on its journey, the beauty of the sunset, and the sense of possibility that comes with it.
It's a truly magical moment that you'll never forget. So if you're looking for a romantic and unforgettable experience, be sure to watch the cruise ships depart from Port of Galveston at sunset.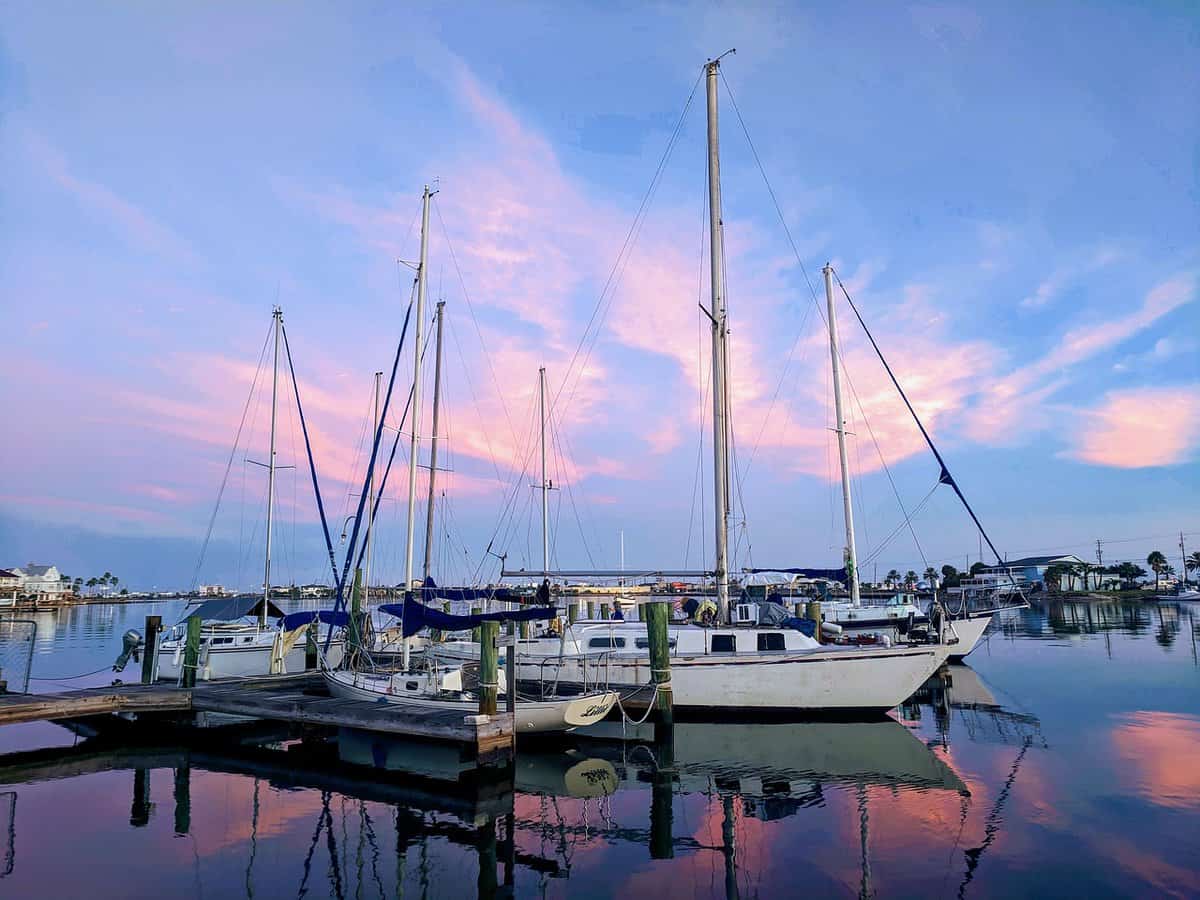 Set Sail for a Romantic Getaway on the 1877 Tall Ship ELISSA
A romantic getaway with your loved one aboard the 1877 Tall Ship ELISSA docked at the Texas Seaport Museum. This historic ship is a perfect way to escape the ordinary and experience the beauty of the Gulf Coast.
As you sail, you'll be able to take in the sights and sounds of the ocean. You might even spot dolphins or other marine life. In the evening, you can enjoy a sunset cruise and watch the sun sink below the horizon.
Splash into Fun at Schlitterbahn Galveston Island Waterpark!
Get ready to make a splash at Schlitterbahn Galveston Island Waterpark! This is the ultimate summer destination for families and thrill-seekers alike. With over 50 water slides, a wave pool, and a lazy river, there's something for everyone at Schlitterbahn.
For a romantic getaway, Schlitterbahn also offers private cabanas that overlook the waterpark. You can relax in your cabana, enjoy a delicious meal from the on-site restaurant, and watch the kids have fun on the slides.
Fish and Learn at Seawolf Park
This unique park offers visitors the opportunity to fish for their own dinner, learn about the marine life in the Gulf of Mexico. The park is also home to the Galveston Naval Museum, which houses a collection of historic naval vessels. Whether you're interested in fishing, learning about marine life, or exploring history, this the perfect place to spend a day with your loved one in Galveston.
A Couple's Escape at The Bryan Museum
This beautiful museum offers couples a unique opportunity to escape the hustle and bustle of everyday life and step back in time. The museum is home to a collection of rare artifacts and documents that tell the story of the history of Texas and the American West. But what makes The Bryan Museum truly special is its atmosphere. The museum is located in a beautifully restored Victorian mansion, and the grounds are lush and inviting. Couples can wander the museum's halls, hand-in-hand, and explore the exhibits at their own pace.
A Day of Fun and Fantasy at Magic Carpet Golf
One of the best things to do for a fun-filled and romantic day out is visit Magic Carpet Golf. It is located on Seawall Boulevard in Galveston, Texas. This magical miniature golf course is sure to delight couples of all ages with its colorful carpets, glow-in-the-dark obstacles, and romantic atmosphere.
Magic Carpet Golf features two 18-hole courses, each with its own unique theme. The Adventure Course is a whimsical journey through a world of fantasy, while the Pirate Course is a thrilling adventure through a haunted pirate ship. Both courses are challenging and fun, and there's something for everyone to enjoy
Explore Galveston Seawall
Experience a romantic adventure as you explore Galveston's historic Seawall. Take a leisurely stroll along the country's longest continuous sidewalk, hand-in-hand with your loved one, while soaking in the stunning ocean views. Along the way, you'll discover some of the best beaches, charming shops, and delightful restaurants that Galveston has to offer.
Swim with dolphins in Galveston: A perfect day for couples
Baywatch Dolphin Tours is one of the most popular companies that offer dolphin tours in Galveston. They have a variety of tours to choose from, including tours that allow you to swim with the dolphins, as well as tours that simply give you the opportunity to see them up close. The dolphins are playful and curious, and they love interacting with people. You'll have the chance to learn about their behavior and ecology, and you may even get to give them a few pats or scratches.
More Fun Date Ideas and Things to do for Couples in Galveston TX
Romantic Things to Do in Galveston TX for Couples: Final Thoughts
There's clearly no shortage of things to do in Galveston for couples looking to relax and unwind. Check out this list for more fun things to do in Galveston. Plus, you can check out even more romantic destinations around Texas for unlimited couple's vacations!