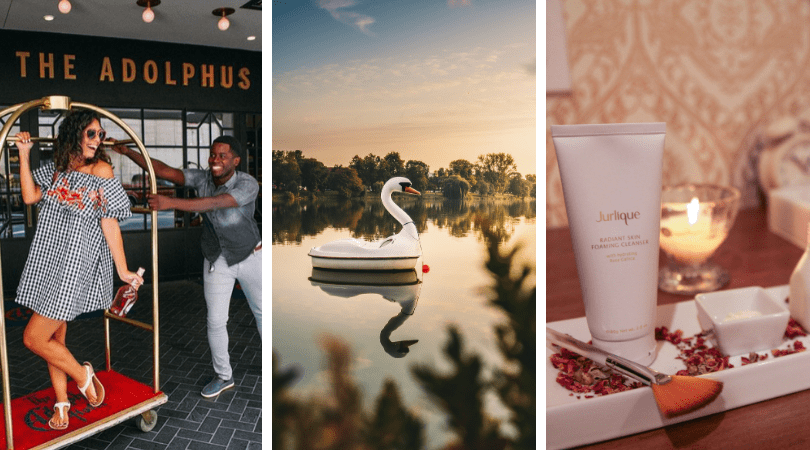 We often find ourselves stuck in a routine of boring date nights, and coming up with something fun and different can be a challenge. But guess what? If you're planning to have the best date nights in Dallas, you might be surprised to learn that there are plenty of unique and romantic options available! I've put together a list of some of the best date ideas in Dallas, spanning various categories, so you'll have plenty of fun options to pick from.
But wait, there's more! Our list isn't limited to just Dallas; it also includes a wide range of date ideas in the Dallas-Fort Worth area. Imagine romantic gondola rides and many more options, giving you a couple of hundred more choices to explore! Let's face it, sometimes the toughest part of a date night is simply getting out there and making it happen!
Best Dallas Date Ideas: Romantic Things to Do
Bring out the chocolates and roses, because I'm going to tell you all about the most beautiful places in Dallas, some of which might even be good for a proposal!
1. Visit a Vineyard – The Lost Oak Winery in Burleson offers guided wine tastings on a first-come, first-served basis. The samples come with a cheese tray. On their lawn or covered porch, you can set the mood for your next romantic date night, or you can book a tour guide.
Take some time to hike the 2.25-mile loop of the Burleson Trail. The entrance is right next to the building where the wine is made! Check out their schedule to find live music events and more!
Or pay a visit to Delaney Vineyards in Grapevine, the largest vineyard in North Texas. Tours are by appointment only.
Cross Timbers Winery, also located in Grapevine, has a small tasting room located inside a historic home with outdoor and indoor seating. Tastings and service are on a first-come, first-served basis.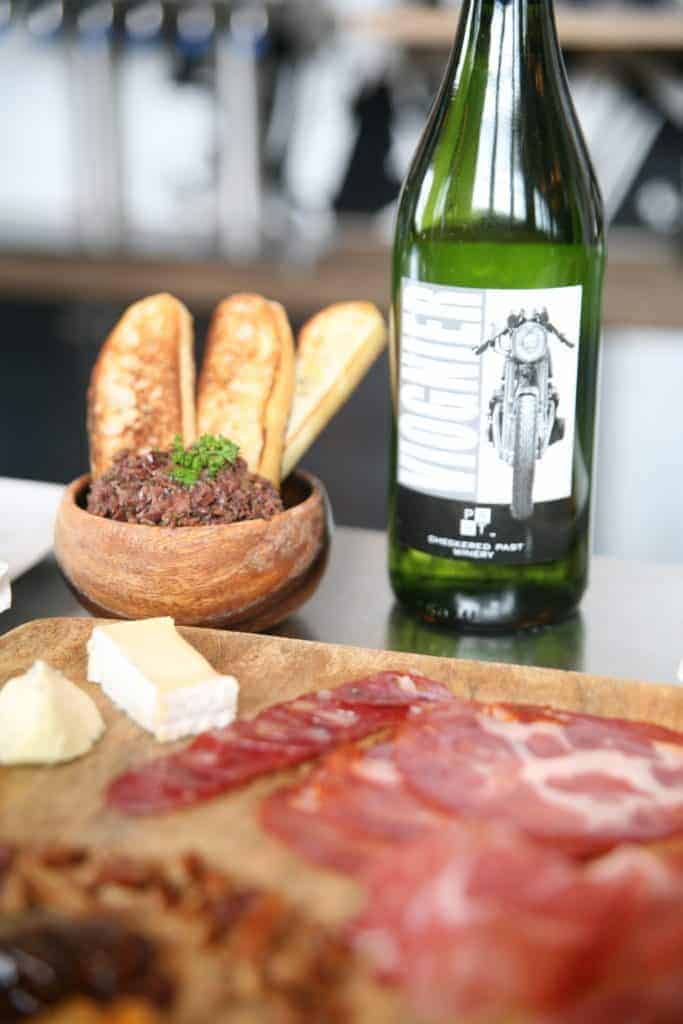 2. Five Sixty Reunion Tower– One of my favorite romantic date spots in downtown Dallas is dinner at Crown Block at the Reunion Tower. As you eat a delicious meal more than 500 feet above the city, the famous Reunion Tower spins around, giving you a fresh view of Dallas every time.
If you're thinking about setting up a daytime date, consider getting tickets for the observation deck. They also provide guided tours and tickets that cover both daytime and nighttime visits. This gives you the opportunity to return later and experience Dallas when it's beautifully lit up at night!
3. Dallas Arboretum – It's always easy and fun to go on a date to the Dallas Arboretum. Everywhere there are flowers in bloom, you can take a walk through the grounds and enjoy the view.
4. The Dallas Symphony Orchestra – Not sure if you like classical music? The Dallas Symphony Orchestra might have something for you for a classy and romantic date night in downtown Dallas!
There is a lot to choose from, including movies with a live orchestra, mariachi bands, the Soluna Festival with Latin acts, and even a show that combines acrobatics and an orchestra.
Plus, you get to dress up, which makes it even more romantic!
5. Catch a Show – Head over to the downtown Dallas AT&T Center! It's the hub for a wide range of performances, including the beloved Dallas summer musicals, big-name acts like the Blue Man Group, as well as local dance and performance troupes like the Dallas Black Dance Theatre.
There's never a shortage of shows to enjoy here!
6. Dinner and a Flight – If you're really trying to impress your date, then how about dinner and a flight in Dallas? Start your evening off with a romantic, three-course meal at Delta Charlies, a highly-rated restaurant with stunning views of the city.
Once you're finished eating, head over to the airport for a scenic flight over Dallas. You'll get to see all the major landmarks, including the Reunion Tower, the American Airlines Center, and the Margaret Hunt Hill Bridge.
7. See Butterflies – at Texas Discovery Gardens. The garden is full of butterflies fluttering about, and it's such a magical sight to see. They dance in the air, their wings flashing in the sunlight. It's the perfect way to end a date with a romantic walk through the gardens, surrounded by these beautiful creatures.
8. Snuggle Up – at Landmark Theatre. Movie nights for dates can start feeling a bit routine. But guess what? At the Landmark Theatre, they've transformed the seats into comfy couches, eliminating those pesky armrests. Now, you can enjoy a film on the big screen while snuggling up with your date!
9. Ride the Fair Park Swans – This place is so cute! You could bring a lunch and then go see what else Fair Park has to offer. But the swan boats are without a doubt the best part! You can enjoy a conversation with your partner and do some light exercise.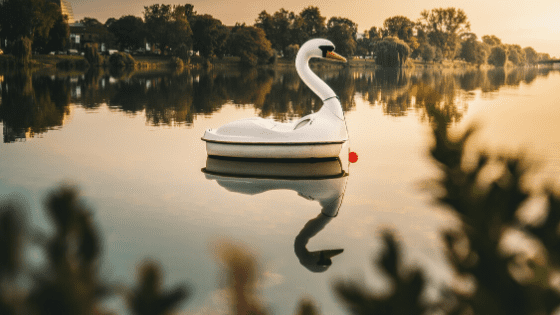 10. Take a Staycation – If you're looking for a romantic daytime date in Dallas, start your day with breakfast in bed at a cute hotel. I love staying at the Adolphus, which is designed after a German Beaux castle. It's basically like staying in a castle, which is pretty romantic!
After breakfast, head out to explore the city. There are plenty of romantic things to do in Dallas during the day
11. Listen to Jazz Music – Check out The Balcony Club! This intimate venue offers live music every night, from jazz to blues to rock and roll. It's the perfect place to lounge back with a drink and enjoy some great music.
Most nights, there's no cover charge, but you'll want to buy a drink to show your support for the musicians.
12. Enjoy a Five-Course Meal at the French Room – You can't go wrong with The French Room at the Adolphus Hotel. This historic hotel is known for its elegant atmosphere and delicious food.
The dining room itself is absolutely stunning, with large Greek columns, a gold-stained ceiling, and crystal chandeliers. It's the perfect setting for a special occasion dinner.
If you're looking for a romantic anniversary dinner date in Dallas, The French Room is the perfect choice.
Best Dallas Date Ideas: Active Things to Do
1. Stand Up Paddle Boarding – See who falls over first with the Dallas Paddle on White Rock Lake. And the best part? A portion of what you spend goes to support Dallas parks!
Feeling adventurous? Give paddleboard yoga a shot at one of DFW Surf's various locations. Now, personally, I can barely stay upright on solid ground, but who knows, you might be more coordinated. Either way, it's bound to be a date filled with laughter.
Classes are available for a limited time, but when you become a part of their Surf Club, you can enjoy them year-round! Plus, you'll score some extra perks, so you can plan multiple water-based dates!
2. Try Axe Throwing– If you're looking for a fun and active date night activity, check out Whiskey Hatchet in Dallas. This axe-throwing establishment is also a world-class cocktail bar, so you can enjoy a drink before, during, or after your axe-throwing adventure.
Whiskey Hatchet doesn't offer food on-site, but you're welcome to order food from somewhere nearby and bring it in with you. This makes it a great option for a casual date idea in Dallas.
Here's a tip: If you're new to axe throwing, don't worry! The friendly staff at Whiskey Hatchet will teach you everything you need to know. They'll also give you tips on how to improve your accuracy.
3. Escape Room – This one could be a fun test for your relationship, as you work together under pressure to solve clues. It's a chance to either leave with an even stronger bond or realize that maybe they're not "the one."
In Dallas, you'll find a variety of escape rooms to choose from, each with its own unique theme. Some options include Escape the Room Dallas, A Room with a Clue, and Can You Rob a Bank? So, pick the one that intrigues you the most and embark on a thrilling adventure!
4. Ice Skating – Going ice skating at the Galleria is a classic holiday date idea for a reason. It's a fun and avtive date activity that's perfect for couples of all ages.
If one of you is a good ice skater and the other is a beginner, don't worry! That's part of the fun. You'll get to hold hands and help each other out. And even if you're both good skaters, you'll still have a great time gliding around the rink together.
After you're done skating, you can warm up with a hot chocolate or coffee at one of the many cafes in the Galleria. Or, you can do some shopping and find the perfect Christmas gifts for each other.
5. Skating – Think of it as ice skating minus the ice, but just as enjoyable! We've come to the conclusion that spending hours gliding around in circles can make for a really active and fun date night in Dallas.
Why not explore places like Southern Skates Roller Skates or Interskate Roller Rink for another fantastic date ideas in Dallas? Put on those roller skates and let the good times roll!
6. Trinity Forest Adventure Park – Make your heart race by climbing through trees, balancing on tight ropes without fear of falling, and getting past different hurdles.
7. Swing Dance – I love that swing dance is still in style, and at Sons of Hermann Hall, you can swing dance the night away. They do dance lessons before they start so you don't have to worry if you've never danced before. They are great teachers!
8. Ride a Bike – Have you seen those bikes scattered around Dallas? Well, it's time to hop on and explore some of the awesome bike trails in the city!
You've got plenty of options, like cruising around White Rock Lake, enjoying the Oak Cliff Nature Preserve, following the scenic paths of the Santa Fe Trail, Katy Trail, Trinity River Trail, and the Trinity Skyline Trail.
The Bishop Arts District itself are also bike-friendly! Do a little searching, and you might be surprised at all the places you can take a bike!
9. Play Dodgeball – That's right, Dallas Dodgeball has open games where you can drop in for a game of dodgeball! It's a great way to get some exercise, have some fun, and relive your childhood.
The only thing to decide is whether you want to be on the same team as your date or play against each other. Either way, you're sure to have a blast. Dodgeball is a great way to get your competitive juices flowing and have some laughs with your date.
10. Top Golf – Top Golf is a great place for a date night in Dallas. It's like a bowling hall, but with golf instead of pins. After you hit the balls, you don't have to go after them either, and you can enjoy dinner and drinks at the same time.
11. See Who is the Most Adventurous – This one's for those who love a good adrenaline rush. In psychology, they say that when your heart starts racing from excitement and you're sharing that thrill with someone special, you also associate that fast heartbeat with them.
So, let's go on an adventure and make some heart-pounding memories together!
12. Take a Salsa Class – or bachata, or merengue! How about spicing up your date night with a salsa class? There are so many Latin dance styles to explore! Check out Dallas Can Dance, a group that hosts regular social events. They kick things off with a group class and then let you enjoy open dancing for the rest of the night.
You can also find plenty of other dance lessons with a quick search. Keep an eye out for Beto & Sons; they often offer free dance classes and social events too! So, put on your dancing shoes and let's groove!
13. Go Kayaking – Take a day to enjoy the great outdoors and tone your arms by renting a kayak from Dallas Paddle on White Rock Lake.
14. Go on a Scavenger Hunt – Lets Roam is a theme-based software that includes Dallas couple's scavenger adventures based on your common interests. Choose a theme and explore Dallas for a challenge.
15. Explore Katy Trail – The Katy Trail is a 3.5-mile paved trail that runs through the heart of Dallas. It's a great place to get some exercise, enjoy the outdoors, and spend quality time with your partner.
No matter how far you walk, bike, or run, you're sure to enjoy the scenery. The Katy Trail is lined with trees, flowers, and fountains. There are also several benches along the way where you can stop and rest.
And don't forget to bring your furry friend(s)! The Katy Trail is dog-friendly, so your pup can join you on your adventure.
16. Take a Lakeside Stroll – While Lake Carolyn isn't right in the heart of Dallas, it's a hidden gem that makes for a fantastic and unique date idea! You'll find plenty of recreational trails, interesting businesses, and diverse landscapes all around it.
To make the experience even more special, consider grabbing a cup of coffee at a cozy shop, dining at a local restaurant, or even enjoying a romantic gondola ride.
Don't forget to explore the peaceful Mandalay Canals, which offer even more picturesque views and dining options around Lake Carolyn. And if you're on the lookout for more great date ideas in Dallas Fort Worth area, be sure to check out our extended DFW date guide!
17. Play Pickleball – Imagine a game that blends the best of badminton, tennis, and ping pong – that's Pickleball, and it's a total blast! Discover if you've got a knack for it at spots like Chicken N Pickle and Courtside Kitchen.
Plus, you can refuel with some delicious food and drinks while you're at it. Give it a try and see why it's such a big hit
18. Take a Yoga Class – Community Beer Co. offers free beverages and a behind-the-scenes tour after their morning yoga lessons inside their brewing facilities! To purchase tickets, visit their website. Don't forget to include your own yoga mat.
Best Dallas Date Ideas: Fun Things to Do
1. Bishop Cidercade – What's better than combining arcade games and cider? It's an unbeatable combination! At Bishop Cidercade, you'll find a whopping 170+ arcade games to enjoy along with 30 different ciders and wines on tap. It's the perfect recipe for endless hours of entertainment and a whole lot of fun!
2. Truck Yard Dallas– The Truck Yard in Dallas is the ultimate spot to relax, soak in funky art, and groove to live music on the weekends. Plus, they serve up refreshing drinks and mouthwatering treats from some awesome food trucks. Swing by and bask in the good vibes – you won't want to miss it!
3. Find a Concert or Festival – You'll never have a dull moment in Dallas! Every single weekend, there are at least five exciting events, local workshops, and cool happenings for a fun date night in the city.
Visit Dallas has an excellent list, but one of my personal favorites is simply going to the Facebook events tab and searching for events within a specific date range.
4. Relax at the Spa – For a relaxing and romantic date night in Dallas try King Spa and The Salt Retreat in Frisco.
At King Spa, you and your partner can enjoy a variety of relaxation amenities, including salt rooms, infrared rooms, hot tubs, and a pool. It's the perfect place to unwind and de-stress together. And since King Spa is open 24/7, you can go whenever it fits your schedule.
If you're looking for something a little more unique, try The Salt Retreat in Frisco. This spa offers salt therapy, which is known to have a number of health benefits, including improved skin and respiratory health. You can book one of their adult group rooms so you can enjoy this therapeutic experience together.
5. Go Bowling – but not your run-of-the-mill bowling alley! At Bowl and Barrel, it's a whole different experience. You get to enjoy scrumptious food and drinks in a warm and inviting atmosphere. It's bowling with a delicious twist!
In addition to craft beer and an excellent whiskey collection, Bowlounge offers a scratch kitchen, darts, cornhole, and ping pong activities.
6. Create Your Own Chocolate – Discover the art of crafting some of Dallas' finest chocolates with Kate Weiser Chocolates. They offer a variety of fun events, from creating heart-shaped chocolates and bonbons to indulging in a whiskey and chocolate pairing class.
Stay updated with their events calendar to see what sweet adventures await
7. Roast Marshmallows – Check out Halycon! This coffee shop has a make-your-own s'mores kit, so you and your date can roast marshmallows and make s'mores together.
It's a great way to enjoy a sweet treat and get to know your date better. And since you can do it indoors or outdoors, it's the perfect activity for any kind of weather.
8. Check Out the Dueling Pianos – Dueling piano bars are a great place to let loose, have some laughs, and sing along to your favorite songs. Two pianos face each other, and the pianists play dueling versions of popular songs. The crowd gets into it, and it's a lot of fun.
Dueling piano bars are also a great place to save some money. Weeknights often have no cover charge, so you can enjoy a fun night out without breaking the bank.
9. Sing Terribly Together – Perhaps one of you is a secret singing sensation! A simple Google search will reveal over 10 places for karaoke, but here are a couple to kick things off. Just a thought, a gender-swapped "Summer Lovin'" karaoke performance sounds like a total blast!
10. Dallas Poetry Slam – Even if you're not a poet yourself, the Dallas Poetry Slam is a great place to experience the power of spoken word. The poets are passionate and talented, and their performances are sure to move you.
In addition to the regular slams, the Dallas Poetry Slam also hosts workshops and special events throughout the year. These are great opportunities to learn more about spoken word and to connect with other poets and poetry lovers.
So next time you're looking for a fun and unique date night ideas in Dallas, be sure to check out the Dallas Poetry Slam! You won't be disappointed.
11. Check Out the Events at the Different Cultural Centers – Dallas is a vibrant mix of diverse cultures, and you'll find cultural centers all over the city that warmly welcome you to celebrate their unique holidays in a fun and culturally enriching way, and discover some truly fun date ideas in Dallas. Keep an eye on their events calendars and art galleries to see all the exciting happenings!
12. Get a Resort Pass – Resort passes make it possible to visit popular hotel pools without having to check in and stay the night. Imagine spending a summer day poolside at the Hilton Anatole, enjoying the lazy river, swim-up bar, and spa. Or take in the city views from the pool at the W Dallas.
Resort passes can be a great way to save money, especially if you're only planning to use the pool for a day. And they're also a great way to try out different hotel pools without having to commit to a whole stay.
13. Visit a Speakeasy – The 1920s were a time of speakeasies, secret passwords, and jazzy music. And now that we're back in the 20s, it's the perfect time to revisit this era in Dallas.
The city has a number of speakeasies that offer a unique and immersive experience. From the hidden entrances and secret passwords to the vintage decor and live jazz music, you'll feel like you've stepped back in time.
14. Go on a Ghost Bar Tour – Who says ghosts are only for Halloween? In fact, they might be even spookier when you've had a few drinks! Join Dallas Ghost Tours every weekend for a unique experience where you can enjoy some spirits (both ghostly and alcoholic).
It's a pub crawl that takes you to all the haunted pubs and historic buildings of Dallas. Cheers to a hauntingly good time!
15. Catch a Pop-Up at the Whippersnapper – Check out the pop-up bars at Whippersnapper. This bar is known for its creative and immersive pop-up bars, with themes like Game of Thrones, Barbie, and the TV show Friends.
The pop-up bars at Whippersnapper are a great place to let loose and have some fun with your date. You can dress up in costume, enjoy themed cocktails, and take lots of pictures.
16. Catch a Mavs Game – Dallas takes its Mavericks (Mavs) basketball team seriously, and catching a game is pretty much a must-do. And the fun doesn't stop there—they also host a bunch of themed nights, from Harry Potter to cultural appreciation, and much more!
So, gear up for an exciting game night and maybe a bit of themed magic too!
17. Cruise Around in a Cool Car – Consider renting a luxury car through Turo. This is a great way to impress your partner and add a touch of luxury to your evening.
Whether your partner has always dreamed of driving a Lamborghini, Porsche, or other high-end car, Turo has you covered. You can rent a variety of luxury cars for a day, a week, or even longer.
18. See a Dallas Stars Game – Whether you like hockey or not, the atmosphere at these games is fantastic, and the crowd will have you two cheering in no time!
19. Go on a Vintage Hunt – Set a budget and perhaps a theme, and see who can come up with the most creative, trendy, or outlandish ensemble. Going to the Genesis Benefit Store and St. Vincent Thrift Store will save you money while also benefiting a non-profit. Or peruse some of the more curated collections, such as Lula B and Dolly Python.
20. Get a Foot Massage – We spend so much time on our feet, and if you've never had a foot massage, you'll be shocked at how much better it feels. They are less expensive than a typical massage.
Ya Ya Foot Spa provides foot massages, and their VIP packages, which feature floating roses and crystal mud, can make it even more romantic.
21. Get Pedis – Okay, so guys might cringe a bit, but us ladies absolutely adore a relaxing spa day. And what could be better than spending quality time getting pampered with someone special?
Picture this: you chat away while getting your feet all prettied up. Plus, at Vivian's, they offer some really unique themed treatments to make it extra special!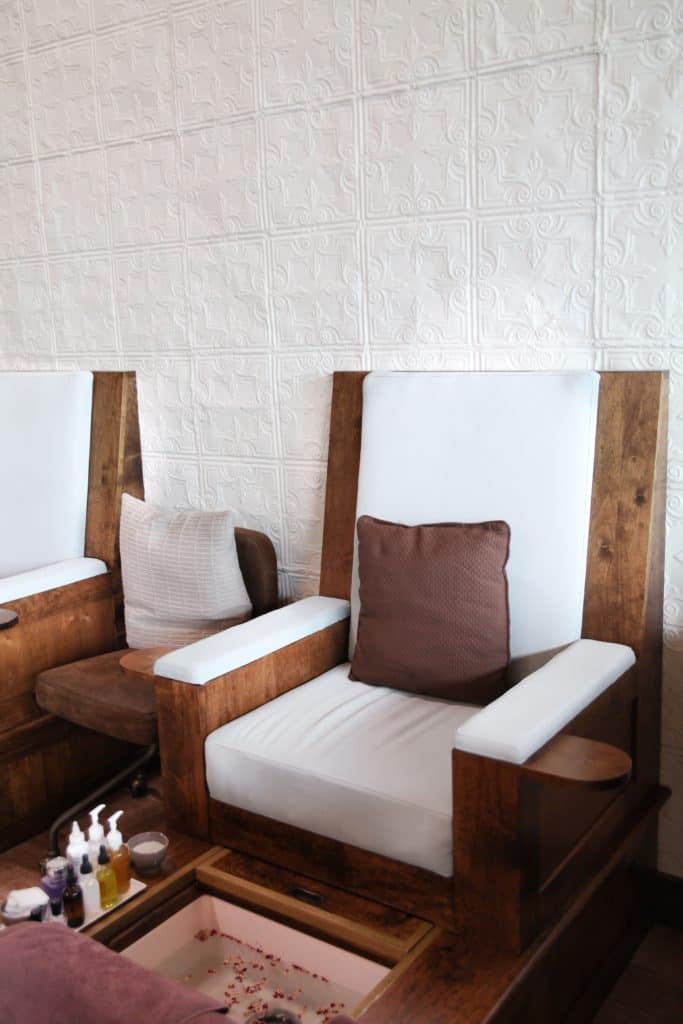 22. Catch an Indie Movie – Check out the Angelika Film Center. This independent cinema shows a variety of films, including hard-to-find movies and cult classics.
The theater has a comfortable and inviting atmosphere, with plush seats and a state-of-the-art sound system. You can also enjoy a variety of snacks and drinks at the theater's concession stand.
23. Visit the Dallas Zoo – There's nothing quite like walking hand-in-hand with your loved one while watching penguins waddle by, otters swim around, and giraffes munch on leaves.
You can also feed the giraffes, which is a fun and unique experience. Or, you can wander through the bird sanctuary and admire the beautiful birds.
24. Visit the Dallas World Aquarium – View numerous species from across the globe and select from three on-site dining options at the Dallas World Aquarium.
25. Watch Texas Rangers Live – Take your significant other to a Texas Rangers baseball game to make a point together. Live sports events are often excellent dates. I've got a special discount for you: To save 20% on your ticket purchase, use the code CURLY!
26. Play Retro & Current Games – With unrestricted free play access to more than 50 retro arcade games, you and your date can lose yourselves in the joys of bygone gaming eras. There's something for every gamer's taste, from well-known titles like Pac-Man and Space Invaders to lesser-known gems.
Round Two Dallas also has a full bar, so you can grab a drink and relax while you play. They also have a food menu, so you can grab a bite to eat if you get hungry.
And if all that isn't enough to keep you entertained, how about diving into some board games, trying out the latest gaming consoles, or stepping into the thrilling world of virtual reality for an adventure together? You can even rent a themed gaming bay for some added privacy and enjoy a little friendly, and maybe even a flirtatious competition.
Now, if you're in McKinney, Arcade 92 is the place to be! They offer free access to a variety of games, and they've got a full bar and kitchen.
27. Or Mini Golf – Puttery is mini golf like you've never experienced it before. The lounge features four unique courses, each with its own theme and cocktail. You can also enjoy chef-prepared food on-site.
Puttery is the perfect place to go for a fun and romantic date night. You and your date can compete against each other on the mini golf courses, or simply enjoy the experience of playing together. And with the delicious food and cocktails, you're sure to have a great time.
28. Andretti's at Grandscape – If you're looking to do a little bit of everything on your next Dallas date night, Andretti's is the place to go! You and your date can compete against each other on the go-kart track, or simply enjoy the experience of playing together. And with the variety of activities to choose from, you're sure to find something that you both enjoy.
29. Play Shuffleboard – You might think of shuffleboard as a game for retirement homes, but Electric Shuffle has given it a cool makeover! Gather your friends for a double or group date and book one of their high-tech shuffleboard lanes. Take your experience to the next level by trying out their delicious cocktails and food!
And here's the kicker: They also throw a Boozy Brunch every weekend for groups of 4 to 20 people. You get a 90-minute shuffleboard reservation, a live DJ for some great tunes, a bottle of Prosecco to get the party started, their awesome family-style brunch boards, and even a Bacon Jam Breakfast Pizza! It's brunch with a shuffleboard twist!
30. See a Comedy Show – The Dallas Comedy Club features improv, stand-up, sketch, and storytelling shows. They also offer classes, so you and your date can learn how to be comedians yourselves.
In addition to the comedy shows, the Dallas Comedy Club also has a full bar and restaurant. You can order everything from appetizers, wings, and desserts to alcoholic beverages.
31. Go to the Drive-in – There's something incredibly romantic about snuggling up in your car and watching a movie just like they did back in the 50s and 60s. For a nostalgic experience, consider visiting the Coyote Drive-in in Fort Worth.
Or, if you're up for a little road trip, head out to Ennis for the Galaxy Drive-in. It's a classic date night with a timeless charm!
Best Dallas Date Ideas: Things to Do for Foodies
When it comes to date nights in Dallas, there's so much more for foodies than just dining at restaurants. Let's explore some exciting options beyond your usual restaurant date.
1. Sur La Table – Sur La Table offers a variety of cooking workshops every day, ranging from fundamental pasta-making techniques to French pastry classes, and more, for anyone who wish to learn or improve their culinary skills.
2. William Sonoma – William Sonoma provides a range of cooking workshops! Learning how to make Vietnamese food or create artful lattes are two examples of paid and free activities.
3. The Cookery – The Cookery! Dallas is teeming with cooking classes, each with its own special flair. It's all about discovering the one that aligns with both your interests and budget. They offer various cooking classes and even some fun cocktail-making classes.
So, let's get cooking and mixing up some delicious memories!
4. Go on a Chocolate Tour – Dallas by Chocolate Tours takes you on an hour-long chocolate adventure, visiting some of the world's top chocolatiers, playing chocolate-related games and trivia, and generally being chocolate wasted. It's also BYOB!
5. Go on a Dallas Food Tour – If chocolate isn't your cup of tea, don't worry! The Dallas Bites Food Tour has something for everyone's taste buds. You can explore a variety of food tours like taco tours, BBQ adventures, delightful food and history tours, and more. There's a delicious tour theme waiting just for you!
6. Become a Coffee Snob – Learn the art of coffee, how to taste it, and the finest ways to brew it for the ultimate coffee connoisseurs. White Rock offers a variety of coffee classes for coffee enthusiasts of various levels.
7. Go on an International Food Tour – Sometimes, you don't need a guide to embark on a culinary adventure and discover something new. Dallas is brimming with cultural richness, allowing you to take a global journey without ever leaving the city.
Whether you use this list of international restaurants, or create your very own international restaurant bucket list, get ready to savor your way through Dallas and explore a world of flavors right here at home!
To make the trip more interesting, watch a documentary or learn about the country before you go, and/or write down all the interesting things you tried. You can also try to learn how to make a dish at home if you really like it.
8. Teatime at the Adolphus – The Adolphus Hotel in Downtown Dallas hosts a lovely two-course tea in their elegant and quaint French Room. Get dressed up for an elegant English evening that includes a recipe from the Queen herself!
9. Go on a Distillery Tour – Stroll over to Deep Ellum Vodka and get the lowdown on how they make vodka while sipping on a variety of their vodka creations.
If you're into beer, you can also swing by the Deep Ellum Brewing Company and join in on one of their brewery tours. It's a great way to learn and have a good time!
10. Or a Brewery Tour – Community Beer Co. is a local brewery that offers tours on Saturdays at 2 p.m. and 4 p.m. After the tour, you can hang out in their colorful taproom and grab a drink.
They also hosts variety of events, including yoga classes, where a tour and complimentary drinks are included in the cost of your ticket! This is a great option if you're looking for a fun and active date night.
Peticolas Brewing Co. also offers brewery tours. To schedule one, simply contact them through their website!
Tour Lakewood Brewing on Saturdays at 2pm and 4pm, as well as Sundays at 3pm.
10. Learn to Make Macarons – If you and your date are foodies, you might enjoy learning to make macarons together. They can be a challenge to make, but the classes at Bisous-Bisous Patisserie and My French Recipe will teach you everything you need to know.
Once you've finished the class, you'll take home your own delicious macarons to enjoy. And who knows, you might even want to start your own macaron business!
11. Find the Best Taco in Dallas – Dallas is a taco lover's paradise! There are taco stands and restaurants all over the city, and most tacos are under $2. This means you can create your own taco tour and find the best and most authentic tacos in Dallas without breaking the bank.
One of the best places to start your taco tour is in the Oak Cliff neighborhood. Oak Cliff is home to a large Mexican-American community, and there are many taco stands and restaurants in the area that serve authentic Mexican tacos.
12. Find the Best Margarita – When it comes to margaritas, there are countless ways to make them. While you could easily search online for "the best margarita," those recommendations can be a little biased. Instead, why not head over to lively spots like Lower Greenville or Deep Ellum and hop around some bars to find your very own favorite margarita?
And hey, if margaritas aren't your jam, no worries—just pick any cocktail that tickles your fancy! It's all about discovering your personal drink delight!
13. Eat at a Hibachi Grill – Eating out is more enjoyable when accompanied by a show! At Oishii, the food is prepared in front of you using a combination of food acrobatics and comedy!
14. Visit a Brazilian Steakhouse – If you're a fan of all things meat and have never experienced a Brazilian steakhouse, you're in for a treat on your night out in Dallas!
Places like Fogo de Chao and Texas de Brazil offer an exciting Brazilian steakhouse dining experience that's almost like a steakhouse buffet. Here's how it works: The staff circulate around, showcasing various cuts of steaks and meats. You have a card to signal them whether to keep piling up your plate or to give you a break.
It's a carnivore's dream come true!
15. Grill Your Own Food – Add some interactive fun to your dinner plans at Niwa BBQ, a fantastic Korean BBQ restaurant. Here's the scoop: You get to pick from a variety of meats, veggies, and sauces, and then you grill your food to perfection right at your table. Just remember to keep an eye on it to avoid any accidental overcooking!
It's a sizzling good time!
16. Make Your Own Cheese Board -A cheese and charcuterie board is a delicious and easy way to have a romantic date night at home. You can put together a board with your favorite cheeses, meats, fruits, and nuts.
If you're looking for a place to buy a cheese board in Dallas, check out Scardello Cheese Shop. Scardello has a wide selection of cheeses, and the staff is happy to help you choose the best cheeses for your board.
If you're on a budget, you can also put together a cheese board using ingredients from Trader Joe's. Trader Joe's has a wide variety of affordable cheeses, crackers, and other items that are perfect for a cheese board.
And if you want to add a touch of luxury, you can also pair your board with some wine.
17. Learn All About Mezcal – Mezcal is the smokier cousin of tequila. It's a fascinating and complex spirit that's surprisingly easy to enjoy. At Las Almas Rotas, the owner will guide you through a mezcal education that's both enlightening and delightful.
Get ready to explore the world of mezcal in great company!
18. Take a Spirit Class – Total Wines is constantly hosting classes to help you learn more about preparing drinks, knowing what you're drinking, and simply learning new things.
19. Learn About Black History – Soul of DFW offers a unique and informative tour of Dallas. The tour takes you to significant African American landmarks and black-owned businesses, where you can learn about the city's rich history and culture.
On the tour, you'll visit historical sites like the Black Academy of Arts and Letters and the Freedman's Town Historic District. You'll also stop at several black-owned businesses, where you can sample delicious soul food and desserts.
19. Enroll in a Classpop! Signature Cooking Class for Two – Get ready for a one-of-a-kind and interactive date night. It's a chance to whip up some delicious memories together with your special someone.
Skilled chefs will be your guides on this hands-on culinary journey, sharing their expertise and techniques to expand your culinary know-how. You and your partner will have a blast learning, laughing, and savoring the excitement of discovering new flavors and cuisines.
Let the culinary adventure begin!
20. Make an Exquisite Meal at Home – Eataly is a marketplace that sells only the highest-quality Italian ingredients. You'll like browsing their wine, pasta, and fresh produce aisles, and they even have a fish and meat market counter! Take a walk together and pick up some things for dinner.
Or, if you'd rather eat out, dine at Eataly's tasty restaurants or attend one of their events, ranging from cooking classes to special dinners!
Best Dallas Date Ideas: Quirky Things to Do
Sometimes regular date nights can get boring, but not with these unique date ideas in Dallas! Spice things up with something out of the ordinary maybe even a little strange.
1. Learn to Make Cheese – I absolutely love cheese, and I think it's a must-have in life. You'd be amazed at how simple it can be to create some of our beloved cheeses. Join MozzCo to pick up a new skill and become a cheese-making duo!
2. Practice Goat Yoga – You might be wondering how much yoga is actually involved in goat yoga. Well, truth be told, it's mostly about having a blast with adorable baby goats!
Though there's nothing quite like holding a plank while a baby goat strolls across your back. For updates on their classes all around DFW, follow Goat Yoga Dallas on Facebook!
3. Look at Airplanes – Any airplane enthusiast or traveler would be pleased to see the Frontiers of Flight Museum, which houses 35,000 artifacts, aircraft, and spacecraft.
4. Throw Popcorn at Actors – The Pocket Sandwich Theatre has to be one of Dallas' oddest and coolest theaters! They have ridiculous melodramas, comedies, and programs where you throw popcorn at the actors. They always have exciting shows that are well worth seeing.
5. Ride the Ferris Wheel – Ferris Wheeler BBQ is a great place to go for a quirky and fun night out in Dallas. The restaurant has delicious food, drinks, live music, and a Ferris wheel that you can ride for a unique dining experience.
On weekends, Ferris Wheeler BBQ has live music. They often have local bands playing, so you can enjoy some good tunes while you're eating.
6. Learn to Trapeze – Who doesn't love a good carnival? The rides, the games, the food… but the best part is always the acrobats. They make it look so easy to fly through the air, doing flips and twists with grace and ease.
If you've ever wanted to live out your childhood carnival dreams, you can do it at Moxie Mischief in Dallas! They offer classes in trapeze walking, aerial skills, hoops, and more.
7. Become Detectives – Love the thrill of solving a mystery over dinner? In these entertaining murder mystery dinner shows, it's up to you and the other guests to unravel the "whodunit" puzzle!
There are plenty of venues that host these exciting events, so a simple Google search will help you discover the perfect one for your taste.
8. Go Back to Medieval Times – Eat with your hands and watch knights joust to win while sitting inside a castle turned stadium at Medieval Times. At Medieval Times, you may eat with your hands while watching knights compete in jousting matches inside a converted castle.
9. Explore Virtual Reality – Escape to a different world at Dreamscape, where you can free fly, visit a magical land, dive underwater, and participate in other incredible activities. It's incredible how far technology has progressed!
10. Visit an Indie Book Store – Spend a nice evening together while reading a wonderful book. Seriously, that's what most girls dream of! Have you not seen the memes? Both The Wild Detectives and Deep Vellum Books serve coffee and wine, so you can drink while reading.
If you're searching for a quirky date night in Dallas, Lucky Dog Books has everything for $3 or less. Interbang volumes also has thousands of volumes to browse through, and Half-Priced Books, while not an indie bookshop, is one of the largest for hours of shopping!
11. Visit the Motorcycle Museum – You may be surprised to learn that Dallas has its own motorcycle museum, the Haas Moto Museum, which houses over 150 motorcycles from various decades.
12. Visit an Instagram Museum – They're like a mix of art installations and playful photo spots, making it a blast to capture memories together. These museums are always changing and popping up, but some cool ones to check out are the Museum of Illusions, the Sweet Tooth Hotel, and the Psychedelic Robot.
13. Check Out an Airbnb Experience – Airbnb has so many unique and romantic date ideas in Dallas, including crafting your own fragrance, crafts, guided tours, and fun dates you would not have thought of!
14. Learn Together – Visit some of Dallas' well-known historical museums, such as the Sixth Floor Museum near Dealey Plaza, which covers the tale of JFK's assassination, 1960s events, and more! Special exhibits and other public activities are held on the Seventh Floor Gallery.
The George W. Bush Presidential Library and Museum in Dallas is a great place to learn about the life and presidency of George W. Bush. The library and museum house a collection of official records and artifacts from the Bush administration, as well as interactive exhibits that tell the story of Bush's presidency.
15. Visit the Nasher Sculpture Center – Treat yourself to a meal at the Nasher Cafe by Wolfgang Puck, or take a leisurely stroll through the Sculpture Garden with a coffee in hand. Inside, you'll find a stunning gallery bathed in natural light, showcasing breathtaking sculptures crafted in various materials. It's a perfect blend of art and relaxation
16. Experience Dallas Game Marathon – The Dallas gaming Marathon welcomes all types of gaming enthusiasts and has over 1,600 games to try, or you may bring your own! They also host unique events such as miniature painting classes, D&D events, and multi-day conventions with open gaming! For updates, like them on Facebook.
Best Dallas Date Ideas: Hands-on Things to Do
After trying out these romantic date ideas in Dallas, you'll not only have enjoyed quality time together but also come away with a new addition for your home or a new skill you can put to good use!
1. Brew Some Coffee – Coffee dates have become all the rage because they offer a cozy and laid-back atmosphere. But if you want to elevate your coffee date experience, White Rock Coffee is the place to go.
Not only do they serve responsibly sourced coffee, but they also offer engaging coffee classes. You can explore the world of roasting, cupping, coffee sensory, brewing, and even get some barista skills under your belt!.
2. Glass Blowing – Create unique products such as bowls, glasses, paperweights, and vases by learning the skill of glass blowing at Dallas Glass Art, which offers regular workshops.
3. Make a Candle – You know how they say that scent plays a big role in romance? Well, at Malibu Apothecary, you can be part of crafting the perfect candle to fill your entire home with that special aroma!
And if you're looking for more candle-making fun, Rocky Creek Candle Company in Fairview also offers candle-making classes.
4. Create Something You Actually Need – Crafting is a great way to relax and have fun, but it can also be easy to end up with a lot of stuff that you don't need. That's where Upstairs Circus comes in.
Upstairs Circus is a DIY workshop that offers a variety of classes, including making bottle openers, serving trays, magnetic shelves, wallets, and other cool projects. The classes are designed to be fun and informative, and you'll leave with a finished product that you can use or give as a gift.
5. Wine and Paint – The more you drink, the better it looks, or something like that. Create a cute couple's masterpiece while sipping wine at Pinot's Palette or Painting with a Twist.
6. Wine and Wood – Alternatively, instead of painting on canvas, consider painting on wood and creating beautiful sayings to place in your home at Wine and Wood.
7. Learn Pottery – I gave it a shot once. It's difficult to keep it from turning into a lump of clay, but Quigglys Clay House teaches you the technique of the pottery wheel and allows you to take your masterpiece of love home!
8. Learn to Give a Good Massage – Instead of spending money on massages, learn how to give a good massage at the Sterling Day Spa, which offers couple's massage classes.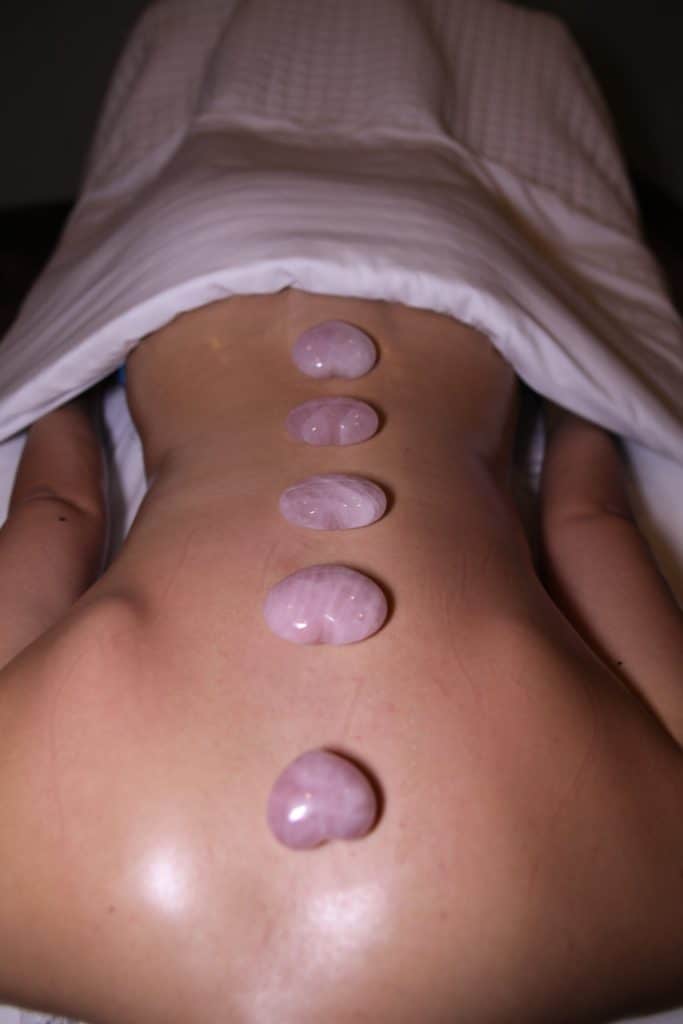 The Best Dallas Date Ideas: Free Things to Do
You don't have to spend money on quality time together. There are so many free things to do in Dallas that make for the best date ideas!
1. A White Rock Picnic – Why not pack some sandwiches or homemade goodies and savor a romantic picnic while you watch the boats sail by? It's a delightful way to spend some quality time together.
2. A Late Night at the DMA – Visiting the downtown Dallas Museum of Art is always free, but it gets even more exciting during Late Nights with its special themed events. Plus, you can explore other fantastic free workshops and classes they offer at the DMA. There's plenty to enjoy!
3. Stroll Through the Dallas Farmers Market – It's a blast to check out all the incredible items and tasty samples vendors are sharing. But fair warning, you might end up buying something irresistible! Also, don't miss the indoor food hall and the charming small businesses brimming with all sorts of treasures. Happy exploring!
Check out their event calendar for more Dallas date ideas!
4. Yoga at Klyde Warren Park -With free fitness classes like yoga, Zumba, and Salsa, Klyde Warren Park is full of free date nights in Dallas. They also feature free board games, regular events, magazines, ping pong, and other activities for a full day or afternoon of enjoyment. Make sure to check out the food trucks as well!
On select Saturday evenings, Klyde Warren Park hosts Movies in the Park. See their website for times and current showings.
5. Visit the Hyena Comedy Club – Hyena Comedy Club hosts free comedy nights every Thursday, so you can enjoy a show and laugh with your friends without breaking the bank.
It is a great place to see up-and-coming comedians, as well as established touring comedians. The club has a cozy and intimate atmosphere, and the shows are always entertaining.
6. Volunteer at the North Texas Food Bank – Volunteering is a great way to give back to your community and spend quality time with your date. The North Texas Food Bank is a great place to volunteer, and it's free!
You and your date can help bag groceries, sort food, or pack boxes for people in need. It's a rewarding experience that will make you feel good about giving back.
7. Take the Trolley – Hop on the M-Line Trolley, which begins its journey in West Village Dallas and takes you on a delightful ride through Uptown all the way to the Dallas Museum of Art.
This charming vintage trolley is just one of the many fun and free things to do in Dallas. Enjoy a scenic afternoon ride, and here's a bonus: since admission to the DMA is free, you'll actually get two fantastic date night ideas for the "price" of one!
8. Acroyoga – This is such a unique date night in Dallas, and it's nice that Dallas Acroyoga offers free Acrojams in North Park Mall on Saturdays.
9. Visit the Teddy Bear Park – Yes! Dallas has a cute park around a little pond that is loaded with adorable teddy bear sculptures that are fun to look at and pose for photos with.
10. Visit Different Art Galleries in the Design District – The Dallas Design District is home to many talented local artists and art curators, and you can visit their galleries and see their work for free.
While a Google search for "free art galleries in the Dallas Design District" may result in a large number of results, here are a few suggestions: ALG Collective, Dallas Contemporary, Laura Rathe Fine Art, and the Goss-Michael Foundation are among the institutions involved. Check their hours frequently, as they can vary or just be odd
11. Check Out the Latino Arts Project – This museum offers free access to a variety of great Latino-focused art exhibits!
12. Learn to Two Step – Cowboys Dance Hall in Dallas hosts free dance lessons every night they're open, and they often have nightly specials where you can get in for free before a certain time.
13. Go Sailing on White Rock Lake – The Spirit of Dallas is a nonprofit organization that offers free sailing trips to the public on their Community Sails. You can bring a picnic to enjoy on board, and it's a great way to spend a sunny afternoon in Dallas.
To find out when the next Community Sail is, check The Spirit of Dallas website or give them a call. They typically sail on weekends, but the schedule can vary, so it's always best to check in advance.
14. Watch the Sunset at Margaret Hunt Hill Bridge – Why not grab a cozy blanket and unwind while you watch the sunset (or catch the sunrise if you're an early riser) with the stunning Dallas skyline in the distance? It's a beautiful way to enjoy the view!
15. Go for a Hike – Dallas offers some fantastic free hiking spots, such as the Oak Cliff Nature Preserve, Piedmont Ridge Trail, Trinity River Audubon Center, the Buckeye Trail, Great Trinity Forest Gateway and Horse Trails, and the Cedar Ridge Nature Preserve.
That's like having seven wonderful free date nights in Dallas, each with its own unique outdoor adventure!
16. Play with Cats & Dogs – If you're an animal lover but can't commit to having a pet due to time or budget constraints, here's a fantastic way to enjoy a free date night in Dallas!
The Dallas Humane Society welcomes volunteers to spend time with their dogs and cats, providing companionship and helping them find loving homes. Alternatively, you could explore becoming a dog walker using apps like Wag, and who knows, you might even end your date with a little extra cash in your pocket!
17. Go on a Brewery Tour – Every Saturday, Four Corners Brewery offers a free tour that you can participate in!
18. Check Out Samurais and Asian Art – The Crow Museum of Asian Art in Dallas is a great place to learn about and appreciate Asian art and culture. The museum has a wide variety of art on display, including jade collections, intricate artwork, and brilliant architecture. And admission is always free!
29. Join a Meetup – Meetup.com is a great place to find free and fun activities to do in Dallas. There are meetups for all sorts of interests, from learning new skills to socializing with people who share your passions.
20. The Dallas Culture Pass – If you have a Dallas Public Library Card (which is also free), you may use your Dallas Culture Pass to access free arts performances and fun activities!
21. Events at the Dallas Public Library – And speaking of the library! They host a bunch of amazing and free events, like various classes and workshops that you and your date can enjoy. Just stay in the loop with their calendar for some fantastic, cost-free date ideas in Dallas.
You can even filter the list to find adult-focused activities since they offer plenty of options for kids too!
22. Go on a Photo Walk – All you need is your phone camera, and if you want to get creative, a few posing ideas. Deep Ellum and Bishop Arts are brimming with one-of-a-kind art, but you can make a photo adventure out of it anywhere you like! Check out our complete list of the finest photo spots in Dallas!
For fantastic photos with the Dallas skyline as your backdrop, consider parking on the top floor at 951 Munger Ave. S. It's a small fee for a picture-perfect view!
23. Events at the Sixth Floor Museum -The seventh floor gallery of the museum hosts free public programs, such as lectures with noteworthy personalities and more! Updates can be found on their event calendar.
24. 'til Midnight at the Nasher – The Nasher Sculpture Center offers free live music, movie screenings, and other events (rain or shine). For further information, simply register online or check their website calendar!
25. Go Hiking – DFW boasts an abundance of fantastic trails to explore! One of our personal favorites (though it might depend on water levels and current conditions) is the charming waterfall at Prairie Creek Park in Richardson.
But that's just the tip of the iceberg! There are other wonderful hikes to enjoy, like Cedar Ridge Preserve, Trinity River Audubon Center, Arbor Hills Nature Preserve, the Katy Trail, and plenty more.
Check out our complete list of the best DFW hiking trails by clicking here. Happy hiking!
26. Free Events in Addison – The city of Addison, Texas hosts a variety of free, public events throughout the year, including pop-up volleyball and yoga in the park. You can find a full calendar of events on the city's website.
Be sure to check out the lineup for Addison After Dark, a monthly event series that features live music, food trucks, and other activities.
27. Re-enact a Scene out of a Movie – The Fort Worth Water Gardens is a beautiful and refreshing oasis in the heart of downtown Fort Worth, Texas. The gardens were designed by Philip Johnson and were completed in 1974. They were featured prominently in the 1976 science fiction film Logan's Run.
The Forth Worth Gardens is a popular spot for taking photos, especially in the evening when the lights are turned on.
The Best Dallas Date Ideas: Seasonal Things to Do
1. Shakespeare in the Park – Shakespeare Dallas puts on the fantastic "Shakespeare in the Park" during the summer and various times throughout the year. You can savor a lovely picnic on the grass while talented actors bring these timeless classics to life right before your eyes. It's a delightful experience!
2. The Perot Museum After Hours – I used to hate science class, but a visit to the Perot Museum changed my mind. The museum offers unique adult cocktails and science "experiments" that make learning fun and engaging.
One of my favorite exhibits was the "Science of Sports" exhibit. This exhibit allows you to experience the physics of sports firsthand.
3. Summer Pool Parties – Summer is always a time for fun and excitement, and one of the best ways to enjoy it is with a pool party! There's nothing quite like cooling off in the pool on a hot summer day, and surrounding yourself with friends and family makes it even better.
4. Go on a Park Tour – During the months of April and May, the George W. Bush Presidential Library and Museum offers free, guided tours of its Native Texas Park on Saturdays at 10 a.m.
5 Christmas Date Ideas – Christmas in Dallas is the perfect time for a date night, with its festive lights, themed pop-ups, and mistletoe to kiss under. Check out our guide to Christmas activities and festive bars and restaurants in Dallas for the best date ideas around the holidays.
6. New Year's Eve Date Ideas – Celebrate New Year's Eve in Dallas with a romantic date night! Dress up, enjoy dinner and drinks at a festive restaurant, and ring in the new year with a kiss under the fireworks. Browse our list of New Year's Eve party ideas! for inspiration
Best Dallas Date Ideas: 40+ Extra Romantic Things to Do
In addition to all of our dates above, we've included some of the best date ideas in Dallas recommended by Viator!
Best Dallas Date Ideas: Final Thoughts
This comprehensive Dallas date ideas has everything you need to plan a perfect night out with your significant other. From romantic dinners to fun activities, we've got you covered. If you know of something we missed, please share it in the comments below so we can enhance our list of date ideas in Dallas. Also, don't forget to explore our curated list of the best date ideas in Dallas-Fort Worth!