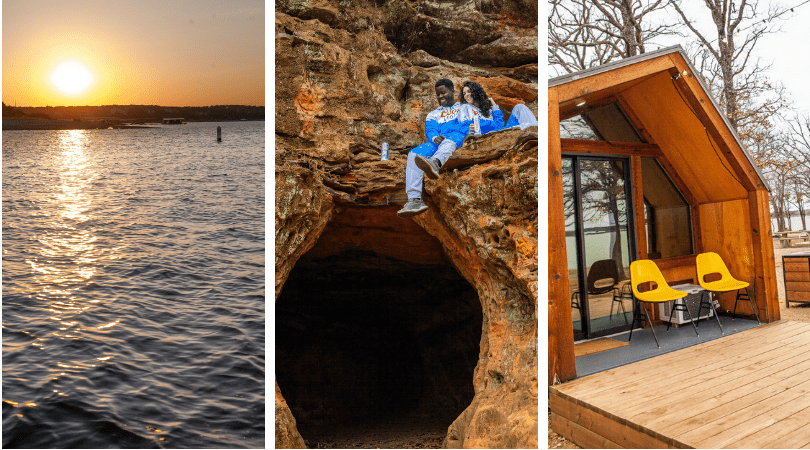 Thank you to Coors Light for making this post possible. As always, all opinions are my own.
Sometimes you want to get away without having to actually travel far! Near Dallas you can find that perfect lake getaway, plus so many fun things to do near Lake Texoma. Just about an hour North of Dallas, you'll find beachy islands, fun campgrounds, romantic cruises, and so much more.
Living the lake life in Texas starts with a good drink to sip and enjoy! And of course, we're in Texas with all of our Texas pride. Before heading out on our Lake Texoma adventure filled with so many fun things to do, we made sure to grab some Texas Chillin Coors Light cans!
Rent a Cabin
Falling asleep and waking up to the water is the way to start at Lake Texoma. We found this cute kasita as they're called. Simple on the outside, you get your own personal one where you can look out at the lake while sipping a cold Coors. Each one comes with a grill, fireplace, and a little washing station. We made sure to pack a cooler to keep our drinks and food cold. Excited for your next stay? Book here now!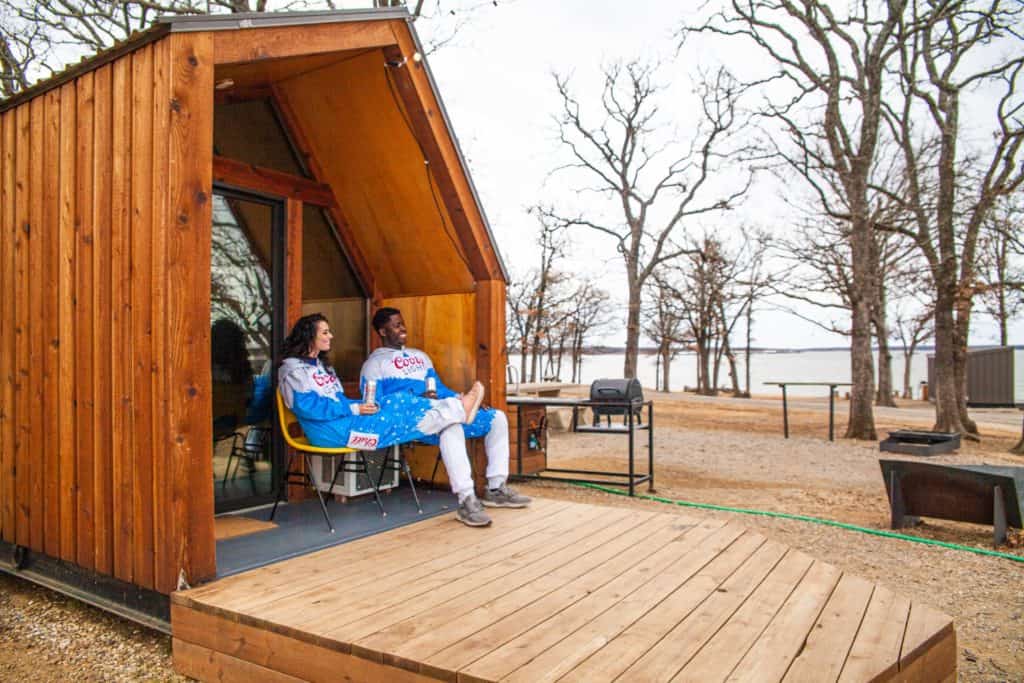 The rooms are small, but have everything you need! The downstairs bed pulls out, and there's even another loft bed up top! They have a dining table. The have linens and small blankets available. We packed our own for added comfort, but even in the cold, our little cabin on Lake Texoma stayed nice and toasty. Another thing I would recommend bringing is some sort of mattress topper. While we are glamping, we found the beds a little rough and would have enjoyed some additional cushioning.
While the cabin does not have a bathroom, it's just a short walk away for the bathrooms that were clean. Just make sure to bring your own body wash/towels for it.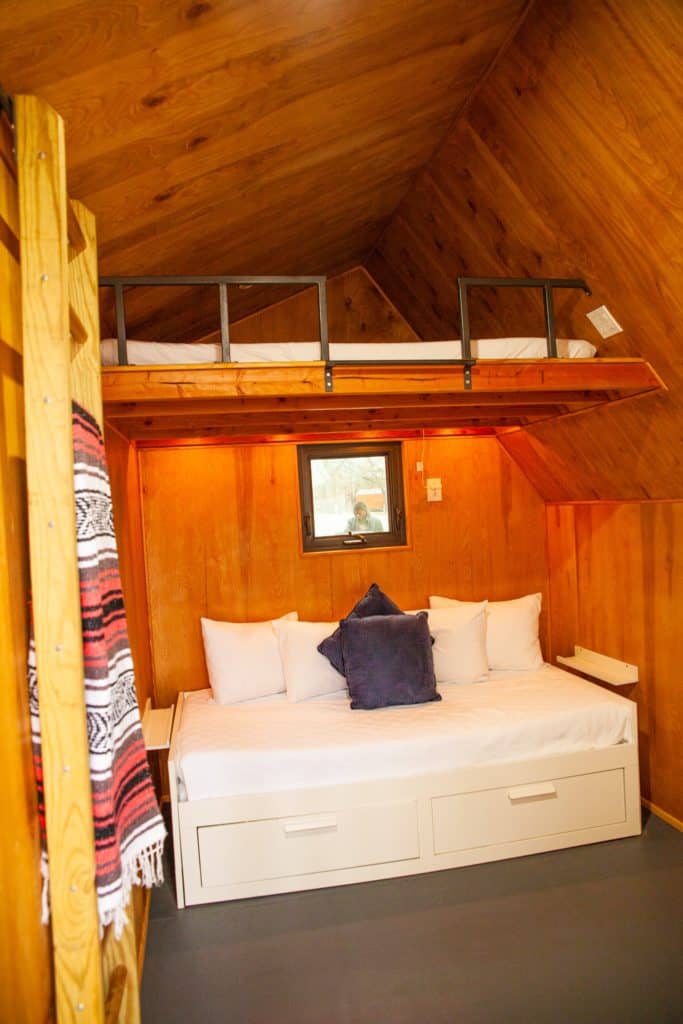 When not enjoying our cozy cabin on Lake Texoma, this area had so many other fun things! There were hammocks on site to relax in as well as swings. There's a day use area to go swimming or fishing. For us, the best part was simply staring out into the beautiful water.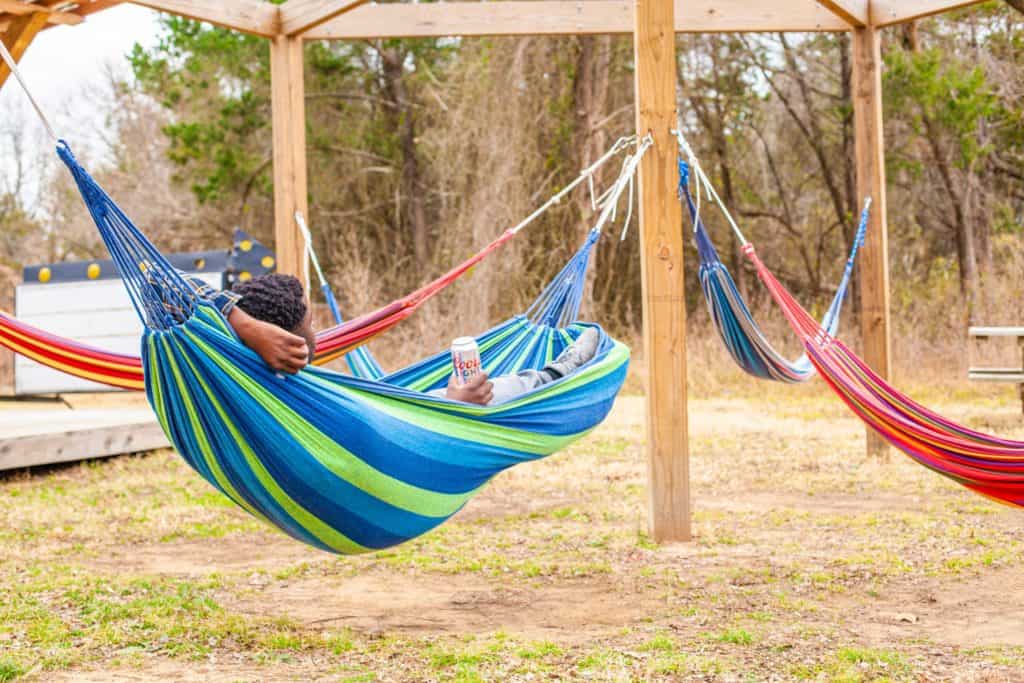 Visit an Island
Yes, we have islands in Texas! Right on Lake Texoma you can rent a boat or order a river taxi to take you to the Islands, also called Party Cove. There's also North Islands, Treasure Island, and Hog Island. Here people will dock their boats and play music for a great time! No matter the time of year, you can feel like you're somewhere far away with sand all around.
If you don't want to get a boat or deal with getting to the islands, there is another place called Island View Park. Here you can get a view of the islands while still being able to drive up to the area. Get your beach getaway close to Dallas with the sand all around. Go swimming, have a picnic on the beach, play some volleyball, and even rent out kayaks.
Go Kayaking
Enjoy the water and see Lake Texoma from a different view by renting a kayak. For exploring Lake Texoma, you can rent kayaks from the Lighthouse Resort & Marina, Paradise on Lake Texoma, and Island View Park.
Another spot that where we enjoy renting kayaks through a checkout process is Waterloo Lake. It's a pretty small lake which makes it easier to see more!
Hike the Caves
In addition to kayaking at Waterloo Lake, there's also a hiking trail that takes you to the caves. It's a short hike along the creek, and in less than 10 minutes, you can be checking out this fun area!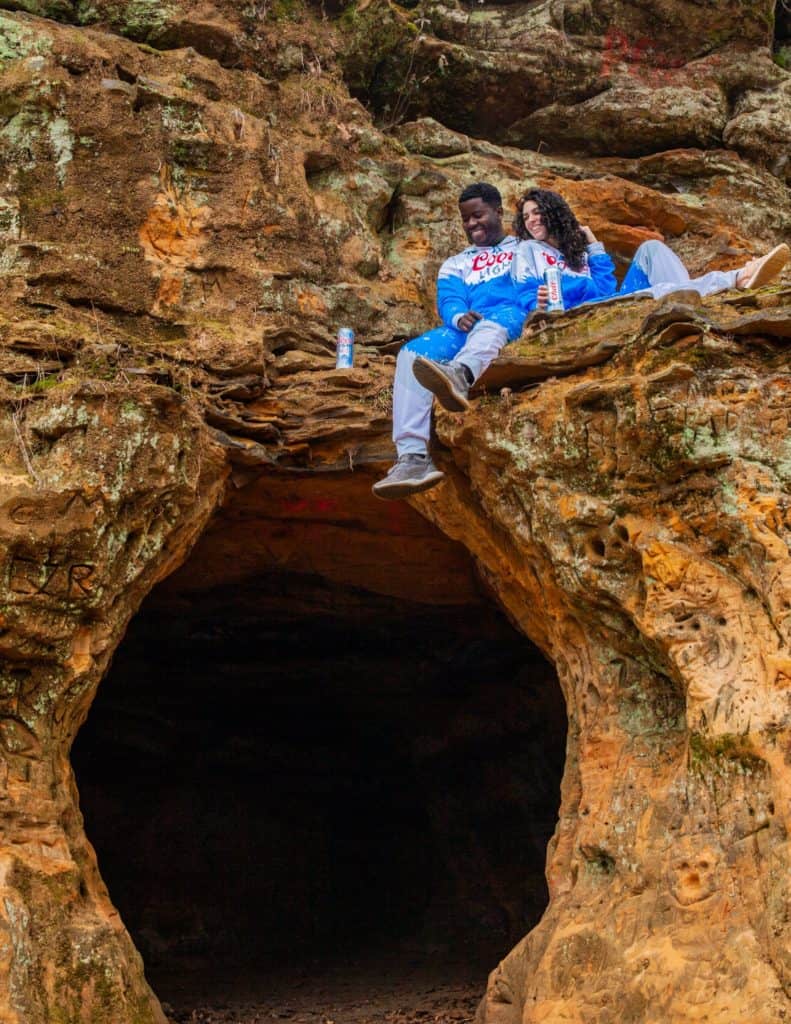 And for another cave to check out, visit…
Hike Eisenhower State Park
Eisenhower State Park is another area where you can explore caves. Depending on the water level, you can hike straight there, or you may have to do a little wading in the water. Apart from the caves, Eisenhower State Park also has its own little beach and some great hiking trails.
Go Stand Up Paddle Boarding
If you would like to lake Texoma from a different view and test your balance at the same time, try stand up paddle boarding through Lighthouse Resort & Marina. Just try not to fall in the water.
Enjoy a Romantic Dinner Cruise
If you're looking for something to do on Lake Texoma that's on the more romantic side, why not opt for a dinner cruise. Fast Trac Boat Charters takes you on Lake Texoma during sunset with a full dinner and is even BYOB (hello Coors Light!) Or try one of their murder mystery cruises.
If you're looking for something more intimate and private, ask the Lighthouse Marina about their three-course sailing dinner.
Take a Historic Tour
But of course since we're on Lake Texoma, this will be by boat! You'll get to see the beautiful lake, find the best scenery, and even learn new information. Who knew Lake Texoma was so full of interesting facts and history. Fastrac Charters will take care of you by setting up your tour.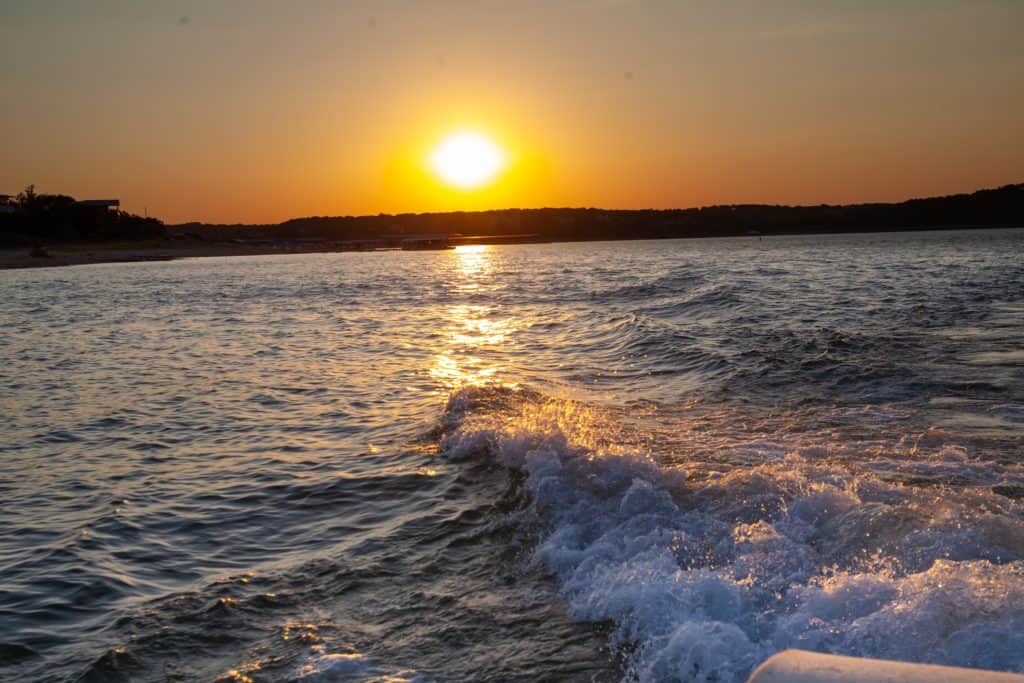 Rent a Boat
Rather than letting other people drive you around, you could rent a boat for your own experience! Lighthouse Resort & Marina will provide you with a pontoon boat, all of the safety equipment, and help you to get out for exploring Lake Texoma on your own.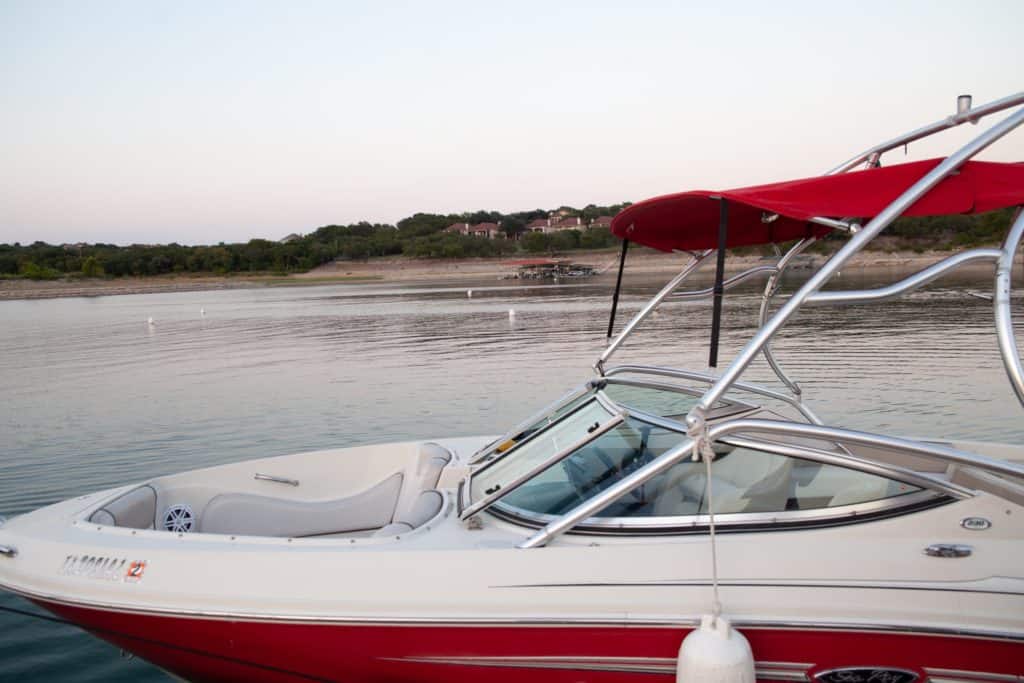 Go for a Trail Ride
We're on Lake Texoma, but there's more to do in the area than just the water. If you need some time on the land, check out Rockin A Ranch that will take you on a scenic trail ride.
Go Sailing
For a smaller experience around the lake with your significant other or a small group, see the lake on a sailing trip around Lake Texoma. Fastrac Charters has sailboats that hold 1-4 people so you can enjoy the lake in a more intimate experience.
Learn to Sail
Maybe instead of simply being a passenger on a sailboat, you actually want to be the person to sail the sailboat! The Hobie sailboats are something that you can learn to sail in about an hour (and Fastrac Charters offers lessons) and then be out on the water.
Become a Pirate
A pirate ship right on Lake Texoma? You bet! The Compass Rose is a large pirate ship people can rent out for anything from small excursions to weddings. They even have tours of the ship that you can take!
Try Some Famous Donuts
Momo's Donuts has been talked about all over, and they're worth all of the hype. Every weekend they serve up a rotating variety of unique flavors from brownie donuts, Ferrero Roche, banana cheesecake, and so much more. It's the perfect breakfast or snack to take out on the lake! Plus if you get the chance to visit, you might run into the owner himself who is always so kind and full of energy.
Fly Above the Water
If you've ever wanted to try hydrosports, you can visit Water Wings Texoma where they'll teach you how to fly high above the water with the water as your wings. Make sure to get some video as well because the initial attempts can be quite amusing!
Play in an Adult Sandbox
All the heavy lifting equipment doesn't have to be left just to the professionals. At the Extreme Sandbox, you can drive an excavator, bulldozer, and/or wheel loaders. You can even include a car crash.
Explore a Charming Town
Right near Lake Texoma is the beautiful town of Denison, a unique place that was actually critical in saving the French wine industry (it's quite the story, and French wine experts recognize the small town of Denison). In Denison you'll find a cute downtown with the best vintage shops, restaurants, some wineries, and so many exciting things!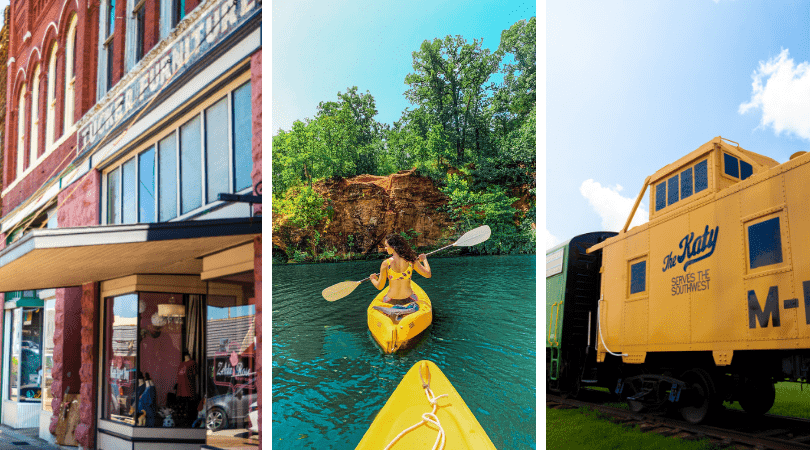 Things to Do Near Lake Texoma: Final Thoughts
If you're looking for a weekend full of fun, excitement, and plenty to do close to Dallas, Lake Texoma makes for the perfect destination. There are so many great lake activities to fit your budget and interests. Plus when you don't want to be on the lake, there are plenty of other fun things to do near the lake as well.
Of course no lake trip is complete with a cold beer! Stop at your convenience store before heading out for a day of fun on the lake.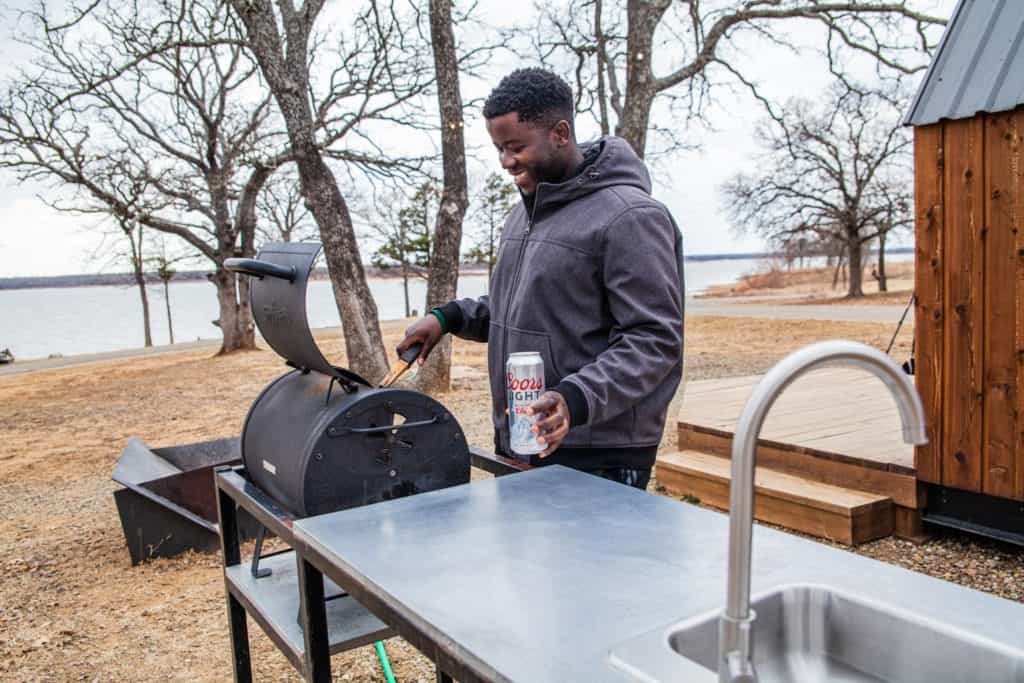 Looking for more things to do? Check out some of these other great Texas destinations or pick up a copy of 50 Texas Trips Under $50 with a free digital version!
Glen Rose: Have one of the best burgers in Texas, go on a safari, and see dinosaur tracks.
McKinney: Wander through crepe myrtles, check out the local brewery, and go up in a hot air balloon!
Farmersville: A charming small town where you can stay in a beautiful bed & breakfast, enjoy a crafting retreat, and go on some great trails.