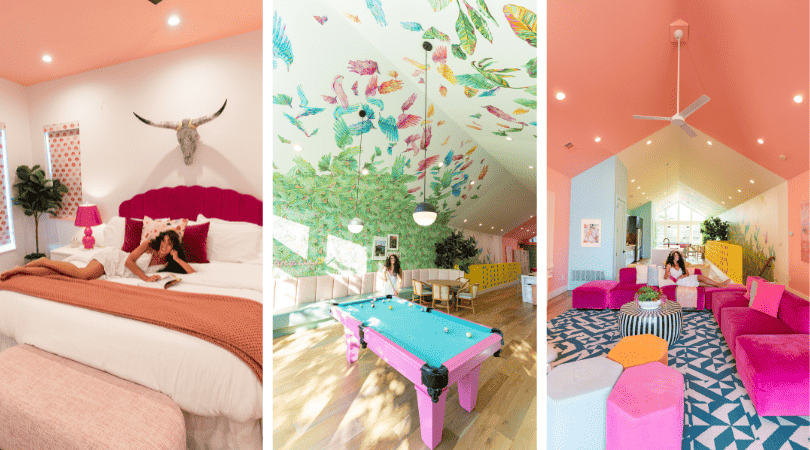 Stay Love List is a dazzling, Instagram worthy Airbnb in Dallas TX, perfect for your next girl's weekend or bachelorette party. With its vibrant rooms, custom wallpaper, neon signs, and unique Texas-inspired aesthetic, this one-of-a-kind home promises an unforgettable experience!
Excited for your stay? Book here now!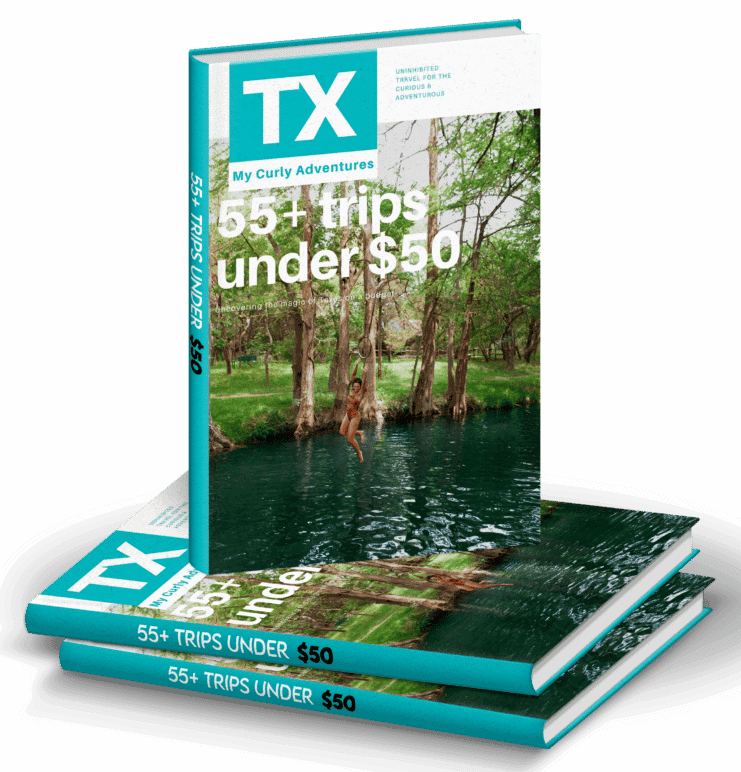 With our latest edition of our Texas Travel Guide, you can take an exciting vacation every weekend without breaking the bank and still have more to do! And in just one trip, the guide pays for itself! You'll be amazed at all the hidden gems, international influence, and wacky attractions you'll find all over Texas!
Not ready to purchase quite yet? We wanted to make this guide as accessible as possible, so we've shared our 1st edition of our guide, 50 Texas Trips Under $50. Click the button below to get yours for FREE!
What to Expect at Stay Love List
From the moment you step inside, Stay Love List captivates with its kaleidoscope of colors and whimsical design. The meticulously curated interior features custom furniture, eye-catching artwork, and charming Texas-themed accents.
With thoughtful amenities like four Samsung Frame TVs, a private, furnished balcony with a Smart TV, a cozy fireplace, and a sound-insulated karaoke room adorned with disco balls, there's no shortage of fun things to do!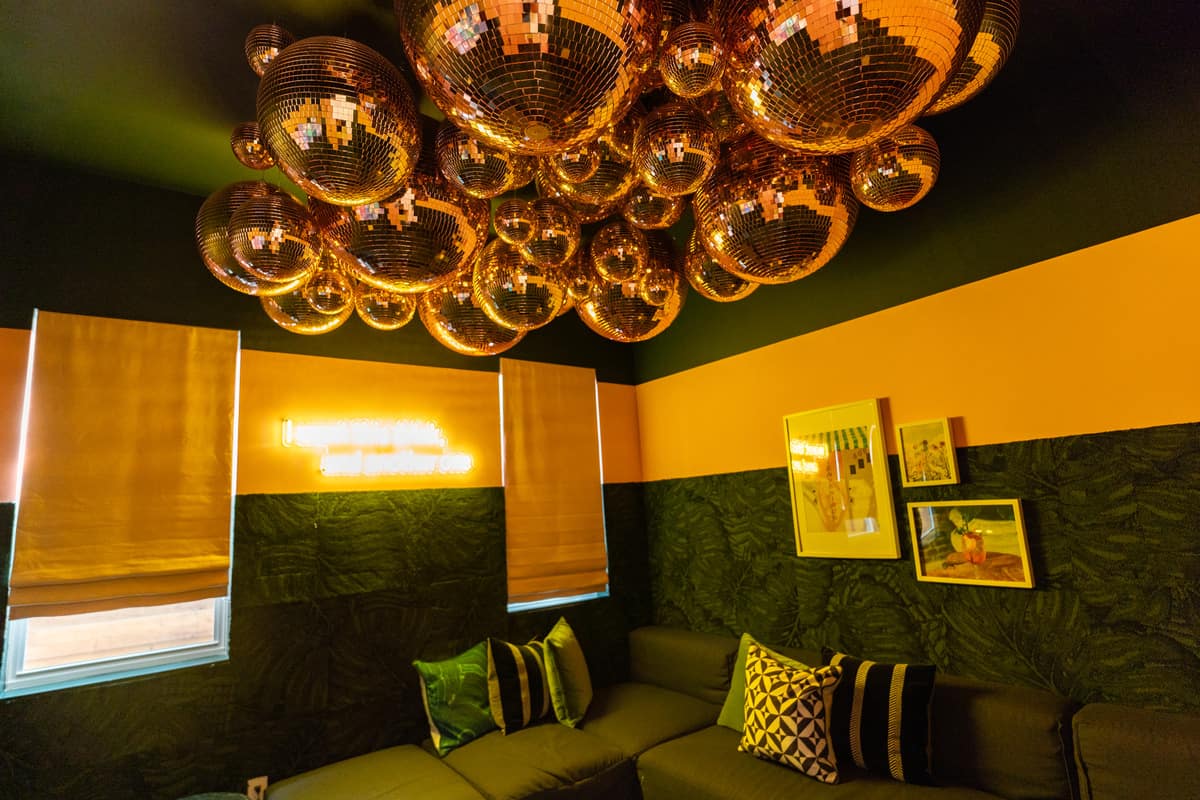 The Location
Stay Love List is just minutes from the popular Dallas neighborhoods of Uptown, Lower Greenville, Deep Ellum, and downtown Dallas. It's the perfect home base for exploring all the vibrant attractions and experiences Dallas has to offer. You'll have all the best of the city right at your fingertips (click here to read about our favorite things to do in Dallas).
The Game Room
There's plenty of space at Stay Love List to prepare for (and recuperate after) a night out on the town. Or, maybe you're looking to spend quality time with family or your bridesmaids?
Your stay includes games like chess, Connect 4, and puzzles. However, the pink and blue pool table may steal the spotlight. We love how it adds a touch of playful elegance to the space. Play a game or two surrounded by your favorite snacks and drinks, with the kitchen just feet away.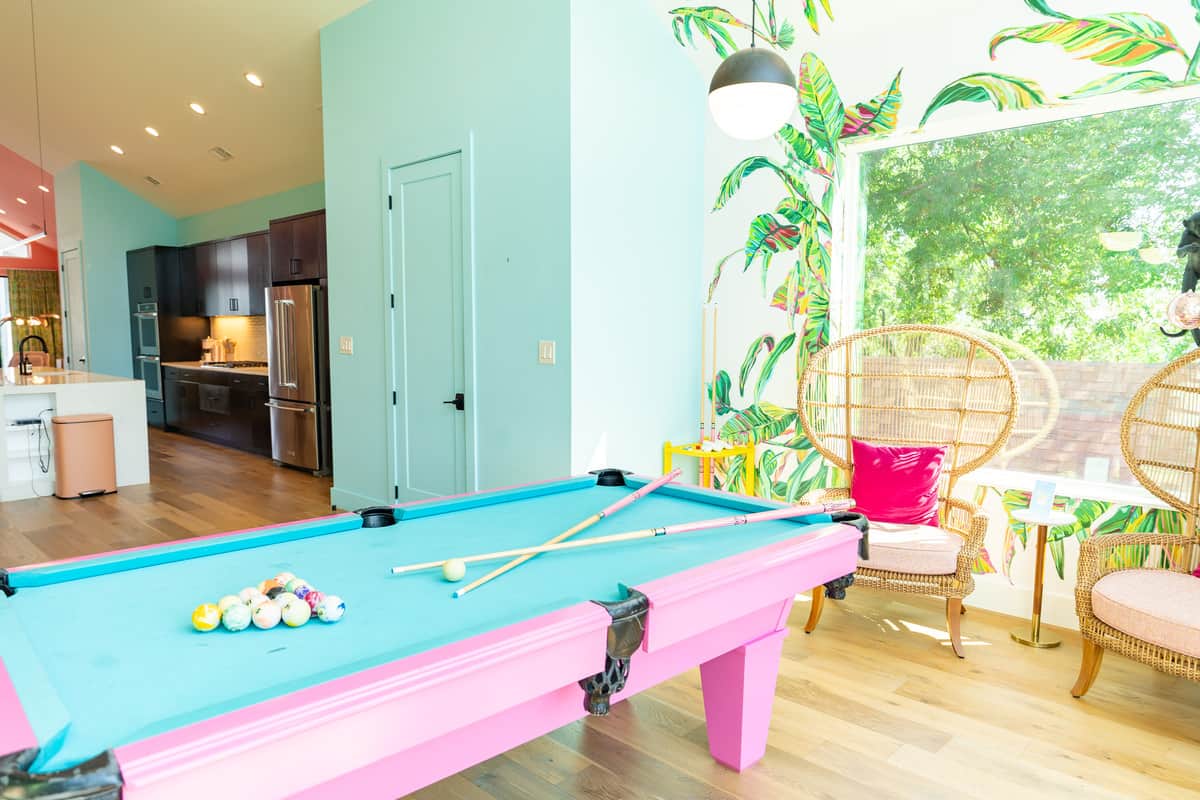 The Bedrooms & Bathrooms
This spacious duplex boasts two bedrooms and two-and-half bathrooms. Ascend the rainbow colored stairs past the playful, tropical wallpaper to the second floor and you'll discover each bedroom is a world of its own!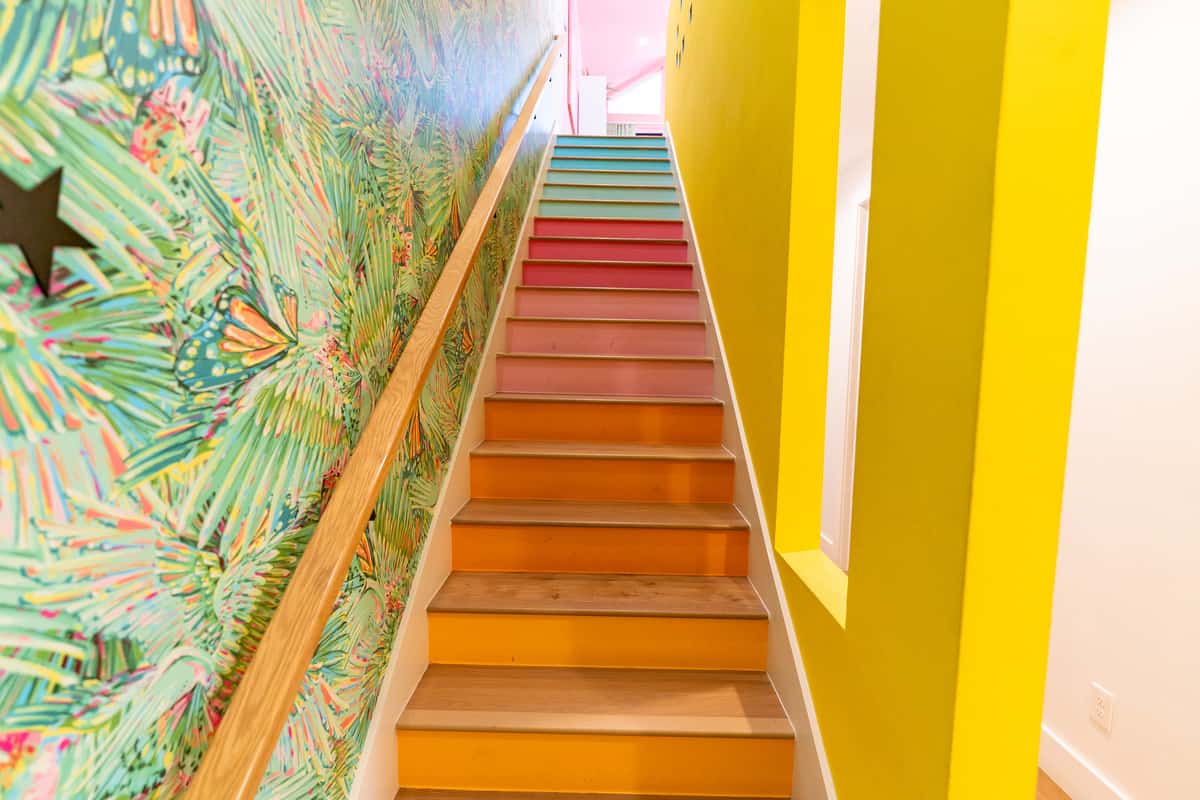 The primary bedroom is a pink paradise. It features delightful details like lip-shaped window covers, a glittery longhorn hanging over the bed, and vibrant artwork.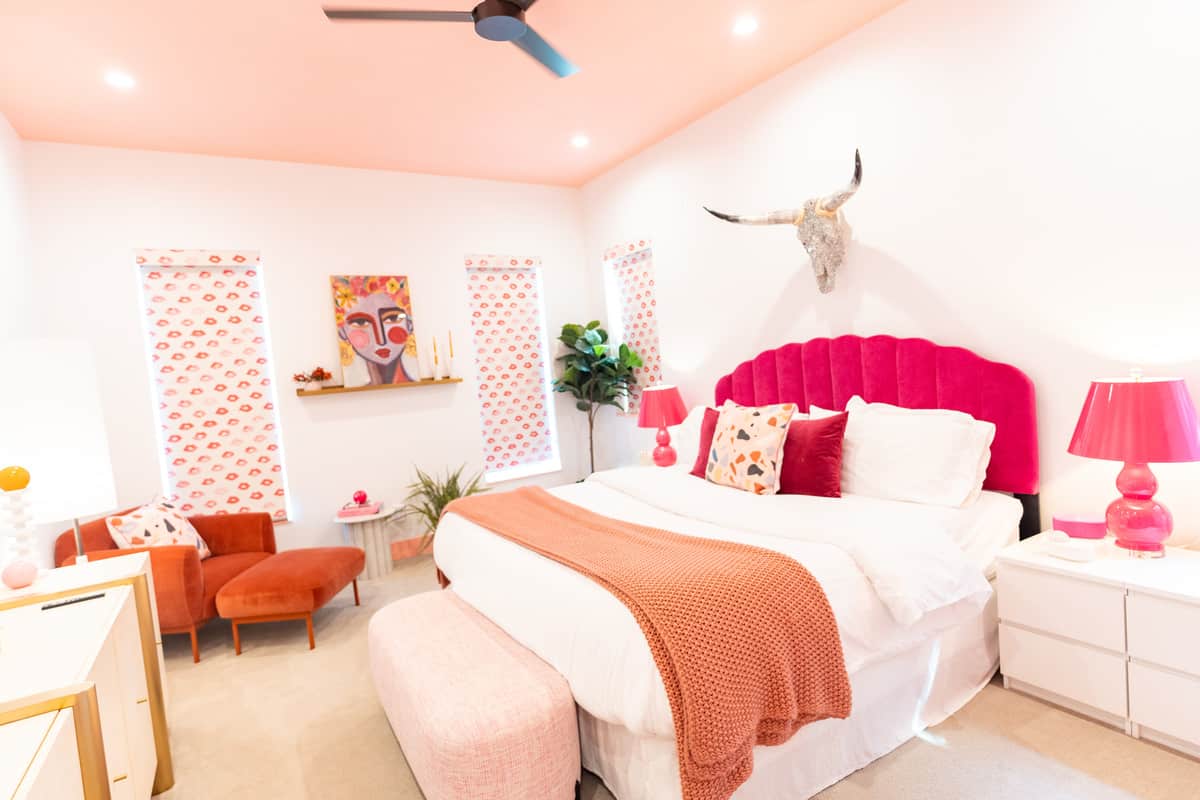 The orange room surprises with plush bunk beds, great for either kids and adults.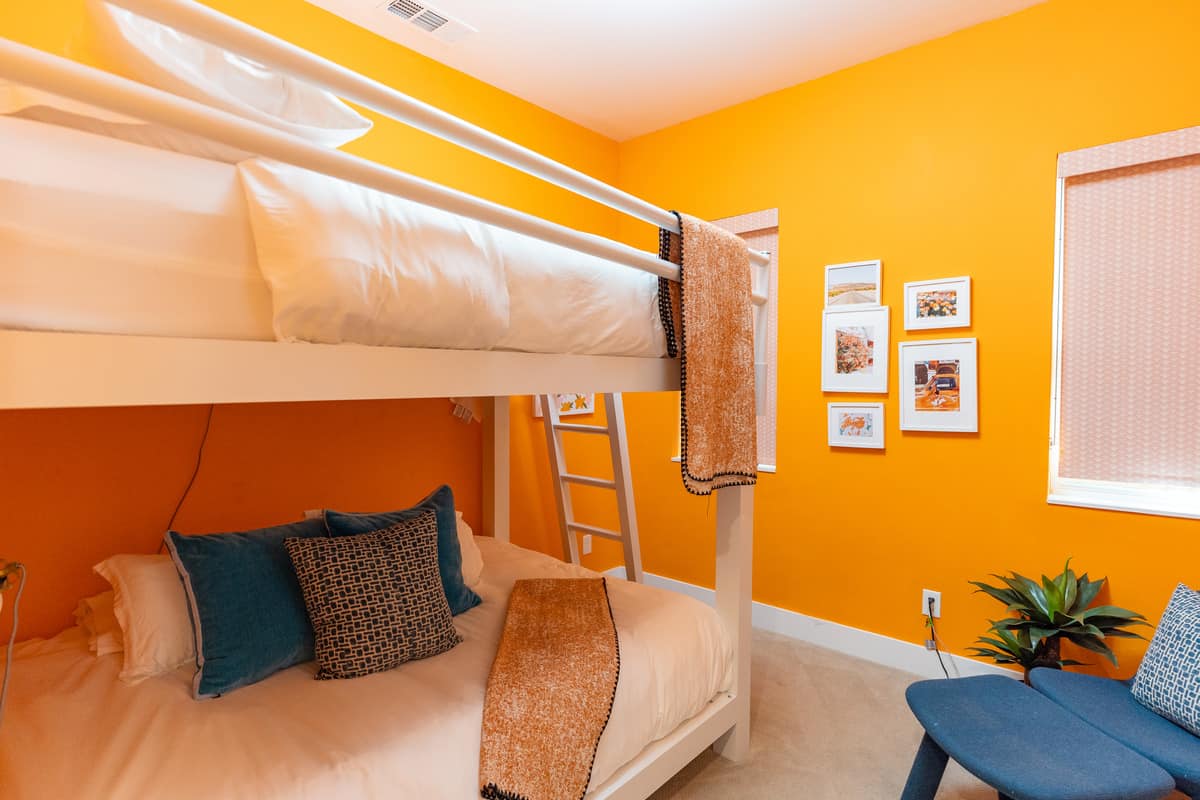 The primary bathroom is a luxurious oasis! With double sinks, unique artwork, and a shower-tub combo with its own disco ball, there's no better place to unwind (or get dolled up)!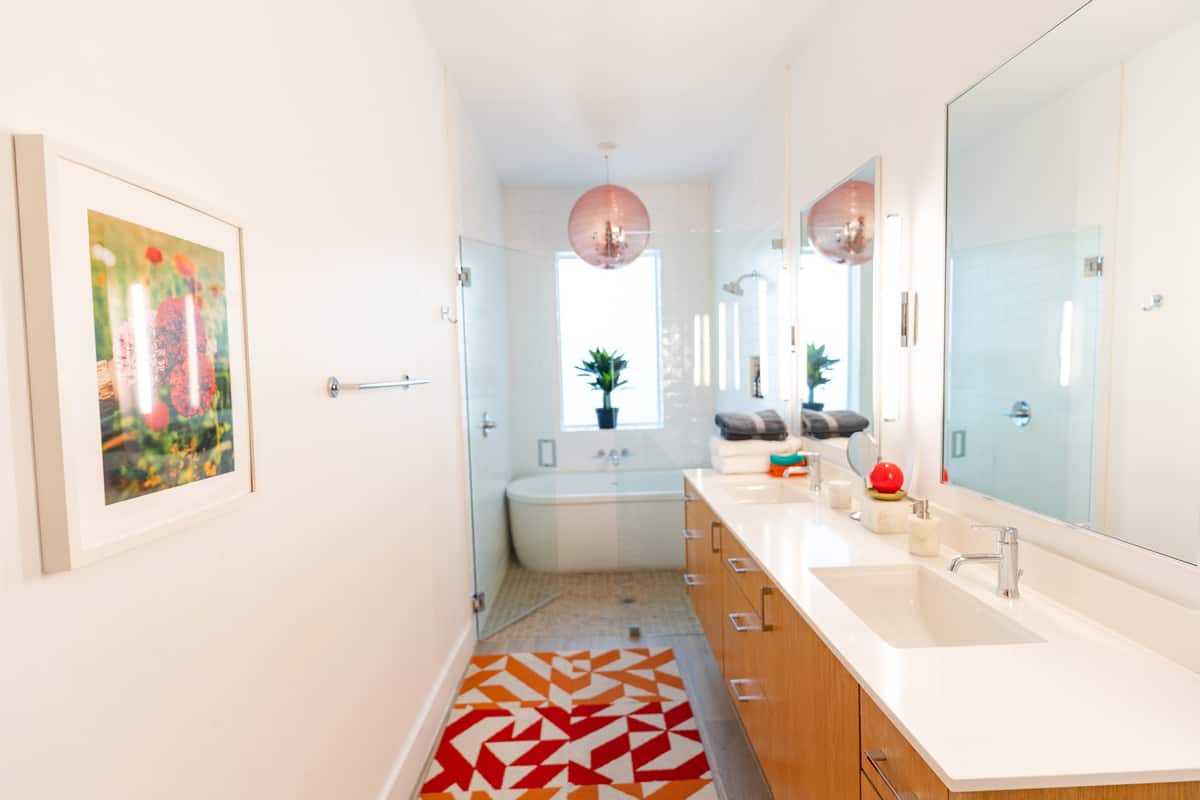 Even the bathrooms showcase the property's personality, with custom, Dallas-themed wallpaper featuring the city's iconic landmarks.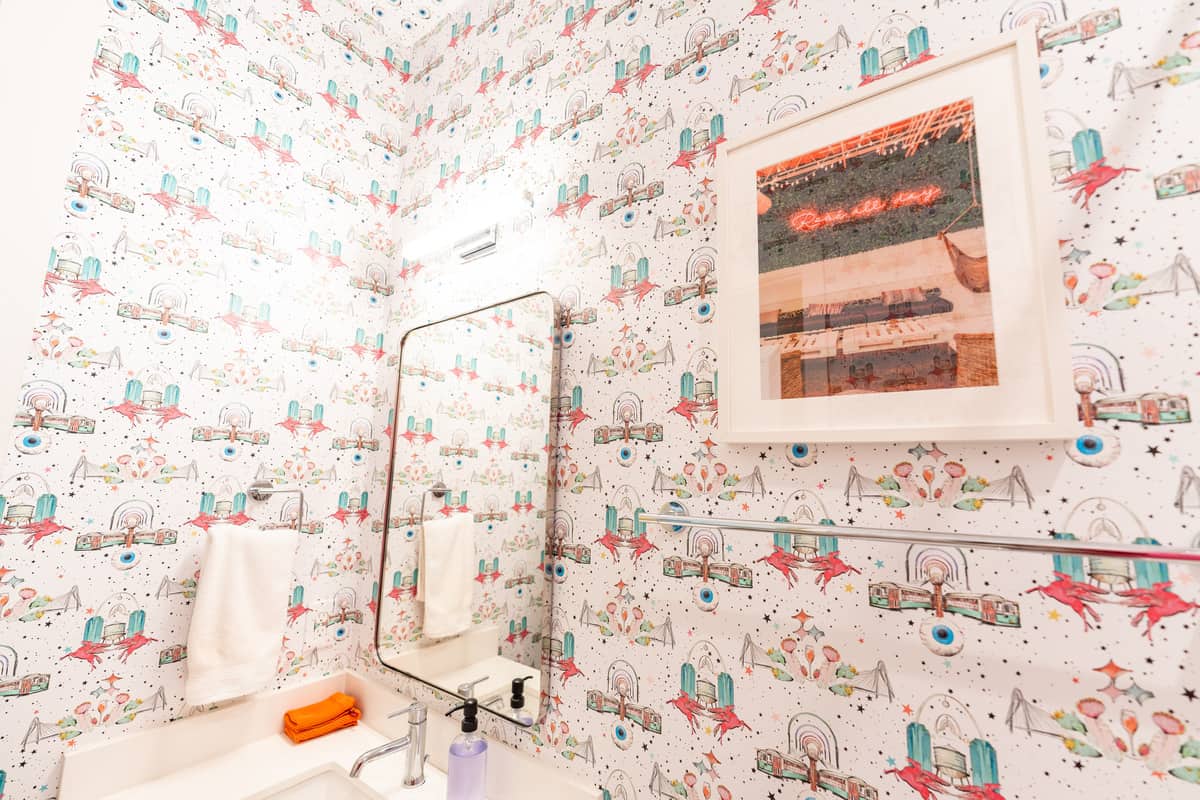 The Living Room
You won't find a better way to start your day at Stay Love List than with a cup of coffee out on the patio or basking in the sun as it seeps in through the floor-to-ceiling windows. It's also my favorite kind of lighting for snapping photos!
Guests can sink into the plush, pink couch, admire the unique art pieces, and browse through the collection of books.
There are multiple Smart TVs available, so there's no need to worry about forgoing your favorite shows! It also makes it easy to keep everyone happy or to plan a movie night with friends.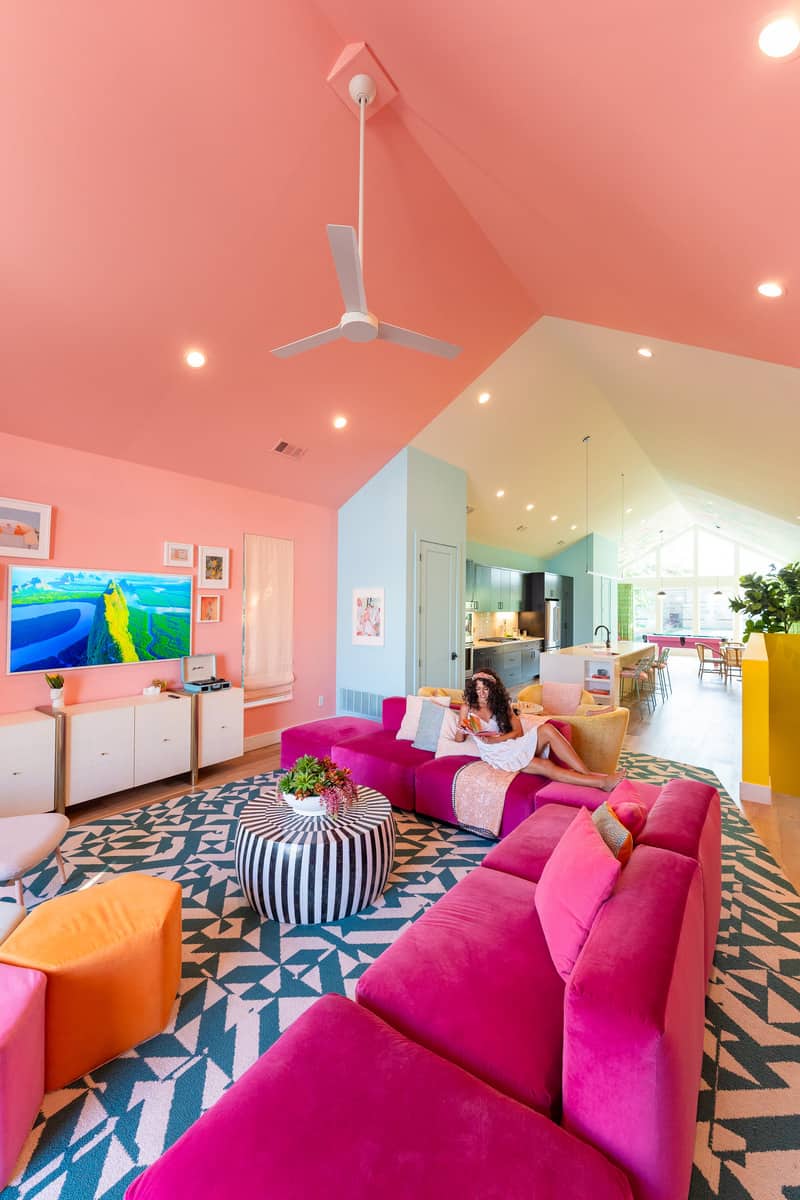 The Kitchen
Stay Love List boasts a well-appointed island with cooking supplies, plus appliances like a fridge, oven, stove, and dishwasher.
In true Dallas Love List fashion, the kitchen is stocked with an array of cocktail shakers, glasses, and shot cups. This way, guests can enjoy a refreshing beverage in style!
Please note that parties should be coordinated with the host in advance and respect for neighbors is expected.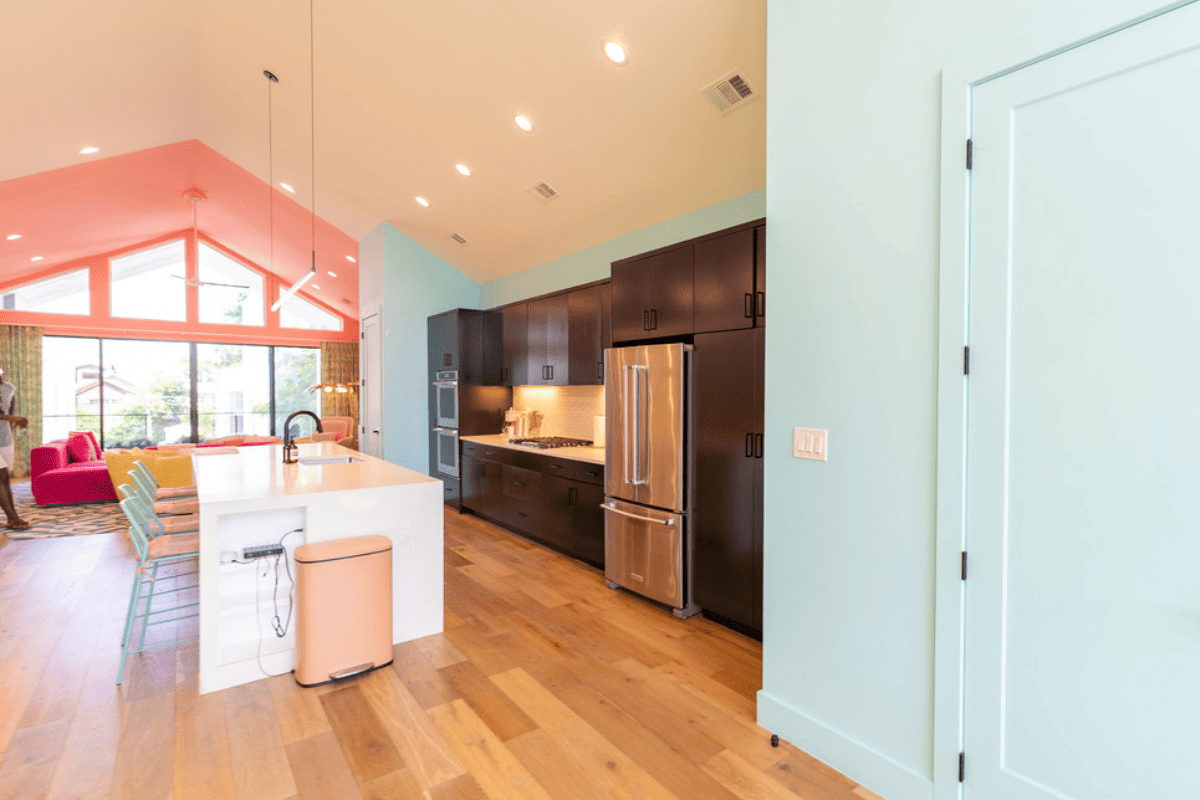 Stay Love List: Final Thoughts
Stay Love List offers an exceptional experience that seamlessly combines vibrant aesthetics, sophistication, and luxury with just the right amount of fun.
Whether it's a family vacation, girl's trip, or pre-wedding celebration, this colorful haven will make you feel right at home. Not to mention, you'll want to document your memories in every corner of this photo worthy home!
And be ready to immerse yourself in the lively spirit of Dallas while you're here! Don't forget to check out our full list of things to do in Dallas to enrich your time at Stay Love List.