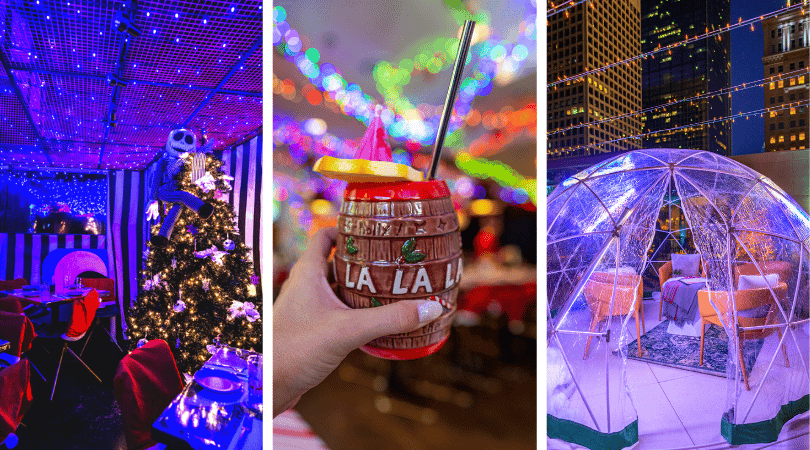 The holiday season is upon us which means… Christmas cocktails. Dallas knows how to go all out with what feels like hundreds of things to do for the holidays! And even the restaurants have gotten involved. Deck the halls with all of these amazing Christmas Bars and Restaurants to visit!
Holiday Bars and Restaurants
Leela's Wine Bar on Lower Greenville is covered in ornaments and Christmas decor, and they even have a fun Christmas drink menu such as a spiked apple cider called a "Whobe Whatty" and a "Figgy Pudding" cocktail that tastes like Christmas in your mouth!
Campo Verde – Arlington may be a drive, but the festive decor makes it worth it! Christmas tinsel, decorations, and thousands of lights practically cover every inch of the restaurant. It is worth noting, while the food was just okay, grabbing a drink at the bar is always a good option.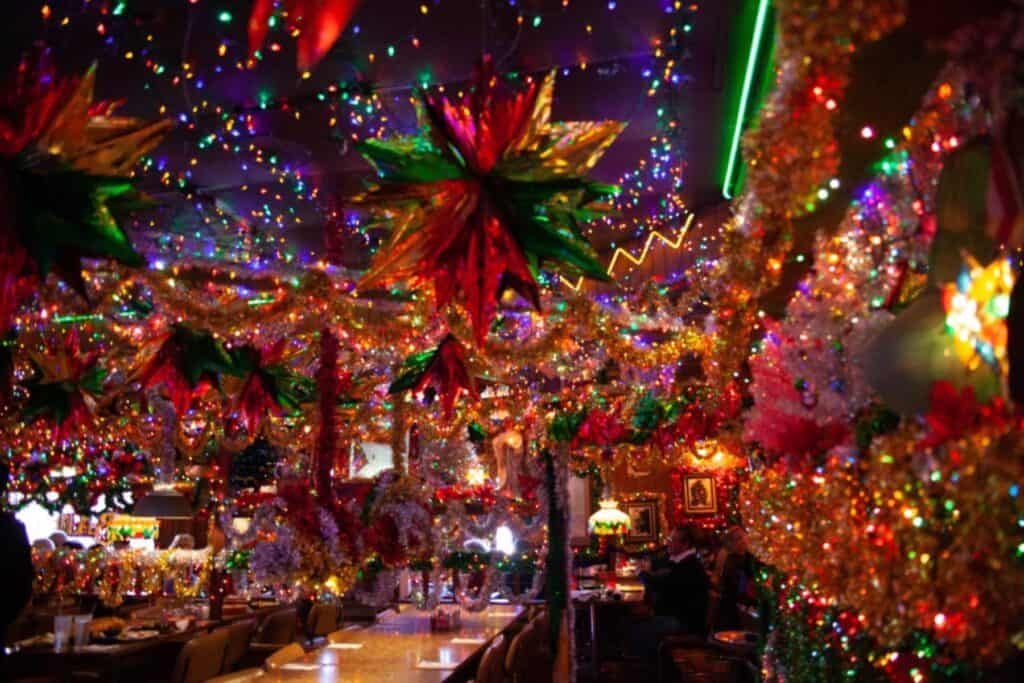 St. Henry's Winter Wonderland revamped their restaurant and cocktail bar to fit the theme of Holiday cheer and will be serving boozy cocktails and appetizers this season, like "Nog on the Rooftop" to a Fig & Ginger Mule. There's an option for everyone to indulge in! Be sure to make a reservation online.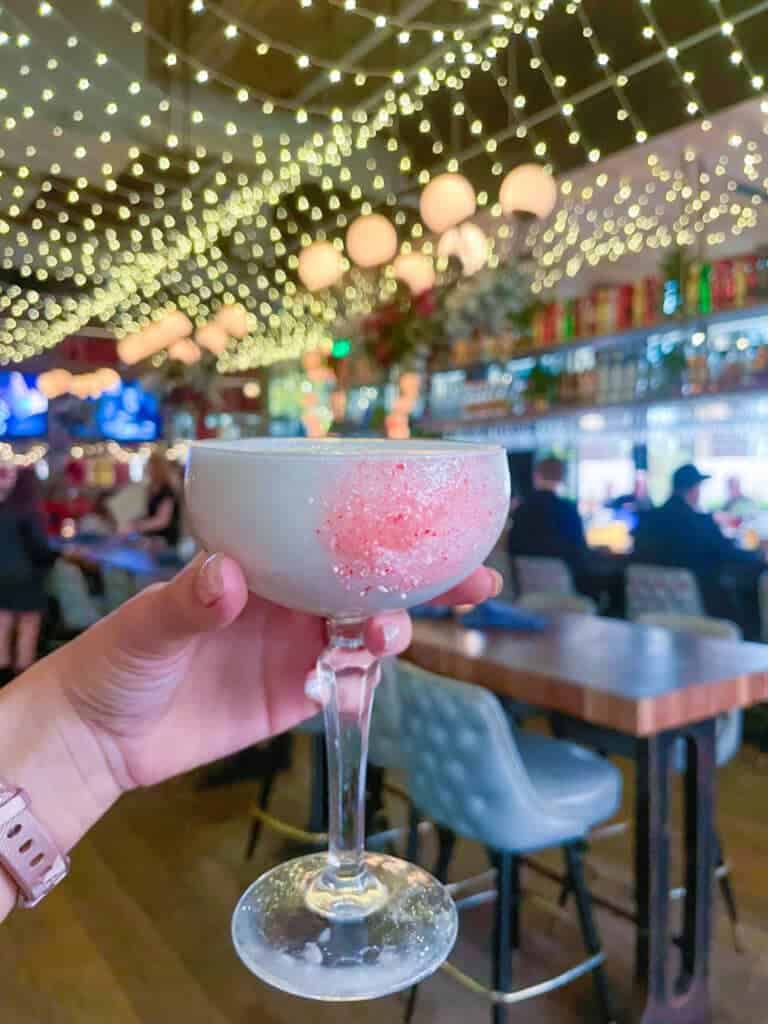 Holiday Tea at the Adolphus includes a 2-course holiday-themed afternoon tea with scones, pastries, and little sandwiches. Tea sandwiches include recipes from Queen Elizabeth herself! It's definitely something you don't want to miss as this sells out quick!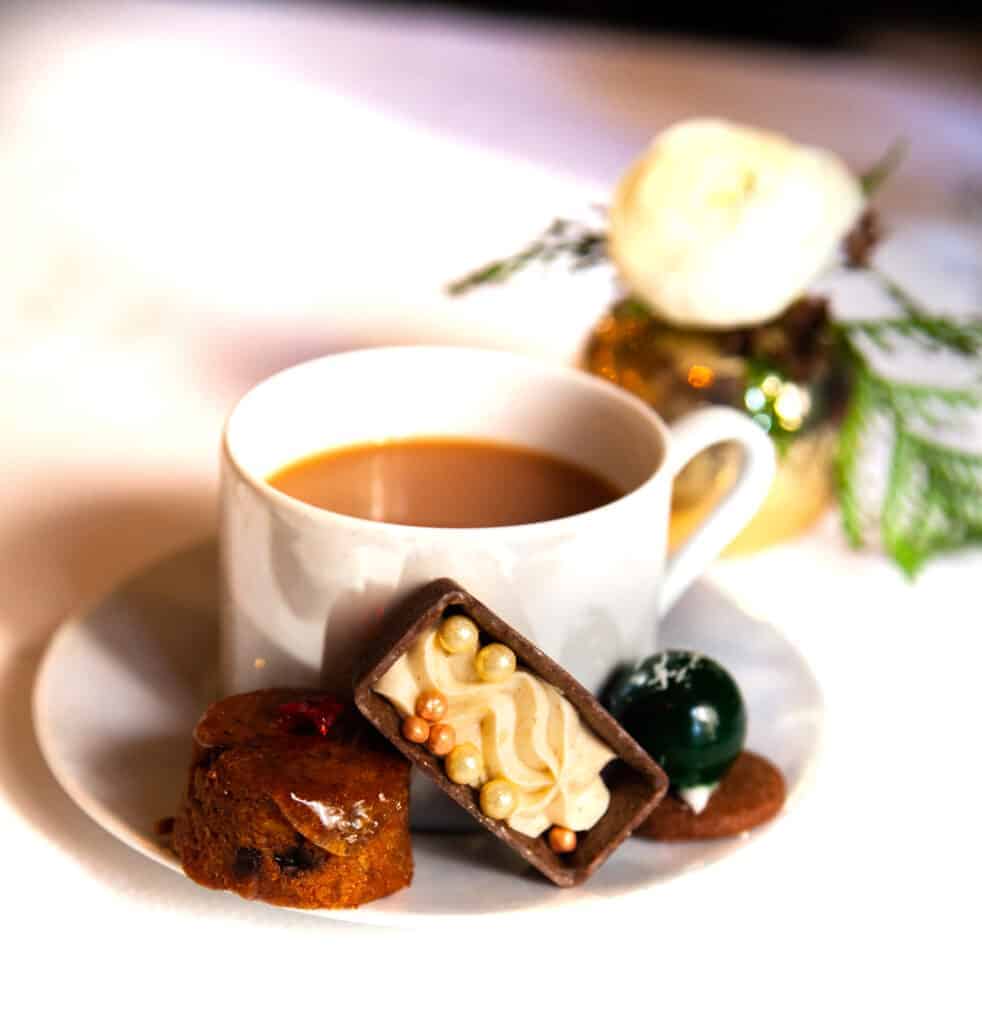 Adolphus Winter Village – After enjoying a fancy tea, you can head upstairs to the Winter Village where you'll find ornaments floating in the pool as well as heated winter cabins for enjoying food and cocktails. For more Christmas activities at the Adolphus Hotel, read about our experience during the holidays.
Hotel Vin – In Grapevine, Hotel Vin has holiday igloos you can dine in. Even better, these igloos stay up until February 14 so this is something you could do to extend that holiday spirit! There are several different dining options starting at $150 for a group of people.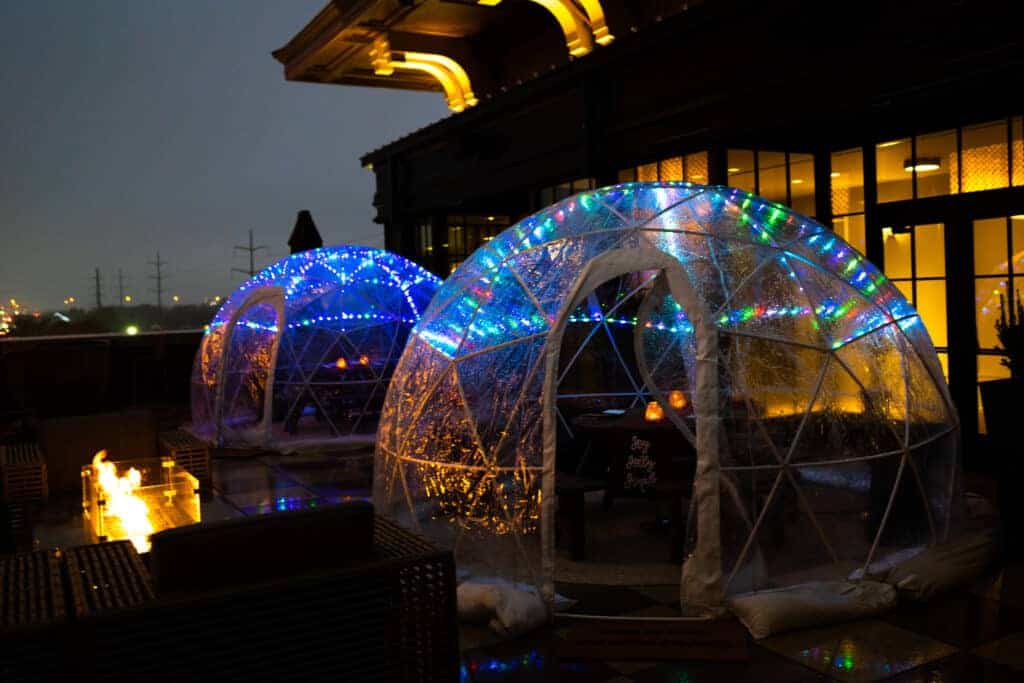 Harvest Hall – The Holly Jolly Bar is surrounded by a multitude of restaurants and just a short walk away from the Hotel Vin! Enjoy all of the drinks as well as a long calendar of special events.
The Hide Bar – Envision Santa on a beach in Hawaii. That's what the HIDE Bar Holiday theme is for this limited-time event! Their heated rooftop will host a holiday pop-up filled with boozy cocktails, beachy themes, and 'lots of fun. A few of their cocktails include Holiday on Ice, Island of Misfit Toys, and Top Shelf Elf. Nov. 11-Dec. 24, 2022
Miracle at Royal 38 – A sister brand to HIDE Bar, Miracle at Royal 38 is another festive pop-up cocktail bar in Dallas that is decorated to the nines with lights, Christmas trees, and more. The cocktails served will all be Christmas-themed, so grab a drink while you take in all the holiday cheer! A few drink items include Santa's Little Helper, Elfing Around, and Snowball Old-Fashioned. Nov. 9 to Dec. 24, 2022
Paradiso in Bishop Arts is decked out in the classiest decor this holiday season. Whether you're dropping by for brunch or dinner, the neutral glow from their white Christmas lights will be the perfect addition to your commemorative photos.
The Tipsy Elf, the holiday cocktail bar pop-up at Paradiso, is ready to party all night long this holiday season! There will be drag shows, cocktails, and other festivities to partake in. If you're looking for a wild night with some friends or want to meet some new people, this Christmas event is for you!
Sixty Vines (Uptown) – Dine in a temperature controlled, outdoor igloo equipped with a Bluetooth speaker and room for up to six people. Sixty Vines will serve you their sustainable wine on tap and tasty eats. Keep in mind there is a $200 food and beverage minimum.
Yellow Rosa – A lively Mexican Restaurant right tucked away in Deep Ellum on Nov. 23, 2022. Guests will be able to enjoy fun and festive Christmas cocktails, a photobooth, snowfall every 30 minutes, and yummy eats! Visit their website to make a reservation.
Las Almas Rotas – Celebrate Feliz Navidad with red and green metallic papel picado, tacos, and a huge list of tequilas and mezcals!
Catbird Dallas – One of the restaurants located at the Thompson Dallas, Catbird is known for showing out year-round. Walking through the entrance, you'll go under a ceiling of greenery and large ornaments before enjoying a delicious meal under the lights.
Hudson House – Dine under thousands of ornaments! You can grab dinner or drinks, but you'll definitely be feeling the Christmas cheer here!
Aussie Grind – Celebrate Christmas with a holiday twist in Frisco at the Aussie Grind where your cocktail might even come with a little koala!
Atlas – Missing spooky season and need to transition yourself slowly into the holiday season? Atlas' moody, library speakeasy has been turned into a Nightmare Before Christmas themed pop-up featuring a guest bartender and holiday decor.
Krampus Christmas – For a darker take on the holidays, head over to BlackBird Society, a speakeasy in Neon Kitten for special drinks!
Toller Patio – Although we're starting to have some chilly days, that doesn't mean drinks on the patio has to be out of the question. Toller Patio has heaters and firepits to keep you warm so you can enjoy their inflated Christmas characters and their notorious 14-foot palm trees decked out in neon lights. Your pets are welcome too!
Texas Live! at Miller Tavern – Decked out in Christmas trees of all sizes and colors, tinsel, string lights, and servers in all kinds of costumes, Miller Tavern will be hosting a holiday pop-up with themed cocktails and a variety of events, including holiday movie nights, holiday karaoke, a gingerbread competition, and holiday trivia! Walk-ins are welcome but it is recommended you make reservations to shorten your wait time. Nov. 25-Dec. 23, 2022.
Nickel City – This Fort Worth bar, with presents suspended from the ceiling, holiday lights setting the mood, Santa hat seat covers, and gift-wrapped tables, has turned into Miracle, a Christmas pop-up, serving up specialty Christmas cocktails until Dec. 30, 2022. Kids are welcome until 7PM with adult supervision.
Winterproof at the Statler Hotel – Reserve a rooftop snow globe (options for 4 to 8 people) or a table inside the rooftop lounge this holiday season for your best holiday party yet! Includes food and beverage service with a specialty, Christmas cocktail menu available.
Harpers Steakhouse -Enjoy a nice dinner decked out for the holidays with greenery hanging from above and large Christmas ornaments to set the mood.
Single Wide – Modeled after the charm of a double wide trailer, this intimate dive is decorated with Christmas lights year-round because, why take them down? We keep them on all year-long in these parts.
Fiction Coffee – You'll feel right at home, even if you're in need of a change of scenery this holiday season. Fiction Coffee (the location housed on the first floor of the Continental Gin Building in Deep Ellum) has everything from wrapped gifts under multiple Christmas trees, and cute, framed wrapping paper and bows to festive mugs and holiday drinks for you to enjoy. Be sure to pay Fiction Coffee's "Deck the Hall Street" holiday pop-up a visit while you still can!
Encina – This beloved restaurant in Bishop Arts will be hosting a Christmas Eve brunch, Christmas Eve dinner, and Christmas brunch! Indulge in pancakes and mimosas or a rich, delicate array of dishes you might encounter at Christmas dinner at home, without feeling pressured to stay and clear the table. Making a reservation online or over the phone is strongly recommended.
Bangkok at Beltline – Was hoping to get a seat for holiday tea at the Adolphus hotel this holiday season, but you were unsuccessful? Or maybe downtown Dallas is a bit too much of a drive? Bangkok at Beltline in Richardson is also hosting a Holiday High Tea with a triple tier dish full of sweet and savory goodies and different teas with each course. You can reserve your spot over the phone. Holiday High Tea will take place on Saturdays from 1pm to 4pm for $39.95 per person.
Bring Christmas Home with You
Dallas Macarons – Making fresh, naturally gluten-free macarons daily, you'll have the prettiest dessert at your next Christmas party with seasonal flavors like Mint Chocolate, Holiday Spice, Pecan Pie, and Chocolate Tangerine.
Things to Do in Dallas for the Holidays
While enjoying all the great drinks and restaurants, don't forget to check out all of the fun things to do in DFW for the holidays with so many different activities, photo ops, shows, and more!