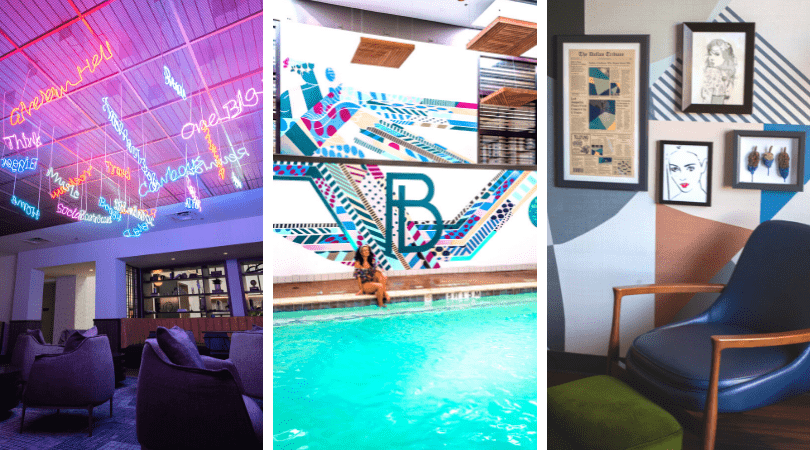 Reminiscent of the jaw-dropping hotels or the charming apartment building lobbies you might see on the big screen, the Beeman Hotel in Dallas TX is a feast for the eyes. Its indoor, heated pool; huge, on-site restaurant; its arcade-style Rhapsody Room; the comfortable and beautiful lodging options, and its placement a short 5-miles from Downtown Dallas make the Beeman Hotel an easy choice of where to stay in Dallas while enjoying all the fun things to do here.
Stay in Colorful Rooms at the Beeman Hotel
The boutique style radiates from every corner of the rooms at the Beeman Hotel: the brightly colored and geometric patterns of the accent wall behind the headboard, the twine pendant lamp in the corner over a blue leather chair that perfectly matches the shade on the walls, the wooden side table that is twisted like it's made from the branch of a tree, a retro mini fridge, and a tasteful hanging rod for your evening wear. There are even pet-friendly accommodations for you and your four-legged best friend!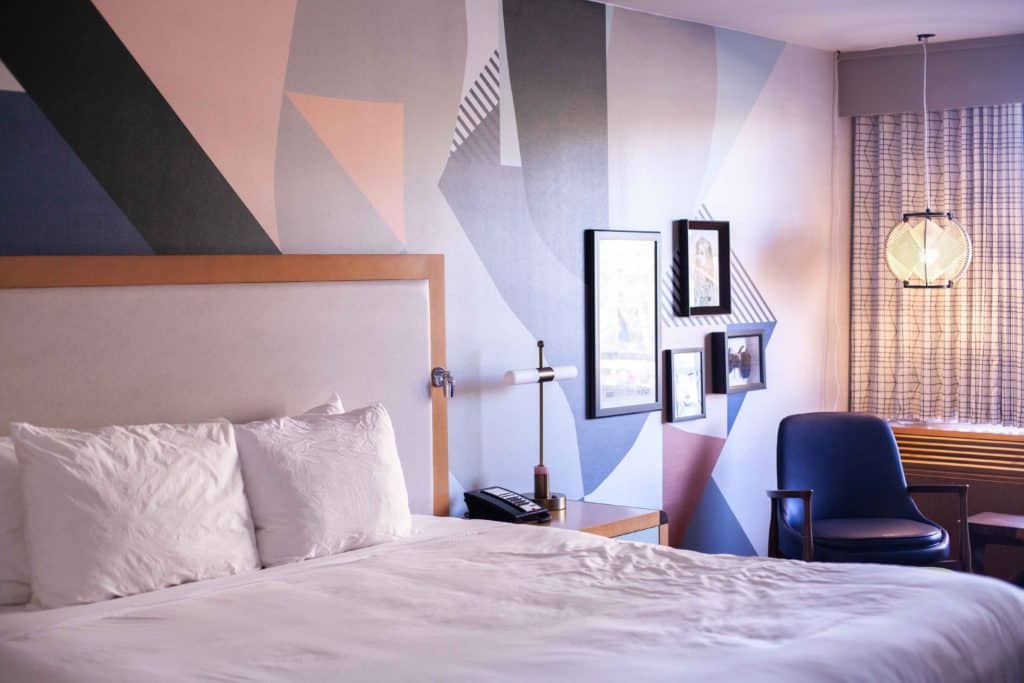 Complete with a hairdryer, iron and ironing board, an abundance of towels, shampoo/conditioner, bodywash, and even a standing vanity mirror, the Beeman Hotel has you covered in case you forget any of your staple toiletries. The bathroom even has an aqua, boho-style accent wall, a large showerhead, crisp lighting, and sliding glass shower doors.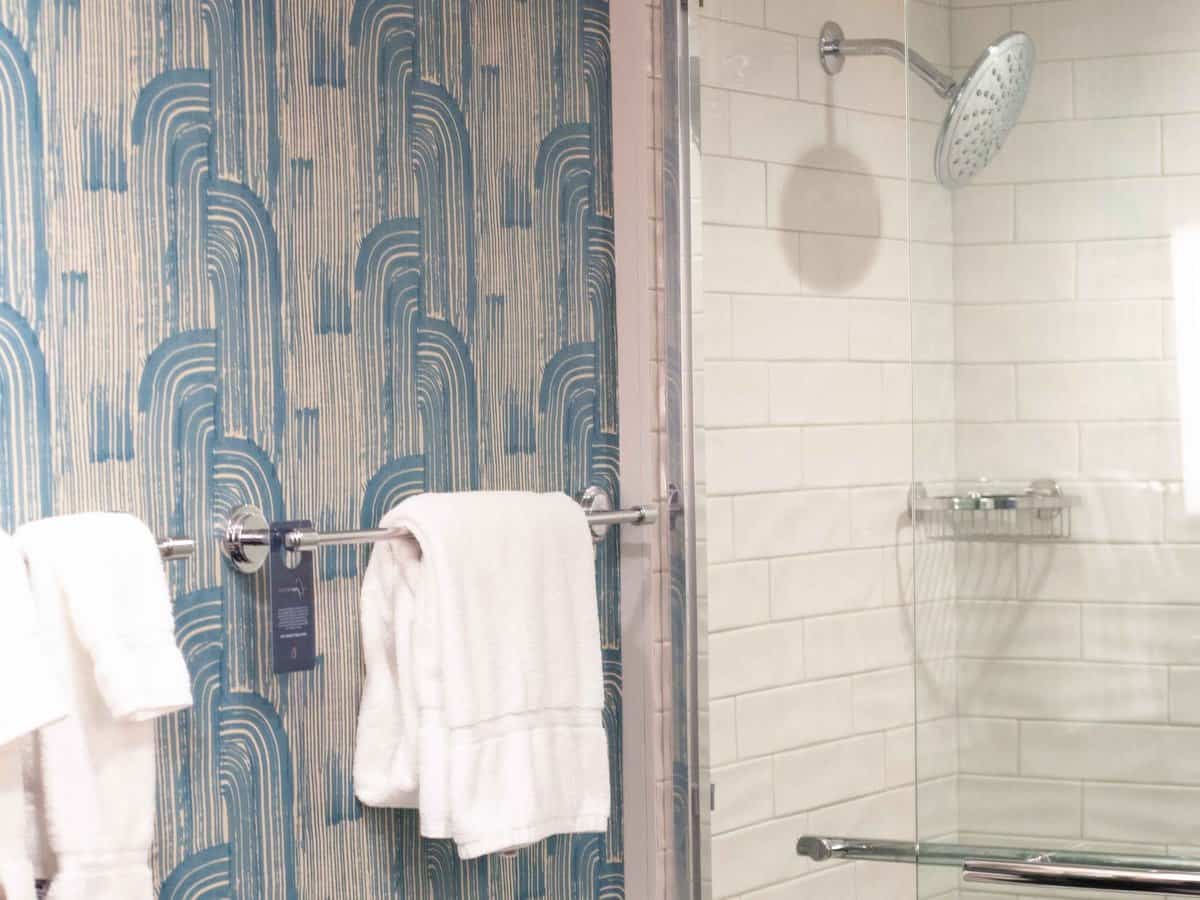 The Beeman Hotel offers several suite options as well, including accessible rooms and the infamous John Beeman Suite: there's a complimentary record player, tastefully decorated dining area, blue tile backsplash in the kitchen, a wet bar, a double-sink bathroom, and even a walk-in closet!
Swim in an Indoor, Heated Pool at the Beeman Hotel
Don't forget to pack your swimsuit if you plan to stay at the Beeman Hotel! No need to check the forecast because their pool is indoor AND heated. Its spacious with windows overhead that allow the Texas sun to leak in. Grab food or drinks from Seely's Mill just on the other side of the statement wall with the notorious Beeman "B" and the Dallas Pegasus and lounge by the pool while you enjoy.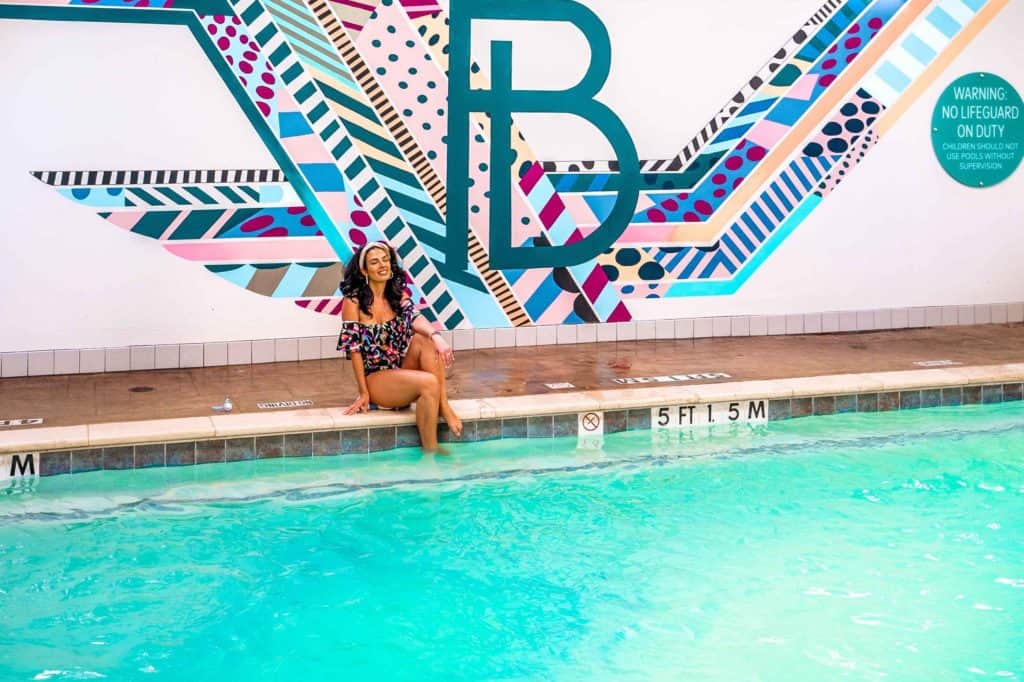 Enjoy Sophisticated Drinks & Arcade Games
Seely's Mill offers daily Happy Hour Specials, included 20% off appetizers. Although the decor of the restaurant/bar area is incredibly elegant, take a few steps over into the Rhapsody Room, a social area with a whole mood of its own. Dallas-themed neon signs hang overhead and built-in shelves with decor reminiscent of a speakeasy separate it from Seely's Mill. With a variety of seating, including booths for larger groups, and even free-play arcade games, the Rhapsody Room is artistic and fun to say the least.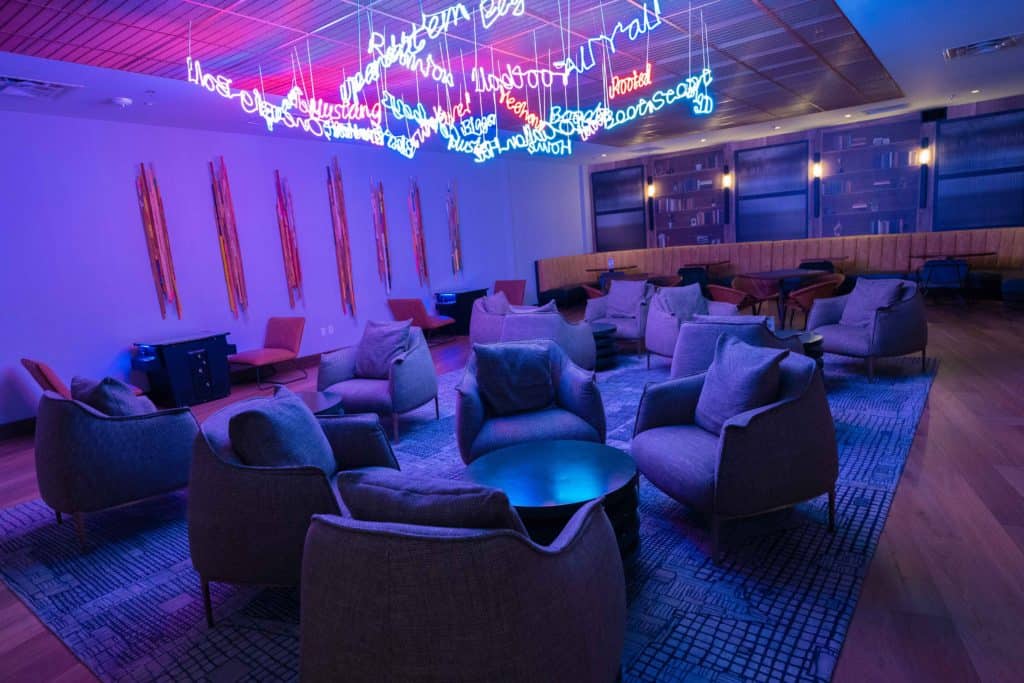 During the weekday, when the hotel is quiet, Seely's Mill and the Rhapsody Room are great places to read or get work done for a change of scenery. There's also a 24-hour business center for any of your photocopying, faxing, or work-from-home needs.
Where to Eat at the Beeman Hotel
Whether you have to be up early or you're sleeping in for a few extra hours, Seely's Mill awaits you downstairs to serve you a delicious country-style breakfast. Open from 6am until 10am, you can choose breakfast items like Biscuits & Gravy, the Texas Waffle, or the Beeman Breakfast with a little bit of each of your favorites. They also serve a la carte breakfast sides and local coffee drinks. If you aren't feeling like changing out of your PJ's, you can have your Seely's Mill picks delivered to your door.
For dinner, look at ordering their Nashville Hot Chicken & Waffles, Chopped Brisket Sandwich, or their Street Tacos. Choose from fried catfish, smoked chicken, or chopped brisket. You can even order one of each! They also offer in-house smoked meats sold by the .5 pound! Their desserts include Milk & Honey Ice Cream, made from local Texas milk and honey, and their Boot Scoot Brownie Sundae. There is even a huge TV and fireplace built into the wall with luxurious armchairs for your gameday activities and a gorgeous patio that is lit by string lights at night.
If your late-night cravings pay a visit, the Beeman Hotel has a selection of drinks, adult beverages, snacks, and even a microwave available for your convenience. Simply check out at the front desk and charge it to the room.
Things to Do Near the Beeman Hotel
The Beeman Hotel is conveniently located near Dallas Love Field Airport, the Mockingbird Station shops, and is only a short drive from Downtown Dallas destinations like Klyde Warren Park, the Dallas Farmer's Market, and Deep Ellum, making it the perfect place to book a room while you experience all the things to do in Dallas. Checkout the Beeman's partnerships on their website to further enrich your stay in Dallas!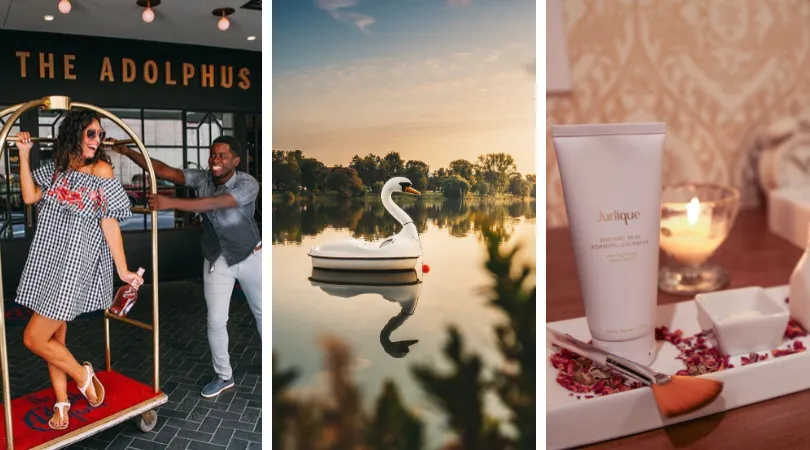 Review of the Beeman Hotel: Final Thoughts
Dallas is home to several amazing hotels, but the Beeman really is something special: a boutique-style, luxury hotel that combines Dallas' love for speakeasies, arcade games, neon lights, Southern-style cooking, local businesses, and tasty crafted drinks. Its proximity to Downtown Dallas and the community surrounding SMU, the Beeman Hotel is where you must stay to get a well-rounded taste of what Dallas is all about.