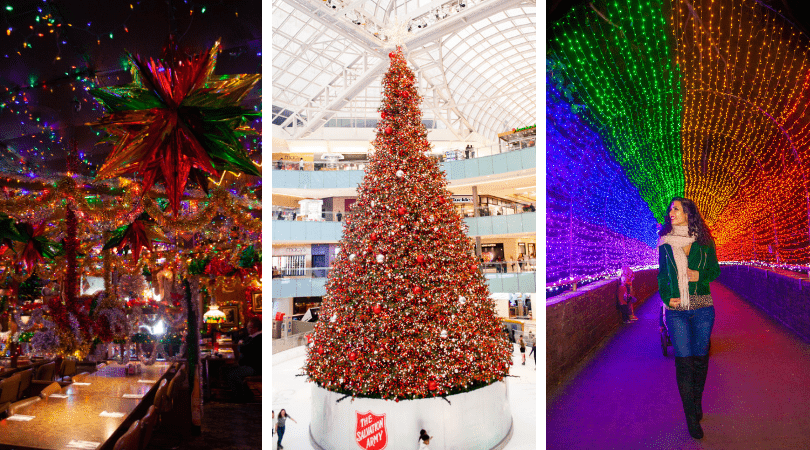 The holidays are right around the corner, and for many, that includes holiday shopping, dinner parties, and other Christmas things to do in DFW! Take some time for yourself and your loved ones this holiday season and participate in all of the Christmas activities in DFW in 2022! From classical holiday music to Christmas pop-ups, DFW is devoted to a gleeful and magical holiday season this year. Read on to learn about the endless Christmas things to do in DFW, including Christmas bars and restaurants and start planning some festive-filled adventures with the family! We also have holiday guides for Austin, San Antonio, Fredericksburg, and Houston.
Christmas Things to Do in DFW: Celebrate at the Galleria Mall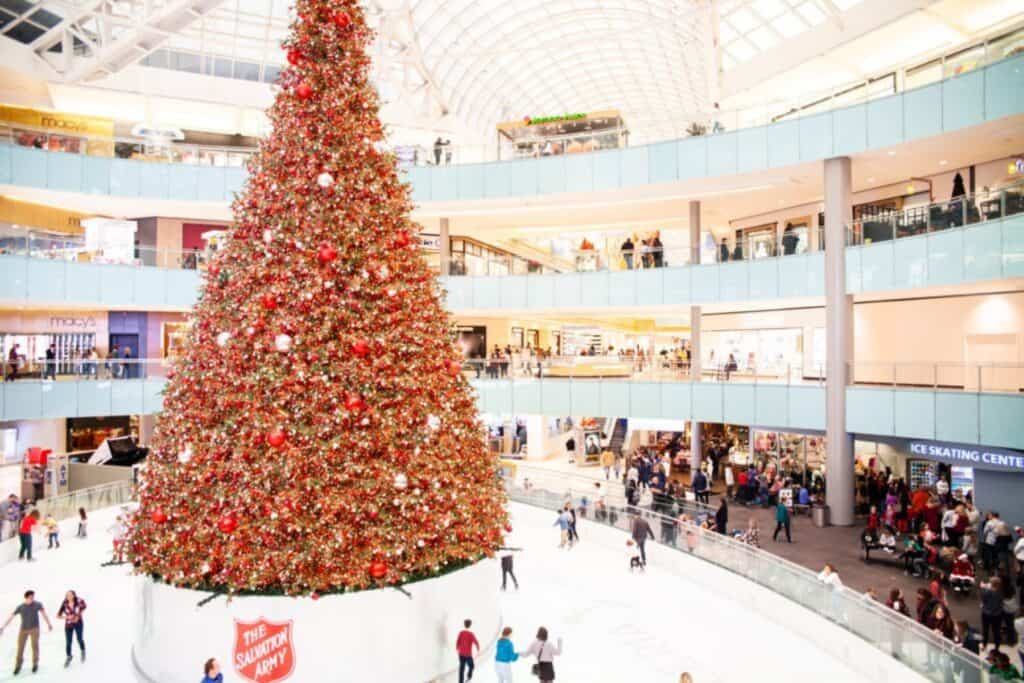 For information such as scheduling and ticket pricing (if applicable), visit their website.
Time it right and you can get some amazing photos as snow falls near the main entrance that faces the North Dallas Tollway. Monday through Thursday at 5PM and 7PM, Friday and Saturday at 2PM, 5PM, and 7PM, and Sunday at 2PM and 5PM, through Dec. 24.
Slappy's Holiday Circus is going to be a night to remember this Christmas season. Enjoy a European Circus show with festive puppets, magicians, clowns, contortionists, and jugglers throughout the evening! You can catch it Nov. 25, 2022 – Dec. 17, 2022, at 1 pm and 3 pm. FREE!
Listen to a story told by Mrs. Claus herself! She has prepared her favorite classic Christmas stories to share with you. Nov. 26, 2022 – Dec. 17, 2022, at 11:30am. FREE!
Over 60 local groups will perform holiday favorites throughout the center. The dates are Nov. 28, 2022 – Dec. 16, 2022, & Mon- Fri 11 am, 1 pm, 3 pm, and 5 pm. FREE!
Holiday Trains – Visit the Galleria to see an entire village with holiday trains.
The Grand Tree Lighting is a merry celebration that features a festive ice-skating show with fireworks to end the night. There will be Olympic skaters, Mistletoes, and Santa on skates. The Dallas Galleria Mall is also home to one of the largest indoor Christmas trees! Events will be Nov. 25, 2022, at 12 pm & Nov. 26, 2022, at 6 pm. FREE! <Watch Video>
Kick off the holidays with a holiday ice skating performance to benefit for the Family Place organization and Broadway Dallas. The Grand Holiday Ice Show will be hosted on Dec. 4 & 11, 2022 at 9 am. Reservations are $150 for an "igloo" fitting up to 6 guests.
The Illumination Celebration is a special music and light show. The dates are Nov. 25, 2022 – Dec. 24, 2022 – 12 pm, 2 pm, 4 pm, and 6 pm. FREE!
Get All of Your Christmas Photos at Snow Day
Looking for an interactive Christmas photo opportunity? Snow Day is a festive photo pop-up with so many different rooms and exhibits perfect for family and Christmas photos as well as a magical train ride that takes you to see Santa!
Christmas Things to Do in DFW: Celebrate with 'Lots of Food & Festive Drinks
DFW has no shortage of holiday bars and restaurants! So many in fact we had to dedicate a whole post to it. Read about all the festive places to dine and drink in DFW!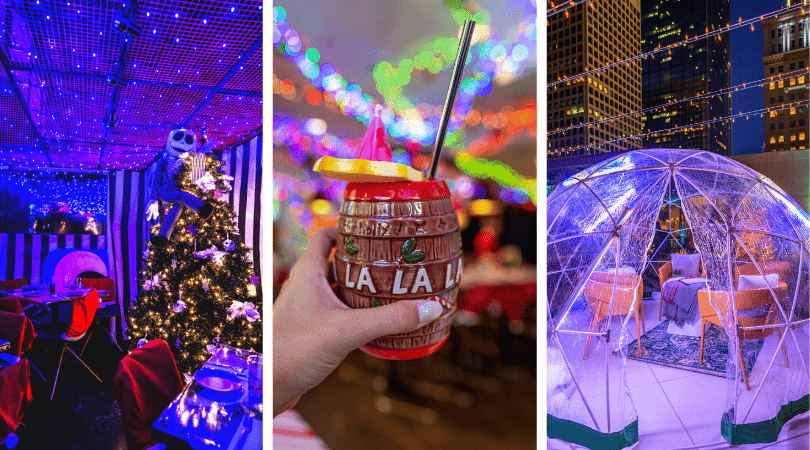 Christmas Things to Do in DFW: Christmas Shows
Short Term Performances
Espresso Nutcracker – The Dallas Black Dance Theatre will be hosting the Espresso Nutcracker with in-person and virtual tickets available. Dec. 10th, purchase online!
Mariachi Sol de Mexico de Jose Hernandez – Celebrate the holiday season at the Majestic Theatre with a unique and cheerful rendition of Christmas hits with a Mexican flare. Dec. 11, 2022, from 7:00 pm to 10:00 pm. Prices: $41-$78, purchase online!
19th Annual Holiday Extravaganza – Come support local band, the Polyphonic Spree, at the Majestic Theatre as they take your holiday favorites to an entirely new level with a choir, wide array of instruments, and the addition of pop and rock sounds. Tickets can be purchased online. Dec. 17, 2022, doors open at 6PM.
Christmas Themed Burlesque Show – The Holiday Soiree, "From Behind the Bookcase," will consist of fancy holiday cocktails, delicious food, and an unbelievable Burlesque! Dec. 21, 2022! Visit their website!
Nutcracker at Bass Hall – Another option for a Nutcracker performance. With puppet shows, eye-catching acrobatics, and stunning costumes, this performance will be one to remember. Dec. 26, 2022, 3:00 pm & 7:00 pm. Tickets: $59-$592. See their website.
Trans-Siberian Orchestra – "The Ghost of Christmas Eve" on Dec. 28, 2022, 3pm and 7:30pm. $75. Purchase here.
Ongoing Performances
The Nutcracker – performed by Avant Chamber Ballet. This classic Christmas-themed story told through theatrics and dance is one that you will not want to miss out on! The dates are Dec. 9-11, 2022, 7:30 pm – 9:00 pm. Tickets start at $30 and can be purchased on their website.
Dallas Symphony Christmas Pops – An annual tradition, this includes musical tunes of all kinds from the most talented classical musicians in Dallas. There will be a surprise appearance from Father Christmas himself along with snow throughout the show! Purchase tickets here.
Christmas Things to Do in DFW: Give Back
The Salvation Army Angel Tree will be at the NorthPark Mall from Nov. 4 to Dec. 3, 2022. This wonderful concept gives back to the local community through gifting this holiday season. You can choose your angel until Dec. 3 and drop off your Christmas presents at the Salvation Army by Dec 4. This way, they can be delivered to children and families on Christmas for a beautiful surprise! Learn more online.
Christmas Things to Do in DFW: Free Christmas Lights
Park Cities (Dallas) – For some FREE lights, check out Park Cities who know how to put on quite the Christmas light display. Follow the map to hit up the coolest houses. Watch the video.
Vitruvian Lights (Addison) – Admire and take photos in front of the lights through Vitruvian Park. Nov. 27, 2022-Jan. 1, 2023.

Frisco Main Square:

Whether you want to do a quick drive through, or you'd like to park and admire awhile, the lights at the Frisco Main Square include a giant ornament you can walk inside, huge stars, reindeer, nutcrackers, a "Santa" sign, and a coordinated light show set to music. If you're admiring from your car, turn the radio station to 107.3 FM.
Grapevine Santa House – The front yard of this local home is populated with more than 1,000 blow molds that homeowner, Murillo, created himself! It's a fantastic place to take unique holiday photos and, more importantly, to do some good this holiday season. Murillo is dedicating his holiday display to raising money for GRACE, a non-profit dedicated to giving the gift of Christmas to local families in need. The GoFundMe will be posted on-site, and you're encouraged to get up close and personal to get the perfect shot! 3373 Spruce Lane, Grapevine, through Dec. 29th, 2022!
The Burkman Holiday Home (Frisco) – This decked out home features something new every year, making it a fun surprise when you've visited multiple years in the row and are just waiting to see what they'll do next. This year, you can expect a Christmas village set-up in their garage. There will also be over 300 lawn decorations and 70,000 Christmas lights with Christmas music to accompany them. Every year, the family also collects clothes and toys that they donate to Hackberry Elementary School's family services. They also raise funds for two local families who care for someone with special needs. 3809 Hazelhurst Drive, Frisco.
Christmas Things to Do in DFW: Best Ticketed Christmas Light Shows
The Lights Park (several locations) – For a pet-friendly experience from the comfort of your car, check out the Lights Park with millions of lights that are synced to music! Admission is by car, so bring as many people as you can!
Dallas Zoo Lights – Things get a little wilder once the sun goes down at the Dallas Zoo! During the holidays, the zoo is covered in lights, animals and animals in bright colors. They have Santa, crafts for the kids, and performances for a festive evening.
Lightscape at Fort Worth Botanical Gardens – Walk a one-mile trail full of Christmas lights and artistic displays while enjoying roasting marshmallows and hot chocolate on-site. Tickets can be purchased online. Nov. 18, 2022-Jan. 8, 2023, on select nights.
Gift of Lights at Texas Motor Speedway (Fort Worth) – Explore two-miles of the Texas Motor Speedway that will be covered in millions of Christmas lights for a show like no other. Purchase your tickets online. Every night during the month of December, 6PM to 9PM or 10PM depending on the day.
Prairie Lights (Grand Prairie) – Start your night off with over 4 million lights decorating Lynn Creek Park before hopping out of your car for some additional fun! There will be photos with Santa, carnival rides, carnival food, vendors, and another walk-through holiday display! Pricing is by vehicle and includes the Christmas carnival at the end! Tickets can be purchased online. Nov. 24-Dec. 31, 6PM to 10PM.
Lights on the Farm (Plano) – Heritage Farmstead Museum will have a quarter-mile trail of Christmas lights, hot cocoa, kettle corn, s'mores, a 20-foot Christmas tree, and photos with Santa. Tickets can be purchased online. Nov. 25-Dec. 30, 2022, hours vary.
Sea Life Grapevine's Winter Wonderland – Alongside their educational programs and a 2D Winter Wonderland experience, this DFW aquarium will also be decorated with thousands of holiday lights! Santa and his right-hand elf will also make an appearance as they go for a deep dive (on select days). Tickets can be purchased online. Nov. 25, 2022-Jan. 8, 2023.
More Christmas Things to Do in DFW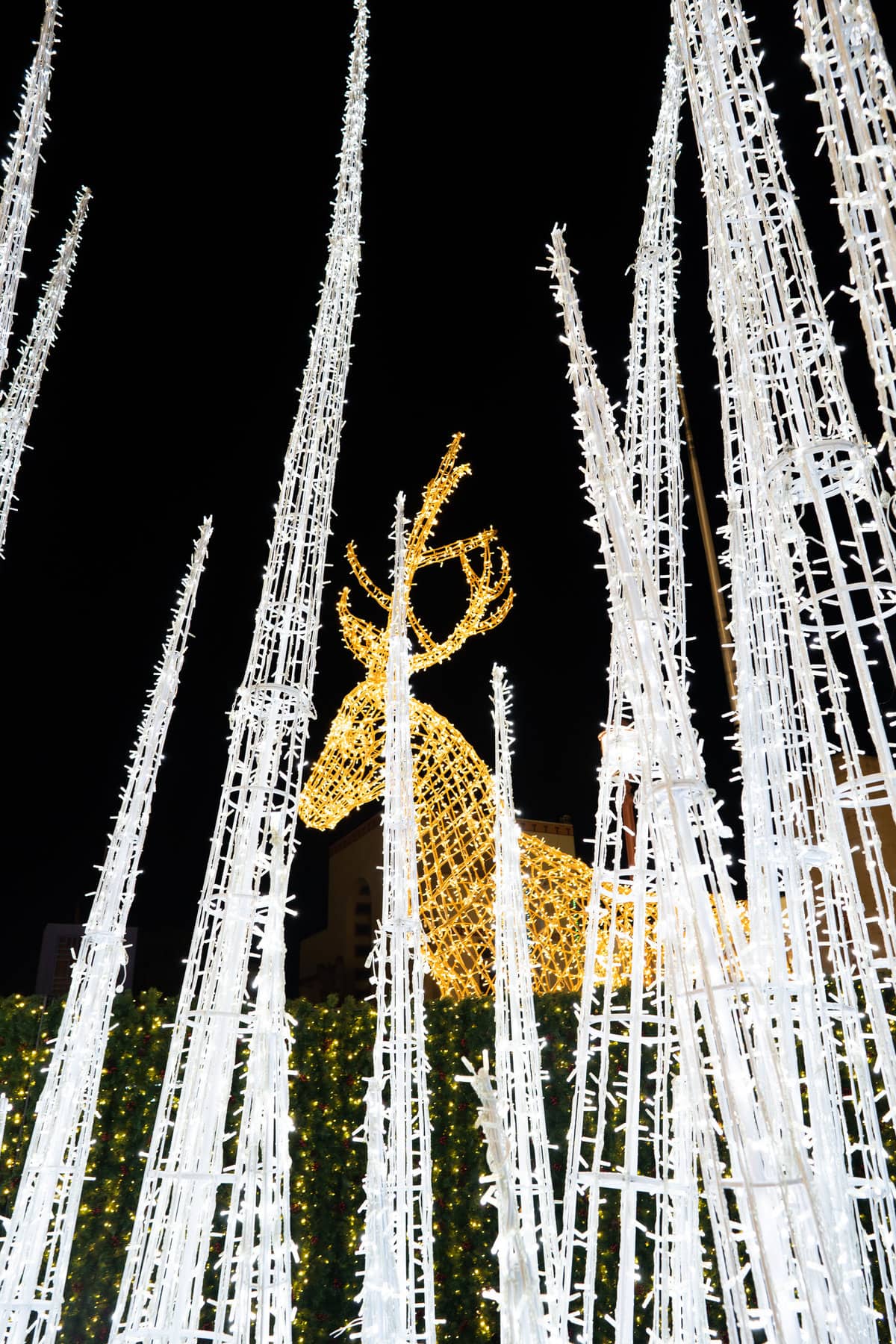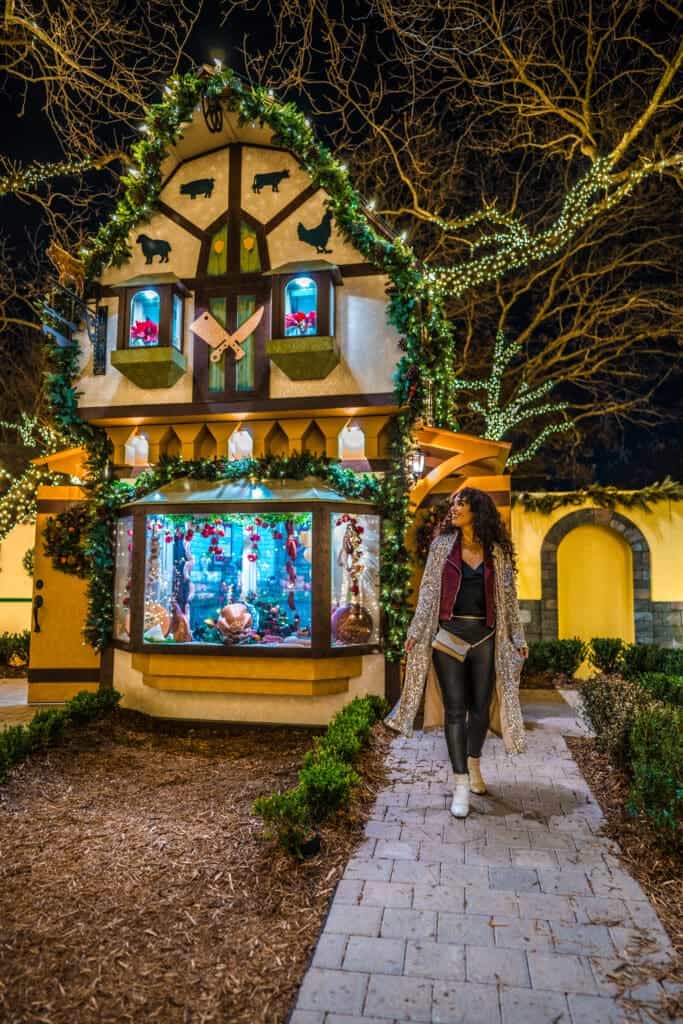 BFF Bingo (Deep Ellum) – Don't have many friends that are willing/able to go to all these fun Christmas things to do in DFW? Make some new ones at Westlake Brewing Co. in Deep Ellum at BFF Bingo! Through a method similar to speed dating, mixed with a little bit of Bingo, you're bound to meet lifelong, local friends to make plans with on the regular! Tickets are $15. Dec. 13, 2022, 6:30PM to 8PM.
A Holiday Ladies Night (Deep Ellum) – Make this event at Deep Ellum's Postino Wine Cafe the first of many outings with your new girlfriends! There will be, of course, wine, food, and a live DJ; the perfect place to commemorate the occasion with 'lots of festive photos! Tickets are $10. Dec. 14, 2022, 6PM to 9PM.
Experience the Grapevine Vintage Railroad – Grab a ticket and experience the magic of the Grapevine Vintage Railroad with its Christmas decor and Southern hospitality. On the Christmas Wine Train, you'll receive complimentary bites and dessert, two glasses of wine, and a souvenir glass, plus a tasting experience inside one of Grapevine's many tasting rooms. The After Christmas Train will transport you to the Fort Worth stockyards for a look around, as well as the "Great Train Heist," where you'll help catch a bank robber! Tickets can be purchased online. Christmas Wine Train: Dec. 8, Dec. 15, 2022. After Christmas Trains: Dec. 26-30, 2022.
Four Weeks of Christmas (Plano) – The Angelika Film Center in Plano will be featuring Christmas-related films every Wednesday during the month of December. Purchase your tickets online. Dec. 7: Gremlins; Dec. 14: Bad Santa; Dec. 21: Love Actually. All showings are at 7PM.
"Holiday Magic" at Grandscape (The Colony) – While you're knocking out your holiday shopping, make plans to participate in these holiday activities hosted by Grandscape. Choose from a Christmas charcuterie workshop, a paint & sip workshop, a meet and greet with Santa (plus complimentary photos and snacks), and a Polar Express pajama party with a train ride, Santa, hot cocoa, and a screening of the Christmas classic, the Polar Express. See their website for scheduling and to purchase tickets.
Holiday Igloos at the Art Park (Trinity Groves) – Enjoy the luxury of the Art Park's pop-up igloo, surrounded by fire pits and Christmas lights, as you enjoy seasonal cocktails in the cutest cups. Seats are first-come, first-serve including the bubble igloos. Dec. 1, 2022-Jan. 1, 2023.
Christmas Things to Do in DFW: Where to Take Christmas Photos
Santa Claus and his Pecan Reindeer (Dallas) – Located inside the NorthPark Mall near Neiman Marcus, is a great photo opp. While you're out shopping for your loved ones, be sure to swing by to check out this stunning holiday display and take some cheerful pictures!
Mockingbird Station (Dallas) – With a colorful, "under the sea" themed holiday display, you can get some unique holiday photos here!
Dallas Farmer's Market – Enjoy this gorgeous Christmas photo opportunity with a bench out front and Christmas trees all around.
Legacy West (Plano) – You can expect several bright and unique holiday displays, including a Sweet Tooth Hotel pop-up, live music, small business pop-ups, and kid's crafts. See their website for the full schedule.
Legacy Hall (Plano) – Attend a free Elf movie night and their 1st Annual Toys & Tunes with live music and a visit from Santa! Check out their list of events for dates/times and to RSVP for free.
Farmers Branch Manske Library – The kiddos will enjoy a 'Twas the Night Before Christmas story time, Christmas cookies, crafts, and a visit with Cowboy Santa. Dec. 7, 6PM to 8PM.
Farmers Branch Historical Park: Exhibit Tours – Tour the themed, freshly decorated grounds and learn a little about a piece of literature or a time in history with a Christmas twist. Dec. 3, 9, 10, 16, 2022, at 2:30 PM and 6:30PM.
Farmers Branch Aquatic Center: Letters to Santa – Continue you the tradition of writing letters to Santa. Drop your family's letters off at the Margaret Young Natatorium and you can expect a reply from Santa himself! Drop off between Nov. 11 & Dec. 9 at 14032 Heartside Pl.
The Grove at Mustang Station (Farmers Branch) – Attend the annual tree lighting ceremony with accompanying fireworks, ice skating, concessions, and other attractions Dec. 3 (5PM to 9PM). The Holiday Marketplace will also have ice skating, Santa, live music, and kid-friendly activities Dec. 10 & 17 (5PM to 9PM) for your last-minute holiday shopping needs. The Dec. 17th market will feature Latinx music and holiday traditions.
Plano has quite the list of holiday activities that it's hard to keep up! Visit their website for Dicken's Christmas, a haunted holiday mansion, an ugly sweater bar crawl, amazing performances and so much more!
12 Days of Deep Ellum – Dallassites 101 has planned 12 days' worth of festive, FREE activities for you this holiday season at various businesses around Deep Ellum, including crafts, karaoke, shopping, tastings, and more! RSVP for the events that interest you individually online. Dec. 4-Dec. 16, 2022, hours vary.
The Christmas Extravaganza at the Star (Frisco) – Take a photo after the lighting of the Star's 67-foot-tall Christmas tree, stay for live performances by the Dallas Cowboy cheerleaders and more, plus Santa and some former Dallas Cowboys will also be making an appearance! Nov. 18-Dec. 17, 2022, beginning at 6PM, in the Tostitos Championship Plaza. Free.
Grandscape (The Colony) – Come out for your favorite Hallmark Christmas movies at the Topo Chico Hard Seltzer Stage & Lawn every Wednesday through Dec. 21st from 6:30PM to 8:30PM. Free. While you're at it, check out the fountain's 3D, synchronized light show (beginning at 7PM at the top and bottom of every hour), along with the rest of Grandscape's Christmas decor.
The Village (Dallas) – Make your holiday photos a little sweet with photo ops along the Village's Gum Drop Lane at their Sweet Season pop-up. Month of December from 8AM to 10PM daily in Canopy Park.

You can also take photos with Santa and enjoy candy, hot cocoa, llamas, and live music at the Village Square. Dec. 10, 5:30PM to 8PM.
Additionally, there will be a free ornament crafting station in Canopy Park. Fridays, 6PM to 8PM.
You can also make ornaments and pose for photos with elves on Village Glen Drive. Weekends in December, 12PM to 2PM.
Christmas Things to Do in DFW: Go to a Parade
Dallas Holiday Parade is a festive way to ring in the holiday season! A traditional outdoor parade is hosted for the entire city to take part in. There will be parade treats, merchandise, and more! Dec. 3, 2022, at 10:00 am. $25-$100. Visit their website for more info!
Santa & Friends on the Move (Farmers Branch) – The local fire and police department will be escorting Santa along a parade route on two separate days. Dec. 3 & Dec. 17. Parade route map can be found online.
March of the Toys (Plano) – Attend downtown Plano's first holiday parade since the pandemic and a Toyland festival to follow with Santa, food trucks, a kid zone, crafts, and local vendors. Dec. 10, 2022, 9:30AM to 1:30PM.
Christmas Things to Do in DFW: Shop at a Christmas Market
Decorator's Warehouse (Arlington) – Known as Texas' #1 Christmas Store, Decorator's Warehouse in Arlington, TX is a hot spot for locals and visitors to come out and shop for the most festive finds at a great price! They have 12 weeks of sales leading up to Christmas with special holiday collections like their Gingerbread Collection, Santa's Sweet Shoppe, & more!
Texas Christkindl Market (Arlington) – The largest open-air holiday market in the Southwest, the Texas Christkindl Market will be hosting several local vendors, St. Nikolaus (hours vary), children's activities inside the Kinder Kids Root Beer Garden, and a variety of live entertainment. North Plaza at Globe Life Field. Nov. 25-Dec. 23, 2022, 11AM to 8PM. Free.
Holiday Vendor Market (The Colony) – Accompanying their holiday movie nights will be a nighttime market at Grandscape every Wednesday through Dec. 21, beginning at 5:30PM before the movie starts at 6:30PM. There will also be hot cocoa and coffee available for sale on the lawn.
For where to find great sales after Christmas, check out some of my recommendations!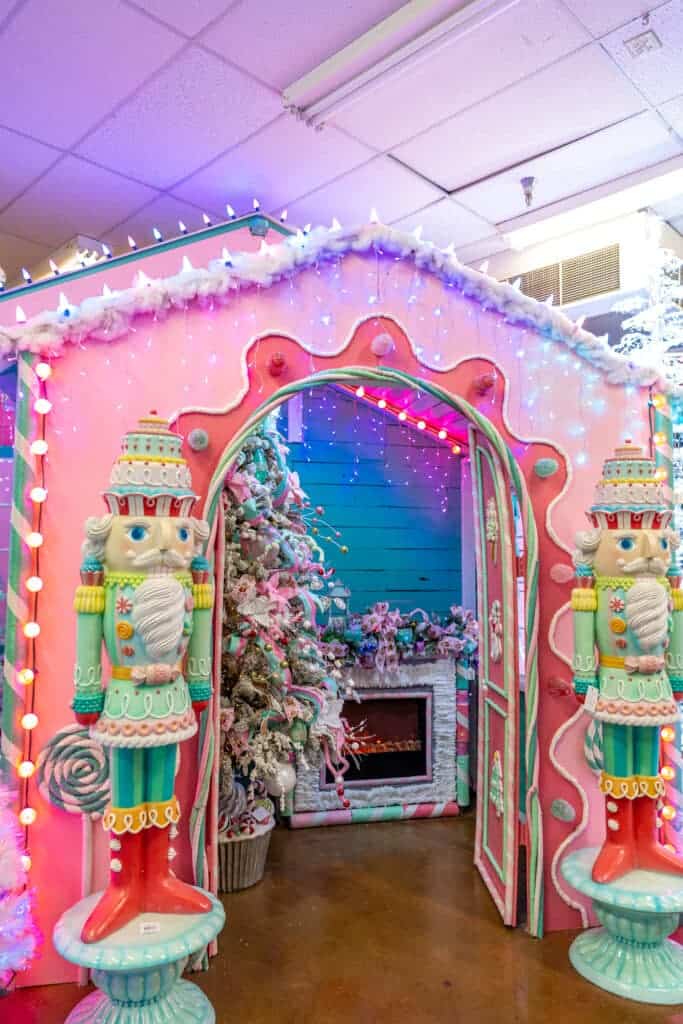 Christmas Things to Do in DFW: Have a Paintball Fight Christmas Style
Ready to shoot some zombies? Cousins Paintball is having a thrilling and exciting event this season where you will have a chance to shoot Holiday villains like the Grinch, Krampus, and Bad Santa! Check out their website for more information.
Christmas Things to Do in DFW: Indulge in Holiday Spa Treatments
At Vivians Spa you can take a break from all the holiday chaos with their relaxing holiday spa treatment offerings. Try a Hot Toddy Foot Ritual, Warm Spiced Wine Festive Facial, or a Cozy Cocoa & Cinnamon Marshmallow Massage. It's definitely something that will leave you relaxed and in the holiday spirit!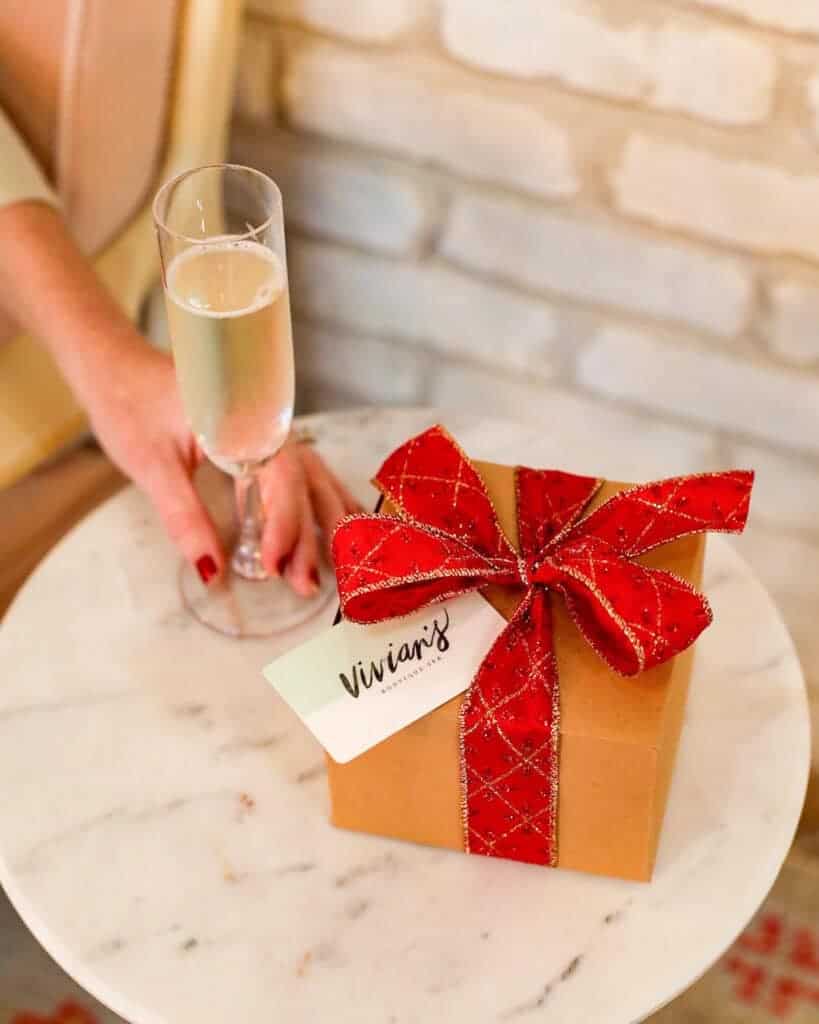 Christmas Things to Do in DFW: Miracle on 134th Street
For an affordable, family-friendly activity to add to your list of Christmas things to do in DFW, visit Miracle on 134th Street in Celina, just a short drive north. Take pictures of over a million Christmas lights, roam Santa's workshop, ride the Christmas carousel, enjoy the cute animals visiting from Cathy's Critters Petting Zoo, snack at the food court, and so much more! Children 3 and under are free, as is on-site parking. Tickets can be purchased online. Open until Dec. 23, 2022, on select days, 6PM to 9PM.
Christmas Things to Do in DFW: Stay at a Christmas Hotel
The Adolphus
For an all-out holiday experience at the Adolphus Hotel for a giant Christmas tree, Christmas tea, a Christmas hot cocoa, and an upstairs Christmas bar with holiday tents! Check out our full holiday Adolphus review.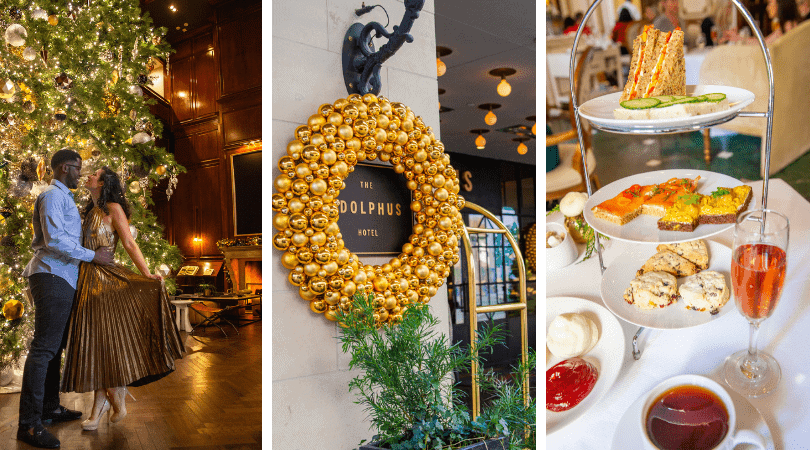 Omni Dallas
For a more upscale experience check into the Santa Suite at the Omni Dallas hotel! This two-bedroom suite comes with full holiday decor, a personal hot cocoa bar, some of the best views of Dallas, and a credit for the hotel.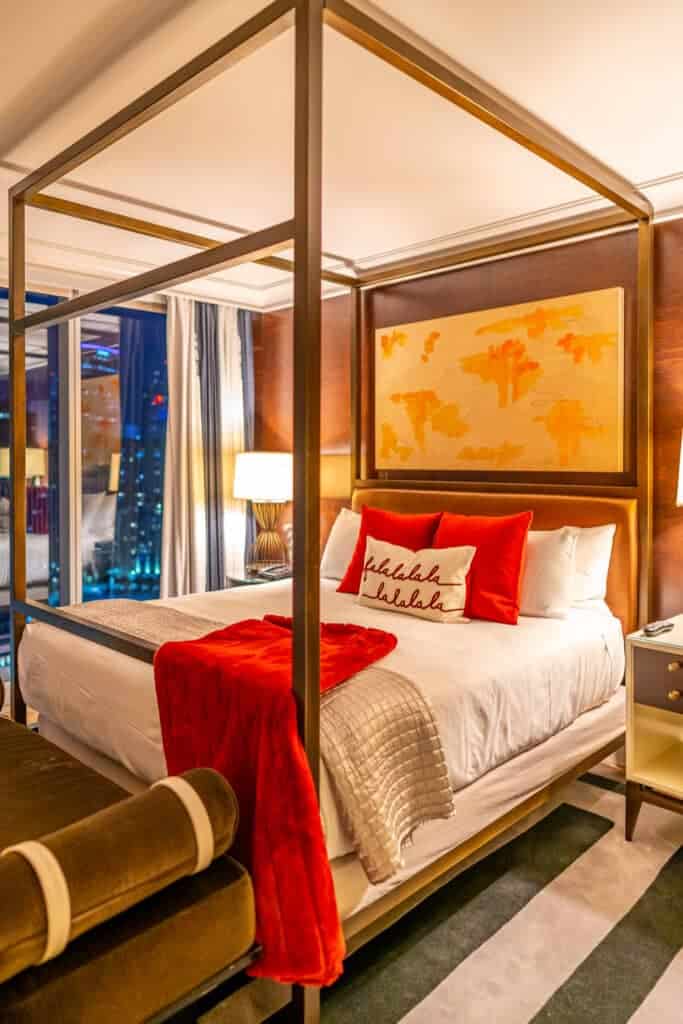 Gaylord Texan
Whether you want to get away and spend Christmas at the Gaylord Texan or you're just looking for something to add to your list of Christmas things to do in DFW, you and the whole family are in for a treat inside their winter wonderland. See dozens of hand-carved ice sculptures, go snow tubing, admire Christmas displays, try your hand at gingerbread crafts, have breakfast with Charlie Brown, and wander through this gigantic hotel, decorated to the nines for the holidays. Looking to relax? The spa will have holiday spa treatments too! Tickets can be purchased, and rooms can be booked online. Nov. 11, 2022-Jan. 1, 2023.
Hilton Anatole
Visit Texas' very own North Pole for over 40 Christmas activities on-site at the Hilton Anatole. There will be three different sections with all kinds of crafts, shops, shows, and more! You can also get tickets for breakfast with Santa, which includes a buffet, games, and cookie decorating. Save even more with the North Pole Hotel Package, which includes one ticket to the North Pole per hotel guest, 50% off parking, and late check-out. North Pole tickets can be purchased online. Weekends between Nov. 18 and Dec. 24, 4PM to 10PM (12PM to 4PM on Christmas Eve).
Christmas Things to Do Beyond DFW
If you're willing to take a little bit of a drive, consider some amazing day trips for some holiday fun including:
Riding the Polar Express in Palestine Texas <Watch Video>
Visiting Santa's Wonderland in College Station (Nov. 11-Dec. 30)
Christmas Carnival at YesterLand Farm in Canton (Nov. 25-Dec. 18)
We also have lists of Christmas things to do for:
Christmas Things to Do in DFW: Final Thoughts
Building family traditions and making core memories with loved ones is what makes Christmas so special. Cherish these moments when everyone is together and take the opportunity to check out some of these amazing Christmas things to do in DFW that are happening this 2022 holiday season, including several decked-out DFW bars and restaurants!