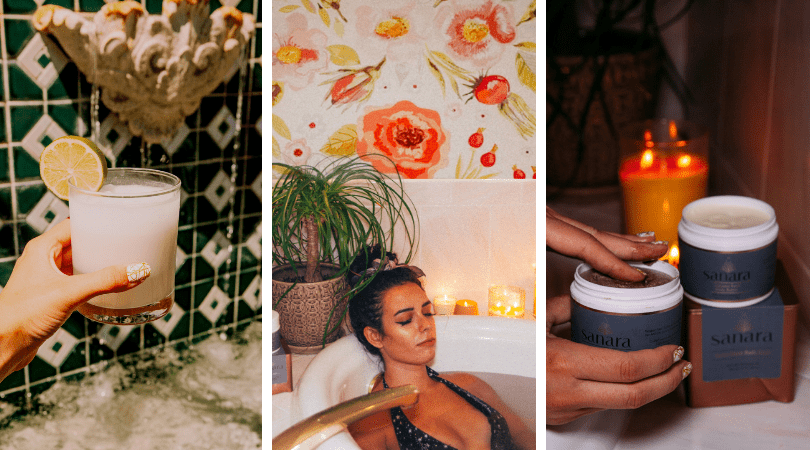 The tranquility of a day at the spa is one I constantly long for! The incredible ingredient, soaks, and massages transport me to a new place! However, there are such simple steps to transform your home into a luxurious spa day. I put together my own at home spa kit with the ingredients below and while I still love a trip to the spa, this is exactly the luxury I need when I want a last minute 'treatment' or just want to save a little money.
Rather than just go with a normal spa experience, I also decided to go with a theme to make it more special. I transported myself to Brazil with just a few extra steps! Keep reading to learn how to have your own Brazilian Spa experience at home.
Choosing the Right Ingredients
Since I was saving money by not going to the spa, I knew it was important to invest in products that you would find at the spa for the ultimate health benefits and to be able to feel the effects of the at home spa treatment.
Sanara Skincare is an Austin based brand that focuses on using Latin American ingredients as well as being cruelty-free, 100% natural & vegan, and without harsh chemicals or fragrance! It really is a treat for the body! The thing I love so much about the products are the incredible ingredients in each item like:
Yerba Maté Bath Soak: Yerba Maté tea leaves to energize and the Pink Brazilian clay which is rich in iron and absorbs toxins and excess oil in
Chilean Rosehip Seed Body Oil: Chilean Rosehip Seed filled with vitamins, antioxidants and essential fatty acids and aloe vera for cooling and hydrating
Bamboo Fiber and Mango Seed Body Polish: Acai as a powerful antioxidant and mango with oleic acid, a mono-unsaturated omega-9 acid; and stearic acid, a saturated fatty acid
Cupuaçu Seed Body Butter: Cupuaçu which is 2 times more hydrating then Shea butter!
Basically each product is filled with so many rich ingredients that are nutritious for your skin and that feel indulgent! You can buy each product individually for countless spa experiences or just a single at home spa kit with all the ingredients! Especially with all the Latin American based and
Brazilian products, it really set the scene for a luxurious at home spa day.
Other Things Needed For At Home Spa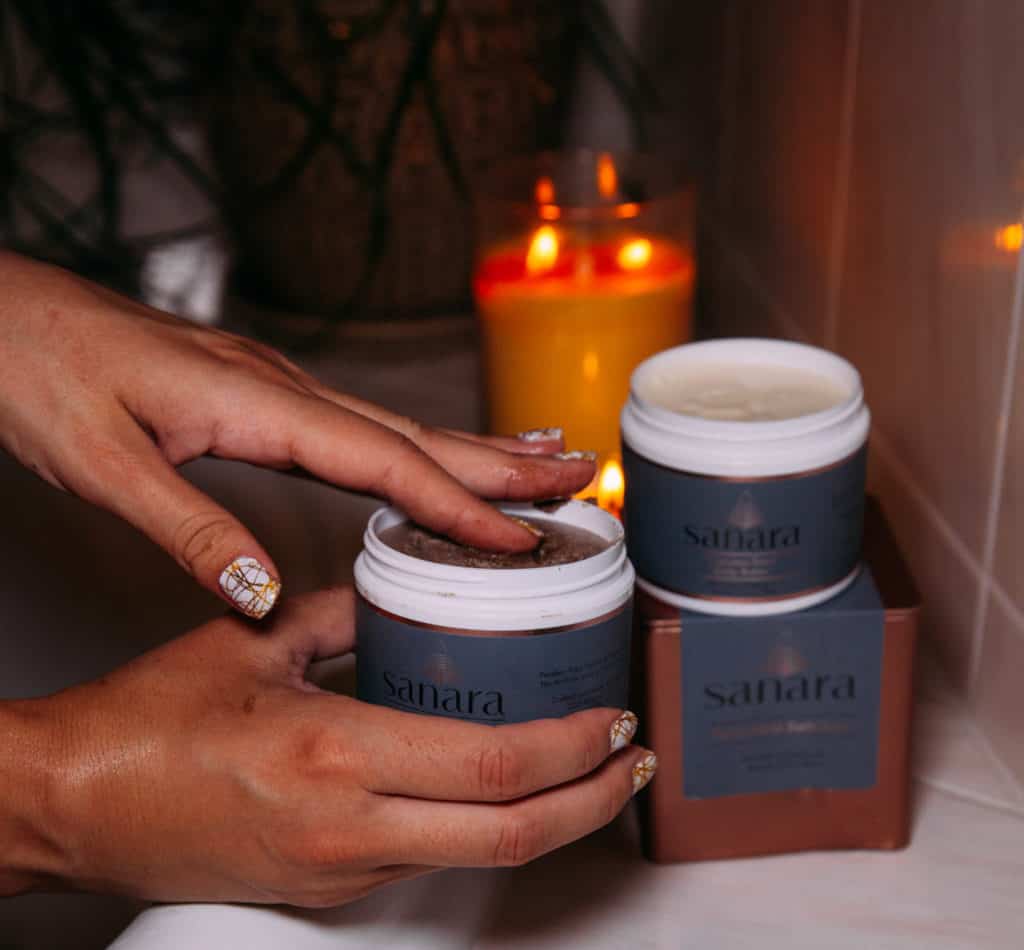 Of course you really want to set the scene to make it indulgent.
Candles: Smell is as much of part of the experience. Light some candles to get into the mood.
Brazilian Lemonade: You need something to stay hydrated so create an easy Brazilian lemonade with some lime juice, condensed milk, sugar, and water!
Spa Music: Download or use Youtube for a Brazilian spa playlist
This video: You don't even have to go to the spa to enjoy this massage! Save this video so that you can try this DIY Brazilian lymphatic drainage massage on yourself
It's Spa Time
Now that you've got everything set, fill that bath, add the Yerba Maté Bath Soak and Chilean Rosehip Seed Body Oil. Have some water and Brazilian lemonade nearby to enjoy! Relax with music and unwind. Once I got towards the end of my bath, I put my laptop on the side and played the massage video which focuses on lymphatic drainage around the face. If you have a partner you can find a full body video to give each other massages. After the massage, use the Bamboo Fiber and Mango Seed Body Polish to gently exfoliate and remove dead skin cells. Once you're fully relaxed, jump out of the bath and mindfully apply the Cupuaçu Seed Body Butter to hydrate and sit around while letting your skin soak in all those vitamins!
Make It A Whole Day in Brazil
Maybe you don't want to stop with a spa day! If you're looking to have a whole virtual trip to Brazil consider ordering some Brazilian food or trying a new recipe. Watch the Carnival celebrations on Youtube or find a movie created in Brazil. Take an online Samba class! The possibilities are endless!