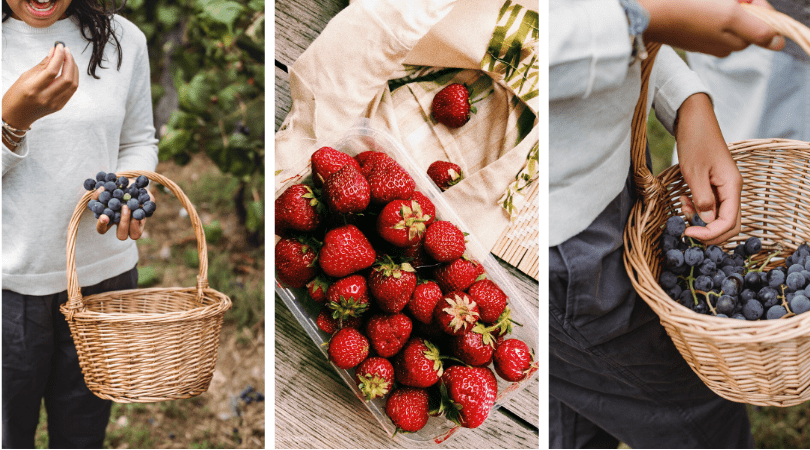 The fun of flower and berry picking is you get to enjoy an activity plus the fresh fruit and floral arrangements all in one! Rather than going to the grocery store, you get to turn your normal shopping into something fun! The adventure is getting too many berries and then spending the next few days making all the breads, jams, pancakes and more you can imagine! Luckily there are some great places to pick flowers and berries near Dallas-Fort Worth and all across Texas. No matter where you are, you can enjoy flower and berry picking too!
Make sure to take note as, depending on the season/year, harvesting dates do change. Make sure to call ahead or check social media for what is in season and what is available and to make sure they haven't run out of stock. We try to keep this flower and berry picking list up to date, but each year, things change.
We've broken them down by Dallas, Houston, Austin, and San Antonio so you can scroll right to where you plan to visit!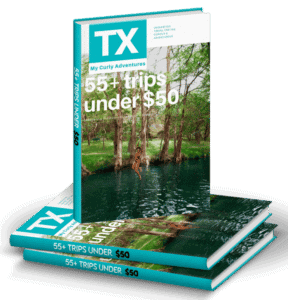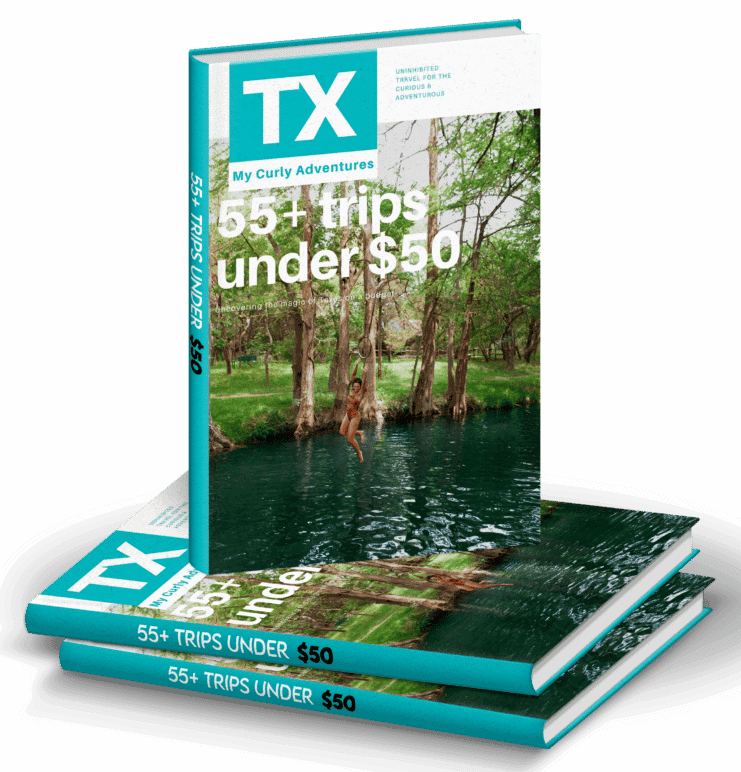 With our latest edition of our Texas Travel Guide, you can take an exciting vacation every weekend without breaking the bank and still have more to do! And in just one trip, the guide pays for itself! You'll be amazed at all the hidden gems, international influence, and wacky attractions you'll find all over Texas!
Not ready to purchase quite yet? We wanted to make this guide as accessible as possible, so we've shared our 1st edition of our guide, 50 Texas Trips Under $50. Click the button below to get yours for FREE!
Flower & Berry Picking Near Dallas-Fort Worth
Storm Farms (Arlington, TX)
You'll find sprawling strawberry fields fresh for the picking at this family-owned farm in Arlington. There's just something so wonderful about a fresh off the vine strawberry. They also don't use any pesticides! Strawberries are $8 per pound and baskets are complimentary. You just pay for what you pick!
You can also purchase strawberry products like jam, ice cream, as well as storm salsa and local honey.
Keep tabs on their social media and website for updates as they become available. Strawberry season is typically mid-March until end of May.
Panola Orchard and Gardens (De Berry, TX)
This U-pick berry farm is just two hours from Dallas and is open April through July. They have 5 acres of blueberries and over 100,000 strawberries all ready to be picked! The strawberries cost $3.85 per pound and buckets cost $2. You can also pick from their peach and plum trees, Christmas trees (November – December), and Leyland Cypress trees.
They also have a small concession stand selling homemade strawberry ice cream, soda, cold water, electrolyte water snacks, and their popular homemade strawberry lemonade!
Check out their gift shop stocked with handmade products like jams, preserves, soaps, bath products, Rowe Casa Organics products, and more!
Note: Due to recent hail damage to their strawberries, check their social media daily to see if they will be open for berry picking that day.
Blueberry Hill Farm (Edom, TX)
Pick your own blueberries and blackberries this summer! Blackberries are $3 per pound, while blueberries are $2.95. The season starts in mid-May and ends in late July (or when the crops are bare). Check their website for updates as picking season gets closer.
There is also an air-conditioned store where you can buy blueberry, fig, peach, apricot, cherry, and blackberry preserves. At the bakery, you can try their popular blueberry cream pies, blueberry muffins, blueberry ice cream yogurt, and blueberry lemonade! The store also has a rest area with shade, picnic tables, and restrooms to freshen up!
Pure Land Farm (McKinney, TX)
Choose from blackberries, melons, tomatoes, garlic, cucumbers, sunflowers, and much more! The farm is open from mid-May through the end of July, and you must make reservations in advance, or you'll go home empty-handed! There are three time slots for harvesting during the day that you can choose from. Season passes are available, but one-time admission is $5 for access to the field, even if you don't pick.
Each harvest season has different prices; we suggest you look them up on the website in their FAQ. The great thing about the farm is that they offer field trips and workshops throughout the year where you can learn more about plants, farming, and working in the field.
Blase Family Farm (Rockwall, TX)
The blueberries are ready for picking during the summer, from late May to early July or late June, depending on the weather, and the Fall Pumpkin Patch is open from late September through October. The blueberry picking price is $7 per pound.
This small family farm doesn't use insecticides, herbicides, or pesticides; they like to keep it as natural as possible! When you're done picking, you can head to the little store and cool down with a homemade popsicle, try the homemade fudge, or buy blueberry jam. Do not leave without trying their family recipe for blueberry bread!
Note: Picking season may start a little earlier this year so be sure to check their social media for updates.
WOW U-Pick Farms, LLC (Krum, TX)
Check out their Facebook page for times and prices before heading to this U-pick farm! Seasonal produce is harvested from late May to late October, so you'll find tomatoes, red peppers, garlic, potatoes, okra, yellow and green squash, and more to stock your pantry. What we really like about this farm is the volunteer opportunities for kids interested in farming and the loyal relationship they have with regular customers!
Blackland Berry Farm (Royse City, TX)
At this family-owned, U-pick blueberry and blackberry farm, picking season is typically the end of May through mid-July. Prices, opening/closing dates, and picking times are announced on their Facebook page, so we encourage you to keep an eye on it so you can plan your visit!
They also serve handcrafted, natural, shaved ice made with real fruit and sugar, and none of those harmful dyes or corn syrup!
H Strawberry Farm (Greenville, TX)
The strawberries are off the ground, perfect for those with back pain! You can bring your own bucket and scissors or rent them at the farm! They are very popular in Greenville, so the best thing to do is show up early and wait in line as soon as they are open; otherwise, you'll barely find any strawberries! They have four greenhouses where you can walk around and pick as much as you want, and once you are done, you can walk to the small pond they have with a small playground!
Note: Once they are "picked out," they will close for the day, so be sure to keep an eye on their Facebook page and do your best to show up as close to opening time as you can.
Skye Flower Field + Floral Studio (Hurst, TX)
When you pick flowers in their field, you also support using regenerative agricultural methods and chemical-free, sustainable practices! In addition to picking your own flowers, they teach you how easy it is to plant your own, how to care for and harvest them at home, and finally, how to make a stunning arrangement! The whole experience lasts an hour and a half and costs $75 per person. We love that this is an investment in a skill! You get to leave with knowledge, flowers, and beautiful pictures!
Go to their website to book a farm workshop class before they sell out! Classes are in June.
Lavender Ridge Farms (Gainesville, TX)
This is the only farm in Gainesville where visitors can pick their own lavender in the summer! They're open from early March to the end of July, depending on when the flowers bloom.
The great thing about the farm is that they're dedicated to lavender which is reflected in their household, personal care products, and the food served at their café! You can try their homemade lavender ice cream or their lavender cream cheese and take home fresh-cut lavender to spread around your home!
Their Garden Center also has a weekly rotating selection of all kinds of plants, along with potting mixes and other garden essentials.
Can't make it out? They also sell their lavender products on their website!
Fun fact: They host yoga on the farm! What's a better way to relax with deep breathing surrounded by fragrant lavender plants? See their Facebook to register for their upcoming class April 30, 2023!
Texas Tulips (Pilot Point, TX)
Prepare for a breathtaking sight of 6 acres full of tulips of all shapes and sizes! The season starts in mid-February and ends in early April, depending on the weather. Hours of operation are Monday through Sunday. The admission fee is $5, and each flower costs $2.50, and they wrap them for you to take home, ready to be transferred to a vase, and brighten up your home!
Note: They are now closed for the 2023 season.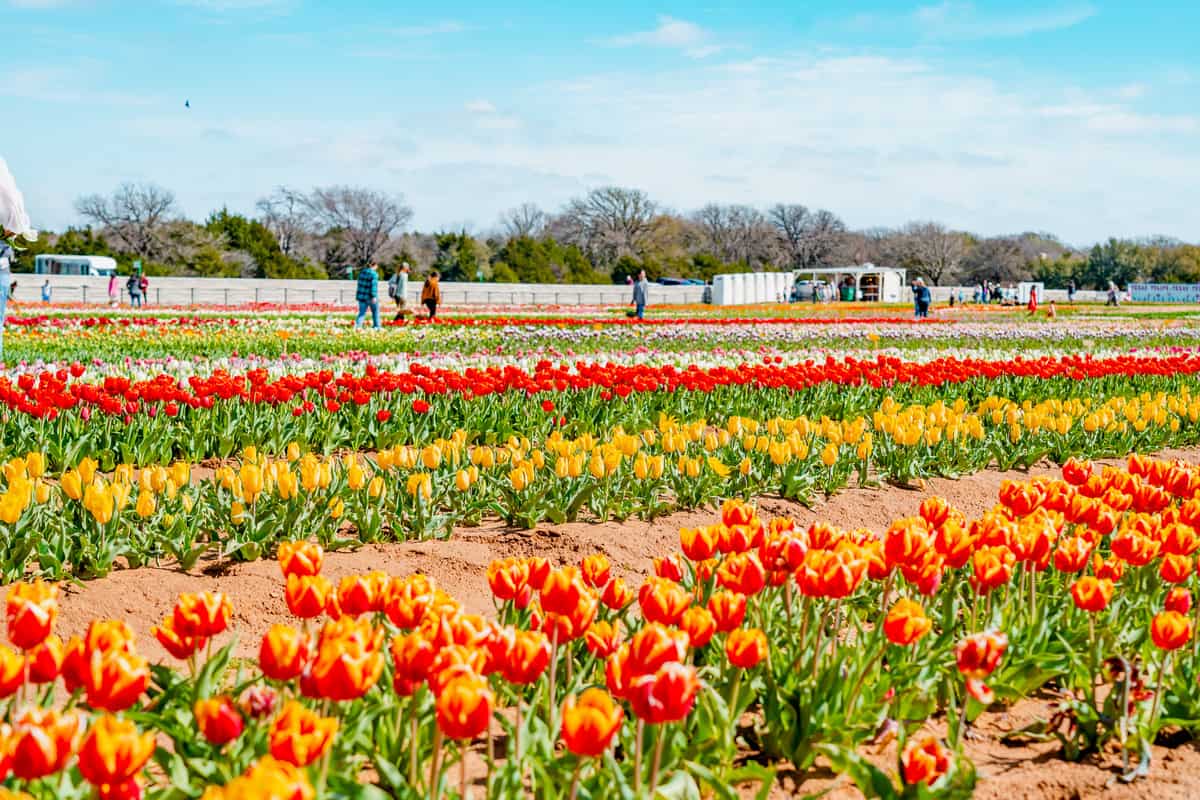 Pecan Creek Strawberry Farm (Pilot Point, TX)
The farmers at Pecan Creek Strawberry Farm have a good relationship with their community, and when they are open for the season, they announce it through their Facebook page. Usually, the season starts at the end of April and lasts through the end of July, but it depends on the harvest! They're open from 10 AM until they sell out and you can pick as much as you want! Fresh strawberries are $7 per pound, and you can only use their buckets; each bucket is $4, which you'll appreciate when taking pictures because everyone will look cute with their little red bucket!
Note: Due to the late freeze and the cooler start to the summer we've had, their strawberries have been slow to ripen, so stay tuned for more information.
Good Earth Organic Farm (Celeste, TX)
The Good Earth Organic Farm has a different system for their U-pick strawberry farm. Here's how it's done: first, you pick a time, and for every two people, you must buy a basket; each basket costs $29. You pay online and come with your confirmation to start picking!
The farm is a great place to find grass-fed lamb, tea, tinctures, and vinegar. Weather permitting, you can book the campsite to set up a tent and spend a lovely evening under the stars!
Note: The 2023 season has been canceled due to bad weather and problems with vendors, so check back in 2024.
Bloomer's Garden & Flower Farm (Sadler, TX)
Come pick sunflowers, zinnias, blackberries, blueberries, squash, and zucchini! With so many crops to choose from, it's no wonder they're open most of the year. Each crop has a different price per pound, but admission is $6 per person.
The showstopper is the 12-foot-tall sunflower patch where you can take beautiful photos! You can also visit with their goats, sheep, and chickens that are running around the farm! Those who want to do professional photo sessions can purchase a pass for $25 and pose to their heart's content!
Keep tabs on their website and social media for updates as flower season approaches (usually early June).
Echo Springs Blueberry Farm (Murchison, TX)
Visit Texas' largest blueberry farm! The season starts in late May and lasts until late July or until there aren't any more berries left. Prices will be announced on their website and social media once the season begins. Remember that they operate on a "first-come, first-served" basis, so you'll want to get there early if you want enough for your smoothies or pies; we don't judge!
They're part of the Texas organization GO, the East Texas Better Business Bureau, and are Primus certified, which means they focus on food safety for fresh or minimally processed products.
At the end of your picking adventure, take a break at the rest stop or head to the gift shop for their famous jams, jellies, syrups with no artificial sweeteners, and even blueberry coffee! Try their blueberry pies, muffins, scones, and cheesecake!
Abundant Flower Farm (Blue Ridge, TX)
Gather ten or more people and book a private flower-picking session or just come out once the season starts (usually between April and May, depending on the harvest).
At their farm in Blue Ridge, you can stroll the fields, take photos and feed the animals. The cool thing is that they also offer a table of bouquets ready to take home, and you can also sign up for their workshops, where you'll learn how to make bouquets. You can also organize professional photography sessions for any of your special occasions. Explore the many ways you can get involved at their farm on their website!
Demases Farm (Boyd, TX)
This is a 4th generation farm founded in 1914. There is a small area for strawberry picking, perfect for families wanting to fill their summer days with sweet fun! Their strawberry season usually begins in mid-April, but it depends on the weather and the harvest, like everything on any farm. You can keep an eye on their Facebook page for more information.
From their farm store, you can stock up on organic kale, sweet potatoes, tomatoes, collard greens, fall squash, and more fresh produce. You can also find artisan cheese, milk, and yogurt from Circle N Dairy, farm eggs, raw, unfiltered honey from Nature's Nectar Raw Honey, homemade chow, jalapeño pepper jelly, and jars of apple butter. Needless to say, it's worth the trip!
They also have a pumpkin patch open for picking in the fall!
Poston Gardens (Waxahachie, TX)
Tulipalooza happens in Waxahachie and opens for ten days each year from late February to mid-April. However, it is best to check the opening dates and hours announced on the official website!
John, the festival host, came up with the idea of creating a tulip garden as a marketing strategy to bring awareness to Daymark Living, a project close to his heart. Daymark Living is a residential community for people with intellectual and developmental disabilities where they can live a normal everyday life with professional, medical assistance.
At Tulipalooza, you can create your tulip bouquet from more than 250,000 blooming tulips and know that proceeds from the event will support scholarships funds at Poston Gardens Foundation and 11 other nonprofit charities in North Texas! Check back in 2024 for next year's festivities so you can mark your calendar!
Reeves Family Farm (Princeton, TX)
The whole show is run by the family, especially the little ones! Their farm store's usual hours of operation are Fridays 10 AM to 5 PM and Saturdays 9 AM to 5 PM. Keep an eye on their website and social media for announcements of special events the farm puts on! You can also sign-up to volunteer on the farm!
The items available on-site at their store change depending on what is in season. In addition, they also sell fresh produce, plants, preserves, jellies, honey, eggs, and even products from neighboring farms in Princeton! This year, the farm store will open April 28th, 2023.
During the fall, they have a covered pumpkin patch where you can let the kiddos pick, and at the end, you can go to the Farm Store and try the pumpkin donuts and cider!
Sunset Trail Farm (McKinney, TX)
Visit this small, family-owned, organic blackberry farm in McKinney. Best of all, the blackberries are thornless – perfect for little hands and cute manicures! The season opens in May, so keep an eye on their Instagram and their website for more details and other events they host on-site!
Flower & Berry Picking Near Austin & San Antonio
Doe-Ri-Mi Lavender Farm (Yancey, TX)
Doe-Ri-Mi is known for its gorgeous lavender fields full of 1,500 plants and 20 different varieties! Keep an eye on their Facebook page for picking days, times, and prices, as there are several U-pick dates throughout the year. They're open Thursdays through Saturdays from 10 AM to 4 PM, but we always recommend calling ahead, just to play it safe!
Take a moment to pet the alpacas, goats, chickens, cats, dogs, and donkeys once you are done loading up on serotonin. Then, browse the farm's country store for all kinds of lavender products, try homemade gelato, lavender lemonade, and lavender honey coffee at the cafe, and pick-up plants from the greenhouse!
Sweet Berry Farm (Marble Falls, TX)
Sweet Berry Farms is known for three things: Tulips, Strawberries, and Sunflowers. Strawberry season is late March through mid-May, tulip season is February through April, and sunflower season is late May through early July. There will also be Buttercups through April. Remember, these are the dates the farm is most likely to open for the season, but it's best to check their website, social media, or give them a call before you visit!
You should know that the admission fee is $5, and you pay $2 per flower, while strawberries are $3.50 per pound, and reusable, picking boxes are 75 cents each. There are other activities at the farm to keep the whole family entertained, like the berry bounce house, sand art, the Sweet Berry Express, Paint-a-Pot, and pony rides. If you need a minute to power back up, then grab a homemade ice cream or popsicle! There are many things to do at the farm, especially for large families! Be sure to prepare for muddy conditions and bring an extra pair of shoes just in case.
You can also visit the farm in the fall for their pumpkin patch mid-September through mid-November.
Sweet Eats Fruit Farm (Georgetown, TX)
This farm is a full-on adventure park for kids in Georgetown, Texas! Head over to the farm March through May to pick your own strawberries, or May to July when peaches are ripe. Or drop by to pick seasonal produce throughout the year. Check their Facebook for what's available for the picking. And don't forget to add a visit to the pumpkin patch during the fall; they have the cutest photo ops!
There is a large list of activities for kids and adults depending on what kind of day pass you purchase. You also have access to their general store to buy produce and products made from farm fresh ingredients, as well as a bakery on-site with specialty coffee, baked goods like salted caramel donuts, apple cider donuts, pies, and even some adult games like corn hole and horseshoes.
Additionally, they have fun events scheduled for every important holiday of the year, like Easter, the 4th of July, Memorial Day weekend, and the Christmas season. They have thought of everything, and now you only need to get in the car and pay them a visit to see it all with your own eyes!
Punkin Center Berry Farm (Oglesby, TX)
Punkin Center Berry Farm grows their own sweet and juicy blackberries at this U-pick farm. The blackberries are $5 per pound when you pick them yourself or $7 per pound pre-picked for you. You can use your own bucket or rent a bucket for $3 if you decide to get down and dirty, but remember, they accept cash and checks ONLY!
If you're planning a visit, be sure to check out their Facebook page for any announcements!
Omi's Blackberry Farm (Paige, TX)
Omi and Opi own this wonderful 3-acre property in Paige, Texas, where they grow many different berries! They're pesticide, herbicide, and insecticide free, so you could basically eat the fresh berries right off the vine. They cost $3.75 per pound if you pay with cash and $3.90 per pound with a credit card. Omi and Opi love sharing their berries with their community, so enjoy an afternoon on their property and get your hands dirty in the best way!
Keep an eye on their Facebook page for updates as picking season approaches.
Aboud Family Farm (Salado, TX)
​Aboud Family Farm is known for growing the most beautiful tulips in the area! You get a cute wicker basket for your tulips; it's the perfect photo prop and will help keep the shapes of your tulips as you move around the field.
They also grow giant sunflowers in 10 different colors, as well as four types of blackberries! Prices, times, and dates will be announced as blooming time approaches, so keep an eye on their social media channels. Tulips are delicate flowers that bloom for a short period of time, so once the season is officially open, grab a partner, hop in the car, and plan an impromptu photo session!
Note: Tulip season is now over for 2023. Watch their Facebook page to see when blackberries and sunflowers will be available.
Kingsbury Blueberry Farm (Caldwell, TX)
Support this small U-pick, family-run farm in Caldwell! Because this is a small operations farm, we suggest you call 979-567-9138 or email berrygrower1@gmail.com before your visit to make sure there will be juicy and fresh blueberries waiting for you!
Here is what you need to know: their blueberry season is normally the end of May to mid July, and the price is $3 per pound. They are one of the few farms where you need to purchase a minimum of 2.5 pounds per person, so keep that in mind!
So you can avoid the heat of the summer, picking is allowed until right before dark.
Hill Country Lavender (Blanco, TX)
At Hill Country Lavender Farm in Blanco, Texas, you can pick your own lavender after the farmers show you how to do it right! Choose your own lavender from the 2,000 lavender plants on 1.25 acres of land and take it home! The last two years have been difficult due to the weather, so be sure to check their website to see if the farm is open this season! In their store, you can buy all things lavender that will make your home smell wonderful!
Note: They are expecting to open April 20, 2023, with peak blooms appearing in June. They will be open Thursday through Saturday from 10 AM to 4 PM. Follow their Facebook for updates as they come about.
Rough Creek Lavender Fields (Wimberley, TX)
This local lavender farm offers great views of the Blanco River Valley, a lavender field to pick from, and a gift shop stocked with hand-made, lavender products. You can also shop their products online.
What you need to know is that this is a small operations farm, the staff is friendly, and they communicate their operation times via their social media, so stay tuned! Historically, blooming happens in June.
Rockberry Ranch (Poteet, TX)
Clear your schedule for the day and head to Rockberry Ranch to spend the day getting your hands dirty! They have festivals like Berries & Blossoms (mid-March to mid-April), La Fiesta De Las Flores (late April), La La Lavender Fields (early May to late May), and the U-pick spring season runs from March 18 to May 29.
Admission to the farm is $14.95, which includes one-time admission to the U-pick fields and more than 25+ attractions like photo opportunities in front of the "Howdy" mural, the Rock Berry Barnyard & Petting Corral, live music performances, wagon rides, jumping pillows, the bee train, and wooden playscapes.
Each weekend, there is something new going on at the ranch; check out their website to plan ahead, and don't forget to purchase your tickets online!
Arnosky Family Farm Market (Blanco, TX)
The Arnosky family runs their farm based on Scout's honor code! It's a self-service farm in the Blanco area, with fresh-cut flowers and plants spread out in the Blue Barn Market building for you to pick from and pay for using the collection box with cash or check. You don't pick 100% of the flowers yourself from the field, but you still get to choose from a wide variety of flowers spread out on tables inside the building, so for us, that still counts! They are open daily from 9 AM to 5 PM.
You can purchase their flowers at the Wimberley HEB as well!
Jenschke Orchards (Fredericksburg, TX)
You can pick from delicious strawberries, peaches, blackberries, and Christmas trees and find your way out of the best corn maze in Texas! The farm opens in the spring for strawberry picking and is busy all the way into the fall with the pumpkin patch and a few weeks at Christmas for their Christmas trees!
Fredericksburg is known for its wines, and to be consistent, the farm has a Tex Mex BBQ restaurant with a large wine selection and a Biergarten! When you're done picking, you can take a break, have a good beer, and eat some well-deserved tacos!
See their website for their