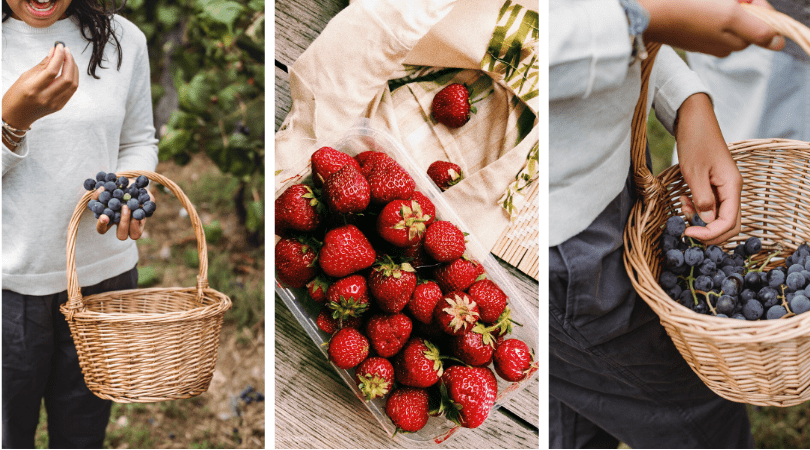 The fun of berry picking is you get to enjoy an activity plus the fresh fruit all in one! Rather than going to the grocery store, you get to turn your normal shopping into fun! The adventure is getting too many berries and then spending the next few days making all the breads, jams, pancakes and more you can imagine! Luckily there are some great places to pick berries near Dallas Fort Worth to enjoy this activity. We even included a section beyond this so that no matter where you are in Texas you can enjoy berry picking.
Make sure to take note as depending on the season/year dates do change. Make sure to call ahead or check social media for what is in season and what is available and to make sure they haven't run out of stock. We try to keep this berry picking list up to date, but each year things change.
Berry Picking Near Dallas-Fort Worth
Panola Orchards– This fun berry picking spot is only two hours from Dallas and is a great spot to pick blueberries, strawberries, blackberries, and even sometimes peaches. I love the berry bushes because they grow tall and are fun to wander through. Plus after you can explore all around the Marshall area.
Storm Farms – In Arlington you'll find field of sprawling strawberry fields fresh for picking. There's just something so wonderful about a fresh off the vine strawberry.
Oneal Berry Farm – Blackberries are so fun when they turn from gorgeous blooms to ripe blackberries!
Berry Picking Near Austin and San Antonio Texas
Sweet Berry Farm – This place is not only great for berry picking, but they also have sunflowers that make for beautiful pictures!
Sweet Eats Fruit Farm – Here you can pick strawberries near Austin and do so much more! Depending on the season you might get peaches, sunflowers, mazes, reindeer, and other fun activities. They've recently added a variety of vegetables that you can take home with you too!
Where to Pick Berries Near Houston Texas
Neal's Berry Farm – Of course berry picking in Texas is fun! However, the more options for picking the better and Neal's has everything from blackberries to all sorts of vegetables, zinnias, and sunflowers!
Moorehead's Blueberry Farm– The great thing about this berry picking farm is that they open pretty early so you can even come to beat that Summer heat!
Chmielewski's Blueberry Farm – This is another farm all dedicated to blueberries! They have different ways to pick berries and offer some great affordable options!
Berry Picking in Texas: Final Thoughts
Clearly there's no shortage of places to pick berries around Dallas Fort Worth and Texas! The biggest thing is making sure to plan ahead early enough so you go when they're ripe, but not overpicked!