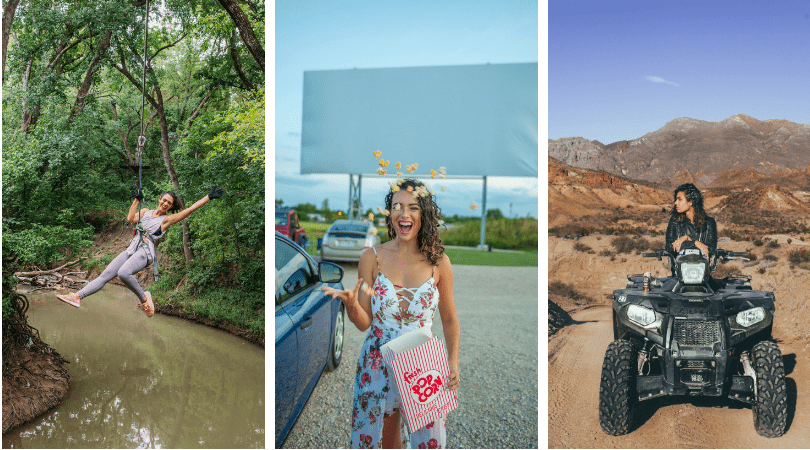 Thank you Hotels.com for making this article possible. As always, all opinions are my own.
I can't count the number of times I couldn't come up with a date idea that doesn't include food. However, there are so many great things to do for couples in Dallas-Fort Worth whether you're looking for a first date or you're more serious. No matter what part of Dallas-Fort Worth you live in, here is a great list of some of the best things to do for couples in Dallas-Fort Worth.
While discovering the great towns all around Dallas-Fort Worth, turn that romantic trip into a couple's getaway with one of the many different hotels in the area! You can find a large range of romantic hotels, great pools, or other unique options to make a romantic getaway extra special.
Due to current times we understand not all things will be open or that it might not be the right time to visit others. We hope this can serve as inspiration and a resource for when the time is right.
Things to Do for Couples in Dallas
There is no shortage of things to do in Dallas for couples! Hop on over for a list of 105+ Dallas date ideas including romantic, adventurous, foodie, and free ideas for couples!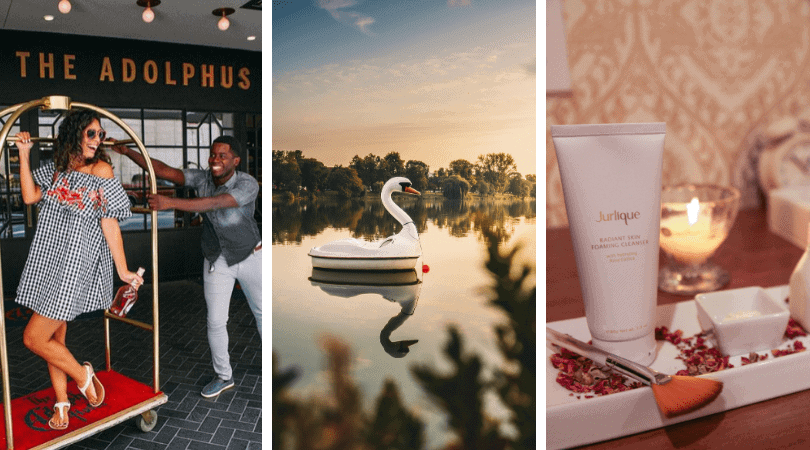 Things to Do for Couples in Addison
Salsa Dancing at Glorias – On the weekends Gloria's has a live band that plays salsa, cumbia, bachata, reggaeton, and other styles of music to dance to. Grab your dancing shoes, and be ready for a night of dancing and some great margaritas.
Go on a Brewery Tour – Bitter Sisters Brewing is a local brewery where not only can you try their different options, but also where you can go behind the scenes to learn about the brewing process, and the history behind the brewery.
Go Bowling – Bowling dates take on a whole new level now with places like Bowlmor that serve up incredible food and drinks while playing. Afterwards you can hit up the arcade together or play a game of ping pong.
Laugh Together – Addison Improv bring different performers from all over for a night of laughter as well as onsite dining. Check their calendar as it's constantly changing for something new and unique.
Train for the Circus – There's nothing like bonding over a new skill, and a unique thing for couples to experience together could include walking the trapeze, performing through silks, or any of the other cool classes offered at the Lone Star Circus.
Escape to Somewhere New – Except you never have to truly leave. Latency DFW brings virtual reality with different games and the ability to roam freely while being immersed in a new world.
Discover the History of Airplanes – The Cavanaugh Flight Museum is made up of 4 hangars filled with all different aircrafts that you can wander around and explore. You can even book different flight experiences from helicopters to biplanes and even options to experience in-flight acrobatics.
Learn All About Makeup – It's rare to find someone who hasn't heard of the Mary Kay name, but not many people can say they've gotten to learn all about the history and how they got to where they are today. The Mary Kay Museum tells that story and is a fun way to learn something new.
Go on a Romantic Helicopter Ride – Epic Helicopter Tours makes romance happen in the air from their wine tours, engagement tours, romantic dinner tours, and more.
Survive a Zombie Outbreak – PanicIQ Room is an escape room with some pretty interesting themes including surviving a zombie outbreak, a voodoo spirits theme, and a wild west theme.
Catch a Show – People may be surprised to learn that there are many incredible professional theatres in Texas bringing high quality live performances in locally. WaterTower Theatre does this through all kinds of different shows.
Dueling pianos – If you've never been, dueling piano bars are such a fun and unique idea where two pianos duel it out and the crowd gets into it, and sings along. A night out at Pete's Dueling Pianos is definitely a call for a good time.
Enjoy a Romantic Dinner & Jazz – Soho Food and Jazz has live music every night as well a great menu of unique and eclectic items that make for a fun couples date in Addison.
Things to Do for Couples in Allen
Go Bowling – Pinstack Bowling is another fun bowling option for couples – after a competitive or fun game of bowling, check out the other amenities including video games, laser tag, giant foosball, and a bar.
Play Video games – Playlive Nation brings you the latest games for an evening of fun competition.
Go Wakeboarding – At Hydrous Wake Park you're pulled on a cable for an exhilarating day of fun on the water.
Experience Virtual Reality – Allen actually has two different virtual reality locations that both offer something different. At VR Trip Dallas, they have immersive virtual racing, sports simulations, roller coaster simulations, and a large selection of action packed VR games. Imagination VR has a flight simulator and all types of games based on favorite movies and themes.
Get Out in Nature – Allen has some great spots in for couples to take in the natural beauty, go for a walk, do some fishing, or enjoy a picnic. Bethany Lakes Park and Connemara Meadow Nature Preserve are both great spots.
Play Paintball – Couples can enjoy some friendly competition and action at Fort Paintball with multiple fields to play.
Try Some Beer – And even go on a brewery tour at Nine Band Brewing where you get to go behind the scenes and also enjoy samples of their different beer selections.
Things to Do for Couples in Carrollton
Rock Climb in a Silo – Break a little sweat at the North Texas Outdoor Pursuit Center where you can go climbing in the tallest indoor climbing gym in North America! Plus you're rock climbing in old grain silos which is pretty cool.
Chocolate Class – Elevate your chocolate experience at Dallas Chocolate classes where you will learn the art of making gourmet chocolate including chocolate cakes, chocolate tarts, chocolate bonbons and more while also learning to choose the best chocolate. Turns out chocolate is quite the science!
Nickelmania – Save your hard earned nickels for this one spot! For an affordable Carrollton date night idea, go back in time and play old arcade games that still are actually a nickel.
Create Something New – Dallas Makers Space has just about every type of workshop and class you could think about including pottery, woodworking, print making, and so much more.
Go For a Hike – Elm Fork Nature Preserve Trail is full of beautiful hikes through the trees and by the river to get some fresh air.
Go Back in Time – Couples can visit the A W Perry Homestead Museum to see how homesteaders lived. They also have a vintage baseball team where you can see the local team compete against other teams with rules from the 1860s.
Enjoy a Russian Spa – Russian Banya Family Spa and Café is where you can experience the 200 degree sauna room (as well as some not as insanely hot rooms) and then afterwards indulge in some delicious European food.
Things to Do for Couples in Denton
Watch a Show – Campus Theatre is a great place in Denton to see live performances.
The Chairy Orchard – For a punny place for couples, check out the Chairy Orchard that is filled with a bunch of chairs!
Learn About Local African American History – The Denton County African American Museum has exhibits about different families who lived in the area from 1875 to the 1960s.
Enjoy Burgers & Views – LSA Burger Co is not only a great place to grab some burgers and drinks, but they also have a rooftop patio to enjoy some fresh air and regular live music.
Walk Through 10 Miles of Trails – You definitely don't have to do it all at once, but at Clear Creek Natural Heritage Center you can find different habitats such as hardwood forest, upland prairie, and diverse aquatic habitats.
Drink Wine at the Courthouse – Thanks to the Denton's open container laws, you can get a nice picnic with wine set up right on the lawn of the court house!
Go on a Horse Tour – Denton has one of the largest concentrations of horse farms in the US. The North Texas Horse Country Tour has guided tours to learn about these places as well as self guided tour options.
Go On a Brewery Tour – While this is a self-guided tour, with some great brewery options in Denton, you'll want to try them all! Make a trip at Armadillo Ale Works and Denton County Brewing Company to experience the local beers. While the Bearded Monk is not a craft brewery, with over 1,000 craft beers, it's definitely a spot worth visiting! And on Fridays you can take part in Free Beer Friday at the Denton Visitor's Center where you can sample from the local spots!
Learn about Firefighter History – The Denton Firefighters' Museum consists of collections and artifacts going back to the 1800s.
Go on a Scavenger Hunt – Kwest Scavenger Hunt helps you discover Denton in a new way with puzzles and riddles for an hour-long hunt.
Things to Do for Couples in Frisco
Not too far from Dallas is Frisco with some great things to do for couples including an old school video game museum, lazy rivers and baseball games in one, rock climbing, and other fun activities.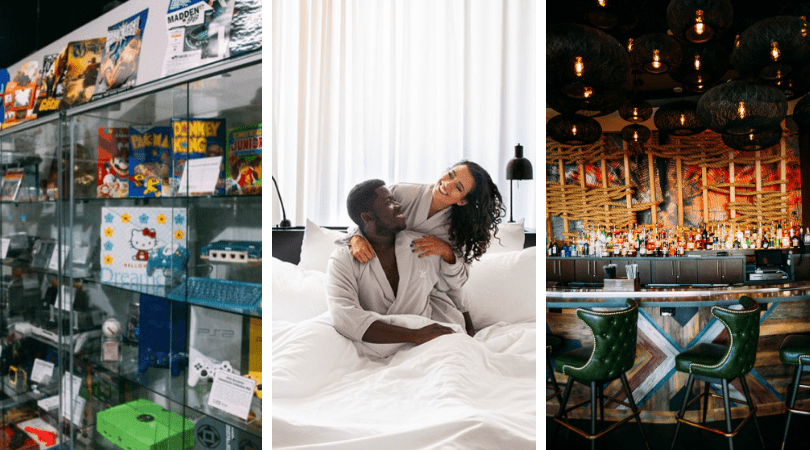 Things to Do for Couples in Fort Worth
Float the River and Listen to a Concert – Basically a dive-in concert, Panther Island Pavilion is a spot to grab a tube or kayak and float the river. For the most fun, join them during Rockin' the River where they have live music to go along with it as well!
Wander the Gardens – The Fort Worth Botanic Gardens is one of the oldest and most stunning in Texas! Wander through florals and even into their Japanese garden! You can spend hours wandering through all the different portions of the gardens.
Watch a Race – You can enjoy the exhilaration of NASCAR and other races at the Texas Motor Speedway.
Take in the Art – The Amon Carter Museum of American Art has all kinds of cutting edge art as well as regularly rotating collections for a new experience every time you visit.
Discover the Beer Scene – The Fort Worth Ale Trail consists of over 12 breweries including Cowtown Brewing Co and Revolver Brew. Many of them also let you tour their brewery. You can either take your time visiting all the different spots or check out one of the brewery tours.
Go Racing – K-1 Speedway goes beyond your average go karts, with indoor karting where you can go up to 45 miles per hour for a thrilling activity.
Horseback Riding – With all the cowboy influence, it only makes sense for couples to enjoy some horseback riding in Fort Worth. At the Stockyard Stables you can go on a ride on the historic chisholm trail or check out Benbrook Stables for public trail rides on their property.
Things to Do for Couples in Grand Prairie
Break Stuff – At Endorphin Factory you can throw axes, practice archery or demolish all different kinds of items!
Hang Out at the Beach – Well, DFW doesn't have any real beaches, but Joe Pool Lake is the closest thing to it with sand and swimming!
Watch the Sunset – At Lynn Creek Marina at Joe Pool Lake you can enjoy a cruise along the lake as the sun sets over the water. Plus pack your own food and drinks for a romantic evening for couples in Grand Prairie.
Go Swimming Year Round – Even when it's too cold, you can check out Epic Waters, an indoor water park that is temperature controlled and feels like Summer year round. Enjoy sunbathing, water slides, a lazy river, and some indoor surfing!
Go to the Fair – Trader's Village is a fun place because it's a mixture of year-round carnival and flea market. You can shop around for cheap goods (we got a new phone case and some soccer jerseys), clothing, toys, and so much more. It's fun to walk around the shops and see what each person has.
Visit a Castle – The outside Ripley's Palace is already a site to see! Then pair that with fun activities like their mirror maze, wax museum, and other strange attractions!
Asia Times Square – Explore Asia Times Square for food, shopping, and more! Asia Times Square is basically a market with different shops. If you're around during Chinese New Year, they also have special events.
Things to Do for Couples in Grapevine
Grapevine gives you a bit of the wine country experience in Dallas Fort Worth and makes for a wonderful couple's getaway. Read about all of the fun things to do for couples in Grapevine.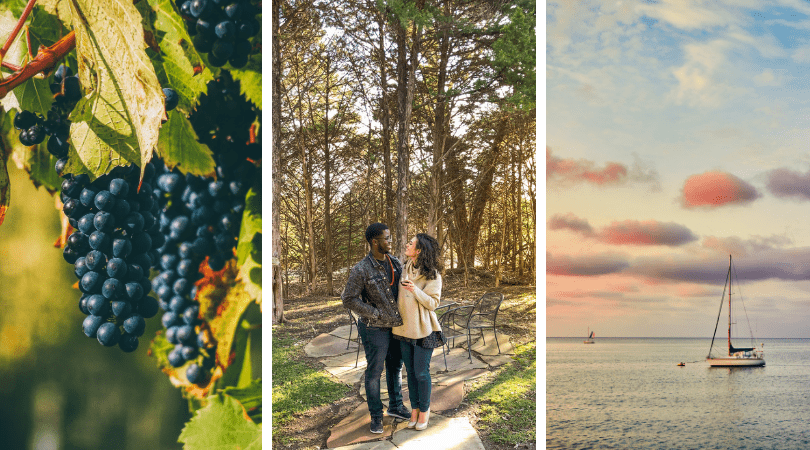 Things to Do for Couples in Irving
Irving in general is a romantic town, with one of my favorite spots for couples in all of Dallas-Fort Worth: riding in an Italian gondola. Plus check out all of the other fun things to do for couples.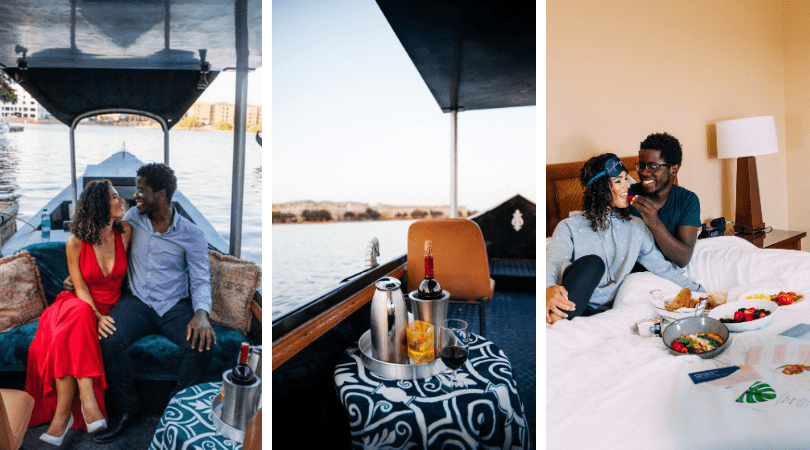 Things to Do for Couples in Lewisville
Catch an Outdoor Movie – More than just a regular movie date, couples can enjoy the double features, snacks, and retro experience of a drive-in movie at Coyote Theater.
Immerse Yourself in a Real Life Video Game – Labrynth is comprised of 42 levels with different puzzles and obstacles you have to work through to move on.
Check Out a Distillery – At BENDT Distilling Co. you can take a tour of the whiskey making process while trying their different options, or sit in their whiskey garden with craft cocktails and live music!
Enjoy the Lake – Willow Grove Park is a great option for couples who are looking for something free to do. You can enjoy a picnic along the lake or simply relax and enjoy good conversations.
Get Outdoors – Lewisville Lake Environmental Learning Area is full of different activities including nature walks, camping, learning about frontier life at their cabins, kayak tours, and bird walks.
Enjoy the Best of Craft Beer – Taps & Caps prides itself for searching everywhere for the best beer around to add to their tap list. You can sample their different options, and with a regularly rotating list, you can try something new every time you visit.
Hang Out With Cats – At the Charming Cat Corner couples can hang out with cats (and maybe even take one home). Based off the popular cat cafes, this location has created a friendly space as a cat sanctuary where people have the opportunity to play with and even adopt cats. They even have fun events like painting with cats and cat yoga.
Enjoy Brunch or Dinner on a Boat – Forget a boring dinner date! Sam's Dock at Pier 121 makes evenings (or mornings) extra special by cruising and dining at the same time!
Things to Do for Couples in McKinney
Go on a Foodie Tour – Rather than eat at one restaurant, get a little taste of McKinney by sampling different restaurants in the area with Food Walks of Texas & We Ate Well Food Tours.
Go on a Hot Air Balloon Ride – For something extra romantic for couples to do in Mckinney, you can book a ride at Rohr Balloons for a fun trip in the air.
Take a Historic Tour – Chestnut Square Historic Village has tours every Thursday and Saturday where you get to see the historic schoolhouse and several homes. Afterwards stop at the Mckinney Farmers Market on Saturdays with a wide variety of fun items.
Take in the Nature – The Heard Natural Science Museum & Wildlife Sanctuary has miles of trails, dinosaurs, and different terrain that is fun for hiking and exploring.
Laugh Together – The Comedy Arena is an entertaining place that acts out different improvised skits. The audience gets to be part of the fun by giving the actors directions for what they have to act.
Try Local Beer – Tupps Brewery is a fun spot to sit back and enjoy their open air taproom. They have their own beers on tap, projectors for watching games, and regular events.
Things to Do for Couples in Plano
Plano is another spot that has so many great ideas for couples including visiting some incredible parks, experiencing virtual reality, catching a movie with your pup, and more!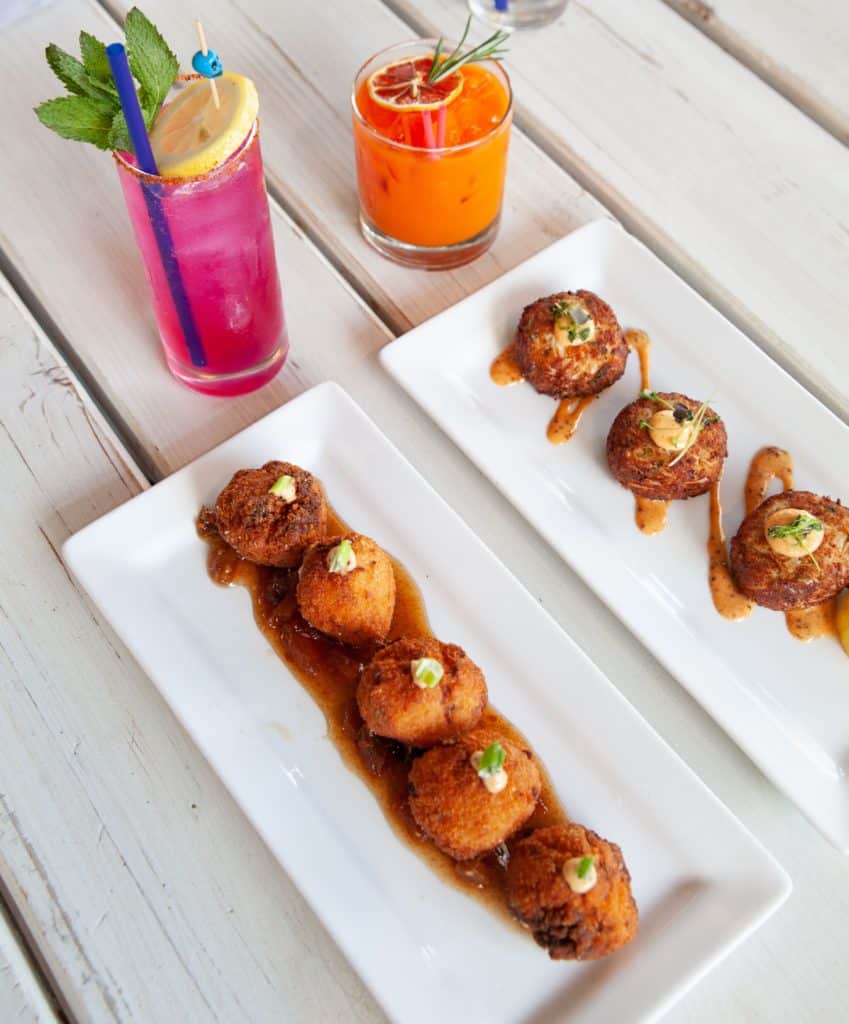 Things to Do for Couples in Rockwall
Go sailing – Sail with Scott is an affordable option for couples in Dallas-Fort Worth looking for a romantic getaway. You can enjoy either a daytime, sunset, or moonlit cruise on this BYOB boat.
Visit a winery – Feel like you've escaped to the French wine country with the vineyards around and wine tastings available.
Visit the lavender farms – Prayer lavender garden is the cutest little spot for a picnic along the lavender and a great place to stock up on lavender products, and indulge in some delicious bbq and lavender ice cream.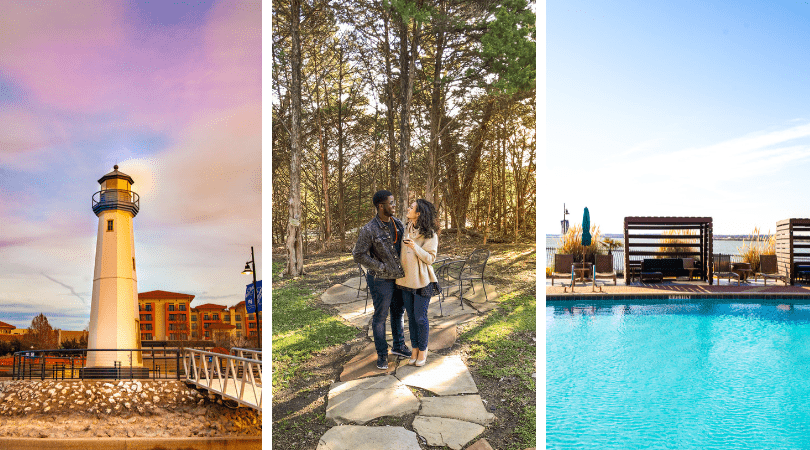 Other Things to Do in Dallas-Fort Worth Couples
There are so many small towns that make up Dallas-Fort Worth and the opportunities for things to do for couples and just things to do are endless! Here are a few available in multiple cities as well as some of the other Dallas-Fort Worth cities not mentioned above.
Southlake – Go for a horse ride at Marshall Creek Ranch or even volunteer regularly to take care of the horses.
Garland – Walk along the trails at Spring Creek Forest Trail and enjoy the running water and woods all around.
Rowlett – Creek Preserve is a gem in Rowlett where you can see all kinds of wildlife and enjoy 14 miles of hiking paths.
Farmers Branch – Test your strength at Obstacle Warriors which is basically a playground for adults. Here you can test your strength and pretend you're in one of the ninja training shows.
The views with the water running through John F. Burke Nature Preserve are a site to be seen and make for a serene date idea for couples.
Go for a swim at the Farmers Branch Aquatic Center with an indoor pool, lazy river, and water slides.
Coppell – Go kayaking with Trinity River Kayak, and enjoy the beautiful sites of the river.
Pilot Point – Tiptoe through the tulips at Texas Tulips, where every Spring, they open up their farm to visitors to take beautiful pictures and to pick tulips to take home.
See zebras and other animals at the Sharkarosa Wildlife Ranch. With a bear, emus, zorses, and many others, there is plenty to see here! They even have animal encounters where you can meet lemurs, sloths, and other creatures.
Try some Vodka at Western Son Distillery where you can tour the facility, go behind the scenes, and then sample the large selection of flavored vodkas.
Fairview – Watch a movie in one of the nicest theatres around, at Ipic Theater, where couples get a couch and can order gourmet dishes to go along with their movie.
Haltom City – Fans of sports and model cars will love a tour of the free DFW Elite Toy Museum that is filled with vintage cars, unique toy models, and even a section of dogs in art.
North Texas Wine Trail – You don't have to go to Fredericksburg when we have our own wine trail consisting of multiple vineyards, wineries, and some great Texas wine!
Cresson – Drive a luxury car such as a Lamborghini, Mclaren, Ferrari and many more at Drive Xotic.
Roanoke – Go on a foodie tour at the Unique Dining Capitol of Texas with over 60 restaurants and see just how many you can get through.
Flower Mound – Hike along Grapevine lake at Northshore Trail with some beautiful ledges and views along the water.
Stone Creek Park is another great hiking trail and a romantic spot where you can sit on the rocks and watch the water float on by.
Hang out with alpacas at Nana's Aplaca ranch.
Richardson – See all types of carnivorous plants at the The Texas Triffid Ranch.
The Colony – At the Truckyard, you get a great spot to hang out and grab a drink, and as a funky bonus, you can visit Barney Smith's Toilet Seat Art Museum.
Waxahachie – For eclectic and fun art, take a stroll through the Webb Gallery.
Rowlett – Sometimes you want to play paintball, but it's raining outdoors. Luckily, Gatsplat provides indoor paintball for action no matter the weather.
Midlothian – Tex Plex Park is your one stop shop for all things adventure from their speedboat, camping, UTV rentals, and all kinds of off road recreation.
North Richland Hills – Hang out and get kitty cuddles at Casual Cat Cafe which creates a unique environment for people to interact with cats as well as get the opportunity to potentially take home a forever friend.