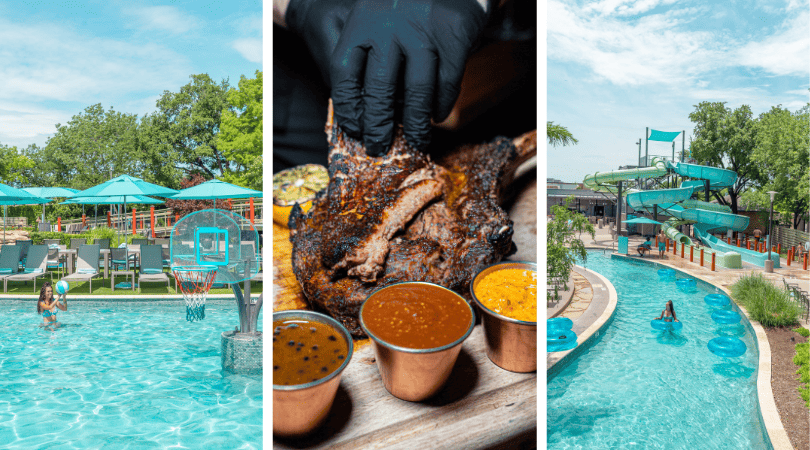 We recently had the pleasure of staying at the luxurious Hilton Anatole (click here to book) in Dallas, Texas. For us, we were so excited to experience JadeWaters, a waterpark complete with a lazy river and even an adult-centered area with a swim-up bar! Of course, it was also the perfect opportunity to dine at the top-notch restaurant, SĒR Steak + Spirits, with breathtaking views of the Dallas skyline.
While here, don't forget to discover all of the fun things to do in Dallas.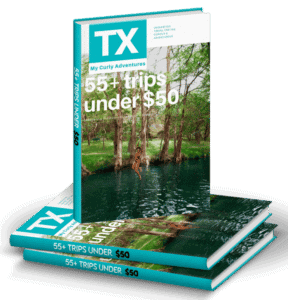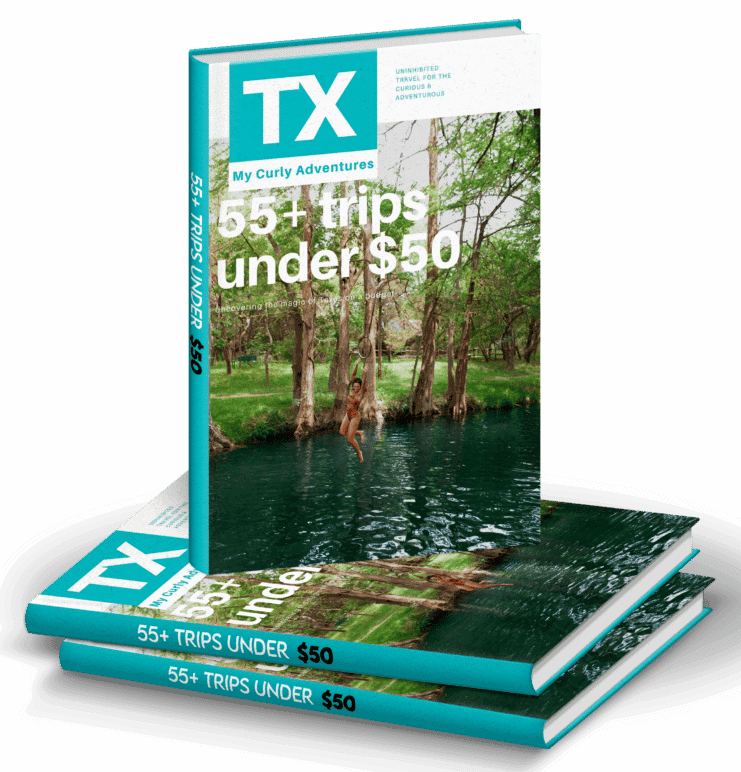 With our latest edition of our Texas Travel Guide, you can take an exciting vacation every weekend without breaking the bank and still have more to do! And in just one trip, the guide pays for itself! You'll be amazed at all the hidden gems, international influence, and wacky attractions you'll find all over Texas!
Not ready to purchase quite yet? We wanted to make this guide as accessible as possible, so we've shared our 1st edition of our guide, 50 Texas Trips Under $50. Click the button below to get yours for FREE!
The Art at the Hilton Anatole
Stepping into the Hilton Anatole feels like entering an art gallery. The hotel proudly showcases over a thousand rare and fascinating art pieces collected by Trammell and Margaret Crow. It's something so unexpected and you could spend hours learning about everything here.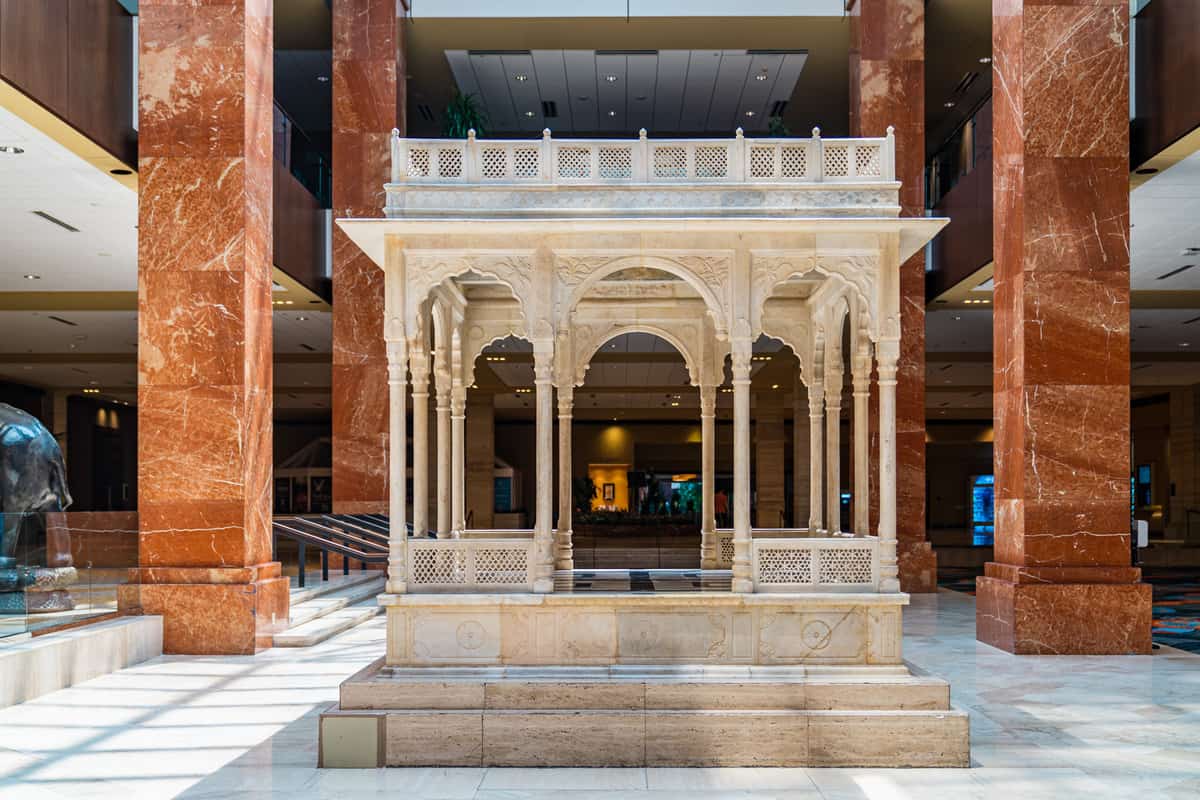 One of the most unique pieces has to be a living piece of history, a real portion (not a replica) of the Berlin Wall.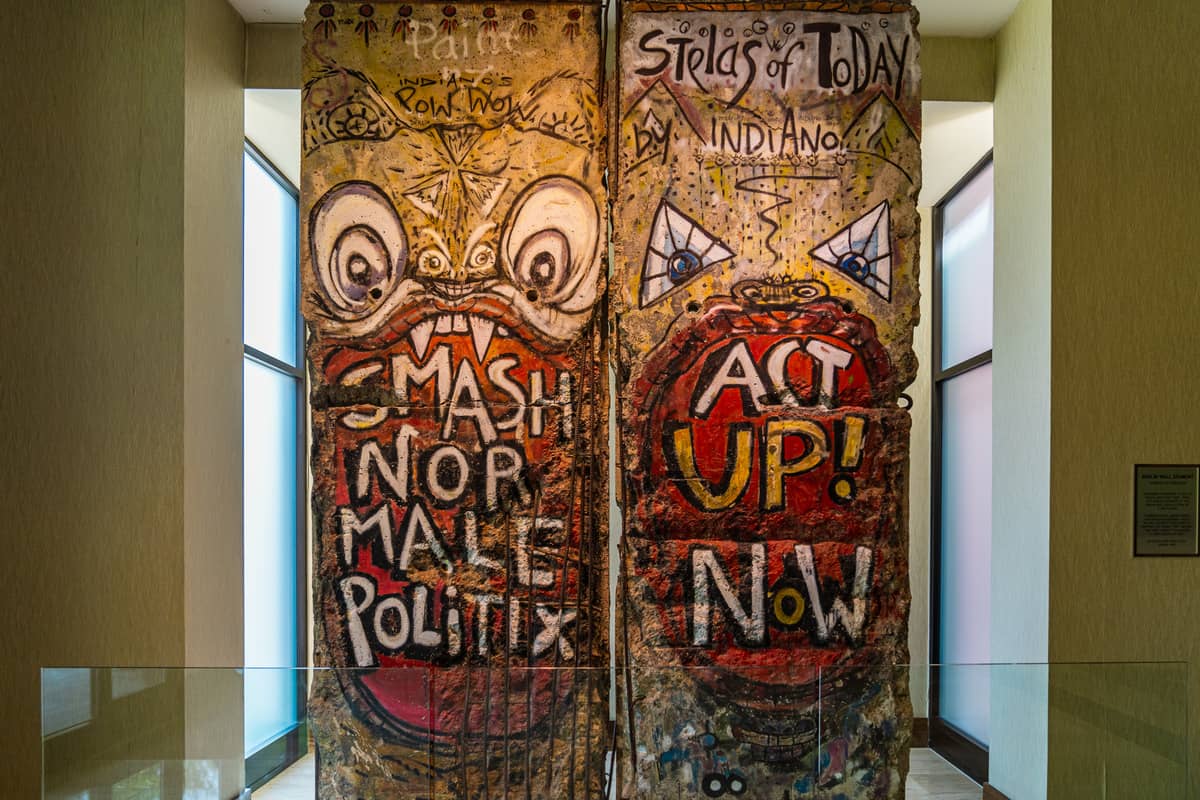 The Downstairs Café
I spent many mornings at the hotel's delightful café, serving delicious Starbucks coffee and a delectable array of warm breakfast and lunch options. The convenient grab-and-go selection, featuring snacks, drinks, and even alcoholic beverages, ensures you're always well-satisfied during your stay.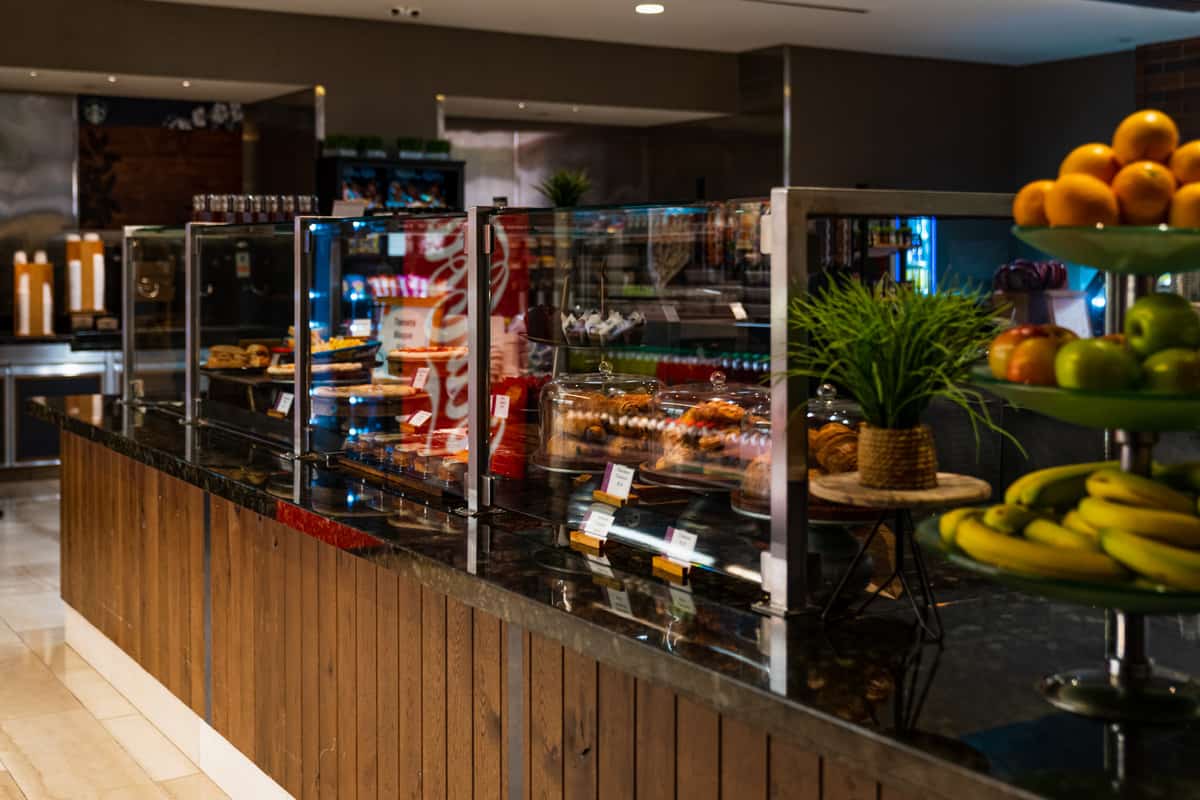 The JadeWaters Resort Pool Complex
The highlight of our stay was undoubtedly JadeWaters, a waterpark on-site at the Hilton Anatole. It offers an array of thrilling water attractions and activities for all ages.
The centerpiece is the 630-foot lazy river, where guests can relax on tubes and float leisurely past cascading waterfalls, sculptures, and lush landscaping.
For those seeking a dose of excitement, JadeWaters offers two, 180-foot waterslides that promise exhilarating rides and adrenaline-pumping fun.
Families will love the dedicated kids' splash and play area, where little ones can stay cool and engage in water games, like water basketball, an extra element of fun for both kids and adults.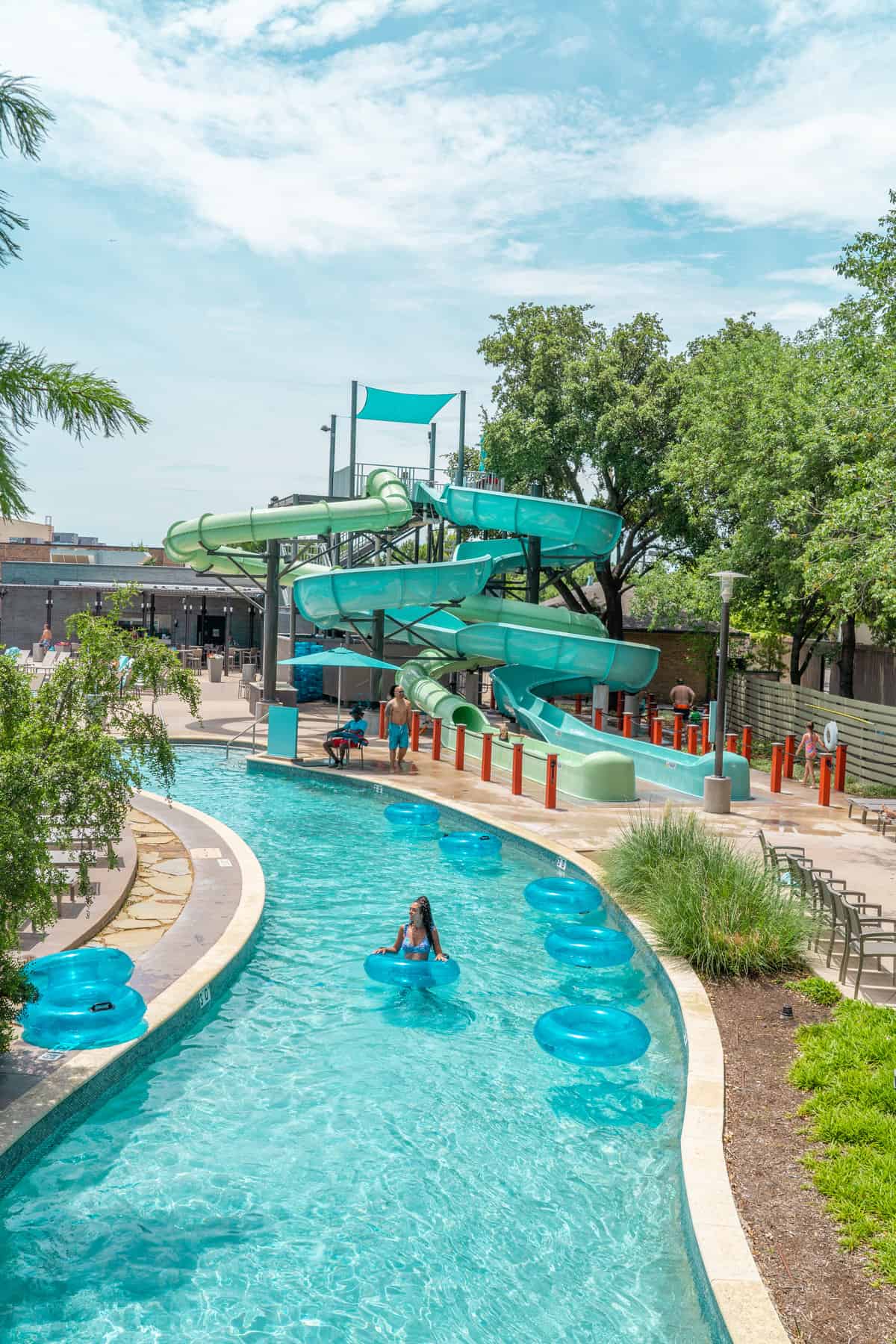 The waterpark also features a separate swim-up bar, geared towards the adults, allowing you to cool off with a refreshing beverage while still enjoying the water. There's a hot tub in this area as well as lounging chairs directly in the water for catching all that sun. There's also a lot of cute daybeds and seating to enjoy for an additional charge.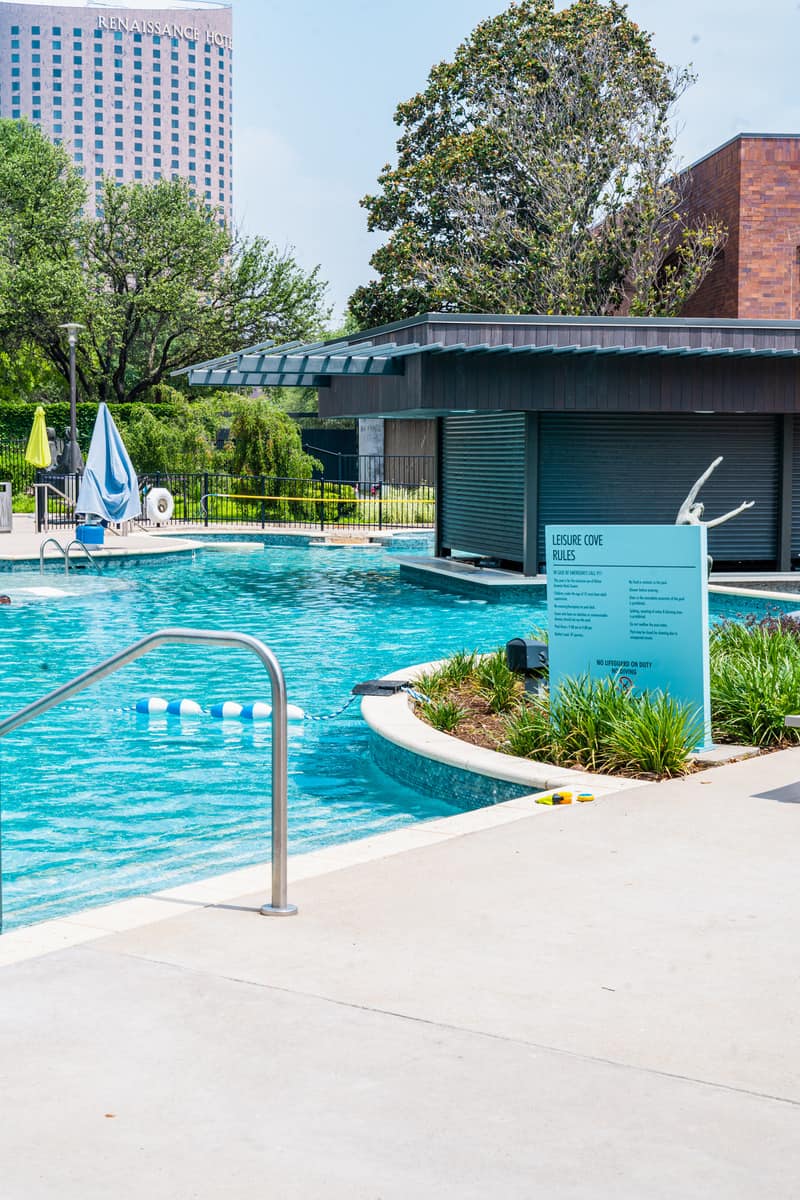 Overall, you can tell that JadeWaters is geared towards the kids and any family will have a blast. However, we enjoyed the lazy river (with the occasional splash or two from kids) and the general area as two adults.
It's up to your preference but we found peace on the water (weekends and packed days can impact this). It helped that there was an area geared towards adults to balance out the experience.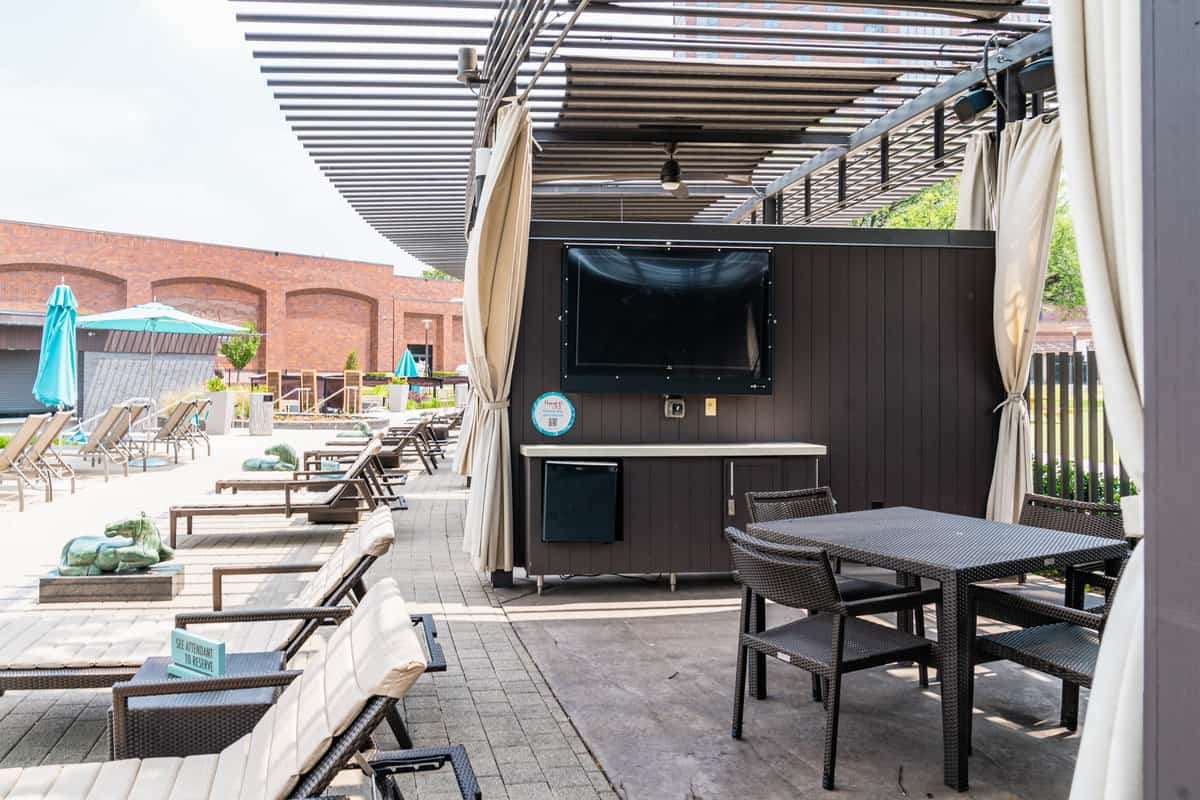 Kid's Activities
During the summer, there are so many kid centric activities, including movies under the stars, foam & bubble parties, face painting, kid's crafts, root beer floats, bounce castles, and more.
Dining at SĒR Steak + Spirits
While staying here, it's a great time to take advantage of dining at SĒR, an exquisite restaurant located on the 27th floor of the Hilton Anatole.
However, you can visit SĒR even if you're not staying at the hotel. With its breathtaking views of the Dallas skyline, it sets the stage for a romantic date night or a memorable celebration. The ambiance is elegant and refined, offering an intimate and sophisticated atmosphere.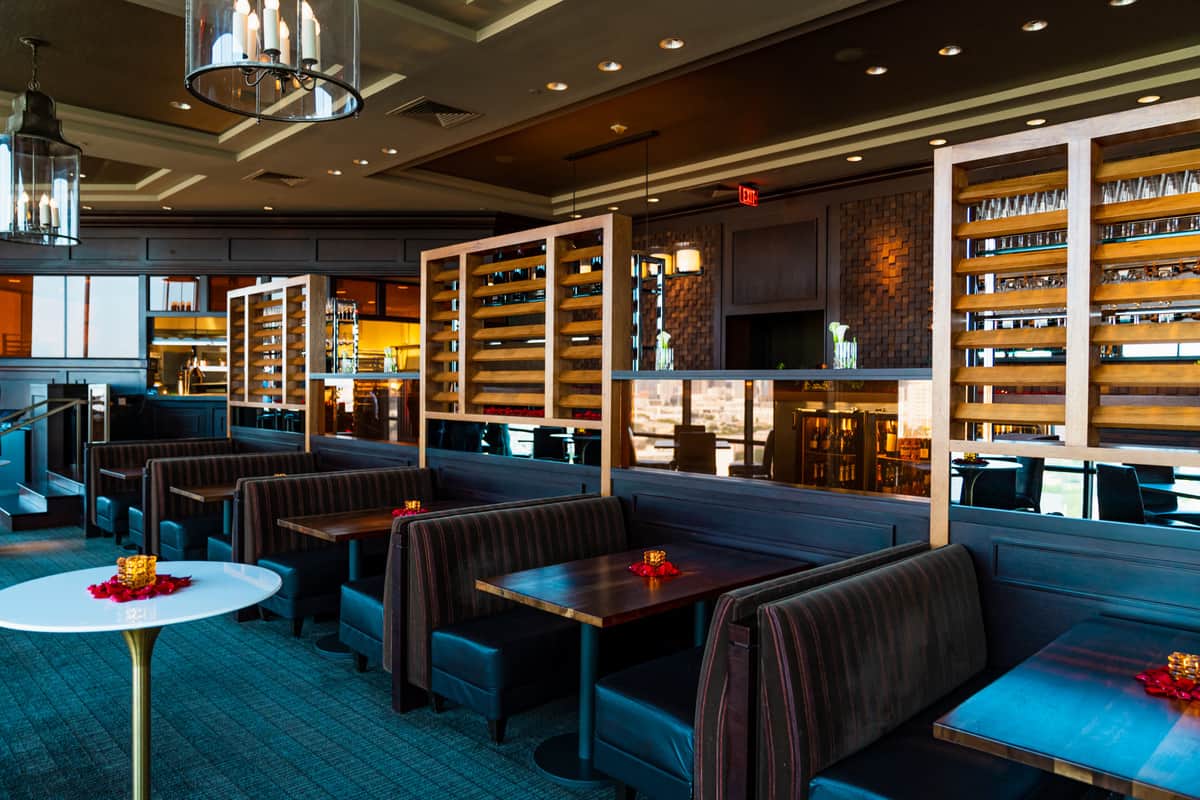 SĒR is known for its exceptional cuisine, prepared with the utmost attention to detail. The menu showcases a variety of dishes that celebrate the finest ingredients. Indulge in their renowned tomahawk steak sourced from a Texas ranch, savor locally sourced pasta, and explore an array of tantalizing side dishes.
End the evening on a sweet note with a tableside flambé dessert, masterfully crafted by Chef Cristof, a renowned French chocolatier.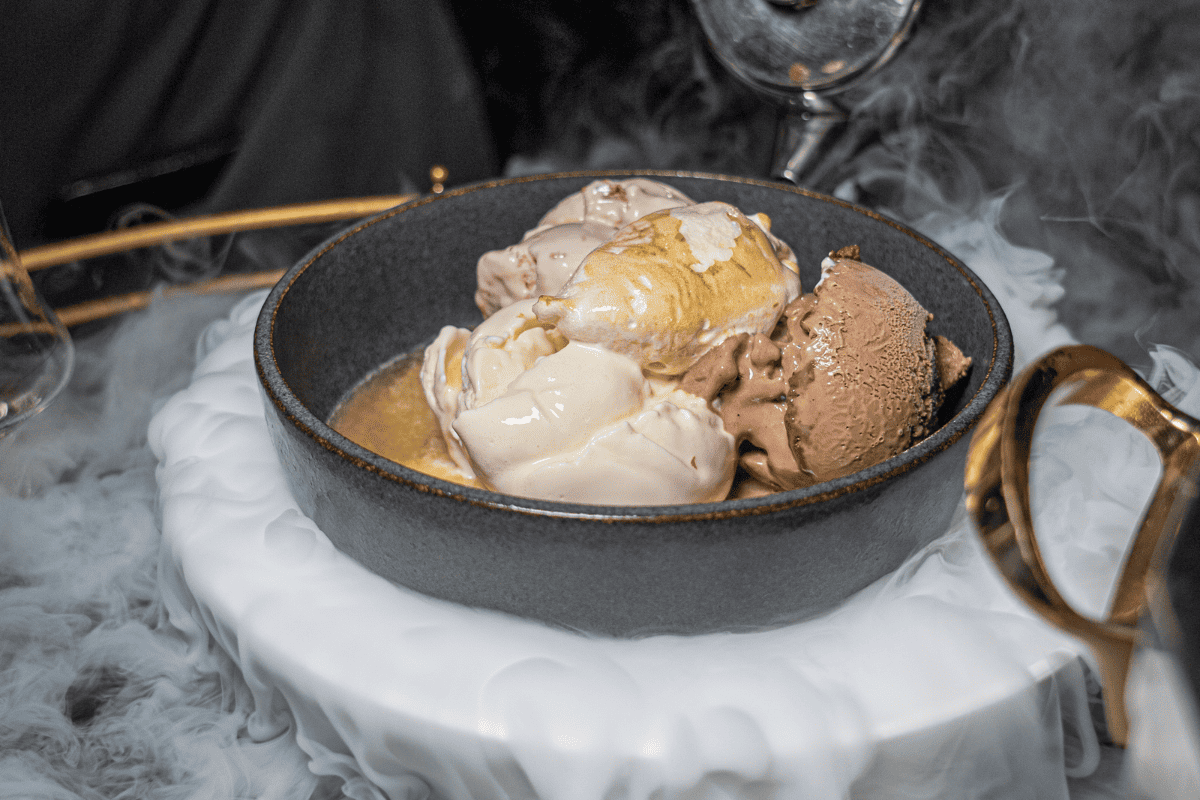 The emphasis on making the dining experience special at SĒR is incredible! If you have special requests (caviar, a particular cocktail or bottle of wine, a certain preference for something, practically anything), as long as you give them enough time, they can provide it!
What We Ate
We savored an array of delectable dishes including the tomahawk steak, their Campanella Mac and Cheese made with locally sourced pasta, and flavorful sides like broccolini with Spanish romesco and mushrooms with a black garlic demi-glace.
To accompany our meal, we indulged in expertly crafted cocktails such as the refreshing Day Dream, the featured Black Cadillac Margarita, and the sophisticated Mayahuel, named after the Aztec goddess of agave. The culinary journey at SĒR was a true delight for the senses.