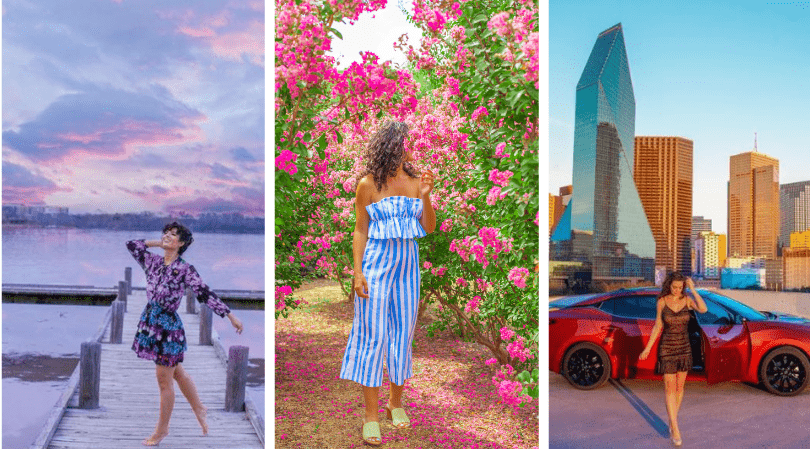 Whether you're trying to take prom pictures, cute couple pictures, family photos, or something else, there are so many great places to take pictures in Dallas. The great thing is most of these are also free! We, of course, made sure to share how you can take the best rooftop pictures for a view of Downtown Dallas.
While you're taking pictures, don't forget to also check out some of the best things to do in Dallas. Some of these places are places of business so if you plan on taking something more than some iPhone pictures, make sure to contact them on their photo policies, and of course, be sure to purchase something.
Best Places to Take Pictures in Dallas
White Rock Lake
Especially at sunset, you'll be able to take some amazing pictures at White Rock Lake in Dallas! You'll have sail boats in the back, pretty places for picnics, and flowers in the spring.
Dallas Truckyard
While you'll probably have to ask for permission to take more professional photos, the Dallas Truckyard is great for casual photos. Outside, they have so many fun spots for a picture including funny signs, a helicopter, and cool backdrops. The inside is even more fun!

SHOP OUR TEXAS WATERCOLOR ARTPRINTS ABOVE
Galleria Dallas
At the entrance of the Galleria Dallas, you get a beautiful view with the palm trees around that make for some beautiful pictures.
Teddy Bear Statues in Lakeside Park
Not only is the lake beautiful, but you also get these cute teddy bears that happen to be one of my favorite spots in Dallas for pictures.

Frontiers of Flight Museum
Right outside of the museum you'll find this cool plane that will make people think you managed to sneak onto one at the airport.
Dallas Rooftop
It took us quite a bit of searching to find this awesome rooftop spot for amazing photos, and I'm happy to share the secret. Follow the address 951 Munger Ave. S. that will lead you to a parking garage. You pay a small parking fee, and then get these amazing views of Dallas for the perfect picture.
Dallas Design District
There are so many fun photo opps here with cool interactive murals! There's a huge tire swing, a car sticking out of the ground, and fun paintings. Head to 1313 Riverfront Boulevard for these Dallas photos.
XOXO Dining
Whenever we drive past this Dallas restaurant, there are always people taking photos! It's just so fun with the pink walls.
Crape Myrtle Trails of Mckinney
From late spring to summer, this park is filled with beautiful, pink crape myrtles!
The Theatre at Lakewood
The shopping center is fun, and what's also great is they have this beautiful theater that makes for fun photos.
Downtown McKinney
McKinney is such a cute town and the downtown square has so many photo opportunities.
Picole Pops
This popsicle spot in Bishop Arts is so great for photos! The colors are fun, and the pops make for good props. Plus, they have giant popsicles for fun photos.
Prairie Creek Park
This cute Plano park has this waterfall and is a popular spot for photographers!
Adriatica Village
Inspired by a Croatian village, this is a beautiful photo spot that makes you think you're far away.
Arbor Hills Nature Preserve
This spot is pretty any time of year, but I especially love it in the spring when you get these beautiful pictures.
Harwood Arms Dallas
Outside of this restaurant, you'll get super cute pictures with the flowers all around.
Davis Street Espresso
Next to the coffee shop there is this cool bus.
Ruibal's
This plant shop in Dallas is so picture perfect, and you even get a pretty good Dallas skyline photo in some spots.
Deep Ellum
If you want all the murals your heart can desire, head to Deep Ellum. You can take so many different photos.
Winspear Opera House
I think this photo shares why this is a great Dallas photo area.
Selena Mural
Right next to Xaman cafe is this beautiful Selena mural!
Highland Park Village
I love Highland Park Village because of all the greenery and also the Moroccan spots, like these stairs.
Paid Places to Take Pictures in Dallas
If you want to spend a little on your photoshoot and get some awesome pictures around Dallas, here are some other great options!
Dallas Dollhaus
This place is filled with all pink for a dreamy photoshoot in Dallas. They have a pink kitchen, a pink bedroom with cute pink outfits, and other rooms. There are so many fun options. Just DM them on Instagram @DallasDollhaus to book.
Llamazing Party Animals
Make your Dallas photoshoot extra fun with some llamas, alpacas, donkeys, and horses at Llamazing Party Animals.
Places a Little Outside of Dallas to Take Pictures
Sometimes you have to go a little further to take some great pics (and have a fun experience). If you want to venture out of Dallas for some beautiful pictures, these are some great options!
Airfield Falls Waterfall
This is in Fort Worth, but the waterfalls are so beautiful for pictures.
Wild Berry Farms
In the summer, take fun pictures out in the sunflower fields.
The Harbor at Rockwall
Have the lake around you, as well as the beautiful lighthouse.