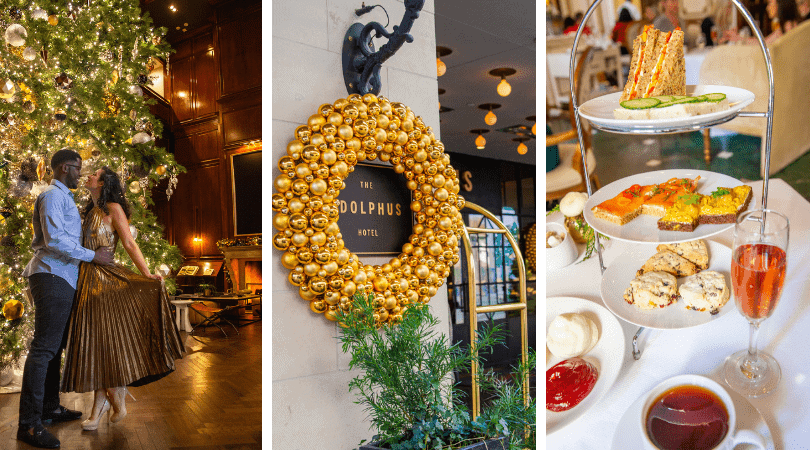 It's beginning to look a lot like Christmas at the Adolphus Hotel in Dallas! It's no secret that I already love this German Beaux castle inspired hotel, but things get even more magical during the holidays when the hotel is decorated in lights and Christmas displays! If you're looking for holiday things to do in Dallas, spend Christmas at the Adolphus and you'll undoubtedly find yourself in the holiday spirit. And you can bring your four-legged friend with you because the Adolphus is pet-friendly!
Holiday Tea at the Adolphus Hotel
We started off our Christmas stay with their famous holiday tea, something you need to book ahead of time because it sells out quick! There are so many things that make the holiday tea at the Adolphus such a special moment! The Adolphus has been serving tea since its beginning and it's a tradition in Dallas that's been passed on for generations. When you go, you can see grandmothers with their daughters and granddaughters enjoying tea as they do every year since that same grandmother was a kid!
The holiday tea consists of two courses of sandwiches, scones, and sweet treats, a glass of champagne, and two different teas. Each item is thoughtfully crafted down to the coronation curry chicken, a special recipe gifted to the hotel by the Queen of England!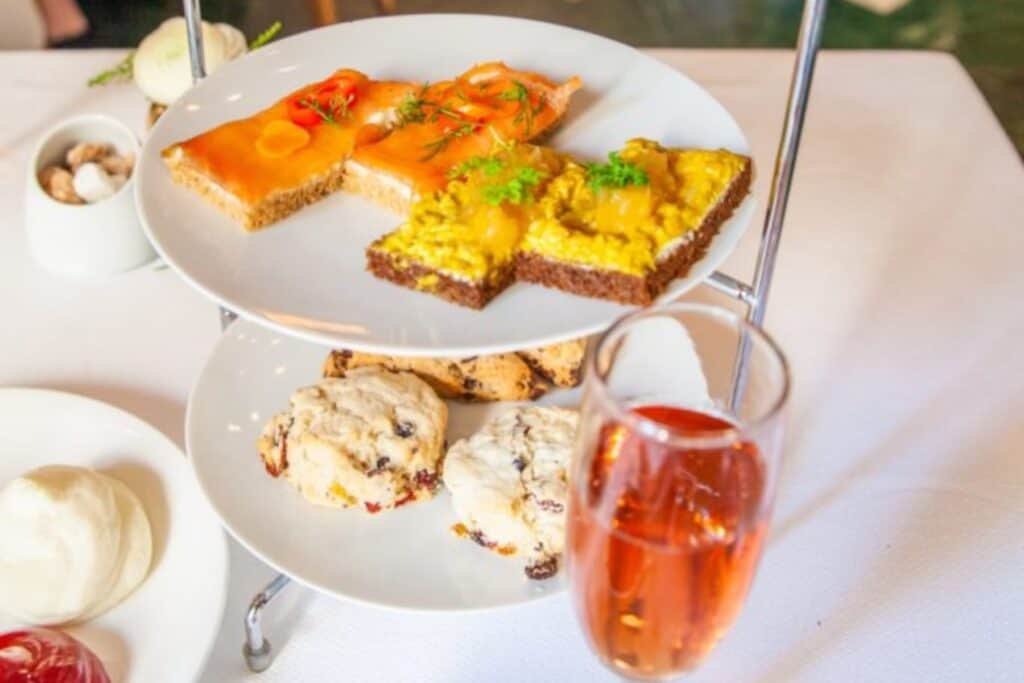 You can book a reservation between November 2, 2022, and January 8, 2023, or checkout their incredible 5-course dining experience offered year-round.
After an incredible tea, we enjoyed wandering through all of the Christmas decor at the Adolphus, from their 4-story tree, a lobby with multiple Christmas trees, and the beautiful staircase decked out in lights.
We ended our tour by the fireplace, a spot where good conversations are bound to happen!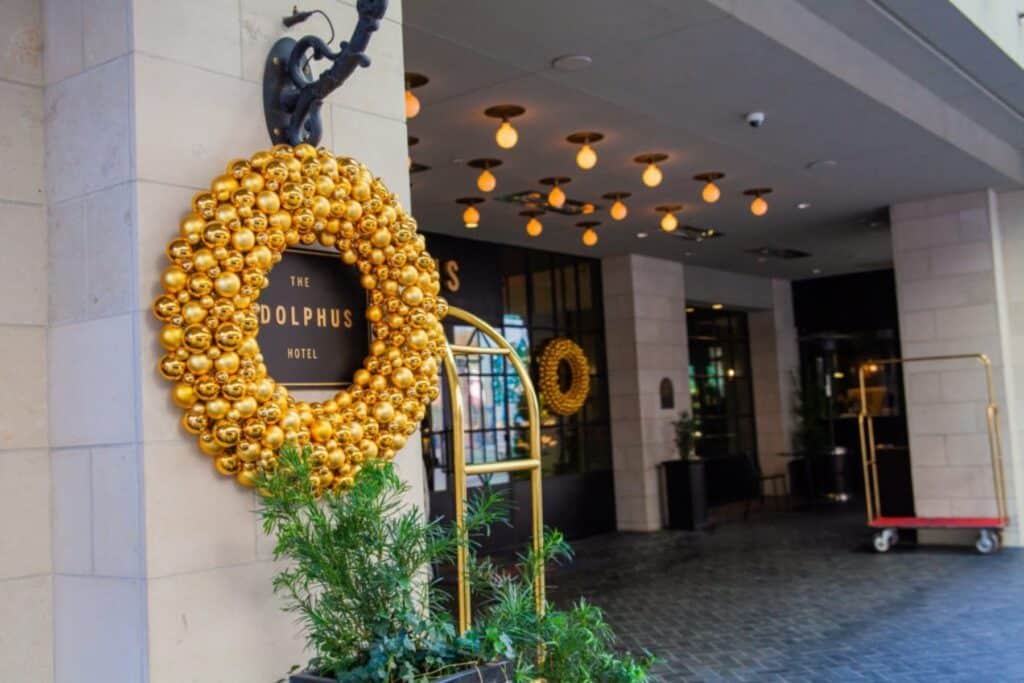 Have Dinner at the Adolphus
The food at the Adolphus is always a treat. City Hall Bistro has always been a favorite of mine. I love that they change their menu seasonally, adding fresh concepts and unique flavors. Every time I go, they have new dishes to try!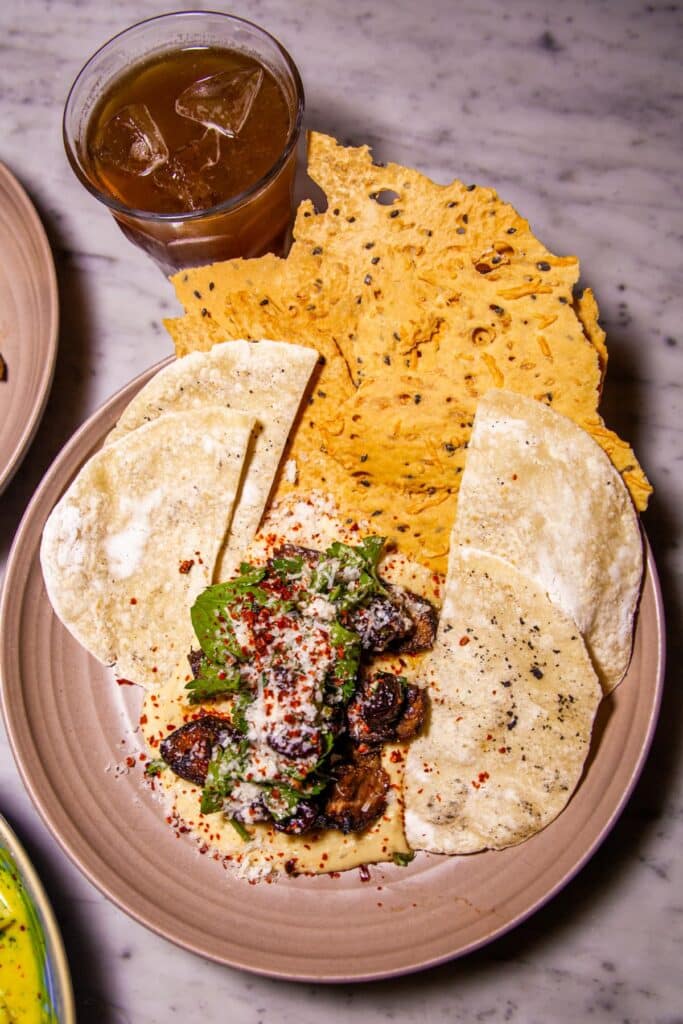 A Little Last-Minute Shopping
If you're looking for a little last-minute shopping, I love checking out Common Goods inside the Adolphus. As a true Texan, I love my Stetson hats and the Adolphus even has their own custom Stetson hats! On top of that, you'll find artisan goods that can only be found in this store, so you're getting one-of-a-kind products! The Adolphus also has gift certificates available if someone on your list loves to travel.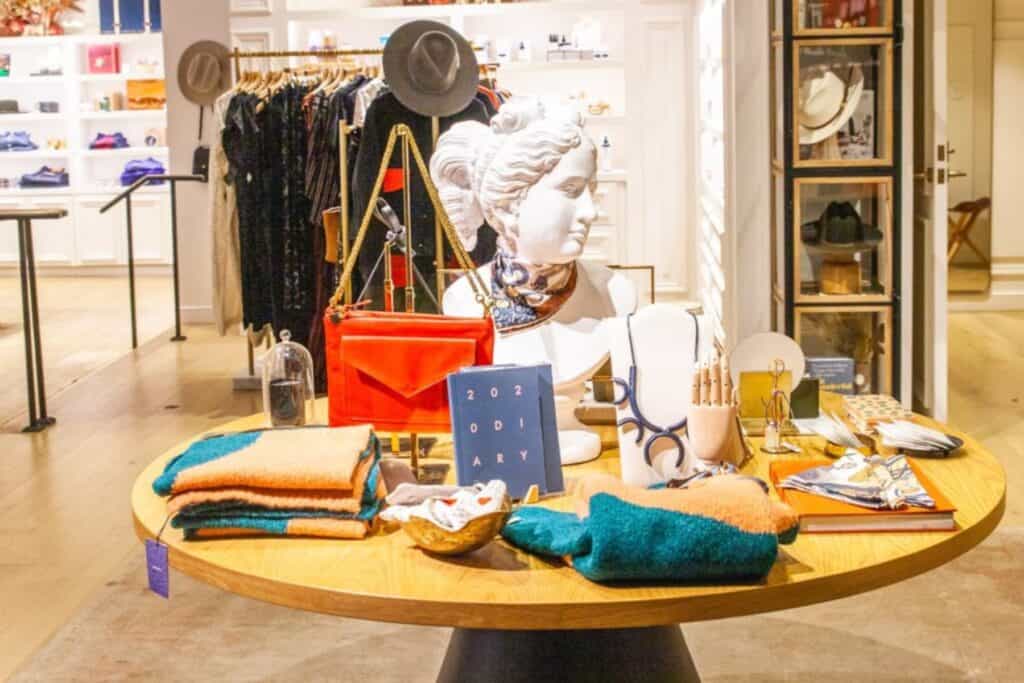 Attend the Tree Lighting Ceremony
Tree lighting ceremonies are always so magical. Whether you are a guest of the hotel or not, ring in the holiday season at the Adolphus Hotel's Great Tree Lighting on Dec. 2, 2022, from 5pm to 8pm. Enjoy caroling, a hot toddy bar, cookies, and more!
Purchase the Naughty or Nice Holiday Package
Whether you were naughty or nice this year, the Adolphus Hotel has you covered with their Naughty or Nice Holiday Package. Your "nice" option: breakfast for two at Otto's Coffee, equivalent to a $50 dining and drinks credit. Your "naughty" option: cocktails for two at their City Hall Bar (also a $50 dining and drinks credit).
Visit the Winter Village at the Rooftop Pool
From Nov. 15, 2022, to January 28, 2023, the heated, rooftop pool at the Adolphus Hotel will transform into a winter wonderland village, complete with themed cottages and cozy winter cabins. Enjoy live music, warm boozy cocktails, festive s'mores, Croque Monsieur sandwiches, and more! The rooftop pool will be open Tuesday through Thursday from 5pm to 11pm and Friday/Saturday from 3pm to midnight. Be sure to make an online reservation. General admission tickets are $10.
Be sure to check out our list of other bars and restaurants in Dallas that are going all-out this holiday season!
Reserve a Cozy Cabin
Stay warm this holiday season by booking a cozy cabin or cottage at the Adolphus' Winter Village rooftop lounge. Winter cabins and cottages are available to accommodate your party and its needs. Prices range from $250 to $350. You can make reservations online.
The Cocoa Lounge
Revel in the holiday spirit at the Cocoa Lounge inside at the bar inside the Adolphus' French Room. Enjoy specialty holiday cocktails, boozy hot chocolate, and non-alcoholic options for the kiddos. The Cocoa Lounge is open Wednesdays through Sundays from 11am to 5pm. No reservation required!
Spend Christmas at the Adolphus: Final Thoughts
We had checked into the Adolphus just days before Christmas. After weeks of work, it had been hard to get into the holiday spirit with a huge to-do list. However, the relaxation and classic Christmas vibe really set the tone for a relaxing weekend full of holiday cheer!
I loved everything that was going on, so we decided to spend Christmas at the Adolphus, topping it off with their amazing spa! However, if you did decide to go out, they have a town car (for drop-off only) that will take you 3 miles each way from the hotel! Afterall, there are so many fun Christmas activities in Dallas to enjoy!