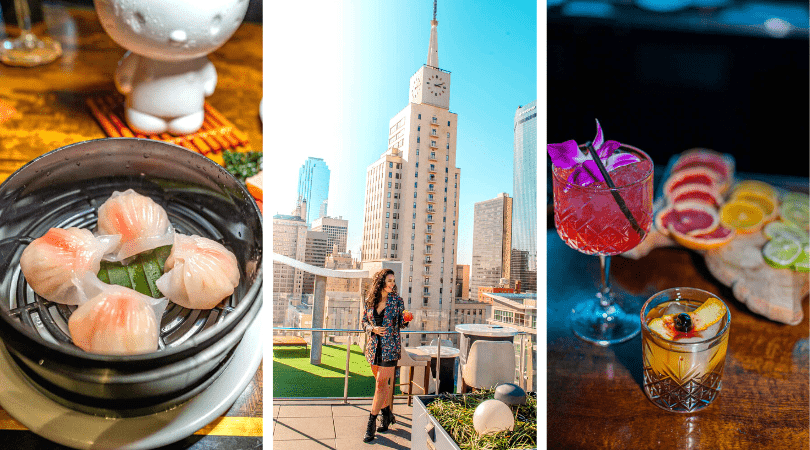 DFW is vast and known to sport some of the best nightlife and things to do that the nation has to offer. With a variety of secret speakeasies and hidden bars in DFW that showcase the diverse melting pot that is Texas, there are so many unique places to enjoy a drink with friends outside of your typical sports bar or rowdy club. Offering a more intimate and exclusive evening out, we've curated a list of the best secret speakeasies and hidden bars in DFW that you have to check out. When you've exhausted this DFW list, check out our list of the best speakeasies in Houston, San Antonio, and Austin.
The Best Secret Speakeasies and Hidden Bars in Dallas
Dallas' Newest Speakeasy: The Branca Room
Housed inside the Chimichurri Bistro and Bar, with its floral decor and Argentinian inspired menu, is the Branca Room, Dallas' newest, secret speakeasy and hidden bar! The next time you're in the Bishop Arts District, pop in during business hours for a tasty spread of Argentinian cuisine. To access Chimichurri's secret speakeasy, simply ask the host/hostess! What's cool about the Branca Room is that, even when Chimichurri is closed, you can still access its hidden bar through the back alley, marked by a red door and a bell. Give it a ring-a-ding and you'll be in for a surprise!
A Karaoke Speakeasy: Casablanca Lounge
This oasis can also be found in Bishop Arts and is home to five private karaoke rooms available by the hour for a night full of effortless fun singing every jam imaginable. For groups ranging from 4 to 6 people, you can rent a smaller room for just $45 an hour, and for groups as large as 12 people, you can rent their larger karaoke rooms for $60 per hour. At this secret speakeasy-style karaoke bar and lounge, you can sing to your heart's content, no matter your comfort level, without having to worry about standing on a stage in front of an entire bar full of strangers. When it isn't your turn, snack on Casablanca's Silk Road inspired menu, sip on their rum tea service, and choose from their list of signature cocktails. So, start planning your next night out and make a karaoke room reservation online!
A Hidden Alleyway Adventure: Atwater Alley
Hidden in the discrete alleyway behind Henry's Majestic restaurant in the Henderson district, Atwater Alley isn't easy to get into, making it accessible to only the most dedicated guests. Within the seemingly typical alley, an easy to miss door with the letter "A" on it serves as the sole entrance into this secret speakeasy. While the outside of the establishment may look bland, the inside is guaranteed to impress.
Within a dimly lit two-story saloon with luxury leather booths and dark wooden bars, Atwater Alley provides a sultry and relaxed vibe that's perfect for a night of drinking. The speakeasy initially started without a menu, so guests could give bartenders a flavor profile and be amazed at the hand-crafted drinks made to fit their preference. Now, guests can also order from a carefully curated arrangement of specialty drinks organized by category. For an intimate night out on the town, stop by Atwater Alley for an opulent experience.
Take a Trip to the Tropics: Yellow Rosa
Concealed in an unmarked door next to Basic Taco in Deep Ellum, Yellow Rosa's non-descript entry looks nothing more than an abandoned storage room. When you enter the speakeasy, though, the vibe immediately lightens as you discover a hidden courtyard oasis made to replicate Tulum. With live Latin music and a menu filled with classic Mexican food and brunch items, Yellow Rosa offers a more upbeat twist on the typical hidden bar experience. This secret speakeasy serves a variety of cocktails and drinks that will leave you feeling like you're on the beaches of Playa del Carmen.
Saloon? More like Salon: High & Tight
Looking for a quick haircut to touch-up your night out looks? Well High & Tight has you covered, as this secret speakeasy is located inside a barber shop. When you enter the salon stationed in bustling Deep Ellum, you might be surprised to find a fully functioning barber shop. If you walk past the row of stylists and follow the emanating sound of music, you'll find a green light on the door of the back room. Upon entering the room, you'll find that the regular salon has transformed into a buoyant saloon.
With a lively atmosphere reminiscent of the Prohibition era, along with live music, and an extensive cocktail menu, High & Tight makes for the ultimate drinking experience. Paired with a team of highly trained mixologists, guests can enjoy specialty drinks or classics like their Goodman and Barbara Sue.
Retro Drinks and Vibes: Midnight Rambler
For one of Dallas' finer drinking experiences, you have to check out Midnight Rambler. Located in the basement of the pristine Joule Hotel in downtown Dallas, this secret speakeasy can be found in the lobby by an illuminating sign that reads "cocktails." Follow the sign that leads to the underground staircase, and you'll find a hidden bar. Complete with retro lighting and an exceptional DJ on the weekends, the Midnight Rambler serves handcrafted drinks with colorful ingredients and the best of both classic and specialty mixes. Mixed with a vintage ambiance in an elegant setting, this hidden bar is the perfect place for an evening time drink.
A Speakeasy Inside a Speakeasy: Pony Tail
Can you imagine a secret inside a secret? Well, to get to Pony Tail, you'll have to go through quite a lot to access it. Harlowe MXM is located in Deep Ellum and has its own hidden bar called Trick Pony. While it doesn't have any signage indicating where the bar is, if you're standing outside of Harlowe MXM it will be to the left. Trick Pony itself is a great hidden bar serving handcrafted drinks within a cool ambiance. It has a cocktail menu that switches themes every three to four months and brings exotic flavors from all over the world, but there's more to it.
In the ultimate twist, Trick Pony has its own speakeasy called Pony Tail, a speakeasy inside a speakeasy! Pony Tail can only be accessed on Fridays and Saturdays between 8 pm and 2 am. If you head to the back of Trick Pony, you'll find a door underneath a glowing "MXM" sign. When you go through the door, you'll be met with a tiny room without seats or a menu that can fit around 10 people at most. While the bar is shelved with a variety of bottles, you'll want to try out the Amaro, the Pony Tail's specialty and the best of its kind in Dallas. Matched with the intimate and exclusive setting of this hidden bar, Pony Tail will become your favorite drinking spot in the city.
Enjoy Creative Drinks That'll Blow Your Mind: Apothecary
Also located in Lower Greenville is Apothecary, a hidden bar filled with luxury velvet furniture and vintage decor. A sign on the patio railing, as well as a host right next to it, shows visitors where Apothecary is located. Step through the unmarked door and enter an establishment filled with creative cocktails and drinks. With avant-garde mixtures made from things like pasta sauce or octopus tentacles, Apothecary will bring out your adventurous side. They also serve interesting bites like edible candles and oyster shells. For those who aren't up for the challenge, the bar also has classic drink options to enjoy. So, stop by Apothecary to experience drinks like never before.
A Dark and Intimate Drinking Experience: ABV Establishment
While on a stroll through Lower Greenville, you'll easily notice the white exterior of Leela's Wine Bar, a bright and lively drinking location. While you can enjoy specialty wines there on your evening out, a cooler drinking experience is just next door. Right next to Leela's sits a door that simply says "Open." Upon entering, you'll be taken up a dark staircase that leads to ABV Establishment, a secret speakeasy with a direct contrast to the popular wine bar below. Taking on a darker vibe with black walls and velvet furniture, the atmosphere at ABV is intimate and luxurious. Their cocktail menu is filled with signature drinks named after lyrics of popular rap songs that taste as good as they sound. Make sure to explore Dallas with help from our extensive list of things to do!
Experience the Magic of Wonderland: Truth & Alibi
Enter Dallas' version of Alice in Wonderland with a trip to Truth & Alibi. Located through a secret door inside the Original Deep Ellum Candy Company, you just need a password to get inside. The password is changed weekly and can be found on their Facebook page.
The upscale lounge features gorgeous cascading waterfall chandeliers, Prohibition era artwork, and plenty of room to dance to the beats of the DJ. The speakeasy can fill up quite a bit, so I recommend calling in advance to reserve a table if you want to sit. The ambiance is very lively, and you can still get the full experience by standing. The cocktail bar keeps the magic going by serving a variety of colorful drinks that will take you right into wonderland.
Dinner and Drinks in the City: Akai
If you're in for a full night of luxury and fun, look no further than Akai. Located inside the kitchen of contemporary Asian fusion restaurant, Musume, you must have dinner at the restaurant first to be granted access into this secret speakeasy. This won't be a setback, as Musume serves some of the best dim sum and tempura in the city.
After you're finished with your meal, you must have a reservation, granted to you by texting the number on the restaurant's Facebook page. If you can't find the number, don't worry! The staff at Musume are very helpful and can accommodate you if you need assistance. Then, show it to a bouncer, who will lead you through the kitchen into a secret passageway. You will eventually end up inside Akai, a dimly lit, Japanese inspired lounge. The menu includes a list of specialty mixes and handcrafted cocktails with Asian influences. I recommend trying out their Akai, a combination of Japanese whiskey, lemon flame, and carbonated soda water. They also host cocktail classes! You can find more information on their Facebook page.
A Drink Just a Phone Call Away: Bourbon & Banter
Inside what used to be the barbershop at the Statler Hotel in downtown Dallas sits Bourbon & Banter, a secret speakeasy and hidden bar. Upon entering the hotel, ask one of the staff members to direct you to the basement. Make your way down the stairs where you'll find a phone booth. Dial a certain number given to you by the staff and you'll be able to enter the vintage bar.
This hidden bar is filled with lively music and adorned with decor reminiscent of the 1950's and 60's. The cocktail menu is filled with drinks named after old-fashioned hairstyles to honor the establishment's origins as a barbershop, so try out the Bouffant or Pompadour!
A Quiet and Intimate Night Out: Bernie's
If you aren't one for flashy and loud bars, and you are looking for a more quiet and intimate experience, Bernie's is the place to be. Situated on the ground level of the Preston Tower, Bernie's is a small and exclusive space where the music isn't too loud, and the menu is simple. Sticking to the classics, Bernie's prides itself in mastering the art of traditional drinks that we all know and love, providing a quality that you just can't beat. Order a handcrafted cocktail and enjoy a conversation with friends at this lowkey joint.
An Italian Getaway: Bar Charles
An extension of the prominent Italian restaurant, the Charles, Bar Charles provides an intimate space to enjoy cocktails and specialty drinks surrounded by a luxurious ambiance. Whether you're waiting for your dining time at the restaurant or just want a night out with drinks, Bar Charles makes for a wonderful experience. Try out their extensive list of wine and champagne. Ranging from pricier options to less expensive liquors, you'll find items from all over Italy. Whatever you choose to partake in, it's guaranteed to be of the best quality. Small plates, including oysters and caviar, are served at the bar and pair well with the drink menu.
An Adventure You Don't Want to Miss Out On: Jettison
Classic cocktails, good vibes, and unique flavors. What more can you ask for? Jettison, found behind Houndstooth Coffee's patio, is a secret speakeasy with drink flavors inspired by owner George Kaiho's heritage. Coming from a mix of both Japanese and Texas culture, he aims to create cocktails that mix the two while remaining tasty and sweet. Making concoctions of mezcal, gin, exotic fruits, and more, Kaiho has been able to create brilliant combinations that keep people coming back for more. Not in the mood for something new? All the classics are still available here for a traditional drinking experience, along with mocktails. Whether you choose to be adventurous or not, you'll enjoy an elegant night out on the town here at Jettison.
Discover the Tastes of Mexico: Ayahuasca Cantina
For another great Mexican inspired, secret speakeasy experience in the DFW area, check out Ayahuasca Cantina. Hidden in the back of Xaman Cafe, Ayahuasca Cantina embodies Chef Hugo Galvan's mission to bring contemporary Mexican flavors to Dallas. Mexican art and traditional decor adorn the walls of this dimly lit, hidden bar and give guests a taste of the culture. Their drinks are made from fine ingredients from Mexico, but it's the way that it's prepared that gives it an authentic flair. The use of traditional styles and careful attention to detail leads to the creation of some of the best mezcal, sotol, and other specialty cocktails that you'll find in the area.
All the Tequila You Can Imagine: La Mina
La Mina serves as a hidden away, Mexican restaurant and speakeasy. Located in the back of the Drey Hotel and down a ramp, the restaurant sits closed off from the outside world. This gives off the vibe of a secluded getaway not too far from home. Latin music plays throughout the dimly lit restaurant where you enjoy margaritas and antojitos. To enter this hidden bar, ask the server for the secret access code for the bar. You'll then walk past the bathrooms until you find a neon sign saying "Tequila" near a door. Upon entering through the door, put in the passcode next to a set of refrigerator doors and you'll find the secret tequila bar. Enjoy handcrafted cocktails and all the tequila you can imagine as you enjoy your night inside this hidden gem.
Step into a Manga Universe: Blackbird Society
Hidden in the back of Neon Kitten in Deep Ellum, Blackbird Society is a secret speakeasy inspired by a Japanese manga, or a Japanese graphic novel. Named after the popular manga Black Bird, this hidden bar embodies the dark and mystical ambiance of the series and serves as a dichotomy to the brighter and more upbeat Neon Kitten. The intimate ambiance of this secret speakeasy is aided by its cocktail menu. The drinks are named after tarot cards like, the Magician and the Empress. You'll also only find Japanese spirits at Blackbird Society for a truly unique and authentic experience.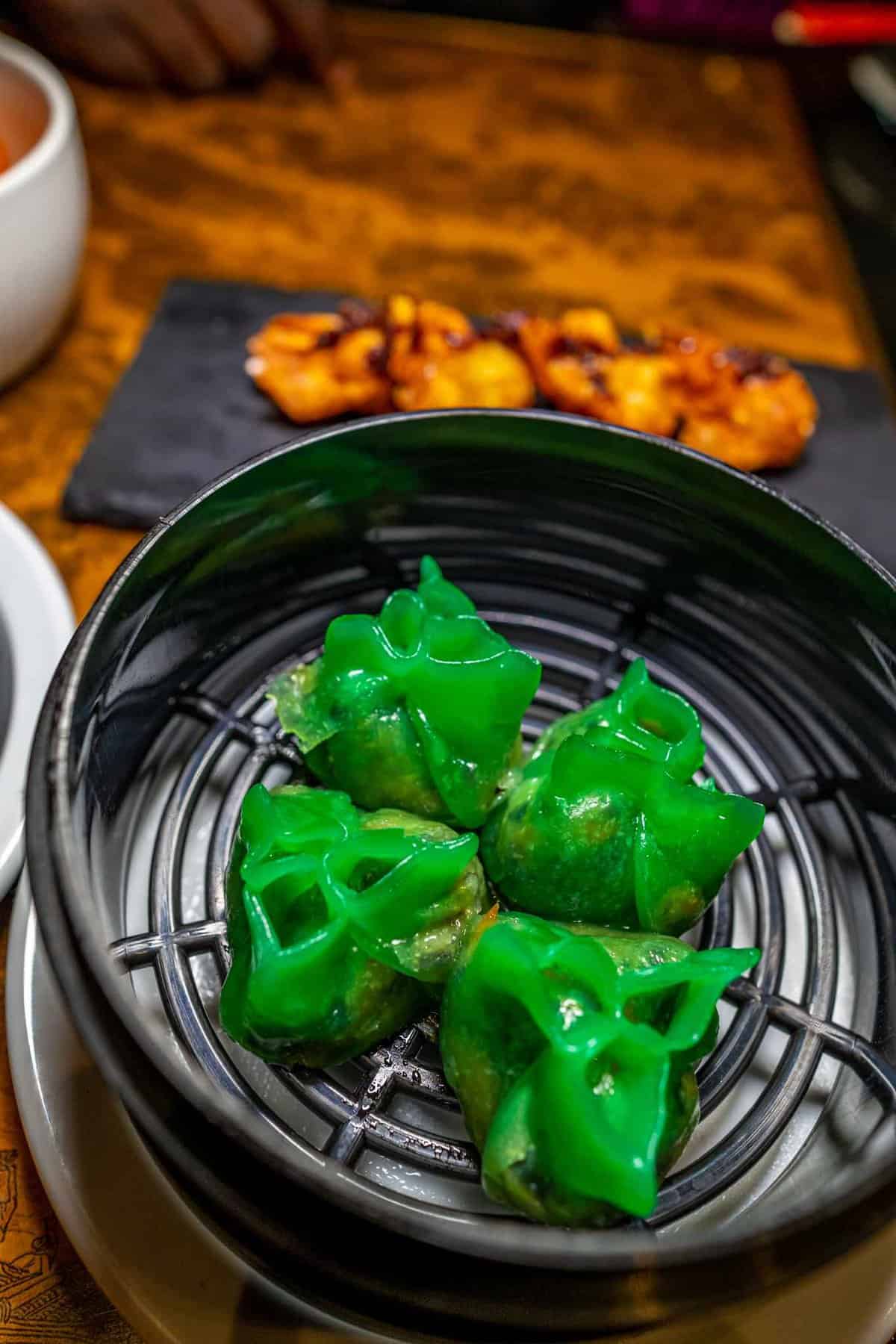 Old School Never Looked So Good: The Parlor
The Parlor sits inside the Sheraton Dallas Hotel, hidden and without signage, so it can be hard to find at first. Just look for a door near the back of the bar in the lobby. Another entrance is through a nondescript door in the solarium of the lobby restaurant. The Parlor is designed like a library, with bookcases and old school leather chairs throughout. The dark tones of the lounge give off a luxurious and vintage vibe, adding to the exclusivity of the bar. Enjoy classic cocktails and mixes from their menu as you reel in the old money vibes of this secret speakeasy.
Hotel Haunted by a Good Time: Room 520
Speakeasies can feel like a getaway from everyday life, but Room 520 takes the cake for the ultimate staycation. Located inside the boutique hotel SOVA, this secret speakeasy actually requires you to check-in before you can enter. In order to access the hidden bar, you need to go to the front desk and tell them you are there to check into Room 520. You will be given a room key with a code. Proceed up to the third floor and locate room 520. It looks just like all the other rooms on the floor, so you could bypass it without a second thought if you aren't in the know. Put in the code on the pin pad and you'll be granted entry into this hidden bar.
This secret speakeasy is small, fitting a maximum of 25 guests, the perfect place to have a fun night out with a tight-knit group of friends. The whole concept of the speakeasy is inspired by Japanese culture, which can be seen in the decor and the flavors on the menu. Cocktails feature traditional and contemporary nods to Japan through drinks with matcha infusions and cherry blossom flavors.
No Studying Here: Crozier Hall
You won't get any studying done at this school. Crozier Hall is an old high school transformed into a banquet hall in Dallas. While the venue is a popular place to host weddings and other big events, many people don't know that a secret speakeasy is hidden in the back room. Enjoy live jazz music and a fully functioning bar with handcrafted drinks at this cool hidden bar.
No Invite? No Entry: Reserved Pink (RSVD)
Only the most exclusive guests get to party at RSVD. This invite-only speakeasy is not easy to find or enter, and you need to take a few steps before securing your place on the guest list. To get an invite, you need to go to their Instagram page and either send a direct message to them or comment "pinky promise" under their most recent post. You'll then be put on a close friends list where you'll be given details about how to enter, including the location and reservation. Once you gain access to this swanky lounge, you'll fall in love with the Instagram-worthy decor that are just awaiting photo-ops. Adorned with beautiful shades of pink and cozy seating, this space is a cute and comfortable place to hang out while sipping on fancy cocktails and mixed drinks.
A Speakeasy Hidden Below: The Underground
Just beneath Frankie's Downtown in Dallas, the Underground is the perfect Prohibition style secret speakeasy for a night of fun. Complete with billiards, darts, TVs, and a full bar, the hidden lounge has everything you need for a good time. Just head to the underground basement of Frankie's to access this hidden bar. Order draft beers and cocktails, sit back, relax, and watch some of the best games. Every Friday, you can enjoy live music as well!
Bring The Fire: Red Phone Booth
Bring with you an exclusive phone number from a member, concierge or friend and dial it into a restored London antique Red Phone Booth to gain access to classic, turn-of-the-century, craft cocktail selections. Red Phone Booth speakeasy also features an extensive cigar program with over 200+ cigar selections so you can smoke and drink simultaneously for a more authentic experience. Air quality is a top priority at the Red Phone Booth so you can be guaranteed that the venue is kept clean by bringing in 100% fresh outdoor air.
A Prohibition Style, Upscale Lounge: Truth & Alibi
Truth and Alibi is a genius bar hidden behind a facade of a candy store located in Deep Ellum. You'll need a password to get into this unique Dallas speakeasy. Make sure to follow their Instagram or Facebook page as their password changes weekly. Be impressed with their cascading, crystal chandeliers, high-backed couches, and Prohibition era art and enjoy the night with their signature and classic cocktail selections.
Laugh The Night Away: TK's Comedy
Head out to TK's Comedy and enjoy all kinds of humor and amusement from their stand-up comedians and performers. Be sure to end the night with good vibes at this comedy club with their great atmosphere, fun cocktails and beers, delicious food and superb staff!
Drink Like A Gangster: Devil's Back Porch
Step back in time with West Dallas' new prohibition-era speakeasy, located in Trinity Groves. Devil's Back Porch is the nickname of the escape route used by two notorious outlaws back in the 1930s. This hidden bar features a wide range of classic cocktails including their signature cocktail "The Godfather". Experience a unique and unforgettable night out with their spectacular views of downtown Dallas skyline and wall photos from the Great Depression.
A One-Stop Speakeasy: Mr. X Cocktail Lounge
Mr. X is a sophisticated speakeasy cocktail lounge found inside XOXO Dining Room at Dallas' 3121 Ross Avenue. This is a one-stop destination with an effortlessly elegant interior where you can eat, drink and socialize and just have a good time. This place offers modern American cuisine and top-notch quality cocktails paired with some great music and ambiance for you to enjoy!
The Best Secret Speakeasies and Hidden Bars in Denton
Booze and Books: Paschall Bar
Paschall Bar is Denton's only speakeasy, named after the building's original owner, B.F. Paschall. It is hidden above Andy's Bar & Grill, where you'll enter through a nondescript door. This swanky cocktail lounge is the perfect space for relaxation, offering activities like darts and chess. The walls are lined with classical art and a huge collection of books you are welcome to read at any time. The bar serves handcrafted cocktails from trained mixologists, along with specialty craft beers.
The Best Secret Speakeasies and Hidden Bars in Fort Worth
A New-York Style Jazz Lounge: Scat Jazz Lounge
A great, hidden music venue, Scat Jazz Lounge sits right in the heart of Fort Worth in Sundance Square. Just head to the basement of the Woolworth Building. This hidden gem showcases some of the best musicians and even brings in national talent for bar-goers to enjoy. Though you'll experience talent from all musical genres, jazz is the main focus at this basement lounge. This hidden bar gives off old-school New York vibes and serves unique mixes and craft cocktails to enjoy with live jazz all around you.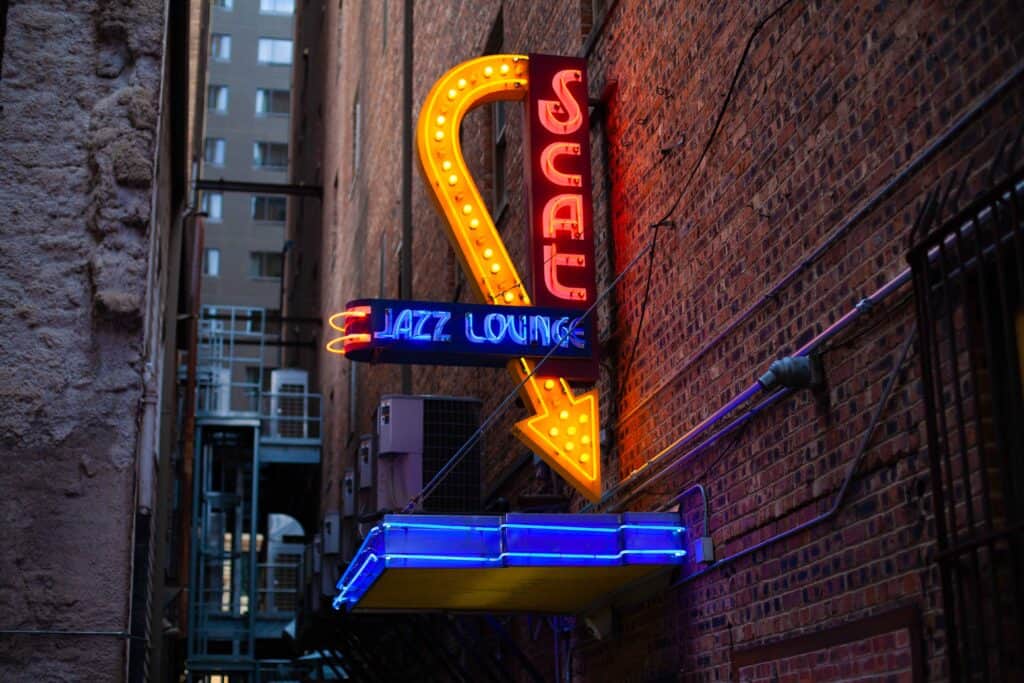 A Book Lover's Dream: Thompson's Bookstore
This fancy speakeasy is located in the basement of a former bookstore and still holds all the same charms of the vintage space with a contemporary twist. Just ask the bartender for the password or find it on their Facebook page to access the hidden lounge. This Prohibition style bar is surrounded by a vast collection of books and antiquities that create a place perfect for drinking and relaxing. The Thompson's spirit and cocktail assortments reflect the unique and charismatic ambiance of the establishment and make for the perfect nighttime escape.
A Grocery Store Like No Other: Bodega Speakeasy & Grocery
Bodega Speakeasy & Grocery is one of the coolest spots in Fort Worth and is guaranteed to provide a good time. Located right in the city's 7th Street Cultural District, this hidden bar can be found inside an actual bodega. It works as a fully functioning grocery store where you can buy convenience items and snacks. At the back of the store, you'll notice a room with floral wallpaper. This is the secret speakeasy, where the signature craft cocktails and beers are served. Pool tables, a shuffleboard, big screen TVs, and a dance floor all add to the fun of this speakeasy, making for the perfect night out.
Doing Chores Has Never Been So Fun: Dirty Laundry
It may appear to be a typical laundromat on the outside, but a closer look will open up a whole new world. Inspired by the movie Dirty Dancing, this secret speakeasy offers another unique location for a night of drinking. Inside Fort Worth's West 7th District, Dirty Laundry is complete with "wash" and "dry signs" and eight fully functioning washing machines. One of the machines will have an "Out of Order" sign on it, but it's anything but. This is the entryway into this secret speakeasy, so just pull on the handle and you'll find yourself entering one of the coolest hidden bars. Enjoy sipping on themed, craft cocktails and specialty drinks as you take in the exclusivity of this gem. Try drinks from the "Laundry List" menu, including the Absolut-ly Filthy Martini.
Dance 'Til Dawn: Curfew Bar
Curfew Bar is a speakeasy and cocktail bar located just below the Sundance Square in downtown Fort Worth. This nightclub has a dark interior with colorful neon signs, flashing lights and and disco balls of various sizes. It's a great place for dancing or just hanging out! In addition to the lively music, the club also offers an extensive menu of classic and seasonal cocktails as well as wood-fired pizzas.
The Best Secret Speakeasies and Hidden Bars in Frisco
A Library of Drinks: Rare Books Bar
To enter this secret speakeasy, approach the red phone sitting in the back of the J. Theodore restaurant in Frisco and dial " the librarian." You'll be asked for a password, which is updated weekly and can be found on their Instagram and Facebook page. Once you give the password, you'll be granted access into this fancy hidden bar for a night of entertainment and joy. Be serenaded by the live music as you enjoy specialty drinks from the hundreds of bottles on the shelves that look like bookshelves in a library. Rare Books specializes in whiskeys, so try one of their signature whiskey cocktails, like the Rare Books Smoked Old Fashioned.
The Best Secret Speakeasies and Hidden Bars in Lewisville
Not Your Average Chicken: The Volstead Room
If you're really craving a Prohibition era drinking experience, the Volstead Room is located inside the Prohibition Chicken in Lewisville, where whiskey infused chicken is their specialty. While you may have come for the speakeasy experience, the restaurant itself is a must and worth the designations as your pre-game dinner spot.
Once you're done munching on delectable chicken and are ready to get the party started, ask the bartender for the password to the hidden bar. The password changes weekly, so make sure to ask every time you visit. In the back of the restaurant, you'll find a telephone booth where you can enter the password. Once you're granted access, you'll discover the Volstead Room! This lounge gives off an authentic, secret speakeasy ambiance with its Prohibition era decor and exclusivity. Enjoy handcrafted cocktails and draft beers while you take in the intimate vibes of this hidden bar.
The Best Secret Speakeasies and Hidden Bars in McKinney
Cocktail Prescriptions: Room One Eleven
Downtown McKinney is a treasure all its own, so it isn't a surprise it's home to one of the most secret speakeasies and hidden bars in DFW! Room One Eleven can be found behind an antique coke vending machine outside of the restaurant, Layered, guarded by inconspicuous bouncer hiding in plain sight. To enter, there is a password. You can find it on Room One Eleven's Instagram. Keep in mind they are only open Thursday through Sunday beginning at 7pm and ball caps aren't allowed inside.
From 1920 to 1933, the building was actually a pharmacy where prescriptions for alcohol were written during Prohibition. This was actually common practice during this time due to the believed medicinal benefits of alcohol, dating back to 17th century Great Britain and even further!
The Best Speakeasies and Hidden Bars in DFW: Final Thoughts
Looking for unique things to do in DFW? Enjoy a night out on the town with a twist by visiting some of the best speakeasies and hidden bars. Whether you're looking for a more intimate vibe or a place to impress your friends, these DFW speakeasies will be sure to make for a night that you won't forget. For more, check out the best speakeasies and hidden bars in Houston, San Antonio, and Austin!