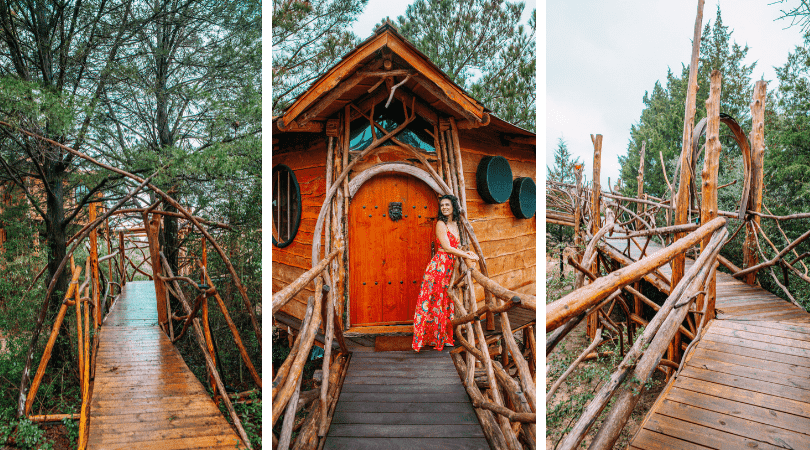 Located on-site at the Lost Pines Shire, a collection of unique lodgings in Paige, TX, we found this pet-friendly Hobbit Treehouse. This gorgeous treehouse out in nature is just minutes away from Bastrop. Honestly, pictures don't even begin to do justice to this magical place. Located on acres of open land, there's plenty of space to go on an adventure.
Excited for your stay? Book now!
Pet-Friendly Hobbit Treehouse: A Glamping Experience Like No Other
As soon as you walk up to the Hobbit House, you're met with a spiraling ramp that winds up and around to the actual treehouse. There are little details and so much to see just on this little path, but it's something unreal until you actually experience it yourself.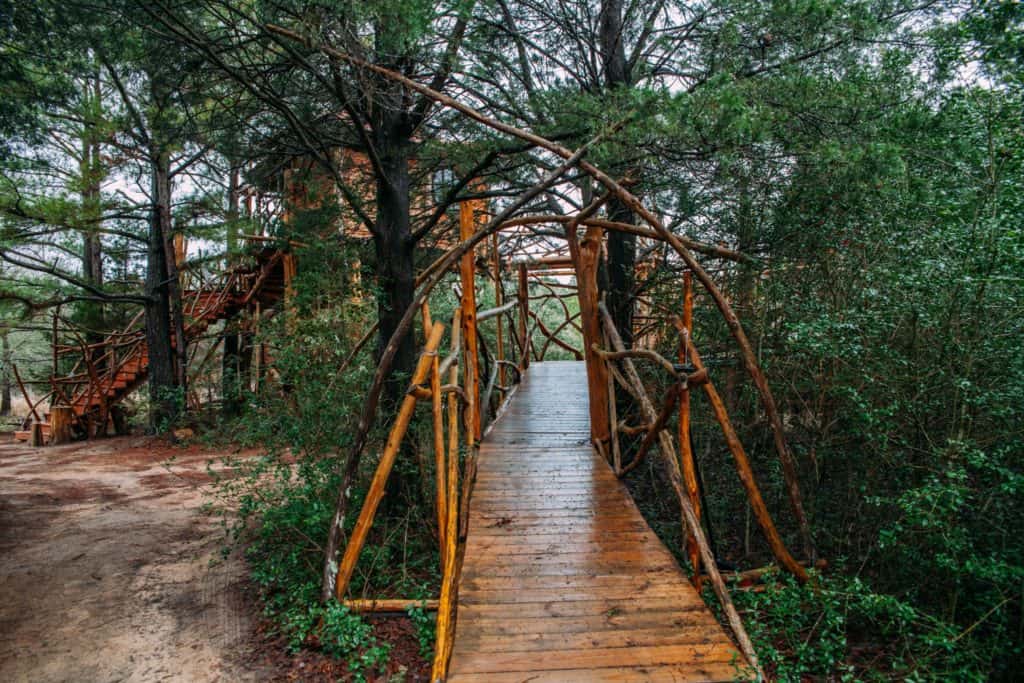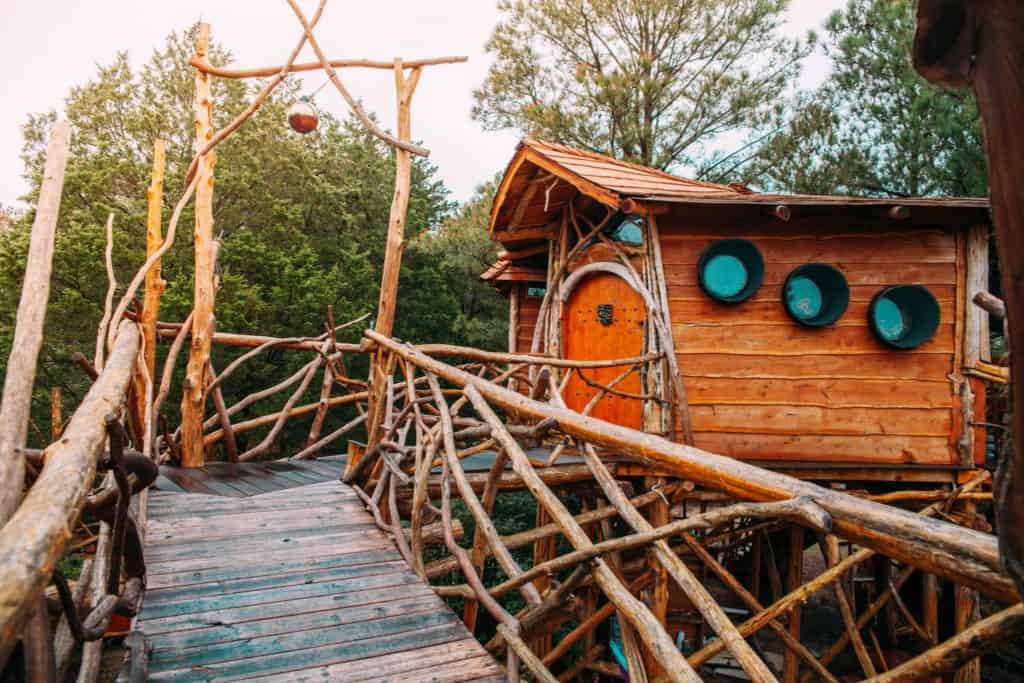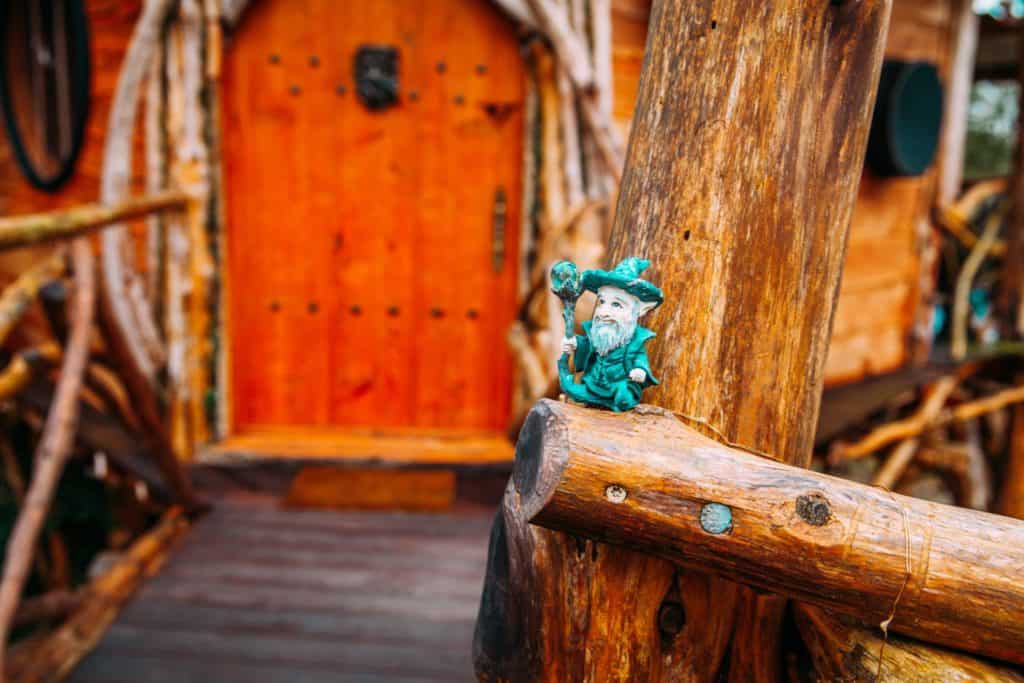 And the actual inside of the treehouse is just enchanting. A map of the Lost Pines Shire sits above the bed frame, with drapes all around.
There are stained glass windows that you can open up for more light, lots of lanterns for a cozy atmosphere, and everything you need for a glamping experience.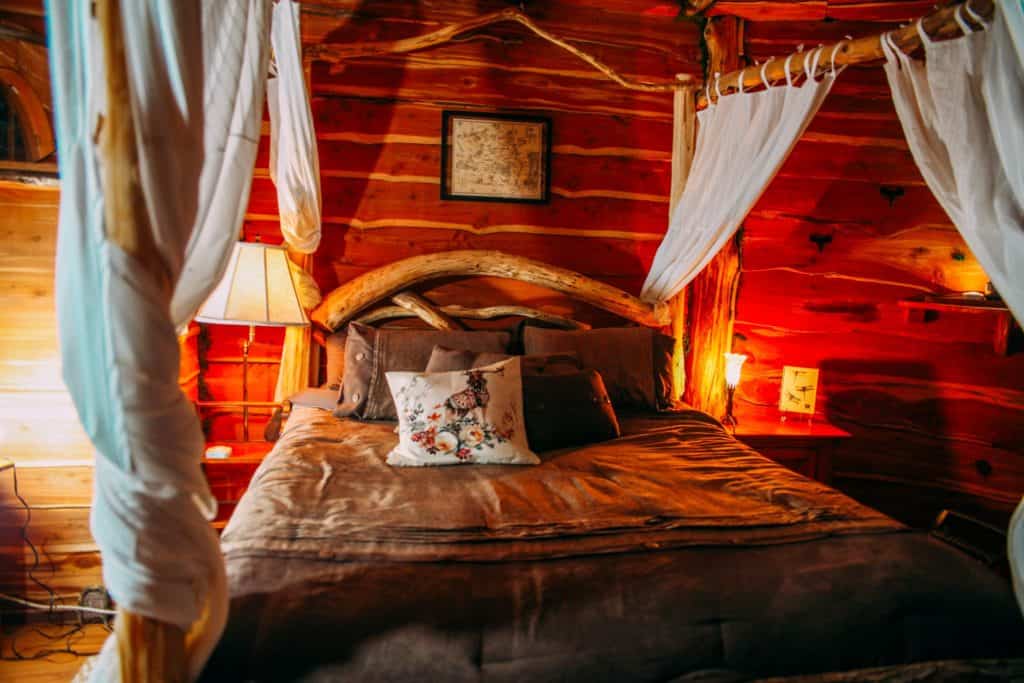 We loved having a more outdoorsy experience while also enjoying the comforts of things like electricity and a bed.
There's a restroom outside, as well as a lovely outdoor shower. We appreciated having the comforts of a coffee maker and a place to plug in our electronics.
There wasn't any Wi-Fi, which meant we had the pleasure of unwinding. However, our phones had a pretty decent signal, and Bastrop wasn't too far away in case we needed anything.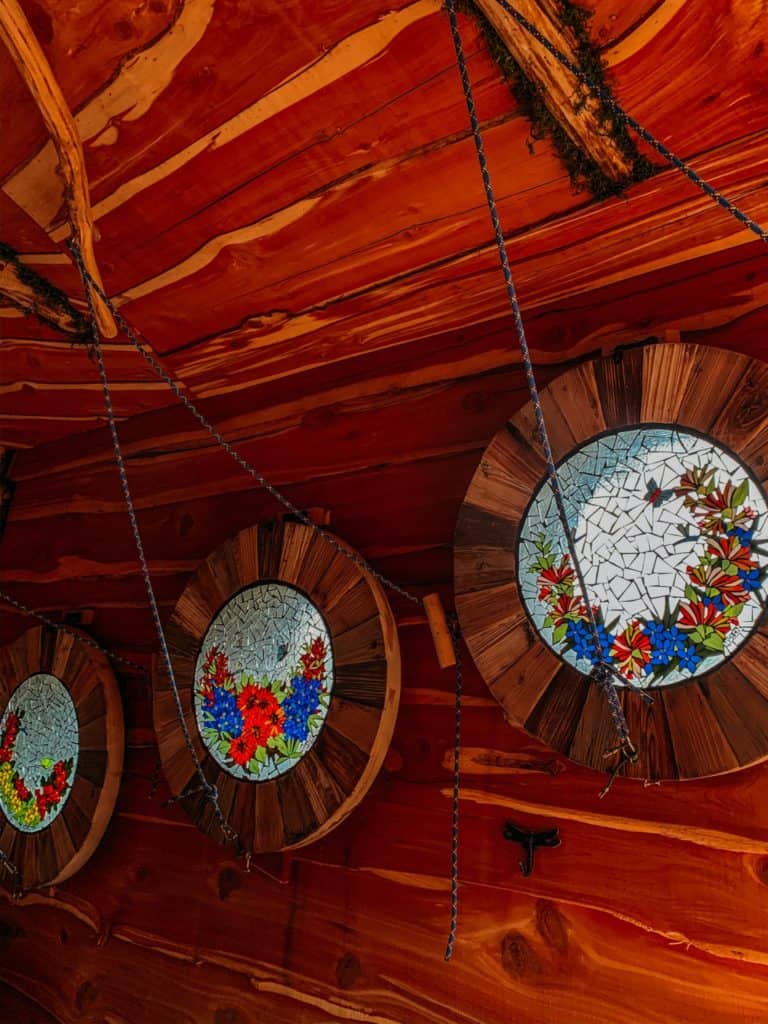 Outside, we had a beautiful patio to watch the sunset overlooking a lily pond. There was no one around on either side, so we had this peaceful retreat all to ourselves. We could enjoy the campfire and cook our meals on the grill.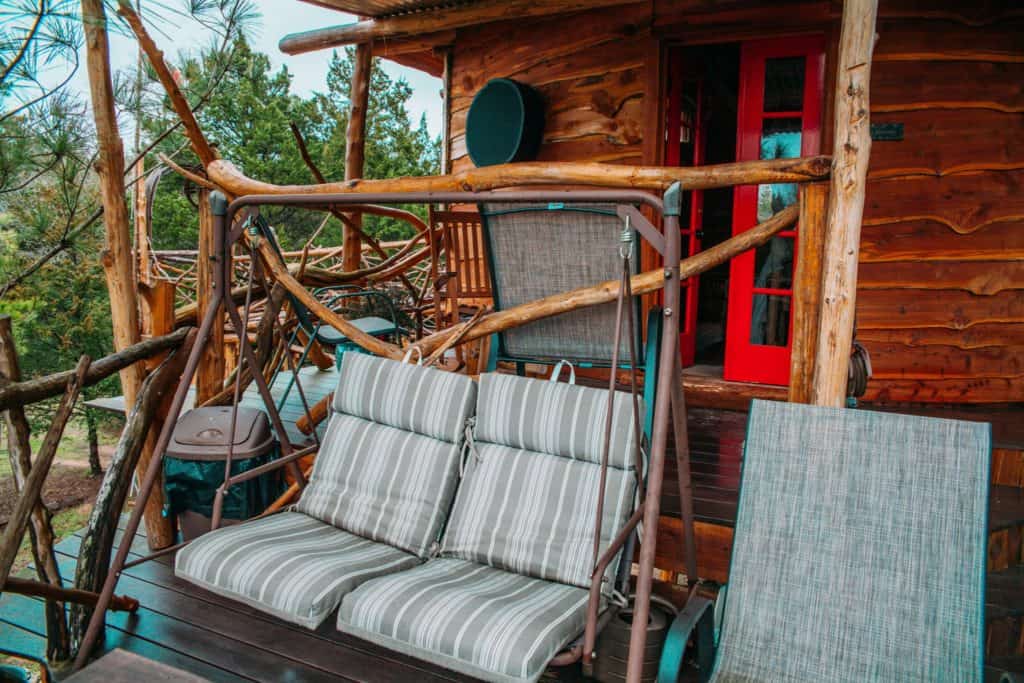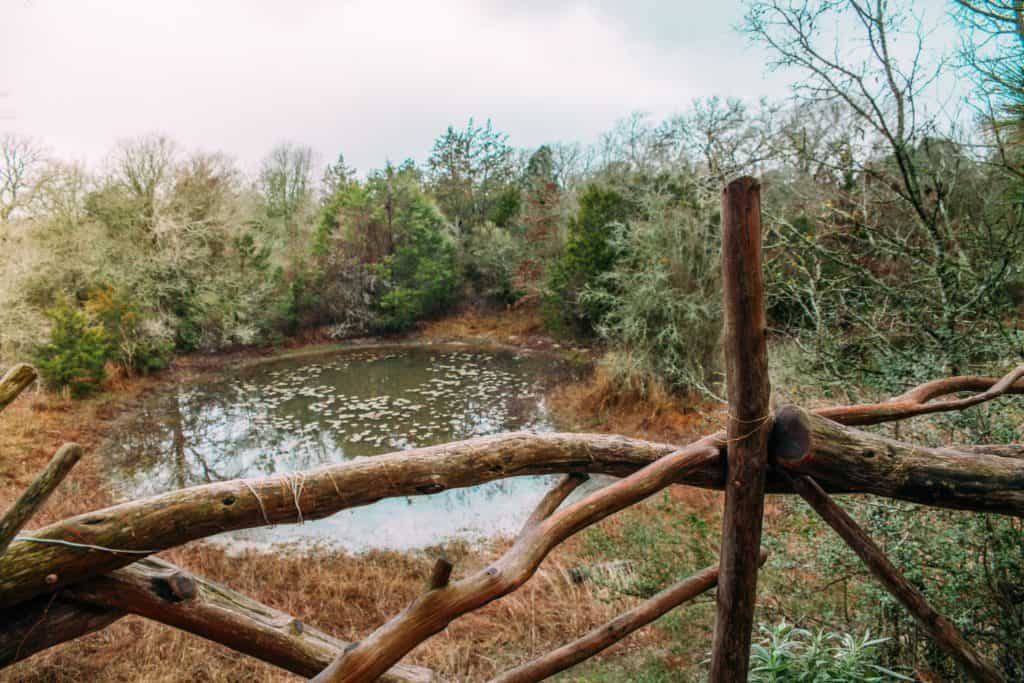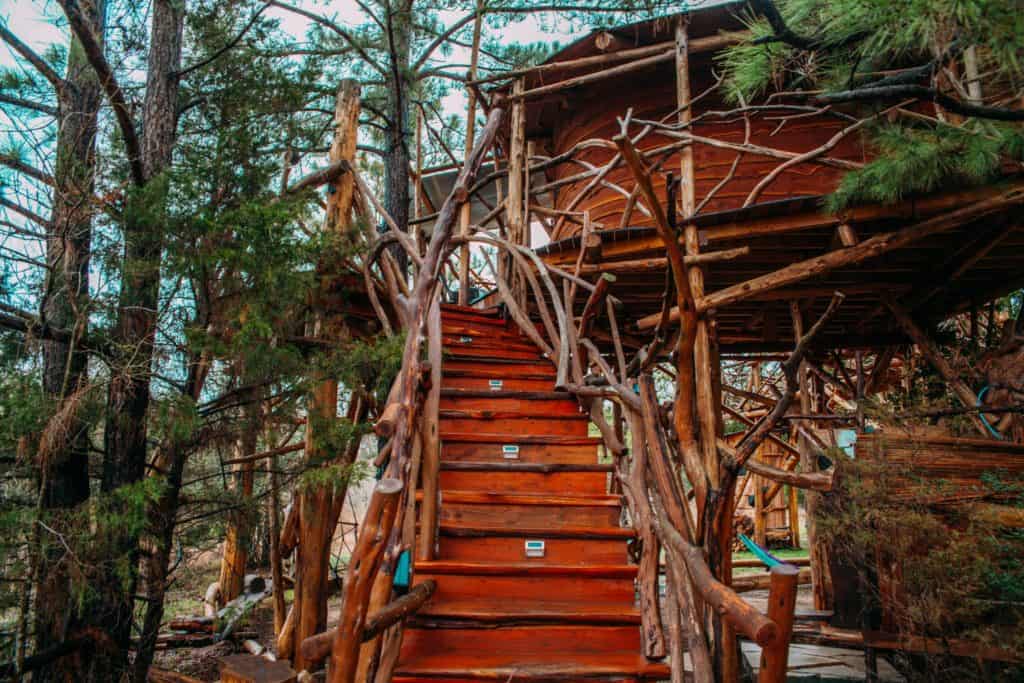 Pet-Friendly Hobbit Treehouse Near Austin, Texas: Final Thoughts
My stay in the Hobbit Treehouse was unforgettable! It was cozy, charming, and secluded, and I felt like I was truly immersed in nature. I loved waking up to the sound of birds chirping and the wind rustling through the leaves. Not to mention the sense of adventure that came with climbing up to the treehouse. 
We also had the chance to stay in the newest addition to the Lost Pines Shire: The Elf's Aerie Treehouse. If you are a lover of all things magical and enchanting, then you should definitely add it to your bucket list!
Overall, staying at the Lost Pines Shire was an amazing experience! I would recommend either treehouse to anyone looking for a unique and memorable getaway!