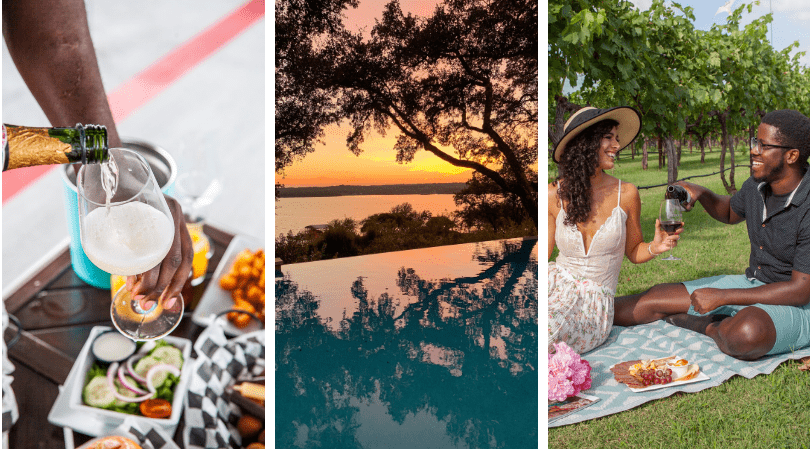 With so many fun date night ideas in Austin, there is no reason to continue planning boring dates! Whether you're looking to splurge or save, kindle the romance or make it an adventure, be active or get crafty, there truly is something for every couple. And honestly, while we call this list "date nights in Austin," this is really just a comprehensive guide for anyone looking for fun things to do in Austin!
Best Date Ideas: Romantic Things to Do in Austin
Love is in the air with these romantic date ideas in Austin.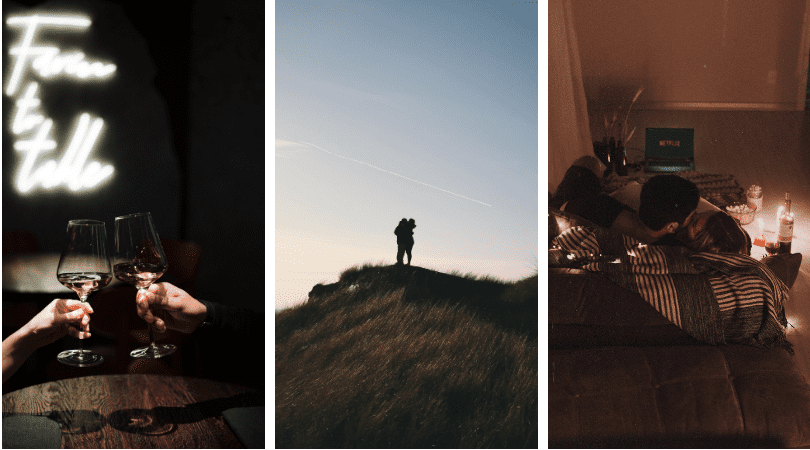 1. Grab a Margarita with a View – The Oasis is considered touristy, but sometimes it takes looking at things from a tourist's eyes to truly enjoy the beauty, not to mention the incredibly blue waters below!
2. Stroll Through Zilker Botanical Gardens – There's just something so romantic about walking hand-in-hand through vibrant blooms and other greenery at the Zilker Botanical Garden!
3. Book a Sunset Cruise – With Lake Travis and the way that the Austin sky lights up with colors, a sunset cruise is an easy and fun date idea in Austin. Some places like Capital and Lonestar Riverboat Tours even host bat tours! Shared Sunset Sails will take you out on their sailboats.
4. Enjoy a Spa Day – There's nothing like a day at the spa! Spa Reveil offers an extravagant list of different packages, including an Egyptian spa ritual and a chocolate spa experience. It has rooms where you can relax in between services, as well as romantic experiences like milky baths. Hiatus Spa has unique packages, as well as a Turkish Hammam bath ritual. As part of your spa experience at the Omni Barton Creek, you can enjoy the relaxation lounges, steam rooms, dry saunas, and whirlpools. Basically, there's no shortage of great spa experiences in Austin!
5. Learn to Give a Good Massage – Or if you want to take those skills home, head to MYO, which helps teach you and your partner how to give each other a massage for countless romantic date ideas.
6. Visit the Symphony – Get dressed up for a night of music at the Austin Symphony Orchestra. You might even be surprised at some of the shows they have, with music from West Side Story, Tango Symphonies, or Cosmos and Classics.
7. Catch a Dance Show – There are so many different dance forms and troupes, but each experience makes for a unique and exciting date night idea in Austin! Spend time checking out the Austin Ballet, Tapestry Dance Co, Blue Lapis Light, Andrea Ariel Dance Theatre, Dance Umbrella, and Forklift Danceworks.
8. Visit NYC – Well, not quite. However, you can experience Broadway in Austin for a little NYC date night!
9. Go Sailing – Book a charter with Texas Sailing which includes sunset cruises, dinner cruises, and other romantic evening events out on the water!
10. See Austin from the Sky – There is so much to see from up above, whether it's getting to take in the wildflowers, seeing the splendor of Austin, or taking a trip out to Salt Lick BBQ for lunch! There are several options for a helicopter ride including Helo Tours, Alamo Helicopter Tours, and ATX Heli Tours.
11. Go Back in Time – There is something so romantic about the way you can snuggle up in the comfort of your own car or the back of a pickup truck while catching a movie on the big screen at a drive-in movie. Two drive-in theaters for a date night in Austin include Blue Starlite and Doc's Drive-in.
12. Go for a Float – At Zero Gravity Institute, you can experience deep relaxation like no other by floating in their relaxation tanks. Then, after feeling so relaxed, you can enjoy some peace-filled time together.
13. Listen to Live Jazz – The soft candlelight and moody lighting set the mood for a romantic date night in Austin at the Parker Jazz Club where you'll hear some of the best jazz around.
14. Fly in a Biplane – For a truly unique experience, get a flying cap, goggles, a leather jacket, and try Austin Biplane where you'll soar in the air and experience an acrobatic flight tour.
15. Visit the Opera – The Austin Opera is a great place for a classy and elegant date night in Austin that you have to try at least once but will probably draw you in show after show!
16. The Austin Aquarium – Discover marine life and experience personal animal encounters like feeding stingrays and encountering sloths, kinkajous, lemurs, otters, and more.
17. Rent a Vespa – Want to travel through Austin like you're in Europe on a romantic getaway? Rent a Revel electric moped and spend a day exploring cute bistros, eclectic shops, and other fun spots.
18. Try a Chef's Tasting – Wink has a 7-course meal for a fancy date night in Austin where you can savor each flavor and try dishes with ingredients from local farms.
19. Or Go for a 20-course Omakase – Otoko on South Congress only seats 24 people a day for this special 20-course meal. Be sure to book well in advance to snag a seat, but it'll definitely be worth the wait. You'll get carefully crafted Tokyo-style sushi and Kyoto-style kaiseki prepared by the head chef.
20. Cruise in a Cool Car – If you want a day of luxury and scenic drives around Austin, check out the incredible cars available on Turo.
21. Relax in a Cave – The Austin Salt Cave is a great opportunity for couples to relax and unwind while taking in the many benefits of pink Himalayan salt.
22. Go for a Picnic – Of course, you can set up your own picnic or let the people at Luxe Picnic set it up for you!
23. Go on a Wellness Retreat – For a full day of relaxation and quality time, book a trip to Miraval Spa where you can enjoy their world class spa treatments, sauna, steam room, and two infinity pools. On top of that, the day passes include access to their zip lining, mindfulness centers, walking trails, and other daily activities. You can stay overnight for added relaxation and an extended date night in Austin together.
24. Go for a Brunch or Dinner Cruise – For a great meal and views of the lake, check out Lake Austin Riverboats.
25. Take a Friday Moonlight Cruise – At night, the lake takes on a whole new look. You can see the Texas sky with Lonestar Riverboat Cruise, a BYOB date night in Austin.
26. Enjoy a Romantic Meal – The classic, romantic dinner date night is still a great idea, especially at the right restaurant. Some great places that will set the mood with incredible dishes, the right atmosphere, and great service include Eden East, Olamaie, and Eberly.
27. Book More Spa Time – You really can't get enough romantic spa dates, especially with all the great places there are in Austin. Lake Austin Resort is an all-inclusive spa resort that features Eastern Asian spa treatments, in addition to other great options.
28. Plan a Staycation – Feel like you've been transported somewhere new by booking a hotel in Austin. It's a couple's trip without the worry of actually having to travel far, and Austin has so many fun hotels to check out!
29. Go on a Wine Tour – With the Texas wine country in Austin's backyard, Austin Wine Tours will take you to see all that Texas has to offer when it comes to wine!
30. Visit the Umlauf Sculpture Garden & Museum – Permanently home to works by Charles Umlauf, enjoy the outdoors and admire the sculptures scattered throughout the Umlauf Sculpture Garden. Take advantage of the benches and have a quiet moment with your partner while you're at it. Extend the date and wander to nearby Zilker Park.
31. Plan a Day Trip/Weekend Getaway – Turn that Austin date night into an entire date-filled weekend or plan a day trip to some of the amazing towns nearby! You really can't go wrong when you experience the romantic city of Dripping Springs, the fairy tale town of Wimberley, the cutest downtown in Georgetown, or the adventures in Burnet.
Best Date Ideas: Things to Do in Austin on the Water
Austin is lucky to have the turquoise blue waters of Lake Travis, scenic spots like Barton Creek, and other great swimming holes! With that comes a surplus of fun date night ideas in Austin on the water!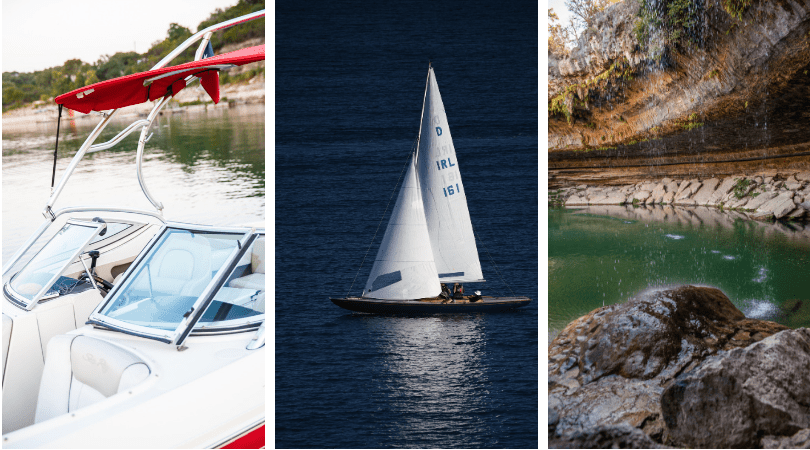 31. Go for a Boat Ride – No need to worry about the hassle of driving the boat yourself. Let your captain take care of you and enjoy your partner's company, find the best swimming spots on Lake Travis, and watch the sun set with Float On.
32. Learn to Sail – Austin Sailing Adventures offers sailing lessons if you're looking to pick up a new skill together that can be used for countless date nights to come in Austin!
33. Go for a Swim – There are so many great swimming spots to choose from and part of the fun is hopping around and choosing your favorite ones! One great spot is Barton Creek.
34. Check Out a State Park – McKinney Falls State Park is perfect for adventure-loving couples looking to get out! With hiking trails and falls to enjoy, you can spend all day here or a couple of hours.
35. Go Kayaking – Get in a workout while enjoying the views of downtown Austin from the lake with Congress Avenue Kayaks. They have guided tours as well for those who want to see the bats or kayak down to Barton Springs.
36. Try Not to Fall Over – Test your balance with stand-up paddle boarding at Congress Avenue Kayaks.
37. Go Wakeboarding – Enjoy a day of adventure at Quest ATX where you can learn to wakeboard while being pulled by a cable. Be sure to check out their obstacle course, rope swings, and giant water slide too!
38. Bounce Over Lake Travis – Waterloo Adventures is almost like a bounce house and obstacle course over the water with 600 feet of fun!
39. Swim in the Oldest Pool in Texas – Enjoy a little history during your date in the spring fed waters of Deep Eddy Pool. This is a super affordable date idea in Austin since admission is just a few dollars!
40. Take in a Natural Wonder – Hamilton Pool is a one-of-a-kind experience! Swim in a natural pool that was created after the dome of an underground river collapsed. You can enjoy a short walk along the way and see a natural waterfall. Make reservations weeks in advance to ensure you have a spot.
41. Go Surfing – Sure Austin doesn't have a beach, but you can still enjoy a couple's surfing date with Austin Wake Surf or ATX Wake. They use the wake and a surfboard to give you that surfing experience!
42. Or Go Water Skiing – Missing wintertime or the snow? You can still get your skiing in with Water Ski Lake Austin.
43. Fly Above the Water – At Austin Flyboard, you get to test your balance skills with boots that essentially blast water from your feet so that you're propelled into the air!
44. Surf Above the Water? – I'm not even sure how they come up with these ideas, but at Unhooked Sports, you can try what's essentially an airborne surfboard!
45. Go Jet Skiing – Enjoy a little adventure and great views (of your date and the Texas Hill Country) with a jet-ski rental from Lakeway Marina.
46. Visit Starnes Island – An island in Austin? You bet! It's a popular area for boats to dock and people to hangout. You can say you took your partner to an island, which sounds cool on its own. Now just to decide how to get there.
47. Ride a Boat on Lady Bird Lake – Choose from fun boat rides like a giant donut or a boat shaped like a swan, and travel across Lady Bird Lake with Capital Cruises. Don't forget to snap a picture of the iconic Congress Avenue Bridge!
48. Go Fishing – There are all types of bass and other varieties of fish, and with Barefoot Fishing Tours, you will have the best time out with a charter who will take you to their favorite fishing spots.
49. Play Blackjack – Get some friends together for a night at the casino with Capitol Cruise and Austin Party Boat Rentals. This is great for large groups!
50. Swim in a Natural Spring – Barton Springs Pool is popular for its year-round swimming, and with the beautiful water, it makes for a great swim date!
51. Visit the Beach – Emma Long Metropolitan Park has sand to build sandcastles and beautiful blue waters that will make you think you are actually at the beach!
Best Date Ideas: Active Things to Do in Austin
One thing I love about Austin is its focus on getting out and staying active! So of course, we had to find all the best date night ideas in Austin for couples to bond, maybe break a sweat, and get those endorphins flowing! Whether it's just going for a small walk or challenging yourself, there are so many great active date nights in Austin!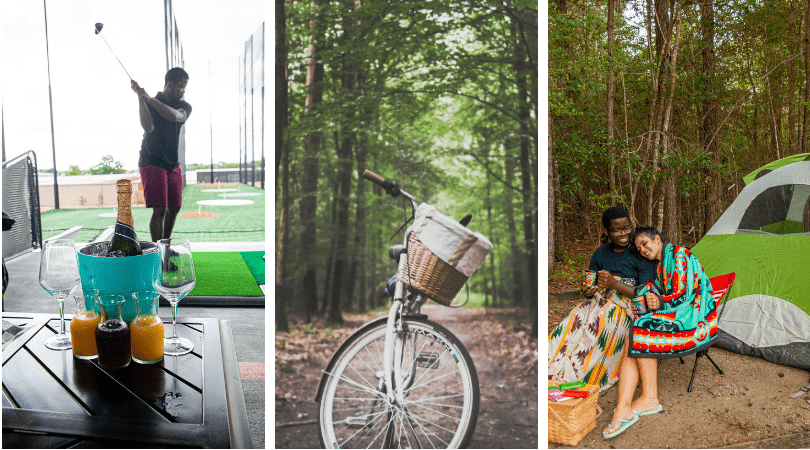 52. Try Bouldering at the Austin Bouldering Project – Once you start, people often become enchanted by all the cool things that come from bouldering. Start off at Austin Bouldering Project to learn the essentials and build the excitement, and if it's something you end up loving, you can take your partner to different outdoor bouldering spots around Austin, like Pace Bend Park and Enchanted Rock. For more things to do near this rock-climbing gym, check out our extended list centered around East Austin.
53. Go Rock Climbing – Or maybe you like longer trails and heights. Take courses at Austin Rock Gym together and challenge each other to see who can make it to the top first.
54. Be Tourists in Your Own City – You might think you know your city, but with AO Tours Walkabout Tour, you might learn things you never knew about Austin's top landmarks. Plus, you'll get in several hours of walking!
55. Battle it Out – For a date full of laughs (and it's great for groups), Austin Bubble Soccer is where you essentially get into a giant, inflatable ball and play soccer!
56. Join the Circus – Relive those childhood dreams as a couple at Sky Candy where they have all types of circus classes, as well as theater and aerial classes!
57. Learn Burlesque – Learn a new dance at the Austin Academy of Burlesque with all different styles!
58. Or Learn Different Latin Styles of Dance – Dancing is always a great opportunity to bond! Esquina Tango teaches tango, salsa, and more. They even have Spanish conversation classes for people wanting to learn a language together.
59. Go Golfing – Topgolf makes for a fun date night in Austin when you want to enjoy great food and drinks while also perfecting that golf swing!
60. Go on a Scavenger Hunt – If you've ever wanted to compete in the Amazing Race, this might help you see how you would handle the pressure as a couple without the camera. You'll get to learn about the city, see quirky sites, get in a bit of workout, and have fun together!
61. Play Tag – Except for this one, you're using arrows! Archery Battles is great for group dates where you tag each other out with arrows! The company, Bubble Battles, also has bubble soccer and glow in the dark dodge ball!
62. Throw Axes – For a little friendly competition date night in Austin, throw axes at a target with Urban Axes.
63. Play Baseball – Except here you have the comfort of A/C! Home Run Dugout is a virtual batting cage experience where you also get to enjoy delicious food and drinks in between each round!
64. Jump on Trampolines – Urban Air Adventure Park has all types of cool trampolines and activities and is for adults too!
65. Try Indoor Skydiving – All the thrills of skydiving, none of the fears! At iFly you can do cool acrobatics in the air while being pushed up in a vertical wind tunnel!
66. Explore Austin by Bike – With Austin Bike Tours and Rentals, you can either grab a bike, take your own tour of the city, or go on different guided tours from architecture, to tacos, and even yoga!
67. Go Horseback Riding – For another way to see Austin and to enjoy an active date with your partner, Texas Trail Rides offers rides around a South Austin ranch.
68. Zipline over Lake Travis – Soar through the sky at Austin Zipline Adventures with some of the most spectacular views of Lake Travis!
69. Play Miniature Golf – Peter Pan Mini Golf is an Austin classic that's been around since 1946 and includes, of course, a giant Peter Pan, castles, and other fun art to go along with your mini golf experience.
70. Shoot Paint at Each Other – With 10 custom fields, Texas Paintball has all sorts of different courses to try out and is even sometimes known as the Disneyland of paintball!
71. Become a Race Car Driver – Or at least learn to be one. They say high intensity activities are good for couples because you associate that adrenaline with each other, which makes this a great Austin date idea, especially if you're trying to win over that other person! Driveway Austin has professional race car drivers that teach you how to race cars, or you can suit up and ride as a passenger next to a race car driver!
72. Skate on Ice – Ice skating is always a fun activity because at least one person is usually bad at skating, which means opportunities to laugh together. Plus, the cold is more reason to hold hands!
73. Or Regular Skating – Bring it back to the funky music, roller rink food, and the fun of rolling around in a circle time and time again.
74. Escape to a New Reality – Virtual Reality is something that is quickly growing in popularity! There are a couple of places in Austin that offer a unique take on the experience! The Original Pinballz Arcade has virtual reality games and an Omniverse arena where you actually walk around and experience it. The VR Arcade has a huge selection of all types of games: horror, sports, action, puzzles, and more!
75. Learn Archery – At the Archery Training Center, they will walk you through how to shoot a bow and arrow.
76. Break Things – Better than letting that steam off at each other, head to Unchartered Adventures where you are set up in a room with a bunch of things to break! Afterwards, enjoy fun Texas crafts, or if you didn't burn off enough steam, try some axe throwing.
77. Row, Row, Row Your Boat – Not so gently down the stream! Working out is always a fun way for couples to bond, and at Ro Fitness, you can pop in for an indoor rowing workout date!
78. Go Camping – Geek Adventures lets you rent out everything you need to go camping around Austin and has everything from the basic setup to more lux setups!
79. Dance Like it's the '20s – Swing Dancing is quite popular in Austin for all ages. It's active, it's light-hearted, and with the lessons, you can impress your date! The Austin Swing Syndicate is the best resource for all the best places to go swing dancing, as well as to learn to swing dance!
80. Learn to Salsa – or Bachata, Merengue, Cumbia, Cha Cha, the list goes on. Inspired Movement and Salsa Austin will give you the instruction you need to have a memorable Austin date night!
81. Drink Beer & Bike – Enjoy the beauty of Austin, as well as its incredible beer scene at the same time! Bike and Brew ATX takes you around the town and gives you the best insight on craft breweries in Austin!
82. Go for a Run – If the walking tours are just a little too slow paced for you, check out the Go Running Tours. There are secret trails, graffiti and grub trails, and, of course, a downtown Austin trail!
Best Date Ideas: Fun Things to Do in Austin
Prepare for lots of laughs, great memories, and a wide variety of activities with all of these fun Austin date night ideas!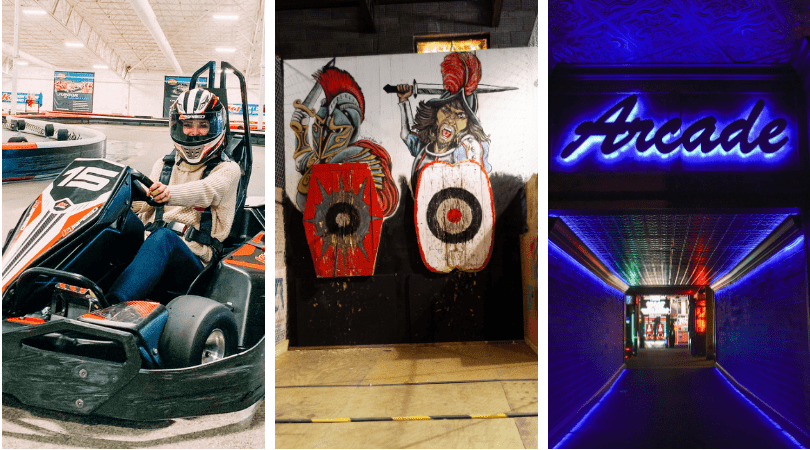 83. Escape the Room – Challenge each other's problem-solving skills and how well you work together under pressure with one of the several escape rooms in Austin! The only problem is choosing the right one since each offer something unique and special! The Escape Game has really great themed rooms. The Seventh Room is unique because it incorporates live actors. If you're looking for a scare, try out Mindspark Escape Games.
84. Play Some Classics – At the Original Pinballz Arcade you can enjoy all of the classics, as well as a BYOB for hours of fun and laughter!
85. Visit the Zoo – Spend a day at the Austin Zoo with your partner checking out all of the animals. Make your Austin date a special occasion with a capybara or Galapagos tortoise encounter.
86. Laugh Together – Hopefully you're already doing that, but for extra laughs, check out some of the cool comedy spots in Austin. Cap City Comedy brings in some of the best talent from all over as well as open mic nights.
87. Game Together – Texas Gamers Lounge has unlimited gaming for an affordable price, like race car driving, Super Smash Bros, Skee-Ball, pinball machines, and other video games!
88. Sing Off Tune Together – unless you're really good at singing and plan on dazzling the crowd! The Highball has private themed karaoke rooms if you want to get a group and sing together. For a fun environment, check out the H Mart, which hosts karaoke inside a food hall. At the Common Interest, you can choose between private rooms and the main stage.
89. Watch a Race – At the Circuit of the Americas, you can catch different races and special events.
90. Be the Racer – COTA also has karts that go up to 55 mph so you can enjoy the track as well and race each other!
91. Go to a Water Park – Race down slides, float in the lazy river, ride the waves, and more all at Typhoon Texas.
92. Take Super Cool Pictures – There are so many cool Instagram style museums popping up around Austin! Wonderbar is similar with a very photo-worthy and fun bar where you can sip a cocktail while sitting on a banana. Or wander through a maze of lights at Wonderspace.
93. Try Cryotherapy – If you are a couple who enjoys the cold, then this might be for you! Restore Hyper Wellness in Austin has couple's packages, including the traditional cryotherapy, and other treatments.
94. Experience ACL All Year – Even if you miss ACL, you can still enjoy some of the experience at ACL Live for top music acts from around the world!
95. Have Fun While Learning – You might think the Thinkery is for kids, but us adults want to learn in fun ways too! Thinkey21 is a special event for adults around Happy Hour where they design fun activities for adults that make for a great Austin date.
96. Watch Modern Day Vaudeville – Esther's Follies has been known as the Saturday Night Live of Austin and is one of the most popular troupes in Texas. They have Vaudeville, comedy, magic, and all kinds of great shows.
97. Dance Around the World – The Sahara Lounge is a place to dance to Caribbean, African, Middle Eastern, and Latin music! There's a new experience every night and always something incredible to experience with your partner!
98. Shoot Some Targets – The Range Austin has shooting packages, classes, and even ways for you two to compete.
99. Race Indoors – Perfect for a rainy date idea in Austin, K1 Speed is one of the fastest indoor golf carts around where you can challenge each other to a high thrill race!
100. Browse Through Books – More than just books, Resistencia Bookstore is a community organization that lifts up the voices of Native American/Chicana/o/x/Latina/o/x writers. You'll find a great community here along with books for a great couple's book club and deep conversations.
101. Go Two-Steppin' – Enjoy some dancing, great live music, and some Texas swing at Austin Honky Tonkers.
102. Enjoy a Piano Concert – The Dueling Pianos has all kinds of interactive shows for a fun night of singing along, cheering, and great music.
103. Listen to Classic Guitar – Austin Classical Guitar Society has live performances, classes, workshops, and other events centered around classic guitar!
104. Watch Wrestling – Get wild cheering on your favorite contender at Anarchy Championship Wrestling, which brings back the intensity and excitement around the sport.
105. Explore Six Square – Six Square is Austin's Black Cultural District, and here, you can take part in historic tours, music exploration events, and other events.
106. Try Augmented Reality – Watch as Austin turns into a whole new world with AR Adventure Austin with bar hops, scavenger hunts, spy adventures, and what is essentially the largest escape room: the entire city of Austin! It will be a memorable Austin date for sure!
107. Watch Soccer – Futbol is quickly growing in popularity, and you can cheer on the Austin Bold FC and maybe even have a new sports team to enjoy together.
108. Explore Mexican American culture – The Emma S. Barrientos Mexican American Cultural Center has a wide variety of events for people to connect with their culture or learn about each other. You can volunteer in the healing garden and learn about the different herbs, enjoy Latin concerts, listen to guest speakers, see comedy shows and other cultural performances, and so much more. Just check their calendar to see what's going on.
109. Meet a Kangaroo – and other animals with the Austin Petting Zoo. You'll encounter all types of incredible animals that they will bring out to meet you. It'll make for a great Austin date!
110. Attend a Concert or Festival – With SXSW and ACL, Austin is one of the top destinations in the world for great concerts and festivals. However, you don't have to wait for the headliners for a great Austin date. Check local listings, Facebook events, and the Visit Austin page for a list of all the great, and sometimes weird, Austin concerts and festivals.
111. Listen to Poetry Slam – The Spider House Ballroom hosts some of the best poetry slams around every Tuesday or check out the Austin Poetry Slam website for other dates and times.
112. Go Gaming – If board games are your thing, check out the Vigilante Gaming Bar, which has custom game boxes, hidden rooms, and other exciting treasures. Mothership Books and Games is another option!
113. Hang Out at the Pool – You don't have to stay at a hotel to enjoy the snazzy hotel pools. Check out Resort Pass, which will give you access to the pools, spa, and other swim spots typically only available for hotel guests, like at the Kimpton Hotel Van Zandt.
114. Catch a Sports Game – There are so many sports teams to pick from when it comes to an Austin sports date, from supporting the UT college teams, to the Austin Spurs (basketball), Austin Ice Bats (hockey), and Austin Huns (rugby). However, also look into some of the lesser followed spots like the Austin Weird paintball team and the Texas Roller Derby.
115. Get Spooked with Haunted ATX – If you want to see the spooky side of Austin, check out Haunted ATX's ghost tours and be escorted around the city as you hear about Austin's haunted buildings. They offer both public and private tours, including tours via hearse!
116. Get a Foot Massage – If you don't want to splurge on a full massage, you can still get a great experience with foot massages. Beijing Foot Massage and Relax Day Spa both come with great recommendations.
117. Spoil Each Other with Pedis – Milk + Honey has been top-rated for a luxurious pedi and one that will last through whatever week you have ahead.
118. Watch an Indie Movie – Rather than a regular movie date, check out some of the smaller independent films together at Violet Crown Cinema.
Best Date Ideas: Romantic Things to Do in Austin for Art & History Lovers
Austin has a huge art scene and so many great museums and historical sites so that you can bond with your partner and learn a little with these amazing date ideas.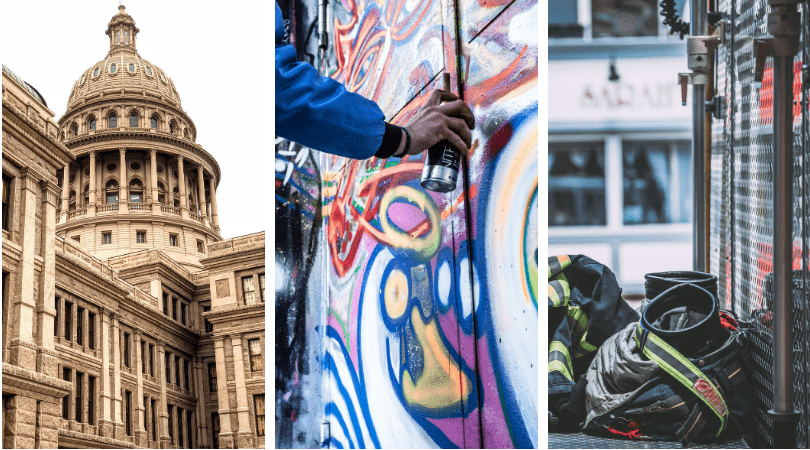 119. See Art at the Mexi-Arte Museum – Explore Mexican culture through art at this museum with regularly rotating exhibits.
120. Visit the Blanton Museum of Art – With over 19,000 art pieces from Europe and Latin America, you could easily spend all day here.
121. Enjoy Cool Art Programs – Take your pick of amazing Austin date ideas with one of the programs from Big Medium, including different galleries, an East and West Austin Studio Tour, and other events.
122. See Some Theatre – The only hard part will be choosing which ones. Austin has so many great acting troupes to enjoy and support. You can make your way through the list for multiple theatre date ideas until you find your favorite. Some of the theatres in Austin are Hideout Theatre, Zach Theatre, Vortex Theatre, Salvage Vanguard Theatre, Scottish Rite Theater, Institution Theatre, Fallout Theatre, City Theatre, Zilker Theatre Productions, Paramount Theatre, Coldtowne Theater, Hyde Park Theatre, Blue Theatre, and Rude Mechs.
123. Go on an Art Gallery Tour – This is another Austin date that can turn into multiple dates. Choose a few that look like they'll interest you and spend time checking out each one. Some great ones include Roadhouse Relics, Flatbed Center for Contemporary Printmaking, Big Medium, Russell Collection of Fine Art, TWYLA, and Yard Dog Art, just to name a few.
124. Visit the Contemporary Art Museum – Where you'll see all sorts of incredible sculptures. Then sit on top of the limestone tree stump and reflect on life.
125. Explore the South Austin Popular Culture Center – Here you'll find a museum that showcases the pop culture of Austin.
126. Wander through the Mi Casa Gallery – Where you'll find all types of Latin American art, pottery, and religious items.
127. Discover Programs at the Asian American Cultural Center – With programs like Chinese cooking classes, Shaolin Kung Fu, calligraphy, music, and more, there is so much to learn and experience.
128. Go on an Austin Historic Walking Tour – They have different walking tours that teach you about the capitol and different historic spots around Austin.
129. Go on an Austin Music Heritage Tour – Walk back through 50 years of Austin music history and the birth of local legends!
130. See the Lotus Asian Art – This gallery has all types of Asian antiques, ancient and contemporary art, and decor.
131. Learn about German Heritage – At the German-Texan Heritage Society, you can take language and cooking classes, as well as take part in special events!
132. Explore Latino Theatre – Teatro Vivo puts on plays based on the Latinx community.
133. Discover the Richness of Texas History – The Bullock State Texas History Museum brings Texas history to life that makes this date feel nothing like those high school history classes and lets couples connect through interactive exhibits.
134. Discover Indian Classic Music – At the Indian Classic Music Circle of Austin, you can see different music and dance performances.
135. Visit the French Legislation Historic Site – This was built to represent the French government in the new Republic of Texas and, since then, serves as a piece of history that you can explore for yourself.
136. Participate in a Program at the Texas Folklife Center – Featuring concerts, story series, folklife exhibits, and more, there are so many great opportunities for an educational and fun date night.
137. Learn about the Messenger of the Alamo – at the Susanna Dickinson Museum.
138. Listen to Different Local Music Performances – One World Theatre seeks to promote peace and unity through music.
139. Learn About the Neil Cochran House Museum – The building was once a school for the blind, as well as a federal war hospital, and you can learn about its past on your next visit.
140. Live Out History – The Jourdan-Bachman Pioneer Farms is a living history farm where you can experience farm life, learn skills from back in the day (and that are still relevant today), and participate in special events!
141. Learn About the History of Texas Music – With special exhibits and events, the Texas Music Museum is a great place to learn about the diverse traditions of Texas music!
142. Rock n' Roll – or at least learn about it at the Modern Rock Gallery. See iconic photos as well as different rock and roll art.
Best Date Ideas: Things to Do for Foodies in Austin
Bonding over great food is always a good idea. Unless your date is picky, then maybe not. Austin is a foodie city with new places to explore around every corner. However, if you're looking for more than a sit-down dining experience, check out this list of more unique date ideas in Austin.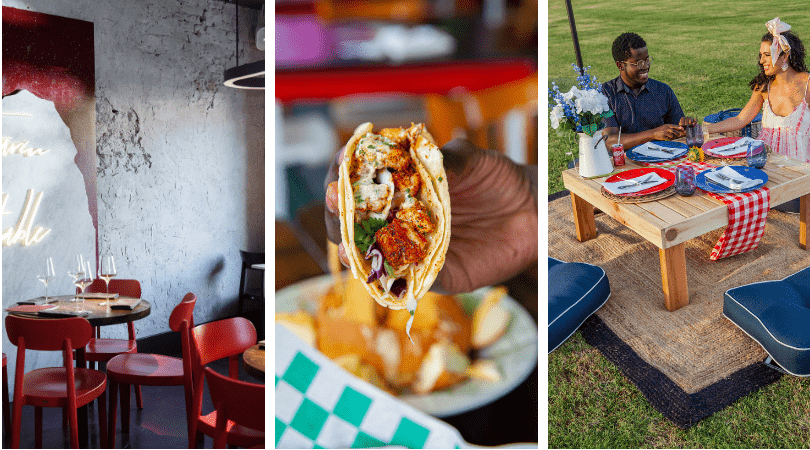 143. Grab Boozy Pops – Picole Pops is the stop when you want a sweet treat and a cocktail. Or try the perfect winter snack (s'mores) in popsicle form.
144. Go on a Brewery Crawl – Austin has an incredible craft beer scene and so many great breweries to try! Put together a list and spend time exploring the different ones or go with Austin Brewery Tours, where they'll take care of everything for you.
145. Drink House Wine – Most wineries are outside of Austin city limits, but the Austin Winery is the perfect place to go if you're looking for an urban winery!
146. Discover Austin Speakeasies – The fun is that you have to do the work to uncover them yourselves! Have fun exploring some more of the hidden spots in Austin, and then reward yourselves with a great drink!
147. Put Together a Cheese Board – Antonelli's Cheese Shop is a famous cheese shop known throughout Texas. When you walk in, they'll let you taste the different cheeses and find your favorite. Pick some, pair it with a bottle of wine, and you're all set for a romantic picnic date!
148. Solve a murder – Tavern Austin has murder mystery dinners for an interactive dinner date!
149. Watch Drag – Drag and brunch go well together at spots like Irene's, Cavalier Queers, and Gettin Saucey.
150. Go to a Sushi Bar – Kura Revolving Sushi Bar lets you eat sushi from a revolving belt for a more fun way to enjoy your food!
151. Go on a Taco Crawl – It's no secret that Austin is famous for its tacos, and while everyone has their own list of best taco spots, choose some in your area, grab a couple from each place, and you be the judge. You might come across a new gem of a taco spot you'll want to come back to time and time again.
152. Or a Margarita Crawl – There are so many little bar hopping spots in Austin. Start with one, and just like the taco crawl, go in search of the best margarita.
153. Go on a Blind Date – Except this time you know who your date is. Instead, it's the delicious food and everything around you that's a mystery since you can't see it! This sensory dinner at the Blind Cafe offers a new way to interact with your partner!
154. Roast Marshmallows – At Halycon, you don't need a campfire for s'mores. Instead, they bring out a portable fire so that you can roast marshmallows together right in the restaurant.
155. Visit a Hibachi Grill – Experience dinner and a show at Sushi Japan & Hibachi Grill as they prepare your meal right in front of you.
156. Go Happy Hour Hopping – At the Domain, each bar has different specials, and you can enjoy walking around while checking out different spots and trying new drinks!
157. Go on a Food Tour – Twisted Texas Tours does all kinds of cool food and drink tours, like brunch, BBQ & brews, weird food tours, distillery tours, and more!
158. Enjoy a Brazilian Steakhouse – Enjoy great conversations over a high-end buffet of top sirloin, filet mignon, aged ribeye, and other great cuts of meat at Estância Brazilian Steakhouse.
159. Do a Wine Tasting – Texas Reds and Whites brings you all of the best Texas wineries. During a tasting, you can learn about what makes Texas wine great and find a bottle or two to take home to enjoy together.
160. Have a Mystery Picnic – Amazingco will take you on a couple's adventure to local Austin artisans to collect your picnic ingredients and then lead you to a secret picnic spot for a memorable date.
161. Learn to Cook Thai Food – Thai Fresh has cooking classes for couples in Austin to learn new skills and cook an incredible dish!
162. Make Cheese – If you're an Austin couple who really enjoys being a part of the process of food, rather than just cooking new dishes, learn to make the ingredients themselves. Cheese can be fairly simple to make, and Austin Homebrew Supply offers classes to teach you how!
163. Enjoy High Tea – Plan a fancy evening of getting dressed up and then check out some of the top spots in Austin for high tea, including Full English, the Driskill, Fluff Meringues, and more.
164. Eat Around the World – Austin has such a diverse food scene, and you can essentially eat around the world. Choose a couple of countries you've always wanted to visit, or whose cuisine you've never had, and see if there is a restaurant where you can experience part of the country through the food. Some favorites include Wasota for Nigerian food, Beirut Restaurant for Lebanese food, and Russian House for Russian and Ukranian food.
165. Become a Wine Expert – House Wine has classes so that you can learn all the fancy wine jargon, taste various notes, and discuss tannins together.
166. Go on a Pub Scavenger Hunt – Mix puzzles and problem-solving with great spots like the Raging on Rainey Scavenger Hunt.
167. Make Bread and Pretzels – Austin might have a cooking class for just about everything! Easy Tiger has workshops where you can learn to make bread or pretzels for a fun and tasty Austin date idea!
168. Learn About Sustainable Food – The Sustainable Food Center has all types of great cooking classes for you and your partner.
169. Make Sushi – At Uroku, you can learn all about the art of making sushi and then enjoy the fruits of your labor together!
170. Become a Pitmaster – At BrisketU, couples can learn how to make the ultimate Texas BBQ.
More Austin Foodie Dates
Best Date Ideas: Quirky Things to Do in Austin
We all know Austin for being weird so what would be more fitting than some weird date ideas!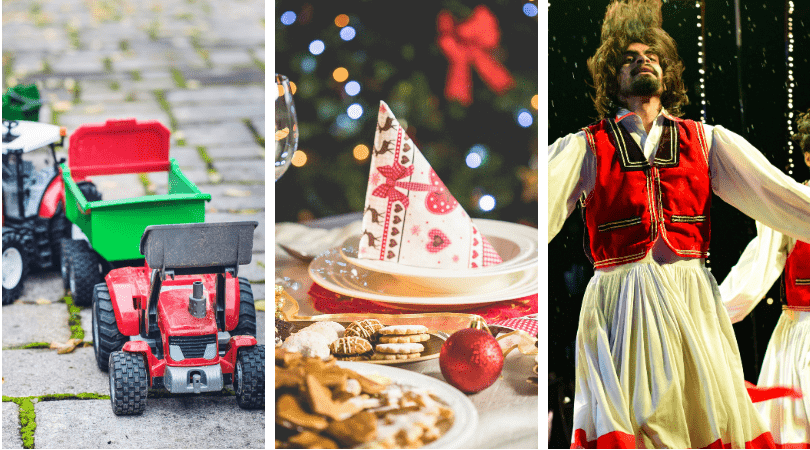 171. Watch Shakespeare – Okay that part's normal, but at S— Faced Shakespeare at North Door, one actor performs while completely drunk, making this Shakespeare show far less tragic and quite amusing!
172. See Some Junk – Have fun walking through a Cathedral of Junk, and not just any old junk. You'll find all kinds of structures, thrones, and more, all made from one person's trash!
173. Play Bingo with Chickens – Chicken Sh*t Bingo at Little Longhorn Saloon is quite the event, and you'll see people come from all over yelling "Bingo" thanks to a chicken and some poop. It will be a memorable date for sure.
174. Get Weird on Wednesdays – For some people, Wednesday is for wearing pink, but at Alamo Drafthouse, it's all about getting weird! Weird Wednesdays sometimes has outrageous movies and can only be explained by experiencing it for yourself.
175. Tour a Home – Casa Neverlandia is a unique home in Austin that feels like you've entered into a fairy tale. Maybe you'll get some quirky home decor ideas from it too.
176. Go on a Duck Tour – Sure you can see Austin the normal way, or you can see Austin the weird way. At Austin Duck Adventures, you'll start off on land and then make your way into the water!
177. See the Museum of Weird – What's a weirder Austin date idea than visiting the Museum of the Weird? You'll definitely find some interesting things here.
178. Enjoy Geeky Art – Self-proclaimed geeks run the Mondo Gallery where you'll find all kinds of cartoons and other themed, nerdy art.
179. Let Out Your Inner Kid – The Texas Toy Museum is where you'll find over 20,000 different pieces all the way back from the 1900s.
180. Experience Christmas All Year – All the excitement building up to Christmas and then suddenly it's all over. However, at Lalas Christmas Bar, you can experience that holiday cheer any day of the year without all of that holiday stress.
181. See Ghosts with a Limo – Austin Haunted Limo Tours takes you on a ghost tour, but in style.
182. See Underground Wrestling with a Weird Austin Spin – Party World Rasslin' at 4th Tap Brewing starts off with wrestling, but turns into something strange as the night goes on!
183. Visit a Circus – and a lounge! The Carousel Lounge is a circus-themed bar that makes for a fun atmosphere.
184. Wander through Weird Exhibits – The Museum of Natural & Artificial Ephemerata has all kinds of interesting things to find, from a snow globe collection to a section dedicated to sleep!
185. Play Games on 6th Street – Sure, most people go to 6th for the partying and drinks. However, turn the date into something unexpected with all the fun, games, and strange bars you can find. Play giant video games while people take shots around you or sit on top of a giant jackalope.
186. Go on a Vintage Hunt – Set a budget and maybe a theme and see who can come up with the most unique, most fashionable, or most outrageous ensemble. Austin is full of unique treasures and shops, so take your pick! If you're brave enough, take whatever you created out as an extra addition to your Austin date.
Best Date Ideas: Free Things to Do in Austin
Having a date in Austin doesn't have to be expensive! In fact, with over 30 of these free, unique date ideas, there are endless opportunities to connect. Plus, it's not as much about the date as who you're going on the date with!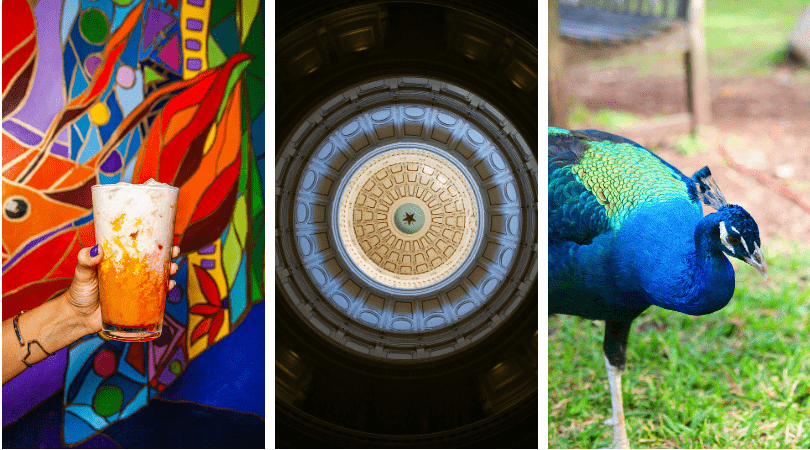 187. See Peacocks – Mayfield Park is a beautiful place to wander around, but an added fun perk is the peacocks that wander the property.
188. Watch Sunset at Mount Bonnell – It's crazy that views this incredible are free! Mount Bonnell is one of the highest points in Austin. Scale the steps to the top of the hill and enjoy views of the Colorado River and the city skyline. Perhaps bring a picnic (but keep it lightweight)!
189. Window Shop on SoCo – It's fun to point out and discover all the cool things you can find at these shops without having to buy anything. You can find one of the most unique stretch of shops along South Congress!
190. See the Graffiti – and maybe create some of your own graffiti art at the Hope Art Gallery.
191. Hike the Austin Greenbelt – You'll pass through waterfalls, find places to swim, and enjoy the natural beauty Austin has to offer.
192. See Bats Fly at Congress Avenue Bridge – Grab a spot, bring a blanket, and watch the spectacular show as thousands of bats fly from underneath Congress Avenue Bridge.
193. Discover the Tejano Walking Trail – Learn about the Hispanic history and culture of Austin with this self-guided walking tour.
194. Enjoy Free Summer Concerts – With Austin being a huge music hub, you don't have to worry about finding great talent on a budget. In addition to free live performances that can be found just about any day of the week, every summer, Austin hosts several concerts.
195. Go Two-Steppin' – Broken Spoke has free shows Tuesday through Saturday, as well as dance lessons most nights for those who want to learn.
196. See the George Washington Carver Museum and Cultural Center – This museum celebrates the contributions of African Americans through preserved artifacts, art, and special events.
197. Snag Free Drinks along 6th Street – Get to 6th street early enough and you can enjoy a night out without having to pay for drinks.
198. Practice Yoga – If you look around (and use a little friend called Google) you can find free yoga just about any day of the week. Some places to look include Black Swan and Luke's Locker.
199. See a Comedy Show – On Wednesdays, the Fallout Theatre puts on a free comedy show!
200. Learn improv – At Coldtowne, you can dip your feet into improv with a free class!
201. Go on a Mural Tour – You'll find several creative ones all over town!
202. Learn to Dance the Blues – Motown Mondays at the Highball offers free, Blues dance lessons.
203. Drink Free Beer – On Tuesdays, I Luv Video has free beer until the keg runs dry! While you're there, you can check out their huge selection of videos to rent and buy, and they even have VHS tapes if you somehow still have a VCR.
204. Visit the Austin Fire Museum – Learn about the history of firefighting and step back in time through old photos and items that show firefighting all the way back to the 19th century.
205. See the Texas Military Forces Museum – See fighter jets, helicopters, uniform,s and photos that date back to the 1800s.
206. Visit the Science and Nature Center – This is a place for a beautiful, leisurely walk where you can explore nature, see animals, and check out cool workshops.
207. See the Waterfall – St. Edwards Park & Trail is an incredible hike to enjoy as a couple and get out amidst nature. Then, spend time together relaxing by the waterfall.
208. Hike River Place Nature Trail – With the cool rock formations, scenic overlooks, and miniature waterfalls, this specific hikes makes for an amazing date idea that just so happens to be free!
209. See the Castle-Like Elisabet Ney Museum – Elisabet Ney was a sculptor and inside you'll see some of her creations. However, just as exciting is the architecture of the building, which is reminiscent of a castle and might make you think you're on a date in Europe, not Austin.
210. Check Out a Show – Zilker Hillside Theater offers free musical theatre productions in Zilker Park for people who want to experience a Broadway date on a budget!
211. Eat at a Free Dinner Buffet – Sahara Lounge brings together a diverse community for a meal, conversations, and dancing on Africa night.
212. Hike McKinney Roughs Nature Area – Enjoy a day of hiking with 7 different trails along rivers with beautiful overlooks.
213. Go on a Walking Tour – Tipster Free Walking Tours will take you through an entertaining tour of the city. Tours are completely free, although tips are highly encouraged. Their goal is that everyone can experience the city, no matter the budget.
214. Watch the Texas Stars Practice – Fans are welcome to watch practice games by checking their training schedule!
215. Be a Farmer – Grab a shovel or whatever tools they give you at the UT Microfarm and get to learn all about harvesting, composting, weeding, mulching, and more. It's hard labor, but it's fun, hard labor you get to do together. Plus, you get to be part of doing good!
216. See the Circuit of the Americas – for free when you volunteeer together. You'll get to see some of the shows and events and also get some fun, hands-on experience.
217. Volunteer Together – There are so many places in Austin to have a great experience while volunteering. This tends to be one of my favorite dates because it also shows you a lot about the heart of the person you are dating.
218. Tour the State Capitol – If you've never had the chance to actually take in the Texas State Capitol, you can make an amazing date out of taking a tour and learning all about this important building.
Best Date Ideas: Hands-on Things to Do in Austin
Get crafty together in Austin with these amazing date ideas and create something to take home with you!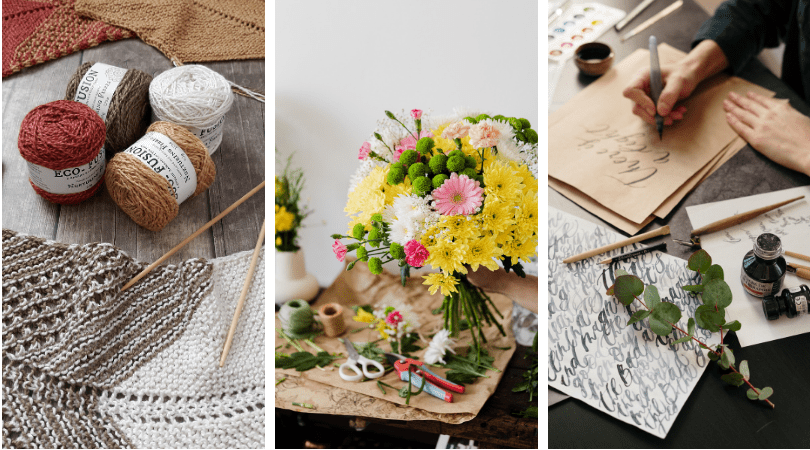 219. Learn glassblowing – Ghost Pepper Glass has different courses and classes so that you can be a glass blowing expert and take home a one-of-a-kind piece of artwork.
220. Create Something with Felt – It's amazing all the things that can be created from felt, like a re-creation of your pet and clothing. Living Felt offers classes so you can learn too!
221. Take Your Pick of Cool Projects – Upstairs Circus is a DIY shop and bar experience all in one. Plus, they have such a large selection of cool projects that includes home art, jewelry, lifestyle projects, and more.
222. Make Something From Wood – Woodcraft has all types of cool projects. Begin with something like a wooden star and end up eventually making your own cabinets!
223. Create Everything Under the Sun – CRAFT really does seem to have a bit of everything, including calligraphy, macrame, pickling, and a walk-in adult's craft studio with a bunch of cool creations to choose.
224. Make Glass Art – Helios has glass fusing classes, and the more date nights you have here, the better you'll get!
225. Make Leather Goods – At Canoe, you can learn about leather working by making a snazzy leather key chain on this amazing date idea.
226. Make Home Goods – Austin Craft Lounge has all types of crafts: home decor, chunky knot blankets, shelves, and more.
227. Learn to Arrange Flowers – The Flower Social hosts floral arrangement classes so you can always have beautiful arrangements at home.
228. Paint Ceramics and Learn Pottery – Cafe Monet will teach you how to spin pottery or you can paint different types of pre-made pottery.
229. Walk-in Art – At the Art Garage, you can simply walk in for different art workshops including ceramics, tie dye, canvas painting, mosaics, and metal stamping.
230. Paint Together – Board and Brush has different workshops and drop-in classes for couples who want to paint together.
231. Learn Watercoloring – Mint & Maple has watercolor and craft workshops, as well as DIY kits so you can find a scenic spot or take your date night home.
232. Do Some Spray Painting – Color Cartel will take you on a graffiti tour around Austin and then, at the end, you might even get to do a little spray painting of your own!
Best Date Ideas in Austin: Final Thoughts
Well, there you have it! With so many amazing date ideas in Austin, there really is no reason to be bored. No matter the budget or interests you share with your partner, there's a tremendous amount of unique date ideas.
Did we miss something you think should be included? Share in the comments and we might add it to the list. Or if you encounter a night where you'd rather stay in, check out our list of stay-at-home date ideas!