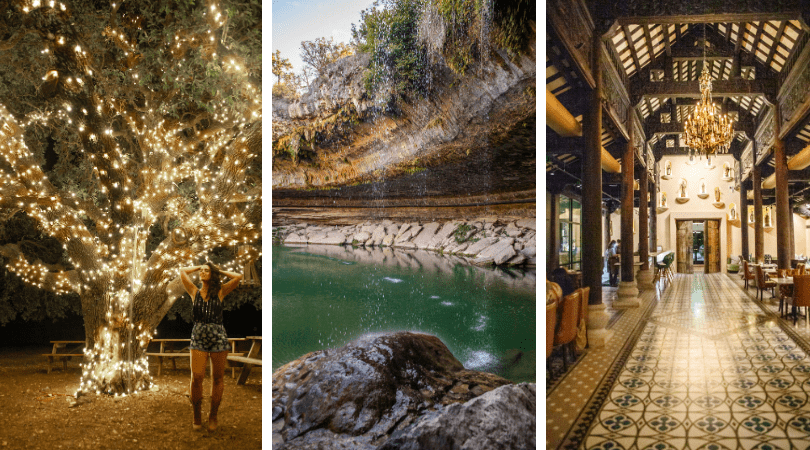 Sometimes the magic is found in some of the smaller towns! There was actually so much to do in Dripping Springs that we had to go back twice and still didn't get to do quite everything we wanted.
Many people might know about Dripping Springs because of the famous Hamilton Pool that you have to make a reservation for months in advance. However, you're doing yourself a disservice if you don't spend a couple of days to explore all of the other amazing things to do!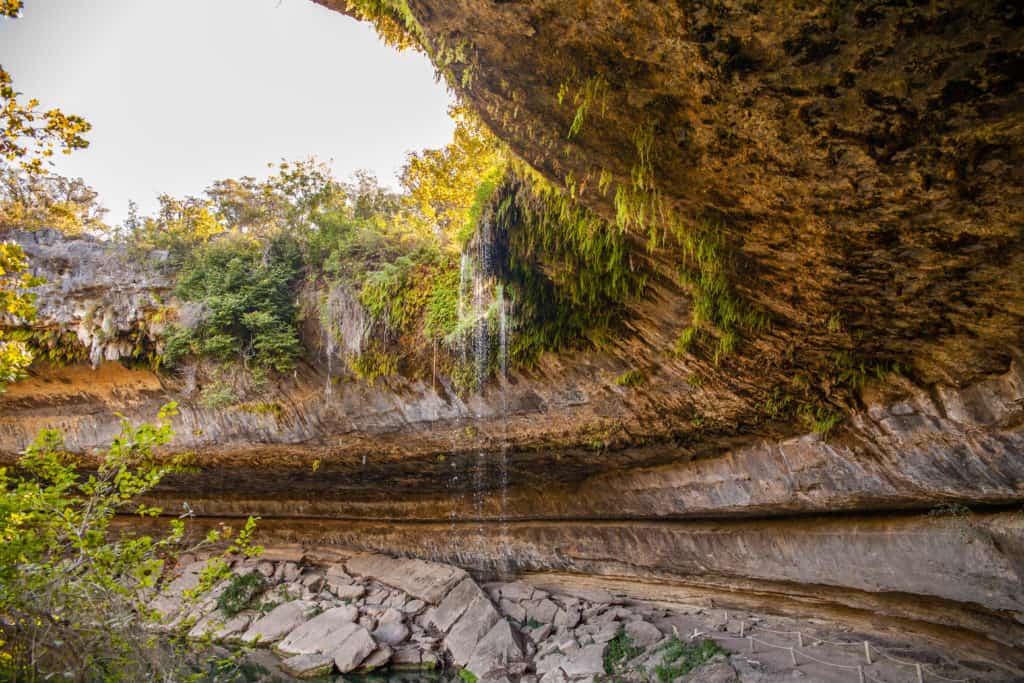 My husband and I packed everything in the Toyota Hybrid RAV4 for the ultimate Texas Adventure through the Hill Country. I enjoyed that we had a hybrid car, but with all the off road capabilities of the original RAV4. It has the best MPG for a Hybrid SUV at this time, and yet still provided all of the comfort for all the dirt roads we drove through (thank you dust and pollen filter!)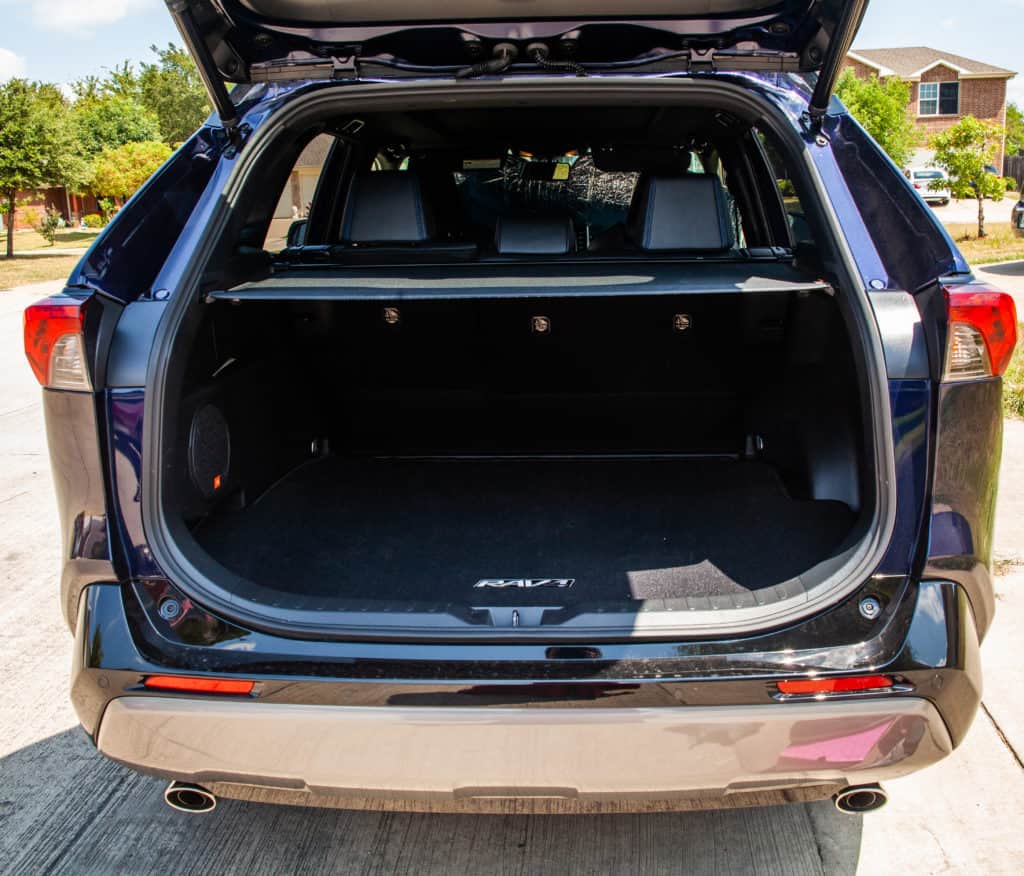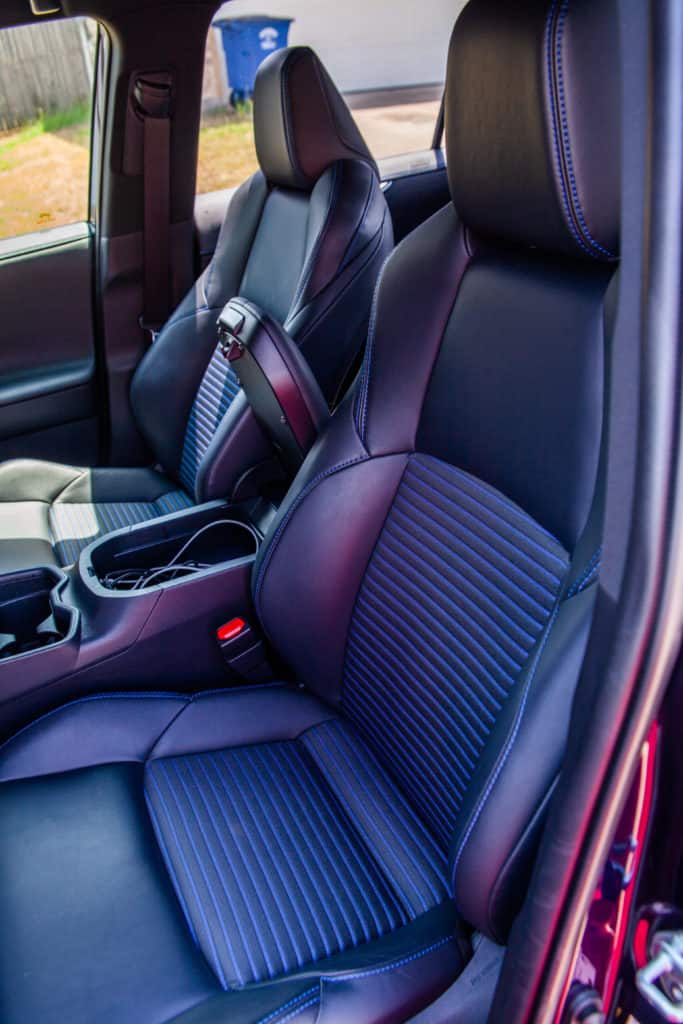 Enjoy Dinner in an Old Vietnamese Courthouse
Of all things I expected to find in Dripping Springs, I can confidently say that a 200-year-old Vietnamese courthouse was pretty close to the bottom of my list. However, Tillies offers luxury dining in the Hill Country. As soon as you walk in, you're greeted by ornate teal doors that lead to another country! The restaurant itself was transported from Vietnam to Dripping Springs by the owner and filled with other antiques from around the world. You could simply enjoy this place for the views.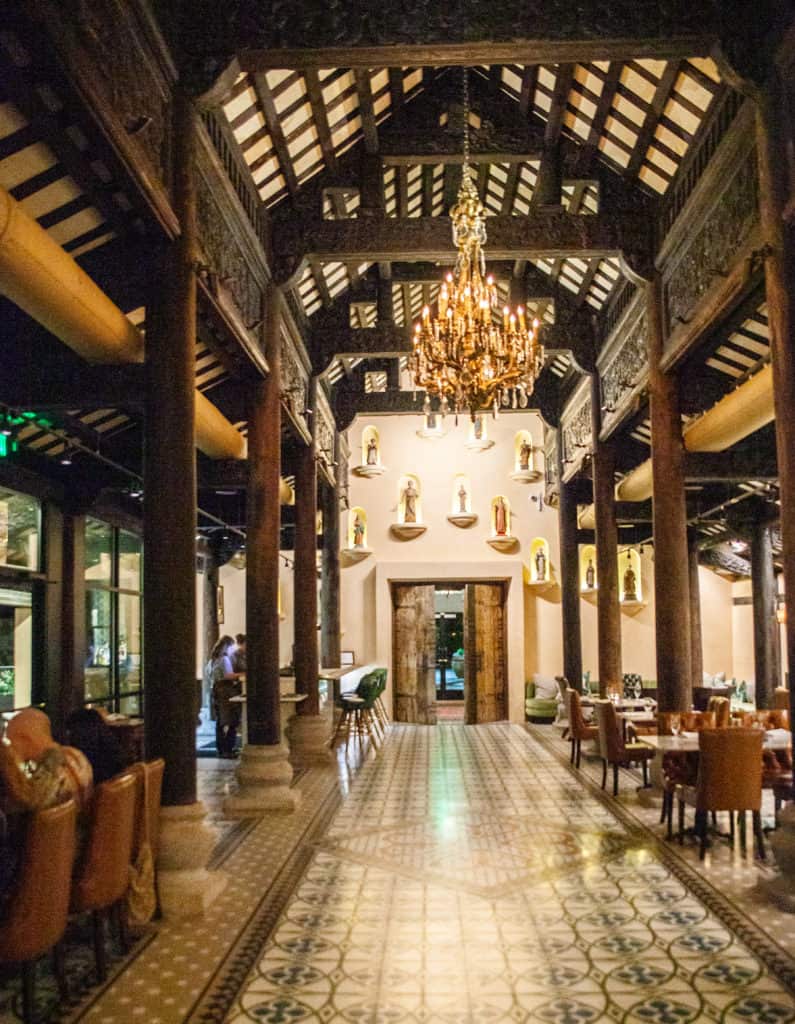 Yet you would be missing the food. American fare mixed with Asian influences make the menu truly unique. We savored each bite of the grilled beef short rib with hot shiitake mustard and tagliatelle and wished we could try one of everything. The drinks incorporated local distilleries such as the Agua De Campo using sotol from Desert's Door and the Amalfi Thymes which used Dripping Springs gin. Afterwards you could order desert or head outside to make s'mores by the fire.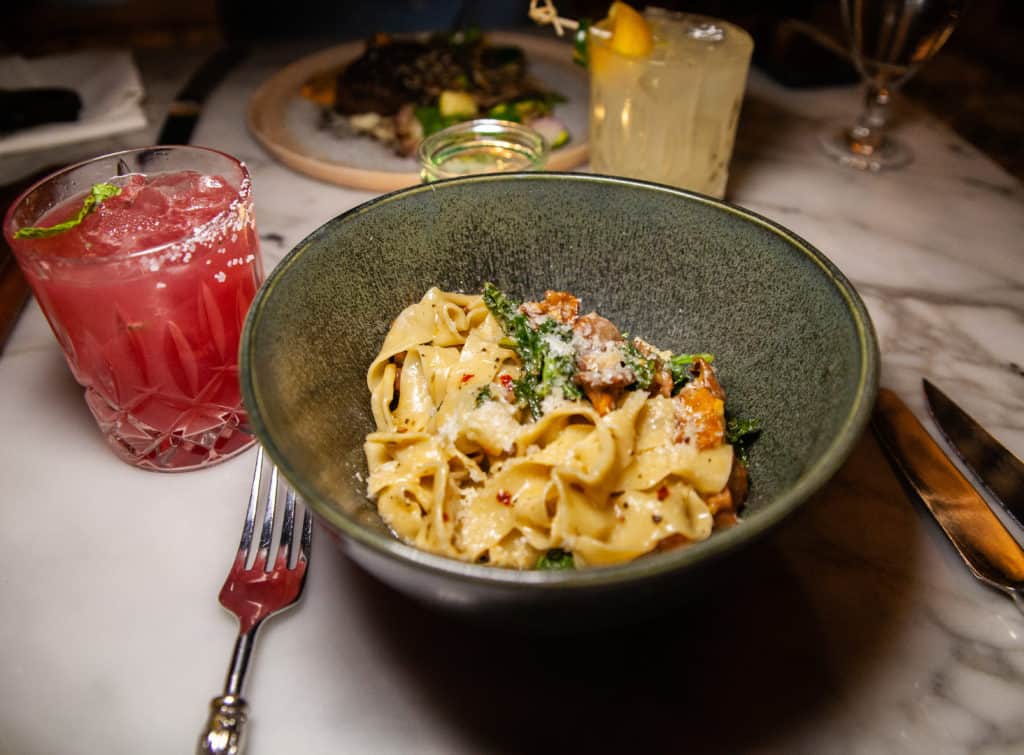 Visit Historic Mercer Street
Looking for a little thrift shopping or cute boutiques? You can spend a lazy afternoon wandering through Historic Mercer Street. You can head here to read all about all that you can do there!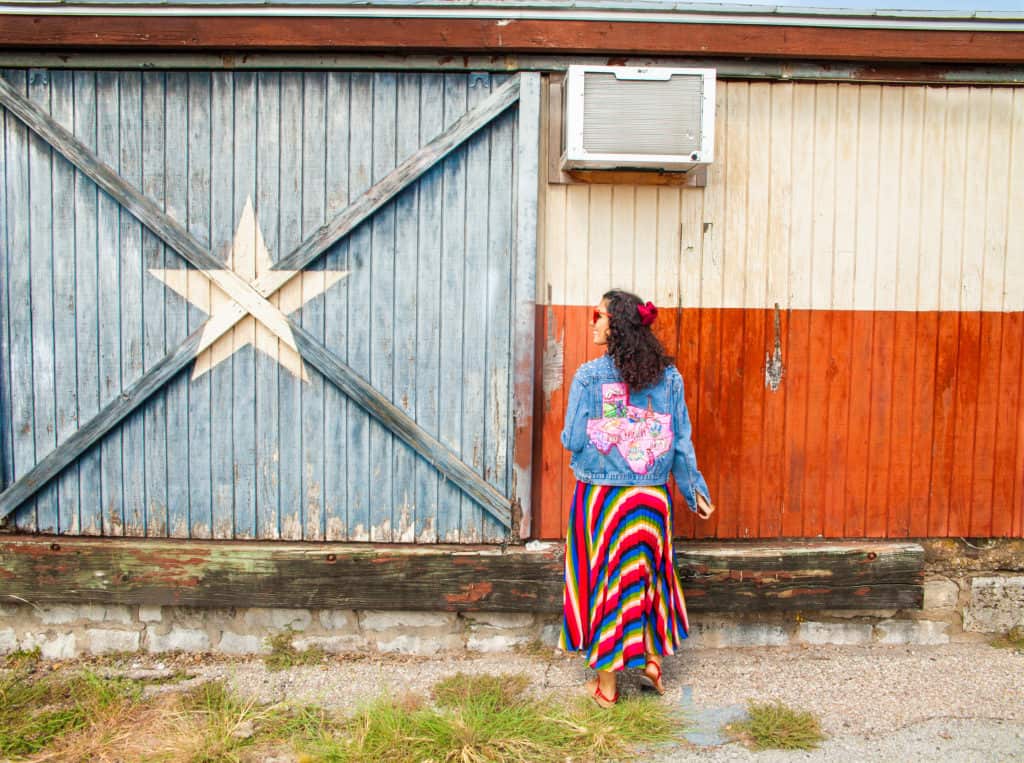 Take a Step Back in Time
Visit the 1854 homestead of Dr. Pound at the Dr. Pound Historical Farmstead. The Pounds were a founding member of Dripping Springs and helped lay the foundation of the town. The house remained with them for four generations, and 90% of the artifacts came from the family making the home personal and a great representation of the times!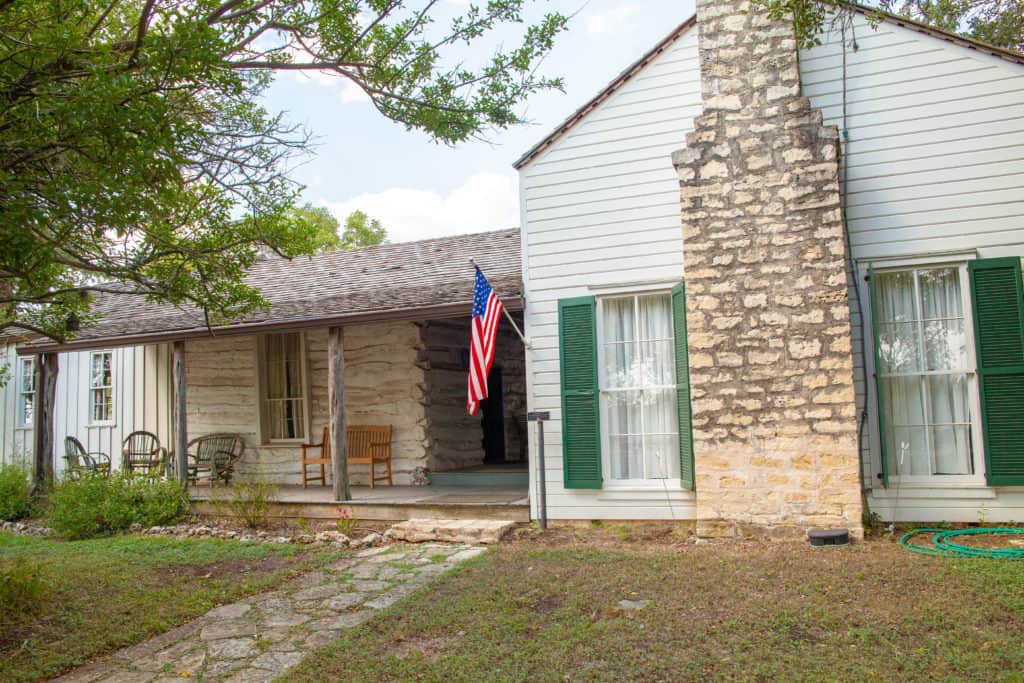 Discover Nature's Wonder at Hamilton Pool
Hamilton Pool Preserve doesn't need many words. If you're a Texan, it's probably already on your bucket list. Created when an underground river collapsed, Hamilton Pool is a historic and one-of-a-kind site.
To plan the perfect getaway to Hamilton Pool, here are a couple of notes. In the Summer months you have to make a reservation as early as 2-3 months ahead of time (especially for weekends). You can choose either a morning or evening slot. Because of its popularity, I expected it to be incredibly packed. However, on the day of our reservation, we arrived just as it opened and for the first 30 minutes there were maybe 10 people total. After that it still didn't get full until 2 hours later, and even then, it never got overwhelmingly crowded. If you want complete relaxation, make sure to get there early to be one of the first people.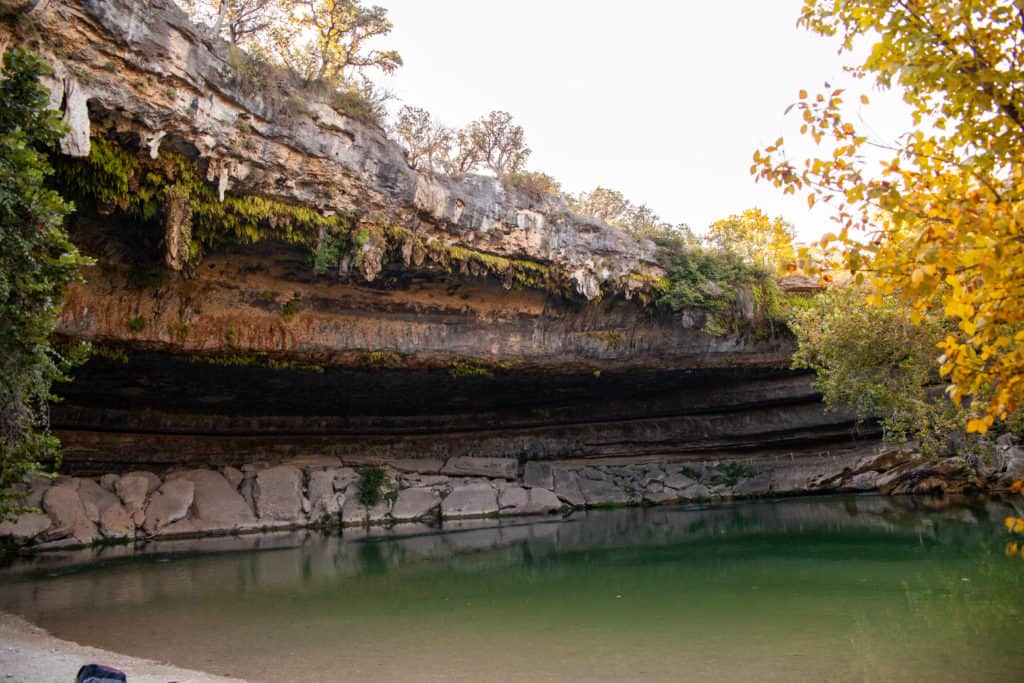 And Another Similar Wonder!
Hamilton Pool is a stunning site to be seen. However, years of human activity have caused the greenery and wildlife to fade away and have left this place pretty barren. Right next door is the Westcave Discovery Center. Here they take you on tours to discover the relatively untouched beauty of the Westcave grotto. I'm so glad they were able to preserve this so we can enjoy it's natural wonder. It also serves as a powerful lesson on our impact on the environment and our need for conservation.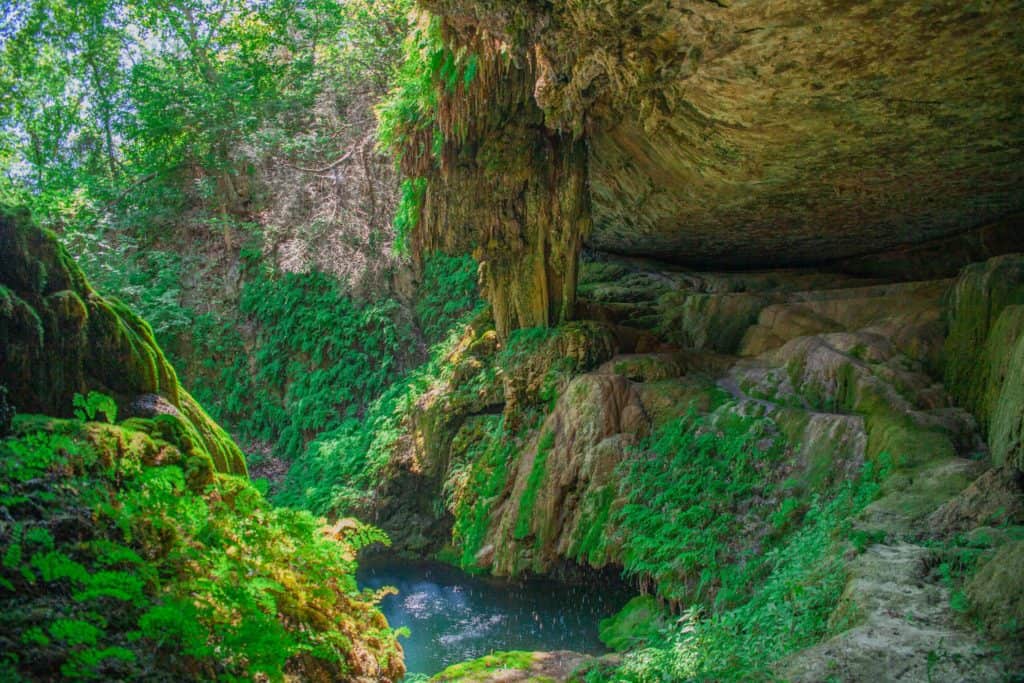 Go on an Olive Tour
I've always had a love for olives, but the Texas Hill Country Olive Company helped me grow a true appreciation for the work that goes into olive oil. You can go in any day of the week and try these local olive oils, eat from their cafe, and enjoy olive oil gelato (sounds weird, tastes great!) However, the real treat is going on the Olive tour where you can see the trees (and the olives growing on them depending on the season), learn about the different types of olives, see the process of making the olive oil, and probably walking out an olive oil snob or aficionado.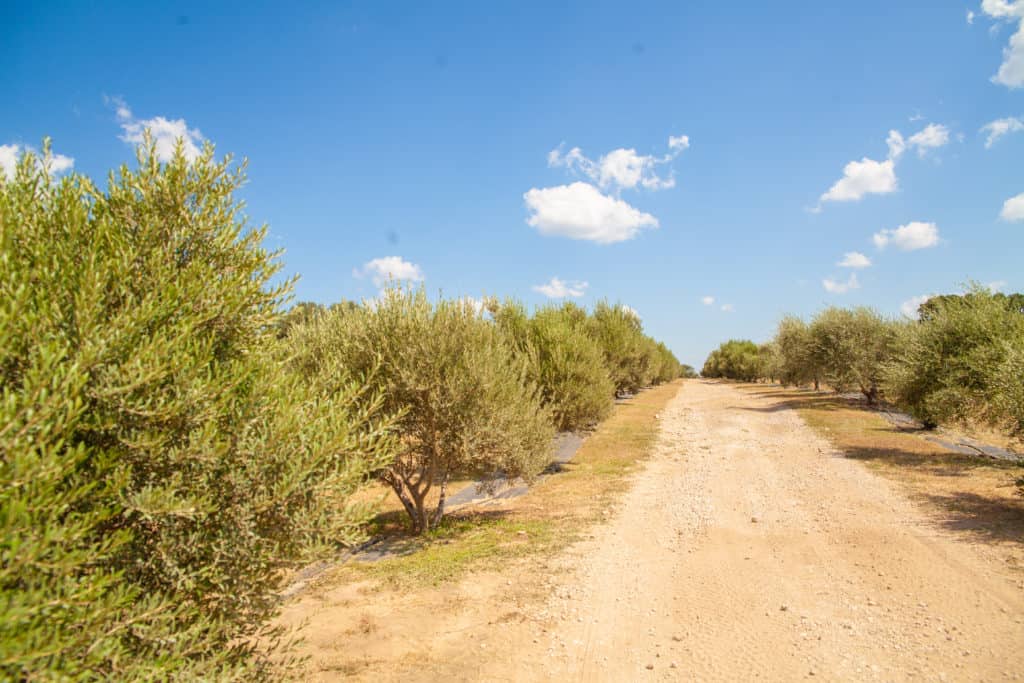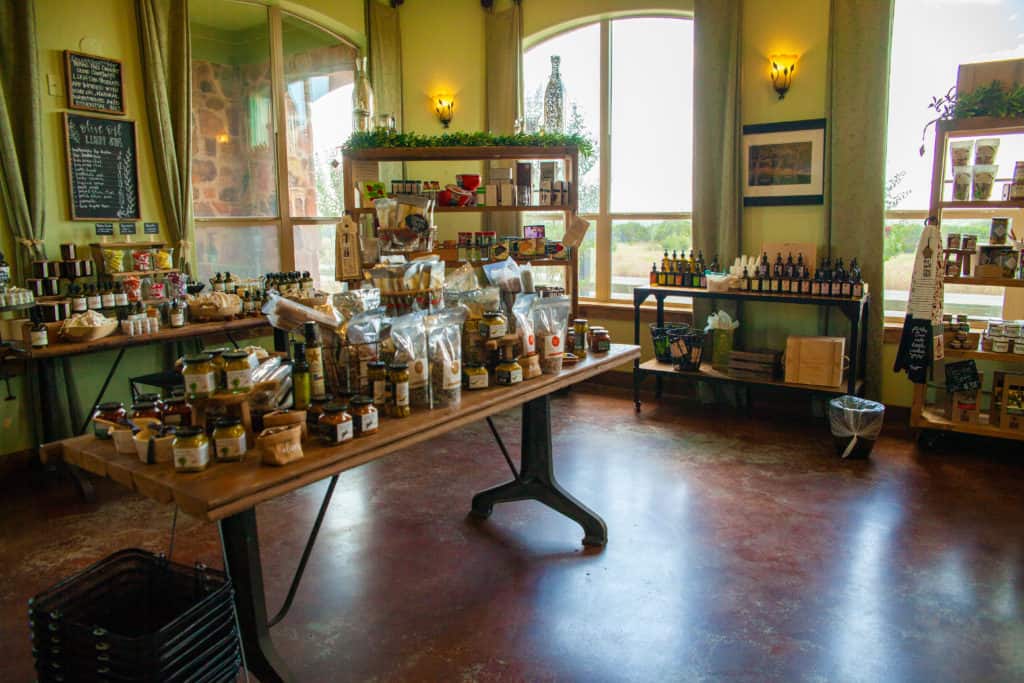 Eat at the Food Truck Park
Since Dripping Springs is so close to Austin, there's naturally quite a bit of Austin influence. We stopped at the food truck park which had several different options, but our favorite was Razas Food Shack. If you're looking for breakfast tacos, this is the place to go. For less than $3, one taco is more than enough, and on top of your traditional breakfast tacos, they have funky cool toppings for something different.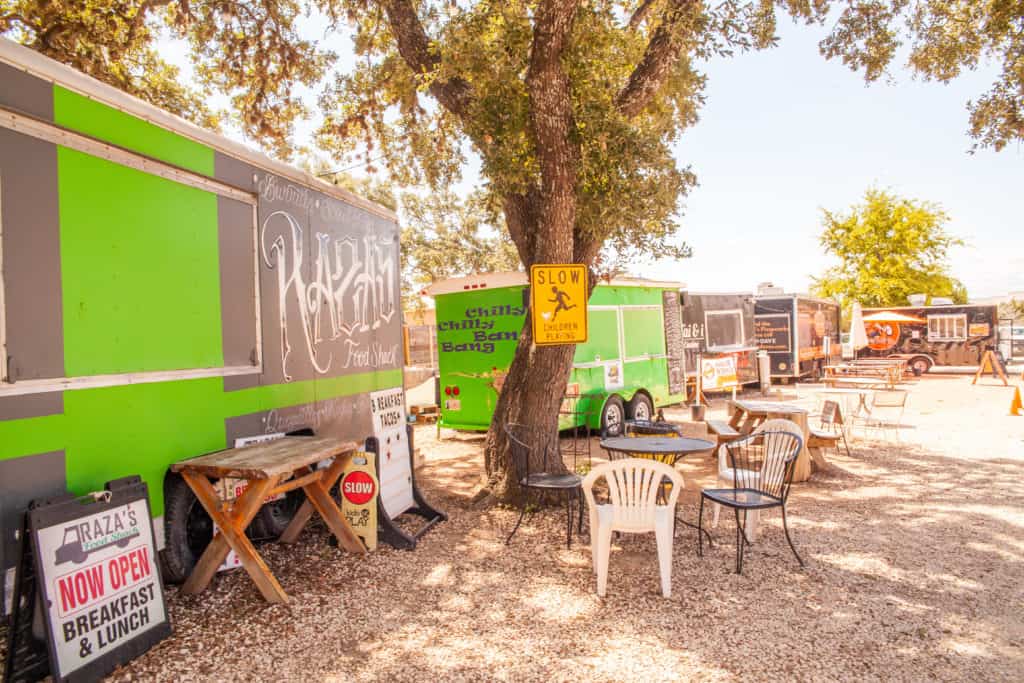 Go for a Scenic Drive Through the Hill Country
With our Toyota Hybrid RAV 4 ready for an adventure, and rolling hills all around, we took every opportunity for drives through all the scenic areas. There was so much to see from historic buildings, vineyards, and in the Spring there are boundless wildflowers!
Take a Sip at the Distilleries
Dripping Springs might be named after the springs at the Milk House Branch of Edwards Aquifer, but it almost might be named after the abundant options for distilleries in one place (probably the first, but still). Read all about the amazing distilleries in the Dripping Springs area!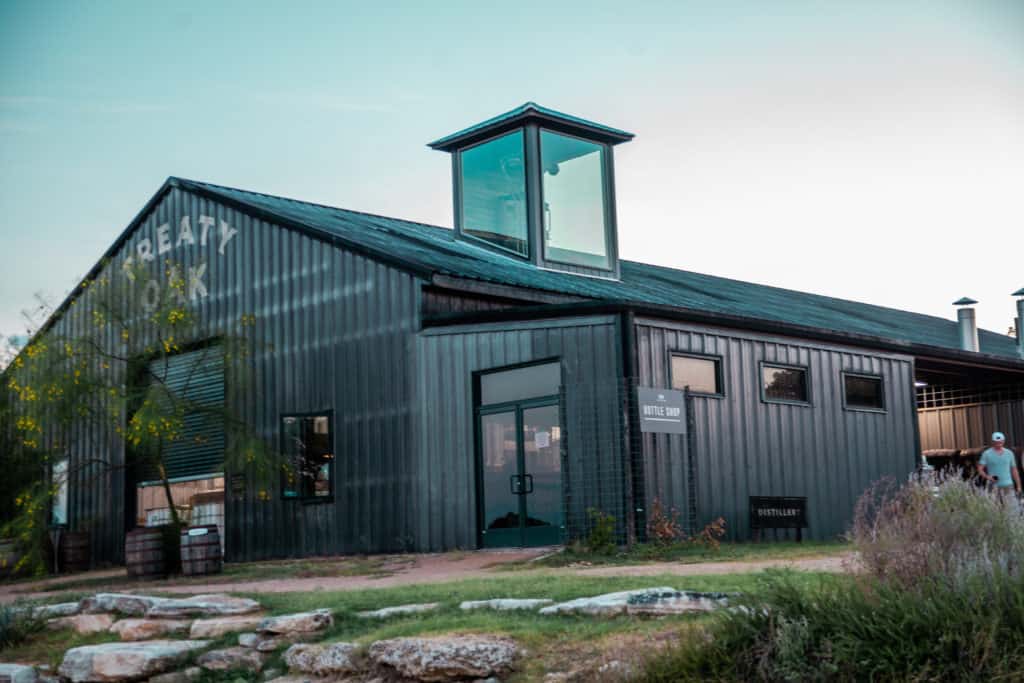 Go on a Wine Tour
In addition to the abundant distilleries, there are even more wineries! There are different wine tours in the area, but my favorite option is through Austin Wine Tours where you can hire a chauffeur in one of their vehicles and choose your own path. Check out the wineries in Dripping Springs that we enjoyed.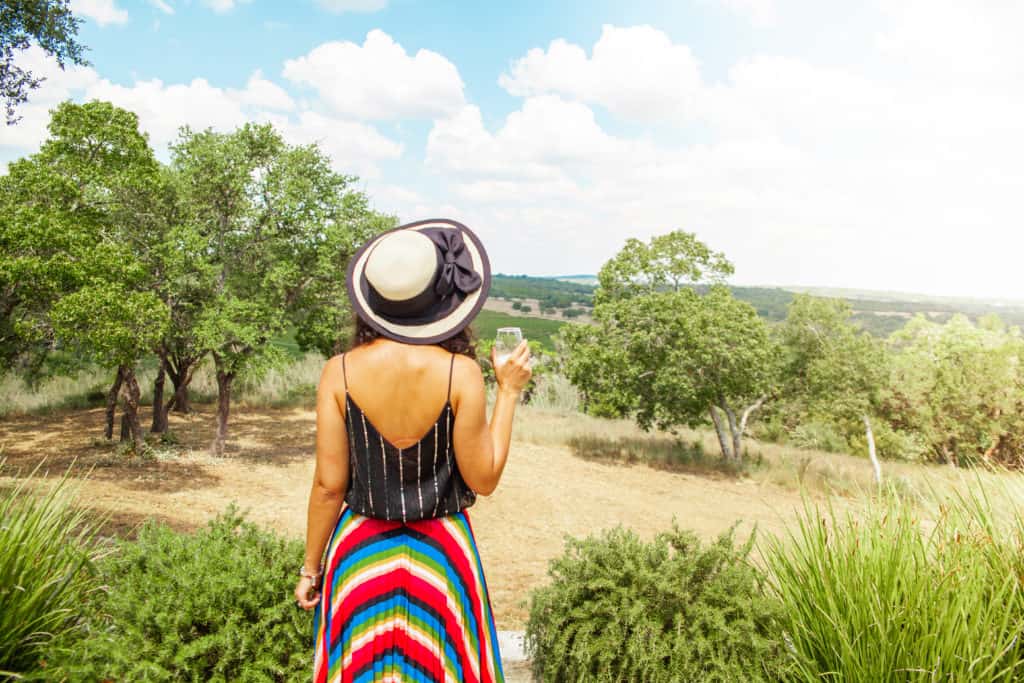 Go for a Swim
Reimers Ranch Park has a beautiful creek that runs through and with all the space there's plenty of room to spread out and not worry about it getting overcrowded! There are also different rock climbing spots, and plenty of hiking trails! While many of the swimming spots in the Texas Hill Country tend to get booked out ahead of time, this one is often is open.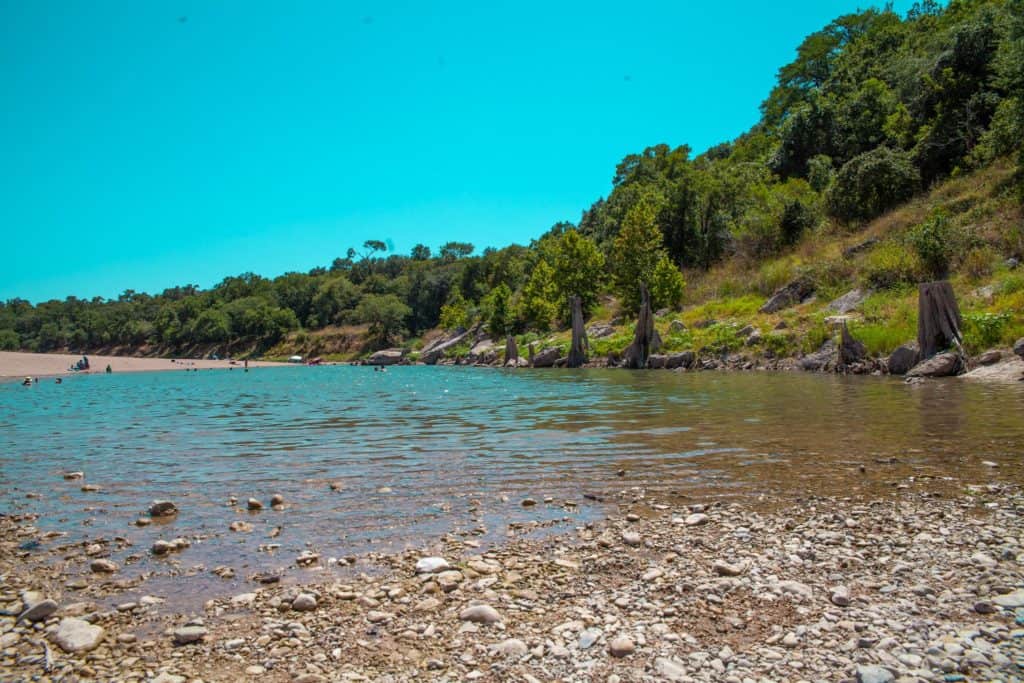 Try a Vegan Steak
Whether or not you're vegan, Skull & Cakebones serves up some seriously good food. The barbacoa street tacos lacked nothing in flavor, but my highlight was the 'beet steak'. Somehow the chefs have created a beet that closely resembles a steak. My first surprise was its smell, and overall, I was amazed at the steak-like flavors they were able to put into, of all things, a beet! Was it a steak? Not exactly. But it was a culinary creation so creative and so delicious I would definitely come back for and which I could add to my normal eating schedule (someone please teach me how to make this!)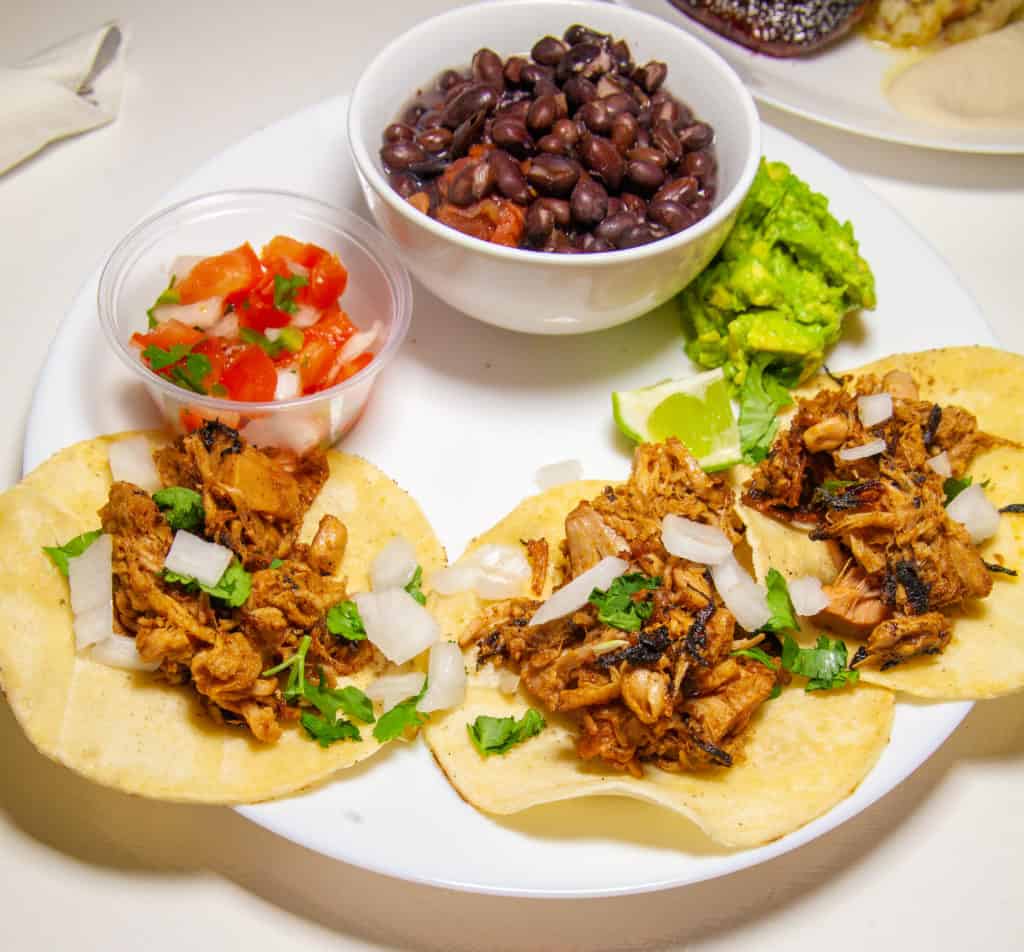 Play Giant Uno
If you're looking for a laid back brewery, Suds Monkey Brewing has a whole section of games as well as beers on tap and different flights. They also serve pizza on site!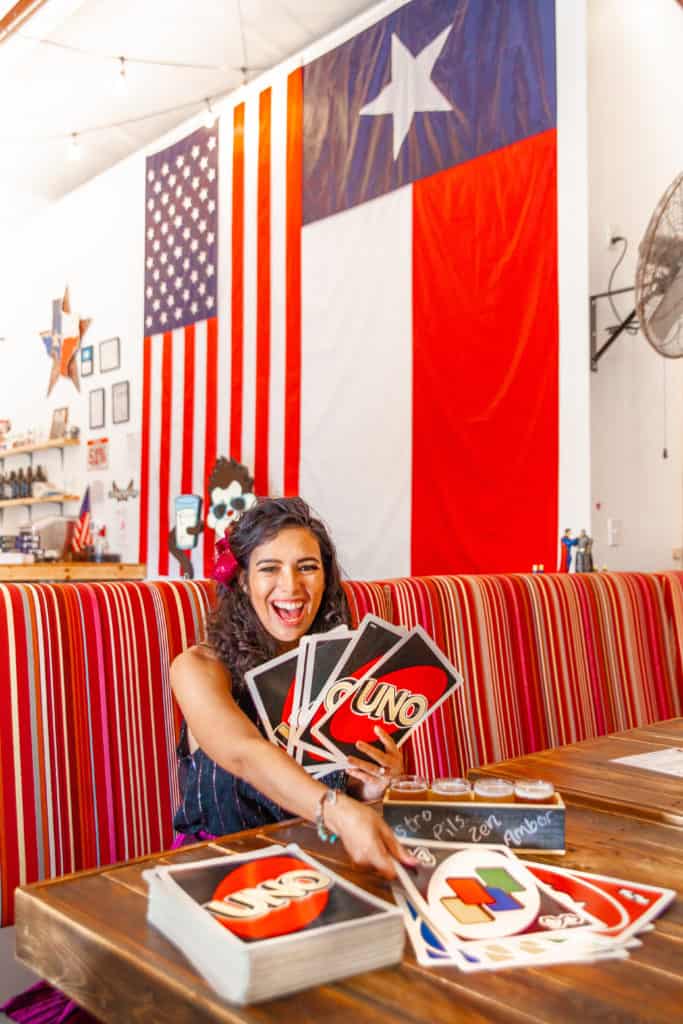 Roll in Thyme & Dough
Rolling in Thyme & Dough is a cute and eclectic bistro with coffees, breakfast sandwich, and it also doubles as a boutique with locals selling different items in it!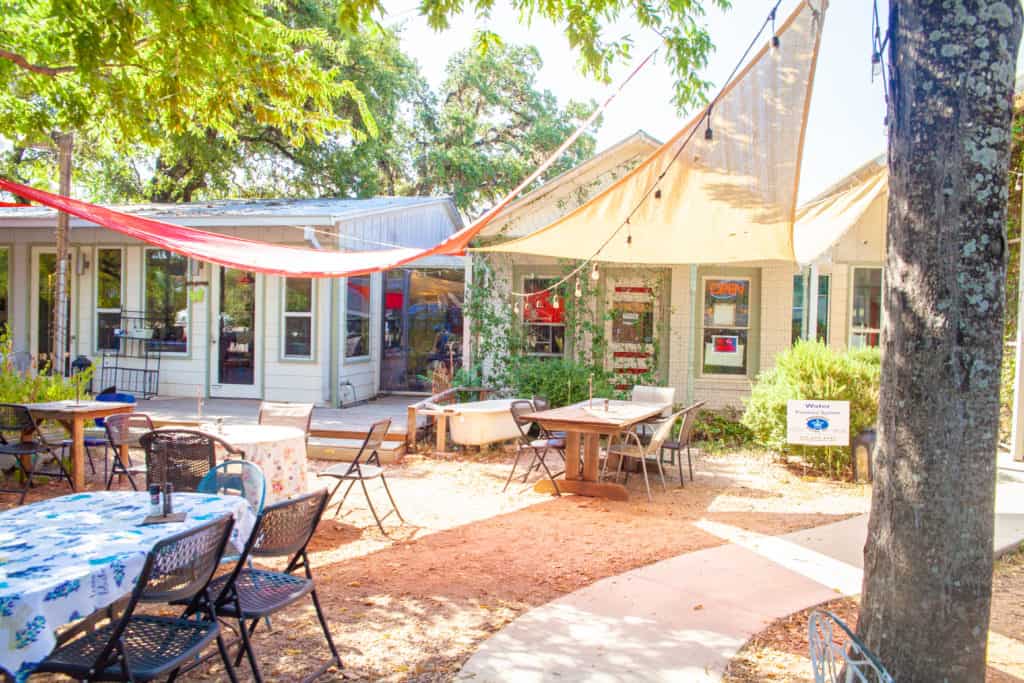 Wander Through a Hidden Garden
Right behind the Visitor's Center, is a path to this bridge! With the way the vines hang over the trees and the serenity of the park, it is a site like no other to be seen!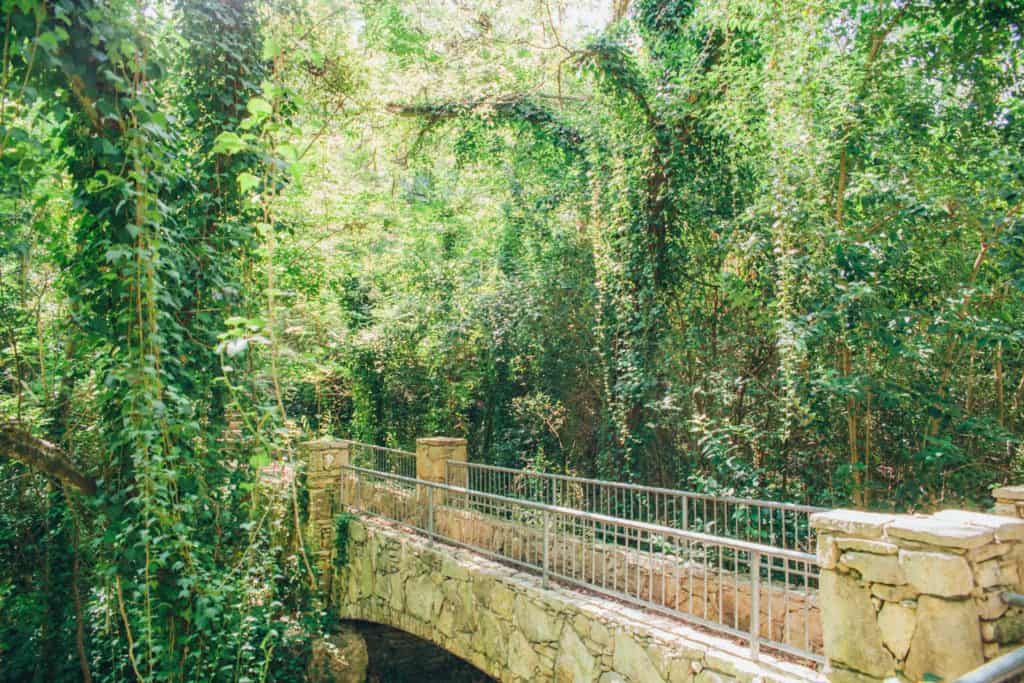 Stay in Some of the Coolest Places in Texas
Part of the reason I keep coming to Dripping Springs is all of the cool places you can stay! Dripping Springs has some of the most unique places to stay in Texas. From a fairy tale house to a safari themed house and more, there are so many cute options for a fun getaway whether you want to get out or just relax in your cool rental for a weekend.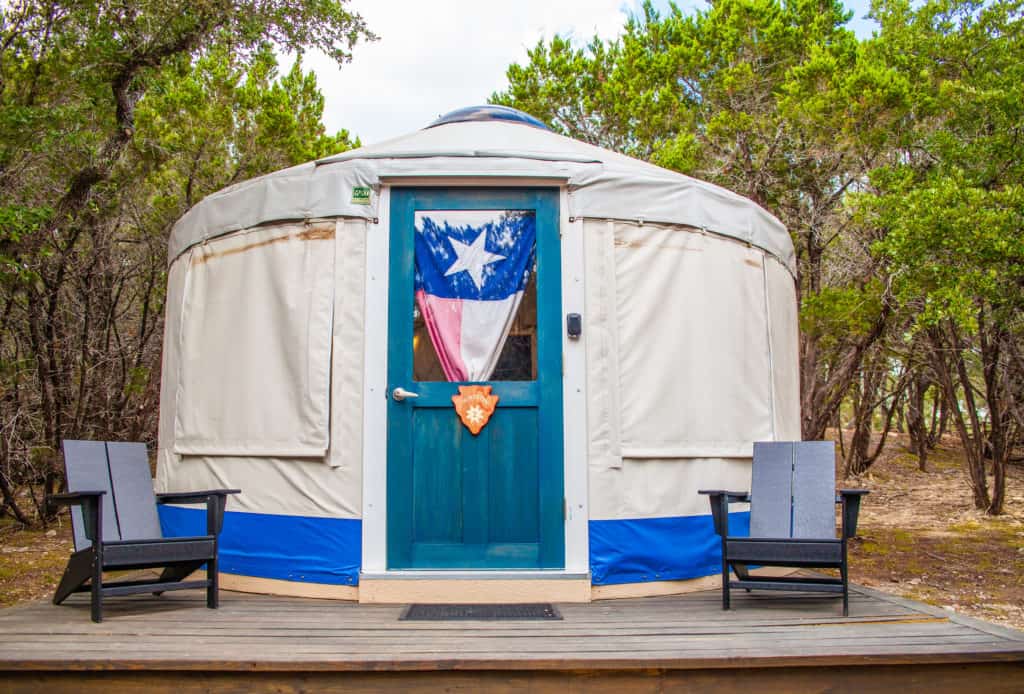 Head Over to Driftwood
Driftwood is so close to Dripping Springs and so many of the activities overlap that you can either plan a separate trip to Driftwood or mix in some activities.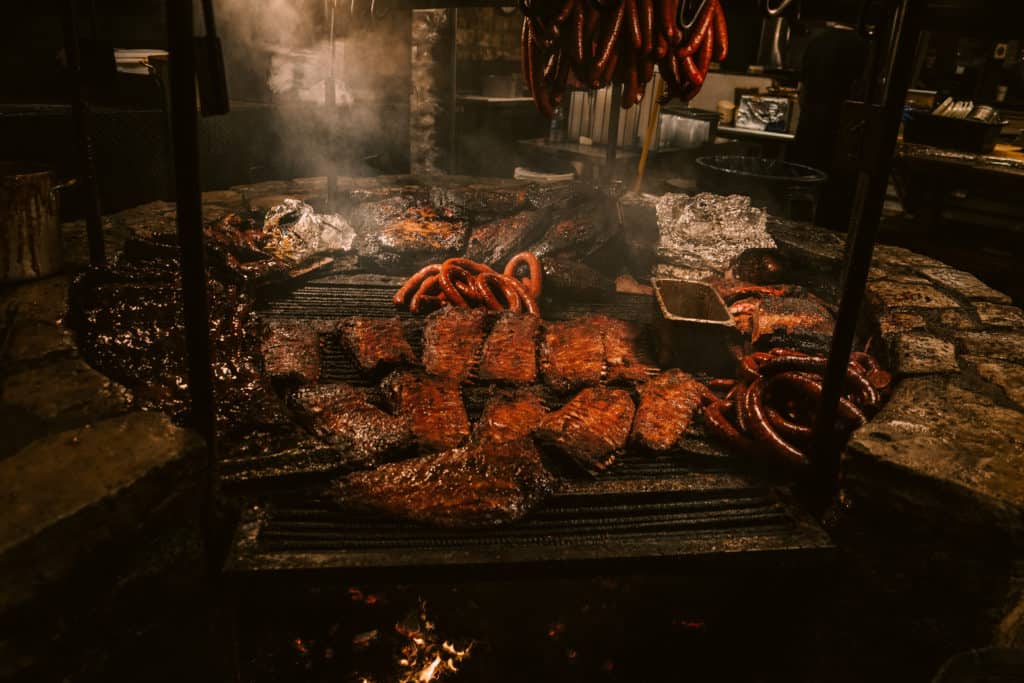 Things to Do in Dripping Springs: Final Thoughts
Overall I love the Texas Hill Country! There is so much nature, natural wonders, unique activities, and more. Dripping Springs was no different and makes for an incredible girls getaway, glamping trip, romantic couples retreat, and more!
After Driftwood, if you haven't had enough of the Hill Country, here are some other must visit destinations