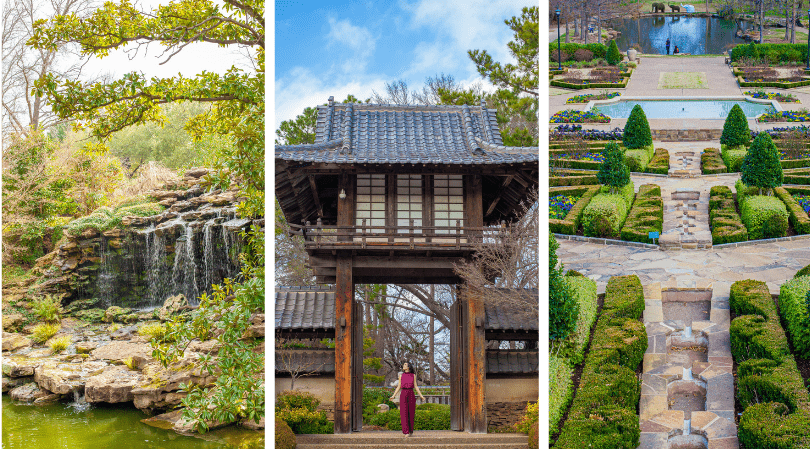 Sometimes coming up with a date idea or romantic things to do for couples can be hard. That's why we worked to create the most comprehensive list of things to do in Fort Worth for couples to reference when you're lost for ideas. Whether you're looking to splurge or looking for free Fort Worth dates, we have them all. Plus, if you don't want to leave home, check out this list of at home date ideas.
Romantic Fort Worth Date Ideas
When you're wanting to make that date night extra special, check out this great list of romantic Fort Worth date ideas that will wow your other half.
Listen to some jazz – Fort Worth couples can enjoy the speakeasy vibes over good drinks and local and national talent over at Scat Jazz Lounge.
See the gardens – A romantic evening can easily be spent at the Botanical Gardens where couples can enjoy the stunning Japanese Gardens, the colorful rose gardens, and the rainforest. There is so much to see!
Watch a Broadway show – No need to go to New York for this date idea! Right in Fort Worth, the Ball Hall brings in some of the top Broadways shows for a fun evening of musicals and singing.
Listen to the symphony – The Symphony is always a great opportunity to get dressed up for an elegant evening!
See the ballet – Whether it's watching classics like the Nutcrackers, spins on our favorite stories like Beauty and the Beast, or discovering a complete new story, the Texas Ballet Theatre puts on so many captivating shows that might just leave couples speechless.
Watch an opera show – Everyone has to try the opera at least once so why not try it with someone special. The Fort Worth Opera does such a wonderful job of bringing in so much different talent to match peoples different tastes.
Meet cool animals – Whether you've wanted to get up close to sloths, pet sting rays, or meet so many other animals, Seaquest definitely makes for a cute Fort Worth date.
Take a Scenic Flight – Generation Aircrafts will have you flying over the city for an incredible view that's nothing short of romantic –
Or take to the sky in a different way – For another way to take flight check out Longhorn Helicopters.
Enjoy a romantic dinner – Sometimes all it takes for a great date is the perfect romantic dinner spot. Reatta is well talked about in Fort Worth and for good reason! With great foods and delicious food, it makes a wonderful spot.
Visit the Spa – Nothing like an evening or a full day of couple's relaxation at the Woodhouse Day Spa where they have all sorts of different relaxing treatments.
Dinner & a movie – If you're going to do a traditional dinner and a movie make it special with a place like Movie Tavern that serves up your meal alongside the movie.
Enjoy tea time– A classy evening with finger snacks and tea are available for couples. In fact there are several places to go for an afternoon tea date including the Ashton Hotel, Secret Garden Tea Room, and Rose Garden Tea Room.
Make it a staycation – Staycations are great! You get all of the fun and relaxation of a vacation without the stress of a flight or long drive. Book a hotel like the Worthington where you can enjoy an indoor hot tub and fun Texas decor.
Take a Vacation – Whether it's for a quick day trip or you want to make a whole weekend out of it, there are so many romantic trips close to DFW.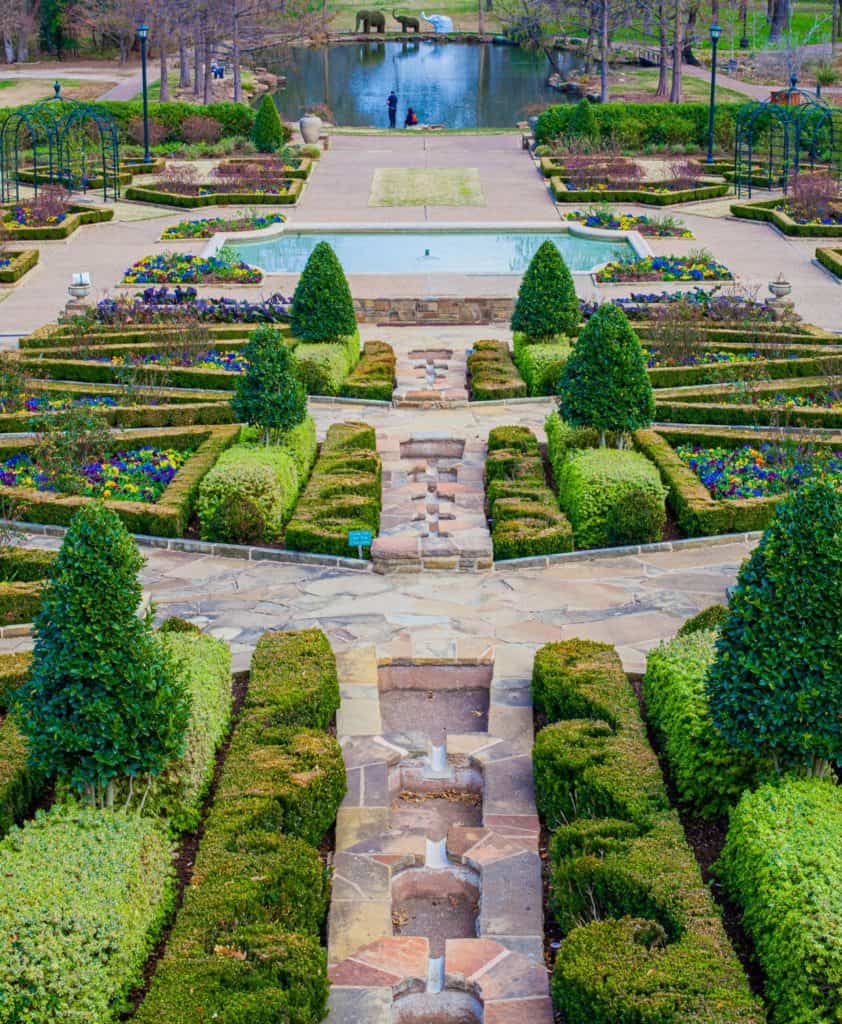 Free Fort Worth Date Ideas
Date ideas don't have to cost much or anything. It's all about the person you're spending the time with anyways! That why we came up with this list of free Fort Worth date ideas.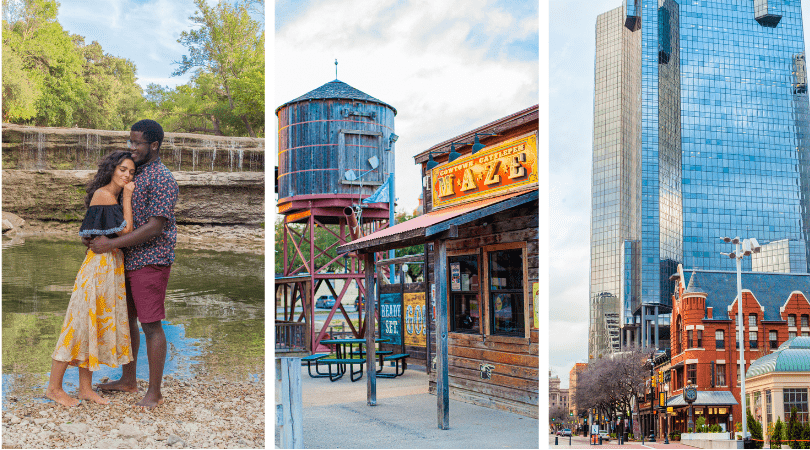 Fun Fort Worth Date Ideas
Learn about the cowgirl – Only in cowtown would you also find a Cowgirl Hall of Fame & Museum and this one is pretty cool! There's so much cool history!
Belt your favorite tune – Whether you have a voice meant for Broadway or you can't carry a tune to save your life, karaoke is always a fun idea for a couples date. Either sing to an entire crowd at Pecker's or rent out your own private booth at Voicebox Karaoke.
Listen to a concert while tubing – At Panther Island Pavilion couples can rent out tubes and enjoy time out on the water. Even better are the days when they have live concerts playing.
Watch a movie in your car – Enjoy the comfort of a movie without having to leave your car with a drive in movie at Panther Island Drive-in.
Take in nature's beauty – The Fort Worth Nature Center is filled with different trails through different terrains where you can take in the beauty of nature.
Go Two Stepping – Don't worry if you don't know how! Billy Bobs even has classes for people who are new to it.
See the Art – The Modern is always bringing in cool and one of a kind exhibits for a new date idea every season.
Step Back in Time – The Log Cabin Village brings history to life with reenactments and a look into how life used to be.
Go on a Treasure Hunt – If you love thrifting or the excitement of something new make sure to visit DFW Dollar Deals! This shop get new items every week that are returns from other stores mostly in top quality. Everything ranges from .50 to $2 and you never know what you'll find from a smart watch to a treasure you've been eyeing for a while somewhere else. You never know what you'll find.
Go for a trail ride – Take in the beautiful scenery of Fort Worth at Benbrook stables with a horse as your guide.
Check out the Dueling Pianos – If you've never been, dueling piano bars are such a fun and unique idea where two pianos duel it out and the crowd gets into it, as well as singing along over at Pete's Dueling Pianos.
Learn about multicultural Western heritage – At the National Multicultural Western Heritage Museum and Hall of Fame you can learn about the diversity of cowboys and our rich western heritage from a new lens.
See a bunch of leather – If leather working is your thing or you just like different museums, couples can check out the Tandy Leather museum with an extensive collection of hand-tooled leather articles.
Watch a barrel race – While some people consider the rodeo a special occasion, at the Fort Worth stockyards you can catch your favorite rodeo events year round on the weekends.
Play some bingo – You might get lucky at Bingo Parlor and then you can take your winnings to use for another date!
Ride the train – The Grapevine Vintage Railroad will take you all the way to Grapevine and depending on when you go they even have themed rides, wine rides, and more.
Ride another train -While it doesn't have all the cool themes, it's still fun to ride the train and the Trinity Railway Express will take you over to Dallas for a Dallas date!
See some planes – Learn all about the airlines, look inside a cockpit, see the command center, and of course checkout some cool planes all at the CR Smith Museum.
Take old time photos – For some truly memorable photos Jersey Lilly will provide costumes so you can dress up as saloon girls, gun fighters, and more with the perfect backdrop.
Learn something new -See dinosaurs, explore space, and take in the wonders of the world at the Museum of Science and History.
Laugh together – The Four Day Weekend takes the suggestions of the audience for a night of comedy that couples will love.
See some cool planes – Flight enthusiasts will love taking in all of the unique and one a kind planes and maybe even see them from the inside at the Fort Worth Aviation Museum.
Visit a Speakeasy – Now that we are back to the 20's, it's only appropriate to spend this decade of secret passwords and jazzy spaces to feel like you're in the prohibition era.
See ghosts – Explore the spookier side of Fort Worth while walking around the stockyards at the stockyard ghost tours.
Cruise Around in a Cool Car – If you want to go on a date in style, or your significant other has dreamed of driving a Lamborghini, a Porsche, or other luxury vehicle, consider making your Dallas date extra special by renting out a luxury vehicle through Turo.
Go On A Vintage Hunt – Set a budget and maybe a theme and see who can come up with the most unique, most fashionable, or most outrageous ensemble.
Visit the top zoo in the US– The Fort Worth Zoo was recently named the #1 zoo in the nation so it's definitely a spot worth visiting!
Experience an authentic Japanese Tea Ceremony – The Japanese Tea Gardens are beautiful to visit, but they also have a special event to experience the ceremony here.
Play some games – Get competitive with some games and drinks at Game Theory.
Visit the arcade – Spend the day at the arcade with old style video games and your typical festival games at Free Play Fort Worth.
Catch a cool event – There is always something fun and exciting going on if you do a little research. I love browsing Facebook events to see what things are going in Fort Worth that would make for great dates.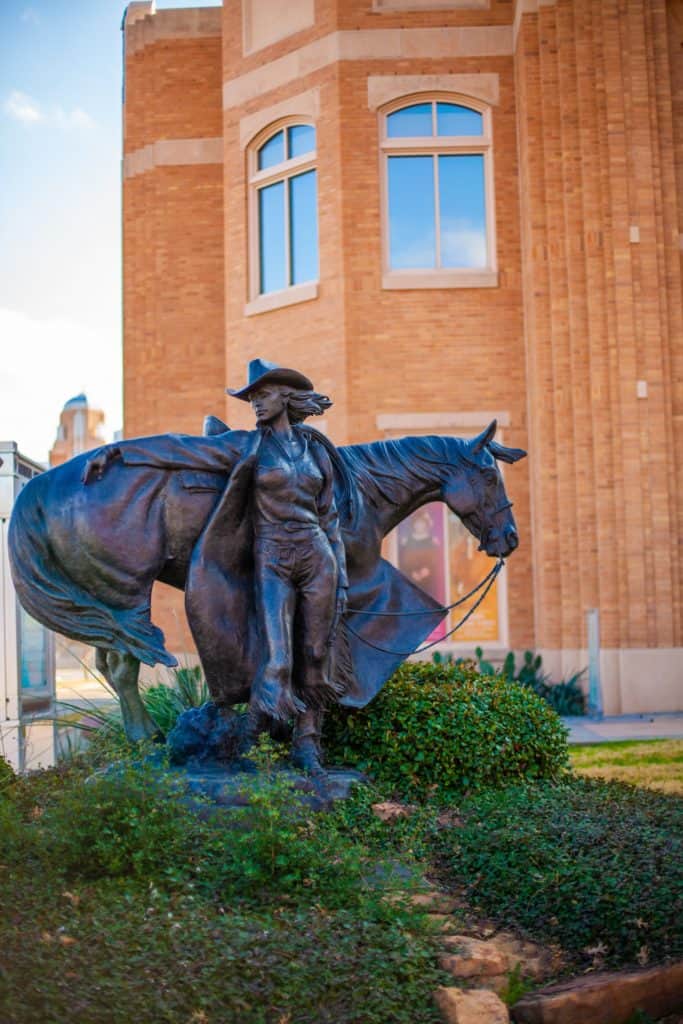 Active Fort Worth Date Ideas
Rather than just sitting at home, stay active and bond together with these Fort Worth date ideas to keep you moving.
Try wakeboarding – Surf on the water Cowtown Wakepark
Go for a ride – The Trinity Trails provides miles of trails to explore. Couples can rent out a b-bike to get further faster.
Try indoor skydiving – Too nervous to try actual skydiving (me too!)! Well at iFly you get all the fun of skydiving without falling thousands of feet! Adrenaline is supposed to lead to more feelings of attraction to make this even more of a reason to be such a great Frisco date night idea!
Go roller skating – Roller skating has always been a classic date! Going around in circles hand in hand while reliving old memories at Rollerland West.
Go ice skating – The same thing but with ice. And even more reason to get close to stay warm at Panther Island Ice
Go on a scavenger hunt -Let's Roam has all different kinds of scavenger hunts to check out to match what kind of date you're looking for.
Hit some pins – More than just the old school bowling, you can enjoy top drinks and food with some friendly competition. Then after play some games.
Throw an axe -The slogan of Axes & Ales: like darts but with axes! I never would have though to compare the two, but one thing is for sure. It will be an interesting date night.
Try archery – Maybe like axes but with bows and arrows? Fleming archery will teach you the skills!
Escape the room – This date will have couples working as a team and probably has some real life skills to be applied later in the relationship. Red Door Escape Rooms is great because they go all out with the sets to make it feel realistic.
Jump on trampolines – Become a kid again with Altitude Adventure Park trampolines.
Learn to swing dance – The Fort Worth Swing Dance Society will have couples dancing the lindy hop in no time.
Go Golfing – For a swinging good Fort Worth date check out Top Golf which is like the bowling of golf. You don't have to go chasing after the balls after you hit them, and you can enjoy dinner and drinks at the same time.
Go kayaking – The Fort Worth Nature Center has a Refuge Paddling Trail with a 6-7 mile loop.
Test your balance – Who will fall into the water first? You could even make a whole challenge out of it at Trinity SUP.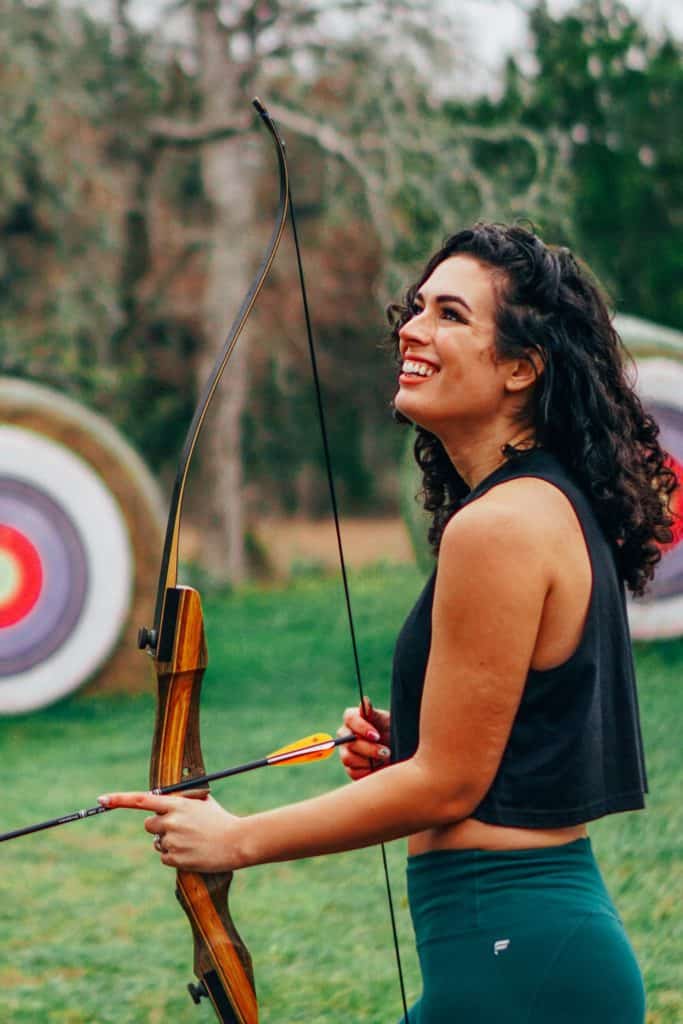 Foodie Fort Worth Date Ideas
Shop local – Couples can enjoy the local produce and goods while wandering around the different stalls at the Cowtown Farmers Market.
Try local eateries all in one – Do a little restaurant hopping with drinks, apps, dinner, and dessert all in one place at Crockett Hall.
Visit the local breweries – Follow the Fort Worth Ale Trail to discover the local brewery scene
Or try the distilleries – Just like an ale trail Fort Worth also has a distillery trail for couples to follow. It might take a couple of dates with how many there are in the area!
Grab a drink at a fun bar -There are some great places around Fort Worth for a drink like the beautiful Gemelle with outdoor games and beautiful photos opps or try some local moonshine at Mash'd.
Go for a wine tasting – In Fort Worth you'll find Cowtown Winery. After that couples can venture a little further for a tour around the North Texas Wine Trail.
Eat around the World – Fort Worth has quite the international food scene. You don't have to travel the world to eat around the world! Hit up some local restaurants and try some new food.
Try some BBQ – It's a Texas staple! And with the Texas Barbq tour you can try some of the best.
Go on a food tour – Whether it's finding the best margarita or checking out hidden gems, Eat This Fort Worth has all different kinds of food tours to eat your way around Fort Worth.
Learn to cook – Whether you burn water or are a pretty decent cook, there's always room for improvement. The Cookery does everything from learning to make pasta, different themed meals, sushi, cocktails, and more. People are even surprised to learn that Central Market has classes as well.
Solve a mystery – More than just a dinner, at the Dinner Detective Murder Mystery couples are served a meal with an interactive show.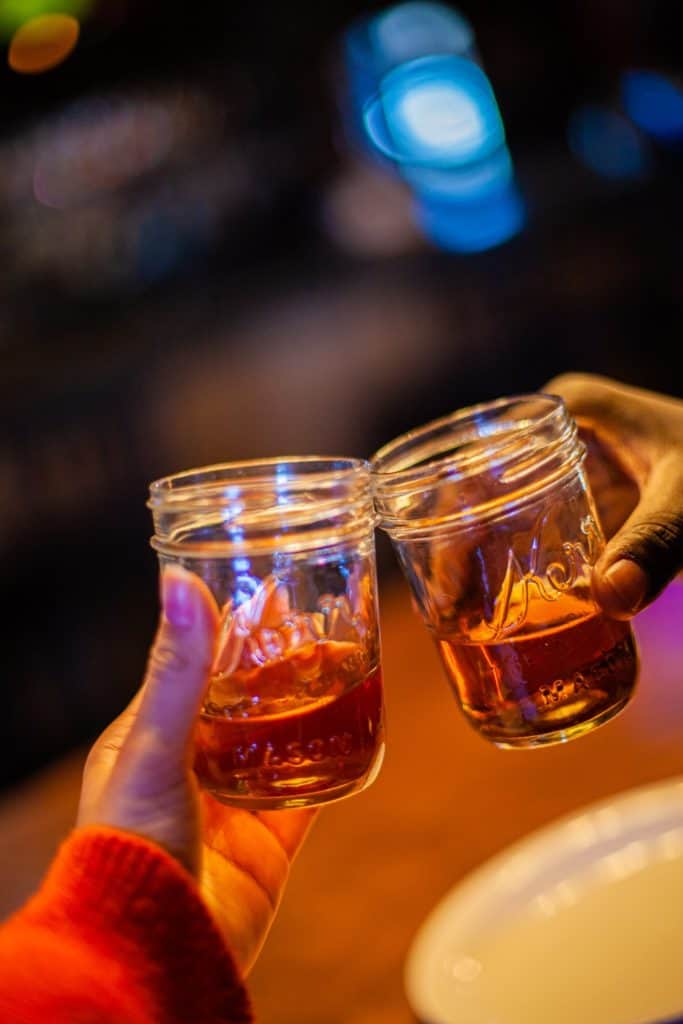 Crafting Date Ideas in Fort Worth
The fun thing about crafting dates is that you get to learn a skill together and often bring something home for your memories. You might even find a hobby that you'll want to do all the time!
Create glass art – Learn to make all sorts of different glass items and the skill of glass blowing at SiNaCa Studios.
Learn Pottery – Pottery can be hard! Getting everything to come together and not just fall into a blob is harder than it seems. Luckily, Front Porch Pottery Studio will walk you through all the tough steps!
Make a candle -This is a fun take home date! The Lonestar Candle Supply will help you get all the ingredients you need to make your own candle and then has helpful tutorials to go along as well.
Drink and paint – Never a bad combination for couples! Even if you're not a natural painter, Painting with a Twist helps everyone with easy to follow instructions. They even sometimes have two piece couple's painting that come together as one masterpiece!
Create wood art – From cute saying to actually building something with a hammer, Hammer and Stain Woodworking is one of those places that will be good for multiple date nights.
Do all the crafts – There is almost no limit at Pinspiration that offers a little bit of everything! They have string art, splatter paint, and so many different items.
Make a terrarium – Ephemera Terrariums has classes so you can create something special to take home!
Date Ideas Near Fort Worth
If you're willing to venture a little outside of Fort Worth, it seems like the list of things to do for couples never ends!
Texas Date Ideas
Maybe that's not enough! We've been working on couple's date ideas all across Texas. So, travel a little further and see what other cities in Texas have to offer.