If you're looking for a couples getaway filled with romance and quality time together, you don't have to worry about going far. Texas is filled with romantic destinations for every couples. Whether you're looking for a budget friendly weekend getaway for couples in Texas or looking to splurge a little more, this list is filled with different ideas!
Choosing that one romantic destination can be hard, but what's even easier is finding the perfect vehicle to take on all those romantic getaways. If you're frequently taking road trips around Texas, you want a vehicle that's reliable and that you know you got the best deal for. That's where AutoTrader comes in with unbiased information on the best cars of the year, where to find the best deals, and even a car matching quiz to help find the perfect vehicle for you.
Romantic Couple's Getaway to Galveston
When you want a romantic weekend getaway that makes you feel like you're on a tropical island instead of just in Texas, Galveston makes for a great couple's option. Resorts like the San Luis feel so lush, and a margarita is waiting for you at the swim up bar! There are also things to do like a romantic horseback ride along the beach, yoga by the water, and just taking the time to unwind and relax.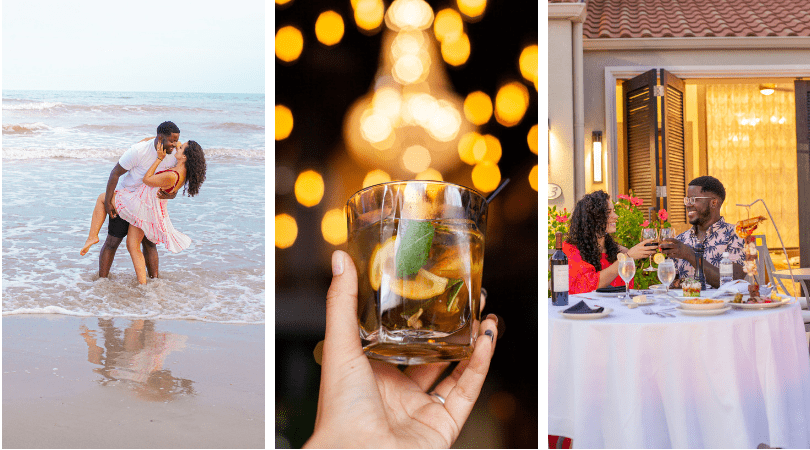 Romantic Couple's Getaway to Dripping Springs
Dripping Springs is the getaway for couples who are looking for a relaxed wine getaway with a little bit of nature. There are so many different wineries and distilleries in the area and natural wonders like Hamilton Pool!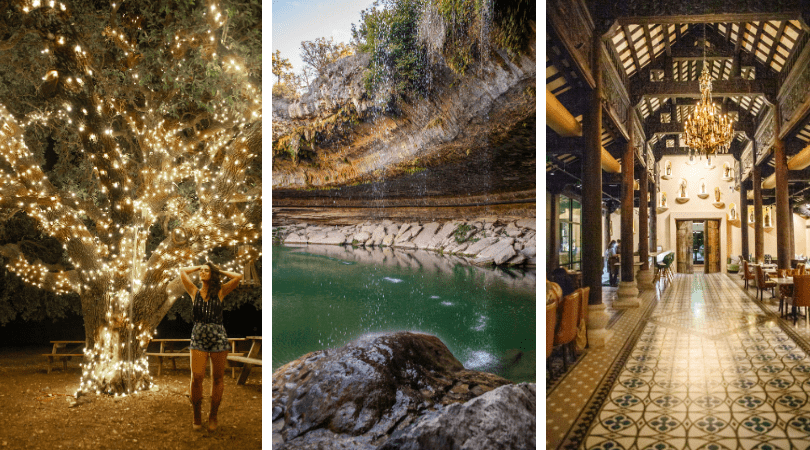 Romantic Couple's Getaway to Brownwood
I love Brownwood as a Texas getaway, getting to stay in a cozy cabin with its own personal hot tub that just begs for romance. When not enjoying the peace of nature couples can go hiking at the nearby state park, visit a winery, and check out some of the other fun activities.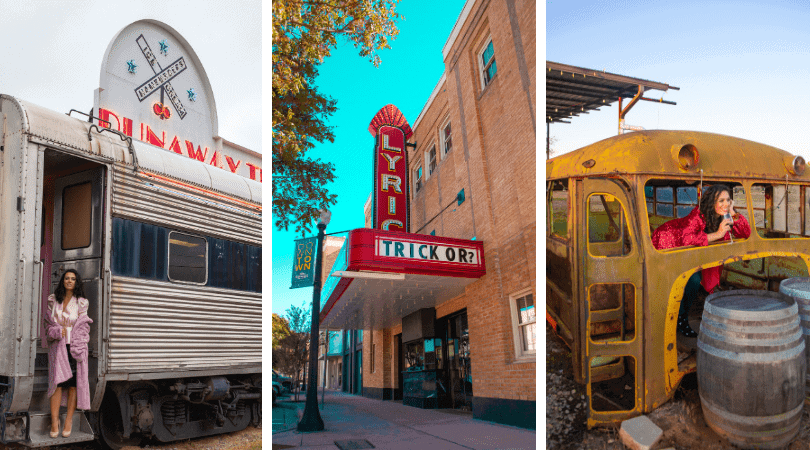 Romantic Couple's Getaway to Fredericksburg
Fredericksburg is probably one of the top places people think of when planning a romantic getaway in Texas and it's easy to see why! Wineries all around, beautiful cottages and places to stay, and a charming downtown!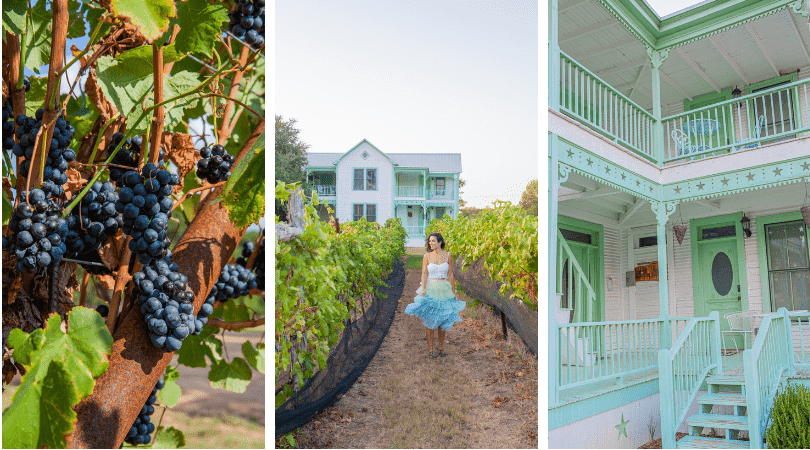 Romantic Couple's Getaway to Austin
Where does one even start when planning a trip to Austin? There are so many beautiful and romantic hotels, incredible places to eat, and an unlimited list of things to do for couples. You can make several romantic trips out of Austin each with a different theme. Because there are so many free things to do in Austin, it also makes for a great budget friendly romantic getaway.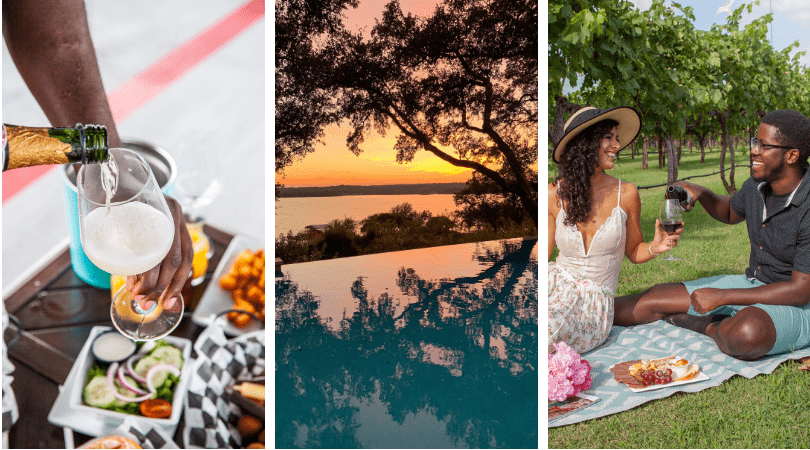 Romantic Couple's Getaway to Palestine
I have to say that East Texas never seems to get enough love but there's so much beauty and romance available especially in Palestine! Take a romantic train ride through the pines, stay in a beautiful historic hotel, and in the Spring take in all of the beautiful blooms!
Romantic Couple's Getaway to Treehouses in Texas
Sometimes you just want to get away for a place to stay in and not really get out. For couples who are looking for something different, check out some of these amazing tree houses. Ranging from luxurious to budget friendly, there's something for everyone!
Romantic Couple's Getaway to Beaumont
Just outside of Houston is the unexpected town of Beaumont where you can find a budget friendly couples getaway filled with everything you need! Beaumont has wineries, romantic (and free!) gardens, proximity to the beach, and amazing Cajun food!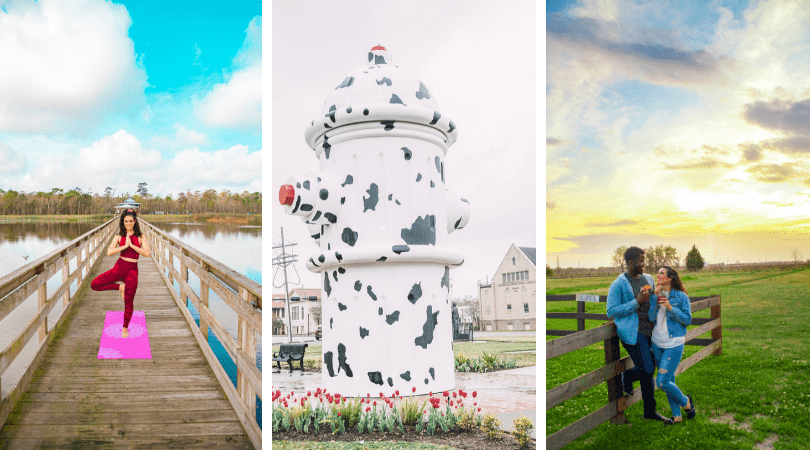 Romantic Couple's Getaway to Seguin
Seguin is fun for the adventurous couple. You can go for rides at the adventure park, hang by the river, and even sleep in a haunted hotel. Even if you're not for the thrills, there's a cool meadery, grilling along the river, and some fun glamping spots.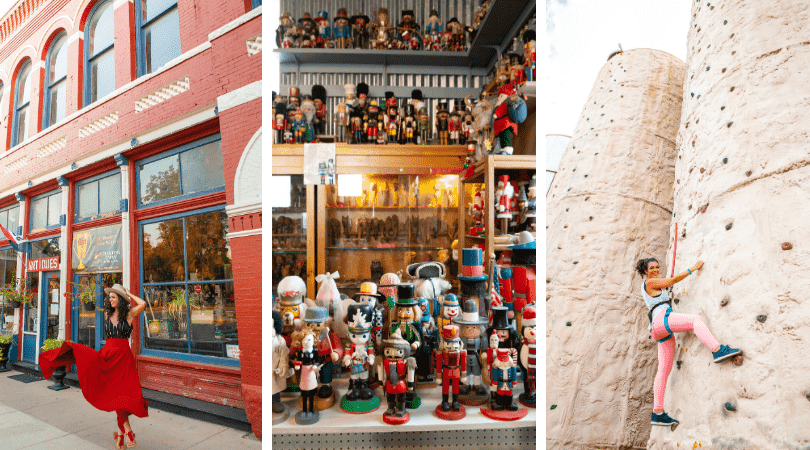 Romantic Couple's Getaway to San Antonio
San Antonio is full of Mexican culture, romantic buildings, and vibrant colors. Couples can't go wrong with all the many things to do in San Antonio. You can focus on just the river walk if you don't want to drive!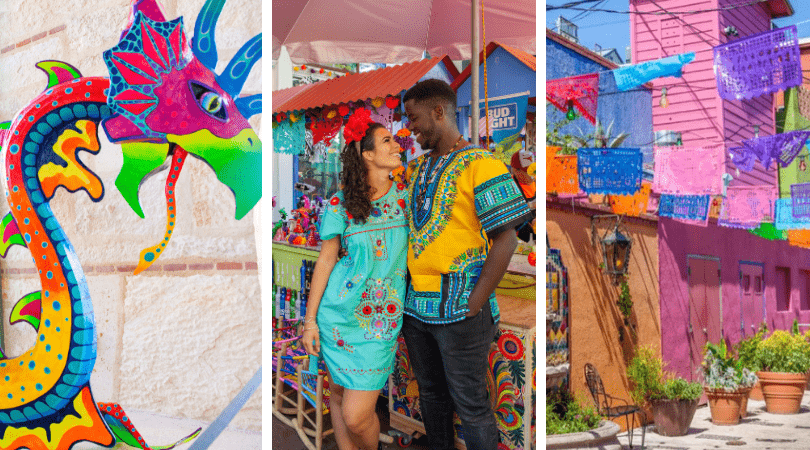 Romantic Couple's Getaway to Glen Rose
Glen Rose is a small-town couple's getaway filled with beauty! You can stay in a romantic B&B once known for its healing properties, have a romantic dinner over a safari, and enjoy some hiking.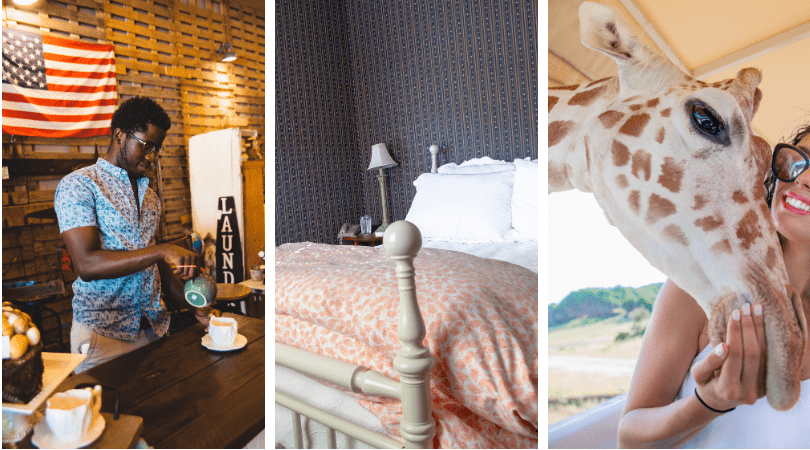 Romantic Couple's Getaway to Wimberley
Make a splash and visit the fairytale like town of Wimberley that will enchant so many couples. With popular swimming spots like Jacob's Well and Blue Hole, you can enjoy some beautiful places to cool off. Afterwards couples can check out some of the beautiful B&Bs.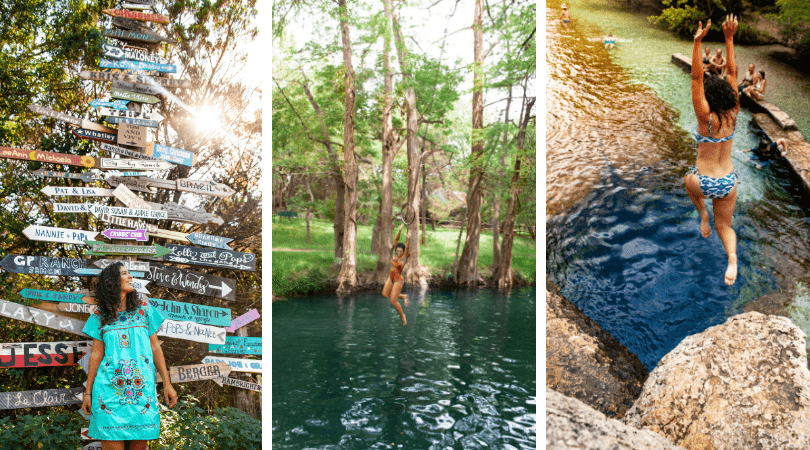 Romantic Couple's Getaway to Marathon
For a romantic stay close to Big Bend Marathon provides all the comfort for couples looking for a luxurious resort feel. You can spend all day hiking the trails of Big Bend and then head back to comfort and relaxation to unwind.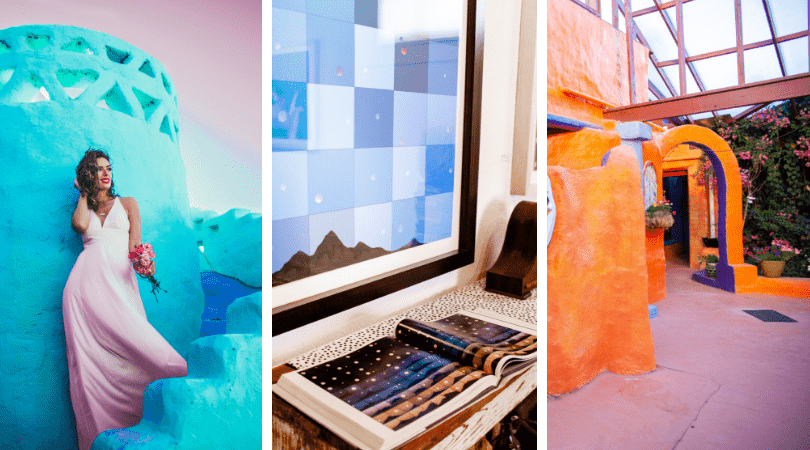 Romantic Couple's Getaway to Paris
You don't have to leave Texas to visit Paris and even see the Eiffel Tower (granted this one comes with a cowboy hat on top). Grab some pastries from the local shop and set up a romantic picnic and feel like you've escaped somewhere else.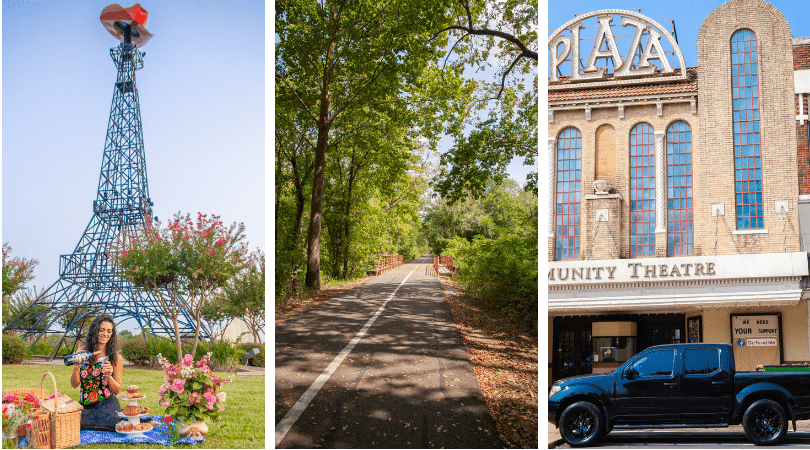 Romantic Couple's Getaway to New Braunfels
Another town with some international influences, New Braunfels is a slice of Germany for couples who don't want to travel far. Just walking around town you'll see different nods to the country. In addition, you have the fun of Schlitterbahn, cool caverns, wakeboarding, and more.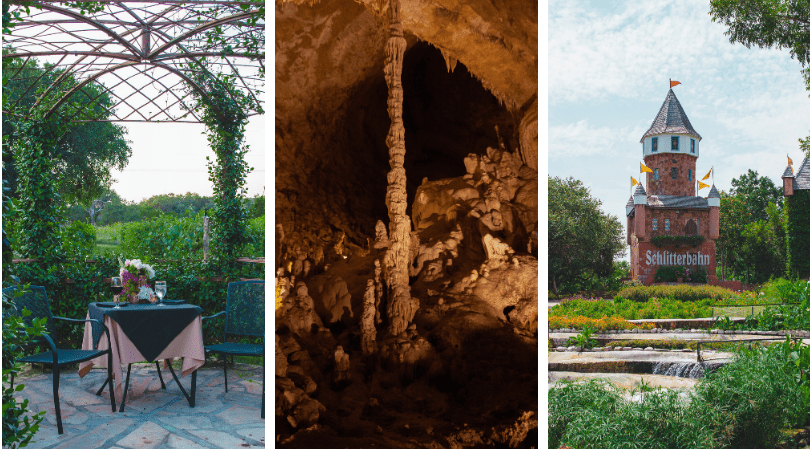 Romantic Couple's Getaway to Castroville
Castroville is beautiful! In the Spring it's covered in colorful poppies. They have a beautiful resort and you're not too far away from Paradise Canyon which truly is a paradise.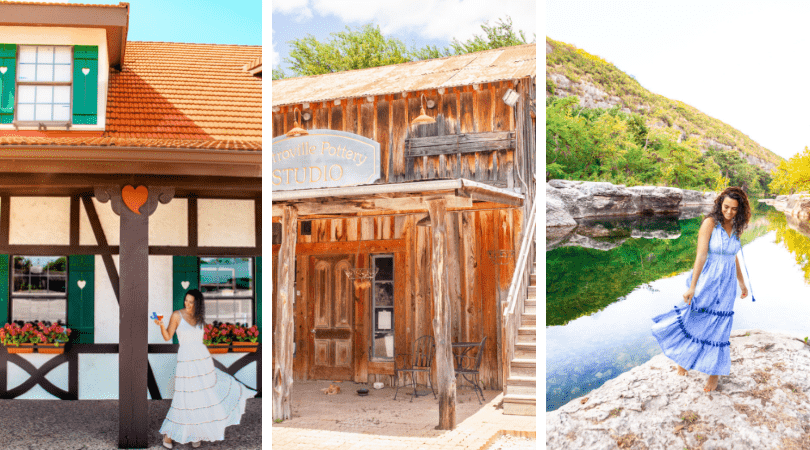 Romantic Couple's Getaway to McAllen
Don't forget about a trip to South Texas when looking for a couple's trip! Especially when it's colder, McAllen is a place to warm up. All around you'll find great food, beautiful hikes, and you can even cross over to Nuevo Progreso.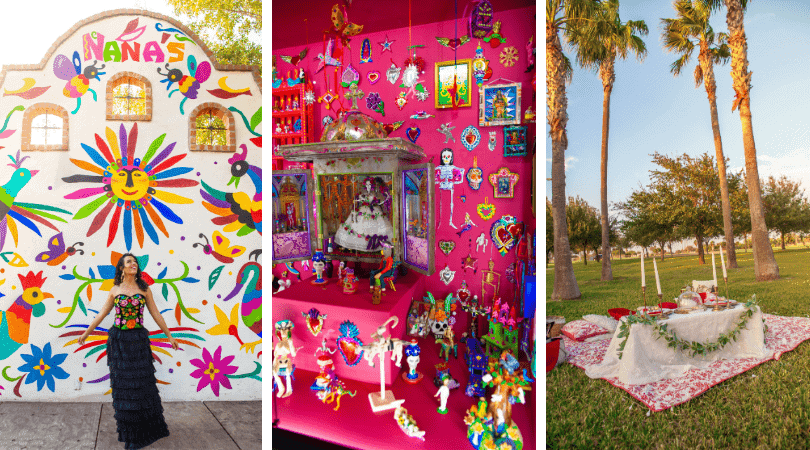 Romantic Couple's Getaway to Georgetown
Often known as the prettiest town square, Georgetown is an easy idea for a couple's getaway. It's close to Austin which is great and there's so much to do. Just on the downtown square you can do a little wine tour with breaks at fun shops. There are hiking trails, caves, and blue hole for swimming.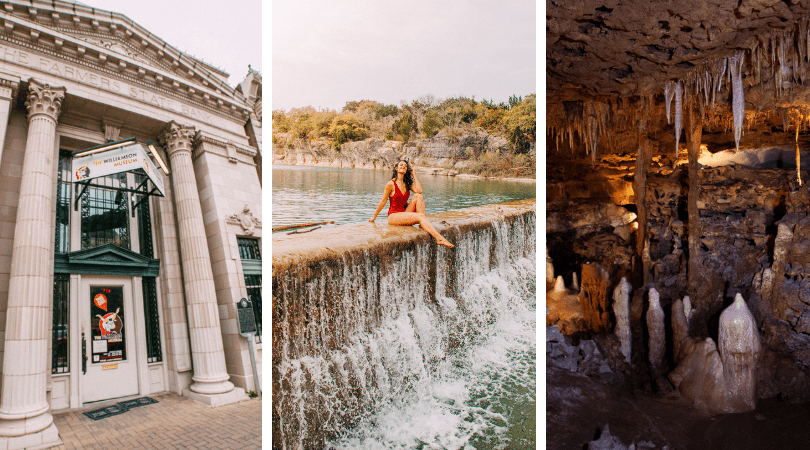 Romantic Weekend Getaways for Couples in Texas
Clearly there is no shortage for getaways for couples looking for something romantic. Choosing the right one might be the hardest part, but if you have enough time you can make your way around to all the different towns.
As you're making your way through all the different towns, having the perfect car for a smooth journey is just as important as the destination. Autotrader has all the resources and advice you need to find your perfect car match! And if you're into letting fate decide, they created a quiz to match you with your perfect car based on your zodiac sign! They even have a list of the Best News Cars for 2021 so that you don't have to do all the hard work of figuring out which vehicles perform the best for you. Just use Autotrader and then they'll point you to your perfect match!