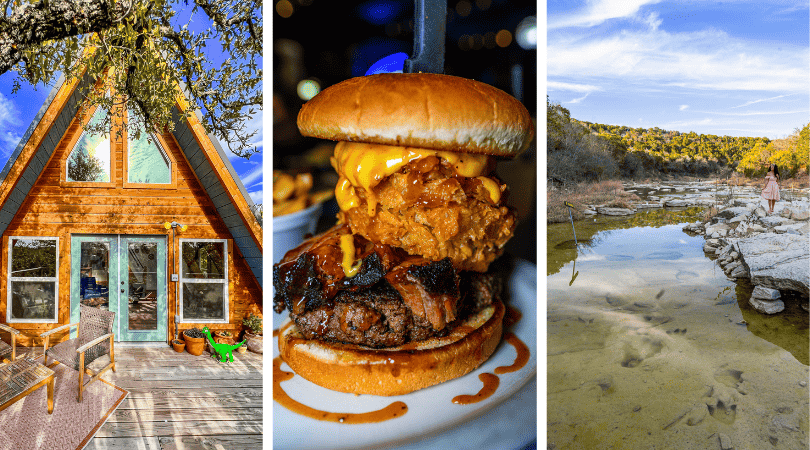 "Things to Do in Glen Rose" is part of my Texas Travel Series, an initiative to explore the diversity in Texas. Many of us dream of far away places, but with 9 to 5's it's not possible to hop on a plane every month. However, Texas has so many unique places that have reminded us of faraway destinations we want to visit.
Many cities in Texas make the perfect weekend getaway and so it's easy to live a travel lifestyle every weekend without even leaving Texas! Glen Rose is one of these cities with its small town charm, a Jurassic past, and a safari that will transport you to South Africa. For such a small town, Glen Rose truly has so many things to do (and so much good food)!
Things to Do in Glen Rose: Day 1
Check into Inn on the River
People used to come in from all over the country to visit Inn on the River because of the healing properties from the springs on-site. Even without the springs, Inn on the River remains a health resort in the sense that the owners go out of their way to provide the ultimate relaxation experience.
Each morning includes a homemade breakfast and every night involves sinking into a bed and down comforter that basically hugs you all night. You can read all about our Inn on the River experience here and book your stay here.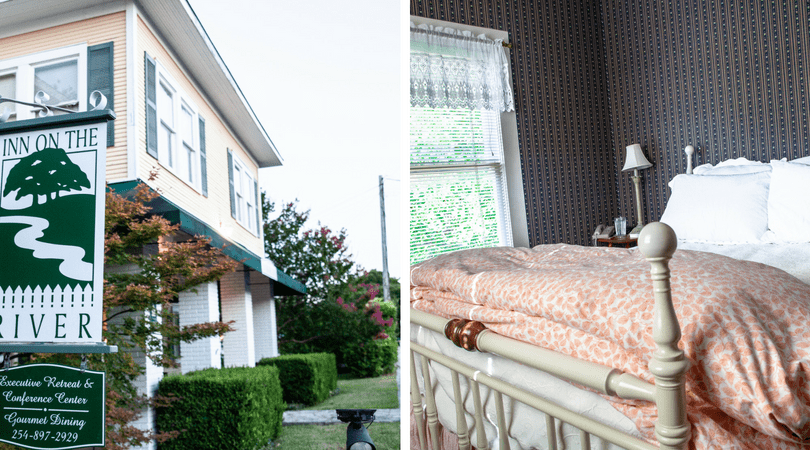 Downtown Glen Rose
The beauty of the Inn on the River is that it nearby the downtown square and you can easily walk there. We enjoyed browsing through the cutest boutiques, antique shops, and soda shops.
Glen Rose also has a regular farmers market! It's most active on the weekends, but vendors are allowed to set up shop any day or time of the week and sell their goods right outside of the old courthouse.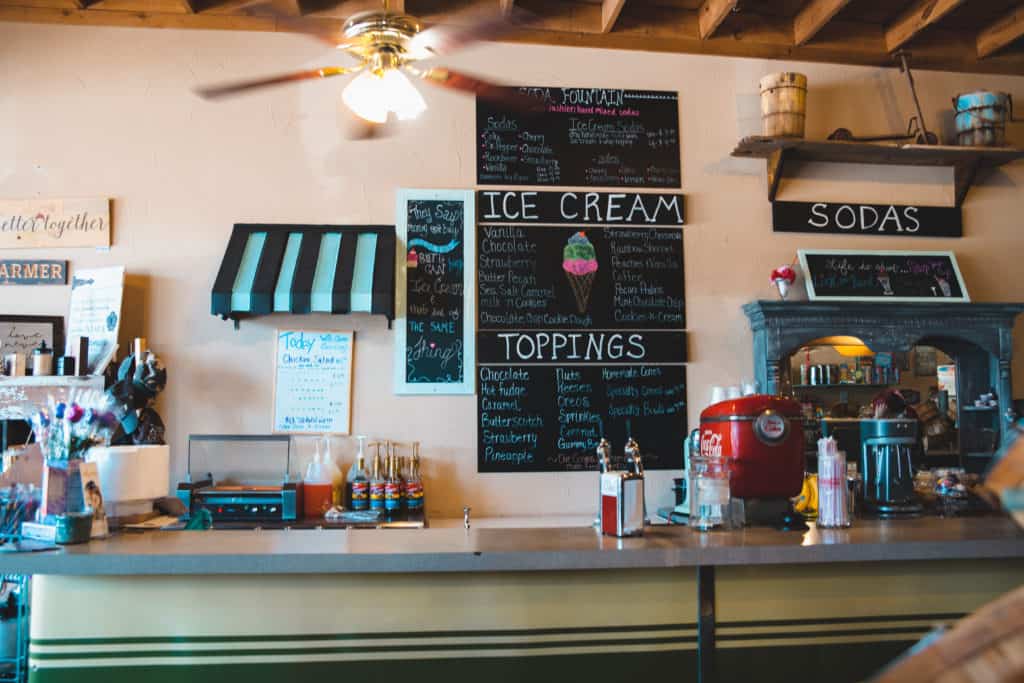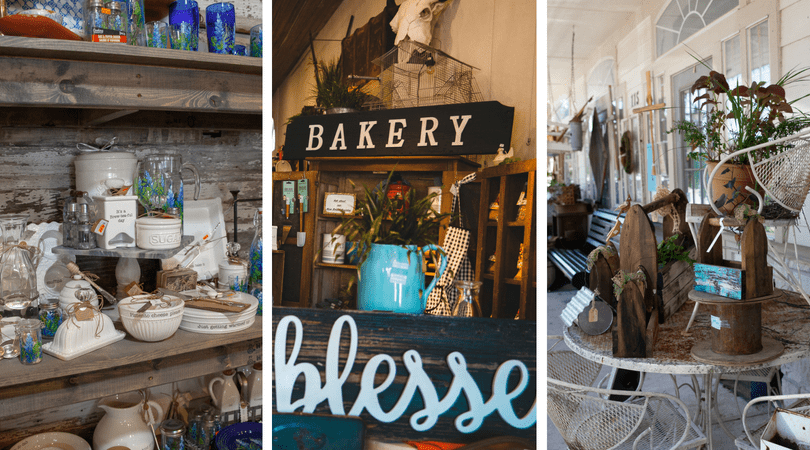 Located within one of the shops is the Somervell County Museum, which is fun to pop into. Glen Rose is known as the Moonshine Capital of Texas, so you'll see moonshine contraptions, lots of vintage odds and ends, as well as some interesting fossils. For a tiny two room museum, it's packed with a lot of fun items to look at!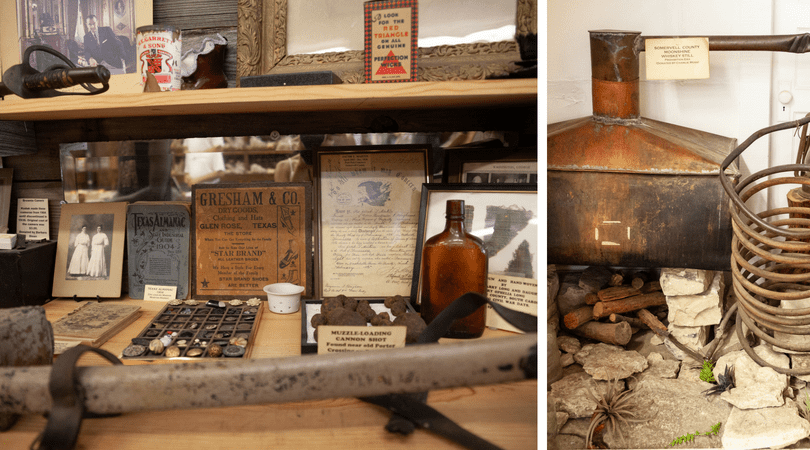 Enjoy a Fairy Tale Lunch
Just a little past the Glen Rose Square is a café right out of Beauty and the Beast called Storiebook Cafe. The owner's name is actually Storie, hence the name. The café is covered in books, tea pots, and other eclectic decorations.
We enjoyed our fairy tale lunch with an out of this world Reuben sandwich. They also have a kids playroom with outfits for a game of dress-up and toys so that the adults can sit back and enjoy their lunch while the kids play. Make sure to arrive before 3pm when they close.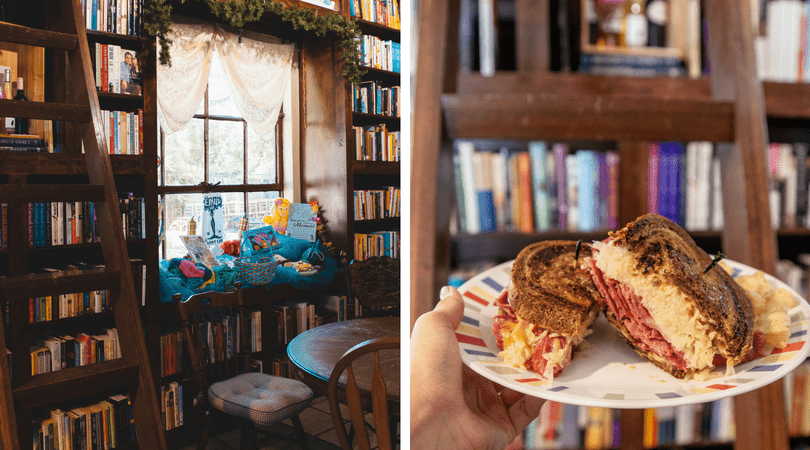 Immerse Yourself in History and Art
On the other side of the Inn on the River is Barnard's Mill and Art Museum. Barnard's Mill is significant because it's what put Glen Rose on the map, meaning their is immense history behind it. It is actually the oldest operating building in Texas! Barnard's Mill also has an art gallery with pieces from local and famous artists on display.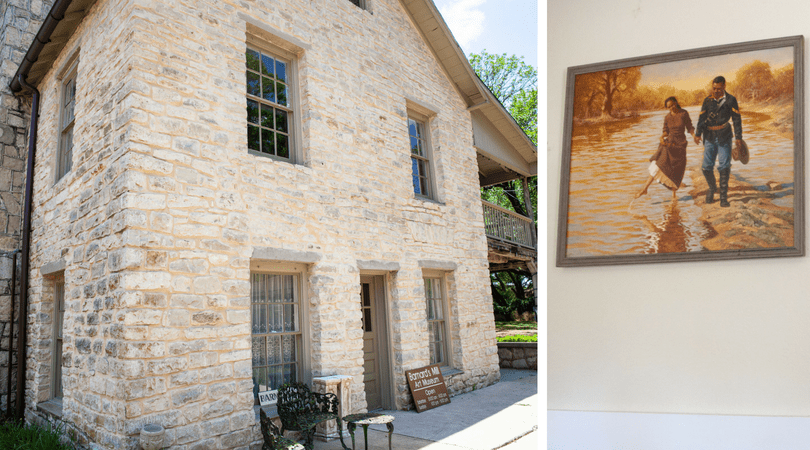 Search for Dinosaur Tracks
Dinosaur Valley State Park actually has real, fossilized dinosaur tracks for you to find! There are roped off areas for people to view them. If the river is dry, you can also walk around in the riverbed to find some for yourself. Bring a swimsuit if you want to swim! Even though the river was dry when we went, there are still some great swimming spots.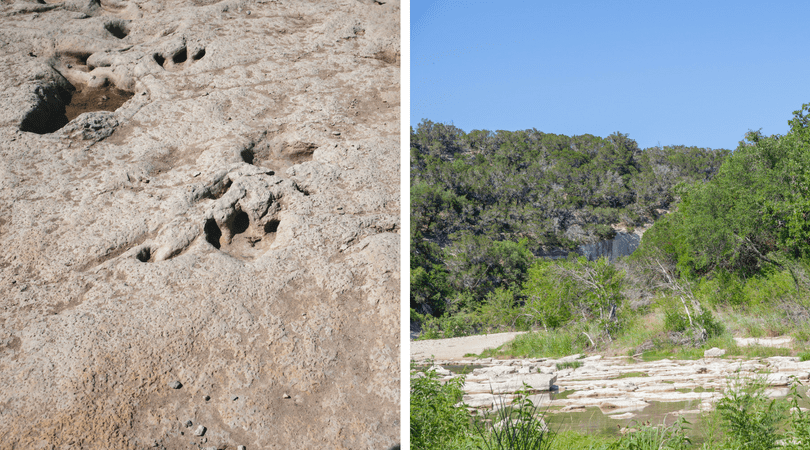 Enjoy Live Music and Amazing Burgers
Loco Coyote is about a 20-minute drive from the downtown Glen Rose, but it is absolutely worth it. They have live music on the weekends and the craziest burgers imaginable. The one you're seeing in the photo below is the Jack Daniels burger with brisket, fried pickles, and onion rings! I sometimes consider driving out to Glen Rose just for this burger!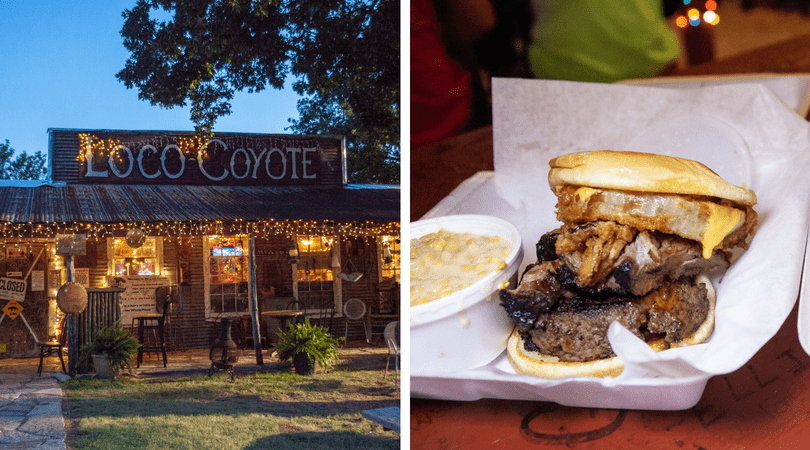 Things to Do in Glen Rose: Day 2
After emerging from the cocoon that is the Inn on the River B&B, head to Fossil Rim Wildlife Center for an early morning safari. Make sure to book a tour at least a week in advance. Go early because the animals are hungry and will come up to the trucks for food. There's nothing like having a giraffe stick it's head into the tour bus to grab snacks from your hand!
What I love about Glen Rose and Fossil Rim is that many of us have an African safari on our list of things we would like to do. However, with the top Cheetah breeding program in the world, thousands of animals on-site including many exotic animals, and major conservation efforts, you are able to have that same safari experience but close to home!
You can either bring your own vehicle or go on one of their tour buses like we did (which I recommend for all of the cool information and an increased likelihood that the animals will walk up to you).
For a truly unique experience, you can also splurge on an adventure tour where you'll have a customized, behind-the-scenes experience with the animal care specialists.
For a romantic experience ask about the Sweetheart Dinner where you can enjoy a sunset safari and a multi-course meal overlooking one of the major watering holes where the wildlife loves to gather. Fossil Rim is definitely worth splurging on because of its unique offerings!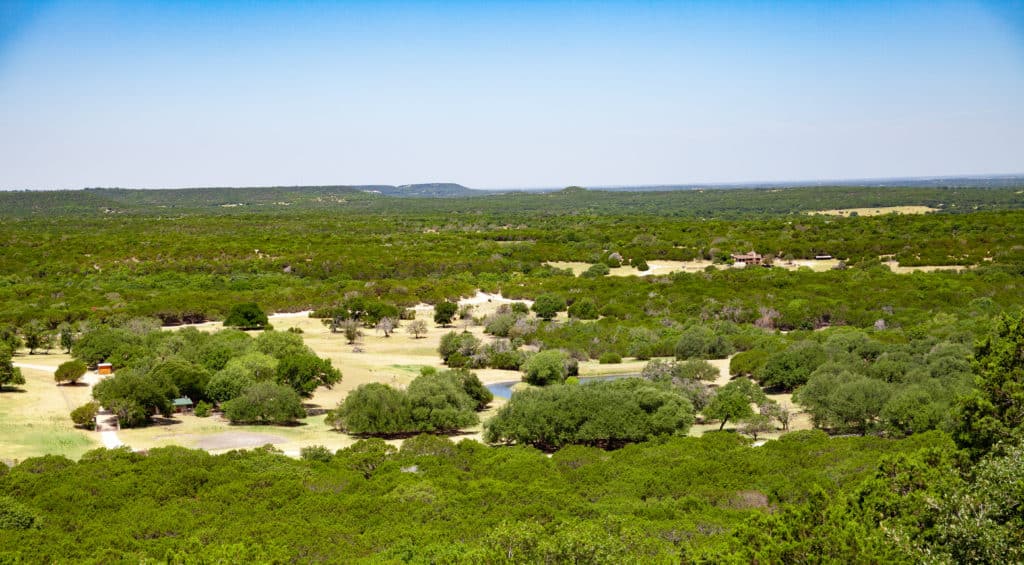 Visit an Old Speakeasy
I wasn't joking when I said old. The Old Rock Gas Station was a hot spot during the Prohibition. The back area was where moonshine was distributed and it's rumored that Bonnie and Clyde were regular customers here. Now you won't be able to order any drinks, but it's a beautiful spot with petrified wood and is worth the quick pit stop. In order to find it, just type Old Rock Gas Station into your maps app of choice.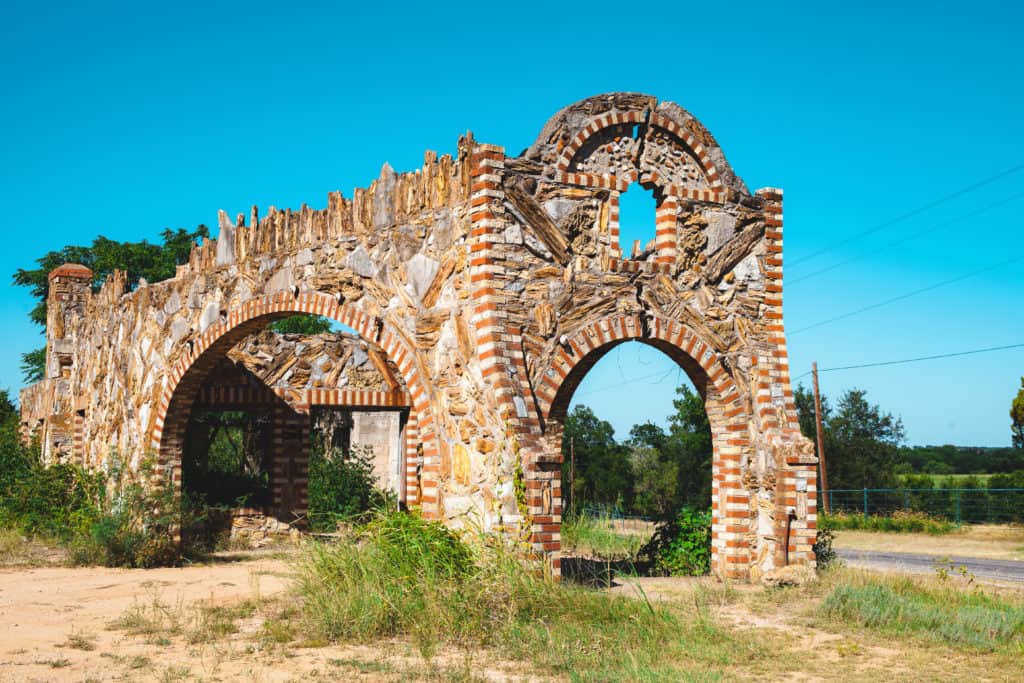 Check Out Some Big Rocks
For real! Big Rocks Park is appropriately named. It's a popular swim spot, but if the water is too low, you can walk across the street to Oakdale Park where there's a water slide.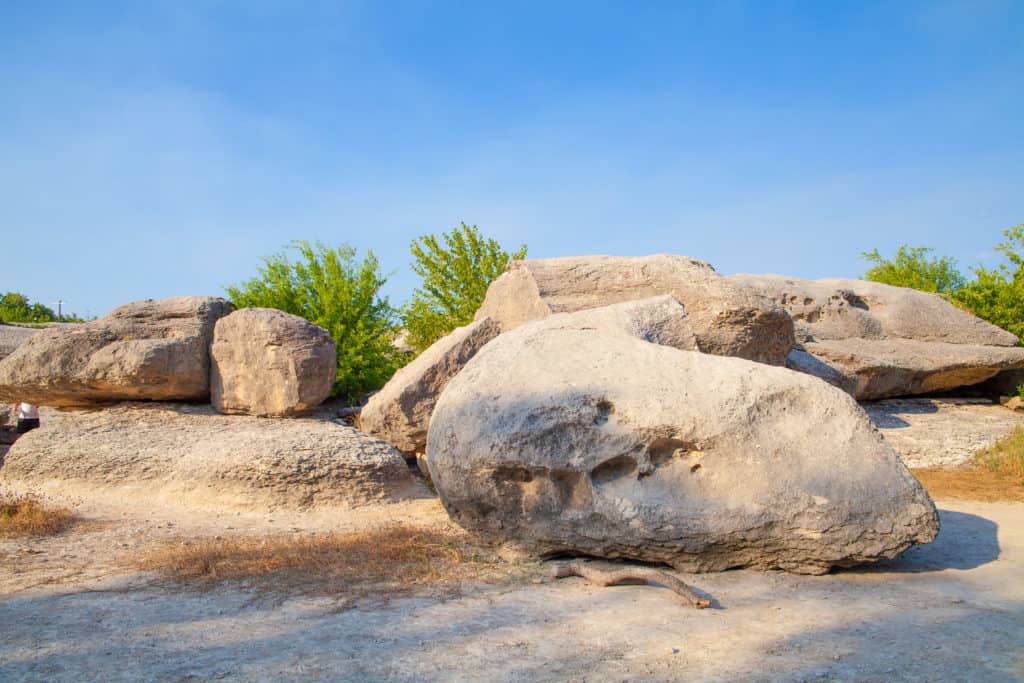 Don't forget to stop at Snow Shack for the most extensive list of Snow Cones (or raspas as we call them).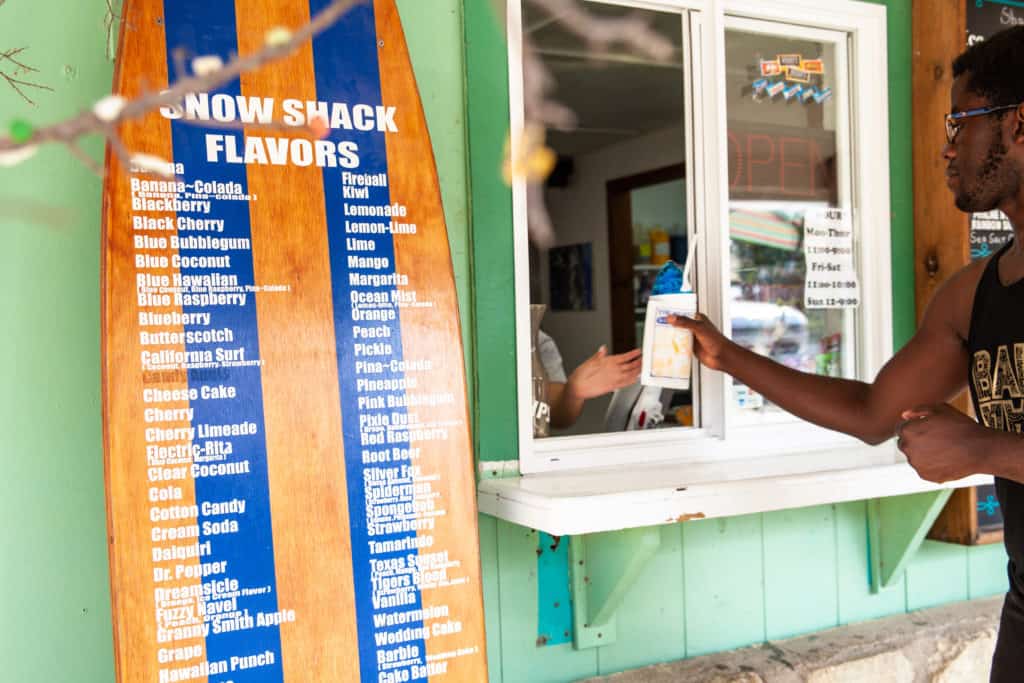 End the Day Relaxing with Views of the River
What is vacation without a little time to lay back? As a city that used to be a mecca for natural healing, there's no better way to end the trip then with a good book and views of the river from the Inn on the River's backyard.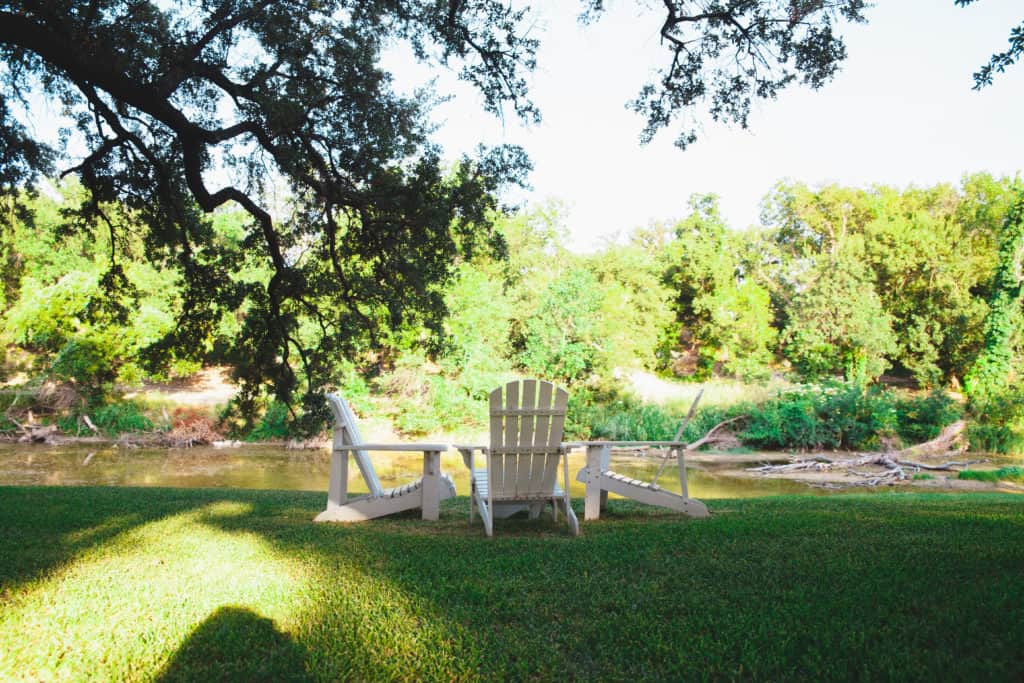 Other Places to Stay in Glen Rose:
Country Woods Inn – Choose from vintage airstreams, a spacious train car, and country-style homes with lots of family-friendly activities on-site.
Luxe Farmhouse – A gorgeous farmhouse with a soaking tub, huge kitchen, and bunk beds for the kiddos on 20 acres.
Skybox Cabins – Stay in one of their several, unique homes with touches like a human-size bird's nest, a glamping bell tent, or a net hammock on a 15-foot deck.
Things to Do in Glen Rose: Final Thoughts
For a little town, there's a surprising number of diverse things to do in Glen Rose; a mixture of things to do and experiences to help you relax.
What I loved about the Inn on the River are the many signs that remind you to relax, and while we made sure to get out and see dinosaur tracks, the town's history, and animals, we also enjoyed long breakfasts, naps, and books by the river. After all, while vacationing is about exploring, it's also about leaving refreshed and ready to take on Monday! Glen Rose is the ultimate spot to do just that!
Permanently Closed
Grab Margaritas & a Pineapple Taco Plate
Now I wouldn't have expected Glen Rose to have amazing Mexican food and I didn't know pineapples went in tacos, but I stand corrected. Cafe Azteca has a pineapple dish with shrimp, steak, chorizo, and peppers! While it was probably one of the stranger dishes I have had, the flavor was amazing and I don't know where else I could get such a special dish!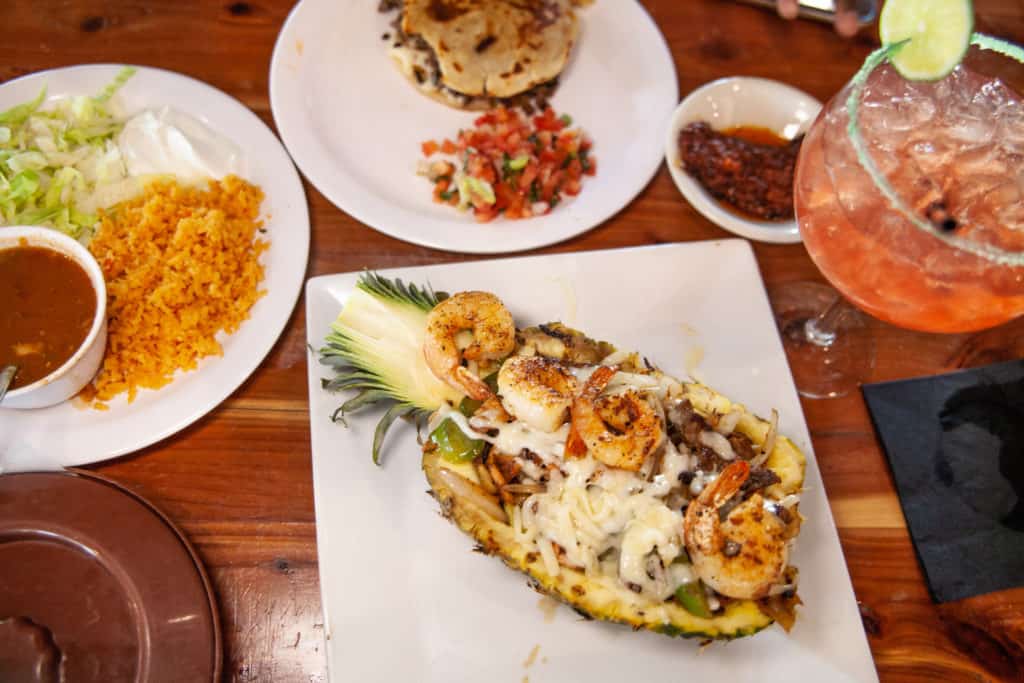 I was hosted for some of these experiences. As always, all opinions are my own.