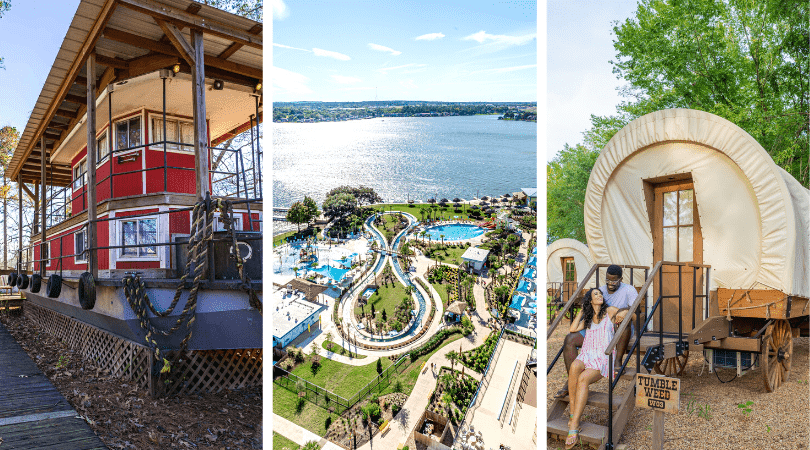 Texas is filled with a variety of fun-filled destinations that would make for the perfect family vacation. With such diverse regions and landscapes, the Lone Star State has a lot to choose from when it comes to picking out the perfect trip. If you're on the lookout for unique places to stay in Texas for families, we've created the perfect list of accommodations that will make for a family vacation your kids will never forget. Take your family on a trip they've never experienced before by checking out some of these unique family-friendly lodging options.
Unique Places to Stay in Texas: An Up-Scale Farm
For an unforgettable vacation in a quaint cottage or bungalow, High Hill Farm makes for the perfect place to stay for Texas families. With many kid-friendly amenities, an on-site restaurant, larger rooms that will accommodate everyone in your family, and a variety of outdoor activities, there's fun for the whole family. The retreat even has a pool overlooking the on-site vineyards, so kids can enjoy the pool while the adults sit back and take in the stunning views.
Located 20 minutes out from the Rose Capital of America, there are an abundance of things to do in Tyler ranging from local artisan shops to sightseeing as you bike through town.
Unique Places to Stay in Texas: A Hotel with an Arcade
Just 5-miles from Downtown Dallas, the Beeman Hotel is home to plenty of family-friendly fun and entertainment. The boutique hotel is adorned with colorful rooms filled with art that brings it to life. With rooms that are quite large with spacious dining areas and couches, the Beeman Hotel is more than suitable for the entire family! Complete with an indoor pool and arcade games, kids will have a blast exploring the hotel and taking in all it has to offer. It even has its own on-site restaurant where you can enjoy a delicious selection of Texas-style cuisine.
During your stay, explore premier destinations like Klyde Warren Park and the Perot Museum of Nature and Science as a family while you discover all of the fun things to do in Dallas.
Unique Places to Stay in Texas: A Hotel with a Lazy River
For a relaxing, family-friendly getaway that everyone will enjoy, book a stay at the Houston Marriott Marquis. Located in the center of downtown Houston, a city filled with so many cool and free things to do, it is one of the best locations to stay for a trip to this lively metropolis. The Houston Marriott Marquis encompasses lavish rooms with breathtaking views of the city. Larger room options are available for a more comfortable place to stay for the whole family. There's a rooftop lounge on the sixth floor, featuring a bar, hot tub, infinity pool, and a Texas-shaped lazy river that will amaze kids with a day of fun.
The heated pool and lazy river aren't the only things you'll enjoy if you plan to visit during the winter months. The Houston Marriott Marquis offers a Christmas-themed interactive light display and photo ops that will be an unforgettable experience for parents and kids alike. They also have holiday-themed movie viewings every Thursday and winter-themed dining menus at their on-site eateries and restaurants. Keep an eye out for our updated Christmas guides every year!
Unique Places to Stay in Texas: A Hotel Near a Boardwalk
The Stella Hotel is the perfect, family-friendly place to stay with a mix of leisure and activity that will leave a lasting impression. The hotel features multiple on-site eating options, including Campfire, which serves authentic Texas-style cuisine. Families can spend the day relaxing poolside in one of two of the hotel's pools. The Watershed Pool Bar and its private cabanas are available to add luxury and comfort to your stay.
The rooms offer incredible views of the city, including large bathrooms and stylish amenities. Larger room options are also available for families in need of more space. The Stella Hotel is conveniently located near Lake Atlas and the boardwalk, so take the kids exploring for a daytime outing. For more fun ideas, check out our list of fun things to do in Bryan to see some of the things this unique place to stay in Texas has to offer.
Unique Places to Stay in Texas: Glamp with Goats Galore
On the lookout for a unique getaway that's different from anything your family has ever experienced before? What better way to surprise your kids than with goats that come right into your room? At Goats On The Bayou Farm, guests can experience a special take on camping where they have unlimited access to the cutest goats. Goats On The Bayou Farm has several lodging options to fit your family's specific needs. The loft apartment houses up to four guests and sits right on top of the goat barn overlooking the bayou. For a stay right beside the bayou, the bell-tents are available for a true bohemian-style camping experience to connect with the outdoors. They house up to six guests and the goats are free to come right in!
Kids and parents alike can enjoy on-site activities like goat yoga, feeding baby goats, fishing near the bayou, and visiting the nearby bird sanctuary. Enjoy family bonding time by exploring the property and partaking in nightly campfires. For more fun during your stay, take a look at our curated list of things to do in Alvin to elevate your visit.
Unique Places to Stay in Texas: A Hotel Near an Amusement Park
Enter a land of creativity and art at the Canopy San Antonio, where stylish furniture adorns the rooms, and the walls are filled with colorful artwork. Right on the San Antonio Riverwalk, the hotel overlooks some of the best attractions that the city has to offer, like the Alamo and Six Flags Fiesta Texas, but there is also a long list of things to do along the Riverwalk that will make for a fun family vacation.
The rooms at the Canopy have stunning views with options to overlook the riverwalk or larger options for families in need of more space. There is an amazing community lounge filled with foosball tables where kids can play while parents enjoy a drink at the bar. The hotel also features an amazing on-site restaurant, Domingo, that serves tasty breakfast, brunch, lunch, and dinner options that the whole family will savor.
Unique Places to Stay in Texas: A Carefully Curated Home
Beautiful cottages line the property of the Inn Between, creating a magical experience that kids will love. For the perfect family stay, I suggest the Greenhouse, a tiny home filled with plants and incredible greenery. The house is two stories tall and has a bedroom and two extra mattresses in the upstairs loft that will be perfect for the kids. It also comes with an outdoor patio, personal library, and hammocks for a colorful and fun stay. Kids will also enjoy playing with the bunnies at the cottage. A full kitchen is included, which is convenient for kids who might be picky. There also aren't many restaurants in Concan, so it makes for a great cooking arrangement.
For a little fun for the adults, a mangonada bus is on the property and sells some of the best mangonadas that the city has to offer, including their signature Unicorn Mangonada. While in the city, explore the crystal-clear waters and marvelous caves while checking out our list of things to do in Concan.
Unique Places to Stay in Texas: A Real Treehouse
Partake in the ultimate camping experience at this family-friendly place to stay: a treehouse in East Texas surrounded by the beauty of nature. This unique place to stay in Texas is filled with plenty of natural light and has enough space for everyone. Even when you're indoors, you have a perfect view of the woods outside. It's best to visit when the nights are cool rather than cold because the treehouse isn't completely sealed from the outside. If you plan on visiting in fall or winter, a propane heater and heating blanket are available, but make sure to pack extra layers.
The treehouse comes equipped with basics like a shower, toilet, and microwave. It's best to venture and eat-out or buy microwaveable meals and necessary groceries for a quick breakfast and snack. Kayaks, canoes, and bikes are also available for your kiddos to use for a day of fun in the sun. If you want to venture further from your accommodation, Huntsville offers a plethora of fun things to do to keep the whole family active!
Unique Places to Stay in Texas: A Historic Hotel
Immerse the whole family in a historical experience with a stay at the Redlands Hotel in Palestine. Built in 1914, the hotel now serves as a historic destination for those wishing to learn more about the vintage railroad that used to pass through the city. Kids can enjoy learning about the history of trains and explore the town with other fun things to do in Palestine.
The suites at the hotel are very spacious and come with their own living room and full kitchen. The Redlands Hotel even has a historical display and art gallery that is a must-see during your family's stay. During Christmas time, the kiddos will be filled with holiday cheer when the Polar Express comes to life right here in Texas! This experience is so popular that it is best to book in advance to ensure it won't be sold out.
Unique Places to Stay in Texas: Sleep Among Native Cypress Trees
Cypress Valley Canopy Tours helps to create a cool experience that your kids will never forget. Nestled in the midst of ancient cypress trees are several treehouses for a unique, Texas-style family vacation. The property is eco-friendly and will serve as a great opportunity for families to connect with nature and enjoy quality time outdoors. The Yoki Treehouse is a luxury accommodation that sits above the spring-fed ravine. It has a king-size bed with a heated/air-conditioned bedroom. There is a large living room with a sofa and bean bags, plus a kitchenette, private bathroom, and dining area. The small loft can be used to fit extra people, making it the perfect place for a family stay.
The Nest is another great option for families looking for a little bit more space. With two bedrooms, a kitchenette, a dining area, and a private bathroom, the treehouse supports an environment where both parents and kids alike can relax. For those with a larger group, the Ranch House sleeps up to 15 and is perfect for a family reunion or a family vacation where distant relatives are also invited! There is ziplining, as well as many more fun, on-site activities for the kids to try out. Be on the lookout for more of these fun things to do in Spicewood to ramp up your vacation!
Unique Places to Stay in Texas: A Treetop Cabin
If you're looking for a unique cabin stay in south-central Texas, Geronimo Creek Retreat is the place to be. In an interesting twist on the typical camping experience, Geronimo Creek Retreat allows guests to lodge in cabins in the trees! The retreat features a large variety of accommodation options, ranging from treetop cabins and treehouses to tipis. The cabins are quite spacious and have room for a larger group of people, making it perfect for your family! With full decks, kitchenettes, and all the necessary amenities, the rooms are incredibly comfortable.
There is a hot tub, hammocks, paddleboards, and life vests to add a little adventure to your trip. Your kids will love playing in the outdoor game room that features giant chess, giant Connect 4, and cornhole. There is also an indoor game room with a pool table, great for the adults to have a little fun. The cabins are near the river with kayaks easily accessible for your daytime adventures. With all of these cool amenities, adults can relax while kids play. The retreat feels secluded, but you can find so many things to do in Seguin to complete your trip.
Unique Places to Stay in Texas: A Llama Farm
Stay at the Silo House at the Laughing Llama Farm, where you can gaze out over a 10-acre working farm and watch the frolicking sheep and llamas. The Silo House has a queen-size bed upstairs and a sofa sleeper downstairs, making it an ideal fit for smaller families of around three. The accommodation comes with great amenities like a firepit and full kitchen. There is an outdoor seating area where you can sit in one of the rocking chairs and enjoy the nice morning breeze while overlooking the vast farmland.
It's important to note that one-night stays aren't available on weekends, so plan to stay the entire weekend if you choose to visit during that time. The Laughing Llama Farm offers a ton of really cool packages where kids can connect more with nature, learn more about the farm, and spend some quality time with the lovely llamas! The farm is close to all of the things to do in nearby Belton, just 20-minutes away, that'll make for an adventurous family trip.
Unique Places to Stay in Texas: A Tropical Resort
Who says Texas can't be tropical? Be transported to an island paradise with a stay at Margaritaville, a resort that'll bring the fun for both the kids and the adults. Jam packed with a splash pad, pools, slides, and a lazy river, kids won't run out of fun activities to try out while parents relax at the swim-up bar. There's always a performance happening, so make sure to check the schedule on any given day to catch a fire and hula performance or the belly flop contest.
Even the rooms will take you and your family on a tropical escape with the beach-themed decor and the views overlooking the pools and the lake. Plan a dinner at Landshark, the resort's very own outdoor restaurant that will give the kids a tropical vacation experience without the expenses that come with overseas travel. For more fun in the sun, rent a boat on Lake Conroe, a lake nearby the resort with sandy banks reminiscent of an actual beach! The city of Conroe is filled with so many things to do, like cruising in a tiki boat or exploring the piney woods, so be sure to check some of these attractions out as a family!
Unique Places to Stay in Texas: A Cabin on the Lake
Stay in a cute kasita overlooking the water at the Lake Texoma Kasita Glamping Cabins. While the rooms are on the smaller end, they are filled with everything you need for the perfect camping trip. The downstairs has a pull out, king-size daybed with another bed in the upstairs loft that will be fun for the kiddos to share. There is also a dining table, plus linens and small blankets available for colder nights.
Guests can enjoy the outdoors by relaxing in the hammocks, swimming, fishing, or taking a river taxi to one of many waterside locations. You can also rent kayaks, paddleboards, and boats at the Lighthouse Resort & Marina. Enjoy fun in the sand, swimming, picnics, and volleyball at Island View Park. The cabins are near Eisenhower State Park, where the whole family can indulge in an outdoor adventure on its small beach. Among some of the things to do in Denison, you can grab a treat from Momo's Donuts or take a tour of Lake Texoma with Fastrac Charters.
Unique Places to Stay in Texas: Sleep in a Boat
Escape from the hustle and bustle of life with a trip to Hodge Podge Cottages, a cool lodging experience where you can sleep in a cottage near the lake. For families, I recommend staying in some of the larger accommodations like Garden House #6 and Cuckle Burr #9. Garden House #6 has a large, covered deck beneath the cypress trees where families can enjoy a meal together outside. Cuckle Burr #9 can sleep up to eight people and is surrounded by a ton of trees and greenery. A sleeping porch is available for even more space, and you'll love taking a nap with the beautiful sounds of nature in the background. Both accommodations come with full kitchens.
At Lake Caddo, families can enjoy fishing, canoeing, grilling, and outside picnic tables for the perfect lake day. The cottages are a short drive away from the charming towns of Jefferson and Marshall, where you can enjoy a full day of activities with our list of fun things to do.
Unique Places to Stay in Texas: A Conestoga Wagon
For a unique take on the typical lodging experience that your kids will love, stay at the Silver Spur Resort in Canton in one of their family-friendly Conestoga Wagons. The wagons come with a king-size bed and a bunk bed perfect for the kids. Picnic tables, BBQs, and a group fire ring are outside each cabin. The resort even has sites where you can hook up your family RV!
There are many cool amenities at the resort that will keep the kids entertained, like a pool, a lake with paddle boarding, plus yard games, a playground, human foosball, and two escape rooms! Parents can enjoy an on-site brewery and restaurant, and the whole family can come together for cookouts with live music and food. Try out the peach cobbler at one of the cookouts. It's amazing! The city of Canton also has so many fun things to do, so be sure to try out some of its best attractions.
Unique Places to Stay in Texas: A Hillside Glamping Paradise
Experience some of the best of the Texas landscape at the Retreat on the Hill (formerly known as Hozhoni on the Hill). Located on the private deck of the second floor, the Twins are two safari tents that offer great views of Horseshoe Bay. The luxury tents include air conditioning, a heater, microwave, coffee maker, and mini fridge. One of the tents has a king-sized bed while the other has two queen-sized beds. The tents are connected by a large private deck featuring a hammock, seating, and private bath. This creates a very spacious arrangement that will ensure a comfortable family trip.
The Retreat on the Hill is located in the city of Marble Falls, cool things to do in both Austin and San Antonio, so make your vacation an adventure by exploring all that the Texas Hill Country has to offer.
Unique Places to Stay in Texas: Camping with Alpacas
Explore the Texas Hill Country with a stay at Camp Lucy, where luxury and camping meet. Camp Lucy has activities that both kids and teens would enjoy, including programs like archery, fishing, and painting. Children can also participate in an interactive animal experience where they can meet alpacas and donkeys.
The resort has several room varieties, but the cottages specifically will leave enough space for the entire family. Creekside Cottage and Lucy's Cottage are both private lodging options that come with multiple rooms, a full kitchen, and full living area. There is plenty of outdoor space for kids to play and the cottages can fit anywhere from eight to ten people. The Estate and Vista rooms come with two queen-sized beds, a fully functioning kitchenette, and plenty of space for a comfortable vacation. Spend quality time with the family as you make s'mores, partake in fun outdoor activities, and explore all the cool things to do in Dripping Springs.
Unique Places to Stay in Texas: A Tiny Home
Wanderin' Star Farms is a charming ranch with the cutest cabins and tiny homes. Their Modern Hill Tiny Cabin 3 sleeps up to four guests and is perched on top of a hill that overlooks the landscape of the Texas Hill Country. The tiny home includes an upstairs loft that is perfect for kids with lots of space and there is a large porch with the most delightful farm table. The accommodation is on 10-acres of beautiful vistas to hike, but a Roku TV is available for nights that the family may want to stay in.
Wanderin' Star Farms has many nearby activities that kids will love taking part in, like a dip in the swimming hole, Hamilton Pool, or rock climbing at Reimer's Ranch Park. For more ideas, check out our curated list of things to do in Dripping Springs.
Unique Places to Stay in Texas: The Dinosaur Capital of Texas
Enjoy a relaxing family getaway at the Inn on the River, Glen Rose's premier destination for healing and taking a step back from the fast pace of everyday life. Located right on the banks of the Paluxy River, the bed and breakfast previously had healing springs that people from all over the nation would travel to. While they are no longer there today, the river is still a popular destination and is believed to carry healing properties.
The 19 Queen Suite is a two-bedroom suite with a queen bedroom in each room. It has a lot of space with a shared ensuite bathroom. Complimentary Wi-Fi and breakfast are included. Snyder's Tavern is the inn's on-site restaurant with indoor and outdoor seating that overlooks the river, as well as delicious food! While in Glen Rose, kids will enjoy the plethora of things to do in the dinosaur capital of Texas, including Dinosaur Valley State Park and Dinosaur World.
Unique Places to Stay in Texas: A Fairytale Castle
Receive the royal treatment with a stay at Lake Livingston Castle. Located near the Texas town of Livingston, the German castle is right next to so many amazing things to do! You'll want to make your stay into a whole experience by having the kids dress up and pretend like you're in a real-life fairytale. With classic medieval-gothic architecture and antique furnishings, it won't feel far off from the real thing. Note that there is no bathroom or kitchenette in the main castle, so you'll need to go to the guesthouse to access it. Right next to Lake Livingston, the family can partake in a lake day and enjoy boating, swimming, and fishing. A playground is also on the property for the kids to enjoy!
Unique Places to Stay in Texas: Suspended Cabins in the Forest
Stay in a luxury cabin in the woods at River Road Treehouses. With six cabins accessible via a suspension bridge, the kiddos will feel like they're an explorer in the forest. All the treehouses are unique and family-friendly, comfortably sleeping six guests with a king-size bed, two queen-size beds, and a twin rollaway bed. Full kitchens are also included in each treehouse. The property is located by the Guadalupe River, which makes for the perfect opportunity to enjoy the outdoors by swimming, fishing, or taking a stroll by the water. New Braunfels also has an extensive list of things to do, so make sure to check them out!
Unique Places to Stay in Texas: A Safari
Embark on an African safari adventure at Stay Asante where the animals greet you as soon as you walk in. With foxes, kudus, gazelles, nyalas, and more, the whole family will be amazed by the wonders of the resort. There are several family-friendly places to stay as well. El Pescador and Estable both have two bedrooms with queen-beds and two private bathrooms. For larger groups, the Nyumba comes with three bedrooms with king-size beds, with a private bathroom in each, and three outdoor fire pits with lounging chairs. They are all very spacious and have a lot of outdoor areas. There is even a gorgeous pool and hot tub!
At the resort, you can take a stroll through the gardens, relax at the pool, and lounge at the outdoor fire pits for some family bonding time. The kids can interact with the animals and make long lasting memories. Located near Dripping Springs, there are so many interesting things to do that will make this trip an unforgettable experience for everyone.
Unique Places to Stay in Texas: A Golf Resort
The Hideout Golf Club Resort is a beautiful oasis with amazing views of the golf course. Guests can stay in cute private cabins that are perfect for families. There is a large bed, a full kitchen, and an upstairs loft for the kids with plenty of space. The resort includes a lot of activities for families to enjoy together as well, like golfing on the 18-hole course or swimming in the infinity pool. The pool also has a hot tub and fire pits for an intricate relaxation experience. The resort is just 13 minutes out from Brownwood, where you can find an extensive list of cool things to do.
Unique Places to Stay in Texas: A Resort Near Big Bend
Explore the outdoors with a stay at Lajita Go