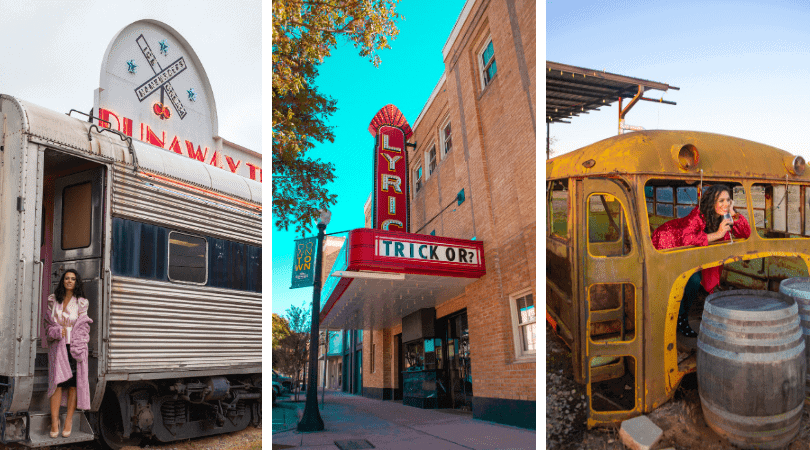 See What the Inside of a Train is Like
At the Frances Lehnis Railroad Museum, they have model trains, a small train that you can ride on the weekend, and lots of history about the Sante Fe Railroad.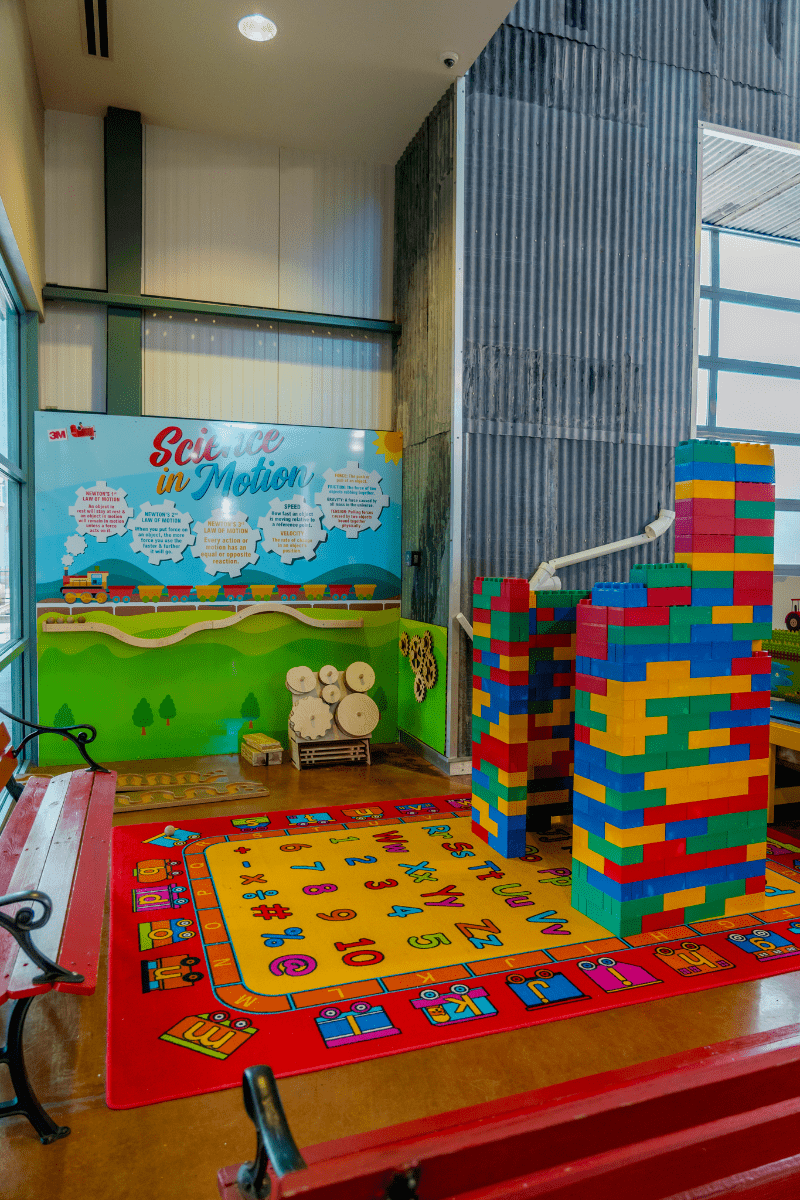 What I thought was so cool about this museum though was actually being able to walk through train cars from the era. We got to see the caboose and the cabins where the workers would sleep (I do not envy them).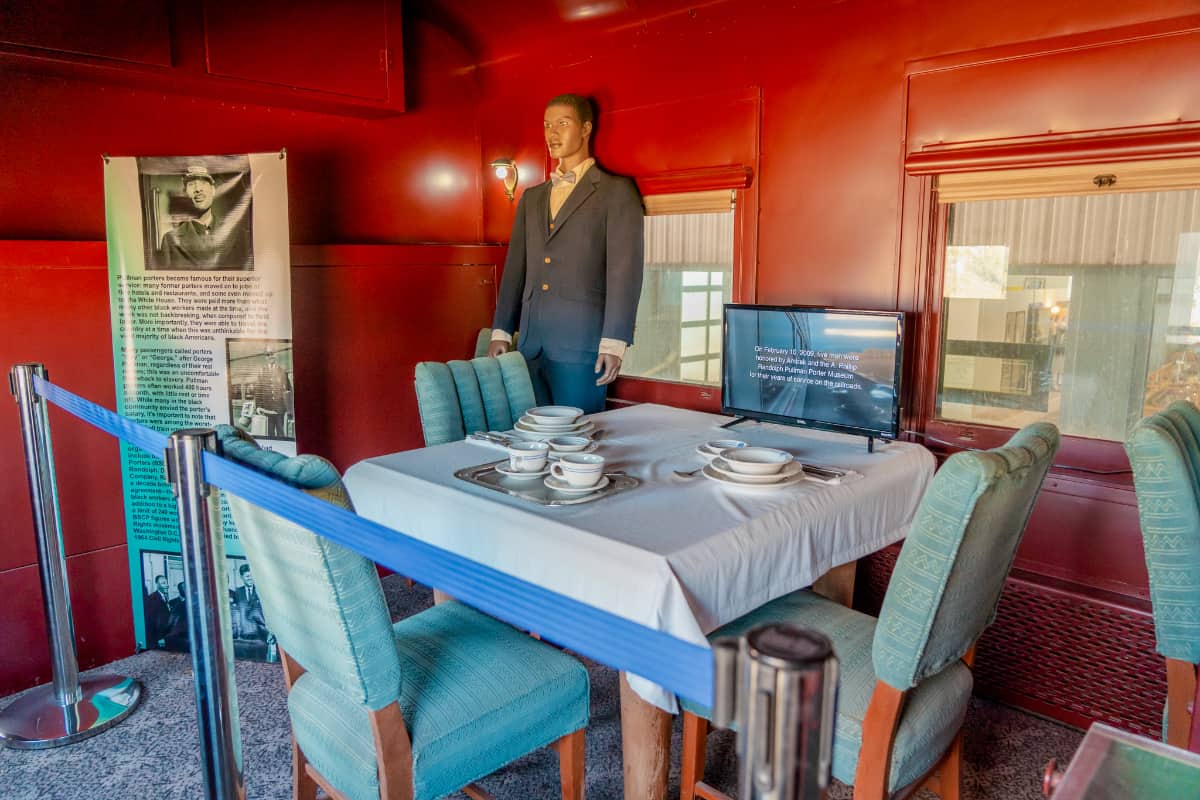 Eat Lunch Inside a Retro Train Car
The Runaway Train Cafe is a popular 50's style diner hidden inside a renovated train car. You'll find a menu full of your favorite All-American items, like cheeseburgers and milkshakes, as well as homemade soups, salads, and sandwiches. Pick a booth or eat at their old-fashioned ice cream counter!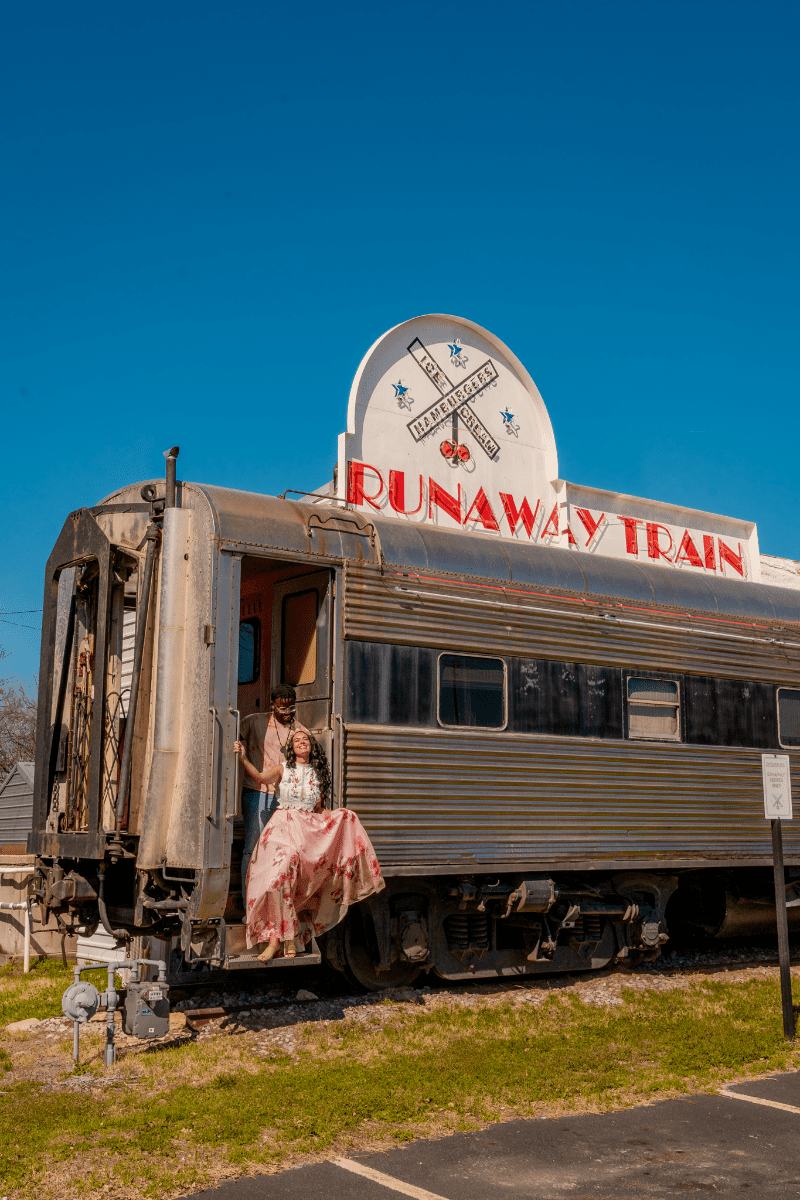 This family-owned business has recently been taken over by the sons of the original owners, which also own and operate the Intermission Bookshop! We love these passionate family businesses! They are active members of their community and regular participants in Brownwood's Empty Bowl Project, which works to combat hunger on a local and global scale.
Visit a Harvey House
Brownwood really does hold on to its train history. Any train lover would love visiting Brownwood because of all of the train spots and things to learn.
During the era of the Santa Fe trains, there weren't many options for quality restaurants at some of the smaller stops. Fred Harvey created the Harvey House to have restaurants along many stops that serve quality food and provide top-notch service.
Housed inside an old Santa Fe Railroad Depot is the Brownwood Fred Harvey House where you can see how the so-called Harvey Girls lived. They had to be single, live in the house, and they even had a curfew. They brought class to the Wild West, and it was quite the status to be a Harvey Girl. While I'm glad things have changed, it's cool to see what it was like back then.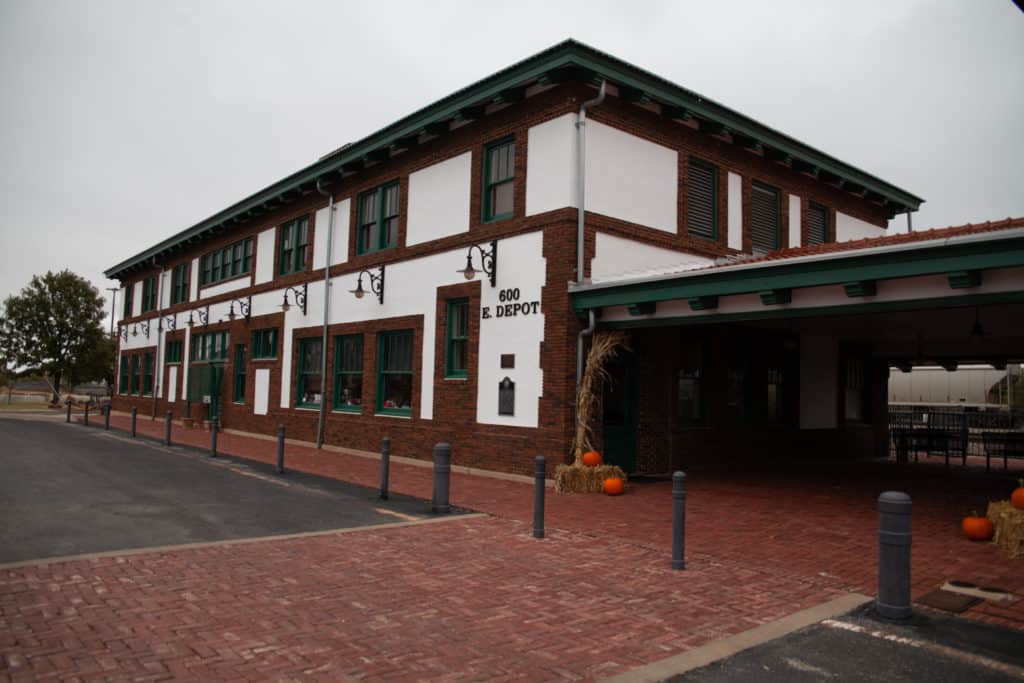 Check Out Teddy's Brewhaus
Named after Theodore "Teddy" Roosevelt, you'll see plenty of homage to him, including several beers that bear his name.
Their beers are carefully crafted in-house, and they have something for everyone, from the beer enthusiast to the person who typically stays away from beer. The bartenders will help you find the perfect choice!
Not to mention their space in general is just super cool! There are several furnished rooms with different places to sit, plus a pool table and a Biergarten with foosball, cornhole, and a stage.
Drink Wine in an Old Bus
Don't worry, Skies Over Texas Winery serves wine inside their tasting room as well! The environment is a lot of fun with funny signs outside, the iconic "I love you & wine so much" mural, and the kind owners who will share all their wine knowledge with you! It's so nice to visit a place and have time to chat with the people who are part of making the wine you're drinking. They have a great mixture of both sweet and dry wines as well.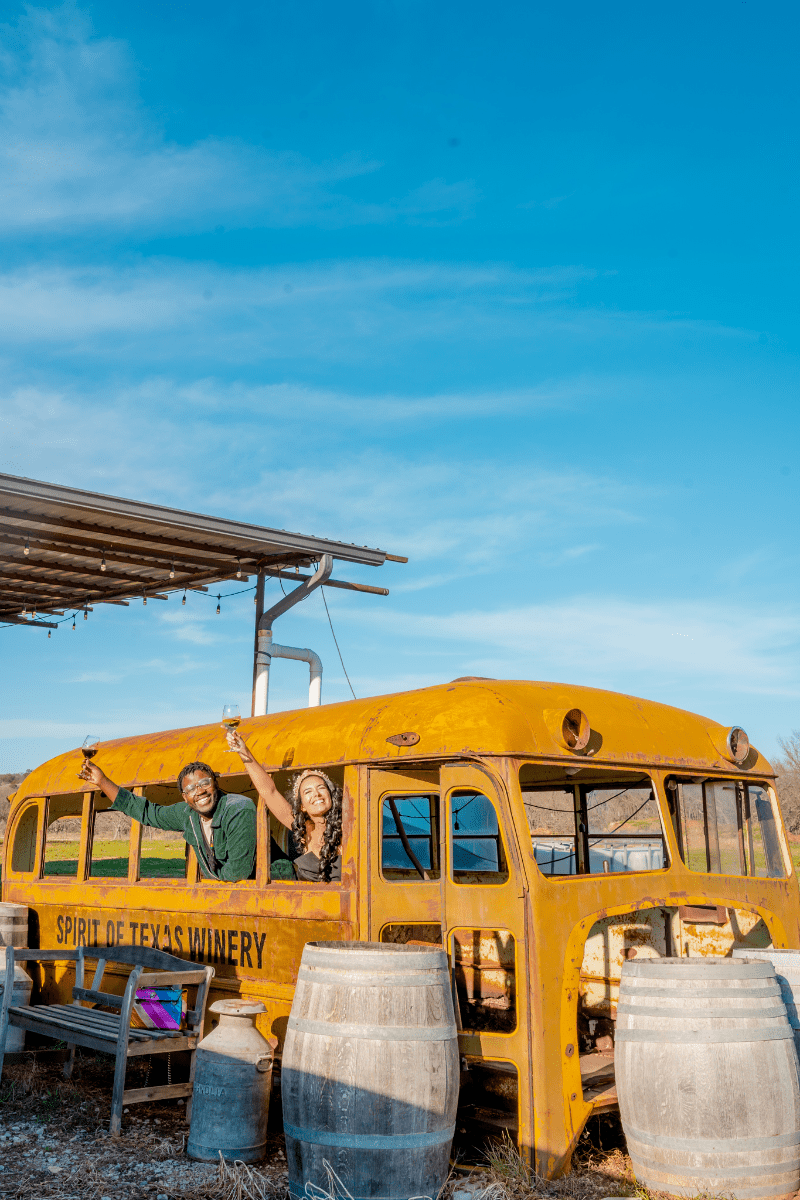 Eat at the Turtle
No turtles involved here! Instead, the Turtle Restaurant is all about slow cooking to deliver the most flavor! We ordered the Lomo Saltado and the Curried Fig & Poblano Chicken. Not to mention, right next door you'll find two more members of the Turtle franchise: the Turtle Gelateria (a gelato shop) and the Turtle Enoteca (a local bar). There really are some incredible restaurants in Brownwood!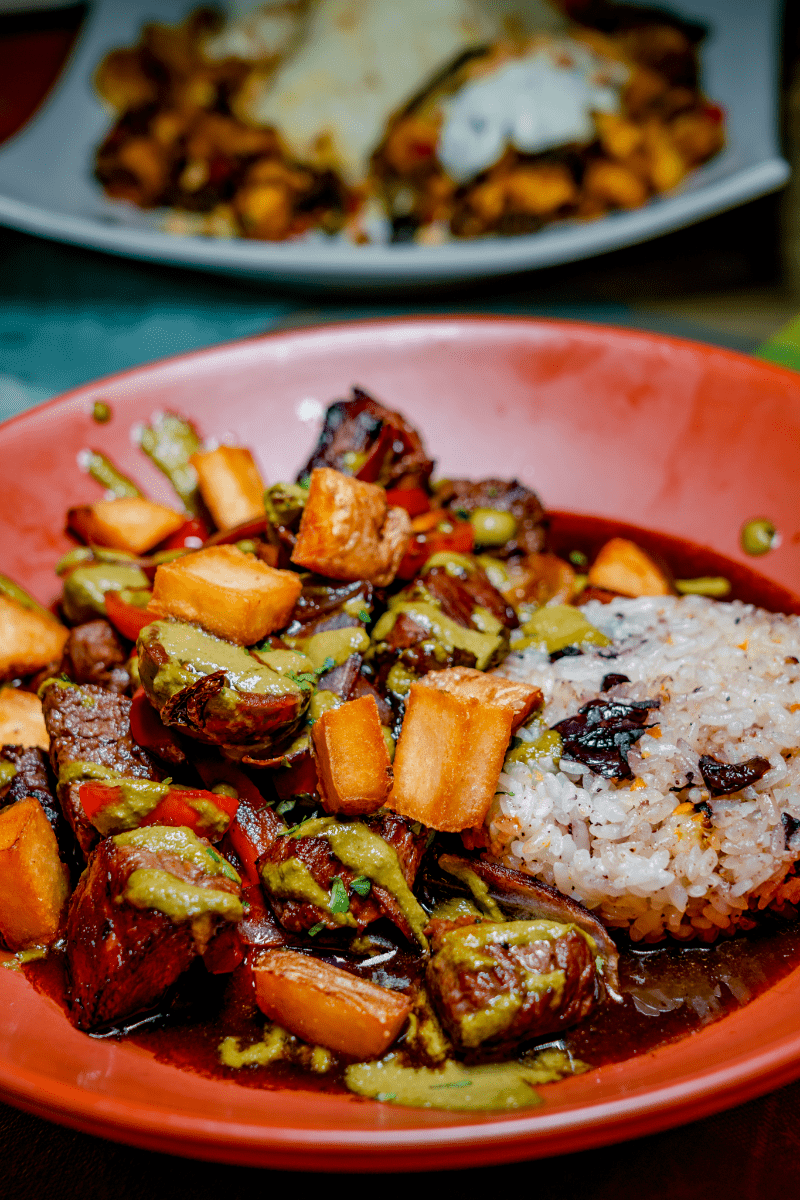 Hike Brownwood State Park
If you're looking for some more outdoorsy things to do in Brownwood, Texas, check out Lake Brownwood State Park with a large lake for fishing (with fishing gear for check out), swimming, boating, and more. You can bring food and enjoy the great weather or go hiking on one of their short trails. With all of the beautiful water views, Lake Brownwood is good for picnics and relaxing.
Catch a Play
This 1920's theatre has been restored for the residents to enjoy local plays and movies in a beautiful historic theatre with all the 20s' charm. The Lyric Theater has all kinds of happenings from plays, comedies, summer movies, fun events and more. Stay up to date with their schedule of events.
Enjoy Mexican Street Food
Mexican street food in the small town of Brownwood, Texas? Who would have known, but Tres Leches Bakery is serving up so many tasty dishes: street tacos, Conchas, menudo, breakfast burritos, and so much more. I could have eaten at Tres Leches every day! It was all so good.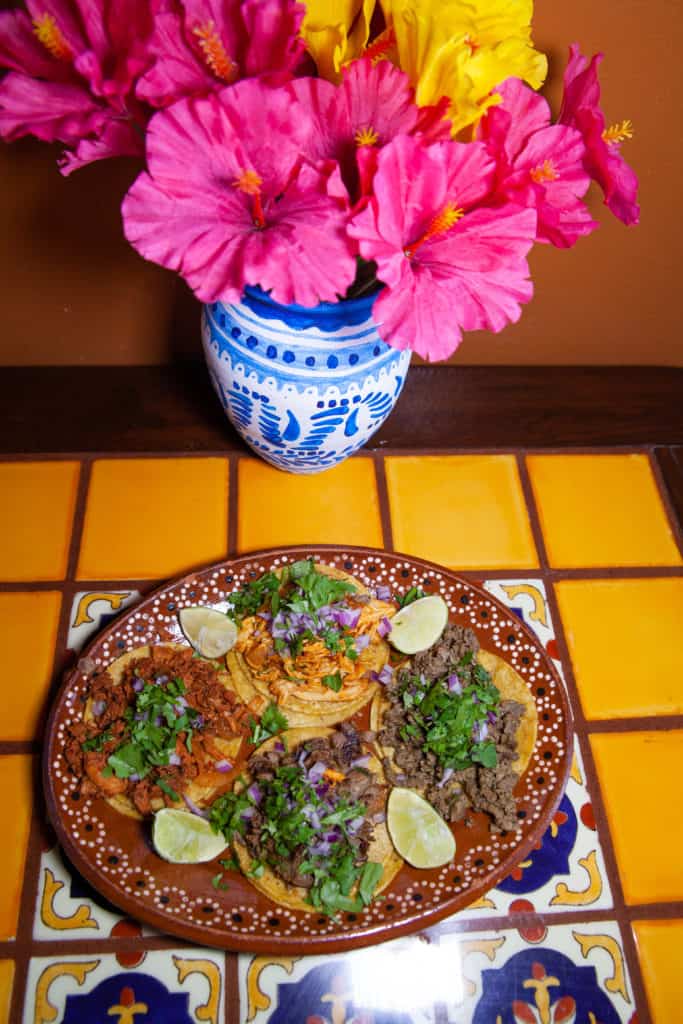 Try a Beer Float
The Pioneer Tap House is the hangout spot for locals where you can try all types of Texas craft beers and ciders. They have board games that you can check out, or you can just relax and strike up conversations with the locals. We ended up learning so many interesting things about the city and its culture. One interesting thing they have on the menu is a beer float where you can pair your favorite beer and a scoop of ice cream.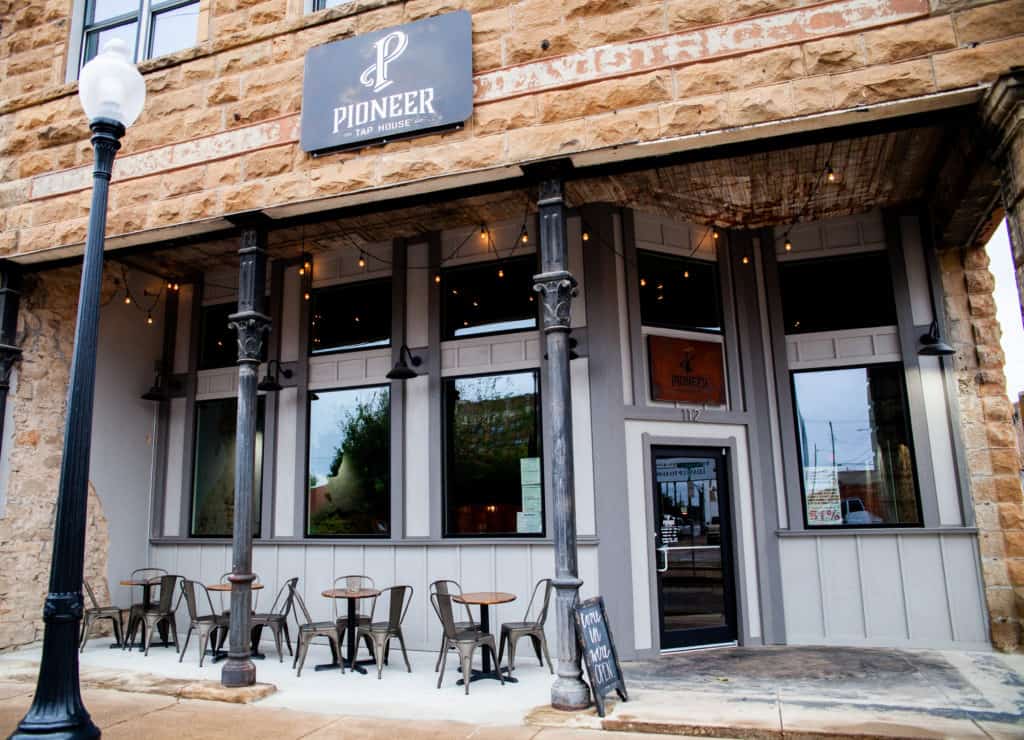 Sleep in a Cabin
At the Hideout Golf Club and Resort, you can enjoy a relaxing evening in a tiny house overlooking the golf club. We loved having our own cozy space with a kitchen to make our own food, but the highlight was the infinity style pool. Read all about our stay at the Hideout Golf Club and Resort.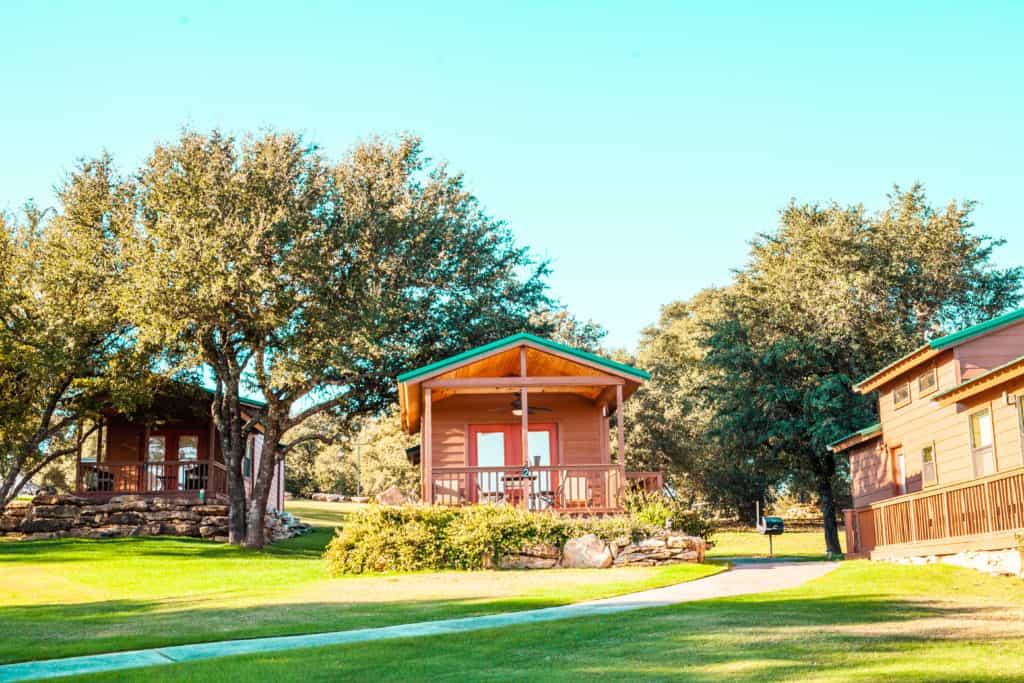 Don't Forget Coffee
One of my favorite things to checkout are local coffee shops, and I loved that Common Grounds Coffeehouse and a cute little section to lounge, breakfast tacos for on the go, and plenty of coffee flavors and types for any coffee lover.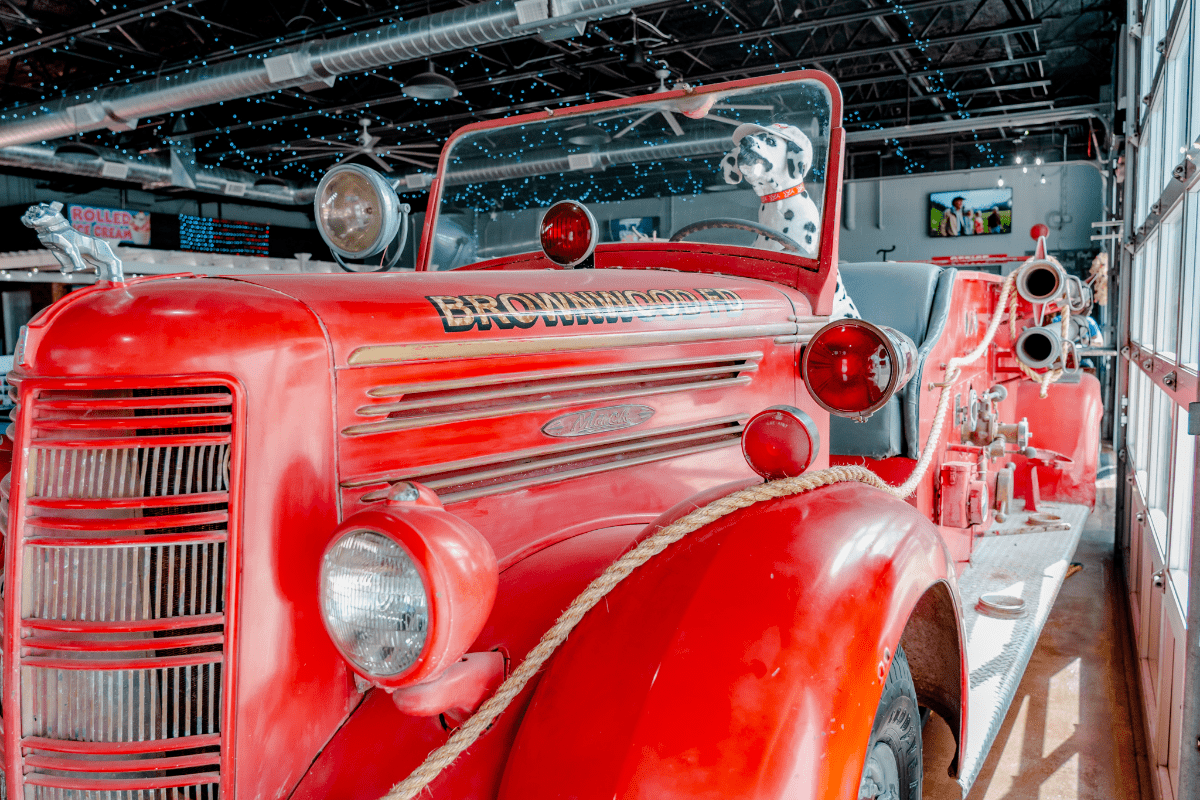 Fish and Admire Lily Pads
Purchased by the Texas Parks Board as a part of Lake Brownwood State Park, Jim Ned Creek and its neighboring park is known for its fishing opportunities along the bank, boating/kayaking/paddling, the beauty of its floating lily pads (when in season), and its abundant Texas wildlife.
Stay at the Historic R. B. Rogers House
The owners of this regal Airbnb near downtown Brownwood decided to open up this historic home as, not only a luxurious place to stay, but also as an event space. Since it was finished in 1905, this historic house has amassed a wealth of memorabilia that the owners wanted to share with the world.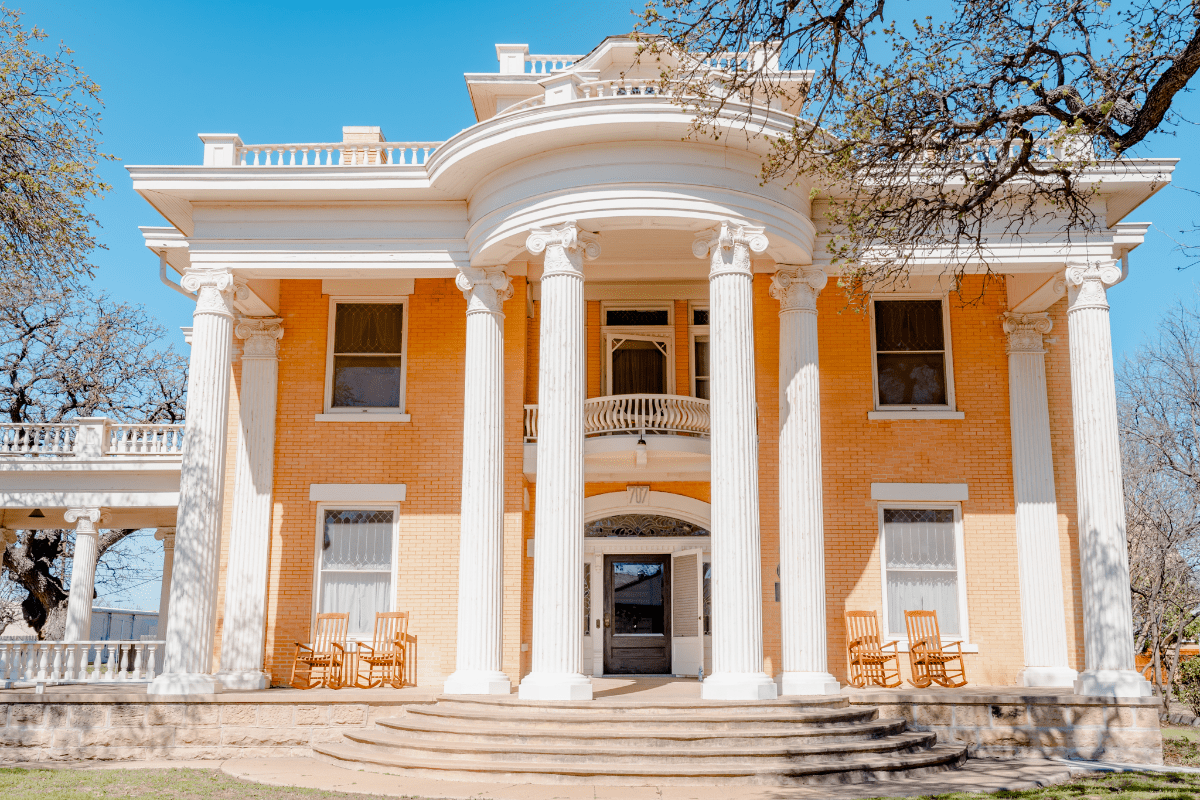 There are two upstairs suites with two connecting bedrooms and a shared bathroom. The home has original wood floors and magnificent columns framing the front door. It continues to capture the classic elegance of southern hospitality with several sitting rooms, floor-to-ceiling bookshelves, and an elaborate dining room.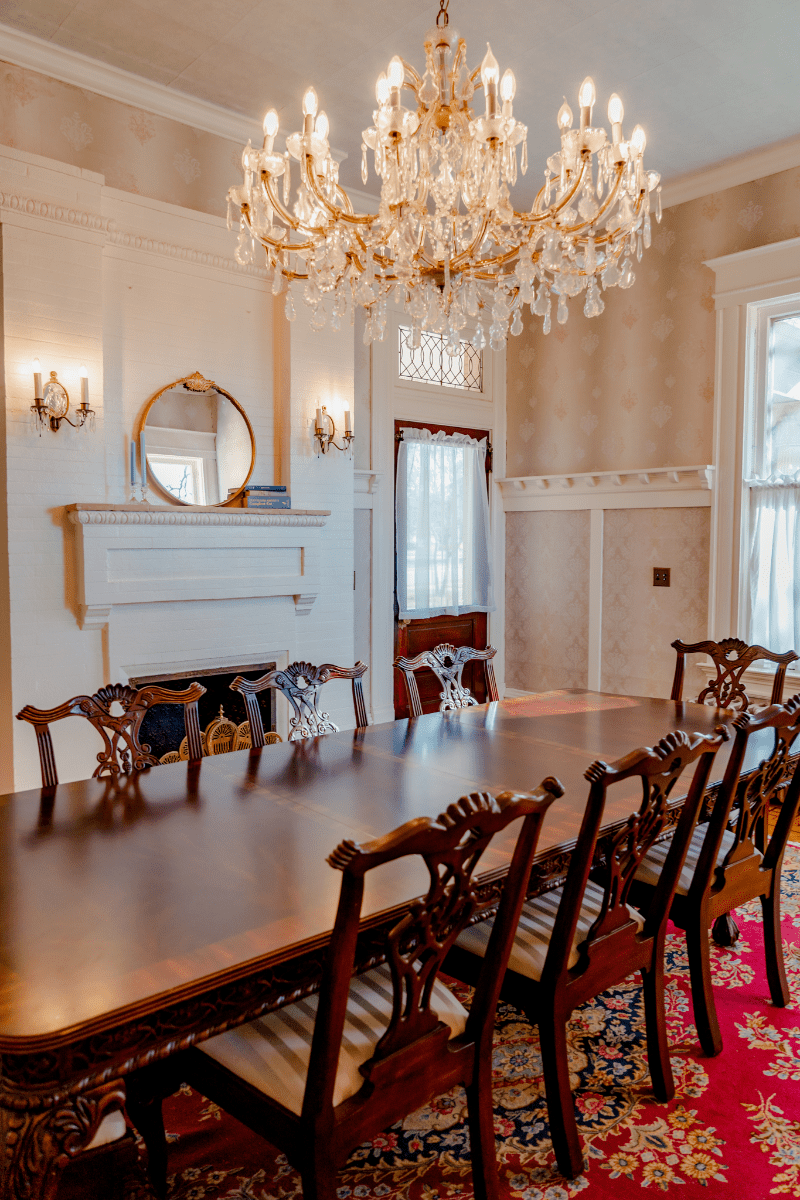 Since this is a B&B, let us talk about breakfast! We were delivered a selection of fresh fruit, pastries, coffee, orange juice, water, and a warm quiche.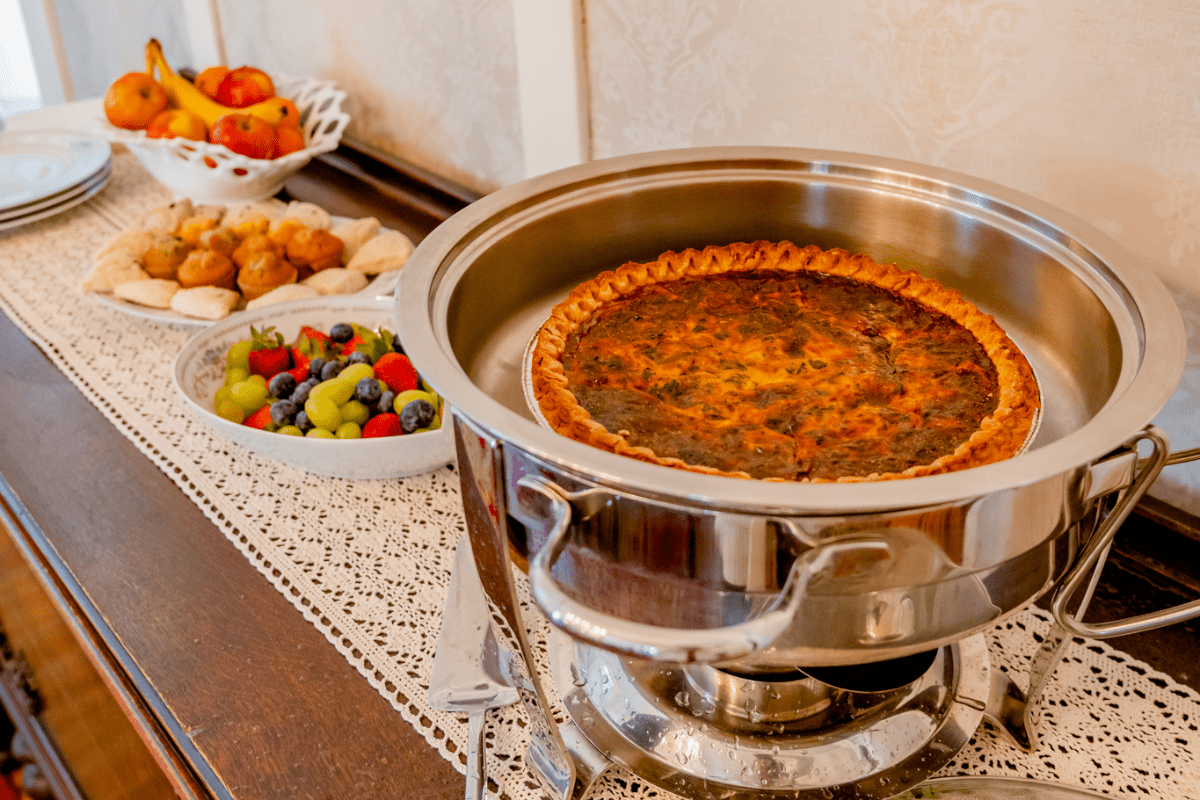 What's even better about staying at the R. B. Rogers House is its proximity to the downtown area, with restaurants, boutiques, and tasting rooms. It makes it the perfect destination for your next Texas getaway!
Have an Axe-llent Time
At this family-owned ax throwing venue, Twisted Axes, you can throw more than just axes! Practice your aim with steel cards, darts, and even ninja stars! On Mondays, they also host pool tournaments! And kids are welcome!
Strike Out!
Rex's Texas Lanes is a local favorite that has been open for over 50 years. Back when it was known as Academy Lanes, it was featured on the A&E show, Save it or Sell It. After a 48-hour renovation,rather than selling it, the owners continued on with excitement about their business' new-found potential. Following the remodel, a large lounge area, snack bar with ice cream floats, and an eye-catching mural were added.
Luckily, Rex's Texas Lanes is open seven days a week, making it even easier for visitors to add to their itinerary on their next trip to Brownwood! While reservations are not required, they are encouraged, especially for large groups.
Step Into Beauty & the Beast
It's kind of hard to miss the bookshelf mural on the facade of this building downtown. You'll feel like Belle walking into the castle library for the first time.
The Intermission Bookshop started out as an exclusively used bookstore when it opened in August 2020 during COVID, but it evolved into selling new releases as well!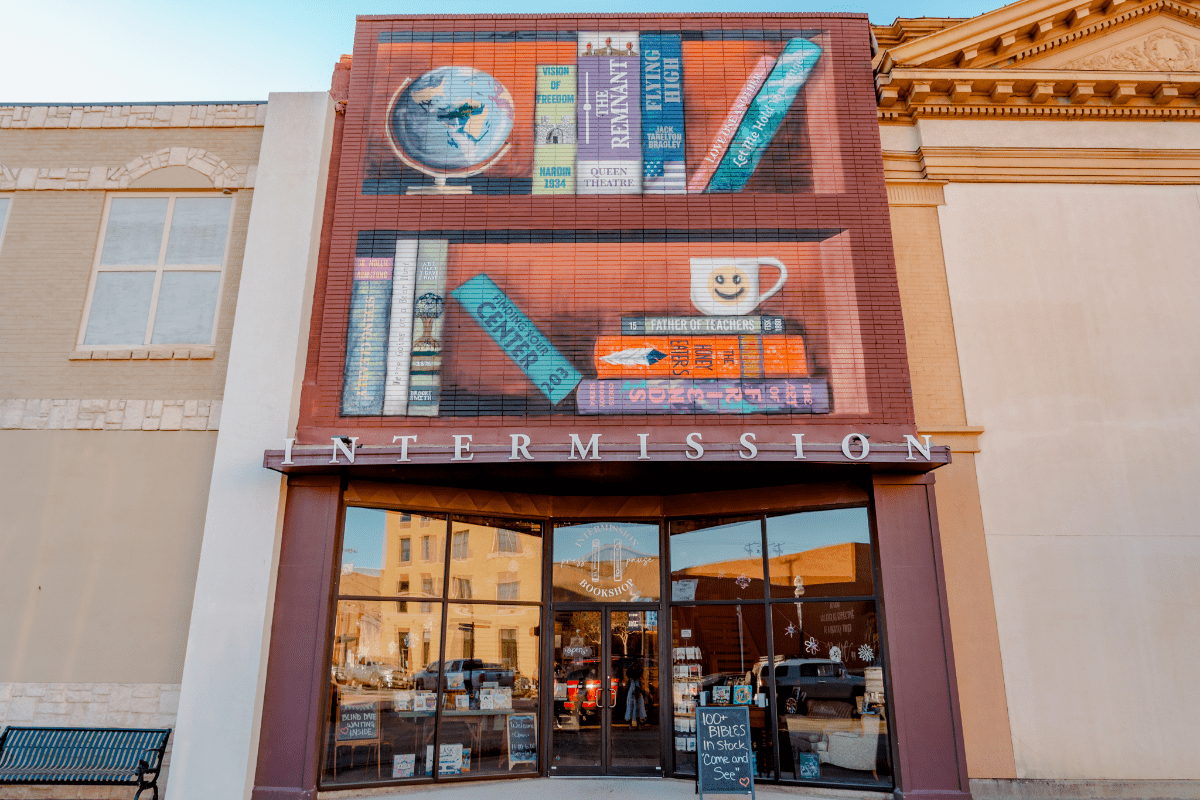 In the 1800s, it was one of seven theaters along the same street in downtown Brownwood. Along the walls, you can still see permanent stains from the outlines of the WWII soldiers who visited the theater when they were stationed at nearby Camp Bowie. How cool is that?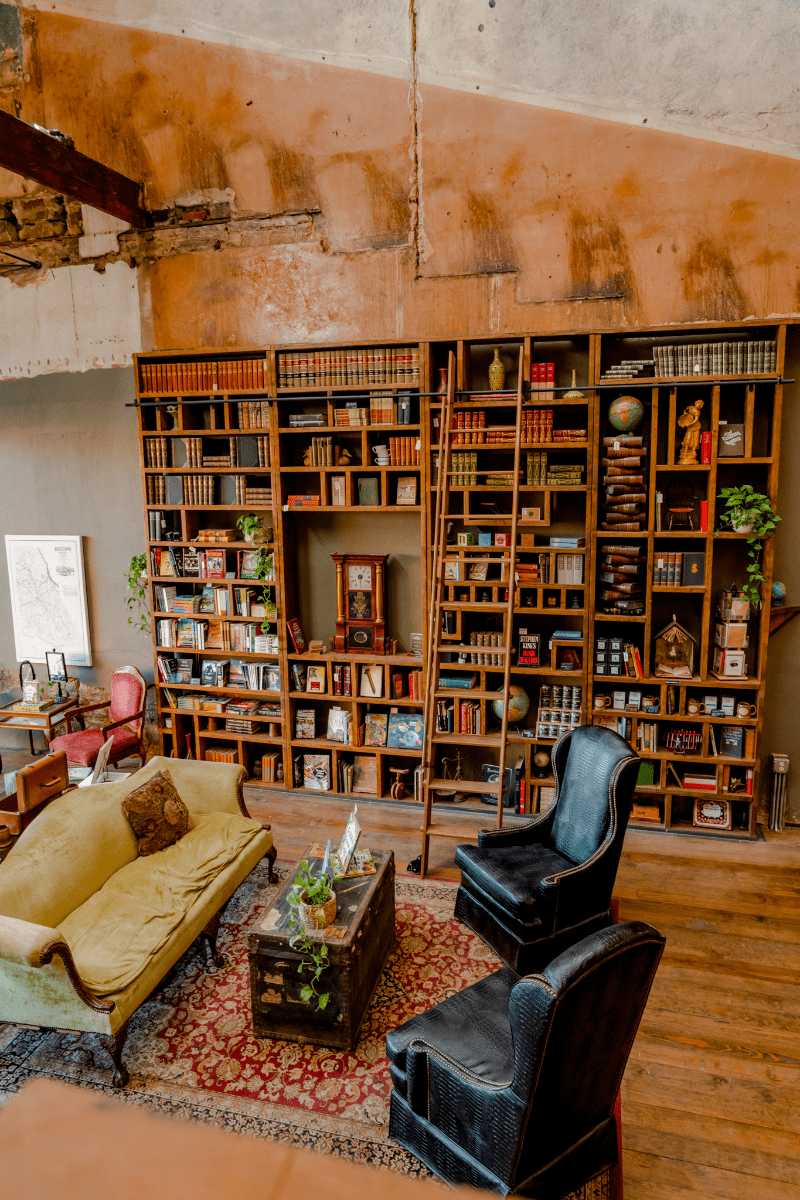 When it came into their possession, the owners completely gutted the inside and created the world of Intermission Bookshop. They kept the original woodwork and brick, added a second-floor seating area, and increased the height of the ceilings. They even went as far as building a bookcase ladder you'd typically see in 19th century shops! There's also an archway made out of repurposed, damaged books.
Make Reservations for a Luxurious Dinner
Lucille + Mabel Kitchen and Libations has become a local favorite since it opened its doors in early 2022. With that being said, we recommend making reservations ahead of time so you can secure you and your party a seat!
Located in what was once the First National Bank, you can still admire some of its original features, like vault doors and teller windows that divide the dining room from the bar.
Elegant chandeliers hang from the high ceilings; there's mood lighting once the sun sets, and the jade green wallpaper behind the bar and the crown molding all around just adds to its elegance.
We had the Korean Mac topped with Korean Fried Chicken and Kimchi, the Chicken Alfredo, and the Ribeye with a Drip Old Fashioned and the famous Candy Barr cocktail made with Bailey's Irish Cream, salted caramel, Kahlua, vodka, caramel, sea salt, and espresso.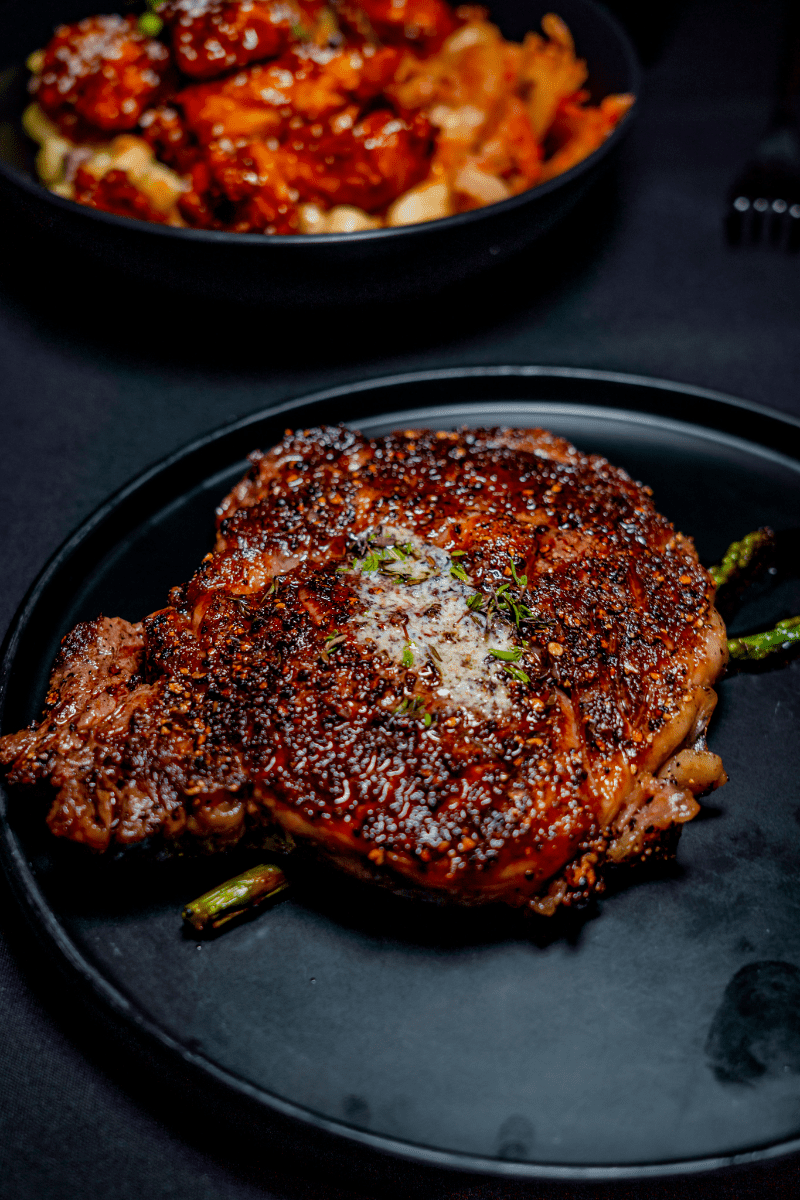 Fun fact: the Candy Barr is named after a famous stripper that once lived in Brownwood. Ask the staff to hear the story about Candy Barr while you wait for your food and they will be more than happy to!
Get "Stoned"
Stone's Grove is a hip, neighborhood bar serving up cold beer, classic cocktails, and specialty drinks. You can also order your favorite beer "stoned," which is when the bartenders drape your glass with a Chamoy and Tajin rim, candy, and fruit slices.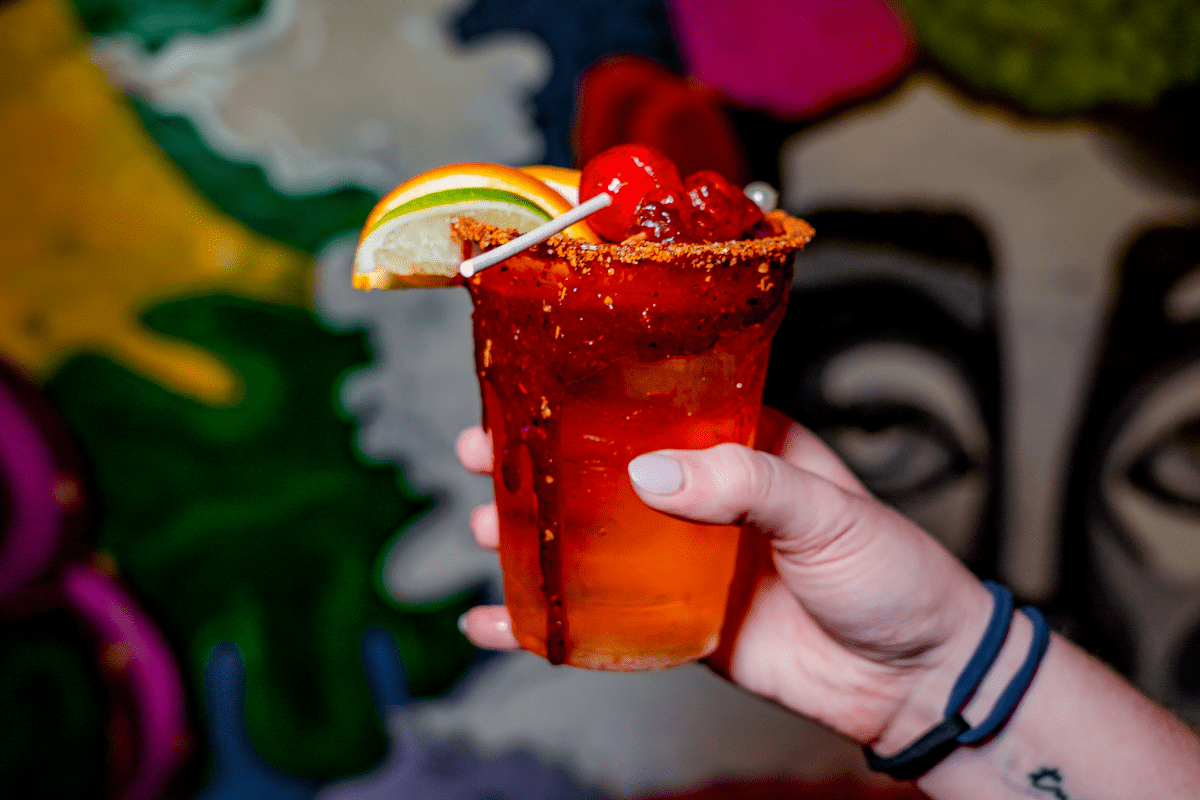 Drop in after dinner for chill vibes, communal games, events like Friday night karaoke, and picture-perfect murals!
Do Some Indoor Fishing
Come on out and spend some time on Lake Brownwood at Wild Duck Marina. There's a full bar, a food menu, free live music on Fridays and Saturdays, a sports bar with your favorite games, and even an indoor fishing dock! Or get away and spend time out on the open water with one of their rental tritoons.
Munch on All-Day Breakfast Burritos
Ricardo's Tortilla Bakery has more than 20 combinations of breakfast burritos served all-day, as well as homemade tortillas and tamales by the dozen you can take home with you! On Fridays and Saturdays, they also serve up homemade menudo and a family style package of barbacoa with tortillas.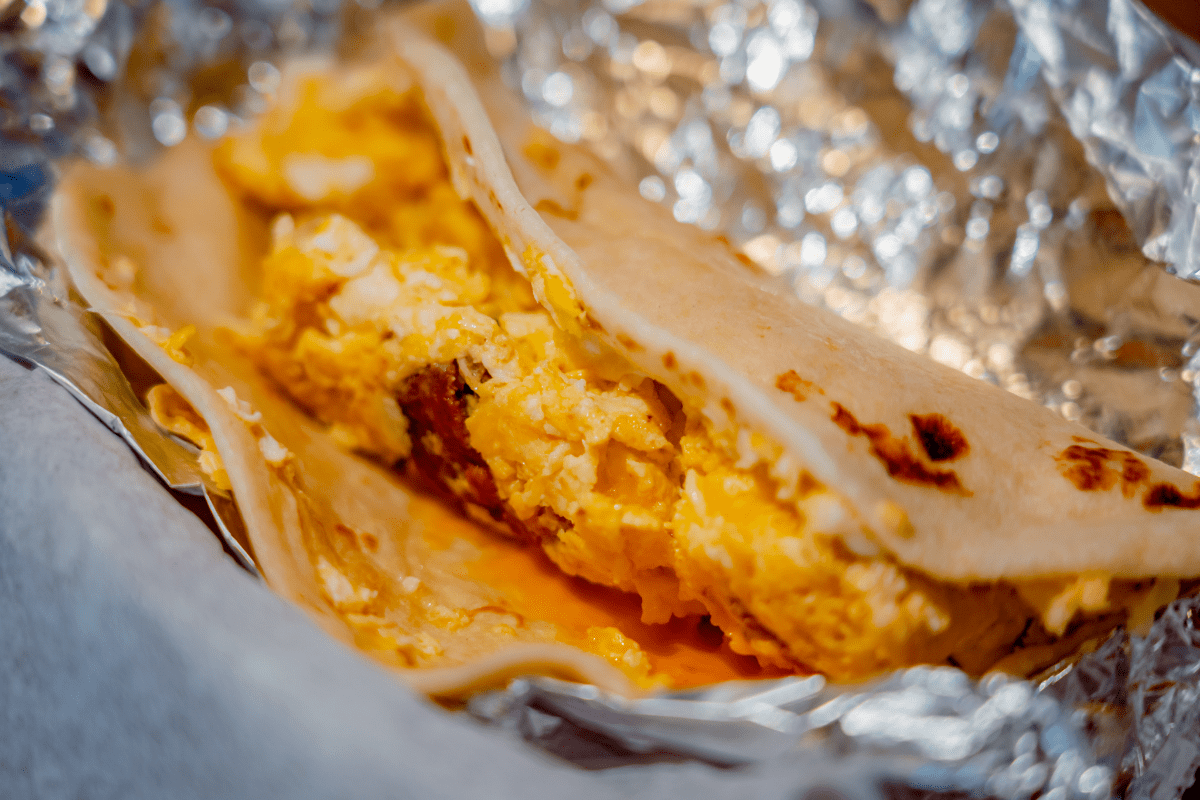 We visited on a Saturday morning and it was pretty busy. If you don't want to wait, you can also order your food at the counter and take it to-go, or use the drive-thru.
Try Brownwood's Famous Sandwiches
Steve's Market and Deli is a quirky shop with a cute restaurant inside where you can have a sit-down meal or grab one of their famous sandwiches to-go. Their sandwiches have even been raved about in local publications!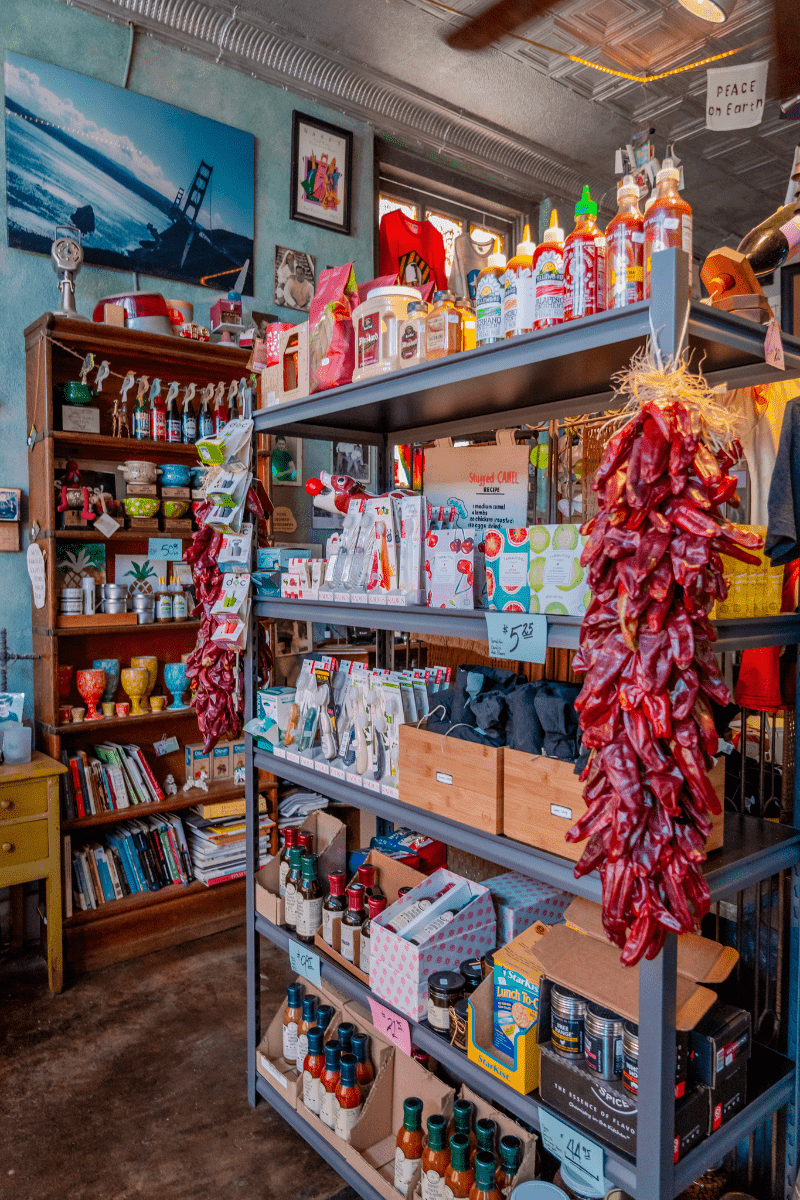 You'll also find the notorious bottled sodas from Dublin, Texas, along with sauces, spices, snacks, and more! It's the perfect place to grab snacks for the trip home or to add something new to your favorite dishes.
Find Filipino Food
Manila Kitchen is a local Filipino restaurant and market serving traditional dishes like chicken pancit, lumpia, fried rice, and chicken curry. You'll also find your favorite treats, like bubble tea and mochi, for dessert.
Pick-up a Gorgeous Charcuterie Board
Grazed and Confused of Brownwood is so well-known for their charcuterie boards, you have to order it for pick-up to get your hands on one! If you're more spontaneous, they have other options available for you! Choose what you're in the mood for and head over to the nearest park for some quality time outdoors or a cute photoshoot with friends!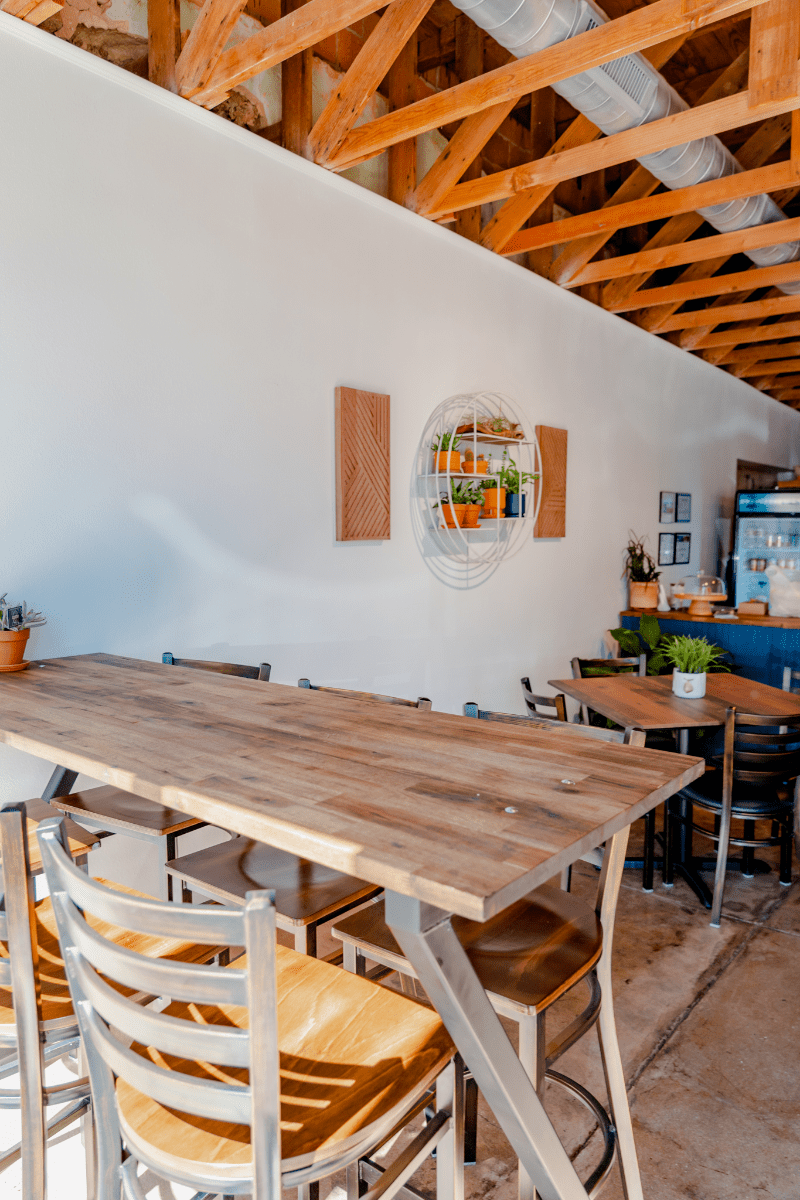 You're also welcome to grab a table for a sit-down breakfast, lunch, or snack on a grazing board for two in their dining room!
Book an Affordable Massage
Services at the Texas Massage Academy range from 15-minute mini-facials to full, 1-hour ultimate facials, body scrubs, wraps, and massages varying from deep tissue to relaxation. Meanwhile, you're providing students at the academy with some active practice as they pursue their careers. Volunteer your tired body and simultaneously help out these practicing students! What a great trade-off, if I do say so myself!
Tour the Inside of a Jailhouse Castle
The Brown County Museum of History Museum showcases 150-year-old artifacts from the time of early Brown County, the Penateka Comanche, the earliest Texan settlers, and when Camp Bowie was inhabited by soldiers during World War II. You can also take a tour of the historic jailhouse across the street whose architecture was modeled after a castle.