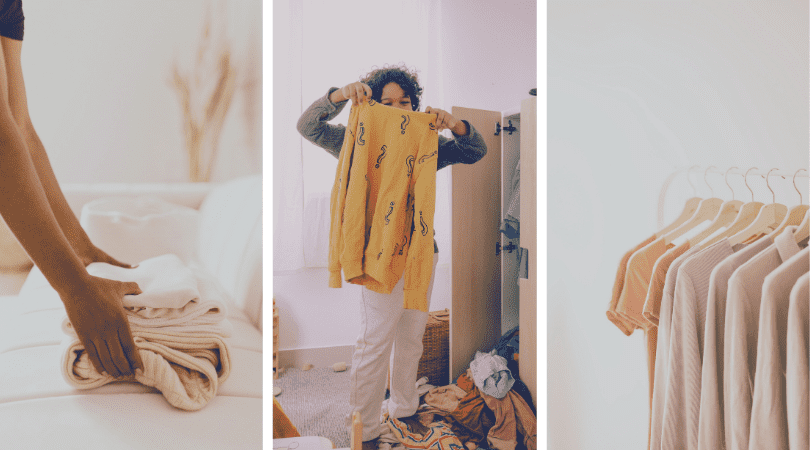 In the New Year, and with spring cleaning season upon us, consider donating your gently used items to charity. Next question is, where to donate your gently used clothes and more in DFW! Sometimes charities vary in what they are able to take, so we've not only included what items are acceptable, but also relevant links and their locations. Your items will either go to an individual in need, free of charge, or it'll be purchased by the surrounding community with all proceeds going back into the non-profit and its mission.
Whether you're looking for somewhere close by or an organization that battles a societal problem you're passionate about, this list includes non-profits that battle everything from domestic violence to poverty, and they even provide medical services and more to underserved communities in DFW.
Where to Donate Clothes & More in DFW: Non-Profits with Multiple Locations
The Salvation Army's Thrift Stores have multiple drop-off locations that accept gently used clothing, furniture, cars, household goods, and appliances. You can schedule a free pick-up for larger items or donations.
Trusted World – Schools, Police, & Local Non-Profits
Trusted World has a need for nonperishables, new toiletries, new underwear, socks, and diapers. Furniture donations are not accepted. For a full list, see their website. You'll find multiple drop-off locations across North Texas.
Donate 2 Impact – Financial Support for Local Charities
With several locations for drop-off all across the metroplex, you can donate clothing, shoes, blankets, electronics, and more. All funds go to local charities, like Christian Community Action. Visit their website to schedule a pick-up via phone.
Brighter Tomorrows – Victims of Domestic & Sexual Violence
You can donate your gently used furniture, clothing, household goods, appliances, toys, and more to their two resale shops.
Locations: 401 W. Marshall Dr, Grand Prairie; donations are accepted Tuesday-Saturday, 9am – 4pm. 230 E. Beltline, DeSoto; donations are accepted Tuesday-Saturday, 10am to 5pm.
Where to Donate Clothes & More in Abilene
Profits from their thrift stores contribute millions of dollars for St. Vincent de Paul societies all over the country to use in their communities. Give them a call if you're considering donating.
Location: 1241 Walnut St, Abilene
Where to Donate Clothes & More in Allen
All in one place, you can find ACO's resale shop and their boutique. They are looking for high-quality donations, including furniture, clothing, kitchen appliances, and toys. However, they cannot accept baby furniture. The full list can be found on their website.
Note: ACO asks that you bag or box all items, wash all donated clothing, and sanitize all larger items prior to donation. Staff can only remove items from your trunk but are unable to enter your car for items you may have in your backseat. You can schedule pick-up of larger items for a $25 donation.
Location: The ACO Donation & Processing Center can be found at 2 Butler Dr, Allen between the hours of 9am to 4pm, except on Wednesdays and Sundays when they are closed.
Where to Donate Clothes & More in Carrollton
Every dollar made at their resale store provides three meals for those served by Metrocrest Services. You can donate everything from furniture, home decor, houseware, clothes, small and large appliances, shoes, and more. However, they cannot accept baby gates, cribs, mattress/box springs, TVs more than 5 years old, and used underwear/socks. See their website for the full list of acceptable donations and pick-up/drop off areas.
Location: 2661 Midway Road, #207, Carrollton
Where to Donate Clothes & More in Dallas
Genesis' Benefit Thrift Store accepts gently used men/women's clothing, furniture, house wear, unopened cosmetics, children's clothing, baby and toddler items, electronics, toys, books, shoes, purses, and accessories.
Location: 3419 Knight St, Dallas; donations are accepted during store hours before 4pm.
The Family Place accepts most, common, gently used items, but be sure to look at the list on their website for what they DO NOT accept, such as mattresses, televisions, and used bed pillows.
Location: 11722 Marsh Lane, Suite 354, Dallas; drop-off days and hours are currently Tuesday, Thursday, Saturday, 10am to 4:30pm, with furniture drop-offs only on Wednesdays from 10am to 1pm.
Deliberate – Refugee Families & Victims of Domestic Violence
If you're looking to donate your gently used furniture, fill out the form on their website to schedule a pick-up of larger items or to coordinate a drop off of smaller furniture items.
Location: 6333 Mockingbird Lane, Suite 147, PMB 828, Dallas
Mosaic Family Services – Victims of Sex Trafficking & Domestic Violence
You can donate technology, household items, children's books, toys, vehicles, among other things.
Location: 12225 Greenville Ave, Suite 800, Dallas
Where to Donate Clothes & More in Denton
Gently worn clothes, toys, furniture, and more can be donated to their Upscale Resale Thrift Shop.
Location: 920 Dallas Dr, Denton; donation hours are Monday through Saturday, 11am to 4pm.
Where to Donate Clothes & More in Fort Worth
SafeHaven – Victims of Domestic Violence
Donate your gently used clothing and household items to SafeHaven's resale store, Berry Good Buys.
Location: 1701 W. Berry St, Fort Worth; donations can be dropped off during store hours (Mon-Fri 9:30am to 5:30pm, Sat. 10am to 5pm).
This resale shop accepts donations of an array of items, including clothing and household items.
Note: Please bag or box items, remove hangers, and wrap breakables in newspaper or tissue. It's preferred that clothing and household items are separated from each other.
Location: 6500 Camp Bowie Blvd, Fort Worth
The Second Glance Thrift Shop takes donations of middle to high end home decor, adult and children's clothing, shoes and accessories, kitchen items, books, games, and even antiques. You can schedule furniture pick-up by phone.
Location: 6308 Rufe Snow Dr, Fort Worth; donations are accepted at the back door Monday through Saturday between 9am and 4:30pm and on Sundays between noon and 4:30pm.
You can donate clothing, furniture, household items, and you can schedule furniture pick-up online.
Location: 12001 Katy Rd, Fort Worth
Where to Donate Clothes & More in Frisco
Frisco Family Services – Human Services for Families of Frisco & Frisco ISD
Their resale shop, Frisco Resale, asks that clothing donations be placed inside a bag, box, tote, or on a hanger. Donations of household goods and decor should also be placed in a box or tote. You can schedule pick-up of large items on their website, like furniture, in certain zip codes. See their donation policy for a full list of the donations they accept.
Location: 9125 Dogwood St, Frisco with donations accepted at the rear of the store between 10am and 4pm, Monday through Saturday.
Where to Donate Clothes & More in Grapevine
GRACE – Human Services + Medical Assistance
With two separate donation centers, GRACE Donation Station and GRACEful Buys, you can donate an array of gently used items. GRACEful Buys is where you can take your furniture for donation while the Donation Station takes all sorts of things, except mattresses, computers/monitors, car seats, and baby cribs. For more information and where you can donate food, medical-related donations, and more, see their list of current needs.
Locations: GRACE Donation Station – 1060 Texan Trail, Grapevine; GRACEful Buys – 418 E. Northwest Hwy, Grapevine
Where to Donate Clothes & More in Plano
This resale store takes clothing donations (men's, women's, children), small electronics (cell phones, computers, tablets, monitors, keyboards), personal accessories (belts, jewelry, handbags/purses, scarves), luggage, shoes, household items, decorative accessories, and furniture.
Note: clothing donations should be packed without hangers into boxes or white trash bags that do not exceed 30 pounds. They are not accepting donations that are inside large, black trash bags or leaf bags. Ring the bell next to the purple doors on the side of the building and someone will come out to assist you.
Location: 2129 W Parker Rd, #300, Plano; donations are accepted Tuesday-Saturday between 11am and 4pm.
The Plaid Tag – Victims of Domestic Violence
This resale thrift store accepts donations of clothing and household items on behalf of Emily's Place. Let them know when you arrive that you are dropping off in honor of Emily's Place and the owner will provide credit to the organization to be used by the women and children they serve and allow them to shop for free.
Location: 2436 K Ave, Plano
Where to Donate Clothes & More in Richardson
Donate your gently used furniture, home decor, housewares, countertop appliances, clothing, small appliances, shoes, handbags, jewelry, linens, books, DVDs, and CDs to their upscale resale store.
Location: 561 W. Campbell Rd, Ste. 101, Richardson during the hours of 11am to 6pm Monday through Saturday.
Where to Donate Clothes & More in Richland Hills
I Can Still Shine – Women & Children in Tarrant County
This non-profit is not able to accept furniture, used pillows, toys, or car seats. They take winter clothes October through March, summer clothes April through September, and Christmas items are only collected in December. If you're interested, you can also donate new items, which you can find on their website.
Note: Please put all donations in black or white plastic bags without hangers.
Location: 3313 Crites St, Richland Hills
Where to Donate Clothes & More in Rockwall
Rockwall Helping Hands – Human Services + Medical Care in Rockwall County
Rockwall County's Thrift Store & Boutique of Helping Hands takes donations of household goods, furniture, clothing (new and used), jewelry, kitchen accessories, antiques, books, records, CDs, DVDs, video games, and more! See their website for donation guidelines and drop-offs/pick-ups.
Location: 950 Williams St, Rockwall; drop-off hours are Tuesday through Saturday, 9am to 3pm.
Where to Donate Clothes & More in Rowlett
Life Message – Human Services for Veterans, Seniors & Families
Life Message Thrift Store doesn't accept broken or soiled furniture, used mattresses, or bult-in appliances.
Location: 4501 Rowlett Rd, Suite 100, Rowlett; drop offs are accepted 8am to 4pm seven days a week on the North side of the parking lot. You'll find a fenced in area with an awning.