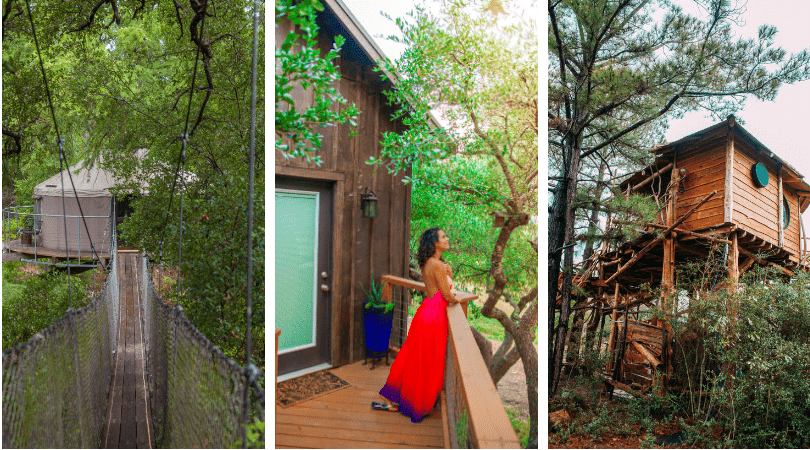 Who knew there were so many treehouses to explore and enjoy in Texas? If you're looking for an out-of-the-ordinary experience, stay in one of these amazing treehouses right in Texas! Each has its own specialty! We enjoy just traveling all over Texas to see and experience the different types of treehouses. The experience is magical and just plain fun!
Texas Treehouse & Safari
Asante Lodging offers a raised platform lodge, similar to a treehouse. Sleep in luxury among the trees while feeling like you're staying on a ranch or jungle with wildlife all around. You can view the beautiful views of nature from the wrap-around porch. What a wonderful way to relax with your significant other! They even have tours to see all of the exotic wildlife.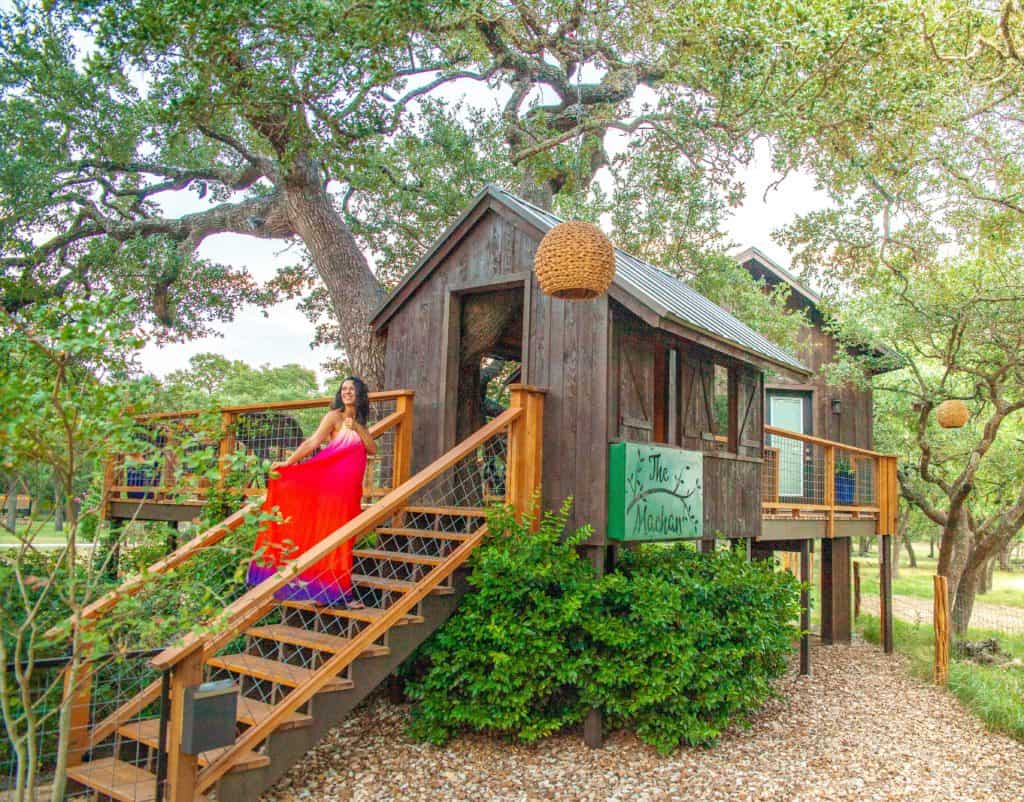 Budget-Friendly Texas Treehouse
Hobbit Treehouse looks like something you'd see in a movie with fairies and pixies – such a fun place that brings out the child in you! Not only does it have some unique architecture and whimsical walkways, but it also sits next to a lily pond. A lot of thought and detail were put into the Hobbit Treehouse, so when you stay, check out all of the quirky, fun features that make this a unique experience. Be sure to grab an enchanting book to enjoy or write your own fairy tale adventure. Compared to some of the other treehouses in Texas, this is also one of the most affordable treehouse options.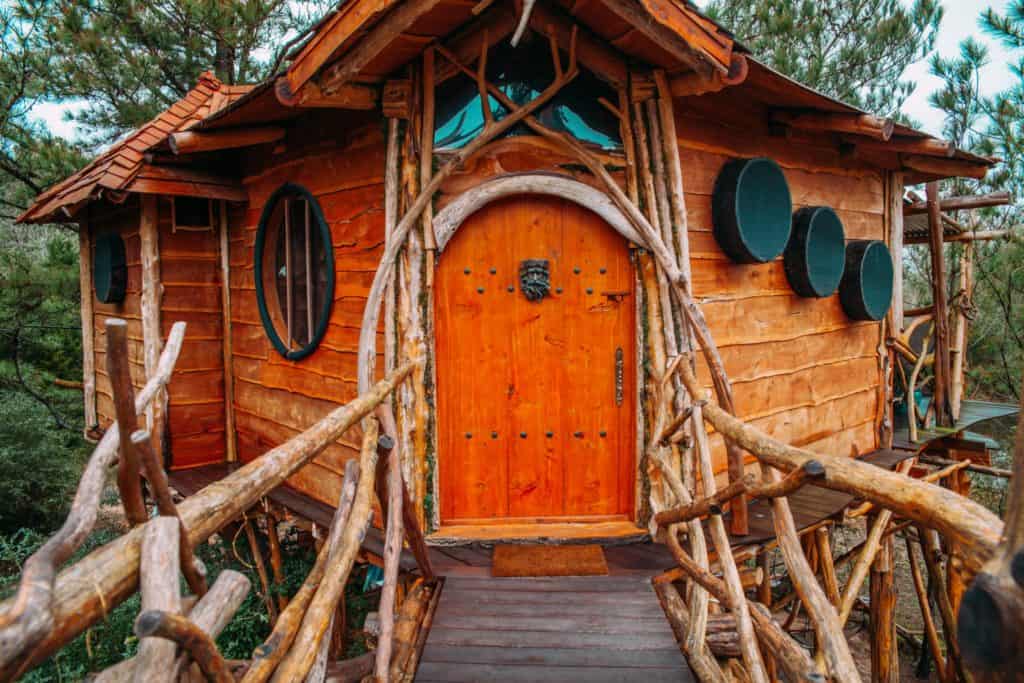 Eco-Friendly Treehouse in Texas
Cypress Valley Canopy Tours is a retreat for the senses. Staying in one of their treehouses is like being in another world, filled with natural sights and sounds, and a totally relaxing state as you hang out among the trees. Walk across a suspension bridge to reach your cabin which also boasts luxuries such as A/C and plush bedding. Wake up with the sun filtering through the trees, and the birds singing – it washes away all of the stress you came to escape.
Planning a wedding? Consider Cypress Valley for a unique wedding venue! With a suspended ceremony platform, a 3,000 square foot pavilion great for your reception, and many other beautiful amenities, this wedding destination will add an extra enchanting touch to your special day!
Texas Treehouse on the River
Geronimo Creek Retreat near Seguin – Is it glamping? A cabin? A treehouse? Yes! A stay at Geronimo Creek Retreat is a fun way to camp in a cabin/tent-like structure lifted off the ground like a treehouse. Located right outside of Sequin, but feeling like you're in the middle of nowhere, makes this a great getaway to unwind from the hectic city life. This glamping experience includes unexpected luxuries such as A/C, mini-fridge and microwave. There are indoor and outdoor games for the family, plus access to the river with kayaks, paddle boards and rope swings. Relax, or have a blast. Either way, make time to enjoy this treehouse gem! Ready to venture out? Here are some fun things to do near Geronimo Creek Retreat.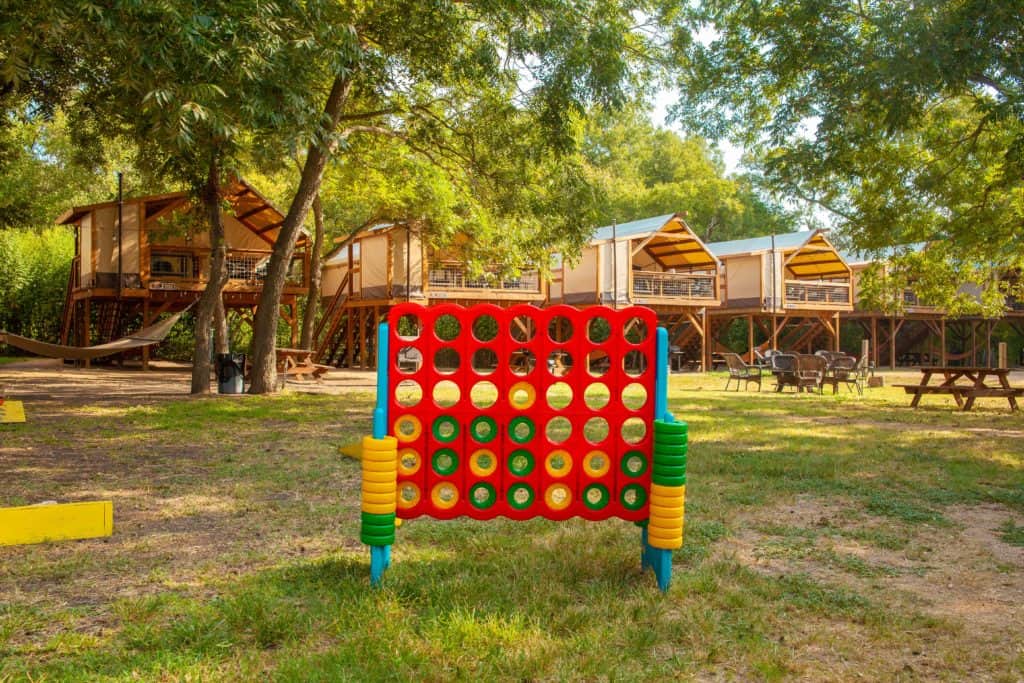 Luxury Tree House in Fredericksburg
When not enjoying all of the wine tastings that can be found in Fredericksburg as well as all the other fun things to do, relax in luxury with a memorable experience at this three-story treehouse that comes with a semi outdoor bath, incredible views all around, and a floor to ceiling window that looks out into nature!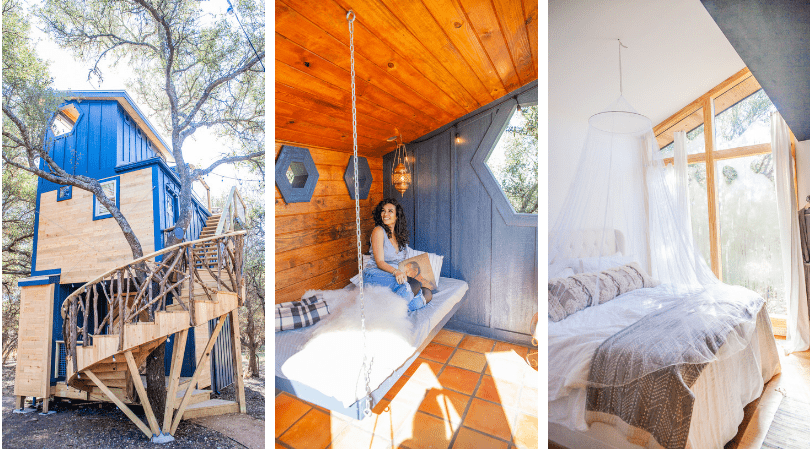 East Texas Treehouse
East Texas is one of those places that I don't think gets to be discovered as much of the rest of Texas and yet it's full of incredible gems! One of those is this awesome glamping tree house right on the lake. The design is beautiful and it's perfect for your small getaway!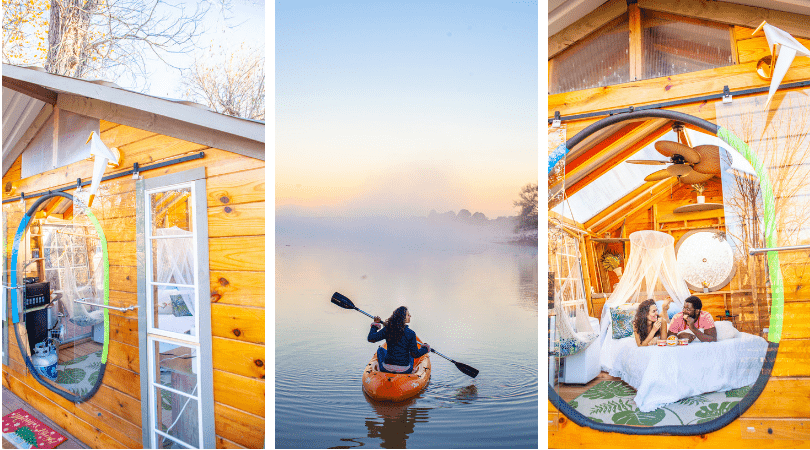 A Texas Treehouse for the Whole Family
River Road Treehouses near New Braunfels are a combination of suspension and luxury. The six beautiful cabins are partially suspended above ground giving you that treehouse feel. However, once you're inside, it's like staying in a luxury cabin or home. Accessed by a suspension bridge, all cabins are on a small creek, and located right by the Guadalupe River. What a great amenity! And because each treehouse has multiple beds and a loft, this is a great treehouse to experience with the family! Excited for your next stay? Book here now!
Other Cool Places to Stay in Texas
The tree houses you can find in Texas are pretty cool, but that's barely the tip on all of the fun and funky getaways you can find. Check out all of these other unique places to stay in Texas.