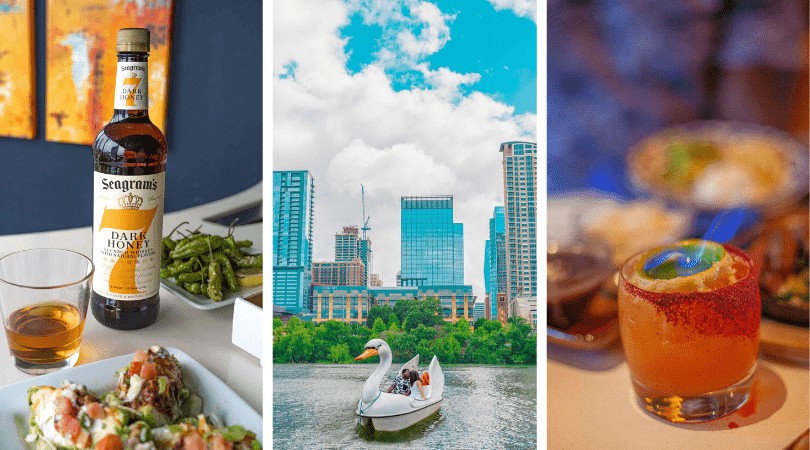 If you're on the lookout for fun things to do in Austin, why not try getting into the best secret speakeasies in Austin. A melting pot of different lifestyles and activities, Texas' capital encompasses a variety of unique hidden bars and dives waiting to be discovered. Some are easy to get into, but others present a challenge for only the most determined of partygoers. Try your hand at getting into these secret speakeasies and hidden bars in Austin. The detective work doesn't have to stop there! We also have guides to how to get into the best speakeasies in DFW, San Antonio, and Houston.
Where Modern Meets Traditional: Sushi|Bar ATX
Experience a boozy take on the traditional sushi counter at the hidden bar, Sushi|Bar ATX. Inside East Austin's beloved bento cafe, Bento Picnic, and through an unmarked door, is a clandestine Japanese oasis. With only 10 seats inside, the bar offers guests an intimate and exclusive experience. Seating is right at the sushi counter so you can watch the trained chefs and mixologists prepare intricate takes on traditional sushi and cocktails. Enjoy some of the best sake the city has to offer, made with the finest ingredients. This secret speakeasy also offers other drinks, like ginger cocktails and Kinmon Rose, for a night out you won't forget!
The Best of Argentina in Texas: The Milonga Room
Get a taste of Argentina at the hidden bar, the Milonga Room. Tucked in the basement of the Buenos Aires Cafe, many people don't realize the Milonga Room even exists. To enter this secret speakeasy, head towards the back of the restaurant and knock on the blue door. You'll be let into a secretive lounge with live music, tasty tapas, and even tarot readings. Their extensive menu includes herbal mixtures and fernet cocktails that pay homage to this hidden bar's Argentinian roots.
Enter a Hidden Paradise: The Lost Lei
If you're in downtown Austin, you'll want to check out the Lost Lei, also known as the Hen House. This tropical-themed, secret speakeasy is located downstairs at the Capitol Grill. To access it, just walk to the northeast corner of the restaurant and go down the stairs. The hidden bar is most famous for its rum and even holds the most extensive list of it in the Austin area. Aside from rum, the bar serves fruity liquors and specialty cocktails that will make you feel like you've been transported to a Caribbean paradise. All drinks are served in fun tiki-shaped glassware and tropical-themed mugs. They also come with fresh fruit and spices to give the true feel of an island getaway. If you come with a group, you can share a Planter's Punch, which includes the tastiest assortment of fruits and orange liquor.
Challenge Yourself: Redheaded Stepchild
Possibly the hardest secret speakeasy to get into, the Redheaded Stepchild is only for those who are up for the challenge. Known by the locals as a "peek-a-boo-lounge" as opposed to a "speakeasy," this hidden bar thrives on exclusivity, making it difficult to get into. First, you'll need a password. The catch? It is constantly changing and isn't posted anywhere. The only way to get it is by word of mouth.
There are a few solutions you can try to get it. If you go to HandleBar, the bar above the Redheaded Stepchild, you can try asking the bartenders if they know the password. They may or may not, and rumor is they'll give it to you if you tell them a funny joke. You could also try going to other bars in the area and seeing if their bartenders know the code. When the password is changed, it is sent out to a group of friends that mostly work in the bar service industry, so it's a safe bet to see if any other bartenders happen to know.
If you have don't have any luck with this, try to talk to some locals in the area and see if they may know the password. If you happen to get access to the code (which should be numeric, so beware of people giving out false information), enter it into the keypad near a sign that reads "Floppy Disk Repair." With the correct code, you'll be allowed into the exclusive lounge. The bar is filled with quirky items like neon signs and giant swings that bring the place to life. The boozy drinks and cocktails aren't only tasty but boast funny and sometimes really provocative names. You have to try "Gary's Spicy Fire Crotch Margarita!" It's divine! After a night out at this exclusive bar, you'll have bragging rights for life.
Not Your Average Garage Party: Garage
If you didn't have any luck getting into the Red Headed Stepchild, don't worry! There's many more easily accessible hidden bars to choose from. Garage, for example, is relatively easy to get into. No passwords or reservations required, but you will have to do a little bit of searching. Located in the parking garage on the northeast corner of Fifth and Colorado, go upwards on the path until you find the entrance, an old valet office where the word "cocktail" is painted on the wall near a neon sign. You may look around for a bit, but I guarantee that you'll find it in no time.
Once you enter the low light establishment, you'll be met with immaculate vibes that will make for a glorious evening out. Their most sought after drink is the Indian Paintbrush, a rosemary-infused vodka with lime and grapefruit. The bar also offers drinks like white mezcal and Strega liqueur. Using simple ingredients, Garage manages to make some of the most fantastic cocktails in the area that you need to try.
The Best Mezcal in the City: Techo Mezcaleria & Agave Bar
On the lookout for some of the best mezcal Austin has to offer? Look no further than Techo Mezcaleria & Agave Bar on Manor Road. This flavorful Mexican spirit is used in many of the drinks this hidden bar serves, ranging from signature mezcal cocktails to mezcal margaritas. You can order traditional drinks if you're craving a classic or you can try a specialty cocktail if you're feeling more adventurous. To get into this secret speakeasy, go to Schoolhouse Pub and find the staircase near the patio. Once you reach the roof, you'll find this magical joint where you can enjoy all the mezcal your heart desires. Don't forget to explore Austin and all of its fun things to do while you're at it!
Enjoy Cocktails at an Abandoned Massage Parlor: Midnight Cowboy
If you're looking for an intimate and exclusive experience, put the Midnight Cowboy on your secret speakeasy bucket list. A reservation-only lounge, the Midnight Cowboy is owned by the team behind Alamo Drafthouse. Before it was a bar, though, the space served as a massage parlor. Even though it no longer functions as one, the outside of this hidden bar may seem like nothing more than that for those just passing by.
If you're wanting to visit, make your reservation and look for a sign that says, "Midnight Cowboy Modeling." Ring the buzzer that says "Harry Craddock" and enter this hidden bar. You're allowed two hours inside the secret speakeasy with your reservation, and you can relax inside one of their leather booths. Seating on the patio does not require a reservation, but it is only provided on a first-come, first-serve basis.
Enjoy specialty drinks from their cocktail menu, inspired by a passport and offering a variety of exotic booze and spirits. For those that don't drink, the bar offers a wide assortment of tasty mocktails as well. Some of the listed menu items have a cart sticker next to them, so if you order one of these drinks, a cart comes to your booth and makes the cocktail right in front of you. If you come between Thursday and Sunday, you'll want to try out their patio service for an even more exclusive experience.
Experience an Exclusive Night Out: Here nor There
Here Nor There serves as one of Austin's most luxurious secret speakeasies. The high-end lounge even has its own app, which visitors are required to use to make a reservation. On the Here Nor There app, tap the "Request New Reservation" button, choose your desired time slot, and you'll receive a confirmation email the day of. The code to this hidden bar changes daily, but your confirmation email will give you the correct one for the day of your arrival.
Walk through the gated alleyway and you'll find a keypad where you'll enter your code. A staff member will then take you down into the bar, where the secret speakeasy scene is in full effect. Complete with velvet curtains and vintage seating, Here Nor There really takes you back to the 1920's. The exotic cocktail menu is filled with drinks inspired by the owner's travels across the globe. With such a huge variety, you'll have no trouble finding a drink to sip on as you dance the night away.
For an even more exclusive experience, the speakeasy provides $500 yearly memberships that come with great benefits like private tastings and priority reservations. If you're a cocktail lover, you'll definitely want to look into it!
No Fires Here: The Firehouse Lounge
A hostel inside of a firehouse is one thing, but have you heard of a hidden bar inside of one? Well, the Firehouse Lounge checks both of these boxes. Situated inside of a former fire station, the Firehouse Lounge is hidden by a hostel. To access this secret speakeasy, give a nod and say "no" to the person behind the counter in the lobby and walk toward the nearby bookshelf. Slide it open and you'll be there!
You'll immediately be met with fantastic live music performances and cocktails galore. All you have to do is tell the bartender your drink of choice and they'll make it for you on the spot. Since it's located inside a hostel, the Firehouse Lounge is a great place to meet travelers from around the world and hear all about their journeys. You may even make some life-long friends!
Can You Find It? Small Victory
Blink and you'll miss it. Small Victory may be a subtle find, but it's totally worth it once you make it inside. Google Maps will take you to an East Austin parking garage, but off to the side you'll notice some stairs with a small red "V" on the glass door. Hit the buzzer and you'll be let in. Follow the staircase upstairs and you'll find this hidden bar!
The inside is funky and fun, decked out with stained glass lamps, plush booths, and even parrots! What's better than the decor is the drinks. Order a Singapore Sling or any one of their handcrafted cocktails and savor the taste of these premier drinks. If you come with a group, I recommend sharing the Philadelphia Fish Punch Bowl for a cool drinking experience. If you get the munchies, Small Victory has a fantastic selection of charcuterie and cheese boards for you to try out.
Taste Test Traditional Japanese Omakase: Watertrade
If you're a fan of traditional Japanese sake with a twist, you'll be in for a treat at Watertrade. Attached to the Otoko Japanese restaurant inside the South Congress Hotel, this hidden bar won't jump out at you at first glance. When you enter the hotel, walk towards the courtyard and you'll see a set of stairs. Walk up the stairs and you'll find Otoko with Watertrade right next to it. Once you enter the bar, you'll be met with an exclusive and quaint oasis.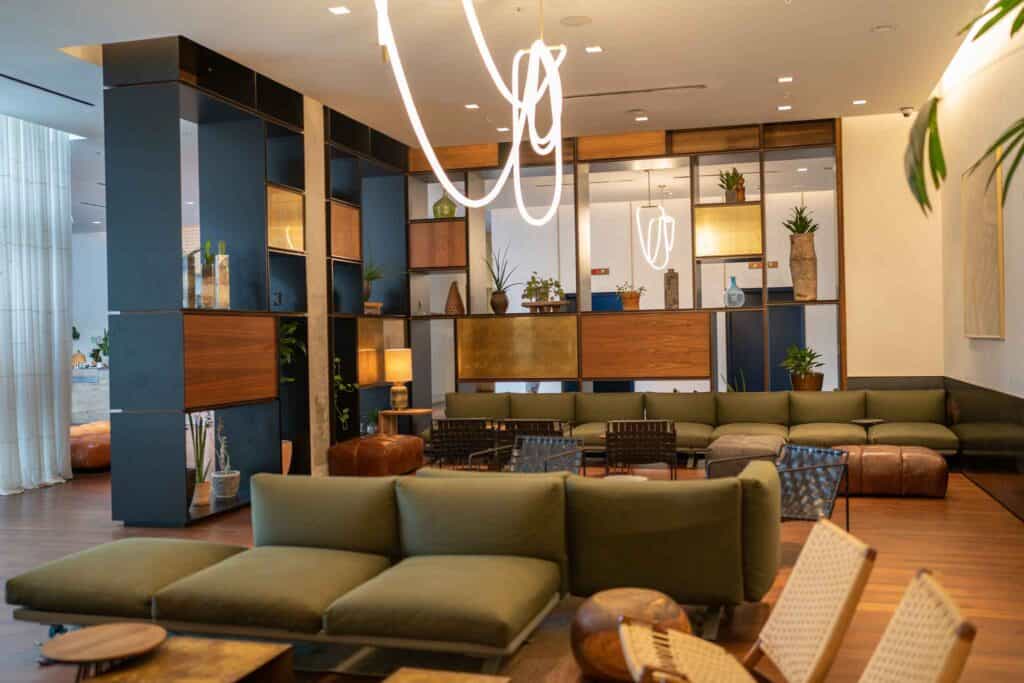 The bar is dimly lit and features classic Japanese decor, providing an extensively curated list of cocktails, but you'll want to try out their specialty Japanese sakes and whiskies for a truly authentic experience. Watertrade also offers guests traditional Omakase-style dishes, making it a unique experience that you won't want to miss out on.
Taking Spirits to the Next Level: DuMont's Down Low
Afraid of ghosts? You might want to skip out on this next one cause it's only for the bravest of souls. Located in the basement of an old 19th century brothel, DuMont's Down Low is a secret speakeasy with a lot of history, named after original owner Blanche DuMont. The facility went through a few changes in operations before it became the speakeasy it is today.
Fado, an Irish pub that was home to some of Austin's best St. Patrick's Day celebrations, took residency of the space until its closing in 2018. When the new owners took over the building, they discovered a mostly forgotten basement that they converted into DuMont's Down Low, one of Austin's most premier, secret speakeasies.
To enter the hidden bar, start at West 4th Street and descend down the dark stairway next to the Pub. It might be tricky to find, as there aren't practically any signs, but you'll know you're in the right place when you see the walls covered with whisky barrels. Upon entering the lounge, you'll be met with an intimate Prohibition era style establishment that checks all the boxes of an authentic speakeasy experience. With a selection of over 75 whiskeys and craft cocktails, DuMont's offers some of the best drinks in the Austin area.
There are tales of the building being haunted and many guests have reported sightings of ghosts. With the vast history of the place, it's not far off to assume that a few ghosts roam the halls of this secret speakeasy. So be on the lookout for some supernatural activity as you enjoy specialty mixes.
More Ghosts and Booze: J. Stephens
On the lookout for more parties with ghosts? J. Stephens has you covered. Like most haunted joints, J. Stephens comes with a story. Back in the 1920's, this was a home goods store owned by bookkeeper J. Stephen. He started to embezzle money and was eventually caught. He ended up committing suicide on the property to save his family from embarrassment. While the story is quite morbid, J. Stephens secret speakeasy makes it their goal to turn the somber tale into a good time.
Filled with a variety of cocktails and specialty mixes, the menu focuses on 1920's vibes to give guests the experience of a genuine speakeasy. The names of the drinks are quirky and reminiscent of the tragic tale of J. Stephens, sporting titles like "Embezzlement" and "Greed is Good." The hidden bar is also known for having some of the best dance parties in the Austin area where you can dance to popular 90's jams and a live DJ. You may even bump into the ghost of J. Stephens, so keep your eyes peeled. To enter this hidden, but flashy downtown joint, find the alley behind the Sixth Street building, where there will be a red light marking the entryway.
The VIP Lounge: The Gold Room at Superstition
The new Superstition 70's-themed nightclub is located in an iconic Austin spot which was once home to La Bare, a male strip club. Spend your evening at Superstition's The Gold Room. Access this iconic cocktail lounge and patio from the exterior through a dedicated door allowing for separate access. The Gold Room at Superstition opens at 5PM which features reimagined classic cocktails for an intimate evening experience.
Navigate a Fancy Cocktail Menu: Bosses Office
Head out of work early to get to the Bosses Office in time. Bosses Office is a cozy, speakeasy-style, cocktail bar and lounge with dim lighting and comfortable velvety seating. The drinks served are incredibly well balanced and presented beautifully. Plus, the bartenders are extremely engaging and accommodating. Make sure to save your spot by making a reservation as the bar fills up pretty fast.
A Secret Worth Telling: Eden Cocktail Room
Eden Cocktail Room is a small-scale, speakeasy-themed, cocktail venue aimed at providing the best ambiance and service to Austin locals and visitors. Unveil this hidden gem by entering through a purple door down the alley. Their innovative and creative cocktail recipes are a must-try to give you the most unique experience.
Travel with Rum: Tiki Tatsu-Ya
Wear your favorite tropical shirt to fit in and try the most unique Rum Flight experience at Tiki Tatsu-Ya. Their immersive themed-bar showcases Japanese, Hawaiian, and Polynesian influences. Their bartenders are so fun and energetic plus their drink menu has dozens of world-class selections that will take this experience to the next level. So make sure to grab your spot and enjoy this exquisite tropical paradise right here in Austin!
A Japanese-Style Listening Bar: Equipment Room
Equipment Room is your new private basement hideaway located just beneath Hotel Magdalena on Music Lane. This intimate vinyl bar is home to a special collection of records, with a blend of Jazz Kissa culture, played on a custom vintage high-fidelity sound system. This one-of-a-kind immersive listening experience is perfect for jazz enthusiasts and music lovers alike.
Craft Cocktails and Latin Spirits: Subterra Agave Bar
Located just below Ember Kitchen, Subterra Agave Bar is one of the many hidden gems in downtown Austin. Shake your night up in this cool, underground cocktail lounge that offers craft Agave cocktails and a wide selection of Latin spirits.
Hidden Omakase: Toshokan
Expect the unexpected behind a bookshelf within the popular eastside venue, Native Hostel and Bar. Experience an unforgettable, intimate dining experience where you can watch and learn as the chef prepares an epic 14-course omakase sushi while making use of global ingredients, flavors, and techniques.
A Little Bit of Fun on Wheels: Visitant Social Club
Visitant Social Club is the newest speakeasy in Austin, Texas located at the back patio of Progress Coffee in a mobile bar truck. Have a one of a kind drinking experience with their must-try, craft cocktails and impressive interior. We recommend you book in advance to reserve your spot in their intimate, 10-seat bar as they fill up quickly.
The Best Secret Speakeasies and Hidden Bars Near Austin TX
Charcuterie and Cocktail Classes: Hoot & Annie
Hoot & Annie is a secret speakeasy near Austin in downtown Round Rock with the most beautifully garnished cocktails, unique glassware, and where every bartender seeks to entertain you as they prepare your chosen concoction. They also host cocktail classes and sell charcuterie boxes that change weekly! With a quieter atmosphere, it's ideal for a couple or a group looking to catch up and connect, you can find this hidden bar inside Round Rock Tavern. Need a little pick-me-up during the course of your evening outing? Round Rock Tavern hosts live concerts, watch parties, and they have their own food and drink menu! Enjoy your drink on the Tavern's roof or grab a seat on Hoot & Annie's patio. Both establishments follow the same dress code Thursday through Sunday, so be sure to refer to it here before you visit.
The Best Secret Speakeasies and Hidden Bars in Austin TX: Final Thoughts
With a great selection of secret speakeasies and hidden bars in Austin TX, these exclusive establishments only further enrich the endearing quirkiness that is the Texas capital. For a fun night out, try getting into some of these secret speakeasies and experience the most exclusive drinks the city has to offer at these hidden bars. Did you have any luck getting in? Don't forget to check out our lists of the best secret speakeasies and hidden bars in DFW, Houston, and San Antonio!