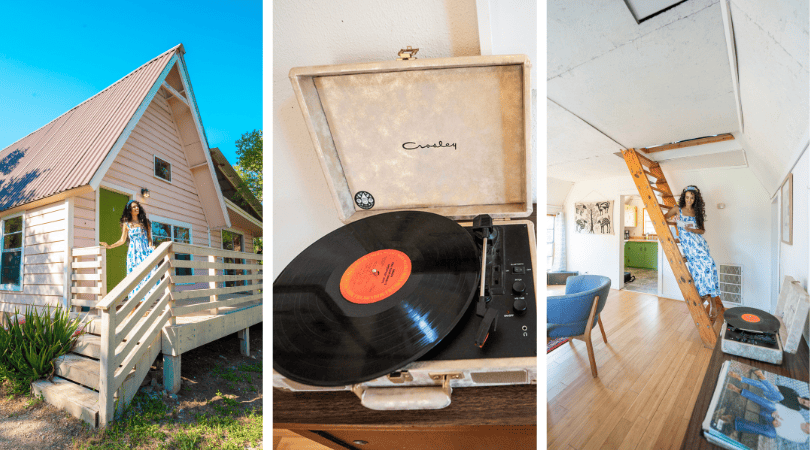 Step into a world of whimsy and color at Mosaic Farms' Bohemian Hill Country Cottage (click here to book). From the moment you see its pink exterior, you know you're in for a truly fabulous experience.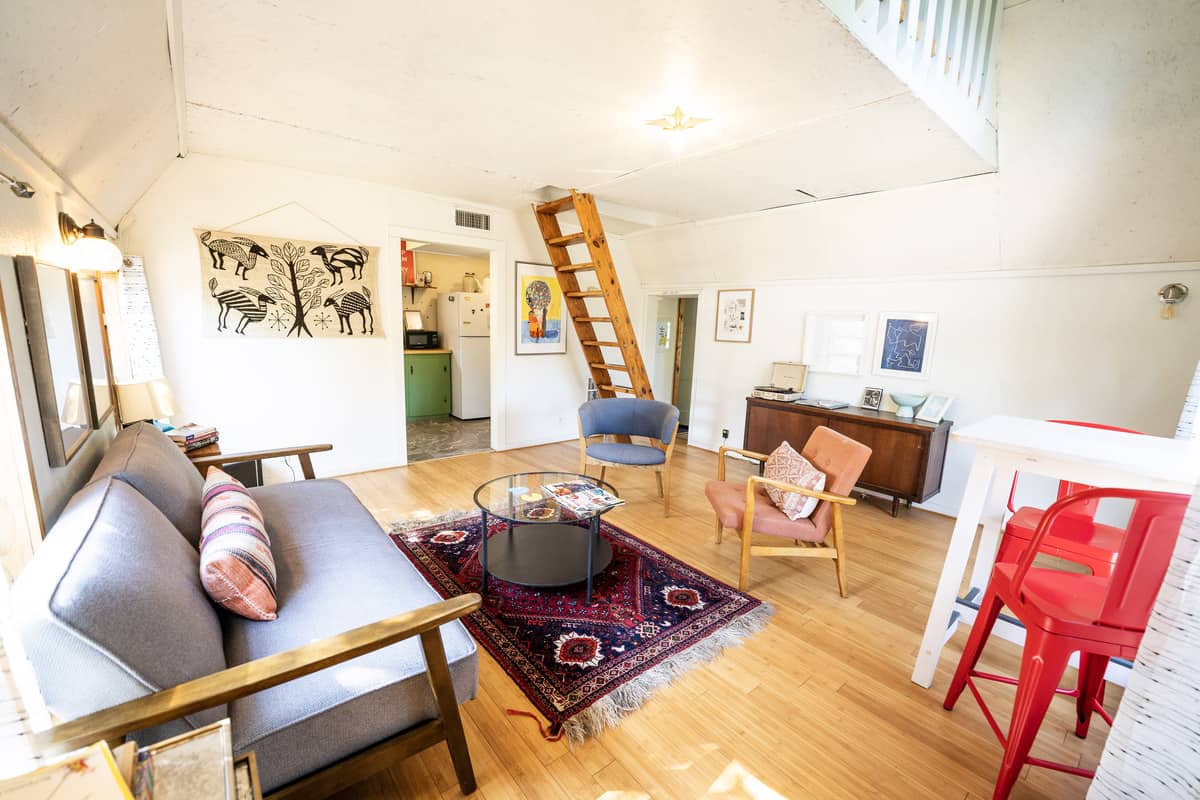 Nestled in the natural beauty of San Marcos, this cottage boasts eclectic décor and artistic touches that create an enchanting and unforgettable stay. The owners of Mosaic Farms have done such a wonderful job of creating memorable rentals like this one, as well as the Great Hall at Downtown Abbey (a redesigned, historic church) and the charming Lula camper, perfect for people who love glamping.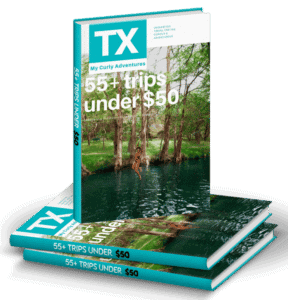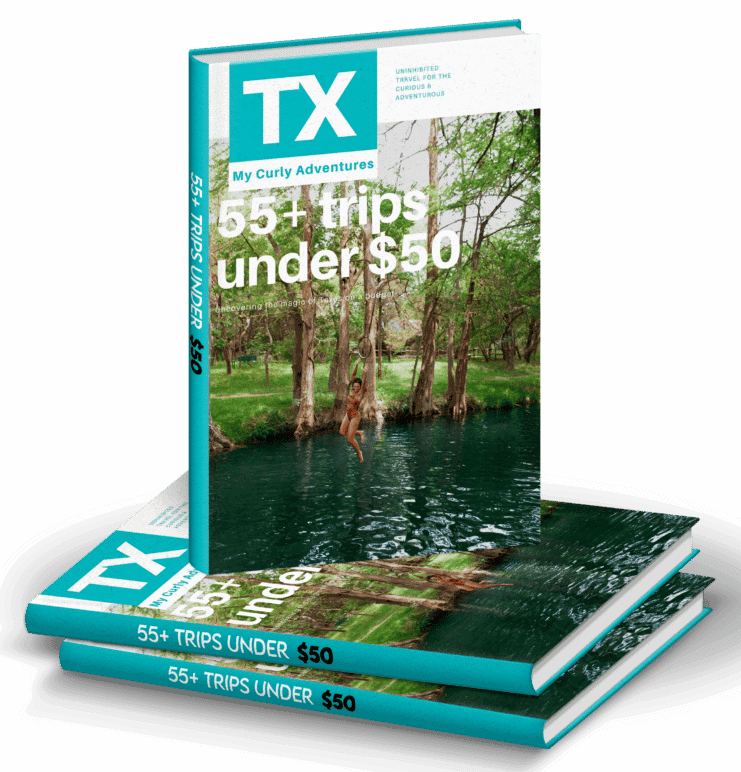 With our latest edition of our Texas Travel Guide, you can take an exciting vacation every weekend without breaking the bank and still have more to do! And in just one trip, the guide pays for itself! You'll be amazed at all the hidden gems, international influence, and wacky attractions you'll find all over Texas!
Not ready to purchase quite yet? We wanted to make this guide as accessible as possible, so we've shared our 1st edition of our guide, 50 Texas Trips Under $50. Click the button below to get yours for FREE!
The Unique Design
Upon entering this A-frame cottage, we were captivated by the vibrant decor and design elements with a Texas twist featuring an array of quirky furniture. The highlight for me was the staircase ladder that leads to the upstairs bedroom.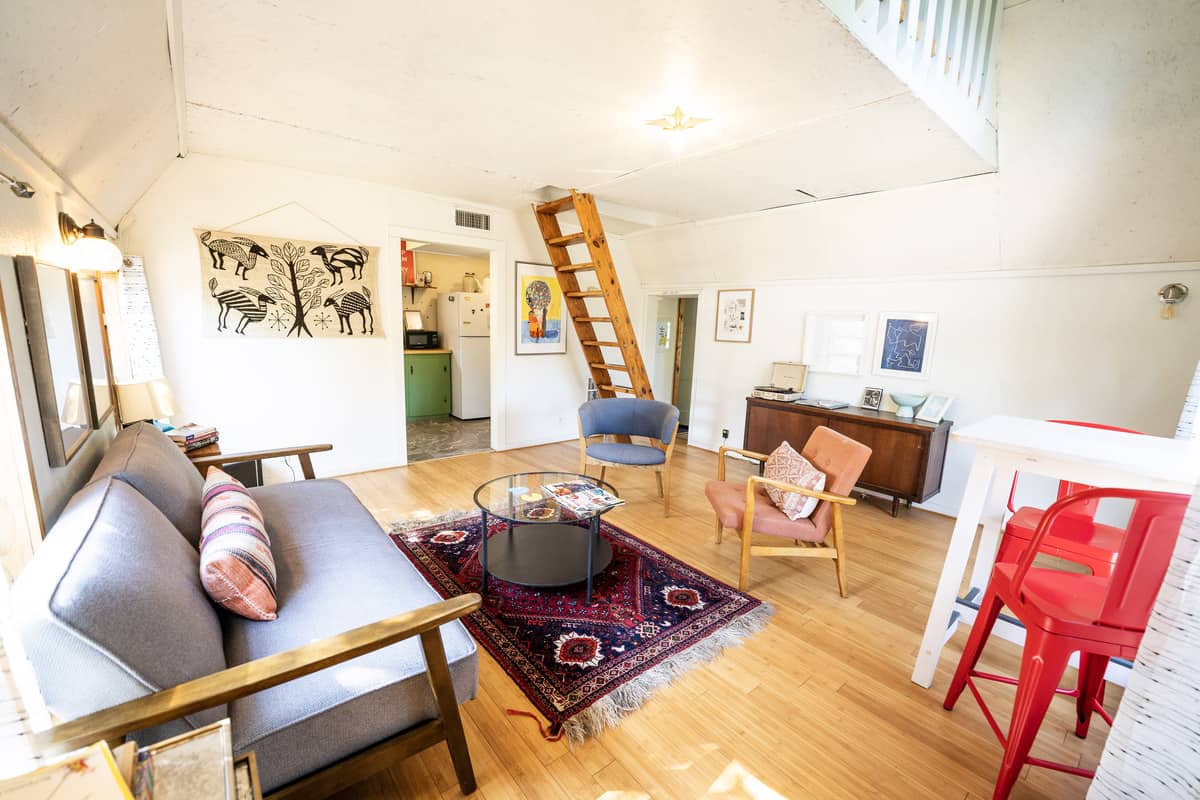 There's also a table by the wall with a record player and a collection of captivating Texas books, inviting guests to explore the cultural richness of the region.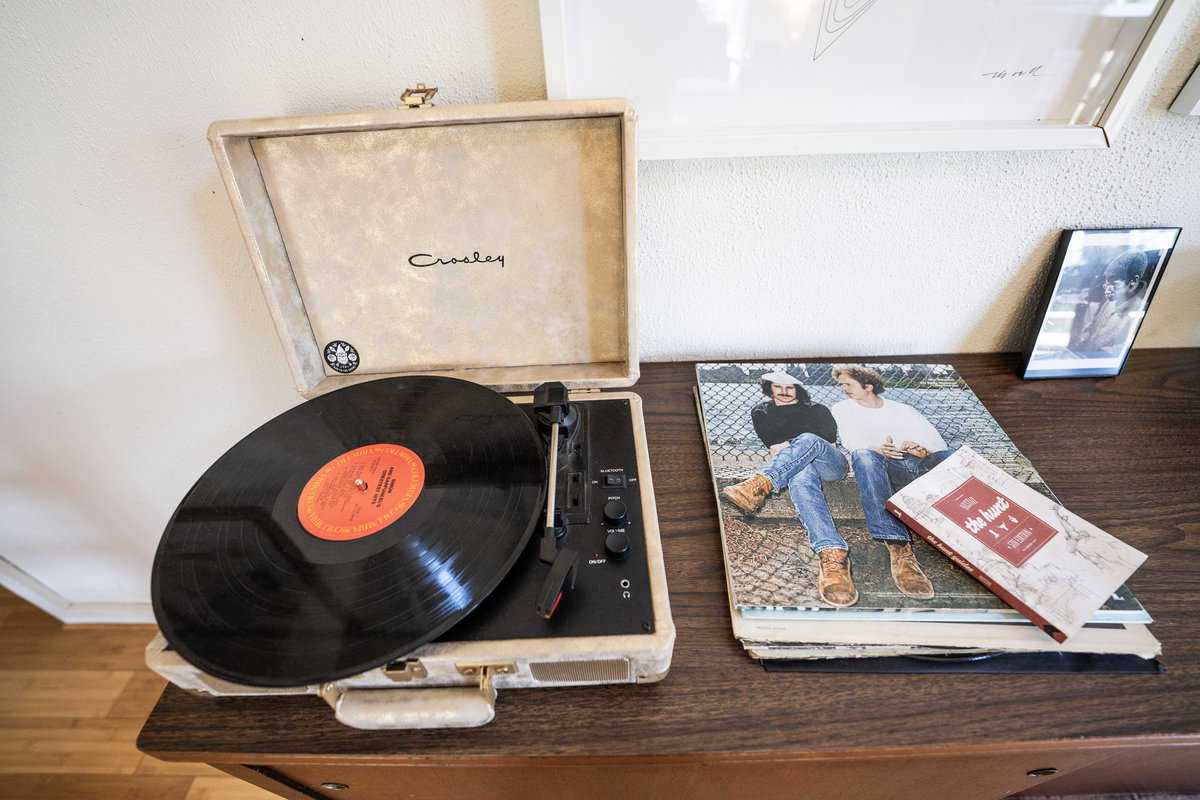 Sleeping at the Bohemian
The Bohemian Hill Country Cottage offers two bedrooms and a living room with a sofa bed, providing ample space for guests to unwind and relax.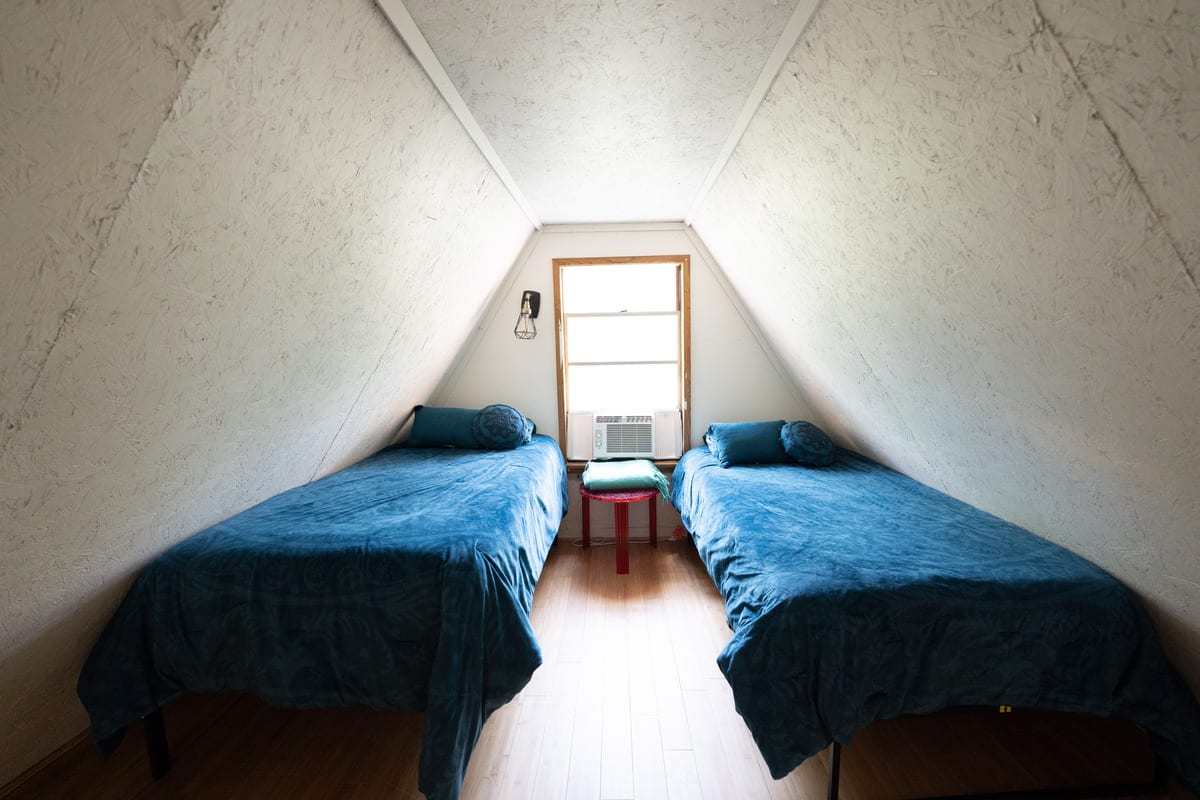 The primary bedroom boasts a comfortable queen bed, complemented by colorful bedspreads. Upstairs, there are two twin beds, perfect for families.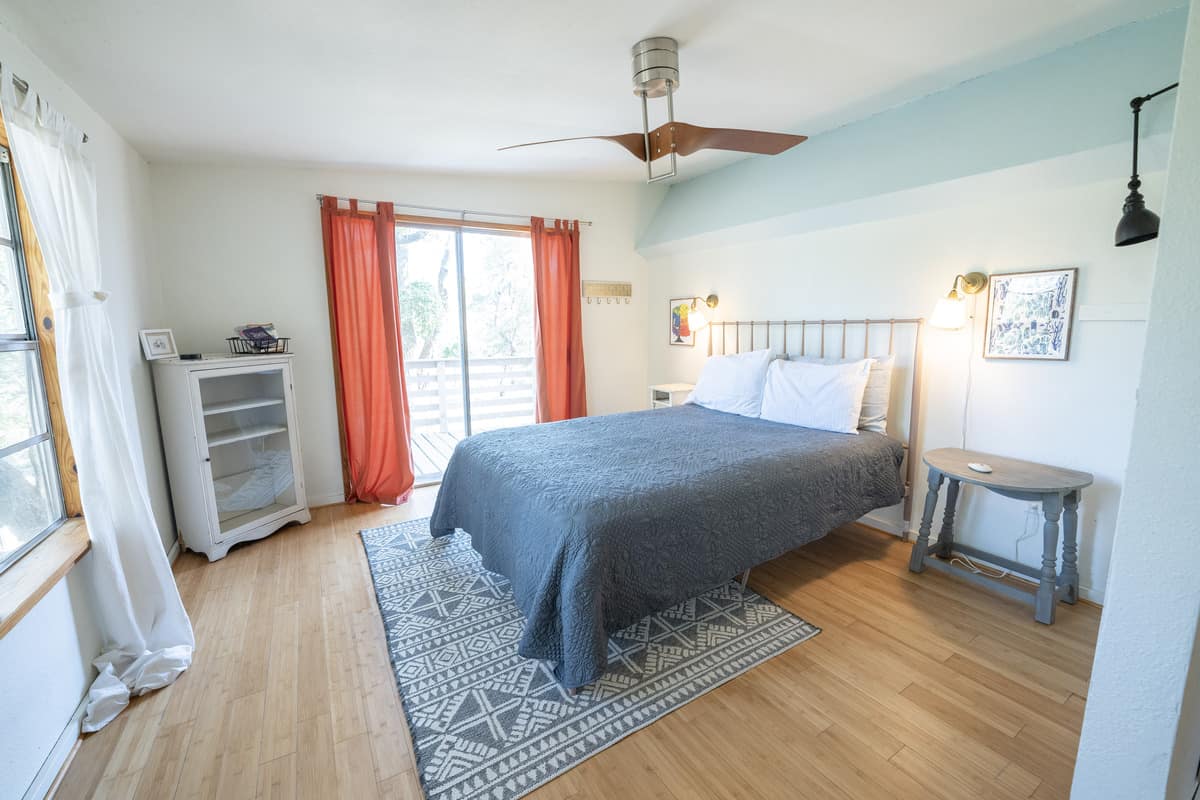 Adjacent to the master bedroom, a quaint bathroom awaits, complete with a shower and a tub that invites guests to indulge in a soothing soak.
The Kitchen
The kitchen is a visual delight, with vibrant green cabinets covered in polka dots. Equipped with a full fridge, microwave, and oven, this colorful culinary haven has everything you need to prepare meals at your leisure.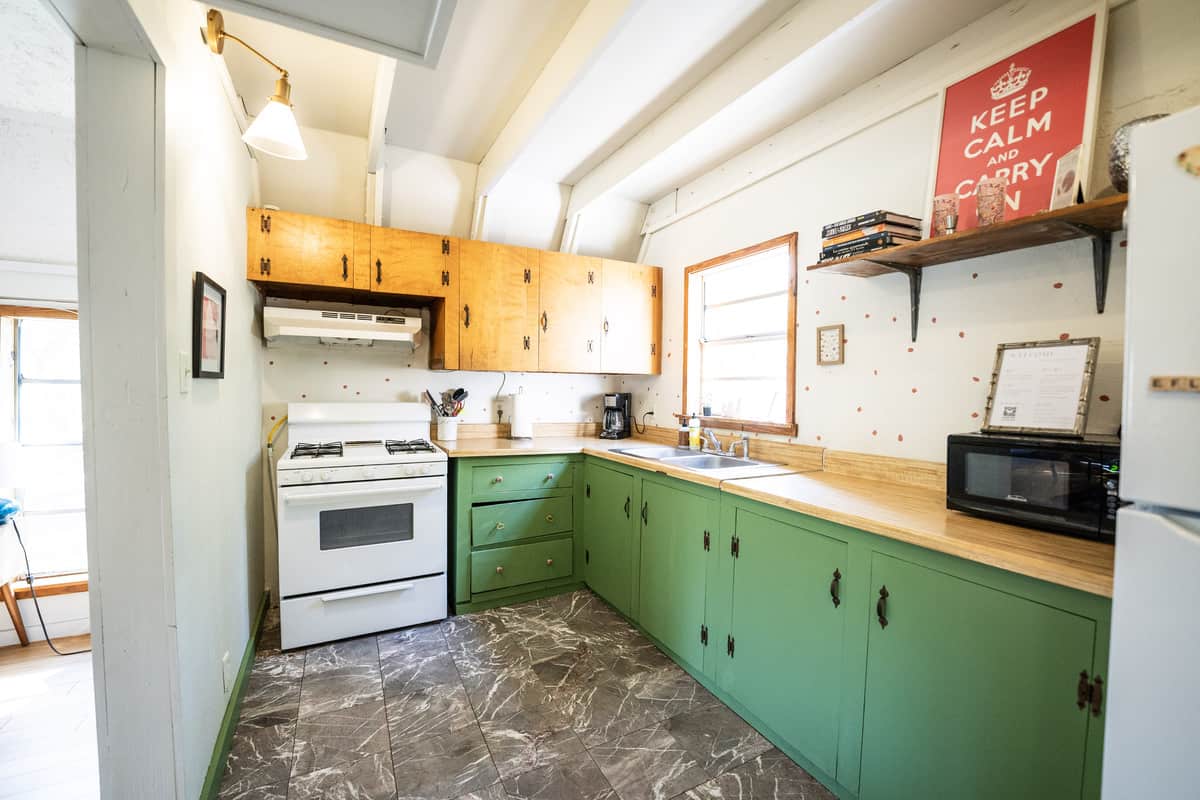 If you prefer to have a break from cooking, the Bohemian Hill Country Cottage offers a unique dining experience where you can order from their menu and have it delivered right to your door. Additionally, don't miss out on their pizza cooking class, a fun and interactive culinary adventure offered by Mosaic Farms. Simply reach out to your host directly if these interest you!
A Nature-Infused Escape
While the Bohemian Hill Country Cottage offers a serene and picturesque retreat, it's important to note that being in the hill country means you may encounter some critters during your stay. However, this only adds to the authentic charm of being surrounded by nature.
Nearby Things to Do
One of the significant advantages of the Bohemian Hill Country Cottage is its convenient location just 10 minutes from the vibrant town of San Marcos. While immersing yourself in nature, you're still just a short distance away from shopping, yummy restaurants, and all of the other fun things to do in San Marcos.
The Pet Policy
The Bohemian Cottage, just like the Lula camper, is pet-friendly with a $25/day fee per dog (maximum two dogs) with the assumption they are well behaved. The hosts kindly request that furry friends be kept off the furniture and that owners clean up after their pets, ensuring a pleasant experience for all guests. When outside, dogs are asked to be kept on a leash.
Bohemian Hill Country Cottage: Final Thoughts
The Bohemian Hill Country Cottage offers an enchanting escape that combines artistic flair with natural beauty. From the captivating, pink exterior of this fun, A-frame cottage to the unique décor and design elements, every corner of this charming abode exudes character and charm. It's spacious while still providing an experience similar to glamping with the surrounding wilderness.
While staying here, don't forget to check out all the fun things to do in San Marcos.