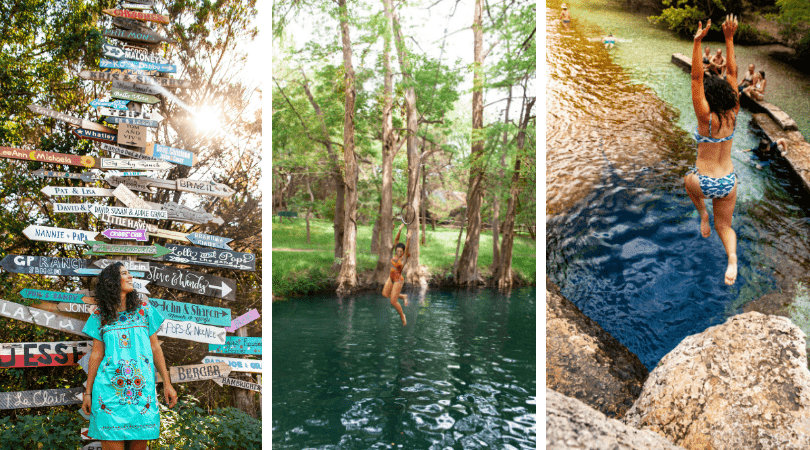 I initially came across Wimberley because of Jacob's Well, a watering hole and underwater cave system. However, after visiting Wimberley, I came to realize what a treasure this town is. Located right outside of Austin, this town is the perfect mixture of serenity, adventure, culinary delight, local shopping, and more. Once you visit, you'll instantly fall in love with this fairy tale-like town. Keep reading to see all the fun things to do in Wimberley, Texas, and plan a trip for yourself. Make sure to keep your eyes open while you're there. We would regularly see deer wandering around at all hours.
Water Fun in Wimberley
With Cypress Creek running right through downtown and two popular water spots, Wimberley is the perfect summer getaway!
Jacob's Well
As I mentioned, Jacob's Well is one of the most popular spots in Wimberley. The hole is about 140 feet deep and 4500 feet long. If you have scuba gear, you can travel through the cave systems for some wonderful discoveries. Or like the majority of us, you can jump off some of the rocks into the spring water. It's important to note that Jacob's Well is a dangerous diving spot. Make sure to read up on it if you plan on exploring the underwater cave.
Jacob's Well is popular so you do have to reserve online to be able to get in the water. We booked about two weeks in advance for a weekday, but you should book as soon as you can. The beauty of that was that there were very few people. There's also some hiking and other things to do at Jacob's Well Natural Area.
Blue Hole
Blue Hole Regional Park is another must for Wimberley. The water is a mesmerizing hue. You can have a picnic outside, swim in the water, or hang out at the swings. You do need to reserve this one in advance as well. Pictures don't do justice to the gorgeous turquoise waters and the way the trees hang over the creek.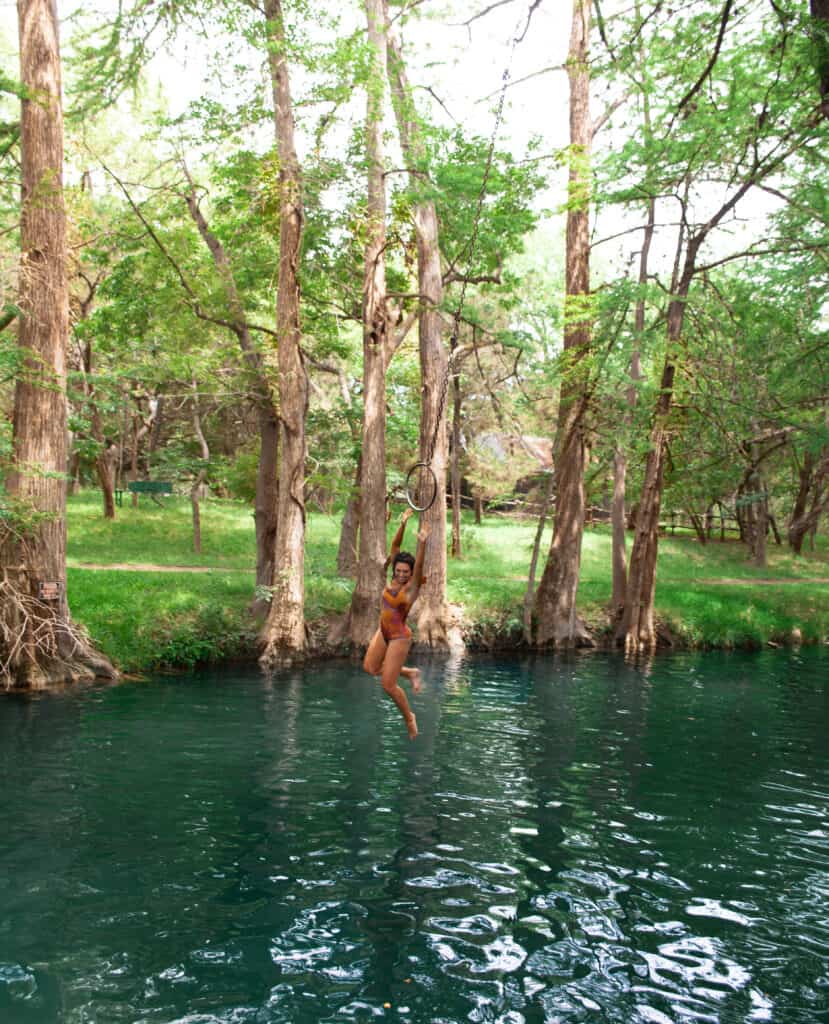 Cypress Creek
If you don't make reservations in time, don't worry! Cypress Creek and Blanco River run throughout Wimberley, and there are plenty of open spots where you can float in the water.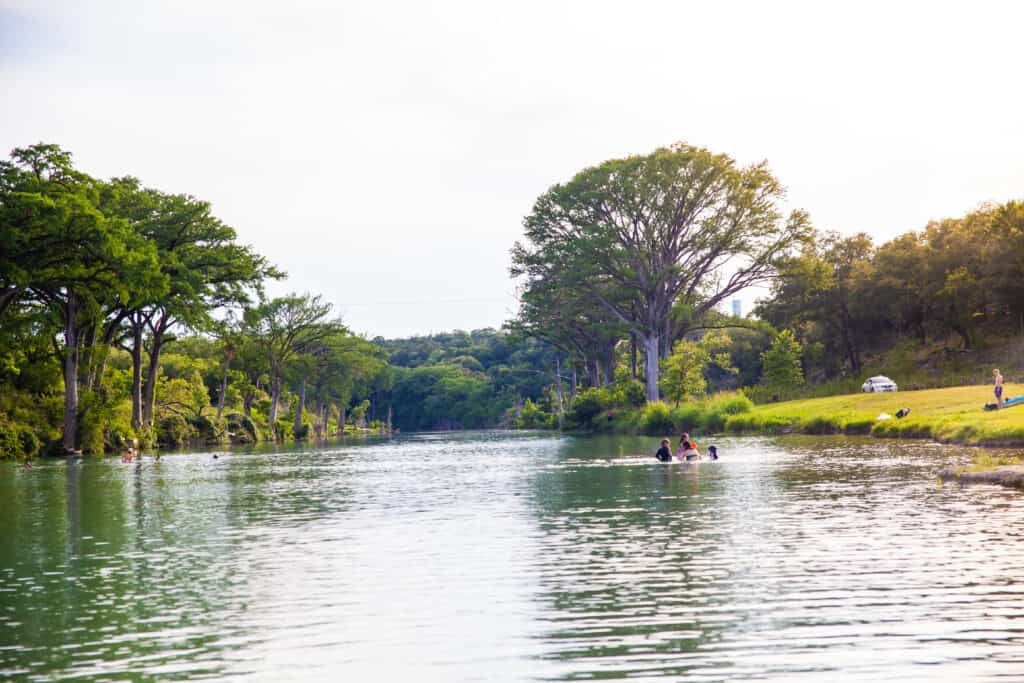 Things to Do in Wimberley for Adventure Seekers
Wimberley Zipline
With 10 lines, Wimberley Zipline is the longest course and most affordable in Texas! The staff there are incredibly friendly and did a great job of bringing strangers together for a few hours of fun. I enjoyed the mixture of longer lines overlooking miles of hill country, short, and fast lines! As soon as you enter, you get to choose a fun helmet (I was a fox).
Hiking Prayer Mountain
Mount Baldy, or Prayer Mountain, is perfect if you're looking for a fun and short hike with incredible views. About 220 steps lead to the top of the mountain with little rocks of motivational sayings along the way.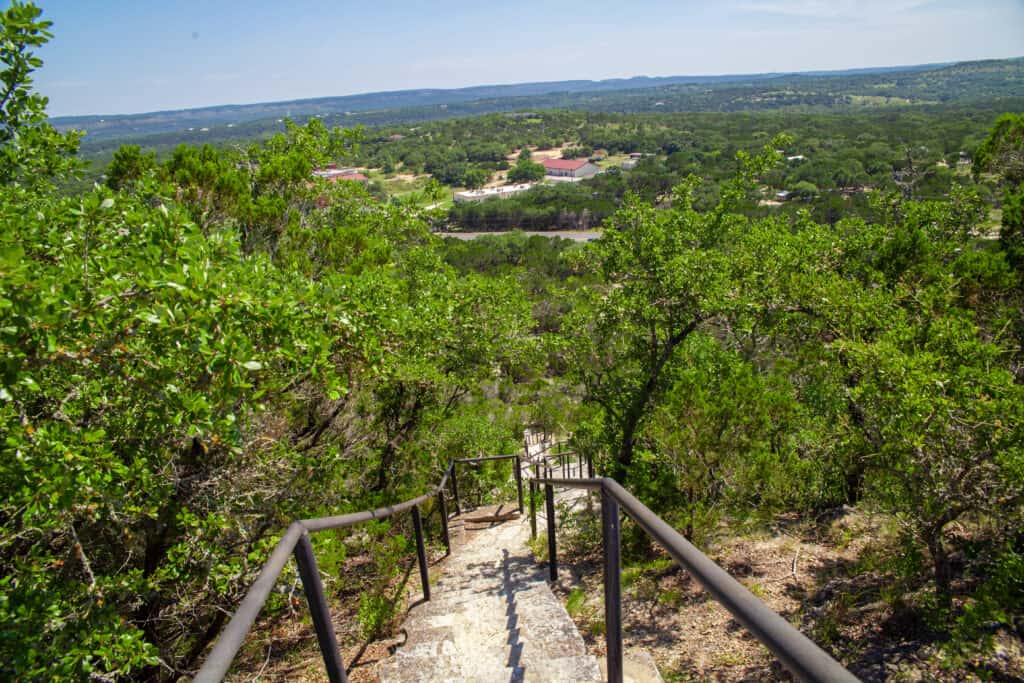 Boo-tiful Wimberley
Only in Texas can you go on a boot trail! Wimberley has 30 decorated boots throughout the town. Pick up the map downtown or online to see a different side of the city and celebrate the local artists there. Or keep your eyes open and see how many you can find!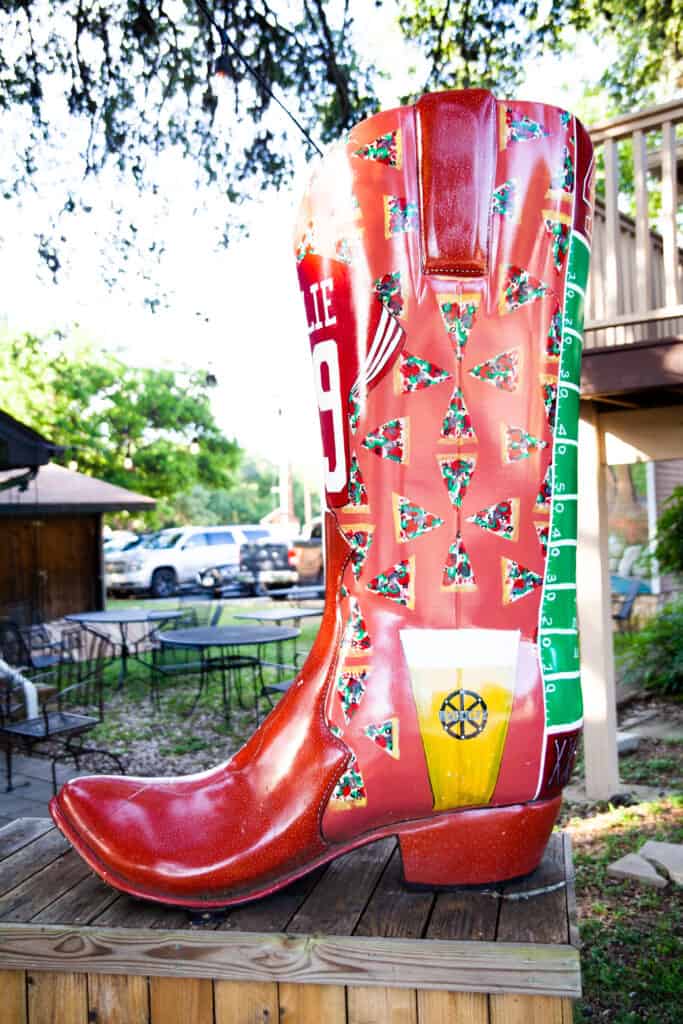 Explore Downtown Wimberley
Downtown Wimberley is an absolute gem! Visiting local shops is always a must on my list, but just like everything else in Wimberley, the enchanting downtown captured my heart. Every little shop was filled with some of the friendliest people who wanted to get to know you. There were so many unique shops carrying goods you'd actually want to buy. Wimberley's downtown is the perfect stop when shopping for unique gifts for others (or yourself!) If you have time, I would personally walk in each shop. You could spend all day exploring downtown, but I'm sharing some of my favorites below.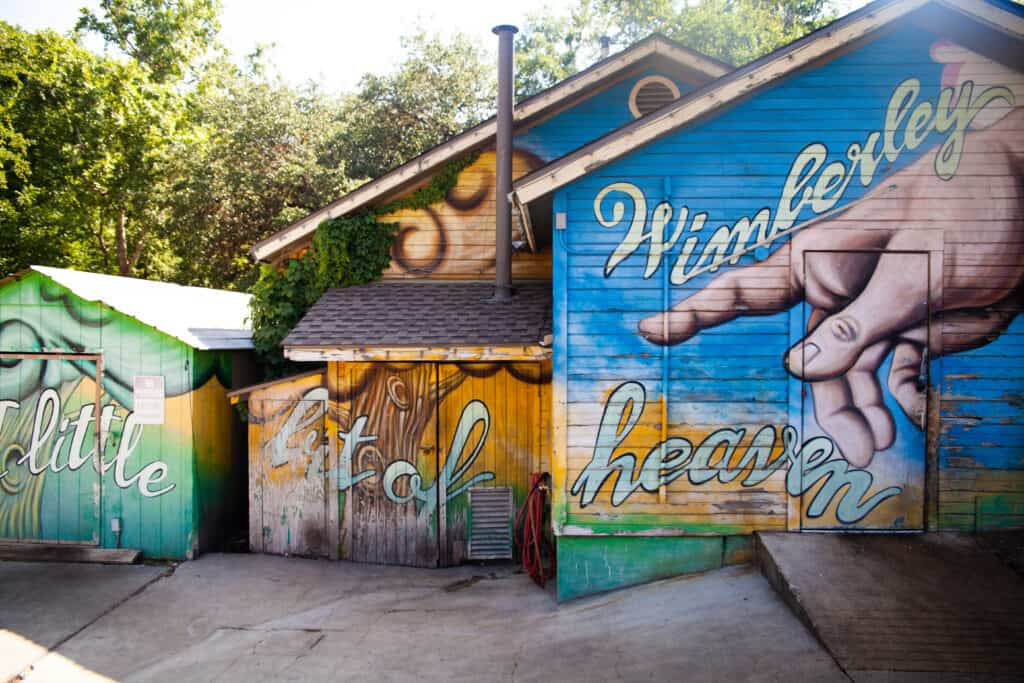 Rancho Deluxe: Carefully curated items sourced from Mexico. Full of personality and beautiful designs. If you're looking for beautiful art to decorate your home with, you're sure to find a treasure here.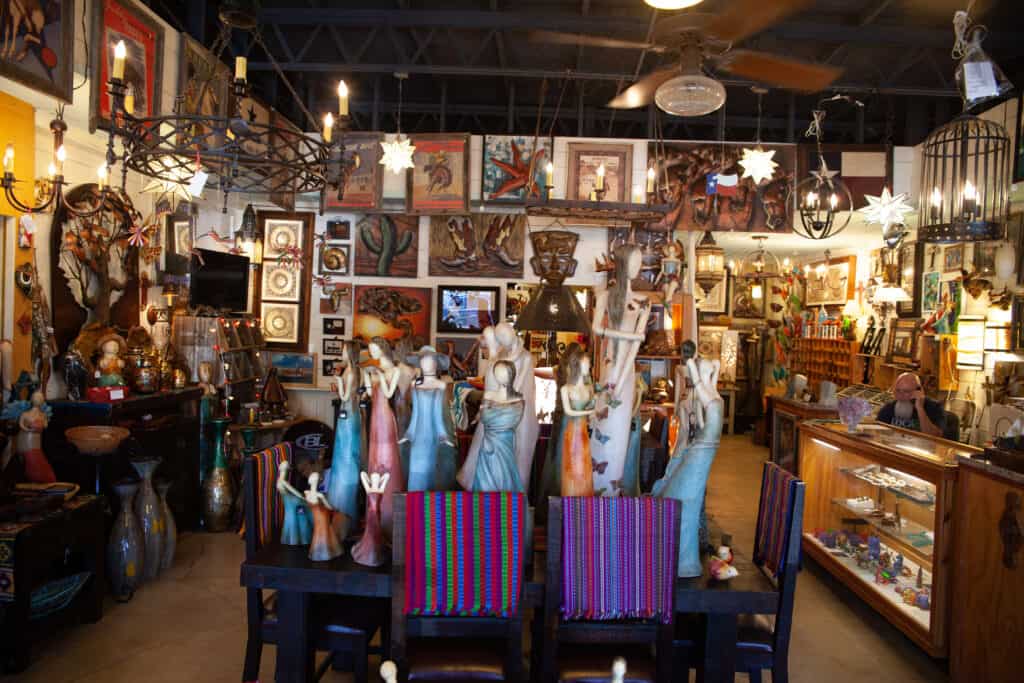 Senior Citizen Workshop: A co-op run by senior citizens. Beautiful hand painted glasses, knitted hats, items for veterans, and more. Everything was affordable and reasonably priced. I loved this concept so much and hope to see it more.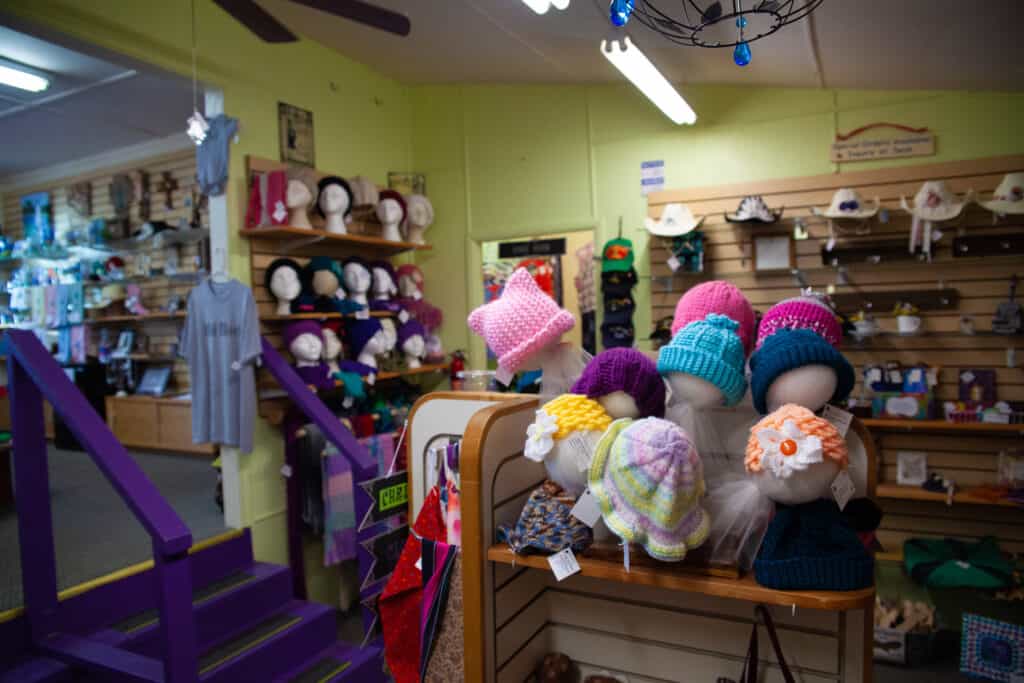 Old Mill Store: One of the oldest shops in Wimberley. Grab a soda or ice cream at their shop for the kids and then walk through their massive gallery of clothing, furniture, gifts, and more.
Hill Country Wine Shop: The owners travel around to source a diverse mixture of wines. Enjoy a wine tasting here!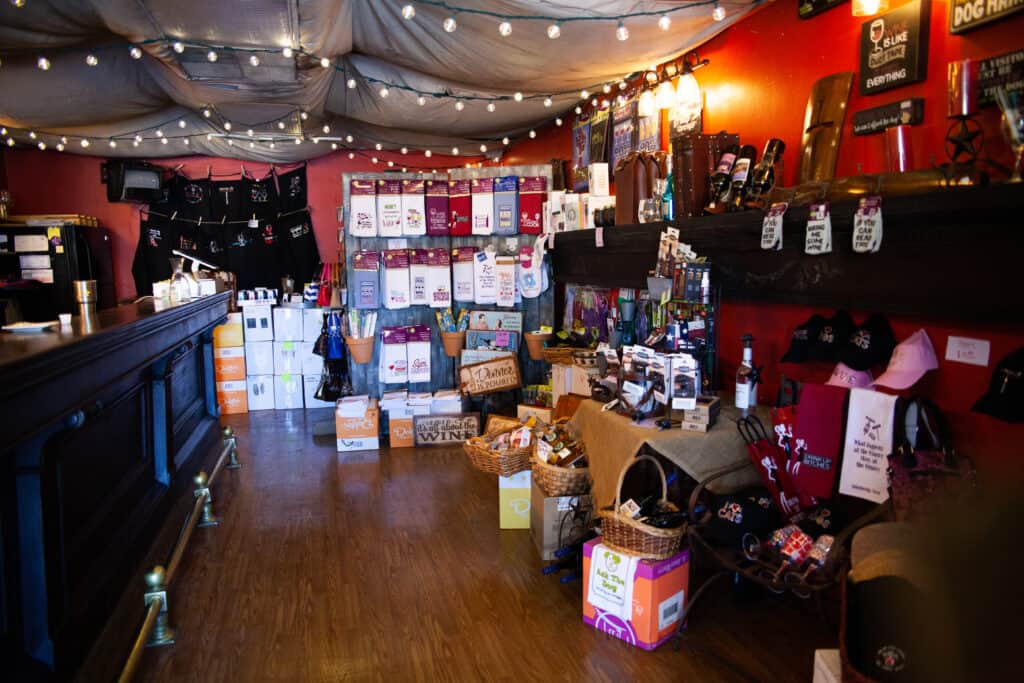 Los Olivos Market: Another place for wine tastings with a regularly rotating list of Texas wines. They also have a tasting area filled with all sorts of delicious food items around Texas including jams, rubs, seasonings, and more.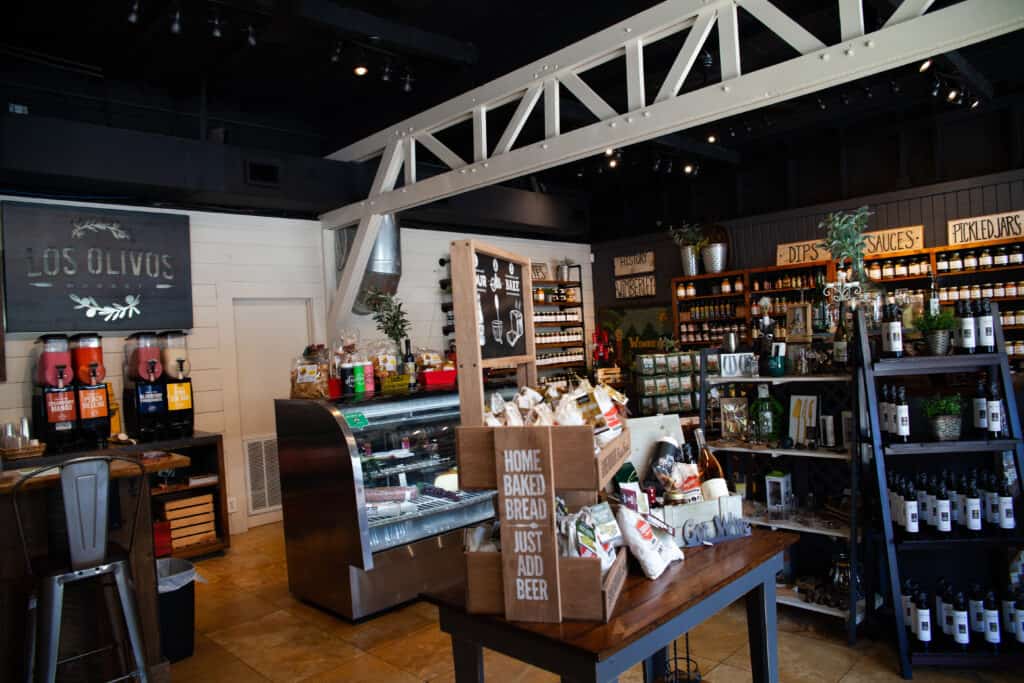 Pitzer's Fine Arts: I did not realize how much of an artist's town Wimberley was, but there are plenty of art galleries and artists represented. Pitzer's was one of my favorites for the different styles of art in one place.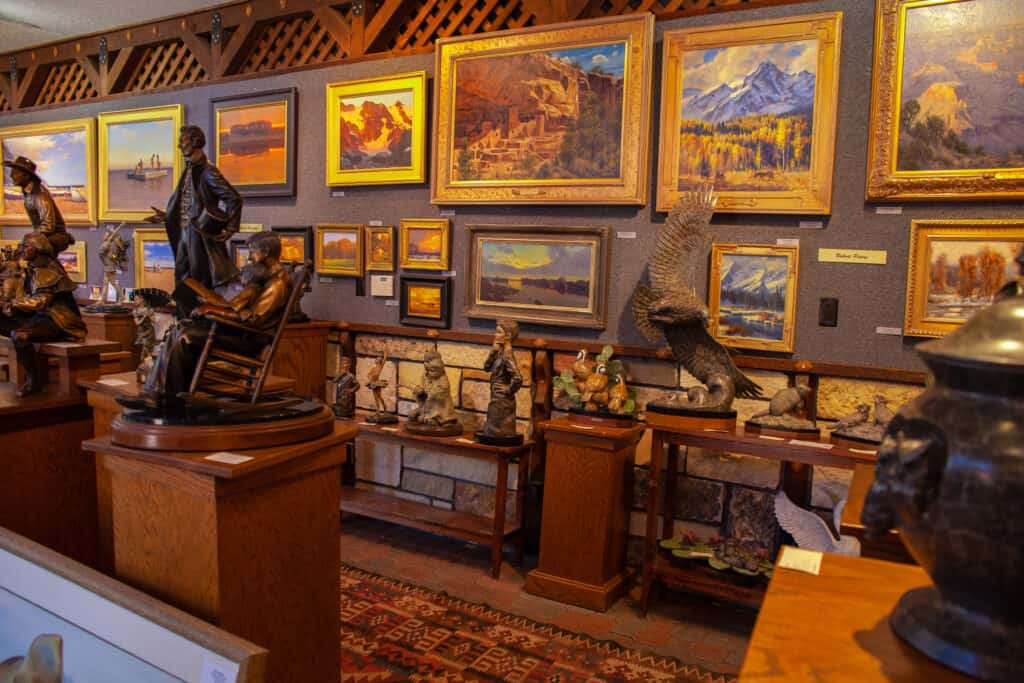 Check out a Town Caught in the Wild West
Pioneer Town is a small replica town in Wimberley. It's so cool to walk around and pretend you're in the wild west. They have an old opera house, a building made entirely of bottles, and even an operating ice cream parlor!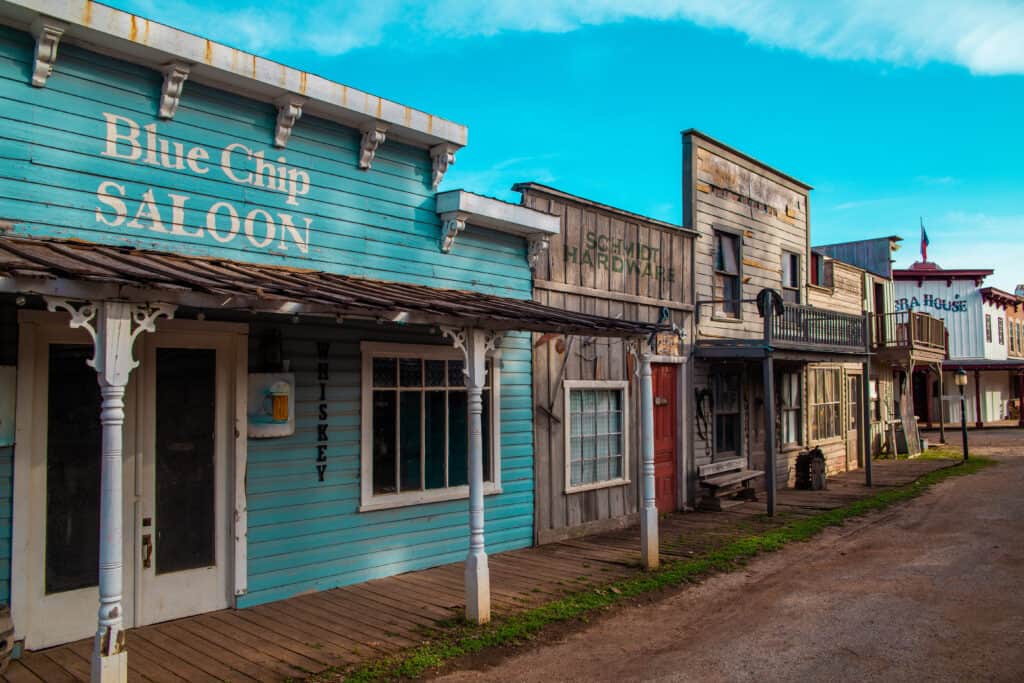 Where to Drink in Wimberley
The hill country is definitely known for its wine and distillery, and Wimberley is no exception. At Wimberley Valley Winery you can sample from their large mixture of sweet and dry wines. They also had some fun wines like a blue champagne.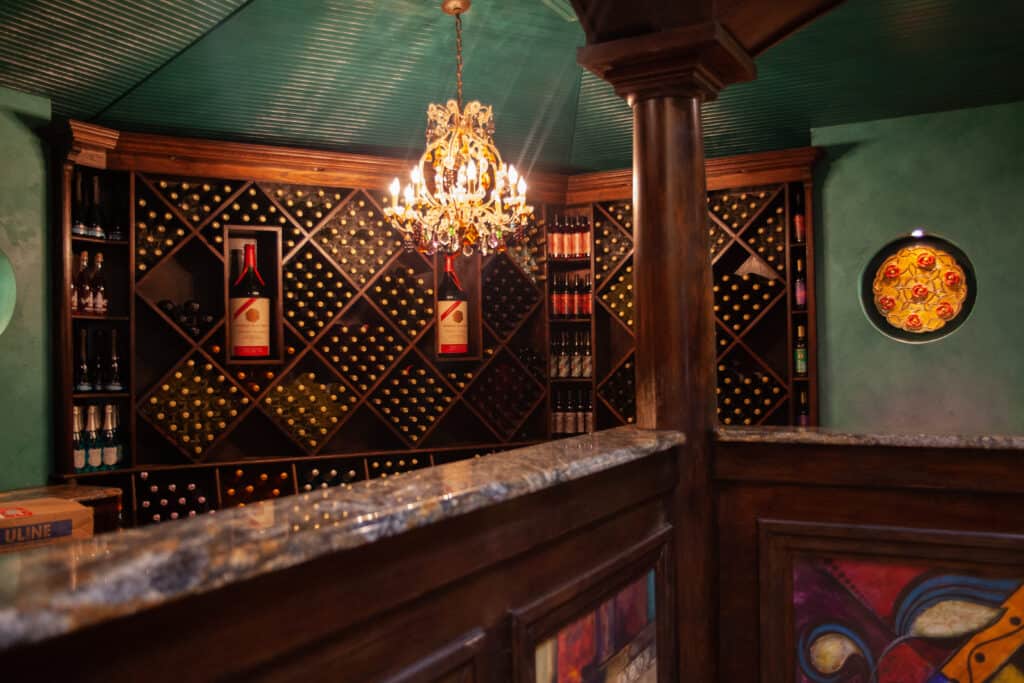 Visiting a rum distillery was something fun and new that I thoroughly enjoyed! At Cypress Creek Reserve Rum, you can do a tasting of their three different rums. They serve cocktails using their rums and you can sit in their upstairs loft with views of their property. They also do distillery tours for $5 per person with a $20 minimum.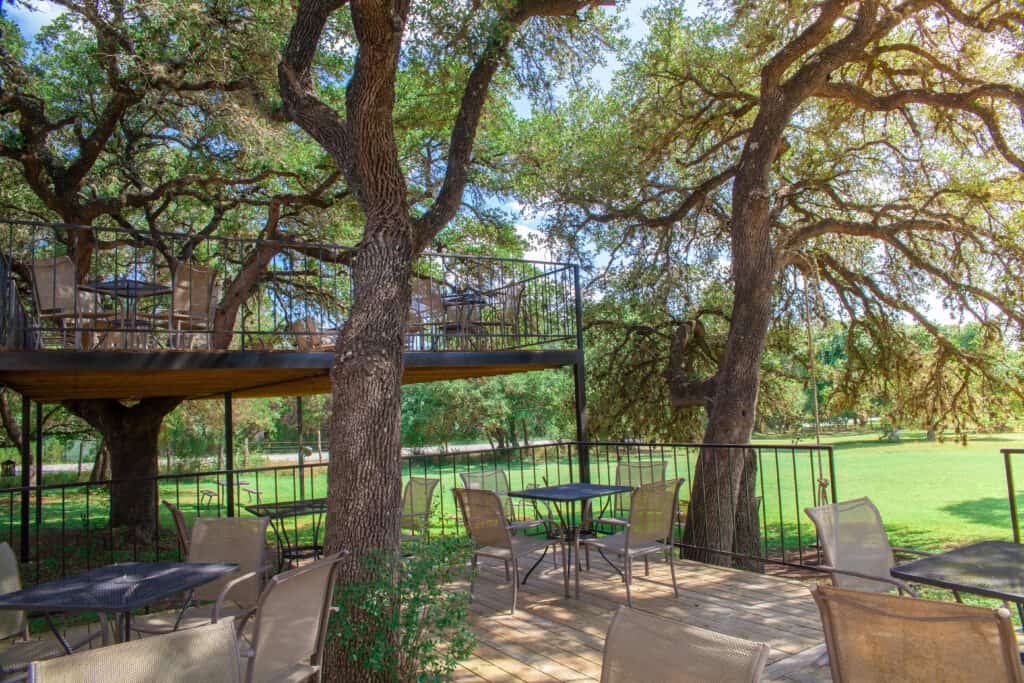 Live music, unbeatable views, and llamas mix together at the Shady Llama. This popular spot is a great place to grab a drink and hang out with friends. The llama are actually the neighbors', but they hang out around the outdoor bar.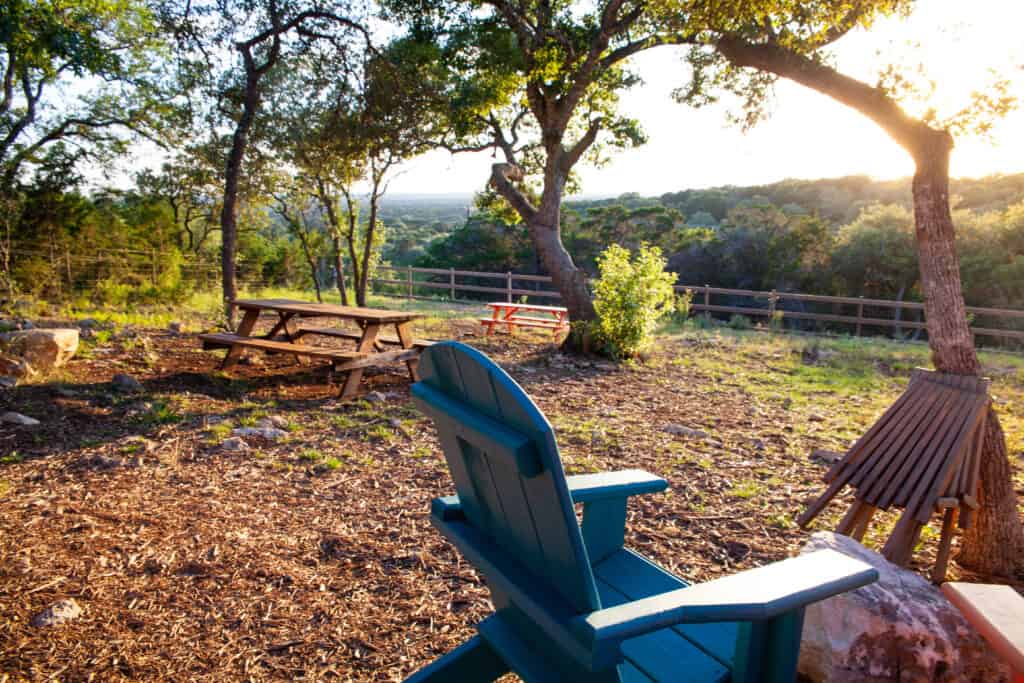 Where to Eat in Wimberley
While Wimberley is a small town, they are filled with big flavor!
Comfort Food at its Finest
Looking for a meal that will make you feel like you're back home? Wimberley Cafe serves up some of the best comfort foods from pesto pasta, meatloaf, chicken fried steak and more, combined with some of the friendliest folks. Don't forget the brussels sprouts. Even my husband who has not accepted the brussels sprout trend devoured these.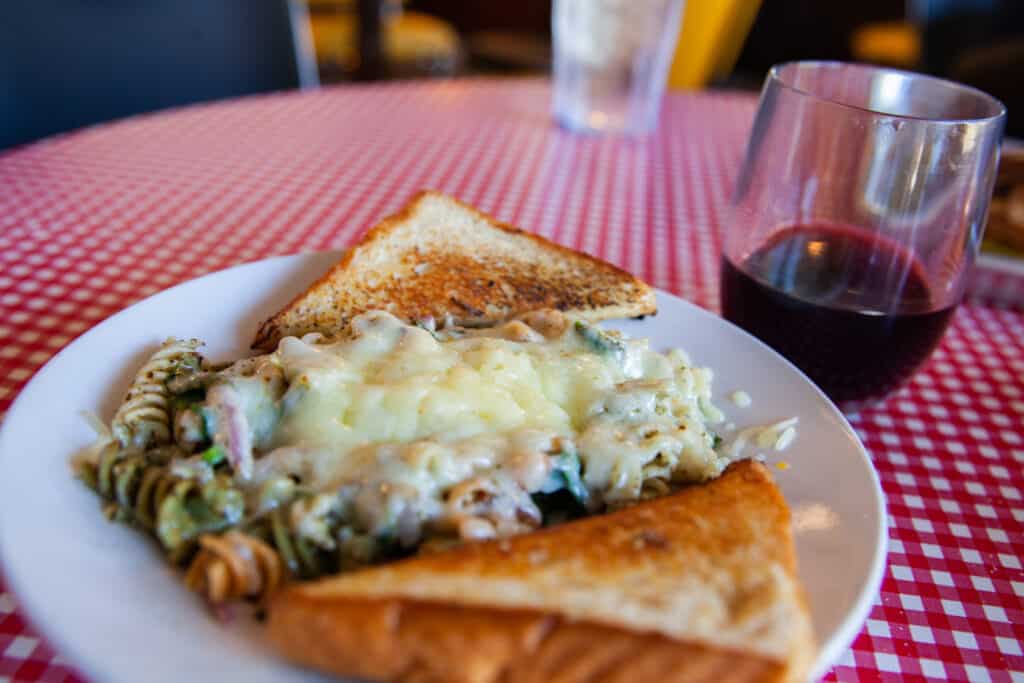 Burger lovers have got to try the Rubenesque sandwich, a mixture between a burger and a Reuben sandwich. Before leaving, we had to indulge in the rhubarb pie! Expect to leave this place full and happy! In the evening they have live music.
Community Pizza
Everywhere we went the locals would talk about Community Pizza. I'm not usually particularly fond of pizza, but Community Pizza blew me away. It's perfect for summer evenings and relaxing in their outdoor area with live music playing around you and a playground nearby for the kiddos.
The pizza was phenomenal! I loved getting to try unique pizzas like the illuminati which was topped with garlic, mozzarella, sopressata, sausage, hot honey, serranos, and lava salt. Yes. Hot honey does belong on pizza. And it's found in Wimberley.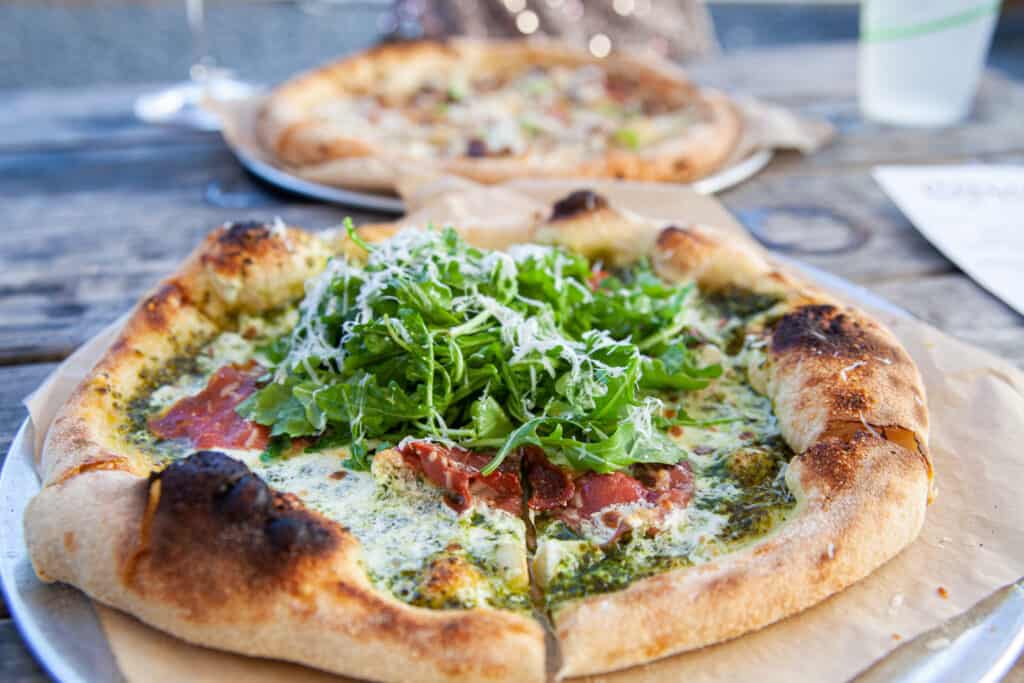 Award Winning Tacos
Being so close to Austin, of course Wimberley has to have a food truck park. We went to Gringas Grub Shak for their award winning fish tacos! It's regularly noted as one of the best fish tacos, and people will drive in from all over just to try these tacos from a food truck. The perfect lunch in between all the swimming!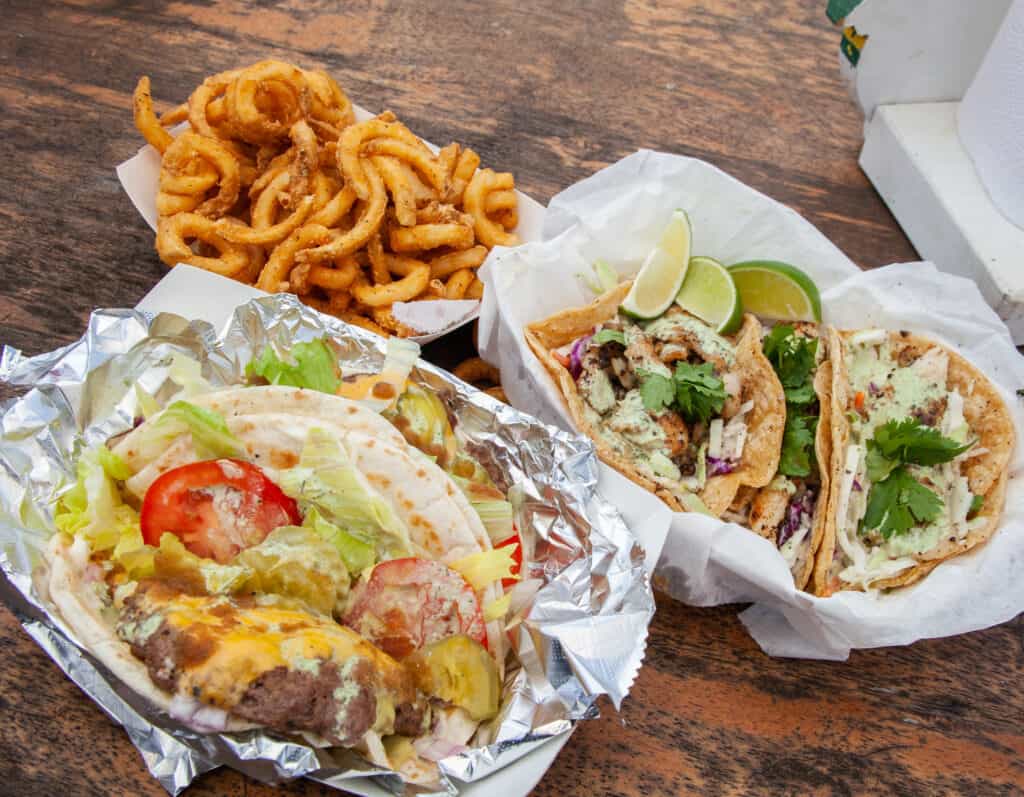 Stay in a Cute B&B
One of my favorite parts about visiting small towns are the local B&Bs and getting to support small business owners. Each place has its own wonderful personality, and because Wimberley is such a popular wedding destination, they are all gorgeous.
Creek Haven Inn & Spa
Creek Haven Inn has historical decor with modern amenities. Each room has a different theme, so no matter how many times you visit you'll always get a new experience. Located right along Cypress Creek, you can dip your toes in the creek and relax by the water. You can read all about our experience here.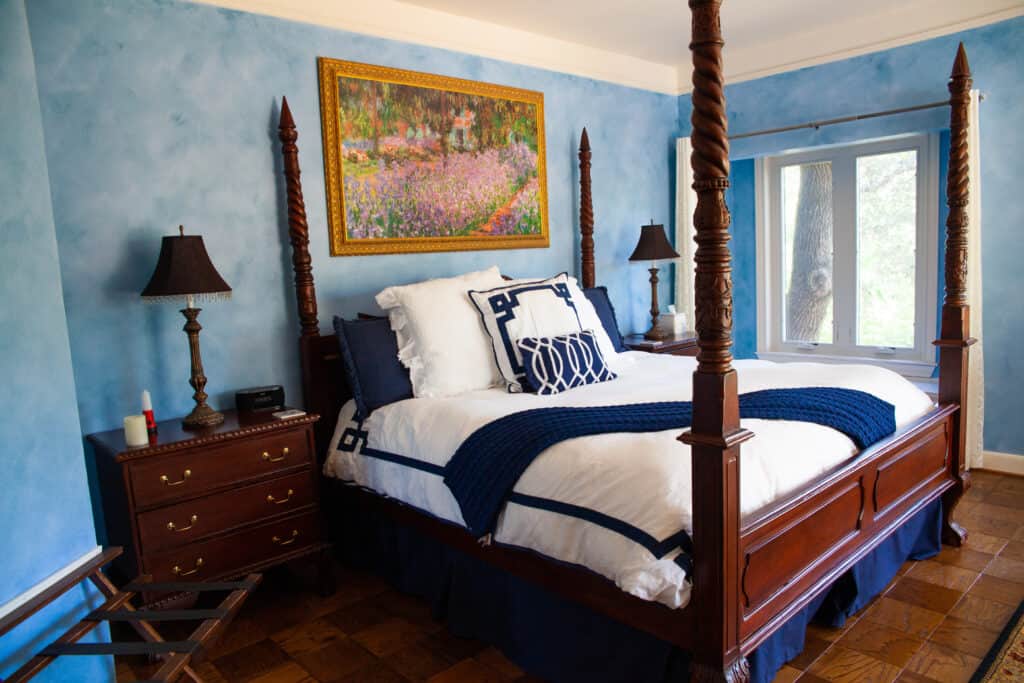 Messina Inn
Messina Inn is a beautiful wedding venue and B&B along Cypress Creek. The modern rooms are themed around Italy with different decor and names. There's also a pool making it perfect for families. You can read more about Messina Inn here.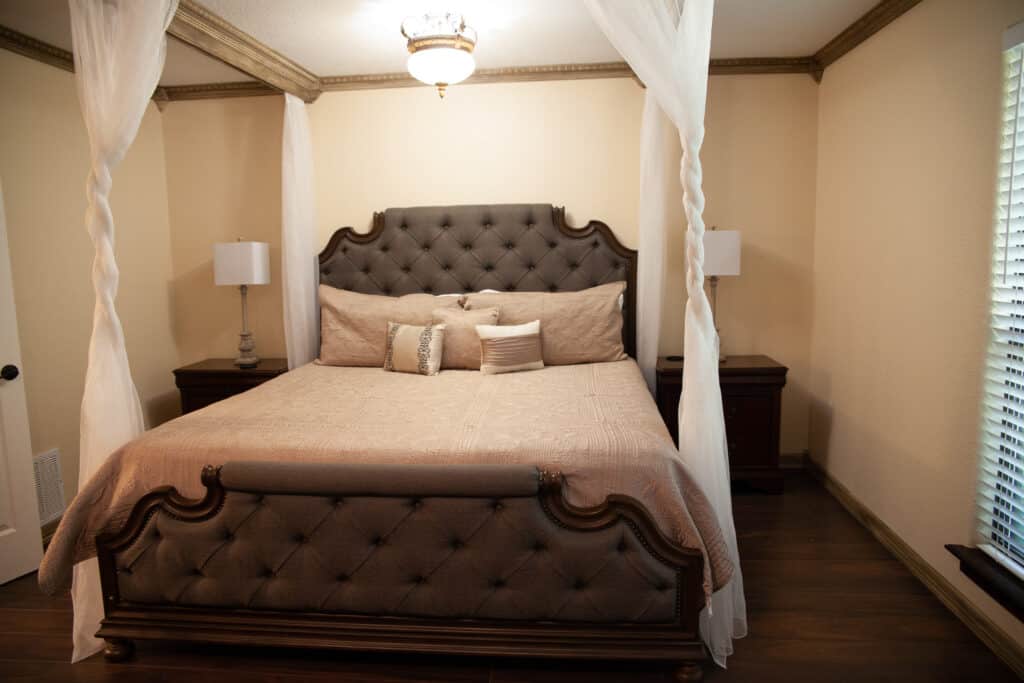 Things to Do in Wimberley: Final Thoughts
Wimberley is one of those enchanting towns that causes your heart to linger around even after you've left. From the incredibly friendly people to the beautiful nature all around, Wimberley makes for the perfect weekend. You can tailor your weekend to simply relax by the water at a B&B and wander through downtown or take in more adventure with the zip lining and watering holes.
If you enjoyed this article, don't forget to pin it for later and follow me on Instagram for more Texas travel inspiration.
Looking for more Texas Hill Country destinations? Read about all the fun things to do in:
Fredericksburg– wine tours, hiking, and German culture
Burnet– Incredible caves, vineyards, and outdoor fun
Austin– Breathtaking hikes, hidden springs, and funky vibes