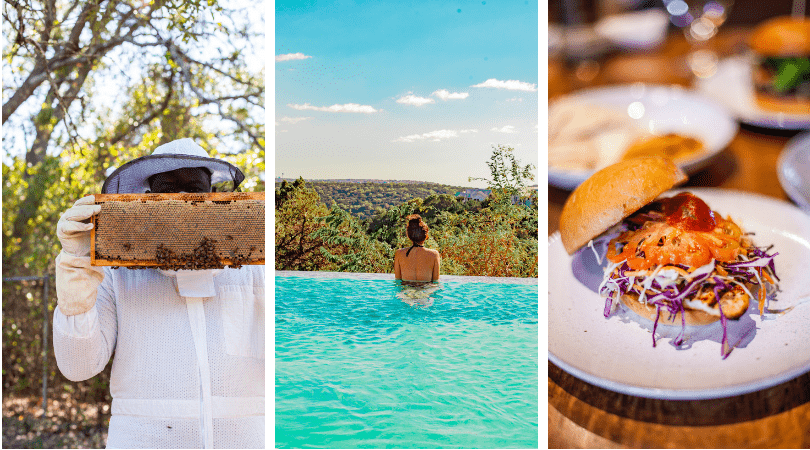 Sometimes you need a chance to unplug, unwind, and relax. After a busy year of constantly grinding, my husband and I were ready to refocus and let go of the stress. The Miraval Resort Austin has long been on my radar as an all-inclusive wellness resort where you can enjoy the tranquility of nature as well as the wellness-focused activities. Keep reading to find out all about our experience and our Miraval Resort review.
Miraval Austin Resort Review: The Experience
The whole idea of the Miraval Resort is to have a luxury and all-inclusive wellness experience right in Texas. As soon as you enter, you are immediately greeted by the staff who take care of everything you could need! On top of that, you are handed a bag where you're encouraged to unplug for your stay. Phones are often one of our biggest sources of stress with emails and social media. So, take care of business before you head on your trip, turn on your vacation responder to emails, and actually let go. Of course, if you need it, you can use it in your room and in designated areas and even if you want to get pictures of your memories. But let's face it, if our phones are around, the temptation will be there. Bring a small camera and take in the full experience of the Miraval Austin Resort.
If you're wondering what to wear, everything at the Miraval Austin is casual. You can pack nice clothes, but you won't wear them. I even packed jeans, but realized there wasn't much of a need for them. Yoga pants and a comfy sweater are the way to go! There's no fashion show here.
Miraval Austin Resort Review: The Rooms
When I say sinking into the beds at the Miraval Austin feels like sinking into a cloud, I'm not joking. Whatever mattress they are using envelops you like a hug, so you might just want to spend your entire trip there. You do have a TV as well for those who are looking for it. If you can, get a room with a view of Lake Austin. Waking up and being able to look at the fog over the lake was one of our favorite parts.
Miraval Austin Resort Review: The Classes
One of the reasons I was excited about staying at the Miraval Austin included all the different activities they had. Before you even arrive, there is an online list of what's going to be happening during your trip, and you can book your schedule with a specialist. All of their courses were based on mindfulness, wellness, and relaxation, and there's always a reason for them. We took lots of yoga, some meditation, and so much more. There's a section of free classes, and you could pack your schedule full of that, as well as classes with an additional fee.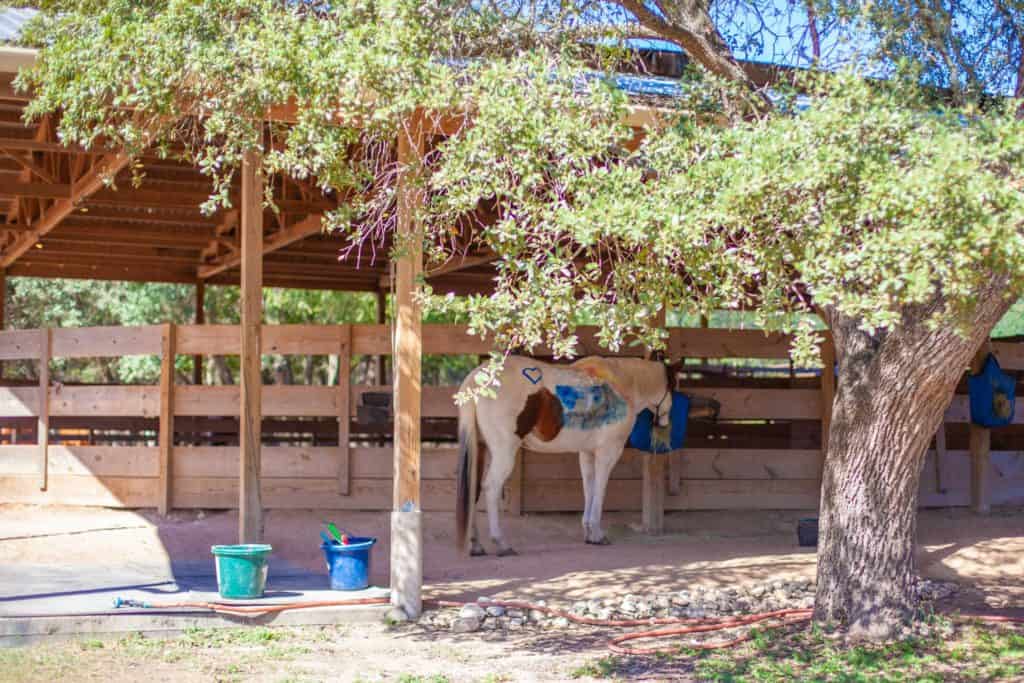 Some of our favorite classes included aerial yoga, bee keeping, and cooking classes. One of our favorite memories included a class where the chef prepared a meal for a small gathering. We were taken through a 5-course meal with wine pairings, and memories were made that night! Not only did we have such appetizing food, but we got to enjoy some of the best conversations with people we had only just met. After leaving, we had so many other people also say that when they went, this experience was the highlight for them.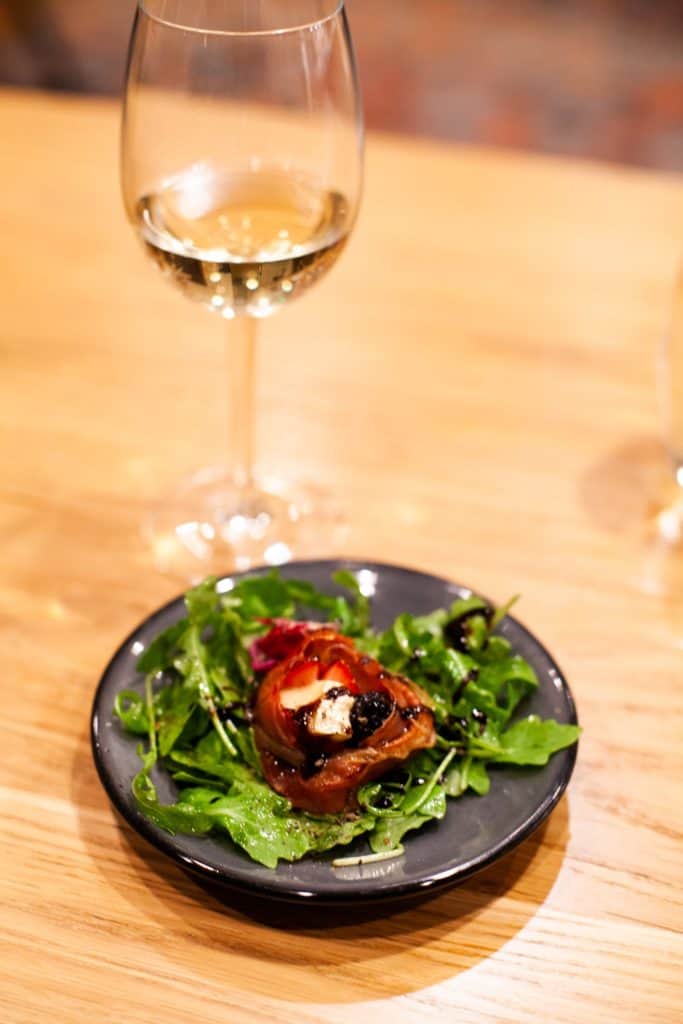 Another experience at the Miraval Austin that we enjoyed so much was the Big Leap. When we signed up, we weren't exactly sure what to expect, and funny enough, this was our first activity for our relaxation trip. Here you jump off a 35 foot telephone pole (relaxation right). It ended up being such a great experience because you learn a lot about yourself and uncover a lot of uncertainties. Climbing up the pole, and then making that last stand to be on top of the pole, is something so empowering. Then making the decision to leap really teaches you a lot. In the end, it was an activity in mindfulness that set the stage for a trip full of relaxation.
If you do only want to come in for a day, or only go for the experiences, you can check out their day packages as well, and they often include resort credit!
Miraval Austin Resort Review: The Food
All of the food at the Miraval Austin Resort was included in the stay and also was focused around health. That doesn't mean it wasn't great food. There were healthier options and burgers that just had more wholesome ingredients. They had nutritional items listed out, and they had vegan, vegetarian, and gluten free options. Everyday the menu changes so you can try something new.
And just because it's nutritionally focused doesn't mean you don't get to eat good. Plates are in smaller portions than what you'd see at a typical restaurant. However, don't be afraid to order a couple of things. One day I couldn't decide if I wanted the pasta or the fish. I got both. And the staff are super accommodating. Want to change up your dish a little bit? See a pesto sauce on another dish that you want on your burger, they're more than happy to help!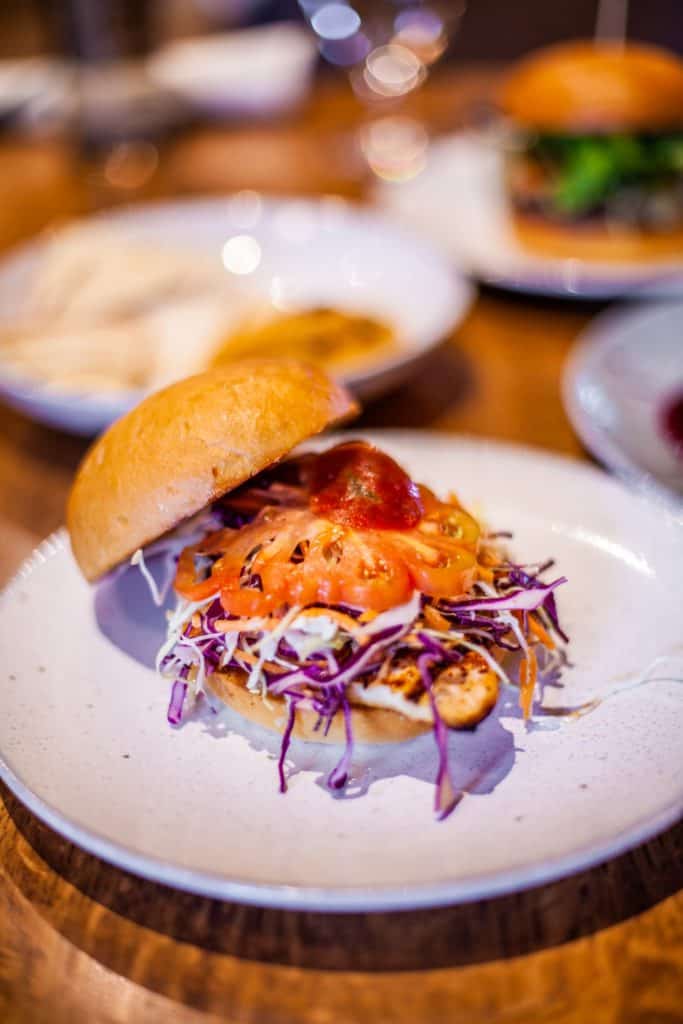 They have the dining room that's open for breakfast, lunch, and dinner at specific times. They also have a little cafe with ready serve snacks and a coffee bar. They can make you smoothies and other drinks. The one thing not covered is alcohol, but you're more than welcome to order a great drink!
Miraval Austin Review: The Pool
Be sure to schedule some pool time while staying at the Miraval Austin! There are two pools on property: one at the spa and one on the other side of the property. In both, you get an infinity style pool looking over the Texas Hill Country for some incredible views. Even in the Winter, the pools are heated, although there's also a hot tub available.
Miraval Austin Review: The Spa
You can't visit the Miraval Austin without booking a spa treatment, or two, or three! Massages, body treatments, facials, everything you need to relax. Get there early to enjoy the steam room and the hot tub or to just relax in their peace lounge for more incredible views.
The professionals at the Miraval are incredible at providing a luxury massage. They also have some more unique spa options like a hammam experience, ayurveda, Eastern spa treatments, and more. One of my favorite treatments was the ginger healer which included a massage, body scrub, and wrap all incorporating ginger.
Miraval Austin Review: Final Thoughts
Overall, the Miraval Austin resort was everything I had hoped for. As someone constantly on the go, having the chance to focus on my health and have a whole trip dedicated to getting in the right mindset really helped. The activities really helped with that experience. It was also nice not having to travel far with it being located in Austin. Sometimes just traveling to a destination is part of the stress! I also loved all the focus on Texas, supporting local, and all the local goods/ingredients.
It can be hard to know how long is long enough at the Miraval Austin Resort. Because there were so many cool activities I wanted to try, but also, I wanted to relax, I wanted to do enough so that I felt like I got to experience everything I wanted to, while also having time to relax. I found that 4-5 days was a good, sweet spot, but everyone is a little different.
Next time you're in Austin, be sure to check out all of the fun things to do!