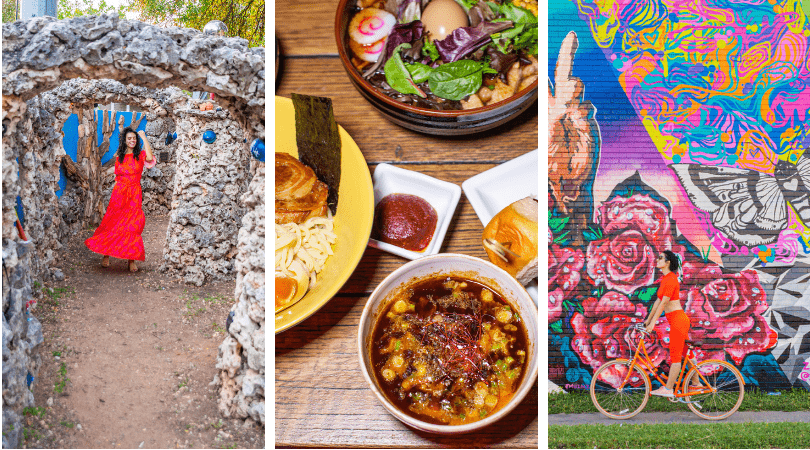 Austin is massive, and there clearly is no shortage of things to do (we came up with a list of over 215!) So rather than trying to do everything in one weekend, I decided to break up Austin into the different sections and explore the different things to do in each area. I love how unique East Austin is and how it has its own character. We have so many fun things to do in East Austin that you can read about below.
Check out a Funky Park
The Sparky Pocket Park is an outdoor art gallery where these sculptures were built by Berthold Haas. There's so much to see in the little details with little trinkets in the holes.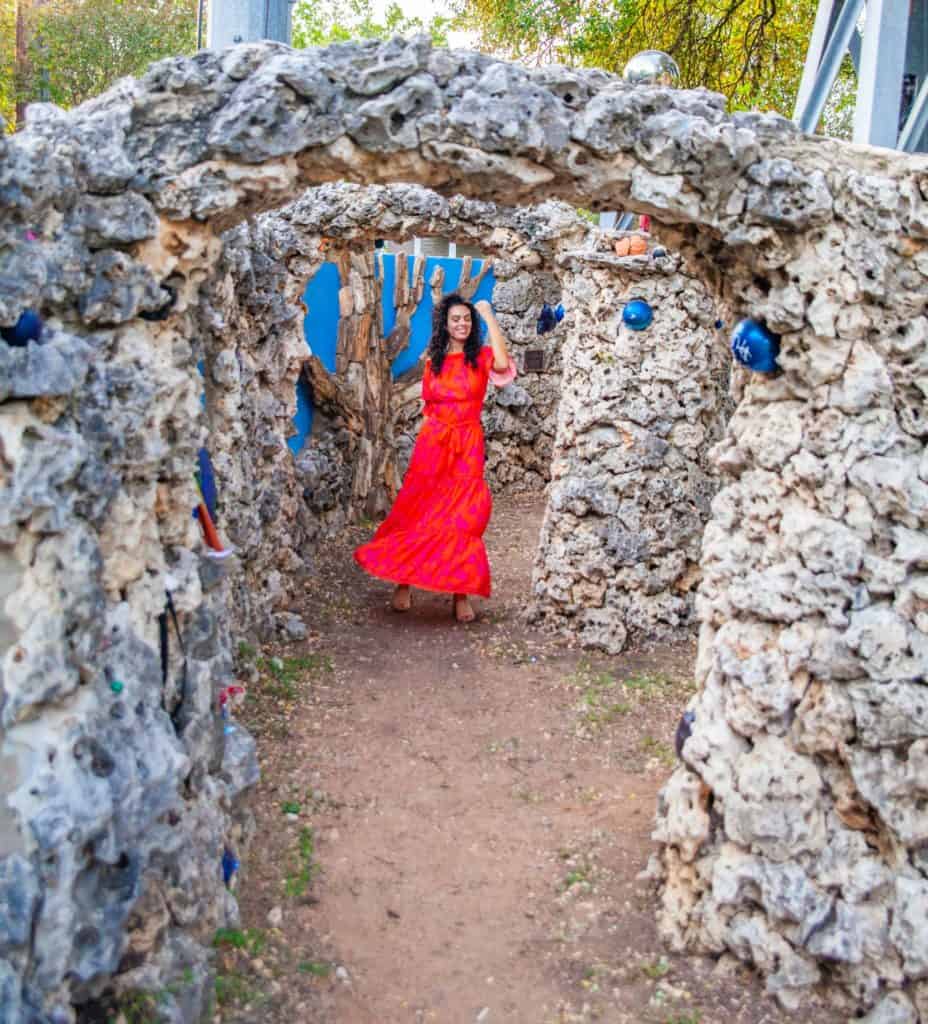 Try a 9-Course Omakase
Eating becomes more of an experience at Kemuri-Tatsuya, where you get to try small bites of different dishes. This restaurant combines Japanese dishes with Texas bbq, including their smoked meats. They start you with some sake before moving to the experience. Each dish is full of flavor such as the hibiscus aguachile ceviche and the chicken meatball with a koji soy cured egg. The highlight was the last dish (before dessert) where you get to handroll your own sushi using their own smoked brisket.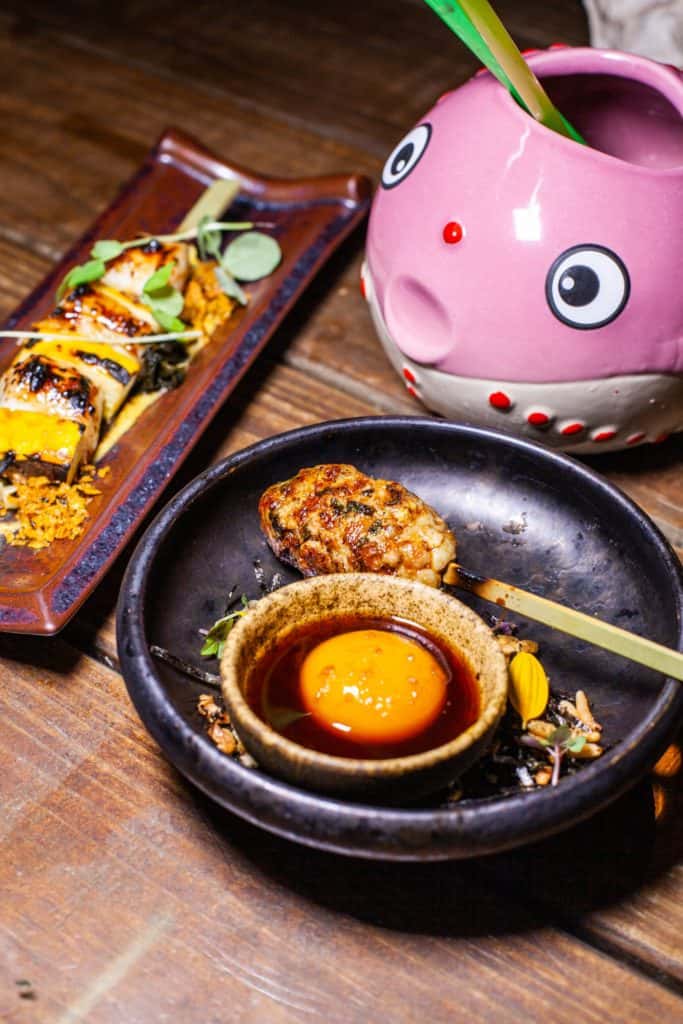 Join the Circus
Bat City Circus is a welcoming area to people new and experienced in aerial arts. This studio offers classes for people of all levels. As a new learner, they will take you through the different skills including silks, trapeze, hoop, and other skills. By the end of your class you'll have learned a fun new skill.
Go Bouldering
Like rock climbing, but on a smaller surface, the Austin Bouldering Project is a large gym with different courses of all levels to challenge yourself. In addition to bouldering, they have yoga and other fitness classes.
Stay at a Cool Hotel
The East Austin Hotel, with all of its retro vibes, is a fun and laid-back spot with a lot of personality. I loved the cute pug that would meet us at the door, as well as the pretty pink bathroom in our hotel room. You can read all about our experience at the East Austin Hotel!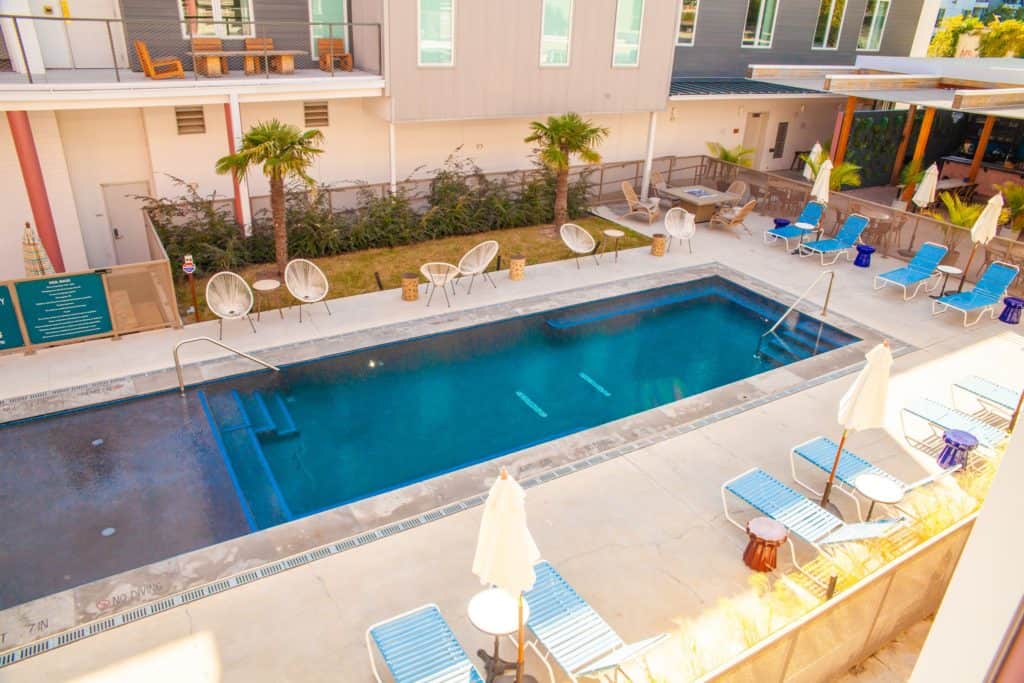 Try Some Cider
East Austin Cider is a Texas staple! The Collaboratory Taproom is a place to go to try all of their different ciders while enjoying live music and games. They're always releasing fun and new flavors so that every time you visit you can grab something new.
Warm Up with Some Ramen
Get all of the best noods at Ramen Tatsu-Ya which is an East Austin favorite! So much so that it's best to get reservations ahead of time! Load up on different add-ons and chili bombs for added spice.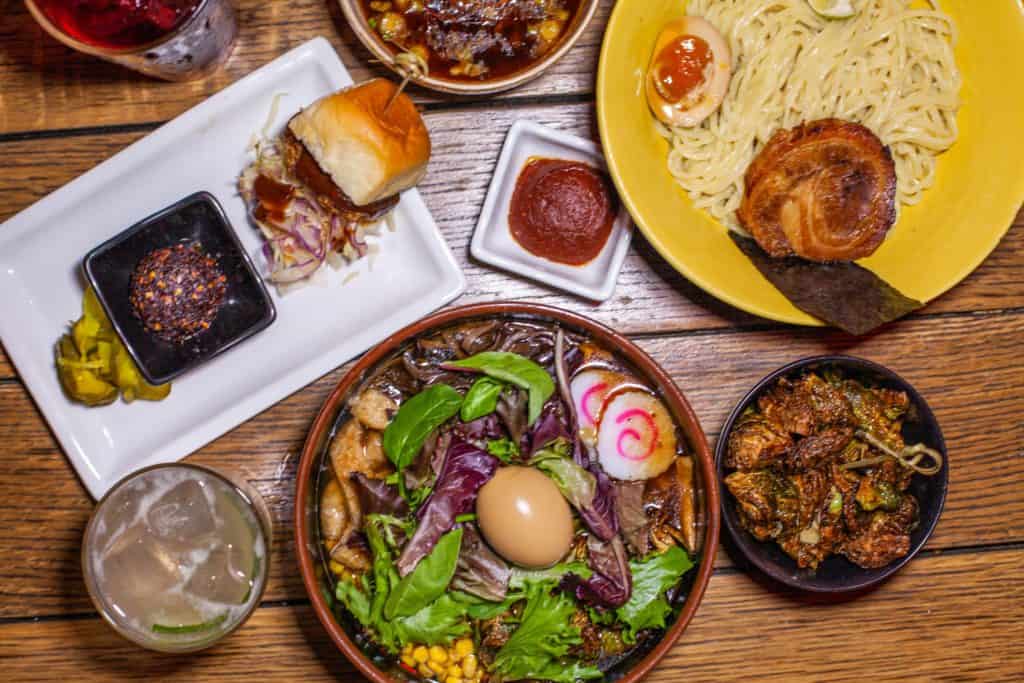 Explore Austin Music
Austin is famous for its music scene, and the Texas Music Museum honors that with exhibits about the history of Austin and Texas music. Explore the unique traditions and flavor of Texas music, and learn one or two new things along the way!
Go on a Food Tour
There are easily too many restaurants and bars to try in East Austin, and try as you might, you're just going to need to take a few trips back to Austin to try everything. However, Austin Eats Food Tours can help a little bit with an East Austin bites and cocktail tour that will help you see East Austin from a local's perspective and try new places you might not even know about.
See Cool Tree Sculptures
The Colorado River Wildlife Sanctuary is 42 acres of wetlands and wildlife for a peaceful stroll through nature. During your trip, check out the cool tree sculpture as well that makes for a great photo opp.
Visit the Galleries & Shops
Visit Canopy Austin, a little arts neighborhood, where you will find local artists, jewelers, boutiques, and some restaurants and coffee shops. It's a fun place to wander around and enjoy all that local Austin has to offer and a great place to support local businesses.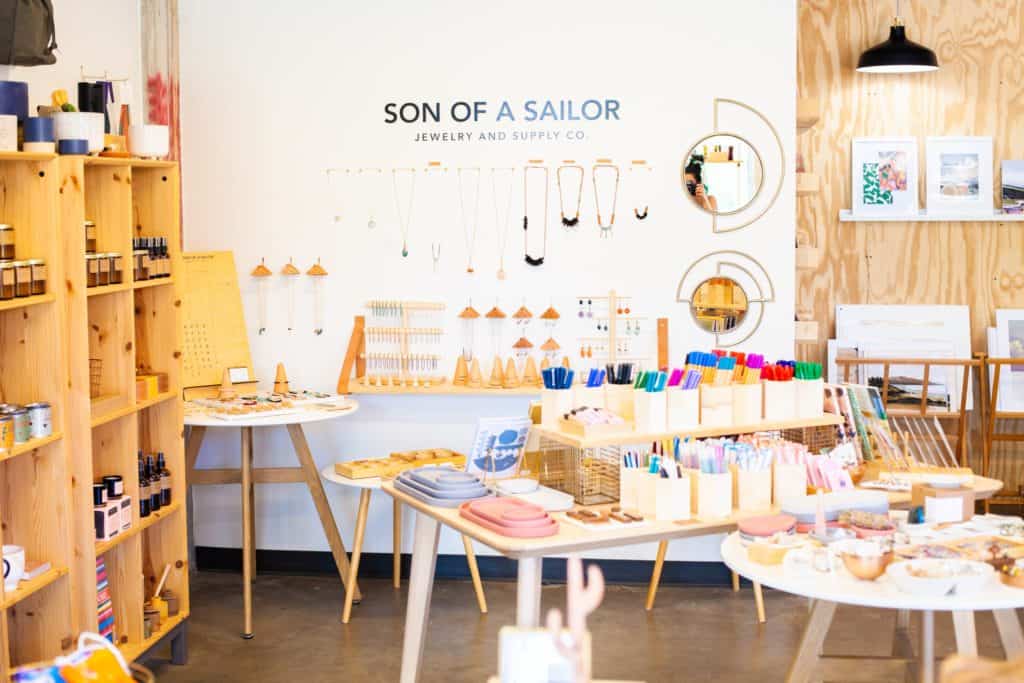 Go on a History Tour of the Black Heritage of Austin
Black Austin Tours takes you through East Austin where you can hear the history of Texas and shows you where you can see the first homes constructed by newly freed African Americans. Visit the African American Heritage and Cultural Facility, and learn about the complex way Austin was built that gives context to the history and how it affects the present.
Go on a Tejano Walking Tour
You can find the PDF of this self-guided walking tour that takes you to different important buildings and landmarks in Latino history. Each site has a description so you can learn something new about Austin and gain a new insight for the culture of Austin.
See the Murals
Austin has lots of murals, so of course, East Austin has more than enough murals for fun pics and to just enjoy the free public art. You're My Butter Half is an iconic East Austin mural, but a quick search for East Austin murals will get you on your way for a day of fun!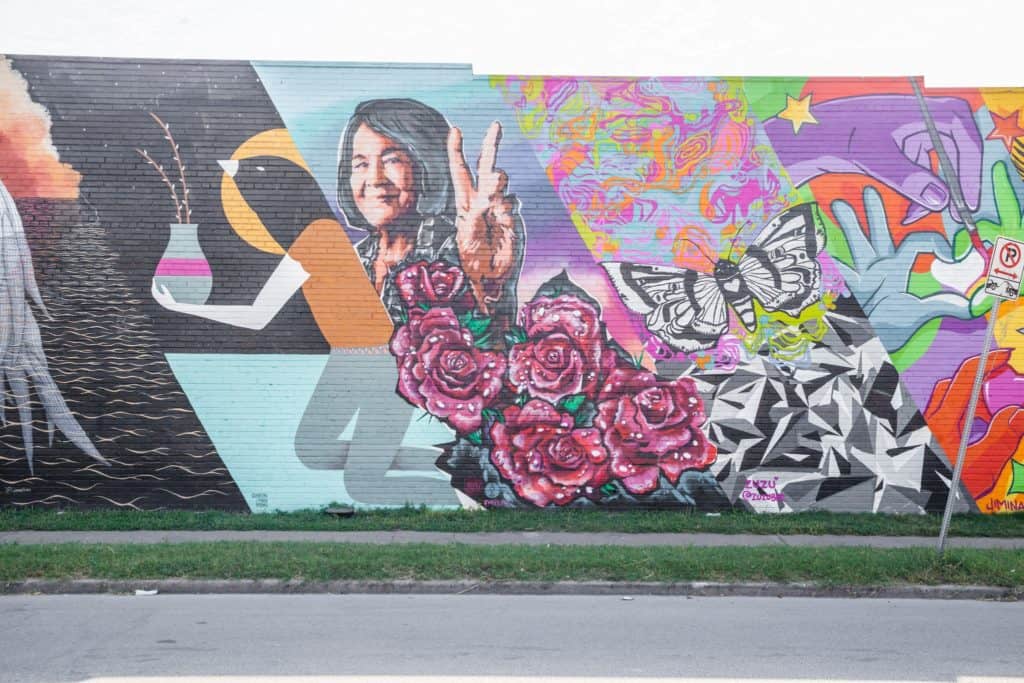 Learn About African Culture
Sahara Lounge is a regular spot for Afrobeats, Latino, Caribbean, and other music performances and dancing. Any night is a great one to go to enjoy the music and crowd, but Friday is Africa night where you can enjoy a free buffet dinner and engage in conversations or dancing with people from all around the world.
Try Some of the Original Tortillas
The first tortillas came from the Aztecs who used a arduous process called nixtamalization. Nixta tacos brings that process and some pretty incredible corn tortillas with a diverse range of flavors for some amazing tacos (and that's saying something with all the Austin taco spots!) The beet 'tartare' tostada transformed beets into a completely new flavor that I still think about. Even if you're not a beet fan, you might be surprised by this one!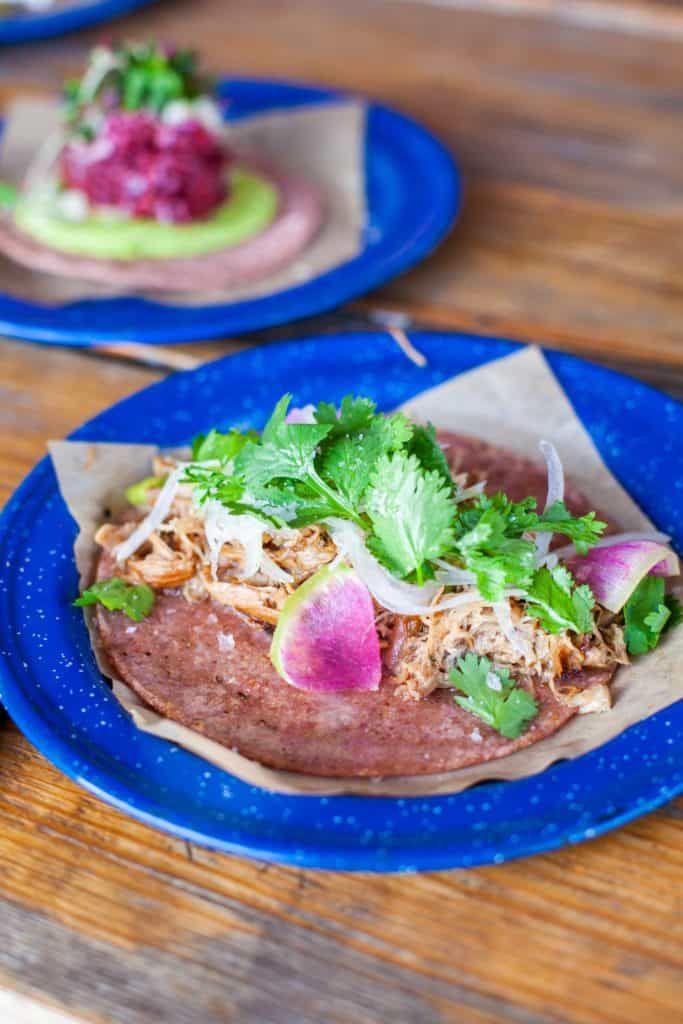 Eat Boozy Ice Cream
Booze and ice cream are such a great combination, and Prohibition Creamery brings in some top notch flavors like prickly pear mezcal, whiskey chocolate, and CBD ice creams.
Grab a Cup of Coffee
Go for a cardamom mocha at this beautiful coffee shop with a minimalist design for a little pick me up to get you through all your East Austin adventures.
Visit the George Washington Carver Museum
George Washington Carver Museum celebrates the global contributions of all Black people. Here there are different exhibits that share the African American presence in Texas in the 19th century. You'll find a regularly rotating art gallery and other exhibits that change with each season.
Try a Little Bit of Everything at a Food Truck Park
What's visiting Austin without visiting a food truck park? If you can, grab some friends and hit up the different food trucks at Pangea Lounge for a feast of different cuisines including Brazilian food, crepes, and other delicious finds.
I love getting to see all the different parts of Austin, one area at a time. Even during our visit to East Austin, we didn't get to explore everything. There are just so many great spots. If you're looking to check out other parts of Austin, check out our comprehensive list, and if you're looking to explore more of Texas, the best place to start is with our free guide 50 Texas Trips Under $50.