If you plan to spend a night in downtown Austin, check out the Otis Hotel from the Marriott group, the first of the Autograph Collection. The atmosphere is young and thriving, much like downtown Austin.
The Otis Hotel is an ode to Austin, a bustling college city and the Live Music Capital of the World, all contributing to its carefully chosen decor.
We will cover the rooms and amenities, the on-site restaurants and bars, the services available to guests, and lastly, things to do nearby.
The Rooms at the Otis Hotel
There are several varieties of rooms:
The Guest Rooms
High Floors
The Studio Suites
The Luminary
We will focus on the High Floor, the one-bedroom accommodation we stayed in.
The High Floor
The High Floor rooms feature art pieces inspired by college football games, shots of downtown Austin, and nods to historical figures.
They give off the vibe of a luxurious college dorm combined with amazing views and amenities.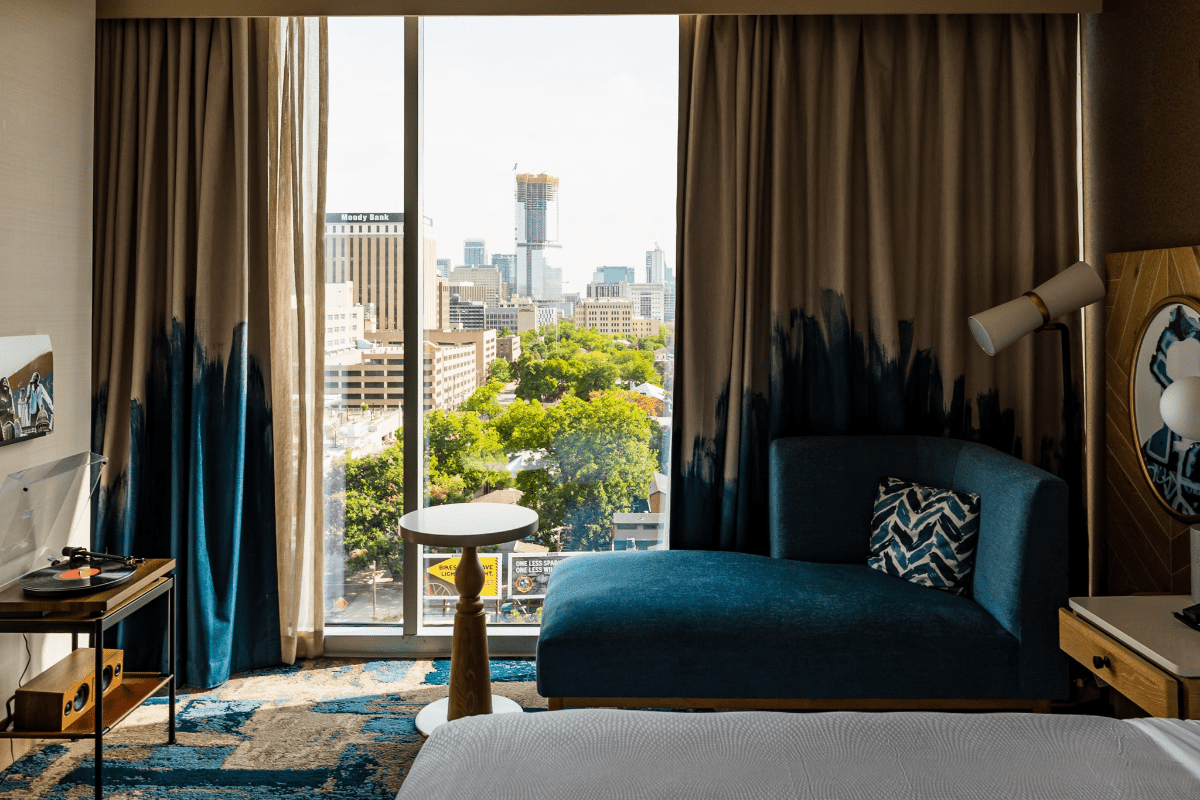 For example, the room has a sliding door that separates the bathroom and tile entrance from the carpet and bedroom area.
Other practical yet thoughtful pieces include modern, minimalistic lamps, floor-to-ceiling windows, a vinyl turntable, and an ergonomic banker-style desk and chair.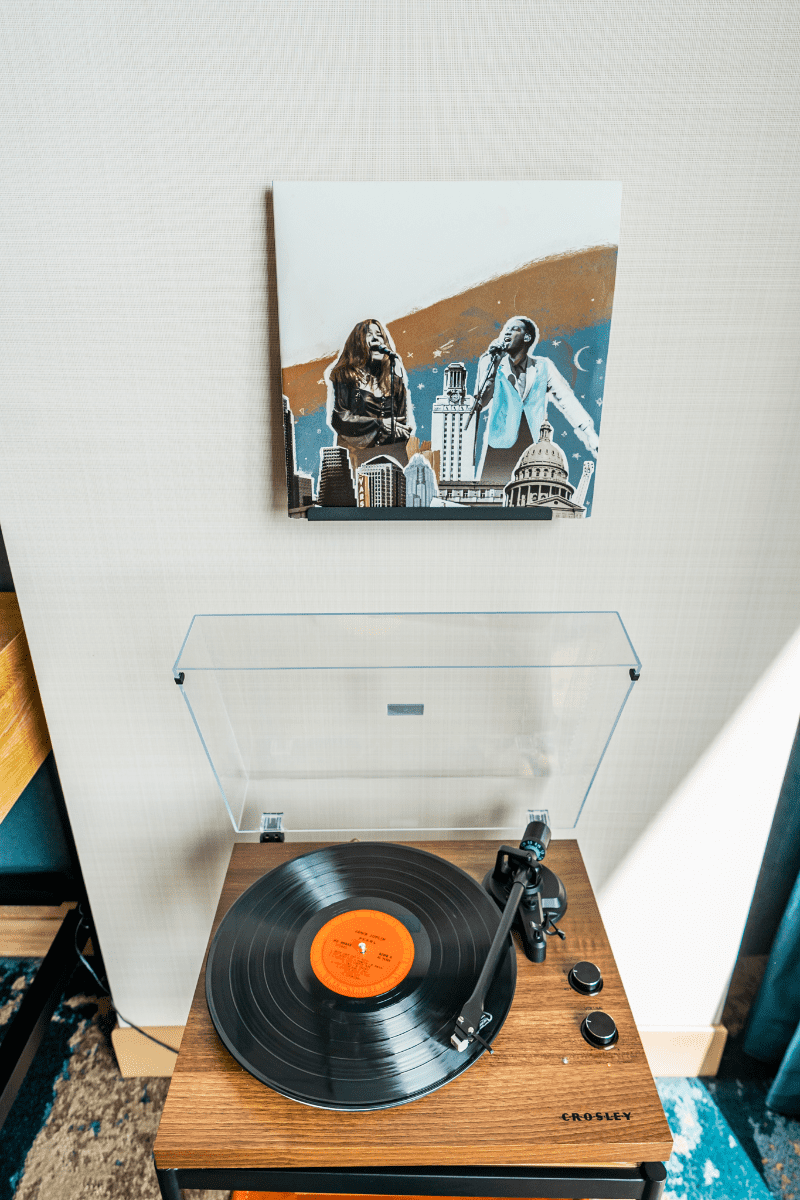 The bathroom was spacious and clean with walk-in showers and your favorite modern comforts, but the full-length and make-up mirrors were the highlight of the bathroom!
The Otis Hotel is nestled in the heart of downtown Austin with a view of the Texas Capitol, the surrounding Hill Country, the UT Campus, and the city skyline. You can enjoy some of the most stunning views from the Otis Hotel's rooftop.
The Amenities at the Otis Hotel
Each room has the same basic amenities, like the vinyl turntable, plus Wi-Fi, climate control, coffee/tea makers, alarm clocks, safes, ergonomic work desks/chairs, irons, and ironing boards, with variations in the furniture.
The 32-inch flatscreen TV has cable/satellite, CNN, ESPN, and HBO.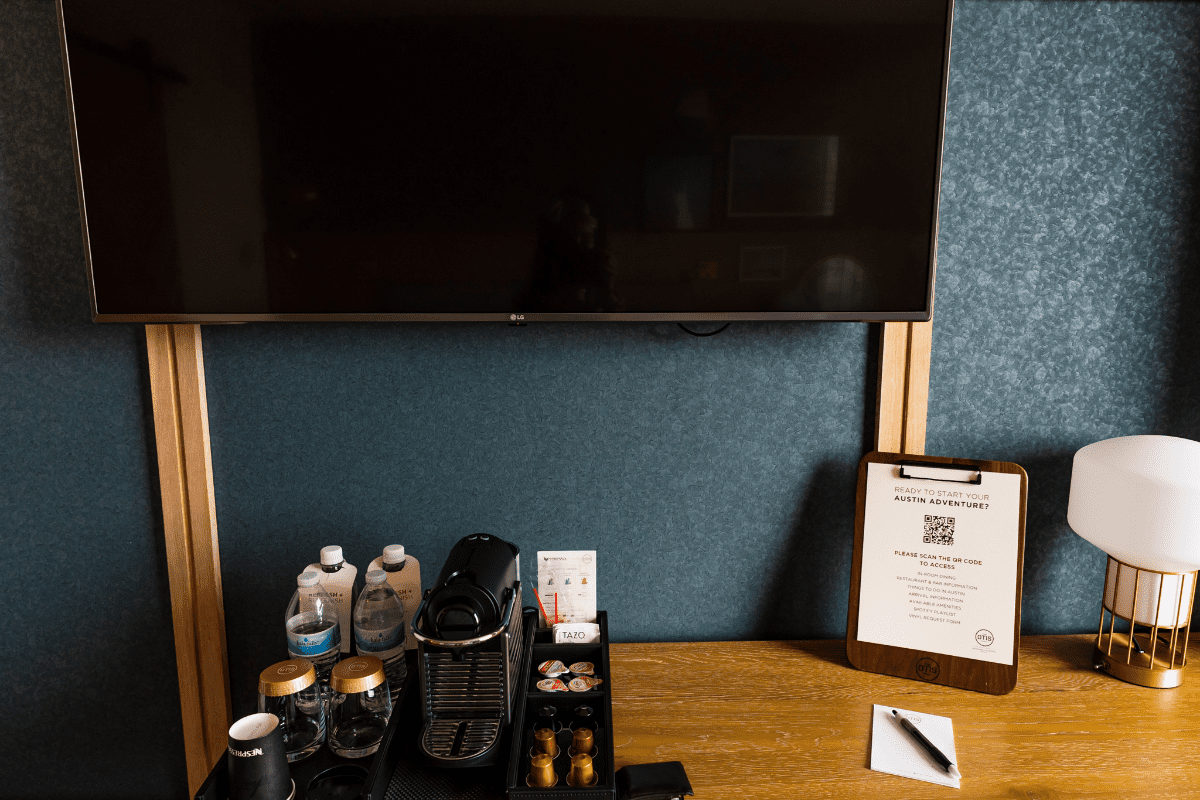 All rooms have blackout curtains because, while Austin is awake all night, some of us like to get a good night's sleep after a full day of discovering the surrounding city.
The bathrooms have marble tile, a lit, make-up mirror, a full-length mirror, a hair dryer, fluffy towels, and bathrobes. Some rooms have walk-in showers, and some have bathtubs depending on your booking.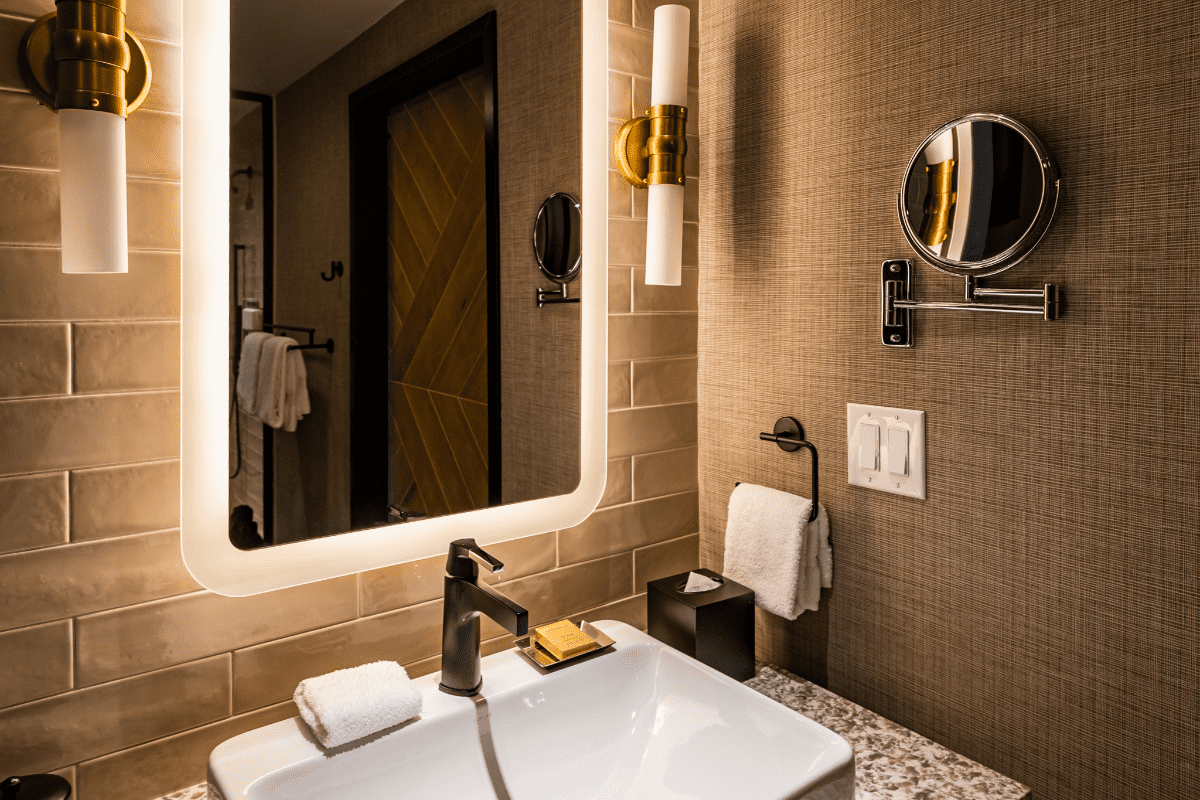 Enjoy Customized Vinyls
We mentioned vinyl turntables in each room, but how does it work?
Head to the vinyl library in the lobby and rent a vinyl record, then take it to your room for a private experience.
The Otis Hotel also has a Vinyl Ambassador, who can assist, make recommendations, curate playlists for you to enjoy, or help you discover new tracks.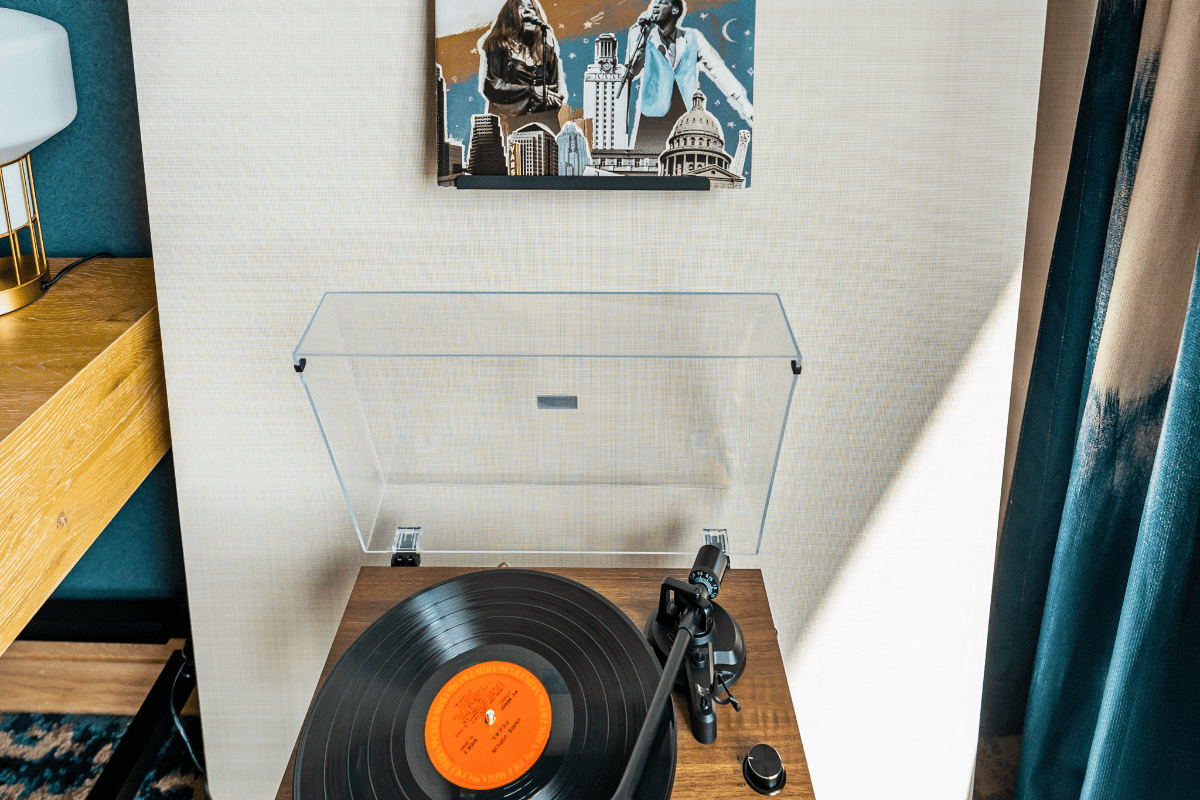 The Fitness Center
The fitness center is open 24/7. This space is impressive, with equipment like Peloton bikes, free weights, elliptical machines, treadmills with high-resolution touch screens, massive mirrors, and a fantastic view of downtown Austin.
They also provide fresh filtered water, towels, sanitizer, and Wi-Fi access to stream your workout.
Pet-Friendly Accommodations
The Otis Hotel admits dogs and provides accommodation rentals for them, like plush beds, toys they can take home, treats for good boys, and more! How thoughtful is that?
ADA-Compliant Accommodations
Another cool feature of the hotel is that it is ADA-compliant with rooms catering to people with disabilities. These features include spacious areas for maneuvering, visual alarms, phone notifications, and bathrooms with benches and railings for support.
On-site Restaurants at the Otis Hotel
The Otis Hotel has four on-site restaurants:
Otopia Rooftop Lounge
Acre41
The Burger Bar
Bar AC
The Otopia Rooftop Lounge
The Otopia Rooftop is a pool and lounge bar for hotel guests located on the 11th floor.
The whole concept of the Otopia revolves around showcasing the sunset/sunrise views of the Campus District and Austin skyline in combination with comfortable lounge chairs, poolside furniture, private cabanas, and complimentary towels.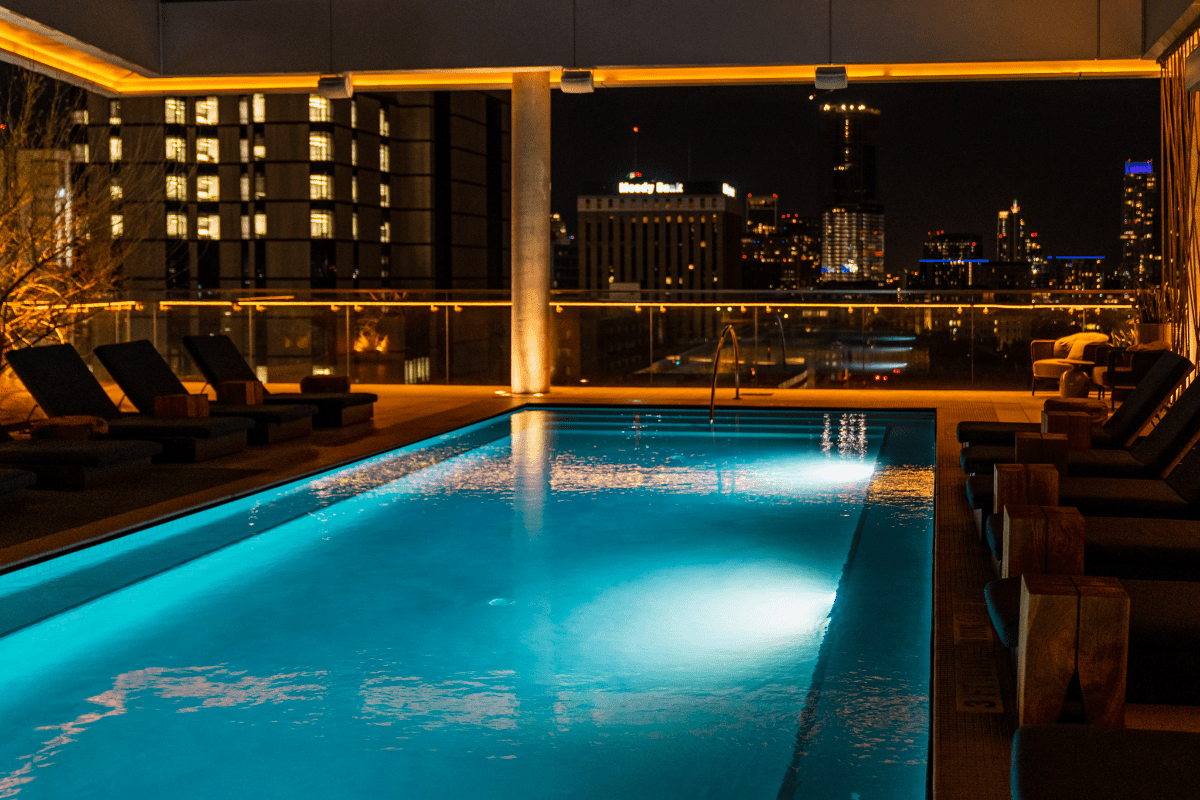 The Otopia Restaurant offers poolside service with sun-inspired cocktails, mocktails, and appetizers. They also have a Golden Hour Special featuring signature cocktails that change with the sun.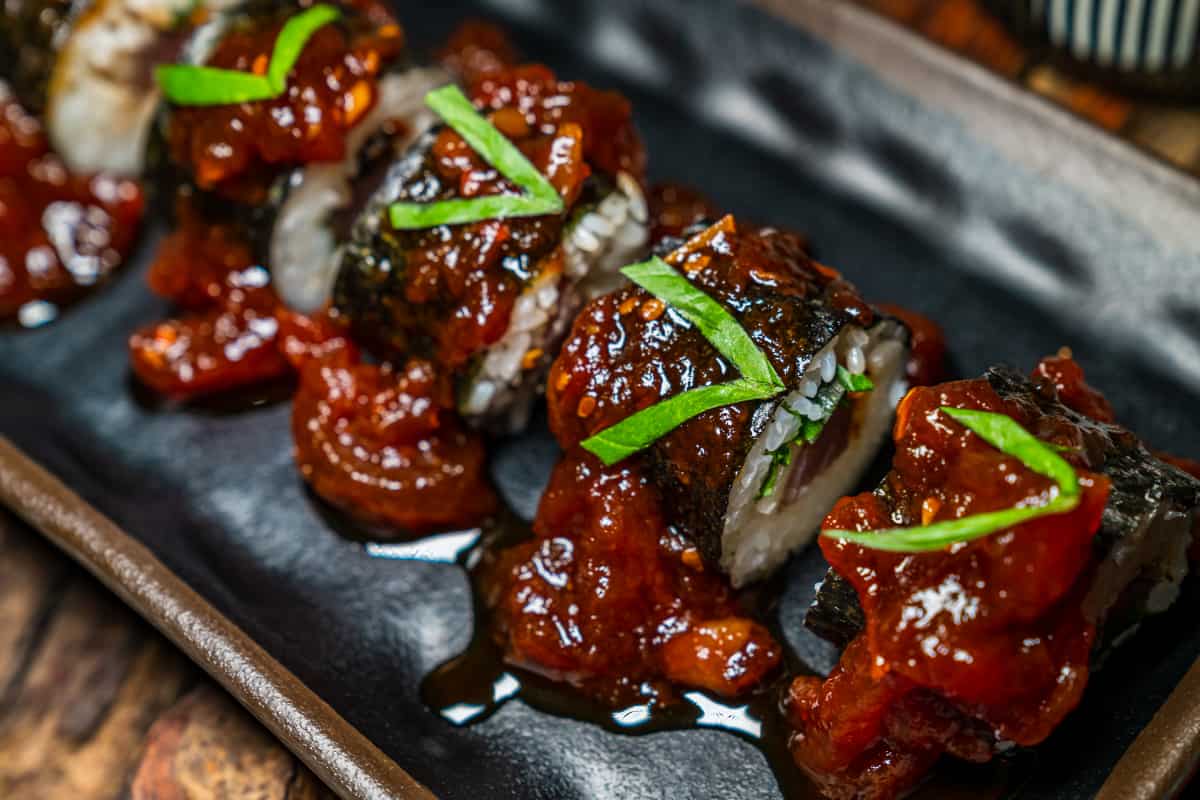 Acre 41
Acre 41 is a gorgeous, contemporary American restaurant open for breakfast, lunch, dinner, and weekend brunch.
The menu features good ole' American dishes like their Iron Skillet Cornbread, Gulf Shrimp and Grits, Belly-On Pork Chops, Shoestring Fries, and Glazed Chicken served family style or à la carte.
They host mid-week drink deals like Whiskey Wednesdays and Bubbles & Brunch on the weekends.
This restaurant is open to both guests and locals. The interior is luxurious, modern, and Instagram-friendly.
The Burger Bar
Burger Bar is an outdoor restaurant, inspired by the city's many food trucks, with a small menu. Order your favorite All-American classics like bacon cheeseburgers, fries, and creamy milkshakes. Plant-based options are also available.
Bar AC
Bar AC is a tapas bar serving cocktails, authentic Spanish tapas, mainstream beer, and locally sourced, craft beers.
Not only is the hotel trendy, but they also have cool entertainment spaces for hotel guests and local patrons alike. Since the hotel is located in the heart of downtown Austin, it attracts plenty of nightlife.
Things to Do in Austin Near the Otis Hotel
If you love spending time outdoors, there are several trails and parks nearby:
Lady Bird Lake Hike and Bike Trail
Shoal Creek Hike and Bike Trail
Brushy Creek Trail
Barton Creek Greenbelt
Travis Heights Neighborhood
McKinney Falls State Park
Hyde Park
Zilker Park
Keep in mind that some of these places are not within walking distance or dog-friendly.
Downtown Austin is also notorious for its many things to do:
Join a city or historic Austin tour
Pose in front of the famous murals
Eat your way around Austin on a gastronomic tour
Visit one of Austin's many museums
See a game at one of several university stadiums
Explore the Campus District
Catch a live performance in the Live Music Capital of the World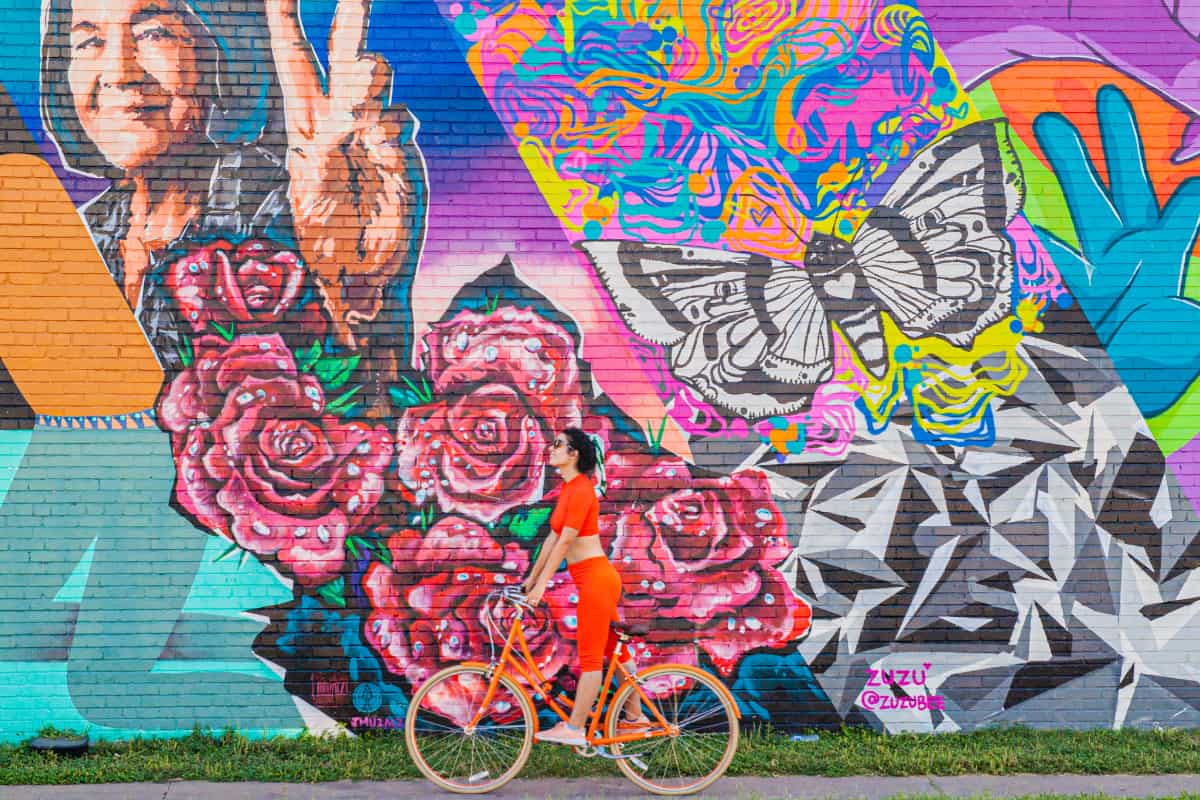 Our Austin Favorites
Try out some of our favorite things to do in Austin like:
Visit "The Drag" portion of Guadalupe Street
Grab java at The Lucky Lab Coffee Co. or Medici Roasting
Eat at Zombie Taco or Kerbey Lane Cafe
Try something new at Zilker Brewing Co.
Or visit an Austin speakeasy
Book a tour of iconic Austin sites like the University of Texas, the State Capitol, and the LBJ Presidential Library
Check out our comprehensive list of things to do in Austin, as well as our two-part Austin vlog, for more ideas!
The Otis Hotel: Final Thoughts
Austin, being the capital of Texas, is a trendsetter in all industries, and as a result, there are so many things to discover!
Regardless of the length of your trip, with our help, squeeze as many activities and experiences into your adventure as you can!